Belfast TradFest unites young people who are often segregated. Its founders explain why traditional music belongs to all
Belfast is in many ways still a deeply divided city, but last week young people from Catholic and Protestant communities – who live apart and go to religiously segregated schools – played music together at Belfast Summer School of Traditional Music, as part of the weeklong Belfast TradFest.
From the sound of bagpipes echoing in St Anne's Cathedral in Belfast, to the first ever concert of Irish and Scottish music in Protestant east Belfast and primary school-age banjo players holding their own in an afternoon pub performance, the city is buzzing with the sound of traditional music everywhere you turn. More than 500 people of all ages are taking the summer school classes to learn traditional music, song and dance, and there are thousands more attending talks, sessions and concerts.
Fiddle player and summer school tutor Martin Dowling, who has written about traditional music and the peace process, tells me that music did not escape the schism that the Troubles caused in the city in the 1970s. "The Troubles pushed traditional music in Belfast into more hidden, segregated spaces and, although there had always been Protestants who played traditional music, a generation of urban Protestants rejected it as something that was exclusively Catholic."
Meanwhile, in the rest of Ireland there was an explosion in the popularity of traditional music with groups such as the Chieftains, Planxty and the Bothy Band, and the emergence of festivals and the annual summer schools which have become a key part of encouraging and nurturing traditional instrument playing, singing and dance culture.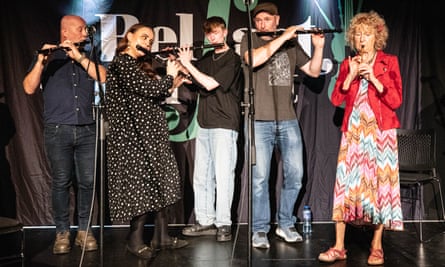 Traditional players in the north talk about having to always travel long distances to go to summer schools and Ray Morgan, chair of the event's board, tells me he would take young people to schools over the border every year. After the Good Friday agreement there was a significant increase in Catholics learning to play the music but organisations in the city that had been trying to create non-sectarian spaces for traditional music were up against the cultural schism left over from the Troubles. It was Morgan who had the idea for a similar school in Belfast, and who, with Dónal O'Connor – a fiddle player, film-maker, and now the event's artistic director – made it a reality in 2015. "Traditional music was undervalued and hidden here compared to the south and I thought this would help change that," Morgan says.
O'Connor describes how widening access to every community in the city is at the core of what the organisers set out to achieve. "From day one we wanted, given the fractured society we have here after the Troubles, to find a way to make everybody feel that this music was theirs. We are trying to normalise all these things that were perceived to be for the other." The summer school has included classes in instruments that are part of the marching band tradition in the Protestant/unionist community. "We've even got people from nationalist backgrounds trying out those instruments," he says.
In a city still marked by peace walls, location was a crucial factor. "The Cathedral Quarter and Ulster University where the classes and sessions take place are widely seen as neutral spaces, not belonging to one side or the other," O'Connor says. However, the cost of summer schools, wherever they are, puts them out of reach for some families. For Morgan, "providing access to the music for young musicians from working-class backgrounds was important," and a bursary scheme supports 60 young players.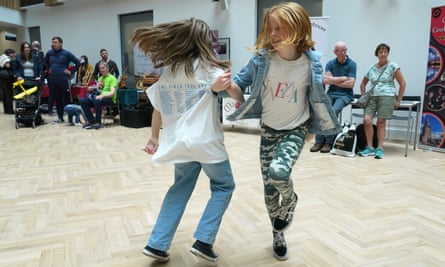 The current generation of young people coming to the summer school have only lived in a world after the 1998 Good Friday agreement. One young musician says: "When you meet someone here you wouldn't even think to ask, so I don't know if they're Catholic or Protestant. It doesn't matter. It's just all about music." For another: "Coming here you are with people who have the same interests and passion, so everyone gets along. It's a community. Your background and your beliefs aren't really relevant." For them, the barriers others see simply don't exist.
Flute playing is synonymous with traditional music in Belfast and a few hundred people, many of them young, give a rapturous response to the players at Flutopia, a sold-out evening concert of flute and whistle music – one of TradFest's nightly concerts. Most of the performers are local musicians, playing in the powerful and edgy local style, with internationally renowned players Mary Bergin on tin whistle and Michael McGoldrick on flute. The audience are palpably inspired by what they hear.
As a young flute player tells me: "I feel like TradFest has shone a spotlight on what Belfast has to offer as a traditional music scene – and has brought out the best in young Belfast musicians." Or as Morgan puts it: "In small ways, through music, we are contributing to building bridges between communities."
Must See
Popular rapper, Oladipupo Oladimeji, aka Oladips, has finally apologised to Nigerians over the recent...

American rapper Bill Kapri, popularly known as Kodak Black, has been arrested for cocaine...

Nigerian rapper, Oladipupo Oladimeji, aka Oladips, who was recently reported dead by his management,...