Canadian rapper Tory Lanez has been sentenced to 10 years for shooting fellow musician Megan Thee Stallion.
Lanez shot Grammy winner Megan Thee Stallion in the feet during an argument between the pair after a party in 2020.
He was found guilty on three gun-related charges in December and has been held in jail since.
The shooting, which polarised the music world, left Megan Thee Stallion needing surgery to remove bullet fragments from her foot.
The LA District Attorney, George Gascón, said after the verdict that her fame "has brought an important spotlight on the issue of violence against women".
The shooting occurred during the journey home from a pool party hosted at reality star Kylie Jenner's Hollywood mansion.
Prosecutors had asked the judge for a 13-year prison sentence. They said Lanez, 31, deserved a lengthy sentence for shooting a "vulnerable victim" on a quiet residential street, and for waging "a campaign to humiliate and re-traumatise her" after the attack.
Lanez, real name Daystar Peterson, has had seven US top 10 albums in the past seven years.
He was convicted of three felonies: assault with a semi-automatic firearm; having a loaded, unregistered firearm in a vehicle; and discharging a firearm with gross negligence.
His lawyers argued he should get probation and time in a drug treatment programme. It is unclear if Lanez is now facing deportation to Canada.
Jose Baez said his client planned to appeal due to "significant issues" with the trial.
Outside court on Tuesday, he cited a lack of DNA evidence against Lanez in relation to the shooting, adding that the rapper's DNA was not found on the gun used. Mr Baez added that he believed Lanez did not receive a fair trial.
'I did wrong that night'
Lanez himself read a statement to the court before the sentencing.
While he has maintained his innocence during and since the trial, he said on Tuesday that he accepted "responsibility" for what "I did wrong that night", without saying exactly what he was referring to.
"There's been this misconception about me being this monster or not having remorse, that's just not true," the star told the court, according to the Press Association.
"That night was a night that everyone was drunk… I said some very immature things. If I could turn back the series of events… I would, but I can't.
"But to think that I am some sort of callous individual is not the case. The victim was my friend… [and] she still is to this day.
"I did wrong that night and I take full responsibility and culpability for it."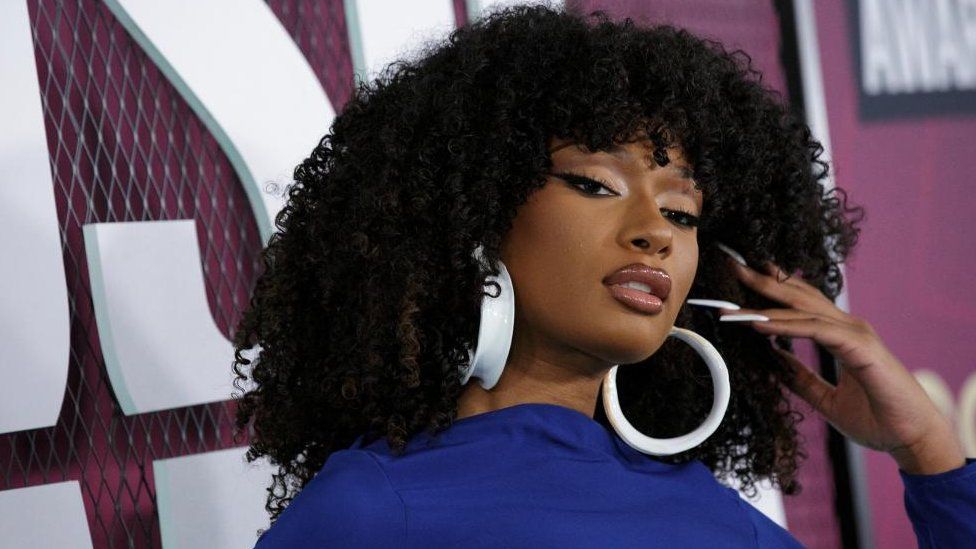 'I will never be the same'
The shooting happened when the pair left Jenner's home with two other people in an SUV in the early hours of 12 July 2020.
Megan, real name Megan Pete, told the court she got into an argument with Lanez over their previous sexual relationship. The row escalated and led to the pair insulting each other's careers.
She said she demanded to be let out of the vehicle, at which point Lanez started shooting at the ground and shouted at her to "dance".
During the trial, Lanez's lawyers suggested Megan's friend Kelsey Harris, who was in the vehicle, may have shot her friend out of jealousy. She denied that.
In a victim impact statement that was read in court on Monday, Megan said: "Since I was viciously shot by the defendant [Lanez], I have not experienced a single day of peace.
"Slowly but surely, I'm healing and coming back, but I will never be the same."
Hip-hop stars take sides
Other witnesses who spoke on Monday included Lanez's father, who talked emotionally about the effect on his son of the death of his mother when he was 11, and a prison chaplain who said Lanez had been leading daily prayer groups.
The judge said he had received more than 70 letters in support of Lanez from his family and friends, including rapper Iggy Azalea, who called for a sentence that would be "transformative, not life-destroying".
Following the shooting, other famous names in the hip-hop world also took sides about who was telling the truth.
Rapper 50 Cent apologised to Megan for suggesting she lied about being shot by Lanez, while Drake appeared to reference the shooting in his lyrics.
After the sentencing, Tanishia Wright, director of victim services at the District Attorney's office, told reporters: "Violence against black women and girls is a long standing national epidemic that has long been overlooked and under-reported.
"Women of colour more times than not do not come forward to report victimisation due to the fear they will not be believed."
Must See
The Northern Governors Forum has mourned the death of Emeritus Professor Umaru Shehu, the...

At least one person was killed and two others were injured in a bombing...

Ilebaye, has been crowned the winner of the Big Brother Naija All Stars season....