The Croatian international is fighting against relegation to the Bundesliga with VfB Stuttgart but at the same time dreams of the next step in his career and the European Cup. But first, there is a task to be completed at VfB.
Giving everything at VfB Stuttgart until the end of the season, avoiding relegation with the Swabians, and maybe even reaching the DFB Cup final – that's Borna Sosa's schedule for the coming weeks. After that, the Croatian international could switch to a club that has higher goals than VfB and is permanently in the European Cup. However, he might then have to do without emotional rollercoaster rides, as was the case with his Stuttgart team against Borussia Dortmund this weekend in the Bundesliga. Despite being outnumbered and trailing 0:2 and 2:3 in the meantime, Sosa and Stuttgart saved a point against the favorites in the last second.
Fidelity and loyalty to VfB Stuttgart
Sosa, who has been under contract in Stuttgart since 2018, could have changed more often and "improved athletically". Despite concrete offers, he hasn't done it so far, because in addition to his sporting qualities on the pitch, what makes the Croatian special is his loyalty to his club – at a time when it has become almost normal for players to get out of their contracts "free press" and put their clubs under pressure to let them go with a supposedly better offer. Borna Sosa is different.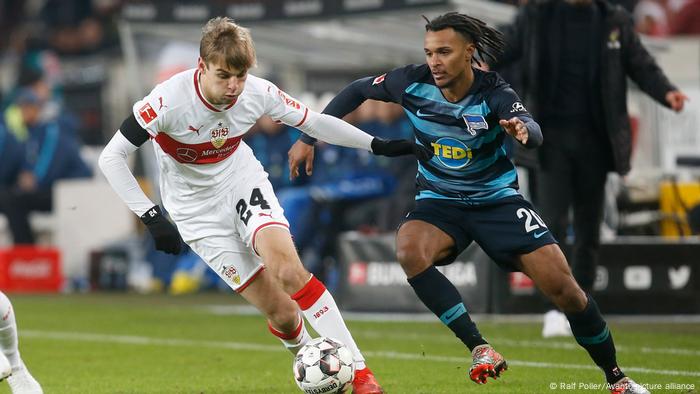 Borna Sosa (left) has been playing for VfB Stuttgart since the 2018/2019 season
"It's important to me: If I leave, then VfB Stuttgart should also be happy and happy," said Sosa in an interview with the Sky TV station at the end of February. "I don't want to move if the offer isn't great for me and for the club. I won't put pressure on myself to let go. I've been here for five years. The club is very important to me, so everyone should be happy when the time comes for a change."
Will you actually be "happy" at VfB if Sosa should really change in the summer? After all, you can be sure that you will not be left empty-handed. After all, Sosa's contract runs until 2025. A correspondingly high transfer fee would therefore be due, with which the Stuttgart, who are certainly unhappy about the sporting loss, could console themselves.
Change to Bayer Leverkusen?
Sosa may even remain in the Bundesliga. In the last winter transfer period, a move to Bayer 04 Leverkusen had already made a lot of progress. "It was concrete," confirmed Sosa on Sky. "Leverkusen wanted to sign me. It was in the final stages but the clubs had to come to an agreement and that wasn't the case."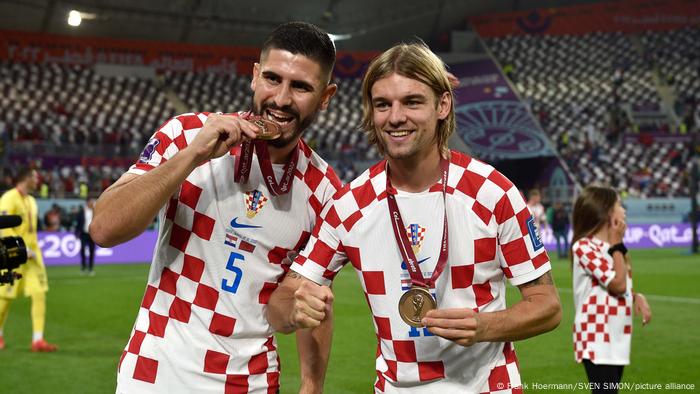 At the World Cup in Qatar, Borna Sosa (right) finished third with the Croatian team
It is quite possible that the factory club will try again in the summer. After all, the position at the back left in Xabi Alonso's team with Mitchel Bakker and Daley Sinkgraven is currently not outstanding. But there are also offers from abroad: Real Sociedad and FC Sevilla from Spain and Tottenham Hotspur from the English Premier League are said to have expressed interest.
Good training at Dinamo Zagreb
Sosa was born in Croatia's capital Zagreb, but has close ties to Germany and has had both Croatian and German citizenship for some time. His grandfather once emigrated from Yugoslavia to Germany and moved to Ulm, southeast of Stuttgart. Sosa's mother was born there and later went back to Croatia. As a child, Borna Sosa was often in Germany with her grandparents.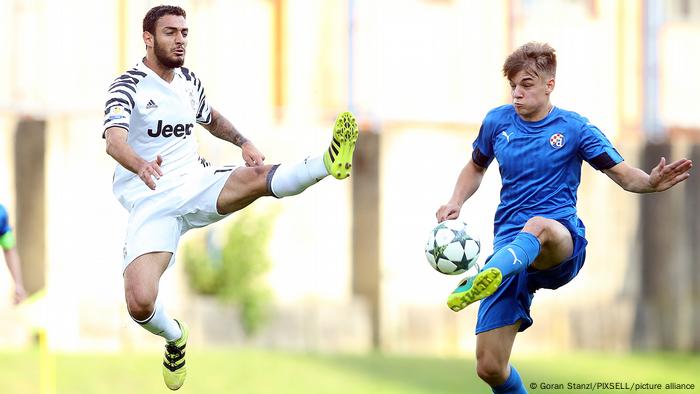 Borna Sosa (r.) played with the Dinamo Zagreb U19s in the UEFA Youth League
Sosa, who finished third with Croatia at the World Cup in Qatar, received his football training at Dinamo Zagreb, a formidable address in European youth football. Croatia's most successful football club regularly features in the UEFA Youth League with its A-Junior team. Many former Dinamos youth players now play in the big European leagues. In addition to Sosa, Leipzig's Dani Olmo and Josko Gvardiol are two other examples in the Bundesliga.
DFB Cup as a chance for Europe
Now the next step could soon follow for Sosa. "Of course, I want to play in Europe," said Sosa in February. "I think every player wants that, but before that, I have one goal: that Stuttgart stays in the Bundesliga." With the point win against Borussia Dortmund, Stuttgart has come at least a small step closer to staying up. VfB and Sosa have six games left before the end of the season to complete it.
And then there's the DFB Cup: If Stuttgart beat Eintracht Frankfurt in the semifinals at the beginning of May and then win the final against SC Freiburg or RB Leipzig, Borna Sosa would have achieved his goal. He would be in the European Cup – without a move away from VfB Stuttgart.
———
VfB Stuttgart – Borussia Dortmund 3: 3 (0: 2)
Goals: 0: 1 Haller (26th), 0: 2 Malen (33rd), 1: 2 Coulibaly (78th), 2: 2 Vagnoman (84th), 2: 3 Reyna (90th + 2), 3 :3 Silas (90+7)
Yellow-red card: Mavropanos (Stuttgart/39.)
Viewers: 47,900
Must See
Popular rapper, Oladipupo Oladimeji, aka Oladips, has finally apologised to Nigerians over the recent...

American rapper Bill Kapri, popularly known as Kodak Black, has been arrested for cocaine...

Nigerian rapper, Oladipupo Oladimeji, aka Oladips, who was recently reported dead by his management,...