Plagiarism is an inconvenient reality that most internet publishers have to deal with. You might be looking to avoid accidentally borrowing someone else's work or to protect your own, and wondering where you can find the best free plagiarism checker to help you out.
Fortunately, you have several options when it comes to choosing a quality, freely available tool to assess the uniqueness of your work. By using a plagiarism checker, you can safeguard your content and avoid legal repercussions.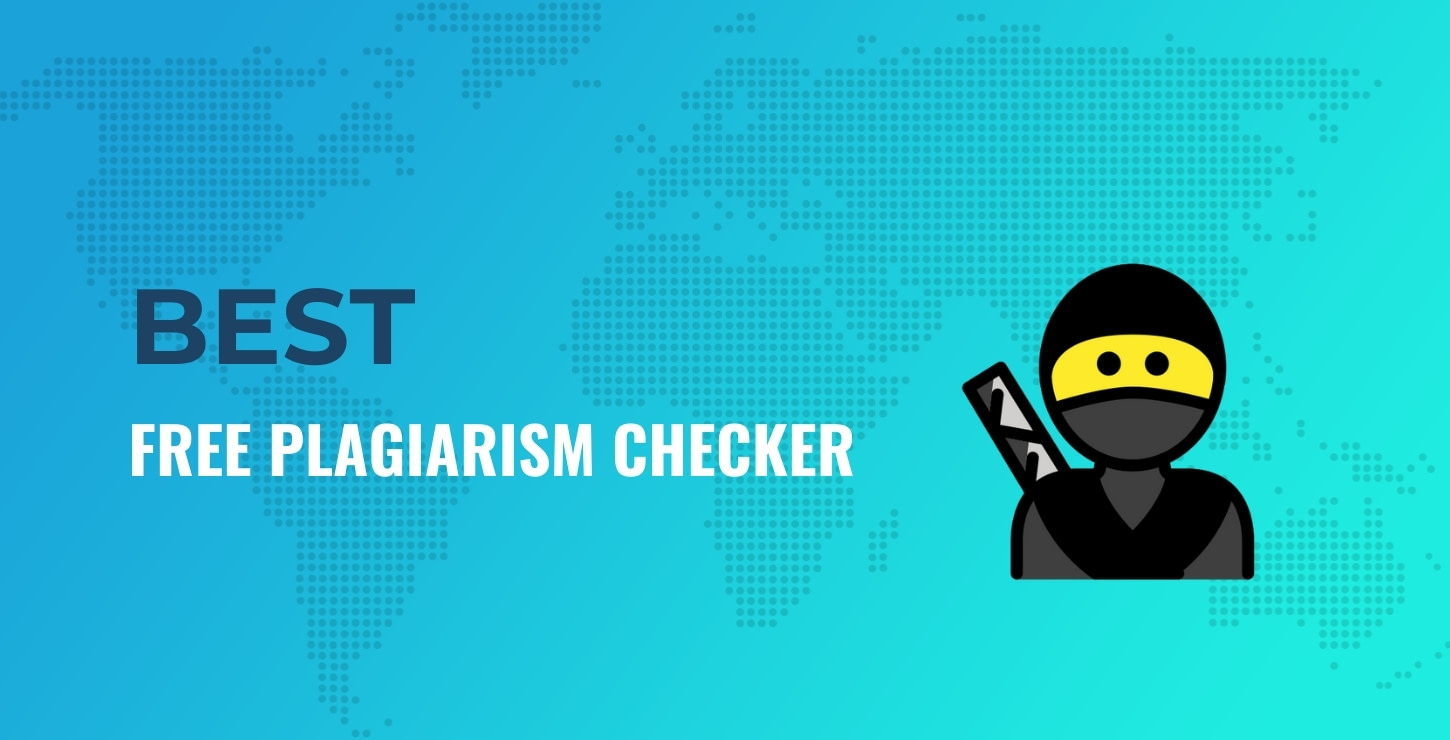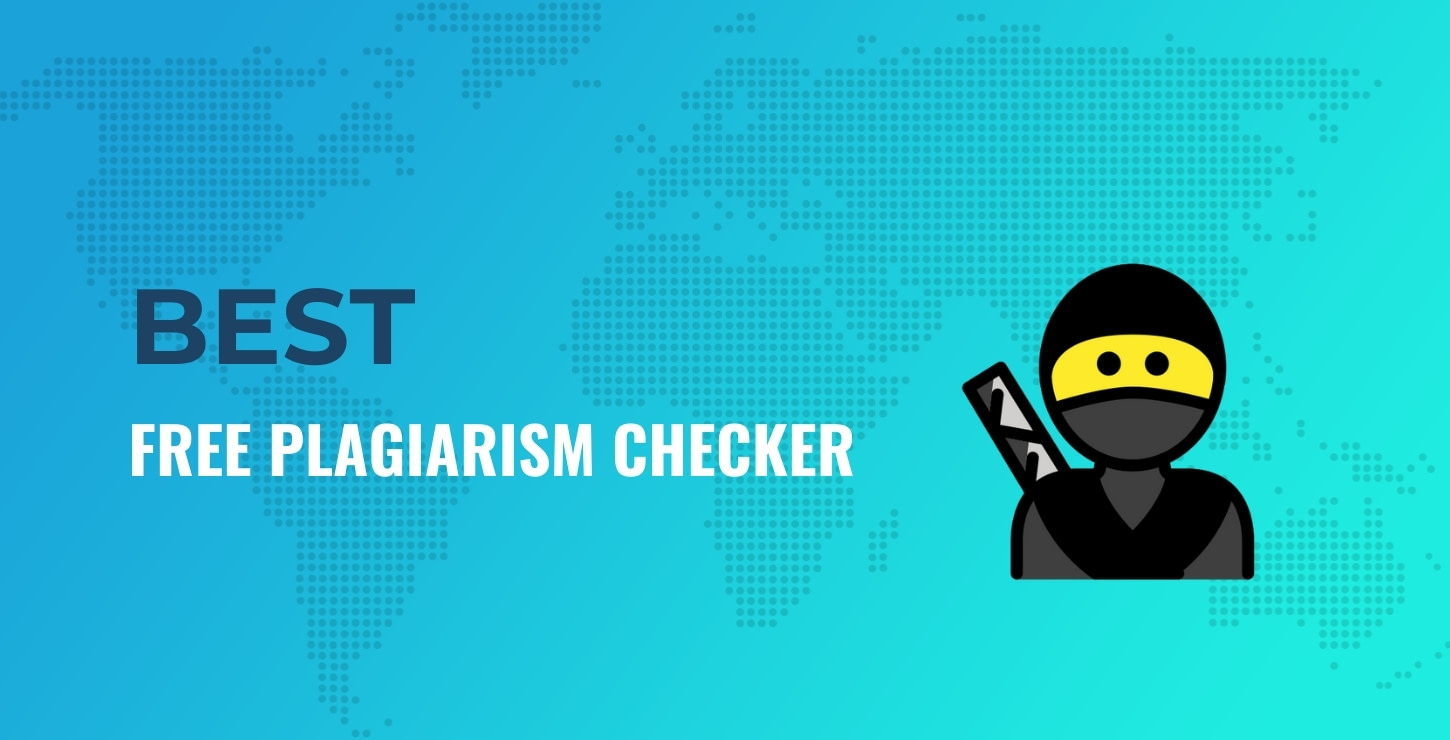 In this article, we'll cover the four best free plagiarism checkers currently available, highlighting their features and the extensiveness of their content comparisons. Let's get started!
Why you might want to use a free plagiarism checker
If you spend a lot of time creating web content, chances are you're consuming a lot of other people's work too. Reading up on the competition can be an effective way to shape your posts. However, this process can occasionally lead to accidental emulation of your peers.
A similarity check can help you avoid publishing unattributed content. Not only can tools like these protect your reputation, but they can also potentially save you from accidentally violating any legal requirements. Additionally, a plagiarism checker can enrich your site by giving credit to other creators and building your blogging network.
Before we begin, there are some features that you might want to keep in mind if you're in the market to monitor your content's similarity status:
The overall accuracy of results
Any restrictions imposed (word count caps, search limits)
Whether the tool primarily searches web content or scholarly work
How quickly the site can return findings
There are several sites that claim to have the best free plagiarism checker but fall short in one of these areas. If any are particularly important to you, consider keeping your eyes peeled for their performance benchmarks.
Best free plagiarism checkers of 2021
Fortunately, we've rounded up the most effective preventative tools for you to consider. While one of these sites may suit your needs better than the others, we consider all of them to be competitive options.
Here's our lineup of the best free plagiarism checkers:
Worried about #copyright? Use these free #plagiarism checkers to stay out of trouble 🚓🚓🚓
First on our list is Quetext. It features a pleasantly streamlined experience. To check your work, you'll need to create a free account. After that, you can enter your text into the box and click on Check Plagiarism. You also have the option to upload a file.
When you run your content through the duplicate checker, it'll take you to a split-screen layout. On the left will be the text you entered. On the right will be the URLs of any similar work Quetext was able to find. You can follow the links to see the sources for yourself or consult the similarity percentages the tool provides.
⚙️ Features:
The application of 'Fuzzy Matching', which can help find paraphrased writing that is still technically plagiarism
Color-coded feedback to clarify where each instance of plagiarism comes from
The use of contextual analysis to assess your work as a whole instead of word-by-word
The above traits make Quetext an appealing choice if you're particularly concerned about breaking your paraphrasing habits. 'Fuzzy Matching' will help you catch any close calls, giving you the chance to rework the phrasing.
💵 Pricing:
Let's finish with the price tag. Quetext's free account grants you access to its full functionality. However, this tool also comes with a limit of 2,500 words per month. This might be restricting if you're looking for the best free plagiarism checker that can consistently process multiple blog posts according to your personal schedule.
If you're considering investing in your anti-plagiarism efforts, Quetext offers a Pro plan for $9.99 per month. At this price, your word cap will be bumped up to 100,000 words per month. The plan also gives you access to a downloadable originality report and custom URL exclusion.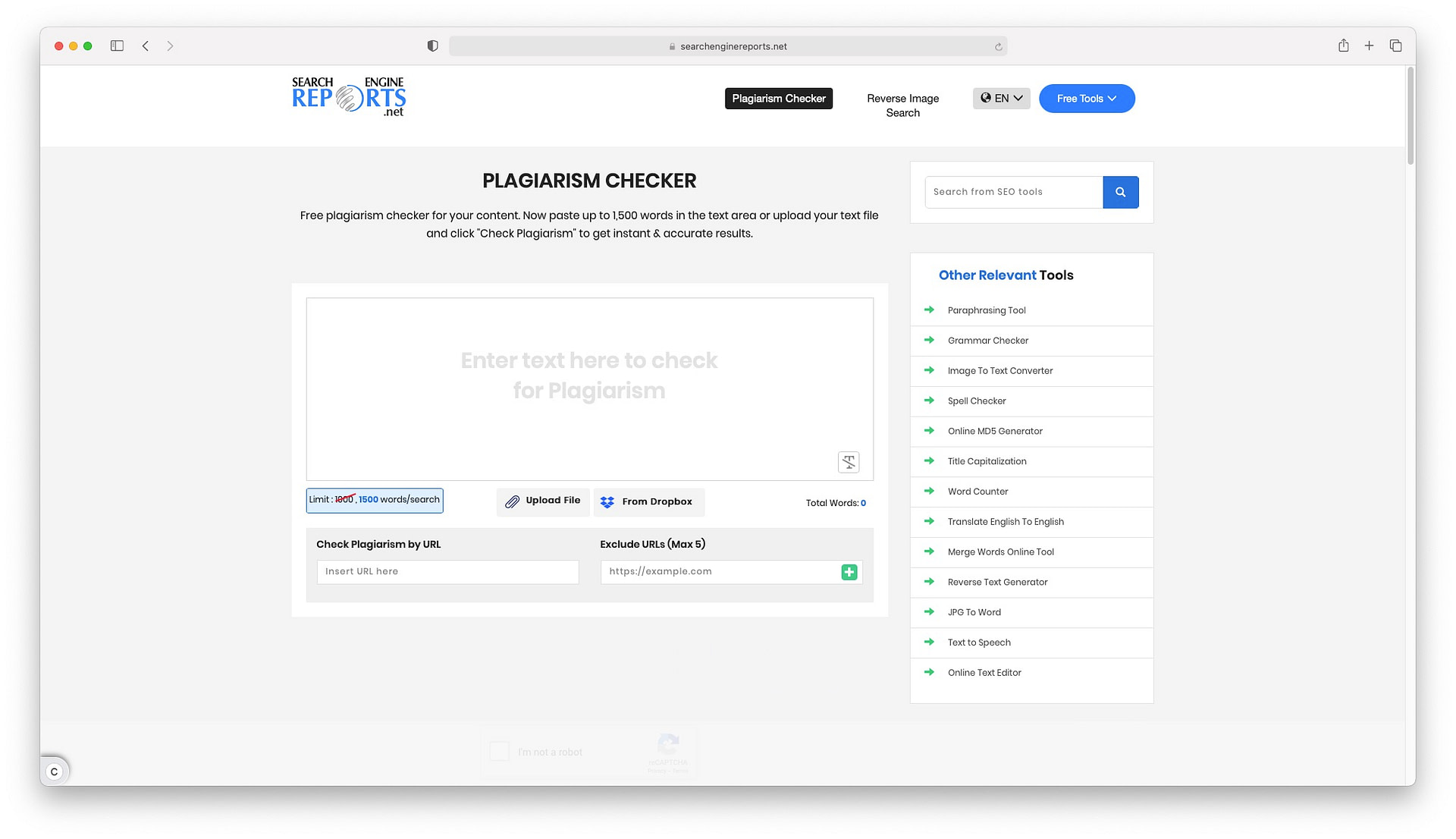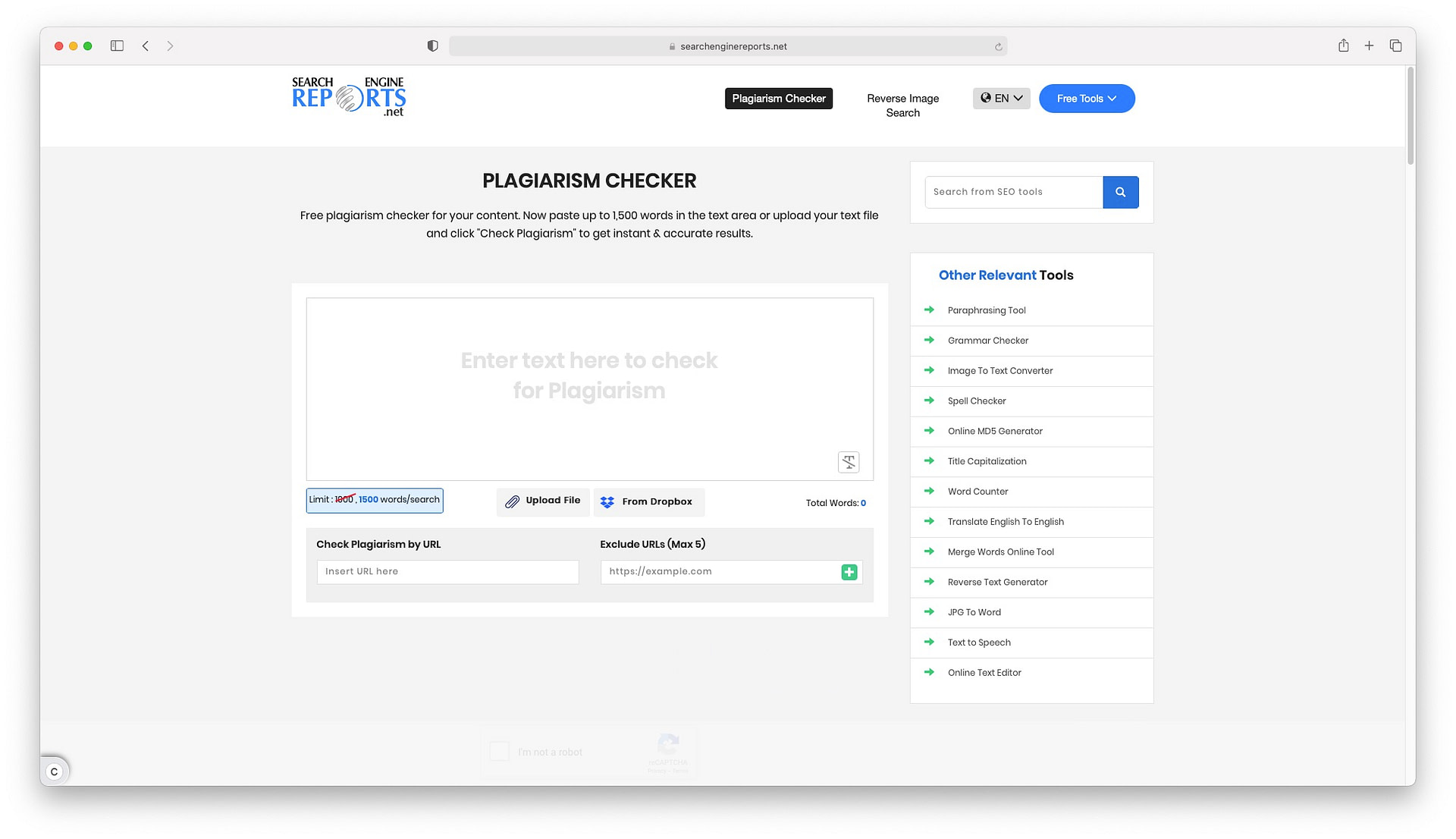 Next up is Search Engine Reports. Its home page is admittedly cluttered. However, if you can look past the unrelated material, you'll find that this site still houses a powerful plagiarism checker.
Search Engine Reports offers several different ways to start the assessment of your content's originality. You can paste your text in the main box, insert a URL, or upload a file from your computer or Dropbox account. This might be an advantage if you regularly write using different programs, rather than directly in your post editor.
After you choose your format, complete the CAPTCHA and select the Check Plagiarism button to get your results. They will populate near the bottom of the page. You can choose between three ways to format the information – sentence-by-sentence, by matched sources, or as the full document.
⚙️ Features:
The ability to check up to 1,500 words in a single search
The opportunity to exclude up to five URLs from the results
The speedy presentation of three different viewing options alongside a percentage breakdown of unique content
Overall, these traits make Search Engine Reports a plagiarism checker that excels at the basics. It offers a word limit with some breathing room, the freedom to ignore sources you're already aware of, and fast results. If you're not interested in too many bells and whistles, this duplicate scanner might fit your needs.
💵 Pricing:
Search Engine Reports is free to use and requires no sign-in to do so. However, there's no premium option. This means that this plagiarism checker may not offer the same level of advanced functionality that you could find in a tool with a paid functionality available.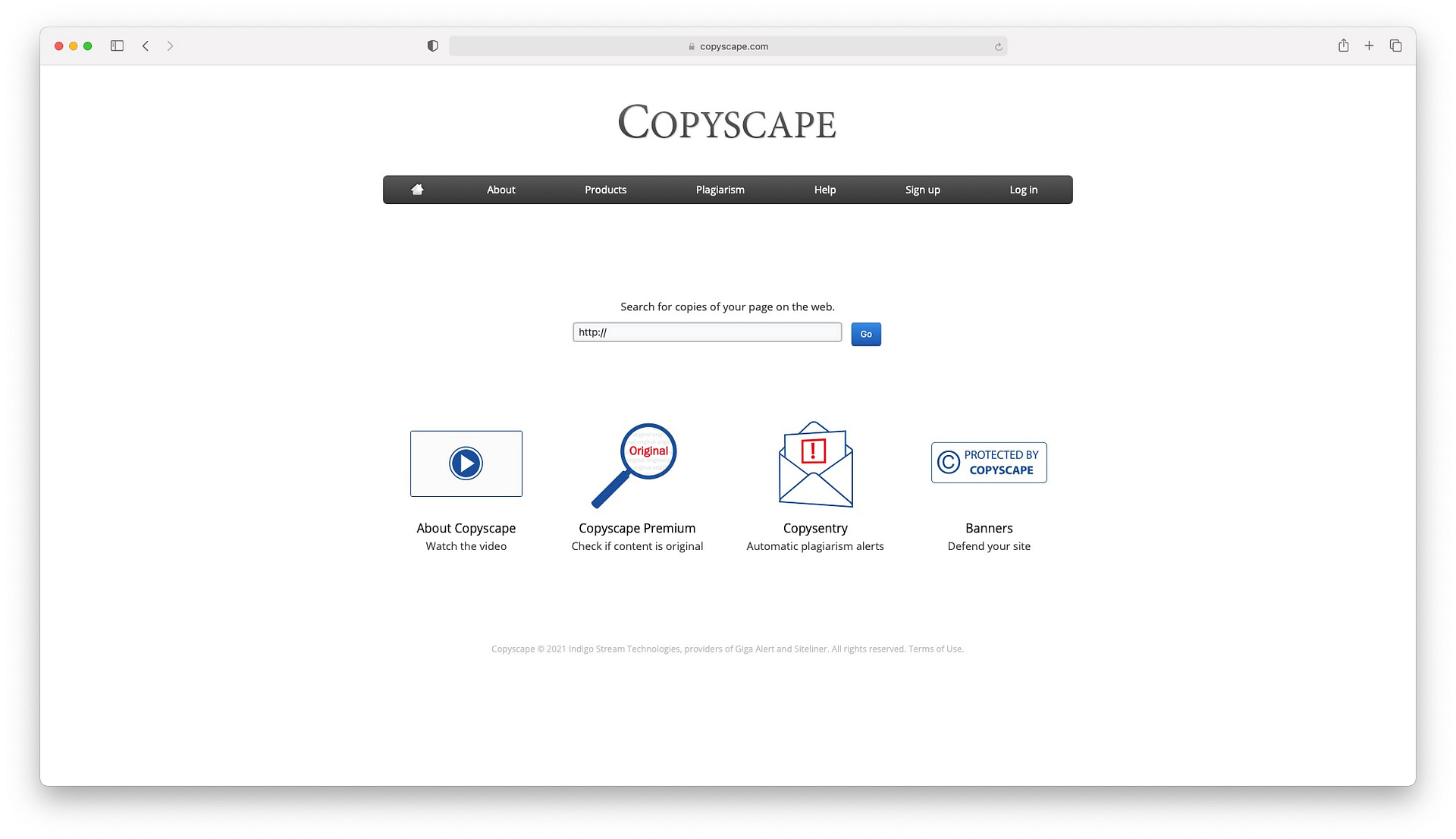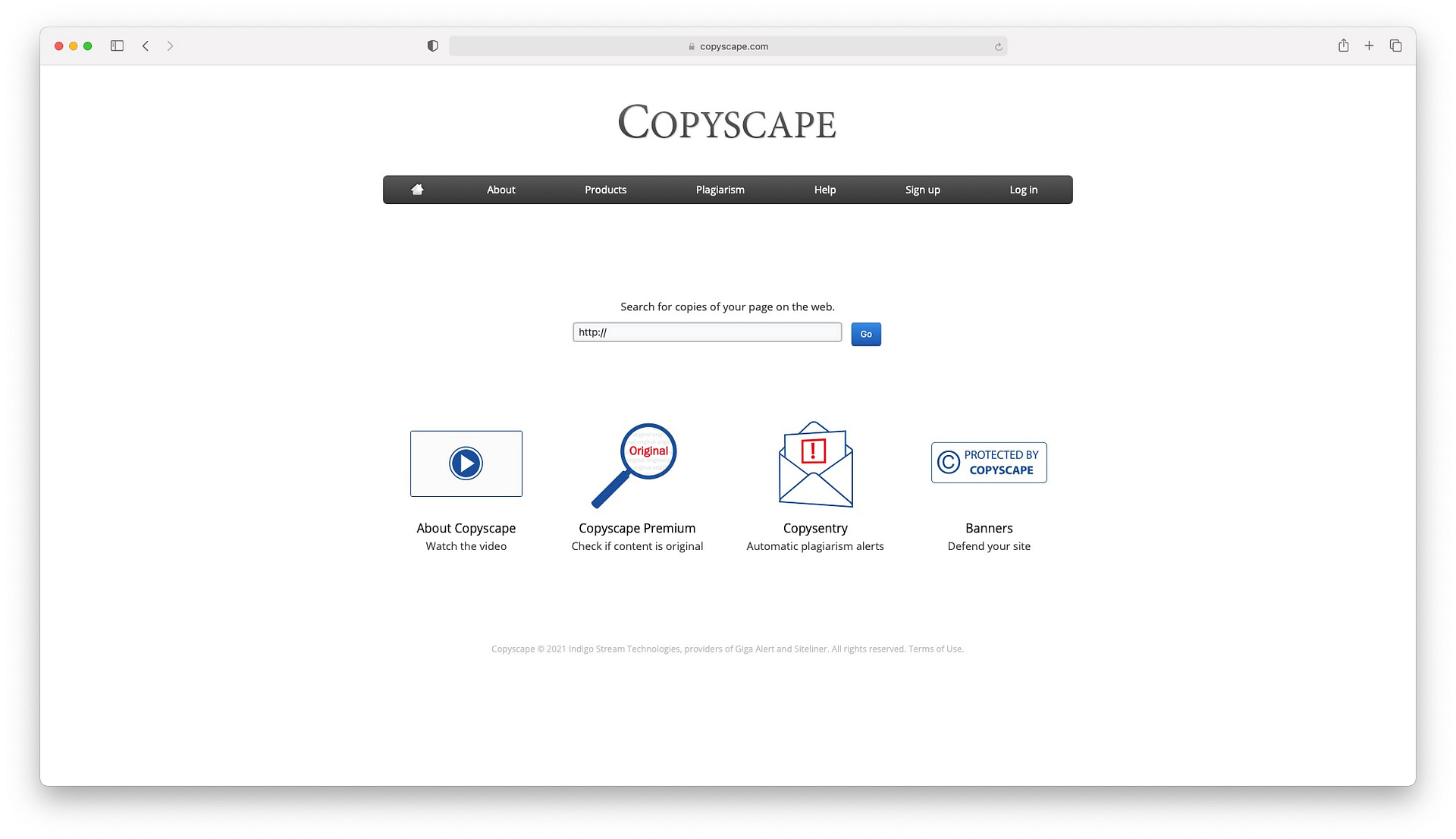 Next, we'll move on to another strong contender for the best free plagiarism checker, Copyscape. Similar to Quetext, the Copyscape home page is streamlined and simple. All you have to do to check a URL for duplicates is enter the link in the box and click on Go.
Copyscape will return a list of other pages on the internet that use all or part of the content included in the original page you submitted. In this way, it's similar to a more sophisticated Google Search. You'll likely find the process highly user-friendly and intuitive.
⚙️ Features:
Fast loading times with accurate results
Direct links to pages that may have used your content
Highlighted instances of words that are identical to those used in the URL you entered
Copyscape might be an efficient choice for you if you're not looking to learn a new user interface. The search process blends seamlessly into any other online search with few deviations. Combined with how Copyscape highlights possible plagiarism directly on a site, this tool has the potential to save you a lot of time.
💵 Pricing:
Like the other options on this list, Copyscape's basic usage is free. Additional features – such as the ability to search up to 10,000 pages at once and exclude certain URLs from your results – are available with Copyscape Premium.
Copyscape Premium works on a per-word basis rather than a subscription model. The site will charge you $0.03 for the first 200 words and $0.01 for each additional 100 words. For reference, this puts the cost of a 1,000-word post at $0.11. If you publish one post per week, that puts you out just $5.72 for a whole year.
Finally, we'll complete our round-up with DupliChecker. Using this tool to check for plagiarism is fairly straightforward. Choose between pasting your text into the provided field, uploading a file, or entering a URL. Click on Check Plagiarism to receive your results. You may occasionally need to complete a CAPTCHA as well.
After a short wait, DupliChecker will return your results. In addition to showing you what percentage of your content contains phrasing identical or similar to that on other webpages, this tool will also provide direct links to the duplicate sources in question.
⚙️ Features:
The option to download your plagiarism report as a PDF or Word document
A helpful metric in the upper-left corner displaying your word count and the total number of similar results
Quick links to other practical tools on the site such as a reverse image search
Considering the above traits, you might be a fan of DupliChecker if you're meticulous about keeping records of your work. This is an easy tool to check your word count and save a copy of your post at the same time. Despite the provided word count, you may still want to consider using a grammar checker as well if you'd like to be thorough.
💵 Pricing:
DupliChecker is free to use. However, while it boasts high accuracy, there is a limitation of 1,000 words per search. The site also offers a Pro plan. This premium option starts at $10 per month and comes with a looser limitation of 10,000 words per search.
Conclusion
Legendary poet T.S. Eliot has been quoted as saying, "Good writers borrow. Great writers steal." Ironically, so have Pablo Picasso and Oscar Wilde. Plagiarism is an age-old problem that remains today. Between accidental misquotes and malicious thieves, having a tool to reliably report on your content's similarities to other pages is crucial.
Each tool we've covered in this post can help you take this necessary step in curating your content.
However, we're particularly fond of one site in particular – Copyscape. This plagiarism checker is intuitive, accurate, and fast. Its searches also keep the focus on internet publishing without implementing a word cap. Additionally, its premium plan enables you to only pay for what you need, which can help you stay in budget if you decide to upgrade.
What features are most important to you in a free plagiarism checker? Let us know in the comments section below!
Worried about #plagiarism? Try these #free text checkers today 🚓🚓🚓
…
Don't forget to join our crash course on speeding up your WordPress site. With some simple fixes, you can reduce your loading time by even 50-80%:
Layout and presentation by Chris Fitzgerald and Karol K.
Must See
At least one person was killed and two others were injured in a bombing...

Ilebaye, has been crowned the winner of the Big Brother Naija All Stars season....

Nollywood actress, Beverly Osu has claimed she was the first person to be addressed...