The best employee scheduling apps are all about optimum use of labor resources and streamlining operations. At the same time, they help you get a grip on employee costs, team communication, shift planning and employee accountability.
Whether you've got only a handful of workers or a sizable workforce, the best employee scheduling apps can make your life a lot easier. They help with better deployment of manpower and keep employees up to speed with their work hours. You also get all of your team deployment information in one place.
Moreover, they help with decision making by providing inputs like who's arriving late for work and which time slot has maximum sales. As with most HR related software, these apps can be standalone software or form part of any HR software suite.
Best employee #scheduling #apps: 10 top tools for effective HR this year 📆
Features to look for in the best employee scheduling apps
There's really no end to a potential list of features that these apps can provide. The key to choosing one really depends on knowing what exactly you want your tool to do. In general, however, most companies will benefit from some of these features:
A neat interface that's accessible to both employers and employees
Schedule management with highlighting of any clashes/overlaps
Tracking employee availability, time off and shift trading
Easy-to-edit scheduling templates
Auto-scheduling to optimize schedules and avoid overtime
Calculating and forecasting labor costs, including overtime
Real time schedule updates that can be accessed by employees from mobile apps, with notifications via text and email
Automatic reminders of upcoming shifts, alerting employees of changes
Integrations with other HR software for time-keeping, hiring employees, onboarding
Integrations with sales and accounting data using Square, Shopify and popular payroll software
Best employee scheduling apps in 2021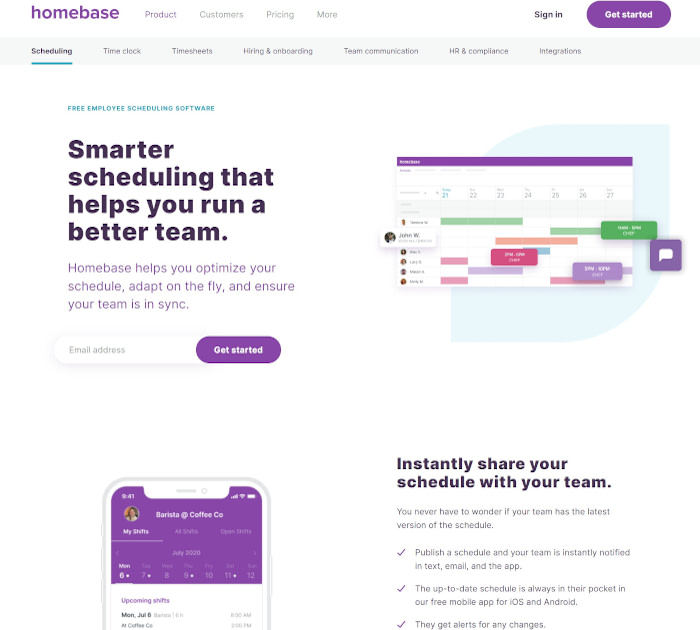 💸 Pricing:
The Basic features are free. To include employee reminders, auto scheduling and manager permissions, opt for the Essentials pack at $14/mo. Plus is available at $35/mo and includes Manager logbook, labor targets and more. The top level All-in-One pack at $70/mo includes labor law alerts, e-signatures, onboarding and more.
🧰 Key features:
Add as many employees as you want to schedule
Frame schedules in line with your sales target and labor costs
Instant notification of schedule and changes in text, email and app
Avoids scheduling conflicts by tracking availability and time off
Post open shifts for employees to claim
Maintain running money account of wages
Control time off requests with blackout dates, advance notice and more
Syncs with leading POS systems to track labor and sales
Covers many types of schedules – rotating, flexible or reduced schedules
Drag and drop scheduling lets you view team schedule by role, employee or shift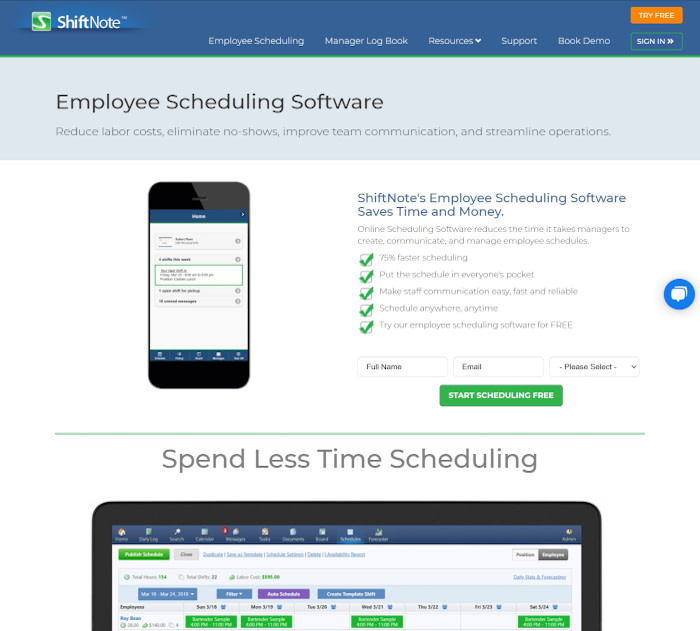 💸 Pricing:
Although a 30 day free trial is available, the actual useful employee scheduling features are included only in the Essentials pack. The prices are available only on request, but we do know that it uses a pay-as-you-go model with discounts for annual payments as well as for multiple locations.
🧰 Key features:
Create schedules from scratch or using templates
Auto schedule based on budgets and performance
Duplicate schedules and assign multiple positions
Overtime detection
Sales and labor forecasting
Customizable daily log and stats tracking
Employee issue tracking
Request time off and swap shifts
Announcements, employee portal, bulletin board
Events calendar and task management
💸 Pricing:
Two plans are available – the Business Plan (suitable for single site) and Enterprise (suitable for multi-site setups). Though exact costs are not published on the website, a minimum subscription fee as well as an implementation fee applies to both plans.
🧰 Key features:
Intelligent auto-scheduling and team-based scheduling
Automated notifications and reminders
Site branding and multilingual support
Employees can clock in, request time off and access other functions
Employees can indicate shift preferences
Shift selection and shift trading by employees
Create profile types, including custom profiles
Demand planner
Two-way texting
Targeted communications
💸 Pricing:
A fully functional 30-day free trial is available, besides a free version with limited functionality. Charges scale up depending on the number of users and time period, starting at $1.90/user/month.
🧰 Key features:
Users can submit a leave request easily
Corporate schedule overview to manage and distribute workload
Export absences to Google Calendar and Outlook
Real-time notifications of leave requests and approvals
Automatic paid time off accrual
Leave time balance control
Detailed leave history
Time and leave tracking integration
Mobile attendance tracker
You may also be interested in:
💸 Pricing:
Two plans are available, besides a custom Enterprise pack.The Starter pack costs $3.50/mo/user and the Classic pack costs $5/mo/user. Both require a minimum $100/mo payment.
🧰 Key features:
Shift trading by employees with minimal manager involvement
Integrate time off requests into shift schedule automatically
SMS, email and in-app notifications
Auto-fill scheduling based on employee availability
Real-time labor cost and budgeting
Schedule shifts and breaks in accordance with local laws
Integrated online employee time clock
Custom reports to track labor costs, attendance and payroll
Schedule employees based on their qualifications
Web-based GPS confirms clock in/out locations
💸 Pricing:
Price varies with number of users and locations – available on request.
🧰 Key features:
Scheduling with compliance to labor regulations
Overtime overview to reduce costs
Approve shift transactions with a click
Broadcast notifications and message members
Schedule with templates
Mobile alerts for meal times, breaks and more
Access useful reports like store roster, proforma and labor
Integrate schedules with store calendar
Employees can clock in/out and view time and attendance with pay
Restaurant-specific software, can benchmark individual restaurants and managers
💸 Pricing:
A fully featured 14-day free trial is available. Small businesses with up to 100 employees pay $2/user/month. Contact the sales team for custom quotes for Enterprise plans.
🧰 Key features:
Schedule employees and track time across multiple locations
Time clock and schedule integration for better cost control and faster payroll
Notify the team instantly of any changes
Schedule multiple teams and cover remote job sites
Prevent early clock-in and overtime alerts
Auto-deduct unpaid breaks
Labor reports
Mobile clock-in with GPS enforcement
Task management and document storage
Integration with Gusto, PayChex and more
💸 Pricing:
Free for up to 50 users. Basic at $39/mo, Advanced at $79/mo and Expert at $159/mo. The rates are applicable per 50 users. Beyond that $0.50-$3.60 for each additional user.
🧰 Key features:
Simplifies staff scheduling from planning to distribution
Can create schedules in minutes and share them with your team
Drag and drop to duplicate schedules, create recurring templates
Employees can claim shifts
Push notifications to keep employees up to date
Employees always have access to their full itinerary
Full manager visibility with real-time updates
Color coded status badges to control operations
Overview of team performance and notification on task completion
Shift specific messaging boards and in-app chat
💸 Pricing:
It's free for simple scheduling at one location. The Appetizer pack starts at $19.99/mo/location, the Entree pack starts at $43.99/mo/location and The Works starts at $76.99/mo/location with discounts for annual payments. On sign up, you get one month free.
🧰 Key features:
Task management, time clock and compliance
Staff engagement dashboard
Staff scheduling and notifications
Shift trading and time off requests
Staff availability
Team engagement and labor optimization
POS and payroll integrations
Auto scheduling
Reporting
Suitable for restaurants
💸 Pricing:
Full featured 31-day free trial. Scheduling Features cost $2.50/user/mo; same charges for Time and Attendance. The Premium pack with both sets of features costs $4.50/user/mo.
🧰 Key features:
Employee scheduling and auto scheduling
Time sheets and leave management
POS and payroll integration
Single sign-on
Tasking
News feed
Shift swapping
Engage with your team via one app
Reduce labor costs
Used in 100+ countries
Must See
Good morning! Here is today's summary from Nigerian Newspapers: 1. The Central Bank of Nigeria...

Negotiations with Qatari and Egyptian mediators over the release of hostages held by Hamas...

he Israeli military resumed fighting against Hamas in Gaza after the militant group broke...