Let's face it; regardless of how great you are at search engine optimization, using SEO audit tools has become imperative.
As you might have noticed already, Google's algorithm is progressively getting more and more complicated. It's not just a simple game of keywords anymore. Rather, Google currently uses more than 200 factors[1] in its ranking.
And that's not all. As it turns out, Google tweaks its search algorithm more than 3,000 times[2] every year. That translates to about nine changes per day.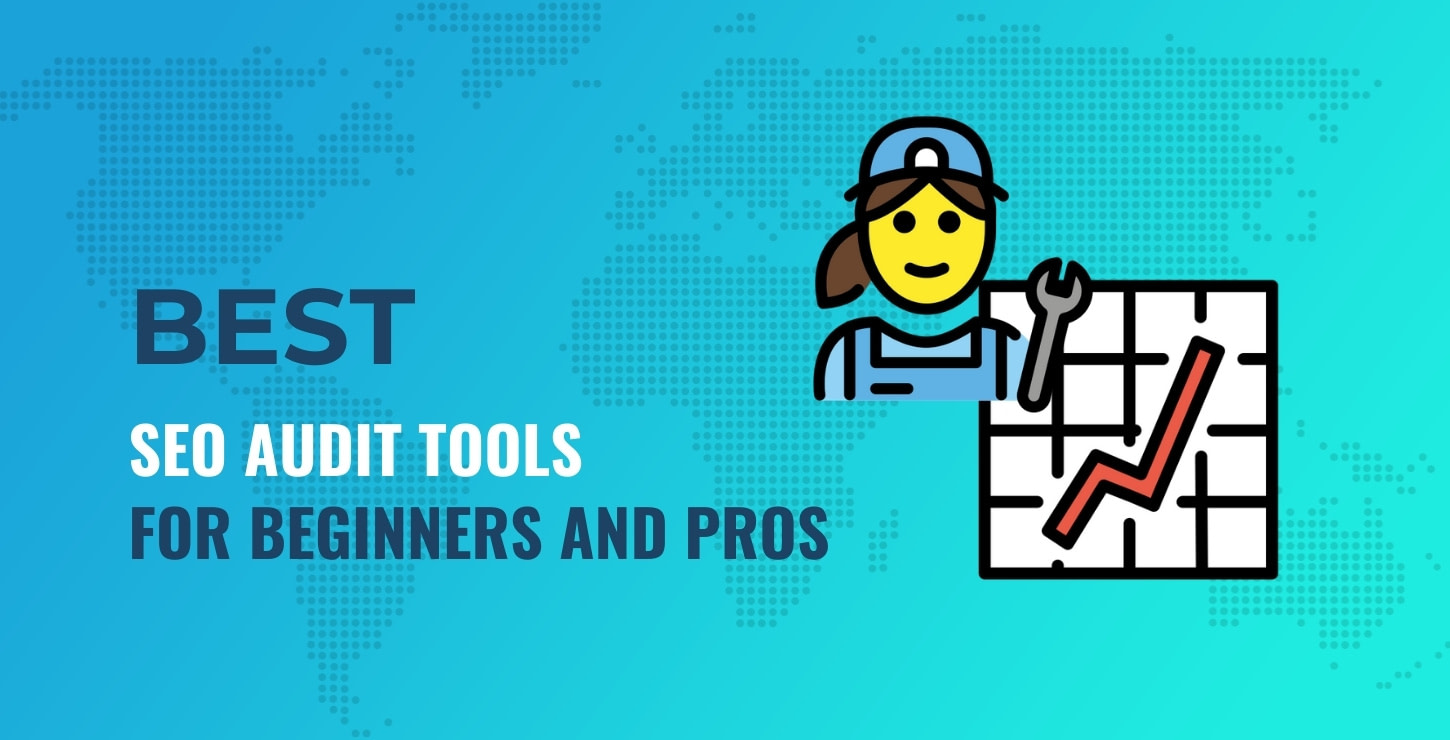 I don't know about you, but that's a heck of a lot of stuff to keep up with. I prefer leaving the heavy lifting to SEO audit tools! At least they are specialized enough to dig deep and discover any SEO issues that might be compromising my web pages.
Now, in that light, allow me to walk you through 15 of the best SEO audit tools in 2021. I've prepared this comprehensive list after years of extensive research and trials. And yes, I've been considerate enough to include both advanced and simple solutions, as well as paid and free SEO auditing tools.
Best SEO audit tools in 2021
Here are the tools that have made the final list:
📚 Table of contents: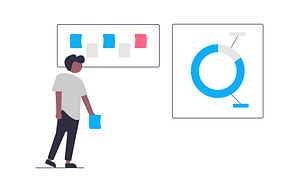 Improve your #SEO workflow with 15 of the best SEO #audit #tools 📈
Best SEO audit tools #1: SEMrush
For more than a decade now, SEMrush has grown to become one of the leading veterans in the SEO space. It now comes as an all-in-one digital marketing suite that packs more than 40 intel tools – specializing in keyword research, competitor intelligence, paid ad research, content optimization, rank tracking, and social media monitoring.
Then, when it comes to SEO auditing, SEMrush's Site Audit tool crawls through your web pages to flag up issues relating to your AMP implementation, JavaScript and CSS, internal linking, HTTPS security protocols, meta tags, SEO content, website crawlability, and page loading speeds.
SEMrush features ⚙️
Scans websites for over 130 technical and SEO errors.
Runs thematic reports.
Sorts out pages and audit results using advanced filters.
SEO issues are categorized into three groups, based on their severity: Errors, Warnings, and Notices.
Compares crawls to analyze the results of different SEO audits.
Integrates with your Google Analytics.
Provides actionable resolution insights.
Displays SEO audit results via intuitive graphs.
SEMrush pricing 💵
Thankfully, SEMrush conducts free SEO audits for 100 web pages. But, beyond that, you'll be required to pay at least $99.95 per month for 100,000 monthly page crawls.
Best SEO audit tools #2: SpyFU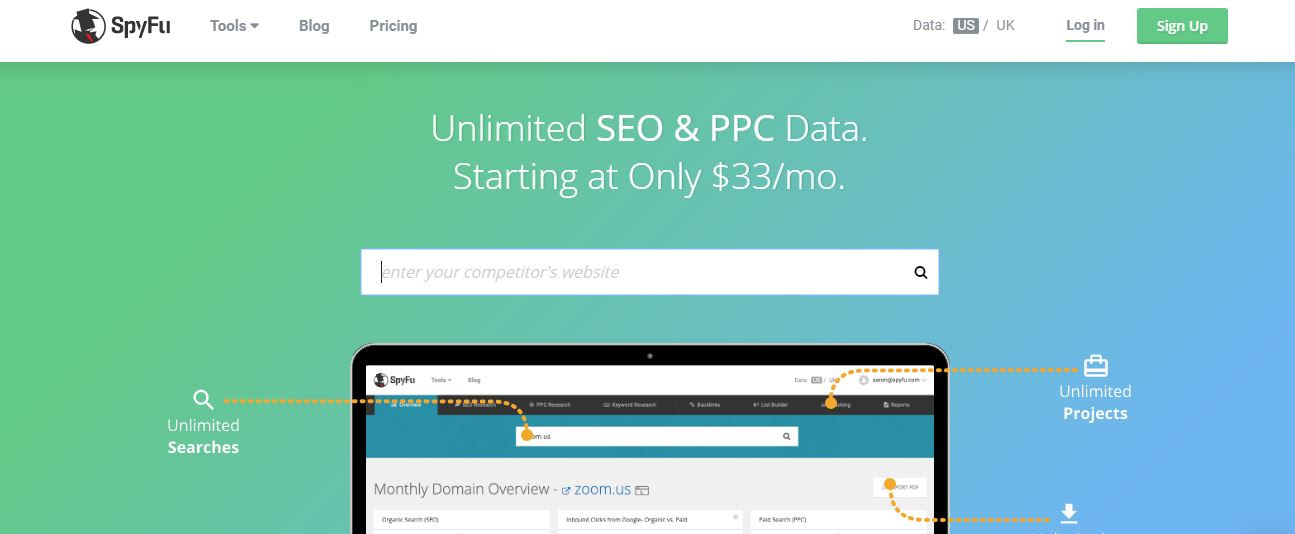 SpyFU is another extensively-renowned name in the SEO research circles. And just like SEMrush, it packs an entire arsenal of digital marketing tools – for keyword research, backlink tracking, competitor research, PPC research, rank tracking, you name it.
It's worth noting, though, that you won't find a dedicated site audit tool. Instead, SpyFu combines multiple tools to provide insights into your SEO campaign. Its SEO Keyword Research tool, for instance, highlights the bad keywords that you ought to eliminate, while Competitor Research identifies the potential flaws in other similar websites.
SpyFu features ⚙️
Identifies flaws exposed by Google updates.
Vets backlinks to eliminate duplicates and junk links.
Discovers possible ranking opportunities.
Compares your content with your competitors' cost valuable content.
Shows you the exclusive keywords your competitors rank for but you don't.
Highlights the keywords you don't need.
Tracks your domain's SEO performance history over the last 15 years.
SpyFu pricing 💵
SpyFu offers three pricing plans. The cost ranges between $33 per month and $299 per month.
Unlike most of the SEO audit tools in this space, Screaming Frog SEO Spider is not really a cloud-based software. Instead, it comes in the form of an installable tool, which then proceeds to crawl through your website while extracting on-site data, auditing SEO problems, and analyzing the results in real-time.
Both digital marketers and website owners can comfortably use it to scrape data from their web pages' HTML, track their server errors and broken links, analyze meta descriptions and page titles, flag up blocked URLs, as well as identify temporary and permanent redirects.
Screaming Frog features ⚙️
Evaluates internal linking and URL structure.
Integrates with Google Analytics, Google Search Console, and PageSpeed Insights APIs.
Reveals URLs blocked by robots.txt, meta robots, and X-Robots-Tag directives.
Identifies duplicated content and elements.
Discovers temporary and permanent redirects, as well as redirect chains and loops.
Sets up XML Sitemaps and Image XML Sitemaps.
Extracts data from any page HTML vis CSS Path, XPath, and regex.
Assesses page titles and meta descriptions.
Finds broken links (404s) and server errors.
Screaming Frog pricing 💵
The free version of Screaming Frog can only crawl 500 URLs, while the paid version charges £149.00 per year to crawl through an unlimited number of web pages.
Visit Screaming Frog
Go to top
Best SEO audit tools #4: Ahrefs
With over five tools to its name, Ahrefs is yet another suite that touts itself as an all-inclusive SEO toolset. It offers a Site Explorer, a Keyword Explorer, a Rank Tracker, a Content Explorer, plus a Site Audit tool.
The latter is actually where all the SEO audit magic happens. You basically get to discover problems relating to your website's external pages, JavaScript and CSS resources, broken pages and redirects, nofollow links and orphan pages, Hreflang tags, duplicate pages and low word count articles, incomplete or missing social tags, poorly-optimized HTML tags, as well as page performance issues.
👉 Read this to learn how Ahrefs differs from SEMrush.
Ahrefs features ⚙️
Crawls the desktop and mobile versions of your site.
Renders JavaScript-generated content on any web page.
Schedules automatic daily, weekly, and monthly site crawls.
Covers 100+ pre-configured SEO issues – including; incoming and outgoing links, hreflang, pagination, duplicates, and resources.
Allows custom filters based on multiple parameters.
Provides actionable recommendations on how to fix the SEO issues.
Shows you a real-time crawl log.
Ahrefs pricing 💵
If you sign up for Ahrefs Webmaster Tools, you get free limited access to its Site Explorer and Site Audit tools. The premium version, on the other hand, starts at $82 per month, and then stretches all the way to $999 per month.
Try Ahrefs Site Audit
Go to top

Previously known as Google Webmaster Tools, the offers a whole cluster of search performance metrics directly from the horse's mouth. So much so that you can even go way back in time and identify SEO issues from more than 16 months of data.
In particular, a quick scan through the insights should give you a good idea of your site's indexation and accessibility issues. Then to top it all off, Google Search Console provides details about your structured data, HTML, Accelerated Mobile Pages, broken links, and content quality.
Google Search Console features ⚙️
Monitors, tests, and tracks your AMP pages.
Proves crawl stats directly from Googlebot.
Highlights failed attempts at indexing, and pages with 404 or 500 errors.
Offers a content keywords tool for analyzing your keyword performance.
Helps you understand how well your keywords.
Reveals all the pages have been indexed by Google.
Generates customized audit reports.
Sends email alerts immediately Google identifies issues on your site.
Reviews your index coverage.
Provides info on queries that bring traffic to your site.
Covers user experience issues.
Google Search Console pricing 💵
The Google Search Console is completely free of charge to all users.
Use Google Search Console
Go to top
Best SEO audit tools #6: GTMetrix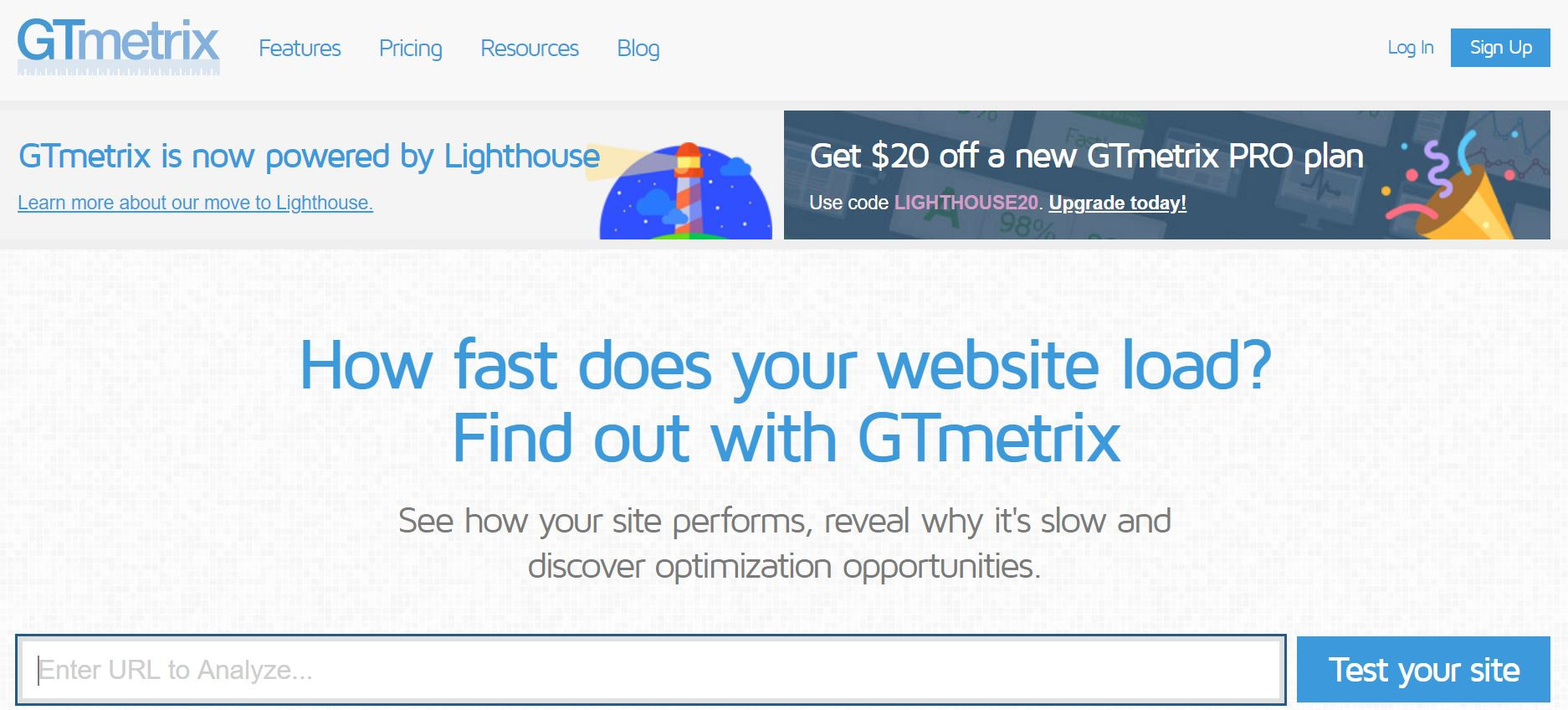 GTmetrix isn't a website crawler per se. Rather, it's more of a testing tool that reviews your web pages' performance, and subsequently, grants you quick insights into the technical health of your site. A test only takes a few seconds, after which you get to view your page loading speeds, the page's size, as well as the corresponding performance parameters such as caching, image scaling, plus scripts.
In total, GTmetrix covers about 25 SEO parameters. You can use the pointers to identify possible issues that might be affecting the performance of your web pages.
👉 If you want to learn how to use GTmetrix, read our in-depth tutorial.
GTmetrix features ⚙️
Displays your page load in a real-time filmstrip view.
Slows loading playback up to four times the original speed to evaluate loading issues.
Simulates page performance on over 20 different mobile devices and variants.
Displays performance metrics via four graphs – Web Vitals, Page Timings, Page Size & Request Counts, and Performance/Structure scores.
Focuses on user experience metrics.
Provides performance milestones like Largest Contentful Paint, Total Blocking Time, and Cumulative Layout Shift.
Assesses web page with Google Lighthouse.
Examines your page performance from 44 servers in 22 different locations around the globe.
GTmetrix pricing 💵
While 50 weekly on-demand tests are completely free, paying at least $10 per month increases the limit to 125, $20 per month gives you 175, and so forth. Teams and companies, on the other hand, pay up to $500 per month for 1,800 weekly on-demand tests.
Best SEO audit tools #7: OnCrawl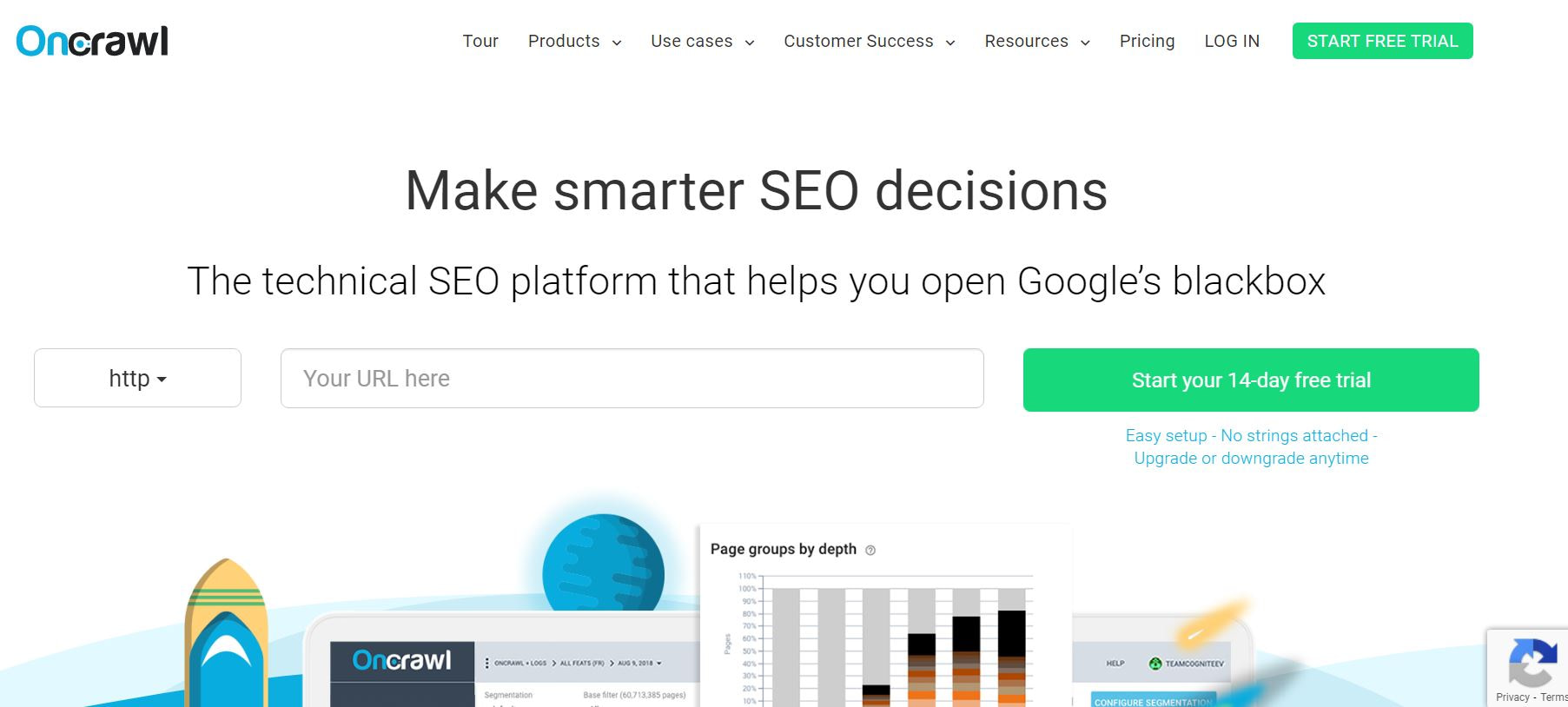 OnCrawl is built to help you make smarter SEO decisions" through its suite of SEO audit tools and other SEO software.
Combined, these tools help you comprehensively analyze your site's technical status, particularly when it comes to search indexation, Hreflang tags, pagination, canonicals, and sitemaps. But, that's not all. OnCrawl additionally audits your content quality, page loading speeds, plus the overall site architecture.
OnCrawl features ⚙️
Provides an accurate view of your internal linking.
Discovers your near-duplicates by similarity ratio.
Reveals how your payload impacts your SEO.
Scrapes data during crawls to analyze the associations.
Evaluates the effect of new policies on your site.
Supports segmentation based on any dataset.
Conducts JavaScript rendering.
Generates insights into your HTML quality, performance, and architecture.
Provides actionable tips on how to improve your SEO.
Performs cross-analysis to draw fresh conclusions from blended data.
Determines the ranking factors that influence your site's crawlability.
Discovers newly crawled pages.
OnCrawl pricing 💵
Sadly, OnCrawl doesn't have a free version. It offers four pricing plans, starting at €49 per month.
Best SEO audit tools #8: SE Ranking
As an all-in-one SEO tool/suite, SE Ranking competes directly with the likes of SEMrush, Ahrefs, and SpyFu. It particularly focuses on keyword research, backlink tracking, on-page analysis, PPC research, social media management, and website audit.
That said, SE Ranking's auditing tool generally crawls link-by-link while assessing your overall website health, user experience issues, image optimization, SERP parameters, plus meta tags and meta headers. Once it's done, it generates detailed reports on all the SEO problems, and then proceeds to give you actionable insights on how to resolve them.
SE Ranking features ⚙️
Evaluates all your website pages.
Generates sitemap.xml in one click.
Allows you to define what should be considered an SEO error.
Dynamically compares website audit instances to track your overall progress.
Offers actionable tips on resolving SEO issues.
Comprehensively analyzes your internal links.
Scans all the images on your website.
Checks your page loading speeds.
Reveals pages with missing or duplicate meta tags.
Finds all the technical errors affecting your SEO.
Covers test domains and subdomains.
Provides information on your content's SEO-friendliness and keyword optimization.
Reviews your index status.
Establishes the most common words and phrases on a page.
Examines the main parameters of your website.
SE Ranking pricing 💵
SE Ranking will cost you as low as $31 per month, and as much as $719 per month.
Best SEO audit tools #9: DeepCrawl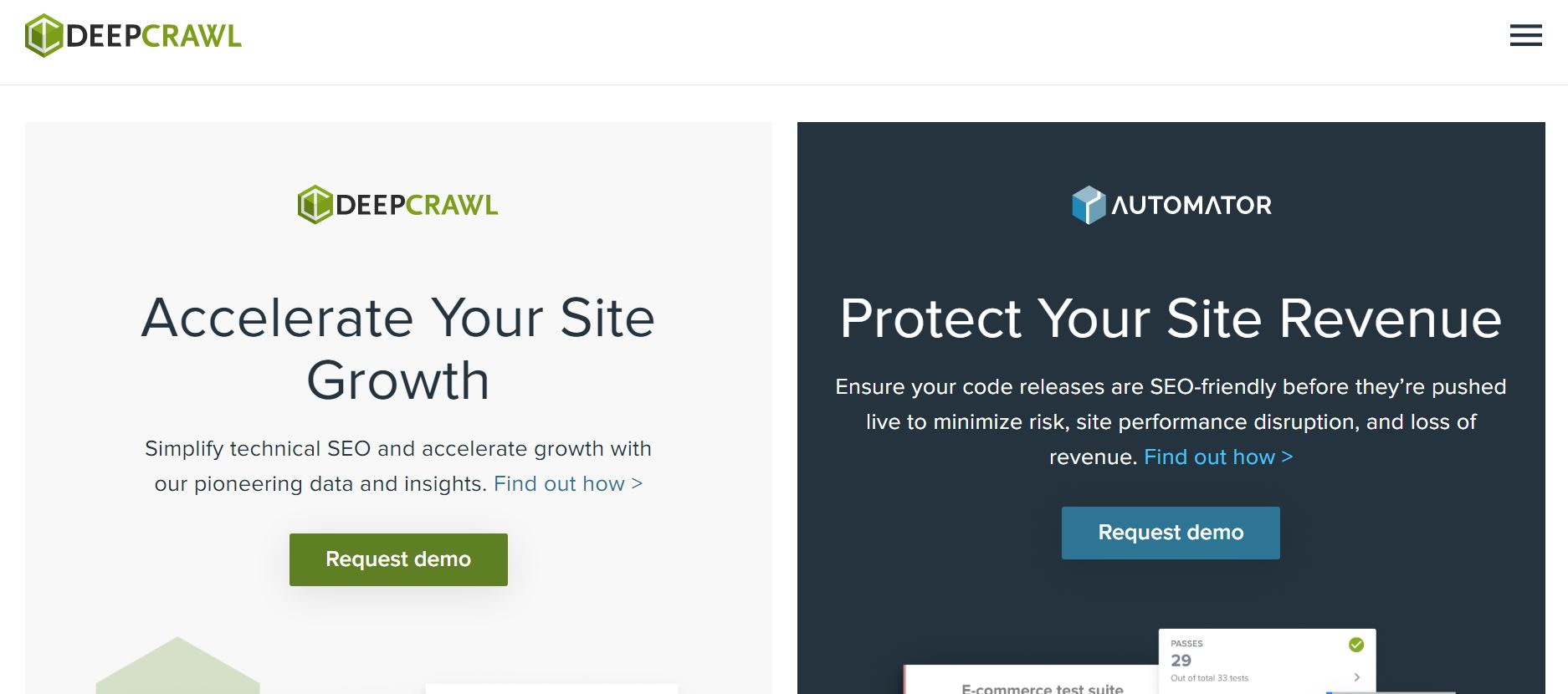 Next on our list of the best SEO audit tools is DeepCrawl, a website crawler that provides granular data and metrics on your site's technical health. It's especially handy when you need to spy on your competitors, enhance your site's overall user experience, assess your site's architecture, migrate your SEO settings, and redeem yourself from Google Panda's penalties.
DeepCrawl achieves all that by testing XML sitemaps, keeping tabs on your SEO progress history, as well as reviewing your canonical tags, content quality, meta descriptions, page titles, and meta headers.
DeepCrawl features ⚙️
Examines the technical health of your pages.
Allows you to define custom scripts in the crawl setup.
Extracts your site's breadcrumbs and schema.
Conducts special audits of eCommerce product pages.
Detects missing image alt tags.
Pulls 16 month's worth of Search Analytics data from Google Search Console.
Provides backlink metrics for your URLs
Crawl the rendered version of pages.
DeepCrawl pricing 💵
Although DeepCrawl isn't very open about its pricing, expect to pay as little as $14 for its Light version.
Best SEO audit tools #10: SERPsim

Just as its name suggests, SERPsim is a SERP simulator that's capable of generating snippets of your rankings on Google. That means you get to view how your web pages appear on Google's search results, and consequently, use the insights to optimize your page titles and metadata.
You can, for instance, check your page headers based on Google's current pixel length limit. Then once you're done, SERPsim allows you to share and save copies of the snippets.
SERPsim features ⚙️
Allows you to save your SERP preview as an image.
Can copy Google snippet tool data to the clipboard.
Facilitates sharing your SERPsim projects with a colleague and clients.
Download existing page titles and meta descriptions.
Fetches title and meta description from an existing URL.
SERPsim pricing 💵
SERPsim happens to be a free SERP snippet generator.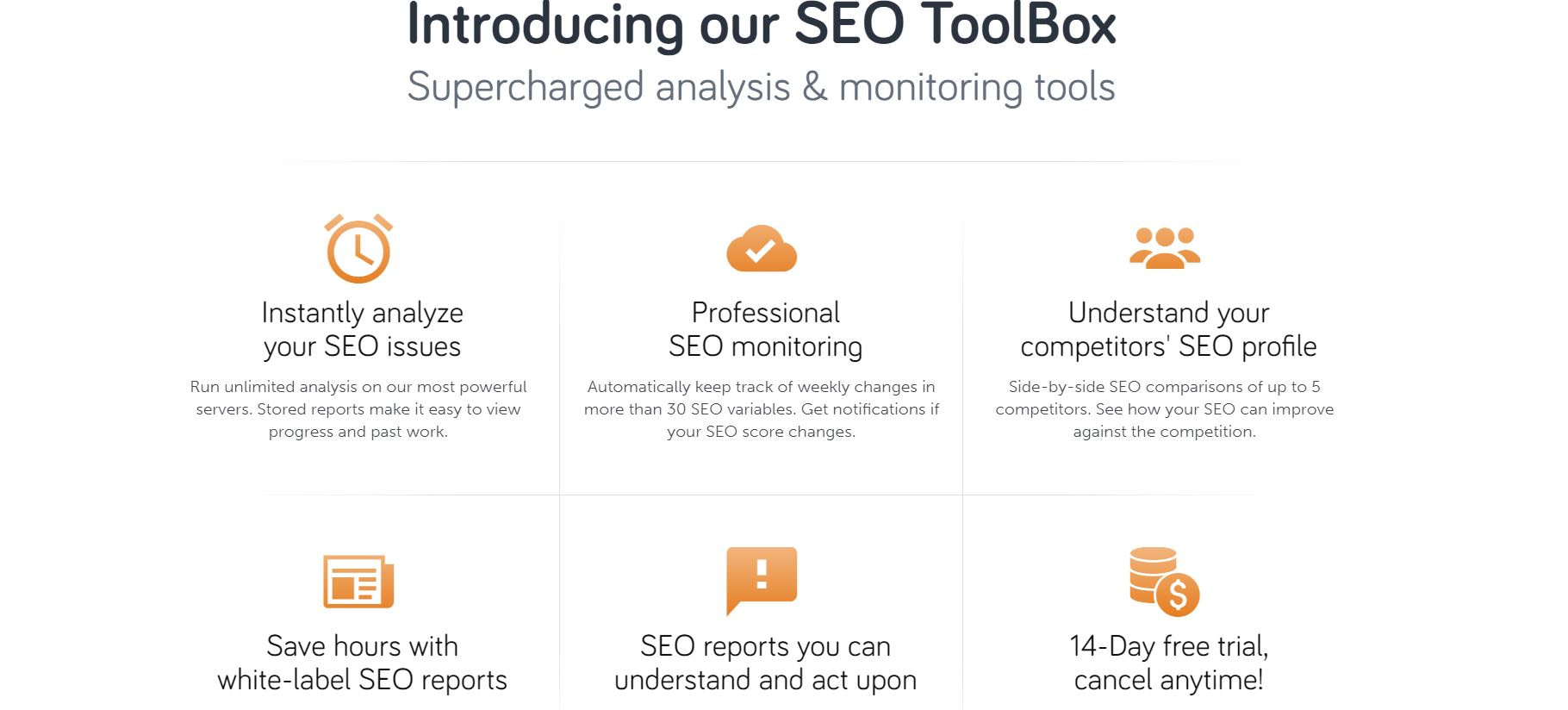 Used by over 5,000 webmasters, SEO Site Checkup is a suite of tools for checking your backlinks, creating sitemaps, spying on competitors, monitoring keywords, tracking regional performance, and auditing common SEO issues.
You can find problems affecting your structured data, canonical tags, SPF records, mobile usability, robots.txt, meta descriptions, meta titles, page keywords, headings, JavaScript and CSS, page loading speeds, etc.
SEO Site Checkup features ⚙️
Provides an overview of your site's loading speeds, and uptime.
Takes into account parameters relating to your site's mobile usability, loading performance, and security.
Identifies common SEO issues.
Offers insights on the quality and quantity of backlinks pointing to your website.
Gives you tutorials for resolving each SEO issue.
Automatically keeps track of weekly changes across more than 30 SEO variables.
SEO Site Checkup pricing 💵
SEO Site Cleanup pricing starts at $22.45 per month, which should cover up to three sites.
Visit SEO Site Checkup
Go to top
Best SEO audit tools #12: CopyScape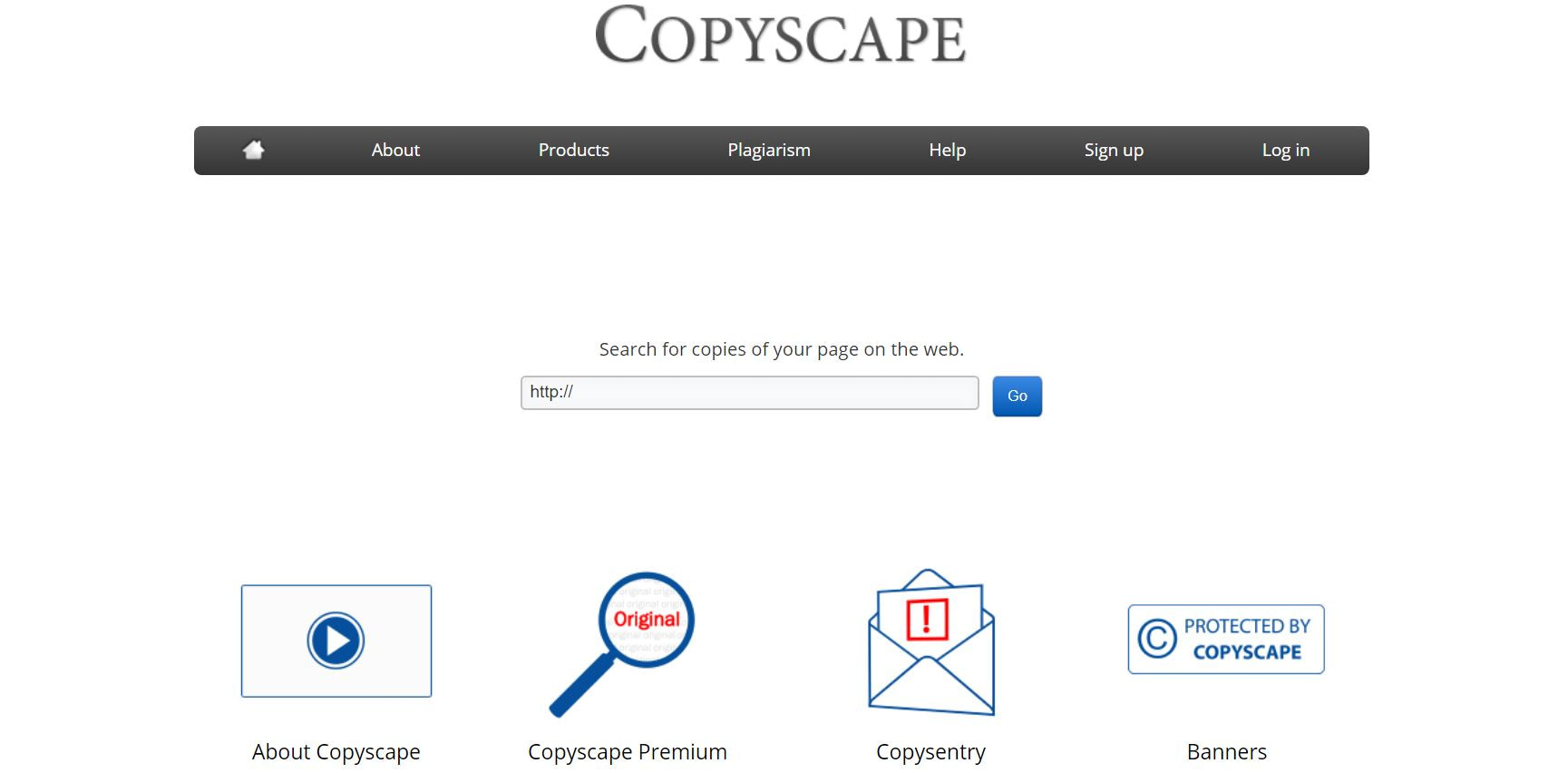 While most of the SEO audit tools we've featured here focus on the technical issues, Copyscape is all about content optimization. More specifically, it seeks to help you avoid plagiarism issues that could hurt your site's ranking.
For instance – you could verify your content's originality by running it through Copyscape's plagiarism checker before publishing. And in case you're worried about other websites copying your content, Copyscape's page banners can be set to warn plagiarists in advance. Then for the few who happen to proceed with the vice, Copyscape's Copysentry will help you discover plagiarized copies of your content on other websites, as well as possible duplicates on your site.
Copyscape features ⚙️
Checks for duplication within your own content.
Tracks multiple cases of plagiarism and your subsequent responses.
Examines up to 10,000 pages in a single operation with Batch Search.
Reviews content even in PDF or Word document format.
Scans the entire web daily or weekly for copies of some or all of your pages.
Copyscape pricing 💵
Copyscape Premium starts at $3c per search, while Copyscape Copysentry starts at $4.95 per month.
Best SEO audit tools #13: WordCounter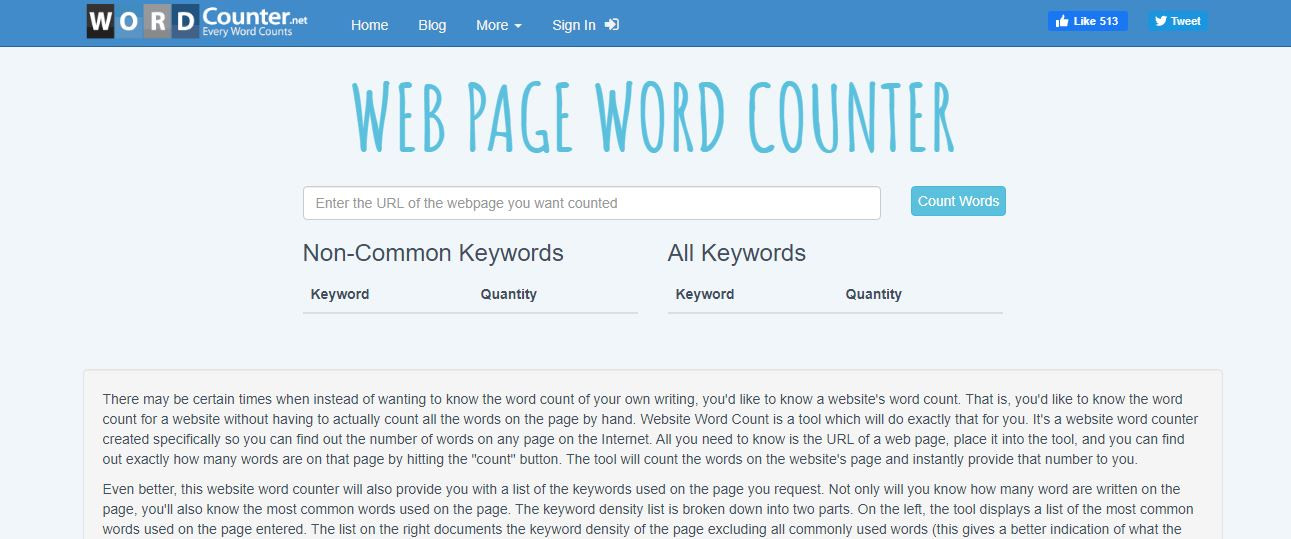 Still, on content optimization, you might also want to capitalize on the free WordCounter tool. It's particularly handy when you need to assess the word count and keyword density on your web pages.
In essence, the WordCounter saves you the trouble of counting the words manually. All you need to do is enter any web page's URL, and the tool will automatically generate information on the number of words, the most common words, plus their corresponding keyword density.
With that, you can easily compare your site with the best-ranking pages, and ultimately, use the resulting insights to improve the quality of your content.
WordCounter features ⚙️
Documents the keyword density of a page.
Provides a list of the most common words used on a page.
Counts the precise number of words on a page.
WordCounter pricing 💵
WordCounter is completely free to use.
The Google Structured Data Testing Tool is an SEO audit tool developed specifically for reviewing your website's schema markup.
Now, schema markup – for your information – is a type of structured data or code that gives Google context on what your site is all about. So, by running your site through Google Structured Data Testing Tool, you get the chance to identify all the possible code errors that might be making it difficult for Google to crawl, organize, and index your content.
Google Structured Data Testing Tool features ⚙️
Provides a preview of your site's structured data.
Displays the precise number of schema on the page/URL.
Gives a detailed account of schema errors.
Google Structured Data Testing Tool pricing 💵
The Google Structured Data Testing Tool is free for all.
Try Google's Structured Data Testing Tool
Go to top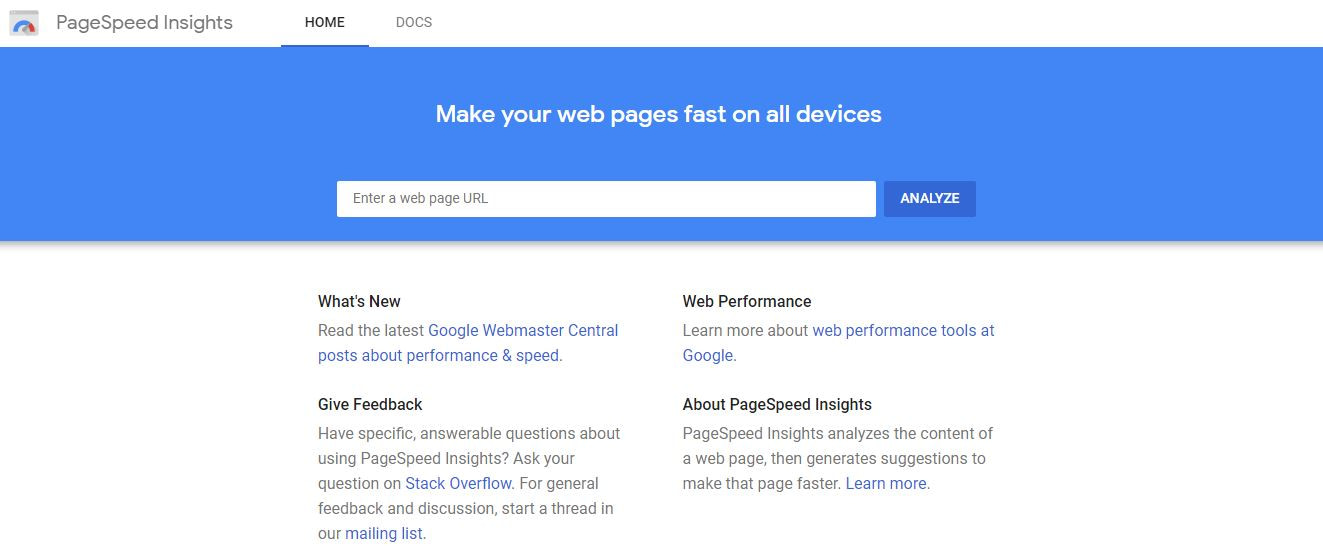 Powered by Lighthouse, PageSpeed Insights happens to be yet another SEO audit tool from Google. It's built to run tests on your URLs, and, ultimately, assign scores based on their performance on both desktop and mobile devices.
Now, to be more specific, PageSpeeed Insights analyzes not only your page loading speeds, but also the corresponding user experience. As such, it identifies all the issues and places them into three classes – Passed Audits, Diagnostics, and Opportunities.
The Passed Audits refer to page parameters that have performed relatively well. Then Opportunities, on the other hand, are the issues that you might want to work on to improve your page's overall performance – while Diagnostics provides insights into your page's adherence to web development best practices.
PageSpeed Insights features ⚙️
Powered by Google Lighthouse.
Reviews the page's performance on various metrics, including; First Contentful Paint, Total Blocking Time, Largest Contentful Paint, Time to Interactive, Speed Index, and Cumulative Layout Shift.
Offers suggestions on how to make your pages load faster.
Documents the performance of a page on both mobile and desktop devices.
PageSpeed Insights pricing 💵
PageSpeed Insights is a free SEO audit tool.
Try PageSpeed Insights
Go to top
Final words
Since each tool we've featured here has its own unique twist, I'd strongly advise you to consider leveraging several at a go.
You can, for instance, run your site through three or four crawlers, examine your pages with on-page checkers, or perhaps, optimize your content quality with the likes of Copyscape, SEMrush, or WordCounter. The choice is yours.
In the end, combining multiple tools translates to more accurate SEO audits. And, luckily for you, many of the best SEO audit tools offer free options.
If you want to go for a great all-around, complete SEO tool, then Ahrefs is probably your best bet. It offers SEO audit features, but also gives you a wide range of other SEO insights. We've been using it for years here at CodeinWP and it's our favorite SEO tool by far.
Do you have any questions about SEO audits? Let us know in the comments section below!
Why isn't your #website ranking? Find the problem with these #SEO audit #tools 📈
…
Don't forget to join our crash course on speeding up your WordPress site. With some simple fixes, you can reduce your loading time by even 50-80%:
Layout and presentation by Chris Fitzgerald and Karol K.
References
[1] https://www.codeinwp.com/blog/seo-stats/
[2] https://moz.com/blog/how-often-does-google-update-its-algorithm
Must See
Nigerian singer, Onoyom Mbuk better known as Iyanya, has revealed why he is yet...

Nigerian dancer and social media influencer, Usiwo Orezinena Jane, aka Janemena, has warned women...

Former Manchester United striker, Michael Owen, has revealed that his former club needs to...