The Bundesliga game between FC Bayern Munich and TSG Hoffenheim brings the next setback for the record champions. Again, Manuel Neuer replacement Yann Sommer does not look happy when conceding.
The fact is: Yann Sommer, current number one in goal at FC Bayern Munich, is 1.83 meters tall. It's also a fact: that's rather small for a top-class goalkeeper. It is also a fact: Manuel Neuer, the real number one in Bavaria, who cannot play right now after breaking his lower leg, is 1.93 meters taller than Sommer, ten centimeters. So far the facts. Everything that goes beyond discussions about whether Neuer would have kept the balls that Sommer just missed is pure speculation.
Nevertheless, people are talking about summer. The Swiss, who was kicked off as a substitute by Borussia Mönchengladbach for eight million euros during the winter break after Neuer's skiing accident, is thus one of the many construction sites at FC Bayern. "These are the centimeters he is missing. Manuel Neuer would have saved the shot," said former Dortmund keeper Roman Weidenfeller on Sky after Bayern's bitter 3-0 defeat in the Champions League at Manchester City. When Rodri made it 1-0 for City, Sommer stretched in vain after a long-range shot.
harsh criticism
The former national player and Bayern professional Dietmar Hamann went even further in his criticism: Sommer was "hopelessly overwhelmed", said today's expert of the TV broadcaster Sky, and even went beyond the game in Manchester. "The goalkeeper has unsettled the team, and not only today but in the last few weeks." Overall, according to Hamann, Sommer does not have the class to assert himself as a Bayern goalkeeper in the long term. "When he came I would have thought he could do it. But I have to change my mind and say: he didn't make it. I don't think he's an option to be in goal for Bayern next season."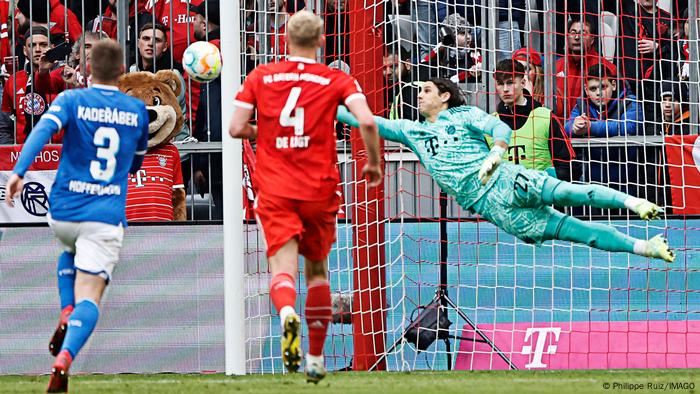 Yann Sommer stretches in vain against Hoffenheim after Andrej Kramaric's free-kick
After conceding a goal in the game against Hoffenheim in the Bundesliga, a free kick in which Sommer still touched the ball with his fingertips, but which then jumped into the goal from the inside post, Hamann was a little more merciful and even protected the Swiss: "If it things are going well for you, then the ball bounces against the post, then you hold it," said Hamann. But Sommer doesn't have such a run at the moment, said Hamann and analyzed the unfortunate goal as follows: "I think he was afraid of the post, afraid of hitting his head on the post."
Malice and understanding on the net
The reactions are divided on social media: There are jokers who tweet like: "What will Bayern fans and outdoor pool fans say in agreement soon? The summer was too short.", Or post suggestions that summer's disadvantage in height but with pot stilts for children or a step stool, there are also voices that cannot understand a discussion about summer.
Sommer's former sporting director, Roland Virkus from Borussia Mönchengladbach, also defended his former goalkeeper. "I find it disrespectful how you deal with him," said Virkus: "I don't think it's ok to dump everything on him. It's always the problem of the whole and not of an individual." Sommer is "definitely" being treated unfairly at the moment, Virkus emphasized: "As a goalkeeper, you're bound to have a game that's not so good. But that doesn't diminish a goalkeeper's lifetime achievement." The former Gladbacher is "one of the best goalkeepers in Europe".
proof of its class
There are certainly divided opinions as to whether Virkus is right with this assessment, but the Gladbach sports director is right on one point. It's also a fact: Yann Sommer has saved many an almost untenable ball in the Bundesliga, in the Champions League, in the DFB Cup and also in international competitions with the Swiss national team and saved points for his teams and won games. And he was always "only" 1.83 meters tall.
Must See
Grammy-winning Nigerian singer Damini Ogulu, popularly known as Burna Boy, has revealed why he...

Cosmetic surgery among celebrities is becoming a trend. In Nigeria, Brazilian Butt Lift, popularly...

Indigenous rapper, Remilekun Abdulkalid Safaru, popularly known as Reminisce, has recalled his "first major"...