This is the June 2019 edition of "This Month in WordPress with CodeinWP."
Hi WordPress lovers, welcome to a fresh roundup of news from our community! Just like last month, May was full of interesting events, announcements, and changes in the WordPress ecosystem.
Before starting the June 2019 WordPress news edition, I want to say "Happy birthday, WordPress!", as it just turned 16. Lots of people from all around the world celebrated the anniversary with meetups, cakes, and drinks.
On another note, WordPress 5.2.1 is out, Elementor listed its Hello theme at WordPress.org, the Theme Review Team implemented controversial changes to the Trusted Authors Program, and the Advanced Custom Fields plugin added a PHP framework for blocks.
But this is just a quick peek. We also have a few WordPress core proposals for you, a new podcast, Gutenberg accessibility news, and a lot, lot more.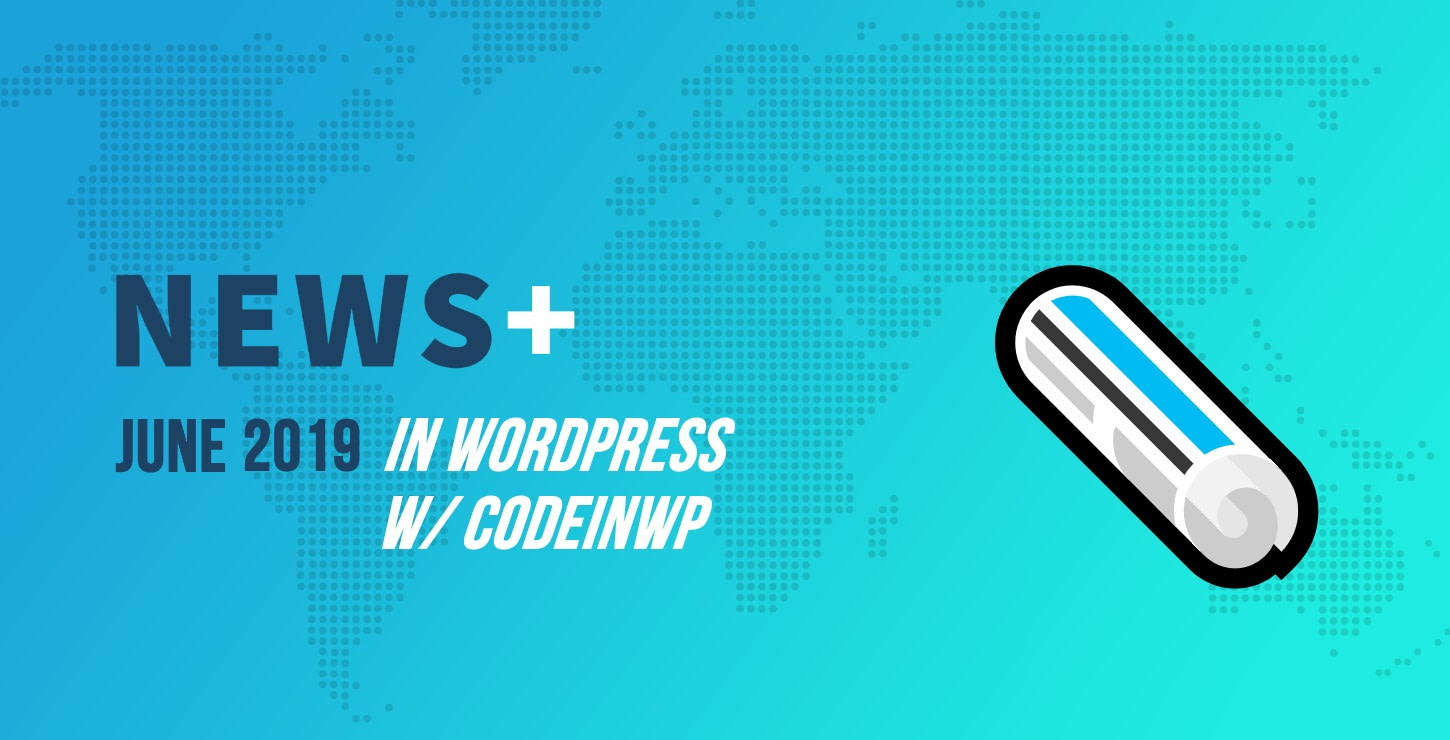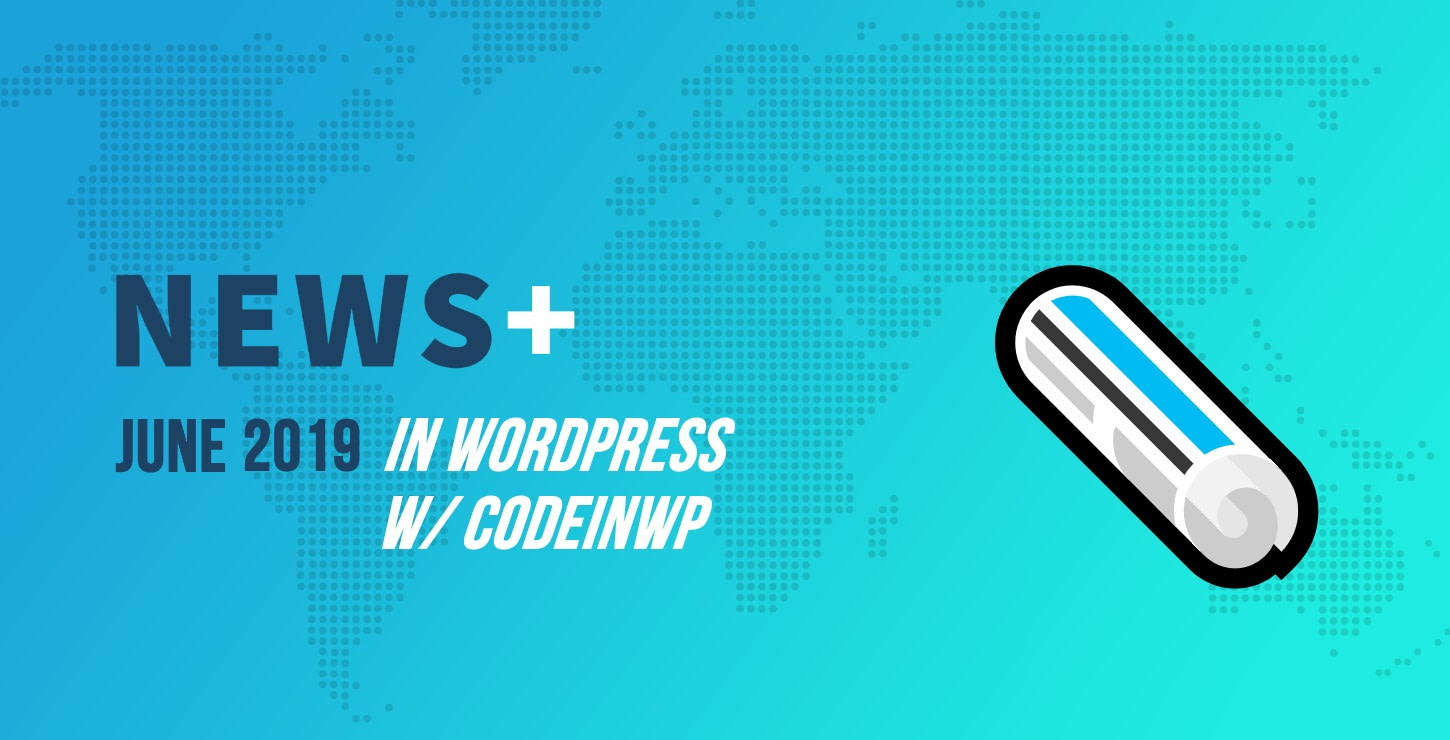 WordPress' Birthday, Elementor Theme, Trusted Authors Program 🗞️ June 2019 #WordPress news
Click To Tweet
June 2019 WordPress News
WordPress 5.2 – 'Jaco' – is out and comes with a bunch of new features and improvements on the side of security and site fixes. The development was focused on the Site Health Check project, PHP error protection, accessibility updates, new dashboard icons, plugin compatibility checks, and the security of the automatic updates.
But these are just the major changes; check out the article above for a more detailed look at all the WordPress 5.2 enhancements.
Meanwhile, WordPress 5.2.1 maintenance release is ready for you to download and test, while version 5.2.2 is expected to follow up in the first week of June.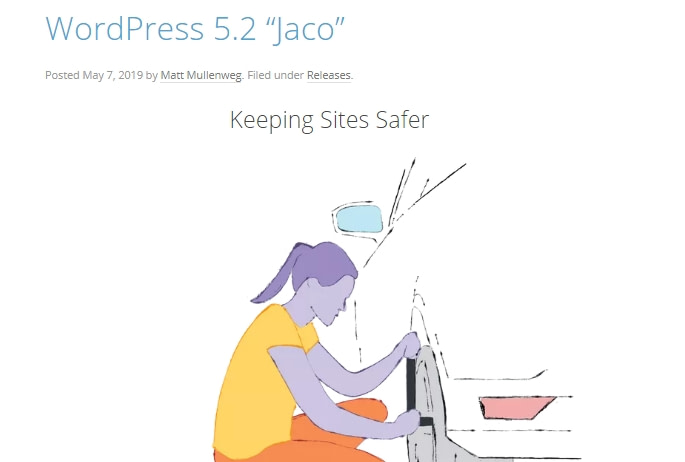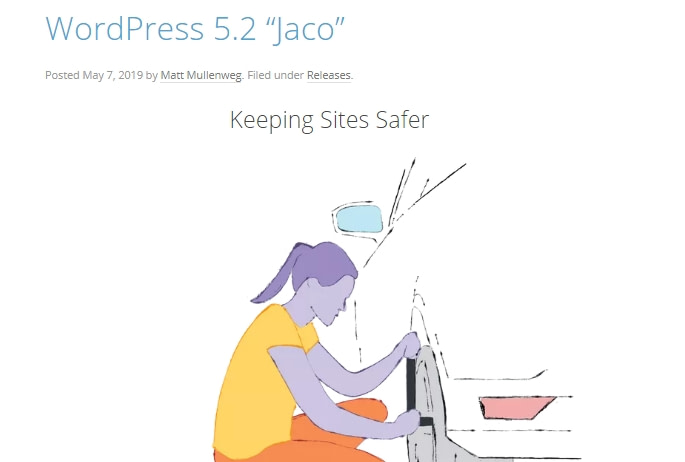 WordPress turned 16 today Happy 16th Birthday to WordPress https://t.co/1DCZ25Cr0Y pic.twitter.com/tf9LO3Qf9R

— Code Pixelz Media (@codepixelzmedia) May 27, 2019
In May, people celebrated another WordPress birthday – it turned 16 on the 27th of the month. It's been a long journey from the very first basic blogging platform to the complex and advanced website builder that our CMS has become during this time.
After 16 years of continuous development and innovation, WordPress powers 34% of the entire web. Our community didn't let this occasion go unnoticed as they celebrated with custom birthday cakes, dinners, themed meetups, or simply social media posts.
Introducing Hello Theme: The Fastest WordPress Theme Ever Created
The most popular page builder of the moment just launched its first ever WordPress theme at WordPress.org, named Hello. It is a clean, simple theme that you can use as a starter template for further customizations with Elementor.
In just one week, the theme collected over 10,000 active installations. The interesting thing is that Hello has been actually available on GitHub since March 2018 but it is only now that they published it on WordPress.org for a better user reach and acknowledgment.
Still, even if Hello is a free theme, some features – such as access to headers, footers, and widgets – are restricted to the Elementor Pro users only.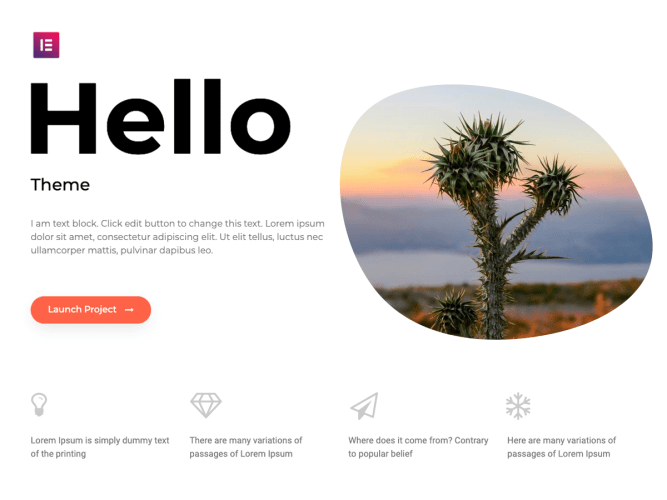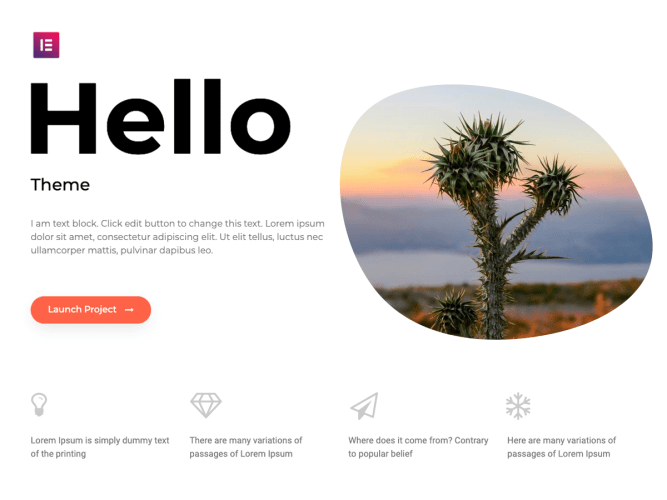 You may also be interested in:
There's no month in WordPress without at least a bit of controversy. The Trusted Authors Program was introduced last year by the Theme Review Team and focused on making the review process easier for those who were joining the program, so they can skip the long-tail Trac.
This year, the guidelines changed a bit. Now, if you want to have your themes moved fast through the review process, you need to review one ticket a month yourself in order to get to see your theme live in the repo. Your theme won't be published until you meet this condition and complete the review.
This announcement generated tons of comments from people expressing their disagreement with the changes.
ACF 5.8.0 Release – PHP Blocks for Gutenberg
On a different note, another protagonist of our June 2019 WordPress news roundup is the well-known Advanced Custom Fields plugin, which added new functionality to its core: PHP blocks. This is actually a PHP framework that lets you build custom Gutenberg block types. This new feature has been in development for six months and was released this month together with the latest version – 5.8.0 – of the plugin.
ACF Blocks feature is available only in the premium version of the tool.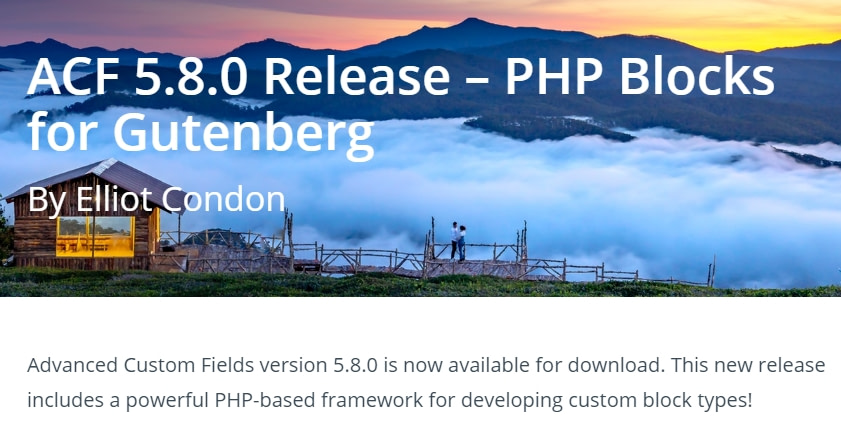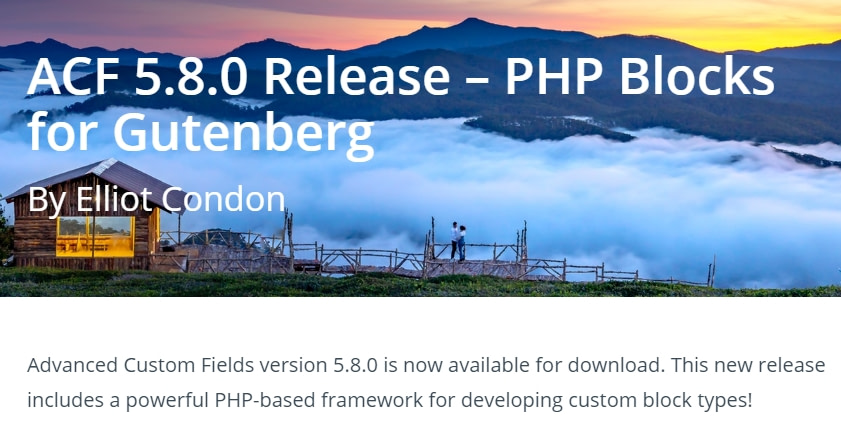 Great Articles From Around The Web
Proposal to Modify Plugin Guidelines
Mika Epstein from the Plugin Review Team came with a proposal to improve the plugin guidelines by modifying the parts that used to leave room for interpretation or seemed confusing. Read the post above and write your opinion if you want to contribute, too.
WPCampus releases results of the Gutenberg accessibility audit
The accessibility audit on Gutenberg took place early this year but we have yet to see the results…until now. So if you were waiting for the outcomes or you are just curious about Gutenberg's evolution in this direction, WPCampus posted the reports for you.
WordPress Designers Explore Proposal to Simplify WP Admin Navigation
Another proposal came from the designers, who created a few mockups of a new WordPress dashboard. Their goal is to simplify the navigation of the admin page. One of the changes relates to the sidebar navigation and aims to replace the flyouts with accordion menus.
Announcing GitHub Sponsors: a new way to contribute to open source
If you are a developer and want to contribute to GitHub, you have the chance to be financially compensated. The platform just launched a new Sponsors tool, which is still in beta but you can join the waitlist until it's completely ready.
WordPress Translation Day 4 Successfully Hosts 77 Local Events in 35 Countries, Recruits 183 New Translators
Another event that took place in May was WordPress Translation Day 4. The project was a success: it gathered 77 local events (more than in the previous years) in 35 countries, managing to bring 183 new translators to the Polyglots team.
Introducing the Distributed Podcast
Meanwhile, Matt Mullenweg started podcasting about 'the future of work', aka remote work. The first episode is a conversation with Upwork's CEO, Stephanie Kasriel, about their internal distributed culture and how flexible schedules will influence companies.
WordCamp US 2019 Tickets Now on Sale
The first big WordCamp of the year is coming in less than one month but, meanwhile, you can buy tickets to WordCamp US 2019. One ticket costs $50 and gives you full access to the event, plus other surprises and a lot of fun. Here's the timeline to help you organize your year in advance.
How a link in our themes almost ruined our business (and how we fixed it)
Sometimes, an innocent mistake can lead to a disaster. Here's how the guys at WPZoom erased their company from the Google search index because of a link put in the wrong place. They solved the problem eventually.
Follow Marcel on His Epic 465 mi. Trek on Foot to WordCamp Europe
Marcel Bootsman (a fitting name, right?) started another trekking campaign from Berkel en Rodenrijs to Berlin. The purpose is to raise money for DonateWC, which is helping financially unstable people attend a big WordCamp. Check Marcel's route and join the challenge if you meet him.
The Non-Developers Guide to Git and GitHub
Usually, only developers spend time on Git. But sometimes, we, the non-devs, need to interact with the platform too. At first sight, it might look complicated but you can get familiar with it pretty quickly. Here's a guide to learn what Git is and how to navigate it.
That's it for June 2019. Anything we missed?
WordPress' Birthday, Elementor Theme, Trusted Authors Program 🗞️ June 2019 #WordPress news
Click To Tweet
…
Don't forget to join our crash course on speeding up your WordPress site. With some simple fixes, you can reduce your loading time by even 50-80%: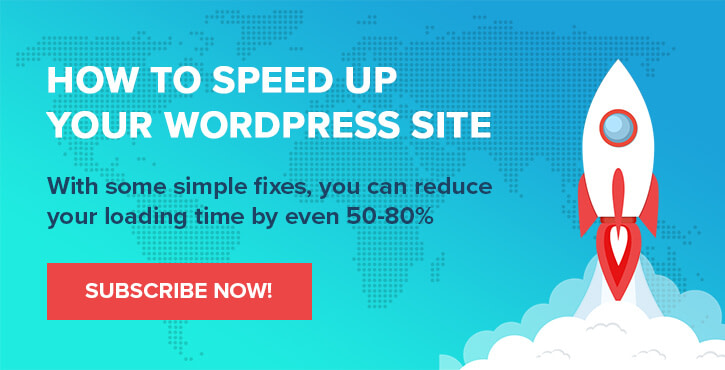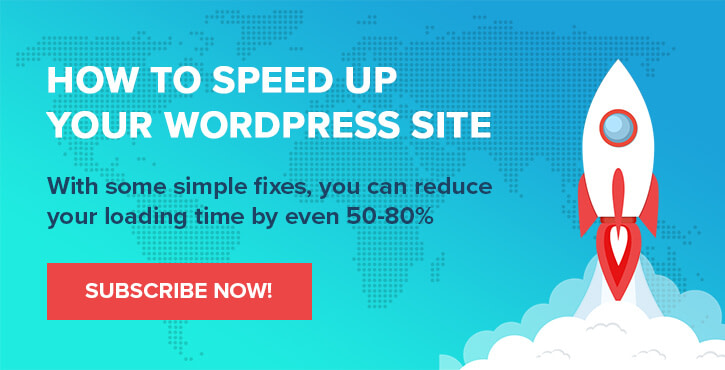 Was this topic
helpful?
0% of users found this helpful