WordPress hosting is low-key the reason we're all here. Okay, I might be exaggerating a bit, but what I mean is simply that without all those hosting companies, we wouldn't be able to enjoy our favorite website platform out in the wild.
That being said, what is people's actual experience with popular WordPress hosting platforms? Is there a way to find out?
This is where our annual WordPress hosting survey comes into play. 📈📊📉
Every year, this WordPress hosting survey ends up being the biggest such survey on the web, and 2020 is no different. The survey received 8,900+ responses, which is 2,400 more than last year! 👪👪👪👪
Moreover, the survey ran very quietly in the background, without any advertisements, without social media shares, basically without any active promotion at all. We wanted to keep things quiet just to avoid any potential interruptions or spam entries. Not that we ever had any.
The survey ran as a pop-up on three of our sites. Here are the questions asked:
Which web hosting company do you use?
How likely are you to recommend it?
Which hosting are you planning to switch to?
What do you value the most about your hosting?
How many websites do you manage with your host?
How much do you pay for hosting each month? ($ USD)
I'm going to show you the results in just a minute, but first, let's discuss what makes this edition of the survey different from the previous ones.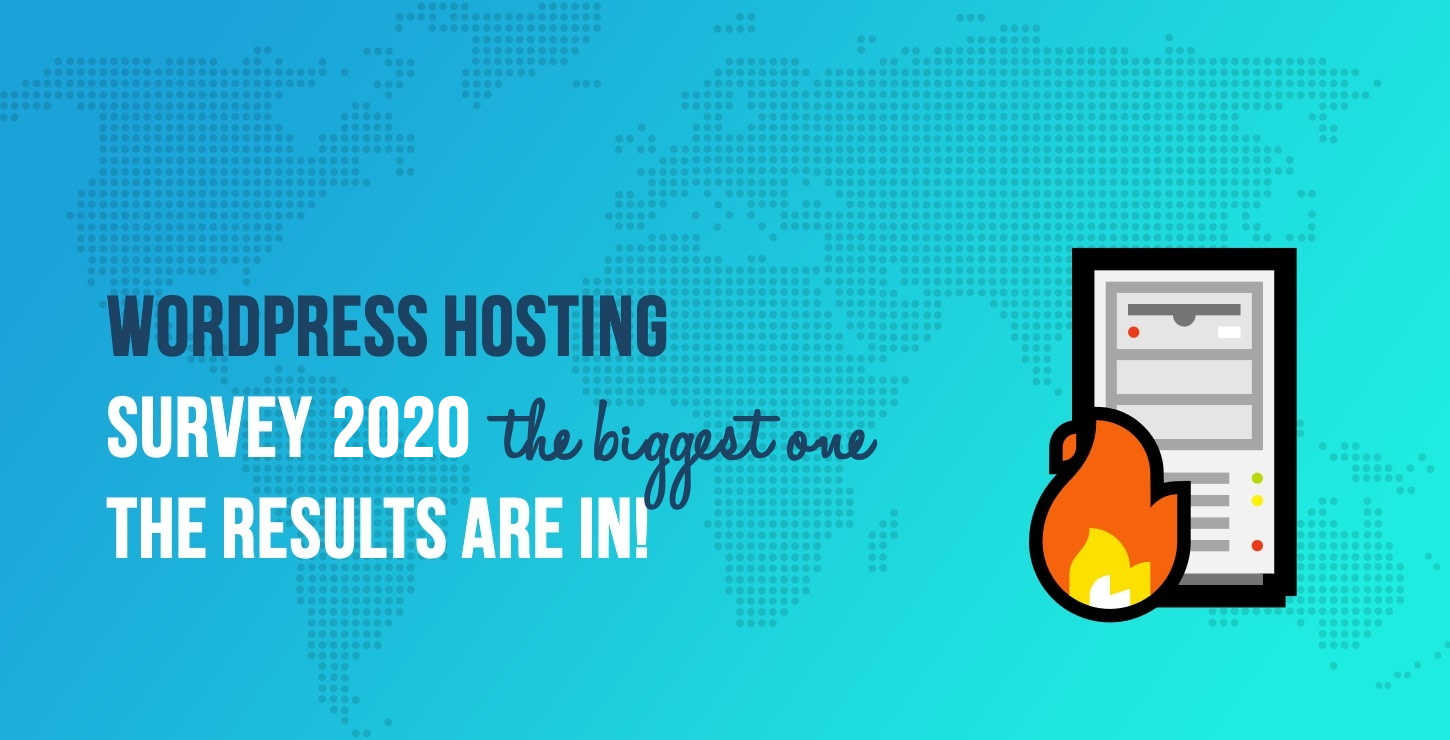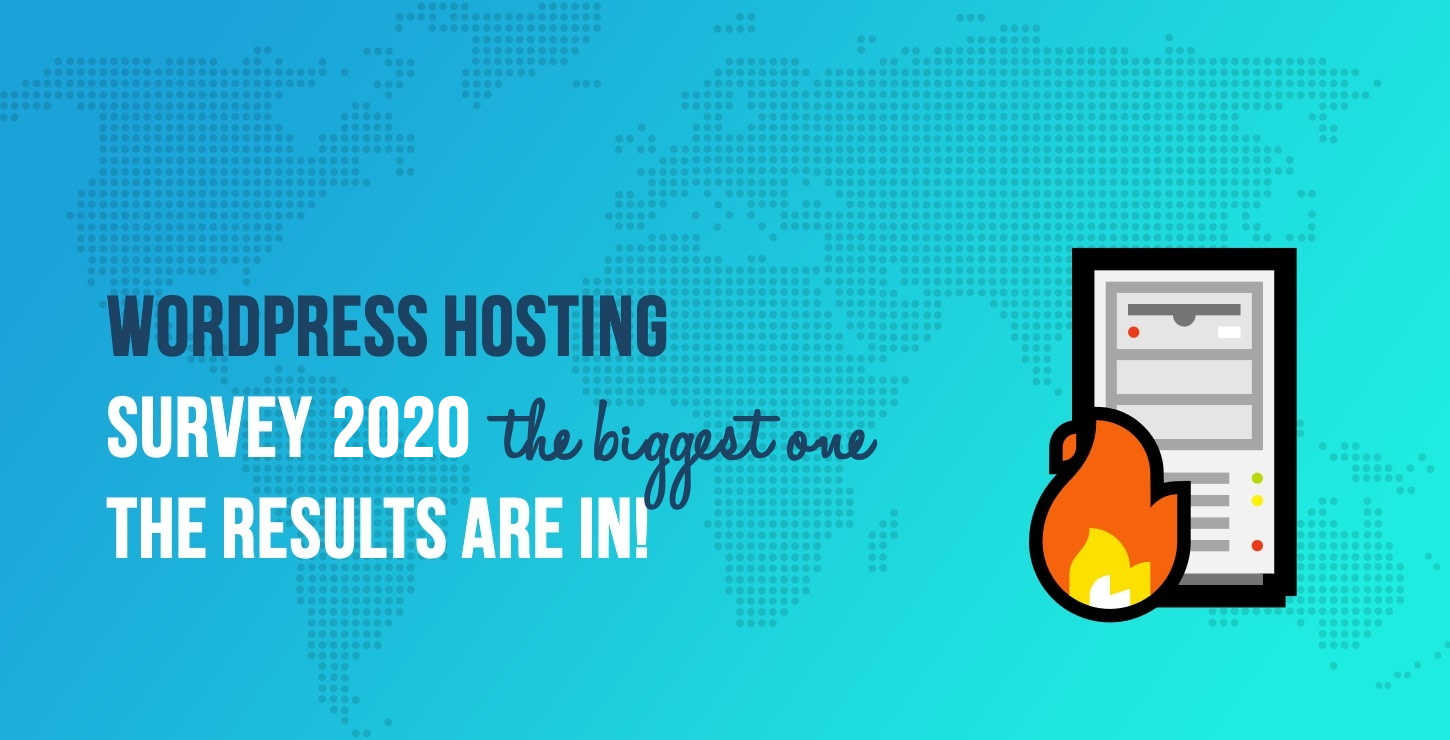 📚 Table of Contents:
Apart from the analysis that we have for you here, we're also making the raw CSV file available for download (here). Feel free to use it as a reference when making your own analysis.

#WordPress #hosting survey 2020 - the results are in - 8,900+ respondents 🔥 Click To Tweet
🧐 Why this 2020 WordPress hosting survey is different
I already spilled the beans a bit in the intro above, but here's the bigger story:
As you probably know, hosting is a topic that's very important to us. First off, we have reviews and comparisons of most of the popular hosting options available out there. Starting with our main comparison charts of the top companies, and then going into all sorts of niches and angles:
Secondly, affiliate income from various hosting firms adds up to a significant chunk of our overall revenue. People trust our hosting recommendations, and this carries a huge responsibility. Knowing this, we want to learn as much as we can about the hosting landscape and the quality that the top companies offer in the real world vs what it says on the tin.
The thing is that we can't really know who is actually the top hosting company if we only have our own handful of test sites to examine. The real-world insight is something we can only get from other users. Even though we do a lot of testing ourselves, the data sample is still small, and it's nothing compared to our readers' collective opinions.
This is precisely why surveys like this one are valuable. Just by asking a couple of simple questions, we can learn what real people – real users – think of their WordPress hosts.
Okay, so that is the story of the surveys overall, but what's with keeping this 2020 edition of the WordPress hosting survey low-key?
We wanted to reach as many casual users as we could.
We all know what the WordPress pro would recommend – SiteGround, WP Engine, Kinsta, and other managed WordPress hosting companies. It's the usual suspects all over again. However, are those hosts equally popular among casual website owners? That is what we wanted to find out. Oh, and did we!
Here's the truth about WordPress hosting and which hosts people actually use:
🔥 GoDaddy takes the market…again
Did you expect it to be any other way?
Like really, did you?
Indeed, GoDaddy is the most popular host in this edition of our WordPress hosting survey for 2020 (it also topped the list in our 2019 edition, as well as previous years). With that being said, its lead is smaller than in previous years, and its overall share went down (as did many others in our top list, which suggests we had a more diversified pool of respondents this year).
Here's the top five:
This is not a full list of hosts – just the most popular responses.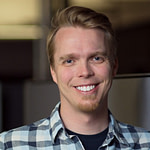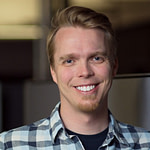 "People go with GoDaddy because GoDaddy is a well-known name brand that spends a TON of money on advertising. It's all about brand recognition and marketing."
– Morten Rand-Hendriksen
Full-time course instructor, LinkedIn Learning. Feminist. Talks ethics, web, philosophy. // mor10.com // @Twitter
GoDaddy is not a big name inside the WordPress hosting "bubble". But guess what? Not only are WordPress users using GoDaddy … they're actually fairly happy. While not the highest recommendation score in our WordPress hosting survey, GoDaddy clocked in at a respectable 7.36 average on our recommendation scale.
In the end, I guess we shouldn't be too surprised at GoDaddy's popularity. While it's not on most "best WordPress hosting" lists, the company has been snapping up WordPress properties at a rapid pace. They're also quite active at WordCamps, often sponsoring the events as one of the top-tier sponsors.
Interestingly, the popularity of the top five hosts in our survey reflects the overall market popularity quite well. Here's a quick Google Trends comparison, which isn't a perfect metric, yes, but still gives us a good overview of how popular these companies actually are compared to one another:
Right, GoDaddy seems to be missing there, let me fix this for you:


On another note, considering HostGator and Bluehost are significantly bigger than SiteGround, it's really impressive that SiteGround has still managed to get nearly as many entries.
One more intriguing takeaway is that the managed WordPress hosting space hasn't been represented that much in this WordPress hosting survey.
In our previous surveys (the ones geared at pro WordPress users), companies like WP Engine and Kinsta had their fair share of votes. In this year's survey, they got only 32 and 11 votes, respectively. This shows how different the WordPress hosting space is when talking to casual users vs people working with WordPress every day.
"GoDaddy is a fascinating case study on how to remake a brand. I think it's fair to say the company's branding nowadays inspires trust. A quick scroll through their website and you'll find affordable, easy-to-understand hosting plans and lots of photos of friendly faces. They offer WordPress-specific plans for beginners who need hand-holding along with managed WordPress hosting options. Then you've got tools like GoDaddy Pro, support for WooCommerce, and resources for small businesses.
GoDaddy is also very active in the WordPress community, sponsoring many WordCamps and other events. They contribute to core and they're a 2020 WordPress Community Global Sponsor. So when you take all that into account, it's not hard to see why people use and trust GoDaddy. It might not be the best rated or valued web host, but it's a recognisable brand, they've invested considerable time and resources in WordPress, and they make it really easy to set up a WordPress site."
– Raelene Morey
Founder at Words by Birds. Co-founder at The Repository. Writer. Editor. Word nerd.
🏆 Who's the top-rated WordPress hosting company of 2020?
Okay, let's cut to the chase, here are the top-rated WordPress hosting companies according to our 8,900+ survey respondents:
@siteground named the top consumer-facing #WordPress host of 2020, survey says 👏
Click To Tweet
@godaddy is the most popular #WordPress host of 2020, survey says 🔥
Click To Tweet
* This is only the top 15. You can get the full data file at the bottom of this post.
For the above table, we've only decided to feature the companies that got more than 50 entries. We're also giving the nod to SiteGround as Amazon AWS isn't really a "host" in the true sense of what most WordPress users are looking for. That is, you need to be a developer to use it for WordPress, unless you're using an in-between service like Cloudways. Still, Amazon AWS is technically the top-rated host if you take out that caveat.
If you're a "WordPress person" you're probably pretty happy to see SiteGround there at the top. This outcome is also very reassuring considering that we've been recommending SiteGround to our readers for a while now, so we're happy they're getting a great experience!
Apart from that, the big-name brands like Namecheap and Bluehost seem to be doing very well in the survey – both of them being in the top five.
Additionally, within the top ten, you can find all three of the hosts officially recommended by WordPress.org – SiteGround, DreamHost, and Bluehost.
Of course, our WordPress hosting survey wasn't only about the big players. The respondents actually mentioned more than 2,000(!) different hosting companies.
🌎 WordPress hosting internationally
The US market is kind of predictable in terms of who's going to be popular. I mean, all those Super Bowl ads have to account for something, right?
But what about the international markets? Is GoDaddy just as popular in, say, Australia as it is in the US? Let's see:
Out of 8,900+ answers, only around 22.45% come from the US. Here are the top 10 countries and their most popular hosting companies:
Or, for a more interactive presentation (click on country):
Most hosts market internationally nowadays, and it's fairly common for hosts to at least offer data centers in North America, Europe, the UK, and Asia.
While that's true, most major hosts on our list are still headquartered in the US. This led us to wonder; are hosts managing to connect with international customers just as well as customers from the US?
First off, let's talk about where our survey respondents come from and the overall satisfaction of those countries. Two countries dominated the list, with almost equal numbers of responses – the United States and India.
In the table below, you can see that users are generally equally satisfied with two big exceptions:
Hosting customers in India are a little bit less satisfied with their hosts than the other countries.
Hosting customers in Pakistan are a lot less satisfied than most other countries.
| Country | Count | % of Respondents | Avg. Rating |
| --- | --- | --- | --- |
| United States | 1999 | 22.43% | 7.88 |
| India | 1984 | 22.27% | 7.37 |
| United Kingdom | 504 | 5.66% | 7.9 |
| Nigeria | 469 | 5.26% | 7.78 |
| Pakistan | 413 | 4.63% | 6.52 |
| Canada | 272 | 3.05% | 7.78 |
| Australia | 215 | 2.41% | 7.83 |
Of course, it's important to remember that the websites where we ran our survey are all in English, so countries without lots of English speakers are going to be underrepresented in our results. There are plenty of, say, Chinese or German people hosting WordPress sites, they're just less likely to encounter our survey.
One thing that might explain the low satisfaction of our Pakistani respondents is who they're hosting with. The most popular host in Pakistan is 000WebHost, a free web hosting service from Hostinger. As we detailed in our post on free WordPress hosting, free hosting is not a great choice for serious projects, which is probably why Pakistani users are so unhappy with it (they gave it a dismal 5.24 rating). Excluding 000WebHost, people in Pakistan were otherwise pretty equally satisfied.
Beyond the overall ratings, we also thought it would be interesting to see how the most popular hosts fared at making their international customers happy. After all, to make the most popular list, a host definitely has to cater to a worldwide audience. But are some hosts doing this better than others?
There are a couple of interesting things in this chart. First, there's the dynamic between GoDaddy and Bluehost in terms of raw popularity. Bluehost is much more popular than GoDaddy with USA customers and is about equally split between USA and non-USA. GoDaddy, on the other hand, is more than 2X more popular internationally than it is in the USA. In both situations, though, users are just about equally satisfied.
Another interesting note is Hostinger, which barely makes a blip in terms of USA popularity but is one of the most popular hosts with non-USA customers. What's more, Hostinger's international customers seem to be significantly more satisfied than those in the USA (though the sample size for the USA is too small to draw confident conclusions).
Overall, we can say that customers around the world all seem to be fairly evenly happy with their hosts…at least hosts that they're paying money for. More on the free hosting conundrum later on.
👍 People are generally happy with their current hosting platform
The average rating given by the respondents was 7.6 / 10. This means that four of the top five most popular hosts in this WordPress hosting survey have scored above average ratings. In an odd twist of fate, the overall most popular host (GoDaddy) was the only one to fall below this average (at 7.36).
Interestingly, this overall score was a bit lower in our 2019 survey – at 7.4. Does this 0.2 increase mean that the WordPress hosting industry has upped its game? That I leave for you to decide. I wouldn't jump to conclusions too soon – maybe our respondents were just in a better mood this year.
Another interesting note is that the most popular rating, by far, is a perfect ten. This makes sense – if most people didn't love their hosting, they would probably have switched already, right?
For a more detailed breakdown, here's the percentage of people who have rated their host a certain value:
| Rating | % of users |
| --- | --- |
| 10 | 34.37% |
| 9 | 13.03% |
| 8 | 15.76% |
| 7 | 10.61% |
| 6 | 5.62% |
| 5 | 8.61% |
| 4 | 2.50% |
| 3 | 2.16% |
| 2 | 1.80% |
| 1 | 2.99% |
The percentage of perfect ten ratings is almost identical to our 2019 survey, when it was 34.40%. That's pretty wild when you consider both surveys are dealing with thousands of responses. In fact, the overall breakdown looks remarkably similar. Maybe there's a psychology paper in there somewhere about how people give ratings on a ten-point scale?
💰⛔ People aren't very satisfied with free WordPress hosting
If you're on a budget, the concept of free WordPress hosting is pretty alluring. Being able to run a WordPress site without spending a dime? That's tough to argue with.
However, it's important to remember that there ain't no such thing as a free lunch. In our post where we tested and examined free WordPress hosting, we found that it was fine for simple test environments, but not a good option for a serious website.
Our survey backs that data up, where users on free WordPress hosting were less satisfied than those using paid services. Despite that, there are still a significant number of people who do rely on free WordPress hosting – two free hosts made it into the top-15 most popular hosts in our survey, though neither cracked the top ten. Sometimes, budget trumps all.
| Host | Vote count | % of respondents | Rating |
| --- | --- | --- | --- |
| 000WebHost | 101 | 1.13% | 5.54 |
| InfinityFree | 66 | 0.74% | 6.80 |
We also tallied up the ratings for a number of free hosts that only got a few responses and the overall rating for free WordPress hosts was 6.08. This is well below the overall average satisfaction rating of 7.6 for all hosts. It's also well below Namecheap at 8.35, which is one of the cheapest hosts on this list with regular price plans starting at just a few dollars per month.
With that being said, the ratings for free WordPress hosts also aren't zero. If you're willing to put up with a slightly worse experience, you still might find the promise of free WordPress hosting to be worth that trade-off.
Another interesting comparison is 000WebHost vs Hostinger because 000WebHost comes directly from the Hostinger family. Hostinger essentially uses 000WebHost as a marketing vehicle to drive users towards Hostinger's paid plans. As you'd expect (and hope), paying Hostinger customers are a lot more satisfied than people using the free version:
| Host | Vote count | % of respondents | Rating |
| --- | --- | --- | --- |
| 000WebHost | 101 | 1.13% | 5.54 |
| Hostinger | 363 | 4.08% | 7.93 |
So, at least in these examples, it seems like you get what you pay for.
☯️ Is "WordPress" a host?
A lot of people said that "WordPress" is their host. This was also a popular response in the 2019 edition of our survey, which shows that it isn't a fluke.
Unfortunately, we don't know if what they mean is WordPress.com or if they confuse what a host actually is. We did get a decent number of answers specifically for WordPress.com (50 results), so WordPress.com is popular enough in its own right.
We've had a couple more answers like that. Here are some of them:
| "Who's your host?" | # of answers |
| --- | --- |
| "WordPress" | 723 |
| "cPanel" | 17 |
| "Plesk" | 13 |
| "Blog" | 25 |
| "free" | 10 |
| "WooCommerce" | 7 |
| "Elementor" | 5 |
Perhaps what this proves more than anything else is how confusing the whole idea of hosting really is.
As pros, I believe that we absolutely can't neglect the fact that WordPress isn't as simple as we like to believe it is. Educating other casual users is key to helping them understand the platform and how to get the most out of it.
With WordPress running on more than 30% of all websites, it's not surprising that a lot of users don't have any knowledge or even interest in understanding the platform's inner workings, or what makes one host better than the other.
Many casual users simply shop based on the price or based on the marketing messages that they see on the web. Many of them don't even assume that one host might be slower or less reliable than the other.
This brings me to the next thing that we wanted to find out in this 2020 WordPress hosting survey:
🏎️ Is speed essential for users?
If you're a WordPress pro, the performance of your servers is probably one of the key components of your overall satisfaction. But is it the same for everyone else? Do people really care that much?
While we did have a direct question on what people valued about their hosting setups, we've decided to go a step further here and actually use our own performance test data for making this analysis.
The following table reveals not whether people say that speed is important to them but instead focuses on the correlation between user ratings and real speed test data.
Based on this specific chunk of data, there doesn't seem to be any correlation at all.
However, it's worth pointing out that the loading times we get on our setups aren't necessarily what other users get.
Let's take a broader look at what people value the most:
⭐ What people value about their hosts
This was an optional question in this year's WordPress hosting survey, but it still got 1400+ responses.
I think you can make a good guess what the no.1 most valued thing is, but let's see the table anyway:
| What | % of users |
| --- | --- |
| Support | 43.91% |
| Price | 21.43% |
| Speed | 15.55% |
| Ease of use | 15.06% |
| Features | 10.99% |
| Reliability | 10.71% |
| Uptime | 4.90% |
| Security | 3.85% |
| It's free | 3.57% |



'What do you value the most about your #WordPress #hosting?' 43.91% of users say 'SUPPORT' Click To Tweet


First off, why do these numbers add up to more than 100%? That's an excellent question indeed. Our respondents often listed more than one thing when asked what they value about their WordPress hosting. So out of all the answers we got, we extracted the individual categories of "things" and then put them into a large spreadsheet. The results are what you see above.
So yes, support quality takes the first spot!
"[The importance of support] depends on a number of factors, and it depends on how you quantify support.
New website owners should make good hands-on support a priority as they are more likely to ask their hosting company for help with their website. Despite this, it's common for new website owners to select a hosting company based on price, not quality of support (which is admittedly difficult to gauge before using a company).
Established website owners are unlikely to go to their hosting company for help with managing their website. Uptime and server response times are therefore a bigger concern, but if for any reason the server goes down, they will want someone to resolve the matter immediately."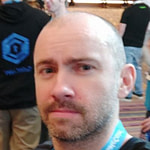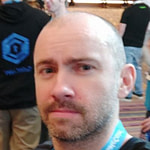 – Kevin Muldoon
Experienced blogger and internet marketer who loves working with WordPress. Makes money through blogs, content websites, forums, and YouTube.
Interestingly, speed is there on spot no.3 despite our own data telling us that speed isn't such a factor in practice. (Again, we discussed this in the previous section.)
Another thing we can look at here are the leading hosting companies for each of the most popular top-valued "things." In other words, which hosting company got the most votes for their customer support, price, and speed. Here are the answers:
Granted, the numbers are not huge here, but it's still an interesting tidbit of info to ponder.
Support is essential, especially because a sizable portion of WordPress site owners are not server maintenance experts. One main selling point of most CMSes is ease of use. With that ease of use comes a low threshold of entry for users, and reliance on support. When I recommend hosting to people, I always tell them to choose a host with solid support, and use that support when needed.
Morten Rand-Hendriksen

Go to top
🎭 Hosts that are part of the Endurance International Group vs the rest
As you may know, EIG is one of the biggest hosting firms on the market. However, for the most part, they've remained somewhat in the background and don't market themselves in the open at all.
They achieved their success by acquiring many other hosting companies and then letting them operate under their original brand names.
Every year, we like to look at how the companies under the EIG umbrella fare against the rest of the pack. This year's results are kind of surprising. Here's what we found:
Top EIG hosting companies as rated by users
Host
Votes
Rating 2020
Rating 2019
Bluehost
856
8.02
8.07
HostGator
446
7.92
7.84
BigRock
34
6.86
7.40
iPage
34
7.00
7.68
JustHost
16
6.88
–
Average for all EIG hosts
7.88
Now let's compare these against the top non-EIG hosts from the survey:
Top hosting companies as rated by users excluding EIG hosts
Host
Votes
Rating 2020
Rating 2019
GoDaddy
898
7.36
7.43
SiteGround
430
8.38
8.64
Hostinger
363
7.93
7.90
Namecheap
232
8.35
8.19
Google
152
7.96
7.80
Average for top 20 non-EIG hosts
7.67
It appears that EIG hosts have gotten comparatively better ratings than other companies. This was a bit surprising, considering that EIG companies allegedly don't have the best reputation on the web. When push comes to shove, however, they seem to be alright.
(These are weighted averages where the numbers of votes are the weights.)
♻️ Which hosts are people planning to switch to?
Apart from asking our users to rate their current hosts, we also asked which hosts they're planning to switch to, if any. Here are the most popular answers of people who are planning to switch:
The top of this list is remarkably similar to last year. These are all the most popular options, so it makes sense that they would have the most people looking to switch to them.
We also have the same ambiguity with people responding "WordPress". Are these people who want to move to WordPress.com? Are they unhappy with a website builder like Squarespace and Wix and looking to move to WordPress as a CMS? It's hard to know for sure.
One interesting note is the appearance of Google and AWS at the end of this list. With the rapid growth of cloud computing, it makes sense that an increasing number of people are interested in hosting their WordPress sites in the cloud.
Finally, we love the "Any" response. We're guessing there's a lot of overlap between the people who rated their current host zero and this response. If literally anything would be better than where they're at, things must be pretty bleak!
🖥️🖥️🖥️ How many sites do users host?
Most people, a huge plurality and almost a majority, only host a single website.
Here's how the data breaks down:
| # of sites | # of votes | % of votes |
| --- | --- | --- |
| 1 website | 1,804 | 48.59% |
| 2 websites | 564 | 15.19% |
| 3-5 websites | 639 | 17.21% |
| 6-10 websites | 220 | 5.93% |
| 10+ websites | 486 | 13.09% |
This year, we chose to break things down a little differently. Last year, our starting range was "1-5 websites", which gobbled up 71.73% of the vote. Because so many users fall in that range, we chose to get a little more specific this year, which shows that most of the people who fell in that range in 2019 were probably just hosting a single website.
It also shows how cheap shared hosts are able to get away with advertising "unlimited" websites – most people are only going to host a single site anyway.
One interesting thing is that people are more likely to host between three and five websites than they are to host two websites. I guess if you're already creating a second site, it's tempting to create a couple more, too. Similarly, people are more likely to host more than ten websites than between six to ten websites.
These trends are not that surprising on their own. It's expected that most people don't have that many websites. However, let's have a look at something a bit more interesting – how happy people are with their host vs how many sites they host:
| # of sites | User rating |
| --- | --- |
| 1 website | 7.48 |
| 2 websites | 7.74 |
| 3-5 websites | 8.26 |
| 6-10 websites | 8.33 |
| over 10 websites | 8.52 |
In general, the more sites you host, the happier you are. As the number of websites hosted increased, the overall rating also increased across the board.
The prices people pay vs the number of sites they host
Another thing we must talk about in relation to how many sites people host on their setups is how much they pay for it.
With this many companies offering "unlimited" plans, we wanted to see if the cost does indeed grow with the number of sites hosted or does it plateau at some point.
Here's what we found:
| "How many websites do you manage with your host?" | Median cost per month |
| --- | --- |
| 1 website | $4.00 |
| 2 websites | $5.00 |
| 3 – 5 websites | $10.00 |
| 6 – 10 websites | $12.00 |
| over 10 websites | $14.00 |
Perhaps not too surprising in hindsight, but people's hosting bills do indeed grow the more sites they host on a single account.
Two interesting takeaways:
The median for two websites is only $1 more than for one website. Meaning that adding a second site will only cost you around $1 more per month.
Hosting more than ten websites will cost only $4 more per month than hosting three websites.
Something we're not showing you in the table above are the average costs. Those were actually surprisingly high. For example, the average cost of hosting one website turned out to be $21.06 per month. What this means is that a handful of people are really overpaying for hosting. This raises the average value by $17.06 compared to the median.
Here's a broader look at people's hosting bills:
💰 How much people pay for WordPress hosting
Let's not keep you waiting:
The median WordPress hosting bill is $6 per month.


Most people pay $6 / mo. for #WordPress #hosting, survey says 💸💸💸 Click To Tweet


Here's a deeper look that compares the percentages of people who fall into a given pricing bracket:
| Price bracket | Percent of users |
| --- | --- |
| $0 | 16.18% |
| $1 or less | 6.56% |
| $1.01 - $2 | 5.88% |
| $2.01 - $3 | 7.40% |
| $3.01 - $4 | 4.85% |
| $4.01 - $5 | 7.28% |
| $5.01 - $8 | 7.24% |
| $8.01 - $10 | 9.46% |
| $10.01 - $15 | 7.91% |
| $15.01 - $20 | 6.36% |
| $20.01 - $40 | 6.92% |
| $41 - $60 | 4.06% |
| $61 - $100 | 3.78% |
| $101 - $200 | 2.15% |
| $201 - $499 | 1.87% |
| $500 + | 1.99% |
| $5,000 | 0.12% |
Some takeaways:
The most popular bracket? $0. More than 16% of people who gave us an answer pay $0 for WordPress hosting.
The most popular paid bracket? $8.01 – $10 per month at 9.46%.
More than 19% of people pay between $2 and $5 per month.
If you look at the top players in the shared hosting and VPS hosting world, most of them are successful due to cheap prices, a simplified user-interface for beginners and a huge marketing budget.
Kevin Muldoon

How much people pay vs the company they host with
We were curious how much people pay on average with each of the most popular hosting companies. Here's what we found:
Takeaways:
People are not crazy about WordPress.com's paid plans. The median is still $0.
Namecheap really does come through here with users paying close to the advertised price of $2.88 a month.
With Hostinger, even though they promote themselves as $1-a-month-host, users end up paying in the range of $5 per month.
Most budget hosts like HostGator, A2 Hosting, InMotion Hosting end up costing people much more than what's advertised.
🏠 Do people host their own sites?
In each survey, we have a handful of answers from people hosting their own sites. Here are the numbers for this year:
| Hosting setup | # of votes |
| --- | --- |
| My own server/company/host | 48 |
| localhost | 27 |
| XAMPP | 14 |
Together, those answers account for a mere 0.999% of all entries.
🌱 The main differences vs our previous WordPress hosting surveys
We've been doing two kinds of hosting surveys here on the blog.
End-user surveys – like the one we're presenting the results of here
Advanced-user surveys – where we ask WordPress pros and developers to share who they think are the top WordPress companies in the market
As you would expect, these surveys deliver vastly different results. While WordPress pros are keen on hosts like WP Engine or Kinsta, casual users work with GoDaddy and Bluehost most of all (as we've seen in this survey). But let's go a bit more in-depth.
First, here's what has changed since our previous end-user WordPress hosting surveys, which we did in 2017 and 2019:
There's some movement here, mostly drops, but the lineup is the same. The three most popular hosts last year were GoDaddy, Bluehost, and HostGator, and they still lead the market in 2020. These were also the three most popular hosts in our 2017 survey, so really not much has changed over the last four years.
That being said, HostGator has dropped to no.3 in popularity, while Bluehost has grown a lot to secure no.2. Another interesting thing here is how close SiteGround is to HostGator in this year's responses. In terms of raw numbers, HostGator got only 16 more votes than SiteGround. This trend is also reflected in Google Trends. As of September 2020, SiteGround has actually pulled ahead of HostGator, so it will be interesting to see if it moves up even more in future surveys:


Setting popularity aside, let's take a look at how the overall ratings have changed. Here's the data:
What casual users think of their WordPress hosts:
The changes aren't huge – though SiteGround and DreamHost did have small ~0.25 drops. Unfortunately for iPage users, iPage suffered the biggest decline at -0.68 (and it had already declined by -0.75 between our 2017 and 2019 surveys).
We're actually kind of happy that we're seeing ratings that are so similar to our 2019 and 2017 WordPress hosting surveys. Beyond any other conclusions, this is at least some evidence that these surveys hold up over time.
Another observation we can make is that the WordPress hosting market doesn't change that much overall. The leaders remain the same for the most part, and the quality of service that these leaders offer remains much the same as well.
…
Now for something that you might consider much more interesting, here are the differences vs our last advanced-user survey:
What pro users think of their WordPress hosts:
Big-name companies seem to get better ratings from end-users, while boutique, more pro-centered companies get better ratings from advanced users. I guess no surprise here.
…
We asked Kevin Muldoon and Morten Rand-Hendriksen to share their take on why pros and developers generally recommend WP Engine or Kinsta, while casual users host their sites with Bluehost or GoDaddy:
I agree that casual users and beginners gravitate towards cheaper solutions, but I do not agree that pro users and developers use WP Engine and Kinsta.
WP Engine and Kinsta have proven themselves in the industry, but if you've ever hosted your websites on your own server, you will understand that it can be frustrating to use a managed website host as you need to open support tickets to change basic settings that you would normally change yourself in seconds via the terminal.
My guess is that it's mostly businesses that gravitate towards managed hosting solutions as they handle most website administration tasks for you. Most developers will probably opt for a cloud hosting solution such as Digital Ocean, Vultr or Cloudways, as they're cheaper and give you significantly more control.
Kevin Muldoon

Developers recommend industrial scale hosting like WP Engine, Kinsta, and Pagely because they work with (or imagine they're working with) industrial scale sites. People in general choose shared hosting solutions like Bluehost and GoDaddy because they are significantly cheaper and serve the needs of most sites.
Morten Rand-Hendriksen

Go to top
🤔 What do the results of this WordPress hosting survey mean to us?
As we said in the intro, one of the main reasons why we're doing these hosting surveys is to learn which hosting companies the users actually enjoy over the long term. We can then take this insight into account when recommending hosting setups across our many resources on the blog.
Recommending hosting has always been a difficult thing to do. In the WordPress space, mainstream hosts like Bluehost or Namecheap are not always appreciated and don't have the best reputation. Most WordPress pros and developers will rather recommend WP Engine or Kinsta – being popular managed hosting solutions.
However, we find it difficult to always point readers to hosting that's around $30 a month and tell them that it's the only reasonable option while there are hosts out there that ask for 10 times less.
Are those hosts 10x worse? Is the support quality 10x less? It turns out that's not the case, and these surveys prove it.
The space of cheap hosting is growing, and the prices are dropping every year. At the same time, those cheap companies have improved their ratings and service quality noticeably.
For example, Namecheap has improved their ratings by 0.16 (from 8.19 to 8.35). IONOS by 1&1 is up by 0.54 (from 7.47 to 8.02).
While more expensive companies have good ratings as well (WP Engine at 8.69 and Kinsta at 8.00), there's no longer a huge gap between the cheap and the premium.
Of course, we do realize that everyone has different needs, and the more pro-like your server must be, the more you'll probably benefit from a tailor-made managed setup with a premium company.
For new websites and small business owners, though, cheap hosting will be more than enough. There really isn't a reason to pay more than $5 / month for hosting in 2021.
But what do you think? Are you likely to recommend Bluehost or Namecheap to someone looking for a WordPress host? Let us know in the comments.
👉 Get the data file of this WordPress hosting survey
Here's the raw-data export in case you want to analyze the results on your own. Don't forget to let us know if you find anything interesting!
By the way, the data files from our past surveys are still available: 2016, 2017, 2018, 2019.
You may also be interested in:


#WordPress #hosting survey 2020 - the results are in - 8,900+ respondents 🔥 Click To Tweet


…
Don't forget to join our crash course on speeding up your WordPress site. With some simple fixes, you can reduce your loading time by even 50-80%:
Layout, presentation and editing by Karol K.
* This post contains affiliate links, which means that if you click on one of the product links and then purchase the product, we'll receive a commission. No worries though, you'll still pay the standard amount so there's no cost on your part.
Was this topic
helpful?
0% of users found this helpful