This is the November 2018 edition of "This Month in WordPress with CodeinWP."
Hello friends, welcome to our November 2018 WordPress news roundup! Now that I think about it, I can't believe we're nearing this year's end…which kind of frightens me because I realize once again how fast time is flying.
Can you believe that Gutenberg might become the default editor in just two short weeks? I mean, the craze started sometime around May 2017 and now we've almost reached the culmination. The release is getting thoroughly prepared as I'm writing this post: Gutenberg has new features, while a fresh WordPress default theme is under development.
Anyway, not everything is sweet in the Gutenberg world, and we all know that. This month, there was some contentious back-and-forth regarding Gutenberg's accessibility, including the resignation of the Accessibility team lead.
But that's not all. We have many more awesome stories for you to read and a lot of great insights from various WordPress experts. Sit back, relax, and enjoy the November 2018 edition of "This Month in WordPress with CodeinWP."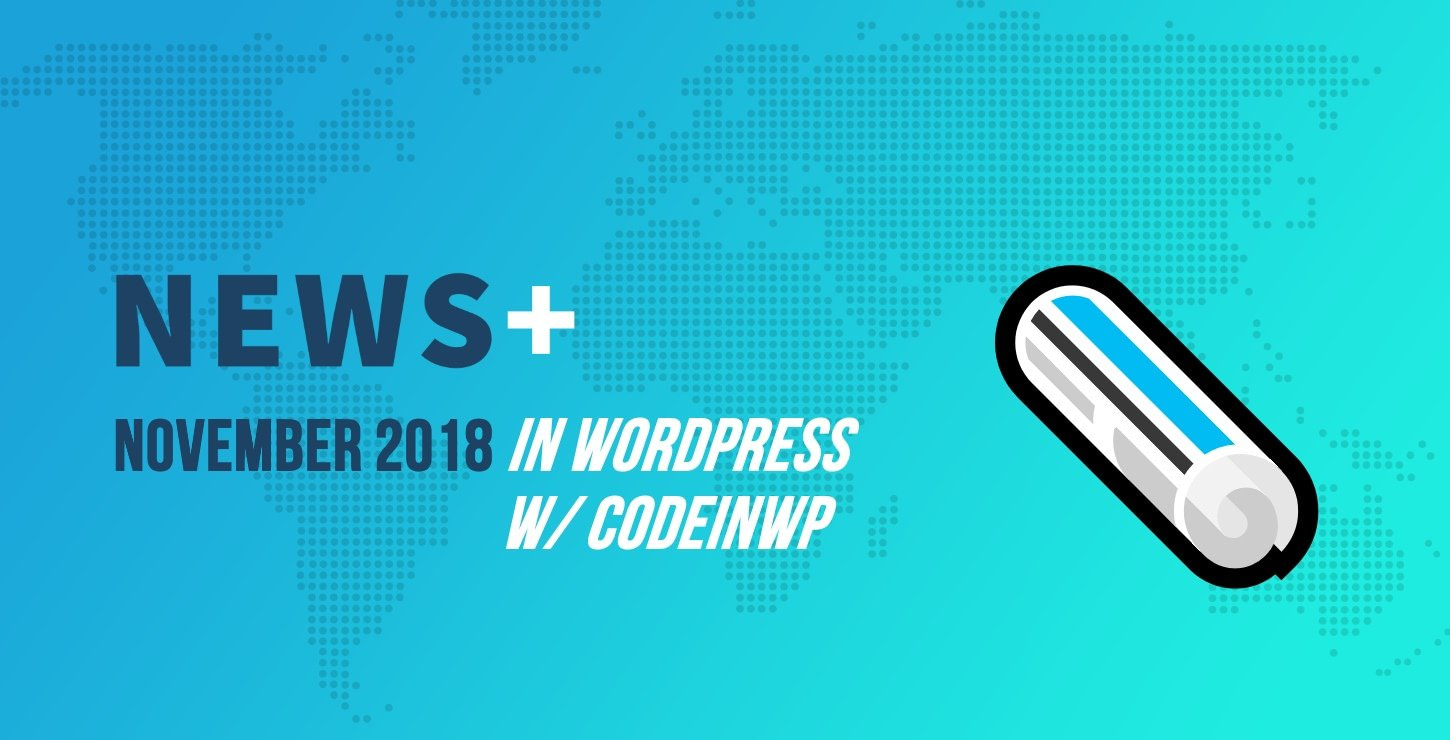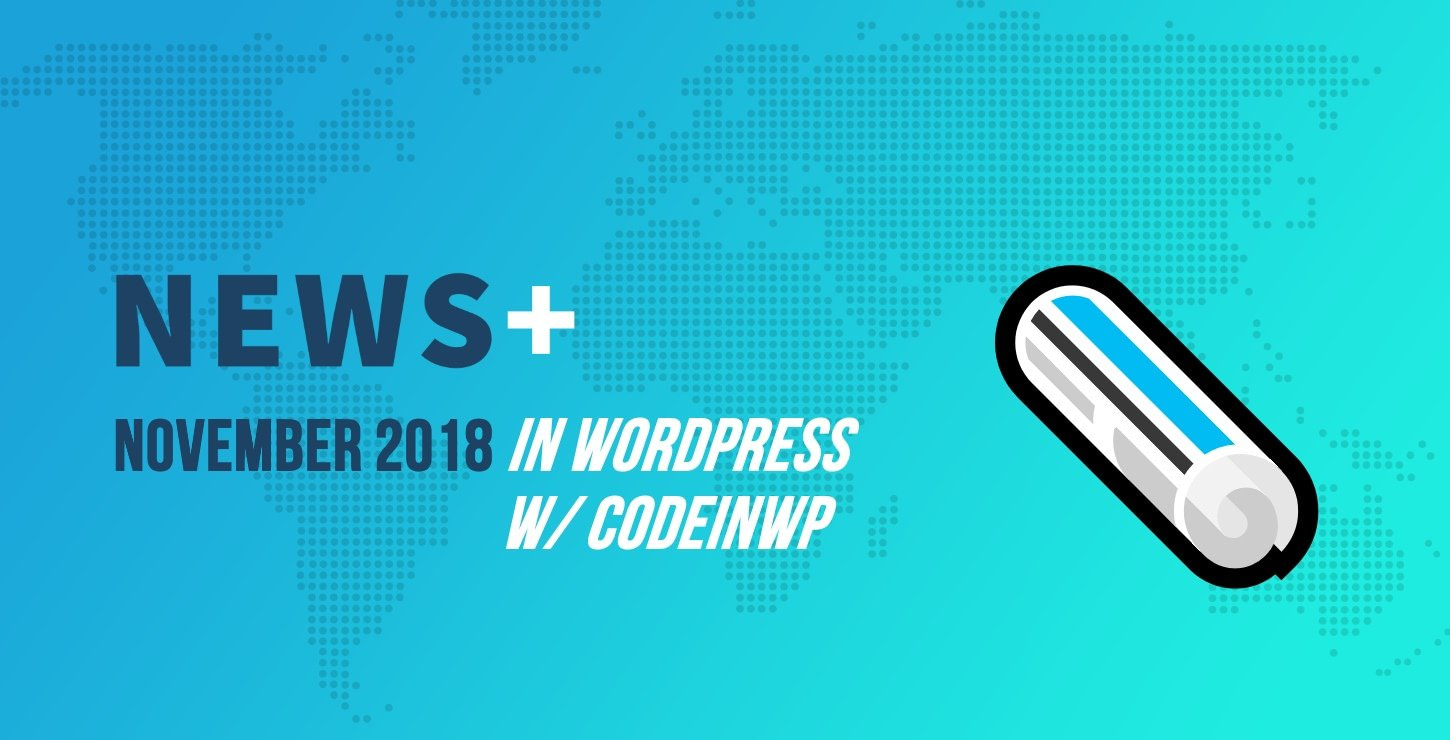 WP 5.0 beta is here, #Gutenberg not accessible, new default theme - Nov 2018 #WordPress news
Click To Tweet
November 2018 WordPress News with CodeinWP
WordPress 5.0 Beta 2
The grand event of the year is close. WordPress 5.0 enters its final stages as the second beta is already out for testing. I'm sure many of you played with Gutenberg before but, if you didn't, now you have the chance to test the next major version and report potential errors. WordPress 5.0 will be the first release that won't only implement Gutenberg but which will also make it the default post editor. So trying it now will spare you from a lot of trouble and, perhaps, surprises later on.
If you want some help with the new editor, check out our complete Gutenberg editor guide.
Assuming testing goes well, WordPress 5.0 is scheduled for release on November 19.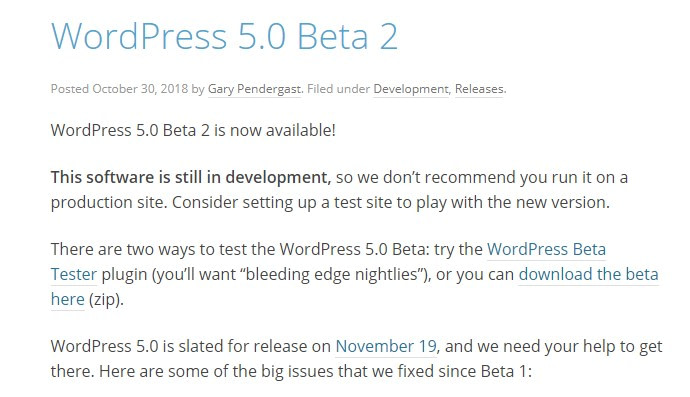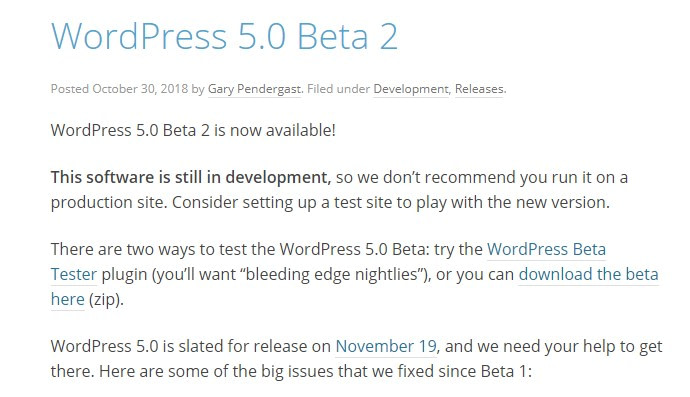 I have resigned as the WordPress accessibility team lead. Here is why.
It's been a contentious month for the WordPress Accessibility team. The reason? Gutenberg's lack of accessibility readiness (and the Gutenberg team's reaction).
The events culminated with the resignation of the Accessibility team lead, Rian Rietveld, who stated on her personal blog that there's a lack of effective communication between the Accessibility team and the Gutenberg team. This led to a series of events that haven't been solved yet, which kind of made the Accessibility team feel like they were being ignored.
Following Rian Rietveld's resignation, several complaints started on this topic and the Gutenberg team addressed a few concerns about the plugin. The new Accessibility team leader Matthew MacPherson proposed an audit to discuss the problem, a meeting to be held by an independent third party. The proposal is yet to be approved; Automattic didn't find it of high importance in this over-crowded period. What's new in Gutenberg? (19th October)
But now, let's see what we can expect from Gutenberg itself. While WordPress 5.0 is ready to land, Gutenberg is getting stronger than ever. This update is the complete setup that will be implemented in the major release. What are the newest features?
a block navigation system that can be used to easily access child and parent blocks within nested blocks.
an "options" modal similar to the former "screen options", through which you can toggle document and meta-boxes on and off.
support for video backgrounds in the newly renamed Cover block.
new style variations for the Table block with a stripe design.
accessible date and color pickers.
better visibility for style variations.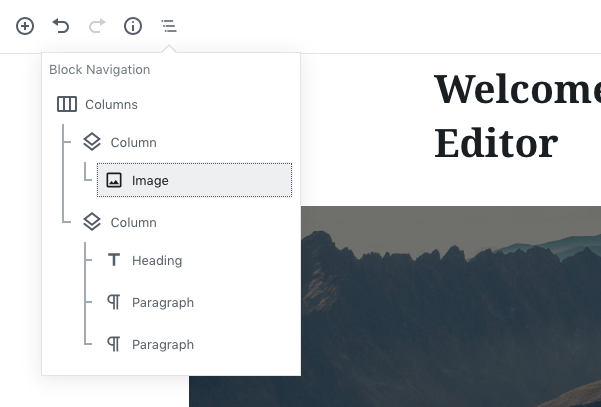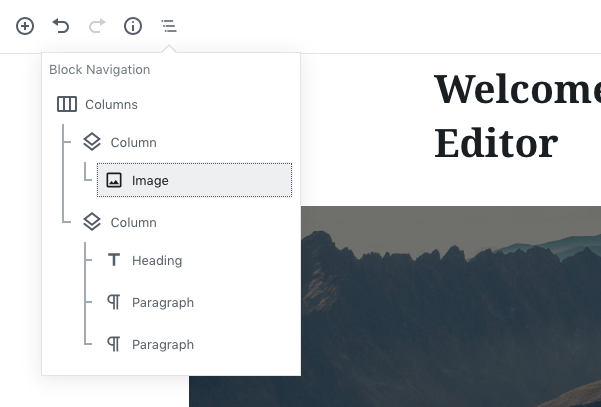 You may also be interested in:
Introducing Twenty Nineteen
Beyond Gutenberg, we will also have a new default theme in the upcoming release, inspired by the Gutenberg-mania. Twenty Nineteen was built with Gutenberg in mind, of course, and it's fully compatible with it. As for the features, the new theme contains both back-end and front-end styles and is based on Underscores and Gutenberg starter themes.
Although there is not an official demo of Twenty Nineteen yet, you can take a look at the screenshots in the post above if you want to check its design. Bringing Array Themes into the WP Engine Family
WP Engine isn't done acquiring theme shops after their recent acquisition of StudioPress and Genesis. This month, the hosting company bought Array Themes, which you might know for their popular Gutenberg-ready theme Atomic Blocks – one of the precursor themes that were built to work exclusively with Gutenberg.
What's the plan for WP Engine? They want to employ Atomic Blocks in more themes and build them up on top of Genesis framework. So it's a kind of a Gutenberg-Genesis combo they're seeking here. Array Themes' founder and a dev contributor will join WP Engine as well.
Great Articles From Around The Web
WordCamp Nordic 2019 to be Held in Helsinki, March 7-8
After WordCamp US, Europe, and Asia, a new regional event is "in the making". After many years of planning, the Nordics will have their own WordCamp that will be held in Helsinki, in March 2019. Most attendees are expected to come from countries like Finland, Norway, Denmark, Sweden, or Iceland.
Being Shot Down Because of Accessibility Needs is Not Something Anyone Should Expect
After the resignation of the Accessibility team lead, many other people started to speak their minds regarding Gutenberg's lack of accessibility features. Ahmed Khalifa wrote his thoughts down about this feeling of being left out and of not-so-important signals coming from the core team. "Be part of the community, not against it", was his message for Matt Mullenweg.
Maintaining Free WordPress Plugins is NOT Free
Yes, free plugins are free and you don't pay anything for them; but they can be expensive for the owner. Besides the time and effort they're putting into building a functional product that you can happily use, the maintenance work is even harder because it also requires money to keep the tool alive. Here's what it takes to keep a free plugin up to date.
How to Get Your WordPress Website to Show Up in the Google Answer Box
The Google answer box is that part of the SERPs where the content from a certain link gets "unfolded" (people who search for a keyword can see more details before clicking on the result). You'll essentially be Google's recommendation for that given keyword. It's not easy to get there, but this article can help you give your site the best chance possible.
Tips and Tricks for Conquering the WP Support Forums
That's actually really important not only for companies that use WordPress.org to promote their products but also for independent devs. They say the support forums of the repository are far from being friendly, but with a few tricks, you can escape this confusion. Matt Cromwell tells you how to follow and organize your WordPress.org tickets better. 5 Tips for Unbelievably Awesome Customer Retention
Do you want your customers to return and buy from your shop again? Who wouldn't? But wishing won't change a thing, so make sure you're taking all the measures that will make people happy with your services and trust you enough to invest in your products again. You can start with these five tips.
Common WordPress Login Errors and What to Do About Them
The most common WordPress login fail happens when you forget your password and you have to reset it. But things can get uglier than that. Sometimes, some cookies need resetting, your access is being revoked, or you're getting syntax errors. Anyway, these are only a few examples because, in reality, login errors can happen for a lot of reasons. Read more about them and learn how to escape similar situations.
How to prepare your clients for the latest WordPress changes?
If you have a business around WordPress, you are the expert but your clients/customers might not know everything you know. For instance, they might not be aware of what Gutenberg is and how it will influence their work. It's your job to inform them about changes like this. How? ManageWP explains.
The Ultimate Guide to Collecting and Managing Business Reviews to Increase Sales
There's this myth that people are more likely to write bad reviews than say beautiful things about your business. You're doing your job, people seem to be happy with your services, and yet the reviews don't show up. It's okay to ask for feedback, though. You will be surprised to see how many clients will respond if you take action. Here's how to do it efficiently.
Why WordPress Needs Gutenberg (& the Future of Page Builders)
Not everyone hates Gutenberg; there are people who think that it will help transform WordPress into a better CMS. But what about the current page builders? Will they all die? Not necessarily. They adapt. Like Elementor.
Winning Credit Card Disputes for WordPress Plugins And Themes [VIDEO] Is It Possible And How To Do It?
Credit card disputes can be really stressful and sometimes you will receive a lot of complaints on this issue. So prepare for extra tickets concerning payment security or errors. Can you streamline the credit card payment process so that you can reduce these problems? The folks at Freemius will tell you how to improve it.
That's it for November 2018. Anything we missed? 
WP 5.0 beta is here, #Gutenberg not accessible, new default theme - Nov 2018 #WordPress news
Click To Tweet
Don't forget to join our crash course on speeding up your WordPress site. With some simple fixes, you can reduce your loading time by even 50-80%: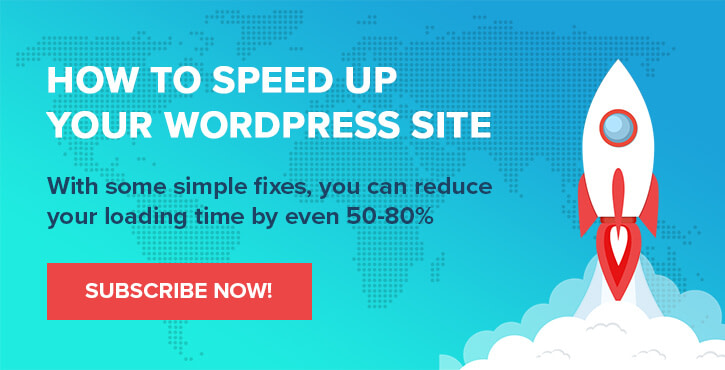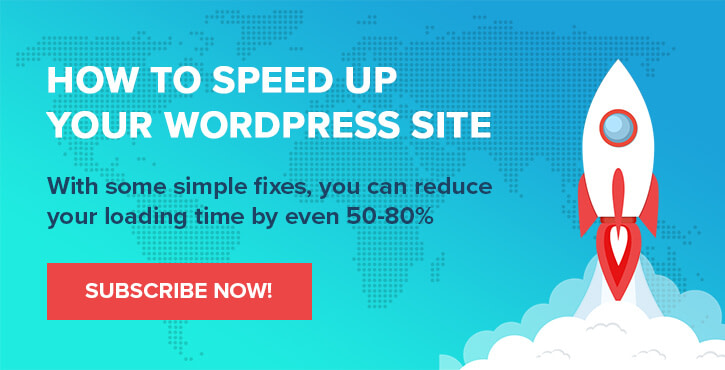 Was this topic
helpful?
0% of users found this helpful