This is the August 2018 edition of "This Month in WordPress with CodeinWP."
Hello, fellow WordPress-ers! We're back with another roundup of news and stories from across the WordPress community. As we're nearing the most anticipated WordPress release of the year, I'm starting to wonder, "Is this post slowly turning into an all-Gutenberg news report?"
Some of you might love reading about Gutenberg, some might not. But we cannot help it since so much that's happening in the WordPress world lately is tightly tied to Gutenberg. The truth is, companies and developers are all focusing on the 'revolutionary' editor at the moment, whether you like it or not.
But, apart from Gutenberg news, we still have some other topics and resources that will help you improve your overall WordPress experience.
WordPress 4.9.8 out, new Gutenberg themes and plugins - August 2018 #WordPress news w/ CodeinWP
Click To Tweet
August 2018 WordPress News with CodeinWP
Beware WordPress-ers, the WordPress 4.9.8 official release is out! I'm saying "beware" because this version is the first to introduce the Try Gutenberg Callout that will appear in users' dashboards. The callout's goal is to urge people to test and read more about the new editor. Due to a last minute change, only users who have the install_plugins capability will see the callout (by default, only Administrators have that capability).
The wait will soon come to an end and Gutenberg will be officially merged to the core; and even though it might be a hard transition for people who never tried it before (mostly users that are not actively involved in the community), the change must be embraced eventually. So, we encourage you to play with it a bit and check your plugins and themes for compatibility. It's better to avoid surprises than having to repair the potential damage.
If you're still not ready for the switch, you can keep using the current editor via Classic Editor plugin or this add-on.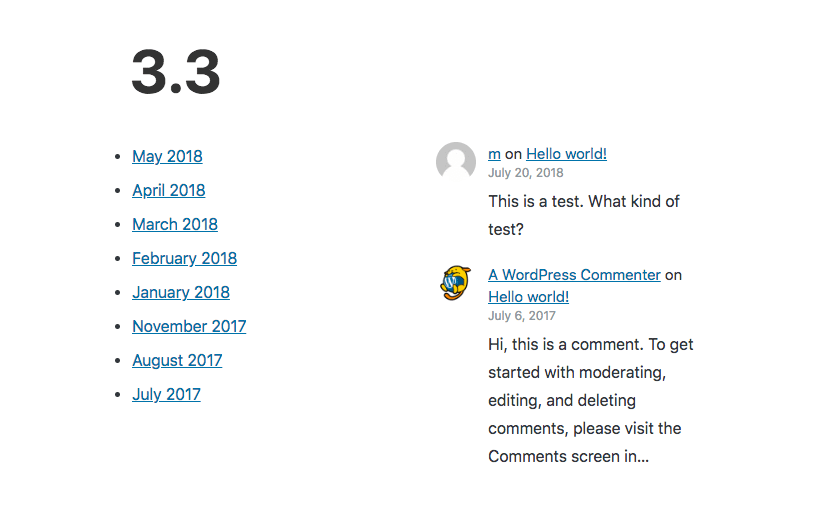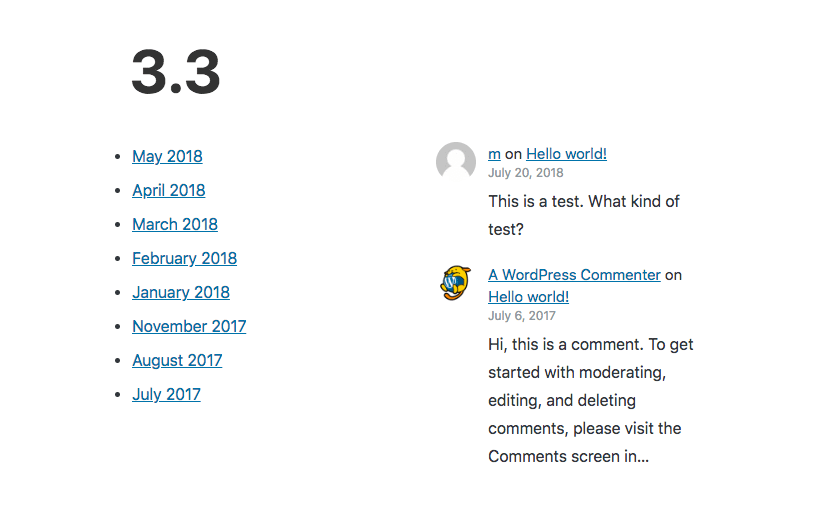 What's new in Gutenberg? (20th July)
Next, let's see how exactly Gutenberg itself was improved this month. Version 3.3 went out on July 20th, with most of the changes centering around refining the experience and empowering the API surface. Aside from that, new server-rendered blocks were added to the library.
Let's have a look at a few highlights from Gutenberg 3.3:
'Convert to blocks' option in HTML block.
Video block attributes for Autoplay, Controls, Loop, Muted.
New 'Latest Comments' block to widgets category.
'Archives' block for displaying site archives.
Transformation of the image block to file block (and vice-versa).
Interested in instantly testing Gutenberg, without any installs needed? Just access this page and start exploring.
Introducing the Atomic Blocks plugin and WordPress theme
With Gutenberg's impending launch, a lot of developers are looking to jump into the fray with Gutenberg-focused tools. One of those developers is Array.
Atomic Blocks is a new free WP theme developed by Array specifically to work with Gutenberg. The theme is one of the first of its kind, built for Gutenberg.
Atomic Blocks is a minimalist blogging theme that features full-screen photos, videos, and galleries. Overall, it has a modern design, with fancy blocks, which come in a handful of styles: grid, list, testimonial, notice/message, drop cap, accordion, sharing icons, author profile, customizable button. What makes this theme special is that what you'll see in your admin page is exactly what you'll see when you hit publish.
If you want to see the Gutenberg-ready theme in action, check out this page.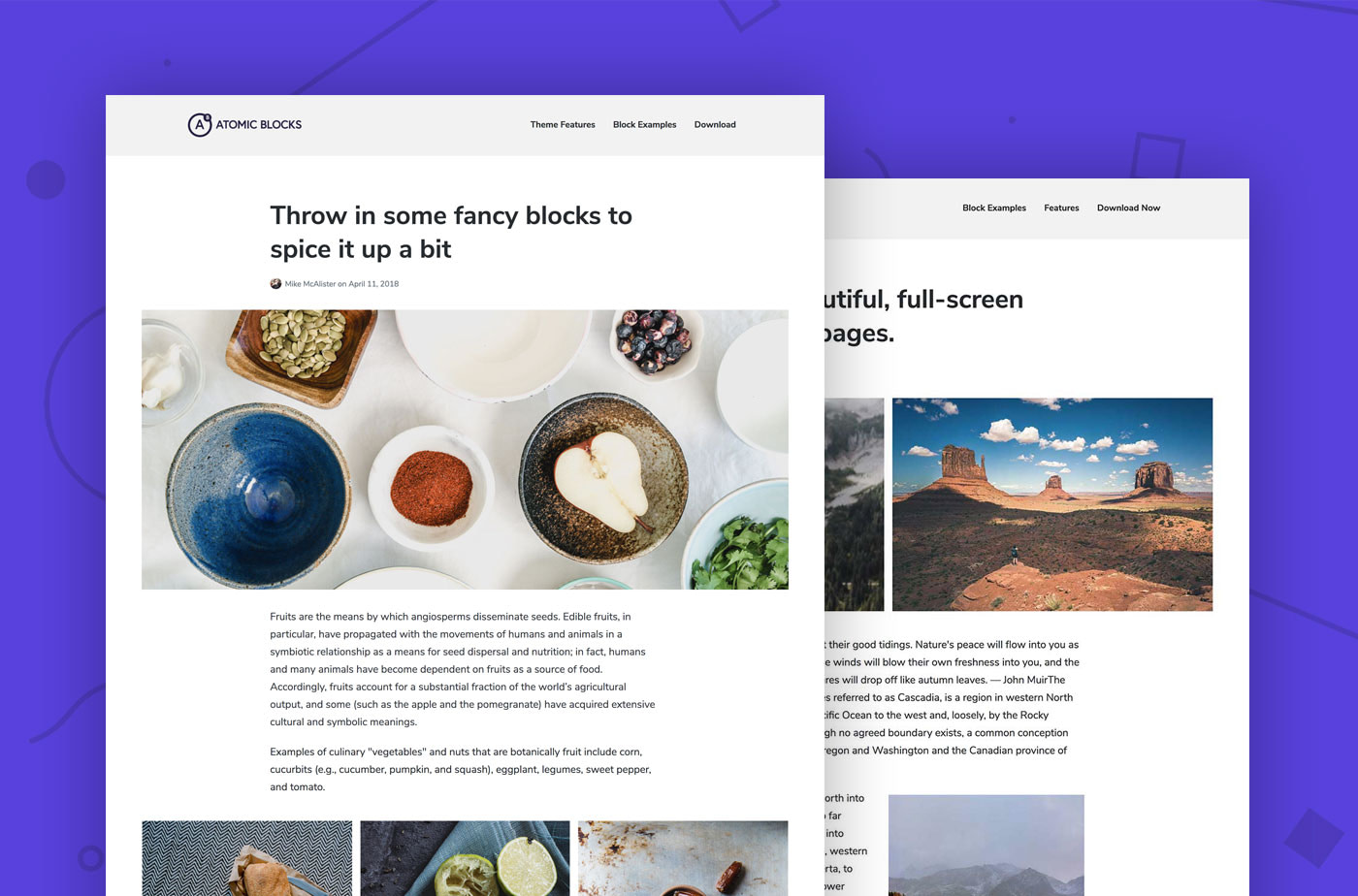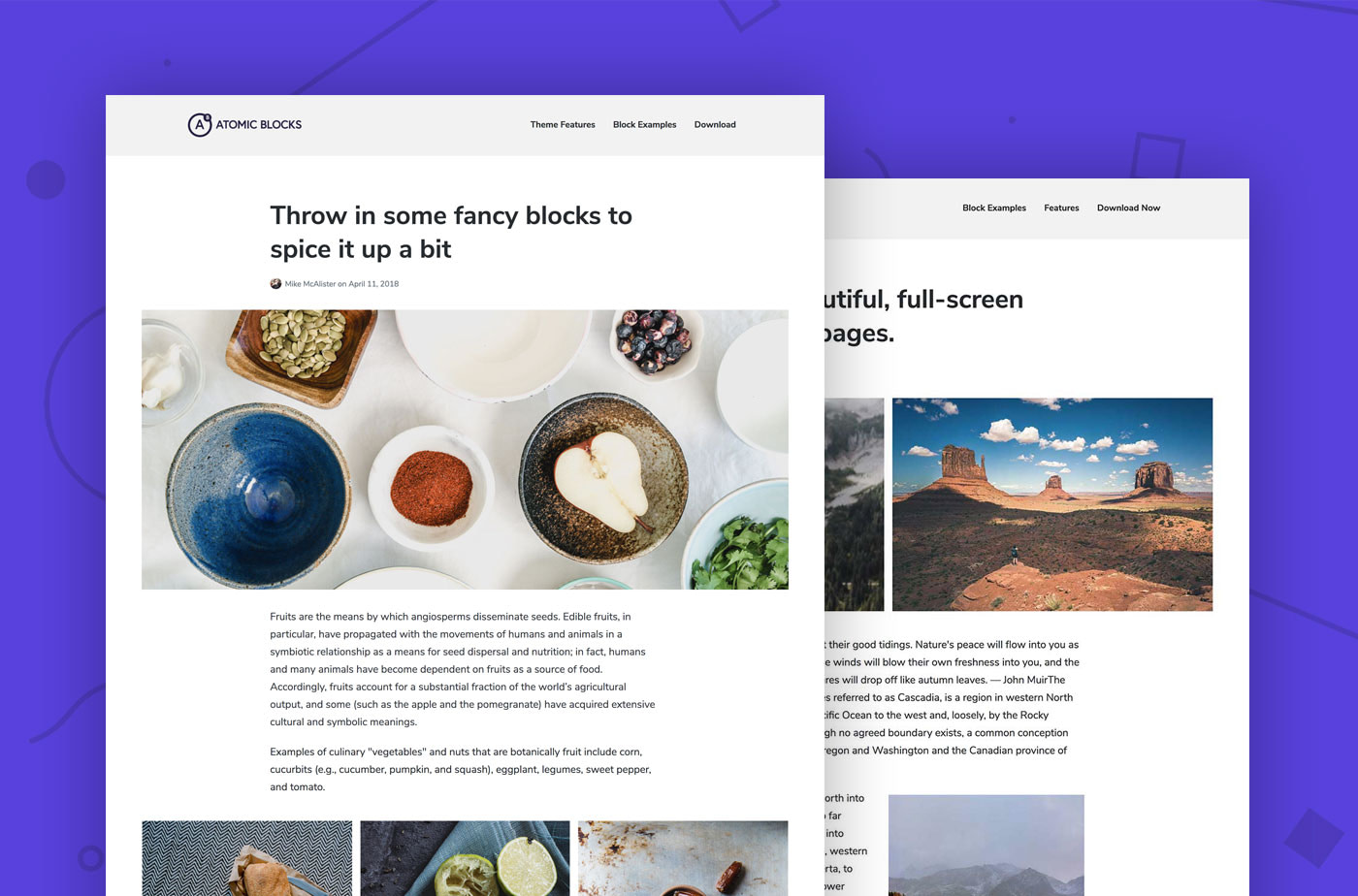 You may also be interested in:
Block Unit Test for Gutenberg
Current Version: 1.0.6
Last Updated: February 15, 2019
100%Ratings
400+Installs
4.7.0Requires
Block Unit Test Plugin Helps WordPress Theme Developers Prepare for Gutenberg
Block Unit Test is a plugin by ThemeBeans meant to help developers go through the testing process more easily. With this new plugin, you can prepare your themes for the most anticipated event of the year: the inclusion of Gutenberg into the WordPress core. No matter if you want to test your current themes or plan to launch a new one soon, make sure all of them will work properly when merged with the editor.
The plugin only works with Gutenberg blocks by creating a new draft page containing examples of every Gutenberg block in the core. This method will help you observe how the blocks will look/perform on the front-end of any theme you want to test. This is for developers to make sure the front-end styles match the editor styles.
Rich Tabor, the founder of ThemeBeans, said he built the plugin out of his personal need to make his products compatible with Gutenberg – a solution that all WordPress developers might benefit from.
Sharing Options from WordPress.com to Facebook Are Changing
We're going a bit off-topic with this news because it doesn't involve Gutenberg in any way. 🙂 It might also be bad news for most of you who use plugins to automatically share your content on your Facebook profiles. Starting this month, Facebook will no longer allow third-party tools to share posts to profiles via WordPress.com. I need to emphasize WordPress.com because self-hosted WordPress won't be affected by this change… at least for now.
So, bloggers on WordPress.com can no longer use plugins like Jetpack or Publicize that automatically share a post on Facebook personal profiles once it's published. It's important to mention that this change only applies to Facebook user profiles – not Facebook pages. If your WordPress.com account is connected to a Facebook profile, you can still share your posts by manually copying their URLs directly in a Facebook post. Or convert your profile into a page if you want to grow a business out of it.
Great Articles From All Around The Web
WordCamp Incubator Program 2018: locations announcement
The WordCamp Incubator Program continues in 2018. This year, the two new countries are Uruguay (via Montevideo) and Malaysia (via Kota Kinabalu), which were chosen out of 14 applications. A nice and fun WordPress journey for these two communities is just about to begin.
How To Improve Your Design Portfolio To Make It Appealing To Clients
Your products are important, of course, but the way you present them defines you as a professional. Some clients do judge a website by its appearance and this is why you should put all your best work into creating a fancy online portfolio that will keep your visitors engaged. Here's what you should follow to achieve that.
How to Get an SSL Certificate and Install It on Your WordPress Site
Did you hear that Chrome 68 comes with a harsh warning for HTTP sites? If you thought sticking with HTTP won't make a difference for your business, you were wrong: your site will be marked as Not Secure. So hurry up and get an SSL certificate! ManageWP will tell you how.
How to start a review website with WordPress: The step-by-step guide
If you're planning to start a business involving product reviews and user ratings, you can set up a review website in minutes. How? Get hosting, buy a theme, install a dedicated plugin, customize, add content, and eventually monetize. More details on WPEka.
25 Ways Google Drive Can Help Power Your WordPress Business
Apart from knowing everything, Google provides so many other services and tools that could ease your business' workflow in a significant way. You have probably heard of a few of them already, but this list on Elegant Themes will surely reveal a few Google Drive tricks that you didn't know about yet. Check it out.
Designing B2B and B2C Websites: A Breakdown of the Differences
Approaching a B2B business is definitely not the same as approaching a B2C business. I mean, since they have different audiences and clients, all the planning must be treated in a distinctive way. Design included. So how can the design differ when done for each of the two? Check WPMU DEV's advice to find out.
What Does The WordPress Community Think Of The Gutenberg Editor? – A Review Roundup
Missed Gutenberg already? In this roundup, you will find out how the love (or hate) for Gutenberg is spread across the community. The guys at Torque collected opinions on the soon-to-be-official WordPress editor. Which side are you on?
16 Strategies That Will Keep Your Visitors on Your Website Longer and Reduce Bounce Rate
Keeping your visitors longer on your site? Is this a thing you can control? The answer is yes. Even a few extra seconds matters for a business. So what's the strategy? The guys at Artisan Themes explain what works.
How to Set Up File Downloads for Your Site
Ever wondered how to publish downloadable files on your site so others can save them to their computer? It's actually easier than you would imagine. You just need to install a plugin and upload your stuff. See how on WPShout.
5 Practical Exercises to Learn UI Design (For Free)
This article is not about what you should do to improve your design, but about how to do it. The folks at Learn UI Design offer these step-by-step, practical tips on how to apply theory to building something great (and enrich your knowledge).
How to Create A Video That Easily Drives More Downloads and Sales for Your WordPress Plugin
Videos are one of the most converting (and engaging) pieces of content nowadays, so doing it right can bring you money. Making quality, professional videos is really hard, especially if you want to use them for business purposes. So here's what makes a video great from Freemius' standpoint. Spoiler: the guys took real examples and outlined the pros and cons for each.
65+ WordPress Keyboard Shortcuts for Writing, Gutenberg + More
Keyboard shortcuts might help you speed up your work but it's pretty hard to know them by heart. Especially when you get 65 at once. But you can at least memorize only a few that will give you a hand with the repetitive tasks. Check out Kinsta's picks, which can be used for the WordPress editor, text formatting, moderating comments, and Gutenberg.
That's it for August 2018. Anything we missed? 
WordPress 4.9.8 out, new Gutenberg themes and plugins - August 2018 #WordPress news w/ CodeinWP
Click To Tweet
Don't forget to join our crash course on speeding up your WordPress site. With some simple fixes, you can reduce your loading time by even 50-80%: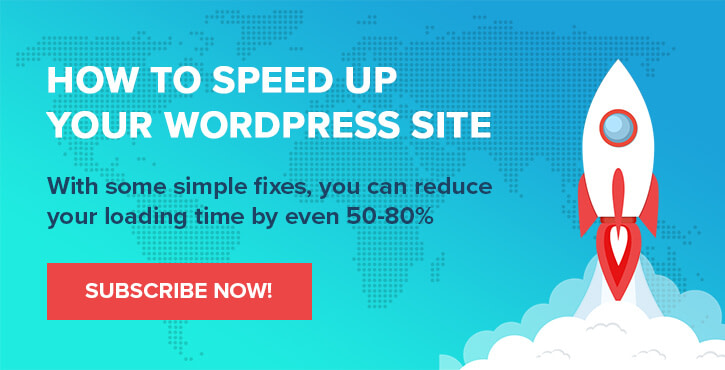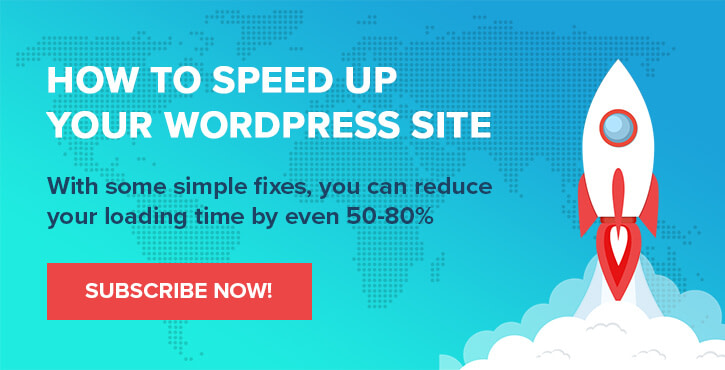 Was this topic
helpful?
0% of users found this helpful