The second major WordPress release of the year dropped today; WordPress 4.9 brings a range of improvements and enhancements in line with the user centered update promised on June 16th. See them all here. This is what's new in WordPress 4.9.
WordPress 4.9 is like every major WordPress update, in that the community has been circling it since the announcement was made. The list of potential enhancements and features has got everyone buzzing again!
It was made clear early that there wouldn't be a focus on Gutenberg for this release – Gutenberg will be the driver behind WordPress 5.0 next year. However, WordPress 4.9 is one for the loyalists with a couple of additions that have been waiting eight years for inclusion. This WordPress 4.9 release is an opportunity to clear the decks in preparation for Gutenberg watershed sometime next year. In that light, the changes that we see here are overwhelmingly user oriented. With a strong desire to help users with editing and management.
Does it succeed? Should you update immediately? Well, we have been running the rule over 4.9 for months now, and this article will show you its best features in detail, plus the best of the rest: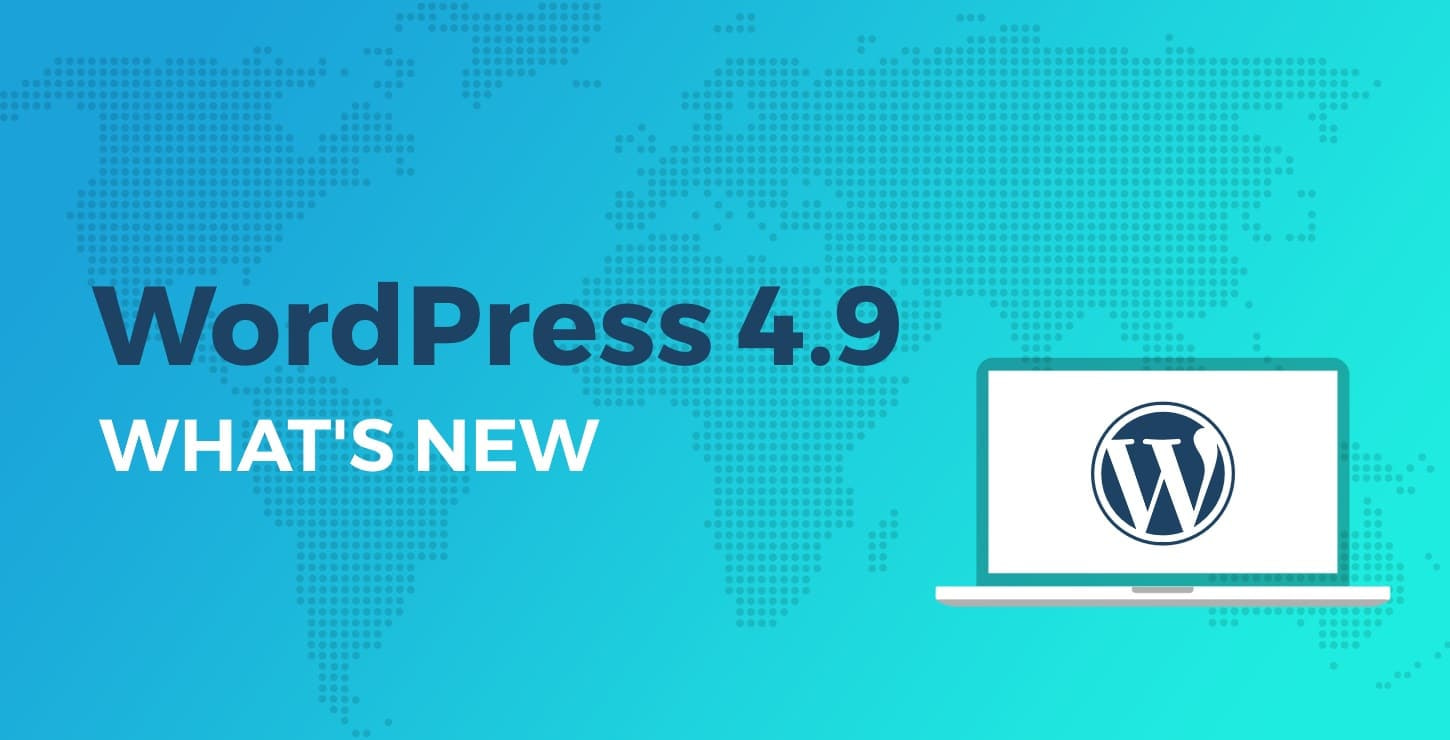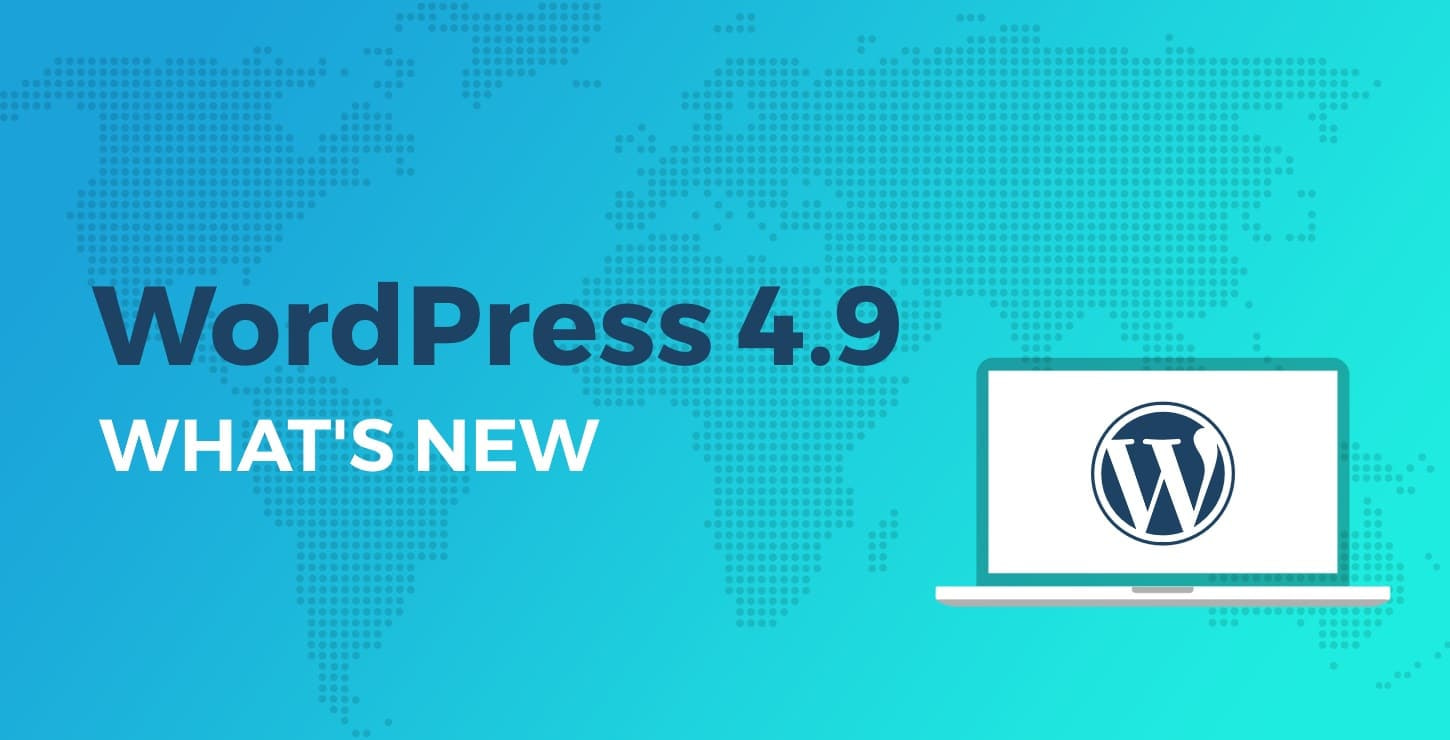 What's new in #WordPress 4.9 - See new features in action Click To Tweet
Here's what's new in WordPress 4.9 – the most exciting stuff
1. The Scheduler and Draft Saver
The Customizer was always great for going through with big changes. But those changes had to be done en masse, and they went live as soon as you clicked the save button. Not particularly great from a visitor's point of view.
One of the great things about working in the updated Customizer of WordPress 4.9 is the ability to save and schedule changes.
Basically, if the new features are actors then the new scheduler is Morgan Freeman; loved by all. The updated Customizer has replaced the Save & Publish button. You will now see Publish with a cog next to it. When you click on the cog, you open a menu with some new options: Save Draft, Schedule, Publish. This will give you the same level of control that you have in the main dashboard with your regular content.
Having this kind of functionality in the Customizer helps reduce the workload. Anything that has a time limit or is time sensitive can now be handled without needing to sit by the computer and time your Save & Publish to perfection.
If you need to share changes with others then you can now get the draft link right from the Customizer, too.
Click for demo
Even Matt Mullenweg himself sees these new features as game changers for the future of WordPress and what's there to come next. In a podcast episode of Draft Podcast with Brian Krogsgard, Mullenweg had this to share:
Design drafts are going to be pretty huge. Locking and scheduling, front-end preview links. There's some really, really cool stuff in there.Matt Mullenweg Go to top
2. The Code Syntax Error Highlighter
CodeMirror is back after eight years in the wilderness. It is not for us to rank the various new features, but if we were then this would be a close second, very close.
This is a huge improvement for all users. Who of us hasn't added a ton of code only to Save & Publish to the sound of crickets? The change is not there. You might try the odd refresh, but really this is just a Hail Mary. You just know it in your bones that your code is missing a ; somewhere. Well, the new feature in WordPress 4.9 will highlight the mistake and even give you a hint about the missing element, incomplete function, or faulty syntax.
I'm most excited about the syntax highlighting in Theme and Plugin editors as it's a feature that I've been wanting to see for a long time. I've seen many newbies, including myself, crash their WordPress by making a small mistake while editing a plugin or theme. With this new feature it won't happen any more!Hardeep Asrani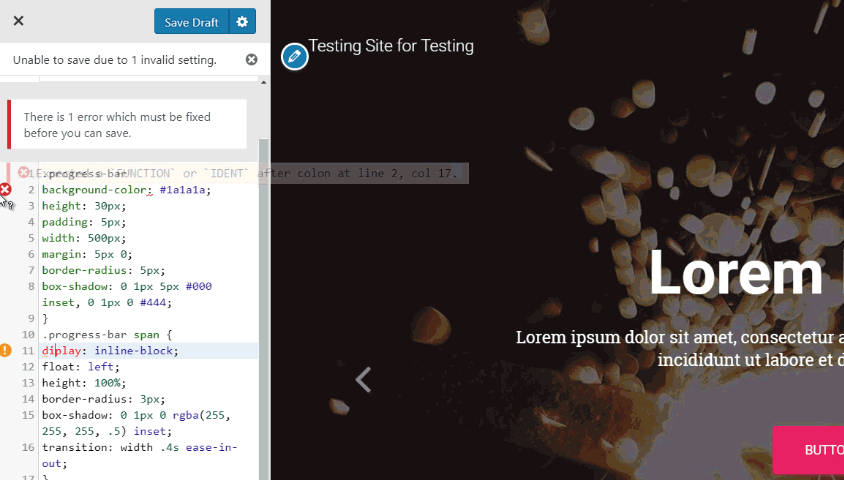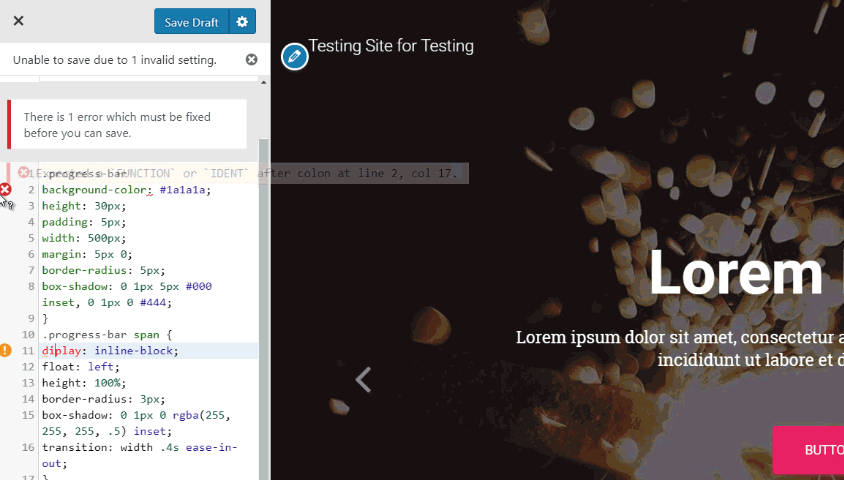 This is a great move, particularly to help the novice developer when they write code. For the more confident WordPress-ers, the option can be switched off in the Profile page.


Go to top
3. Widget changes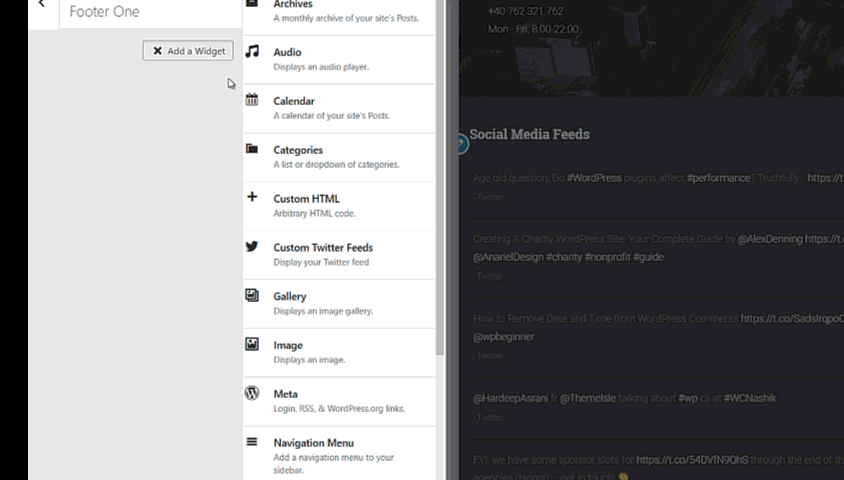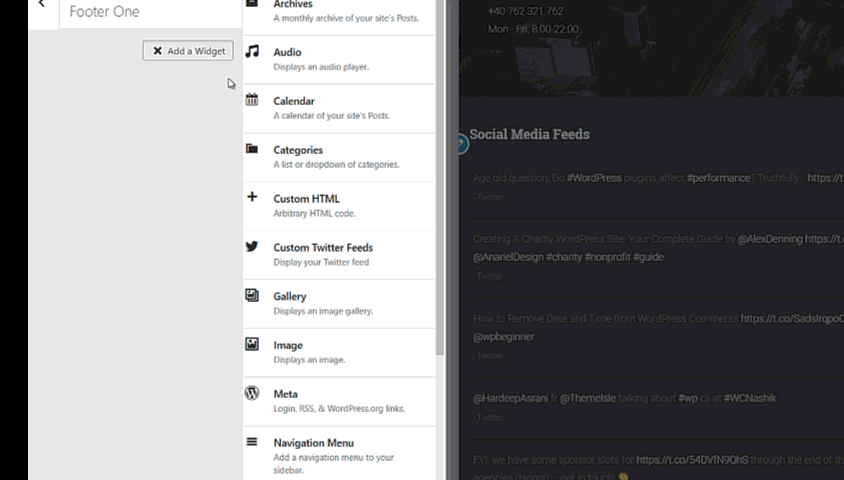 The Gallery Widget
WordPress 4.8 brought us some pretty sweet media widgets with image, video, and audio. This is a continuation of the trend, and WordPress now allows users to add a gallery in their widget areas too. People will tell you that a plugin is the way to go but in the battle of bloat vs functionality this widget is a winner.

Add new shortcodes in text widget
In our WordPress 4.8 post, here, we lamented the absence of oEmbed support in the text widget. Well, it has arrived. You can now embed videos from any site that supports oEmbed. You can even embed your Facebook Live stream, as well as TED, CollegeHumor, FunnyOrDie. This is a big deal.

Add media in text widget
As mentioned above, WordPress 4.9 will also allow you to embed media in the text widget. This was a crucial inclusion because the media specific widgets will be clearly aligned with blocks when Gutenberg arrives. Go to top
4. Other changes in WordPress 4.9
No more disappearing widgets after switching themes. Improved widget mapping means widgets should be able to find their home after a major change. Improved theme installation from the WordPress Customizer.
Better flow for creating menus. Includes location changing options, and menu name and locations housed in the same option.
Global notification area with error messages displayed beneath the Publish button in the Customizer.
You may also be interested in:
What people are saying
A look at WordPress 4.9, launching November 14th. Very excited about some of these new Customizer features! https://t.co/sBjG9C6htZ

— Elaine Malone (@XOmisse) October 28, 2017
WordPress 4.9 warns users when it detects a change that might cause a fatal error (from within the File Editor). https://t.co/BnQ3f05m2I

— Tommy Oddo (@oddodesign) October 25, 2017
WordPress 4.9 changes "Static Front Page" to "Homepage Settings".

A welcome change! 👏👏 pic.twitter.com/64b54zAWW6

— Rich Tabor – useiceberg.com (@richard_tabor) November 1, 2017
Search field in the Plugin & Theme Editor window for WordPress 4.9 by @mwaghmare7 https://t.co/S8hioIHatc pic.twitter.com/kSb4RijdCk

— David Bisset (@dimensionmedia) October 31, 2017
WordPress 4.9 Beta 4 is out. 80 changes. Time to take your protein pills and put your helmet on and test: https://t.co/YbDvNhC5JI

— David Bisset (@dimensionmedia) October 25, 2017
You'll find a new experience for discovering, installing, and previewing themes in the customizer in WordPress 4.9 https://t.co/sQHLPv63VZ

— Deborah Edwards-Oñoro (@redcrew) October 24, 2017

So what do you think of all these changes? Which do you like the most? Do you enjoy the direction overall?
What's new in #WordPress 4.9 - See new features in action
Click To Tweet
Don't forget to join our crash course on speeding up your WordPress site. With some simple fixes, you can reduce your loading time by even 50-80%: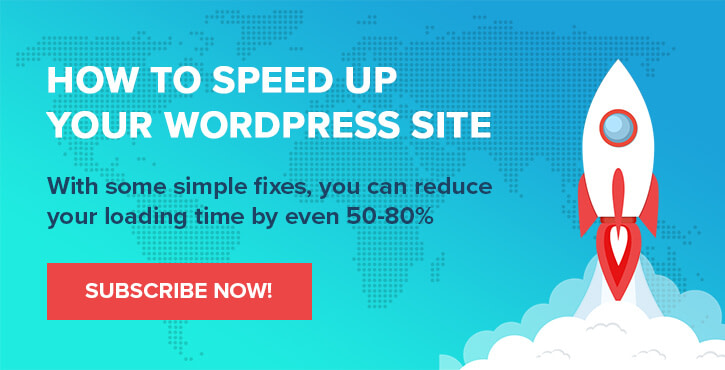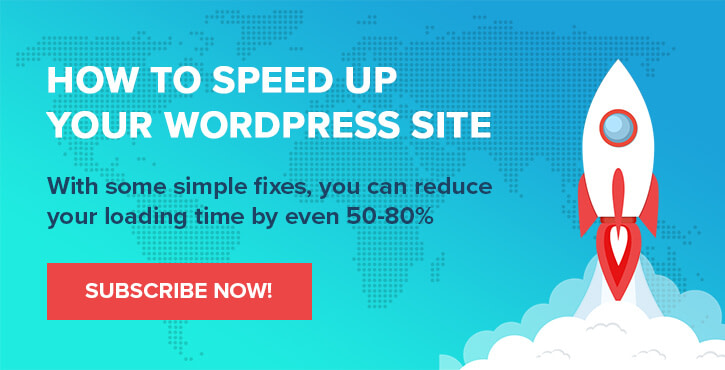 Layout and presentation by Karol K.
Was this topic
helpful?
0% of users found this helpful