If website building was in the Olympics, then Wix vs WordPress would be the gold medal finalists.
And for good reason. Both platforms offer a quick and easy solution for launching and growing a website. While WordPress is a proven performer with 40.6% of the world's websites, Wix's innovative features make it possible to start a website in a single afternoon.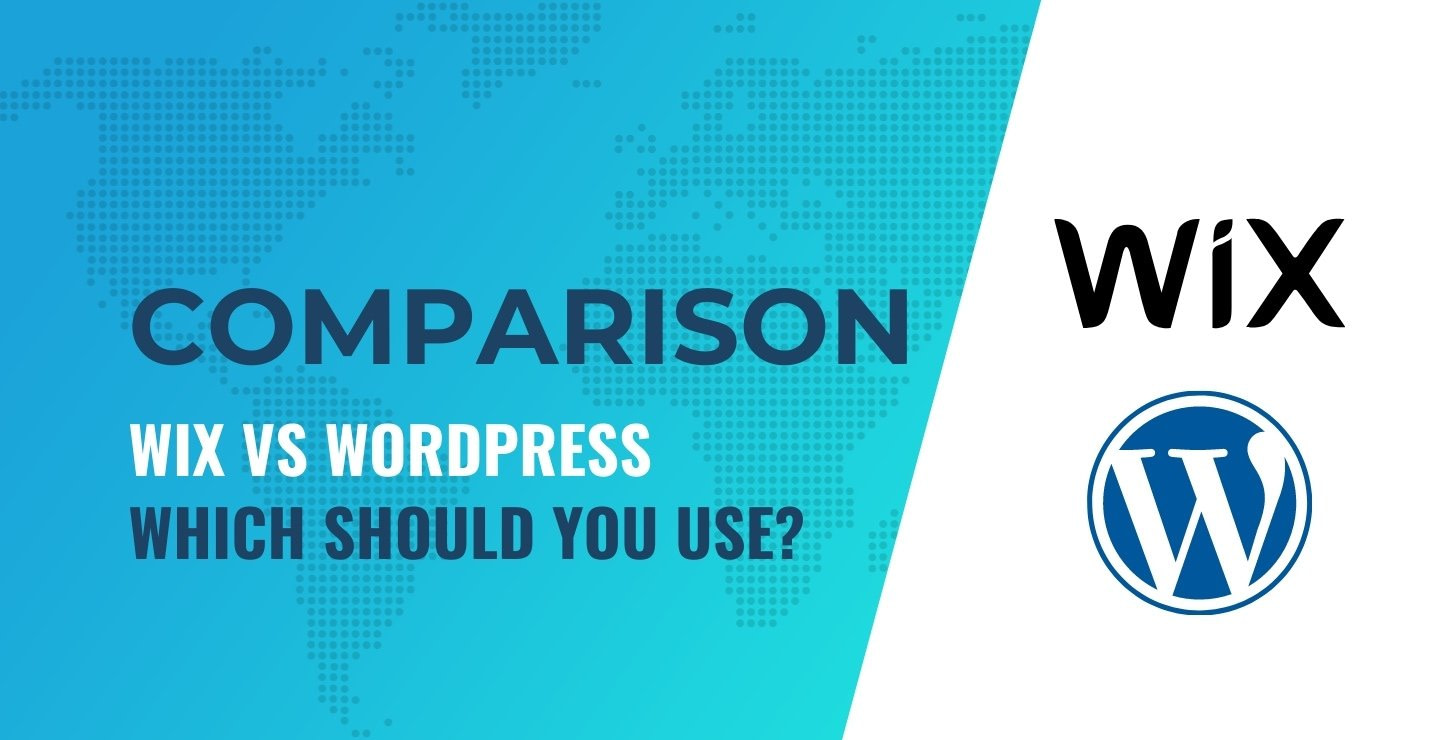 In this article, I'm going to make them go toe-to-toe to find your best website building platform. I'll share their respective strengths and reveal some of the pitfalls that have been known to trip people up in the past. By the time we're done, you'll know exactly which platform to use for your next website.
This is what we'll consider when ranking Wix vs WordPress:
Which is better for building #websites: #Wix vs #WordPress 🏗️
Click To Tweet
⚠️ Note: In this article, I am comparing Wix vs the self-hosted version of WordPress that you can get either from WordPress.org or when you sign up with a third-party host, like Bluehost. For an explanation of the differences between WordPress.org and WordPress.com, please read this article.
🤹 Wix vs WordPress in a nutshell
Wix is cloud-based software that gives you everything you need to build a website in a few hours. It does all the technical grunt work so you can start building. Indeed, Wix is perfect for beginners because you just sign up and get started.
✅ You won't have to buy hosting separately.
✅ You won't need to install anything.
✅ There's no server configuration.
✅ You can access the software with any web browser.
On the other hand, WordPress is standalone software that requires installation and configuration to get going. While you can still build a website in a day, you'll need to set up a few things along the way.
✔️ You will need to arrange hosting.
✔️ Then, you need to install the WordPress software (most hosts have a one-click installation wizard).
✔️ You can choose to undertake server configuration.
However, WordPress has the advantage of portability – not happy with your host? You can move your website to a new host at any time.
In contrast, you can't move your Wix site. If you're not happy with your host, then you can't do anything.
They also take a different approach to coding. While both platforms can be used as no-code tools, WordPress is designed for flexibility with software that is easy to modify with coding skills.
Wix, on the other hand, is designed to launch sites quickly with a wide range of features available from the get-go.
🧰 Round 1: Features
While every website is different, there are a few features every platform must offer to help you build a successful website:
Content tools
When building a website with Wix, you have three choices depending on your skill level: Wix ADI, Wix Editor, and Editor X. Each of them takes a similar approach to blog posts. The workflow does take some getting used to, but once you find the post options in the dashboard, you'll find everything else to the left of the text editor.
With clear labels and one-click implementation, the process of building a blog layout is simple. You can even drag the elements around the page to find the perfect position.
The elements also have a number of different options for distinctive displays. For example, the gallery block comes with eight different options for displaying photos.
WordPress has a better workflow for finding the editor. With icons and clear labels, opening the editor follows the same route whether you're editing a page or a post.
The WordPress Block Editor is much clearer, with different fonts used to distinguish elements from each other. The Block Editor doesn't restrict the number of elements available when you click the "+" symbol. For example, you'll find blocks for tables, verse, and audio, among others.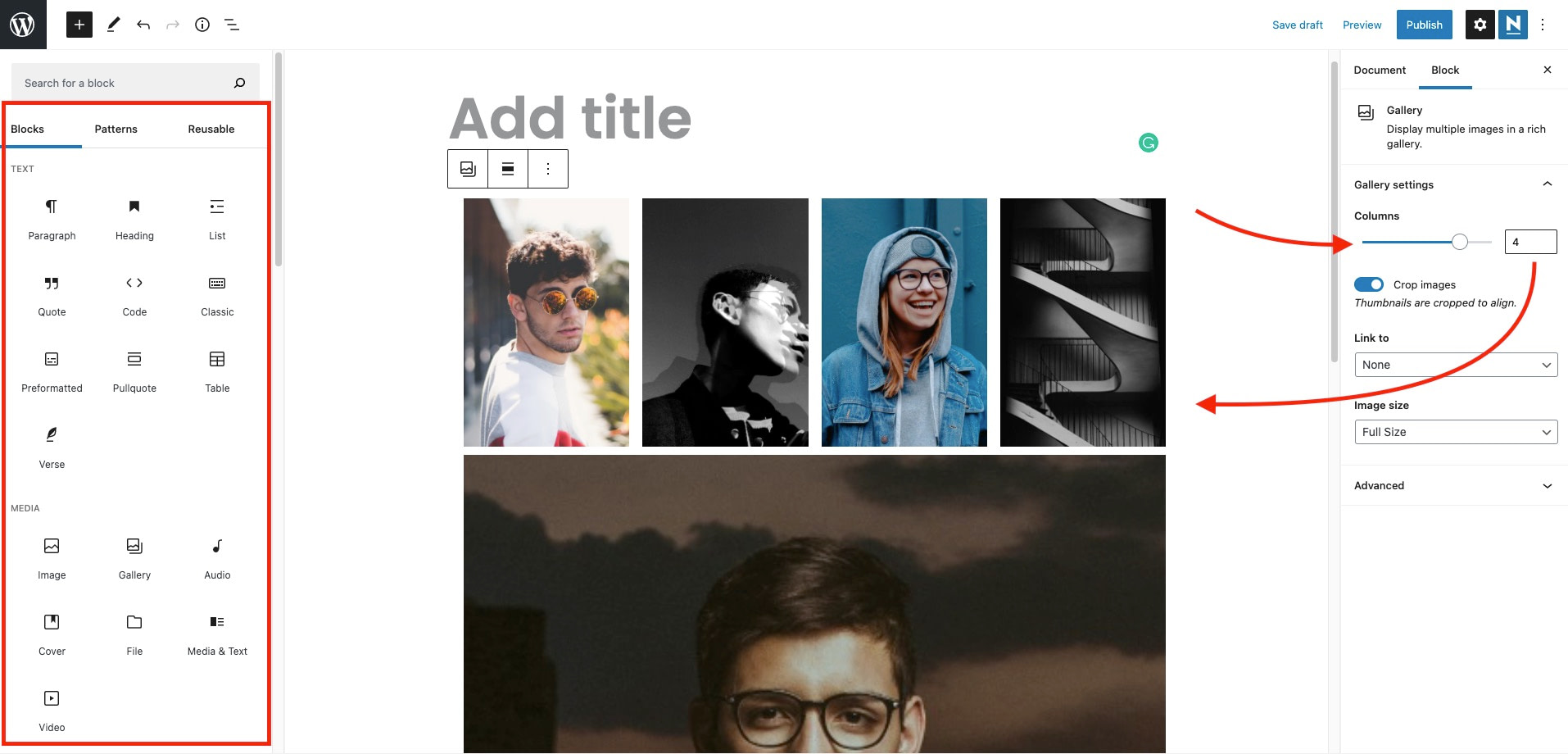 More importantly, WordPress offers dynamic media blocks from the outset.
That being said, you will find similar blocks in Wix if you move up to the advanced editor.
But when it comes to variety, WordPress still has a greater range of design elements, embeds, widgets, and more.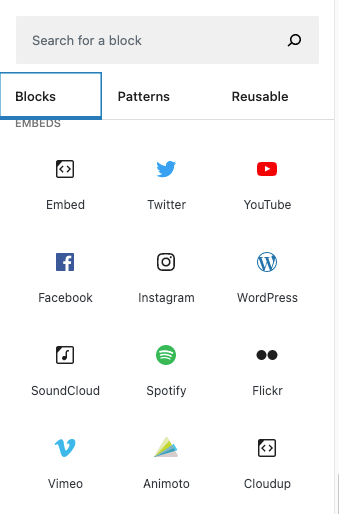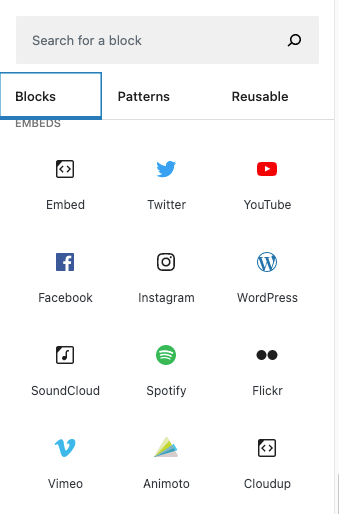 If you like the blog post editing options, then get a load of this. The block editor can be also used to build dynamic page layouts.
Site management and administration tools
Few of us think about the glamour of user roles when we decide to set up a website. But, admin tasks and site management are important and deserve as much love as layouts.
Both Wix vs WordPress make it easy to add users, but Wix covers more ground with more distinct roles for every site management role.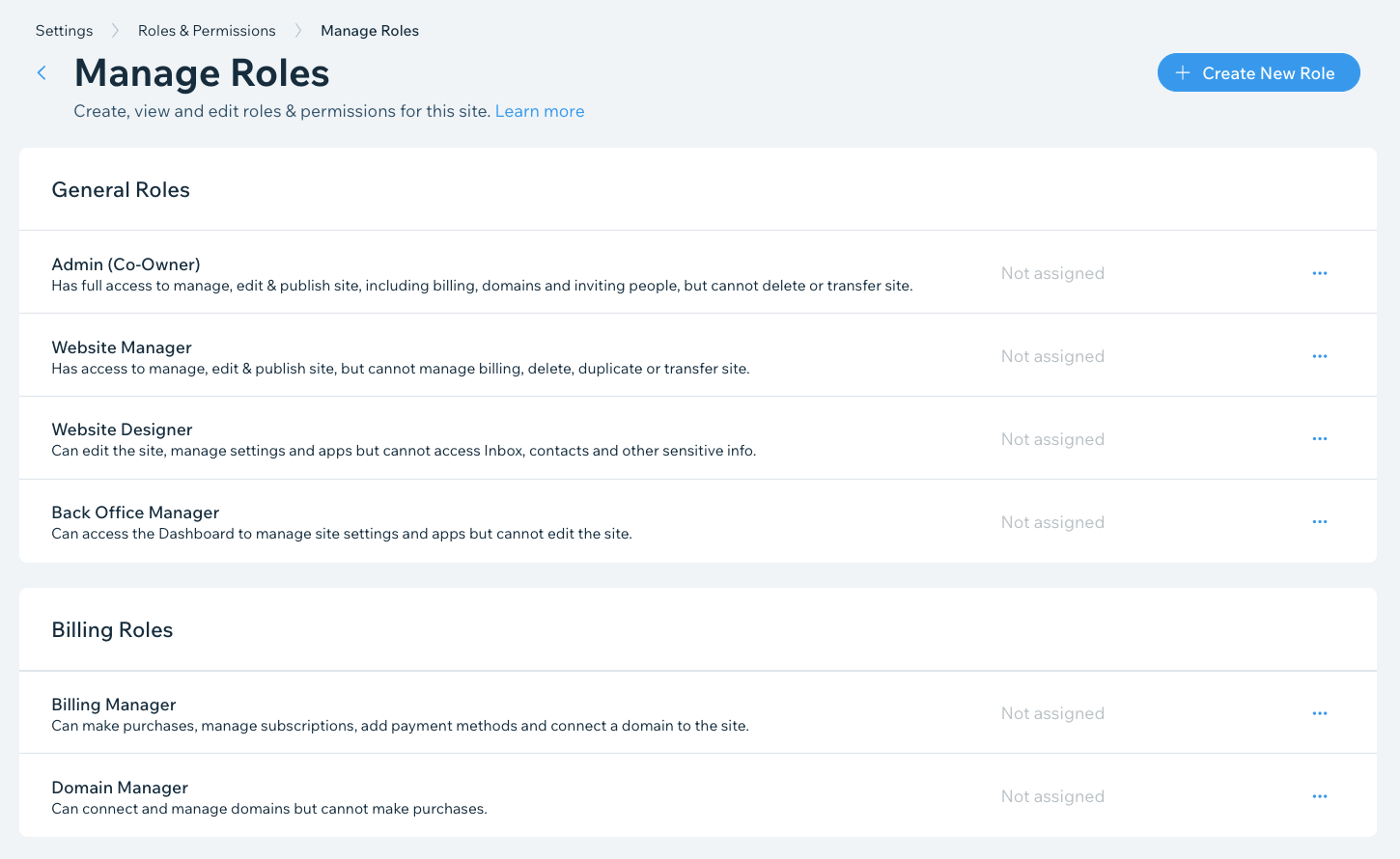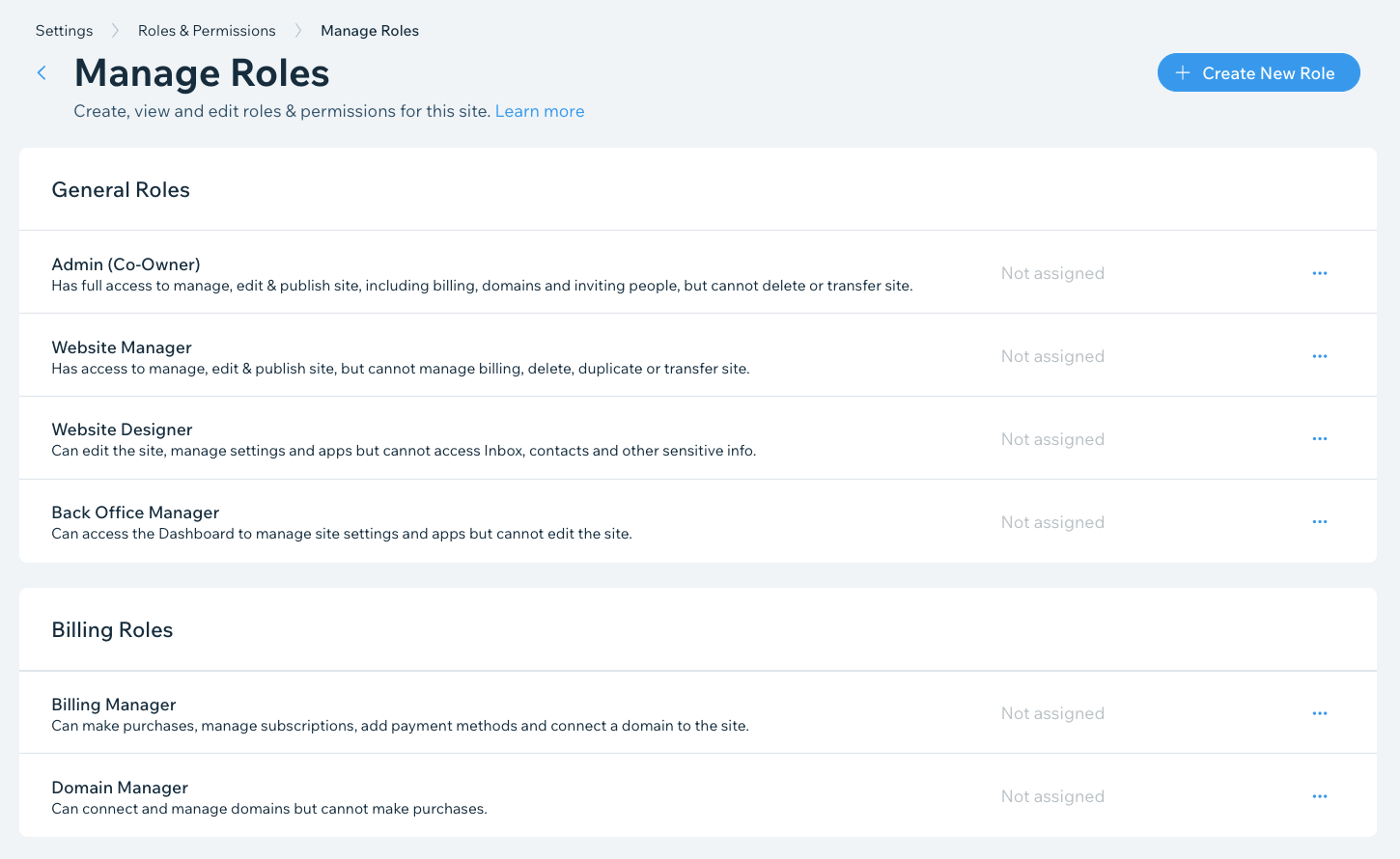 However, controlling comments is more challenging with Wix; the controls can be hard to find depending on which editor you use.
With WordPress, a global comment control option offers greater control over comments, and it is available in the dashboard.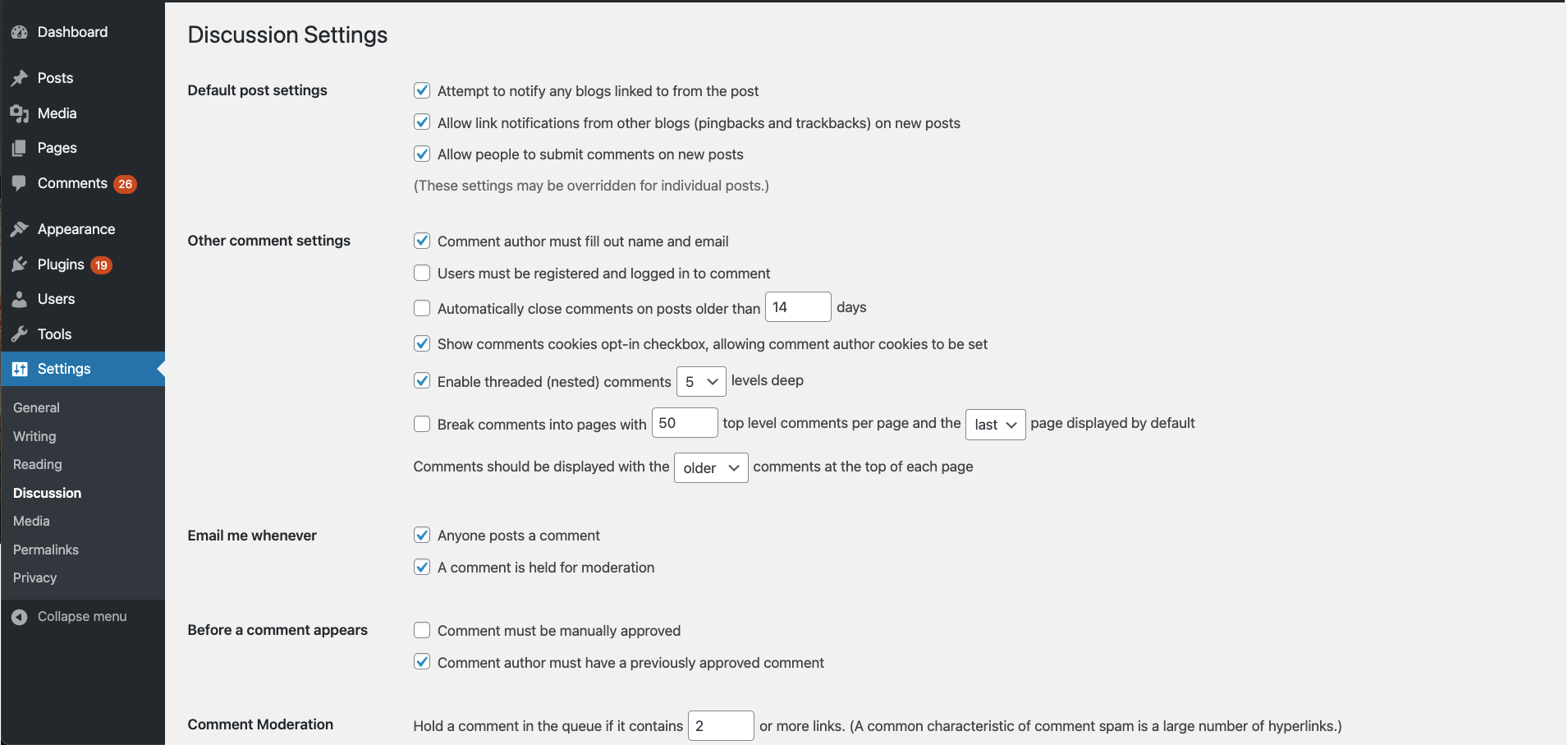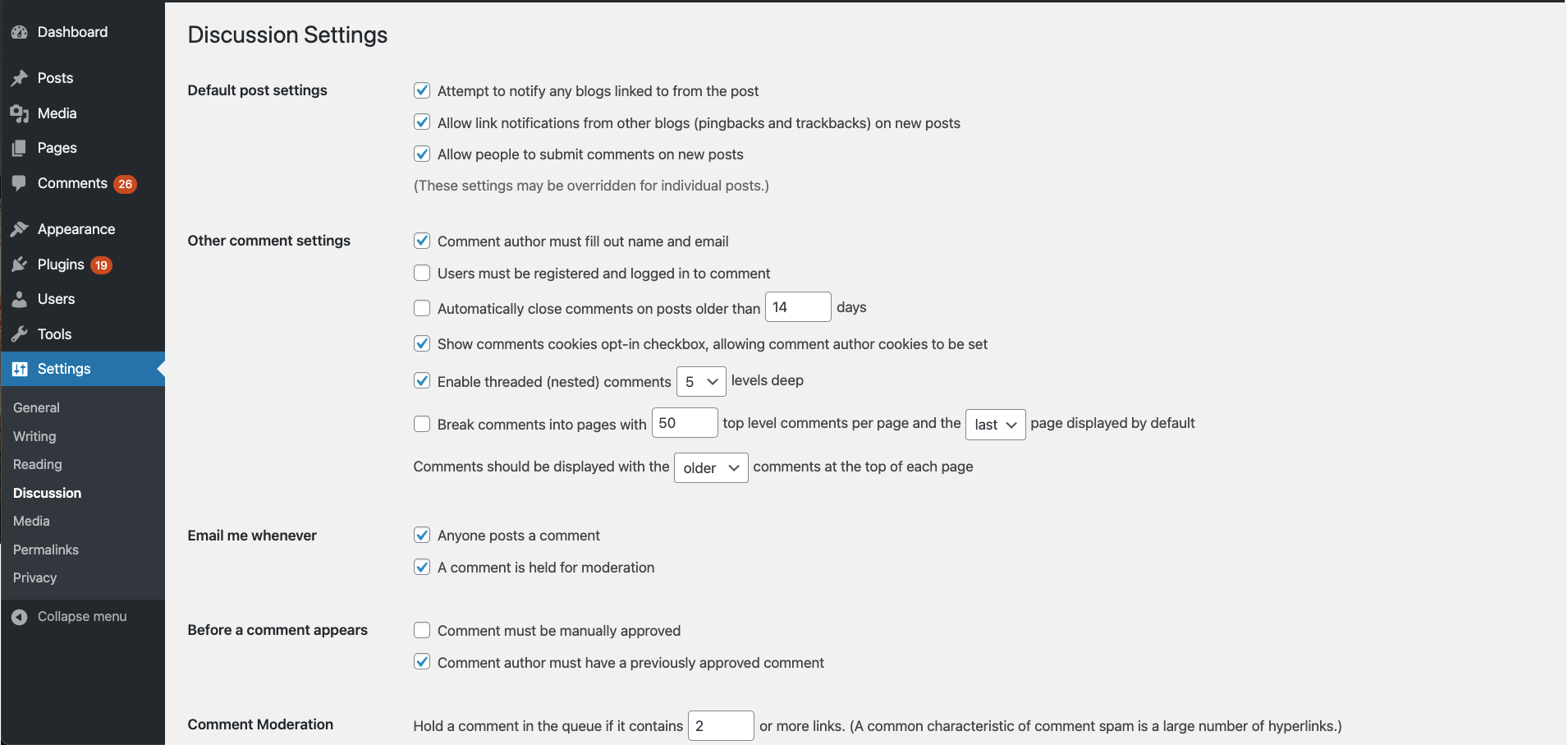 When it comes to workflows, Wix overall feels less direct than WordPress. While some options are controlled from the editing screen, others are controlled from the dashboard. For example, the Wix media library can't be easily accessed from the dashboard.
Once you find it, you can't improve things like alt-tags. You will need to add the image to your page before you can make any changes.
Whereas, with WordPress, you can manage your media assets from the dashboard with a few clicks.
>


WordPress also offers built-in tools for better portability. You can move content in and out of WordPress with a few simple clicks. What's more, you can easily import from Squarespace (via XML) or from Wix (via RSS). It'll even go back the other way as WordPress has no limits on what you can export.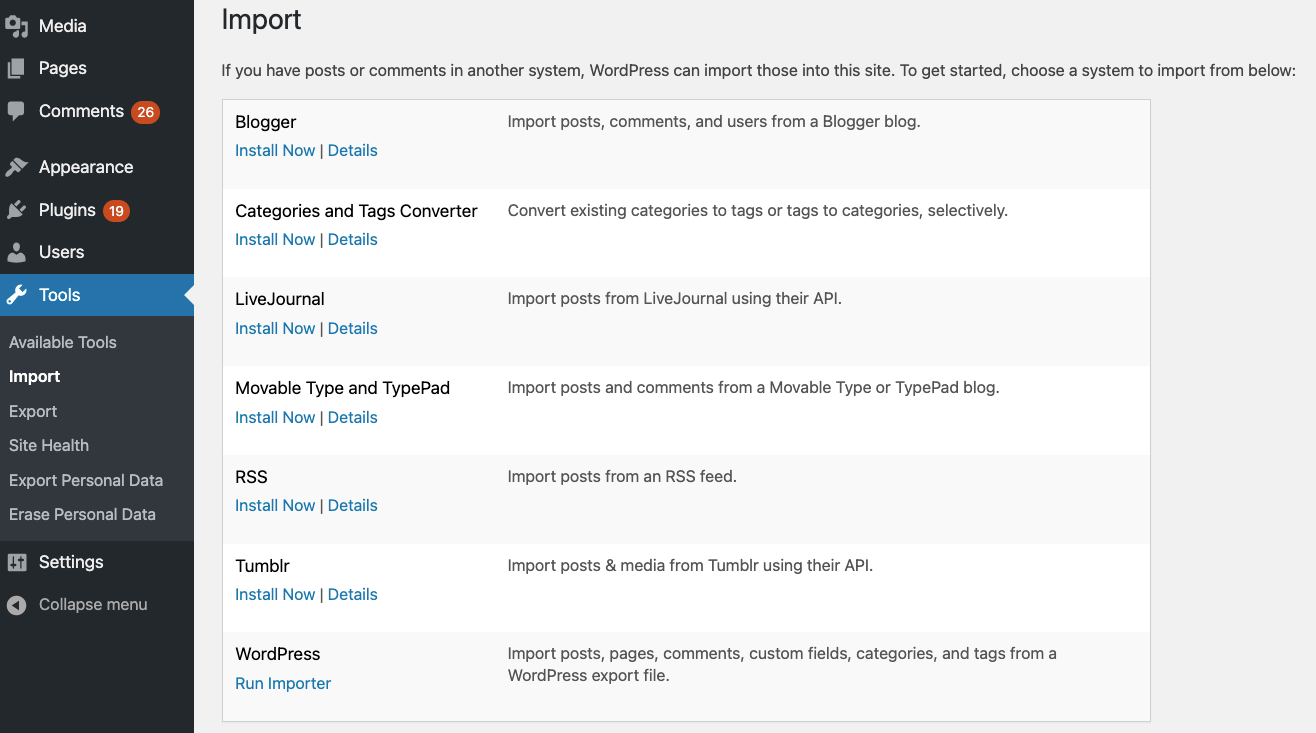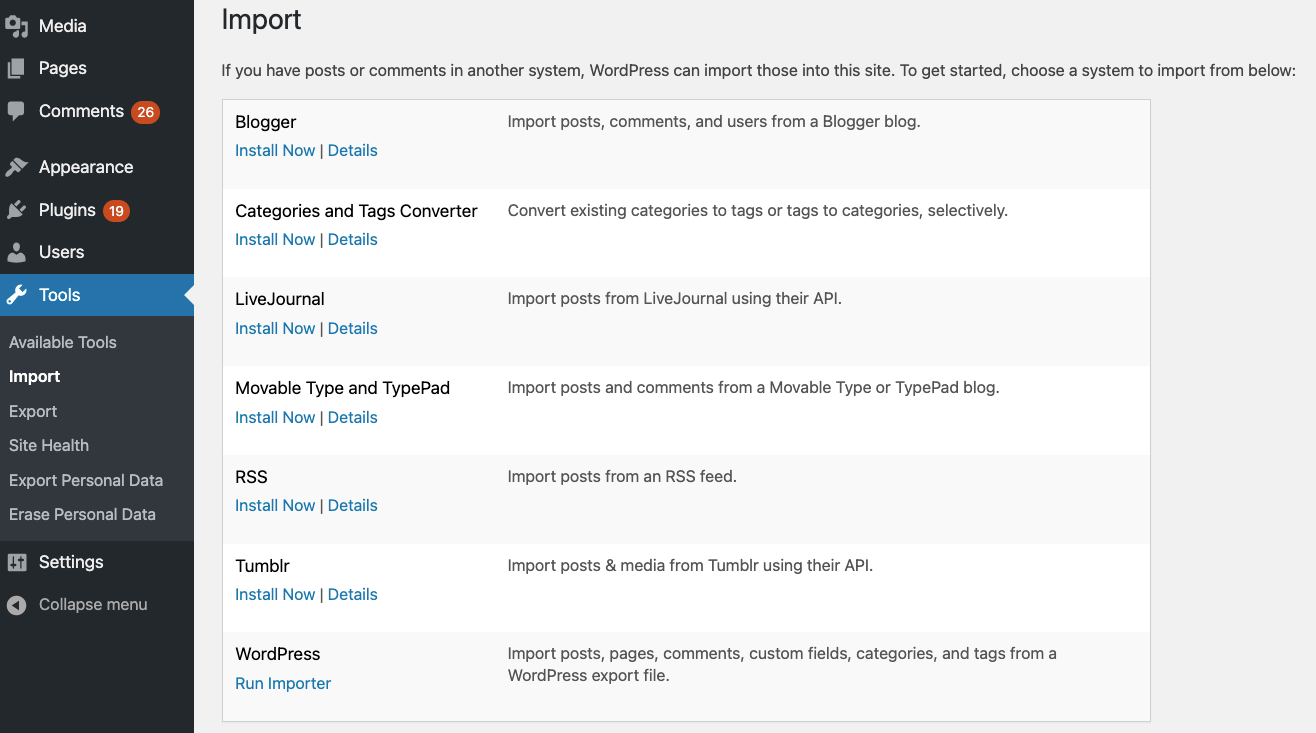 Wix doesn't have an easy export feature, and it can be super difficult to move your content. You'll have to locate and save the RSS feed. It's also discouraging to find that Wix doesn't have solid import tools, you can't import a Squarespace site, for example.
SEO tools
When it comes to out-of-the-box SEO tools, WordPress does have a lot of easy-to-use options for links and alt-text, but they really only get you started. For advanced things, like keywords and meta descriptions, you will need to write some code or install an SEO plugin.
Wix, on the other hand, covers everything right from the start. It even has innovative features like SEO patterns which use rules to apply SEO best practices to new pages and posts automatically.
Again, there are some workflow issues and your mouse will get a bit of a workout finding everything you need. But once found, there's an option for every SEO need.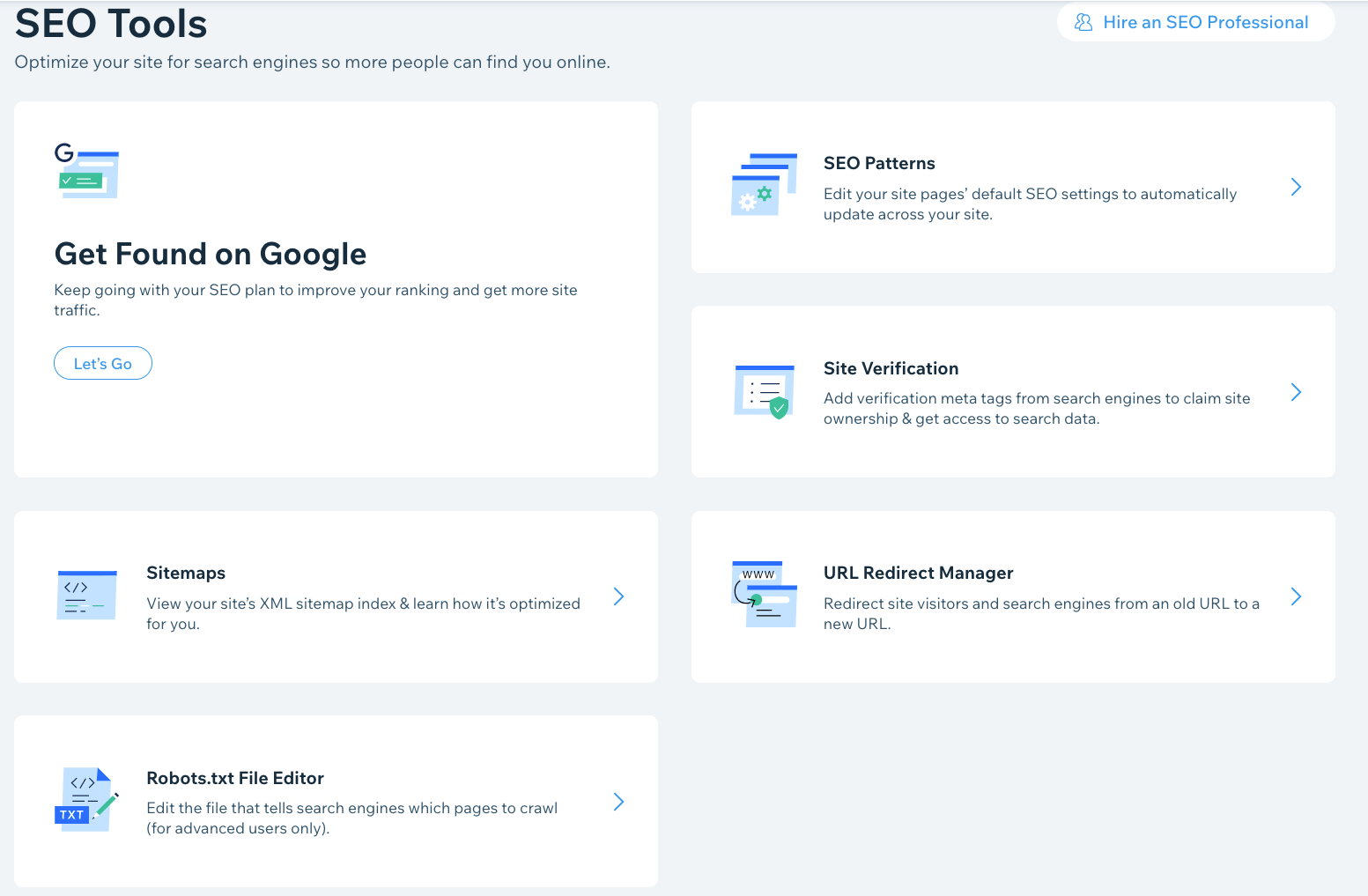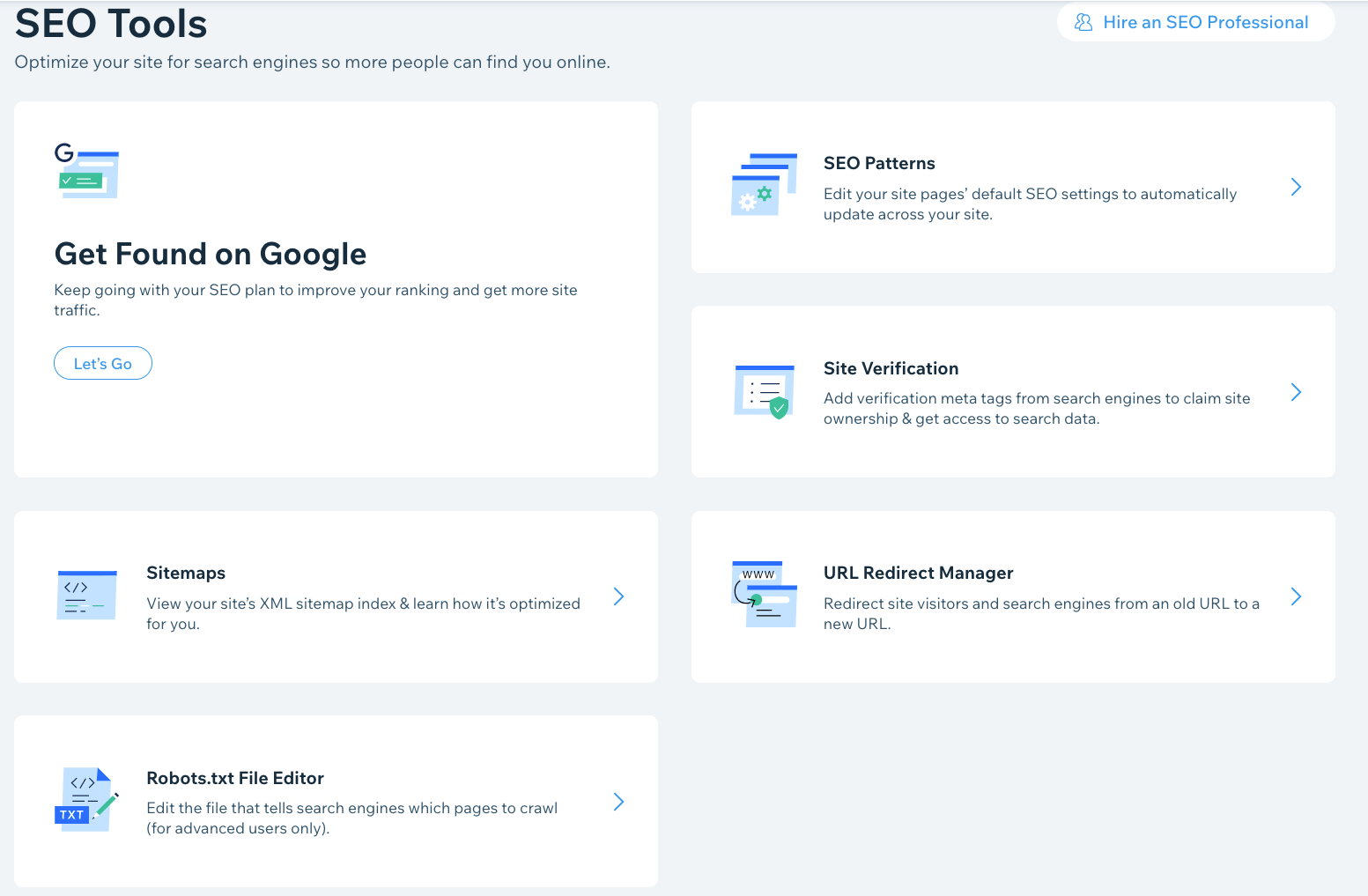 The only thing you might find frustrating with Wix SEO is the images. You'll see a lot of links like this one:
https://static.wixstatic.com/media/fb3d8a_f712be3e232649909852ad6ad77f1f9f~mv2.png
Unfortunately, there is no way to avoid this. You will have to live with it.
Security
If there's a giant gray elephant-shaped animal in the room, it's security. Now, you're going to hear a lot of people claim WordPress is insecure and easy to hack. But here's the thing: WordPress isn't the problem.
The fact is most hacks happen for preventable reasons:
Using "admin" as a username.
Poor passwords.
Using outdated themes, plugins, and WordPress installs that have vulnerabilities.
Using nulled or pirated software.
Hosting in an insecure environment.
Unfortunately, while the WordPress security team does respond quickly to threats, there's not much they can do if you don't update your software or use complicated passwords.
If you implement 2FA and follow simple guidelines, then your site should be safe.
On the other hand, the Wix platform handles most of these security essentials on your behalf. All you need is 2FA and a good password to feel safe.
🏆 The winner:
Sorry, but this one is a tie for me. Both Wix vs WordPress perform well out-of-the-box when it comes to the offered features. But the pros and cons balance each other out in the end.
Wix will do everything for you. And that's great. If that's what you want.
WordPress, on the other hand, helps you get started. But you stay in control. You can change tools. You can change host. Heck, you can change the entire platform if you want.
🔌 Round 2: Extensions and integrations
Out-of-the-box features are really just the start when it comes to what you can do with Wix vs WordPress. But taking the next step means using some plugins (WordPress) and apps (Wix).
Both platforms have a wide range of third-party tools that can enhance your site and bring extra functionality.
In some cases, like WordPress SEO, the use of third-party tools is highly encouraged, if not essential. Wix and WordPress have review systems in place to prevent malicious code sneaking through.
If you go by the numbers, this one isn't a contest. WordPress has over 58,000 plugins. While Wix's growing AppMarket has over 300 apps available.
How to pick the best? We've done that for you:
But numbers are just part of the story. When it comes to finding stuff, Wix's range of intuitive categories makes it easy to find what you need.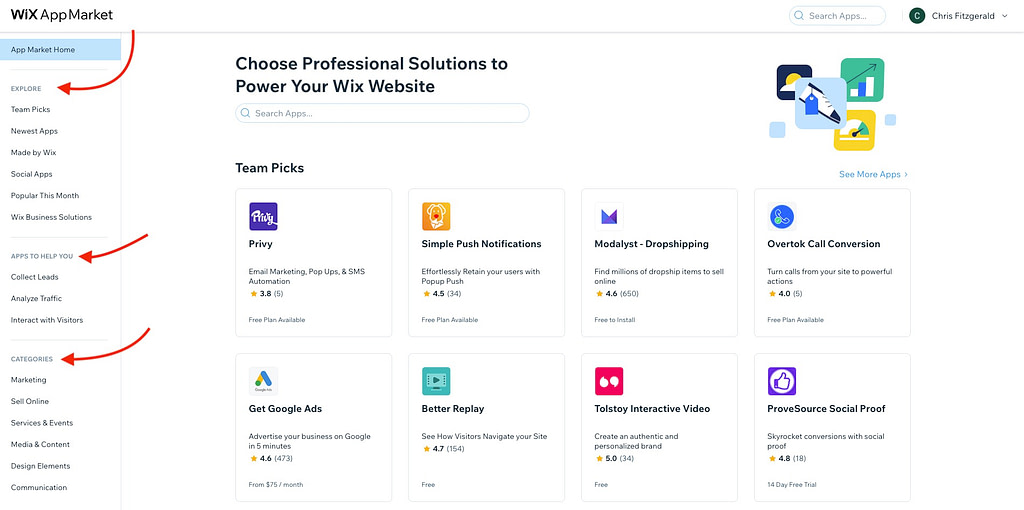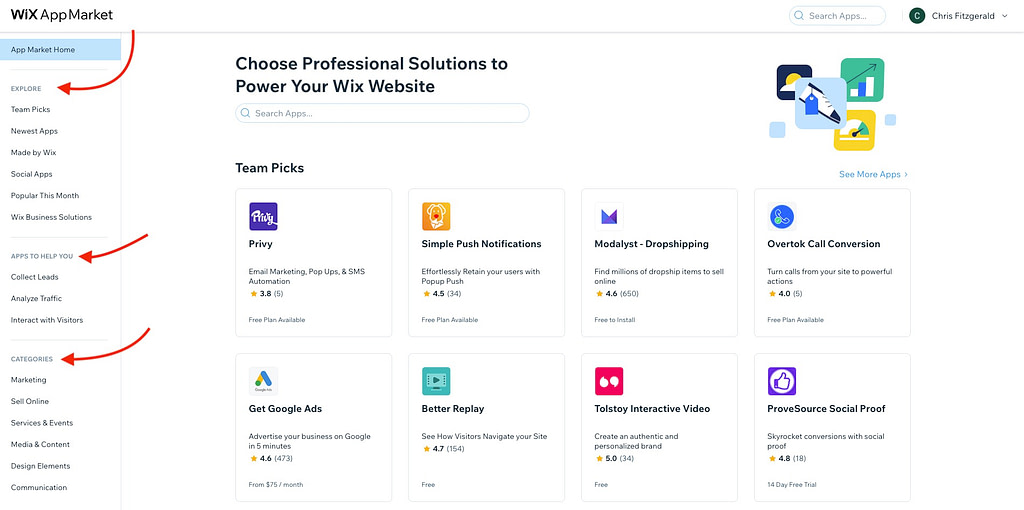 However, WordPress does tend to have more options from leading companies like Google. Wix is still integrated with Google, but Wix makes the app themselves.
Sure, but this means massive costs, right? Not always. In the Wix App Market you'll find free options mingling alongside trials and $100/mo apps.
Over on WordPress.org, the plugins are all free. However, in many cases, this is a freemium option with a feature-heavy paid upgrade available.
No matter what you want to do with Wix or WordPress, build a form, create member's only areas, or start a course, you'll find a purpose-built app or plugin to help.
🏆 The winner:
This one has to go to WordPress. The size of the free repository means you will find plugins for things Wix doesn't have (yet). This includes dropshipping with AliExpress, Web Stories from Google, and many more.
🖌️ Round 3: Design options
When it comes down to it, features and extensions are nice, but an attractive design is what pulls users in.
Wix has a growing template library with over 800 quality designs. You can also opt for a blank template with a layout but no creative elements.
In the event that neither of these options is appealing, you can let the Wix Artificial Design Intelligence (ADI) build a unique design based on the information you supply.
The Wix ADI is the most basic of the Wix options with a limited number of layouts and sections with no padding or margin controls. If you want more advanced options, you'll need to use the standard editor or Editor X.
Sounds great, right? Kind of. You can't easily switch templates. Once you hit publish, you're stuck with your template. If it's the wrong one, you can only change it by starting from scratch. But, hey, at least the templates are free.
WordPress on the other hand, has over 8,000 themes in the free repository and thousands of premium themes available from marketplaces like Envato.
While customization options can vary, each theme is tweaked with the same editor and the same customizer.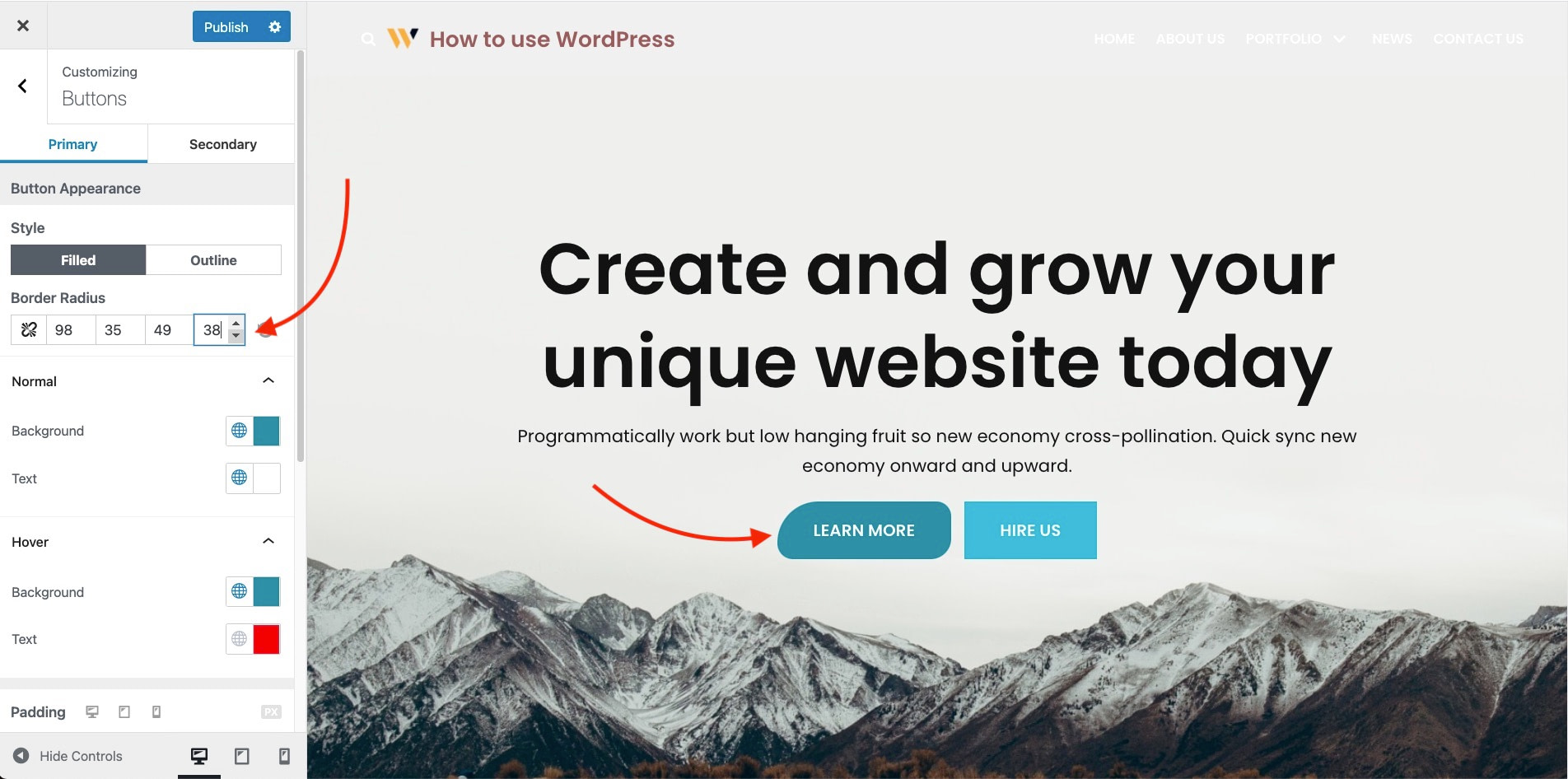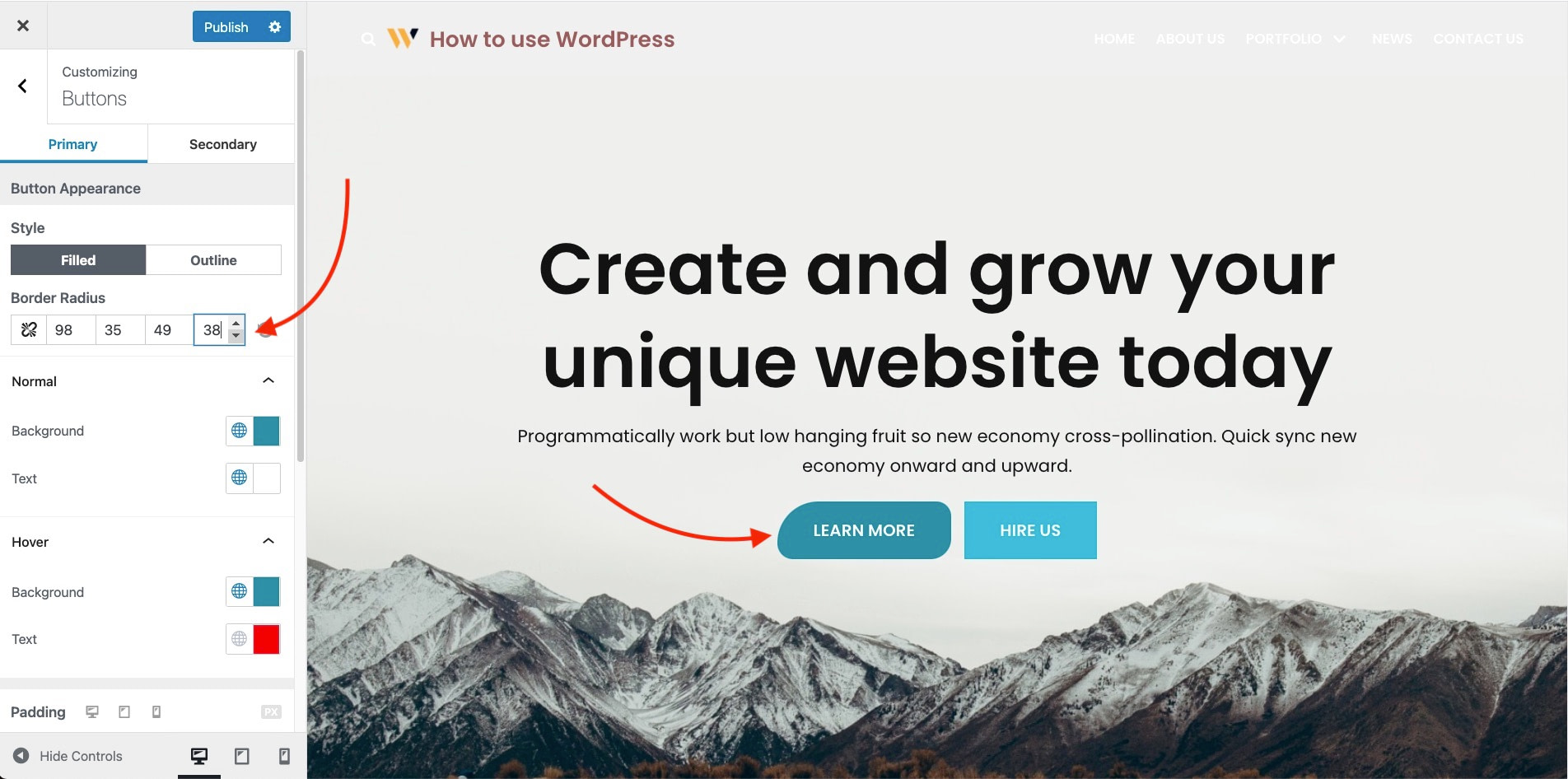 And, yes, you can change your theme without losing your hard work. In fact, a lot of themes come with starter sites as part of the package. You can switch between an eCommerce site, a corporate site, and a blogging site without changing the base theme.
🏆 The winner:
When it comes to Wix vs WordPress for design options, the winner has to be WordPress!
🛠️ Round 4: Ease of use
Both Wix vs WordPress built their reputations on making it easy to build a website. But which one does it better?
As mentioned already, Wix has a few options for getting started. If you would like a hands-off process, the Wix ADI can build a professional website complete with images and text using nothing more than a quick Q and A.
For example, the Wix ADI created this entire services section, including selecting the images and placing the buttons. You can tweak the titles, colors, or layout with a few clicks.
With the standard Wix Editor, you can drag and drop elements onto the page to create more complicated sections. All of the elements are easy to find and preview.
And Wix's overall visual-first approach is kind of awesome. Everything on the platform is visually appealing, making it easy to identify elements when needed.
Unfortunately, the no-code approach has a downside. It's not easy to do the high-level tweaking. And, the publishing workflows and SEO setup are challenging to navigate. In the final analysis, for launching a site, Wix is the best.
Don't get me wrong, WordPress has excellent visual building tools, like the block editor or Elementor. But, it still feels like there are times when code is the best option with WordPress
🏆 The winner:
There's no comparison to Wix's drag-and-drop editing process.
☎️ Round 5: Customer support
For customer support, Wix provides better options from top to bottom. Both Wix vs WordPress offer detailed documentation on every aspect of their respective platform. But Wix pushes further beyond this.
All Wix plans come with support options that include live chat and a callback service.
Don't like speaking English? Don't worry; the callback service is available in nine languages during GMT business hours on weekdays; with 24/7 exceptions for Spanish, English, and Portuguese. Whereas, calls in Hebrew are placed Sundays through Thursdays.
When you need support, you'll need to follow a Q and A path back to civilization. It's not too painful, and you can request a callback without too much effort.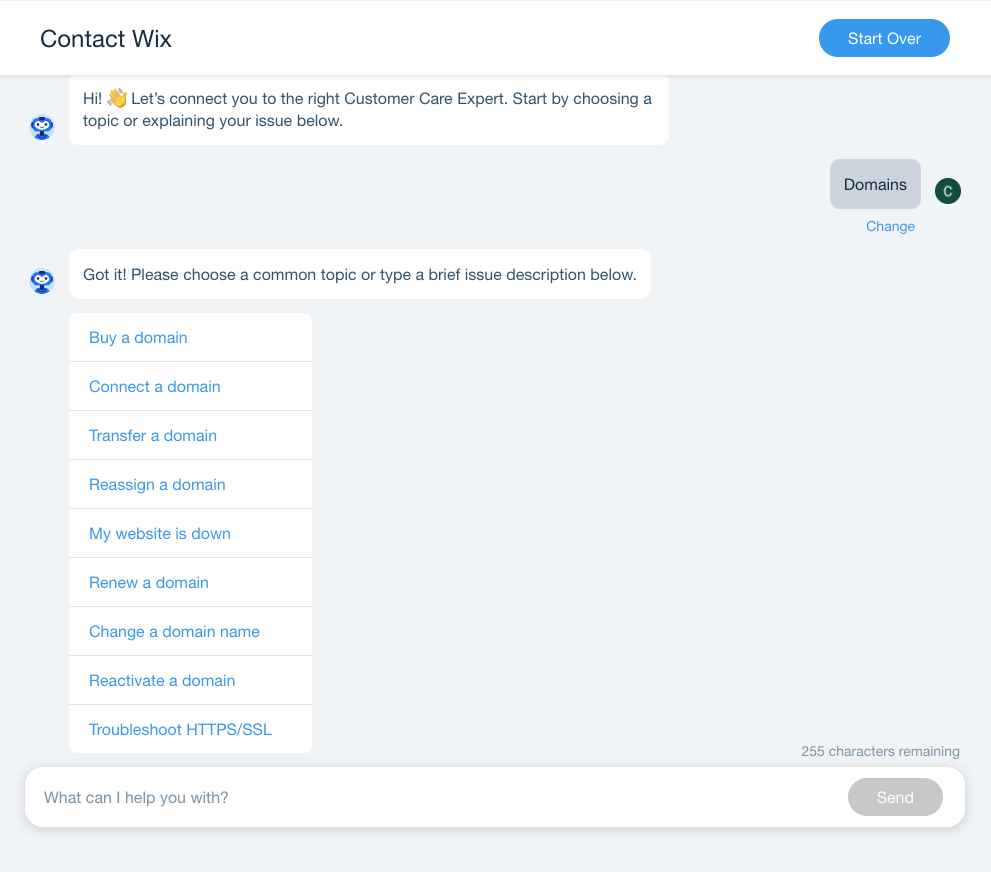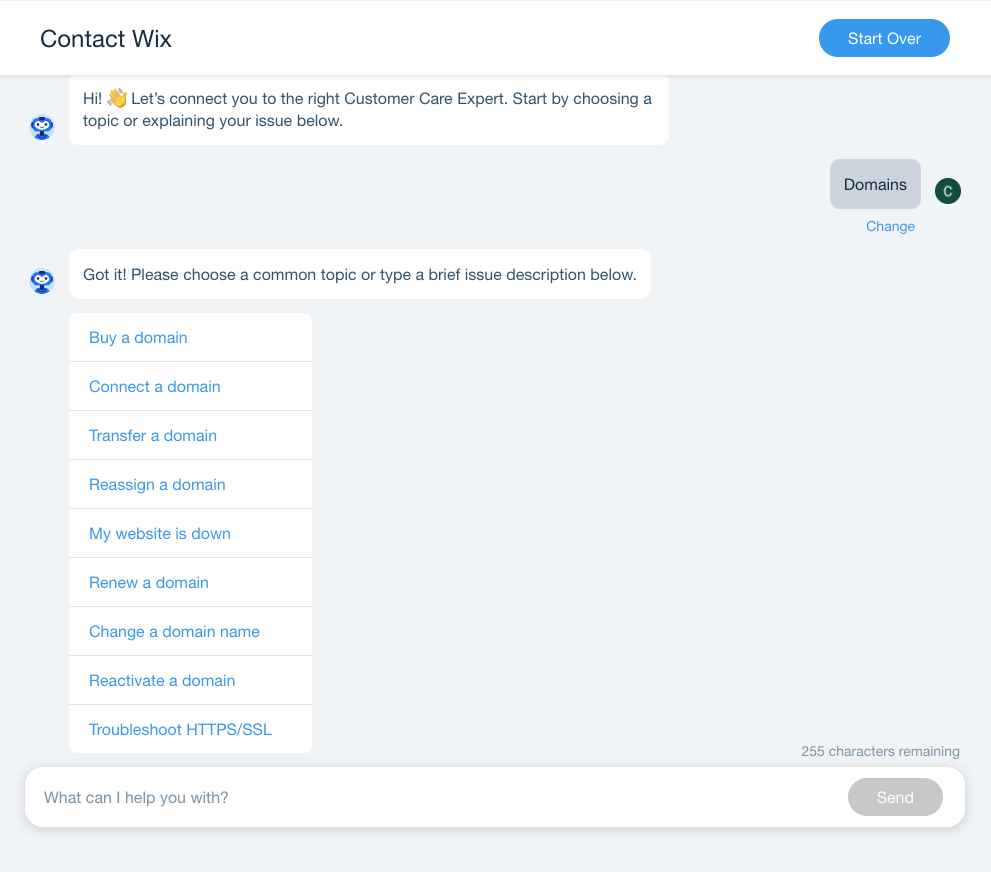 They're not stingy with support either. All of the support options are on the table for every Wix user (yep, that includes free users), although higher paid plans get faster response times.
When it comes to WordPress, strong documentation is the popular option. If it's humans you seek, then you'll face some obstacles.
WordPress support is handled through forums by volunteers from the community. You'll have to be patient when seeking help and you may get lost in the forum's network of threads.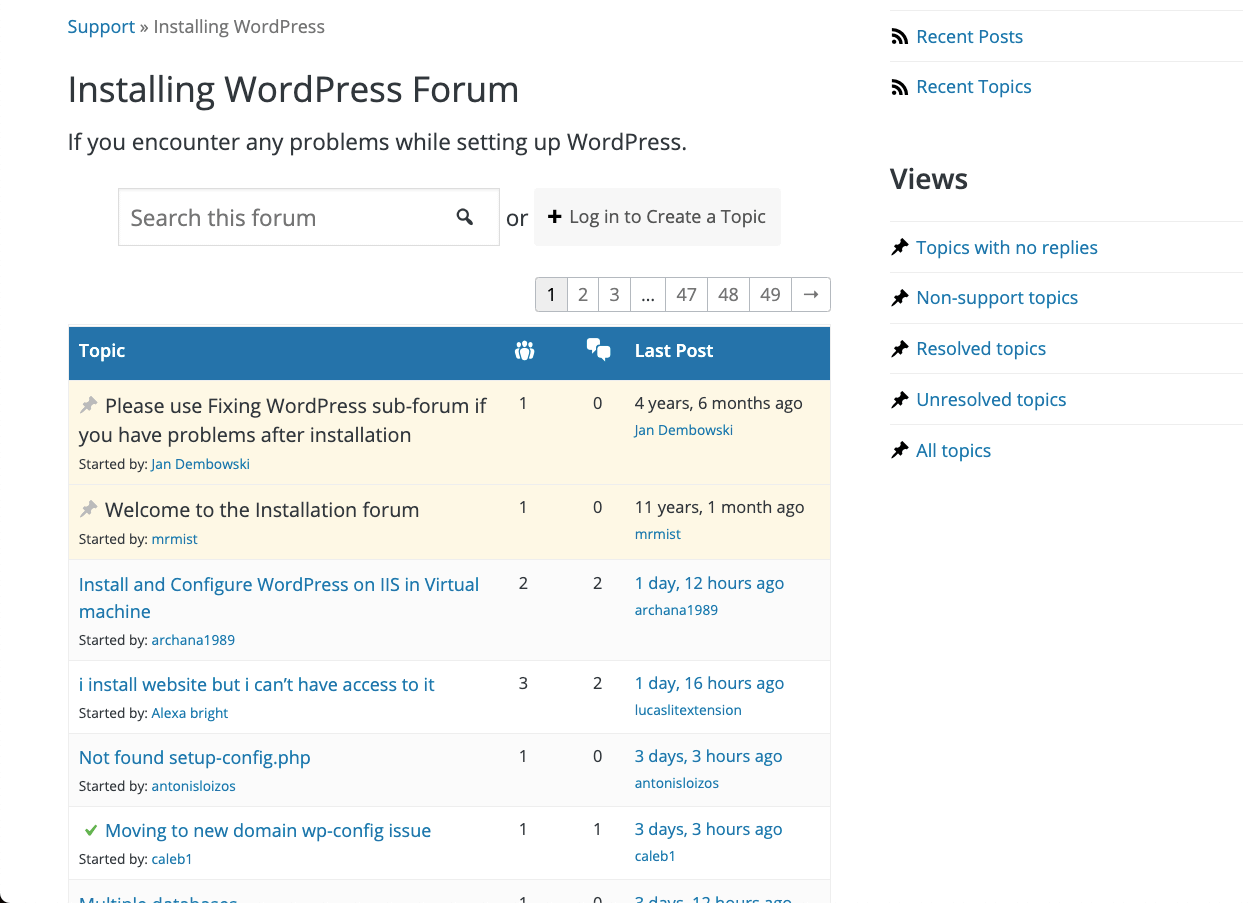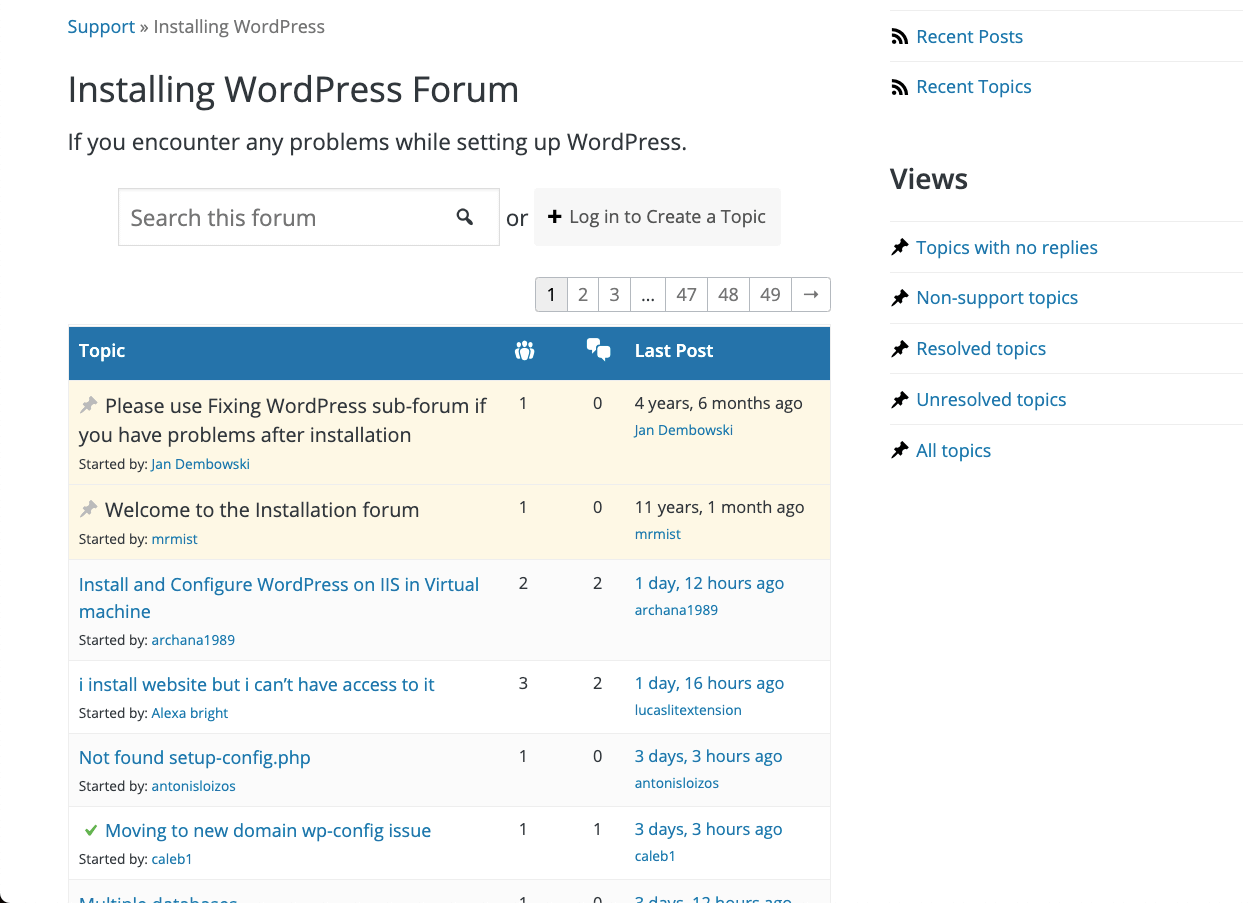 On the other hand, premium users will benefit from direct communication channels, like email or help desk networks.
That said, there's no actual official premium support for WordPress users. As in, there's no live chat support, no one to call, etc. All you can do is just submit a thread at WordPress.org and hope for the best.
Note: Depending on which web host you choose to house your WordPress site, you will get support from the hosting firm itself. The quality of this support fluctuates between companies, but you should be able to solve most problems that are not directly related to plugin or theme code.
🏆 The winner:
While getting help on either platform can take a bit of digging, Wix has the best options.
💵 Round 6: Pricing
Picking a winner between Wix vs WordPress based on pricing is not clear-cut. In fact, it can get so complicated we've written articles on Wix pricing and WordPress costs.
On the one hand, WordPress is free software that you can install on nearly any server. But, you'll have to pay a host for that server. WordPress hosting also comes in a variety of packages with different prices. Beyond that, you might have associated costs for a theme or plugins.
Let's see what Wix has to offer:
Wix Standard Website PricingWix eCommerce Pricing
VIP
Pro
Unlimited
Combo
Price
$39 / mo
$23 / mo
$18 / mo
$14 / mo
Custom domain
✅
✅
✅
✅
Free domain for 1 year
✅
✅
✅
✅
Remove Wix ads
✅
✅
✅
✅
Free SSL certificate
✅
✅
✅
✅
Storage space
35GB
20GB
10GB
3GB
Video hours
5 hours
2 hours
1 hour
30 minutes
$300 ad vouchers
✅
✅
✅
❌
Free Site Booster app (12 months)
✅
✅
✅
❌
Free visitor analytics app (12 months)
✅
✅
✅
❌
Free Events Calendar app (12 months)
✅
✅
❌
❌
Professional logo
✅
✅
❌
❌
Social media logo files
✅
✅
❌
❌
Costumer care

Was this topic

helpful?

0% of users found this helpful