Welcome to the seventh edition of our transparency report! In this series, I'm talking about everything going on at CodeinWP that's interesting from a business perspective. I'm doing what I can to be transparent, share our current strategies, goings-on, wins and loses, and basically everything else that happens in our day-to-day. (Here are all the previous reports, if you want to check them out.) In this edition, I talk about everything that happened at CodeinWP in August 2015:
The true face of the current WordPress theme market
Staying ahead of the curve is a tough thing to do.
This is something I do realize now more than ever before.
The market indeed changes a lot. And it's not just some empty talk by a random business owner. I really do mean it!
Paying attention to what other people are doing and taking notes is a mandatory thing these days. However, just trying to blatantly copy them afterwards isn't a good long term strategy. It's a bit more complex than that, I'm afraid. And I'm guessing this doesn't only apply to the WordPress niche.
For instance, let's take our most popular free theme – Zerif Lite. Long story short, we certainly hit a sweet spot with it, all things considered.
I don't think much luck was involved in building up the theme's position on the market though. Just a lot of hard work, releasing the right thing at the right time, doing the right kind of promotion, and reacting to what's going on on the WordPress market as a whole.
What was the main contributing factor to the theme's success? Who knows, really. Maybe it was the first theme of its kind that was of high enough quality (it originated from the premium version, so the code quality and the features were already there). Maybe the money invested in promotion was what put the theme on the radar. Maybe word of mouth marketing was our main asset. Tough to tell.
But the one thing we can be sure of is that the combination of all those factors and their execution is something that worked in a specific moment in time when the conditions on the market were just right.
Nowadays, things aren't the same, and the landscape has changed. For example, if you were to take what we did and try to replicate it exactly, you would probably only get 10% of the results we got. The lifespan of certain promotion methods just isn't that long these days, and this makes everyone's job awfully difficult.
Being able to crack the market code repeatedly time after time whenever you release a product isn't something you can rely on.
Thinking, "We're going to kill it with this product for sure!" is possibly your first step to failure.
Thinking, "We're going to kill it with this product for sure!" - first step to #failure.
Click To Tweet
For example, even though we did really well with Zerif Lite, it's also worth remembering that we have 10 more themes in the WordPress repository.
The designs are great (well, you know, it's hard to talk about those things objectively, but still). The features are up there on par with the best free themes on the market. The themes themselves are optimized for specific verticals and specific types of users/niches.
However.
They haven't even earned enough to reach a positive ROI.
In other words, we spent more on developing them than we got back in various forms of returning business (sales, blog visits, affiliate revenue, etc.).
The launch of Parallax One has taught me a lot in terms of how different the market is compared to even one year ago. Literally everything changed … the landscape on WordPress.org, the advertisers, the affiliates, you name it.
By the way, to learn more about that launch – the launch of Parallax One – feel free to see the previous report from a month ago.
Making bets is the way to go
There was a great talk by Darius Kazemi about making bets in business (aka. how to win the lottery), about just deciding to do something, following through with it, and seeing what sticks.
If you have time:

Watch this video on YouTube
TL;DR. The success lies in your ability to make a number of bets and be ready that some of them won't give you anything.
For example, if you want to launch a theme that's going to get at least 50% as popular as Zerif Lite, then your design, development, and marketing processes will have to be a lot different from what's going on out there right now.
Instead of doing what has already worked for other companies, you would have to place your own bets on a couple of different possible alternate futures, if that makes sense.
In other words, instead of adapting to what's going on right now, try adapting to what might be there in the future. Naturally, most of those bets will fall flat. But that's the nature of the game.
If we're talking WordPress themes, there's a number of possible scenarios that could happen (just to give you some ideas). Maybe the new search mechanism that's in the works will make it easier for a niche theme to do better in the official repository. Maybe some third-party directories of free themes will have grown enough to give you more downloads than the official one. Maybe developing add-ons for those major framework-themes is the way to go forward. Could any of those take place? Sure. Will they for sure? No one knows. Place your bet.
I guess if I were to give you an in-the-nutshell roadmap:
Do market research. Know what's going on out there. What your competition is doing and how well it's working for them.
Make your own bets. Make your own assumptions. Don't copy others. You can only hope for a fraction of their results if you do the same.
Teamwork is key
I'm a little stressed out as a working person, so to speak.
I mean, the more I work, the more stressed I seem to be. And even if there might be nothing particularly stressful going on, just the pure act of trying to figure some issues out for 3-4 days straight gets me highly stressed at the end of it. I guess it's a character trait, but it's certainly something I'm battling with on a daily basis.
Those inner struggles are just one of the factors that convince me of the importance of a stress-free environment at work (to the extent possible).
I want the team here to feel good about their work, their achievements, and their possibilities to grow. To make that happen, I'm trying to introduce various new initiatives and perks for all of us (taking care of my health just as much as of everyone else's).
For example, we had a small seaside retreat a while back (some pictures on Twitter). We also try having fun together at least once a week to simply spend more time together in environments that aren't only work. I think this has its part in building a healthy relationship and overall lowering the stress that we're all under.
I also encourage every member of the team to attend 2-3 conferences per year, and I certainly insist that they attend every major event here in Bucharest.
Apart from that, most of us have our side projects, and I want to empower everyone to pursue them further. For example, Adelina started her own blog recently –  AdelinaTuca.com  – where she shares her thoughts in relation to her work, personal growth, work motivation, and the realities of working in the WordPress world.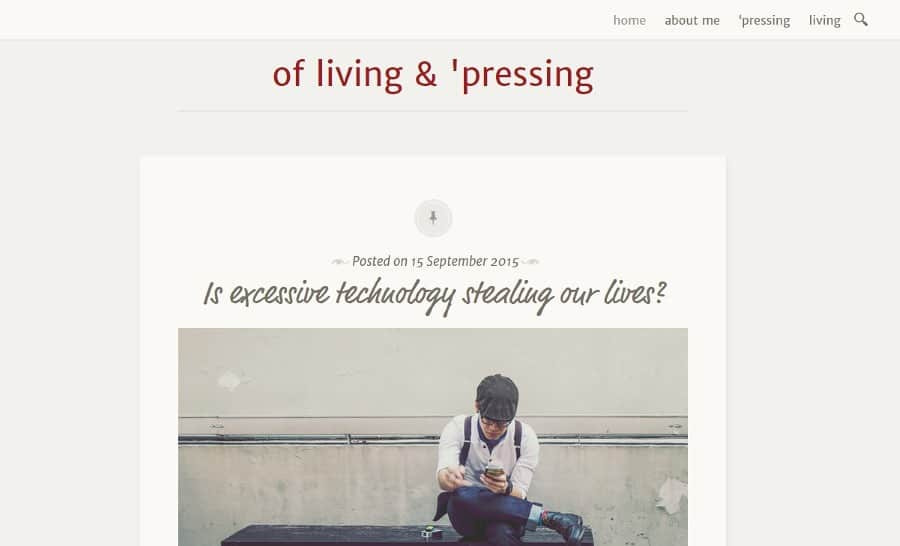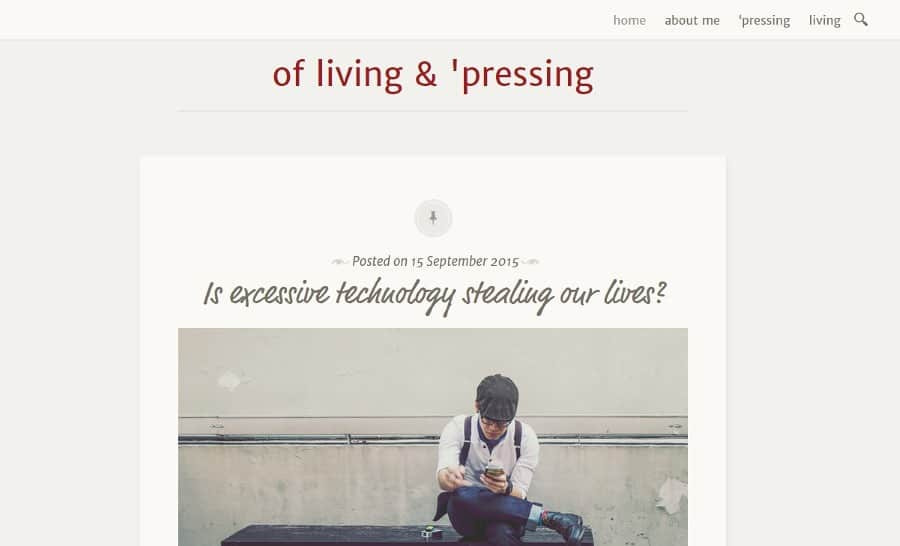 From my own experience, I can tell you that writing is one of the most valuable habits you can have. I strongly encourage everyone I work with to start their own blogs and begin putting thoughts to paper screen. It really does open a world of opportunities and gives you the time to think on all those ideas you never had the time to get to the bottom of.
Last but not least, to make things more transparent here, in-house, I've developed an internal salary grid. It's similar to what companies like Buffer an WP-Rocket are doing, but not public yet. Currently, I'm treating it more like an internal tool to let every team member know what benefits await if they stay with the company long term, and what the path to certain perks or salary/benefit bonuses is.
When it comes to me, individually, in July I spoke for the first time at a WordPress meetup. It was a Q&A session where I shared our data, results, and spoke of my personal blog. Stressful, but great experience nonetheless. I hope to have more opportunities like that in the future. For me, that's positive stress. The kind of stress that makes you grow and brings benefits long term.
One growth hack I want to share
Speaking of teamwork and finding hacks to make your work more efficient, I want to share a certain strategy with you and ask what you think about it…
Recently, I've felt that we were moving a bit too slow with the development side of the business, so I allocated a monthly budget of $5,000 for hiring external contractors and freelancers. Basically, there's a shared Upwork account that every team member can use to delegate some of their work.
Now, the important part is that they can do this themselves. They can see what remains of the budget for the month, and based on that hire a contractor to handle a specific task. There are no limitation as to who can and cannot use this.
In other words, if you think that a given task could be done more effectively through Upwork, you have green light to find the right person and hire them.
What do you think of such a free market policy, where everyone can get outside help whenever they feel they need it?
A/B testing … and why doing it is a must
A/B testing has been considered somewhat of a holy grail of growth.
And rightly so. Basically, it's quite hard to grow a business long term if the only thing you're doing is acting on your own assumptions and not backing them up with any data.
I mean, sure, you can score a winner every once in a while. But doing so without any data time and time again is impossible.
That's why we've introduced some A/B testing onto various pages within our sites, and evaluated whether or not small changes indeed have a visible impact on the results.
A handful of things we did:
Tested if including WordPress.org reviews on our product pages at Themeisle.com has impact on conversions. Answer: Yes. Our conversion grew by nearly 5.5% after introducing the reviews.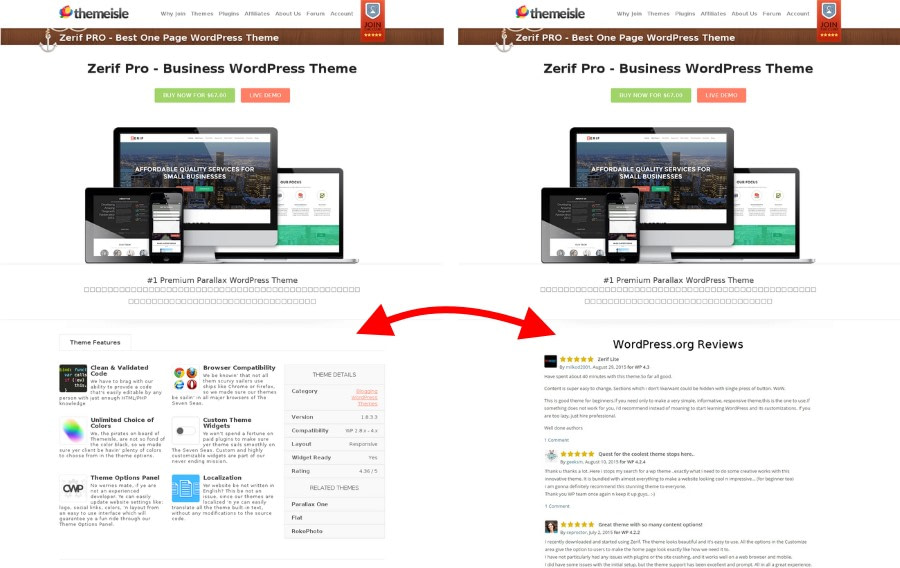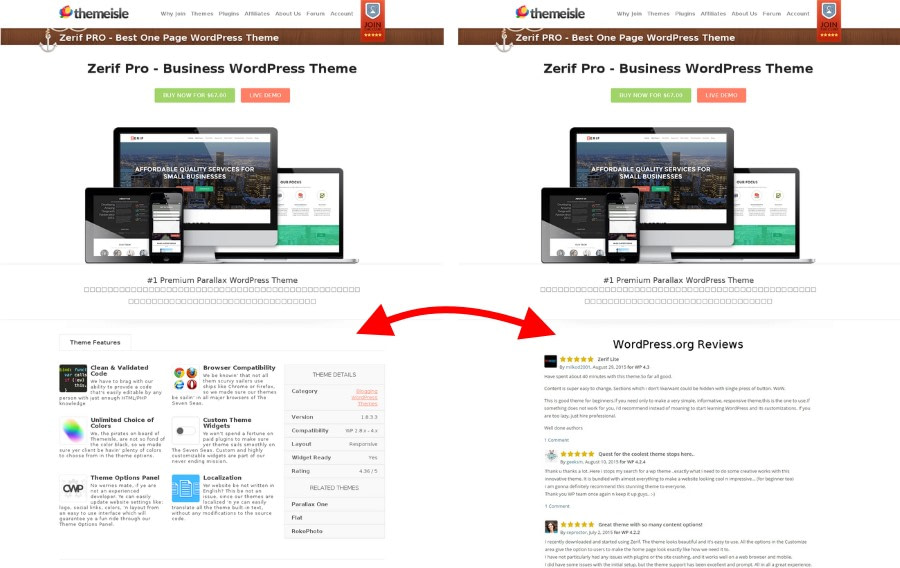 Tested if video backgrounds in the main parallax section for the Zerif demo lead to better conversion rates over static image backgrounds. Answer: Yes again (7.5% growth).
Tested if adding additional tidbits of info after the buy buttons improves conversions. Answer: No. The conversions  went down by 11.5%.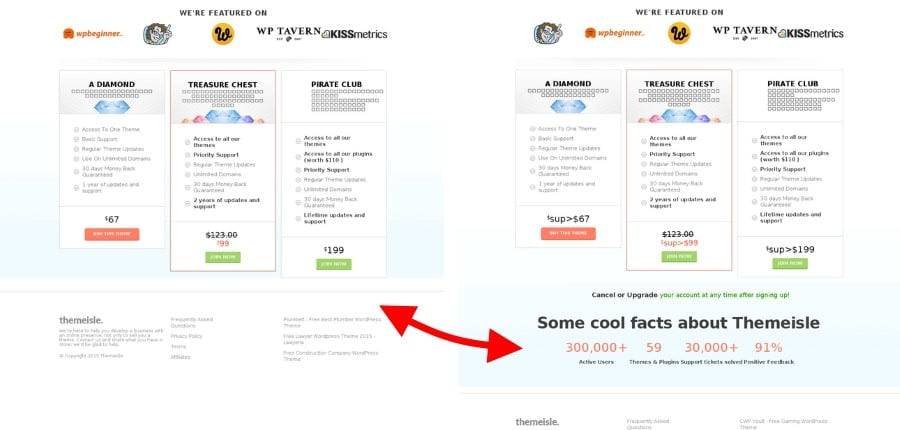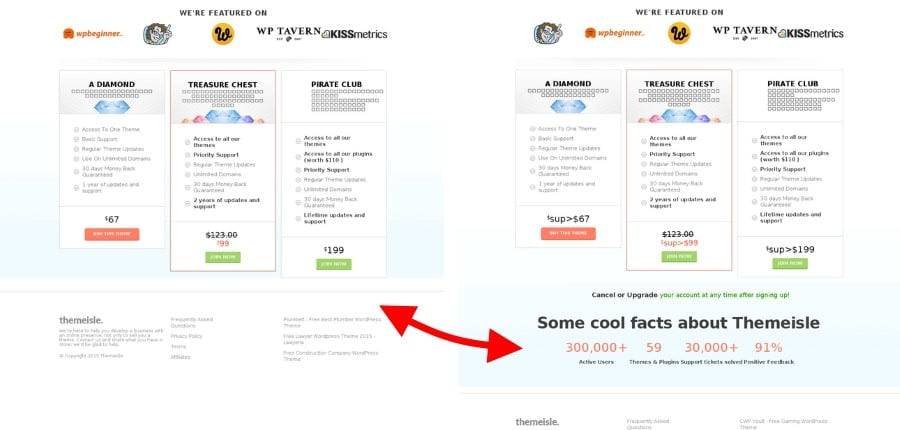 Tested if having a smaller dollar sign on the buy button improves conversions. Answer: for some reason, it does. The conversions increased by 6.85%.


Why am I sharing this? Just to show you the obscurity of those tests. For example, just the last one – the size of the dollar sign – is there any chance that you could predict the result of such a test? Of course not. You can only find out if you set a specific A/B test and see how it plays out. And that's the whole point.
I believe that a successful business is built just as much on releasing awesome products as it is on optimizing the smallest things around them. If you don't test, you're just running in the dark.
(Since you probably will ask, we're using VWO for this.)
Doing the right thing
I think that every business owner, including myself, often struggles between two agendas that aren't always on the same path. I'm talking about (1) doing the right things, and (2) doing things to maximize profit.
Sometimes, you can do both of those simultaneously, and I hope I'm managing to make it happen for the most part, but not always. One example I'm not proud of is that we haven't really thought about accessibility of our themes for a long time.
That was wrong, I know.
But I do want to get back on track here, so we've hired an external contractor who has the know-how and the experience to help us out. First, he's taking care of Zerif and then moving on to our other themes.
This is something we should have done much earlier. I strongly believe that with so much power and so many users using our themes right now, it's our duty to do the right thing and make sure that everyone can use those themes freely.
Revenue breakdown (Aug 1st – Sep 1st)
I'm afraid there's no Mixpanel screenshot this month. Looking at our numbers, Mixpanel appears to have had some issues last month. The revenue they've reported is around $73,000, while the real sales volume for August (excluding refunds) is $82,220.
Unfortunately, this inconsistency doesn't let me do much analysis in terms of per-customer revenue and other things (since we don't have all the data). I hope that next month things will get back on track.
What I can do, however, is go back several months and look into some other interesting pieces of data. Particularly, see which countries hold the highest per-customer value for us. In other words, in which countries people spend the most on our premium products.
Here's our situation:
(Only countries with at least 30 sales between Jan 1 and Sep 1 are featured on this list).
As you can see, the top 6 for us is all Europe.
While the difference between the United States at #7 and Ireland at #1 is only $7.21 (revenue per user), the gap gets much bigger when we compare the avg. revenue per paying user.
What this might mean? Well, feel free to interpret in the comments, but whatever it means, it convinces me that selling methods should be different based on the country that your prospective customer is coming from. Even though everyone understands English, not every customer is the same. Educating yourself on your customers' wants and needs based on their location is therefore a potential opportunity worth exploring.
Thoughts on transparency
On another note, being transparent about things like revenue has its pros and cons. Even though I always try to showcase both sides of the coin, and talk about the good sides as well as the difficulties of it all, not everyone sees the whole picture.
Some people are generally more emphatic when they see a big number that seems like someone is doing great in terms of revenue. Seeing a handful of not-so-great opinions here and there really does hurt at times. Occasionally, I really do wonder how people like Pat Flynn manage to stay with their income reports long term and not mind the negative comments they must be getting.
On one hand, it's really great to be able to empower other people to pursue their dreams and grow their businesses. But on the other, positive feedback isn't the only thing you get when you start talking about your revenue.
Things to come
Next time, I will be sharing some of my thoughts on theme stores and plugin stores on the market right now, and how the evaluation process works for those kinds of companies.
This is a topic I've been looking into for a while now, researching the data available, talking with some people in the industry and so on. I'm doing this to learn how to recognize a bargain when I see one. Right now, we're actively looking for opportunities to buy existing themes and plugins, so knowing what a good price is and what isn't is a crucially important skill.
By the way, if you know of a great product in the WordPress world that's for sale, feel free to let me know.
Also, I have another interesting batch of data from the Parallax One launch and some insider tips on how to grow traffic to your premium WordPress themes (I will be revealing where 15% of our traffic is coming from – free traffic source).
Okay, that's it for now. As always, thanks for reading and for supporting CodeinWP!
Stay updated here: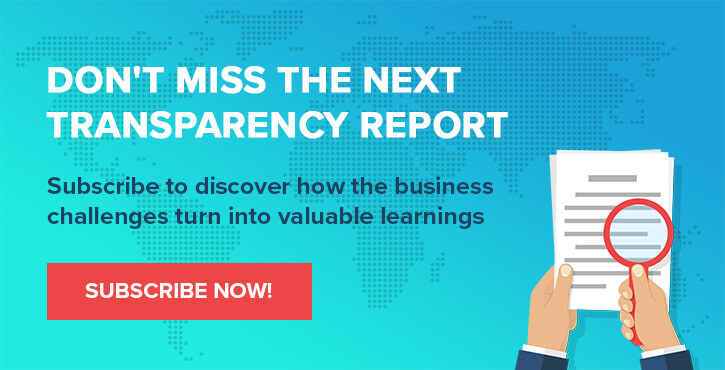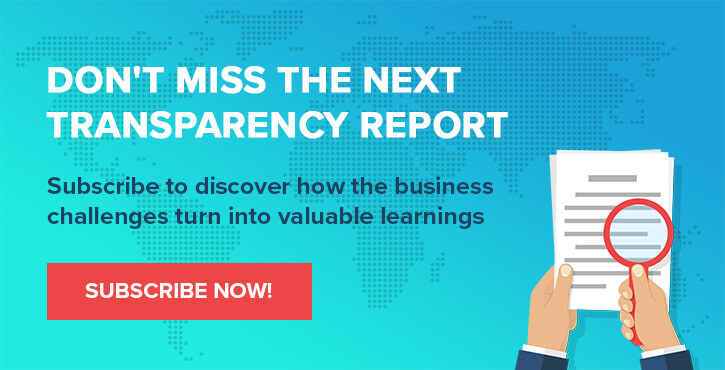 All edits and witty rewrites by Karol K.
Was this topic
helpful?
0% of users found this helpful