Welcome to the 29th edition of the monthly transparency report (for June 2017). This is a series where I share everything that's been going on at CodeinWP and Themeisle, business-wise. I try to get to as much detail as possible while also making it interesting for you to read. Click here to see the previous reports.
#Transparency #Report no.29 - It's Been 5 Years Since We Started
Click To Tweet
Let's do something unusual in this edition of the report. As you can see in the headline, it's our 5th anniversary here at CodeinWP, or rather the 5th anniversary of us getting involved in WordPress! 🎉
So, what I have for you here is a timeline post. Here's what our journey has been so far, the main milestones, plus where we plan on heading in the future. Enjoy:

2012:
The beginnings
We start CodeinWP.com as a team of four and with a simple HTML page.
Click to see the first iteration of CodeinWP.com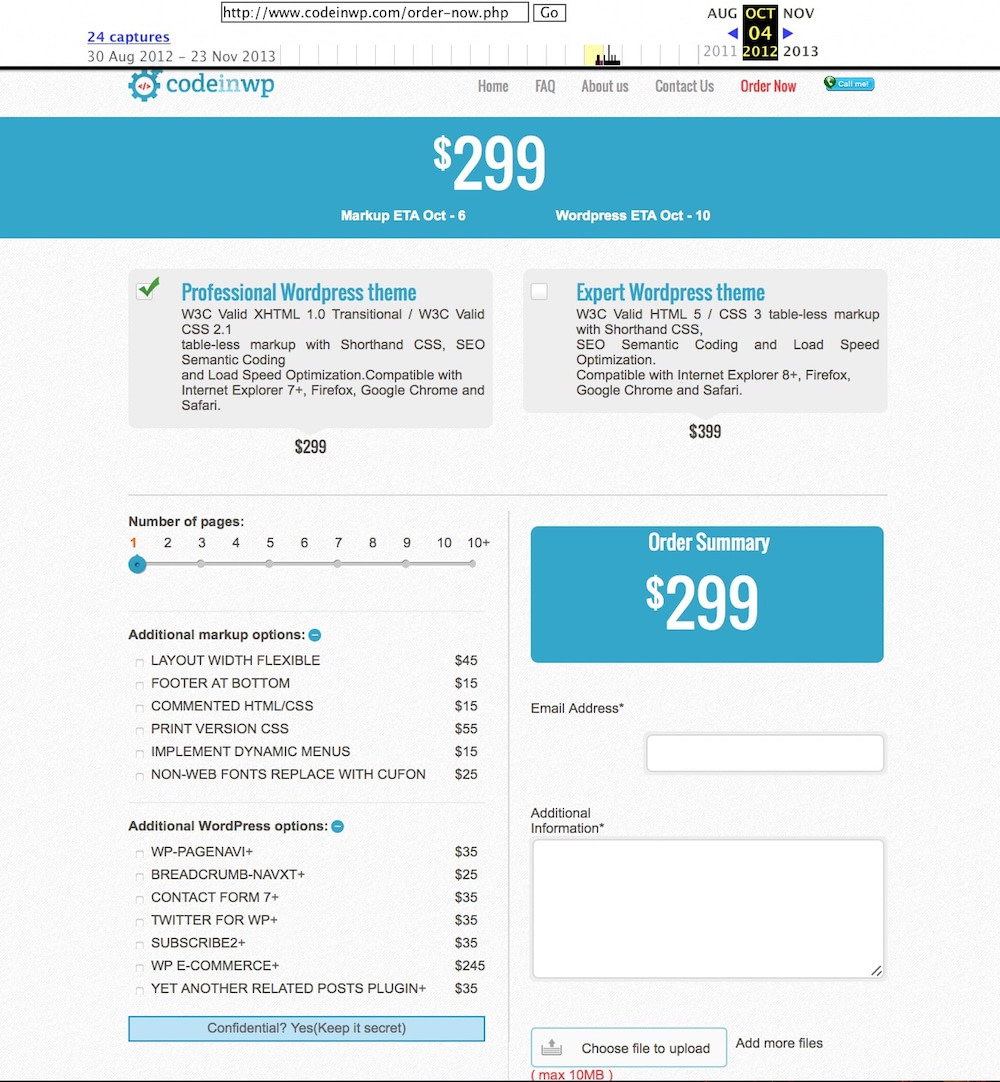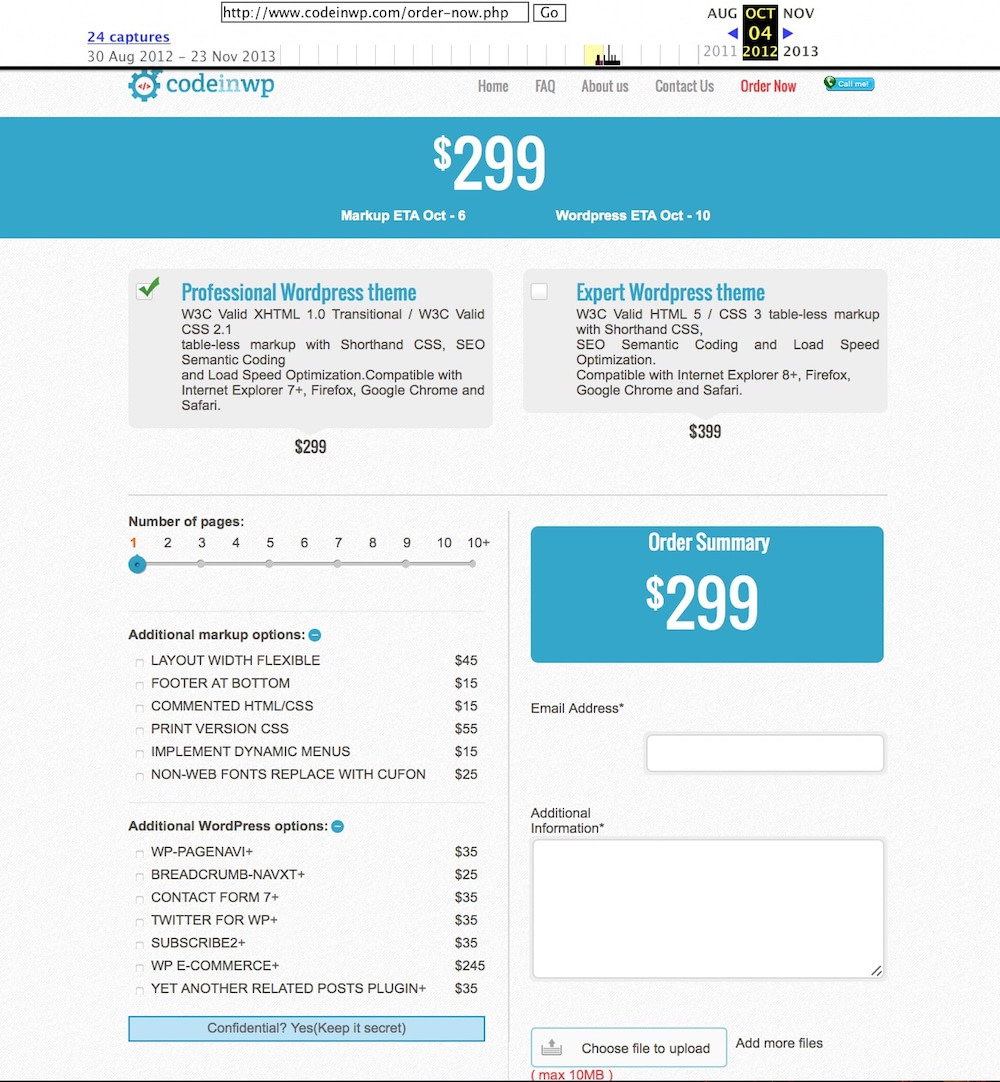 As you can see, "fancy" isn't the word anyone would use to describe this creation. Nonetheless, we are inspired to get the ball rolling after observing the efforts of other developers in the WordPress space.
No capital. No funding. No copywriting skills. And just to emphasize that last thing, here's our About text:
Who is behind CodeinWp.com?
The team behind the company, which was established in 2010, is very motivated and dynamic. The founders of CodeinWP.com started with the idea of providing access to services that convert designs (psd, png, ai) into wordpress.
(Notice the lack of capital P and even capital W in WordPress. But I digress.)
We start offering "PSD to WordPress" services. Not as a product but as a service, since each order is handled manually and can't really be automated efficiently (at least we don't see how).
2013:
Starting the CodeinWP blog and joining the content game
Since blogging is the next big thing, or, rather, it has been the thing for a long while, we've decided to start our own blog too.
The CodeinWP blog is born and the first article is published: WordPress Free Themes – Don't Use Them. We haven't deleted it just for history's sake. Please don't judge based on the content.
We also create our first WordPress theme – CreativeMag. This is a partnership with icanbecreative.com. The goal is to show potential clients what we can do in terms of working within WordPress' constraints.
We also try to have it featured on WordPress.org, hoping that people will see us there and then bring their business over to CodeinWP.com.
We get our first big client for "PSD to WordPress" – Qualtrics. When I say "big" I mean brand-wise, not revenue-wise. How do we obtain clients? Well, one way is to mass-follow people on Twitter and then hope they'll figure out what we do by looking at our profile … "PSD to WordPress" kind of leaves no room for guessing.
We order a nice WordPress Guide/eBook to be created. We are excited but later on find out that it's been mostly compiled from other sources – sources whose permission we don't have. You can still see the guide via Wayback Machine (here).
See here
Obviously, the eBook gets rejected by Amazon. That's actually how we discover that the content has been copied. And funnily enough, most of the content has actually been written by the person who we will hire as our editor later on. He didn't mind having his content scraped … at least what he says.
Our About page evolves a bit just to make the offering clearer.
See here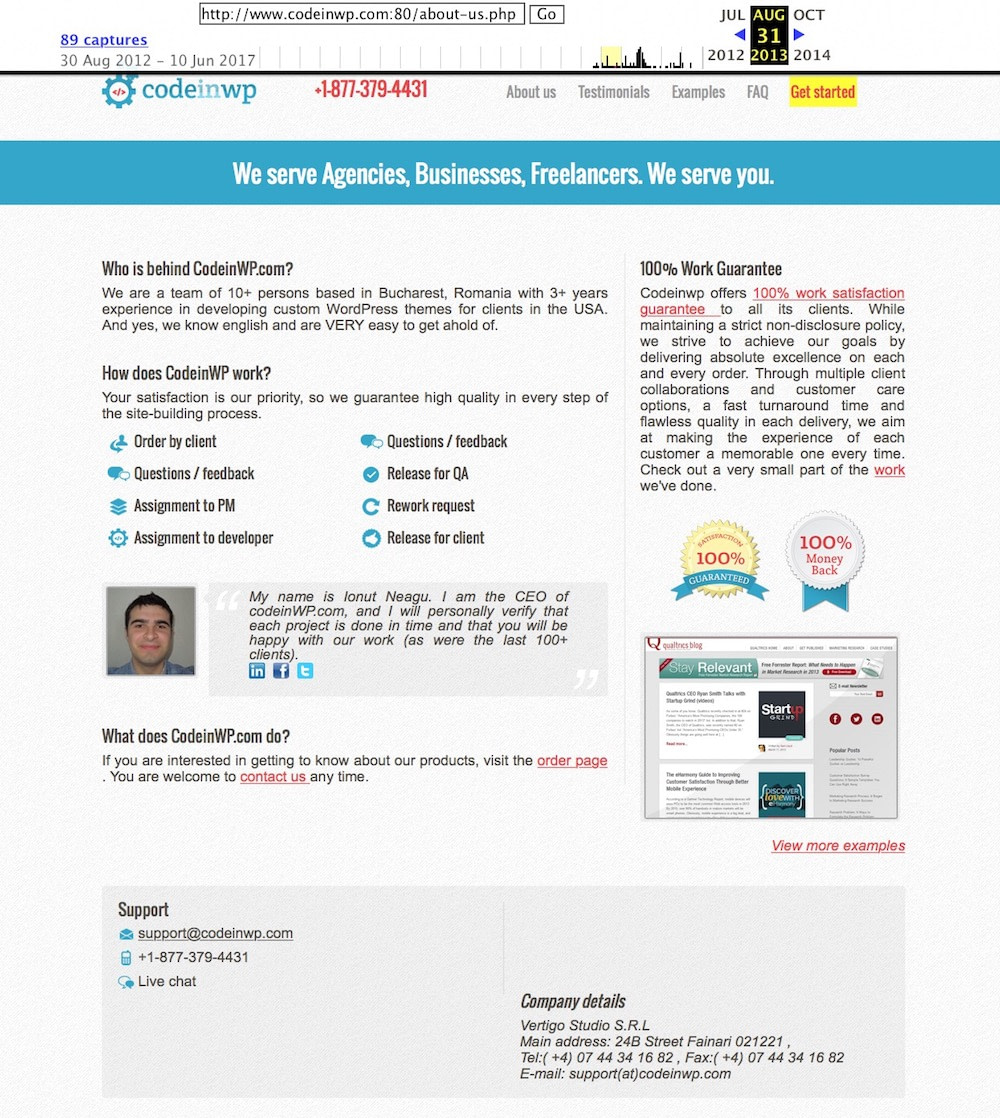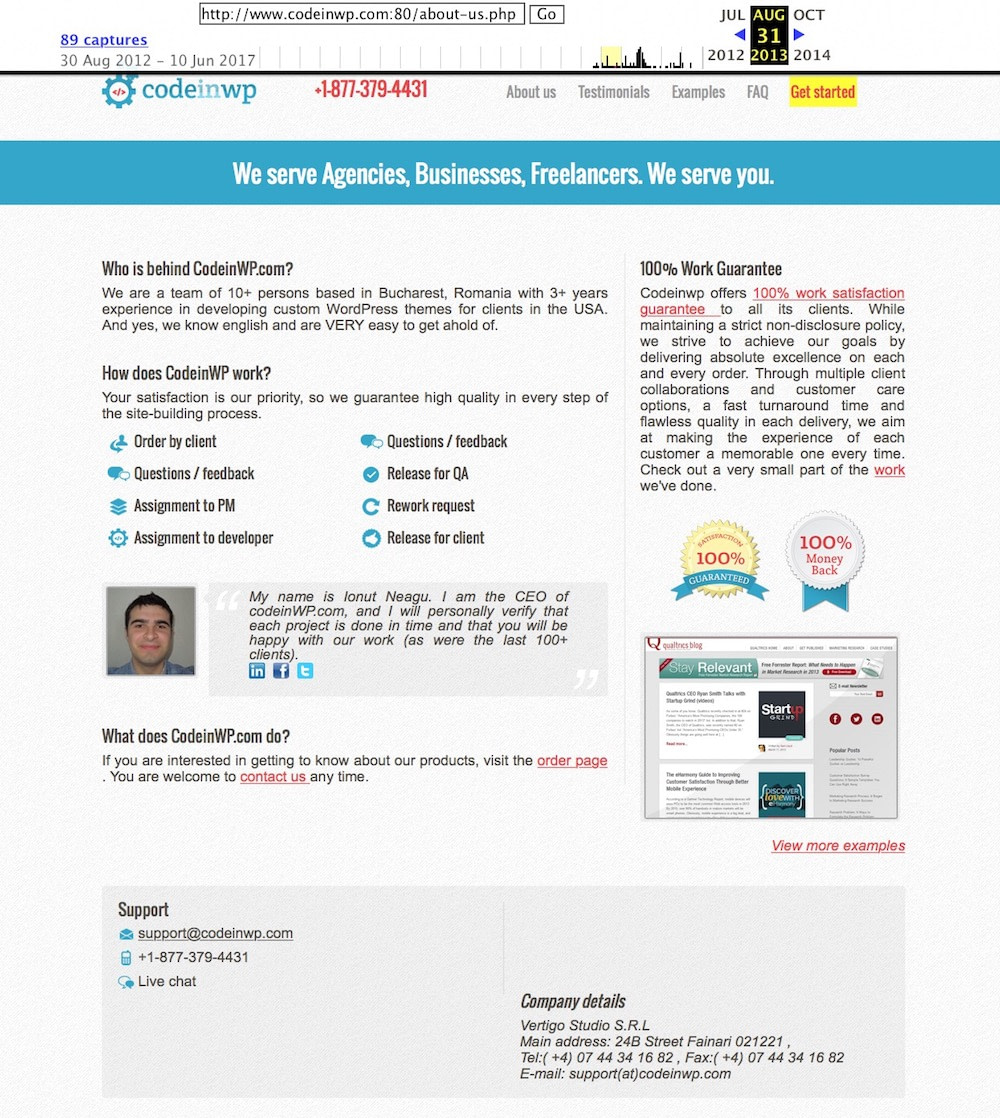 2014:
Getting into themes and starting Themeisle
We start by launching CodeinWP Themes. At the beginning, there are just four themes in our directory.
This is what it looks like
As you can see, effective theme presentation isn't our strongest point.
Our initial content project – the failed eBook/guide – makes me realize that simply buying articles on the web isn't the best of ideas. I've decided to ask around and hire an editor who can help with things in a more in-depth way.
His first post goes live on the site … still online.
We get rid of the $300 pricing option and rebuild the main page.
We add a "Get a Quote" button plus a note that we're accepting work starting at $650.
I start working on promoting the site heavily.
There's another iteration of the About page, continues to improve.
See it here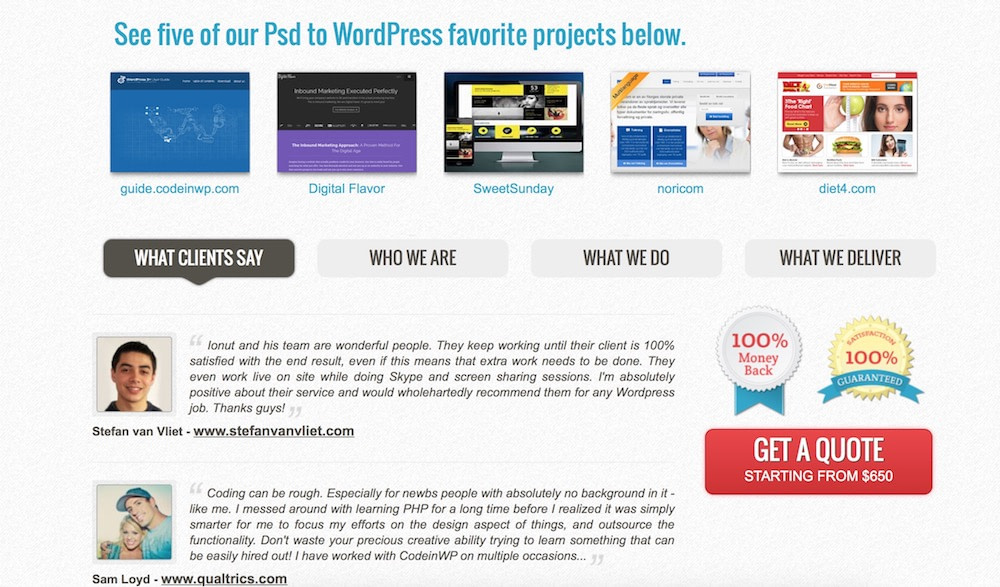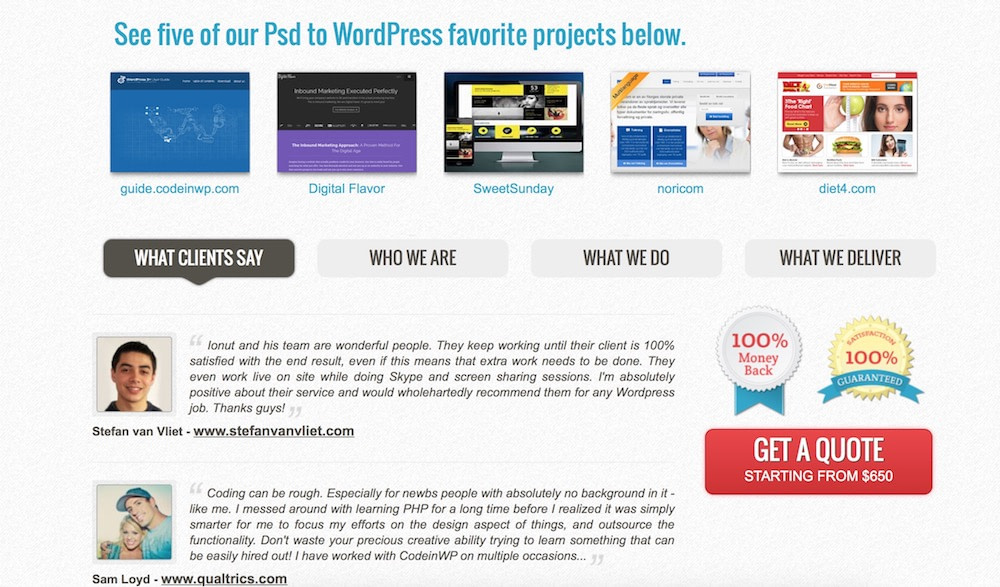 We redesign the blog slightly. Apart from some small tweaks here and there, that design remains online to this day.
Still almost no traffic coming to the blog…

We launch Themeisle.com 🎉
You can see the (somewhat) full story behind Themeisle on its own About page. In short, we get the idea while on a trip – working abroad. We are already knees-deep in WordPress, working on some themes, website design, and so on, so we just decide to give this a go.
The design of Themeisle.com has remained pretty much unchanged.
(Interestingly enough, the five themes that were introduced when the site launched are now all retired. You can read more about that and the whole Themeisle story on Indie Hackers.)
2015:
The year of growth
I decide to start doing Transparency Reports. The first one goes online on Mar 13, 2015.
We attend our first WordCamp Europe in Sofia. We are a team of four there.
Our various promotional methods start paying off, we experiment with coupons some more, and finally are able to secure a nice stream of theme sales. Not huge, but enough to get us started and focus more seriously on the Themeisle brand.
Due to this growth and the amount of work required there, we stop actively getting new "PSD to WordPress" clients at CodeinWP.
(Even today, if anyone contacts us about that, we just refer them to WPRiders – a Romanian agency that we trust.)

We launch Zerif! 🍾
Immediately, we build two versions of the theme, pro and lite. The lite version gets accepted to WordPress.org and soon finds its place on the "popular list." This allows us to bring in new sales and thus build up Zerif's brand.
We up our content game by investing more funds in highly-researched articles and not just basic one-off posts. As a result of this, we start seeing more traffic coming our way, and other bloggers get eager to link to us.
Some of the best content of 2015:
The team grows to 12 people.
2016:
Doubling down on content
As a result of our early success with better content, we realize that we can take this even further by continuing to invest more funds in the blog and potentially opening other content channels.
The main focus: making the CodeinWP blog into one of the go-to blogs in the WordPress space.
One of the first things we do to achieve that is start a long-term content project – our WordPress hosting survey. Doing this takes a lot of work, a lot of time, Excel gymnastics, data analysis, etc. But it pays off. That survey is one of the most in-depth looks into the realities of the hosting market for WordPress.
We move our content planning efforts to Trello, in order to better manage the entire process of creating articles and getting them published.
We also start bringing in new writers on board to help us out.
We redesign the main homepage of CodeinWP.com to help us guide people interested in "PSD to WordPress" in the right direction.
The current homepage design at CodeinWP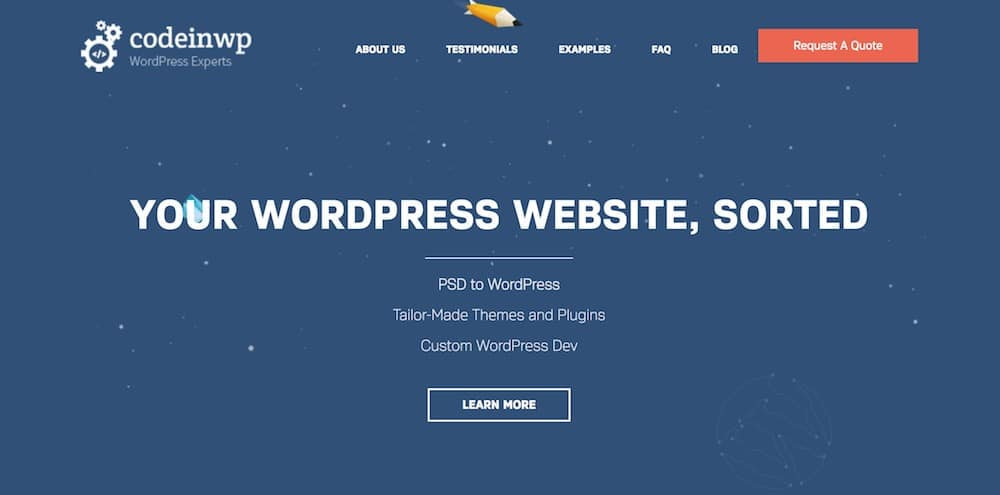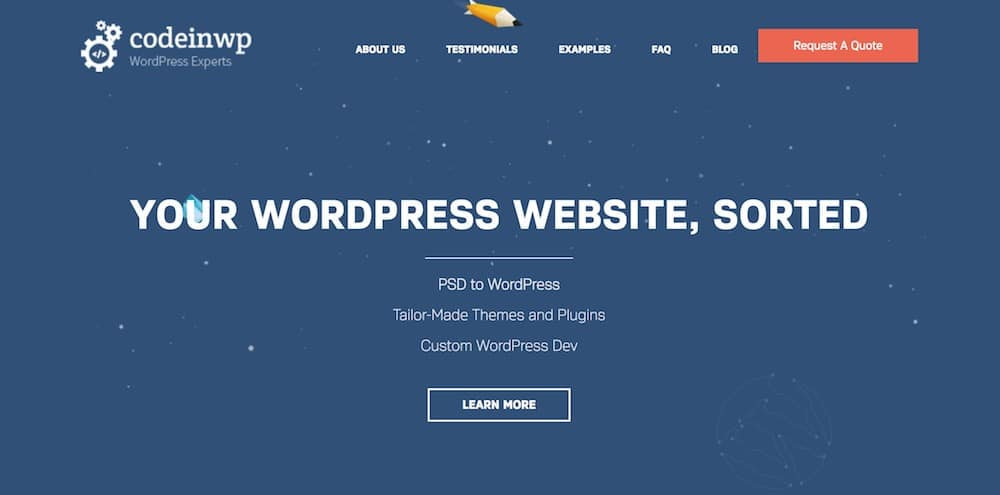 We launch the Themeisle blog! 🎂
Why two blogs about WordPress? Well, in our mind, CodeinWP is geared more towards mid- to advanced WordPress users, while the Themeisle blog caters to beginners who are just starting out with the platform (likely after downloading one of our themes).
We launch the Themeisle YouTube channel! 🎥
We attend WordCamp Europe in Vienna as a team of 11 people.
See us there
Volunteering was the best way to enjoy #wceu. Awesome job @PeterNemcok & the rest of the Crew! pic.twitter.com/xJAAFBUJEc

— Themeisle (@ThemeIsle) June 26, 2016
#WCEU #WCEUBall @ThemeIsle @photomatt Thanks for the photo! 😀 pic.twitter.com/PZaQjw1Rfw

— Madalin Milea (@MileaMadalin) June 25, 2016
We move into our current office and make new hires. The team is now 18 people.

We launch Revive.Social! 🎺
We do this to separate some of our social media WordPress plugins and give them their own brand, apart from Themeisle or CodeinWP.
We attend WordCamp US in Philadelphia. Quite the trip for us, and again, almost the whole team is present.
2017:
Today
We battle through the Zerif Lite suspension and learn a lot during the whole process. This helps us grow as a team.
We launch the Revive.Social blog.
I speak at WordCamp Porto and a bunch of other meetups. Does it help me improve my public speaking skills? Maybe you'll be the judge some day…
We improve a lot on an organizational level. Get more clarity and set the strategy moving forward.
We launch our new flagship theme – Hestia. I expect it to get to Zerif level popularity somewhere in the next six months.
We attend yet another WordCamp Europe. This time in Paris. Again, nearly the whole team is there.
The Themeisle YouTube channel reaches 100 videos!
We release another edition of our hosting survey. This one with more than 4,750 respondents. Go to top
Bonus
Care for an infographic version of the above timeline?
CLICK TO SEE INFOGRAPHIC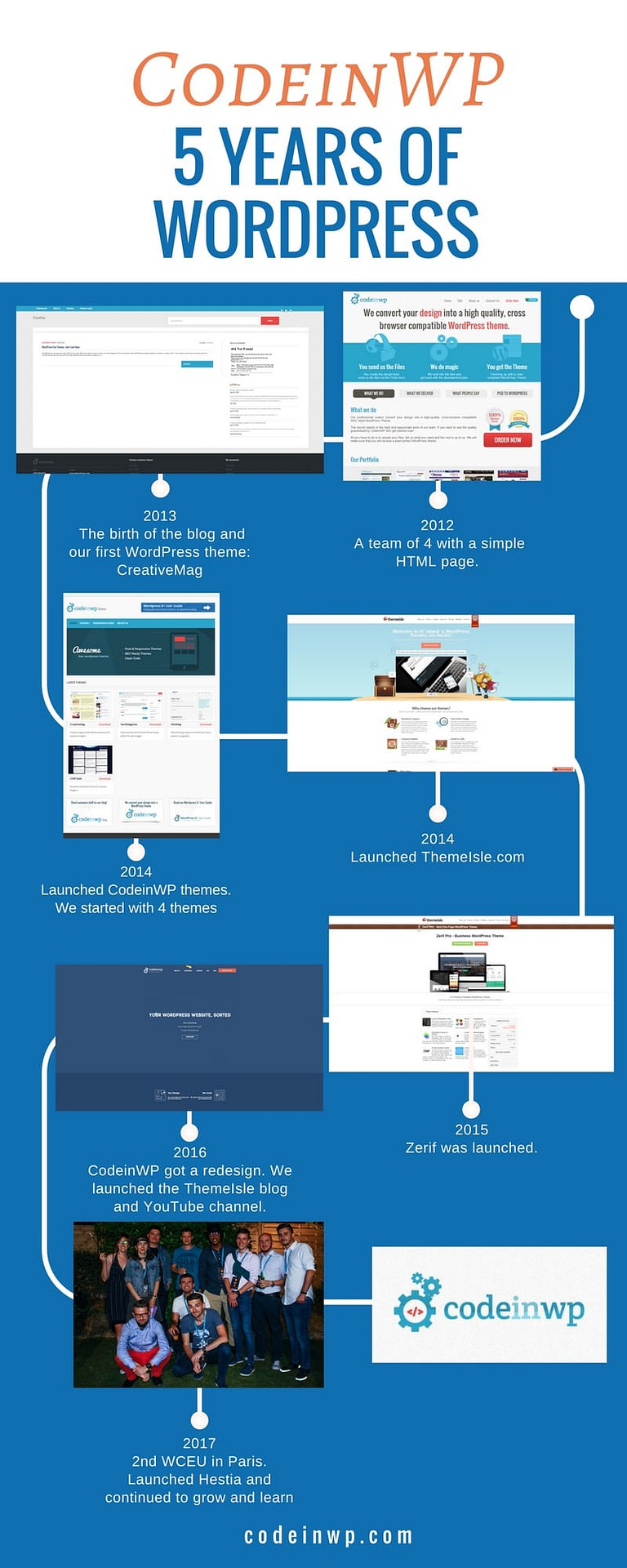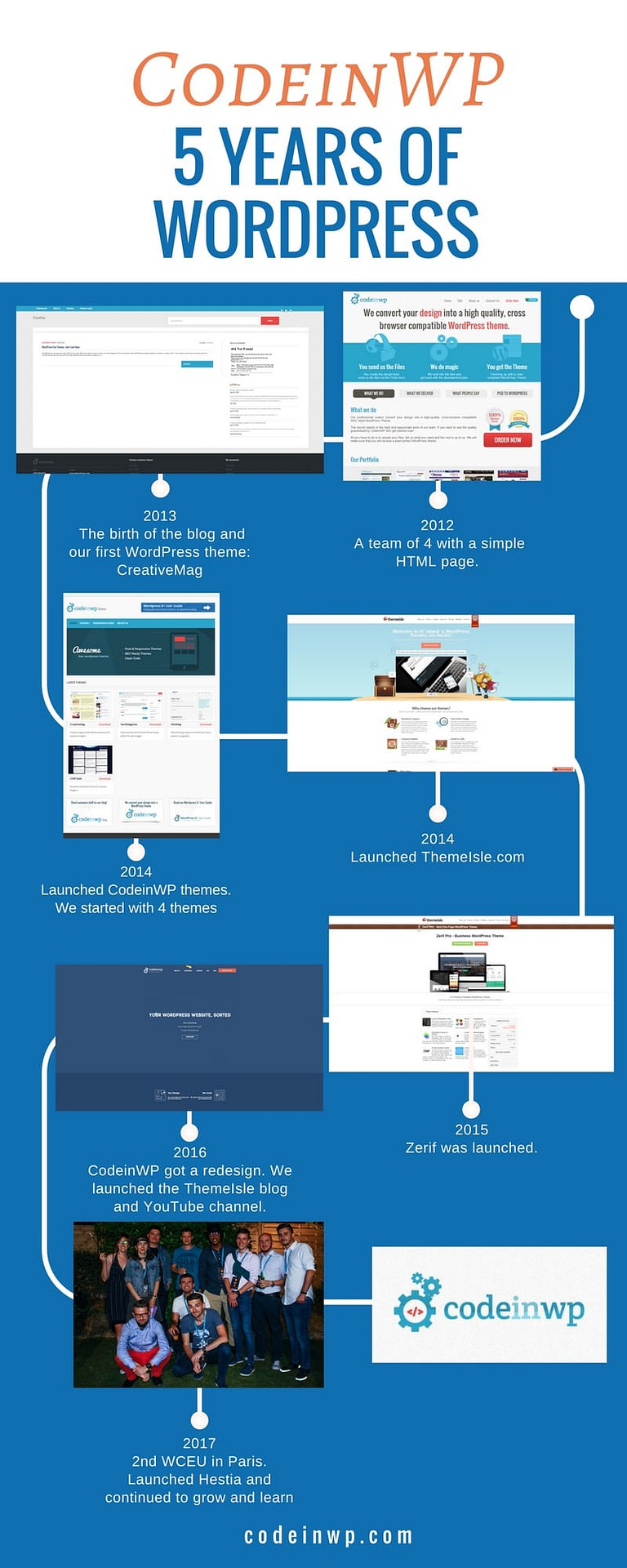 #Transparency #Report no.29 - It's Been 5 Years Since We Started
Click To Tweet
What's next?
Compiling this timeline and going through all the events sure was fun for me!
I still love that very first iteration of CodeinWP and our initial attempt at tackling the WordPress market. Oh the good times… I remember getting a US phone number and then having to answer calls in the middle of the night (since we were in Romania).
I've obviously missed a lot of things, and this timeline is by no means complete. I've also decided to skip some of the negative things that happened along the way. In the grand scheme of things, they don't matter. I hope this story is still fun for you to read.
And, of course, if you'd like to have a closer look at what's been going on with the company month after month, I invite you to go to my other transparency reports.
Final conclusions
I don't know if it's just my way of thinking, but I always had this impression that our pace was perhaps not that great when we were just a small team four or five years ago.
However, looking back from a perspective, even I have to admit that there was a lot of things that we did right, and a lot that we learned. So while I always have the impression that everything is moving slow, it's only when you look at the bigger picture that you realize what you've actually accomplished.
Not all things are visible at first glance. If you're releasing a lot of products then sure, you can see those. But other things are not as tangible, there are no "units" to prove their existence, yet they're still there and still contributing to your overall growth.
Another thing I've realized is that some elements of CodeinWP and Themeisle look and work exactly the same as they did three+ years ago. We should probably look into those a bit more and improve.
Overall, where we are today gives us a lot of options to start getting into some other fronts and expand our offering in multiple ways. Even though the revenues are not that different from what they were two years ago, we did manage to get up to speed and cover some "organizational debt."
The team has grown, we have the know-how, we've learned how to work together. I hope we'll only go forward from here!
Plus, this is what the team thinks about my general attitude towards tackling ongoing challenges. 🙂
Somehow, we carry on 🙂 cc @hackinglife7 @dascalescu pic.twitter.com/Nc0JAToozH

— Sabina Ionescu (@s2abina) July 10, 2017
Okay, that's all I have for you this month. As always, thanks for reading and for supporting us! Stay updated and get new reports delivered to you by subscribing here: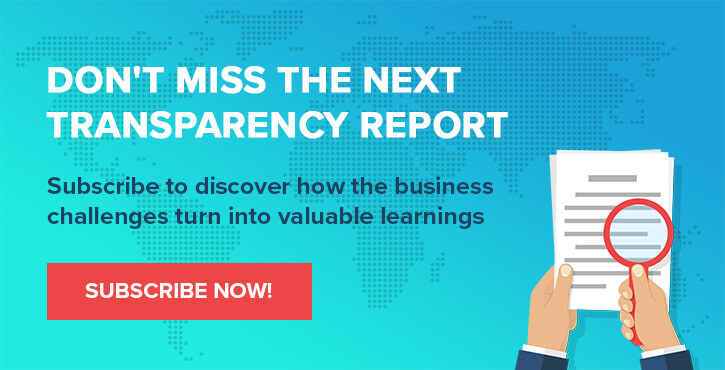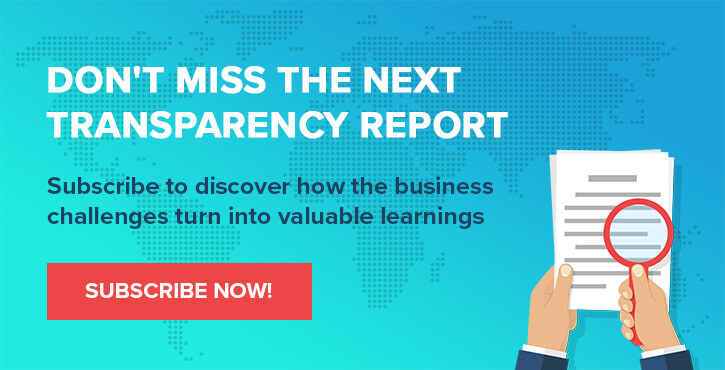 All edits and witty rewrites by Karol K.
Was this topic
helpful?
0% of users found this helpful