Welcome to the 18th edition of our monthly transparency report (for July 2016). This series is all about the behind-the-scenes goings-on at Themeisle and CodeinWP. Each month, I do my very best to cover the latest developments and important changes in our strategy, business plans, results, marketing, etc. Click here to see the previous reports.
#Transparency #Report no.18 - Changing How We Handle Support 180 Degrees
Click To Tweet
Closing our support forums
July is usually a vacation month for everybody. At least this side of the globe.
Well, not for us. Or, at least, not the whole month. We've been working harder than ever for most of July, and I do want to share some highlights of all that effort with you today.
First order of business – our support forums. Or, lack thereof, actually.
So one of the biggest changes in team Themeisle last month was closing down our support forums and launching a new contact page along with a new support workflow entirely. Here's the page: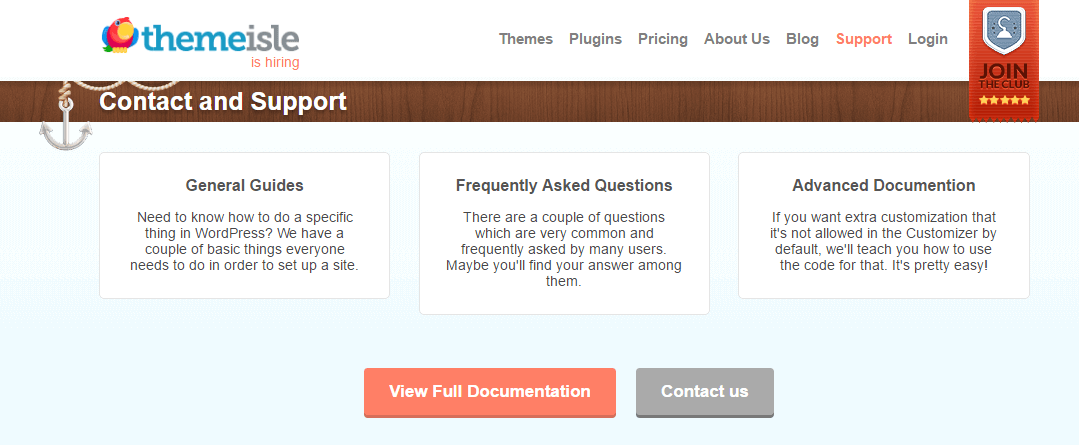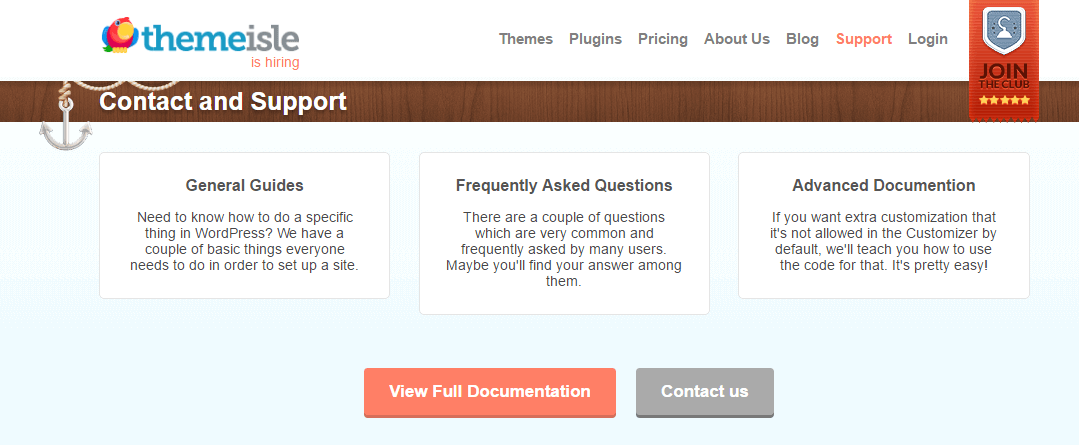 I've planned to close down the support forums for a while, and a few other people also recommended taking such step (here's easydigitaldownloads describing their – essentially the same – approach). However, even though I was aware that getting rid of the forums is a good move, there were some issues that we needed to solve beforehand. Two of them, in particular:
(a) not having much documentation, and
(b) being not what you would call fast with support answers.
Thinking about it, the main advantage of any kind of support forums is that everything's searchable. So whenever some small or common issues arise, people can find their answers really quickly. On the other hand, though, forum users can rarely help each other if some bigger or more complex things pop up. Also, forums aren't good if  you need a fast reaction to your unique problem.
Anyways…
Taking all this into account, whatever solution you want to put there in place of the forums needs to be at least just as functional, but ideally way batter (to warrant the cost of making the move itself).
So to make our support better, we've been focusing on two main things:
The docs, which is something we've been working on for a while now. I shared it in one of the previous reports. Basically, we're trying to create a handful of new docs entries every week, based on the common support questions that we get.
When it comes to the new support mechanism itself, it's all email-based, basically.
About that email-based support. Here's how it works:
Upon entering the support section on Themeisle.com, the user can select from a couple of pre-defined sections (image above), or click the "Contact us" button. After doing so, a single input field appears asking them to describe their issue in a few words. As the user starts typing, suggestions start appearing – linked to articles in the docs. Like so:


Only at this point – if the user doesn't find a solution – they get to open a support ticket.
This is a simple model in principle, but I believe it's a way better one than relying predominantly on the forums.
The forums put the ball in user's field, so to speak, by forcing them to first look through the archives as a whole, and then go through constant back and forth writing in a forum thread.
A model like our new one relies more on just some quick input from the user, and then presenting them with suggestions generated by an algorithm.
At the same time, even though a mechanism like this makes things more efficient, it doesn't solve the issue of not being fast solving support tickets. To improve on this, we've decided to try out the most obvious solution of them all … hire more support staff.
Fast forward to end of July, so far our performance numbers have been improving steadily:
First off, our users seem to really benefit from the suggestions mechanism.
Secondly, we get around 40% less support requests (chart below). But this is far from cutting our support workload by 40%. The kind of complex, time-consuming support requests we still get, as those are not covered in the docs (nor can possibly be). That 40% reduction concerns mainly either basic or "not enough info" -kind of requests.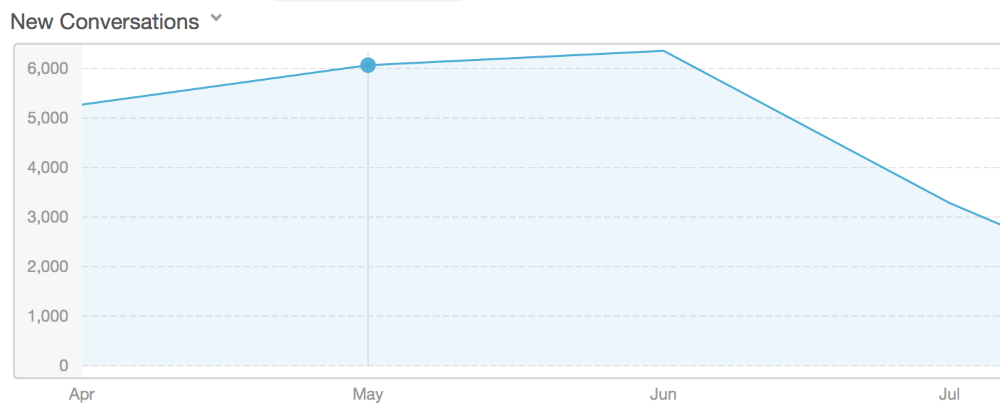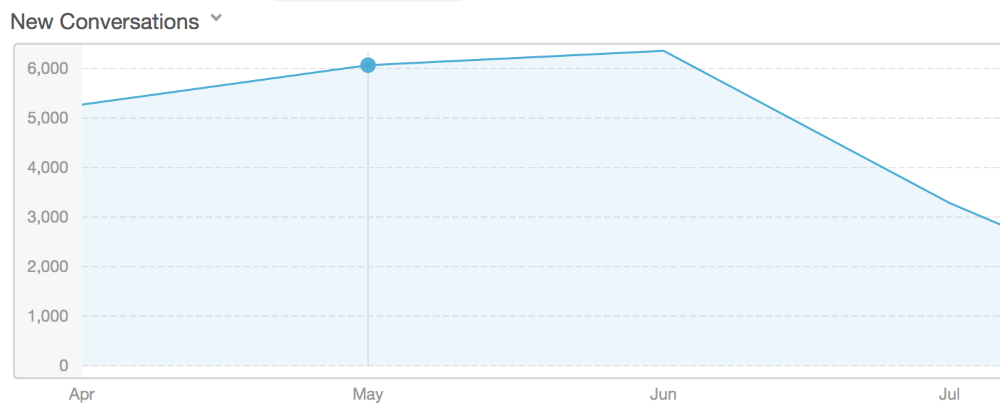 That being said, even though support is still a major part of our workday, that 40% drop in requests allowed us to improve the response times, and thus provide our customers with better overall support.
Not to mention that the support staff also appreciates the new system, and they seem to be overall happier: more and better information in the ticket descriptions (URL of the problem, product, license type, etc.), less of the basic/repetitive inquiries.
For instance, just getting the exact URL where the problem occurs – or client website – helps a lot when solving the issue. A support team member can do a quick crawl and check which version of our theme/plugin the client is using (example screenshot below). They can then solve a big chunk of the issues just by recommending the user to get the latest version, for example. Having additional details in the support tickets themselves saves us a lot of back and forth and speeds up the support process considerably.
Launching Revive.Social
TL;DR:
Revive.Social
is the umbrella initiative for our social media related WordPress plugins and (potentially) other products. The main player in our lineup is the
Revive Old Post
plugin that I hope you're familiar with.
Right now, the official home-site of the Revive.Social project has been launched:
There are 3 main goals with this project:
Due to the very different audience that Revive Old Post attracts, we want to separate it from our other projects under the Themeisle brand. This should help us communicate more effectively (in terms of blogging, emails, products overall).
We want to double the revenue that the social media plugins bring. Inspired by Syed's Envira Gallery case study.
Create a reusable platform + process combo that will allow us to launch independent products in the future easier.
In order to get the project to see the light of day faster, we worked together with the guys from Macho Themes who did 80% of the design/website work. We then took care of the remaining 20% by doing some final touches, and making everything in tune with our overall vision.
The total cost of this launch was in the neighborhood of $10,000. I thought that would be recoverable quickly if we managed to increase the sales. (Normally, we were able to generate around $5,000 / month in sales through Revive Old Post.) However, it seems I was a bit generous with my estimates, so this hasn't happened yet.
Nevertheless, we did manage to clean things up as a result of the project separation. Specifically:
We only kept ShareASale as the thing running our affiliate platform.
We removed widely available discount coupons.
We added auto-renewals (0 cancellations after purchase).
We also discovered quite a few things that might affect our conversion rates, and we're working hard to integrate those next. For example: having a Norton Secured Seal, better trust logos in the pricing section, better media logos, more visual focus on the Business plan of the plugin (image below).
Launching TheMotion theme
TheMotion is our first ever theme built primarily to be submitted to ThemeForest in order to further increase our visibility, and also to learn more about creating not only a better product, but also something that needs to fit given requirements and guidelines.
Long story short, this was a lengthy and painful process. We spent an incredible amount of time on some really small details and fixes. Further, we still need to dissect everything that went wrong and how we can improve on our theme creation processes in the future.
In that spirit, we've decided to dedicate the next months to working on standardizing the way we work on themes. Both new ones and updates. For instance:
We're building a generator that can help us standardize all the Customizer controls that we use in every theme.
Better free/pro handling. E.g. we're planning to use Grunt to replace some texts and remove/add some files when constructing/maintaining our pro themes, while the free ones can be generated automatically.
Create some starter themes.
I don't even want to get into the calculations of how much time and money was invested in this whole ThemeForest affair since it would only get me depressed… Luckily, we can afford this and write this off as our theme building expenses, albeit a bit higher than usual. In the end, though, I believe that we have created a beautiful theme for our users anyway! Check it out to see for yourself.
…
To be honest, the core problem with our workflows is that, for a long period of time, we haven't thought much about staying in the theme business for the long haul. We mostly focused on short-term results, and used our resources to build new themes in niches that made sense, rather than improving our overall core processes.
But as our position in the market is more solid, and we have no plans to sell the business, it makes sense to start investing more time and money in things like research to create better repeatable processes. This should help us make our work more uniform over time and up to the same standard.
Redesigning our theme demo bar
This seems like a small thing, but I wanted to mention it here anyway because, personally, I find it very relevant. Here's the new bar design that we use on our theme demos:
It's much better aligned with our overall site design at Themeisle.com – with the colors, button styles, etc. Also, one important functionality change is that when you click on "X" to close the bar, you aren't redirected to the iframe source anymore, but instead the bar just goes away seamlessly. (And then you can show it again by clicking the downward arrow.)
I hope that due to these improvements – the custom design and hiding the iframe source – more bloggers will link directly to our demo pages.
What's next
The quick Twitter survey that I ended the last month's report with revealed marketing to be the no.1 requested topic that you want me to share. Well, sorry, but this time I don't have much marketing-related things to talk about. I will make sure to find some cool stuff to discuss in the next report, though!
> What would you like to learn from future @codeinwp transparency reports?

— Ionut (@hackinglife7) July 14, 2016
In other stories – to end this report with some thought-provoking takeaway advice – I am in the middle of reading My Life and Work by Henry Ford ("this" Henry Ford). Although it sounds like a biography, it isn't. Here are a few highlights from the book that I want to share with you:
Most men want to be free to work; under the system in use they could not be free to work. During my first experience I was not free—I could not give full play to my ideas. Everything had to be planned to make money; the last consideration was the work.
Thinking first of money instead of work brings on fear of failure and this fear blocks every avenue of business—it makes a man afraid of competition, of changing his methods, or of doing anything which might change his condition.
And probably most importantly:
Being greedy for money is the surest way not to get it, but when one serves for the sake of service—for the satisfaction of doing that which one believes to be right—then money abundantly takes care of itself.
What do you think about these? Agree with Mr. Ford?
As always, thanks for reading and for supporting CodeinWP! Stay updated and get new reports delivered to you by subscribing here: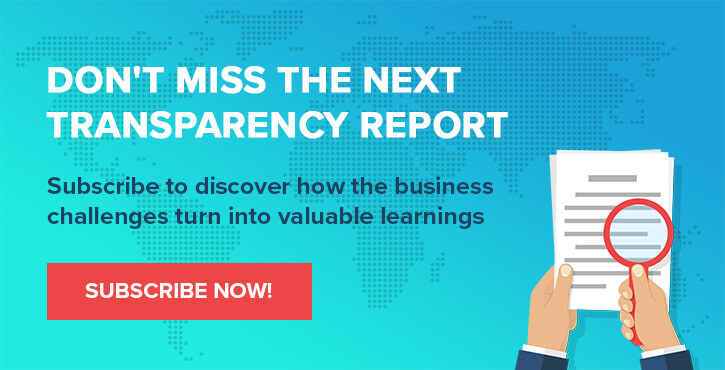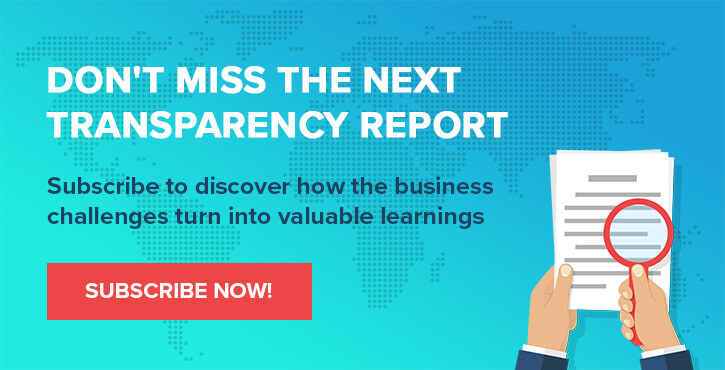 All edits and witty rewrites by Karol K.
Was this topic
helpful?
0% of users found this helpful