Welcome to the 17th edition of the monthly transparency report (for June 2016). I've created this series to talk about everything that's been happening behind the curtains at CodeinWP and Themeisle. Each month, I try to cover the most interesting goings-on. Click here to see the previous reports.
Team growth and direction going forward
June and May were some stressful months for me, and they took their toll.
Personally, my health wasn't ideal, yet I still decided to travel halfway through Europe to visit/attend different events. First WC Porto, then the big WC Europe (where I traveled along with the team), then back to Bucharest to visit the new office.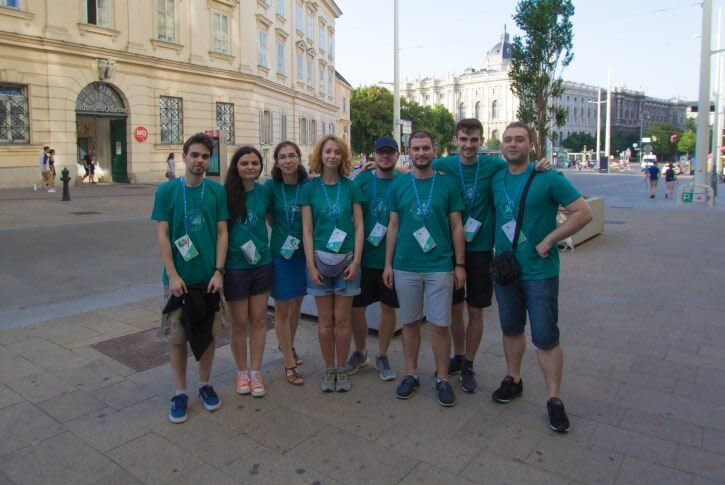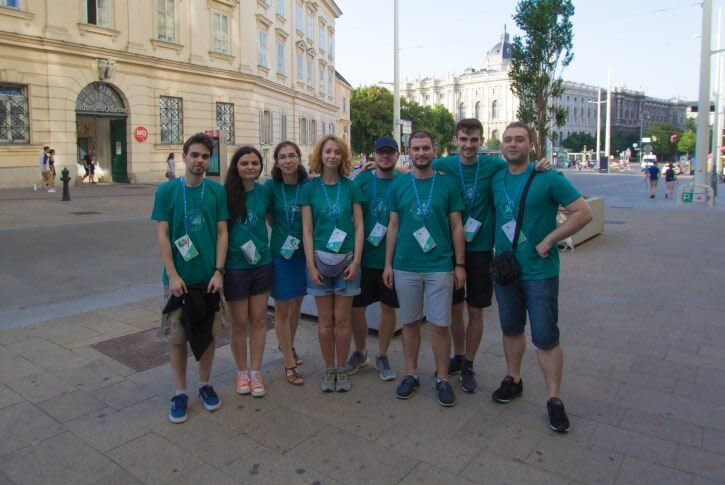 This all added up, and I eventually realized – while in Vienna (#WCEU) – that it all came really close to my personal threshold of "too much to handle."
[SHOW_ADS]
For instance, at the time of writing this, I am quite afraid to hire new people to join the team, even though some helping hands would certainly be appreciated. Moreover, sometimes I even feel that the existing size of the team – 16 people – is too much already.
But hold off on that for a second…
How did this even become possible in the first place?
Well, our team has grown along with the number of projects we're involved in, the number of WordPress products we're releasing (themes, plugins), and inevitably the number of support requests we're getting.
[SHOW_ADS]
And don't get me wrong, growth like that is great, but there are also downsides and struggles we need to deal with (#firstworldproblems).
Chief of which is that even though we've grown quickly, there's still more or less no hierarchy in the team. To some extent, I manage everything.
The thing is, according to some studies an optimal team size for a single person to manage is 5-9. Like I said, ours is 16 people. Minus me, that's 15 people to manage.
That being said, due to the nature of our job and the workflow we have set, I've been able to remove myself from micro-managing each individual task around 1 year ago. Things have been working out since, for the most part at least.
[SHOW_ADS]
After we hired Sabina, who was supposed to help me even more going in this direction, it has turned out that this transition process simply takes time.
I've learned that it's not quite possible to just bring somebody in for, let's say, a top management position while at the same time making lots of internal changes regarding how things work, and expect that everything will go smoothly. It won't.
At the end of the day, I really don't want to find myself in Buffer's situation (although we're far from it, obviously), so I believe that every new decision in any area of the business (hiring, product, marketing) needs to be thought through and aligned perfectly with our goals.
In order to make this happen, I have decided to become really involved in every change we make, talk with everybody and make sure that our views are aligned. It's only been a short while since that decision, so I don't want to say that anything huge has happened, but … so far so good.
[SHOW_ADS]
Once the daily operations are really being taken care of, I will be able to again step back a little, and focus on organizing things in a more scalable way.
…
Talking about struggles, it's sad to see that while lots of people have been following our reports lately, very few have commented on them.
I am sure that you all have interesting things to add to the discussion, and I would really want to see you open some more. 🙂
[SHOW_ADS]
I'm hoping that me getting into things like even my own personal struggles will encourage you to share some of your thoughts too. Basically, I believe that sharing our knowledge and experiences with each other is one of the best ways to grow faster, and possibly do things that we would have never thought of on our own.
Now, a few of you have told me that you'd like to learn more about marketing, so I will try to dive into this in today's report. More specifically, I'm going to focus on affiliate marketing, and how it's impacting our business. I hope I'll manage to do it in a unique way, and also address all your concerns.
Merchant's perspective on affiliate marketing in WordPress – Themeisle
Merchant's perspective on #affiliate #marketing in #WordPress
Click To Tweet
Currently, affiliates are responsible for around 20% of our total sales at Themeisle.
So, is an affiliate program worth having? Well, the answer is complicated. In short, launching an affiliate program for your business can be both worth it and not worth it at the same time.
[SHOW_ADS]
Here are some ins and outs of the whole thing:
(1) Make sure that you go for a managed program solution like ShareASale if you're just starting out. It makes things like invoicing and management much easier. Even though their interface is really not great, the benefits still outweigh the downsides.
(2) Don't expect that the sole fact of having an affiliate program will bring you affiliates and sales. I think that something like 90% of our affiliate-generated sales come through partnerships – people that we got in touch with, negotiated deals with, and eventually got on board to work with us. None of them – again, none of them – just subscribed and promoted us like crazy. Also, our top 5 affiliates drives 80% of the sales.
(3) Beware of coupon-driven sales. In short, there will be lots of people promoting keywords like, "THEME_SHOP_NAME coupon". While coupons by themselves aren't bad, you probably don't want to pay people promoting them the same commissions that you give everyone else. Here's the thing, for the most part, marketers promoting coupons aren't actually generating a new sale. They just jump right in front of a sale already taking place and try to squeeze in their coupon code.
[SHOW_ADS]
An example: someone comes to your website through another acquisition channel (maybe you paid AdWords), and then at the checkout page they just google for a coupon code. They get it from whoever's ranking first, and that affiliate gets the commission. Not totally fair, isn't it? That's why we pay a much lower commission for this type of sales.
(4) Please bear with me, I know this sounds obvious, but … make sure that your offer is competitive. Everyone who's been an affiliate marketer for any period of time has already figured out that they can make a lot more money if they promote an offer that: (a) converts better than the others, (b) has lower refunds, and (c) has higher commissions for each individual conversion.
For example, you can see that everybody in the WordPress affiliate space talks about Divi. This is not only because the product is good, but also because it has the highest conversion rates in the niche.
At the end of the day, you may be able to convince someone to promote your themes, but if after a month they see no revenue or less than what they saw from your competition, you've just wasted everyone's time.
If you are a ThemeForest author, you need to be aware that their default affiliate offer is not that competitive. So if you want to get an edge when you reach out to people, try to offer them better deals or pitch a unique product.
Also, one of the most important things before launching an affiliate program is to study your niche and competition.
For example, if you google "business WordPress themes" you will probably see a lot of list posts where a big part of the listings contain affiliate links. From an affiliate's perspective, if they have to choose from 2 good-looking themes, one with an affiliate program and the other without, they will always go for the former. It's obvious why.
So what it all comes down to is:
[SHOW_ADS]
If you have a great product with no strong competition, or with no competition running affiliate programs, then having your own program is not mandatory. (A good example of this is WP Rocket. They have a great solution, and lots of people talk about them even though they have no affiliate program.)
If, on the other hand, everyone in your niche does have an affiliate program, you should consider looking into this yourself because you might be leaving a lot of sales on the table.
Affiliate marketer's perspective – CodeinWP
Affiliate's perspective on #affiliate #marketing in #WordPress
Click To Tweet
For some context, affiliate revenue represents most of the income that we generate with this very blog.
That revenue then mostly goes back into producing even better content, so it's hard to call it profit.
At the moment, we get something like $15,000+ per month through affiliate marketing. Most of this amount comes from hosting affiliations.
[SHOW_ADS]
Now, I feel that affiliate marketing – from an affiliate's point of view – can be a sensitive topic. For instance, at which point do you recommend a company just because they pay you more compared to another company that might be better, but simply has lower commissions? Or what's even more brutal, at which point your visitors are actually your product – a product that you sell to the companies you're affiliated with?
Anyway, luckily enough, our blog isn't our main source of income, so we can easily afford to reject lots of offers, and we don't mind if we generate less revenue in the short term.
I know that the brand we have here is much more valuable in the long run, and that being honest with your community is actually the only way you can hope for a long-lasting success.
For example, after the hosting affiliate thing started to play a big role on the blog, we have decided to invest back around $3,000 in doing the biggest WordPress web hosting survey to date.
[SHOW_ADS]
We've done so to see what actually works for people. We want to make sure that we only recommend the best options out there. And even though we always do tests of our own, it's not enough if we really want to be accurate. This is where real user input comes into play.
Here's how we tackle affiliate marketing on this blog:
(1) I usually propose blog post topics with high-revenue potential, and I give our writers full independence from that point on. They can recommend and talk about whatever they deem worthy, and I don't even care about affiliate links at that point. If the article gets popular and starts ranking well, only then I dig into how we can generate some revenue with it.
[SHOW_ADS]
For example, I find topics by looking through the ShareASale directory, order programs by rank, and see what makes the most sense, and if it's really something that WordPress users can benefit from.
(2) We have not more than one such article per month. Also, something like 80% of our affiliate revenue comes from just 5 posts or so. In other words, you shouldn't try to do too much. The thing I keep in mind constantly is that we should only write stuff that people want, need, and can benefit from in one way or the other. The affiliate thing gets included afterwards.
(3) We come back to our popular articles every few months, and make sure everything is up to date. We take some comments into consideration, and update the content. In short, this sort of affiliate approach is far from the idea of "make money while you sleep."
(4) Apart from individual products, we also occasionally recommend affiliate programs themselves. Chief of them: SiteGround, WPEngine (2nd tier aff link), Elegant Themes, and OptinMonster.
On a personal note, I enjoy things like SEO and affiliate marketing due to the very direct competition that exist in those spaces. However, over the years, I have also learned that they attract more money-motivated people compared to other industries. Furthermore, due to the direct competition that takes place, your win in the SERPs is your competitor's loss. 
[SHOW_ADS]
What this means is that some people – your affiliate competition – will try to do negative stuff to affect your business. This did happen to us before.
This is also one of the reasons why I enjoy contributing to WordPress, building free products, and ultimately helping others grow their businesses. There is not so much hate in this community, and people are generally more willing to share their thoughts and help you out. I hope it's going to stay that way too. 🙂
No revenue breakdown?
Something you might have noticed in the last month's report was the lack of our traditional revenue breakdown.
That wasn't accidental.
[SHOW_ADS]
In simple terms, getting all those numbers takes time, and I have decided that unless I can put in enough effort to get all those numbers right (detailed revenue – not just themes, expenses, affiliate marketing, etc.), or unless we experience something really interesting revenue-wise in that given month, there's no sense in mentioning some seemingly random dollar amounts.
I would rather spend my time sharing more relevant things, like that our profit rate for last year was at around 25%. Let's end on that!
Or … let's end on the same thing we ended on last month:
What would you like to learn from our future transparency reports?
[SHOW_ADS]
Here's a Twitter survey you can take part in:
> What would you like to learn from future @codeinwp transparency reports?

— Ionut (@hackinglife7) July 14, 2016
[SHOW_ADS]
As always, thanks for reading and for supporting CodeinWP! Stay updated and get new reports delivered to you by subscribing here: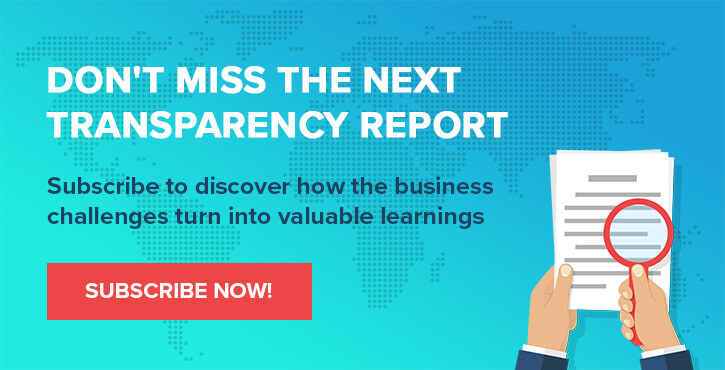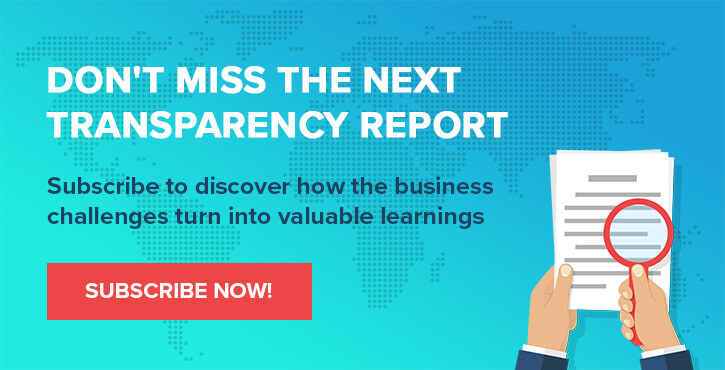 All edits and witty rewrites by Karol K.
* This post contains affiliate links, which means that if you click on one of the product links and then purchase the product, we'll receive a commission. No worries though, you'll still pay the standard amount so there's no cost on your part.
[SHOW_ADS]
Was this topic
helpful?
0% of users found this helpful