When it comes to building and designing websites, Sketch is a popular platform for collaborative prototyping and vector editing. Unfortunately, it's only available for macOS, and as such, some UI designers will need to find Sketch alternatives for Windows.
And right off the bat, you'll be happy to hear that there indeed are several similar platforms available for Windows. You can stick with the operating system of your choice and still have access to top-notch UI design features!
In this post, we'll discuss some of the aspects of Sketch that make it popular with UI designers. Then we'll share five tools to help provide these features to Windows users – and help you choose the ideal one for you. Let's get started!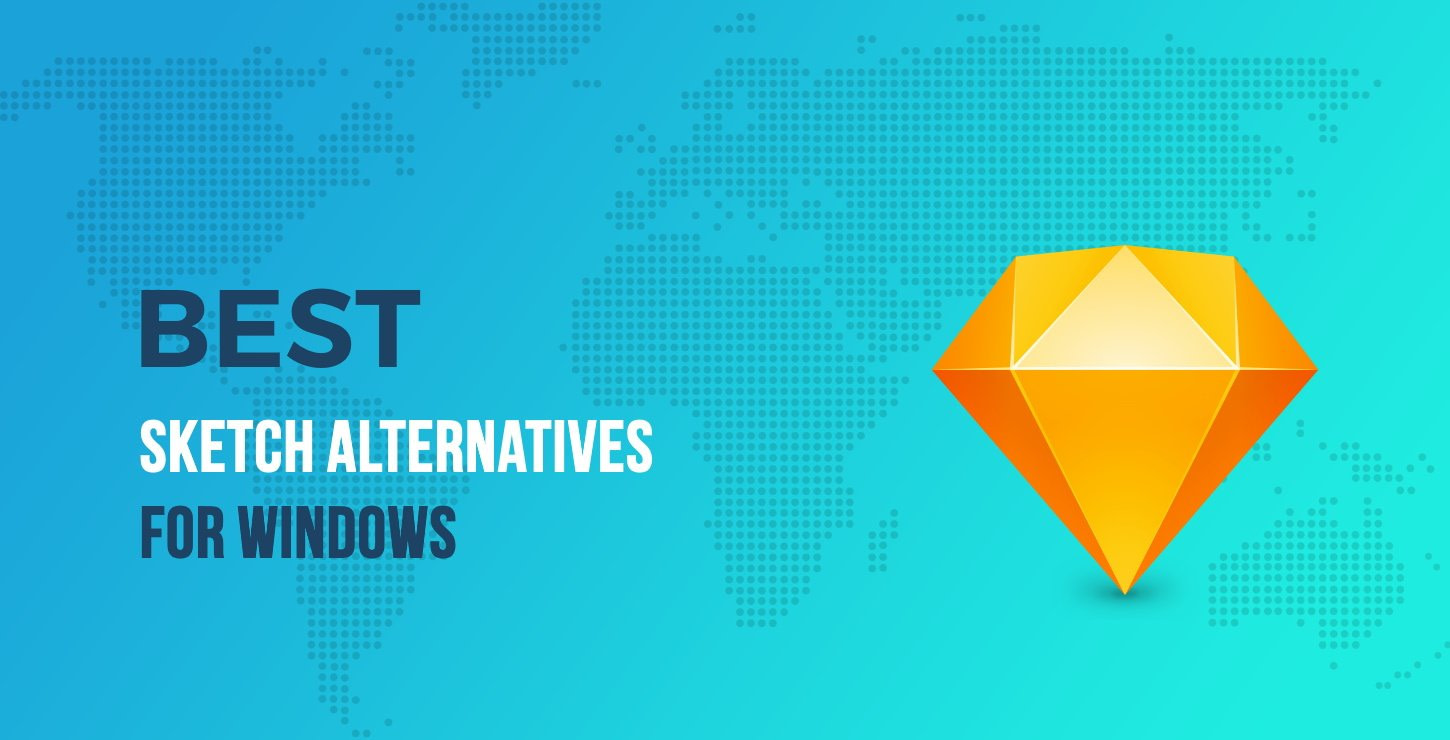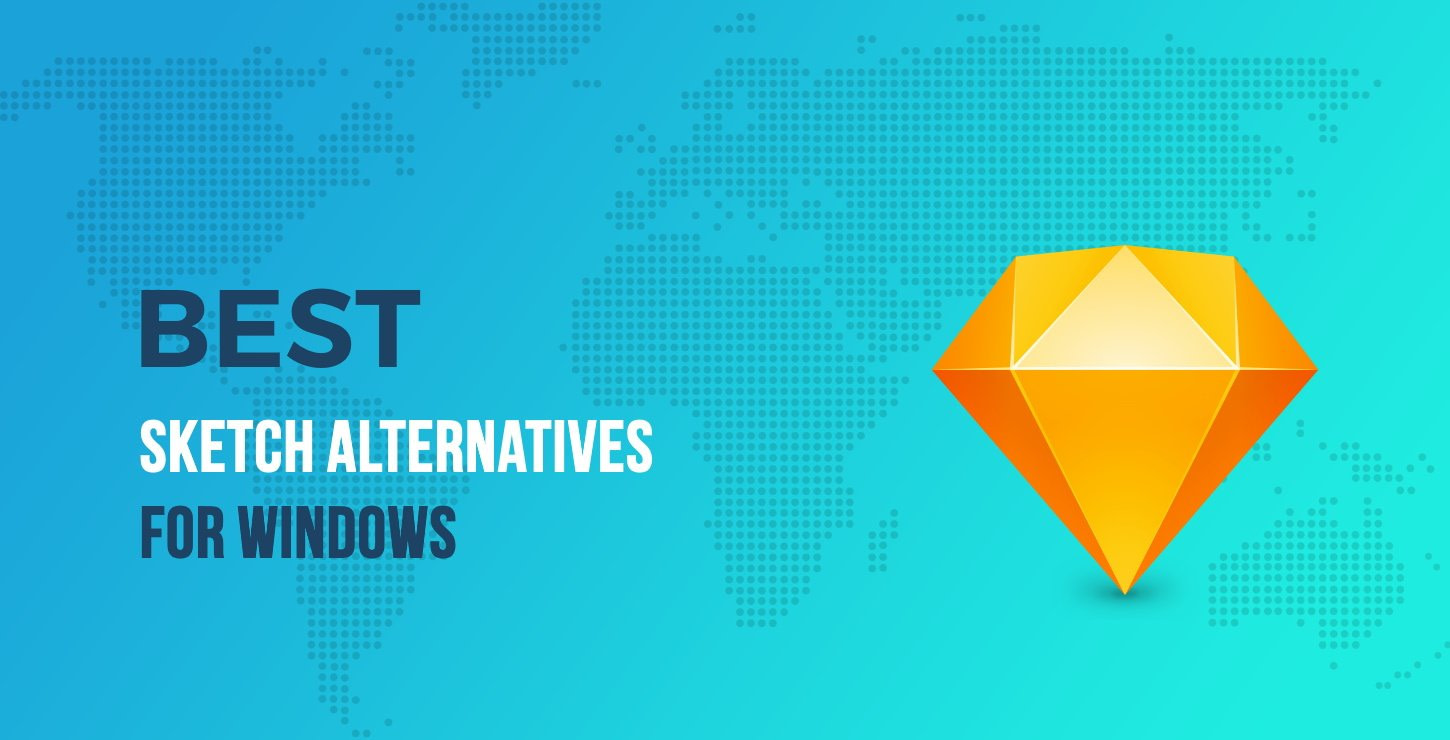 Why Sketch is so useful for UI design
For several years now, Sketch has been one of the most popular platforms for UI design.
Its system of artboards, pages, and symbols provides a streamlined, intuitive multi-page interface design tool. Plus, its extensive plugin library has filled in many gaps faced by designers.
When it comes to creating responsive apps for a variety of devices, Sketch is still the top choice for many macOS users. While numerous features make it an ideal platform for UI design, there are three in particular that have improved Sketch in recent years:
The first is its vector editing capabilities. Since the majority of elements used in UI design are vector-based, a solid editing tool is a necessity. Sketch enables you to incorporate pre-defined shapes or create your own, as well as modifying points and paths to meet your design goals.
The release of Sketch 49 brought with it a much-anticipated prototyping function. While previously Sketch users had to export their files to another platform in order to create prototypes, it's now possible to do in Sketch itself. You can start with a static artboard, then turn it into an interactive prototype for testing.
Every step of the design process is now part of Sketch. This also includes receiving feedback from and working alongside your team members. With Sketch's collaboration feature, you can invite others to view or edit your designs and prototypes.
Version tracking enables you to see changes made by each team member and reverse those changes if need be.
These core features make Sketch ideal for individual UI designers and teams alike. However, you don't have to jump on the Apple bandwagon in order to access them.
5 high-quality @sketch #design software #alternatives for #Windows 🎨🖌️
Click To Tweet
Five high-quality Sketch alternatives for Windows
Sketch isn't the only platform that offers advanced vector editing, prototyping, and team collaboration. In fact, it wasn't even the first to come out with these features. Below, we've compiled a list of Sketch alternatives for Windows to help you create high-quality UI designs without needing an Apple device.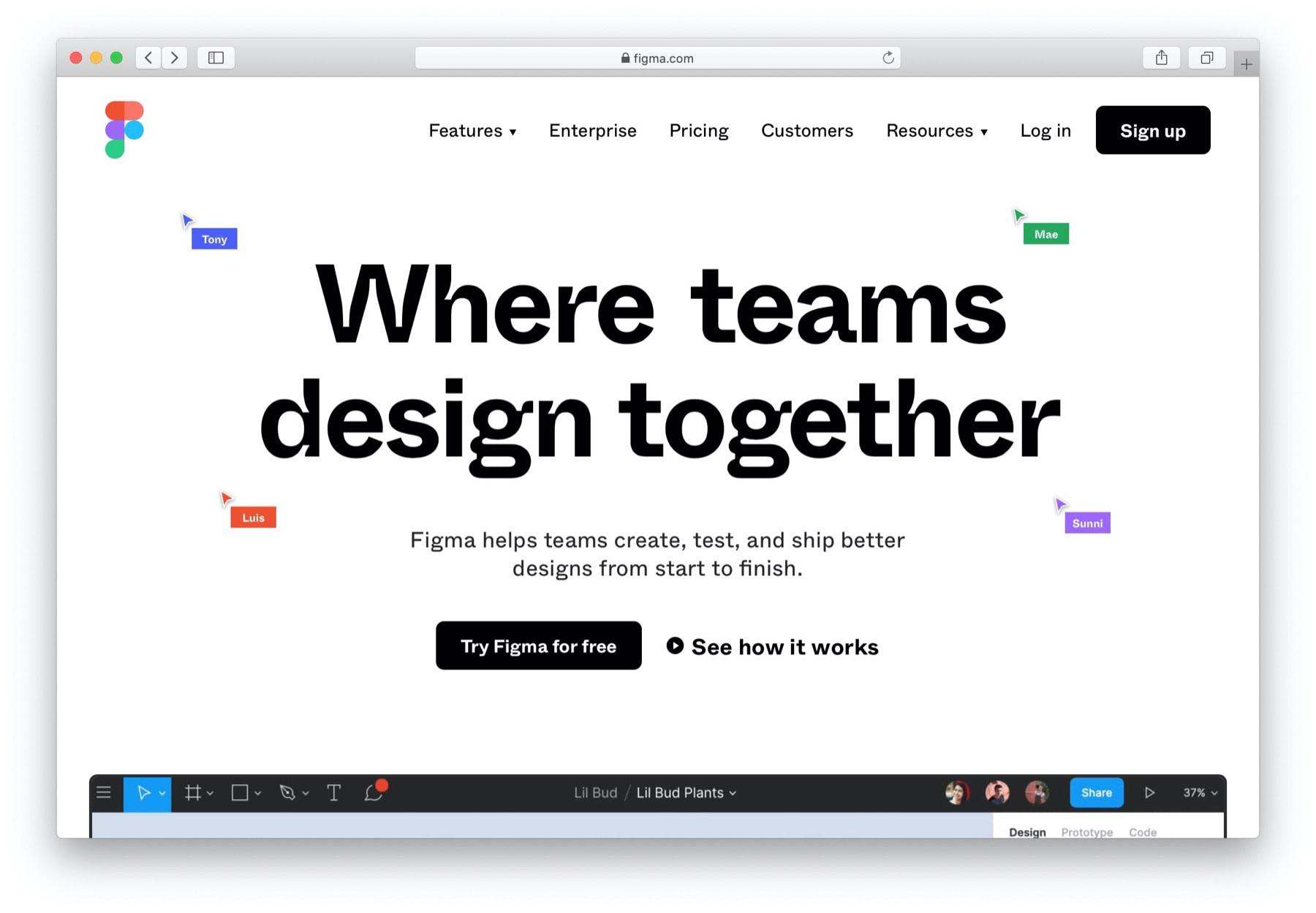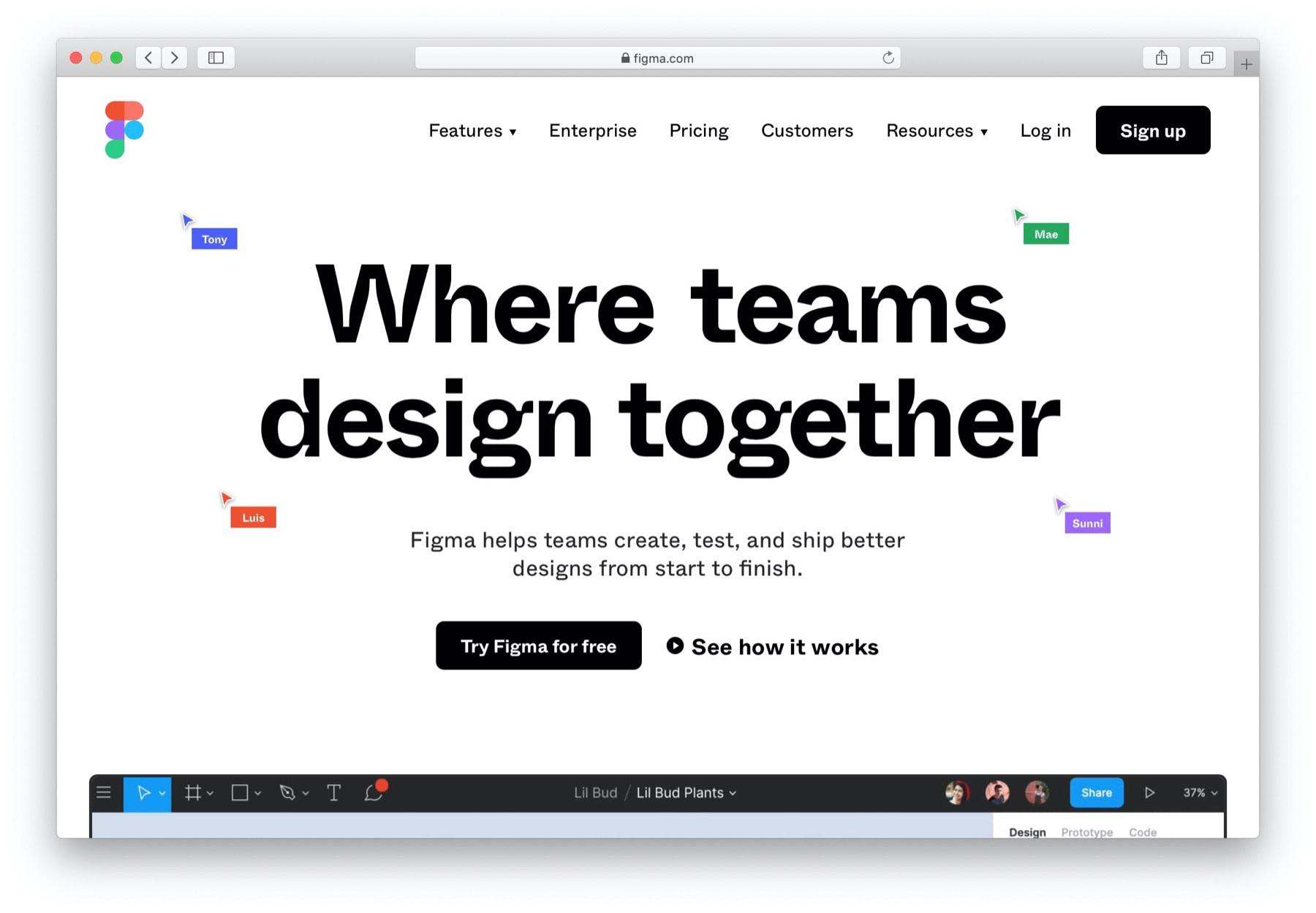 Figma is probably the most popular of all the Sketch alternatives on Windows.
This collaborative designing and prototyping tool is browser-based and "platform agnostic" – you can use it on Apple, Windows, Linux, and even Chrome operating systems.
It also incorporates the aspects of Sketch that make it perfect for UI designers, including:
Streamlined designing with frames, overlays, and reusable components
Vector editing with an intuitive pen tool
Interactive prototyping
Team libraries as well as design and prototype sharing
If you're worried about picking up a new platform, Figma may be able to help ease your anxiety. It's relatively easy to pick up in comparison to Sketch, so if you're switching over you shouldn't have too much trouble. Its most significant usability drawback is that it's browser-based, limiting offline designing.
The price difference should also provide some peace of mind. Figma offers a free version for individuals – a steal compared to Sketch's $99 per year personal license price tag. Granted, the free version offers fewer features than the paid version – which starts at $12 per editor, per month – and is quickly out-priced by Sketch's Volume plan.
👉 If you're interested in a more in-depth comparison between Sketch vs Figma vs Adobe XD then click here.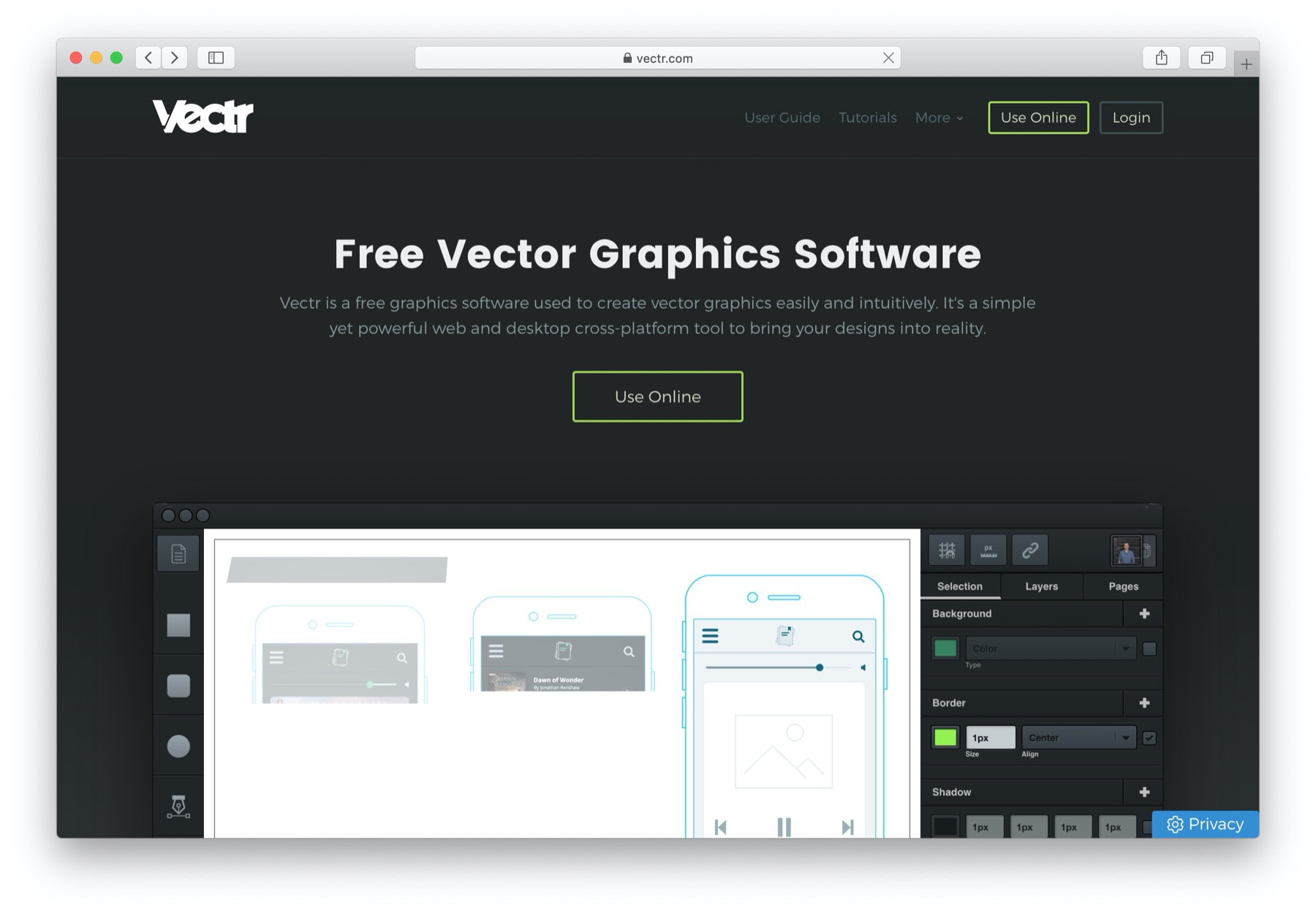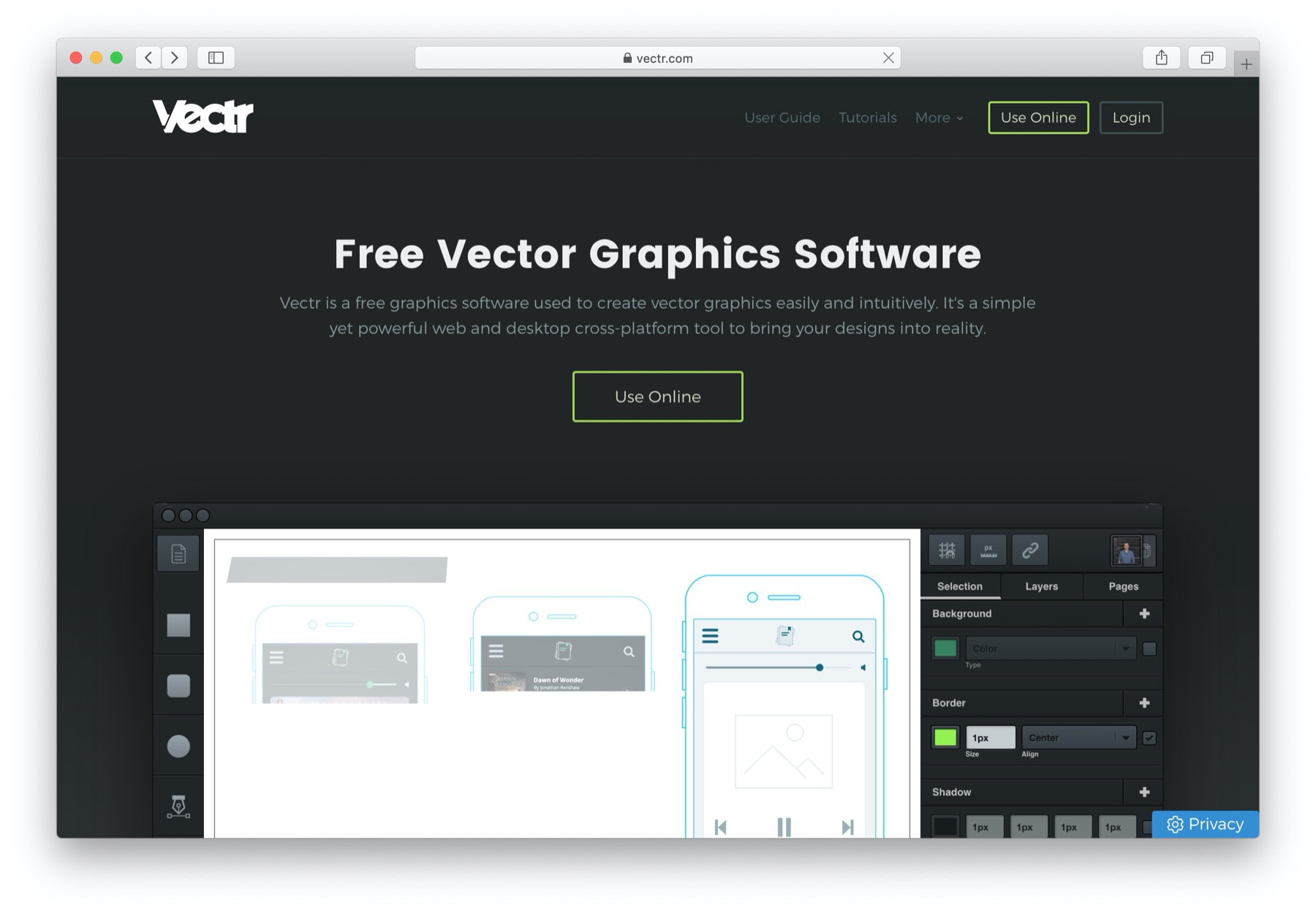 Offering both web and desktop apps, Vectr achieves cross-platform compatibility without requiring you to rely on an internet connection as strictly browser-based apps do.
It's primarily used for vector graphic design, and therefore lacks a built-in prototyping function.
However, you can use this platform for some other key UI design tasks, including:
A variety of customizable filters for creating backgrounds, borders, and shadows
Five vector paths – rectangle, rounded rectangle, circle, line, and freehand
Text creation and image uploading
Secure, real-time link sharing for collaboration
Vectr has an easy-to-follow User Guide to help get you started with the platform. It's known for being an accessible tool for beginners, so it may be a smart starting place for anyone just getting into the UI design industry.
Plus, the platform is completely free to use. Just sign up for a free account and you can get started with your design right away. This low barrier to entry and lack of financial commitment may also make it appealing to newcomers who want to dip their toes in the UI design water.
You may also be interested in: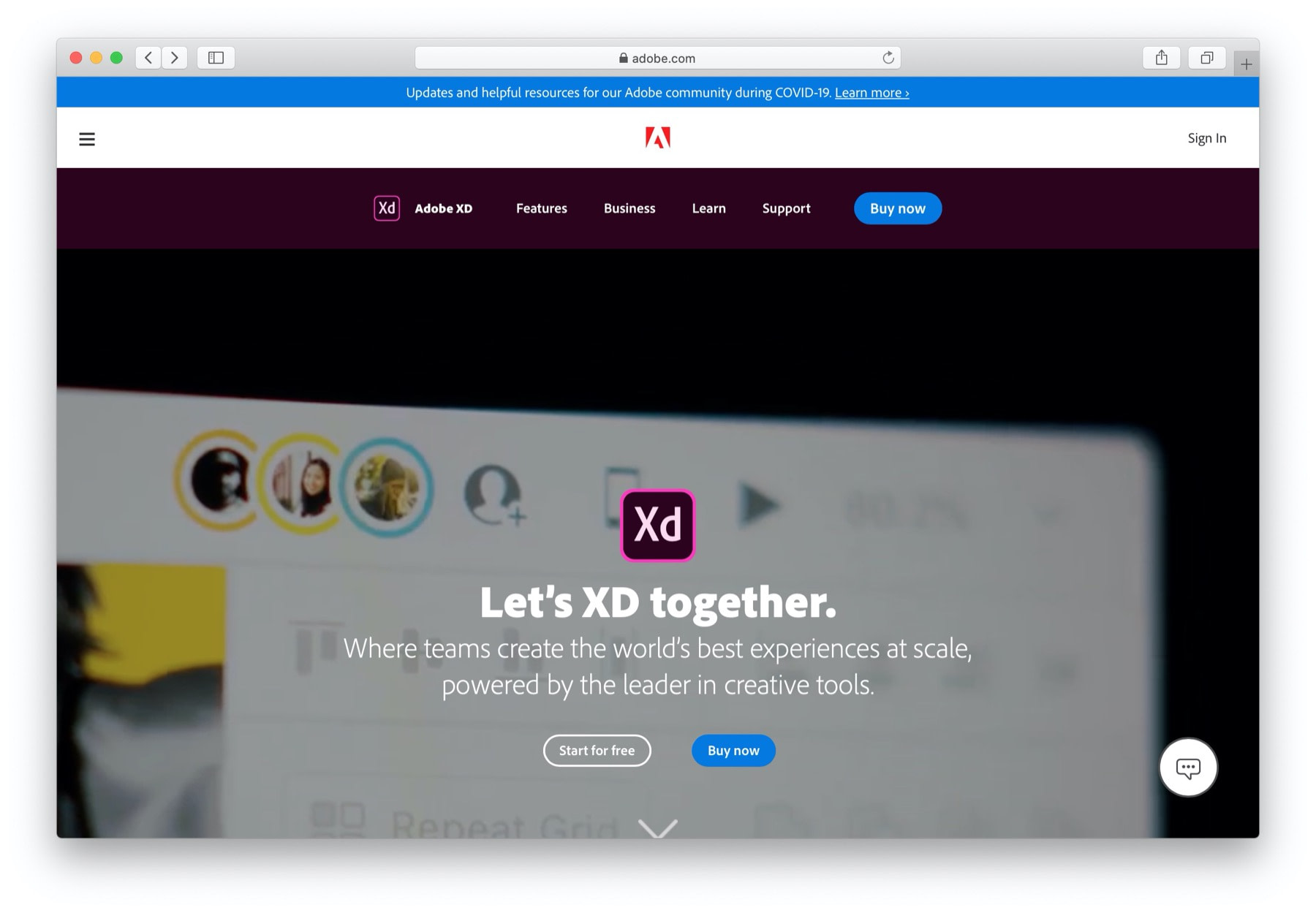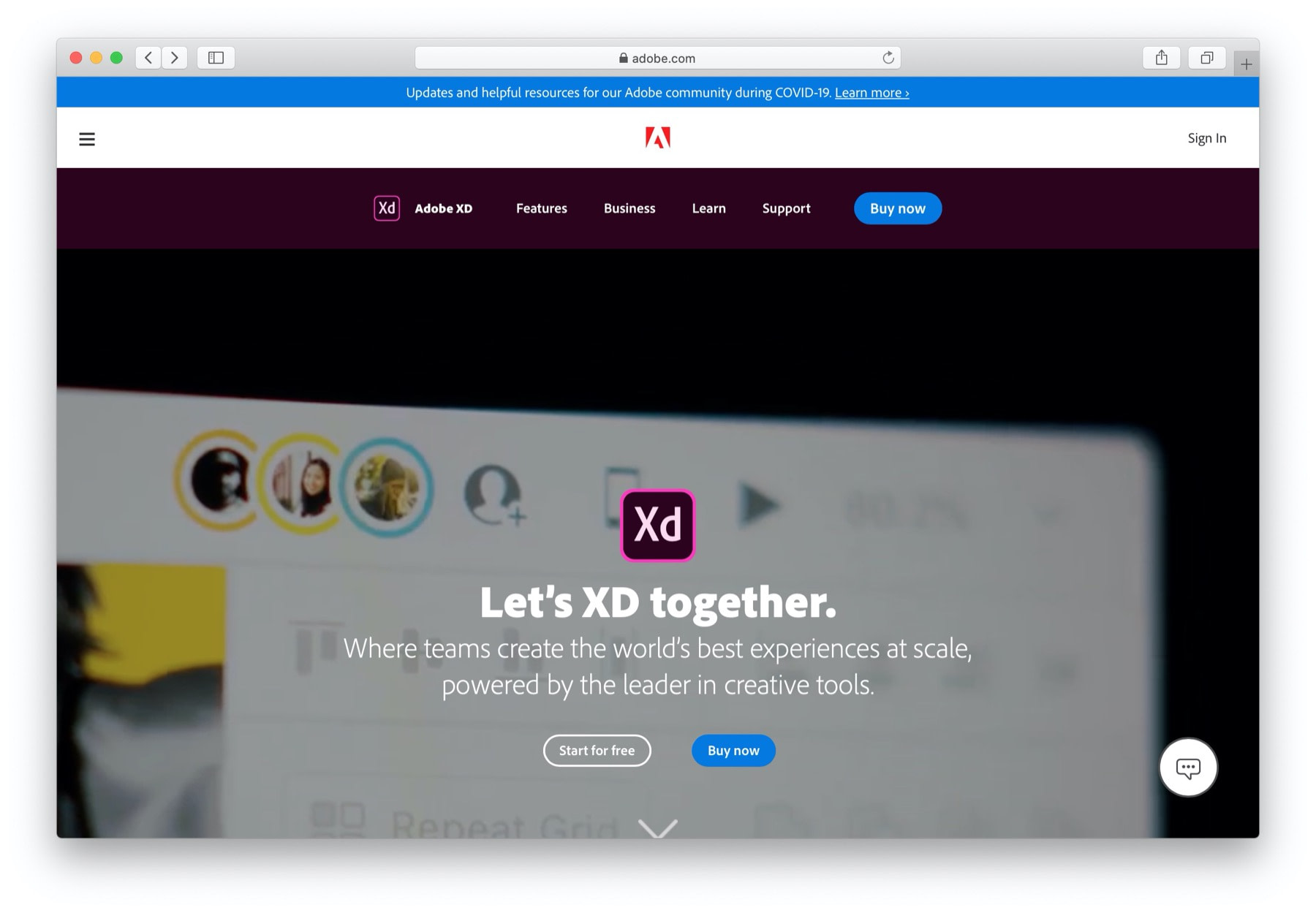 When it comes to graphic design, Adobe is the name that comes to mind for most.
Even those who aren't professionals in the field have likely heard of Photoshop, Lightroom, and Illustrator, too.
For UI design, there's Adobe XD. Created to be an all-in-one design tool, this platform offers:
Reusable elements and a 'Repeat Grid' for fast designing
Optimized built-in vector editing, as well as compatibility with Illustrator for even more complex designs
Advanced prototyping with auto-animation, voice triggers, and high-fidelity gaming experiences
Private invitation sharing options with access control and commenting features
Particularly for those who have a lot of experience with other Adobe Suite platforms, picking up Adobe XD should be a piece of cake. However, its clean interface and straightforward navigation should enable even complete newcomers to get comfortable fairly quickly.
Amazingly, you can get all Adobe XD has to offer for free – if you only have one active project. Professionals will likely need to invest in a paid plan. Pricing starts at $9.99 per user per month. Additionally, if you want access to other Adobe programs, you can purchase a Creative Cloud subscription for $52.99 per month.
👉 If you're interested in a more in-depth comparison between Sketch vs Figma vs Adobe XD then click here.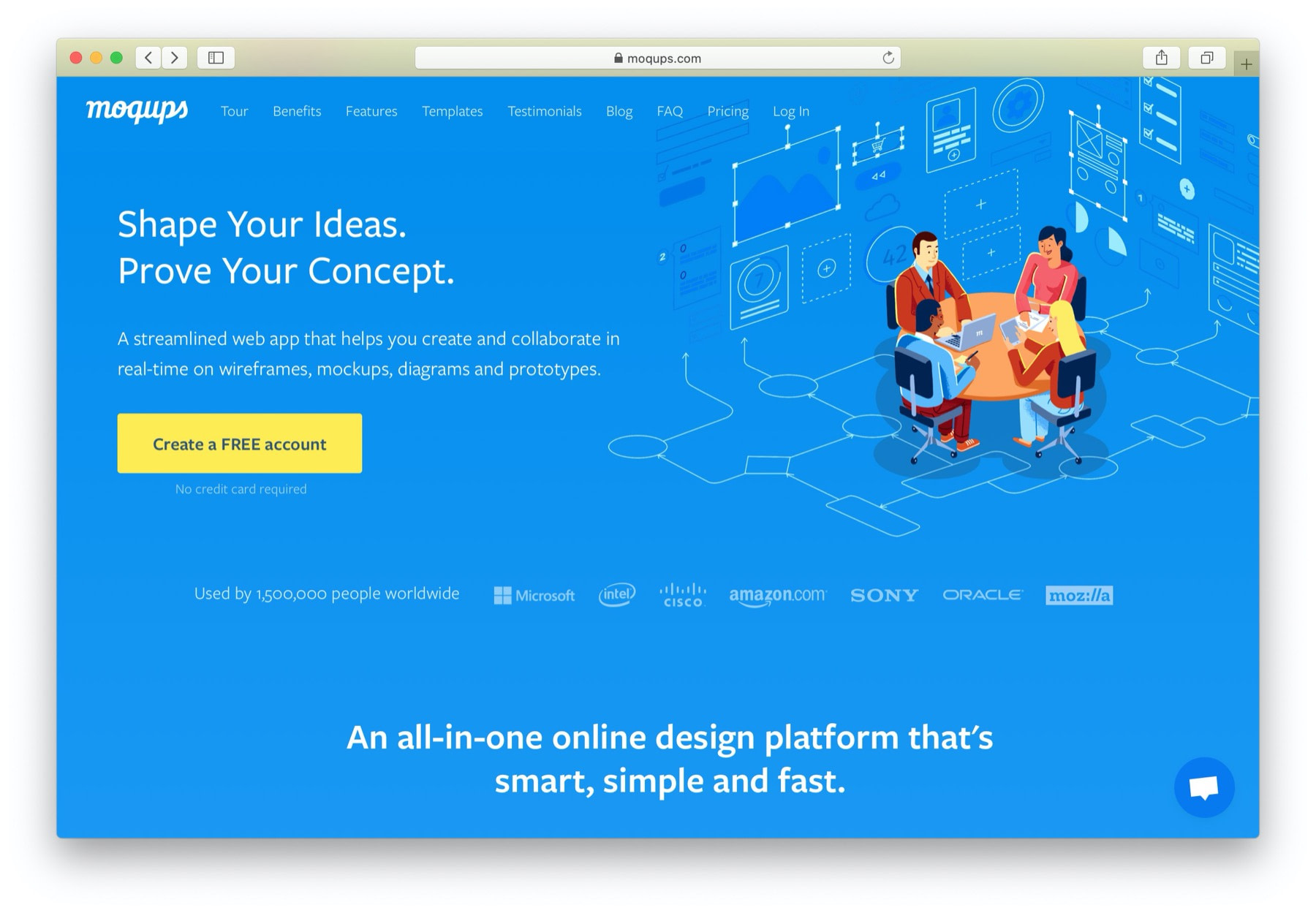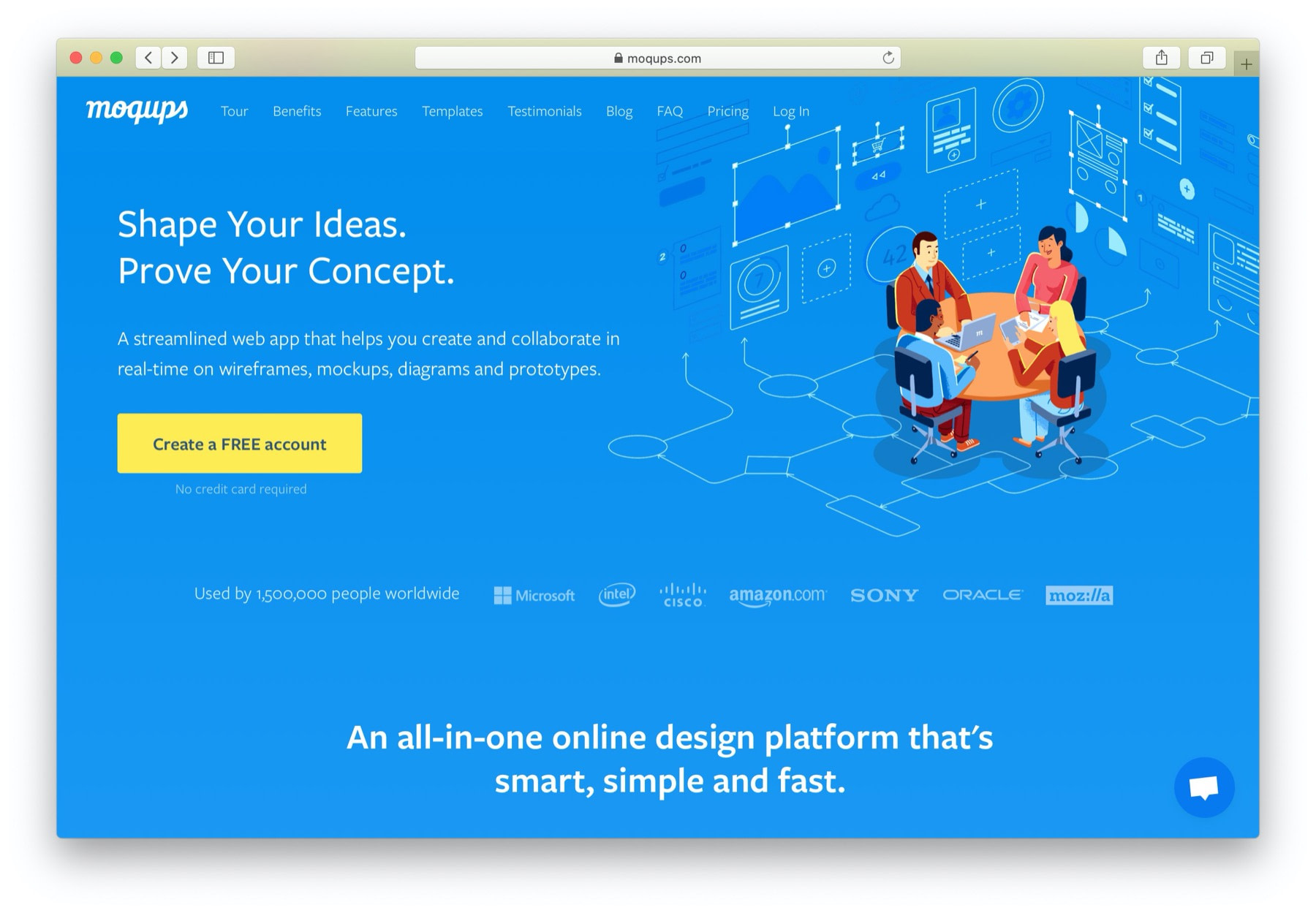 When it comes to Sketch alternatives for Windows, choosing a platform that enables you to walk through the entire design process without having to bounce between programs is key.
Moqups is just the ticket. This browser-based platform has several core UI design features, such as:
Drag-and-drop page management that enables you to organize pages into folders and create hierarchies
Dynamic object editing tools including rulers, grids, and quick-alignment
Functional, interactive prototypes created from your designs or wireframes
Cloud-based team collaboration and sharing
Though it works well for small or simple projects, Moqups can cause issues for more complex designs. Albeit the interface is fairly intuitive, it's not as easy to save and reuse design elements. Plus, larger projects tend to experience more lag time than is ideal. Since this app is browser-based, you'll also have limited on-the-go usability.
You can work on one active project for free, or invest in a personal Moqups account for $19 per month. Team plans start at $10 per user per month. If you have a small team that needs to collaborate on a simple app, Moqups could be a more cost-efficient option than, say, Figma.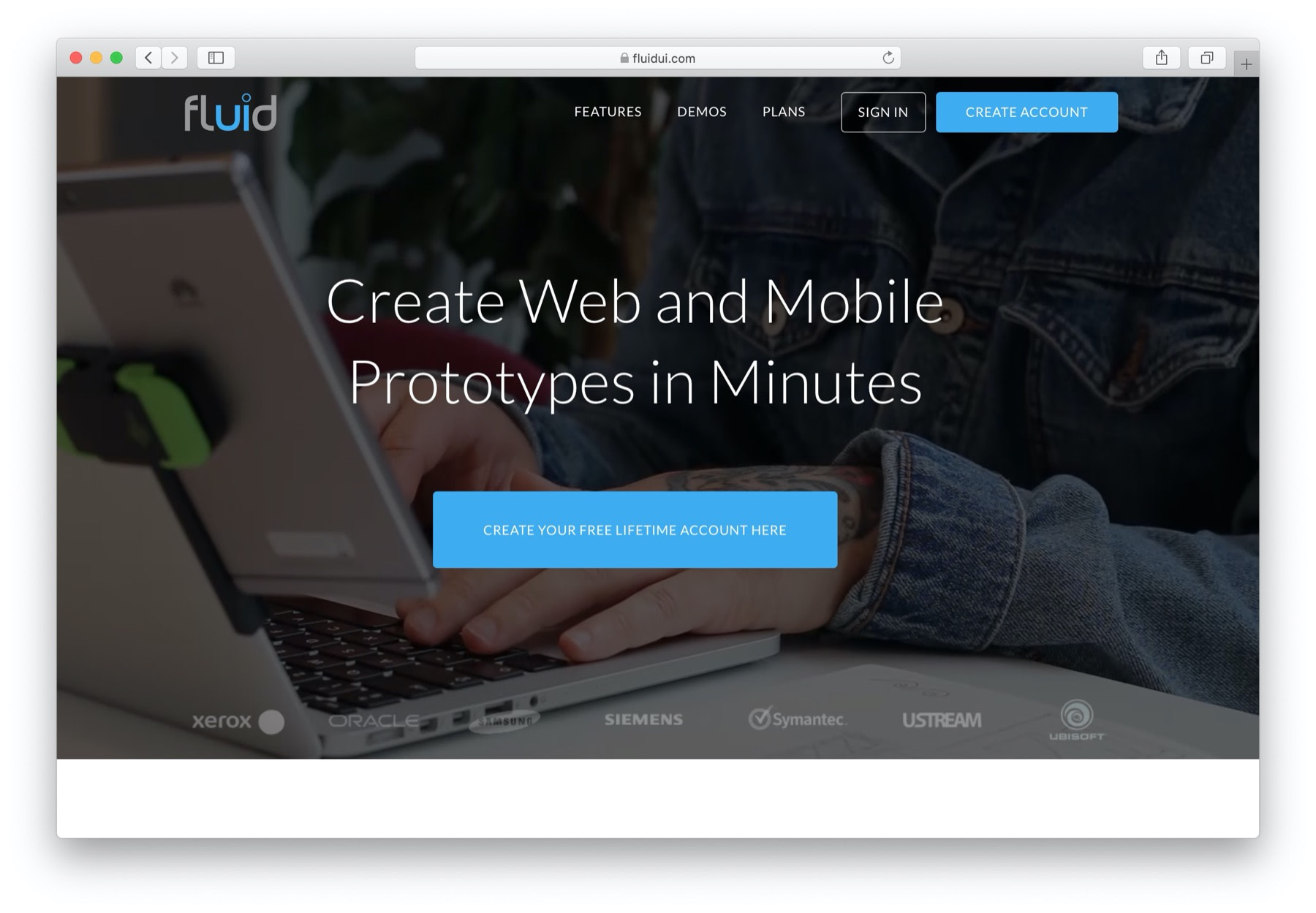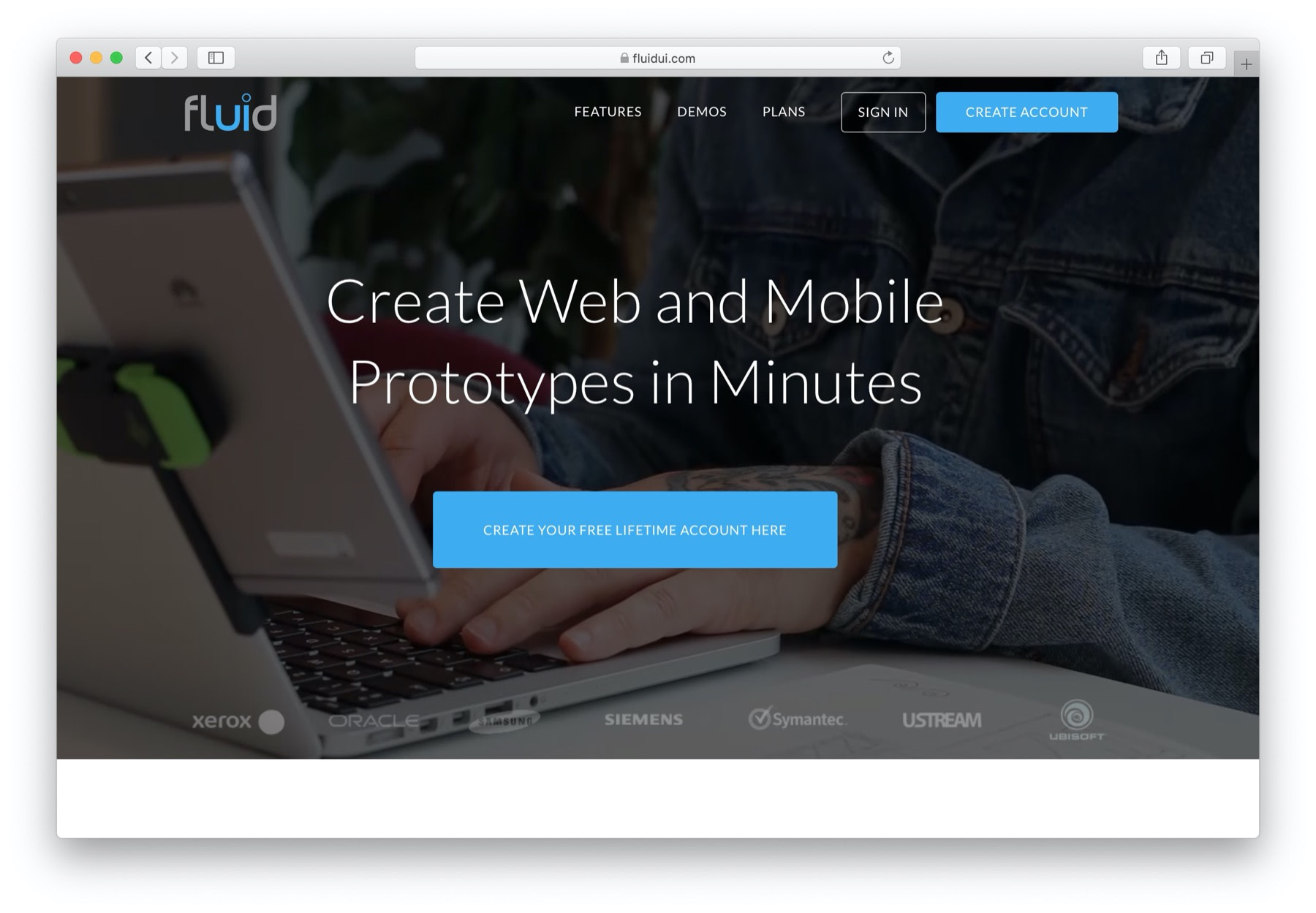 Created for mobile prototyping, FluidUI is a solid choice for app developers who want to focus on smartphone and tablet users.
Though it lacks a built-in vector editing function, you can easily upload graphics created in other platforms.
Otherwise, this tool provides some handy features:
Over 2,000 pre-built components for speedy prototyping
Interactive prototyping via the browser-based or desktop version of the app
Real-time team collaboration with page lock and video calling capabilities
For prototyping purposes, FluidUI is pretty user-friendly. It has a drag-and-drop interface that most will pick up quickly and access to several UI component libraries to make up for its lack of vector editing tools. However, some may find its free version limiting and therefore difficult to use.
The FluidUI Free Forever plan provides users with one free, ten-page project. A Solo plan will grant you access to five projects for $8.25 per month, but you'll need to shell out at least $19.08 per month to gain access to all the available libraries. If you're working with a team, you'll have to pay even more to add more users to your account.
How to decide which Sketch alternative for Windows is right for you
With so many options available, determining which Sketch alternative you actually want to use could be a struggle. Here's a summary of our findings to help clear things up for you:
| | Features | Ease of Use | Price | Best For |
| --- | --- | --- | --- | --- |
| Figma | Matches Sketch with regard to vector editing, prototyping, and collaboration options. | A small learning curve, but doesn't offer an offline mode. | Free or $15 per editor per month. | Experienced individuals or small professional teams. |
| Vectr | Lacks native prototyping tools, but provides extensive graphic editing and sharing. | Beginner-friendly. | Free | Those just getting started with UI design. |
| Adobe XD | Keeps up with Sketch on its own – exceeds Sketch when used alongside other Adobe programs. | Uses the familiar Adobe interface, but may require some learning for those unfamiliar with other Adobe products. | Free or $52.99 per month (as part of a Creative Cloud package). | Current Adobe users, especially those who have a Creative Cloud subscription. |
| Moqups | Includes all key features – vector editing, prototyping, and collaboration. | Easy to pick up, but has performance problems when used to create complex designs and can't be used offline. | Free or $10 per user per month. | Teams working on small apps or other simple projects. |
| FluidUI | Designed for mobile prototyping and sharing, but lacks vector editing capabilities. | User-friendly interface, but free version limitations make it difficult to create complex designs. | Free or $41.58 per month for five users. | Individuals and mobile designers. |
As you may have noticed, every platform we've discussed in this post has a free version available. If you're torn between two or more, consider giving those free versions a test run in order to choose the right piece of software, risk-free.
Conclusion on the best Sketch alternatives for Windows
When it comes to UI design platforms, Sketch takes the biscuit. Its advanced vector editing, prototyping, and collaboration features make it highly desirable for industry professionals. However, its lack of compatibility with the Windows operating system causes trouble for those who aren't fans of Apple.
In this post, we pointed you in the direction of five high-quality Sketch alternatives for Windows.
In summary:
Figma. The most similar to Sketch in terms of functionality. However, its Professional and Organization pricing options could make it an expensive choice for teams.
Vectr. Easy and free to use, this tool is ideal for those new to UI design. Unfortunately, its lack of native prototyping functionality makes it a poor substitute for more advanced users.
Adobe XD. Perfect for those who are familiar with Adobe platforms and already have a Creative Cloud subscription.
Moqups. A low-cost alternative to Figma. This platform is best for smaller or simple projects and teams on a budget.
FluidUI. A solid choice for individual mobile designers. Teams will do best to look into a more cost-effective option.
Do you have any questions about finding a Sketch alternative for Windows? Let us know in the comments section below!
5 high-quality @sketch #design software #alternatives for #Windows 🎨🖌️
Click To Tweet
…
Don't forget to join our crash course on speeding up your WordPress site. With some simple fixes, you can reduce your loading time by even 50-80%: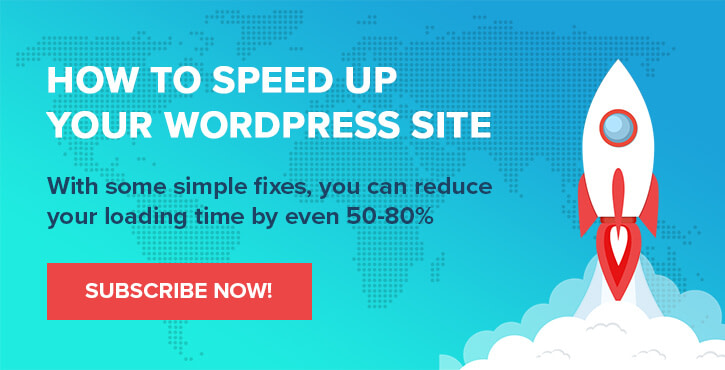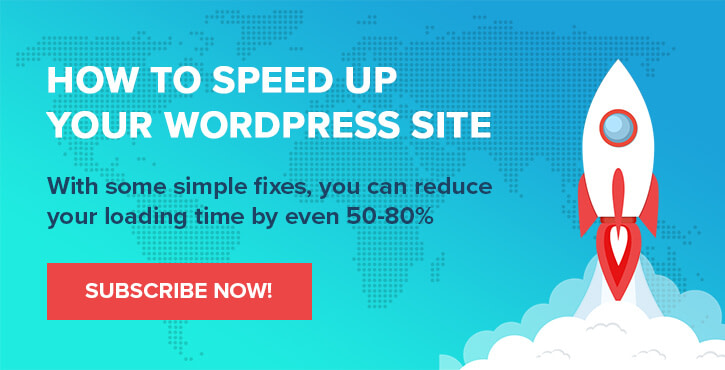 Layout, presentation, and editing by Karol K.
Was this topic
helpful?
0% of users found this helpful