It's 2020, and cart abandonment is still a big problem for ecommerce sites. Actually, the average global shopping cart abandonment rate for online ecommerce is 69.57% (according to 2019 data). 🤕
Following on from our blog post about abandoned cart emails, we crunched some numbers, and this post collects a number of cart abandonment statistics, both from our own database as well as third-party studies.
The fact is, if you run an online store, you're losing sales due to cart abandonment. 🙈
Some like to refer to is as "surf and turf," i.e. online shoppers are surfing your site, adding products to their cart, and then turfing its contents. But there are lots of reasons at play as to why cart abandonment happens, as we'll explore in this post.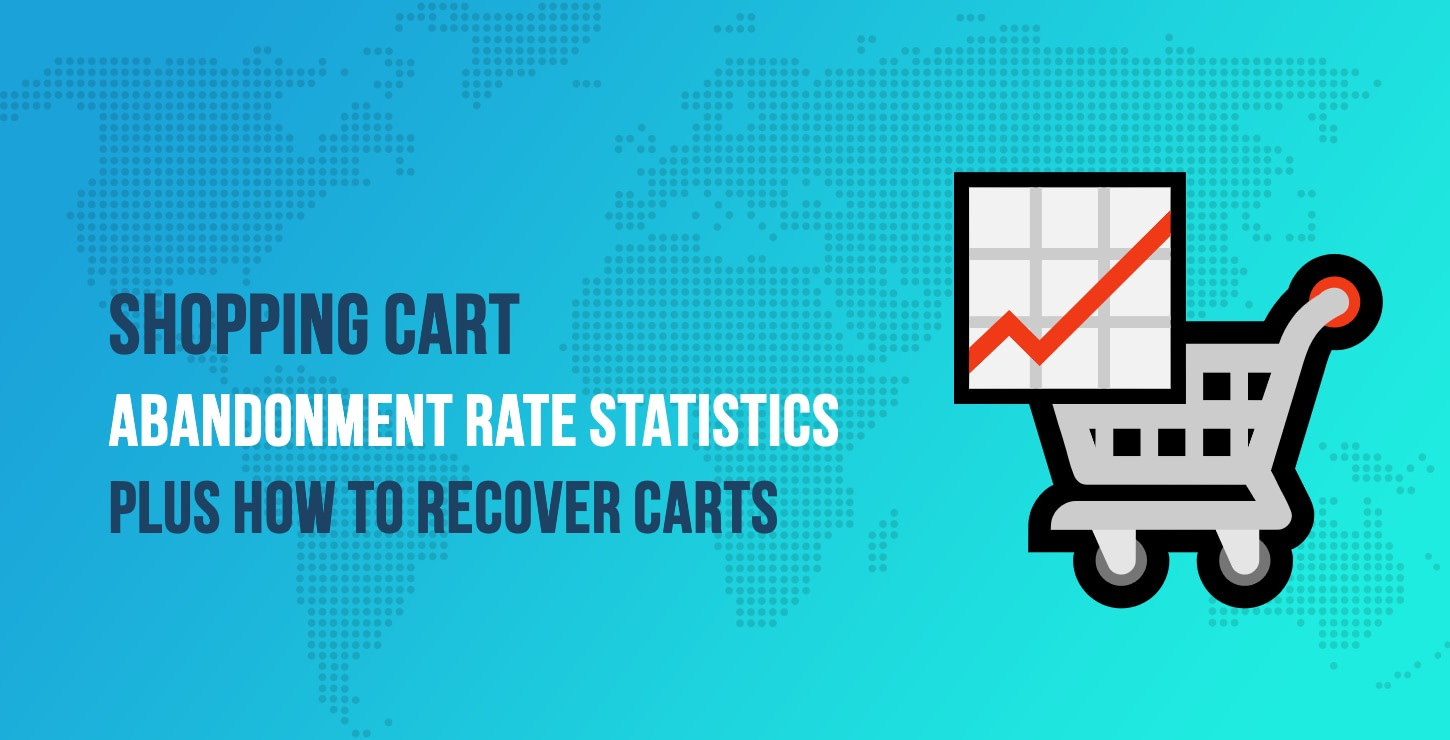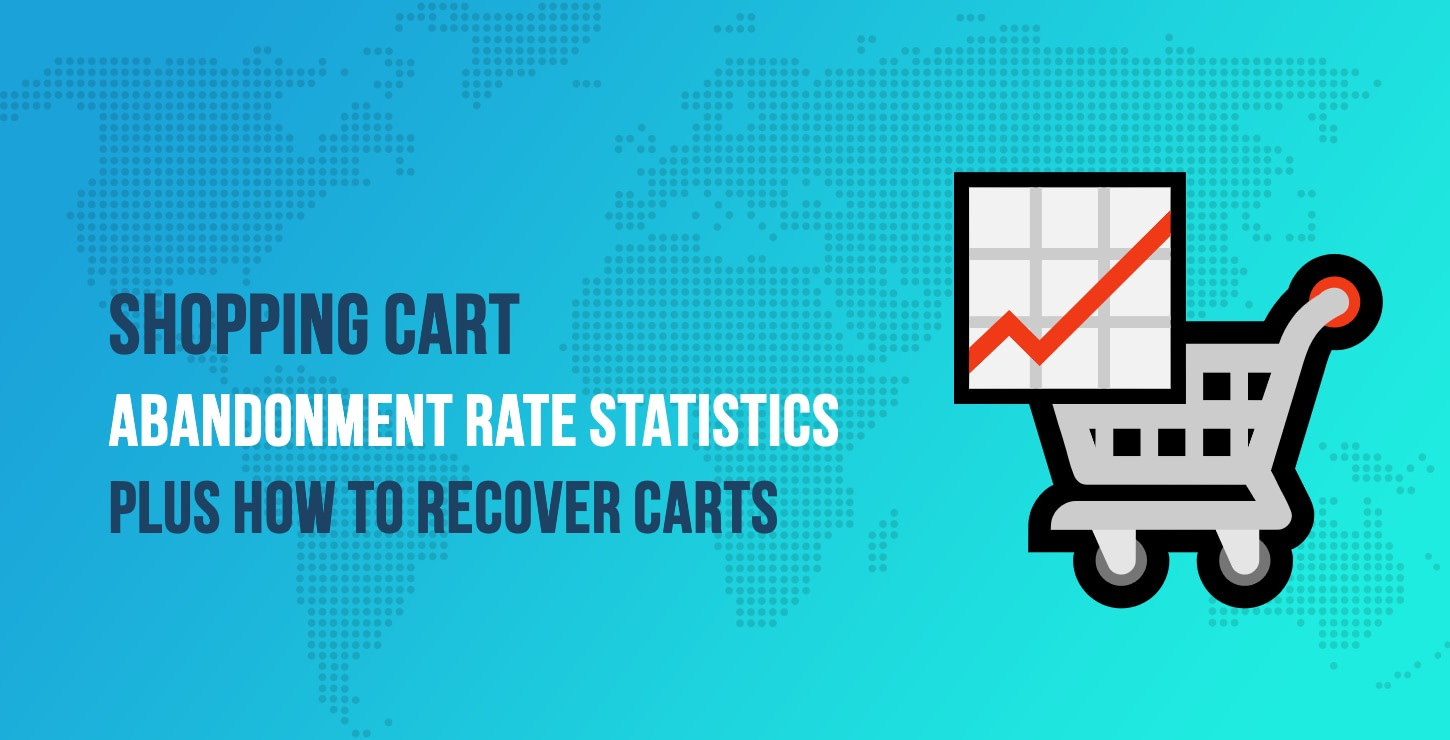 40+ #shopping cart abandonment #stats for 2020 (plus how to recover carts) 🛒📈
Click To Tweet
Before we dive into some meaty stats below, here are a few general shopping cart abandonment rate stats for you to mull over:
The global average shopping cart abandonment rate is 69.57%. [1]
Shopping cart abandonment accounts for $18 billion in lost revenue each year. [3]
On average, 74.58% of online retail orders are abandoned, while the travel (81.31%) and airline (87.87%) sectors are the hardest hit. [2]
Table of Contents:
🛒 What is cart abandonment?
👉 In ecommerce, cart abandonment is when a potential shopper starts the checkout process to make an online purchase, but then drops out of the checkout flow before completing the purchase.
Any item that's added to the shopping cart but never makes it through to completing checkout is considered to be "abandoned" by the customer.
📈 What is a shopping cart abandonment rate?
The shopping cart abandonment rate for an ecommerce site is the rate of interested potential customers who leave without buying anything compared to the total number of shopping carts initiated.
It's calculated by dividing the total number of completed transactions by the total number of shopping carts initiated. Subtract the result from one and then multiply by 100 for the abandonment rate.
For example, if you have 50 completed purchases and 250 shopping carts that were initiated, the shopping cart abandonment rate would be 80%.
1 - (50 / 250) x 100 = 80%
This isn't a rate you need to calculate manually — you can generate a Google Analytics report for cart abandonment, which uses the same formula.
The shopping cart abandonment rate for your online store is an important ecommerce metric you should track. A high abandonment rate indicates a poor user experience, broken sales funnel, or general disinterest in what you're selling.
Keep in mind that your cart abandonment rate is different from your checkout abandonment rate.
For example, CodeinWP's sister site ThemeIsle, which sells the popular Neve and Hestia themes, uses a pop-up checkout, so there's no cart, per se. Visitors choose a plan and the checkout pop-up is displayed, prompting them to fill out their payment information.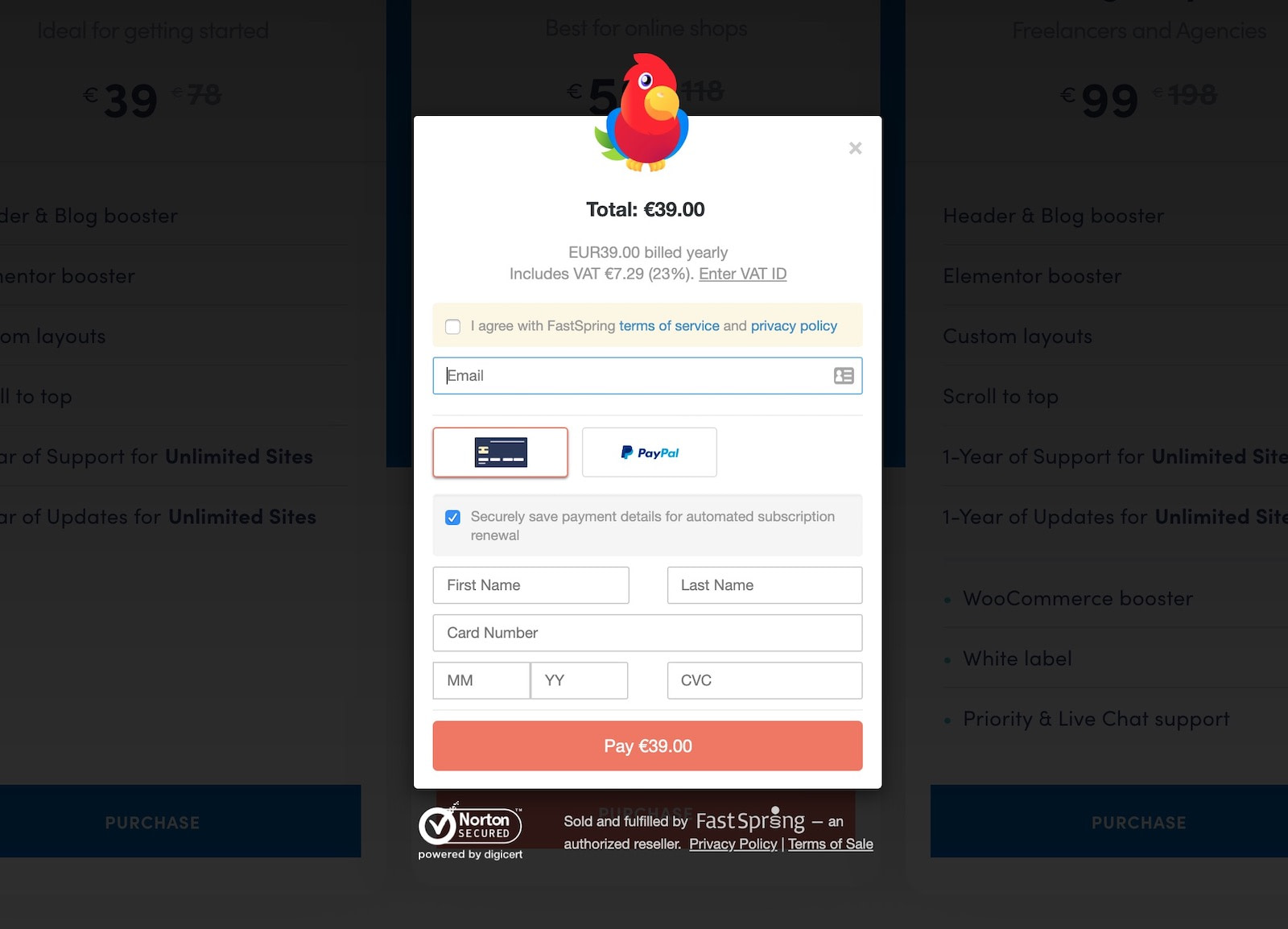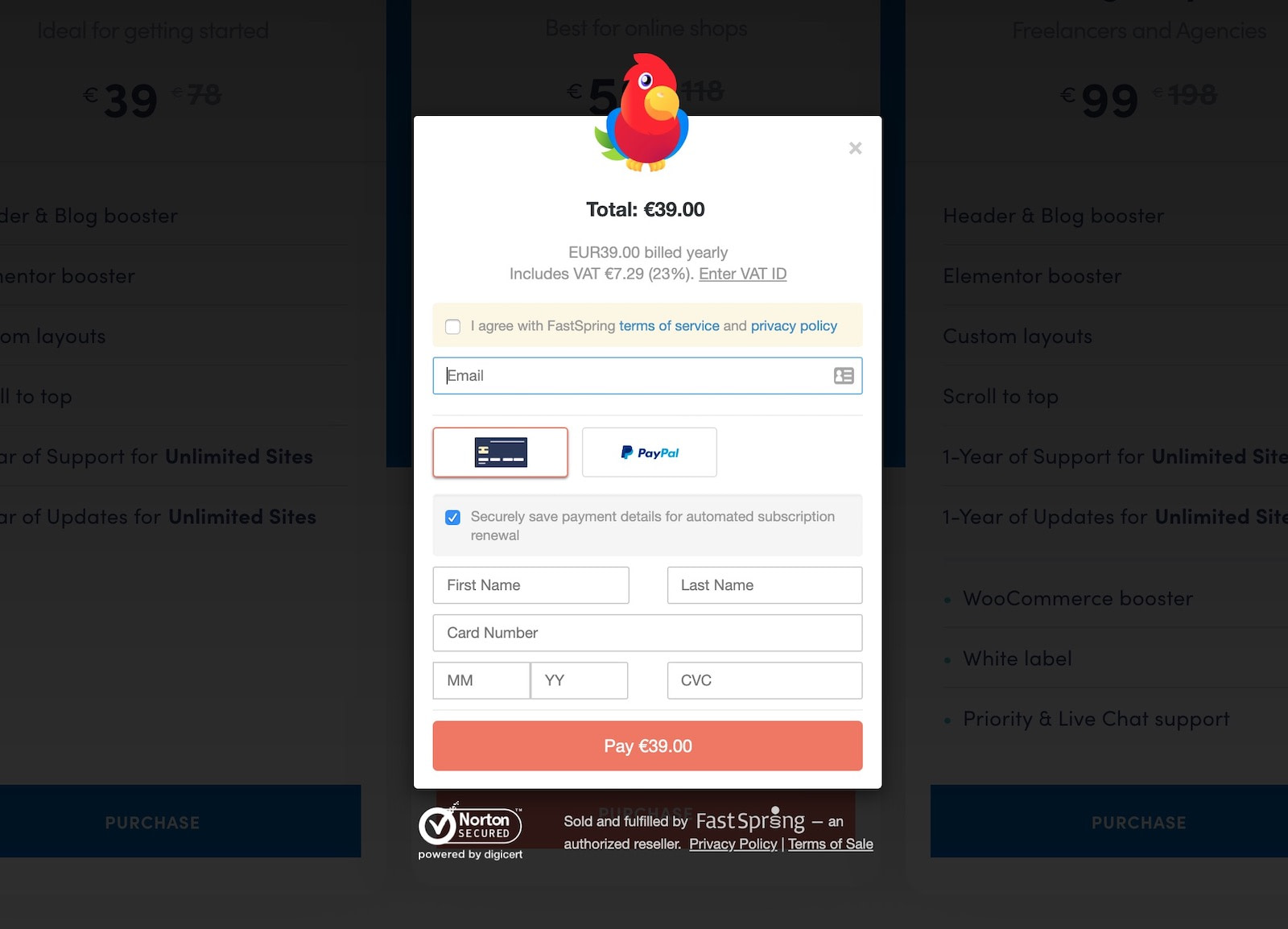 The abandonment rate at checkout, not cart, is 47.5%. This means that over 50% of users that click on the "Purchase" button will complete the transaction.
📆 Shopping cart abandonment rate stats for 2020
There have been dozens, if not hundreds, of cart abandonment studies published over the years.
The Baymard Institute's list of 41 different studies is the most popularly referenced. It counts research going back to 2006 and cites the average documented online shopping cart abandonment rate from 2006-2018 is 69.57%. [4]
To really understand cart abandonment and how it affects you and your business, it's important to dig into the details and unpack shopping cart abandonment rates in different contexts. So let's break it down:
🤔 Reasons for cart abandonment
📱 Mobile-specific cart abandonment stats
🏗️ Industry-specific cart abandonment stats
🤔 Reasons for cart abandonment
Why do shoppers abandon their carts? Well, the vast majority of abandoned carts are simply the natural consequence of how people browse ecommerce sites, according to the Baymard Institute.
Virtual window shopping, price comparison, saving items for later, searching gift options — these are all reasons that are largely unavoidable.
Baymard Institute's latest quantitative study for "reasons for abandonment" found that 58.8% of US online shoppers have abandoned a cart within the past 3 months because "I was just browsing / not ready to buy." The research showed that most shoppers will abandon even before initiating the checkout flow, i.e. adding an item to the cart. [4]
When the "just browsing" segment is set aside, the remaining reasons for abandonment look like this:
What's interesting here is that the top 3 reasons for abandonment — extra costs too high, creating an account, and complicated checkout process — can each be easily resolved. In fact, most of the reasons on the list can be fixed simply by reviewing your checkout processes and implementing changes to improve the user experience.
📱 Mobile-specific cart abandonment stats
Today, mobile traffic accounts for approximately half of web traffic worldwide, according to research published by Statista. In the first quarter of 2019, mobile devices (excluding tablets) generated 48.71% of global website traffic, consistently hovering around the 50% mark since the start of 2017. [5]
It's no surprise that mobile use is on the rise, particularly in many emerging digital markets that skipped the desktop internet phase entirely and moved straight onto mobile internet. India is a prime example with a significant mobile-first online population.
While it's difficult to come by up-to-date mobile shopping cart abandonment rates for 2020 because none have been published online, it is certainly worth comparing what is available: Barilliance's cart abandonment rates by device in 2016 and Salesforce's ecommerce order share by device in Q1 2019.
In 2016, Barilliance found a clear correlation between small screens and increased cart abandonment. Mobile accounted for the highest rate of cart abandonment, with 85.65% of carts created ending without a sale. Meanwhile, desktops were performing better, with a 12.58% improvement in revenue. [6]
At the time, a Digiday article, Where mobile commerce is going in 2016, highlighted then what we now know in 2020: Millennials were increasingly using their phones as their primary device, and mobile checkouts were a "major pain" to use.
Cut to today and Salesforce's Q1 2019 Shopping Index represents the truest picture of current trends in online shopping. The quarterly report analyzes the activity of more than 500 million shoppers worldwide to identify trends and changes in shopping activity. [7]
Traffic share by device is staggering: mobile accounts for 64% of traffic, with desktops falling well behind with 29%. [7]
The numbers for order share by device are even more impressive. This year, for the first time, mobile and desktop purchases have collided, with both devices sitting at 46%. [7]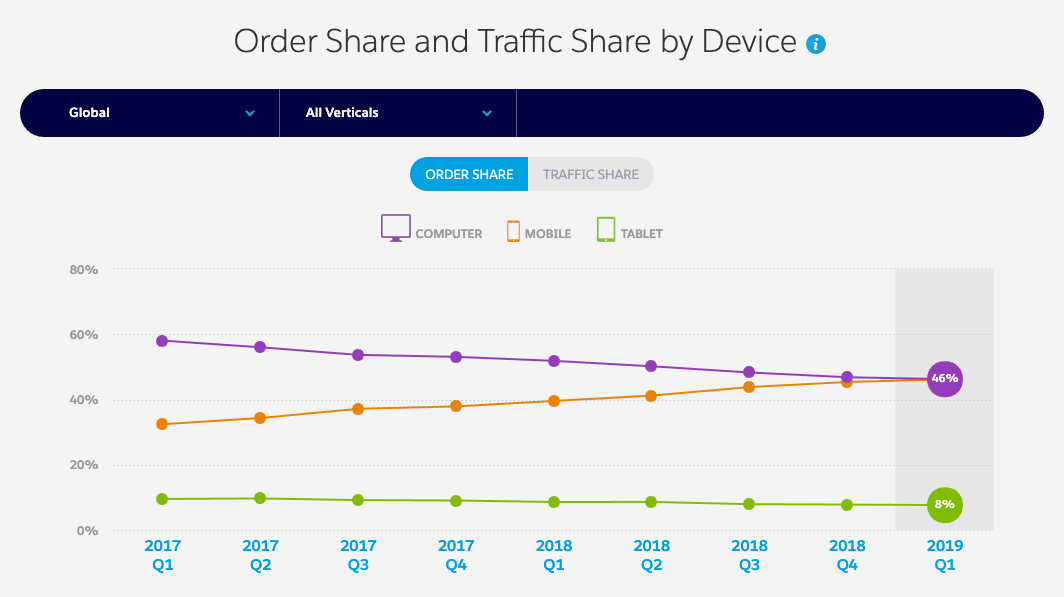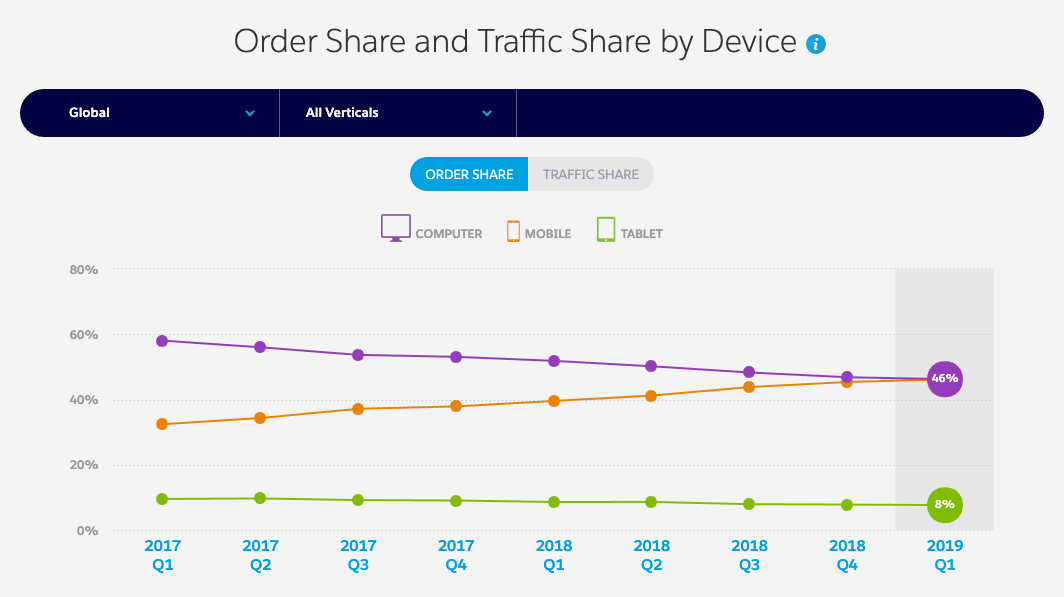 Breaking these numbers down, it's clear that in 2020, cart abandonment by device isn't so much of an issue now — mobile shopping carts have improved and more customers are completing checkout on their phones.
As Salesforce puts it: "Mobile is the biggest retail disruptor since the inception of ecommerce."
🏗️ Industry-specific cart abandonment stats
While the global shopping cart abandonment rate is 69.57% in 2019, according to Statista, the average percentage by industry varies considerably. [1]
SalesCycle has published the most up-to-date findings, which take into account the average shopping cart abandonment rate over hundreds of retailers.
Retail (74.58%) and fashion (74.13%) have the lowest abandonment rates in ecommerce. This might be because clothing and other goods are relatively inexpensive compared to other industries. Retail and fashion purchases also generally have shorter research phases, i.e. you see something you like and buy it, as opposed to spending weeks reading reviews and comparing prices. [2]
Conversely, sites in industries that typically have longer research phases and more complex checkout flows, such as travel (81.31%) and airlines (87.87%), have higher abandonment rates. [2]
When you look at just the retail shopping cart abandonment rates, there are various reasons why people abandon clothing purchases.
Concerns involve bad website functionality, slow delivery, security, and returns can be easily resolved through reviewing selling practices and making improvements for user experiences. But the graph below does show the challenges ecommerce sites face in trying to provide an online shopping experience that compares to the tactile, in-store experience many shoppers prefer.
💸 The cost of shopping cart abandonment
There have been many conflicting dollar figures published around the cost of cart abandonment, making it really difficult to gauge what might be the true cost to online retailers. Here's a brief sample:
Tinuiti (formerly cpcstrategy) research from 2014 suggests cart abandonment contributes to over $18 billion in lost sales each year. [8] Meanwhile, a Q3 2016 PYMNTS.com report cites that in 2014, consumers left $4 trillion in merchandise in shopping carts. [9]
In 2018, Barclaycard research revealed Brits abandon online baskets worth almost £30 a month, potentially resulting in more than £18 billion of lost sales each year. The most abandoned items include knitwear, leather goods, lingerie and headphones. [10]
Oft-cited Forrester research that's difficult to verify cites the estimated total of annual abandoned shopping cart revenue will reach $31 billion dollars.
Despite the wild variances in the figures, a couple of things are clear: the amount of money lost due to cart abandonment is growing, and ecommerce sites should look at strategies they can put in place to recover these losses.
🤷‍♂️ Why should I care about shopping cart abandonment statistics?
With shoppers abandoning 1 in 7 shopping carts, it's good to know where your ecommerce business stands. For one thing, knowing your shopping cart abandonment rate might give you peace of mind if you're sitting around the 70% mark — it's not just your store, but most stores that are dealing with lost sales!
Your store's rate will give you an overall indication of how your store is performing — your product offering, checkout process, and the availability of information about pricing and shipping on your site. These are all important elements of any ecommerce store.
You might be wondering what is a good shopping cart abandonment rate? While the research indicates the average shopping cart abandonment rate is around 70%, your rate may be higher or lower.
A low shopping cart abandonment rate indicates that you're providing shoppers with a great user experience. Customers like your products, your site is easy to navigate, and the checkout process is smooth sailing.
If your cart abandonment rate is high, it means a large number of shoppers are starting the checkout process but failing to follow through and complete the transaction. The items being left behind in carts are potential revenue you're missing out on, impeding your goal of maximizing your profits.
💡 Six ways to reduce your shopping cart abandonment rate
The first step is to understand why customers are abandoning their carts. This means digging into your Google Analytics data (and producing enhanced ecommerce reports), surveying your shoppers, reviewing support and live chat records, running usability testing for your store, or even reaching out to shoppers individually for feedback.
Similar, it's important to note the popular cause-specific reasons we explored above — extra costs too high, creating an account, and complicated checkout process, among others — and determining whether they too might be contributing to your high abandonment rate.
Once you've determined the primary reasons driving your high shopping cart abandonment rate, here are some strategies worth implementing:
1. Reduce price shock
The number one reason why people abandon carts, after "just browsing," is unexpected costs related to shipping, fees, and taxes. Often, a customer will start adding items to their cart, only to discover later that the shipping fees are too high, or they have to pay an import tax or other fees.
To reduce price shock, make sure your shipping costs and any related taxes and fees associated with delivery are transparent. This might mean creating a "Shipping and Delivery" page for your site, updating your FAQ to outline your return policy, and/or adding a shipping calculator to your product pages. These solutions will help minimize surprises for shoppers at checkout.
Also, consider providing multiple payment options for customers. While credit card and PayPal payments are fairly common, there may be other payment methods your shoppers would prefer to use.
2. Provide a guest checkout option
The second most popular reason for cart abandonment is "The site wanted me to create an account." So don't force customers to sign up to your site, give them the option to check out as a guest.
WooCommerce provides a guest checkout option built-in. To enable, go to WooCommerce → Settings → Accounts & Privacy → Guest checkout:
This option allows customers to check out without creating an account. Orders will not be tied to a user account in WordPress.
Asking customers to create an account, come up with a password, fill in personal information not related to their purchase… it all makes the buying process take longer. When the customer has already decided they want to buy from you, don't get in their way.
The information that customers enter during the checkout process, such as shipping details, can be saved. You can ask them after they've completed their order whether they would like to create an account for future orders.
3. Review and optimize your checkout flow
When's the last time you stepped through your checkout process? It's crucial that customers are able to easily navigate your checkout flow to complete their transaction. If it's long and complicated with lots of forms, or has a complicated user experience, shoppers will be turned off and less likely to check out.
User testing tools like Hotjar and watching videos of people interacting with your site (Userbrain, Fullstory, etc.) can help you determine where you might be going wrong with your checkout process.
It's also important to regularly test your checkout to make sure it's actually working. Sometimes, design and code changes can break your checkout. Tools like Robot Ninja for WooCommerce can automatically test your checkout and send you an email notification when it's not working.
4. Increase trust
Shoppers need reassurance when it comes to security, especially as "I didn't trust the site with my credit card information" is the number five reason for cart abandonment.
In the US, ecommerce credit card fraud is nearly an inevitability, with 49% of consumers falling victim to credit card fraud. Unfortunately for merchants, the obvious costs of fraud aren't the only costs. According to Riskified research, 49% of customers reported that they don't return to an online retailer after a fraud incident has taken place, meaning the merchant will pay the cost of the fraud and lose future customers. [11]
There are two ways you can improve trust in the buying process and show customers that their information is secure:
Ensure your site has a valid SSL certificate. Google is enforcing HTTPS, so if your certificate isn't properly installed or it has expired, shoppers will see a warning message in Chrome telling them the connection isn't secure.
Display trust symbols from well-known security companies, e.g. VeriSign, Truste, Norton. An Actual Insights survey found that 61% of shoppers didn't buy because a trust logo wasn't shown, and over 75% said they didn't buy because they didn't recognize the logo used. [12]
5. Send abandoned cart emails
One of the most powerful tactics for recovering abandoned carts is sending emails to remind people about what they left behind. According to Barilliance, sending an abandoned cart email within 24 hours can help you recover 20.3% of sales. [13]
The stats around cart abandonment emails are remarkable. According to SalesCycle, 46.1% of people open abandoned cart emails, 13.3% click inside the emails, and of those clicks, more than 35% end up buying something. [14] The global conversion rate for cart abandonment emails is 18%, with some retailers achieving conversion rates as high as 40%. [13]
To give you a successful real-world example, prior to GDPR, CodeinWP's sister site Themeisle sent a series of three recovery emails over five days to potential customers:
After 60 minutes. Subject line: "Forgot something? It looks like you have items in your cart…"
After 24 hours. Subject line: "What's that in your shopping cart?"
After 5 days. Subject line: "Are you sure? One last reminder about the items in your cart… (including a 10% welcome discount)"
The results speak for themselves (and are better than what SalesCycle suggests):
First email: Opens 50%, clicks 21%
Second email: Opens 41%, clicks 3%
Third email:  Opens 39%, clicks 8%
CodeinWP's advice on effective email marketing to recover carts includes:
Timing – send your first email ASAP
Frequency – send up to three abandoned cart emails
Great imagery – include the images of the products
On-brand copy – make sure you're not sending generic copy
Incentives – give people a reason to come back
Mobile – make sure your emails look good on mobile
To send cart recovery emails, you'll need to have the shopper's email address. This means you'll need to ask shoppers for their email at the start of the checkout process. (You'll also need to ask them for consent to join your email list — a requirement since the introduction of GDPR.)
It's also crucial that you check if the shopper has changed their mind and made a purchase after all before you send the first recovery or any subsequent emails. You don't want to remind them to make a purchase that they've already made.
6. Use social proof
Product reviews can generate social proof, which is the psychological phenomenon where people assume the actions of others indicate how we should behave. That is, we tend to think that if a lot of people do something or like something, it must be right. This phenomenon is driven by the assumption that other people have more or better information.


For customers who are on the fence about whether to buy from you — especially first-time shoppers — social proof can help swing them towards making a purchase. Reading positive reviews on your site will help ease any anxiety.
There are many ways you can add social proof to your site:
Ask customers to review your products. You could do this via email, Facebook, or review sites.
Display reviews on important pages, such as product and landing pages.
Go to top
🛍️ Wrapping up
It would be nice to live in a world where a 100% conversion rate is achievable, right? But the fact is, your ecommerce site is going to experience some level of cart abandonment.
The important thing is to determine what that rate is, understand what's contributing to the cart abandonment, and start putting in place strategies to recoup your lost sales.
Have you experienced cart abandonment? Share your cart abandonment rate below and what you're doing to improve it — your experience may help others!
40+ #shopping cart abandonment #stats for 2020 (plus how to recover carts) 🛒📈
Click To Tweet
…
Don't forget to join our crash course on speeding up your WordPress site. With some simple fixes, you can reduce your loading time by even 50-80%: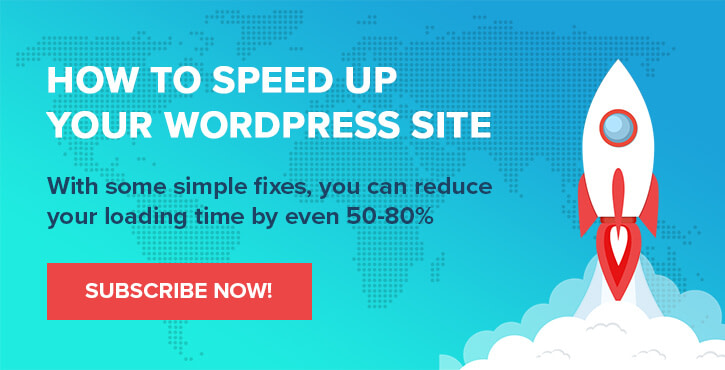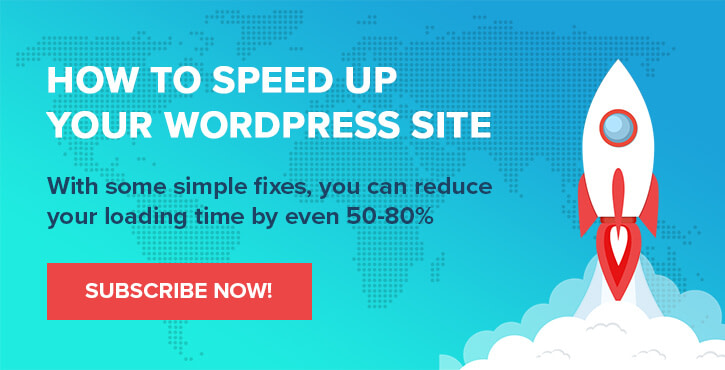 Layout, presentation, and editing by Karol K.
References:
[1] https://www.statista.com/statistics/477804/online-shopping-cart-abandonment-rate-worldwide/
[2] https://blog.salecycle.com/featured/10-fascinating-stats-cart-abandonment/
[3] https://vwo.com/blog/shopping-cart-abandonment-accounts-18-billion-lost-revenue-year/
[4] https://baymard.com/lists/cart-abandonment-rate
[5] https://www.statista.com/statistics/277125/share-of-website-traffic-coming-from-mobile-devices/
[6] https://www.barilliance.com/cart-abandonment-rate-statistics-216/
[7] https://www.salesforce.com/solutions/industries/retail/shopping-index/
[8] https://www.cpcstrategy.com/blog/2014/03/cart-abandonment/
[9] https://www.pymnts.com/news/retail/2016/shopping-cart-abandonment-rates/
[10] https://www.home.barclaycard/media-centre/press-releases/Retailers-losing-18bn-per-year-through-surf-n-turf-shopping.html
[11] https://www.helpnetsecurity.com/2019/01/31/ecommerce-credit-card-fraud/
[12] https://econsultancy.com/which-ecommerce-security-logos-do-users-trust-do-they-matter/
[13] https://www.barilliance.com/cart-abandonment-emails-best-practice-benchmark-study/
[14] https://www.getelastic.com/cart-abandonment-stats-infographic
Was this topic
helpful?
0% of users found this helpful