If you're planning to start an eCommerce business, you already know that Shopify is one of the most popular solutions for launching an online store. It's a practical tool for creating attractive, functional product pages and enabling customers seamless purchases. However, if you've never used this ecommerce platform before, you might not understand exactly how to get started without a Shopify tutorial.
Fortunately, figuring out how to use Shopify doesn't have to be complicated. There are just a few key steps required to get started, so you can cover all the most important bases without becoming overwhelmed.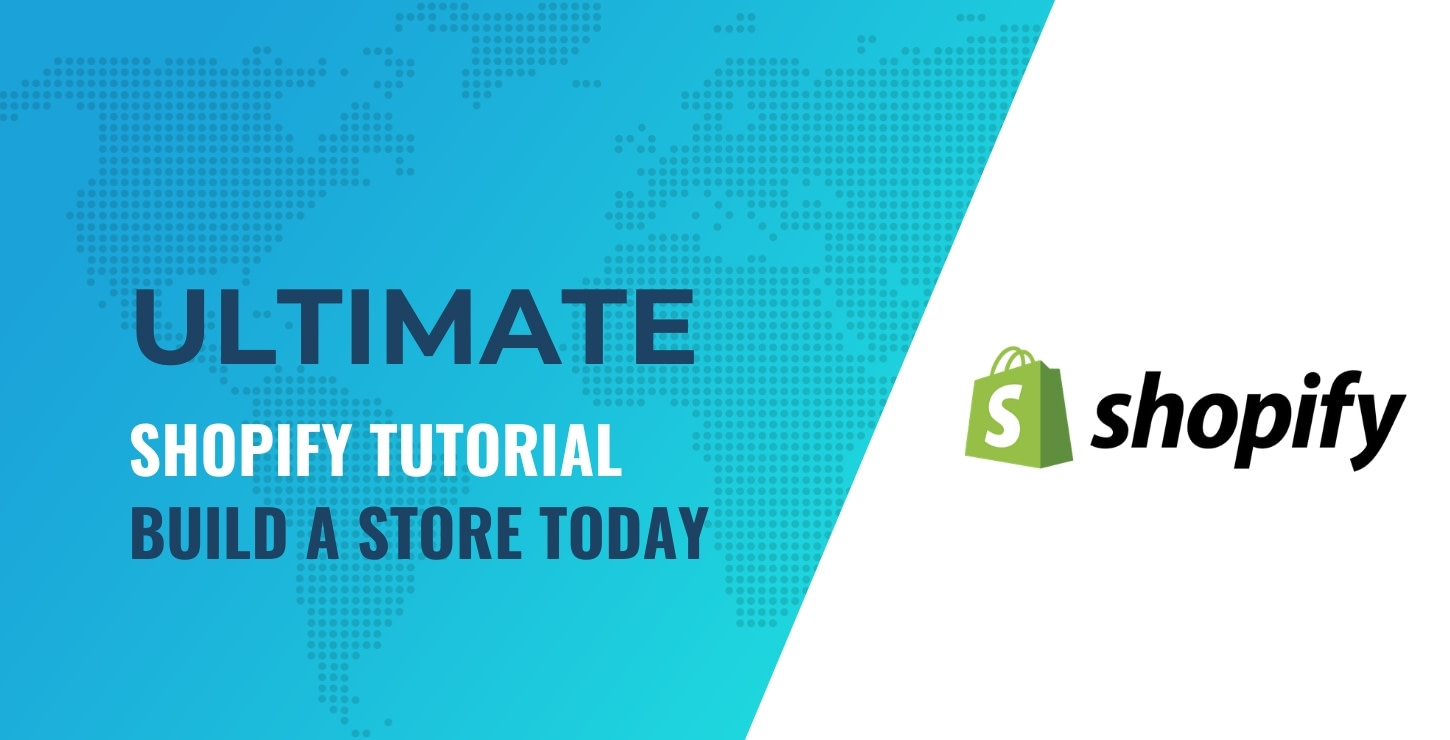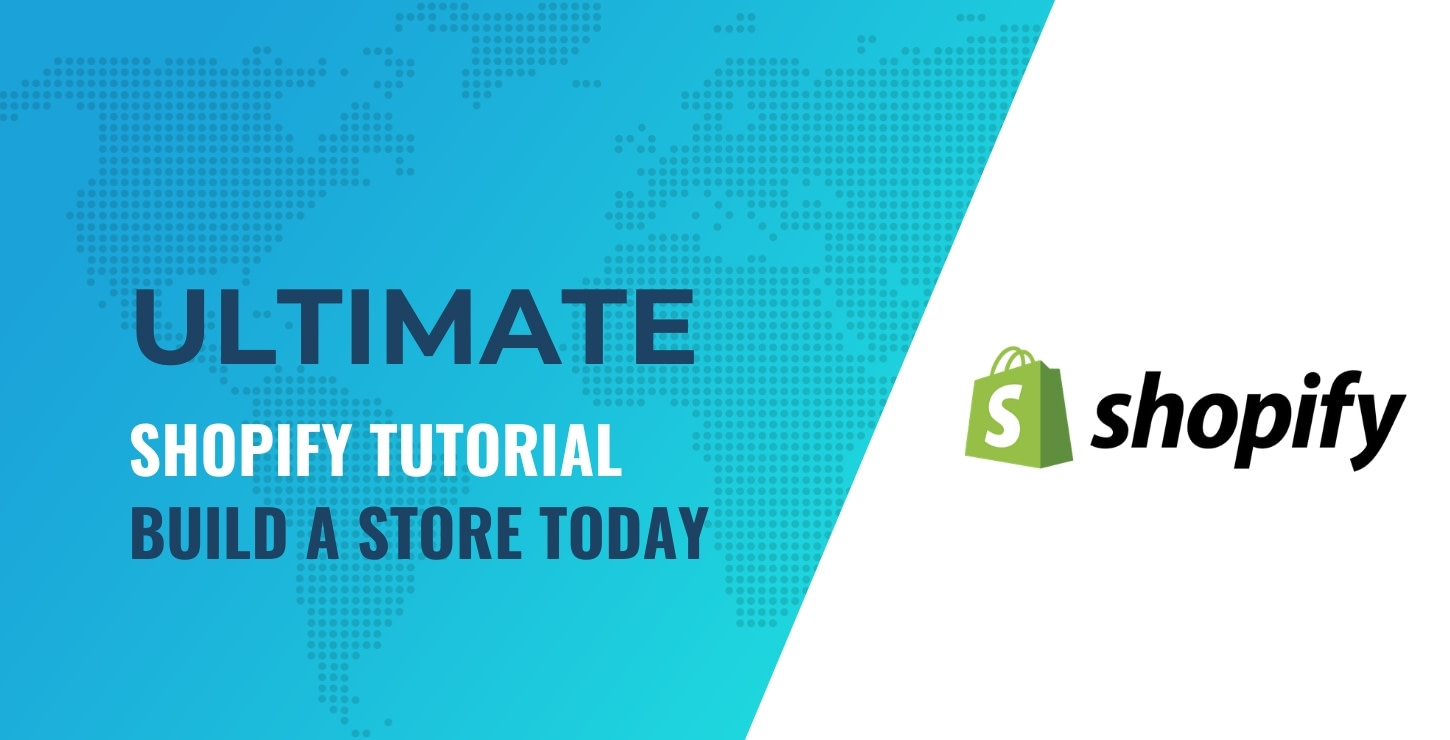 By following the steps below, you can build an online store and start promoting your brand in as little as a few hours.
In this article, we'll take you through the six essential steps to get your Shopify site online. If you'd like to follow along, the ecommerce solution offers a 14-day free trial with no credit card information required to sign up. Let's dive right in!
📚 Table of contents:
Shopify #tutorial: how to set up a #Shopify #store step by step 🛍️🛍️🛍️
Click To Tweet
Step 1: Sign up for a Shopify account
First things first in this Shopify tutorial, you'll want to visit the Shopify home page. There's plenty of information throughout the site if you're looking to learn a little bit more about the platform before you sign up.
However, if you're ready to jump in, you don't even need to leave the home page. Once you get there, you can enter your email into the appropriate field to start setting up your account: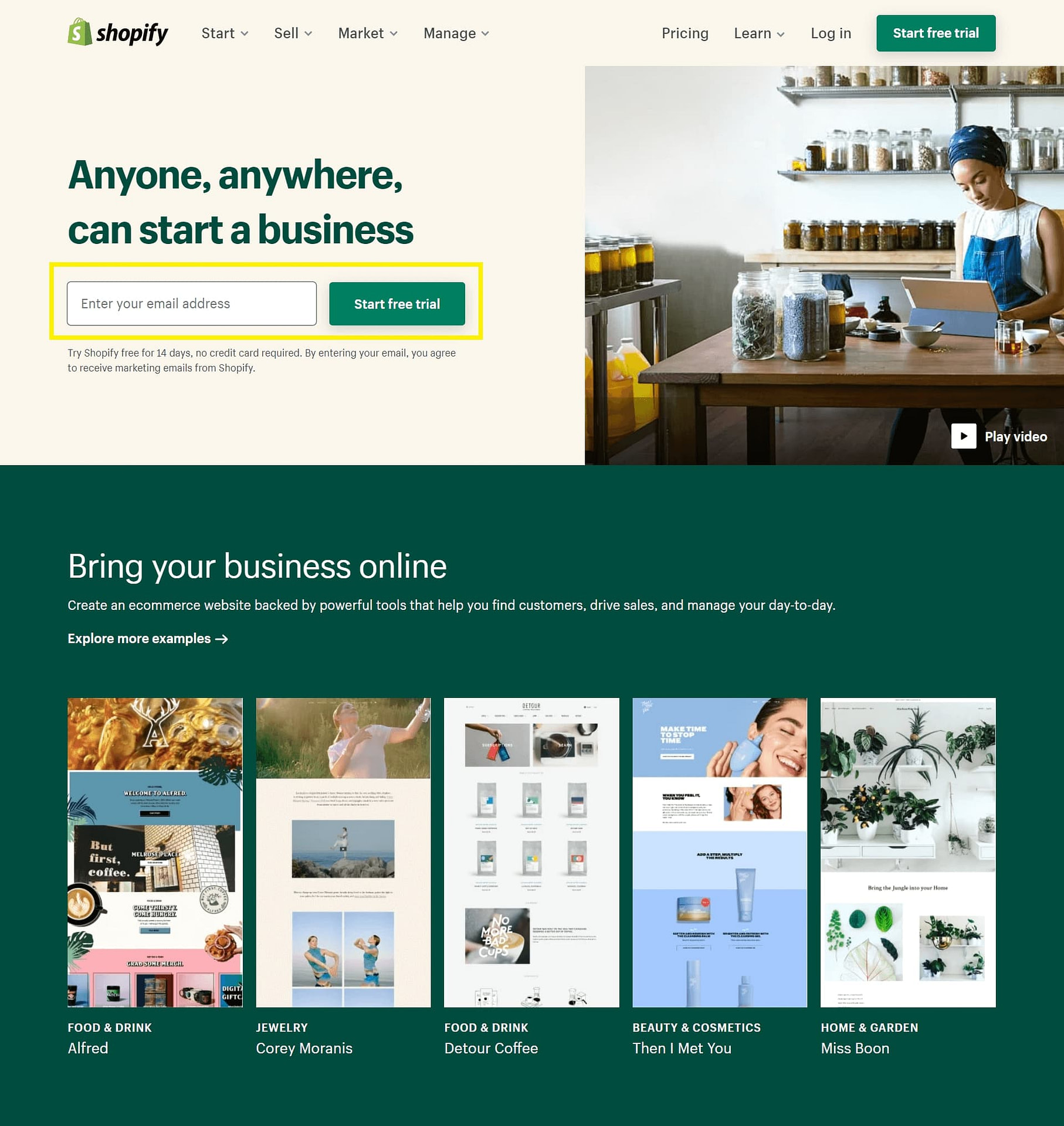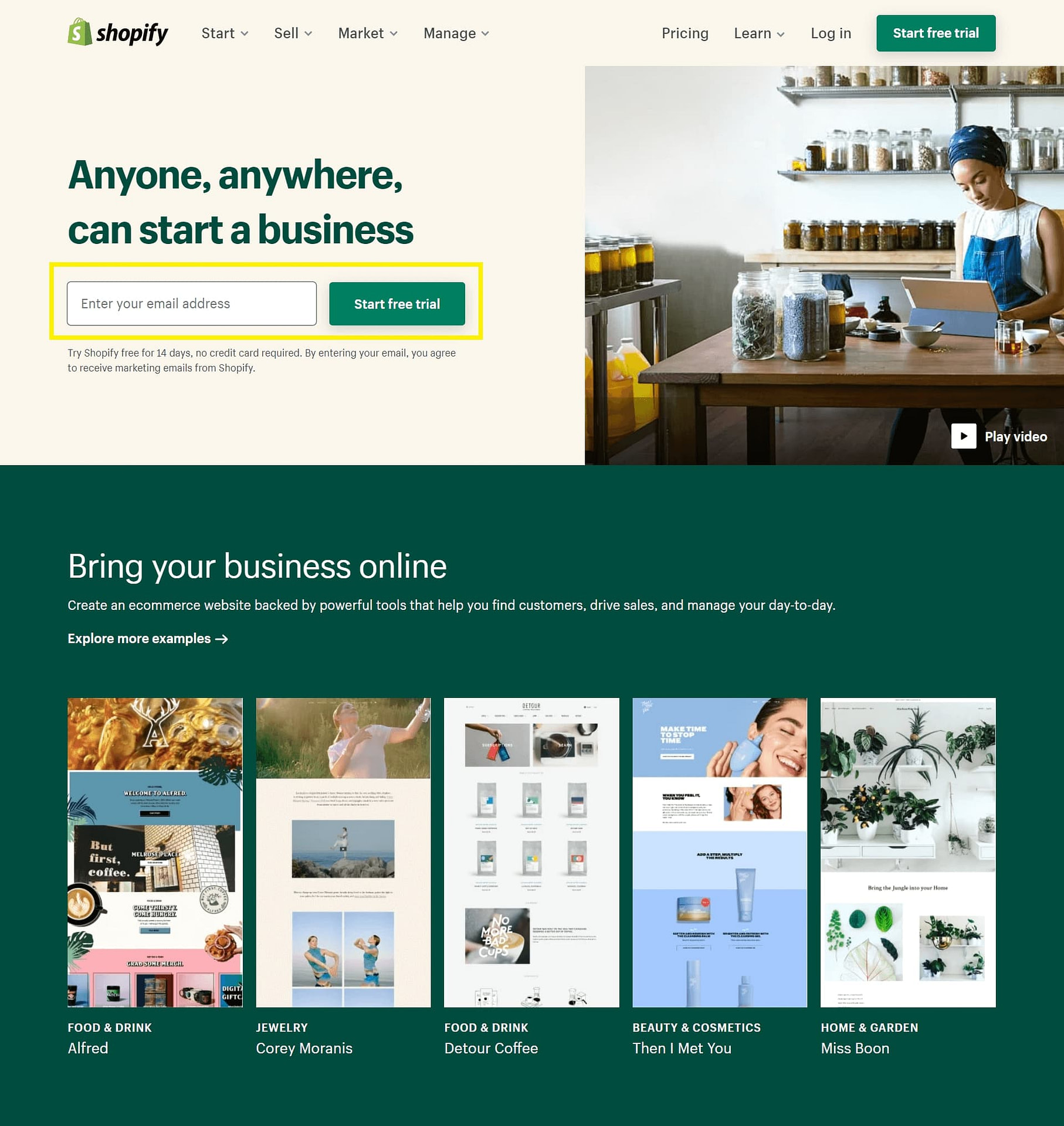 Click on Start free trial. A pop-up will then appear where you can set your password and create your store name. Feel free to spend some time crafting a unique title for your site – it can't be the same as any other store on Shopify, so you may need to do a substantial amount of brainstorming if your first idea is already taken.
Next, click on Create your store to move on to the next page. You'll find a screen asking for some basic information, including whether or not you already sell products elsewhere and what industry you're planning to operate in: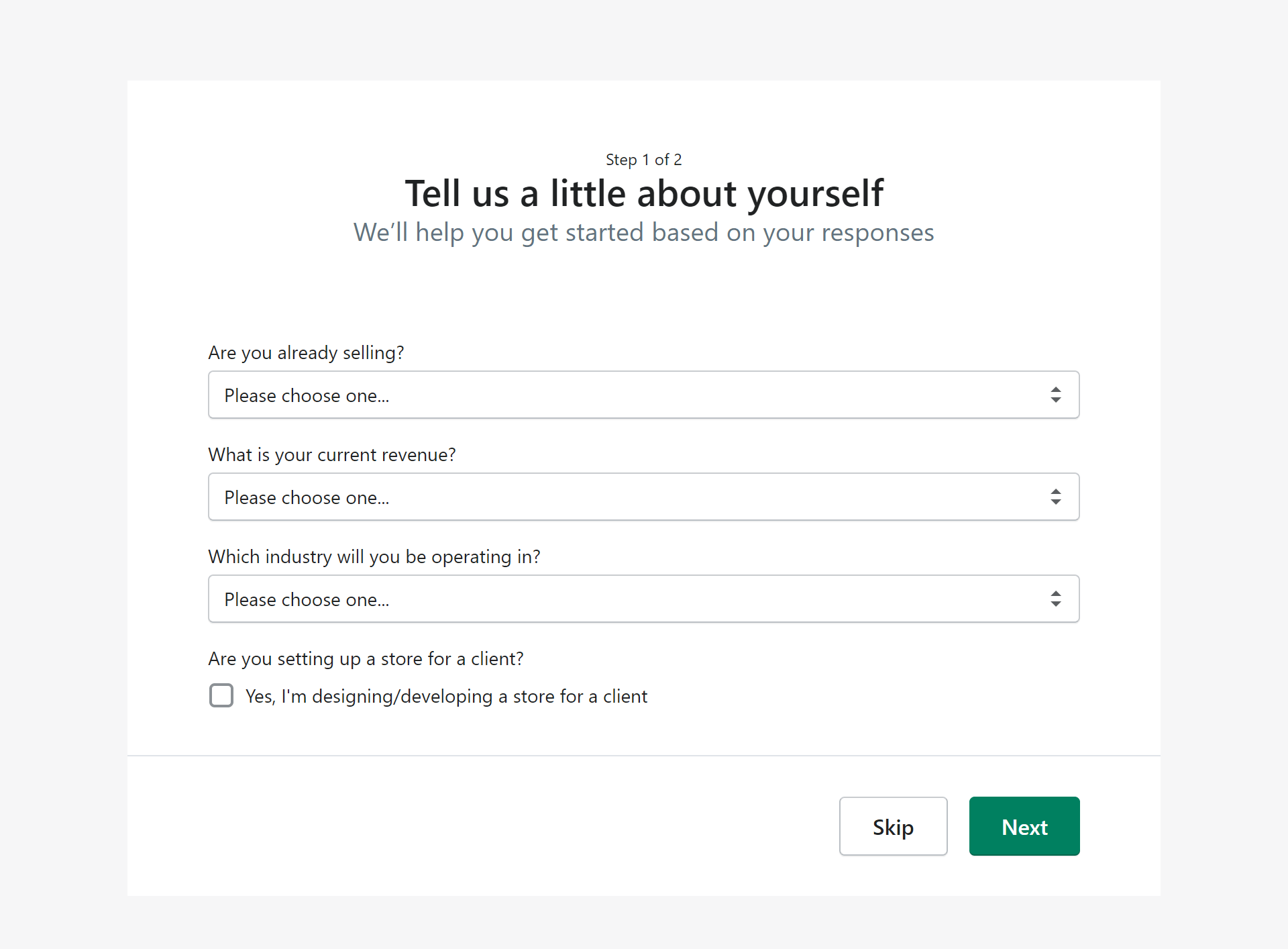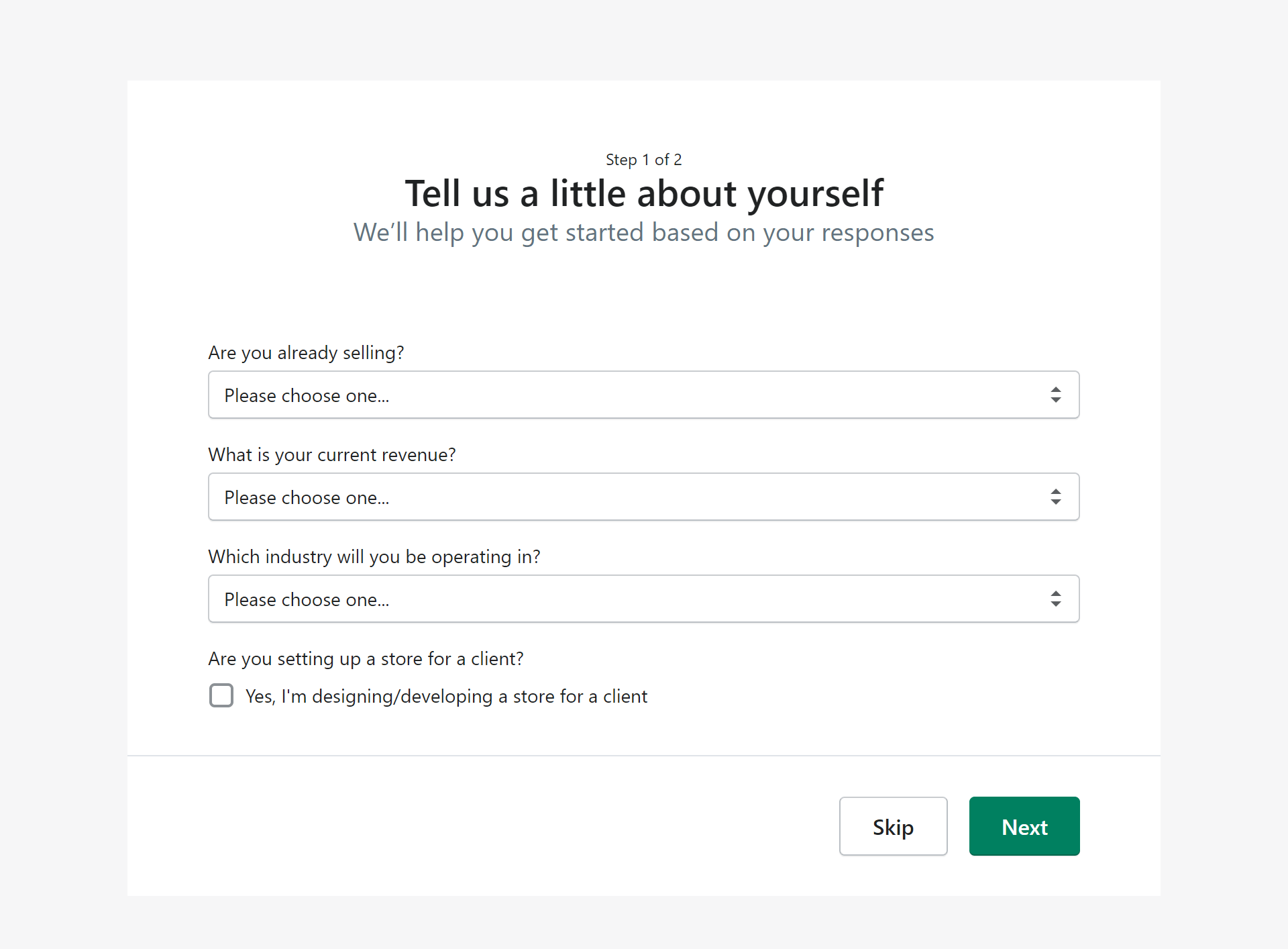 There's no need to commit to anything at this stage if you don't want to. You can always choose options like I haven't decided yet or I'm just playing around if you want to explore for a while and add this information later. Alternatively, you can hit the Skip button to bypass this step altogether.
However, the next form needs to be filled out in full: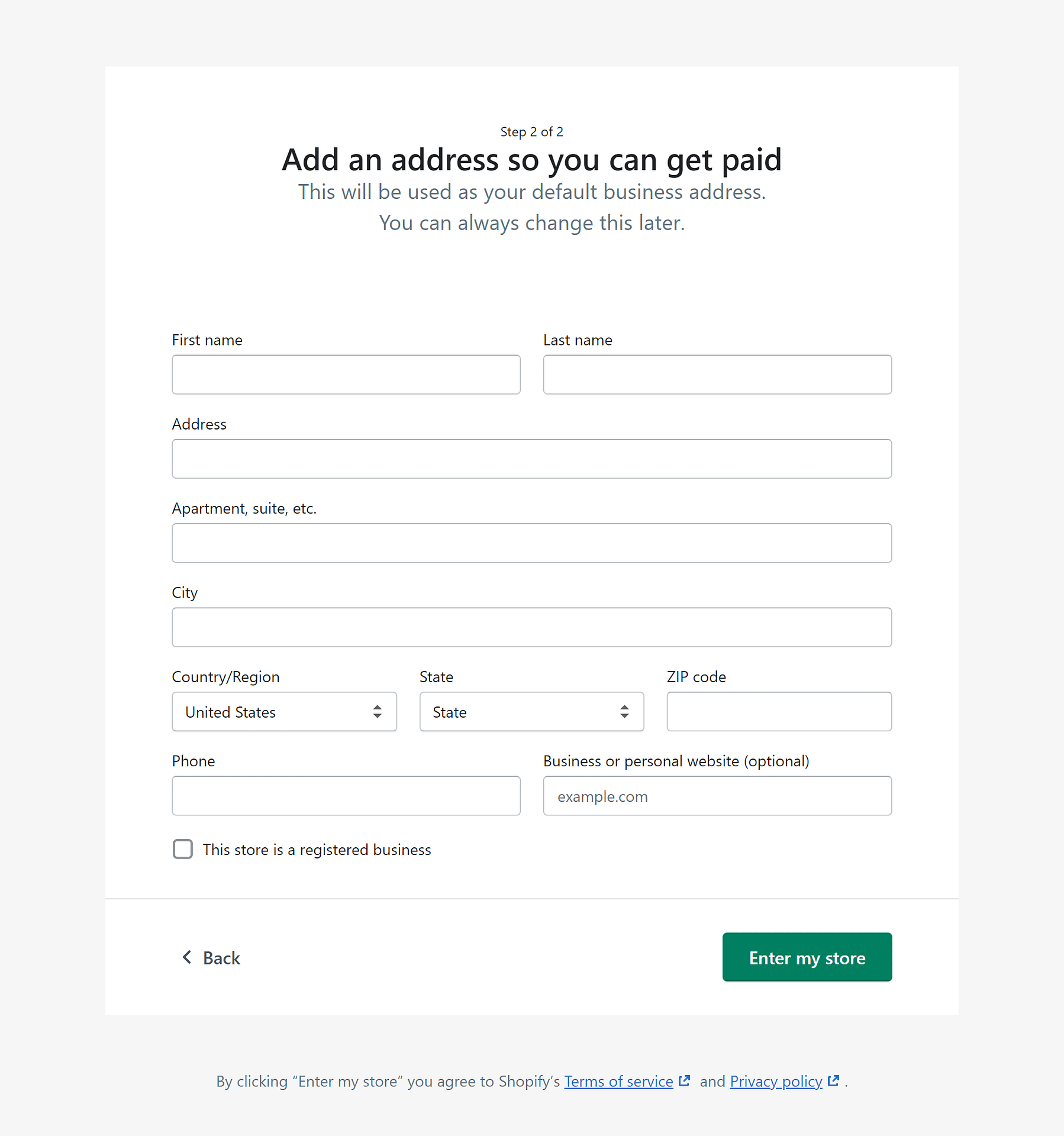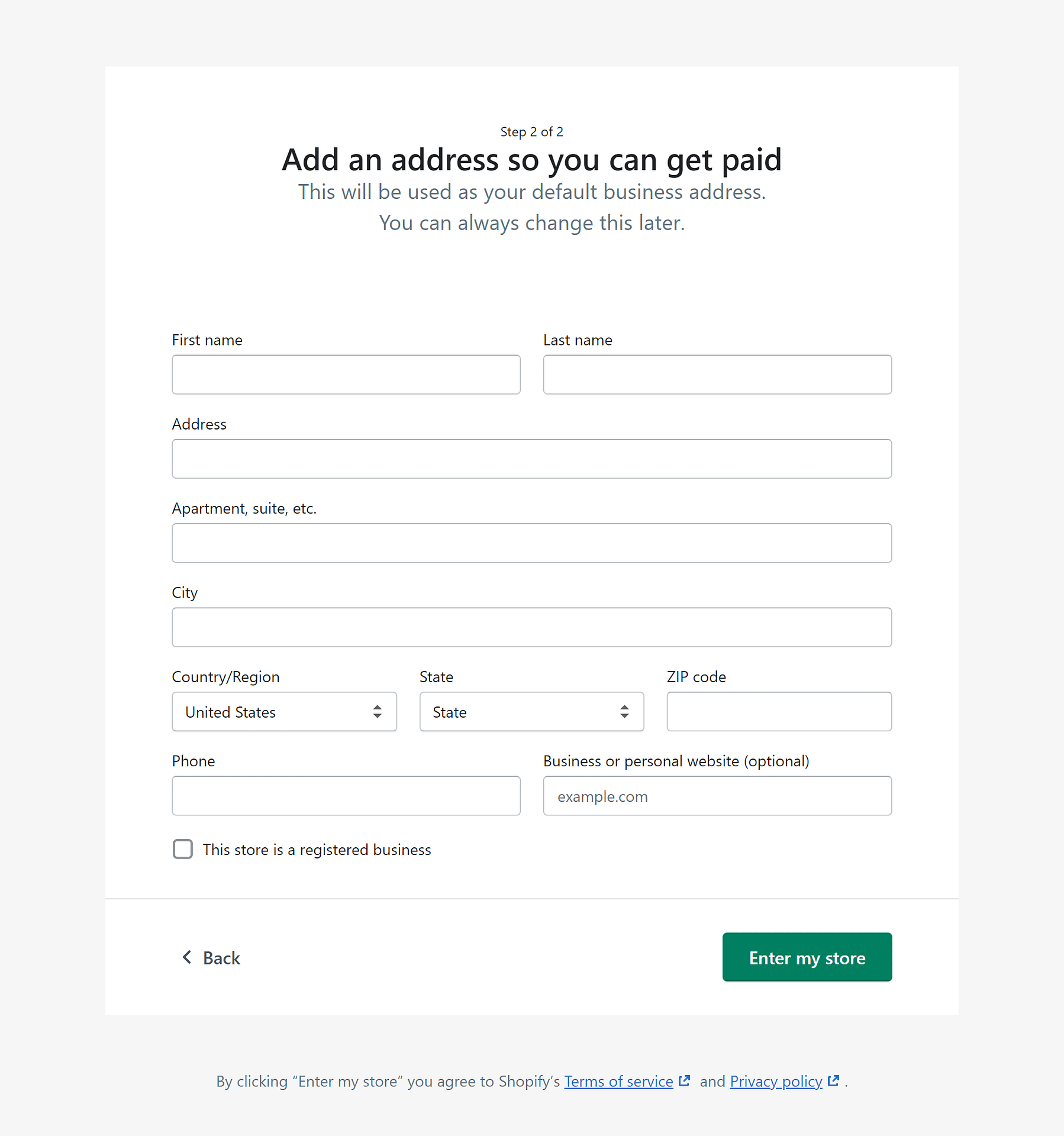 Add your default business details to the relevant fields. As the screen says, this information is also not set in stone. You can update your address later if it changes. Click on Enter my store to finish the process.
This will land you on a dashboard that looks similar to this:
Consider taking some time to explore the layout and verify your email address. While you can't dismiss the banner with the Select a plan button at the top of the screen, you don't have to worry about it just yet. Once you've gotten your bearings, you can move on to the next step of our Shopify tutorial.
Step 2: Choose a Shopify theme for your store
Up next, you can choose a theme for your store. Theming is a simple way to convey your brand's personality to visitors as soon as they land on your site. To see what's available to you, navigate to the left-hand menu. Under Sales Channels, select Online Store → Themes.
From here, you can scroll down to the bottom of the page to find some theme options. While you can choose to pay for a premium theme, there are also several excellent free Shopify themes available to choose from. You can access them by clicking on Explore free themes.
Doing so will bring up the catalog of available themes. Feel free to spend some time finding your right fit, but try to remember that this can always be changed after you finish our Shopify tutorial. We'll be using the Simple theme to start off. Clicking on your choice will bring you to this screen:
Choose your favorite style and select Add to theme library. After that, you can return to the main Themes page and scroll down to find your library. From here, you can start customizing.
Step 3: Customize your store's design
Once you've chosen a theme to build on, you can make it more your own. Click on Customize next to your base template in your theme library to begin.
This should take you to a bare-bones version of your theme, with an interface that looks like this one: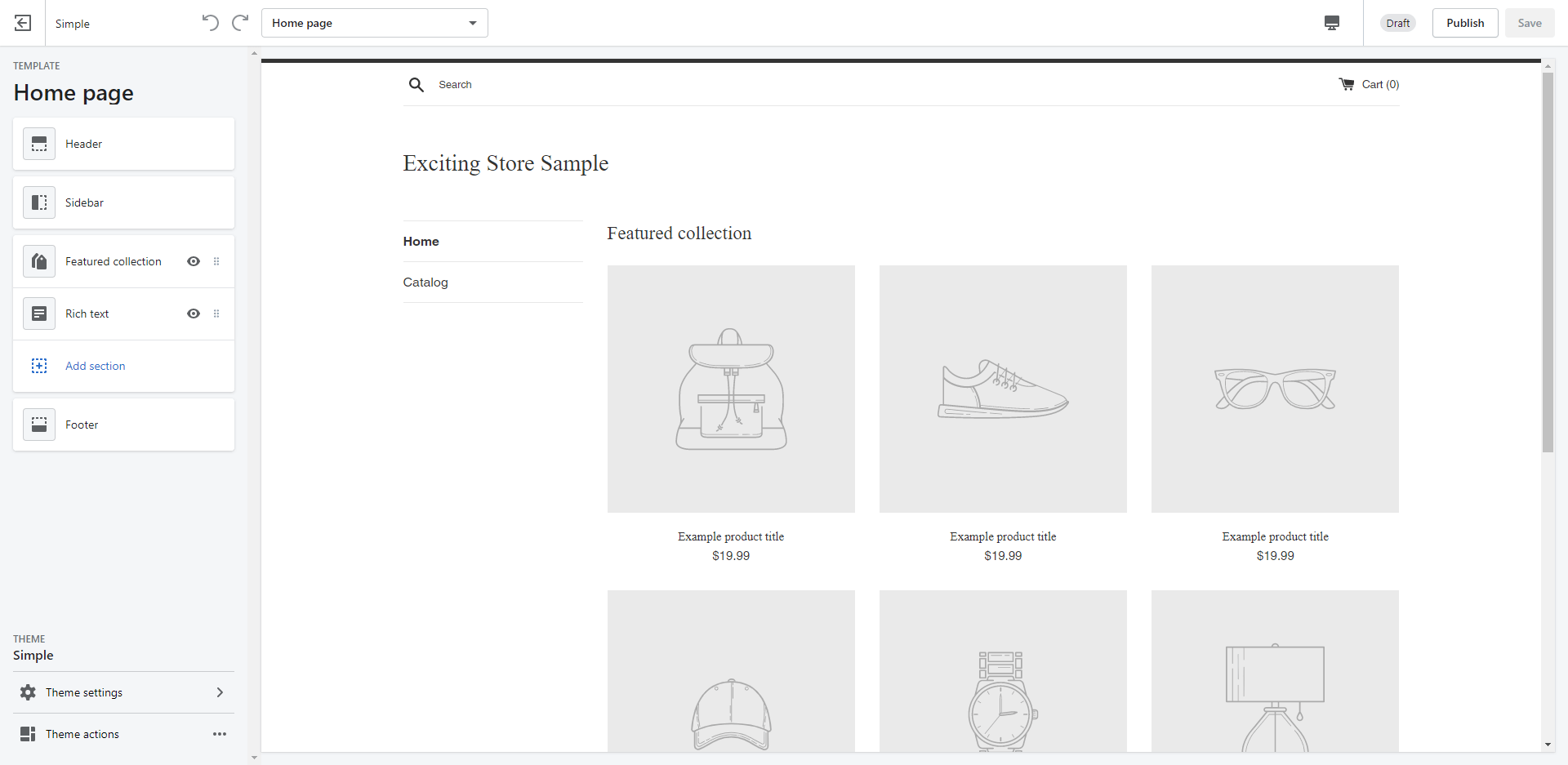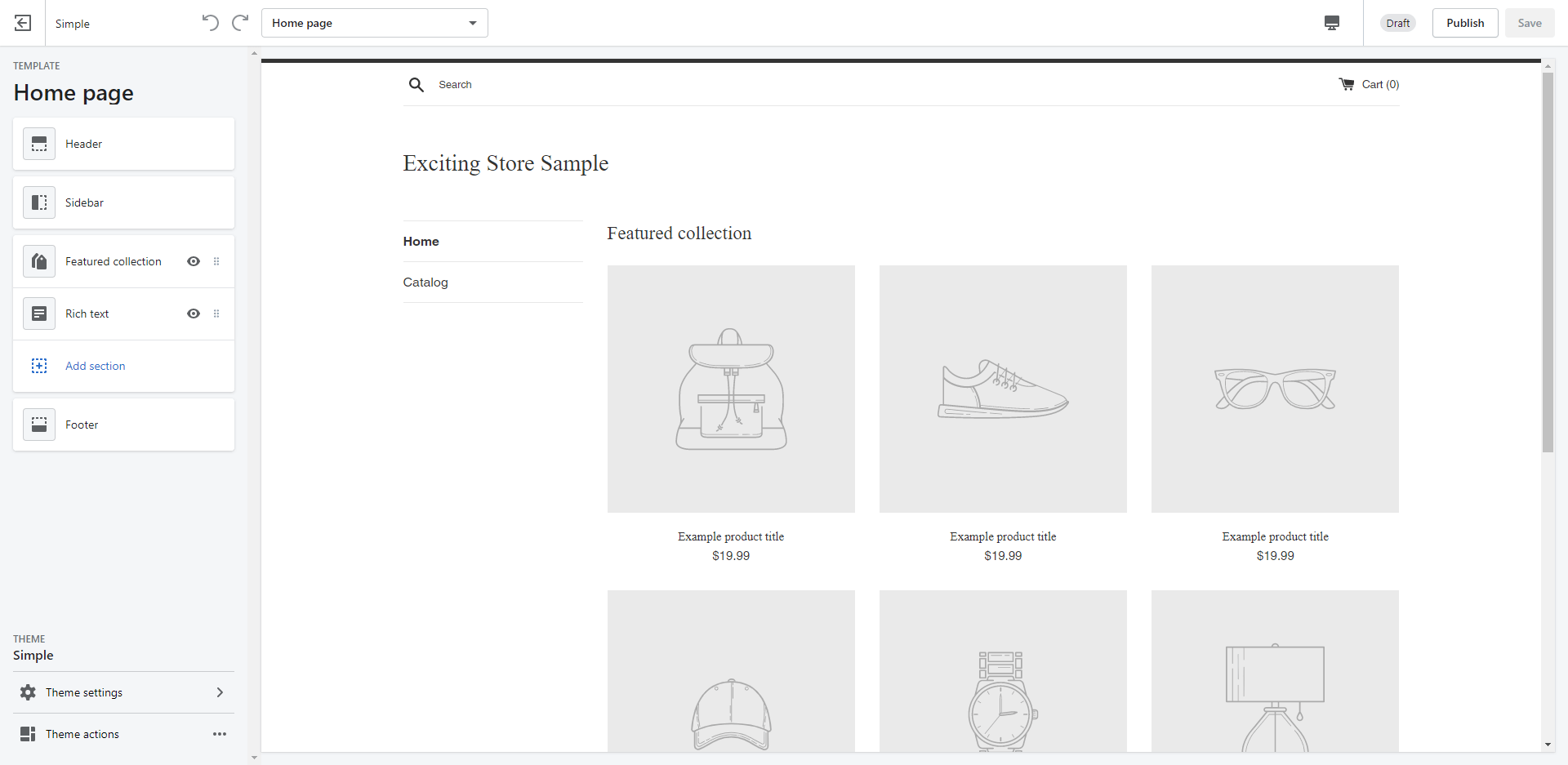 Here, you can add your own branding to individualize your online store. Consider some simple yet prominent modifications, such as adding your company logo to the header, creating your own navigational menu, or adding rich text to the bottom of your site.
The changes don't have to be dramatic to be impactful. For example, let's say you want your home page to feature three of your bestselling items. You could accomplish this by selecting the Featured collection option from the left-hand menu. That will take you to an interface that looks like this: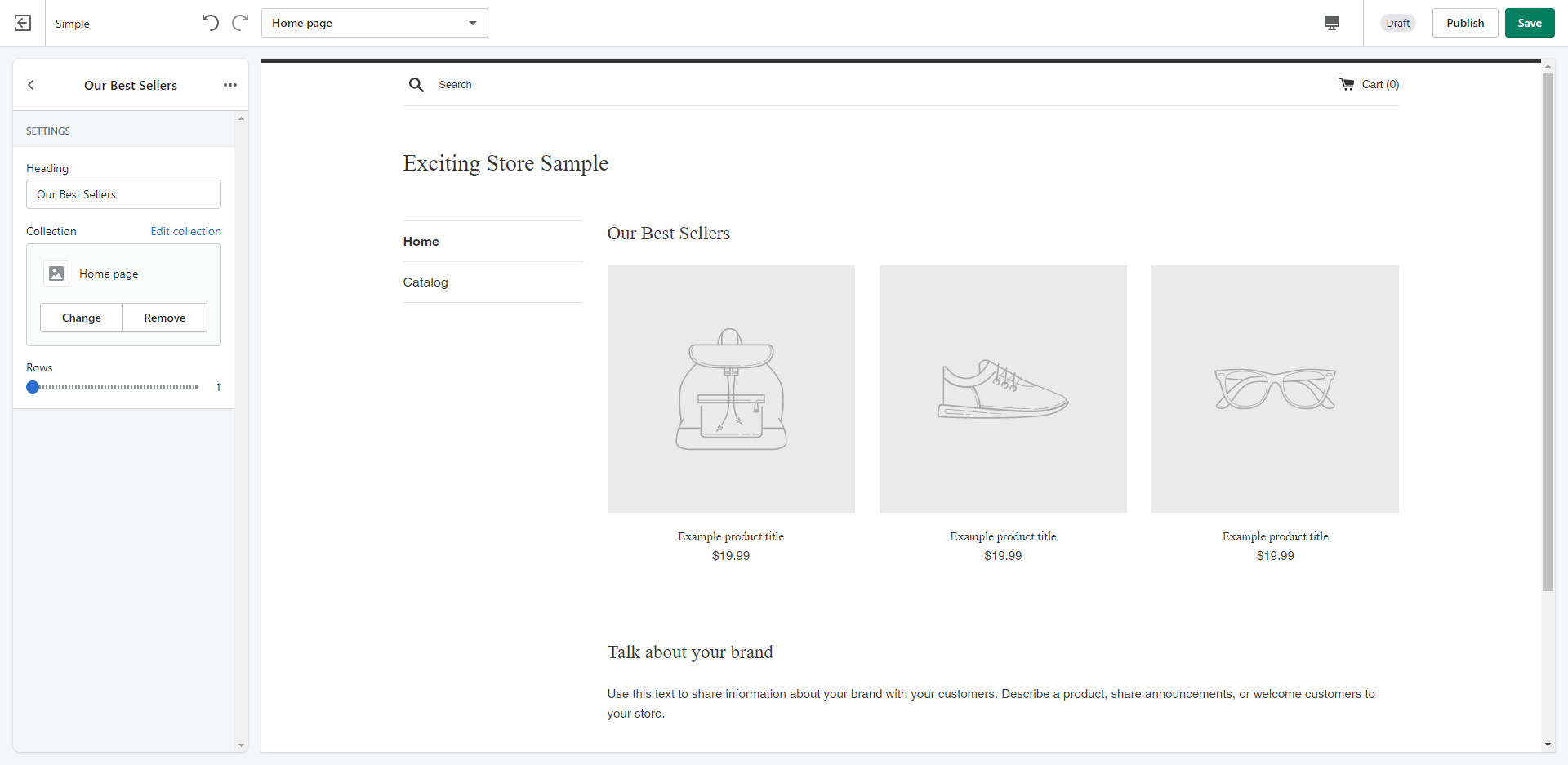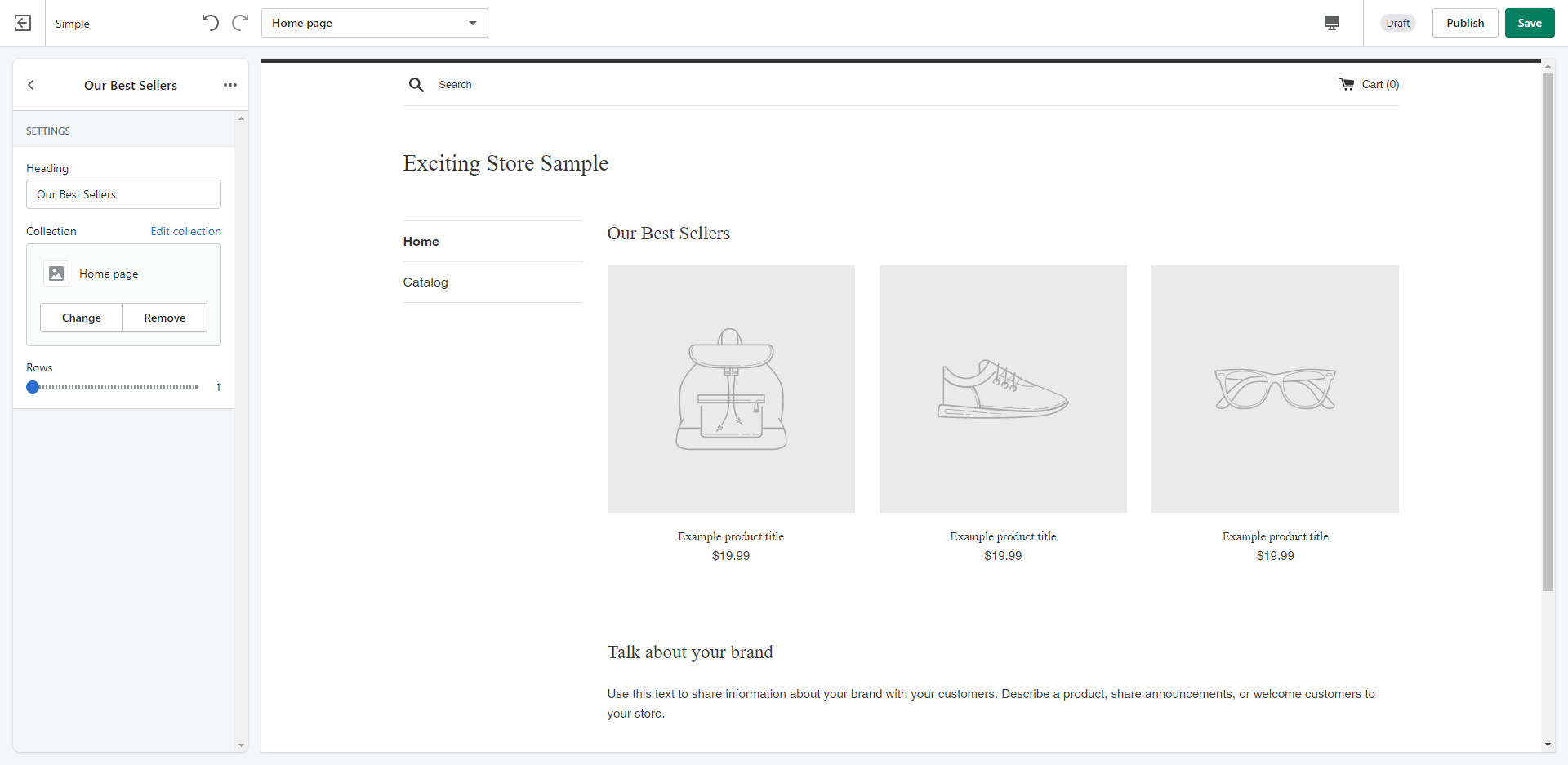 Here, you can set the heading to something like Our Bestsellers, decrease the number of rows, and save your work. Just like that, you now have a home page ready to advertise a curated selection of your top products. Try visiting Theme settings at the bottom of the menu to complete the look.
If you're tech-savvy, you might also want to edit your theme's code. You can do so by returning to your theme library once again. Scroll down to the one you want to modify, but this time, select Actions → Edit code to access this screen: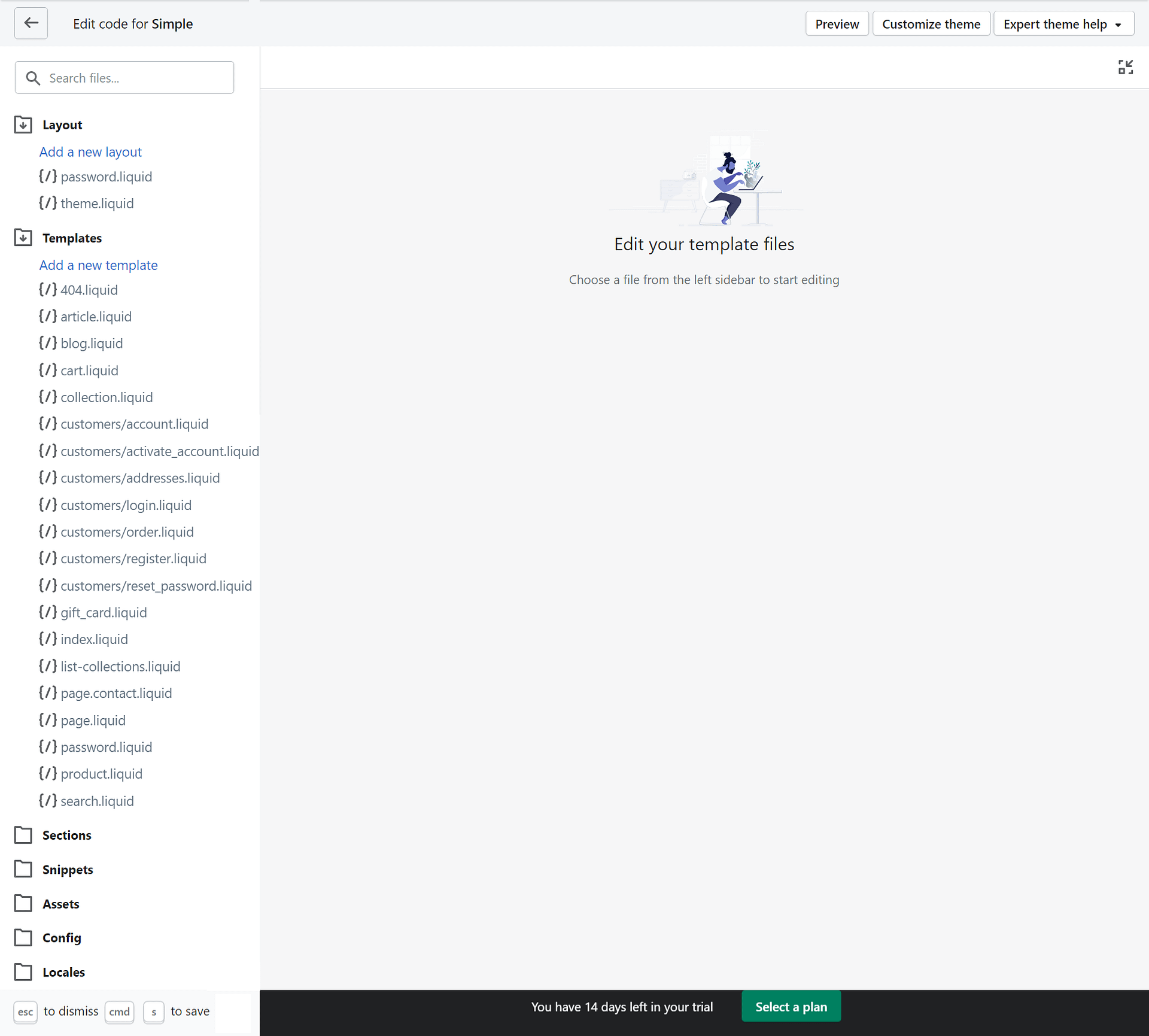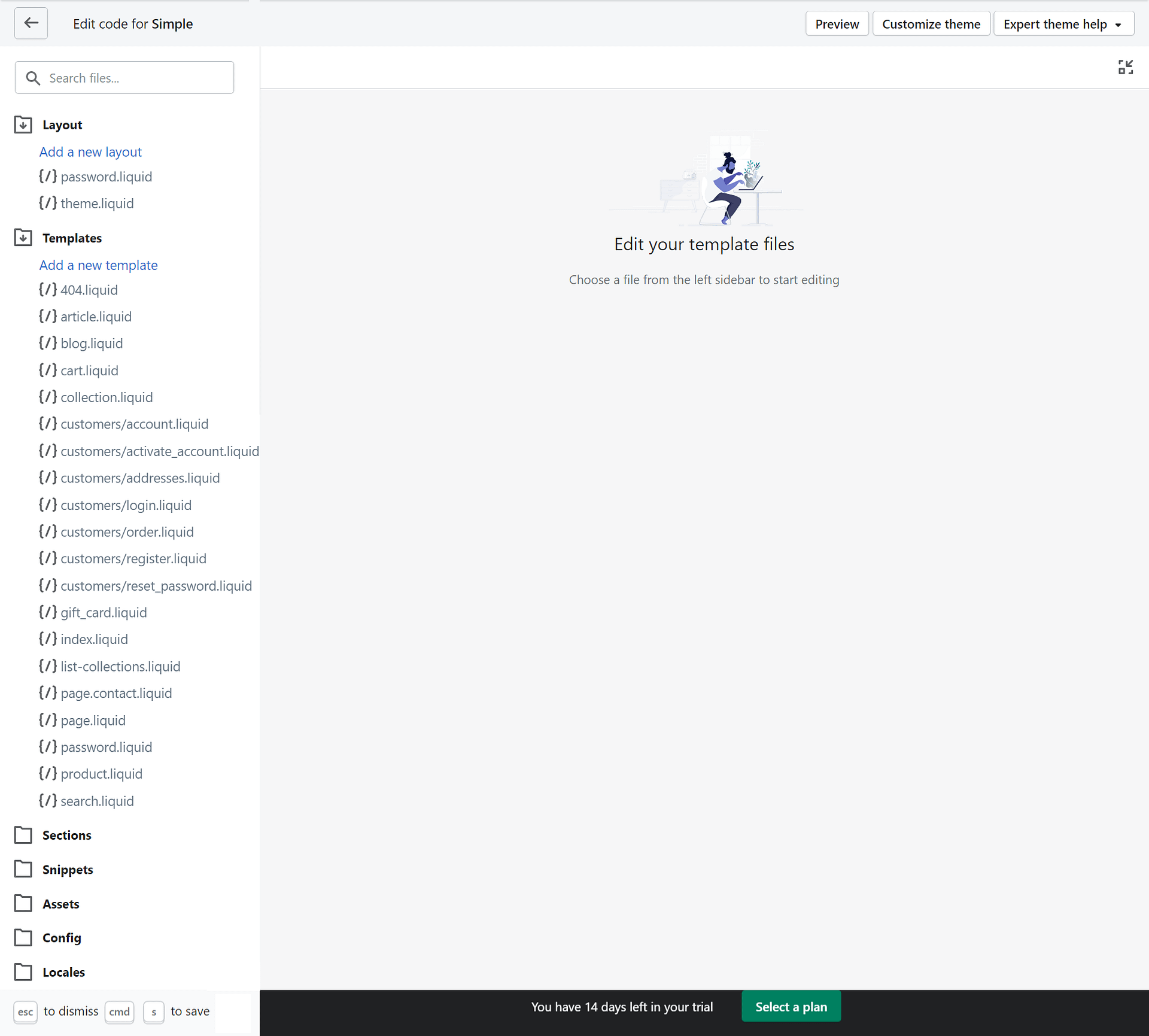 Here, you can make changes using HTML or CSS. We recommend caution when editing any files associated with your store. If you're not confident in your coding abilities, you'll still find that the customization screen we covered earlier offers a lot of design functionality.
Step 4: Add your products
Now that your site looks and feels how you want it to, you can move on to the main focus of most online stores: the products. Setting them up is the next thing we'll cover in this Shopify tutorial.
Select Products → All products from the left-hand menu to begin.
This will take you to a screen where you can select Add product to get started. It should take you directly to a product page editor similar to this: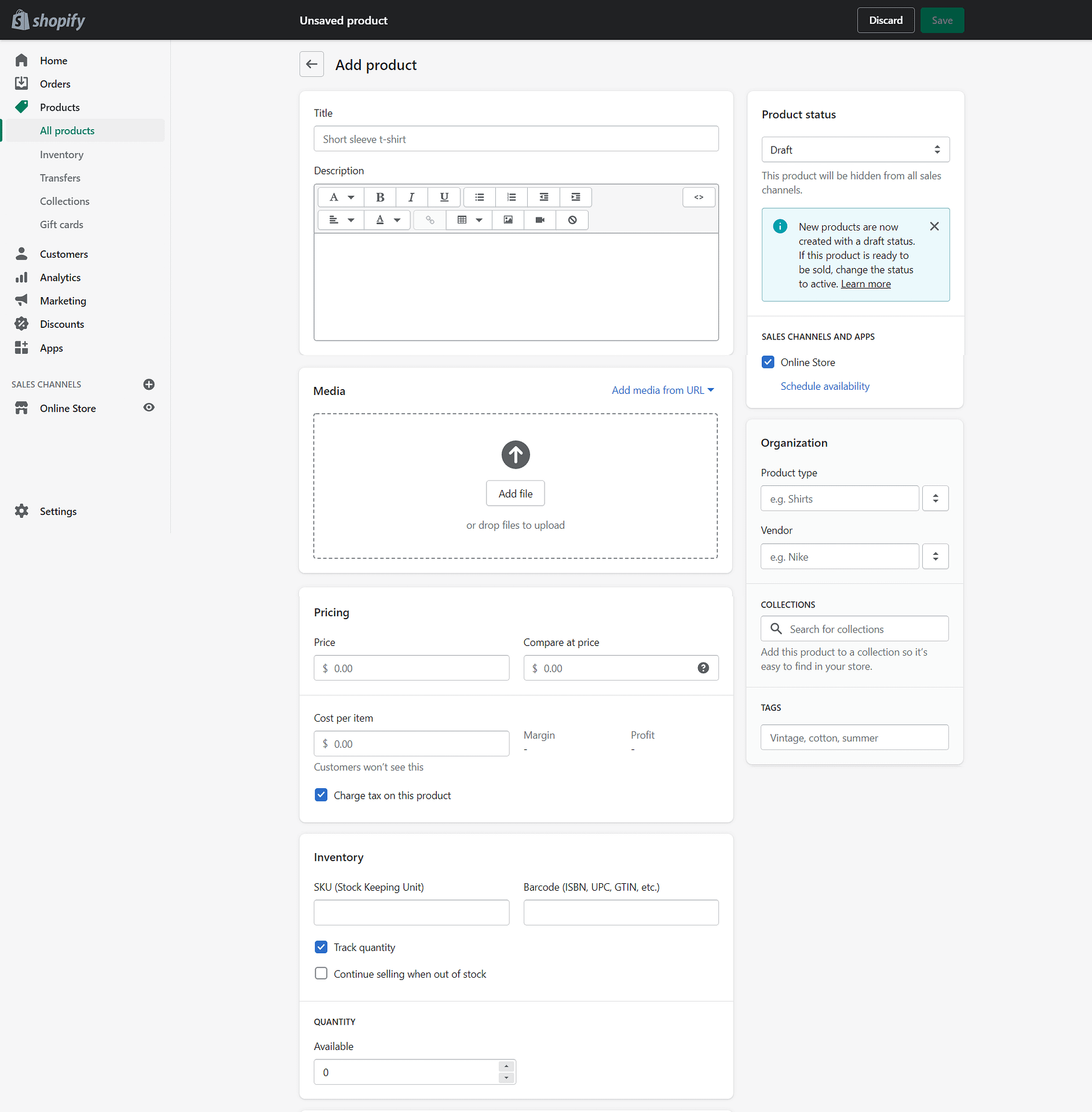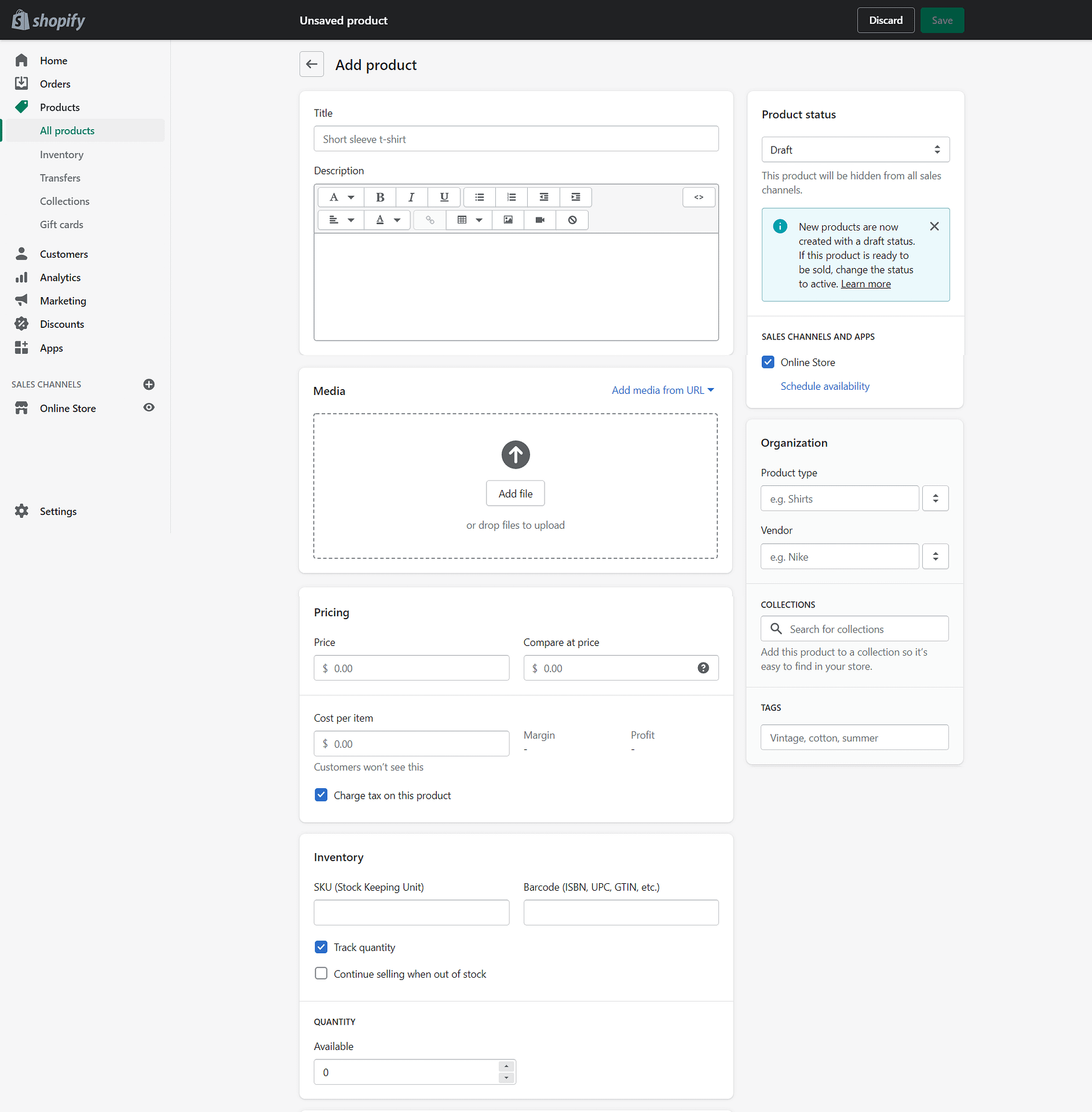 You can start by adding the name of your product in the Title field. Your item's description will go in the box right below it. Writing effective blurbs for all your products can be tough, but it's also an important part of the sales process.
Fortunately, you can use a handful of common marketing skills to create quality descriptions. For example, one effective strategy is to emphasize the uniqueness of what you're offering. If a customer has several options, it's beneficial to make an effort to stand out from the crowd. Incorporating a clear brand personality into your copy can help.
Strive to make your blurbs easily readable with careful formatting. Even short descriptions can benefit from a neat bulleted list or an organized table from time to time. Shopify's description box gives you the tools to achieve all this and more – you could even add media if you think it's justified.
However, you may want to err on the side of simplicity. If you're going minimalist with your descriptions but want to make sure customers don't leave with any questions, consider installing a live chat software. It can be a simple way to provide information without a busy-looking page.
After you add your description, you can go through each subsequent section to set up your product's specifications. Make your way down the page and try to fill out what you can. Once you're finished, you can save your work and repeat the process for your other products.
Step 5: Configure your store's settings
Once you've set up your products, you can move on to the next phase of our Shopify tutorial – adjusting some important settings for your store. All the options you'll need here can be found on the bottom left-hand side of the screen, under Settings: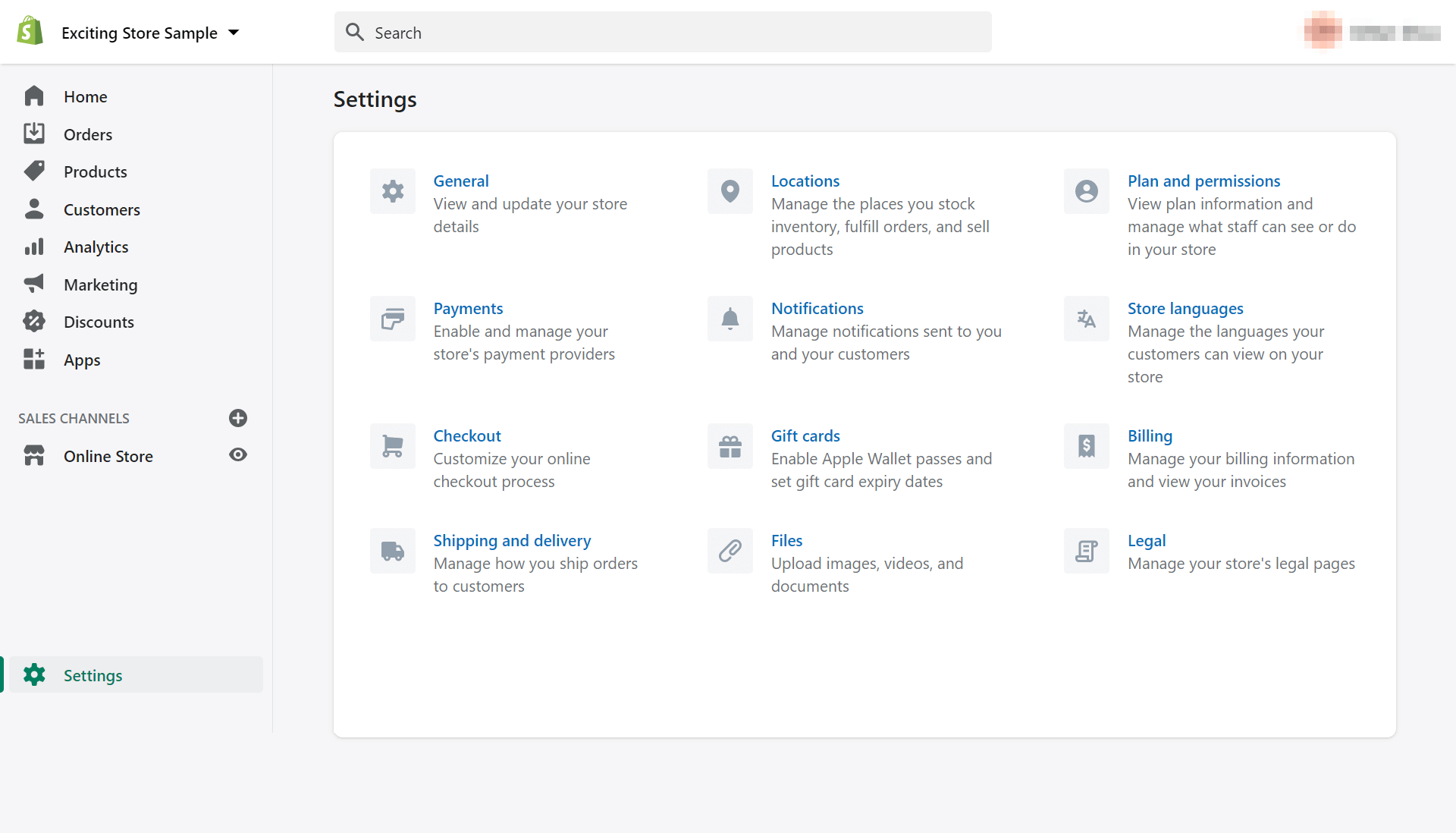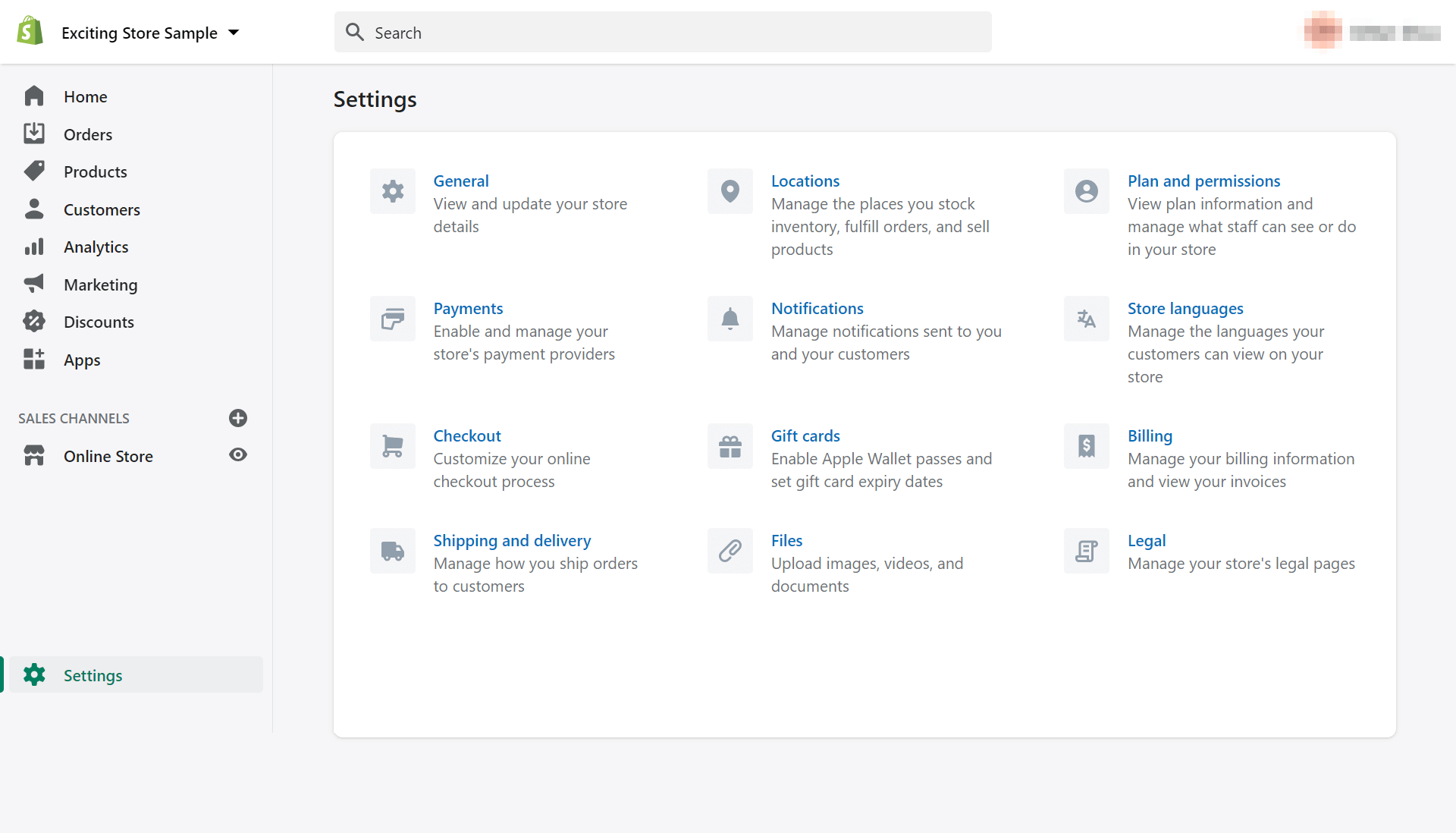 Here, you'll find several options that you can adjust. For the purpose of this walk-through, we'll just go over the essential ones. These include your shipping and payment preferences. Let's start by clicking on Shipping and delivery:
Starting at the top, you can set your shipping fees by selecting Manage rates and clicking on Create a shipping zone or Add rate. When selecting your options here, try to consider what the final cost of each delivery will be once you're fulfilling orders. You don't want to discourage shoppers from completing purchases due to high shipping fees.
You also have an additional opportunity here to set up free shipping options. Simply click on Add rate, set the fee to zero, and add conditions for shoppers to qualify, such as buying a certain number of products.
You might also choose to arrange for local delivery and pickup options and assign default package sizes. Additionally, you can check the Shipping labels section to see Shopify discounts on carrier labels including DHL Express, UPS, and USPS.
Next, you can set up your financials. Under Payments in the main menu, you'll be able to configure these settings. Below Shopify payments, select the notification asking you to Complete Shopify Payments setup to arrive at this screen:


Except for any fields explicitly marked as optional, you'll need to fill this page out in full. That includes your business type, business and personal details, product information, billing appearance, and bank account information. Once they're done, click on Complete account setup to finish this step.
If you want to customize your store further, consider altering the layout of your checkout page under Checkout. You might also want to adjust your store's legal pages or manage notifications.
Step 6: Launch your online store
Finally, you can add some last touches to complete this Shopify tutorial and unveil your store to the internet. You might want to test your site out before it goes live. If that's the case, you can go back to the settings and access a tool for this through Payments → Choose third-party provider → (for testing) Bogus Gateway.
This setting will enable you to place test orders. You'll also be able to view your storefront from a customer's perspective. Shopify offers support documents to help you use the bogus gateway if you get turned around.
You might also want to add a custom domain name. Shopify sets you up with a default site address, in the way of www.anexamplestorename.myshopify.com. This URL will get the job done, but can also be personalized in an affordable way. Shopify has instructions for how to purchase and use yours.
Consider running through your site one more time before launch. You can check for any typos and make sure everything is looking exactly the way you want it to. Then, you can finally choose a plan. When you're ready to launch, navigate to your main dashboard and select Online store → Preferences: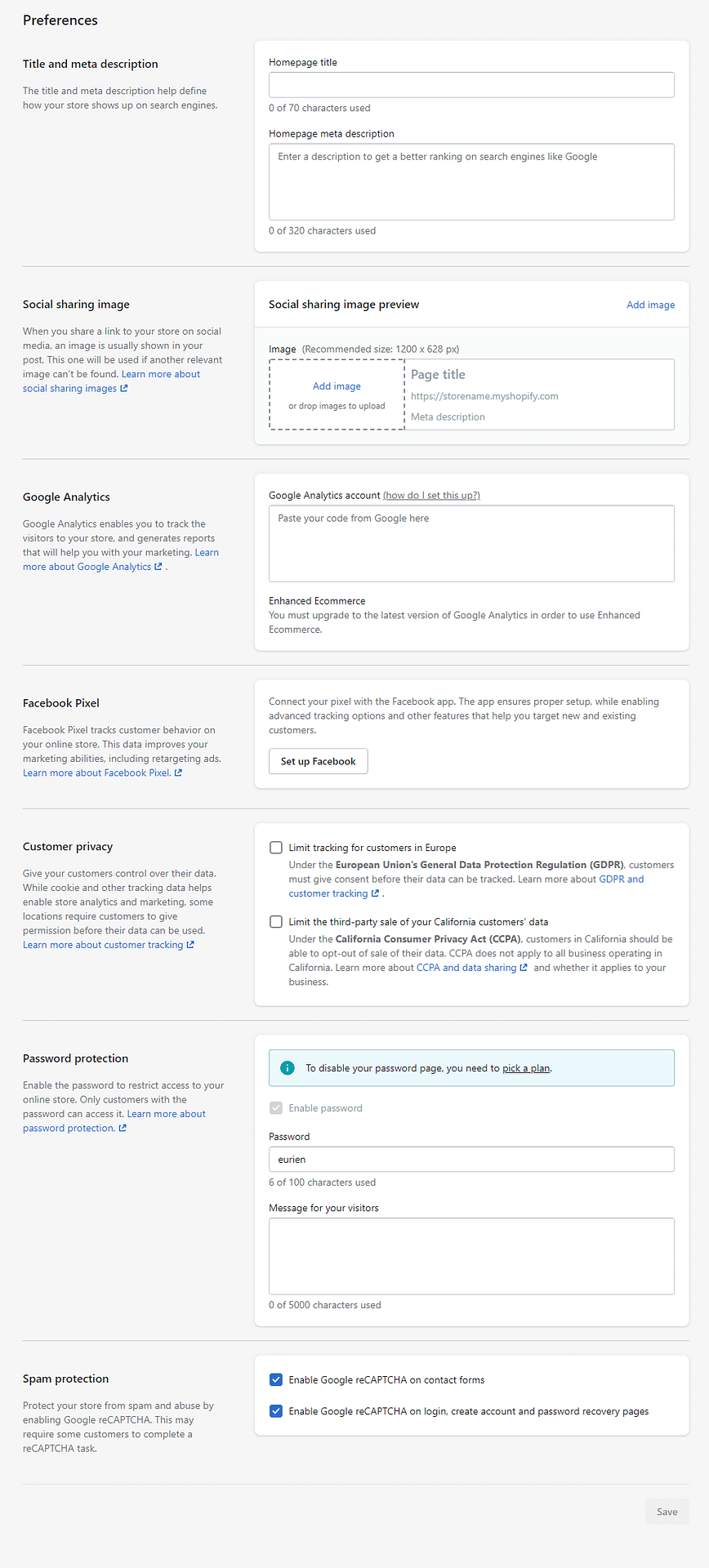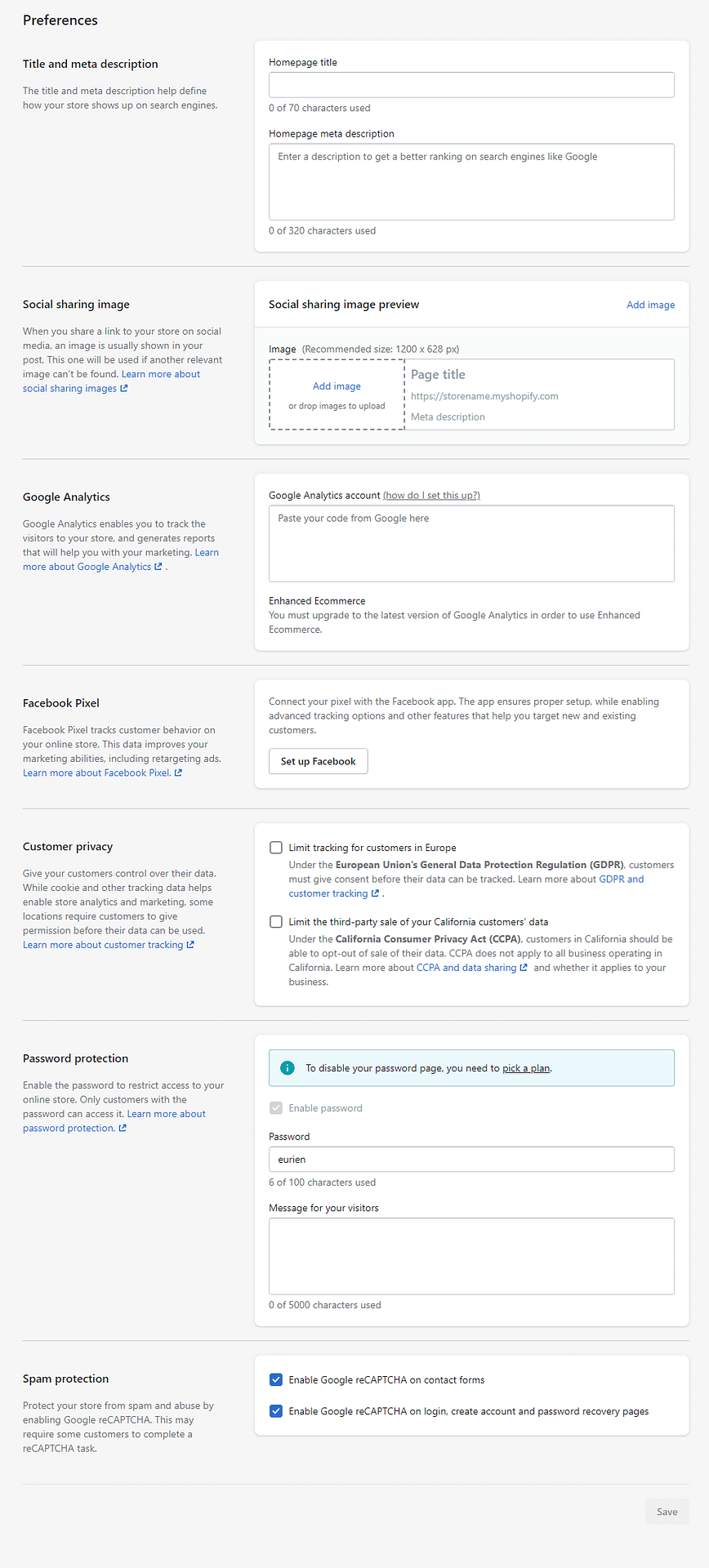 Here, you can add the finishing touches to your site – including meta descriptions, social settings, and Google Analytics. When you're ready, scroll to the very bottom and find the Password protection section. With a plan in place, you can disable your password page and your site will officially be live.
Go to top
Shopify tutorial conclusion
Online stores are a vital part of the online ecosystem. However, the co-founder of Y Combinator, Paul Graham, notes a critical distinction:
Overall the web is pretty sloppy, but an online store can't afford to be.
Using an ecommerce platform, such as Shopify, can help you achieve that essential high level of organization.
In this Shopify tutorial, we took you through six steps to launch your online store:
Sign up for a Shopify account.
Choose a Shopify theme for your store.
Customize your store's design.
Add your products.
Configure your store's settings.
Launch your online store.
Do you have any questions about how to use Shopify? Let us know in the comments section below!
You can set up an #ecommerce store today: step-by-step #Shopify #tutorial 🛍️🛍️🛍️
Click To Tweet
…
Don't forget to join our crash course on speeding up your WordPress site. With some simple fixes, you can reduce your loading time by even 50-80%: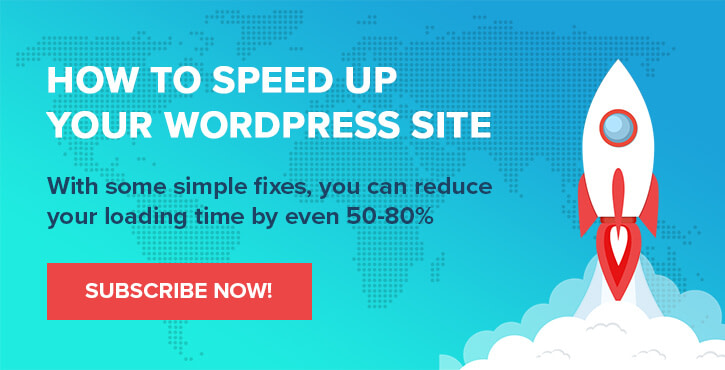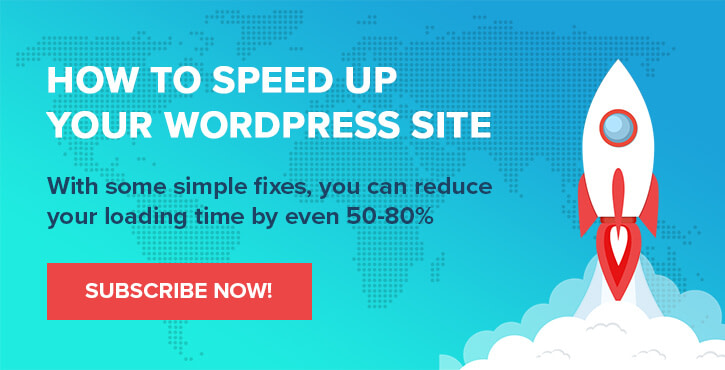 Layout and presentation by Chris Fitzgerald and Karol K.
* This post contains affiliate links, which means that if you click on one of the product links and then purchase the product, we'll receive a commission. No worries though, you'll still pay the standard amount so there's no cost on your part.
Was this topic
helpful?
0% of users found this helpful