If you're one of those people who often share their computer screen with others – be it for work, school or hobby projects – you should use a tool that helps you with the logistics. Setting up a screen recording software will simplify your work a great deal so that you can focus solely on what matters to you and start creating the content you love.
We tested several screen recording tools for you and put together this list of the top ten that we liked the most in terms of features, interface, and user-friendliness.
Most of them come with free versions, so you can test them out too. Let's dive in!
🤔 What to look for in your screen recording software
Before moving forward with a screen recording tool, you should look into a few aspects first:
⏱️ Time limits Be careful when choosing the free version of the software because you might learn later that you can't record as much video as you want. Most of these tools impose a length limit, which is very important to check beforehand. ✂️ (Real-time) video editing Almost all the best screen recording tools will let you engage the audience during a recording session by offering various options such as drawing, annotations, captions, and other elements whose role is to highlight essential things during your presentation. You should also pay attention to whether your screen recording software comes with a built-in editor for recorded videos, so you can improve your multimedia files before sharing them. 🖥️ Compatibility with your system Every screen recording software is compatible with only a few operating systems, the most common being Windows and Mac. If you want to use it on different devices, make sure to check beforehand to see if it works on your preferred device. 🎧 Webcam and audio recording If you need picture-in-picture videos, take a look at the tool you chose to see if it allows webcam recording. Also, check if you are allowed to record the computer audio. Most of the tools do include these features but you should see for yourself if it's indeed the case.
⏺️ The best screen recording software compared
Here are the screen recording tools that we'll be comparing (in no particular order):
Best screen #recording #software: Top 10 tools compared 📹⏺️
Click To Tweet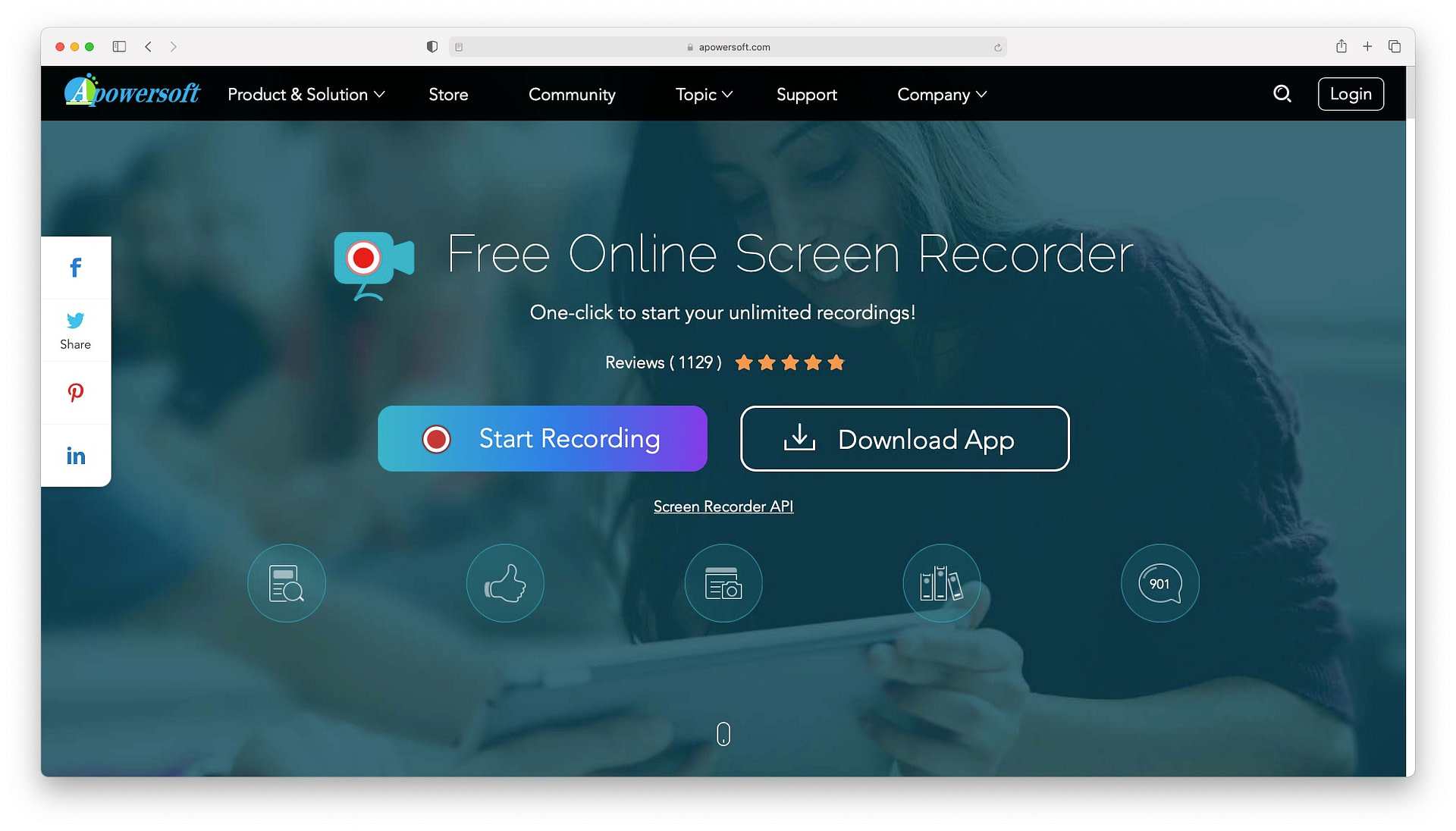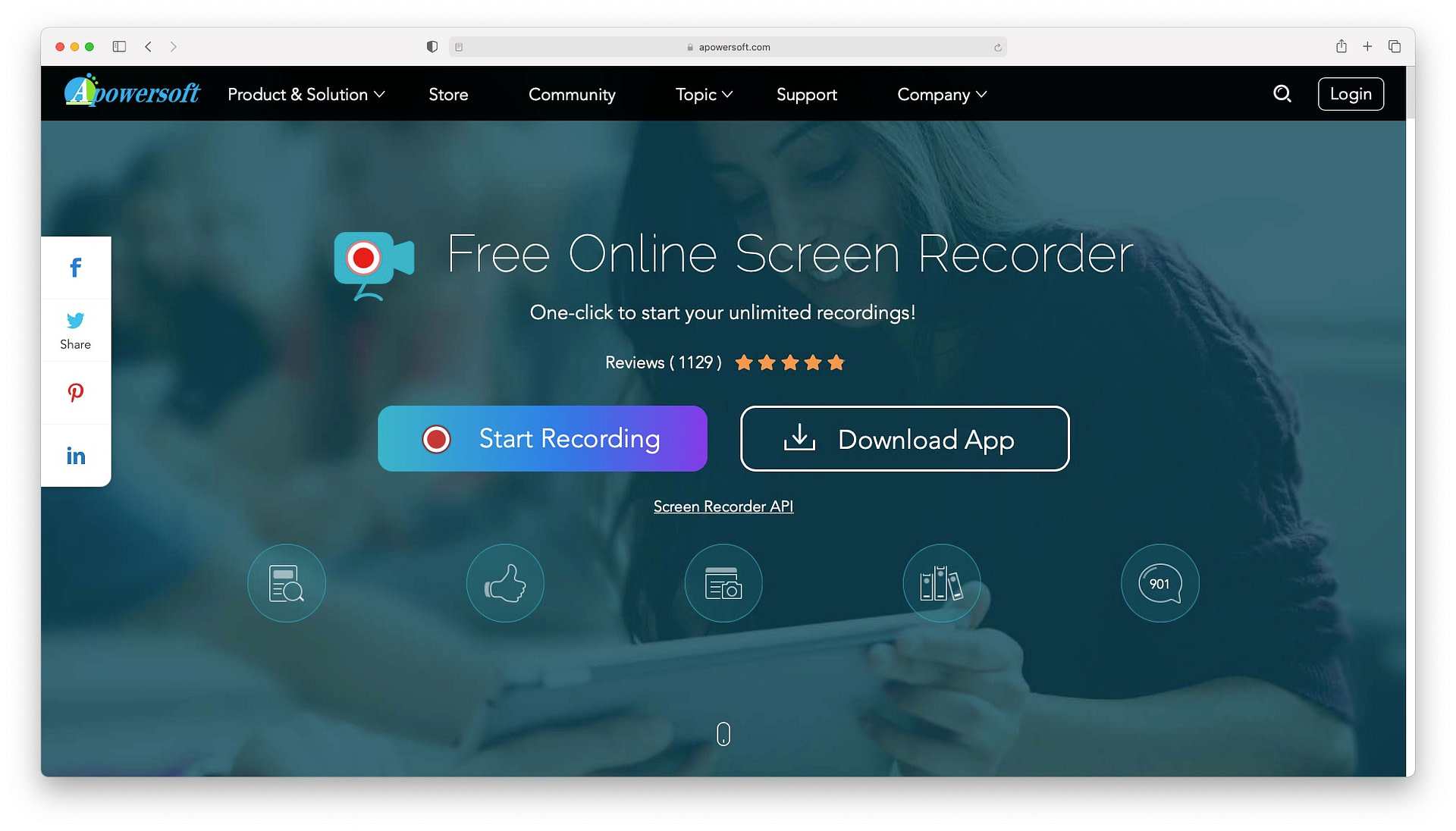 Free plan: ✅
Entry price: $39.95 per year
Platform: Windows, Mac, iOS, Android
Real-time screencast editor: ✅
Video editor: ✅
Best for: self-demonstration, tutorials, live chat, video games, live streaming, webinars
This is one of the best screen recording software you'll find out there. It actually incorporates a suite of tools for audio-video, so if you're working with multimedia on a regular basis and need a complete package, this is a great product to invest in.
The screen recorder has a free version and it's easy to use. You must download the app and start recording. After recording, you can compress the video in-app, edit, and upload it to the cloud.
In the premium version, you can get rid of the watermark, record from iOS, and install extra functionalities.
Try ApowerREC
Go to top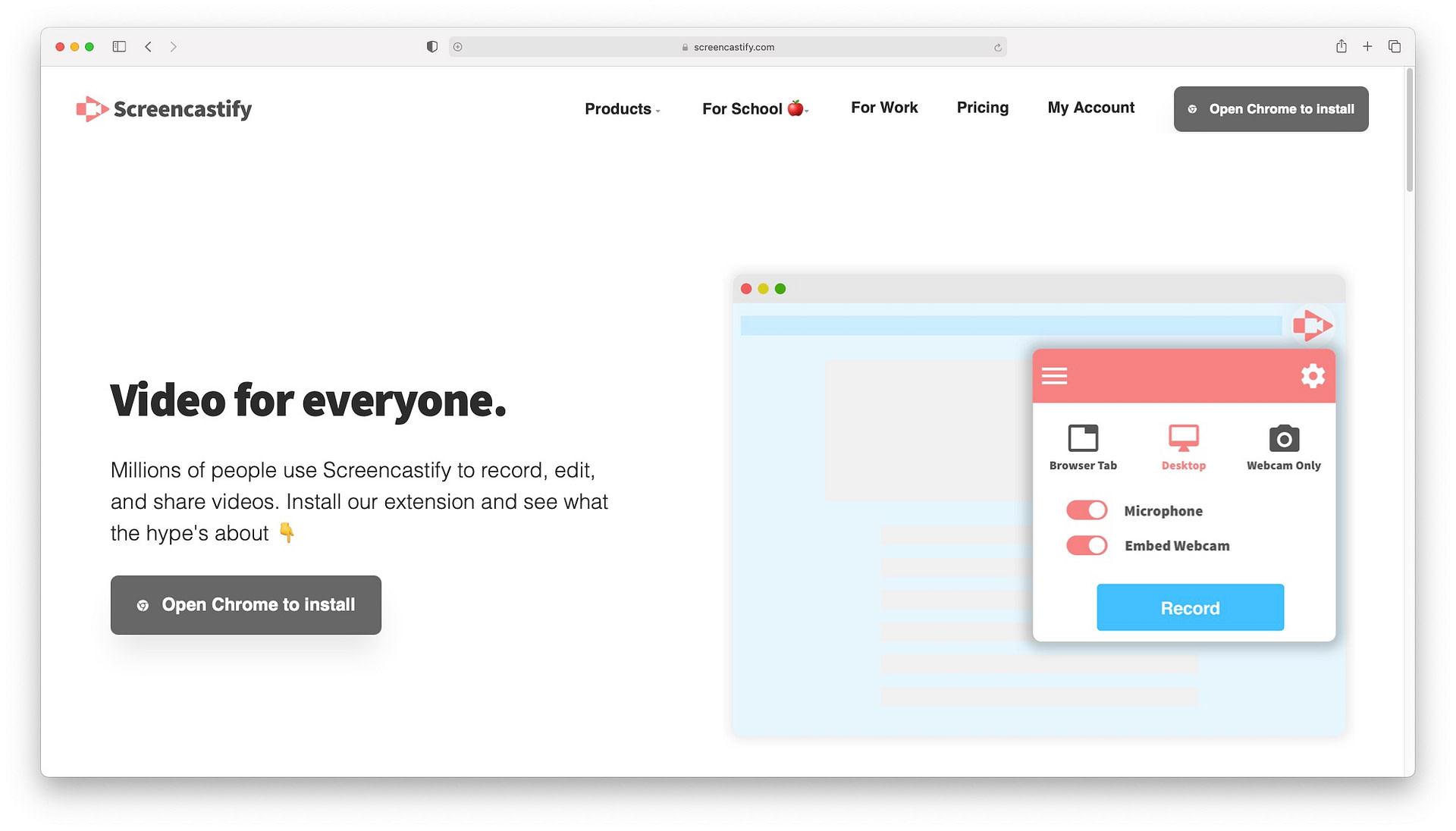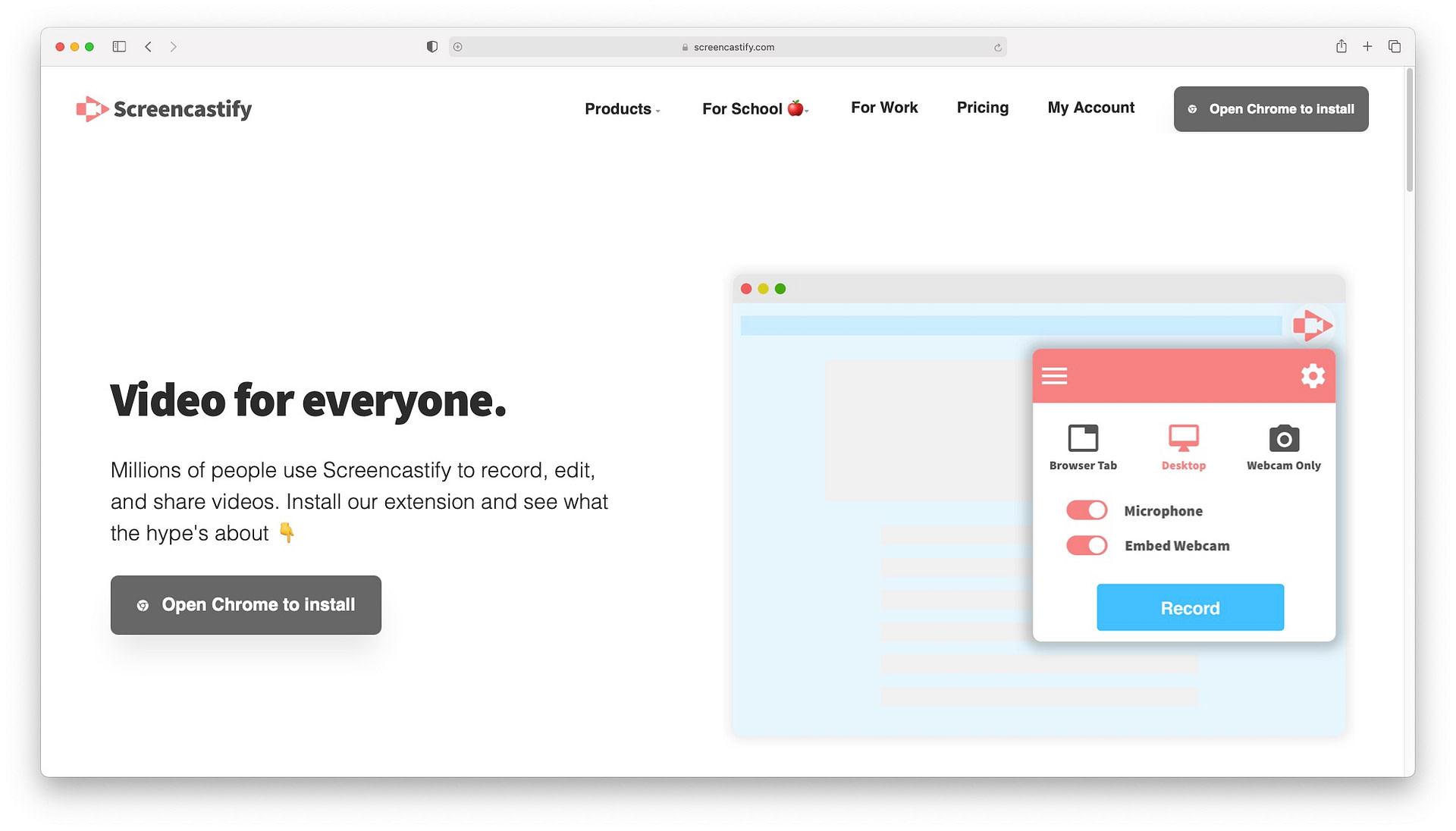 Free plan: ✅
Entry price: $49 per year
Platform: Chrome browser
Real-time screencast editor: ✅
Video editor: ✅
Best for: webinars, courses, school resources, presentations, internal communication for teams
What's nice about this tool is that it's actually a Chrome extension and won't require any downloads to your computer. Even so, it works offline, too.
In the free version, you are limited to five minutes of recording (per each file) and you can't export files longer than 5 minutes after you edit a video. Actually, the free version includes all the premium features of the tool; it's just that some of them are limited.
Try Screencastify
Go to top
Free plan: ✅
Entry price: $39.95 (one-time payment)
Platform: Windows
Real-time screencast editor: ✅
Video editor: ✅
Best for: gaming, internet TV streaming, presentations, streaming video playing programs, work
Bandicam is perfect for any screen recording, including game capturing. It uses a high compression ratio while recording that doesn't affect the video quality.
The team behind this software focuses on performance, which makes Bandicam a great choice if you plan to record external video devices like Xbox, PlayStation, smartphone, or IPTV.
In the free version, it adds its default watermark on your recorded videos and only allows 10 minutes of recording per file.
Try Bandicam
You may also be interested in:
Go to top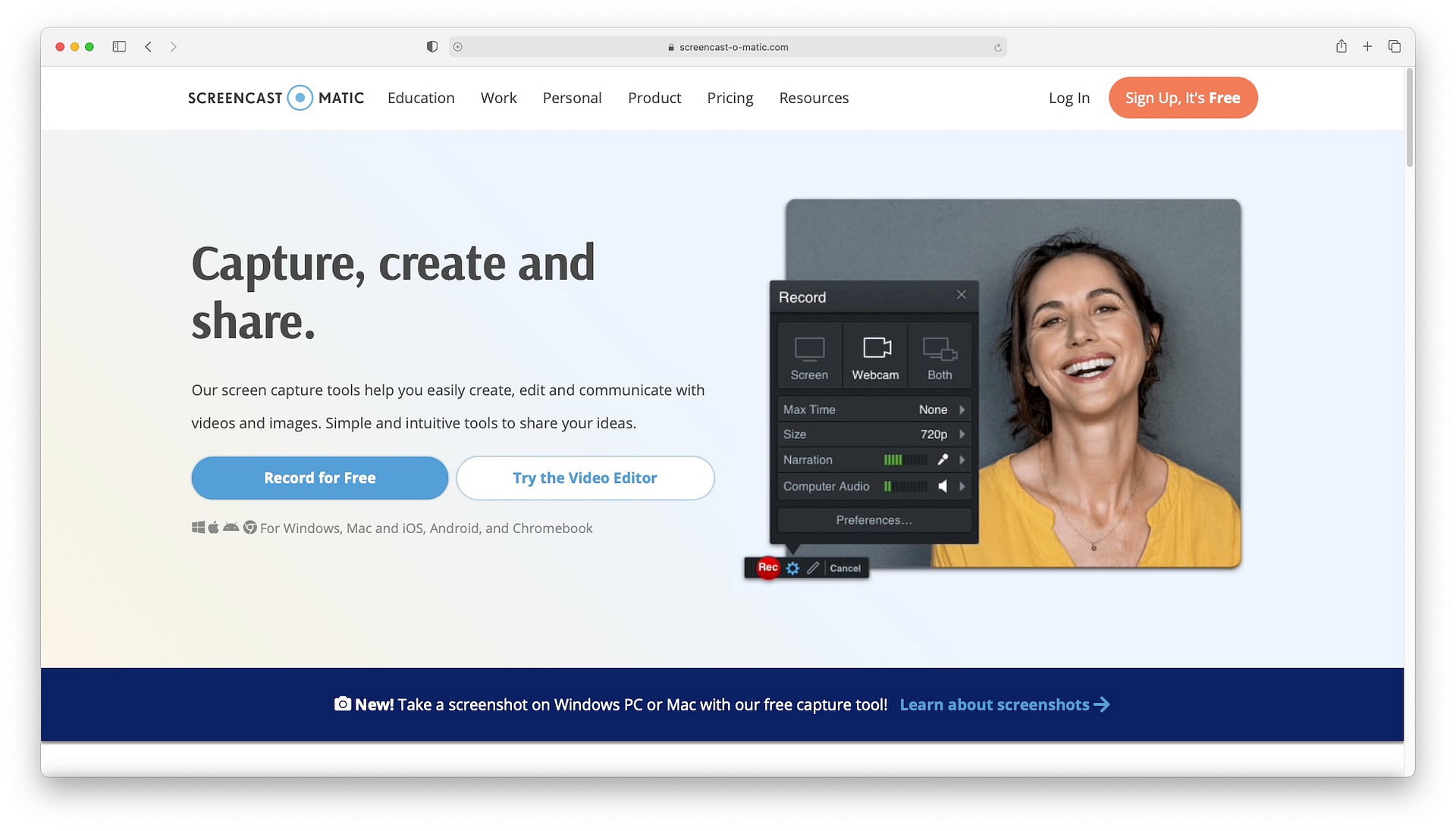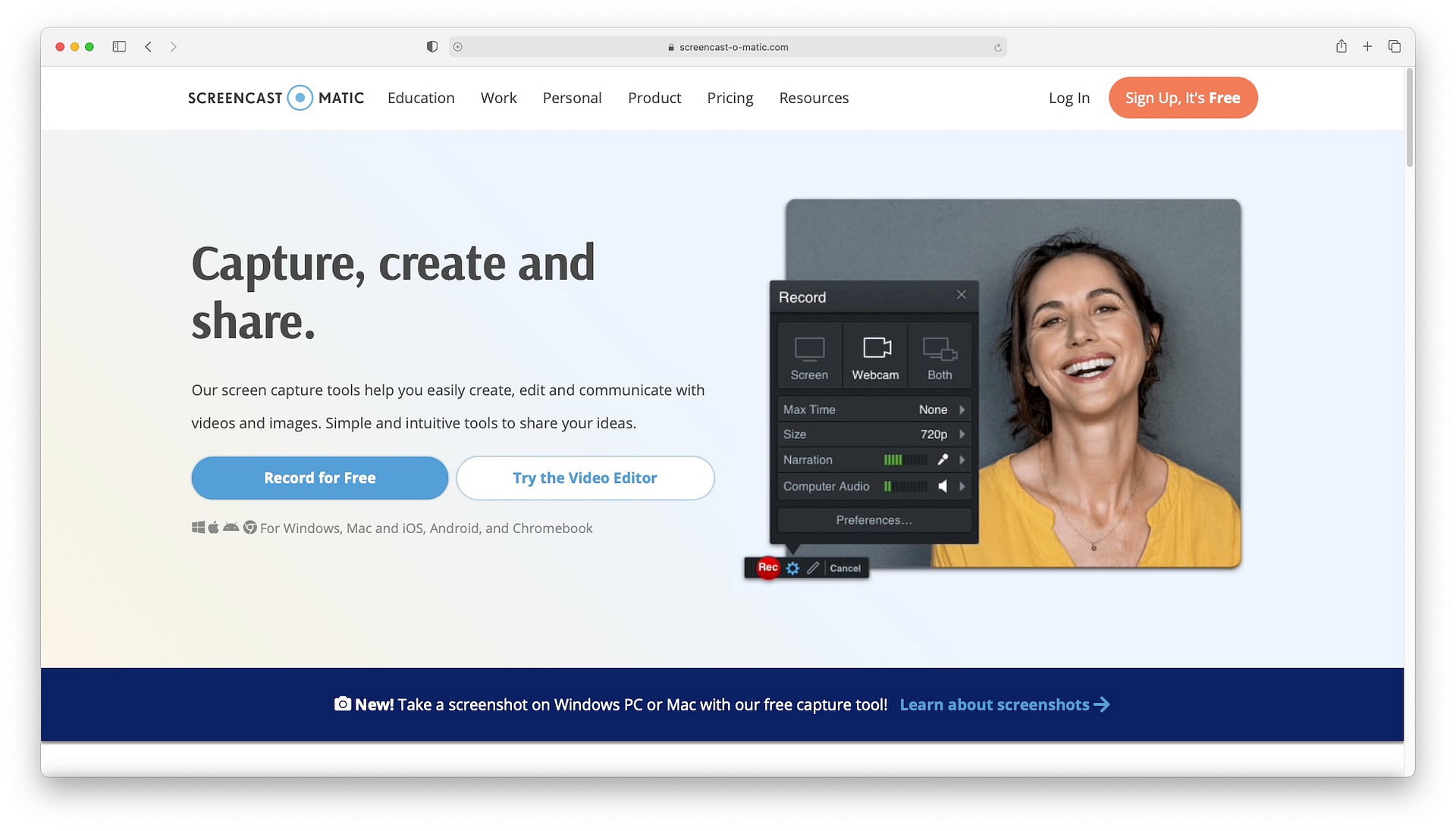 Free plan: ✅
Entry price: $19.8 per year
Platform: Windows, Mac, iPhone, iPad, Android, and Chromebook
Real-time screencast editor: ✅
Video editor: ✅
Best for: online classrooms, courses, webinars, corporate communication, personal movies
This is a screen recorder that will ease your efforts if you want to record screen sessions for work or school. You can directly upload it to YouTube and Google Drive, so you can then share it quickly with your team.
In the free version, you can record as many videos as you want – as long as they don't exceed 15 minutes each and you don't mind the brand watermark. If you want to make your videos more engaging, you can add stock music and captions and trim the start/end of the video.
Try Screencast-O-Matic
Go to top
Free plan: ❌
Entry price: €244.53 (one-time payment)
Platform: Windows, Mac
Real-time screencast editor: ❌
Video editor: ✅
Best for: video tutorials, meeting recordings, webinars, YouTube videos, presentations, training, demo videos
Camtasia is also one of the best screen recording software on the market, that allows you to record your screen in an easy way, add effects, and share with your team or group. It doesn't come with a free version, but it has a free trial for one month.
The tool provides a set of pre-built video templates, but you can create your own as well. You can save your custom configurations, styles, or templates and use them again when needed.
Apart from that, you can also include in your videos a table of contents, themes, stock music, PowerPoint slides, quizzes, engaging forms, transitions, and other effects.
Try Camtasia
Go to top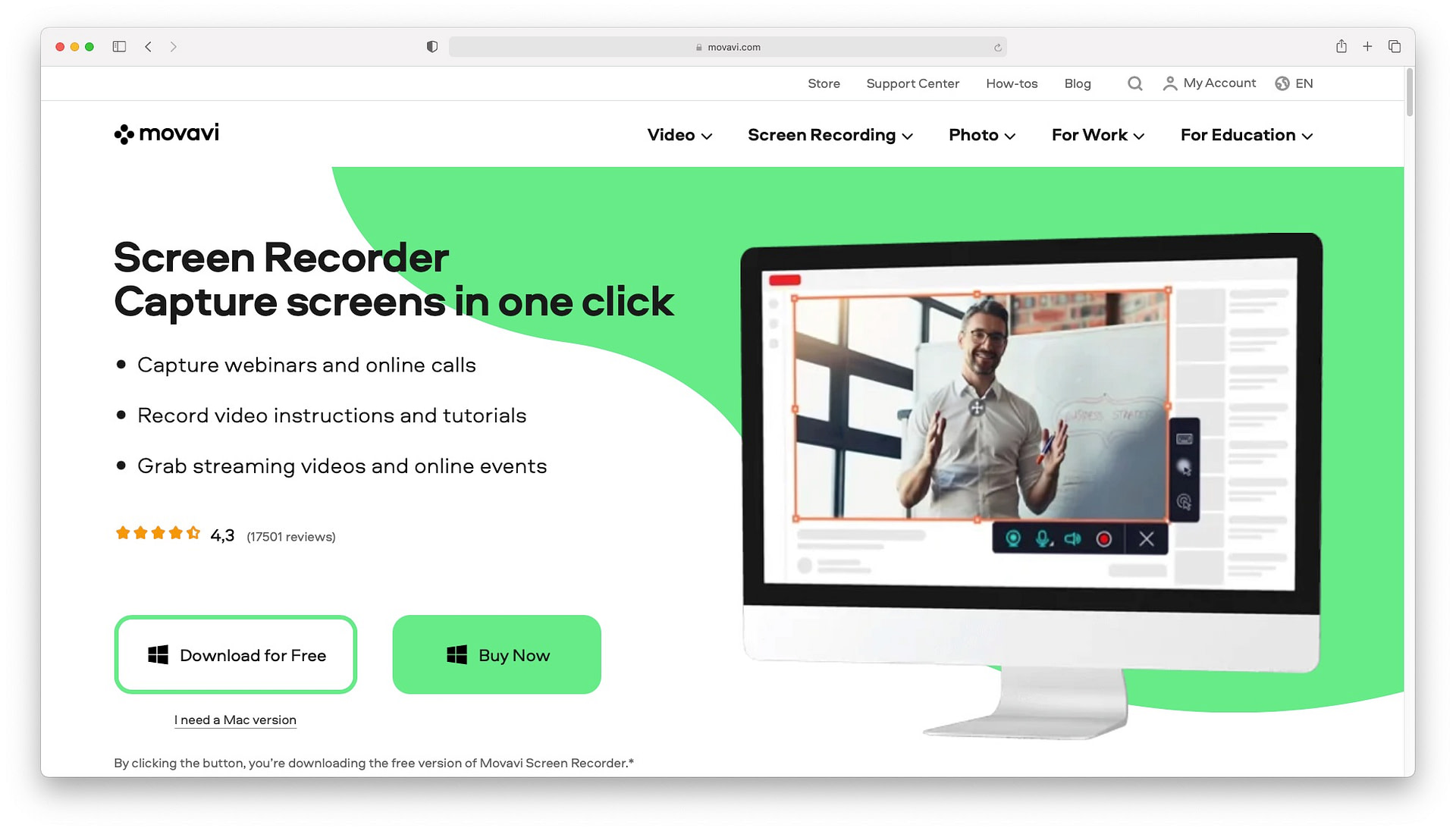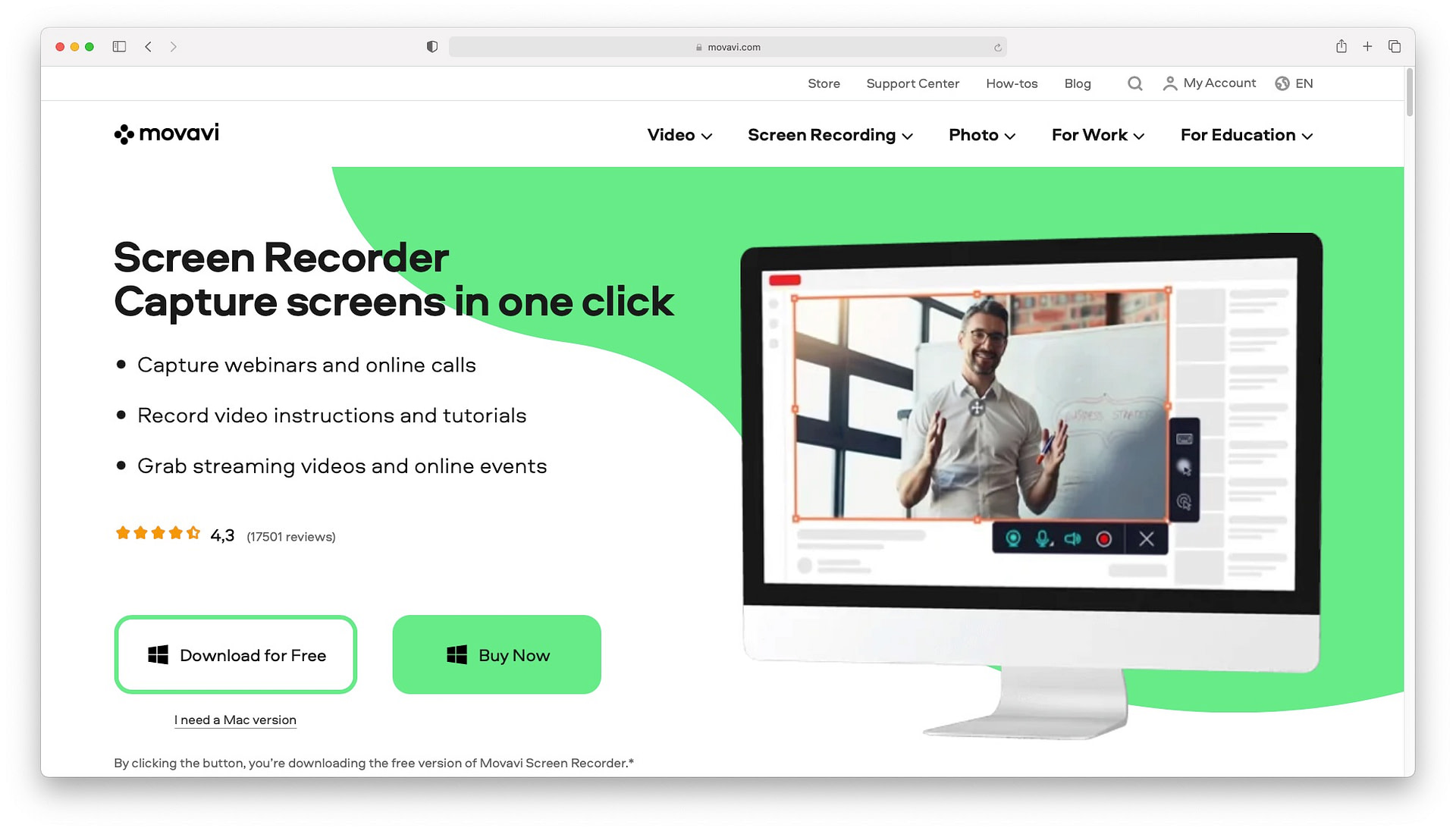 Free plan: ✅
Entry price: $49.95 (one-time payment)
Platform: Windows, Mac
Real-time screencast editor: ✅
Video editor: ✅
Best for: webinars, online calls, tutorials, instructions, live streaming, online events
Movavi Screen Recorder is a great tool that has a minimalist, non-intrusive interface. After you install it on your computer, you'll only notice a small widget on your screen that contains a few tiny buttons from where you can control your recording session.
This way, you can keep it open all the time without being annoyed by it. You even forget it's there. It also works very easily and intuitively, without unnecessary clutter or confusing commands. If you want to share your video to platforms like WhatsApp, Telegram, Google Drive, YouTube, or Movavi cloud server, it can be done right via the tool's interface.
The only downside of the free version is the intrusive watermark, which obstructs you from seeing the contents of the video because it's huge and covers a big part of the screen.
Try Movavi
Go to top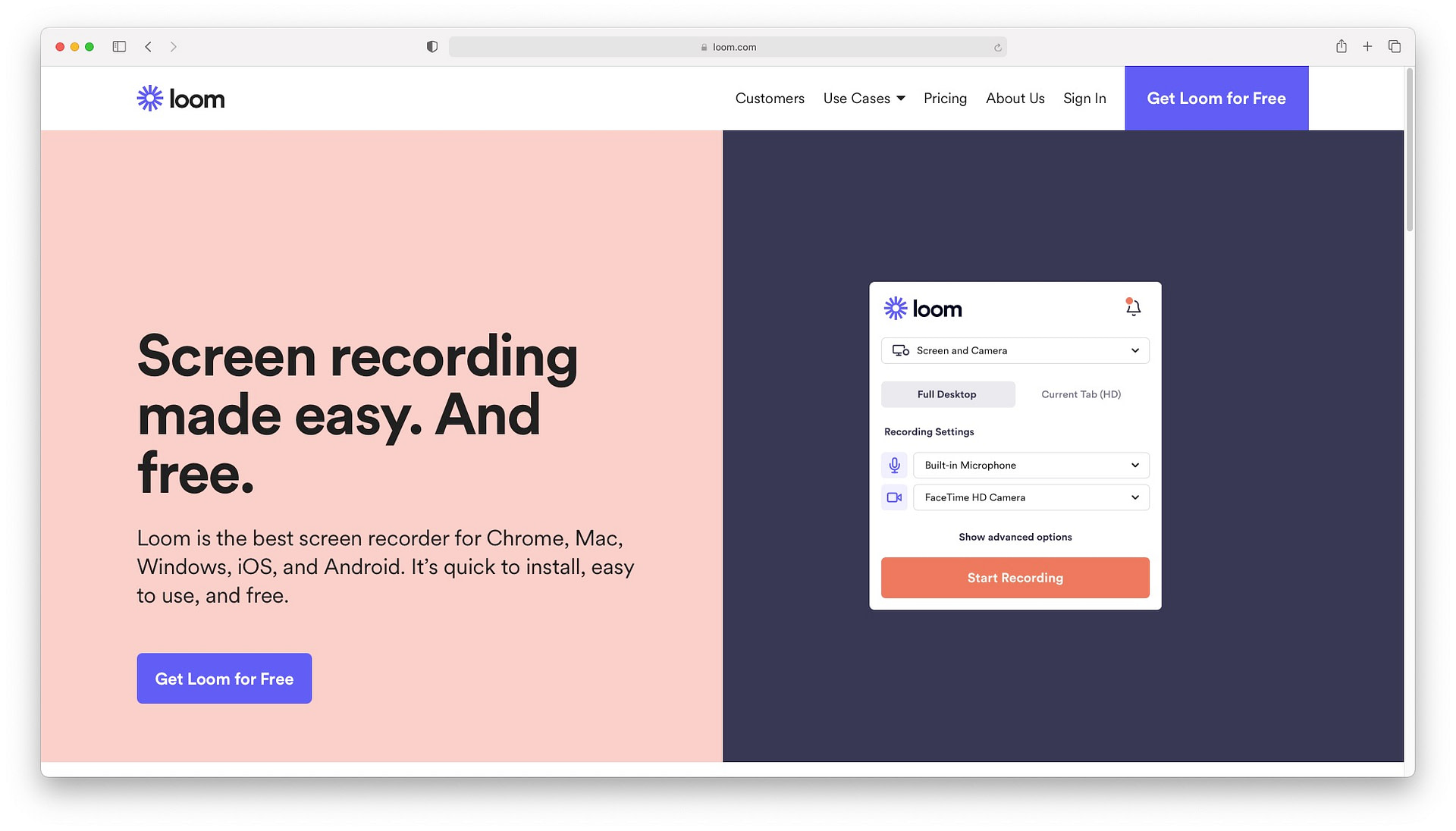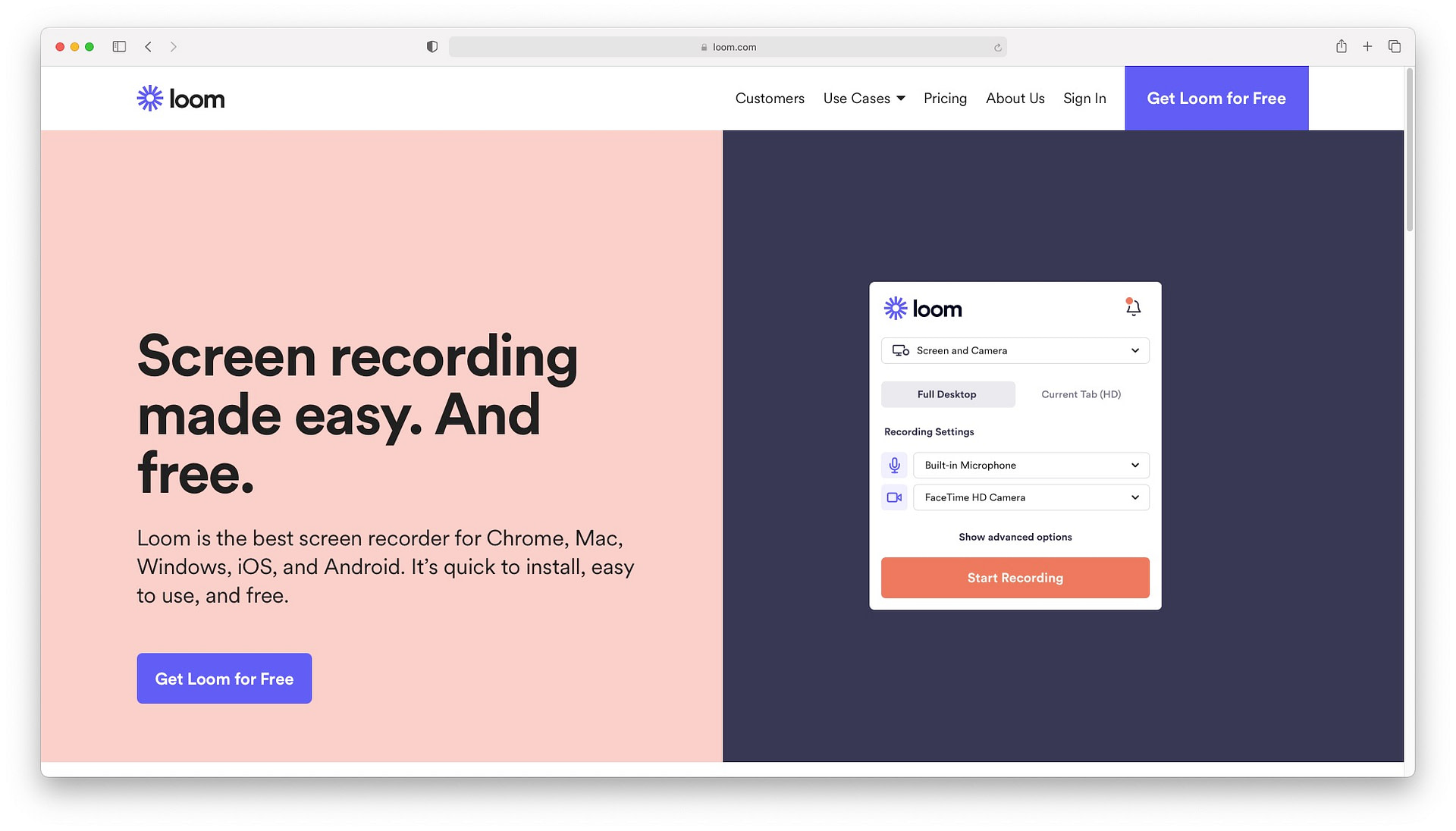 Free plan: ✅
Entry price: $96 per year
Platform: Chrome, Mac, Windows, iOS, Android
Real-time screencast editor: ❌
Video editor: ✅
Best for: team communication, presentations, courses
Loom is a modern screen recorder that helps you record a session in an intuitive way and quickly share it with your team. If you're a Slack user, you can log in to Loom via your account and easily share your recordings with colleagues.
This is another tool that doesn't require local installation, it just works as a Chrome extension. You can get the desktop app, though, if that's what you prefer.
In the free version, you have a limit of 5 minutes per recording and 100 videos per workspace. It's nice that it works like Google Drive; you can upload your videos and give access to your teammates to watch and react (comment and add emojis). If you work on a project with more people, you can invite them to a shared account where everyone can contribute.
Try Loom
Go to top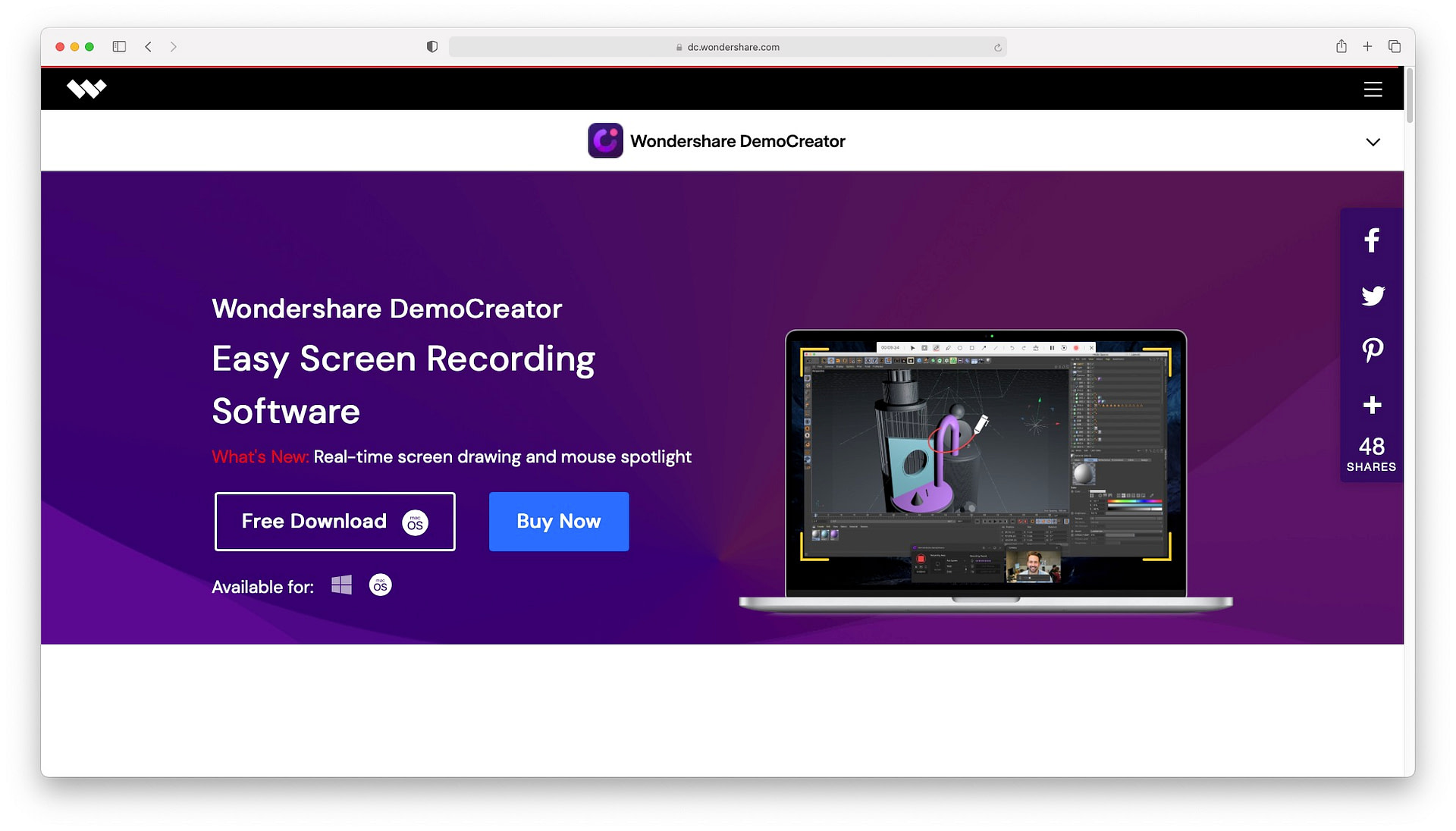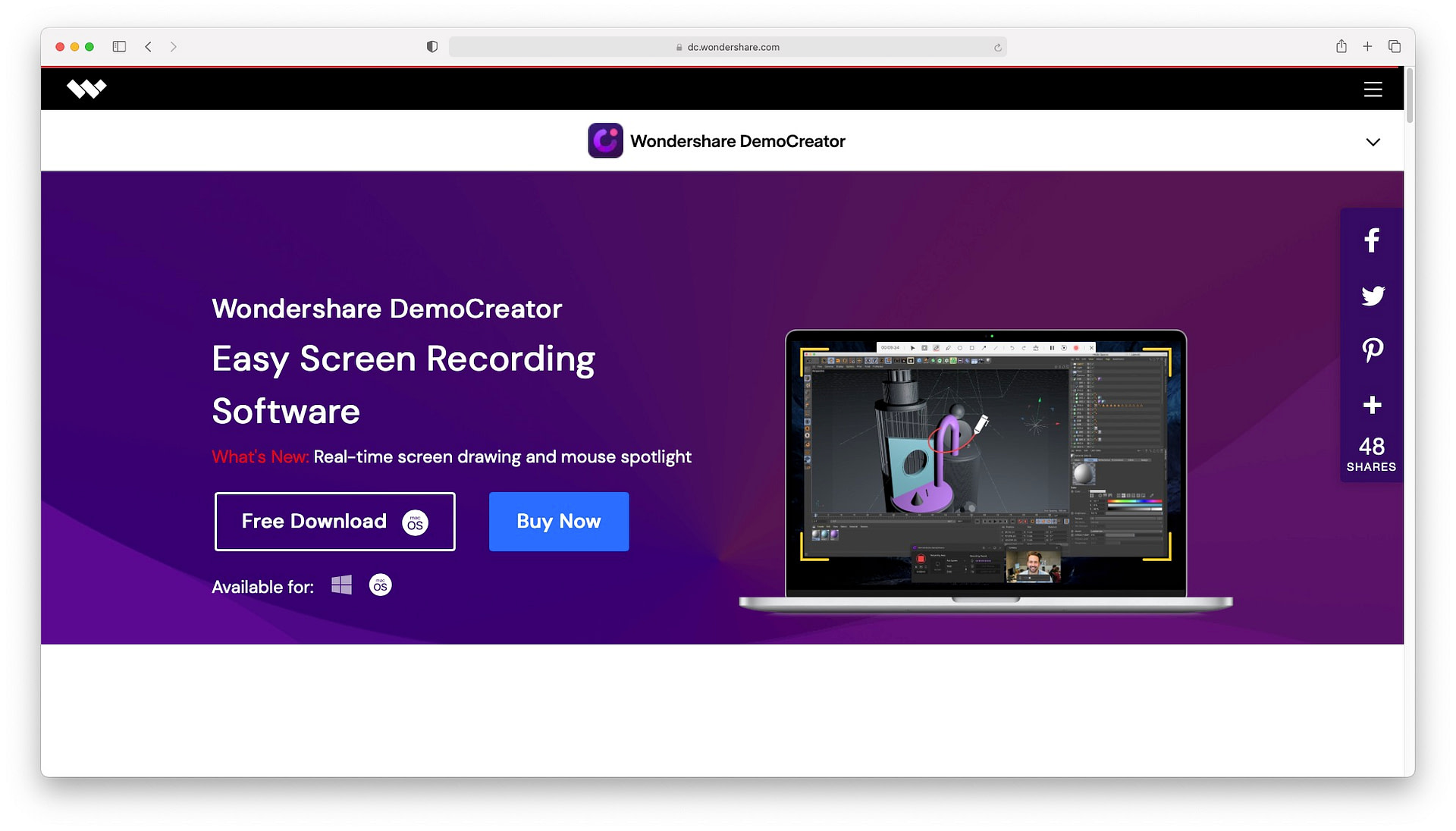 Free plan: ✅
Entry price: $59.99 (one-time payment)
Platform: Windows, Mac
Real-time screencast editor: ✅
Video editor: ✅
Best for: presentations, training courses, video tutorials, game recording
Wondershare is another screen recording software with a modern, easy-to-use interface that allows you to hold a presentation or teach online classes. It has intuitive features and provides cool templates and elements that you can integrate into your recorded videos.
You can also edit the video with various customization options and effects to make it more engaging and fun for your audience. The editing works nicely with drag-and-drop elements, at the end of which you can export your final file either to your computer or YouTube.
It doesn't have watermarks or length limitations in the free plan.
Try WonderShare DemoCreator
Go to top
Free plan: ✅
Entry price: $29.99 (one-time payment, support not included)
Platform: Windows, Mac
Real-time screencast editor: ❌
Video editor: ✅
Best for: business projects like presentations, webinars, meeting recording, tutorials
Debut Video Capture is yet another great screen recording software that comes with a classic Windows-like interface. Once you open the tool, you have a straightforward menu with everything you must do to start a recording session. Apart from recording your screen, the tool lets you record from external devices as well.
After you stop the recording, you can adjust various aspects of the video with basic editing settings right via the software interface. The free version doesn't add a watermark; moreover, you can even add your own watermark if you want to.
Debut Video Capture is a bit demanding for your operating system (tested with Windows 10), though, which makes it respond slower when the software is running.
Try Debut Video Capture
Go to top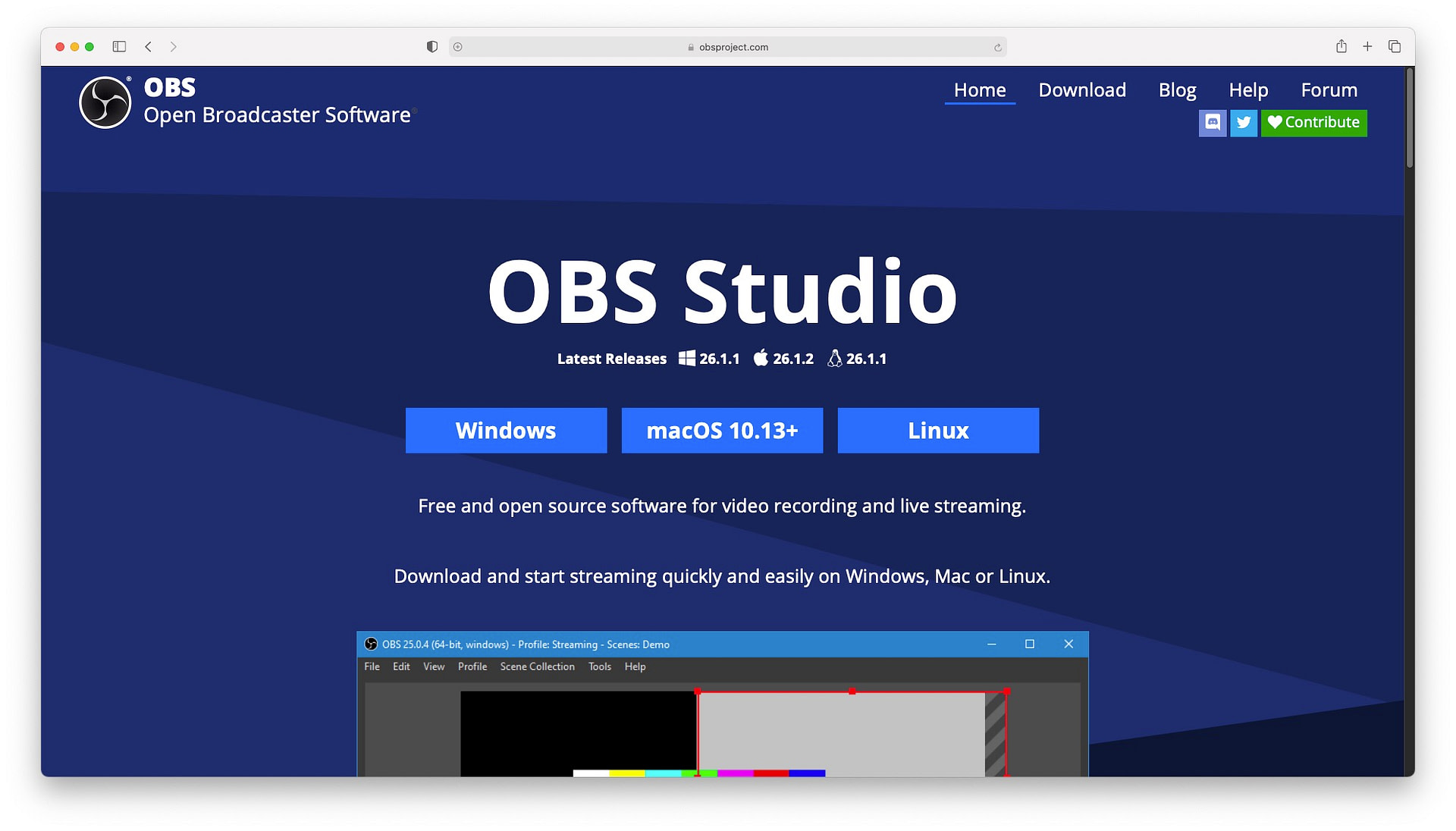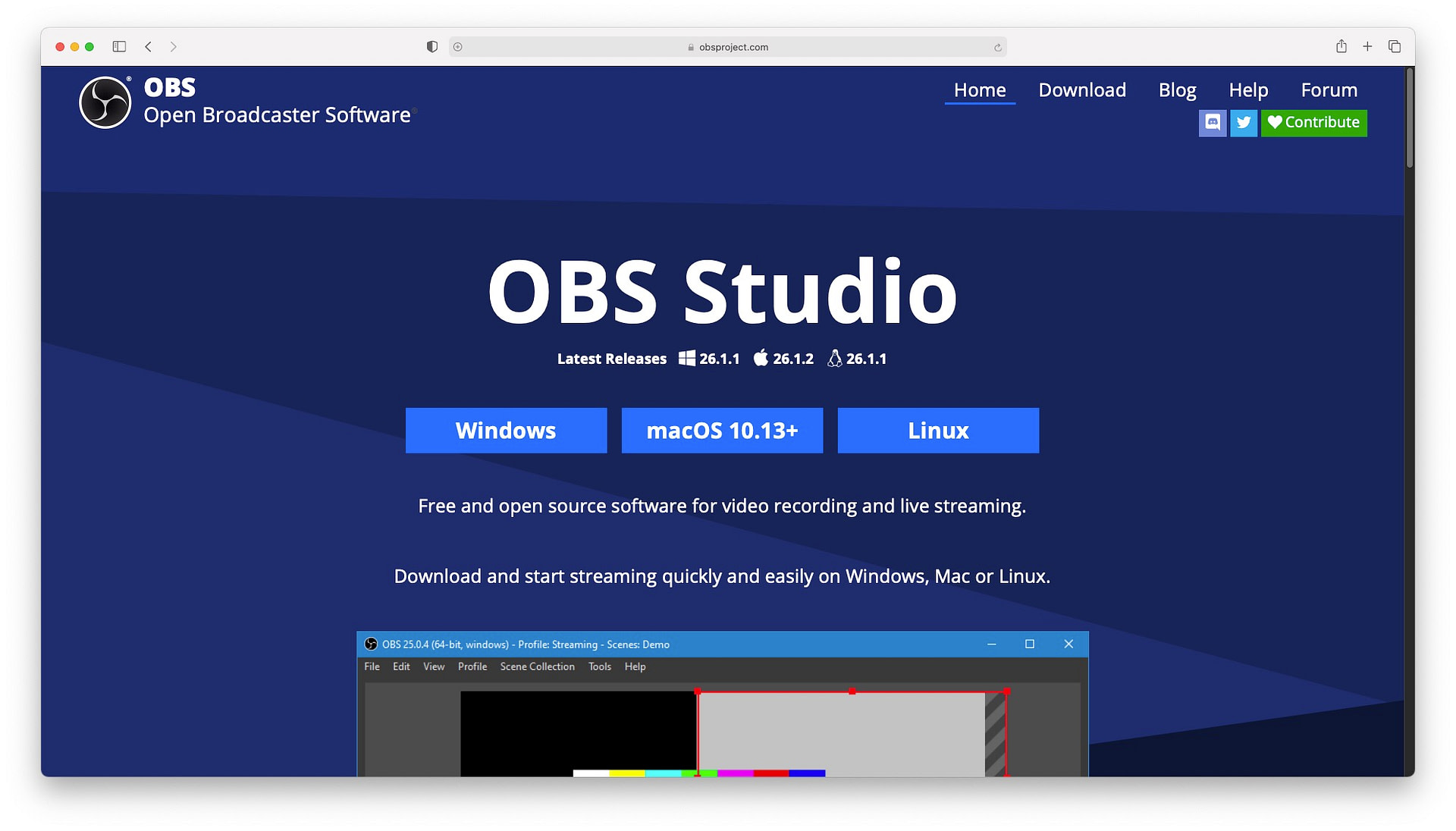 Free plan: ✅
Entry price: entirely free
Platform: Windows, Mac, Linux
Real-time screencast editor: ❌
Video editor: ✅
Best for: live streaming, complex video projects like montages or movies
OBS Studio is an open-source screen recording software for professionals, harder to grasp for someone who just needs something quick and simple. This tool requires a bit of video knowledge and it's good for screen recording and live streaming. If you are willing to spend more time understanding its advanced features, you will love it.
The tool has many sources from which you can record videos. You need to add every source before starting recording and cut your videos into scenes (like a movie). It's an advanced video editor that has an audio mixer as well, where you can control the layers of the sound and the level of noise.
Even though you might just be looking for a simple screen recording tool now, remember OBS Studio if you ever have to go next level with editing and streaming.
Try OBS Studio
🏁 Final thoughts on the best screen recording software
We presented to you these ten screen recording tools because we think they are all reliable and high-quality. So, no matter which one you will choose, you will be safe. The differences between them probably stay in the nuances set by your priorities and needs:
If you want a simple screen recording software that's easiest to use and set up, install a Chrome extension like Screencastify or Loom.
If you're looking for an advanced and more technical video recording and editing (live streaming included), OBS Studio is your thing.
The best interface – as in non-intrusive, modern, and friendly – goes to Movavi Screen Recorder and ApowerREC.
For high-performance video recording via external video devices – Xbox, PlayStation, smartphone, IPTV – go with Bandicam.
If you're searching for a free tool that doesn't have any time limitations and watermarks, Wondershare and Debut Video Capture are a must.
You can always add extra engagement to your recorded videos like forms, quizzes, music, templates, or slides. If that's what you need to keep your audience hooked, try Camtasia.
To record from iPhone, iPad, Android, tablets, and other mobile devices, you should give Screencast-O-Matic a try.
Did you find this list helpful? What is your favorite screen recording software and why? Let us know in the comments section below!
The best #screen #recording #software for every use: #WFH, school, or personal projects 📹⏺️
Click To Tweet
…
Don't forget to join our crash course on speeding up your WordPress site. With some simple fixes, you can reduce your loading time by even 50-80%: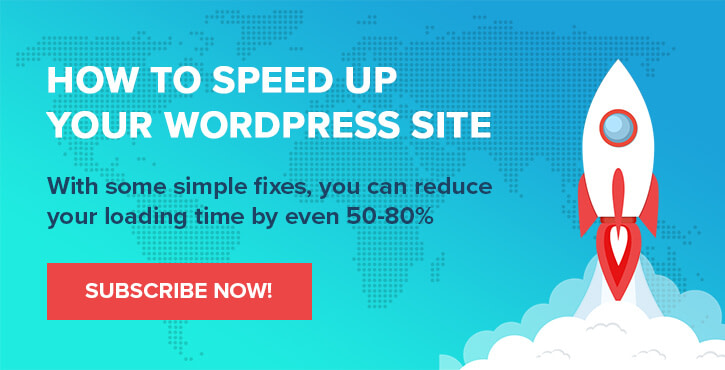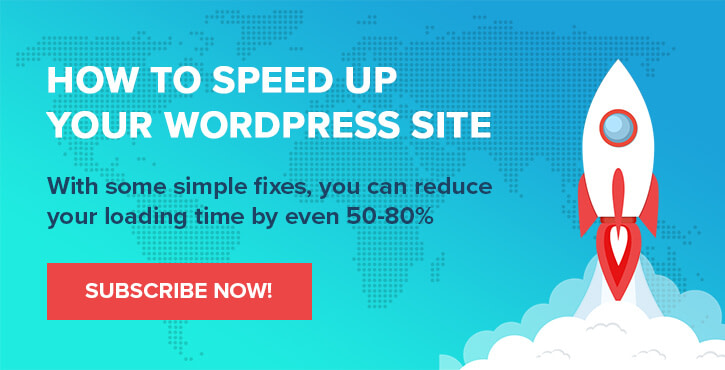 Layout and presentation by Chris Fitzgerald and Karol K.
Was this topic
helpful?
0% of users found this helpful