Here's one for you: Where do you usually go if you want to discover some cool new WordPress-related tools?
Google works well, clearly. So does WordPress.org if you're looking for plugins (not so much for themes though … try ThemeIsle for that … cough!). CodeCanyon has also proven to be quite a good place to go for premium plugins, especially if the feature you're after is a bit more advanced and not covered in the realm of free plugins.
Last but not least, various list posts on your favorite WordPress blogs are a great source of inspiration too. I guess the number of times I got a good plugin or tool recommendation from a list article goes in the hundreds…
But there's also a different way to discover cool WordPress-related tools.
Just like you're seeing in the headline, it's Product Hunt.
13 collections of @ProductHunt goodies for #WordPress
Click To Tweet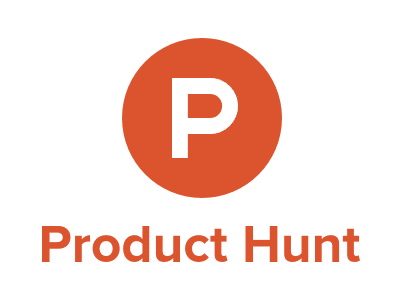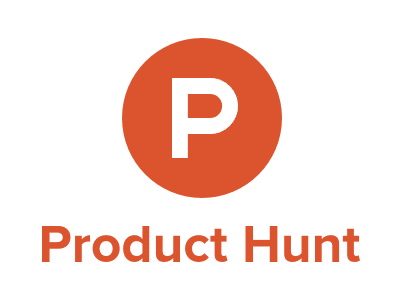 Product Hunt perhaps isn't best known for its library of "all things WordPress," but you'll be surprised how much great stuff is there, just waiting to be discovered.
The awesome thing about Product Hunt is that everything there is added and upvoted by the community, and not by an all-powerful editor. In the end, what you get are various sets of tools that actual people use and enjoy.
So without further ado, what we have for you today are some of the best WordPress-related tools found on Product Hunt. They have been gathered in 13 thematic collections, just to make them easier to digest.
Full disclosure. We've been inspired to create this post by Buffer's great roundup post of a similar title.
1. Theme Search Engines – How to Find the Perfect WordPress Theme
Theme discovery is a major task for basically anyone who wants to build a new WordPress site. While you have many individual theme stores, going to each of them one by one will take a lot of time, and you'll probably end up with a list of themes that's hard to manage anyway. This is where search engines for WordPress themes come into play.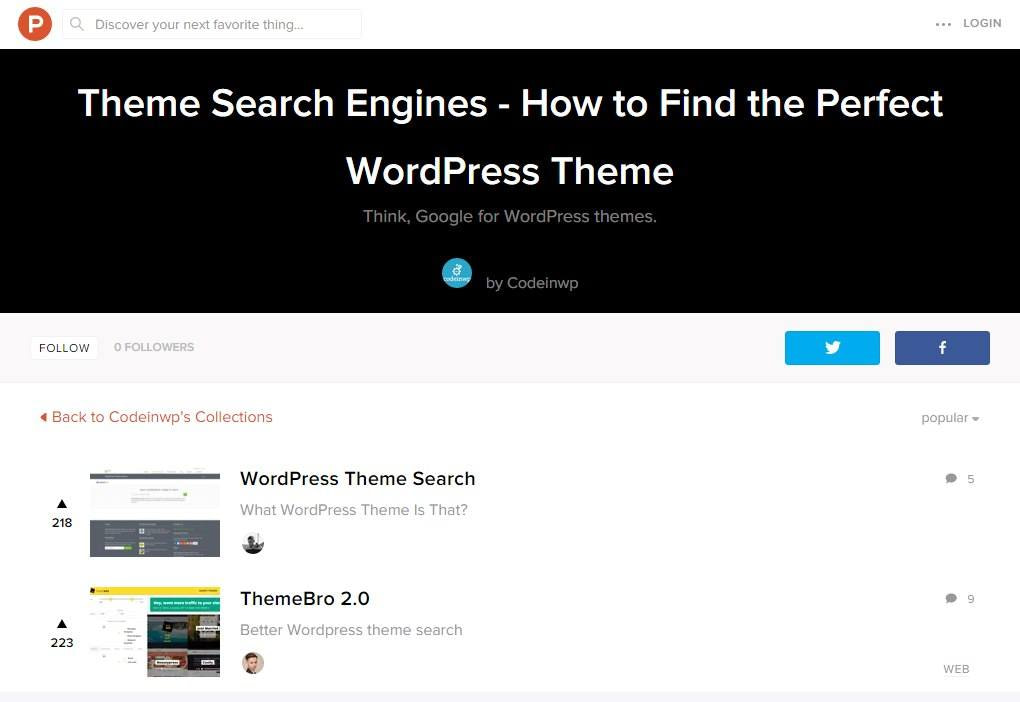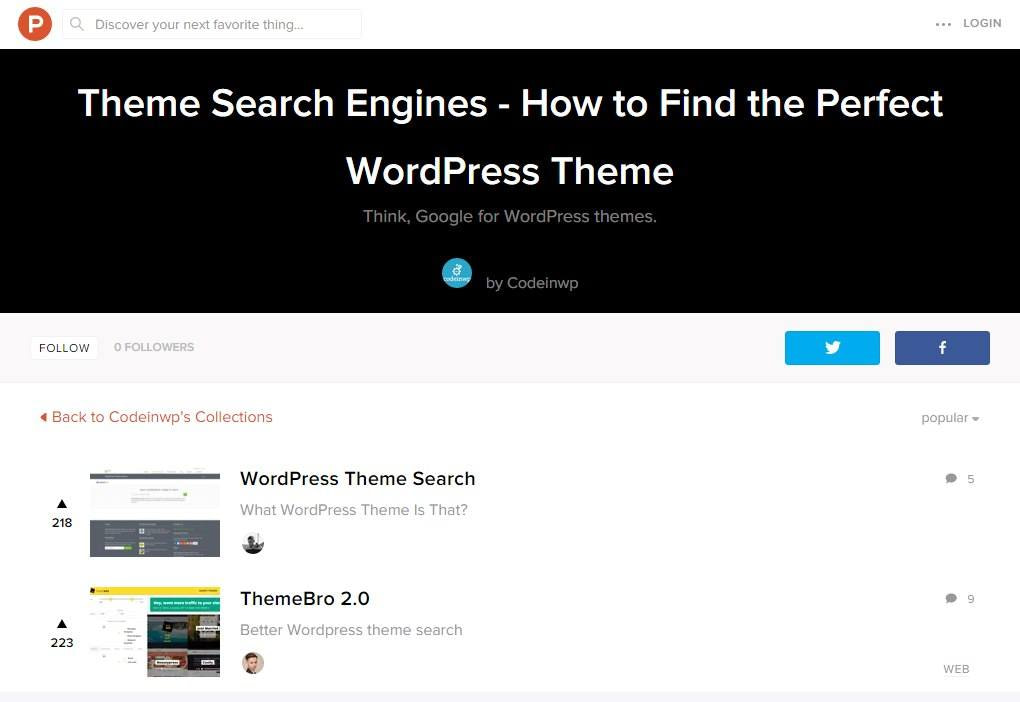 2. Top WordPress Themes for Your Next Site
Okay, with theme search engines taken care of, let's talk the top themes and theme stores on the market today (as listed via Product Hunt). Basically, if you want to make sure that the WordPress theme you get is a well-built and quality one, this is where you go.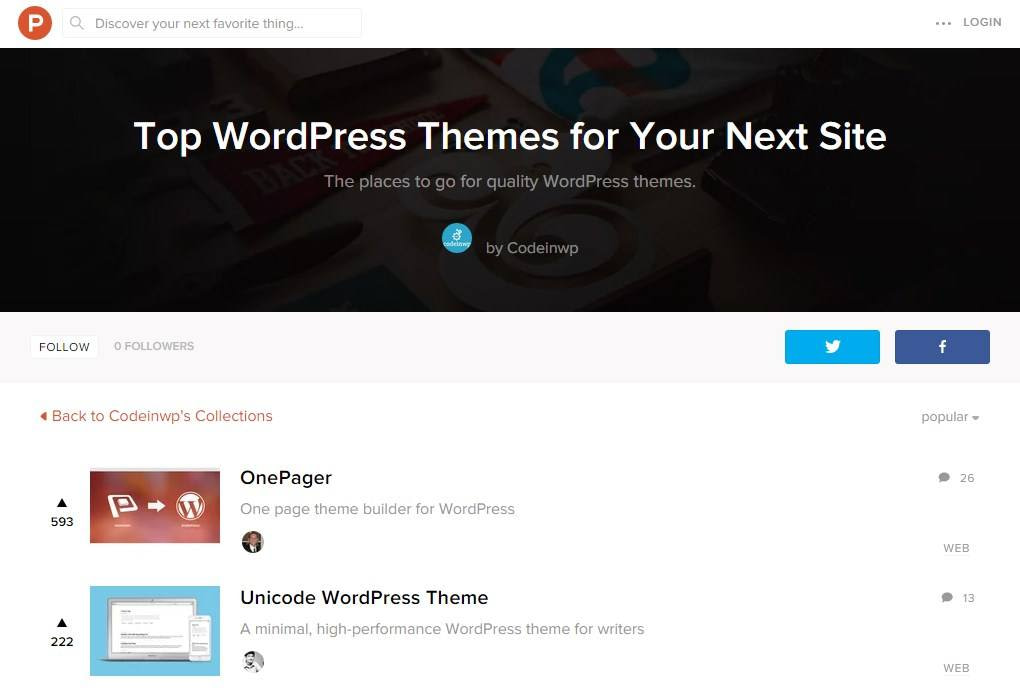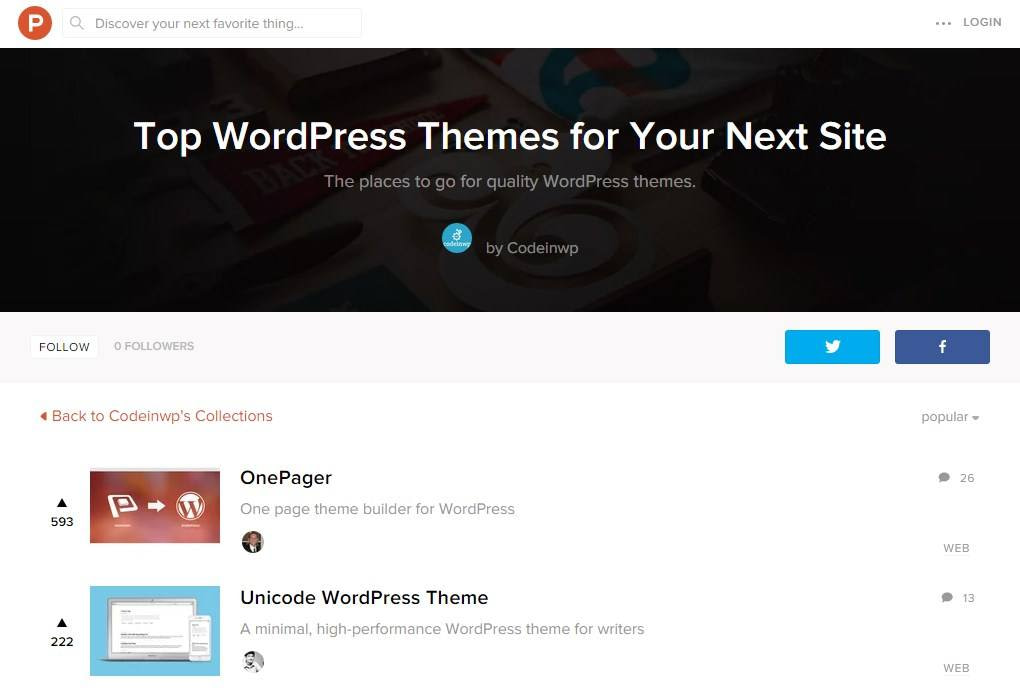 3. WordPress vs. eCommerce – Top Solutions
With Automattic acquiring WooCommerce a while back, it's becoming apparent that eCommerce is going to be an important component in this big WordPress machine. And why wouldn't it be? The possibility to sell products from a WordPress site indeed sounds like a common feature in 2016.
4. Some Non-Obvious Blogging Tools
Just WordPress on its own is already perfectly capable to serve you as the ultimate blogging solution, but there's still a lot of interesting tools that can take you to the next level. The keyword here is non-obvious – as in, here's how these tools can help your blog in ways that you didn't even expect.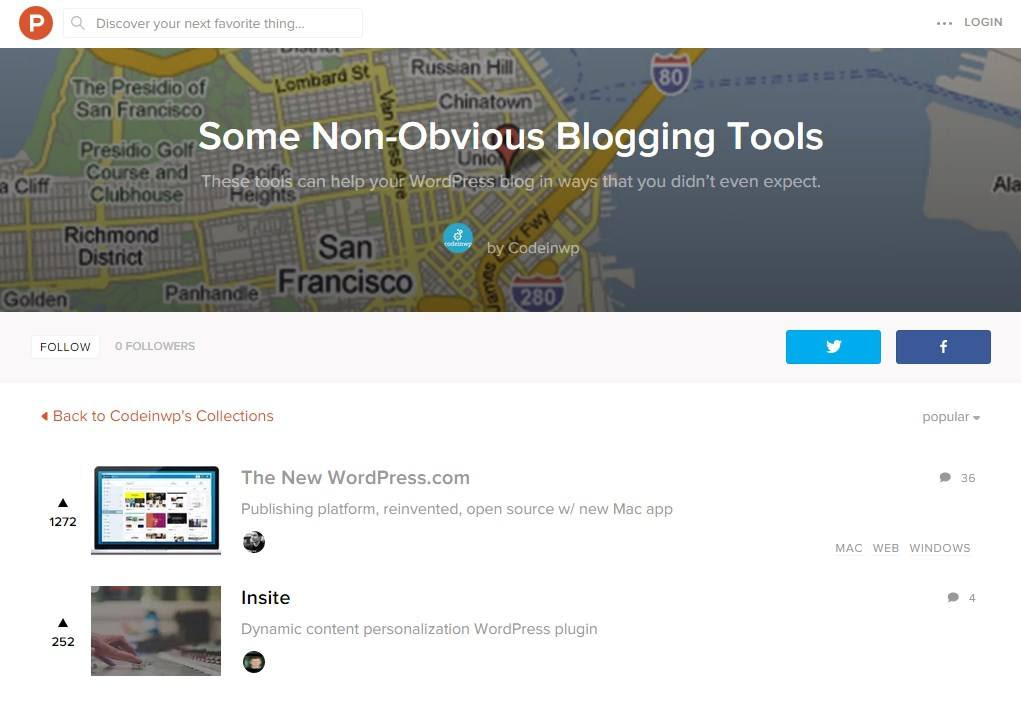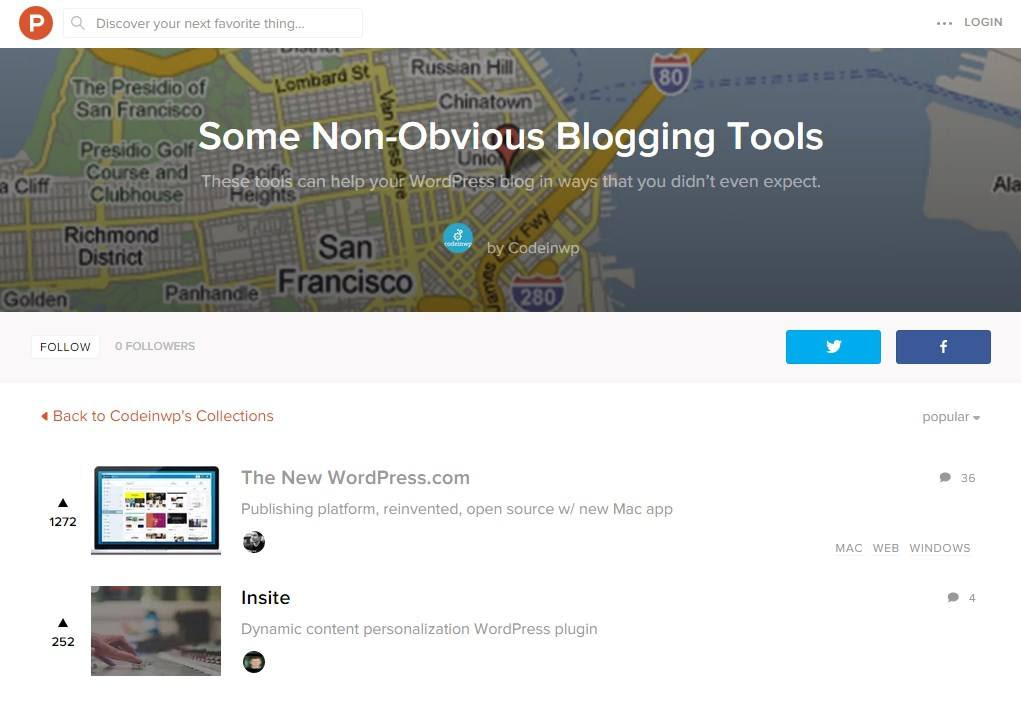 5. Keyword Research and SEO Tools for WordPress
Keyword research and SEO isn't usually the first thing on your mind while brainstorming over new blog post ideas, but it's still an important element nonetheless. After all, making Google happy and thus making it easier for people to find your site is crucial. These tools make it less of a hassle.
6. Marketing Tools for WordPress
The premise of these tools is straightforward – how to make marketing your WordPress site easier and more effective at the same time. You'll find various things here … starting from analytics tools, to opt-in tools, to content sharing tools, to email marketing, and more.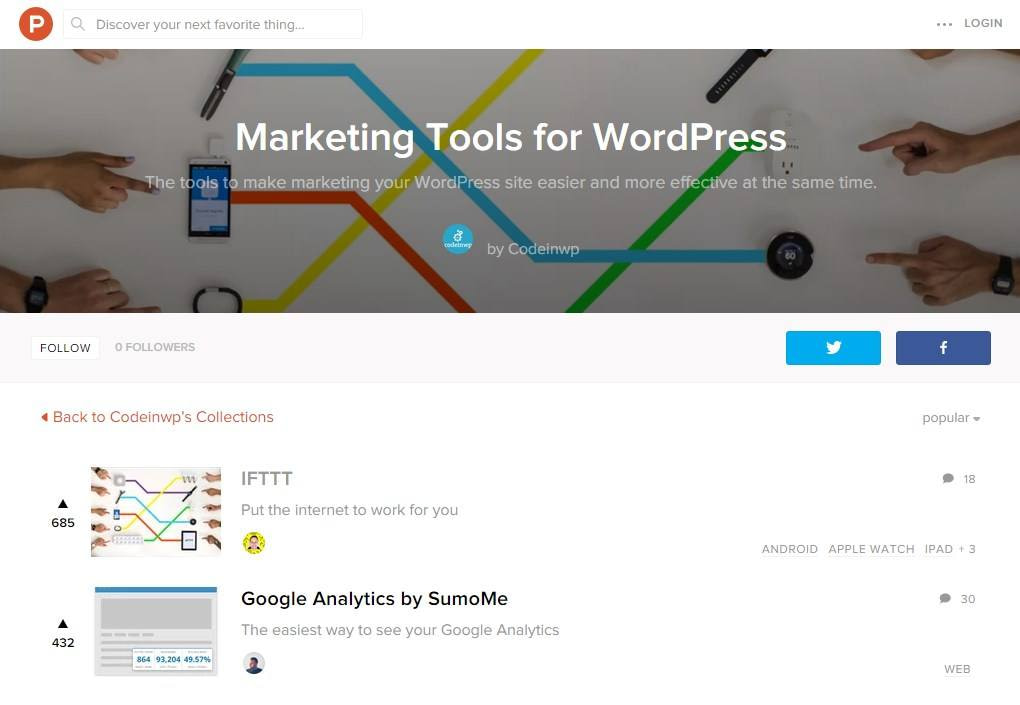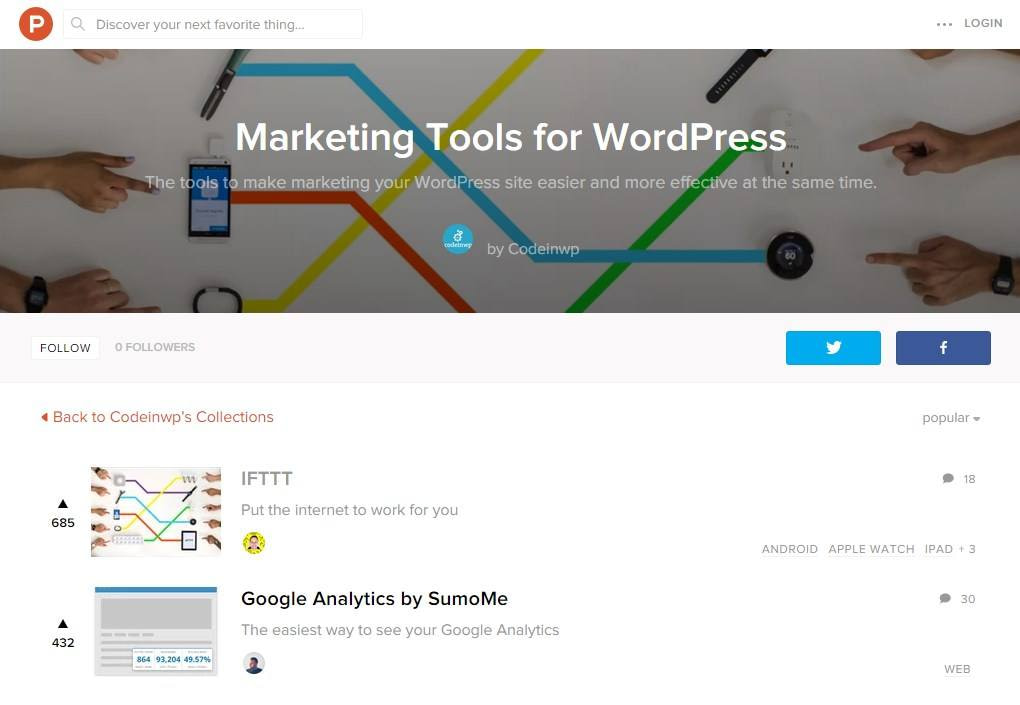 7. Your WordPress Site and Social Media – How to Get It to Work
Whether we like it or not, there's no such thing as online success these days without a strong social media component. The tools in this Product Hunt collection make your WordPress site compatible with various social media platforms, and also make you more efficient at building a social media presence.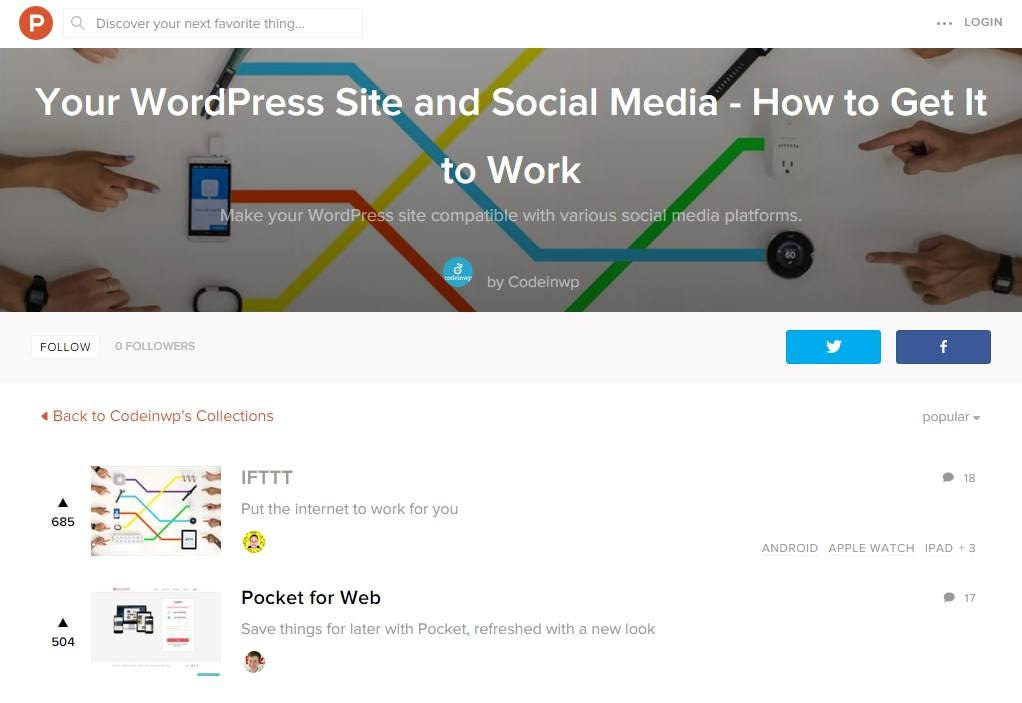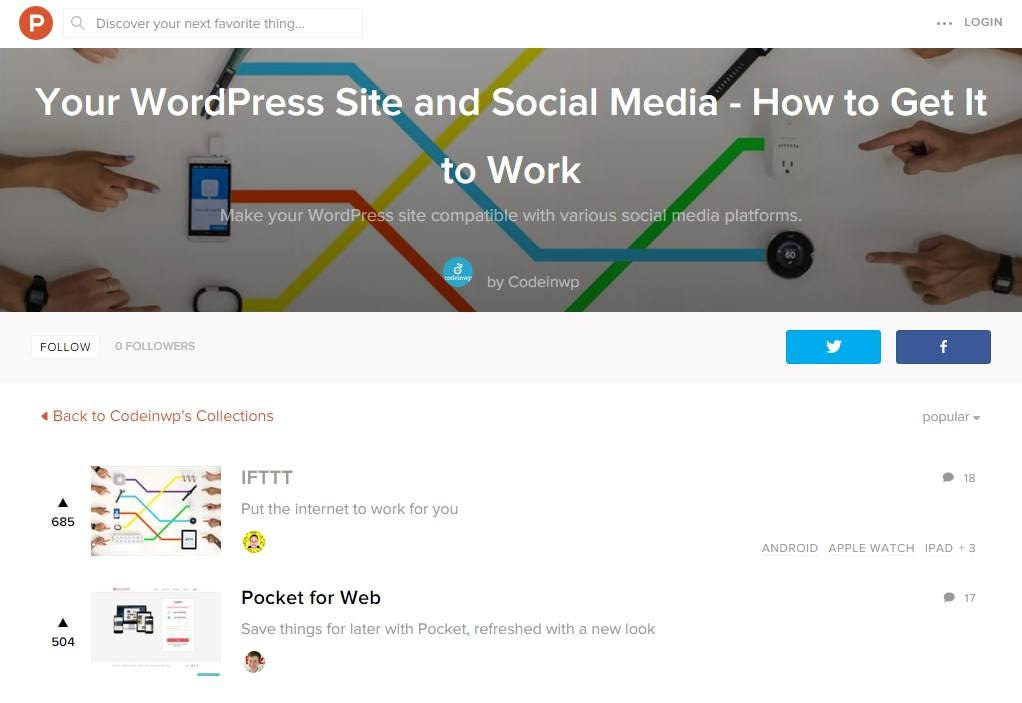 8. Productivity Tools for WordPress Bloggers
Here's a list of cool productivity tools that will help you run your WordPress site. These might not be the tools that integrate with WordPress directly, but you can still successfully use them to make your work easier and more manageable.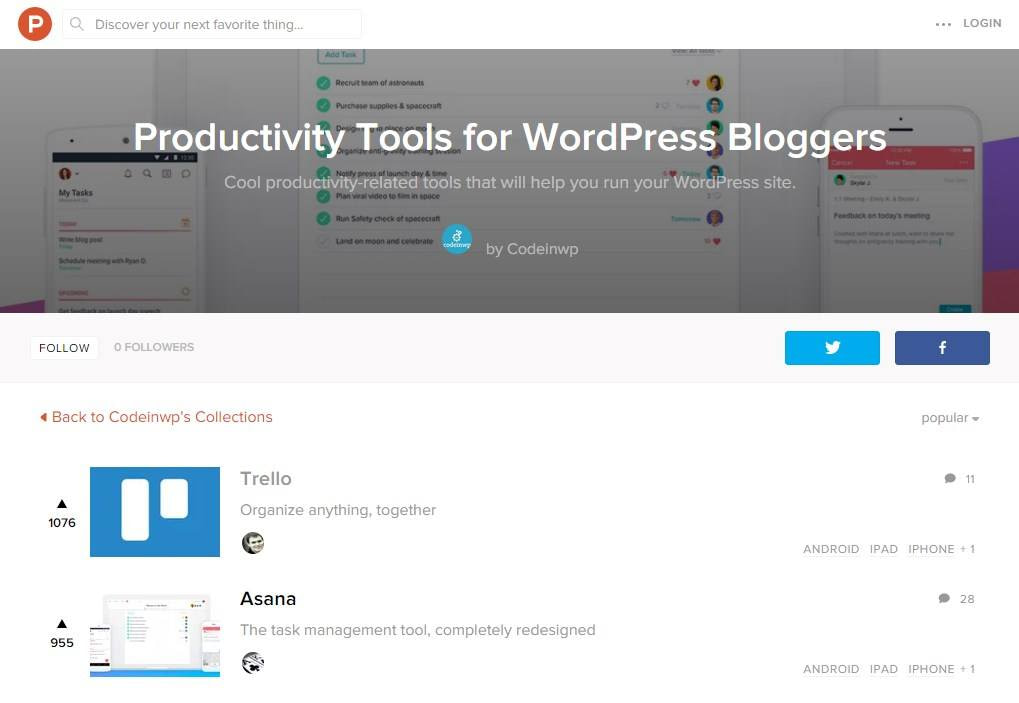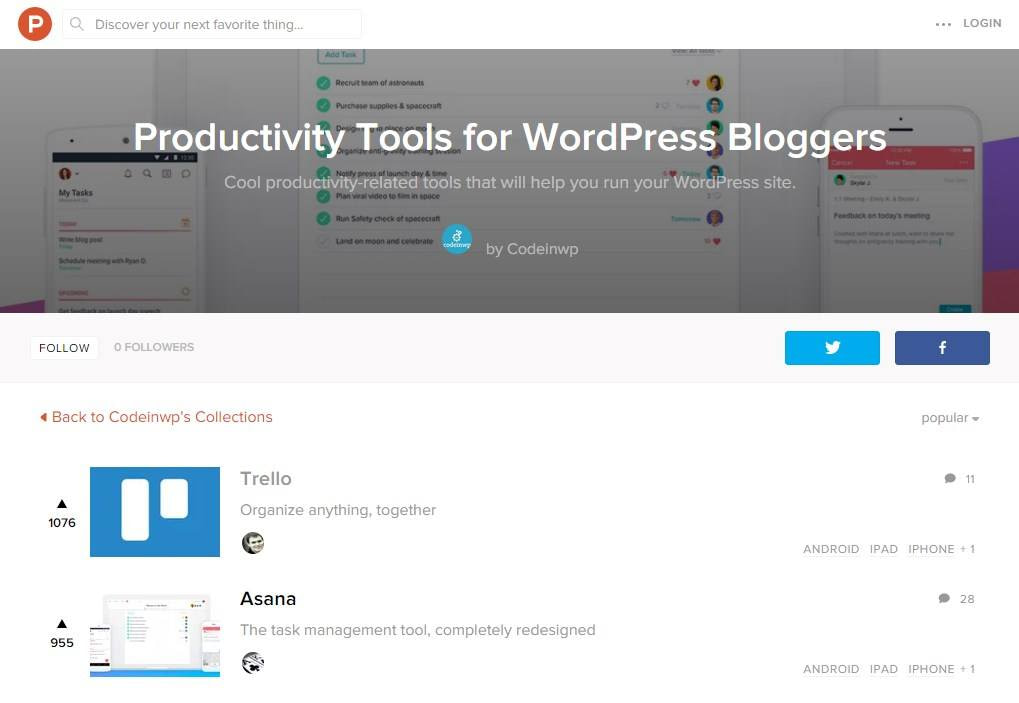 9. Hosting for WordPress + Site Management
WordPress has some specific requirements when it comes to hosting and site management. The creators of the products in this Product Hunt collection understand this fact and meet those requirements perfectly.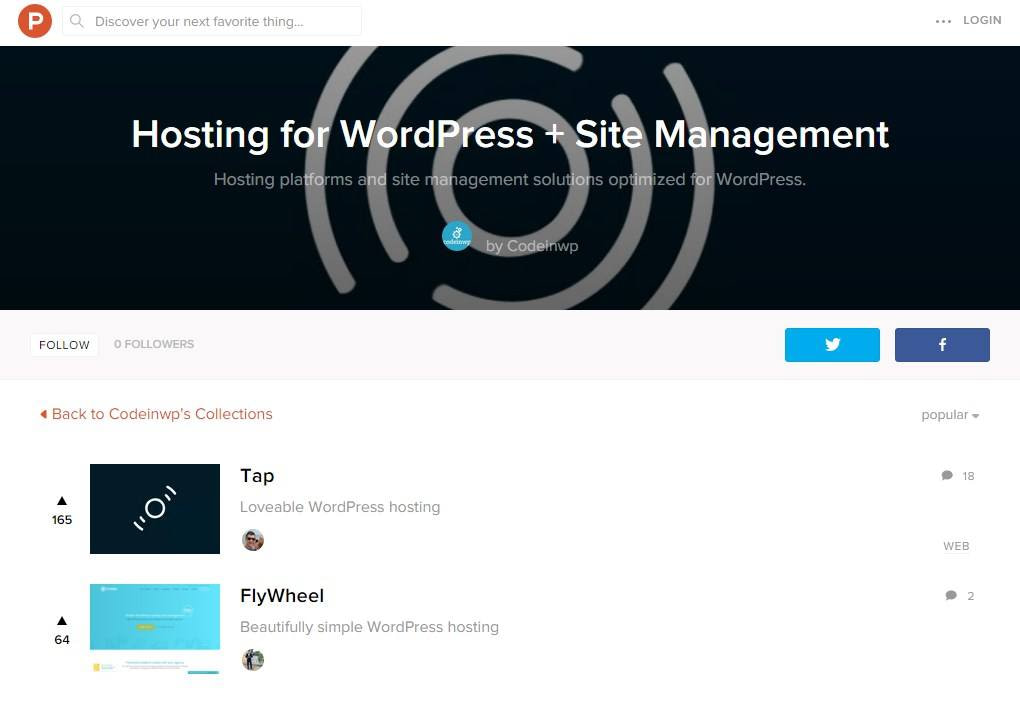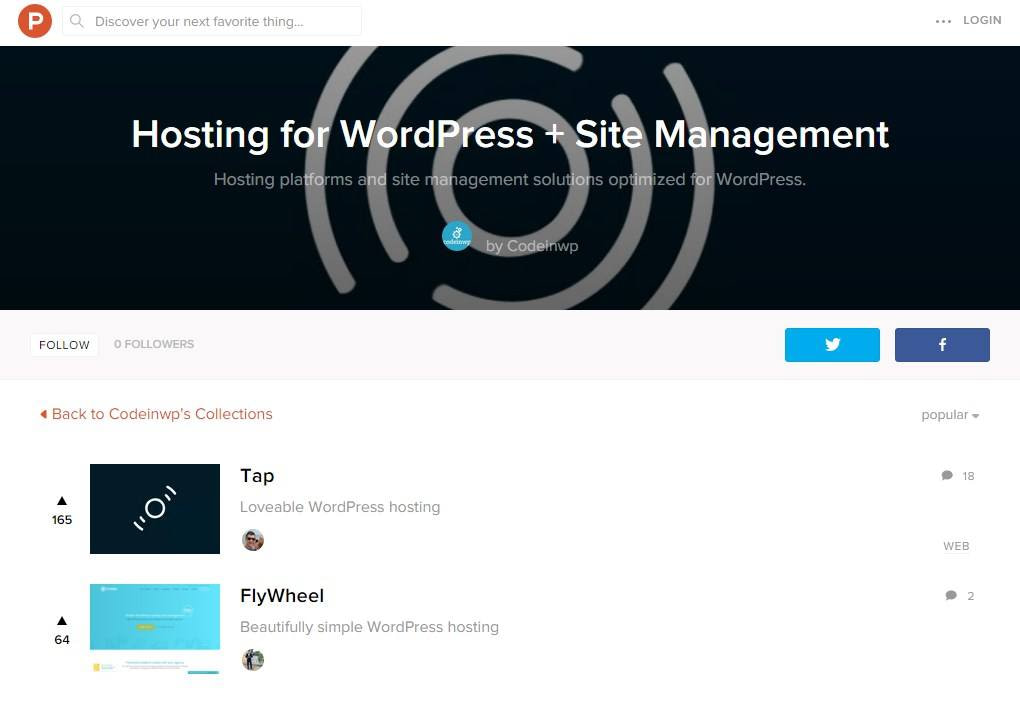 10. WordPress-Friendly Design Tools
WordPress is already a quite friendly environment to work with as a web designer, but there are still some tools that can make the process more streamlined. From fonts, to patterns, to even a user interface language (yep, you're reading this right). Check them out.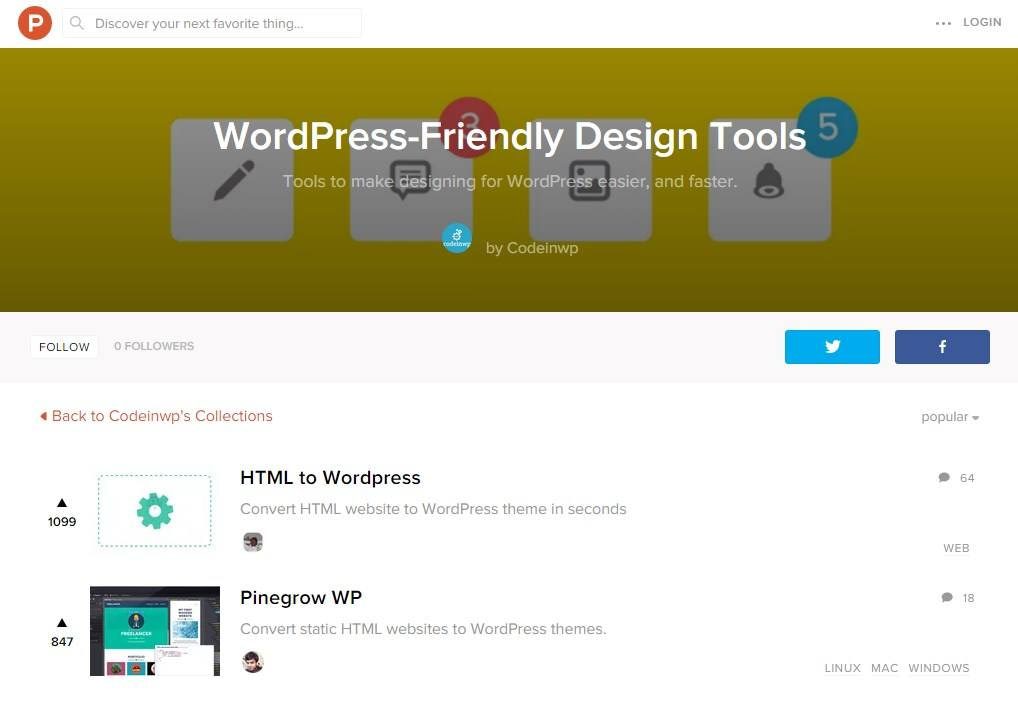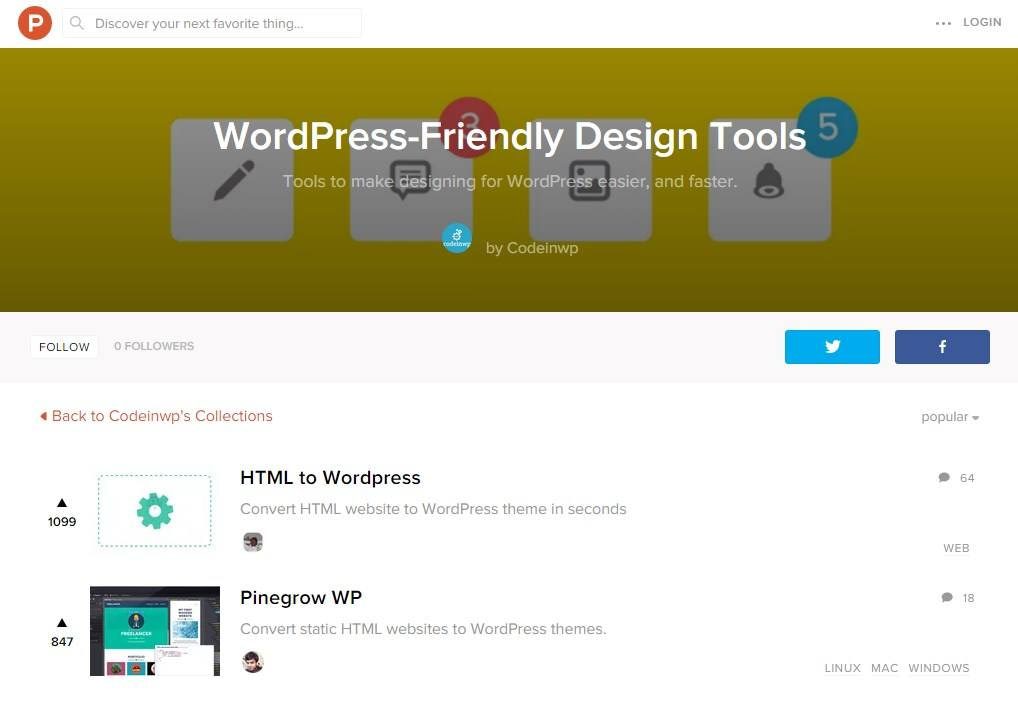 11. WordPress Development – Tools to Help You Get Started
The journey of a WordPress developer can be both really fun, and really frustrating. To help you save yourself from the latter, here are some cool tools that make developing for WordPress easier. Whether you're building plugins, themes, or even completely custom solutions, you'll find something interesting in this Product Hunt collection.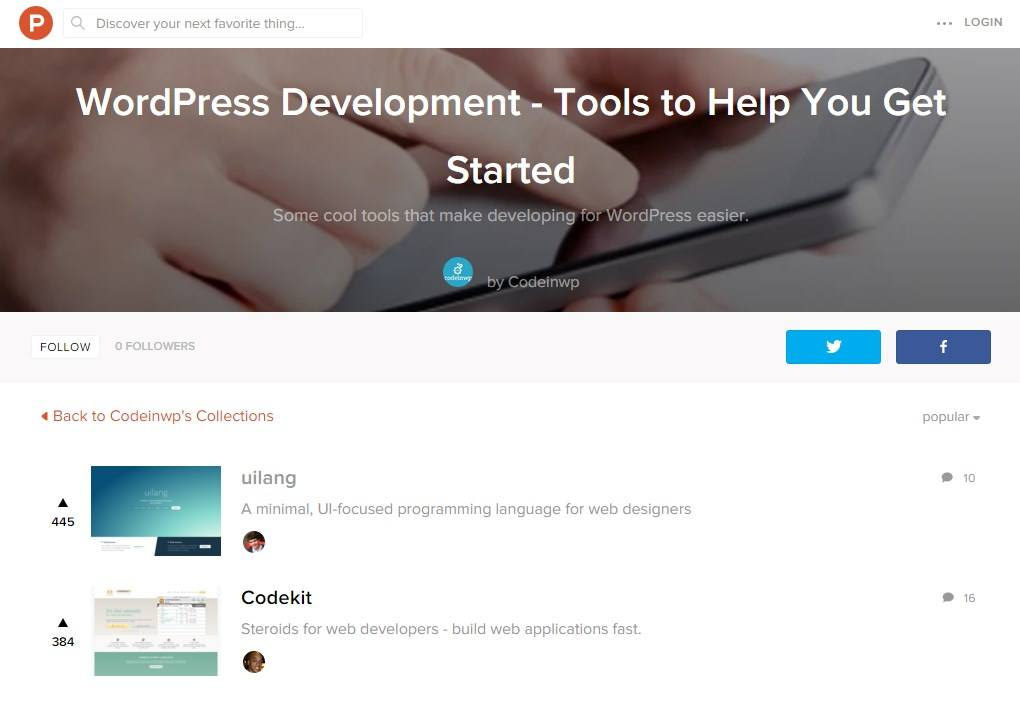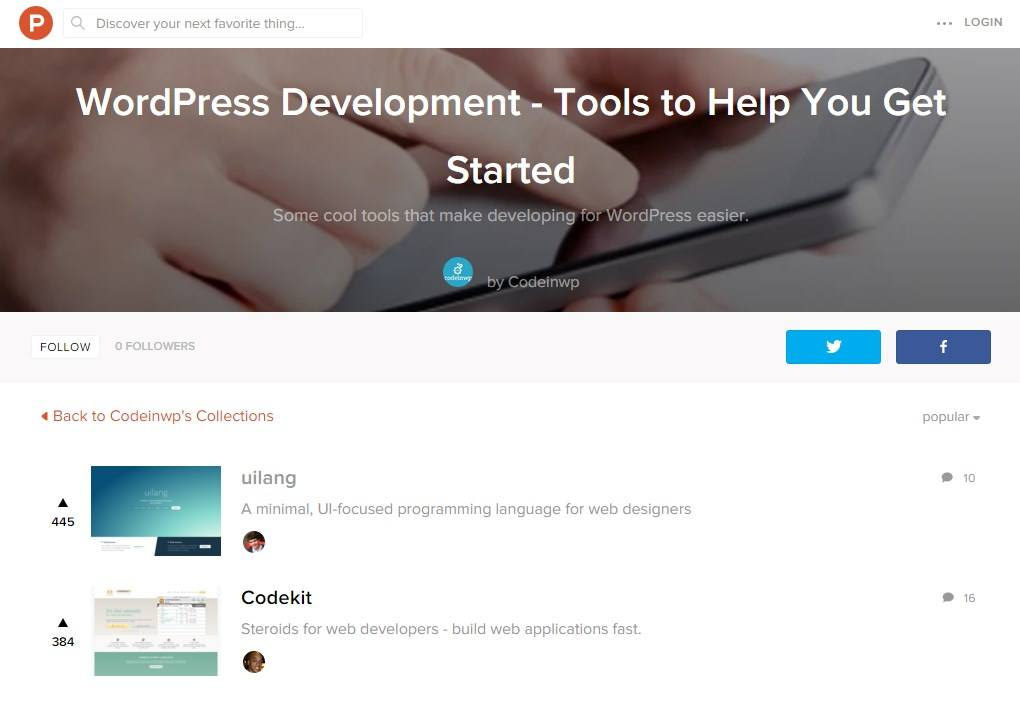 12. Where to Find Great Images and Visuals for Your WordPress Site
Images and visuals are exceptionally important for every WordPress site. There are multiple case studies online indicating that posts with images get more traffic, more social shares, and more reader engagement in general. The only tough part … how do you either find good visuals or create them yourself? These tools will help.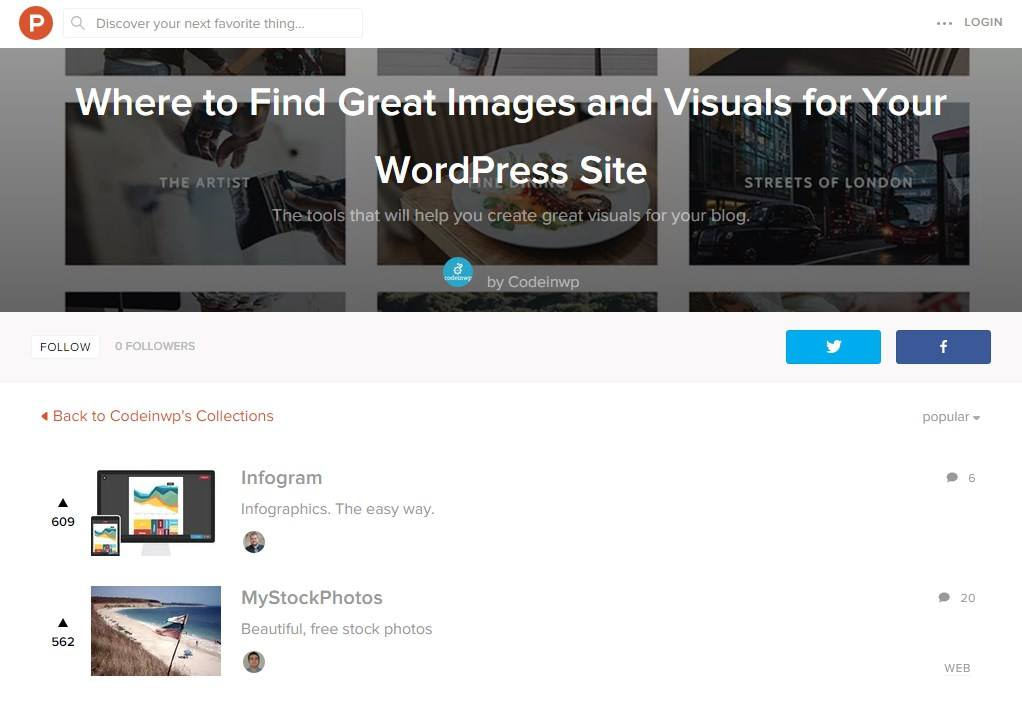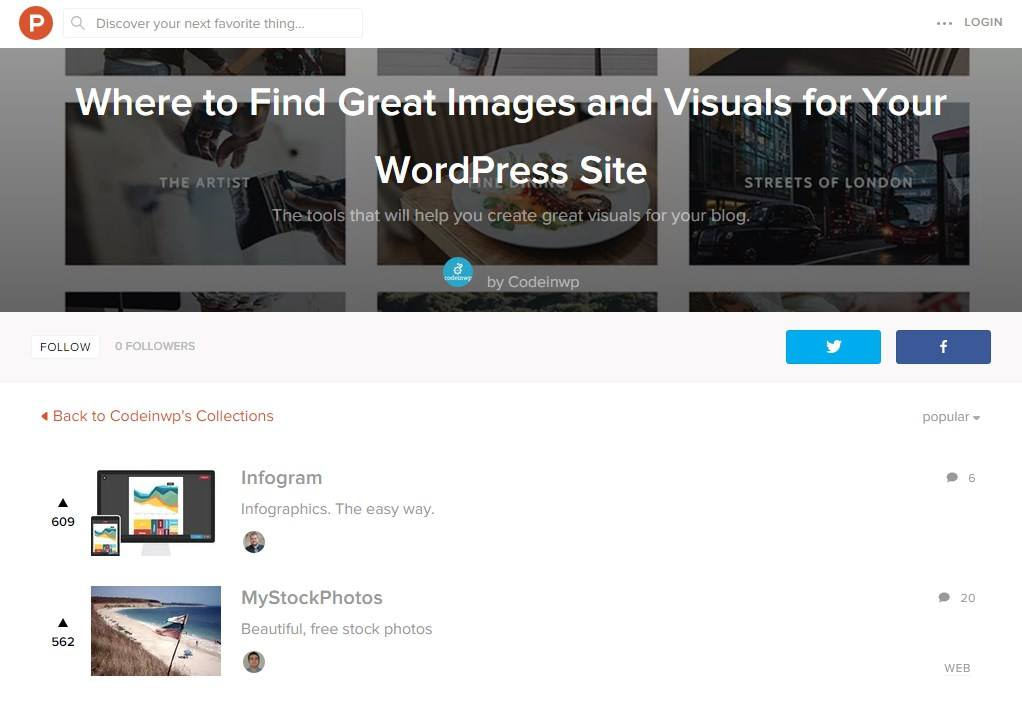 13. Easy to Use Website Builders for WordPress
"What are those?" – you ask. Think, Squarespace or Weebly, but for WordPress. These builders allow you to create a WordPress website through a handy user interface instead of coding a custom structure manually.
Go to top
Anything else that should be on this list?
Do you know of any other cool WordPress-related goodies on Product Hunt? Or maybe you have a product of your own that you'd like to have included in one of our collections. Either way, feel free to share in the comments and let us know.
13 collections of @ProductHunt goodies for #WordPress
Click To Tweet
…
Don't forget to join our crash course on speeding up your WordPress site. With some simple fixes, you can reduce your loading time by even 50-80%: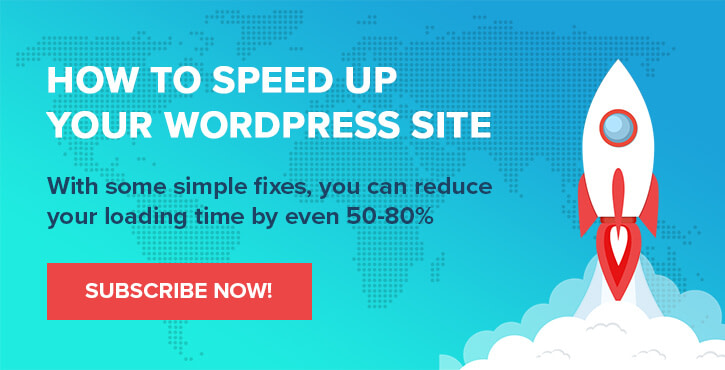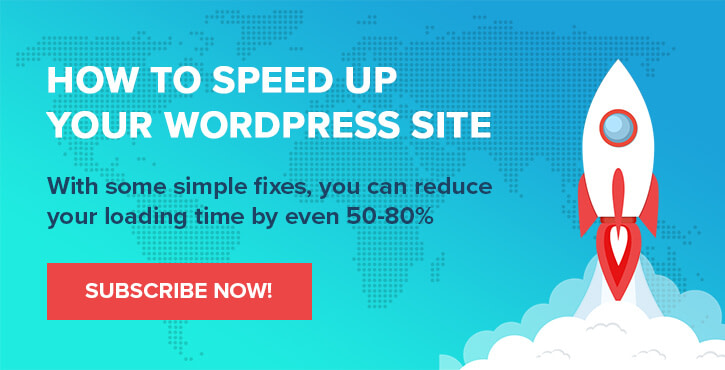 * This post contains affiliate links, which means that if you click on one of the product links and then purchase the product, we'll receive a small fee. No worries though, you'll still pay the standard amount so there's no cost on your part.
Was this topic
helpful?
0% of users found this helpful