When choosing a WordPress theme for your next website, it's important to consider more than just its aesthetic appeal. Your theme also affects the experience of building your site, so you'll want to pick one that fits your design style. If you like using page builders, for instance, your decision will often come down to OceanWP vs Astra vs GeneratePress vs Neve.
These four themes are favorites among the page builder community. Each is a solid tool for a variety of WordPress applications, and they really stand out when used alongside specific page builder plugins. They're also similar in terms of features and style, which can make it seem difficult to pick the right one for your needs. Fortunately, that decision may be easier than you think.
In this comprehensive review, we'll compare OceanWP vs Astra vs GeneratePress vs Neve. We'll look at their features, pricing, ease of use, page builder compatibility, support, and more. By the end, you'll know which theme is likely to be the best fit for you.
First, however, let's talk about why you might need one of these themes in the first place!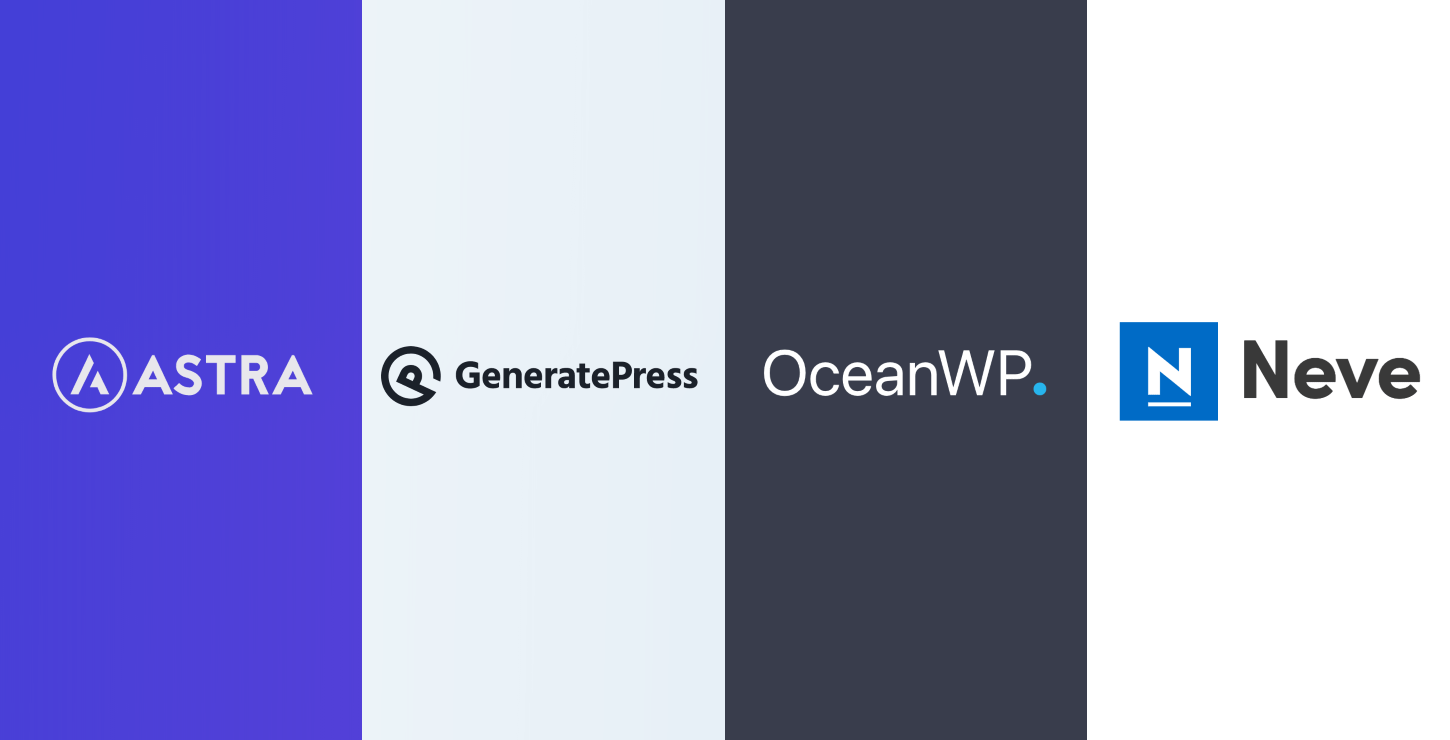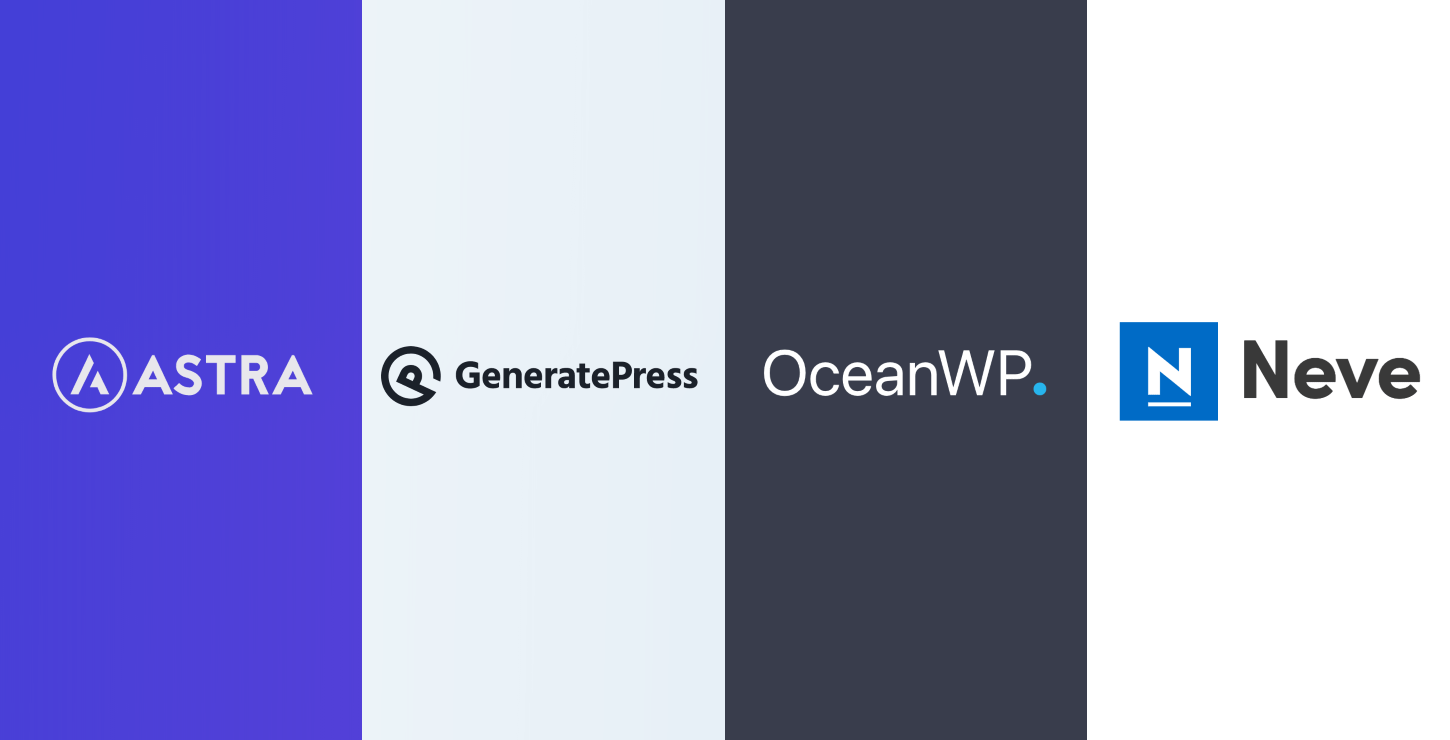 OceanWP vs GeneratePress vs Astra vs Neve // @OceanWordPress @WeBrainstorm @generatepress 🔥
Click To Tweet
Table of contents:
Why need a page builder-friendly WordPress theme | Introducing OceanWP, Astra, GeneratePress, and Neve | Features | Page builder compatibility | Pricing and licensing | Ease of setup and use | Layouts, templates, and design options | Plugins and extensions | Speed and performance | Support and documentation | Which theme is the best page builder-friendly option? | Conclusion
Why you might need a page builder-friendly WordPress theme
By default, WordPress offers a streamlined editor that makes it pretty easy to create and design content. However, this editor can be a bit lacking in terms of flexibility and options. That's why there are so many popular page builders. These tools enable you to drag and drop pre-built elements, and arrange them precisely within your pages and posts.
Most page builder plugins have been developed to work reasonably well with just about any theme. However, 'reasonably well' is often not good enough. If you want to get the most out of your site, it's smart to look for a theme that's been optimized to be highly compatible with page builder plugins.
As Scott Wyden Kivowitz, Chief Community Officer at Imagely, had to say on the relationship between themes and page builders: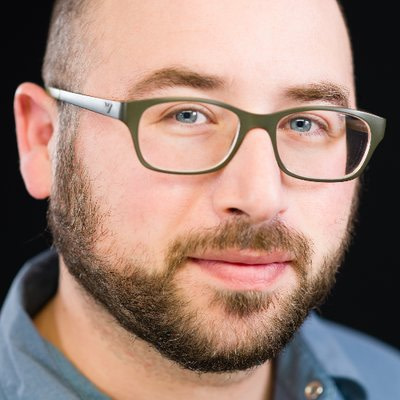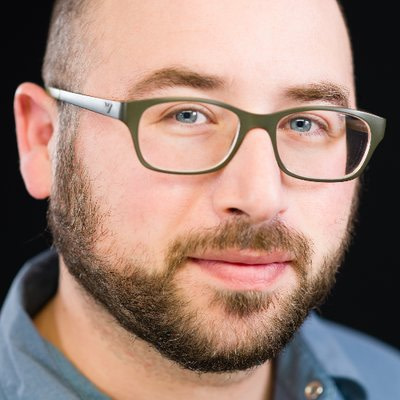 People can use Gutenberg, Elementor, Beaver Builder or other page builder plugins to bring endless design capabilities into a theme. But the starting point is a stunning, simple, clean, fast, and SEO-rich design.
Scott Wyden Kivowitz
Of course, even when you narrow your selection criteria to page builder-friendly themes, there are still a lot of options. Let's look at four of the most popular themes among page builder users, and see how they stack up.
Go to top
An introduction to the themes
For our review, we'll be comparing OceanWP vs Astra vs GeneratePress vs Neve. These four multi-use themes are popular, well-reviewed and supported, and compatible with many of the most popular page builder plugins.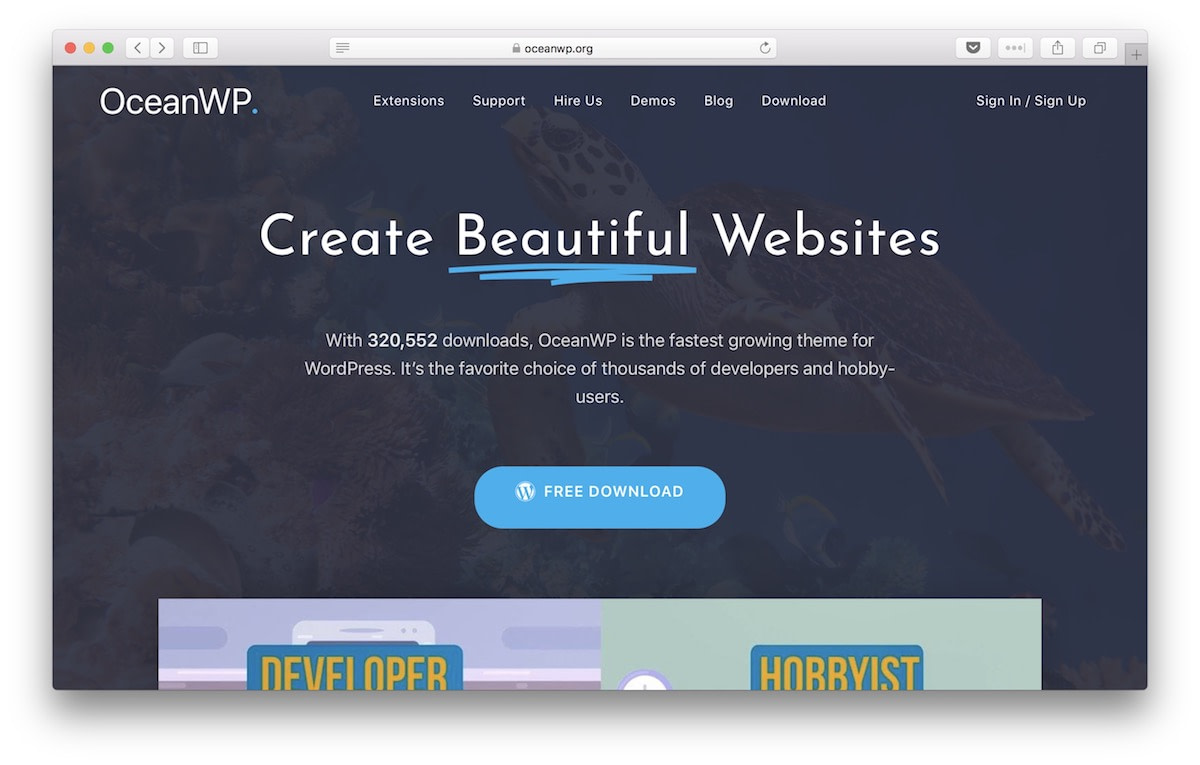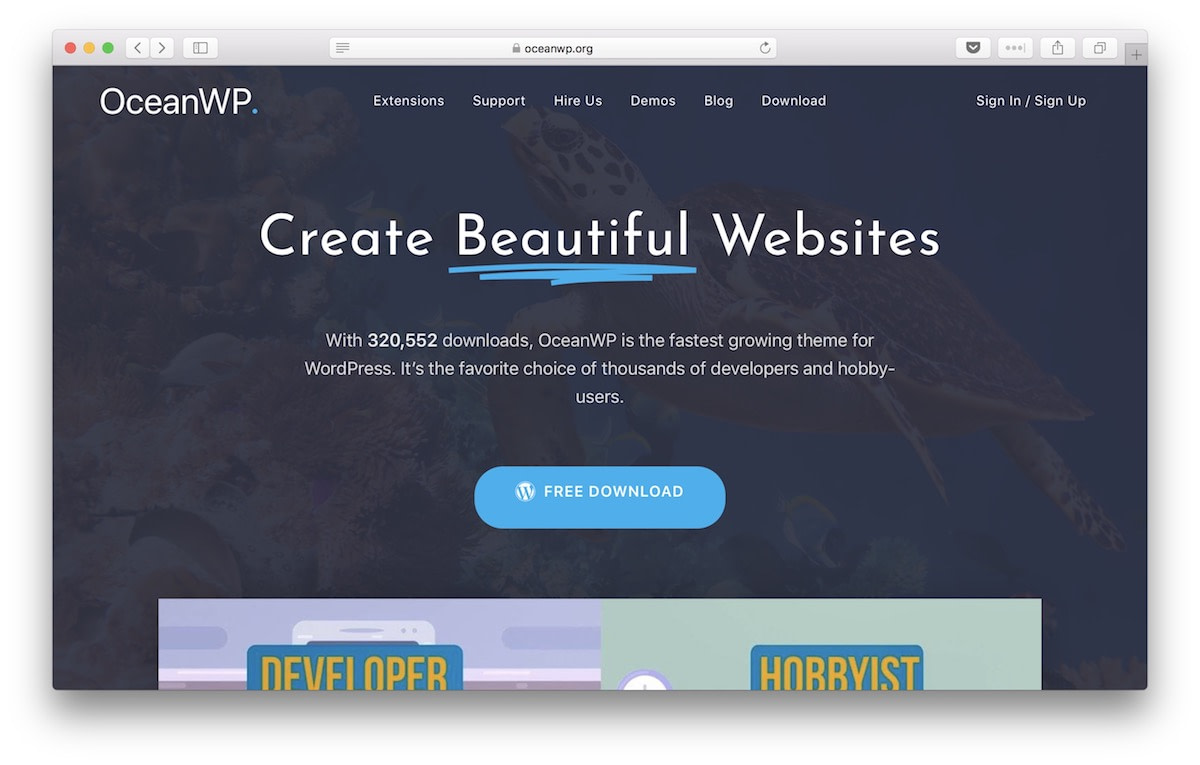 OceanWP
First up, OceanWP places a strong emphasis on style.
This theme offers lots of demos you can use to customize the look and feel of your site. It's applicable for a wide range of uses, but is particularly well-suited to e-commerce sites (and integrates very well with WooCommerce).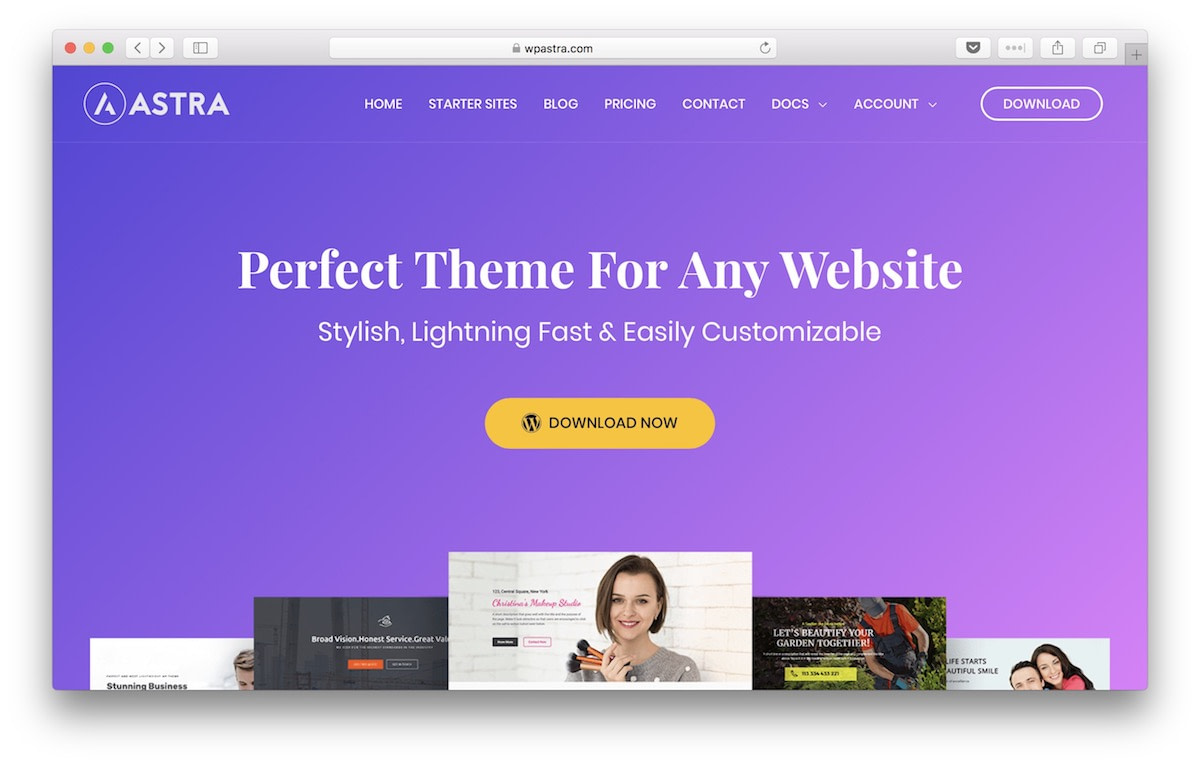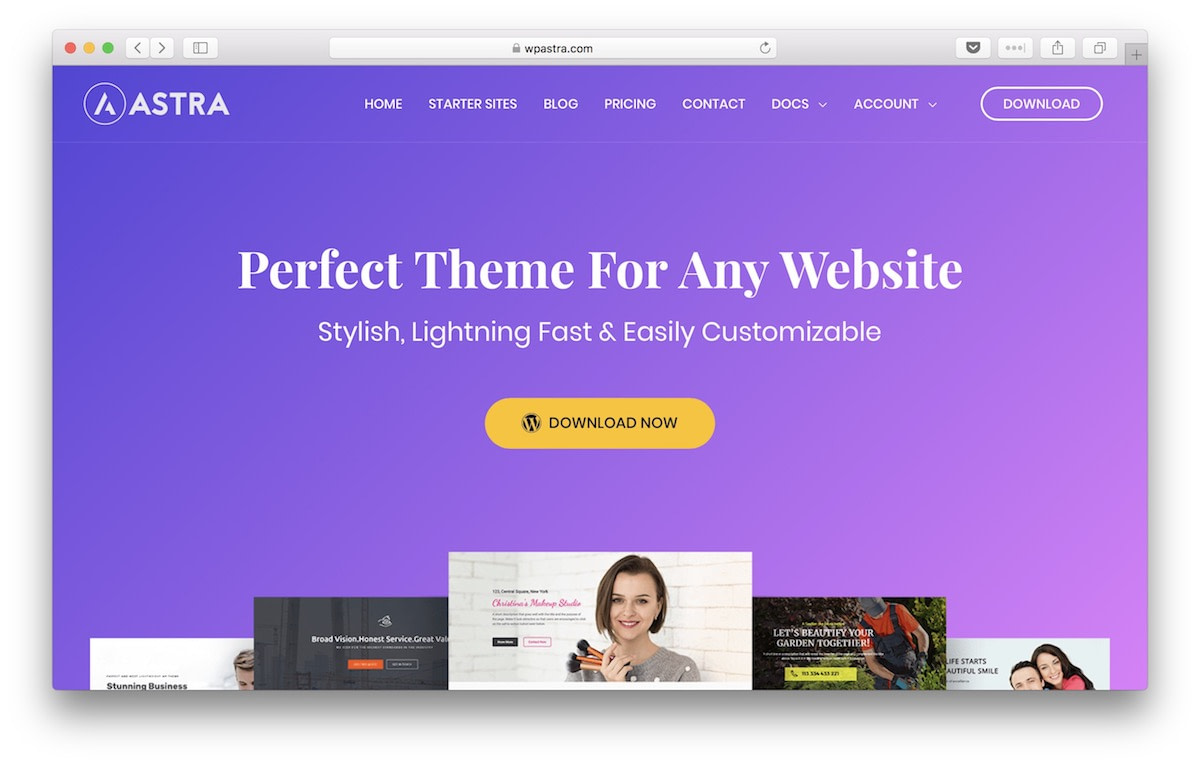 Astra
Astra will also help you to create a stylish website, although its primary concern is performance.
This is an extremely lightweight theme that keeps your site running fast on the front and back ends. It's highly customizable even for non-coders, although it also offers plenty of features for developers to take advantage of.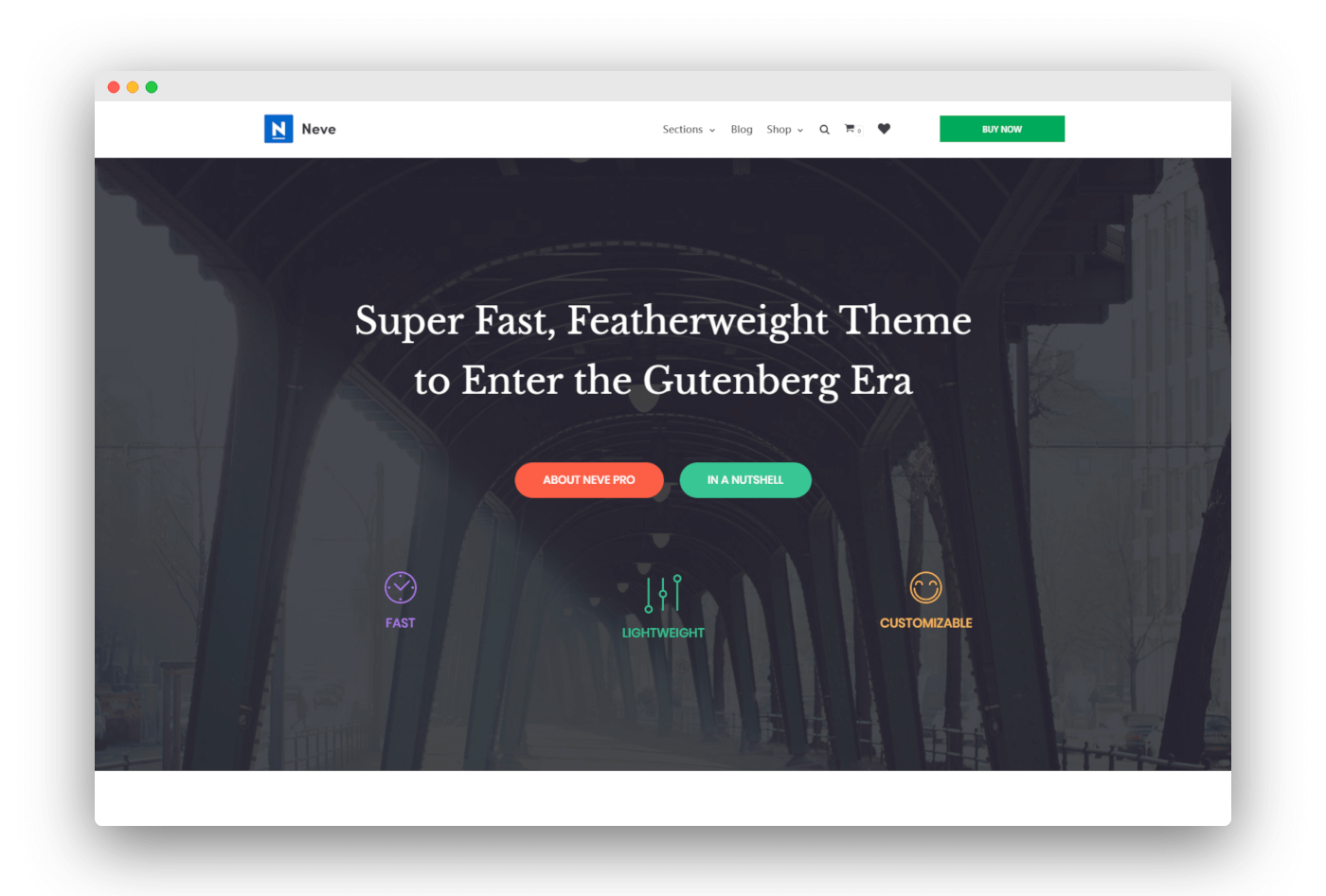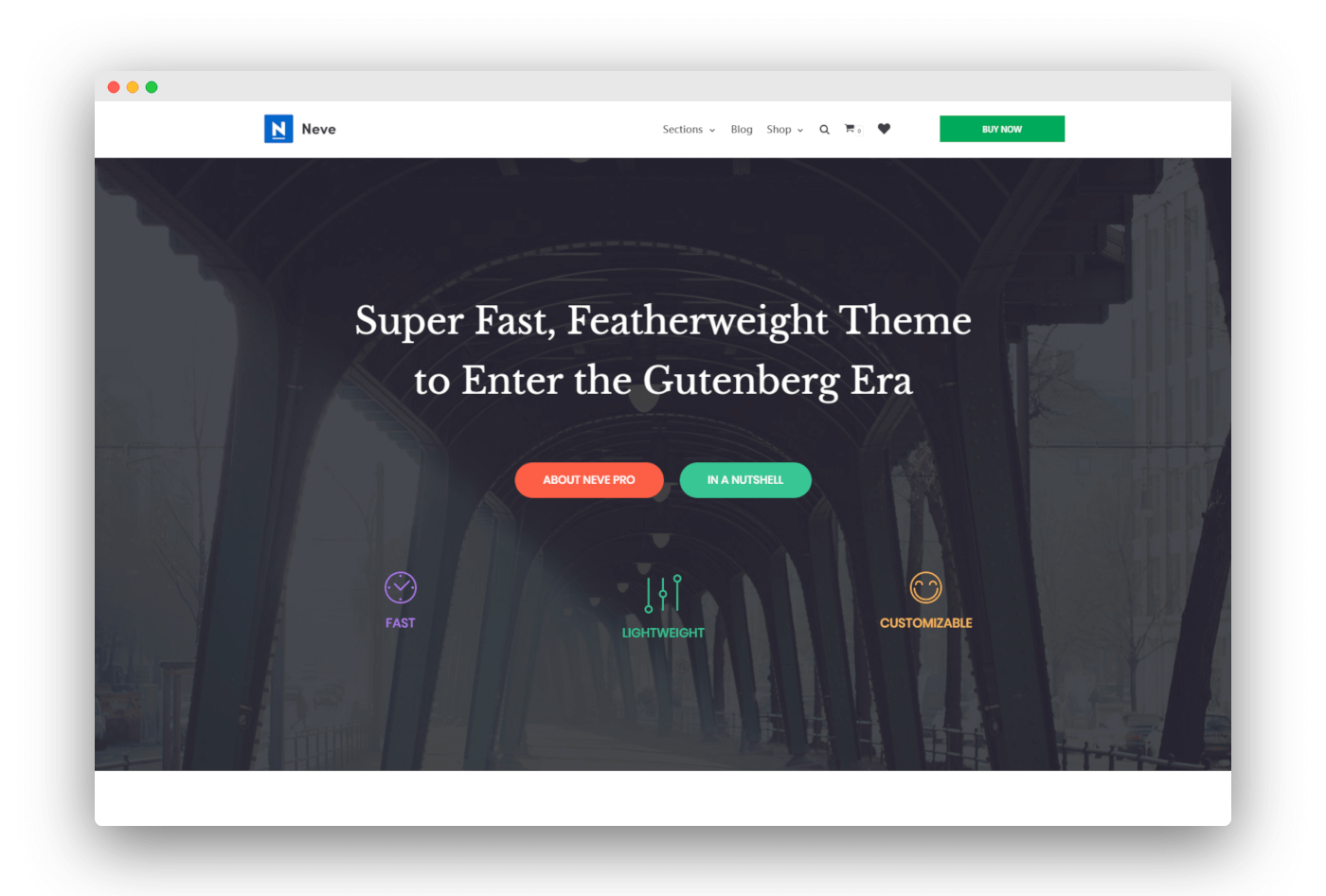 Neve
Next in line, we have Neve.
This theme sports a modern, one-page layout. It's ideal for small businesses, but is also adaptable to a wide variety of uses. It's lightweight, highly customizable, and responsive for beautiful displays on screens of any size.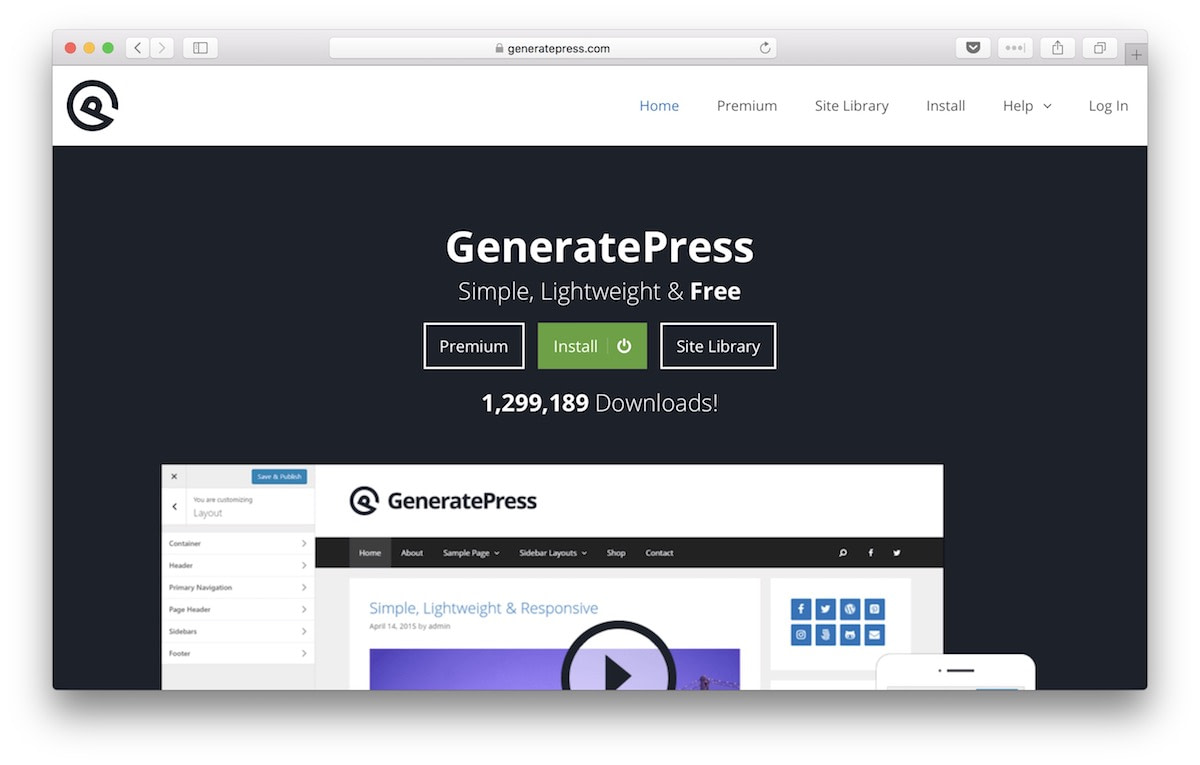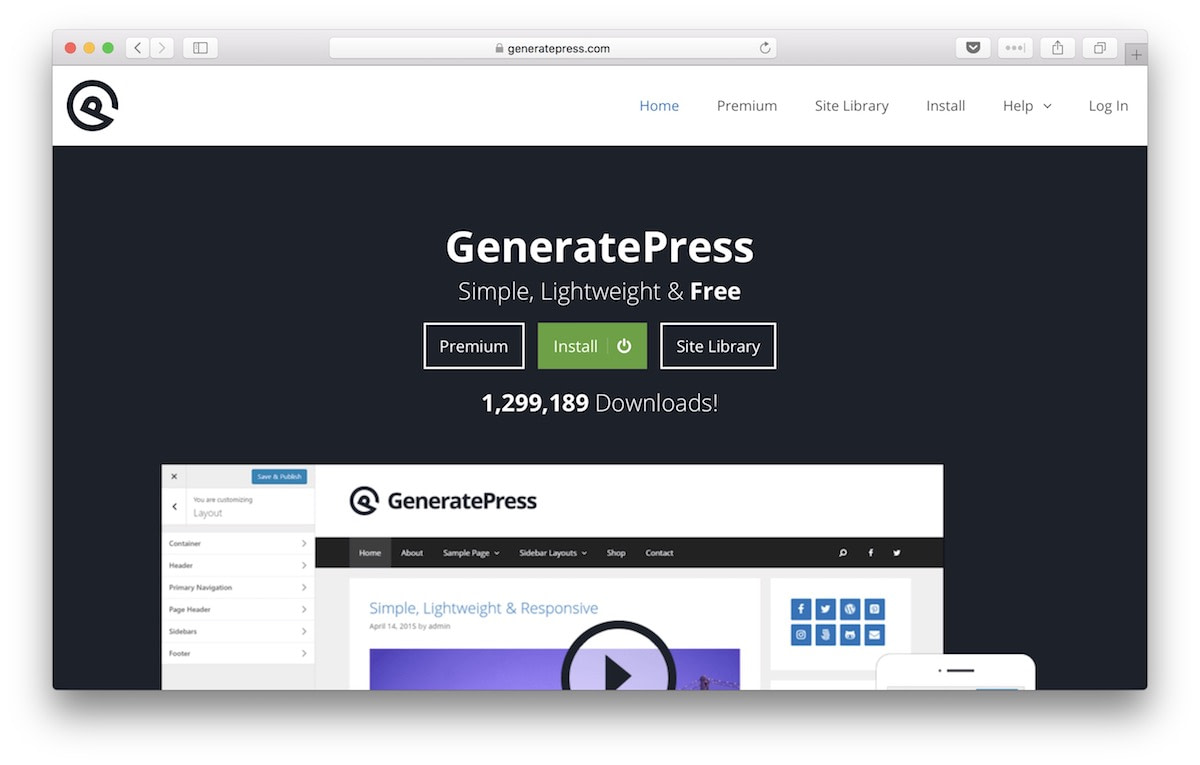 GeneratePress
Last but not the least GeneratePress.
This theme maintains a solid balance between providing plenty of features and keeping things as lightweight as possible. The developers focused heavily on ease of use, so there's no steep learning curve.
All four of these themes have plenty to offer, so how do you choose between OceanWP, Astra, GeneratePress, and Neve?
Go to top
OceanWP vs Astra vs GeneratePress vs Neve compared (eight key factors)
Now, we're going to compare OceanWP vs Astra vs GeneratePress vs Neve in eight different categories. It's worth noting that, while each of these WordPress themes has a free version in the directory, we'll be discussing the full-featured premium versions here.
Let's jump right in!
1.
Features
All four themes cover their bases when it comes to essential features for any WordPress theme. They are all fully responsive, and are built to both support solid performance and give you good SEO parameters.
However, there are some noteworthy distinctions in the feature sets they provide:
Pre-built elements: Astra offers a wide range of headers, widgets, layouts, and other elements that can get you started quickly. OceanWP also provides an impressive range of customizable elements, including 7 header styles, 15 widgets, and 5 starting layouts. Neve includes a couple of customizable layouts, headers, and footers, while GeneratePress is a bit lighter in this area. Neve also offer Templates Cloud for importing pre-built page templates.
E-commerce applications: OceanWP is the standout here, providing targeted functionality for improving your cart and product pages. However, GeneratePress also offers a WooCommerce-specific module. Neve 2.0 has added WooCommerce shop and product controls, along with the WooBooster module for Neve Pro users. Recently, the new update also added two more WooCommerce layouts.
Developer-friendly functionality: Both OceanWP and GeneratePress incorporate hooks for developer use, making it easier to tweak these themes through custom code. Astra's Custom Layout module also provides a hooks option.
When all extensions and add-ons included in the premium bundles of these themes are taken into account, we'd rank them as follows:
OceanWP 🥇
Astra 🥈
Neve and GeneratePress 🥉
All four offer plenty of features, but OceanWP hits all three of the points mentioned above. Neve falls short when it comes to development tools, but covers the more widely-used features with its pre-built elements and WooBooster module.
2.
Page builder compatibility
Astra is designed from the ground up to work with page builders. It integrates smoothly with popular options such as Beaver Builder, Elementor, Divi Builder, Site Origin, and WPBakery Page Builder (Visual Composer). As an added bonus, it lets you turn off the page title and sidebar while working on your content, giving you more space to focus on design. Finally, the Agency Bundle (the most expensive version) comes with add-ons designed for specific page builders.
GeneratePress has less to offer here. It claims to be compatible with all major page builder plugins, but there's little information on which specific plugins it works best with. However, its modular design does work well alongside page builders.
Neve is the perfect partner for the most popular WordPress page builder, Elementor. The Neve Pro Elementor Booster enables one-click imports of addons and templates. However, Neve also integrates well with Brizy, Beaver Builder, Divi, SiteOrigin, and Visual Composer.
Last but not least, OceanWP is designed to work smoothly with page builder plugins. In particular, the developers have taken care to ensure that it supports Elementor, Visual Composer, Divi, and Beaver Builder. One of the extensions you'll get with the premium version also adds a number of widgets specifically designed for Elementor.
All four themes also work very well with the Block Editor and our own Orbit Fox plugin. The latter isn't a page builder per se, but adds several handy modules to your site that can extend its functionality significantly.
GeneratePress and Orbit Fox are a particularly strong match, since the templates and page builder widgets of the former and the modules that come with the latter combine to offer you an easy way to customize your site.
Orbit Fox by ThemeIsle
Current Version: 2.10.4
Last Updated: March 9, 2021
96%Ratings
400,000+Installs
WP 4.7+Requires
With all that in mind, here's our ranking of page builder compatibility for OceanWP vs Astra vs GeneratePress vs Neve:
Astra 🥇
OceanWP 🥈
Neve and GeneratePress 🥉
Astra, OceanWP, and Neve are highly compatible with some of the most popular page builder plugins, with GeneratePress lagging a bit behind on that front (but still a solid choice if you want to use Orbit Fox).
3.
Pricing and licensing
At this point, you may be wondering what these themes will cost you. As it turns out, each involves a fairly different pricing structure.
OceanWP is the most scalable theme, offering three tiers of premium plans. They all come with the full range of extensions, demos, and support, and only differ in how many licenses they provide. You can get one site license for $39, three sites for $79, or unlimited sites for $129. Additionally, you can purchase individual extensions if you only need one or two premium features.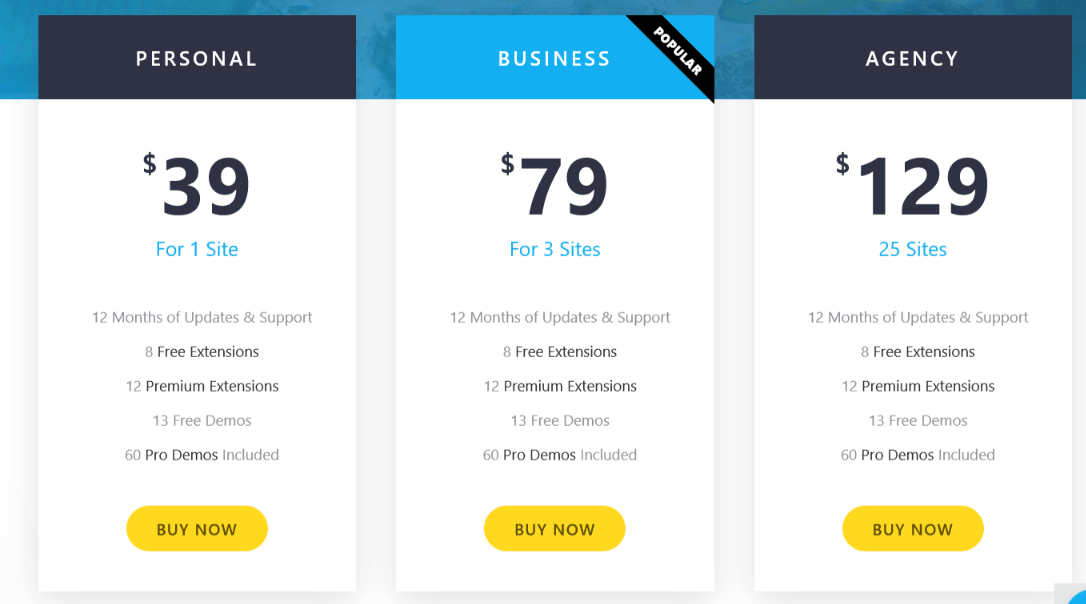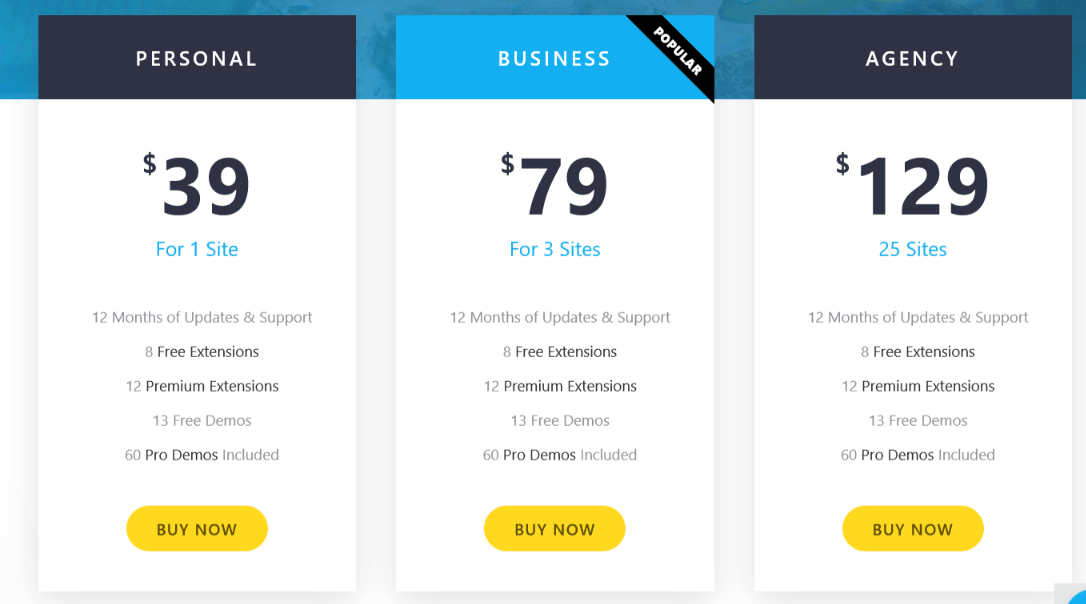 GeneratePress Premium, on the other hand, is as simple as it gets. There are only two options – $59 for all modules, one year of support, and up to 500 site licenses. And while this is a pretty generous plan, you can also go for a lifetime plan costing $249 for lifelong access.
Astra offers three premium versions. For $59, you can get all the theme's features, a year of support, and unlimited site licenses. The Mini Agency Bundle offers more advanced features, including a library of pre-built websites to work with, and several pro add-ons. You'll also get the choice of one page builder add-on for a total of $169. The Agency Bundle – which goes for a whopping $249 – comes with all that plus the add-ons for the other page builders.
Neve's lowest priced tier provides you with a year of support and updates, custom layouts, and more – for $59 per year. Priority support and a 'WooCommerce booster' can be yours for $99 per year, while purchasing the highest tier for $159 also lets you 'white label' the theme – perfect for agencies and freelancers.


In summary:
OceanWP
GeneratePress
Neve
Astra
$39 – 1 site
$79 – 3 sites
$129 – unlimited sites
$59 – 500 sites
$249 – 500 sites + lifetime access
$59 – unlimited sites
$99 – unlimited sites, priority support
$159 – unlimited sites, priority support, white labeling
$59 – unlimited sites
$169 – unlimited sites (mini agency)
$249 – unlimited sites (agency)
12 months of updates and support, 11 premium extensions, all pro demos included
All premium modules, full access to the site library, one year of updates and support, 30 day money back guarantee
Each tier includes a header, blog, and Elementor booster.
Astra Pro includes advanced customization and layouts.
In terms of how much you're getting for the price involved, here's our ranking for OceanWP vs Astra vs GeneratePress vs Neve:
OceanWP and GeneratePress 🥇
Astra 🥈
Neve 🥉
OcenWP has the cheapest unlimited license on this list, so this makes it the overall best investment. If you know that you're only going to use your theme on a single site, you can also consider Neve, which comes a bit cheaper. GeneratePress offers the most straightforward pricing model with just a single price tag for the pro version.
4.
Ease of setup and use
Now, it's time to see what OceanWP vs Astra vs GeneratePress vs Neve look like in action. We're going to talk briefly about what's involved in installing each premium theme. Then, we'll take a look at the process of setting them up.
Astra is the simplest theme to install. You'll simply get a ZIP file you can upload to your site through your preferred method – such as the dashboard or via File Transfer Protocol (FTP). Both GeneratePress and Neve, on the other hand, require you to first have the free version of the theme installed. The file you'll receive when you purchase the premium plan is actually a plugin, and needs to be installed in your site's plugins folder.
Finally, the OceanWP premium plan doesn't change the theme itself – it just adds a collection of extensions. Therefore, you'll receive a series of zipped folders, one for each add-on. You'll need to upload and install each one separately.
So you can see what you'll be starting with, here's what a bare-bones installation looks like for OceanWP vs Astra vs GeneratePress vs Neve:
Astra: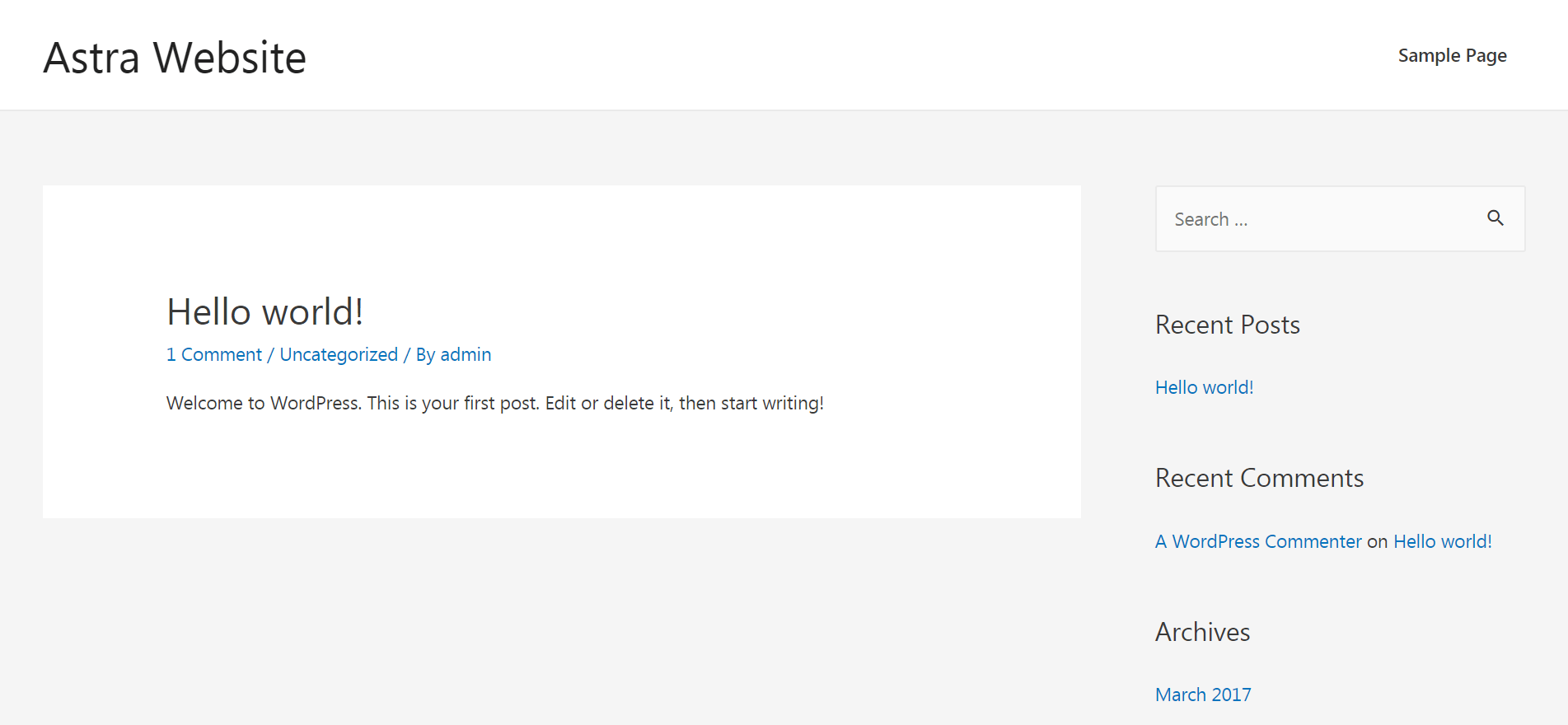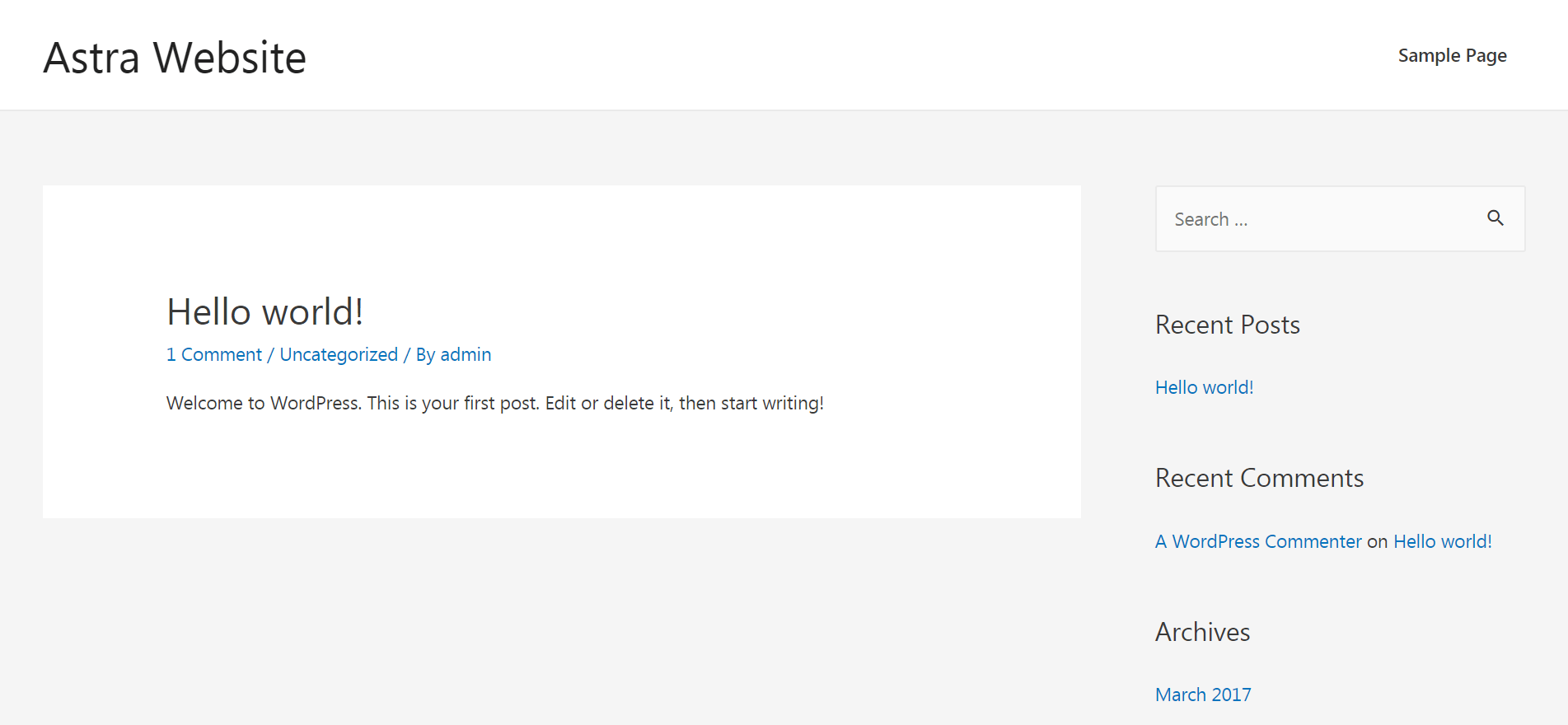 OceanWP:
Neve:
GeneratePress: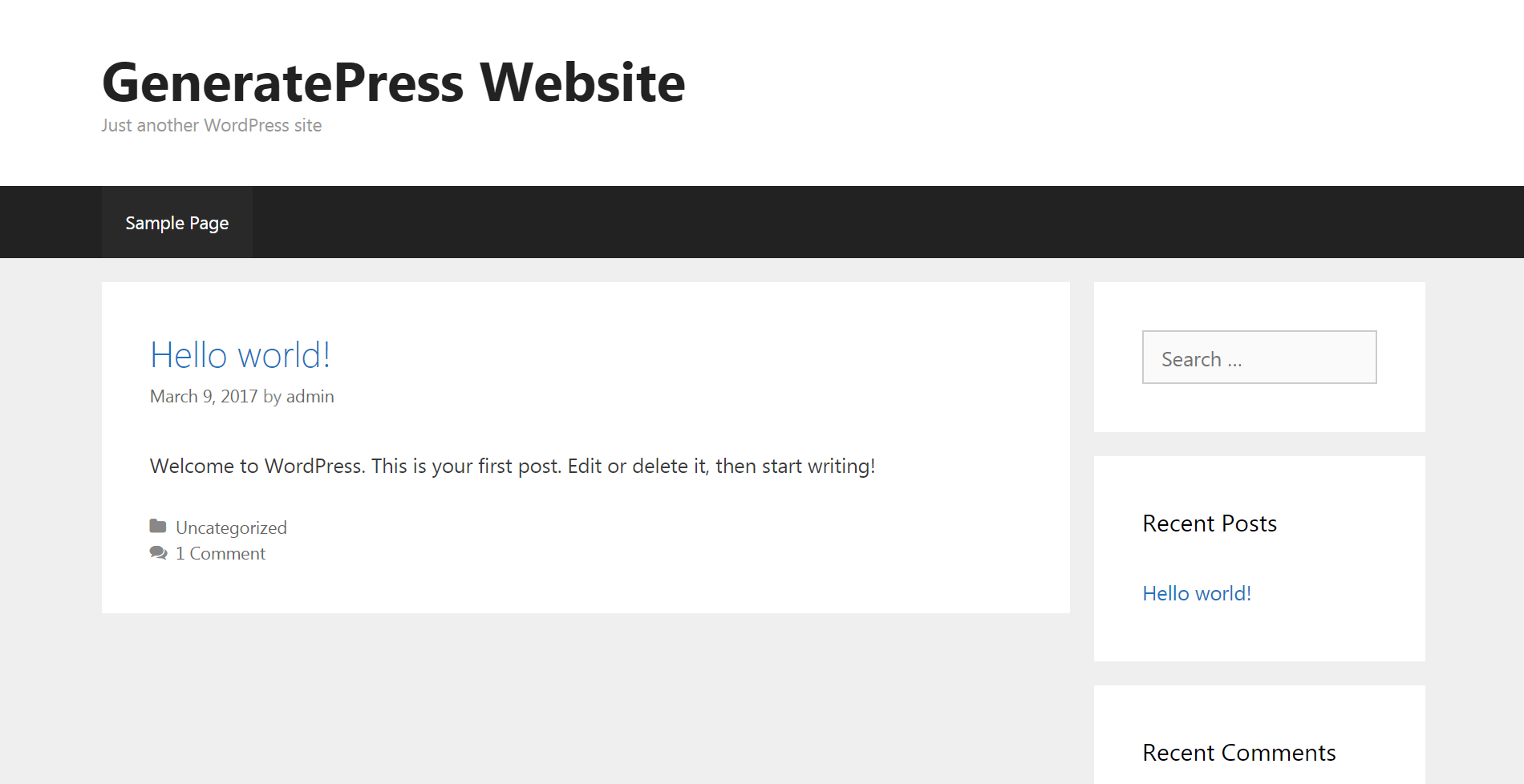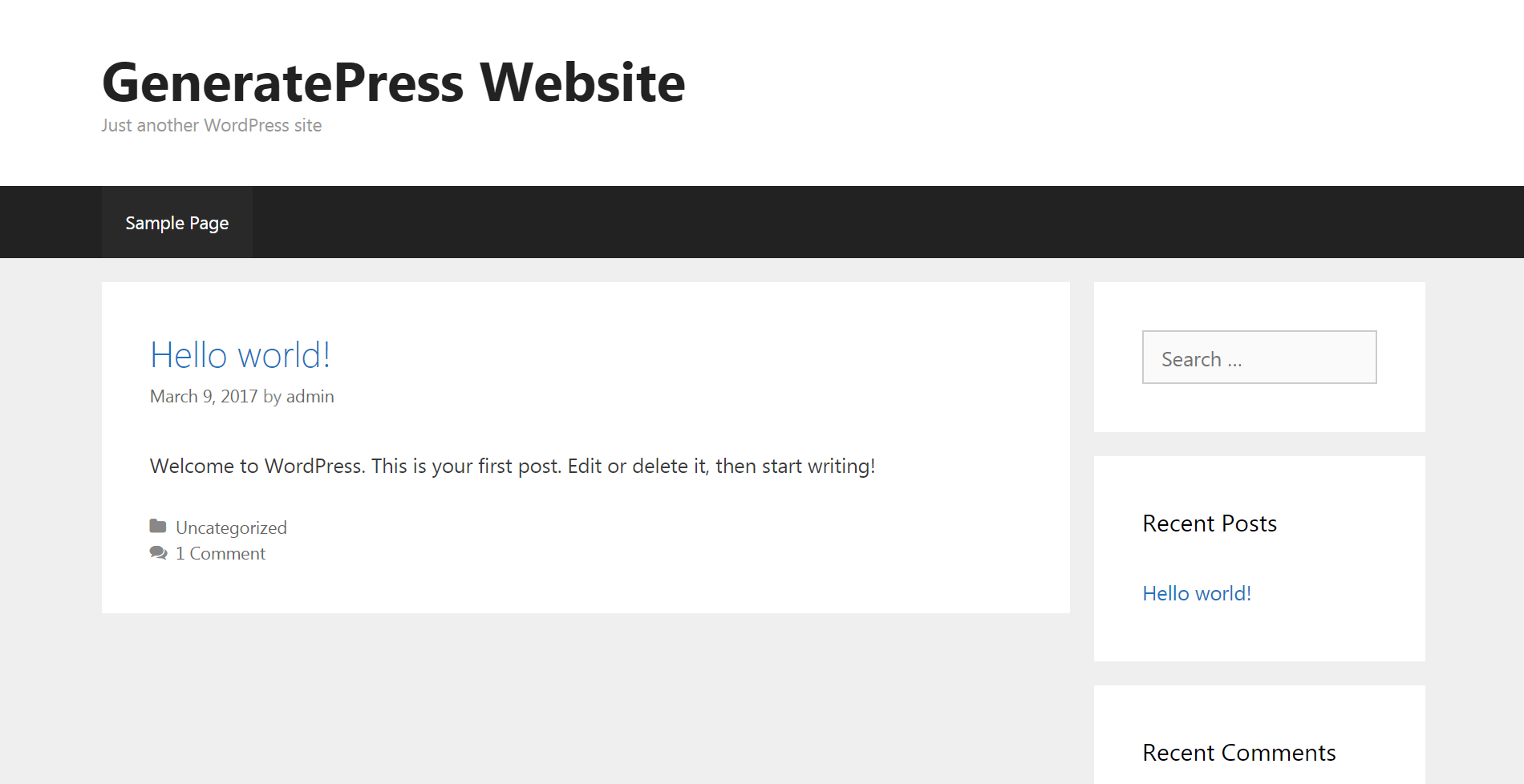 Now, let's take a closer look at what you'll do with these themes after installing them.
Basic site setup with OceanWP
OceanWP offers a variety of demo content, which you can install using the included Demo Import extension. There are basic options, and specially-designed Pro Demos:
These demos are quite professional on the whole, especially the pro options. Here's the Chocolate demo, for an example of what you'll get as a starting point: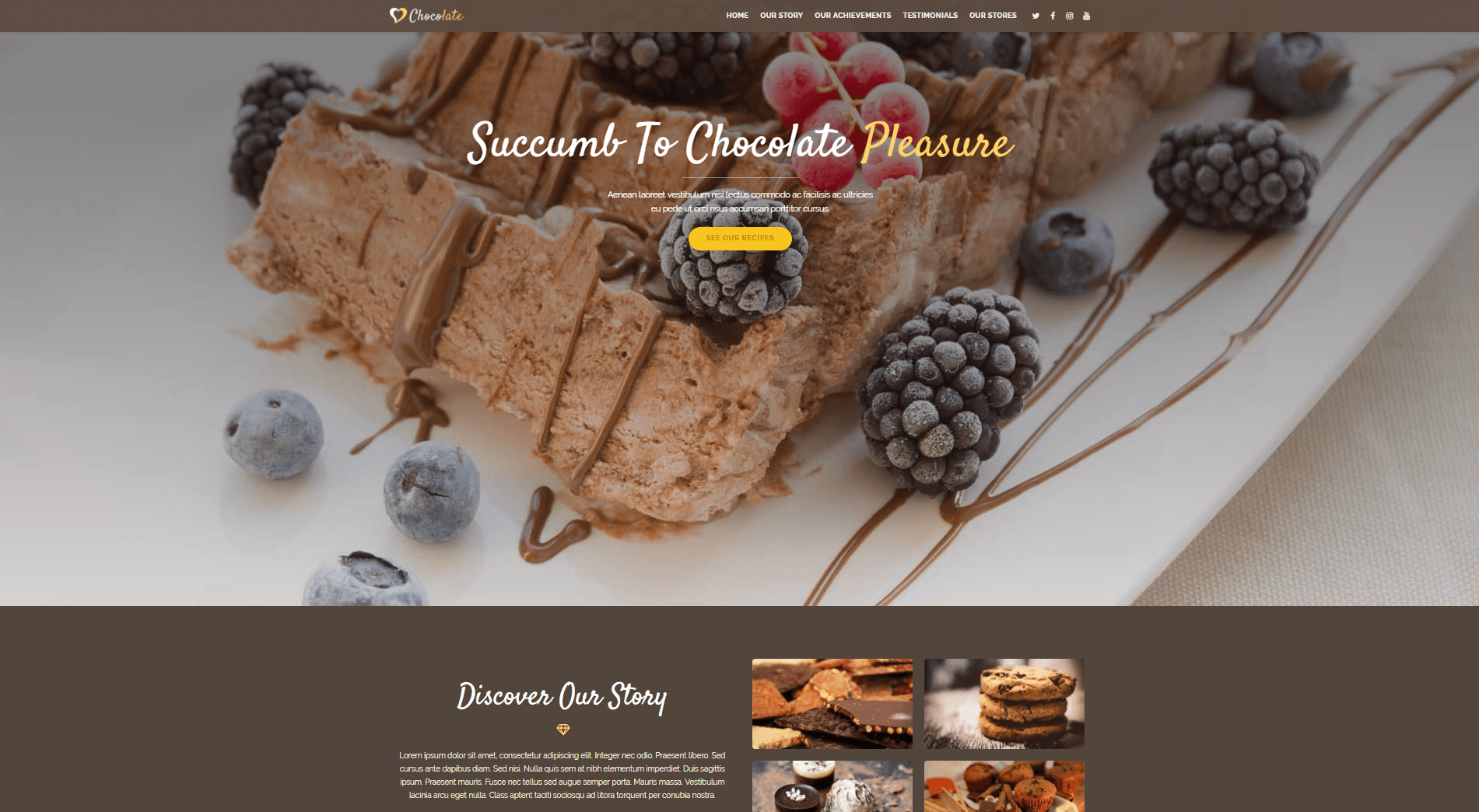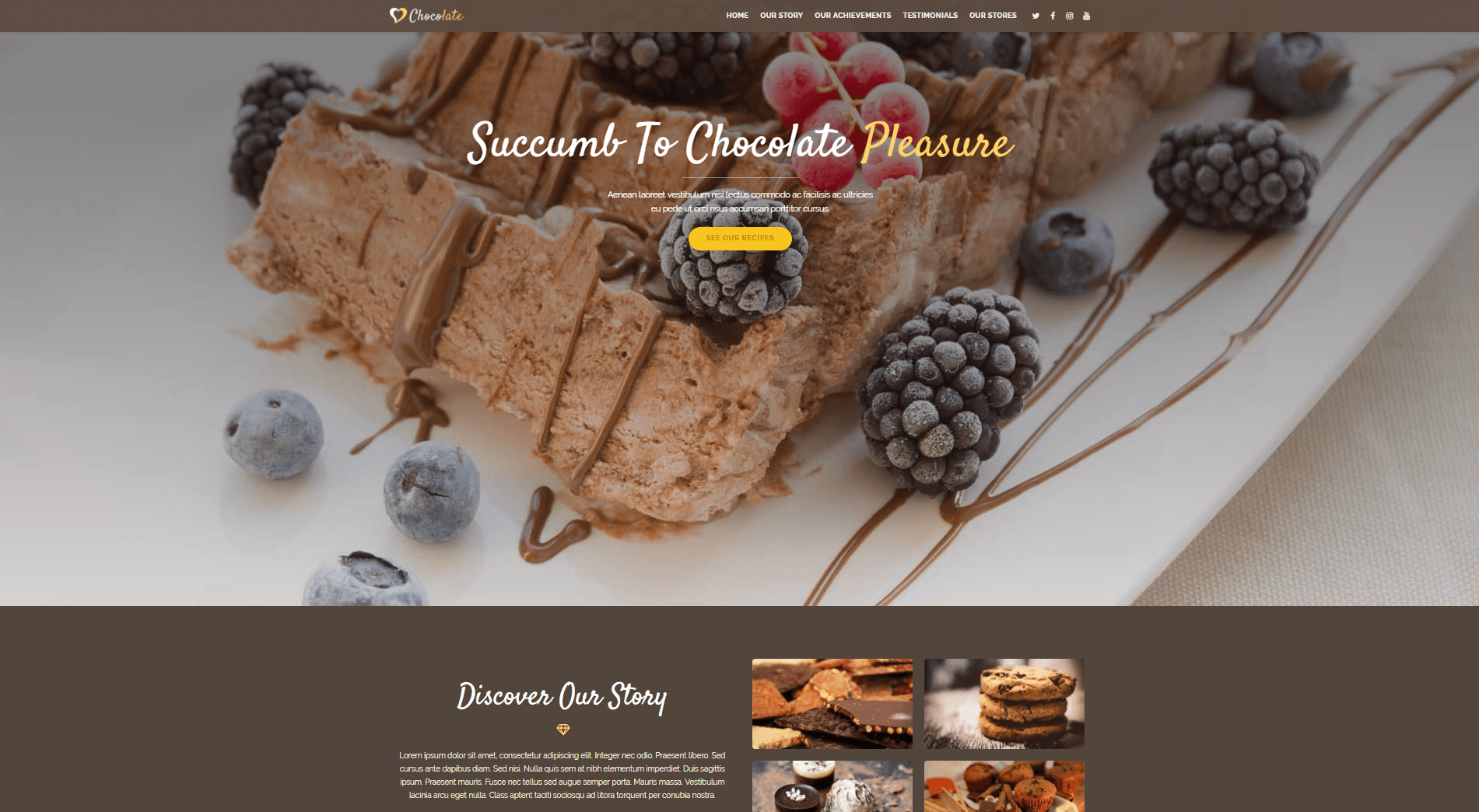 To help you manage all of your themes, extensions, and everything else, there's a handy Theme Panel tab that keeps it all organized. Since you'll be adding a lot of content if you install all of OceanWP's extensions, this is a useful feature: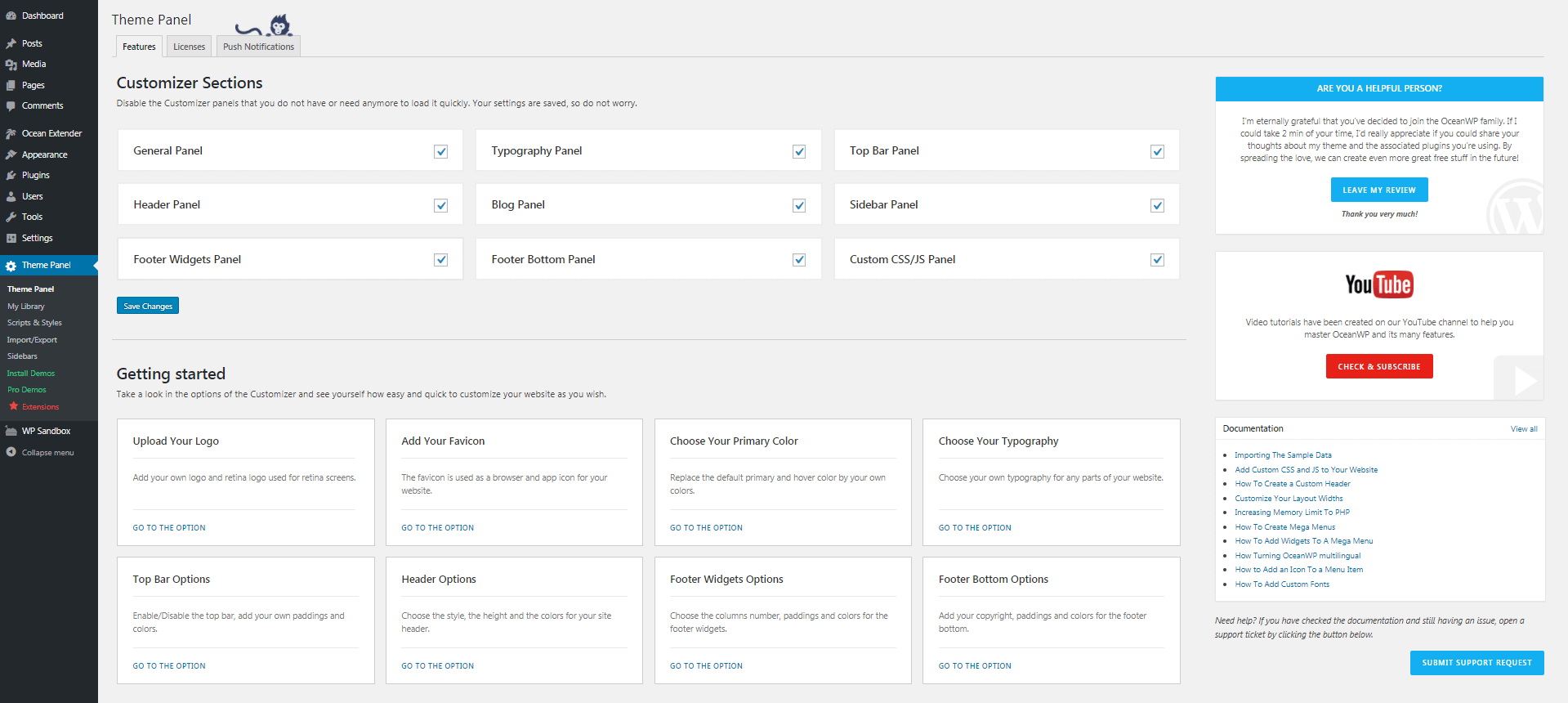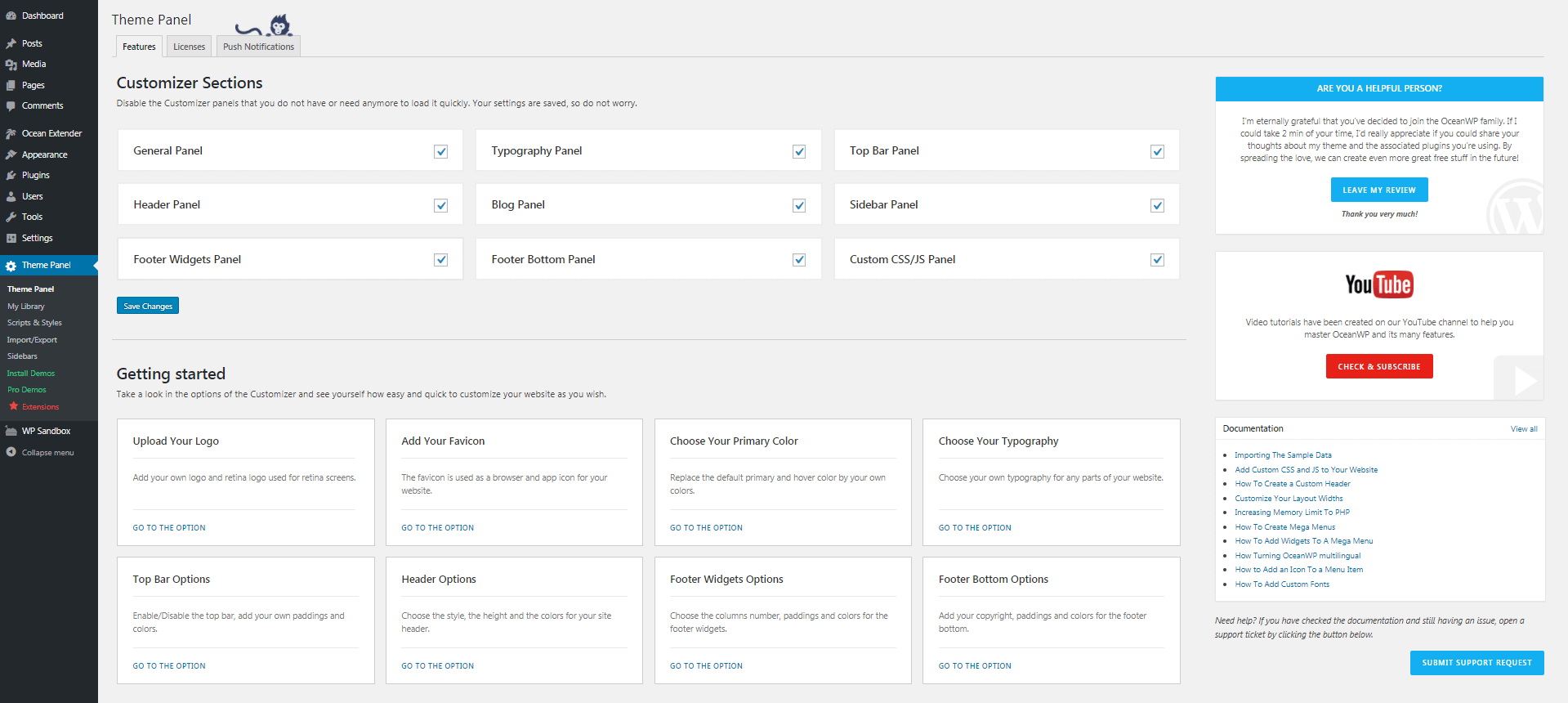 Next, you'll probably want to head over to the Customizer to start making changes: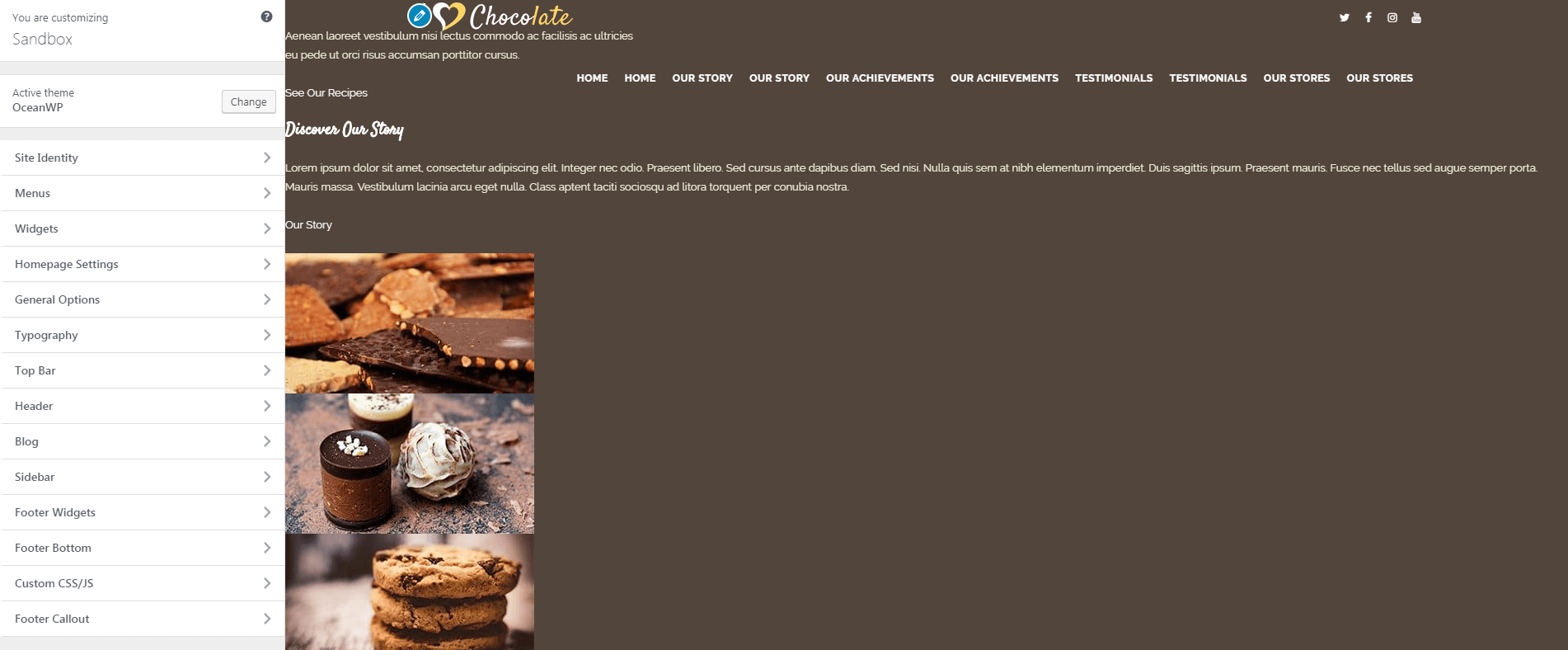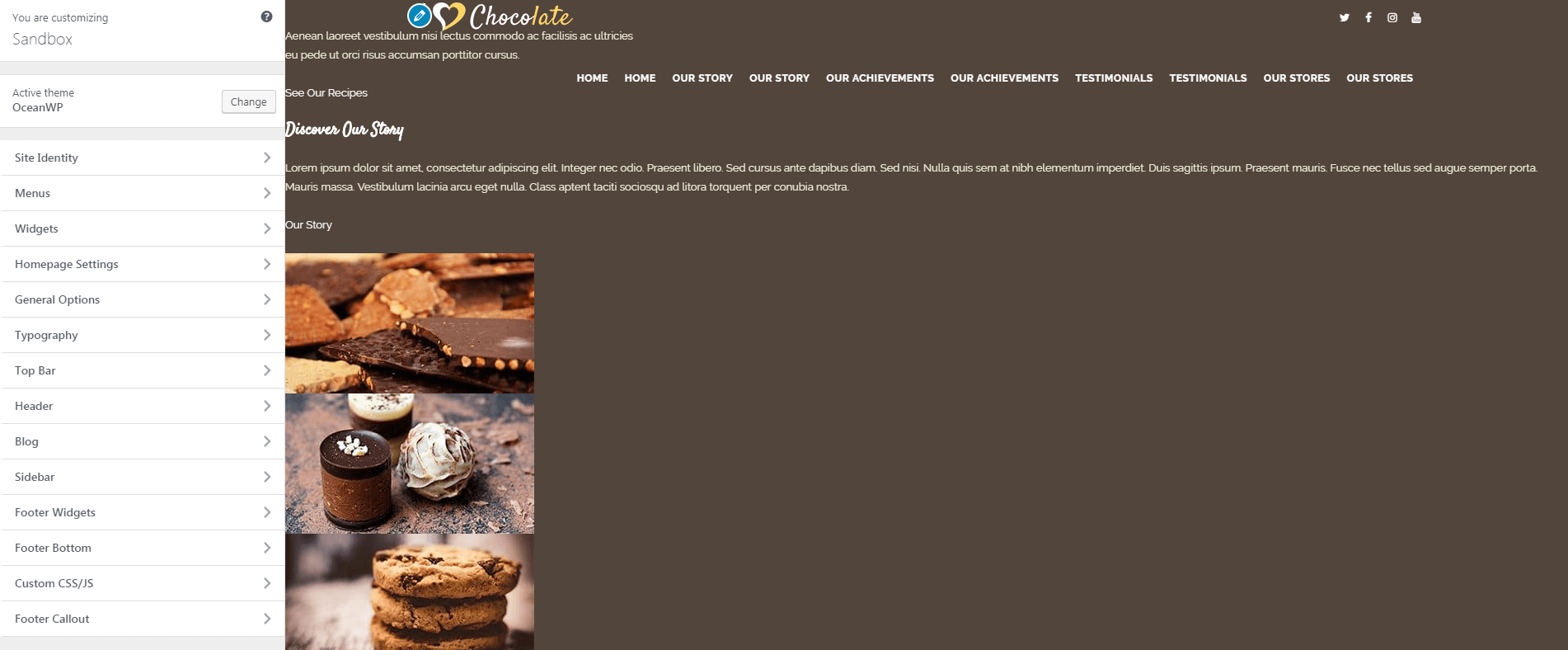 There are a lot of options here – so many, in fact, that it can be a little overwhelming to new users. It's all organized reasonably well, but it will take some work to discover everything this theme has to offer.
Basic site setup with Astra
Getting the demo content set up for Astra is a bit convoluted. You'll need to install a free plugin called Astra Starter Sites from the WordPress Plugin Directory first.
After installing the plugin, you'll find the demo sites under Appearance → Astra Sites: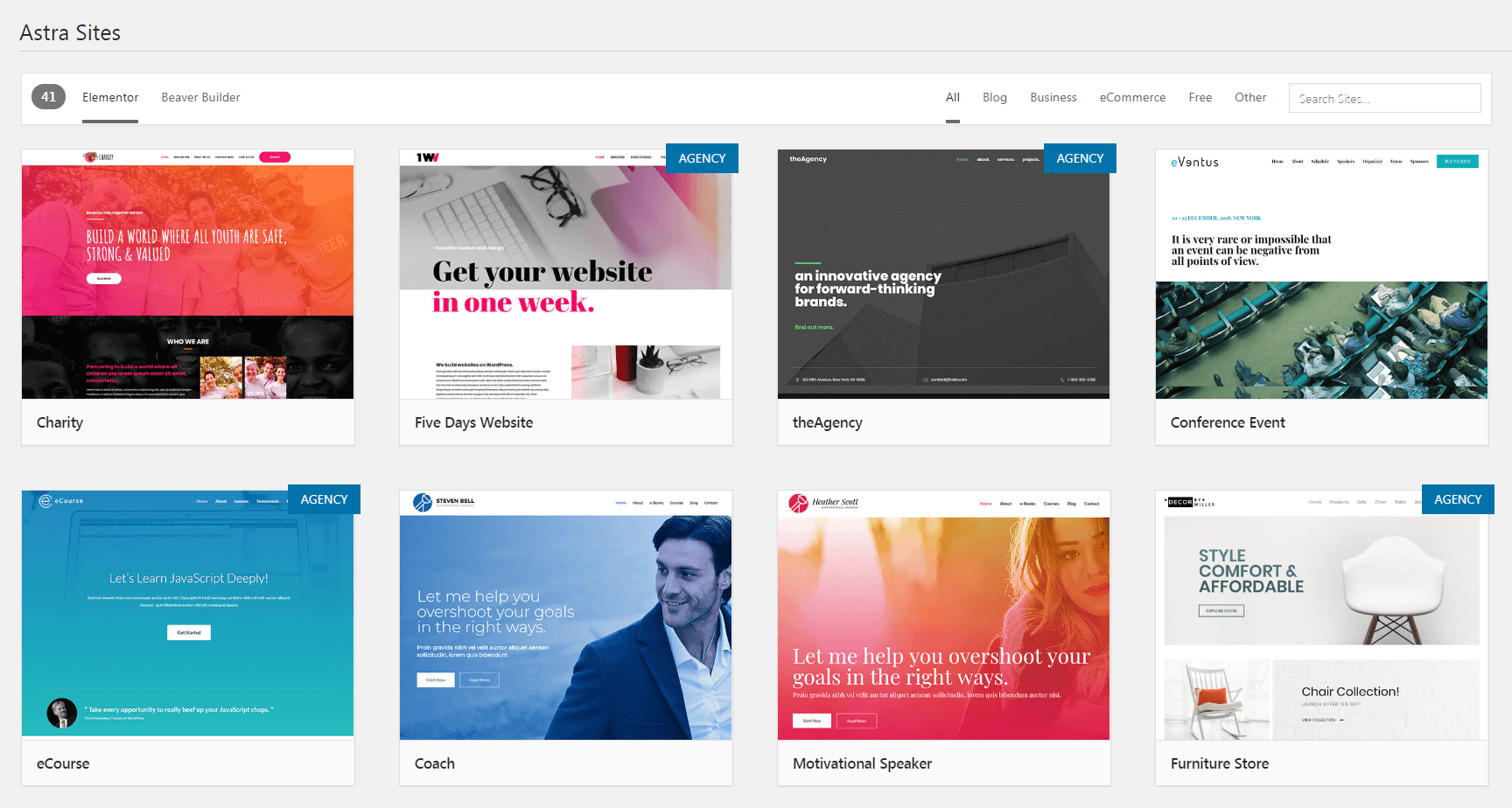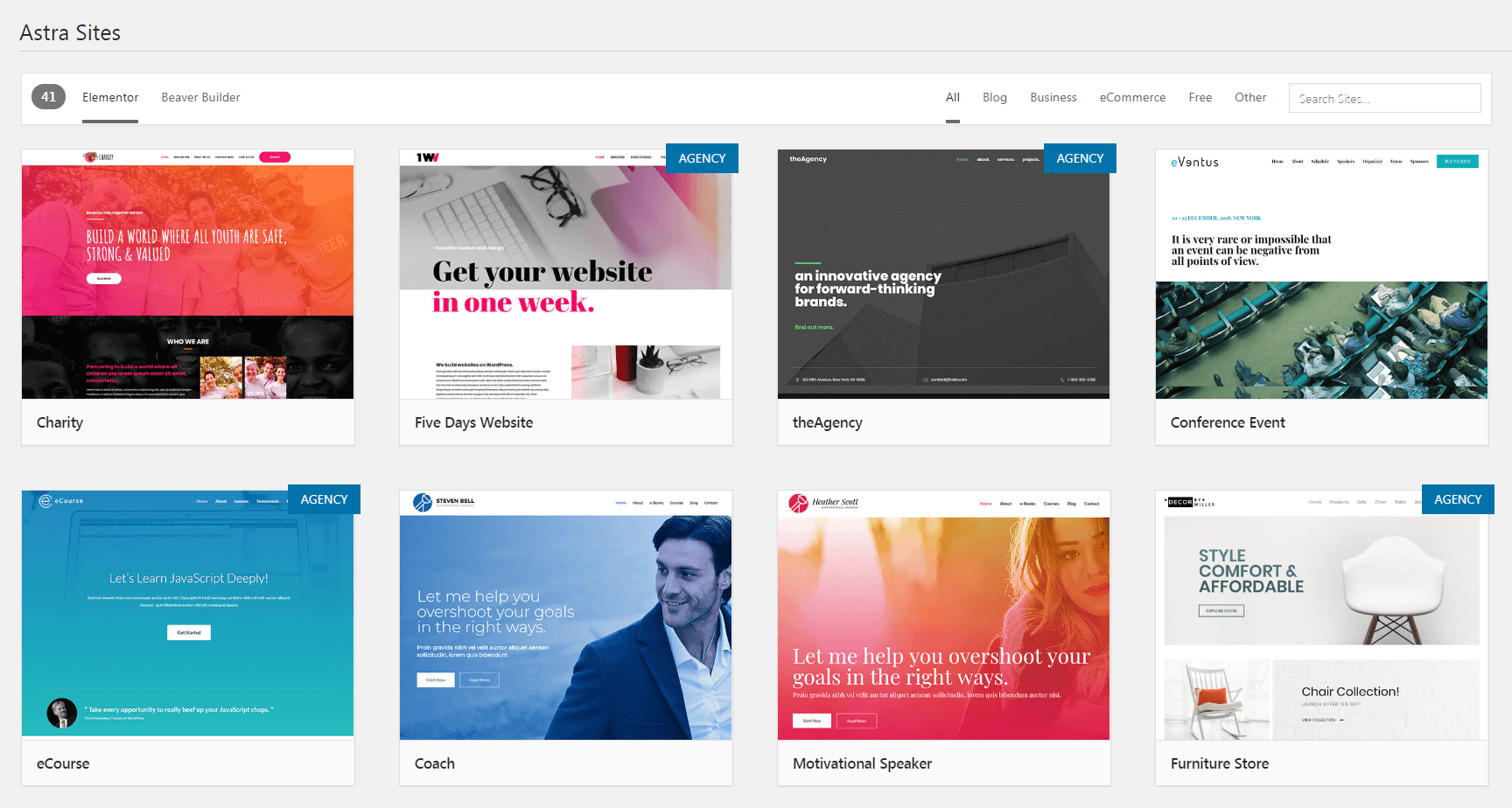 You'll need to select whether you're using Elementor or Beaver Builder, since this affects the selection. The demos themselves are well put-together and professional, if not quite as stylish as OceanWP's options. There are some nice starting designs, however, such as the Product Landing Page demo:
Under the Appearance tab, you'll also see a section called Astra Options:


This gives you a snapshot of your design options. The links here lead to the Customizer, however, so you're better off going straight there instead:


The organization here is more streamlined than with OceanWP, giving you some basic choices to start with and then slowly expanding to show the wide range of options on offer. Overall, it's easy to get a quick grasp of what you can do with this theme and start working right away.
Basic site setup with GeneratePress
Next up, let's check out GeneratePress. After completing the installation, you'll want to head to Appearance → GeneratePress to choose which modules you want to enable: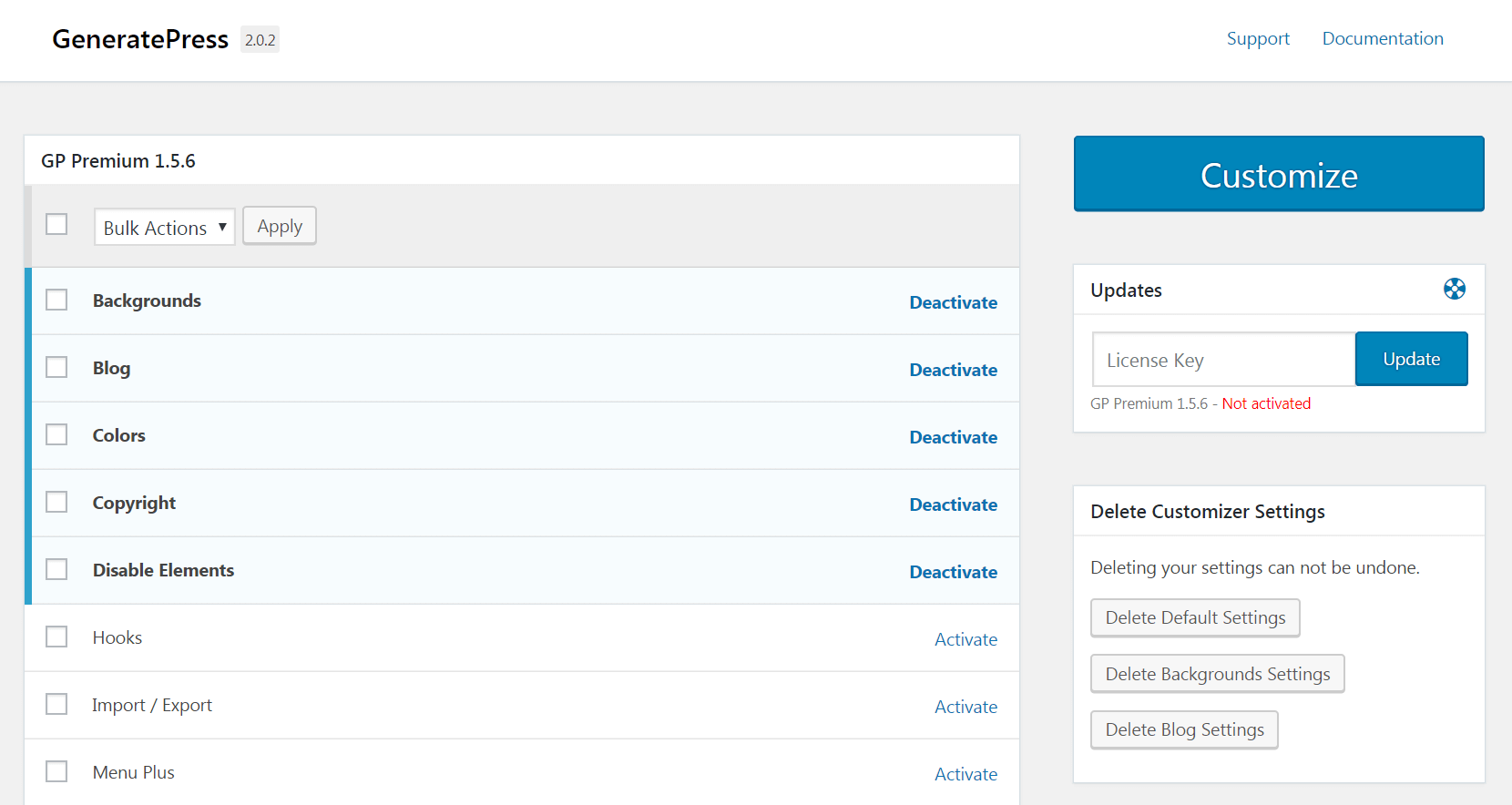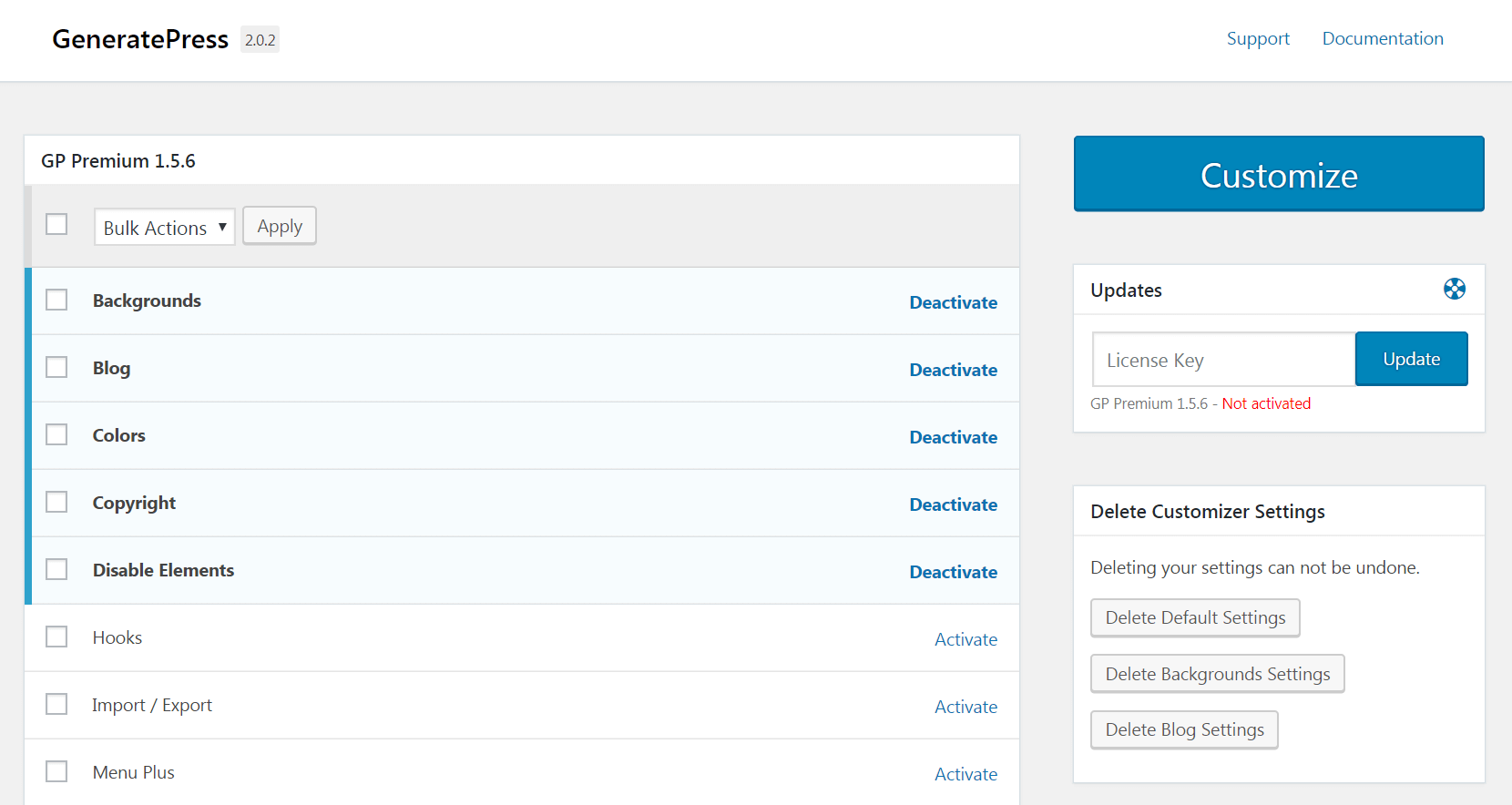 This is a simple way to customize the features your site contains, and keep it from getting cluttered. Each module you activate will add new options to the Customizer.
Unlike the last two themes, GeneratePress doesn't offer pre-built sites or demos. Instead, you'll want to head straight to the Customizer to start tweaking your site's appearance. The settings here are clearly organized and easy to find:


Overall, this theme presents the quickest setup process, since it's more streamlined than OceanWP or Astra. It's also the easiest to understand quickly, without the need for documentation.
Basic site setup with Neve
Last but not least, we'll take a look at what it's like to get started with Neve. After installing the theme, you can head over to Appearance → Neve Options to start customizing it. There, you'll find a list of all the available demo sites, along with previews and import options: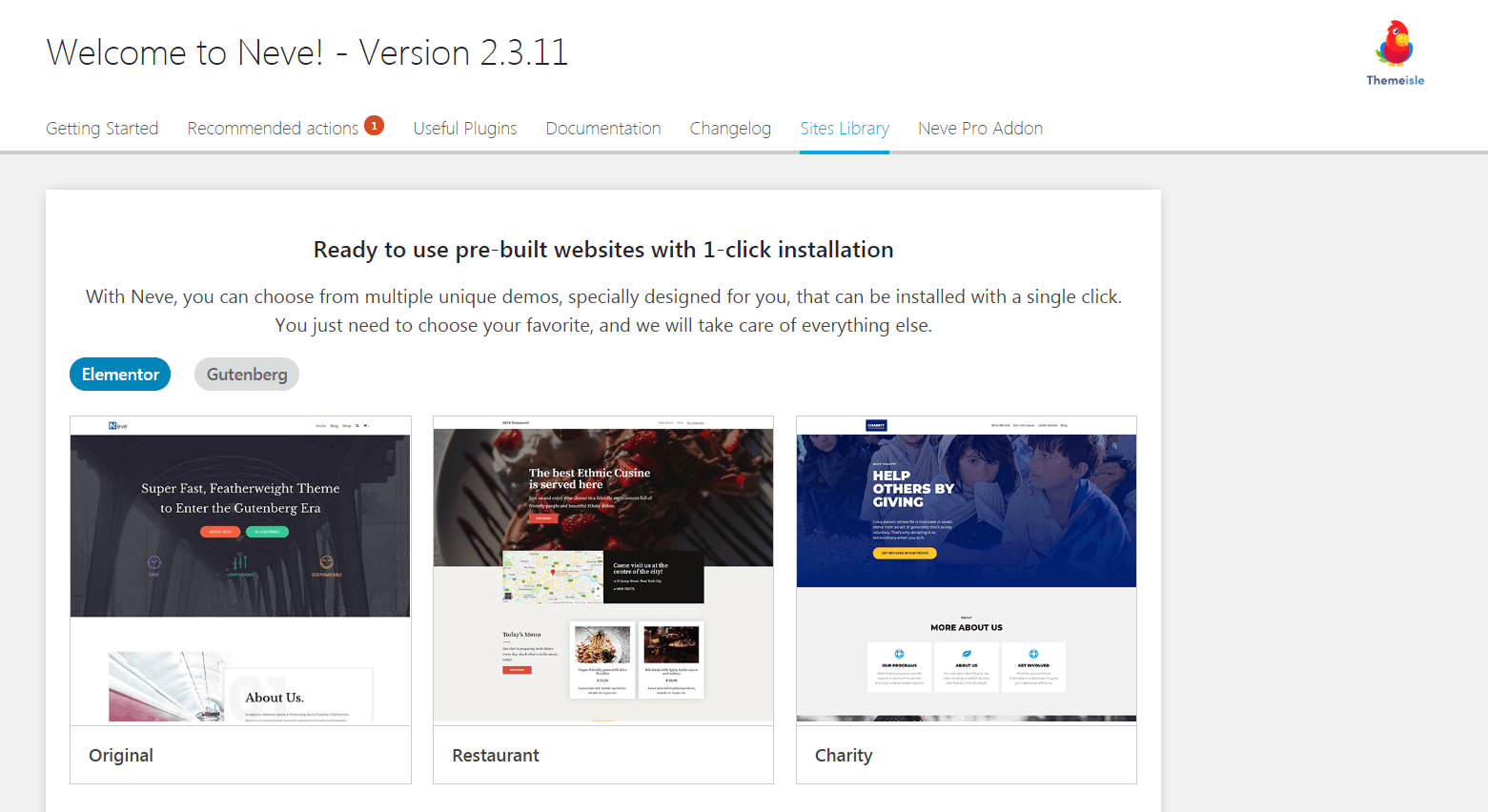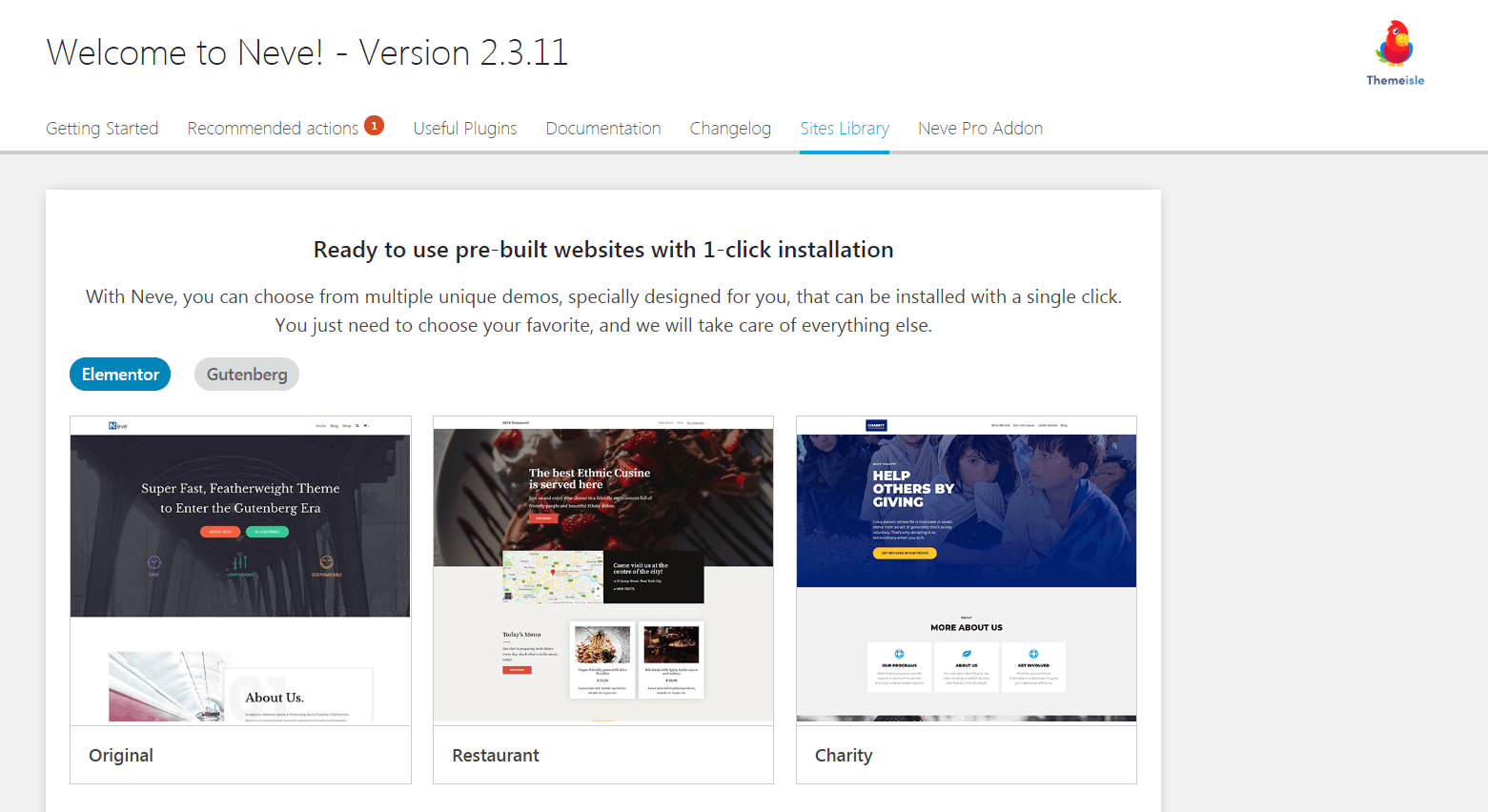 You can even filter the demos based on their compatibility with Elementor and Gutenberg, making it easy to locate one that's a good fit for your site.
In this same section, you'll also find tips on some recommended next actions, as well as useful plugins you may want to install. This means that instead of leaving you to fend for yourself, Neve walks you through setting up its key elements in a straightforward fashion.
Finally, you can head on over to the Customize screen to start tweaking your theme and chosen demo content: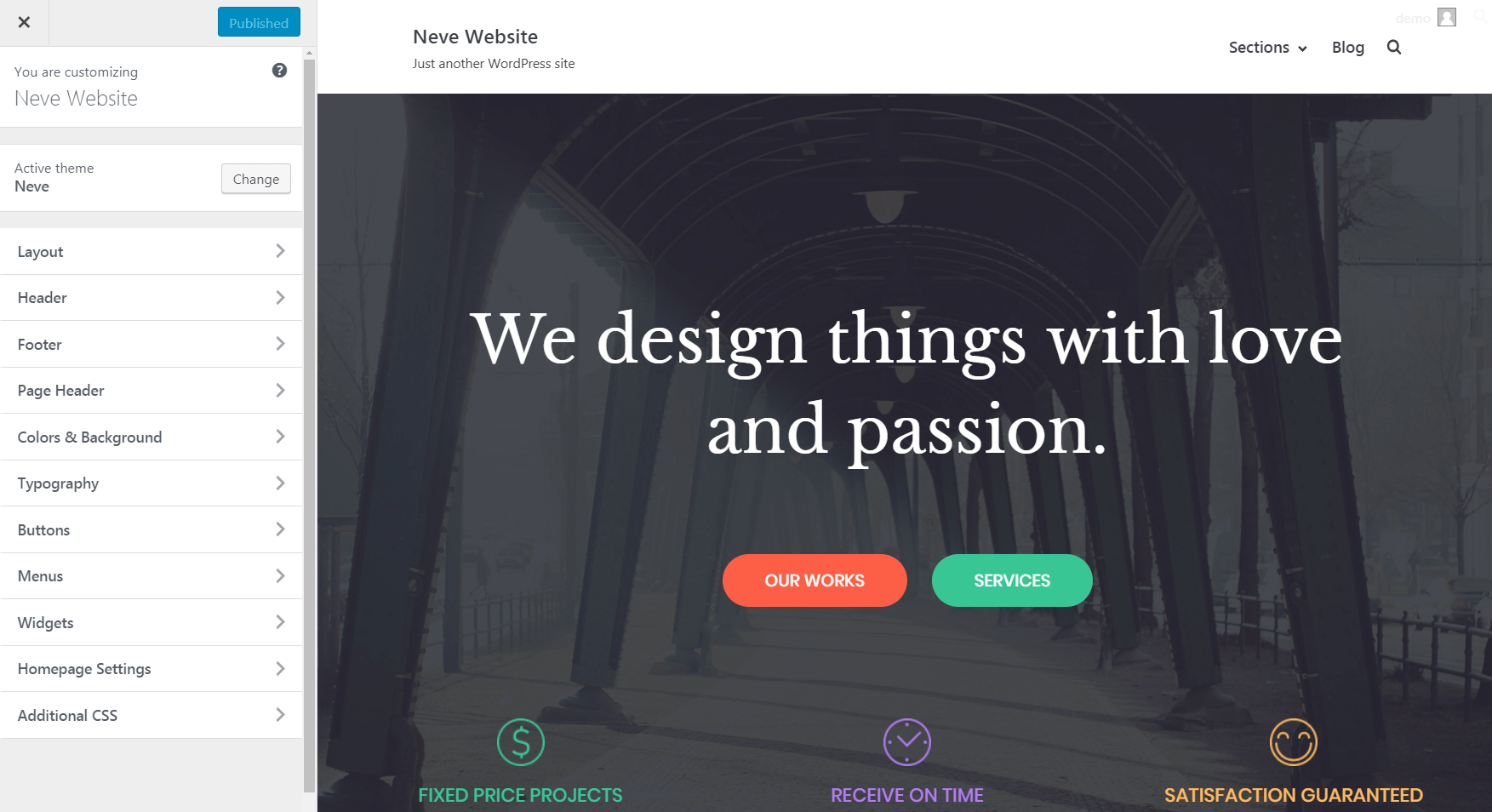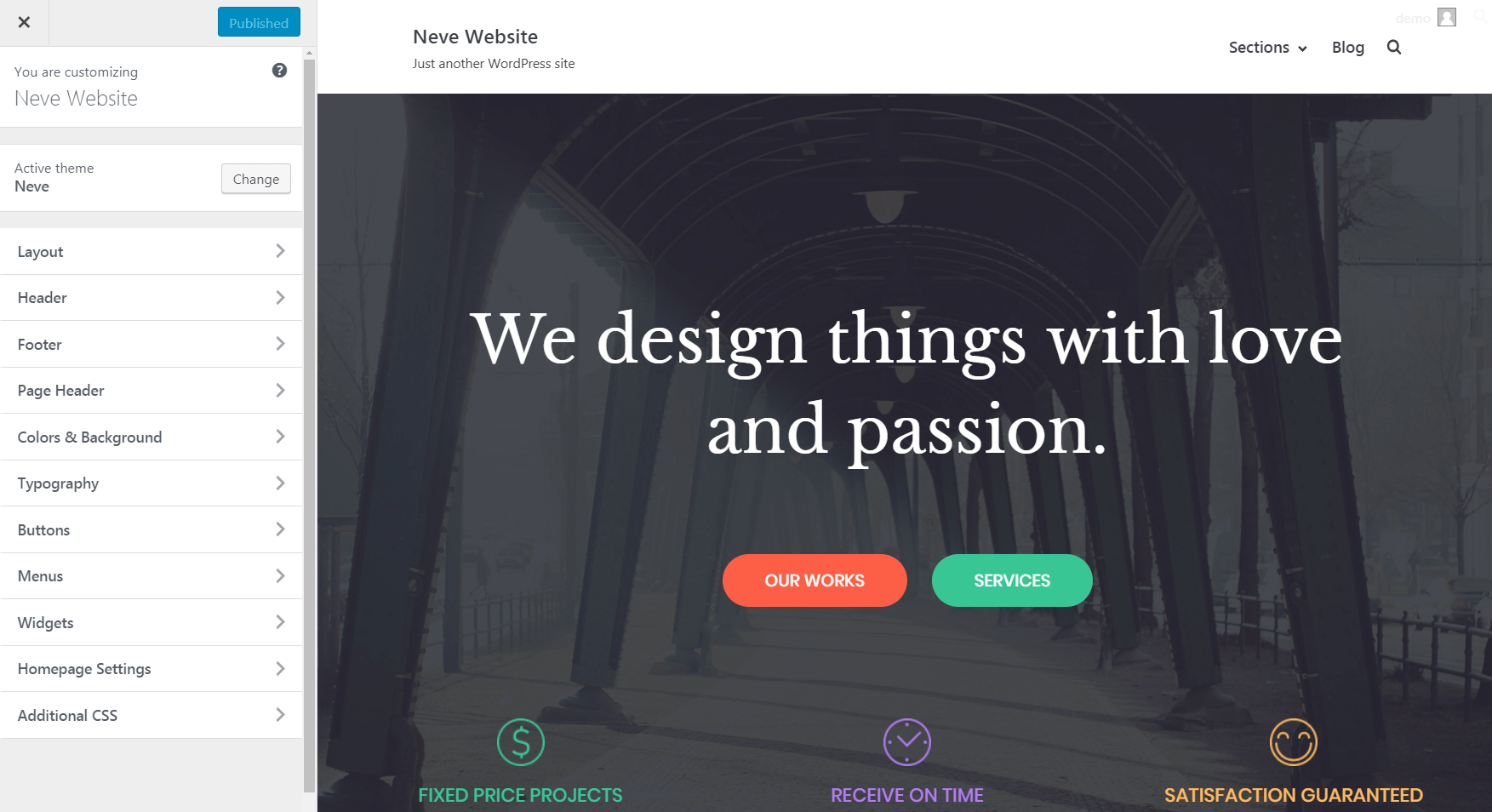 The options here are well organized, and there are a lot of customizations you can make. If you've spent any time with the WordPress Customizer before, you'll feel right at home here.
To sum up, here's our ranking for how easy it is to set up each site:
Astra and GeneratePress 🥇
OceanWP 🥈
Neve 🥉
GeneratePress provides clear instructions and organization, but also offers the least features and options to sort through. For a balance between design flexibility and ease of use, Astra is probably the stronger choice. Neve wins out in this category, however, thanks to its wealth of demo content and the ease with which you're able to set up all the key elements.
5.
Layouts, templates, and design options
Any worthwhile theme should provide plenty of design options to get you started. So let's see what OceanWP vs Astra vs GeneratePress vs Neve have to offer in terms of starting layouts, templates, and so on.
We'll begin with Astra, which has a dedicated Site Layout module. Using this tool, you can make adjustments to the design of your entire site. You can also create your own custom layouts quite easily. Plus, there are a wide range of customizer options that give you lots of control over your headers, sidebars, footers, backgrounds, and more.
OceanWP offers a lot of starting demos you can tweak however you'd like. There are also extensions that provide templates for portfolios and popups, specific types of headers, sidebars, footers, and more. You're free to customize your site fully, although there are admittedly fewer design-specific features than with Astra.
Similar to OceanWP, most of GeneratePress' design options are contained in its various modules. There are layout options for your site and for specific sections, as well as a number of choices for headers, menus, backgrounds, and so on. The options added to the customizer are pretty comprehensive, and enable you to make both large- and small-scale tweaks to your site's appearance.
As we saw earlier, Neve provides plenty of demo layouts to get you started. These can be installed with a single click, and give you an easy starting point for building sites in various niches. You'll find lots of handy options in the Customizer as well, helping you tweak your headers, menus, typography, colors, and more. Plus, this theme includes features specifically to aid in WooCommerce integration, blog-specific setup options, and even the ability to create and use custom layouts. Also, you can use Templates Cloud for importing pre-built pages for home, about, etc.
None of these themes disappoint in terms of design potential, but we're ranking them as follows:
Astra 🥇
GeneratePress 🥈
OceanWP and Neve 🥉
All of the themes did pretty good in this test, but if we've to pick one, Astra offer slighlty more design options.
6.
Plugins and extensions
We've mentioned in passing that these themes offer some extra extensions, modules, and plugins. However, we have yet to look at this aspect in depth.
OceanWP's premium version comes with all of the theme's extensions.
We've already discussed the design-related options these modules offer. However, there are also extensions that provide social sharing buttons, popups, hooks for developers, and more. There's even one that helps you 'white label' your site.
GeneratePress also includes all modules in its premium plan, and there are a similar number to what OceanWP provides.
They're less diverse, however, since they focus more specifically on design. There are a few particularly handy modules, though, such as one with extra WooCommerce options, and another that adds developer hooks.
Astra is the only theme that doesn't offer everything in the basic premium plan – although its features at that level are comparable to GeneratePress and OceanWP. However, the pricey Agency Bundle provides a bunch of extras. There's an add-on for the theme itself, a plugin that helps you create calls-to-action, a schema markup plugin, and even add-ons for specific page builders.
As for Neve, the premium version of the theme includes just about everything you'll need. If you're purchasing the theme on its own, the only difference between the tiers is that higher plans include the WooCommerce booster and white label features. Also, for just a slightly higher price, you can get an entire bundle of themes and plugins, which means you can get Neve alongside some handy additional tools (such as the Feedzy, Visualizer, and WP Product Review plugins).
Taking price into account, the results of this category of our OceanWP vs Astra vs GeneratePress vs Neve comparison are:
Astra and OceanWP 🥇
GeneratePress 🥈
Neve 🥉
Both OceanWP and Astra offer a ton of extras. Astra might be the clear winner between the two, except that you'll have to pay a significant fee to access its best extensions, while OceanWP bundles everything together.
7.
Speed and performance
The last thing you want is for your theme to slow down your site. This means we need to consider the performance of OceanWP vs Astra vs GeneratePress vs Neve. All four themes employ solid coding practices that support fast performance. Both GeneratePress and Neve in particular are also designed to be as lightweight as possible. That way, you don't get a lot of unnecessary features and bloat slowing down your pages.
Astra also uses basic JavaScript instead of jQuery, a choice meant to optimize speed. As for OceanWP, it offers a few unique performance-based features. For instance, it provides the option to disable all scripts and styles that you don't need. This is a smart way to speed up your site, since it will no longer need to load the JavaScript and CSS associated with unused features.
Let's see how the four themes hold up in a real-world scenario. We set up a basic WordPress site using the Theme Unit Test Data, and tested its loading times with each theme installed (using Pingdom Tools).
After taking the average of several trials, here are our results:
(Charts by Visualizer Lite. Baseline using the Twenty Seventeen theme.)
Astra by @WeBrainstorm wins the speed race against OceanWP and GeneratePress
Click To Tweet
As you can see, Astra and Neve clearly offered the best times. GeneratePress had essentially no effect on our site's loading times, while OceanWP slowed things down a bit (although not enough to be a problem).
All of these themes appear to be well optimized. If you're interested in getting the best performance possible, however, here's our ranking:
Astra 🥇
GeneratePress 🥈
Neve 🥉
OceanWP
Astra is a pretty clear winner here, as the only theme to have a positive effect on the loading times in our test.
8.
Support and documentation
No matter how easy your theme is to use, you're going to have some questions. Therefore, it's important to have solid support options you can rely on.
All four premium themes come with a year's worth of support and updates. In addition, each offers ticket submissions as the primary way to get help. Both Astra and GeneratePress also provide support forums. OceanWP doesn't, but it does offer a 'priority support' plan for an additional fee.
What's more, all the themes also offer documentation. Astra's knowledge base is comprehensive and helpful, offering plenty of tutorials. The same holds true for Neve, which comes with plenty of knowledge base articles to get you started. The documentation for both OceanWP and GeneratePress is less thorough, but does cover most of the important bases.
When it comes to support, we'd rank OceanWP vs Astra vs GeneratePress vs Neve this way:
Astra 🥇
GeneratePress and OceanWP 🥈
Neve 🥉
It's not hard to find help for any of these themes, but Astra's thorough and well-written knowledge base helps it come out on top.
Go to top
Which theme is the best page builder-friendly option?


All in all, there are two clear winners that have come out in this review of OceanWP vs Astra vs GeneratePress vs Neve. In almost every category, both Astra and Neve stood out at the top of the list.
Astra is a solid option that offers an excellent balance between features, pricing, and ease of use. It provides a ton of customization options, quality support and documentation, and impressive performance. As for Neve, it also offers a lot of demo content and options, and a detailed knowledge base to get you off the ground. Plus, it's the easiest theme to get started with, won't slow down your site, and has the most generous pricing structure.
Of course, this doesn't mean that GeneratePress and OceanWP are poor-quality options. If you're looking for something a little more simple and streamlined, GeneratePress is easy to get started with and offers quite a bit considering its low price. OceanWP, on the other hand, should probably be your go-to theme if you're looking to design the best-looking site possible.
Go to top
Conclusion on OceanWP vs Astra vs GeneratePress vs Neve
Picking the right WordPress theme is an important consideration, and one that shouldn't be rushed. If you put some thought into how you'll actually be using your theme beforehand – for example, by knowing what page builder plugin you'll use – you'll be setting yourself up for success.
In this review, we compared four of the most popular and feature-rich WordPress themes that are perfect for page builder enthusiasts. To recap, here are our conclusions about OceanWP vs Astra vs GeneratePress vs Neve:
Have you used any of these themes? If so, what did you think of them? Who's the winner between OceanWP vs Astra vs GeneratePress vs Neve for you? Share your experiences with us in the comments section below!
OceanWP vs GeneratePress vs Astra vs Neve // @OceanWordPress @WeBrainstorm @generatepress 🔥
Click To Tweet
…
Don't forget to join our crash course on speeding up your WordPress site. With some simple fixes, you can reduce your loading time by even 50-80%: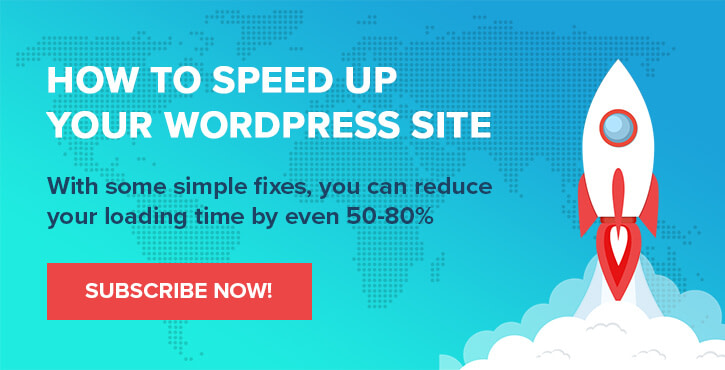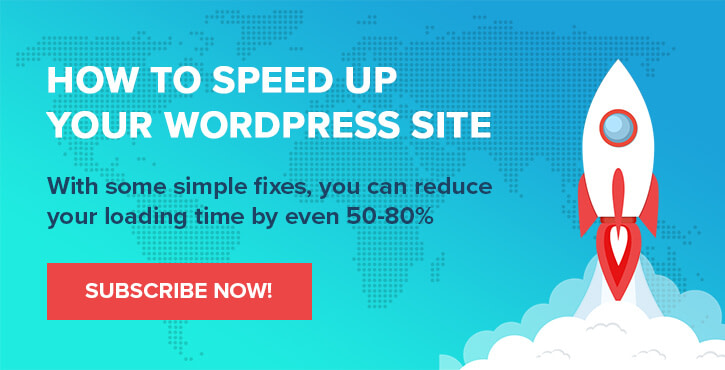 BONUS VIDEO: Hestia Vs Oceanwp Vs Astra

Watch this video on YouTube
Layout, presentation, and editing by Karol K.
* This post contains affiliate links, which means that if you click on one of the product links and then purchase the product, we'll receive a small fee. No worries though, you'll still pay the standard amount so there's no cost on your part.

Was this topic
helpful?
0% of users found this helpful