This is the May 2017 edition of "This Month in WordPress with CodeinWP."
Happy birthday, WordPress! Like every year, our beloved CMS just had its birthday on May 27. As part of the celebration, the core team prepares another major release that will be out very soon, hopefully right before this year's WCEU, which is another huge piece of news that's just around the corner.
But events and new versions of the platform are not everything that's been in the works this and the previous month. We also have new developments in WordPress.com, some Shopify-WordPress news, and a lot more.
Welcome to the May 2017 edition of "This Month in WordPress with CodeinWP." This Month in #WordPress with CodeinWP - May 2017 Click To Tweet
May 2017 in WordPress

WordPress 4.8 Release Candidate
WordPress 4.8 is nearly complete and ready to be released! The launch date was set to June 8-9, so, if you get the chance, try it out to make sure everything works just fine for you. The Release Candidate 2 is already out, and it fixes a handful of errors found in the previous versions.
What's new in WordPress 4.8? Click here to see the new features in action. Here's the TL;DR:
New and improved text widget
New image, video, and audio widgets
New "WordPress Events and News" dashboard widget
Improved link boundaries
Setting the foundation for Gutenberg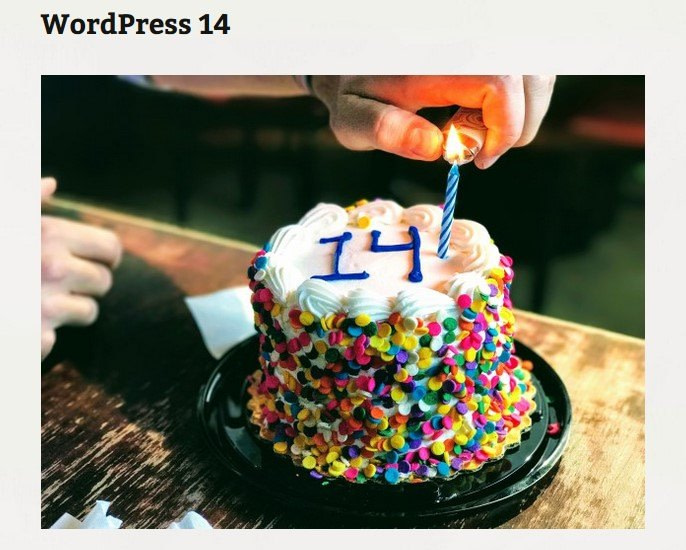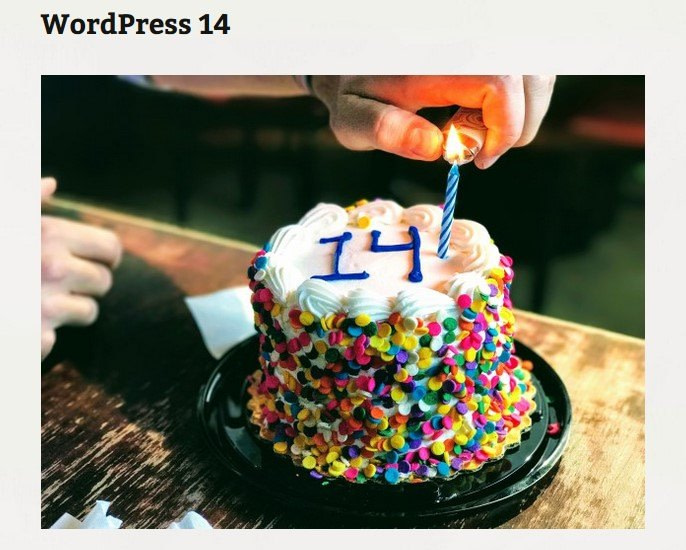 WordPress Turns 14
WordPress turned 14 on May 27. It's been 14 years since Matt Mullenweg and Mike Little made the first steps towards WordPress greatness. And the rest, like they say, is history.
And what a journey it has been. We've had 32 major versions of the platform (4.8 is going to be #33), over a quarter of all websites are powered by WordPress, thousands of plugins and themes have been built, hundreds of dedicated WordCamps are hosted on every continent every year, … well, I could go on forever, you get the point.
Happy birthday, WordPress!
You may also be interested in:
Shopify Discontinues Its Official Plugin for WordPress
Shopify's official WordPress plugin will not be available anymore as it was removed from the official plugin repository this month. The plugin's functionality was fairly simple – create buy buttons from Shopify products and add them via shortcodes.
From now on, those who used the plugin will need to integrate the buy buttons manually by following the official manual. (Support for the plugin will be offered until June 30.)
The reason why it got deleted is that, "it was outdated and difficult to maintain", according to a Shopify support representative.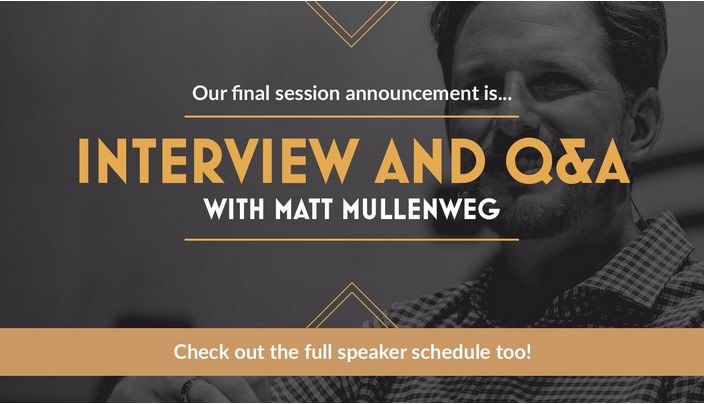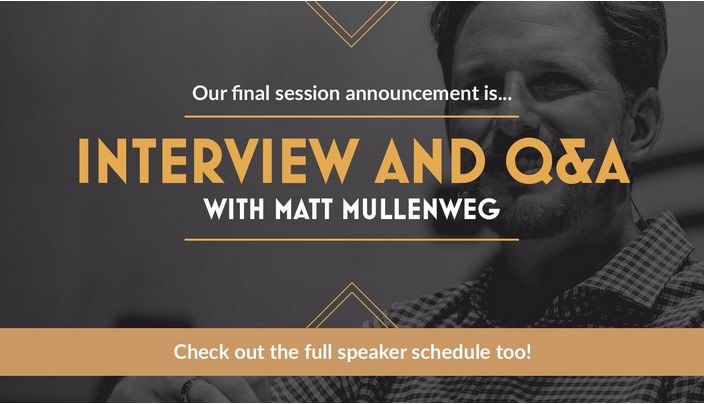 Matt Mullenweg, final #WCEU speaker announcement and full schedule published
The schedule for WordCamp Europe 2017 is now complete, so feel free to take a look at the sessions and make your own agenda for this year's edition. There will be almost 3,000 participants, which makes it the biggest WordCamp Europe to date.
Among the 42 speakers, Matt Mullenweg's interview will be the highlight of the second day. WordPress co-founder will be interviewed in a 30-minute session by Om Malik, the founder of Gigaom. Right after, there will be a 20-minute Q&A session.
So, the schedule contains 26 long talks and 16 lightning talks that will cover a broad spectrum of topics: development, design, community, business, and accessibility.
By the way, we wrote a huge post covering this year's WordCamp Europe and what to expect if you attend.
Check it out here
!
WordPress.com Experiments With Allowing Business Plan Customers to Install Third-Party Plugins and Themes
I kind of knew that this would happen. Traditionally, WordPress.com was not very friendly towards third-party plugins. What you got was basically a built-in set of features (familiar if you're a Jetpack user).
This seems to be changing.
However, third-party plugins won't be something available for everybody. It starts with people on the Business Plan. We'll see where this takes us. Things are still in an experimental phase and this new feature has been in testing just for a couple of weeks now.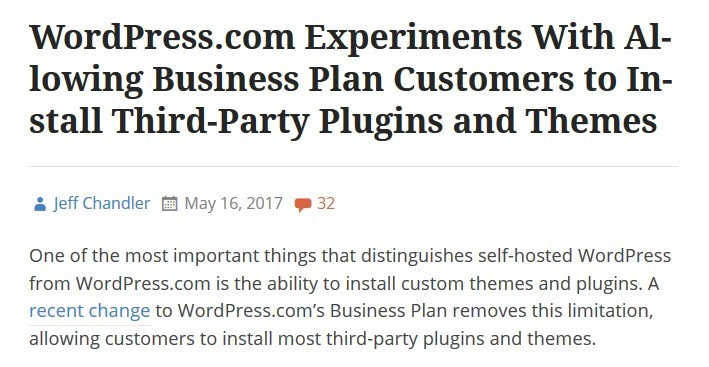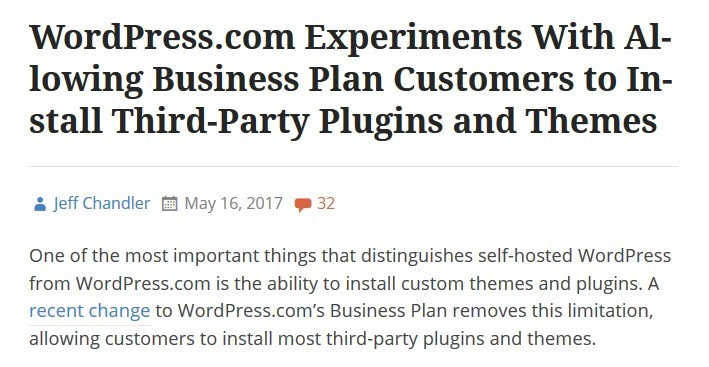 Great Articles From Around The Web
New TV Ads
It's happening! WordPress is on TV! I should specify … that's WordPress.com. Here's some more detail from Matt Mullenweg himself.
11 Quick Ways to Insert Ads into WordPress… and Increase Your Income This Year
If your business relies on advertising a lot, you should learn about all the different (and effective) ways in which you can place ads on your site. Here, WPMU DEV lists 11 examples.
Social Media Strategy: For Real? (No, But I've Tools)
Tom McFarlin says you don't need social media strategies to get online visibility. Is it enough just sharing your posts, the posts of others, chatting with people, and having fun in general? Do you agree?
How To Beat The Competition On The Envato Marketplace: An Insider Perspective
Selling on Envato? Cloudways shares a talk with a successful theme author, in which they go into detail on what it takes to make the most out of the ThemeForest marketplace.
The Most Important Elements of Providing Superb Customer Support
Customer support can be tough. Some people are just not willing to overlook your mistakes or imperfections and, sometimes, they forget that those on the other side of the screen are humans too. So, here's how to improve your customer support and deliver better solutions to your people overall. How to Display the 'Last Updated' Date of Your Posts on Your WordPress Site
People are always looking for fresh content that they can rely on. Your standard "published on" label doesn't always work for that … especially if it's outdated. The "last updated" label is a much better idea. Here's how to set it up.
How to Prevent Hotlinking in WordPress (5 Easy Methods)
Hotlinking is not a very cool practice on the web. More or less, it's stealing someone's bandwidth. Depending on the popularity of the page in question, this can mean serious hosting charges. Here's how to prevent hotlinking and keep your site safe.
Top WordPress Plugins to Share Your Posts Automatically on Social Media
If you're already busy with splitting your time between marketing, sales, writing posts, and taking care of your business in general, you're probably more than happy to find another thing you can automate. Here are the plugins that can share content from your site without involving you at all.
Get Free Unlimited WordPress Test Installs from the Strangely Named Poopy.life
If you want to quickly see how a plugin works, but don't have a handy test install of WordPress to use, you should try this new tool. Poopy.life is the tool's name, believe it or not.
How to Make Money With a Blog – 17 of the Best Ideas
If you're just getting started with the idea of blog monetization, this post should help you out. It lists 17 basic and tested methods that are suitable for most niches and markets.
That's it for May 2017. Anything we missed?
This Month in #WordPress with CodeinWP - May 2017
Click To Tweet
…
Don't forget to join our crash course on speeding up your WordPress site. With some simple fixes, you can reduce your loading time by even 50-80%: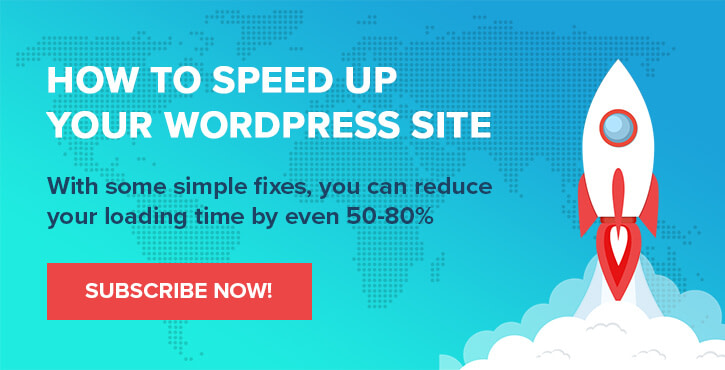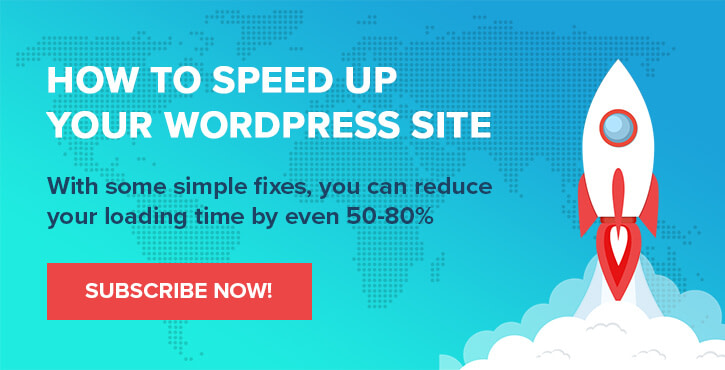 Layout and presentation by Karol K.
Was this topic
helpful?
0% of users found this helpful