Looking for some Mailchimp alternatives to help you with email marketing (be it for ecommerce or your business overall)? Mailchimp may be one of the most recognizable names in email marketing, but that doesn't mean it's the right tool for you (I mean, people still like Pepsi, right?).
But digging through the array of email marketing services out there is a waste of time. Some don't do what you need, some are less functional at a higher price…it sucks.
To make your research a lot easier, we've collected 7 great Mailchimp competitors & alternatives in one spot. As the title suggests, many of these are cheaper alternatives to Mailchimp which can give you similar functionality for a lower price. However, we also added a couple that will cost a little more, but offer better functionality in key areas like automation and personalization.
No matter why you're looking for an alternative, one of these Mailchimp alternatives should fit the bill. Let's dive in…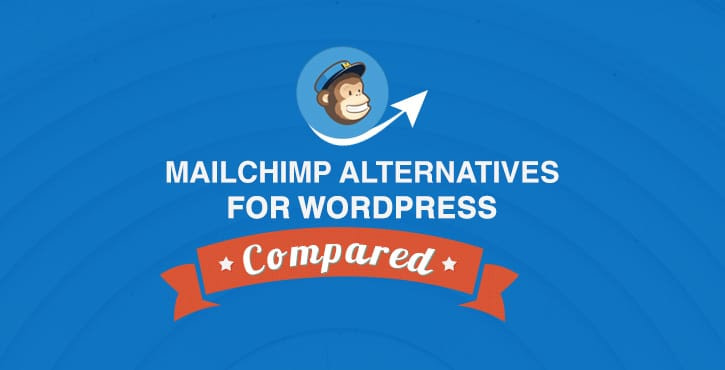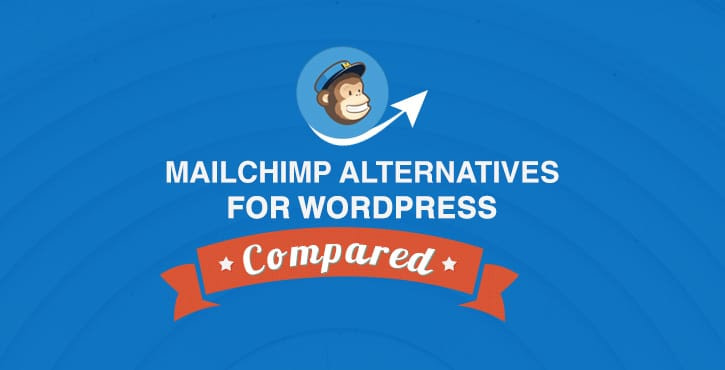 Cheaper Mailchimp #alternatives - 7 tools to check out this year 🤔
Click To Tweet
Here's the short version. In case you're in a hurry and just want to get a recommendation:
| Alternative | Cheaper than Mailchimp? * | Most unique feature vs Mailchimp | Free plan? | Price (paid plan starts at) |
| --- | --- | --- | --- | --- |
| Sendinblue | ✅ | Clearer analytics & good WordPress plugin | ✅ | $25.00 per month |
| Sendy | ✅ | No Monthly Fees | ❌ | $69 one-time + $0.10 per 1k emails sent |
| AWeber | ✅ | Allows affiliate links | ✅ | $16.15 per month |
| ConvertKit | ❌ | Automation | ✅ | $25 per month |
| MailPoet | ✅ | WordPress plugin | ✅ | $17 per month |
| Campaign Monitor | ❌ | Automation & personalization | ❌ | $9 per month |
| TinyLetter | ✅ | Simplicity & 100% free | ✅ | 100% free |
*The price depends on your usage. It might not be cheaper than Mailchimp in 100% of situations.
Go to top
What makes for a good Mailchimp alternative?
So what makes something a good alternative to Mailchimp (for marketers, ecommerce, business owners, personal)? Well, first off, some people don't like that their pricing plans are rather strict and can quickly escalate your spending if you go over the allowed quotas. Also, Mailchimp's free plans don't give you access to all of the features.
You'll find other little gripes – like no custom unsubscribe page or poor A/B testing reporting. But for the most part, this is about finding tools that will do just as good a job for less money.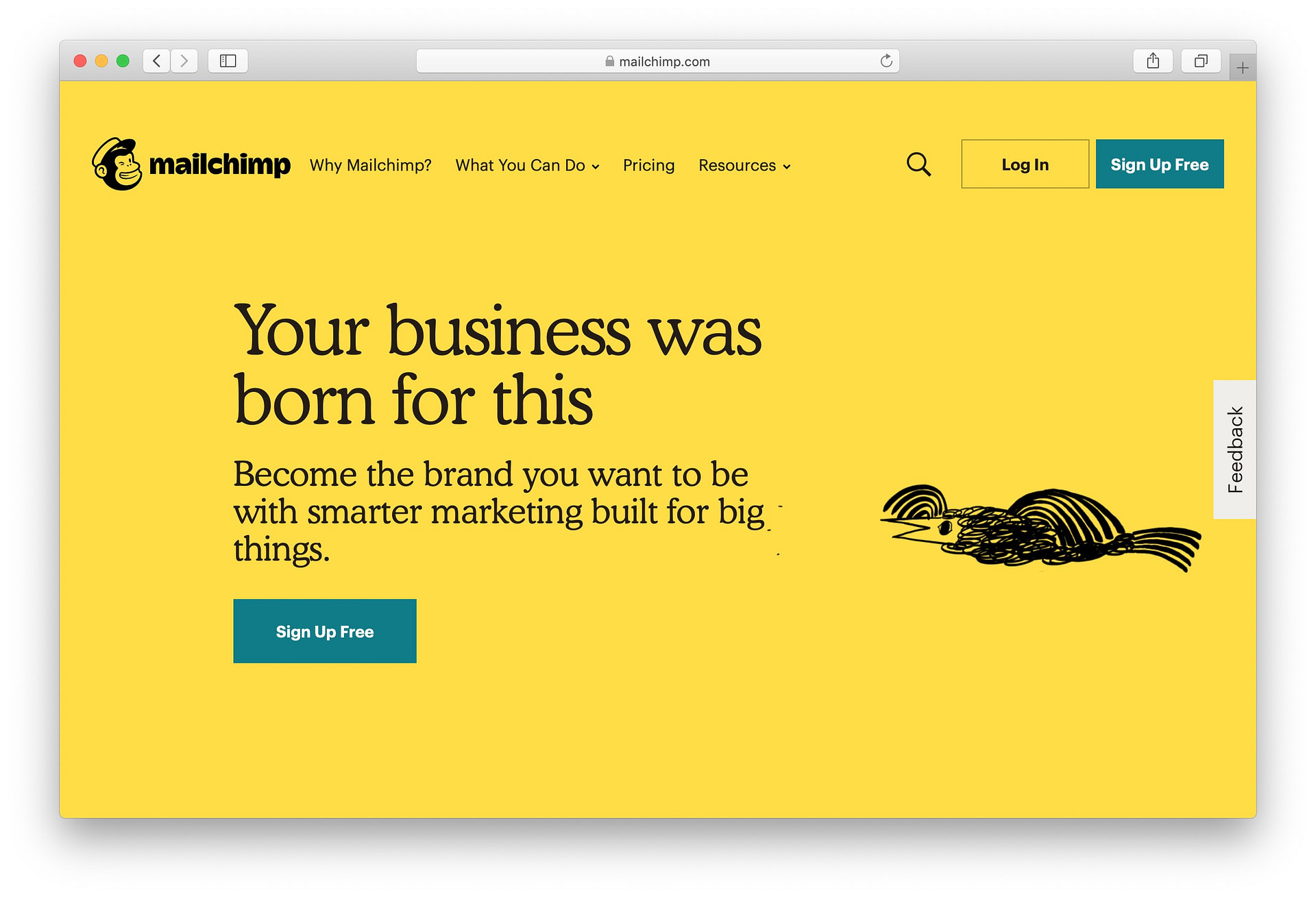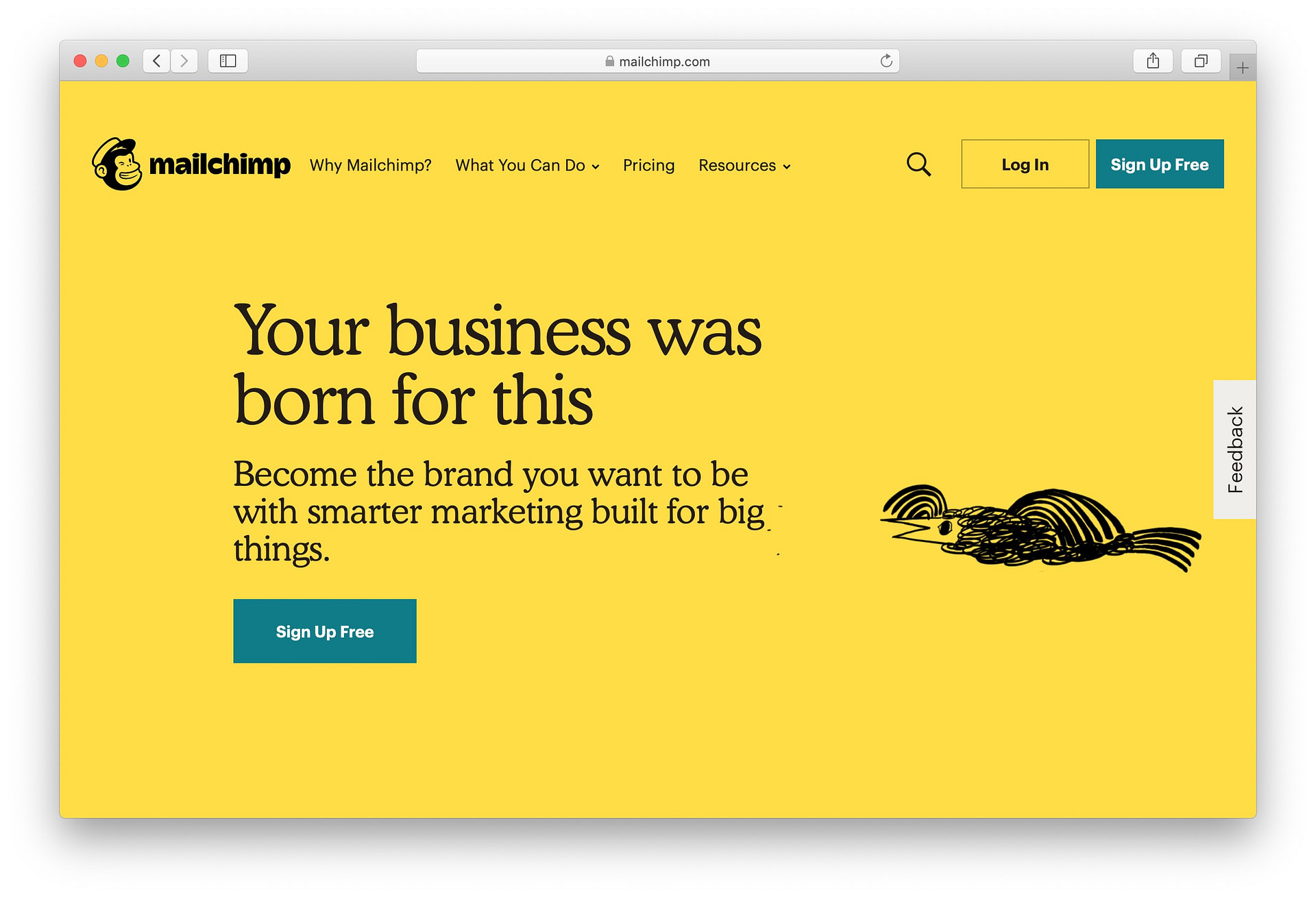 While there are some other great alternatives on the market, like Constant Contact, GetResponse or Active Campaign, those end up being much more expensive in the end, so we decided not to feature them on this list.
As a reminder, Mailchimp's free plan supports 2,000 subscribers and 12,000 emails per month. Keep that in mind as we go through the alternatives!
Go to top
Seven Mailchimp alternatives that are great, more functional or cheaper
Most of these email marketing services are cheaper Mailchimp alternatives, while we also included two options that offer more detailed functionality in key areas (but not a lower price).
1. Sendinblue (www.sendinblue.com)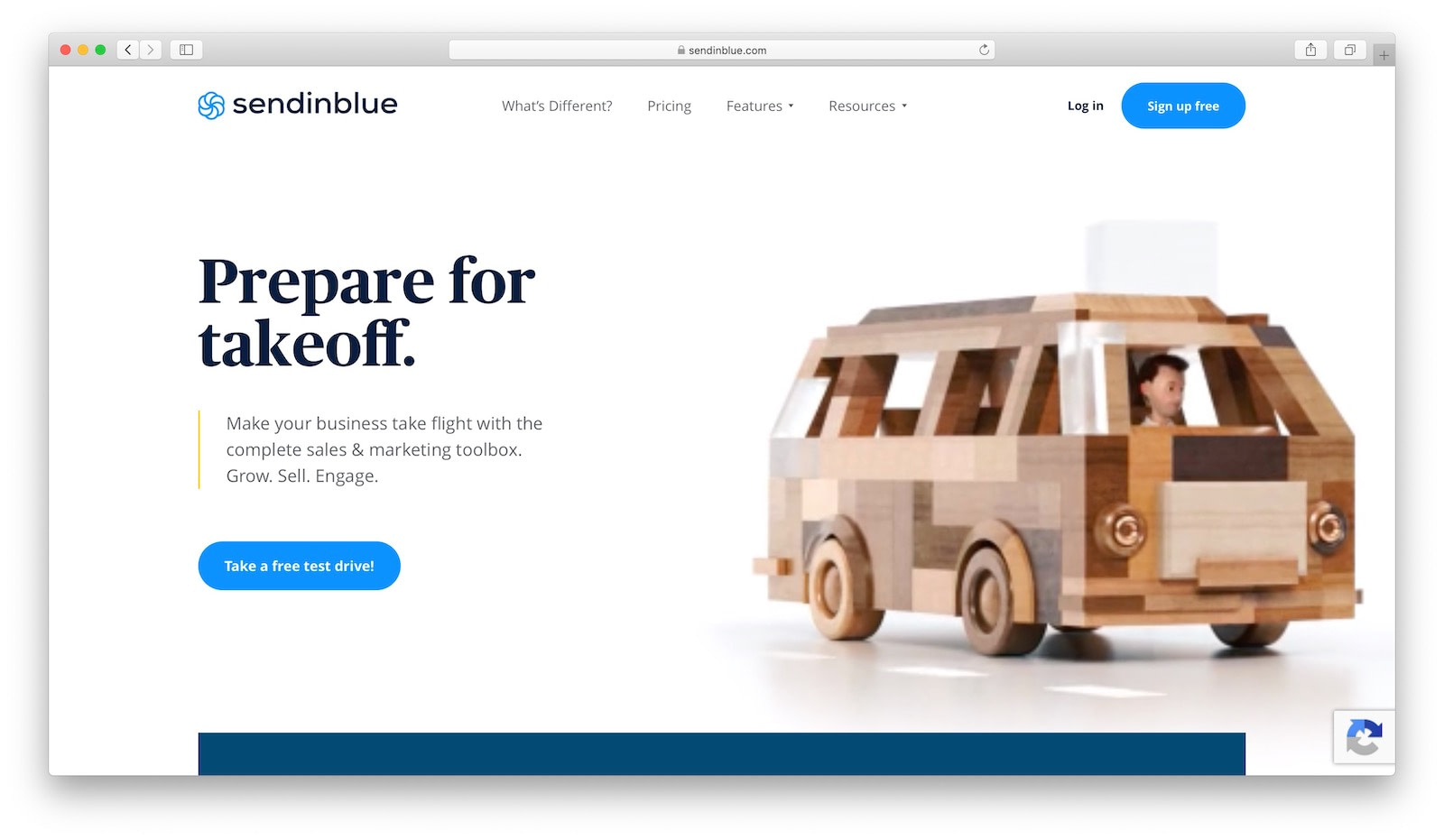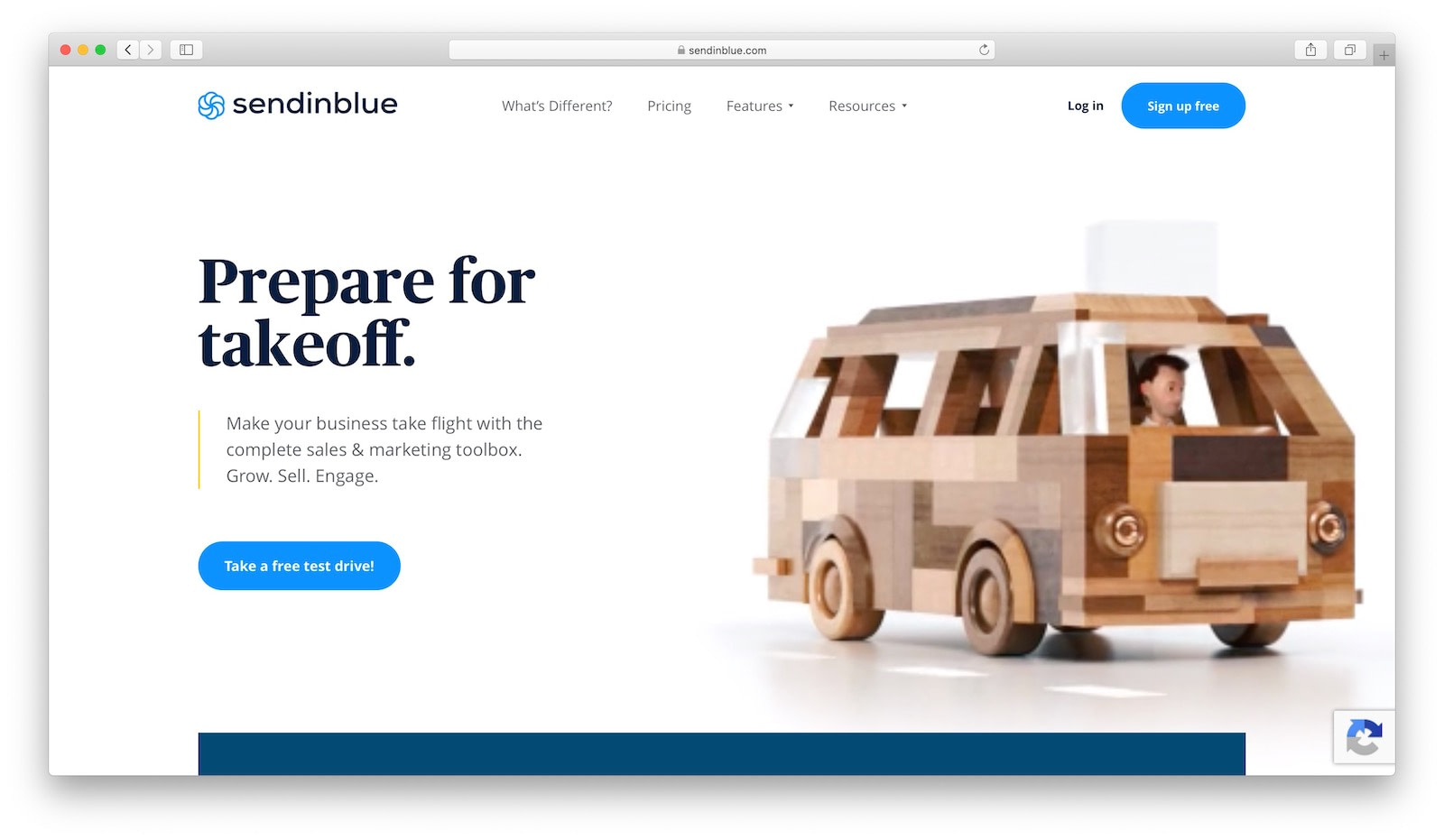 Sendinblue's free plan supports unlimited contacts, which is already a big upgrade. It's not all good, though – there's also a limit of 300 emails per day, which is lower than Mailchimp's monthly limit. But if you have a lot of contacts that you email infrequently, you might come out ahead.
Additionally, Sendinblue has a really detailed WordPress plugin, so that's another advantage over Mailchimp if you're using WordPress.
Beyond that, we also think Sendinblue's analytics are easier to understand (Sendinblue is what we use here at CodeinWP so we have firsthand experience).
Pricing
You can get started for free. The paid plans costs $25.00 to $99 (monthly) based on how many emails you send per month. There are also some feature differences between plans.
So if you move to a higher tier plans (offering advance features like marketing automation, Facebook ads and more), the starting price will jump to $65 (monthly) offering 20,000 emails per month. They also offer custom plans for enterprise solution.
The important thing is that Sendinblue doesn't limit your number of contacts / email list size.
🔥 Just for our readers, Sendinblue has offered an exclusive 30% discount for the first month on all paid plans. If you end up buying any of them, communicate with this email to redeem the discount: axel+codeinwp [at] sendinblue.com. Click here to get Sendinblue.
Features
quickly create a campaign (intuitive email newsletter builder, HTML editor, dynamic fields, responsive emails)
advanced segmentation and audience targeting (import files, dynamic lists, create forms)
manage your subscriber data via a CRM (there's also HubSpot syncing)
SMTP features for transactional email
SMS marketing and a landing page builder
advanced analytics and tracking (real-time statistics, export data, list of openers and clickers)
autoresponder campaigns to automate emails (welcome messages, birthday wishes)
user-friendly website integration (APIs, WordPress, Magento, WooCommerce, Shopify, and Prestashop plugins)
fast customer support
Use Sendinblue if you…
First, if you want a free Mailchimp alternative, Sendinblue is attractive because it lets you have unlimited contacts on the free plan (though it only lets you send 300 emails per day). The paid plans are also unique in that they charge based on how many emails you send, not how many subscribers you have.
Beyond that, we've found it to have better analytics than Mailchimp, and the Sendinblue WordPress plugin makes it easy to run email marketing campaigns from your dashboard. Then, the deliverability is nothing short of great.
Go to Sendinblue
2. Sendy (sendy.co)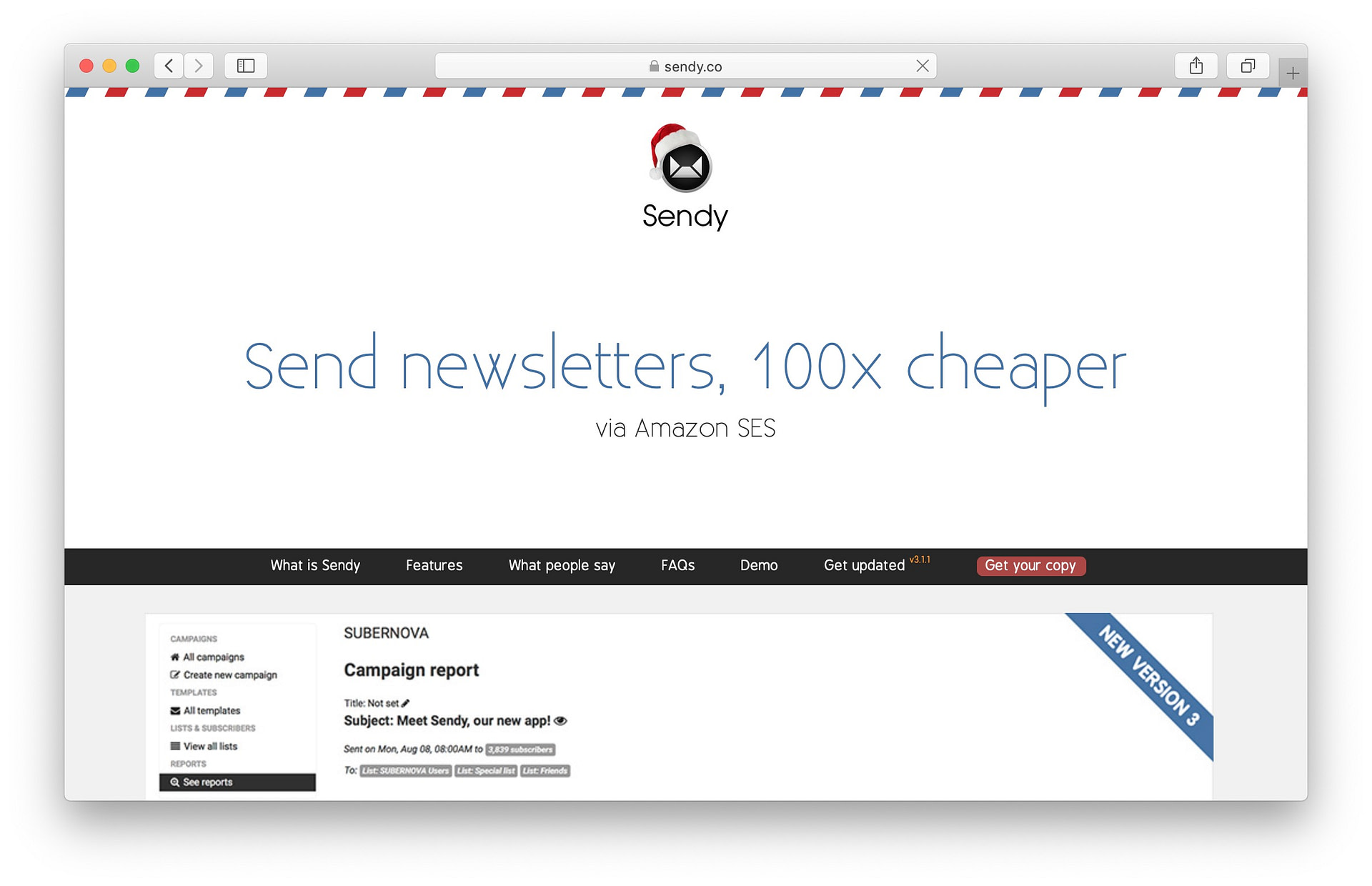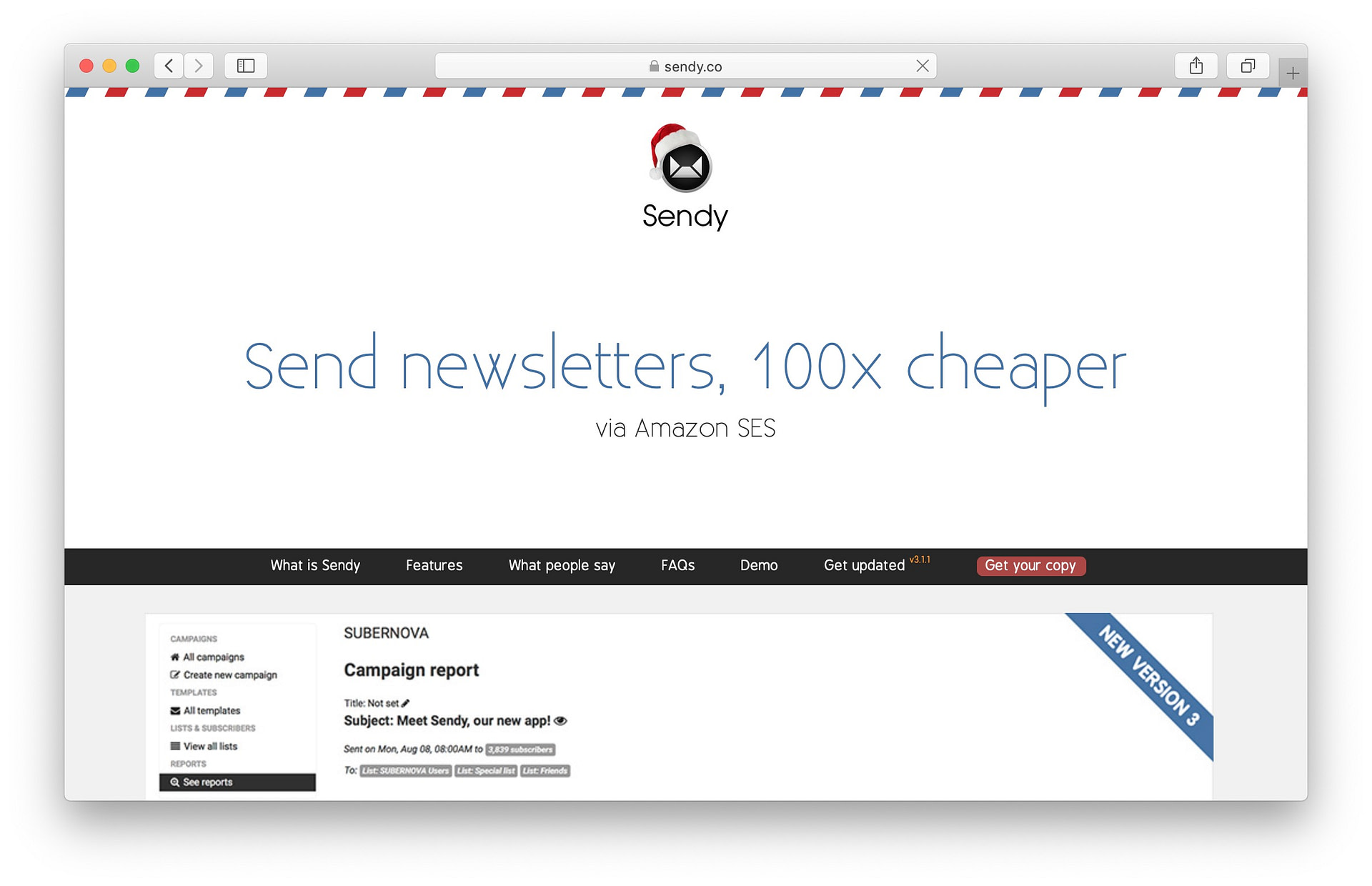 The big benefit of Sendy is its price. Because it's a self-hosted tool that you install on your own server, it's able to undercut Mailchimp's prices while still offering the most important features.
Once you install Sendy on your own server, you'll connect to Amazon SES to send the actual emails, which costs just $0.0001 per email (maybe an easier way to look at that is $1 per 10,000 emails). Plus, there's no cost for more subscribers, which makes it a great option for big lists.
Working with Sendy on an everyday basis is really easy. All you have to do is write as you normally would in a text-editor-like environment and then send your campaign out. After that, you get access to the most important stats.
Pricing
There's a one-time payment to get the actual Sendy software – $69. After that, pay-as-you-go – $0.0001 per email.
Features
multiple brands (manage multiple products and services)
lists and subscribers (mass import/delete subscribers, custom fields, single/double opt-in, custom subscribe/unsubscribe confirmation page, thank you/goodbye emails, subscribe form or API to add users)
send newsletters via Amazon SES
advanced analytics and reports
automatic bounce, complaint and unsubscribe handling (no manual post campaign cleanups)
custom fields (create more personalized content for your clients)
autoresponders
Use Sendy if you…
Have lots of subscribers and want to save money. Because there's no cost per subscriber and the cost per email is very low, the potential for savings is huge – especially if you're planning to send a large number of emails.
If you're privacy conscious, that might be another reason to like Sendy because you're able to keep everything on your server.
Go to Sendy
3. AWeber (www.aweber.com)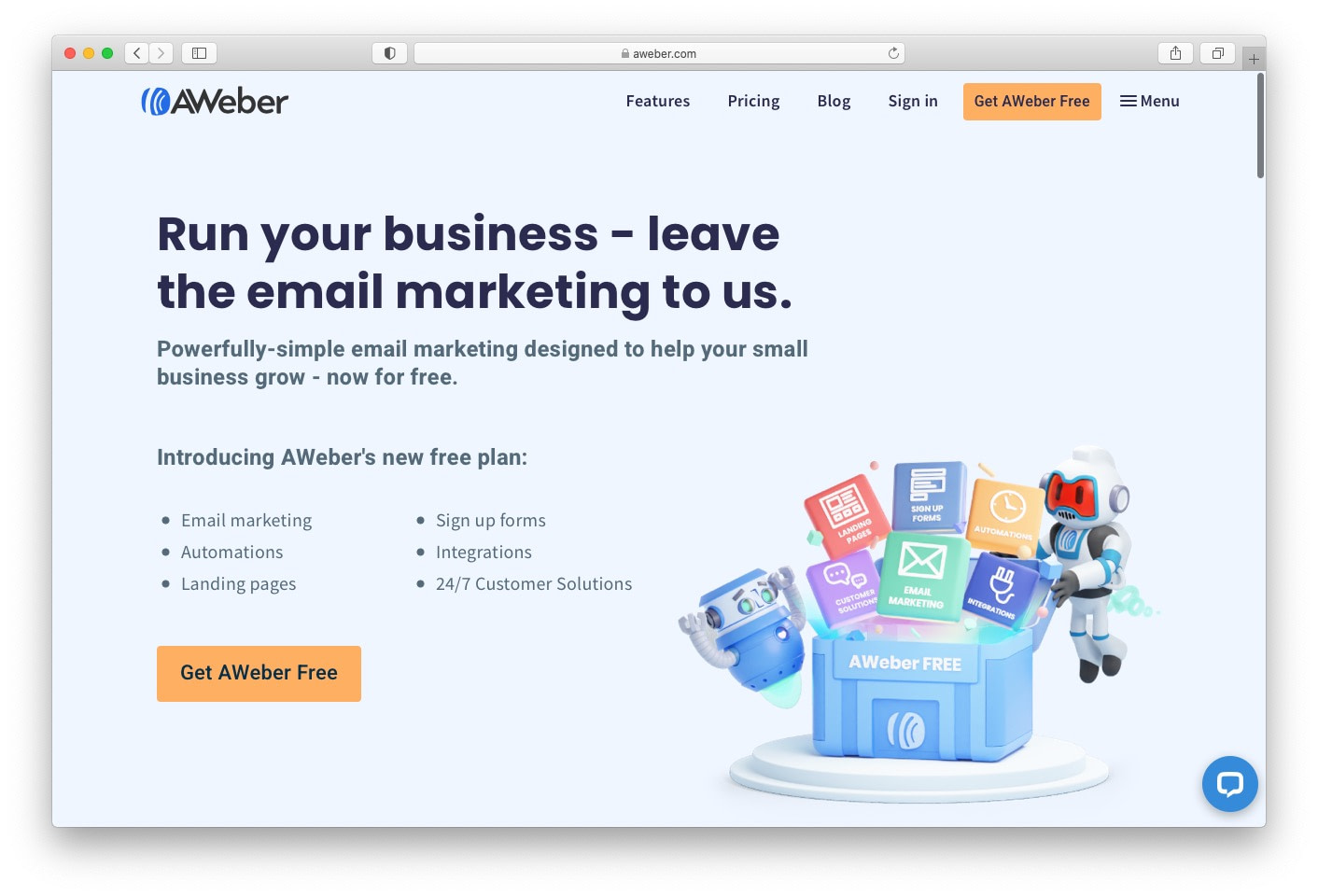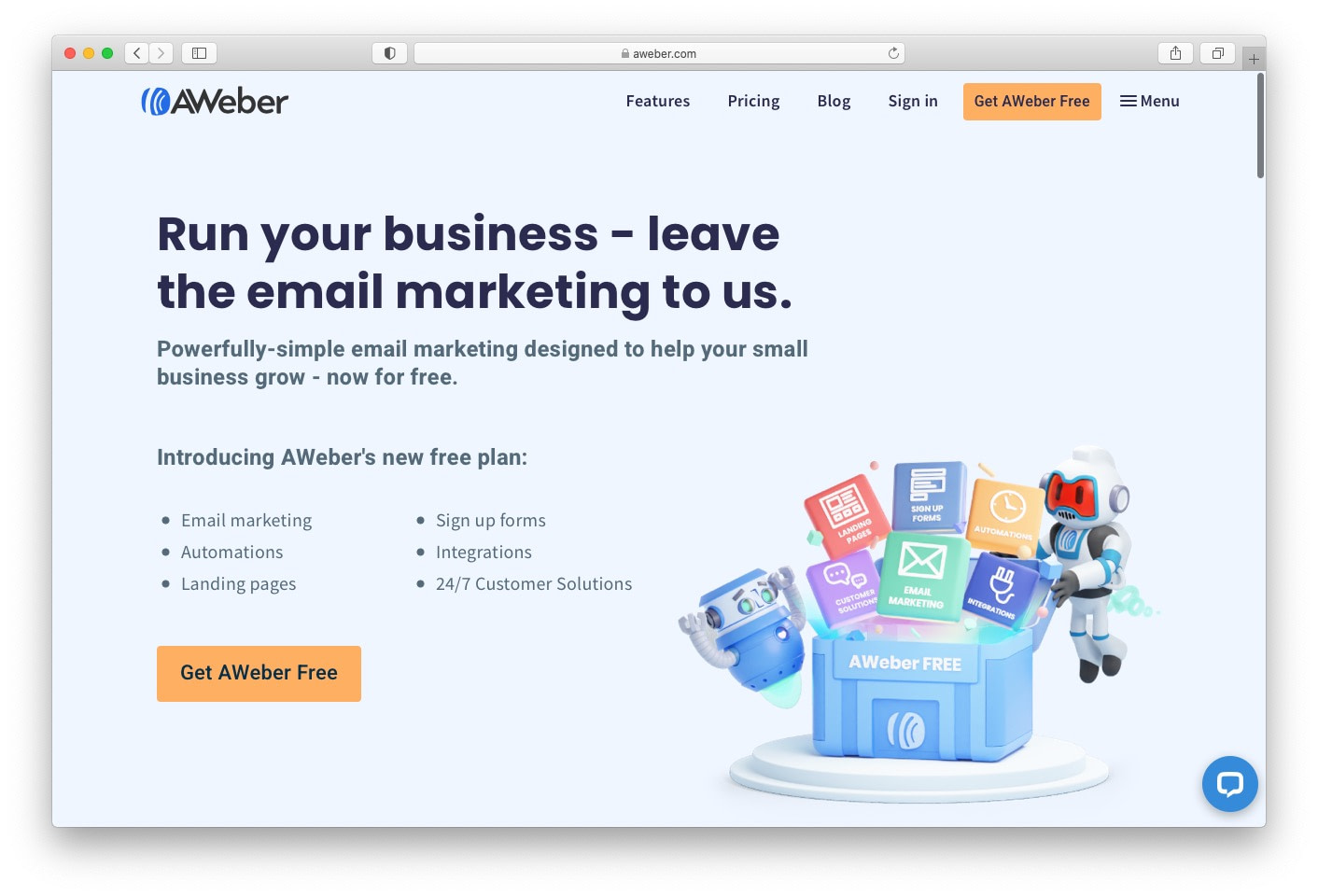 AWeber is a full-service email marketing platform that comes in just a little bit cheaper than Mailchimp. While there are a lot of similarities when it comes to features and pricing, one big difference is that AWeber lets you use affiliate links in your emails, while Mailchimp bans most affiliate links.
If you engage in a lot of affiliate marketing, that might be something to tip the scales in AWeber's favor.
Pricing
Aweber offers a free plan for up to 500 subscribers. Premium Plans start at $16.15 per month with more features such as unlimited emails, split testing, email marketing automation, and more. Further tiers are $26.15 (up to 2,500 subscribers), $46.15 (up to 5,000 subscribers), and so on. All plans allow for unlimited email sends.
Features
autoresponder functionality and drip campaigns
list segmentation
6,000+ stock photos to use in your emails
700+ email templates and a drag-and-drop editor
integrations with most popular services
sign-up forms (also work as popups)
unlimited landing pages
Use AWeber if you…
Are looking for something that's a little bit cheaper than Mailchimp and will let you use affiliate links in the emails that you send.
Go to AWeber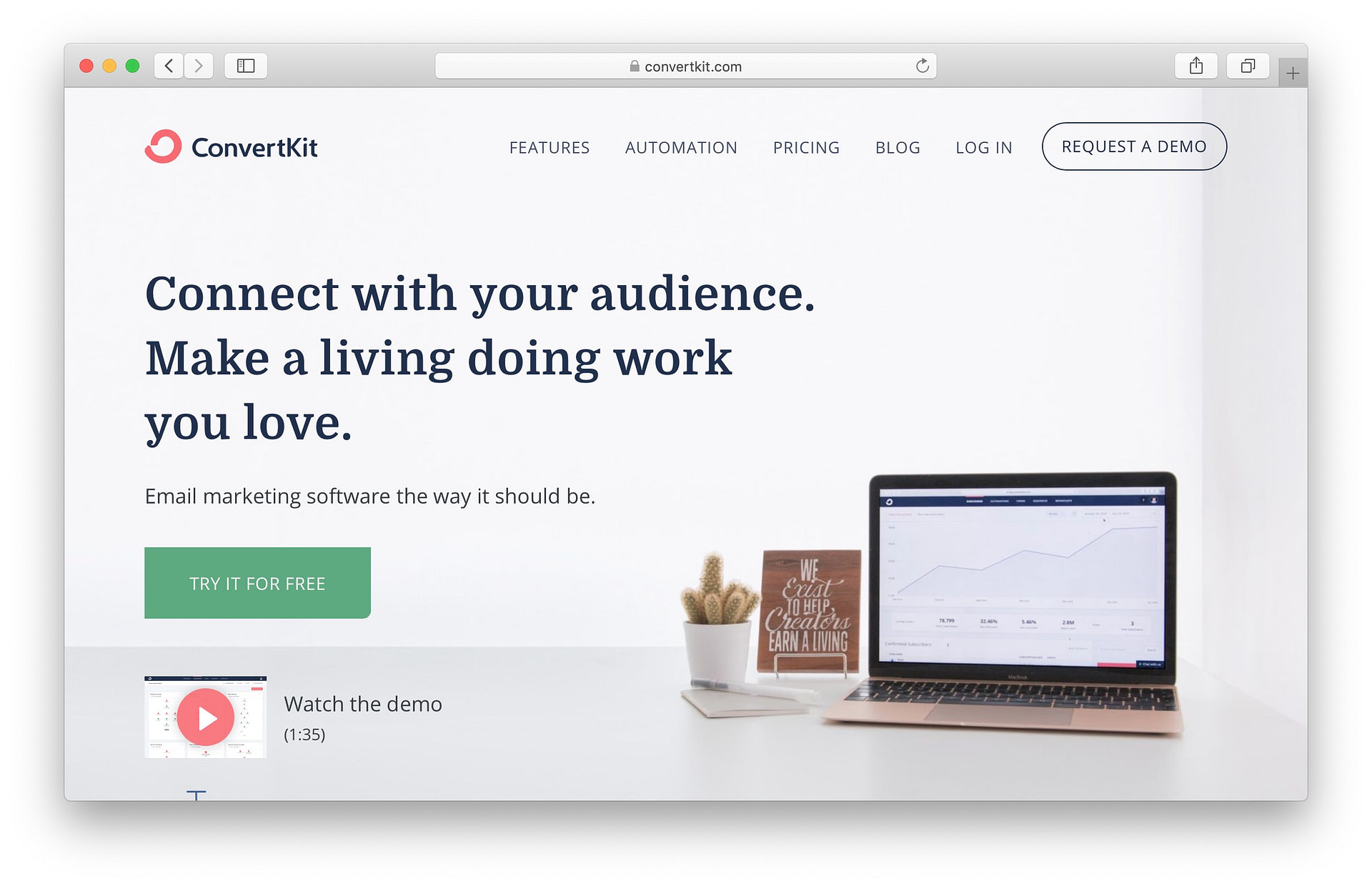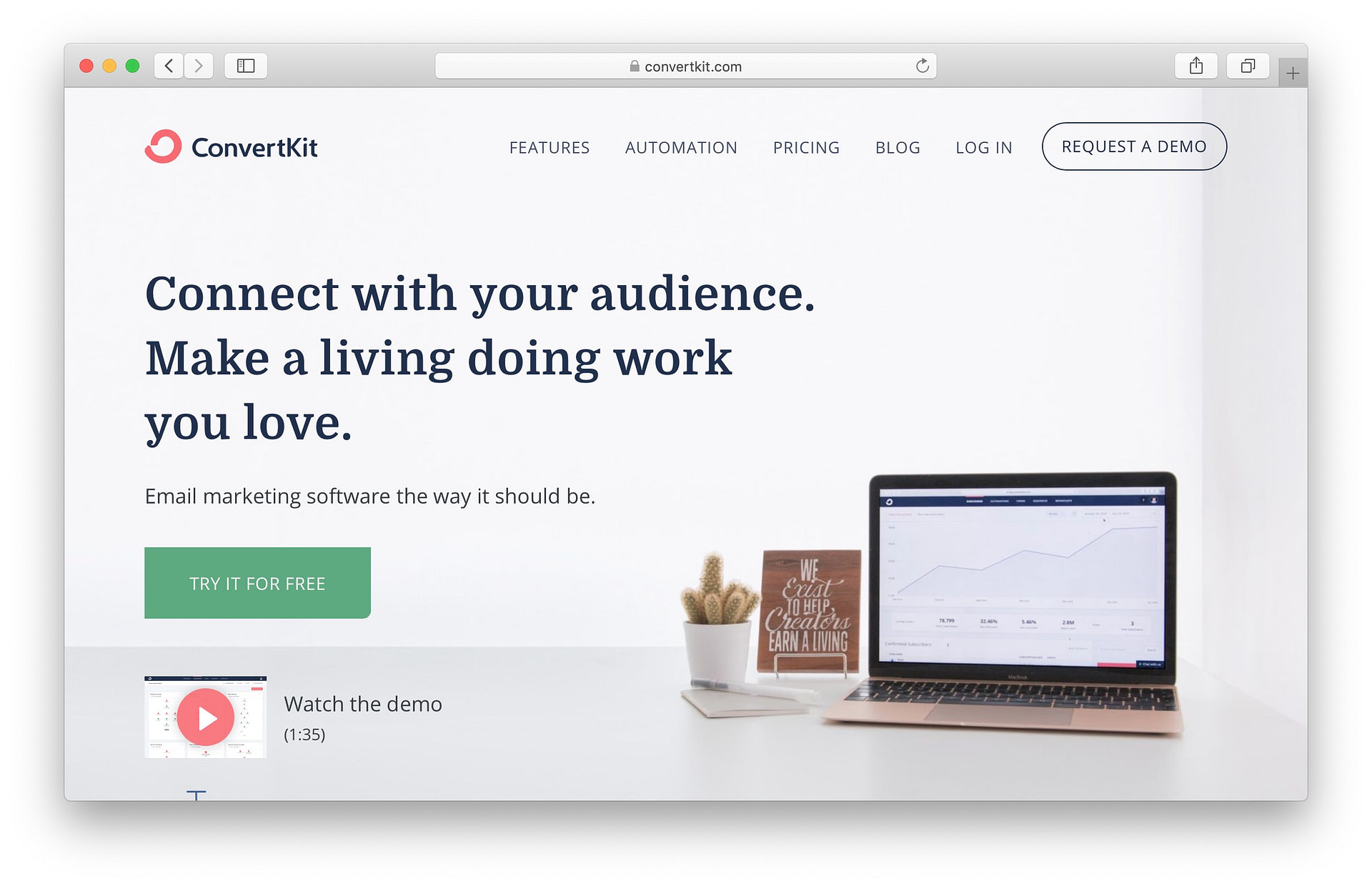 ConvertKit is an email marketing software targeted towards "creators". "Creators" are bloggers, online course instructors, artists, etc.
If that's you, then you'll want to give it a look because ConvertKit has built their entire platform with creators in mind. Otherwise, you might want one of the other cheaper Mailchimp alternatives.
Some areas where ConvertKit excels is a really nice segmentation and email automation tool (it gives you a visual interface to make for a nice automation platform).
Pricing
ConvertKit offers a nice free forever plan. Then, the monthly plans are $25 (up to 1k subscribers), $49 (up to 3k subscribers), $79 (up to 5k subscribers). For advanced features like Facebook custom audiences, newsletter referral system and more, you'd have to move to a higher plan costing $59 per month for up to 1000 subscribers. All plans allow unlimited email sends.
Features
email automation features and a visual workflow builder
good-looking forms and customization features – you can then embed those forms on your site or share on social media
easy segmentation/tagging system
customizable email designs
detailed subscriber management
Facebook Lead Ads integration via Zapier
integrates with third-party ecommerce platforms and online stores
Use ConvertKit if you…
Are a creator who's looking for an easy way to set up email automation workflows to connect with your audience. It's not one of the cheaper Mailchimp alternatives, so the key differentiator here is functionality.
Go to ConvertKit
5. MailPoet (www.mailpoet.com)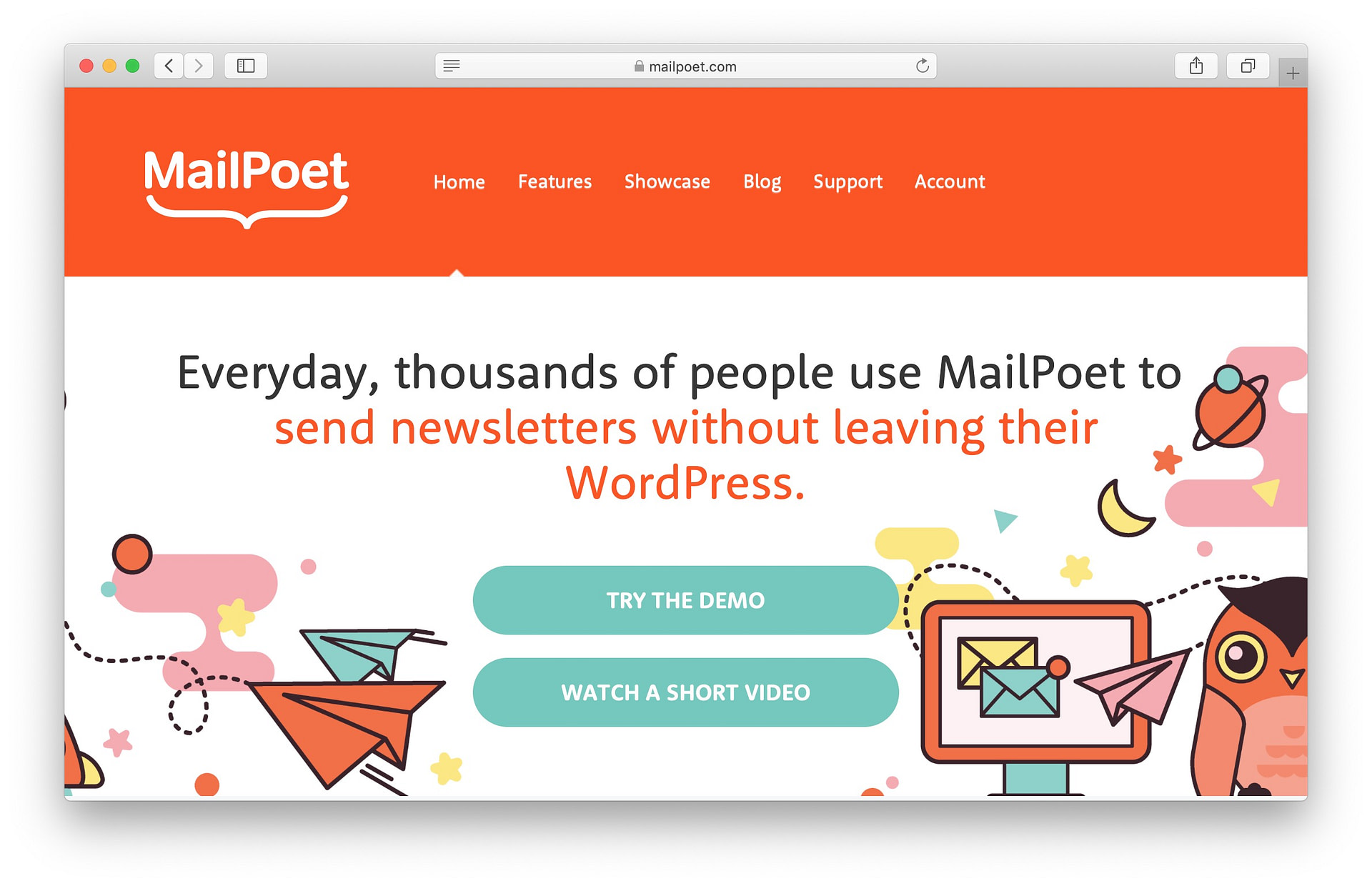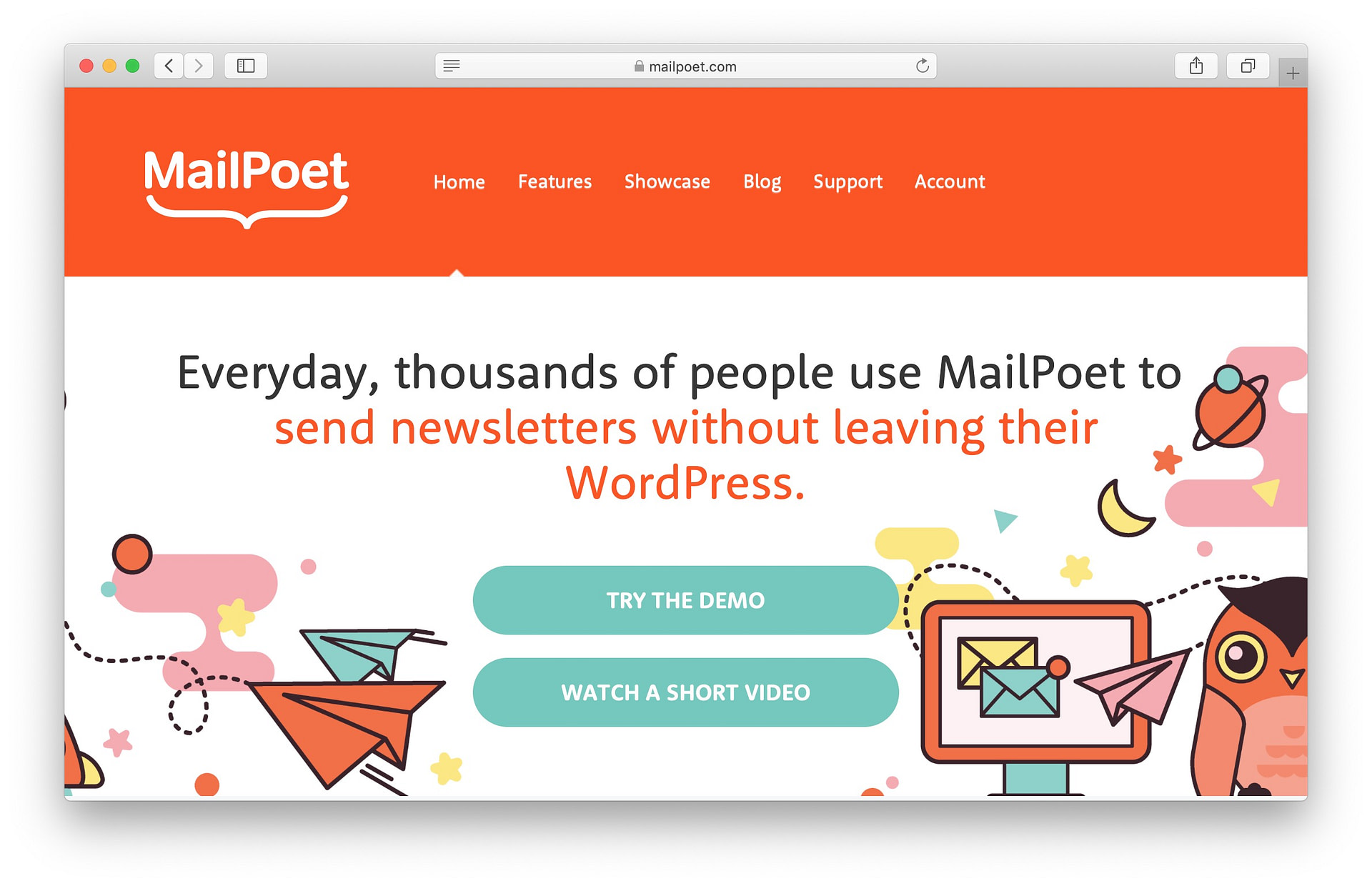 The most unique thing about MailPoet is that it's a WordPress plugin that lets you manage all your email marketing efforts from inside your WordPress dashboard. That makes it one of the best Mailchimp alternatives for WordPress users.
Like Mailchimp, its free plan supports up to 2,000 subscribers, but it's still a better value because you can send unlimited emails to those 2,000 subscribers (you'll need a separate sending service, though).
If you want to go paid, you can either purchase the premium version for a one-time fee and use your own sending service (like Sendy). Or, you can pay an ongoing monthly fee to have MailPoet handle sending emails for you.
Pricing
Free for up to 1,000 subscribers. Then, you can either do:
One-time €149 fee for 1 site + you pay for your sending service. The price depends on the service, but Amazon SES costs just $1 per 10,000 emails
An ongoing monthly fee to have MailPoet manage things for you. Starts at $17 per month (paid annually)
Features
works inside your WordPress dashboard
drag-and-drop email editor
sends your latest posts automatically
autoresponders
single and double opt-in
over 70 themes (Photoshop files included)
statistics and analytics (opens, clicks, unsubscribes)
drag-and-drop subscription form designer
newsletters ready for mobile devices
list segmentation and organization in categories
Use MailPoet if you…
Love the idea of being able to do all your email marketing work from inside your WordPress dashboard.
Additionally, it can also come out to be a lot cheaper than Mailchimp, especially if you have a lot of subscribers. For the €149 one-time fee, you can have unlimited subscribers. Then, you'll just pay a small ongoing fee for a sending service (e.g. Amazon SES costs just $0.10 per 1,000 emails).
Go to MailPoet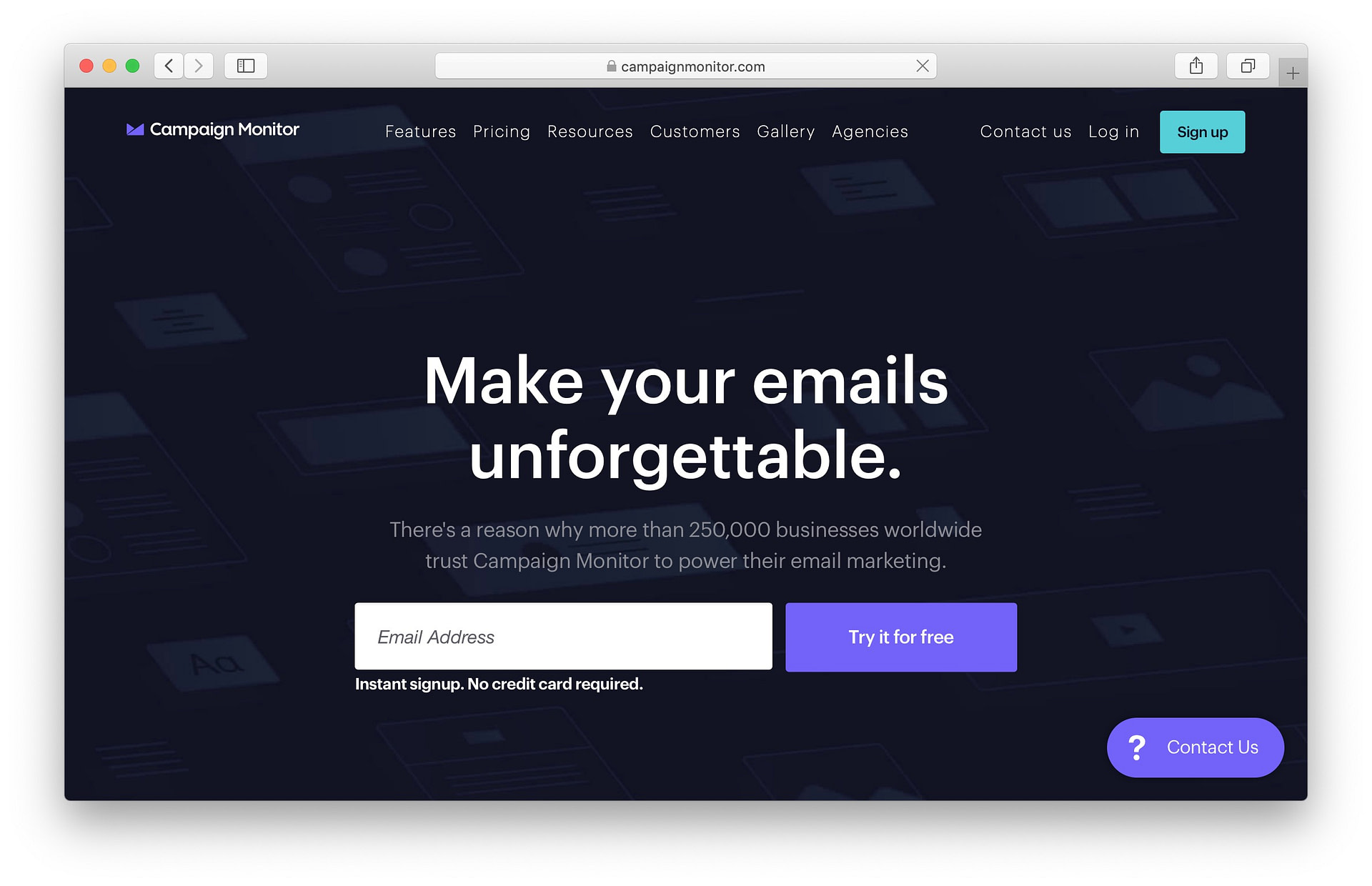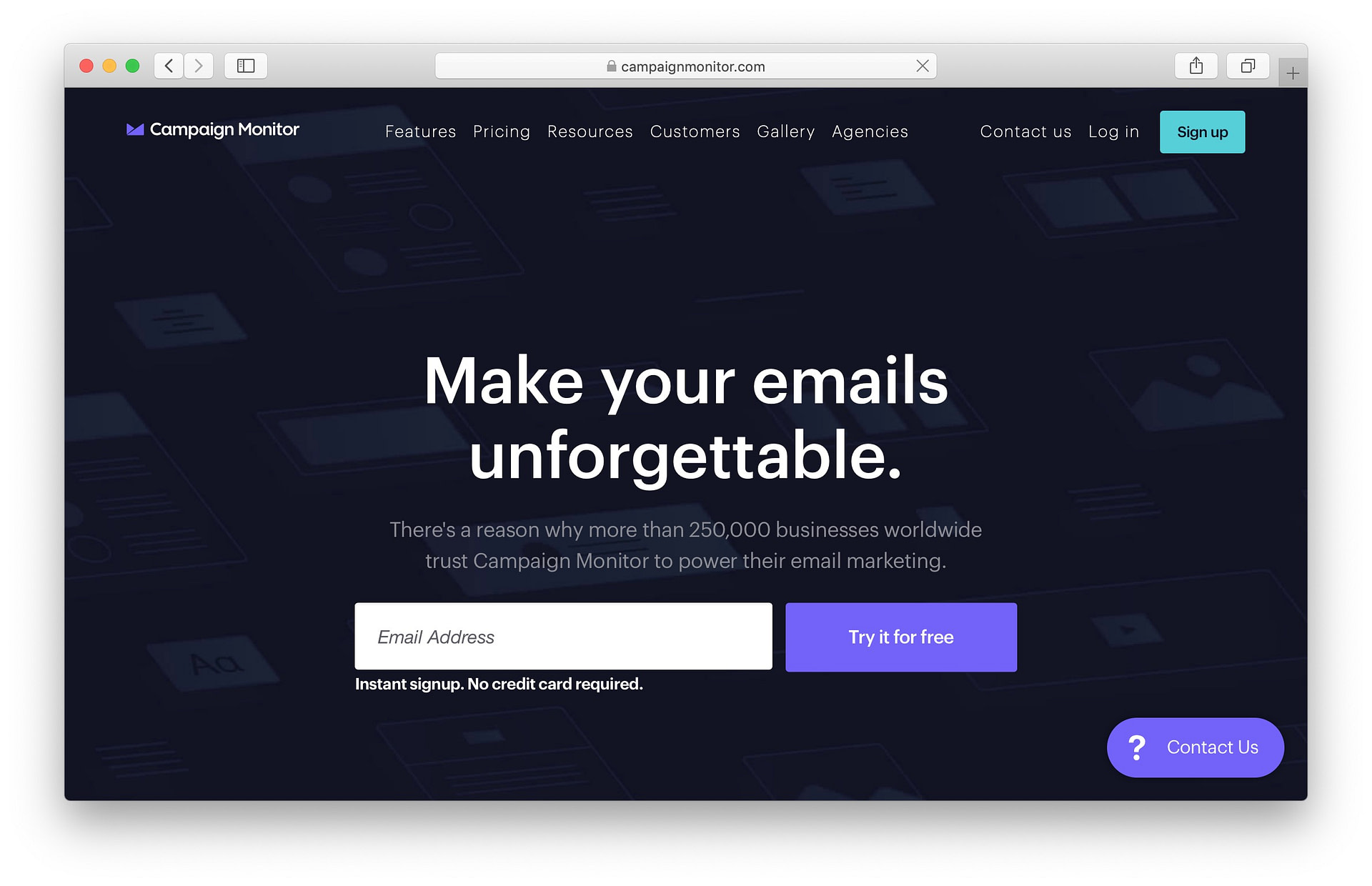 Campaign Monitor is not one of the cheaper Mailchimp alternatives. But if you're willing to pay a little more for detailed automation and personalization functionality, it's certainly a viable alternative.
Campaign Monitor makes it very easy to personalize your emails. And you also get a great-looking automation flow builder that rivals ConvertKit. That, along with a well-designed interface, is why you might want to pay a little more for Campaign Monitor.
Pricing
Campaign Monitor lets you create an account for free but requires a paid plan for more than 5 subscribers. Paid plans start at $9 per month and vary in price based on both features and number of subscribers.
Features
visual "journey designer" helps you set up detailed automation flows
detailed customer data on each subscriber, including an option to deliver emails at each individual subscriber's optimal time
dynamic segmentation
easy personalization
detailed analytics
functional email builder tool
Use Campaign Monitor if you…
Are focused on automation and personalization, though you will pay a little more for those advanced features.
Go to Campaign Monitor
TinyLetter is technically a sub-project of Mailchimp's, but it's 100% free.
Why is it free? Well, because they've stripped out all the business features. It's really just designed for regular people to send things like updates, digests, webinar invites, or other types of messages to their fans and friends.
If you're not running a business, this is one of the best Mailchimp alternatives for you and a really cool email marketing solution.
Pricing
Free
Features
utterly simple
lets you read replies, so you can continue the conversation
very simple and personal sign-up process
no templates – just a straightforward text editor
Use TinyLetter if you…
Are just looking for a simple way to stay in touch with fans. For example, TinyLetter is popular with artists and writers. It's not a good option for businesses, though.
Go to TinyLetter
Go to top
Summing up the Mailchimp alternatives out there
Mailchimp is a good email marketing service overall, and you can integrate it with your WordPress site pretty easily. But there are other alternatives on the market that will help you save money and get pretty much the same range of features.
Which is for you?
Here's your in-a-nutshell comparison:
Have any questions on which of these alternatives to Mailchimp is the right service provider for you? Or maybe you're using something else that you'd like to share (like MailerLite, Omnisend or Moosend)? Let us know in the comments!
Cheaper Mailchimp #alternatives - 7 tools to check out this year 🤔
Click To Tweet
…
Don't forget to join our crash course on speeding up your WordPress site. With some simple fixes, you can reduce your loading time by even 50-80%: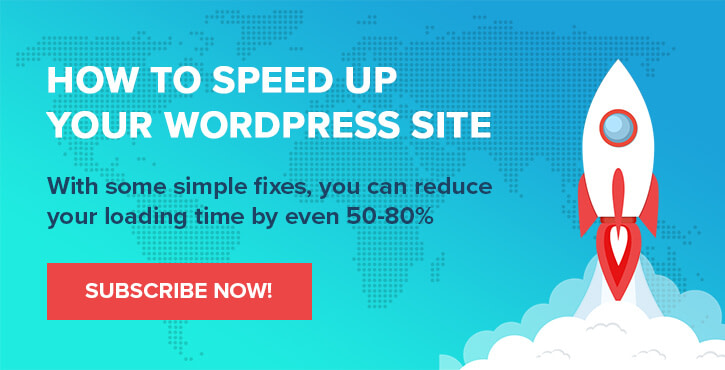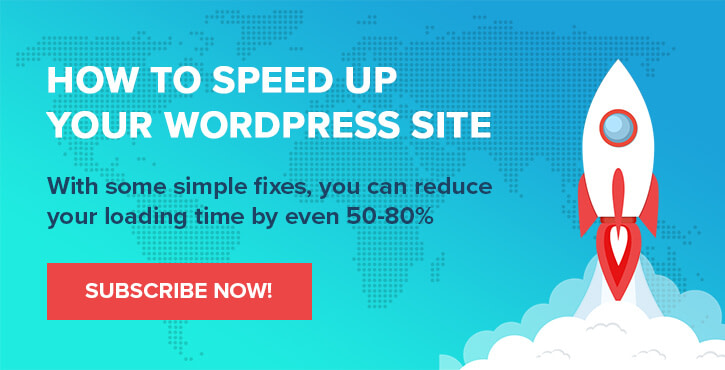 BONUS VIDEO: WordPress SMTP Plugin for Sending Emails

Watch this video on YouTube
Layout and presentation by Karol K.
* This post contains affiliate links, which means that if you click on one of the product links and then purchase the product, we'll receive a small fee. No worries though, you'll still pay the standard amount so there's no cost on your part.
Was this topic
helpful?
0% of users found this helpful