TL;DR: Today we are going to compare popular project management solutions: JIRA vs Trello vs Asana vs TeamClerk vs … WordPress?
When it comes to project management tools, you certainly have a lot of options to choose from, and that's mostly a good thing. However, sometimes the abundance of choice can backfire, and even entirely halt your efforts.
I mean, speaking about the tools that can be used for project management, we have: JIRA, Anydo, TeamClerk, Remember the Milk, Trello, Todoist, Wunderlist, OmniFocus, Asana, Producteev, and probably a dozen more that haven't earned their stripes yet. But which one will be the best for your specific needs, not mentioning fitting your budget?
To make things easier, today we narrow it down to just a handful of tools. Here's our side-by-side comparison of JIRA vs Trello vs Asana vs TeamClerk vs … WordPress (yes, WordPress, but let's hold off on that one):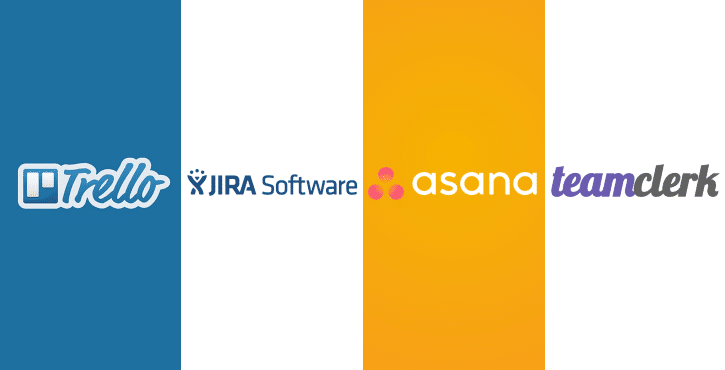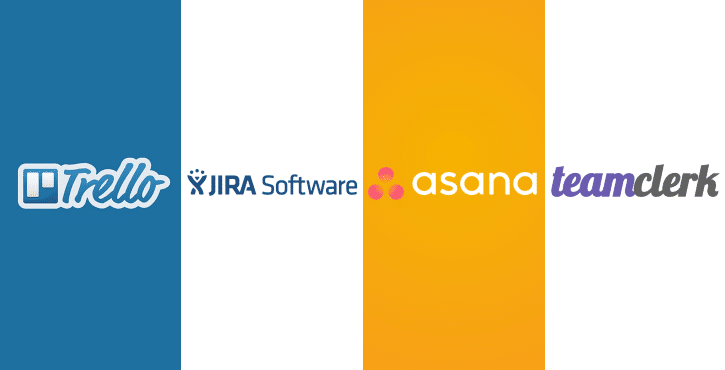 #Project #management #comparison: JIRA vs Trello vs Asana vs TeamClerk
Click To Tweet
Table of Contents:
JIRA // Trello // Asana // TeamClerk // WordPress // Conclusion
JIRA vs Trello vs Asana vs TeamClerk vs … WordPress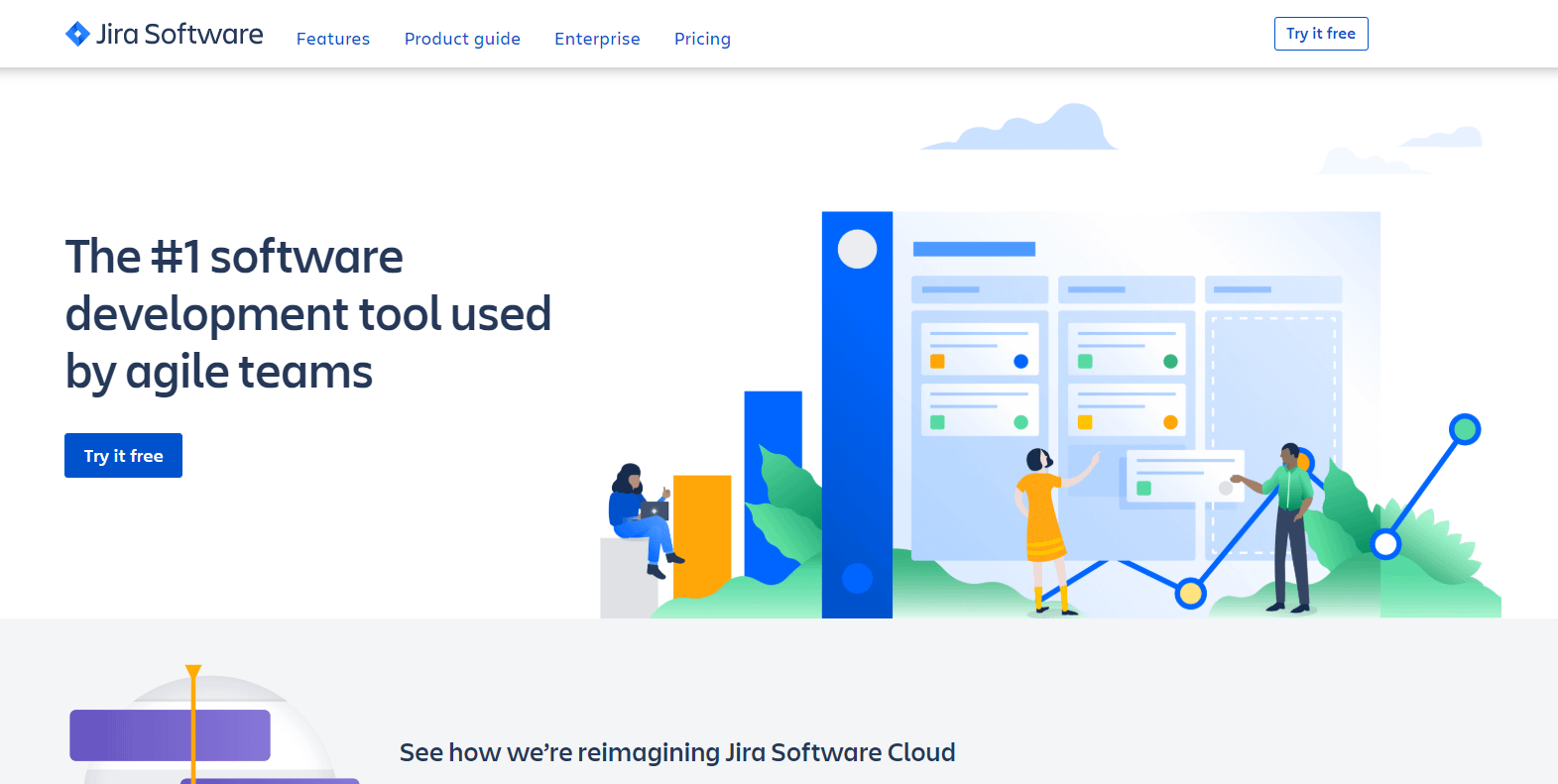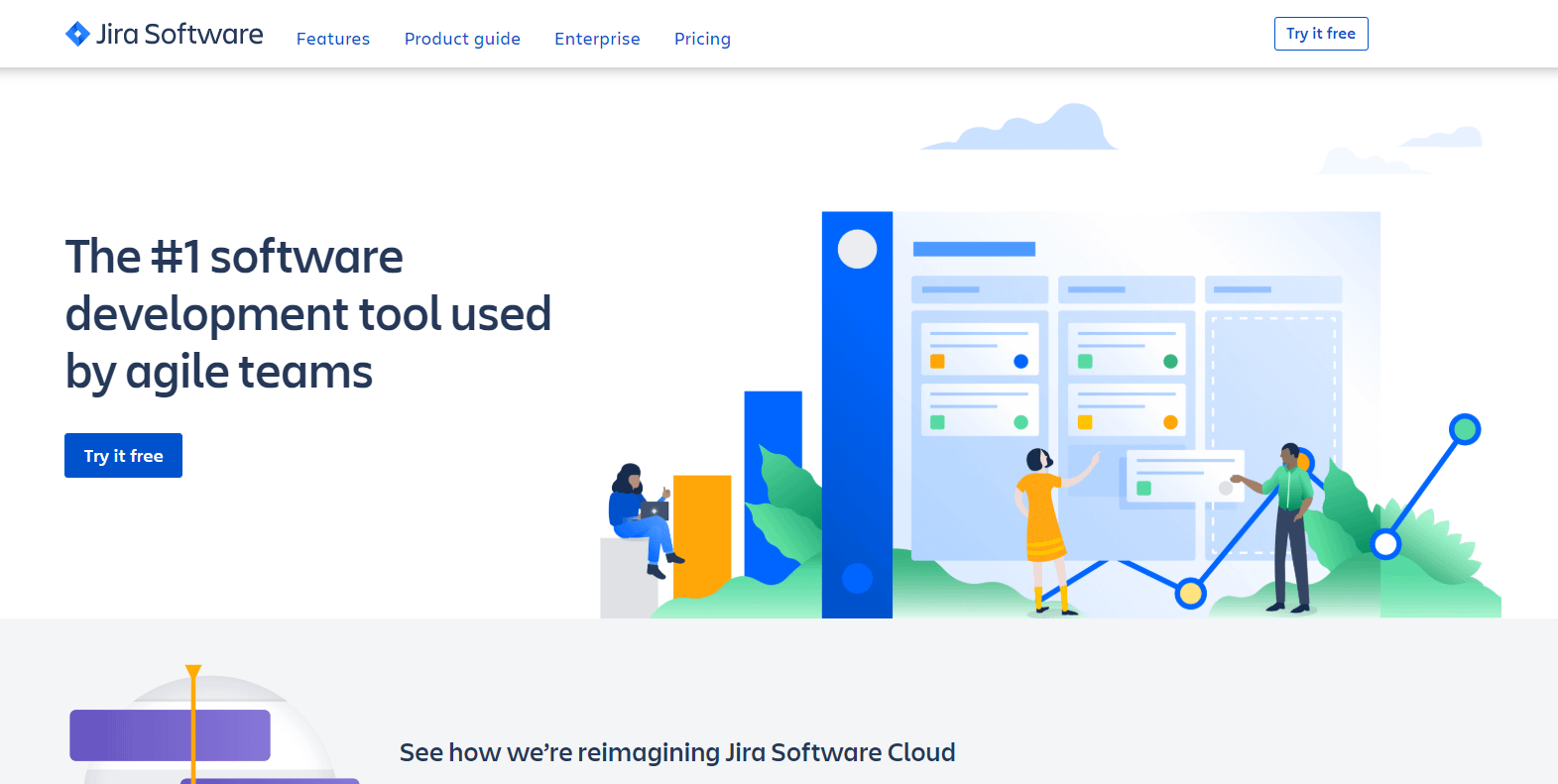 Overview Kicking off the JIRA vs Trello vs Asana vs TeamClerk comparison, we have to say that
JIRA
is one of the leaders in the project management space, especially among software developers and teams. The tools made available by JIRA cover a lot of ground and let you manage your work in a variety of ways.
First of all, JIRA has been designed to help agile teams make their often complex software projects more manageable and easier to grasp. This is visible throughout the features that JIRA offers.
For instance, you can work with things like scrum boards, kanban boards, agile reporting, project and issue tracking, backlog prioritizing, sprint planning, flexible workflows, and loads of other great features. Price JIRA's pricing is based on the size of your team. Namely:
| Users | Price per year |
| --- | --- |
| 1 – 10 | $100 |
| 11 – 15 | $1,050 |
| 16 – 25 | $1,750 |
| 26 – 50 | $3,500 |
| 51- 100 | $7,000 |
| 101 – 200 | $12,00 |
| 201 – 300 | $15,050 |
Apart from that, there are also paid add-ons:
Pros and cons
You get very advanced project management features.
It can handle projects of any size.
It's optimized for software projects (also meaning WordPress websites, plugins, themes).
You pay high prices for teams above 10 people.
It has a learning curve…
Who is JIRA best suited for?
Teams working on large software projects.
Teams utilizing specific project management and work methodologies, like e.g. scrum
Go to JIRA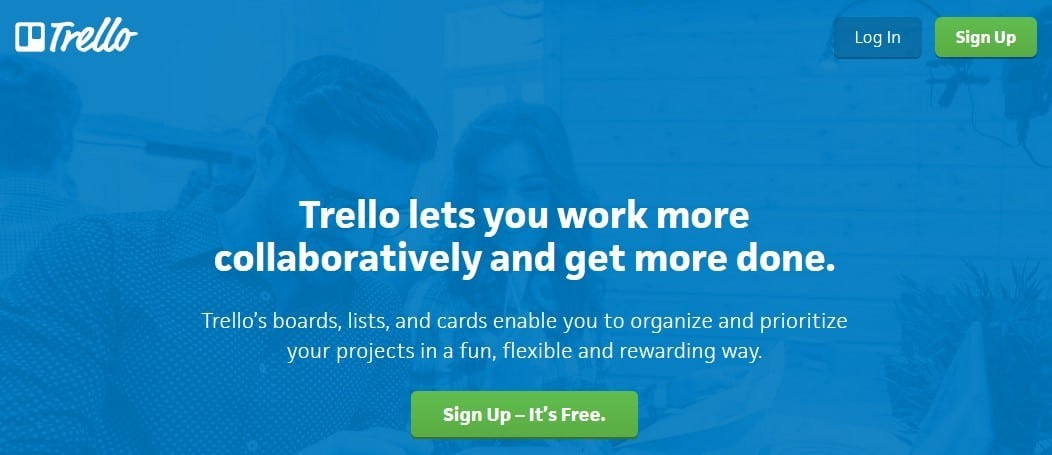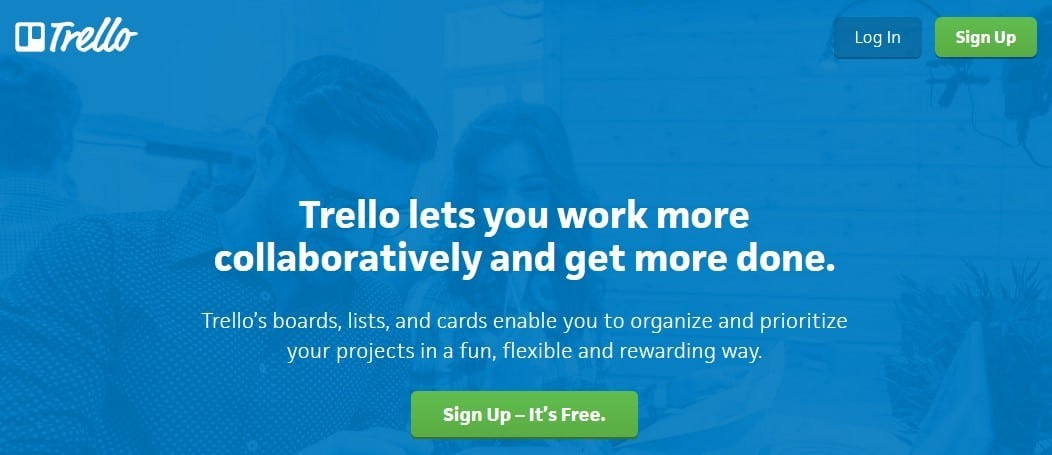 Overview
Trello
is loved by many professionals due to its ease of use and simplicity. The tool has literally no learning curve. You just get your account, create a board, visit it, and you somehow know what to do right away with no guidance needed.
In a nutshell, Trello provides you with a blank canvas that you can populate with various lists and cards representing your projects and workflows. You can work in Trello either individually or with a team.
The UI allows you to do most things with drag-and-drop, and also to use colorful labels and icons/images to identify each card better. Price There are three main plans at Trello:
the free plan – $0
"Business Class" – $9.99 / user / month
"Enterprise" – $20.83 / user / month
However, it's worth pointing out that you can use the free plan for teamwork as well (with some limitations). Pros and cons
It has no learning curve.
It's really simplistic in its structure and the way it works.
It gives you a total freedom of how you want to use the tool
It's great for visualizing workflows step-by-step.
Your boards can get messy and cluttered if you don't clean them up regularly.
Who is Trello best suited for?
People looking for something free.
People who expect their project management tool to give them freedom to do whatever they wish, instead of following a specific, imposed methodology of work.
Small to mid-size teams working on not too complex projects.
Go to Trello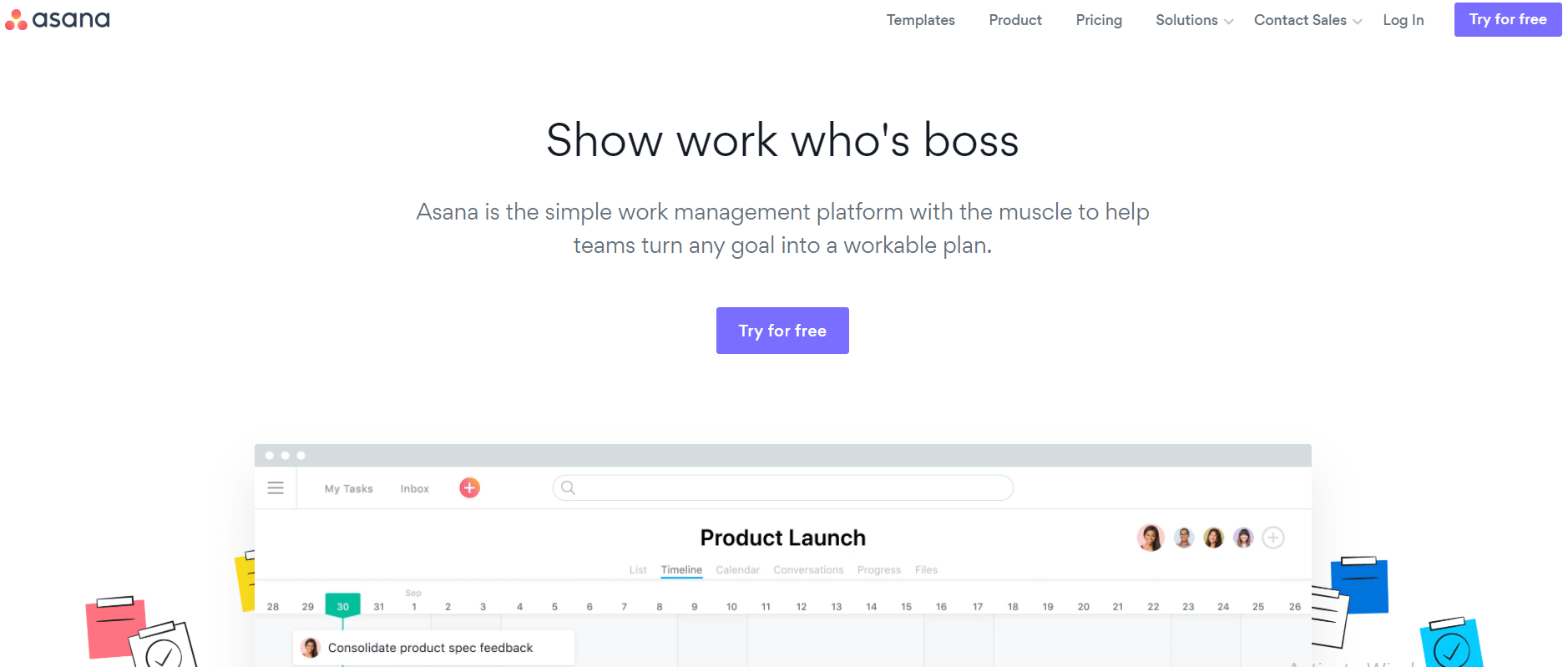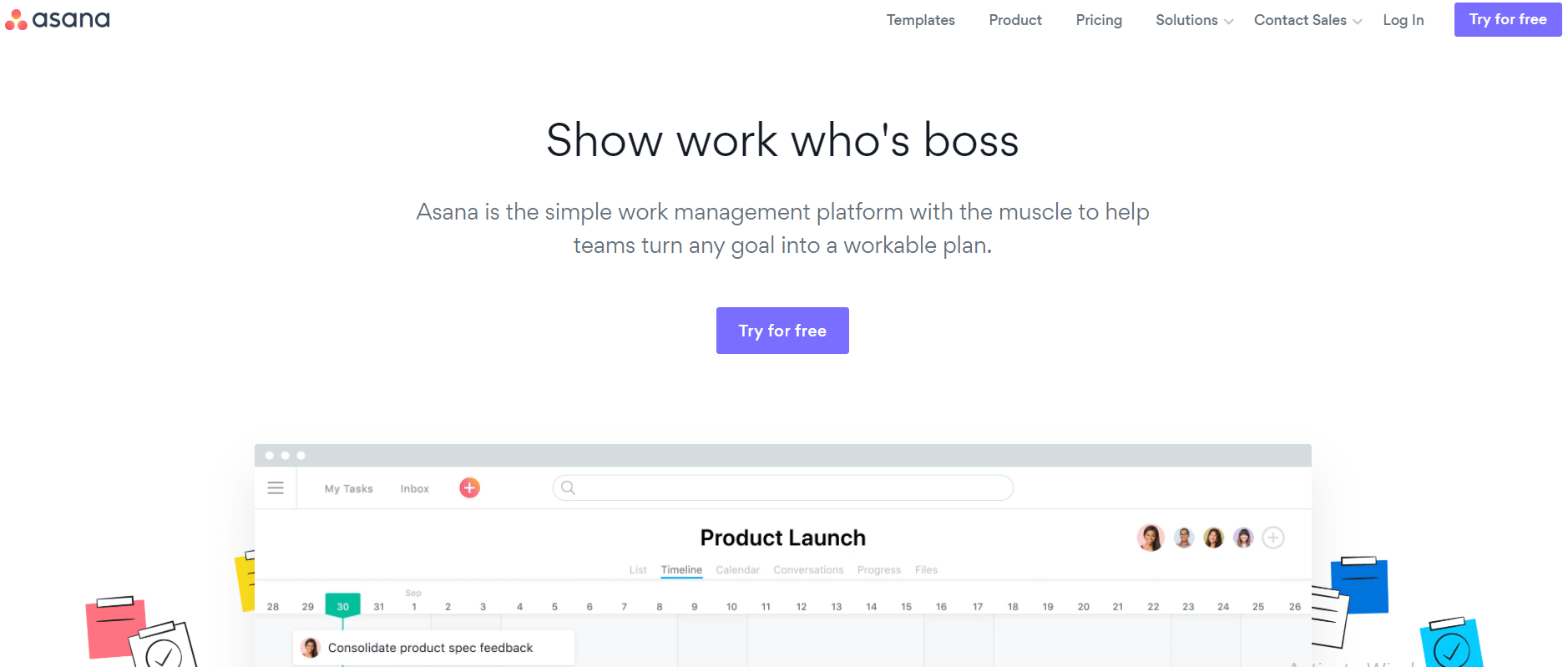 Overview
Asana
 is a great middle-of-the-road solution when looking through JIRA vs Trello vs Asana vs TeamClerk. It delivers a great-looking simplified UI, but also introduces some structure into your projects making everything easier to grasp.
Asana is particularly helpful if you – and your team – work on medium-sized projects involving 10+ tasks to complete. The UI is really simple and has nearly no learning curve.
In many ways, Asana is quite similar to Trello. While Trello is based on cards that you can align in a canvas-like space, Asana relies on lists that already have a certain structure organized on a per-project basis.
Of course, Asana gives you all the common features like tasks, due dates, assignments, teamwork, and even project progress charts. Price There are two main plans:
free – $0 for teams of up to 15 people,
$12.11 per member per month – with no member limits, and no limits at all for that matter.
Pros and cons
It's not too complicated. You can master it in one afternoon.
It introduces a nice structure for your projects and workflows.
It might not be functional for large projects consisting of a lot of individual tasks and sub-projects.
It's also not perfect if you have a lot of very small projects – your dashboard will get cluttered soon.
Who is Asana best suited for?
People and teams who expect their project management tool to introduce some structure into their work. So unlike Trello, Asana exchanges some of your freedom for structured workflows, which is very good in certain cases.
Go to Asana
Overview
TeamClerk
 is a simple project management software in itself, but it does a good job at tracking your team's progress on any given project, and letting you organize tasks based on their priority and even difficulty (not common in other project management tools among JIRA vs Trello vs Asana vs TeamClerk).
TeamClerk has a very clever UI that sort of goes from left to right. What I mean is that your projects are on the left, and then every consecutive column is related to the previous one.
So, when selecting a project from the most left column, you'll see the project's tasks in the next column, your own tasks related to the project in another one, and finally the project analytics column on far right. As you switch between the projects, all the other columns switch accordingly too.
This is a unique approach which may be to some people's liking. Its strong point is that when looking through the projects, you always know what sort of information you can expect in each column. This makes interacting with the tool faster over time. Price There are 4 main pricing points with TeamClerk:
Free – $0 – 1 team, up to 3 members
$9.99 / mo – 2 teams, 15 members / team
$19.99 / mo – 5 teams, 20 members / team
$39.99 / mo – 10 teams, 30 members / team
You can work with unlimited projects and tasks on all plans. Pros and cons
It has simple and quite unique UI.
It can track your tasks in real-time.
It doesn't let you do much more than organizing your projects, tasks, and then tracking the progress.
Who is TeamClerk best suited for?
People who want to keep their multiple projects in the same place and be able to grasp them at a glance.
Good for tracking real-time progress of a project/task.
Go to TeamClerk
WordPress?
Managing your projects straight inside WordPress is surely an idea worth exploring. And technically, if you want to get into that, there are some plugins available out there. But they aren't too stunning, if I'm honest.
Let's discuss the pros and cons of the whole solution:
First off, managing projects inside WordPress makes sense only if the core of your business revolves around your WordPress site. In other words, it only makes sense if you're pretty much logged into your WordPress site round the clock anyway.
Accessing your project management "place" requires some additional steps, and it's certainly not as simple as just logging into Asana or something.
You get no mobile apps for the project management part of your WordPress site. And those mobile apps are some of the main strengths of the other tools on this list.
Then, there's potentially the biggest downside of them all: there aren't that many quality project management plugins out there. And even the most popular ones don't have that many active installs.
If you want to take a look, here are the most sensible plugin options in the project management realm:

WP Project Manager – Project, Task Management & Team Collaboration Software
Current Version: 2.4.11
Last Updated: March 17, 2021
wedevs-project-manager.2.4.11.zip
74%Ratings
10,000+Installs
WP 4.4+Requires
Panorama – WordPress Project Management Plugin
Current Version: 1.4
Last Updated: March 4, 2021
84%Ratings
1,000+Installs
WP 5.0+Requires
Kanban Boards for WordPress
Current Version: 2.5.18
Last Updated: April 7, 2021
92%Ratings
1,000+Installs
WP 4.0+Requires

WordPress Project Management by UpStream
Current Version: 1.39.3
Last Updated: March 3, 2021
90%Ratings
1,000+Installs
WP 5.2+Requires
In the end, I would advise using WordPress for project management only if you and your team spend most of your time in the WordPress dashboard already (and if you don't want to use third-party tools).
Some other comparisons you might be interested in:
JIRA vs Trello vs Asana vs TeamClerk vs WordPress: Conclusion
I hope this comparison will be helpful to you, and that it'll make your choice easier. Here's a cut-out-'n-keep summary:
JIRA
: Use it when working with a team on larger software projects, and if you're utilizing things like scrum for managing your work.
Trello
: Use it if you're looking for a tool that you and your team can use for free, and that gives you ultimate freedom to manage your projects however you wish.
Asana
: Use it if you expect your project management tool to introduce some structure into your workflow, and if you prefer list-based tools, rather than card-based.
TeamClerk
: Use it to track your progress in real-time, and to get a good overview of a handful of projects running in parallel from the same dashboard.
Managing projects with WordPress + plugins: Not really.
If you are concerned about the pricing, we recommend Top Free Jira Alternatives that are just as good.
But what do you think? Which one is your winner: JIRA vs Trello vs Asana vs TeamClerk? Or maybe you use something entirely different for project management? Feel free to share in the comments.
#Project #management #comparison: JIRA vs Trello vs Asana vs TeamClerk
Click To Tweet
…
Don't forget to join our crash course on speeding up your WordPress site. With some simple fixes, you can reduce your loading time by even 50-80%: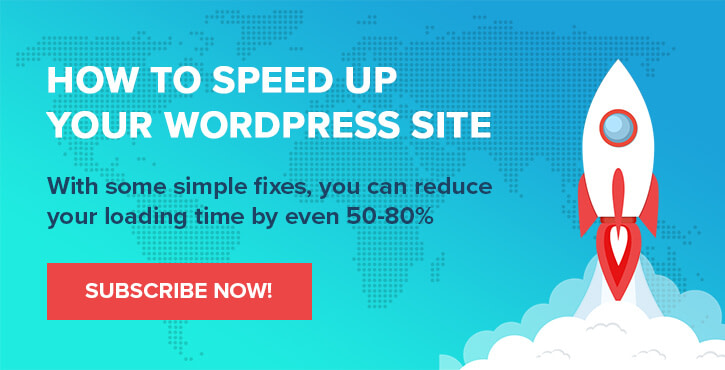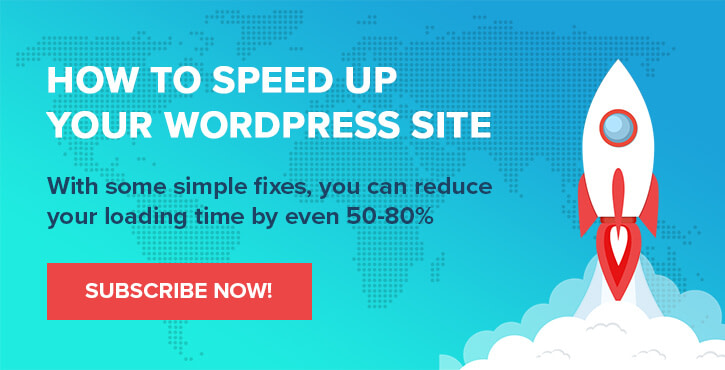 Was this topic
helpful?
0% of users found this helpful