If you deal with customers through your website on a regular basis, odds are you can benefit from a Customer Relationship Management (CRM) tool. Intercom is one popular option, but it can be prohibitively expensive, which may leave you searching for Intercom alternatives.
Fortunately, there are a lot of available low-cost solutions primed to take Intercom's place. Many offer a similar toolset, although no two CRMs are quite the same. It's therefore beneficial to do plenty of research, and to find an option offering what your particular business needs.
In this post, we're going to help you conduct the necessary research. We'll present five top Intercom alternatives, and discuss what each of them has to offer. Let's take a look!
5 budget-friendly Intercom #alternatives for your small #business
Click To Tweet
Why you can benefit from looking into Intercom alternatives
Customer Relationship Management is a broad term encompassing practically everything involved in interacting with customers and leads. This involves reaching out to potential customers, answering questions, sending proposals, providing support, and a lot more.
Handling these tasks through your website can be much easier if you have the right tools. CRM solutions offer ways to improve productivity, streamline key processes, and handle communication more effectively.
When it comes to CRM tools, Intercom is one of the more well-known options.
It is a full-featured solution, offering features such as a live chat system, help desk and knowledge-base software, and a variety of apps and integration options. However, Intercom is an expensive solution, costing $87 per month on its cheapest plan. Practically speaking, this just doesn't fit into the budget for many smaller businesses.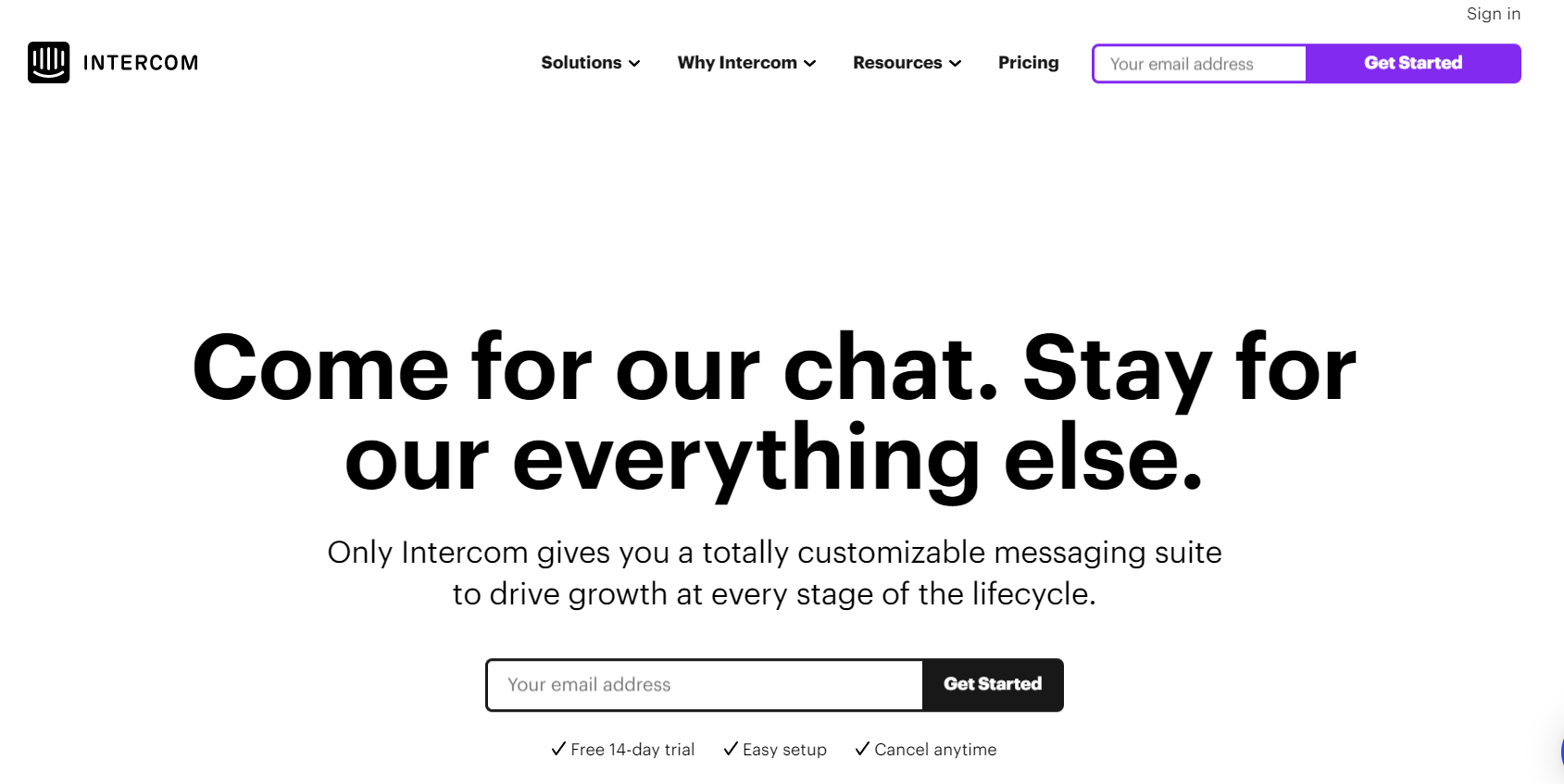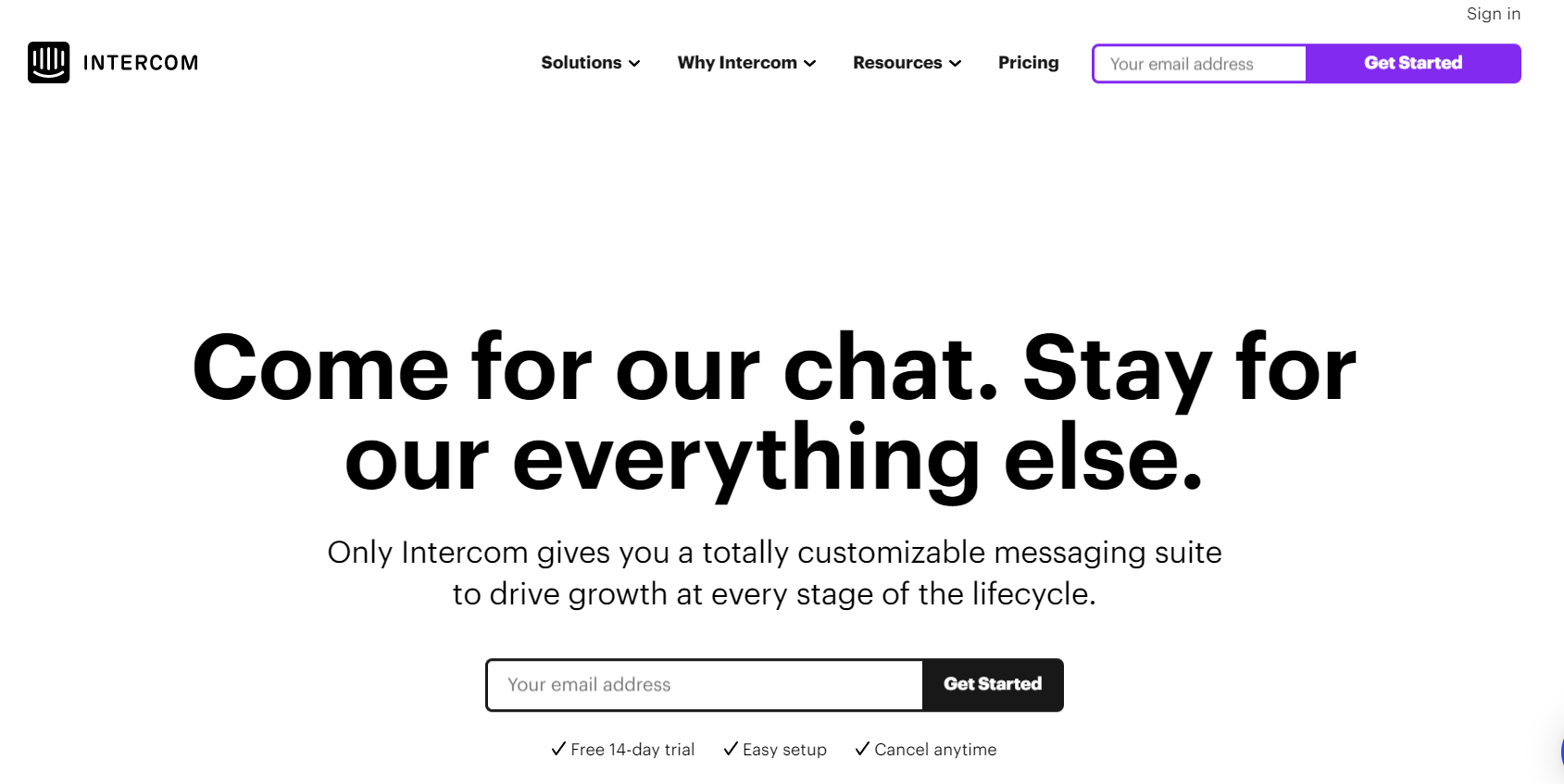 See Intercom pricing: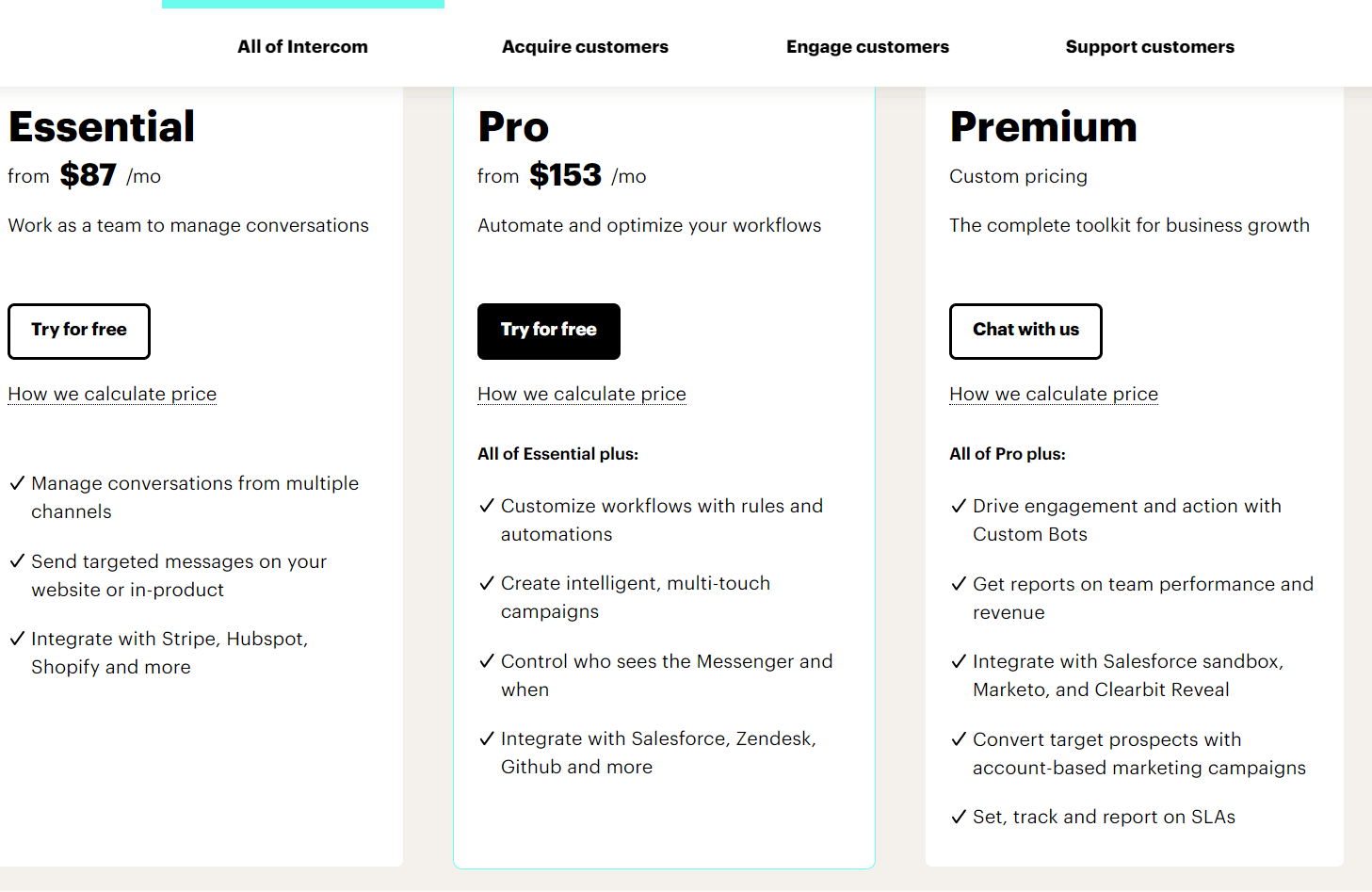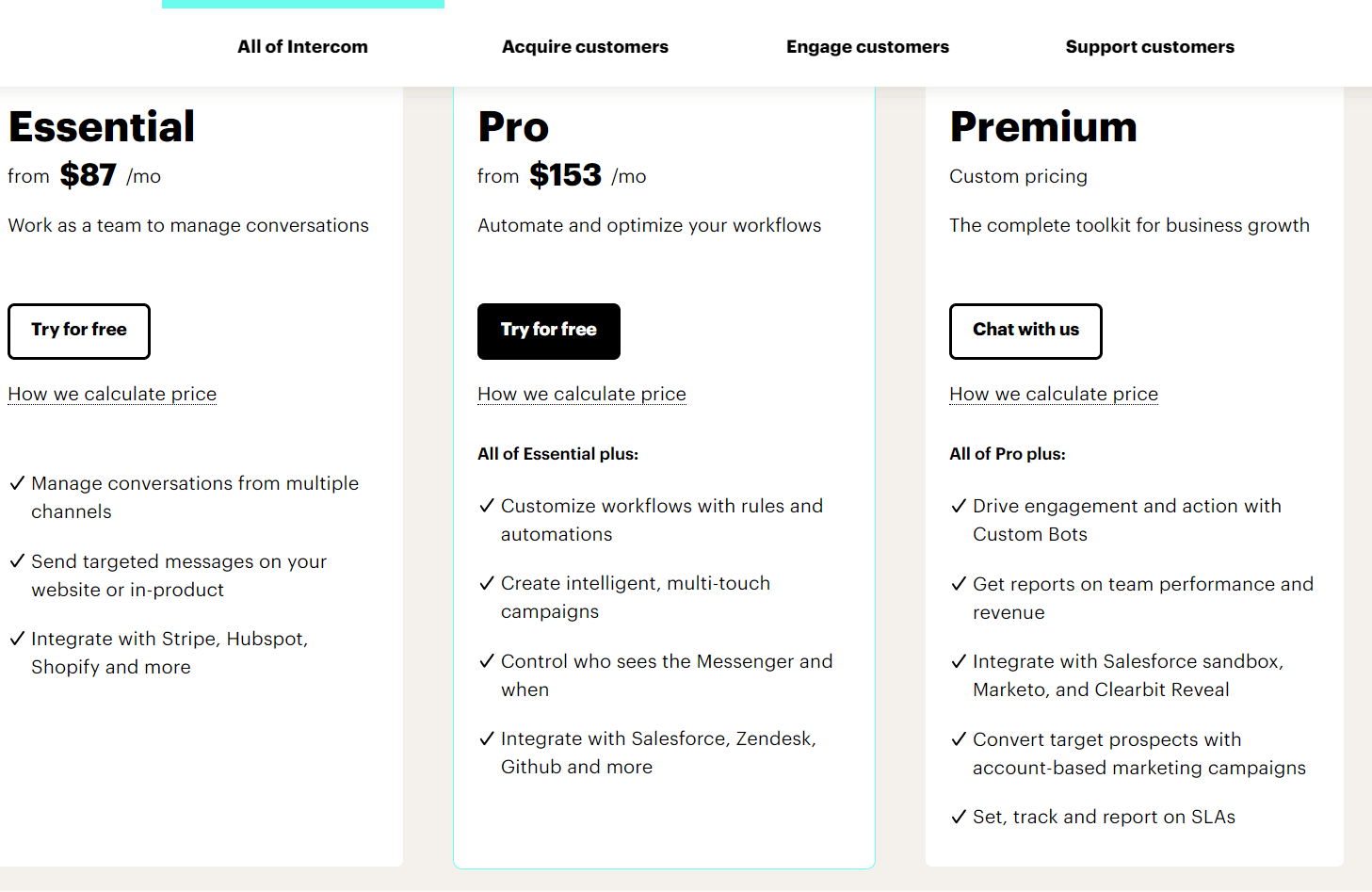 The good news is that there are plenty of Intercom alternatives to choose from. While you may not find a tool with an identical feature set, you'll encounter many solutions offering a lot of the same options, at a far more affordable price.
Go to top
Five budget-friendly Intercom alternatives for your small business
What we're going to do now is introduce five Intercom alternatives worth checking out. For each one, we'll discuss its feature set and pricing, along with how it compares to Intercom itself. You may find that one or two of these tools can easily handle what your small business needs. Let's start from the top!
1. LiveChat
First, let's look at a straightforward option. While Intercom offers a wide range of features, many businesses use it primarily for its live chat functionality.
If this is all you need – without the extra bells and whistles – the aptly-named LiveChat could be a perfect fit.
🔧 Key features
Communicate with customers and website visitors via a live chat system
Set up an organized ticketing system
Enable visitors to rate each chat, so you can see how your support team is performing
Easily view metrics such as chat and ticket response times
💰 Pricing
The Starter plan for LiveChat costs $16 per month per agent, making this a highly-affordable option.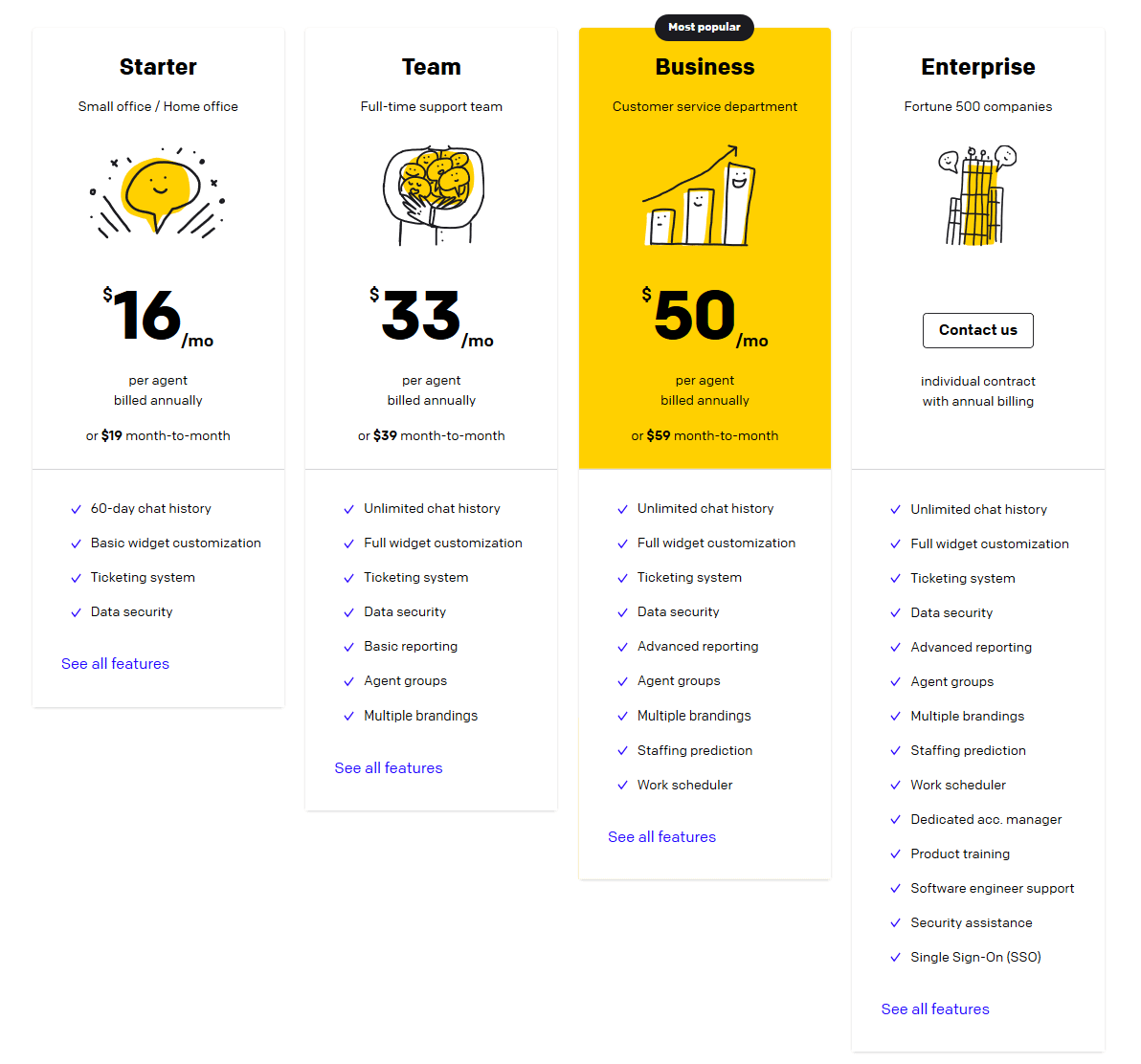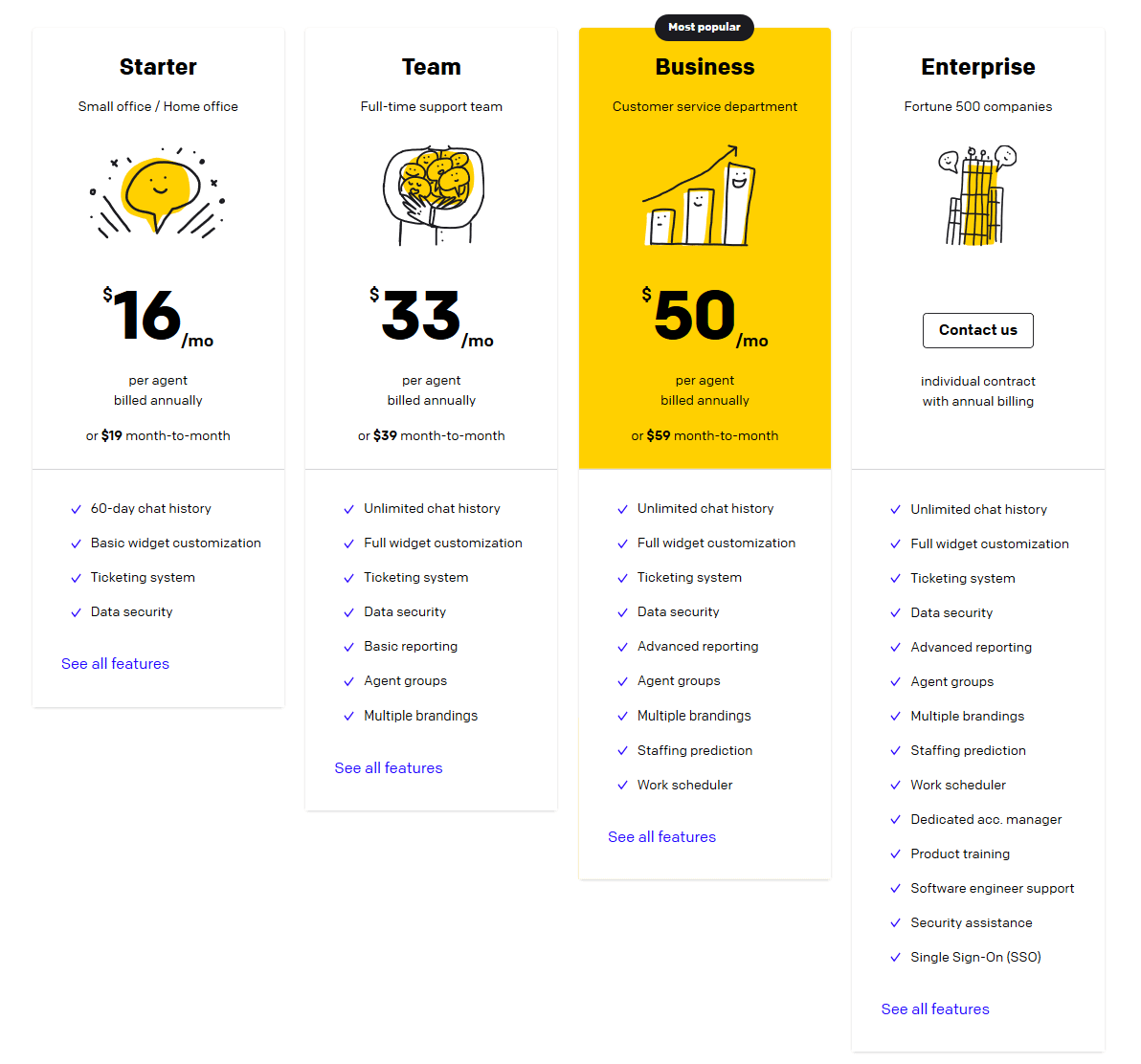 👋 Ease of use
Setting up LiveChat is an extremely quick process, and the dashboard is intuitive and easy to use. When you begin, you'll be walked through the key features via an example chat with a support bot.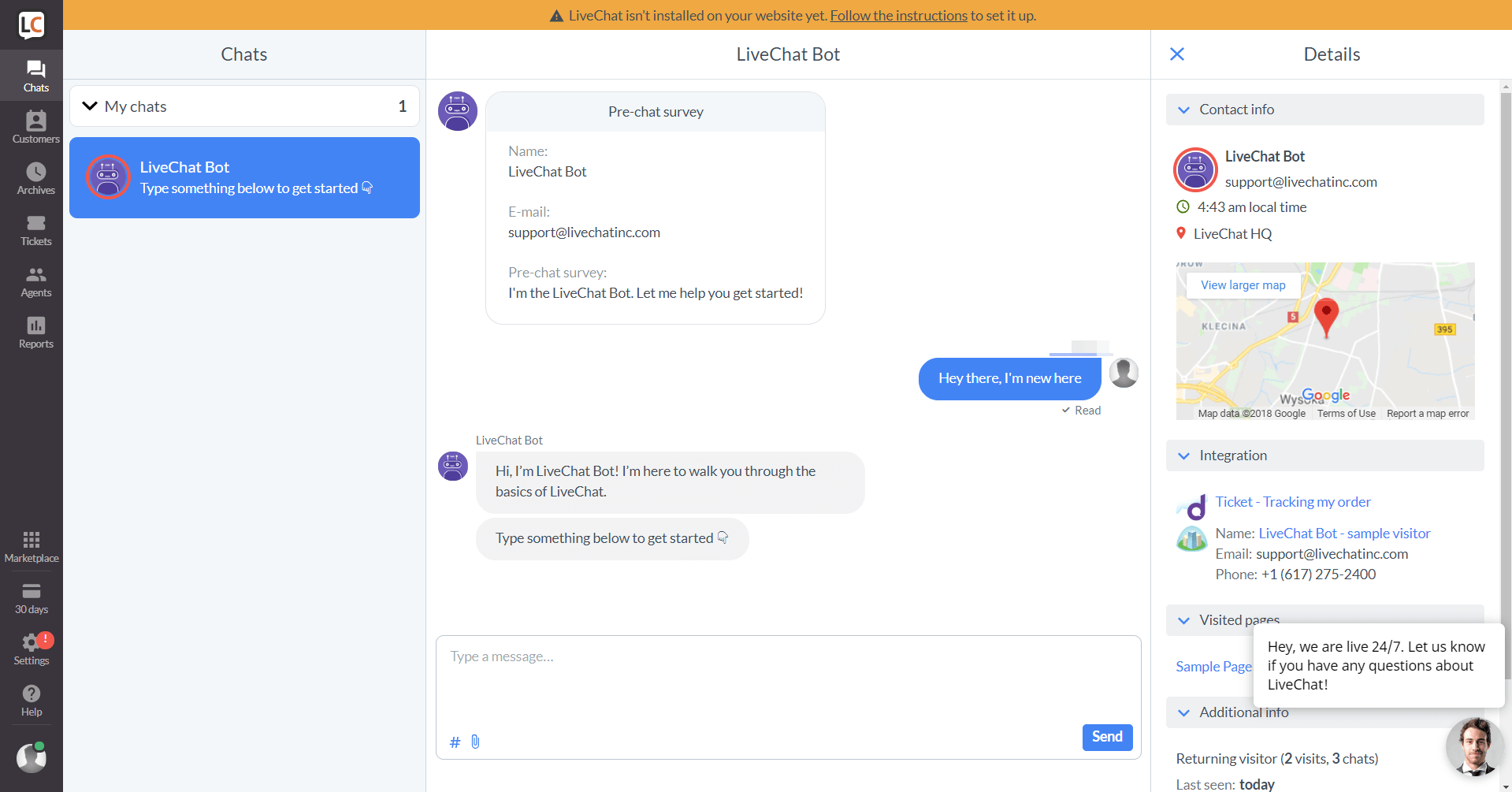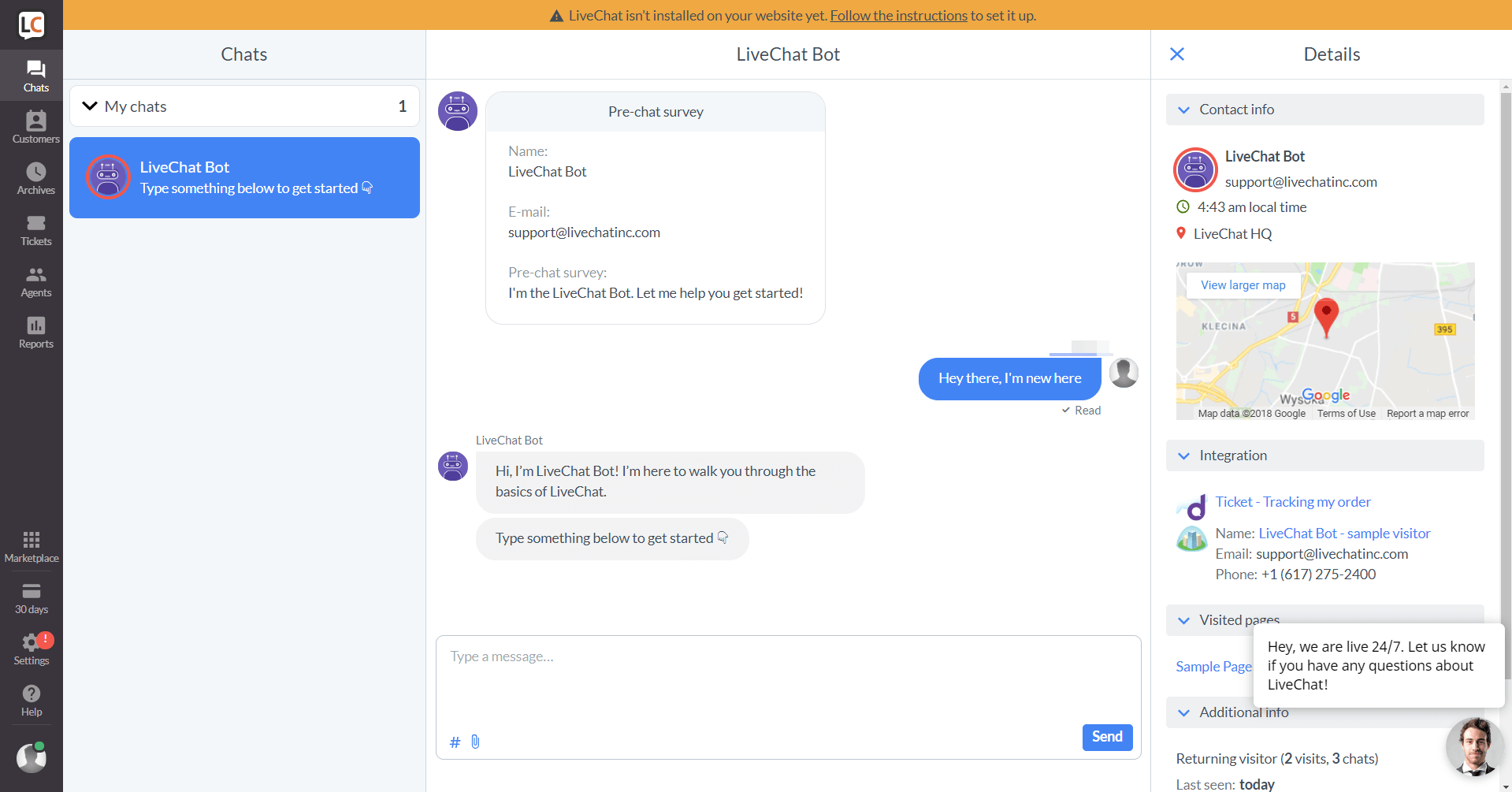 Integrating this tool with your website is also straightforward, and will have you up and running in minutes.
🔌 Extensions and integrations
LiveChat integrates well with a variety of popular services, such as Google Analytics, MailChimp, Zendesk, and Dropbox. There's also an extensive marketplace of apps you can use to enhance its features and perform all sorts of integrations.
🤜🤛 LiveChat vs Intercom
The feature set LiveChat offers is far simpler than what you'll get with Intercom. However, if you're really just looking for a chat and ticketing solution, this platform can provide what you need without costly extras.
2. User.com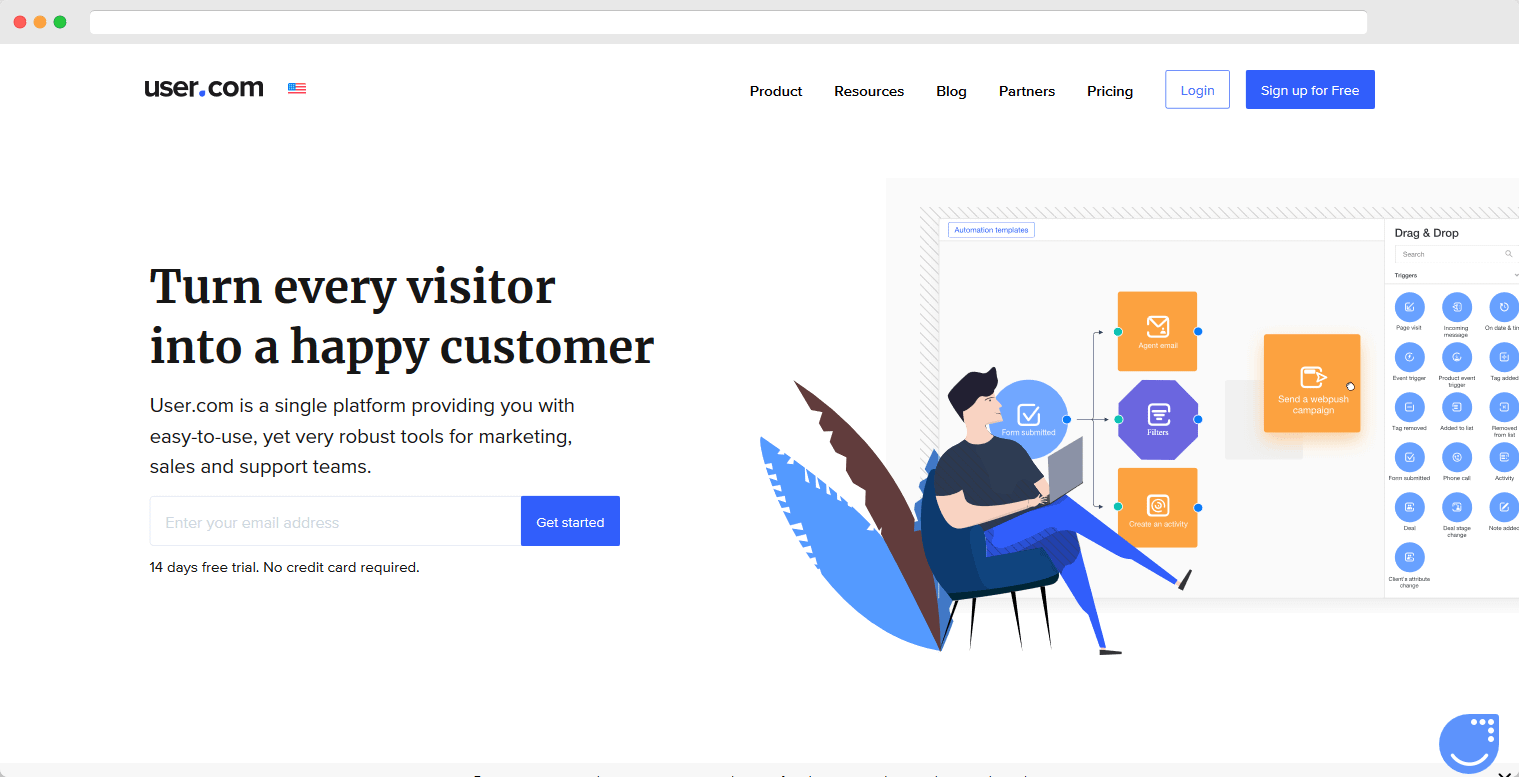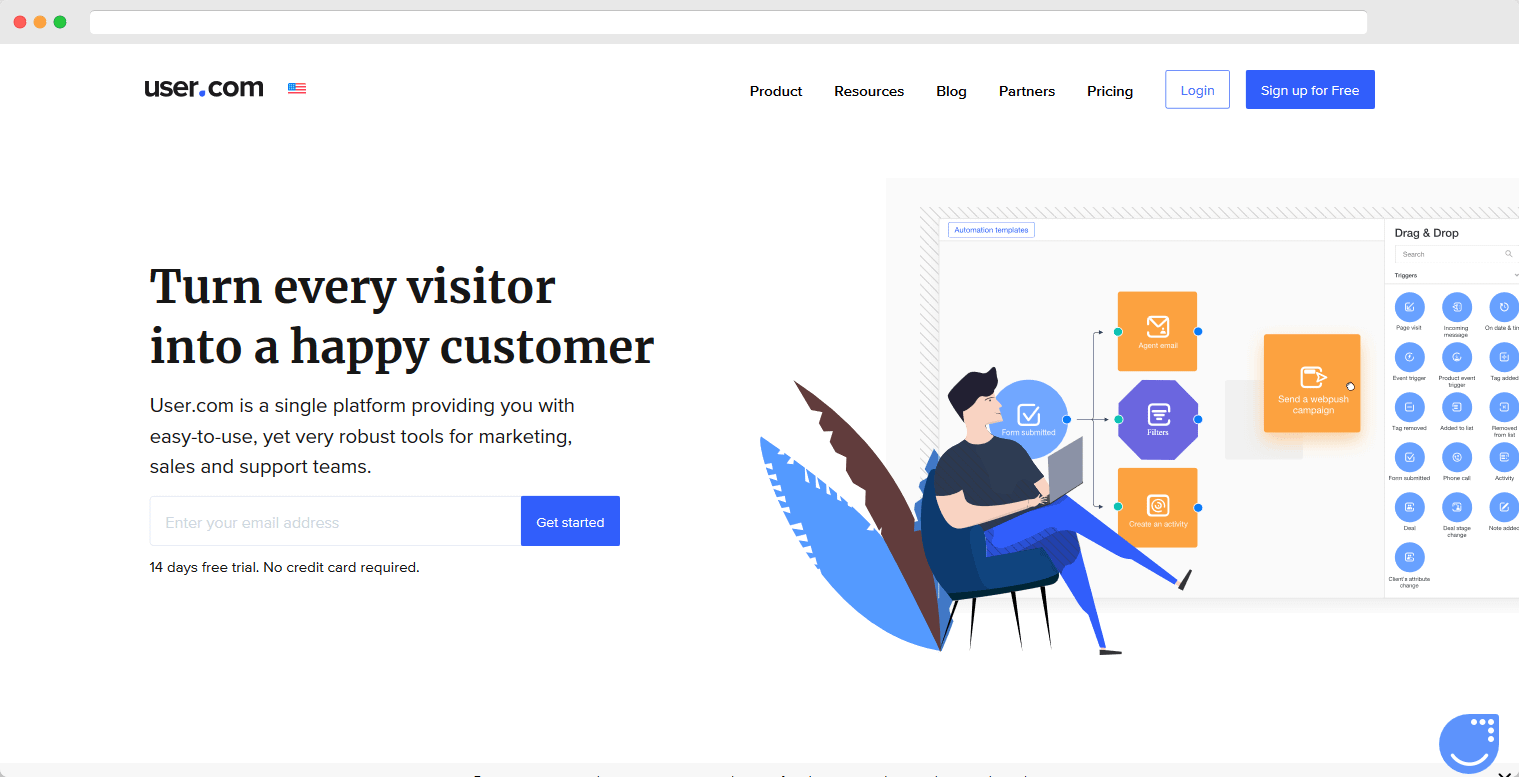 Second, let's look at User.com (formerly known as UserEngage).
Like Intercom, this solution offers a range of tools to help you automate marketing and customer communication.
It's also a team-focused solution, providing functionality to help your various members or departments stay on the same page.
🔧 Key features
Communicate with customers via live chat, with an option for automated messages too
Track customer activities and information easily
Create pop-ups and automated emails to help you target customers with specific messaging
Put together and send SMS campaigns
Keep tabs on your team and metrics using a variety of organizational tools and dashboards
💰 Pricing
User.com offers packages starting at $49 per month. This makes it one of the less pricey options on this list, and of course, much cheaper than Intercom.
👋 Ease of use
When you create an account with User.com, you'll be prompted to choose what you're most interested in accomplishing.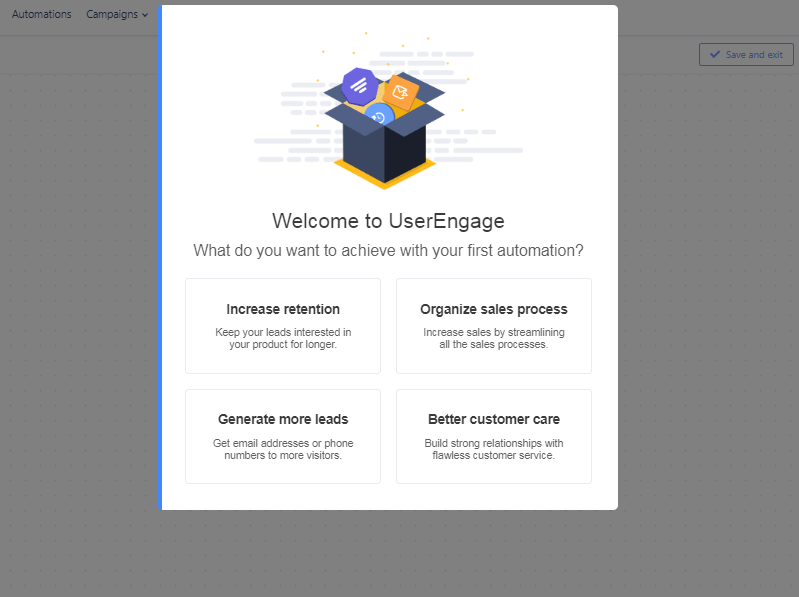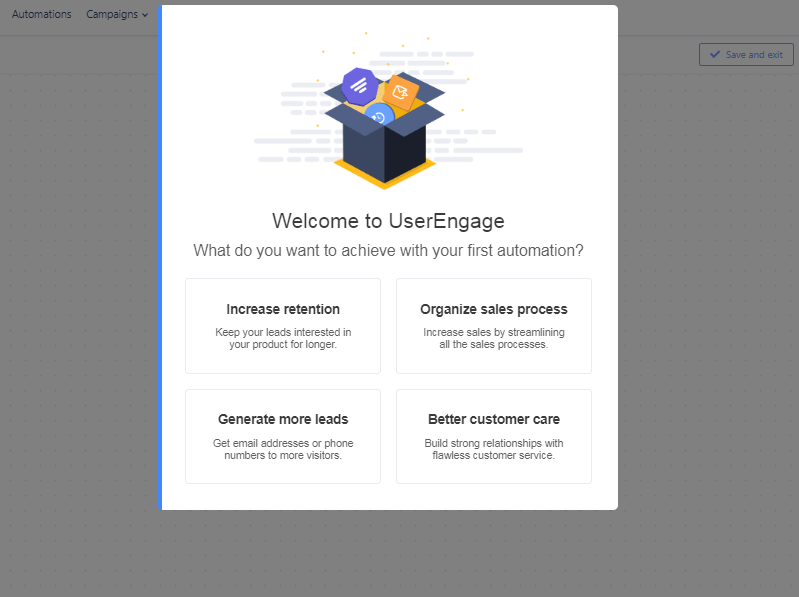 Selecting one of these options will lead you through a series of helpful tooltips, which teaches you to use the dashboard and helps you set up User.com's most basic features. This makes it pretty simple to get started.
🔌 Extensions and integrations
User.com integrates with a wide variety of tools and platforms. These include WordPress, Magento, Squarespace, Slack, Zapier, and more. You even have the option to easily import data from Intercom.
🤜🤛 User.com vs Intercom
If you're looking for an option offering a toolset nearly as wide as Intercom's, but at a reduced price, this is a solid choice. You'll be missing out on a few tools, such as the help desk and knowledge base software, but most of the key features are the same.
3. Drift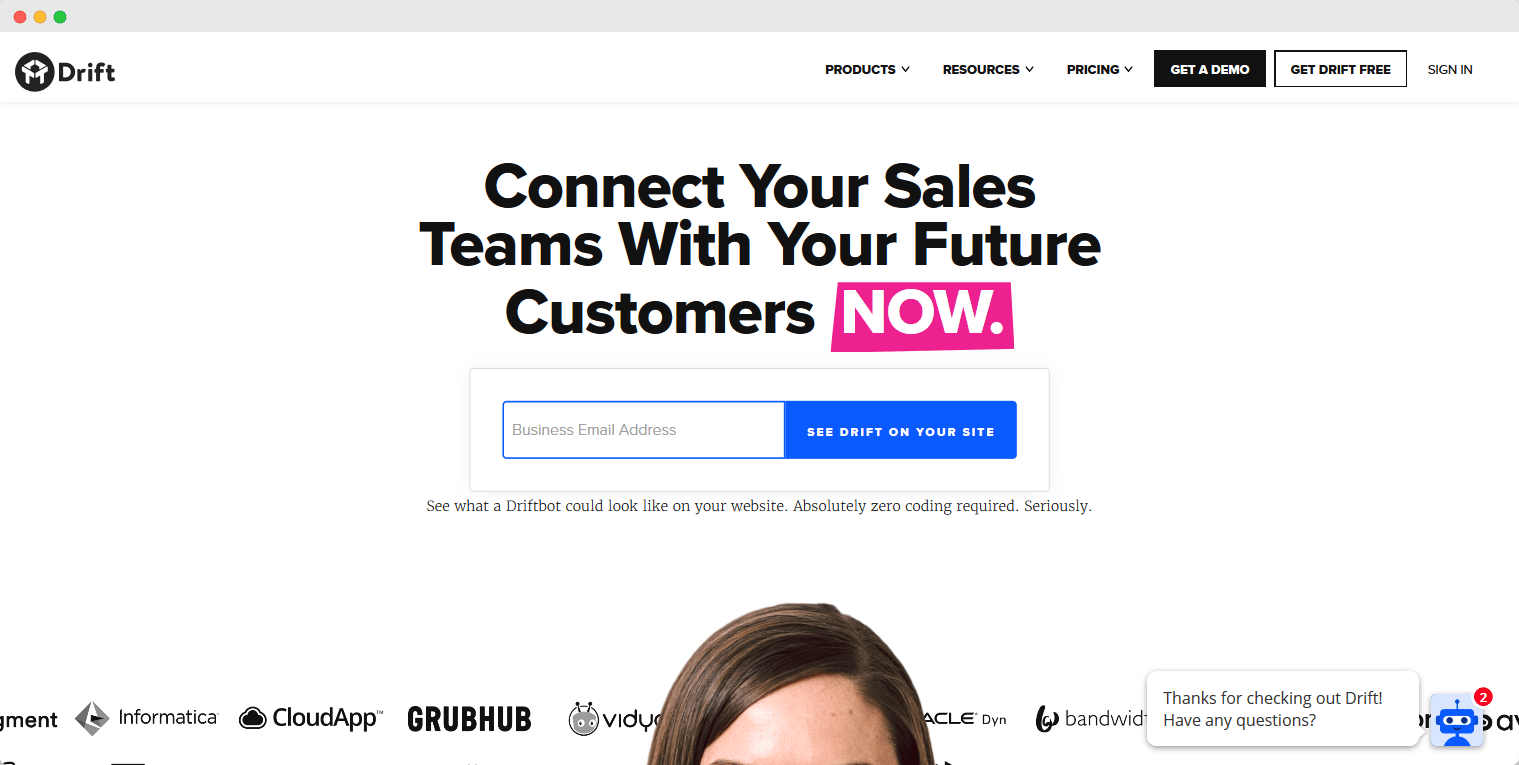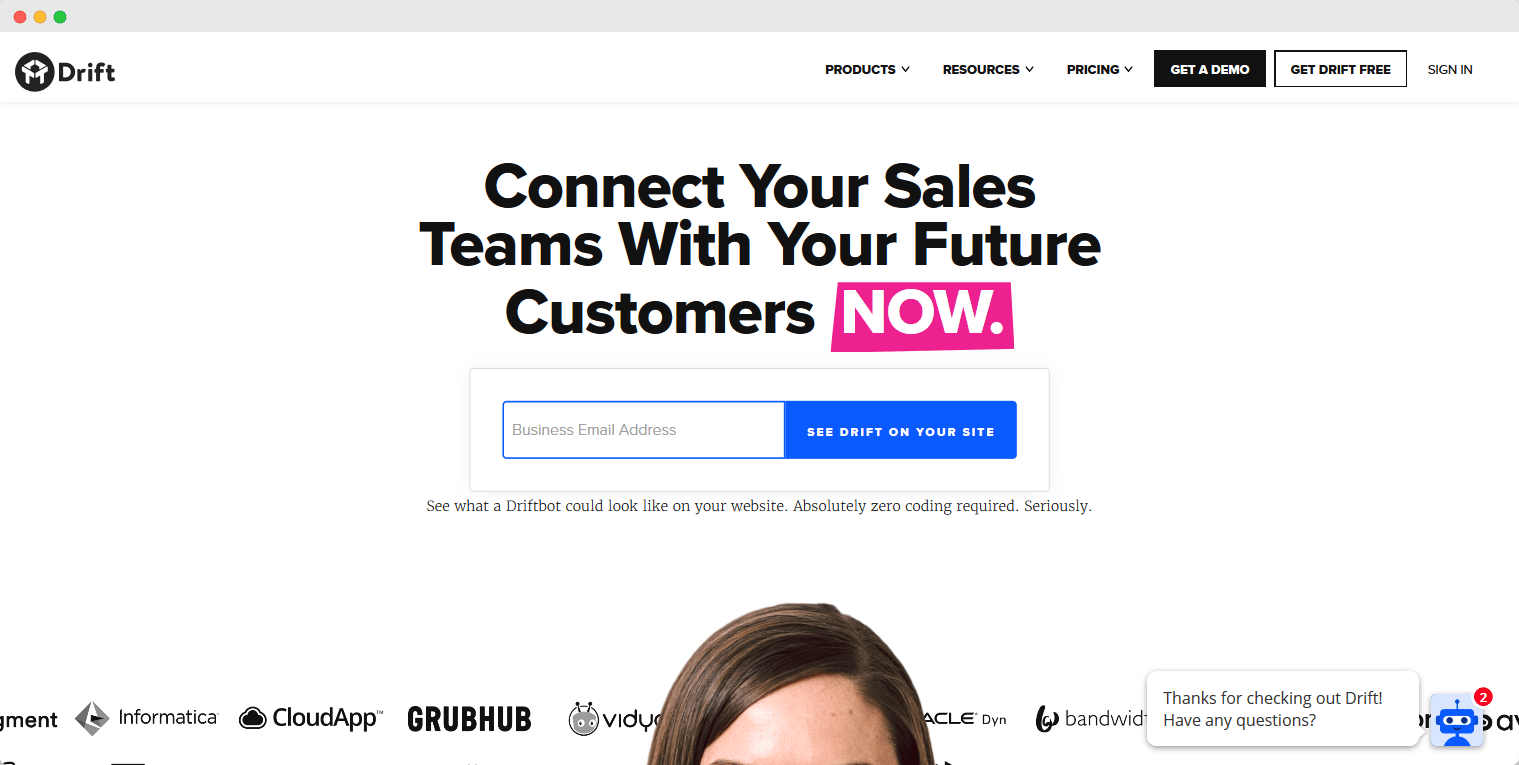 What if you're looking for Intercom alternatives that are a little more streamlined, with a greater focus on customer communication?
In this case, Drift may be a strong fit. This solution offers a smaller but still impressive feature set, at a more realistic price for many small businesses.
🔧 Key features
Set up a calendar to manage your meetings, and let people book times automatically
Send targeted and situational sales emails using 'Drift Sequences'
Create chatbots to handle customer questions
Track visitor activity on your site, and trigger personalized messaging
Manage email marketing campaigns through your website
💰 Pricing
The Standard Drift plan will cost you $50 per month. There's even a limited free tier that lets you try out several of the core features at no cost.
👋 Ease of use
When setting up Drift, you'll be able to choose the areas you'd like to focus on, along with customizing the interface you'll use.
After, you'll be walked through integrating Drift with your website, which is a simple process. Plus, this means you won't need to leave your site to access many of its key features.
🔌 Extensions and integrations
Drift is another tool with a lot of built-in integration options. You can use it alongside Salesforce, Slack, HubSpot, Google Analytics, Drip, and more.
🤜🤛 Drift vs Intercom
Intercom is a grab-bag of CRM features, and smaller businesses won't need many of them. In contrast, Drift focuses on streamlining, automating, and personalizing customer interactions – things nearly any business can benefit from.
4. UseResponse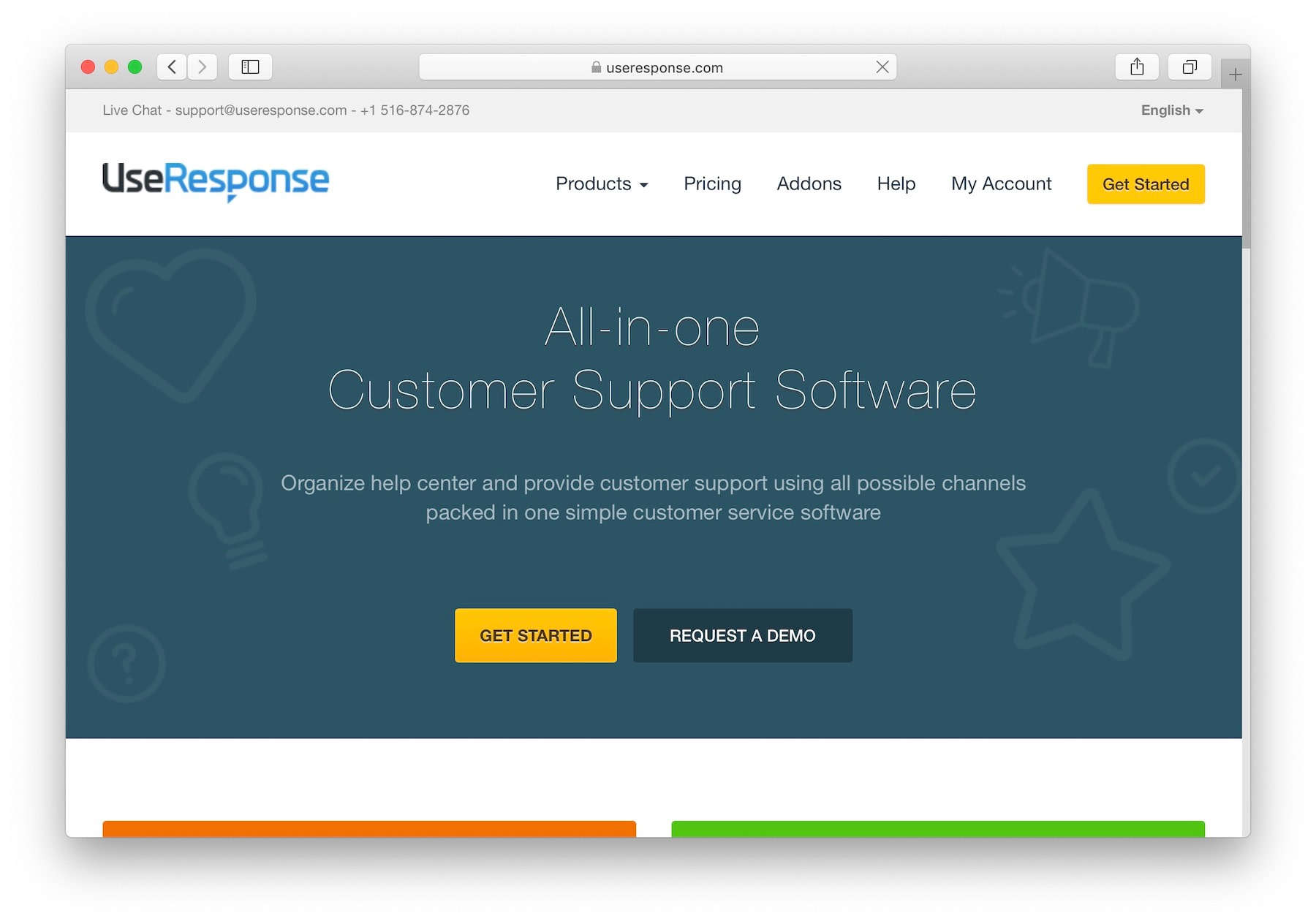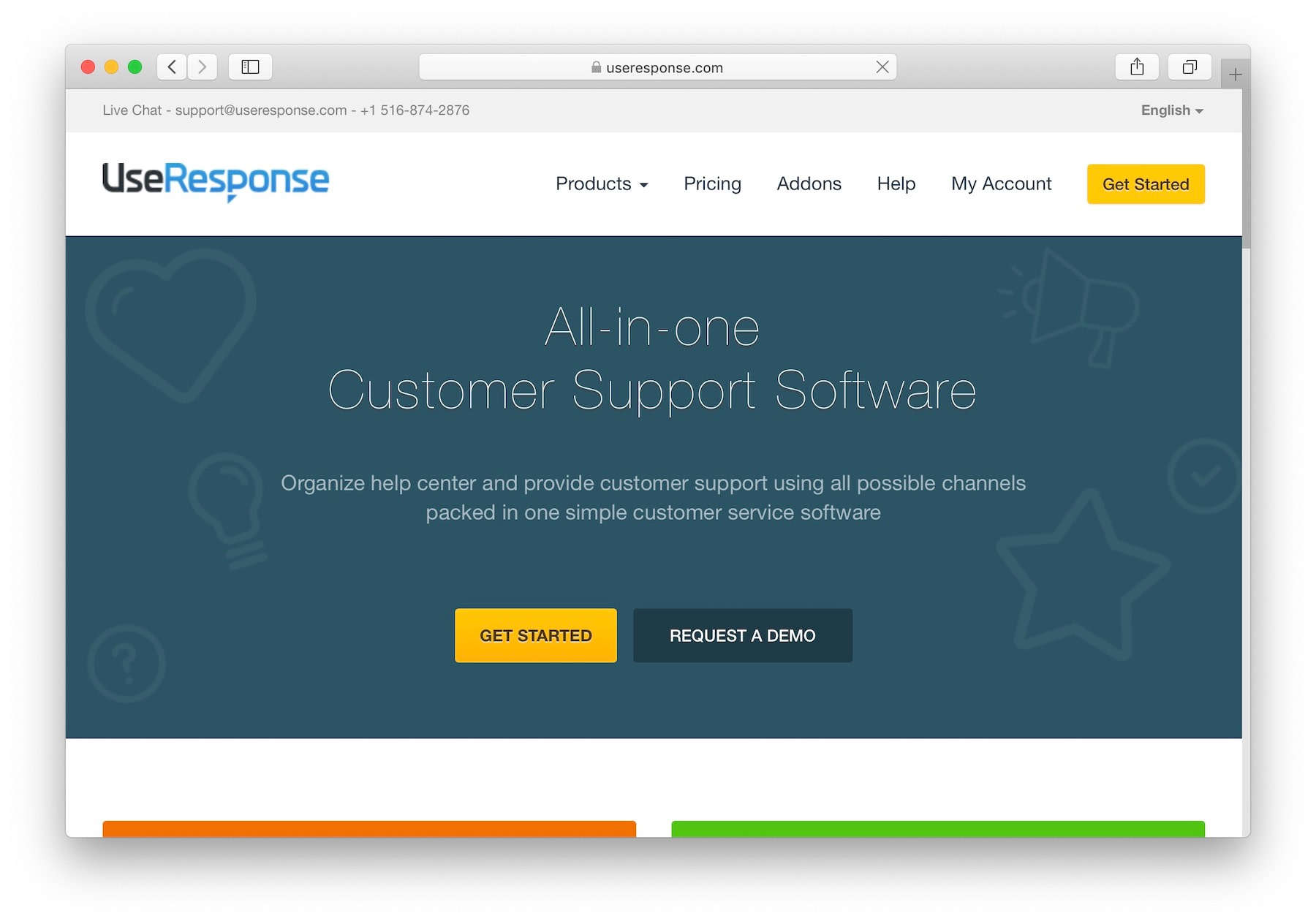 Next up, UseResponse is a solution focused on helping you provide the best customer support possible.
To do this, it offers you a variety of channels with which to provide customer service. This includes live chat, a help desk, and knowledge-base software.
🔧 Key features
Communicate with customers using live chat, and/or popular programs such as Skype and WhatsApp
Create a ticket-based help desk system, to handle queries more efficiently
Provide customers with a knowledge base, where they can look for answers on their own
Solicit and analyze customer feedback, in order to provide better service in the future
💰 Pricing
UseResponse provides an affordable cloud-based service, which costs $49 per month for two agents (additional agents will cost $19 per month per agent). You can also get a complete suite of all solutions for $690 per year, which comes out to about $69 per month (two months are free).
👋 Ease of use
With UseResponse, you get access to a fairly intuitive dashboard, along with plenty of helpful tooltips to teach you the ropes.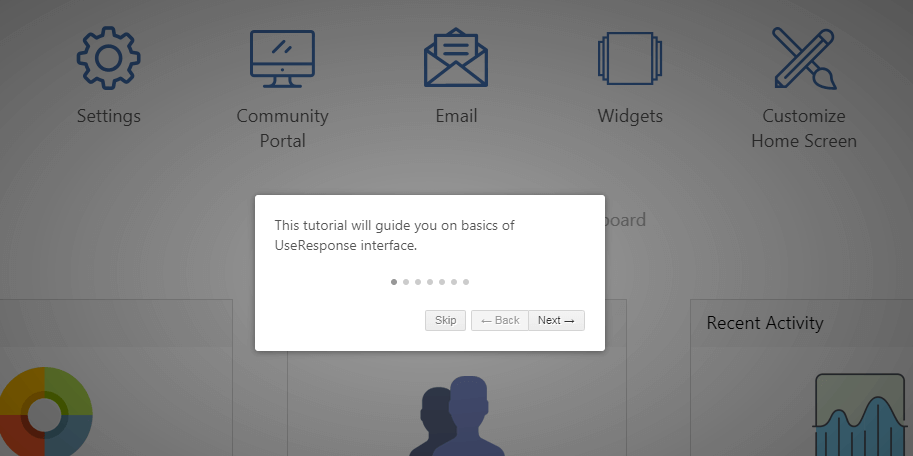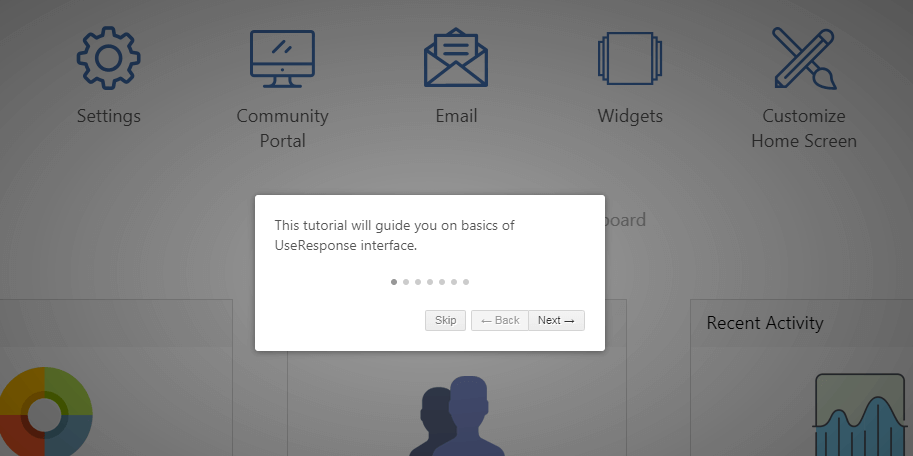 The interface is clear, well-organized, and user-friendly. All-in-all, UseResponse is one of the easier Intercom alternatives to get accustomed to.
🔌 Extensions and integrations
UseResponse provides API-based integrations, along with a library of add-ons to let you connect the platform with Salesforce, Zapier, Slack, and other popular software.
🤜🤛 UseResponse vs Intercom
If you already handle marketing through other channels, and are primarily looking for a tool to manage your customer support needs, UseResponse has your back. It covers all the most important communication channels, letting you provide service in a unified fashion.
5. HelpCrunch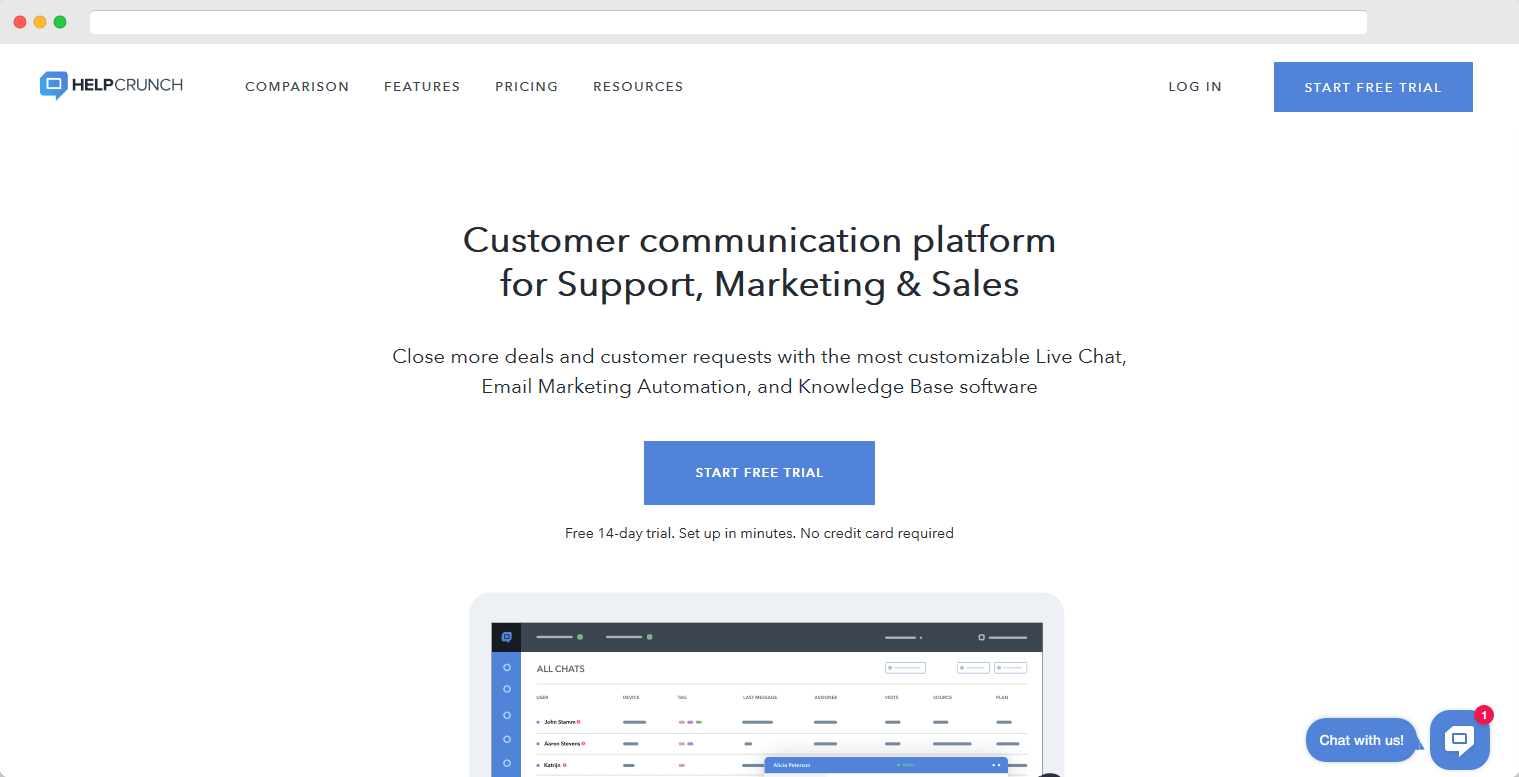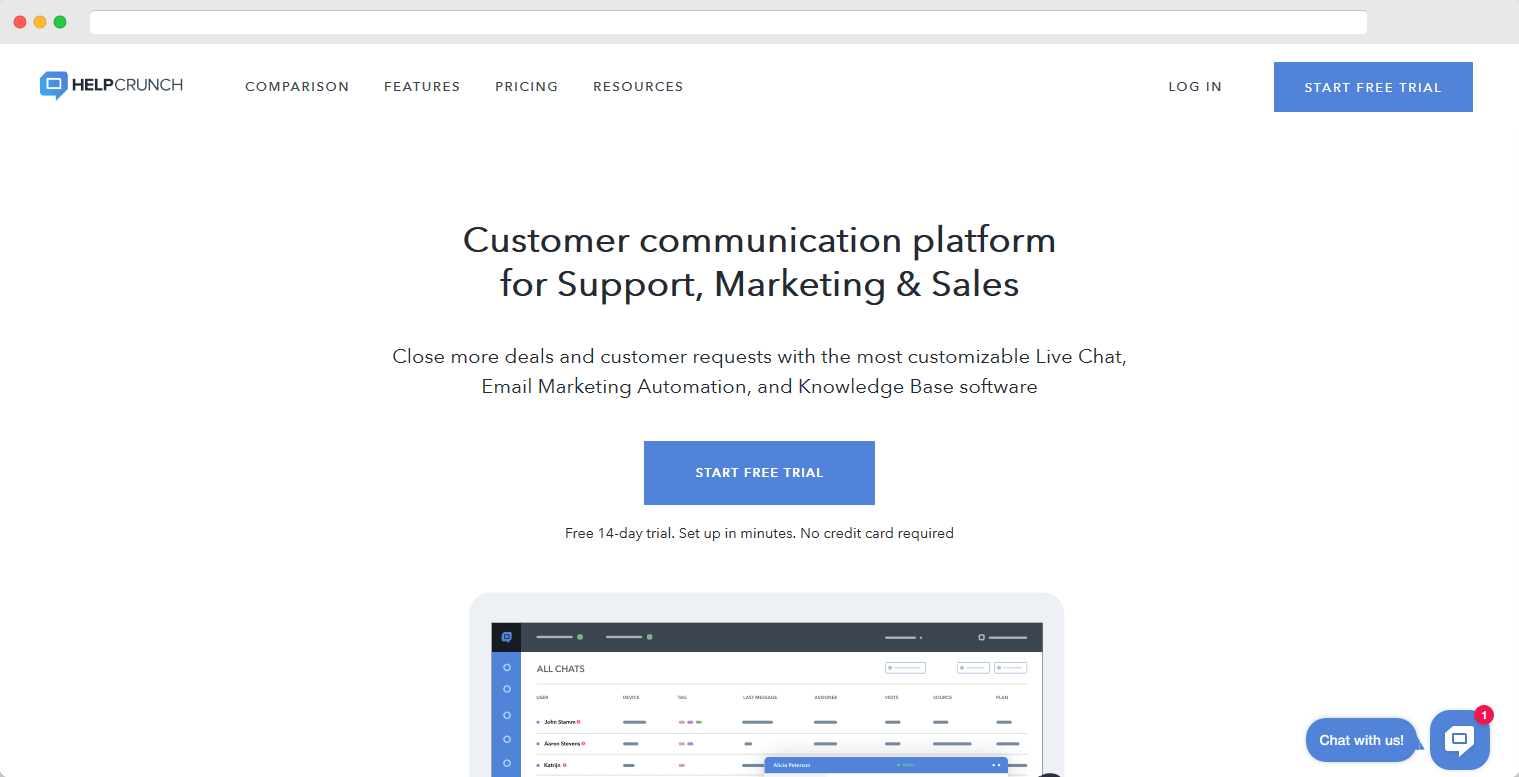 Lastly, HelpCrunch's feature set emphasizes efficiency and automation.
This makes it a smart choice if you're looking to provide quality customer service, while minimizing the time investment you and your support team have to make.
🔧 Key features
Use a live chat system that's dynamic and highly customizable
Send automated messages and emails to your customers and leads
Create targeted and personalized email marketing campaigns
Use a data-driven ticketing system to handle customer questions and problems
Track visitor activities, and monitor customer profiles and data
💰 Pricing
If your budget is particularly tight, you'll appreciate HelpCrunch's low buy-in. The Basic plan is just $15 per month per agent.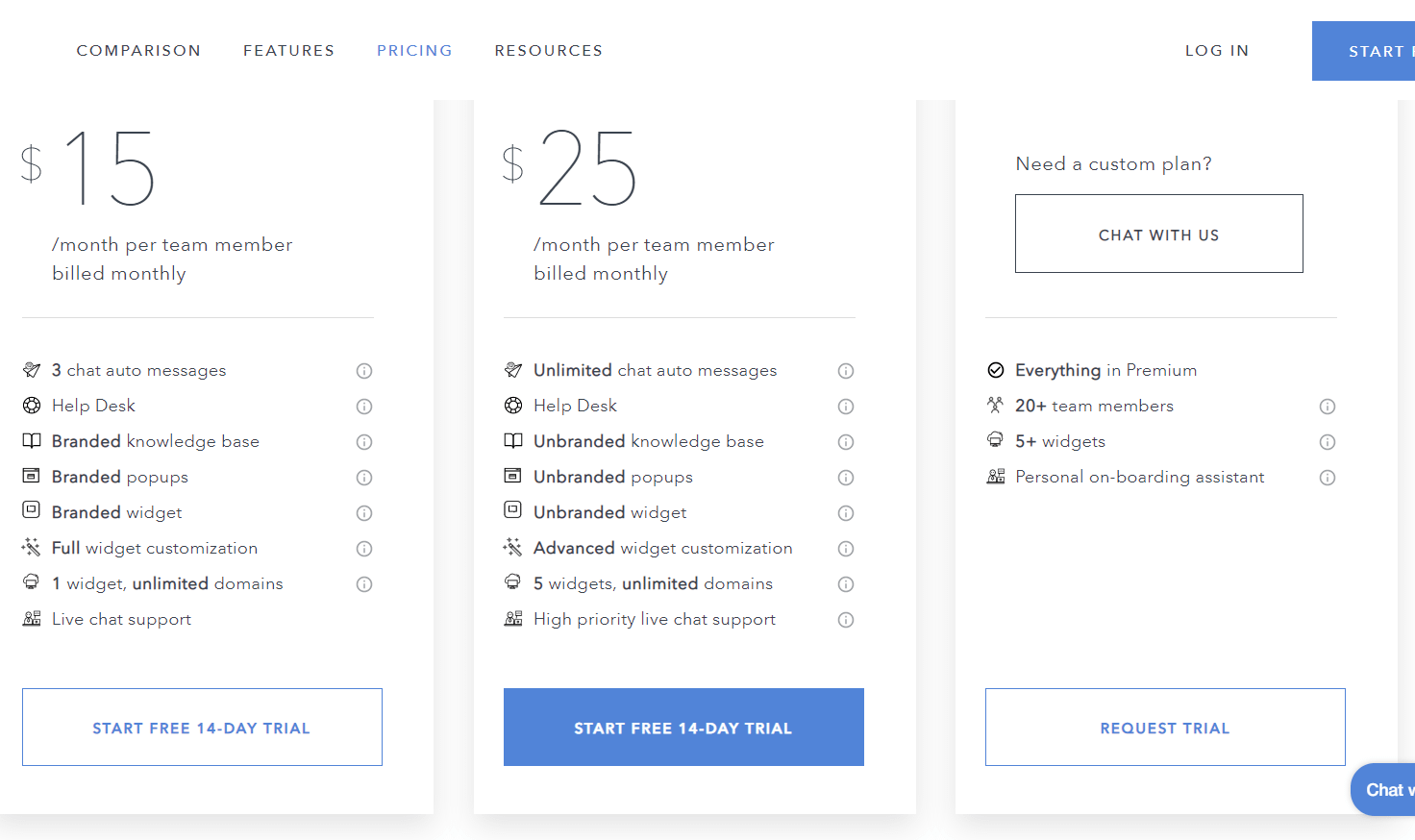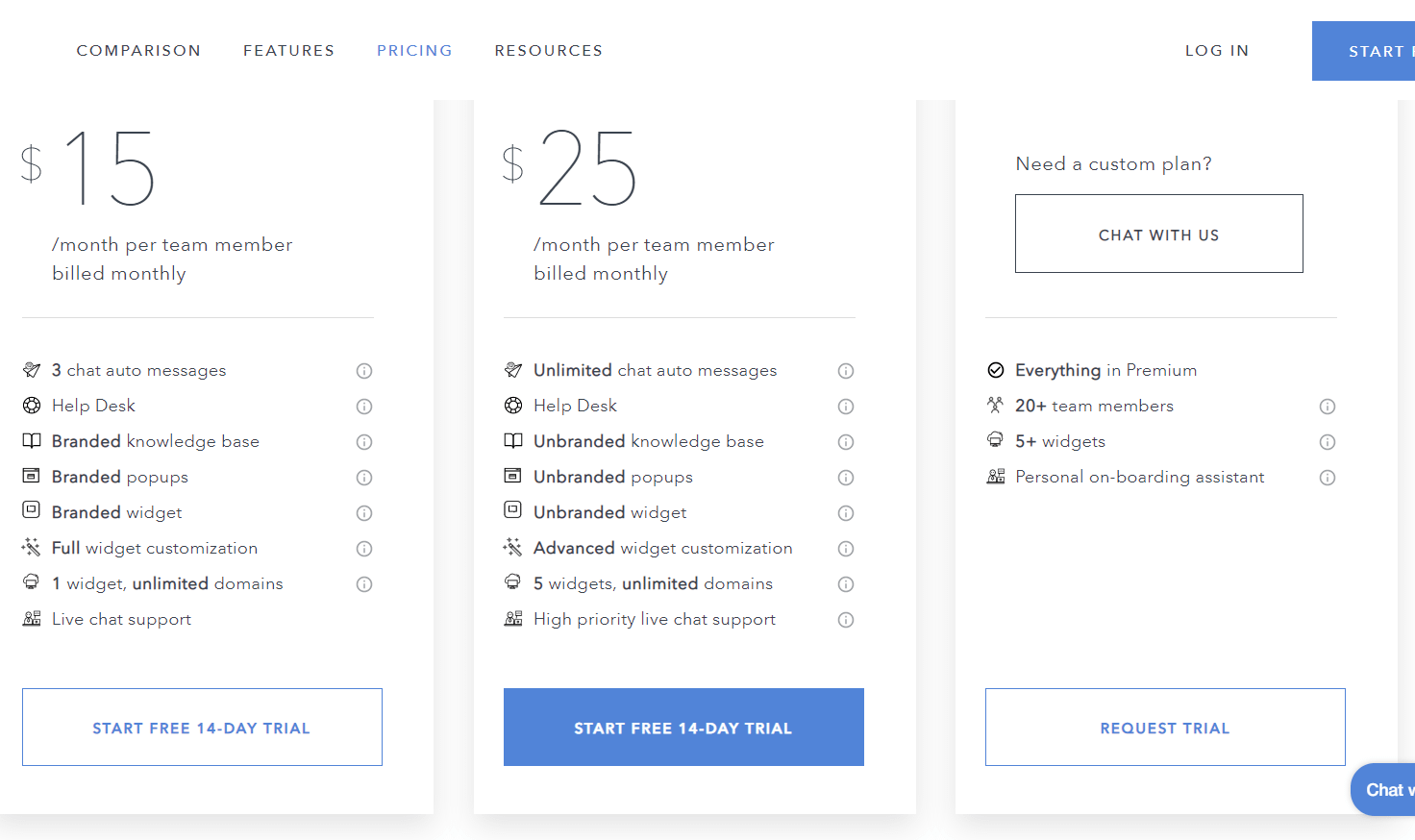 👋 Ease of use
Your HelpCrunch account provides you with access to a centralized dashboard.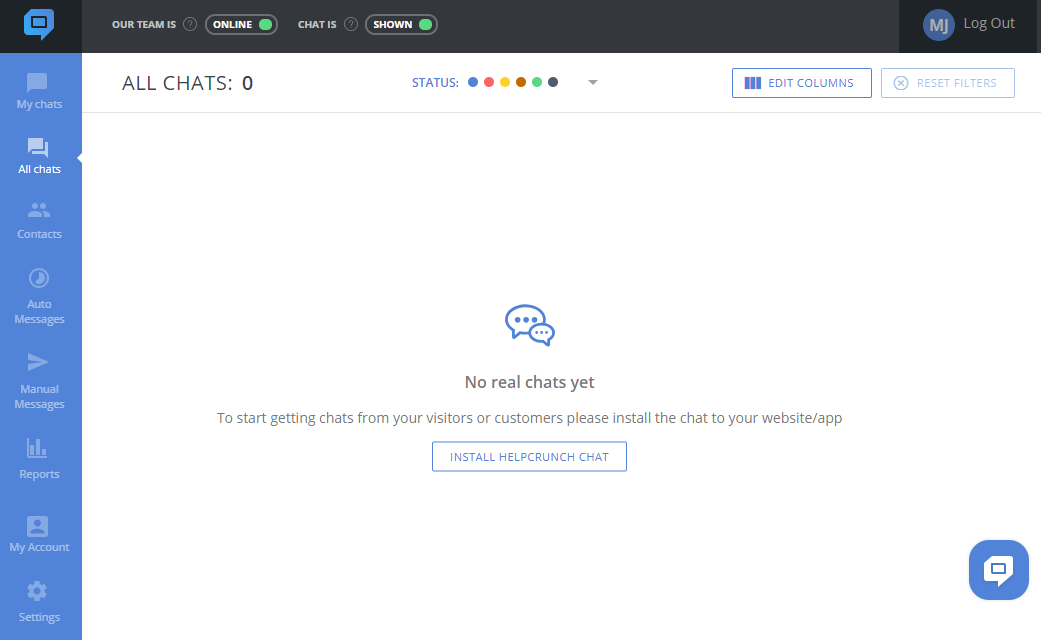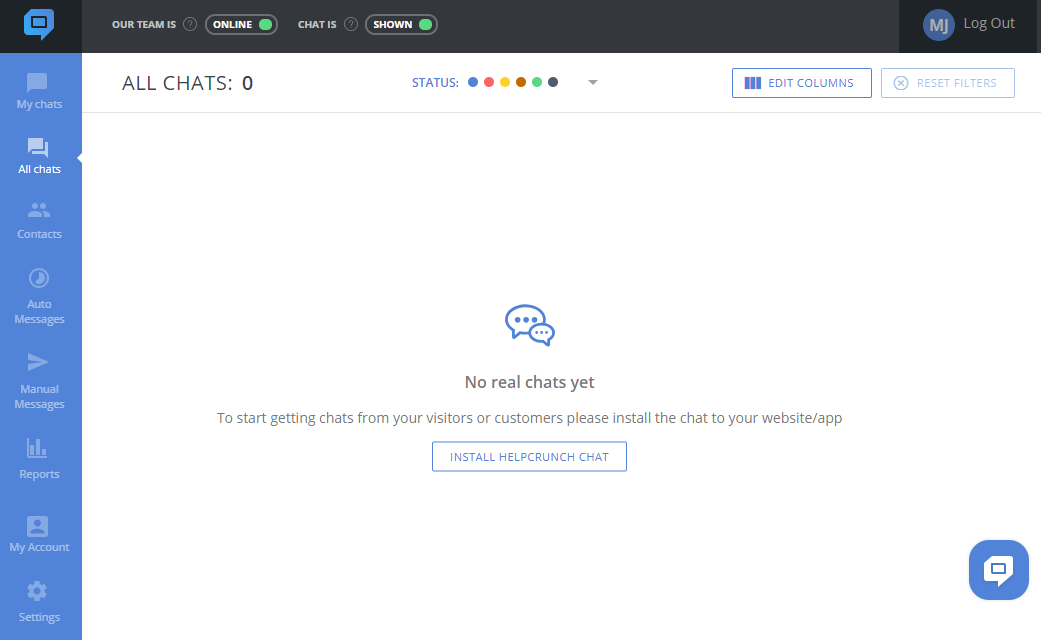 Here, you can easily handle chats, create automated and manual messages, and view reports. Your options are clearly laid out, and there are multiple ways to get help should you need it.
🔌 Extensions and integrations
You can integrate HelpCrunch with plenty of external tools, including Slack, WordPress, Google Analytics, WhatsApp, and Zendesk.
🤜🤛 HelpCrunch vs Intercom
Small businesses are often stretched for time, which means finding a tool that gets you up and running quickly is a must. Unlike a more complex option such as Intercom, HelpCrunch is simple to start using, and offers a lot of opportunities for automation and streamlining.
Go to top
Conclusion
When you're running a small business, you need to find a balance between getting access to the tools you need, and not spending more than your budget can handle. While a solution like Intercom can be valuable, it's also extremely costly, and it may contain more features than you really need.
Instead, one of the Intercom alternatives we've discussed throughout this post might be a better fit for your business. To recap, they include:
🔥 Bonus. In case you're interested in other CRM solutions – specifically ones that work 100% within your WordPress website – here's a separate list of the best CRM plugins out there.
Have you used any of these Intercom alternatives, and what was your experience with them? Share your thoughts in the comments section below!
5 budget-friendly Intercom #alternatives for your small #business
Click To Tweet
…
Don't forget to join our crash course on speeding up your WordPress site. With some simple fixes, you can reduce your loading time by even 50-80%: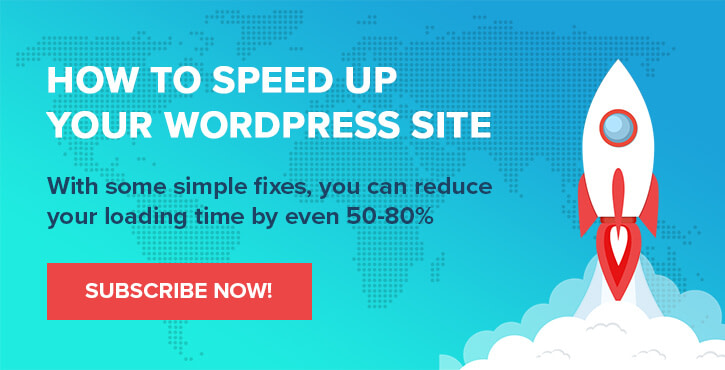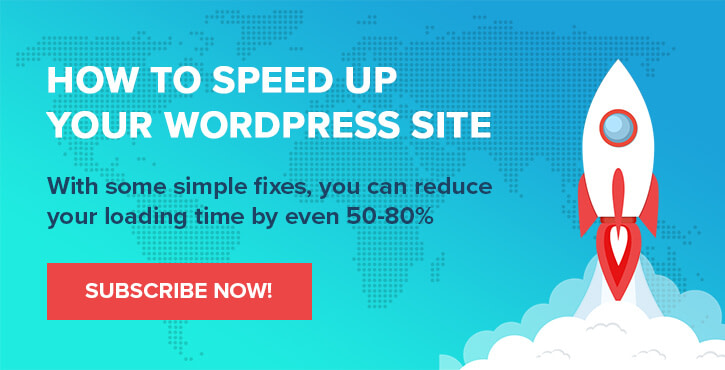 * This post contains affiliate links, which means that if you click on one of the product links and then purchase the product, we'll receive a small fee. No worries though, you'll still pay the standard amount so there's no cost on your part.
Was this topic
helpful?
0% of users found this helpful