Keeping your website's performance in top shape is one of the keys to its success. This includes optimizing your images so they aren't a drain on your site's resources. However, it can be hard to choose among the top tools for doing so – such as deciding between Imagify vs WP Smush vs ShortPixel vs Optimole.
These four WordPress plugins enable you to optimize your images easily, and even customize the way the process works. What's more, using a plugin means you don't have to go searching for an external solution.
All of these free image optimization tools can get the job done, but each has its own unique set of advantages and features.
#WPSmush vs @imagify vs @ShortPixel vs #Optimole - which is best
Click To Tweet
In this review, we're going to briefly explain why optimizing your WordPress images is a smart move. Then we'll compare Imagify vs WP Smush vs ShortPixel vs Optimole, to help you make the best choice for your site. Let's jump right in!
Why it's smart to optimize your WordPress site's images
Images are key to nearly every website. They enhance your site's appearance, can be used to show off your products or work, and a whole lot more. However, the more images you have on your site, the more work a visitor's browser has to do in order to load its pages.
This is because image file sizes can be fairly large, and all that data adds up quickly. Consequently, your site can slow down as you add media to it – which is detrimental to attracting and retaining visitors. The solution, as you may have guessed, is image optimization.
We reached out to Alex Florescu of ShortPixel, and he had this to say about the importance of choosing the right image optimization plugin:
To me, a good image optimization plugin is one that can greatly reduce the images while maintaining the visual quality. It also needs to be easy to use and have enough features to cover most use cases. If on top of that the plugin is actively supported, then for me it's a winner!
Alex Florescu
When you optimize your site's images, you're making their file sizes smaller and less of a burden. At the same time, this can be accomplished without a noticeable reduction in the images' quality. Fortunately, all you need to accomplish this is the right WordPress plugin – which is why we're comparing Imagify vs WP Smush vs ShortPixel vs Optimole in this review.
Imagify vs WP Smush vs ShortPixel vs Optimole: In a nutshell
Throughout the rest of this article, we're going to look at four popular image optimization plugins: Imagify vs WP Smush vs ShortPixel vs Optimole. However, if you're in a rush, let's break down the primary details about each tool upfront.
All of these stats refer to the free versions of the plugins (except for the final pricing row, which gives the cost for the premium versions):
| Criteria | Imagify | WP Smush | ShortPixel | Optimole |
| --- | --- | --- | --- | --- |
| Free plan | Y | Y | Y | Y |
| Free image optimizations (per month) | Approx. 250 | Unlimited | 100 | 1GB (approx. 1000 images) |
| Maximum file size | 2MB | 1MB | No limit | No limit |
| Ease of use (out of 5) | 5 | 5 | 5 | 5 |
| Performance (out of 5) | 4 | 2 | 5 | 4.5 |
| Pricing (starting at) | $4.99 per month | $49 per month | $4.99 per month | $9.99 per month |
This is just a snapshot, of course. Keep reading for the full story on how Imagify vs WP Smush vs ShortPixel vs Optimole fare in a direct comparison.
Go to top
Imagify vs WP Smush vs ShortPixel vs Optimole: A full comparison
Before we can look at how Imagify vs WP Smush vs ShortPixel vs Optimole compare to one another, we need to introduce them. Let's take a quick look at these plugins, one by one.

Smush – Lazy Load Images, Optimize & Compress Images
Current Version: 3.8.4
Last Updated: April 5, 2021
96%Ratings
1,000,000+Installs
WP 5.2+Requires
First up, WP Smush is perhaps the most popular image compression plugin for WordPress.
This tool is developed by the team at WPMU DEV, and boasts some powerful servers to pare down your images quickly. It's also compatible with a wide range of media library enhancement plugins, which can be a useful bonus.

Imagify – Optimize your Images & Convert WebP
Current Version: 1.9.14
Last Updated: February 9, 2021
90%Ratings
500,000+Installs
4.0.0Requires
Next, we have Imagify.
Also a popular choice; this plugin offers various levels of compression, so you can achieve a solid balance between performance and quality.
It also optimizes thumbnail and Retina images, which is a nice touch.

ShortPixel Image Optimizer
Current Version: 4.22.0
Last Updated: April 29, 2021
shortpixel-image-optimiser.4.22.0.zip
92%Ratings
300,000+Installs
4.2.0Requires
Then, we have ShortPixel.
This is a simpler and more lightweight option, which is great if you just want to optimize your images quickly and without too much fuss.
At the same time, it offers a fair amount of customization in terms of how your images are compressed.

Image optimization & Lazy Load by Optimole
Current Version: 3.0.1
Last Updated: March 16, 2021
96%Ratings
80,000+Installs
WP 4.7+Requires
Last but not least, there's Optimole.
It's made by yours truly – Themeisle.
This one is actually a whole all-in-one image optimization solution for WordPress websites and beyond. It's entirely cloud-based and doesn't put any load on your main web server.
Doing its magic this way also allows Optimole to tailor-optimize each image to fit the visitor's browser and viewport perfectly – not serving images that are bigger than they need to be, for instance.
With those introductions out of the way, let's get a little more detailed about what these plugins have to offer.
Go to top
Round 1: Comparing key features and pricing
In a very basic sense, these four WordPress plugins do nearly the same thing. They all compress your images so they're less of a drain on your site's performance, while attempting to maintain as high a quality as possible. In addition, these tools will both compress your existing images, and any new ones you upload.
This can make it a little confusing when you try to compare Imagify vs WP Smush vs ShortPixel vs Optimole and pick a winner. However, each does offer a somewhat different feature set. In addition, while all four plugins are free in their base versions, their premium tiers come in at a variety of price points.
WP Smush
Key features:
Set maximum dimensions for your site's images, and uploads will be automatically scaled down when necessary.
Compress images in any folder or directory on your site, not just your media library.
Optimize JPEG, GIF, and PNG images one at a time or in bulk (up to 50 files at once).
Convert PNGs to JPEGs automatically, keep copies of your full-sized images as a backup, and optimize images up to 32MB (premium only).
Pricing:
The Pro version of WP Smush offers a wider range of features, simplifying the task of image optimization and giving you more customization options. However, you will require a membership to WPMU DEV in order to access it, which will cost you $49 per month (but does come bundled with a number of other useful plugins and tools).
Imagify
Key features:
Optimize regular images, thumbnails, and retina images from WP Retina 2x.
Compress all your existing image files in bulk.
Choose from three levels of compression – Normal, Aggressive, and Ultra.
Store your original full-sized images in a secure backup, so they can be restored at any time.
Pricing:
In this case, the free and premium versions of the plugin offer the same feature set. The difference lies in how many files you're allowed to optimize. The free plugin lets you optimize 25MB worth of data per month (which is about 250 images), while the paid plans start at $4.99 per month for 1GB of data (about 1,000 images).
ShortPixel
Key features:
Bulk compress all your images with a single click.
Optimize images outside of the media library, such as those added via other plugins.
Compress JPEG, PNG, GIF, WebP, and PDF files, either in a lossy or lossless format.
Automatically resize images to set dimensions before they are optimized.
Pricing:
Like Imagify, the free and premium tiers of ShortPixel provide the same functionality. However, the free version only lets you optimize up to 100 images per month. Alternately, you can pay $4.99 to optimize 5,000 images per month (which should be more than enough for most sites).
Optimole
Key features:
Optimizes your images automatically.
Picks the right image size for the visitor's browser and viewport.
Serves images via a fast image CDN​.
Uses lazy loading to display the images without bloated JS libraries.
Does all of its processing in the cloud.
Full compatibility with popular page builders such as Elementor, Beaver Builder, and the new block editor.
If the visitor is on a low-speed internet connection, Optimole downgrades the image quality accordingly.
Pricing:
The free version of Optimole is all you'll need most of the time on a fairly popular WordPress website or blog. You can process up to 1GB worth of images monthly, which translates into roughly 1000 images (assuming each image is 1MB on the average). You also get a viewing bandwidth of 10GB.
The premium plans let you expand your bandwidth and processing to 10GB of images per month and 50GB of bandwidth. Plus, you also get priority support.
Go to top
Round 2: Comparing ease of use and performance
Now we've seen what each plugin has to offer in theory, let's take a look at what it's like to actually use Imagify vs WP Smush vs ShortPixel vs Optimole. In this section, we're going to walk through how to optimize an image using the free version of each plugin.
The goal here is twofold. First, we'll provide an overview of the ease of use and customizability on offer when using Imagify vs WP Smush vs ShortPixel vs Optimole. In addition, we'll take a look at the resulting quality of the compressed images to see how well they hold up after being optimized. Let's get to work!
Imagify
Installing Imagify isn't quite enough to get the plugin working – you'll need to take one additional step. Under Settings > Imagify, you'll need to generate and enter a free API key.
Simply enter your email to create a free account.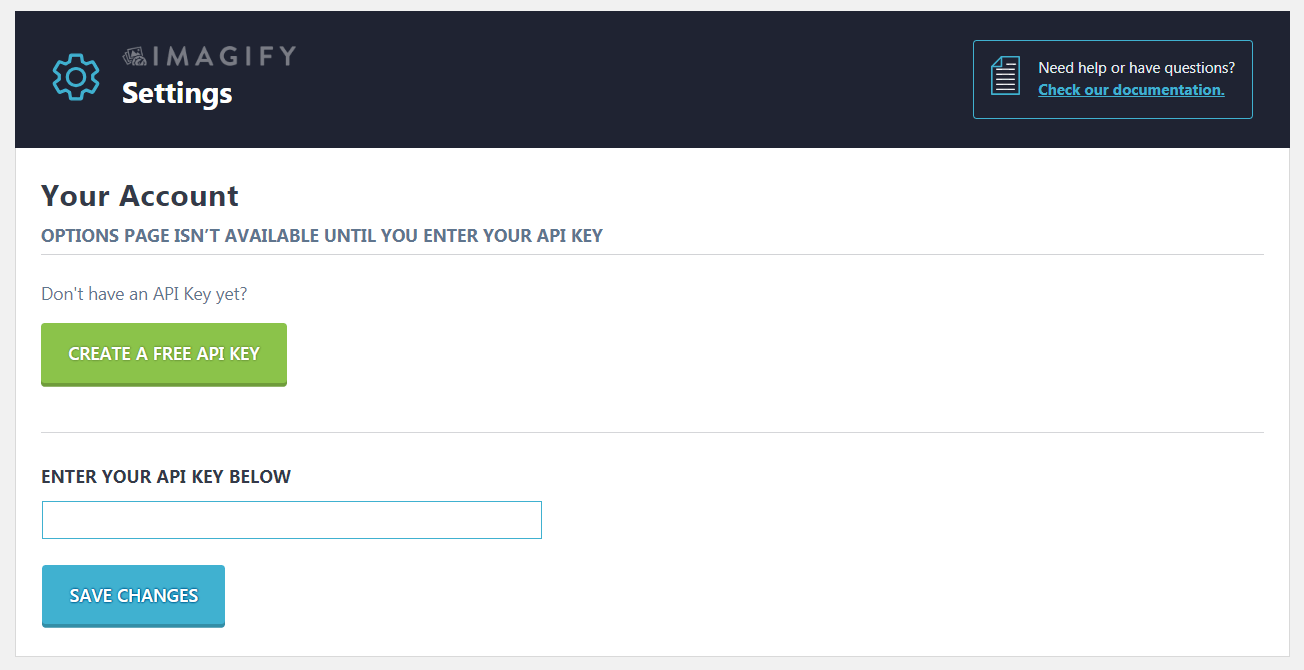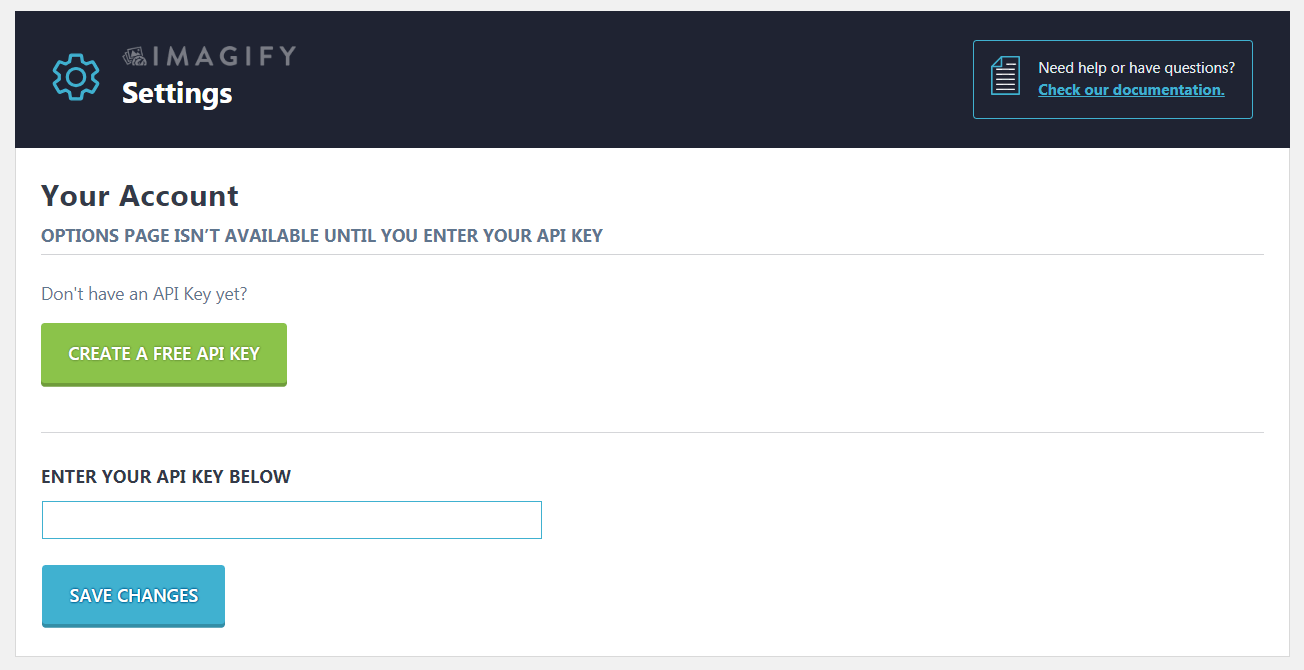 You'll then be taken to your Imagify dashboard, where you can customize the plugin's settings (for example, by choosing a compression level):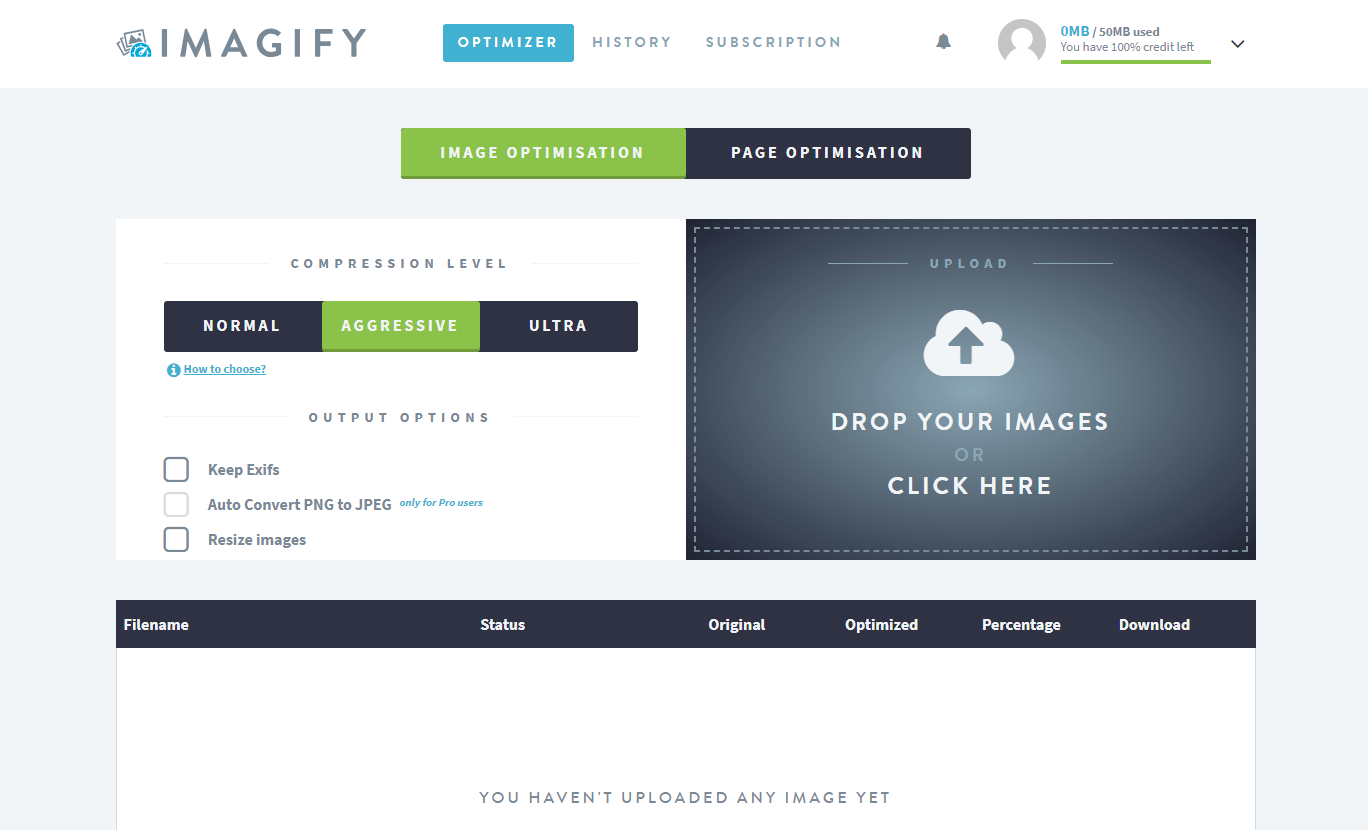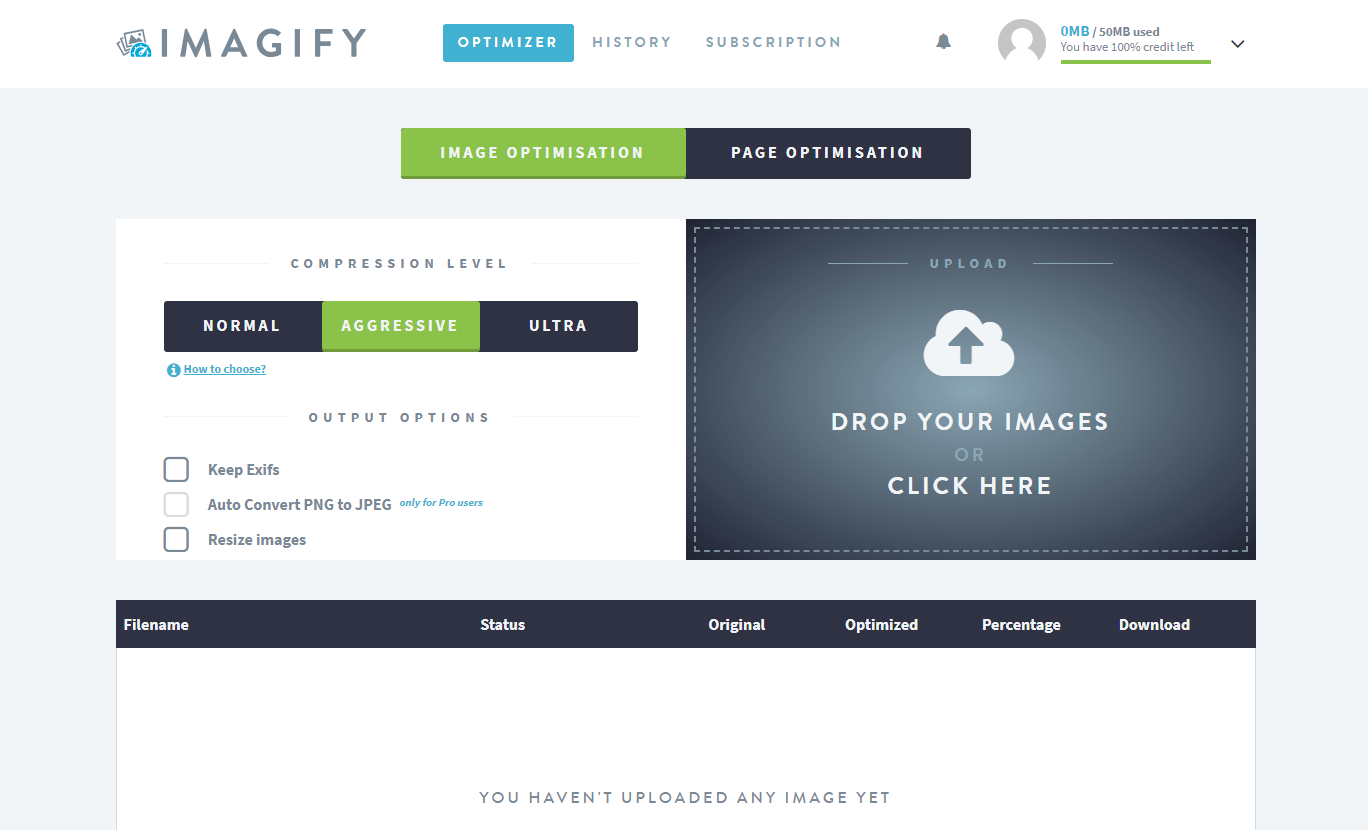 You can optimize your images here if you want. Alternately, take the API key in the email you received after signing up for an account, and enter it into your WP dashboard. This will give you access to the same options within WordPress itself: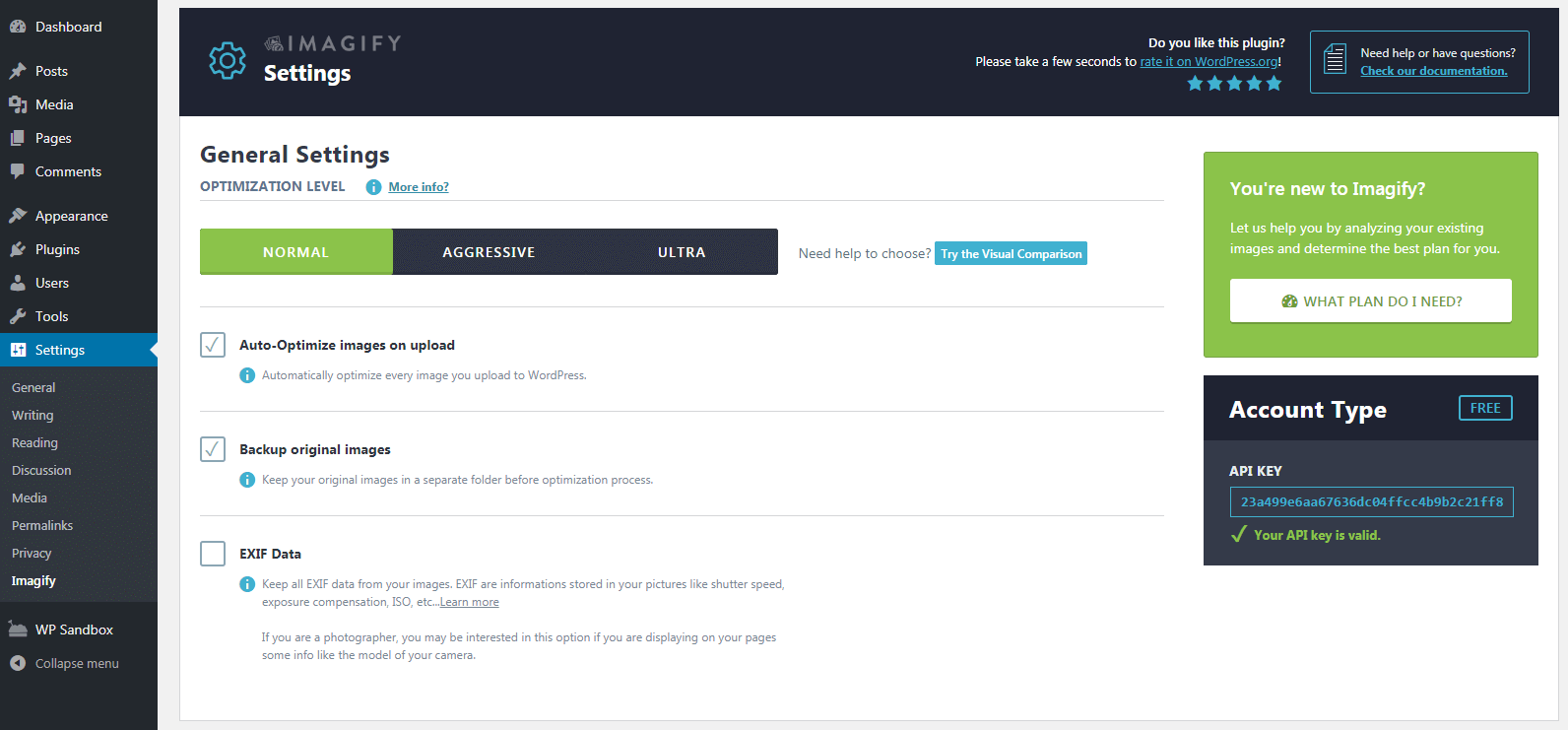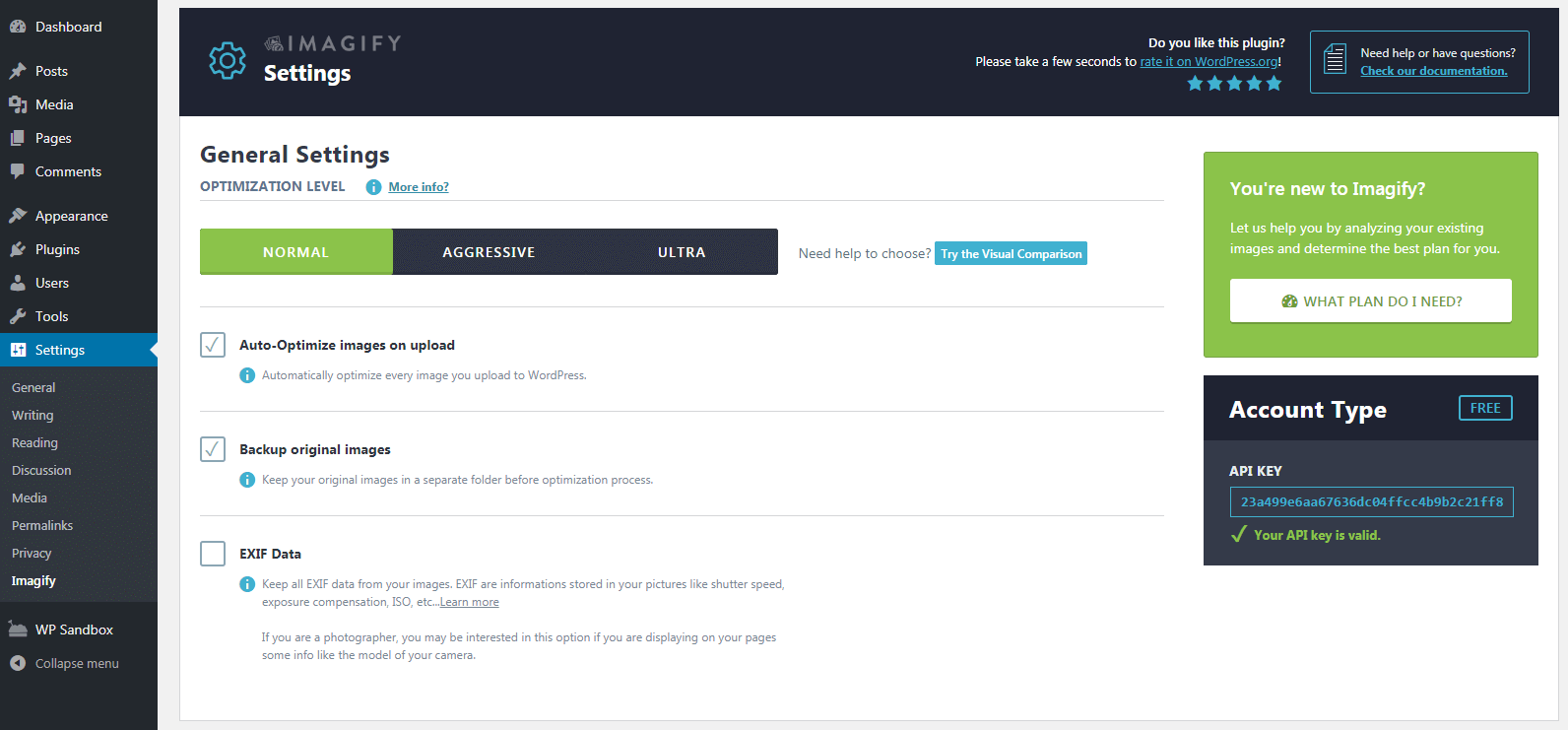 You'll be able to choose whether to auto-optimize and backup images, set a maximum size for them, and so on. If you keep the auto-optimize feature on, you'll only need to upload an image to your media library, and let the plugin do the work: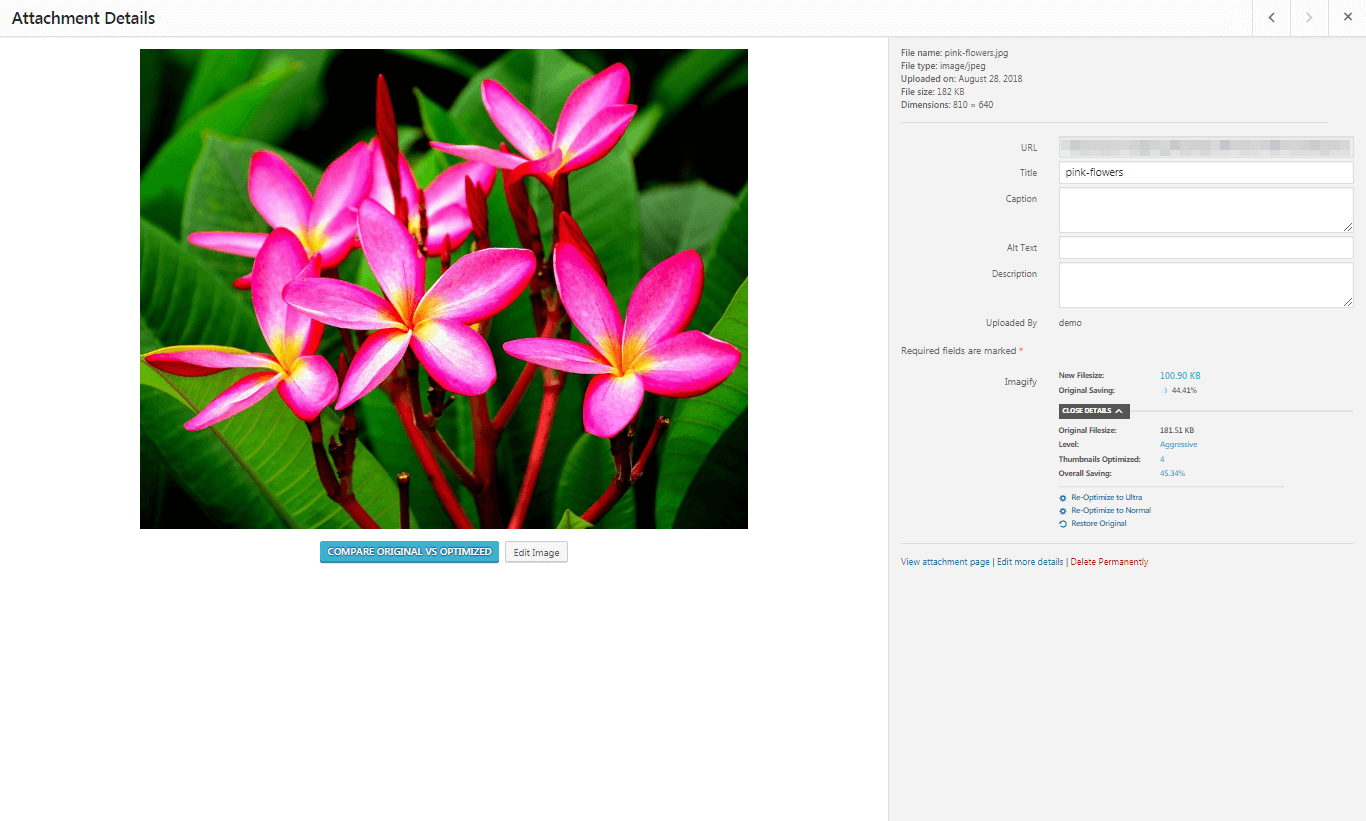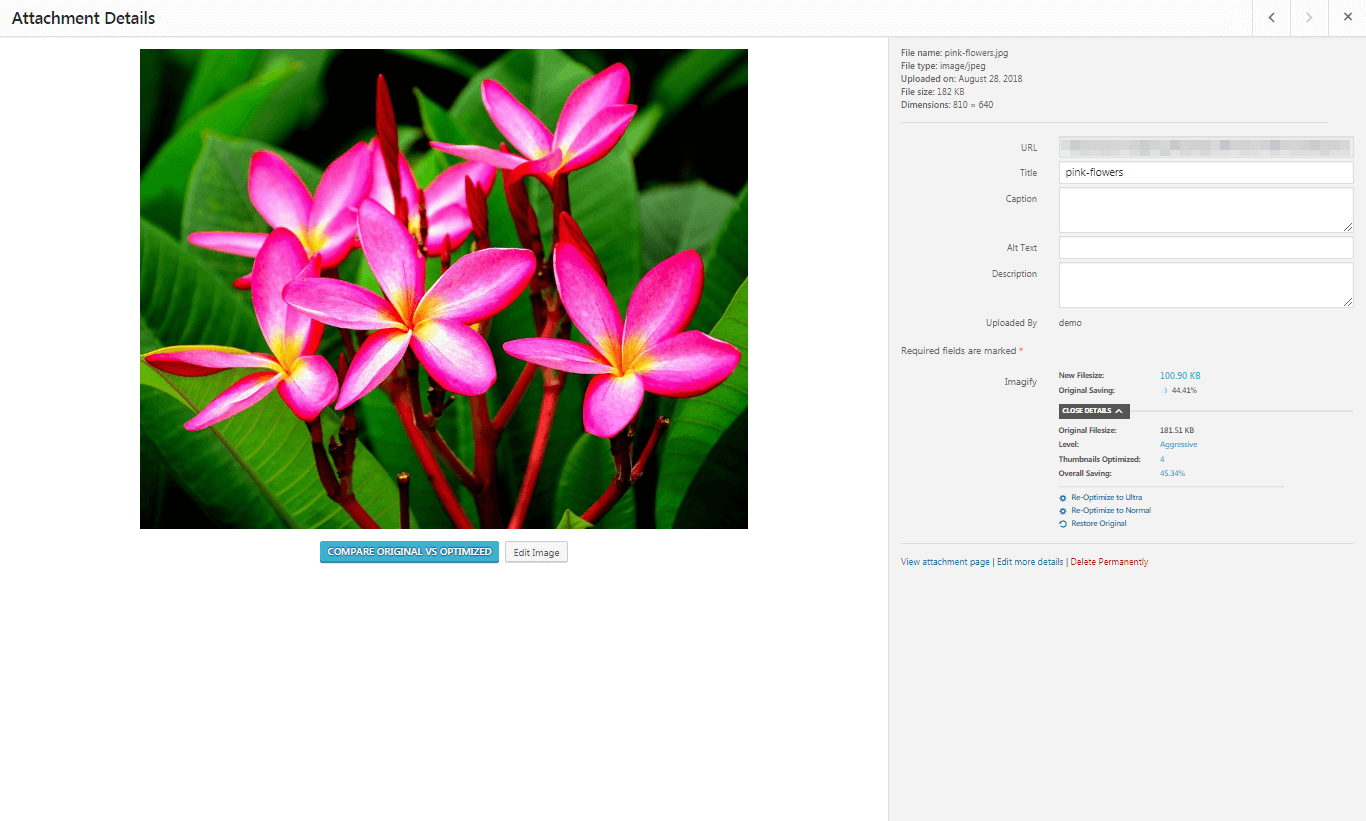 We chose the medium setting, Aggressive, and checked out the results for both a PNG and JPEG image uploaded to our test site:
Imagify compressed the image by 39.7%, and as you can see the quality has been well maintained. There's a slight blurring in the second photo, but it's largely unnoticeable.
Now, for the PNG test:
This one was reduced by 36.0%, and the reduction in quality is also very slight. There's a difference, but not a terribly significant one.
Overall, the plugin did a great job of reducing our test images' weight without impacting their quality. Plus, the customization on offer here is a useful feature.
ShortPixel
Like Imagify, setting up ShortPixel takes a few quick steps. Under the new Settings > ShortPixel tab within WordPress, you'll need to request a free API key: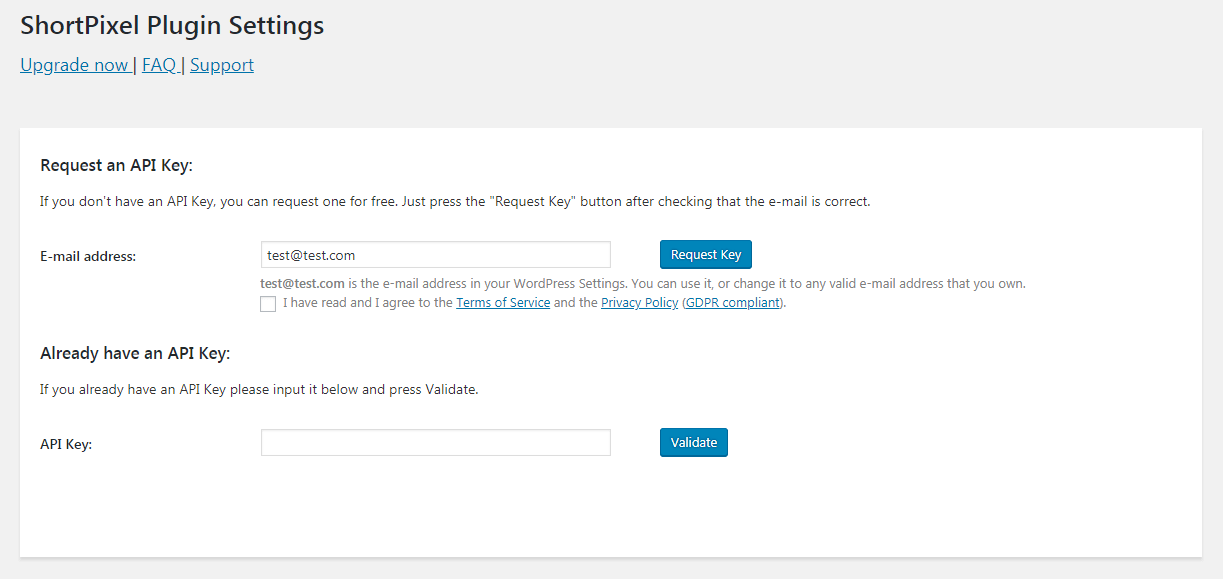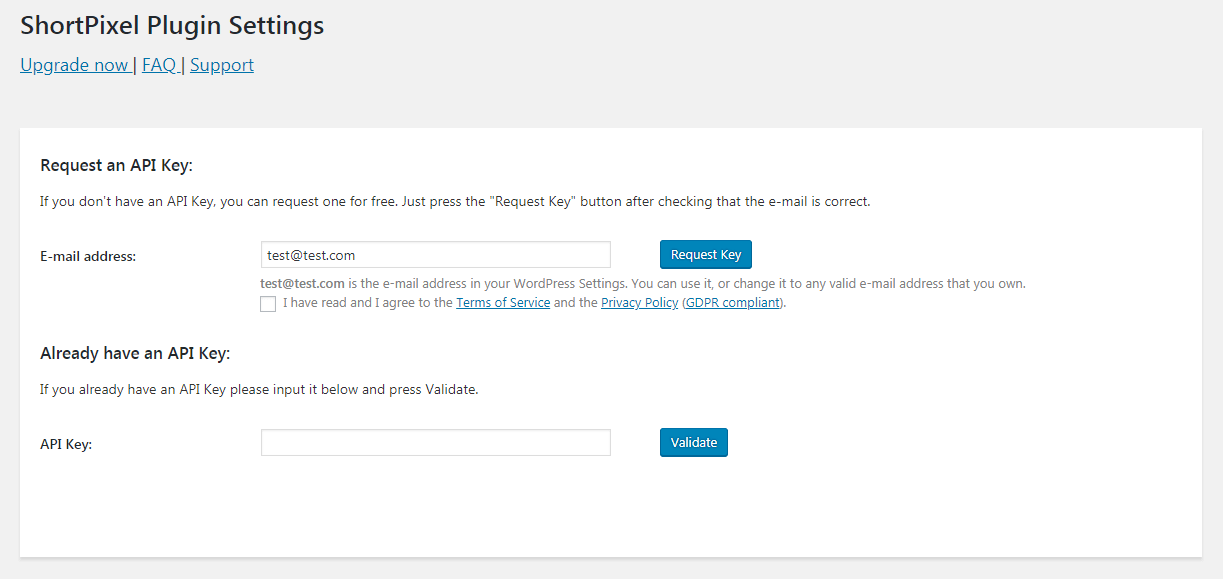 You'll have to create an account with ShortPixel, then enter your key on the above page. Next, you'll be presented with the full settings page:
You can choose a compression type, decide whether to back up images, set a maximum file size, and so on. In fact, the entire process and set of options here is remarkably similar to Imagify.
Auto-optimize is always on with this plugin. Therefore, simply upload a new image to your media library in order to compress it. You won't see the same level of information about how much the file size was reduced with ShortPixel, however – you'll need to check out the new image directly if you want to see the results.
Here's our original JPEG again. For a fair comparison, we again went with the middle setting (Glossy):
The image was compressed by 50.0% this time. Again, it's just a bit blurred, but is very similar to the original image (and indistinguishable from the compressed Imagify photo).
Next up, our PNG tests:
This one was reduced by 62.3%. There's just the slightest reduction in quality from the original image, but the result is a bit clearer and brighter than the compressed Imagify PNG was.
When compared to Imagify, ShortPixel feels almost like a direct upgrade. It reduced the file sizes of both our test images by a greater percentage, while maintaining a similar or higher level of quality. The only downside is that you'll see less information about what it's doing.
WP Smush
After activating the WP Smush plugin, you'll immediately get a few options to customize how the image compression feature works. Then, you'll be taken right to the plugin's new tab: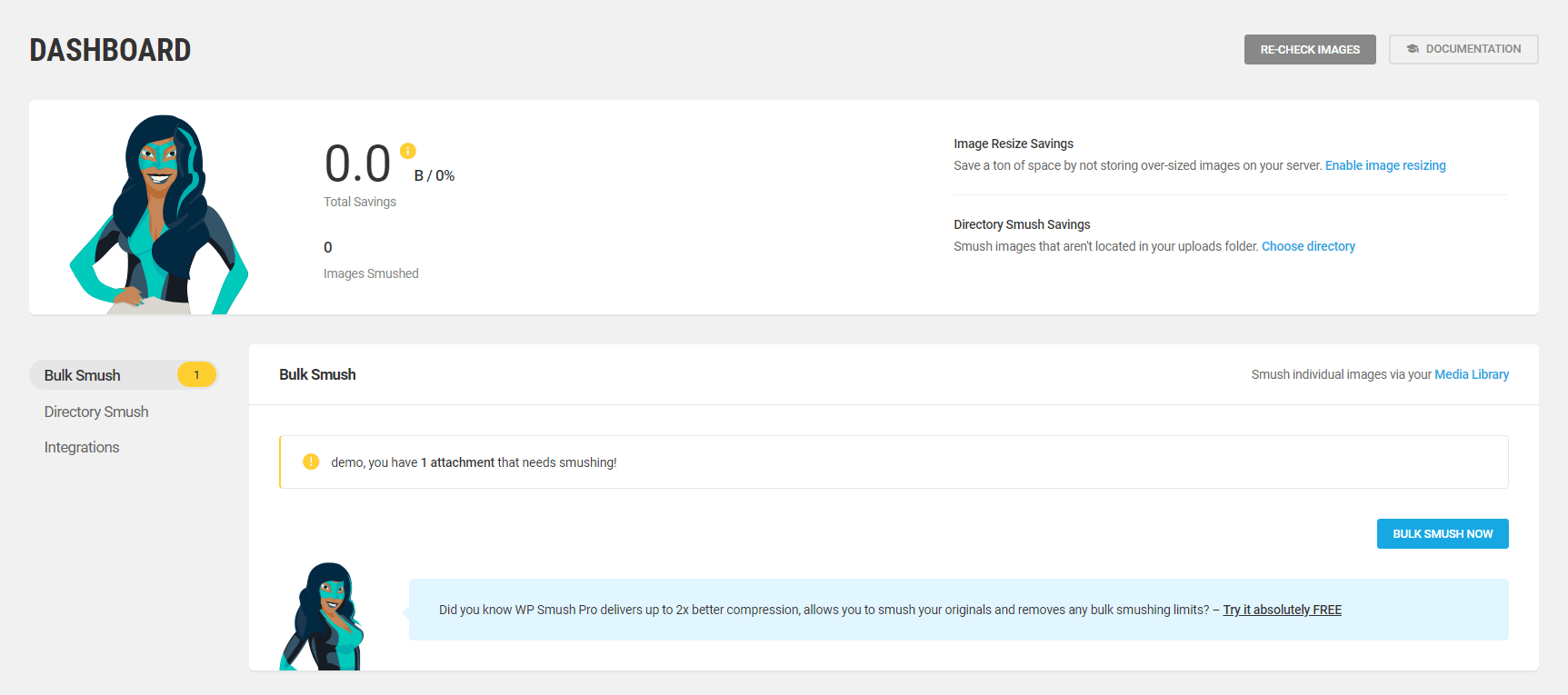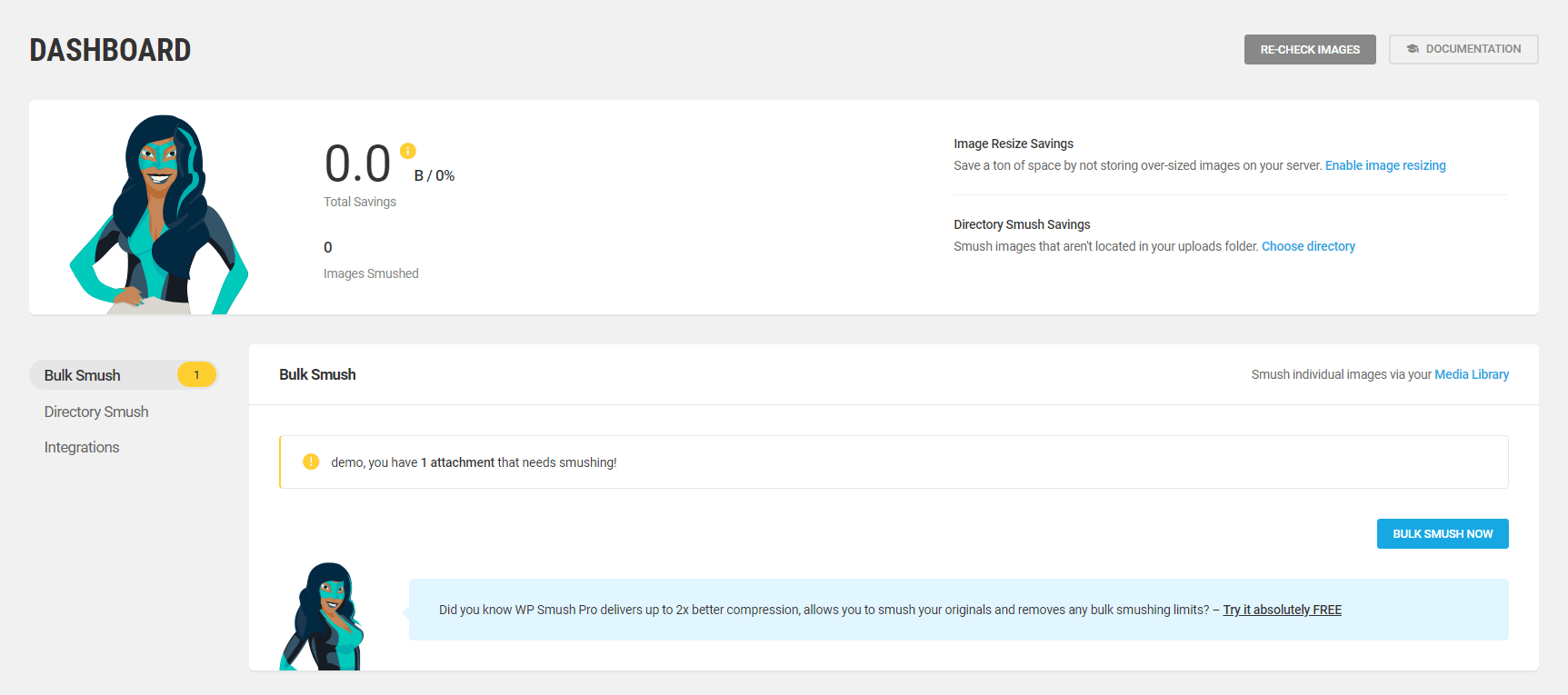 Here, you can bulk compress your existing images if you like. You can also turn automatic optimization on or off for specific types of images, and decide whether they should be resized upon upload:
If you select the automatic compression option, you just have to upload an image in order to optimize it. When you do, you'll see some information about how much the file was compressed.
Let's take a look at a few examples of images optimized using WP Smush. First up, the original JPEG photo once more:
The compression process was very quick in this instance, although the file size was only reduced by 1.6%. As a result, the quality hasn't changed.
The same applies to our PNG test image.
The reduction here was only 2.4%, and again there's no real change in quality (which is to be expected).
All in all, WP Smush fares relatively poorly when compared to the previous two options. It had no real effect on our test images, and doesn't offer a way to customize the level of compression. For that, you'll need the premium version instead.
Optimole
Installing Optimole is not any more difficult than the other plugins on this list. Just activate the plugin, get the API key and enable it in the Media → Optimole section of your WordPress dashboard.
Then, you'll also be able to set some fine details about how you'd like Optimole to handle your images.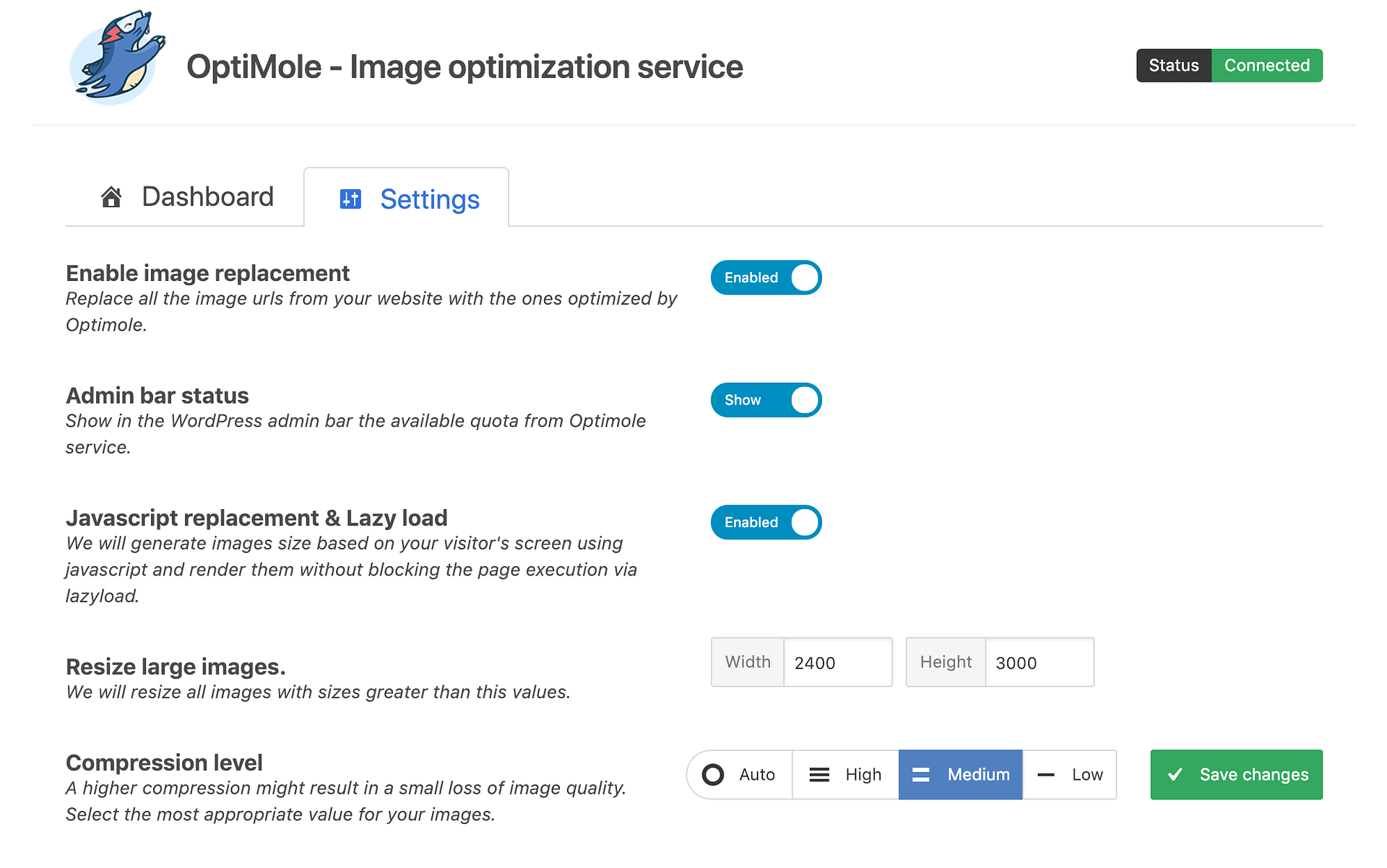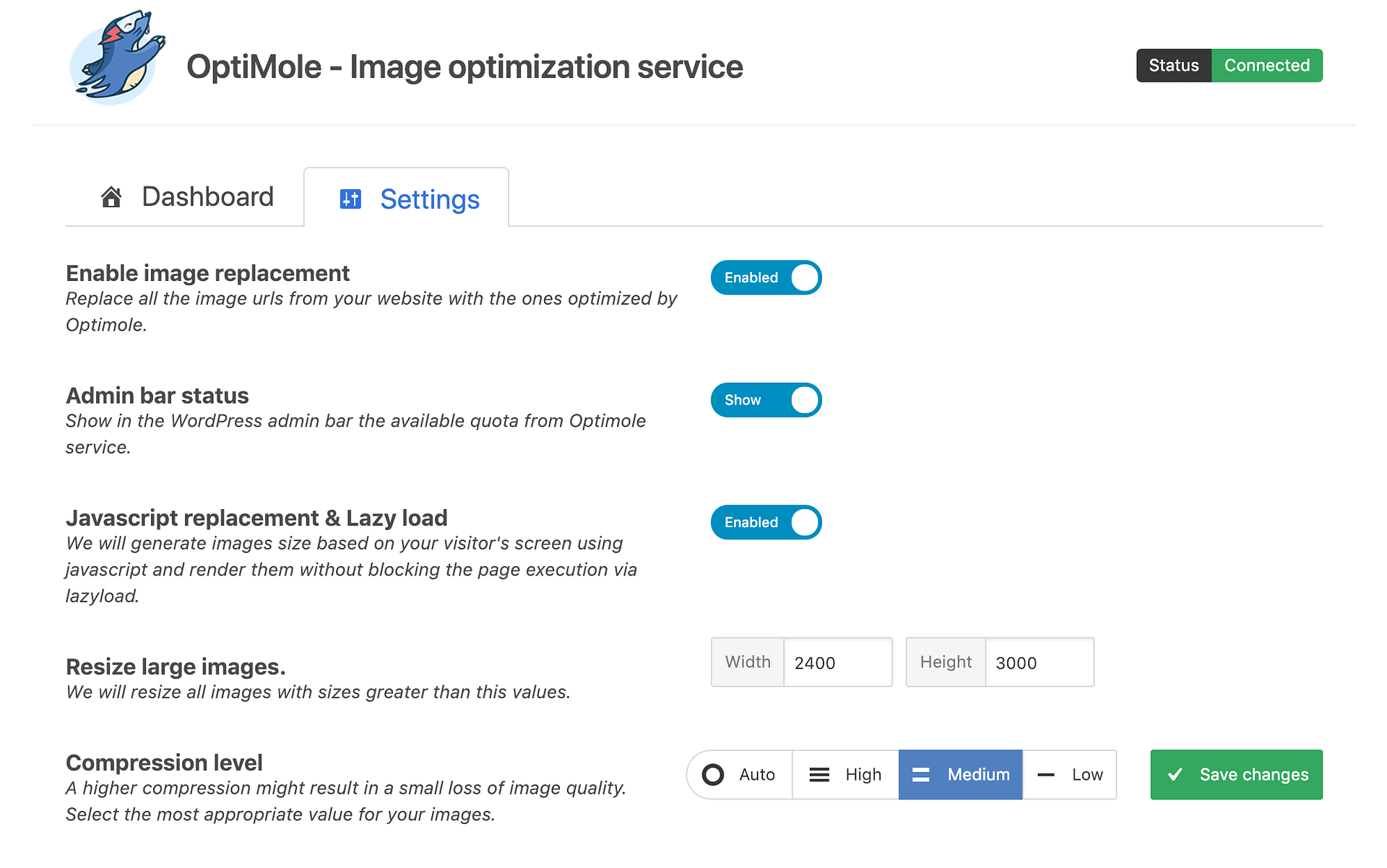 You can decide on the compression level, enable lazy loading, and also pick the maximum acceptable image size (just to make sure you don't upload a super-huge image by accident).
When setting the compression level, Optimole will show you a quick demo of what an example image is going to look like before and after compressing it. Based on that, you can pick the settings that look best to you.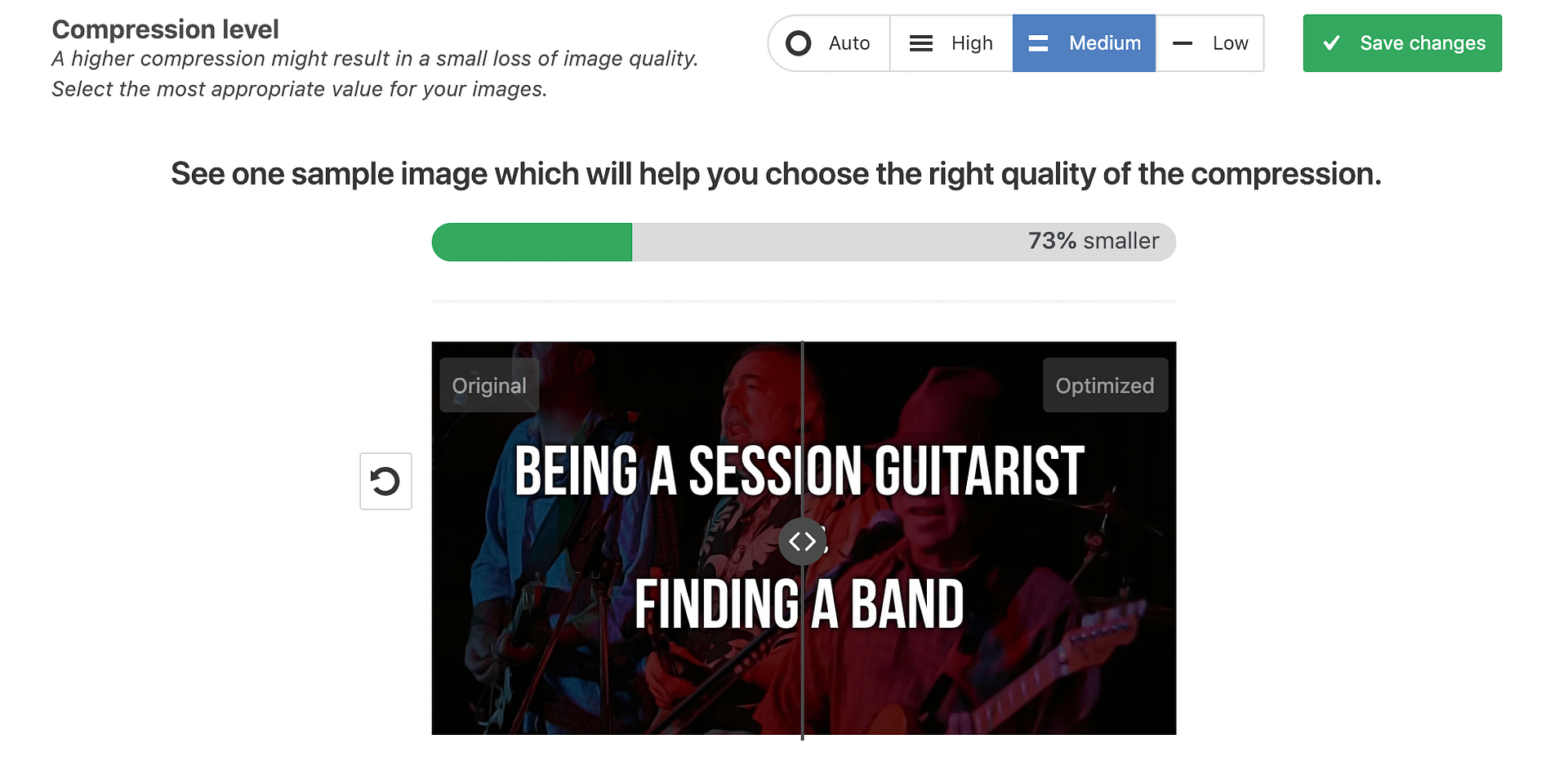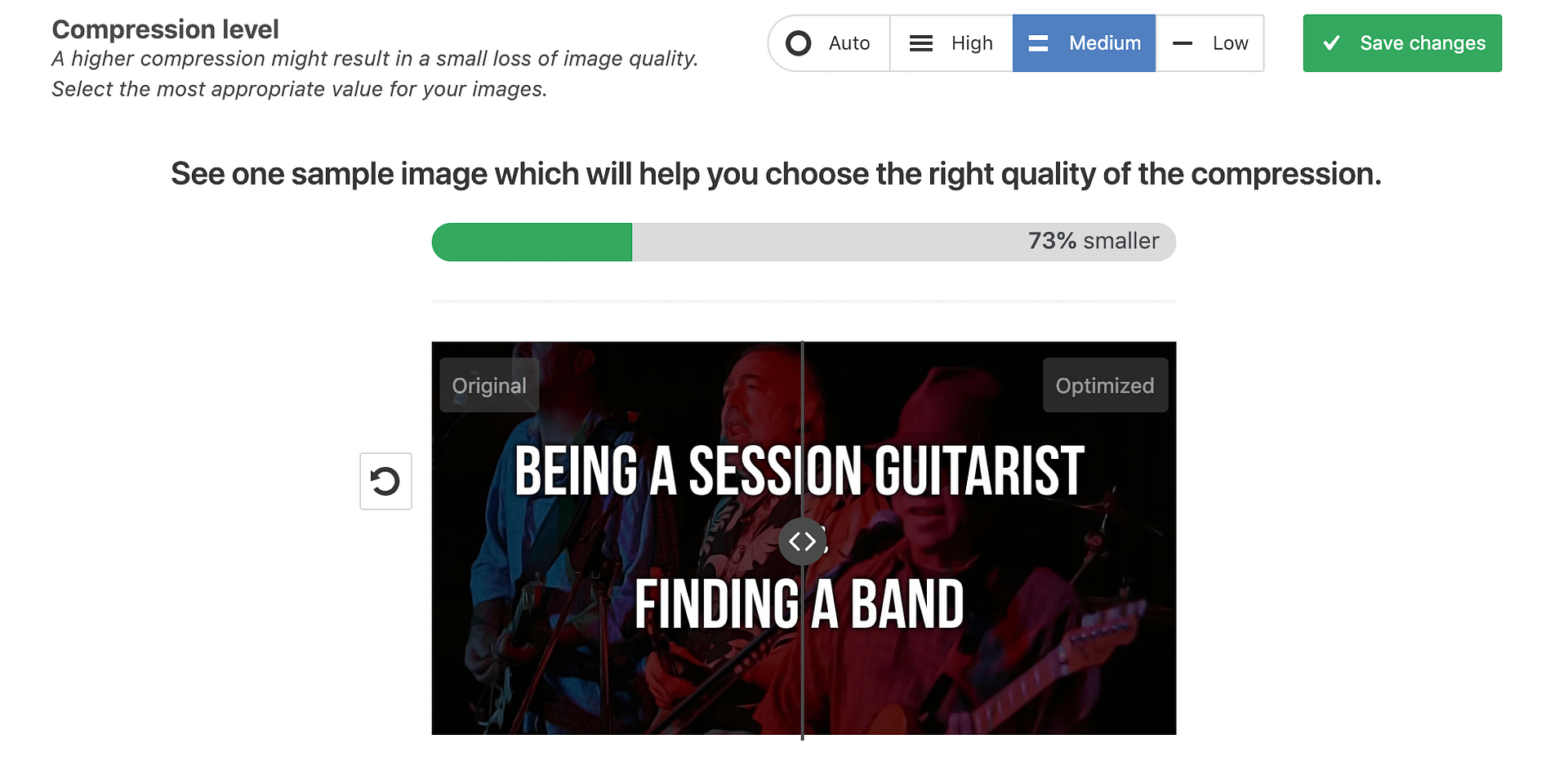 For the purpose of this test, I'm setting the compression level to Medium, which allows for good savings while leaving the visual quality of the image intact.
Let's now check how Optimole's performing on our example images. Here are the results for the JPEG:
The image was compressed by 53.6%. This is a very good result, especially considering that both images – before and after – look the same.
Now for the PNG test:
This time, the image was compressed by 17.8%. This isn't a huge number, but we're also not seeing any apparent loss of quality.
Overall, Optimole delivers good results and also lets you control the level of compression that you're okay with.
One more thing that sets Optimole apart compared to the other players is that it works in the cloud and doesn't overwrite any images on your main web server.
In fact, before displaying any images, Optimole looks at the device, screen size, and browser of the visitor and picks the most optimized image for them. On top of that, it also loads the images from an image CDN, which lets you save bandwidth and deliver the page a lot faster overall.
As far as we've tested, none of the other three solutions on this list do that.
Go to top
Conclusion
We went into this review not sure what to expect, as all four of the image optimization plugins we looked at are popular and well-reviewed options. However, in our comparison of Imagify vs WP Smush vs ShortPixel vs Optimole, we have to say that Optimole is our overall pick.
The reason is pretty simple: it's nice to have additional features on top of image compression. The fact that Optimole is cloud-based, doesn't replace your original images, serves everything from a CDN, and also tailor-optimizes the images for the visitor's browser make it much more interesting overall.
Have you used any of these WordPress image optimization plugins before, and what did you think of them? Share your thoughts in the comments section below!
#WPSmush vs @imagify vs @ShortPixel vs #Optimole - which is best
Click To Tweet
…
Don't forget to join our crash course on speeding up your WordPress site. With some simple fixes, you can reduce your loading time by even 50-80%: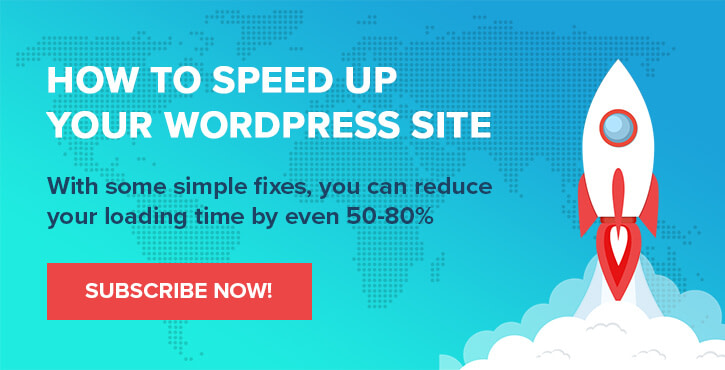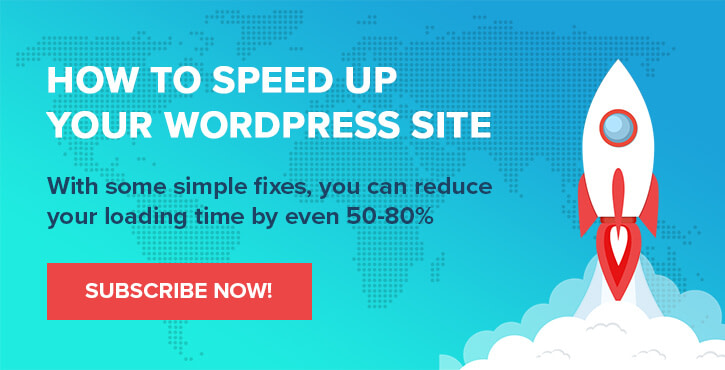 BONUS VIDEO: 3 Quick Tips For Image Optimization

Watch this video on YouTube
Original text by John Hughes and Karol K.
Layout and presentation by Karol K.
Was this topic
helpful?
0% of users found this helpful