Grammar be tough. Every blogger can relate. And for me – not being a native English speaker – it's even more brutal. I spend way too much time tweaking various parts of my posts just to make sure that they are … what's the word … readable. Luckily, we do have some cool tools to use these days that can make grammar less painful. Let's see which is best between Grammarly vs Jetpack vs Ginger vs Hemingway.
On the one hand, grammar is not the be-all-and-end-all of blogging. You can still build a successful blog or online magazine despite having some small issues with your writing here and there.
But on the other hand, there is a kind of critical mass of mistakes allowed. Once you hit it, your content becomes impossible to digest, and your readers will start flocking out … straight to your more educated competitors.
I have some good news, though. There is a solution.
You can actually trick your readers into thinking that you do know how to write content that's grammatically correct.
Here's how:
What's in it for you?
In this post, you will learn how you can improve your writing by working with an artificial editor – software that will point out your grammar mistakes and other issues that might be lurking in the dark.
The end game here is to make your content more reader-friendly, more appealing, and not a chore to read overall. This can be done once you go with one of the players we're comparing today – Grammarly vs Jetpack vs Ginger vs Hemingway.
In other words, the following are the tools you should look into if you want to be a better blogger (get instant feedback and explanations on why something is considered a grammatical no-no).
Onwards:
Grammarly vs Jetpack vs Ginger vs Hemingway for #WordPress #bloggers 🤔
Click To Tweet
1. Grammarly
Grammarly is probably the most popular tool out there and surely an interesting solution that offers a lot of features and a nice browser integration for Chrome.
It's designed to provide you with "a better way to write" (their words). It finds and then corrects your grammar mistakes, gives you vocabulary suggestions, and even checks your text for plagiarism.
There are two ways of working with Grammarly. You can either get the aforementioned Chrome plugin or use the web app itself. Either way, you get access to basically the same range of features.
I've been working with Grammarly for a couple of months now. I can honestly say that it's probably the best real-time writer's aid tool for WordPress out there.
Even though there's no such thing as an official Grammarly plugin for WordPress, the Chrome extension integrates very well with the default content editor in WordPress. This means that you don't have to leave anywhere to do your grammar checking. Once you start working on a new post, the Grammarly icon pops up and sits in the bottom right corner of the editor.


The icon displays a number that represents the issues found in your writing. Clicking on it brings up the standard Grammarly editor window.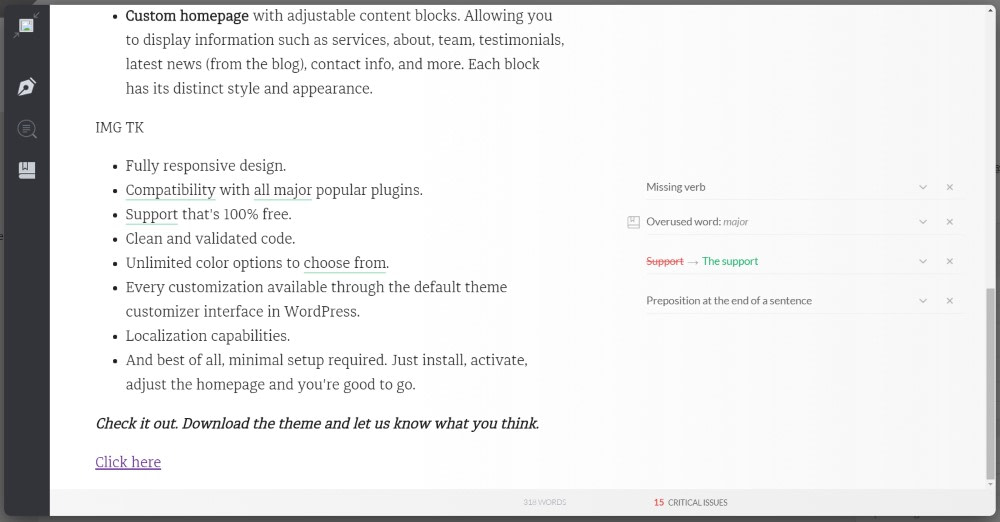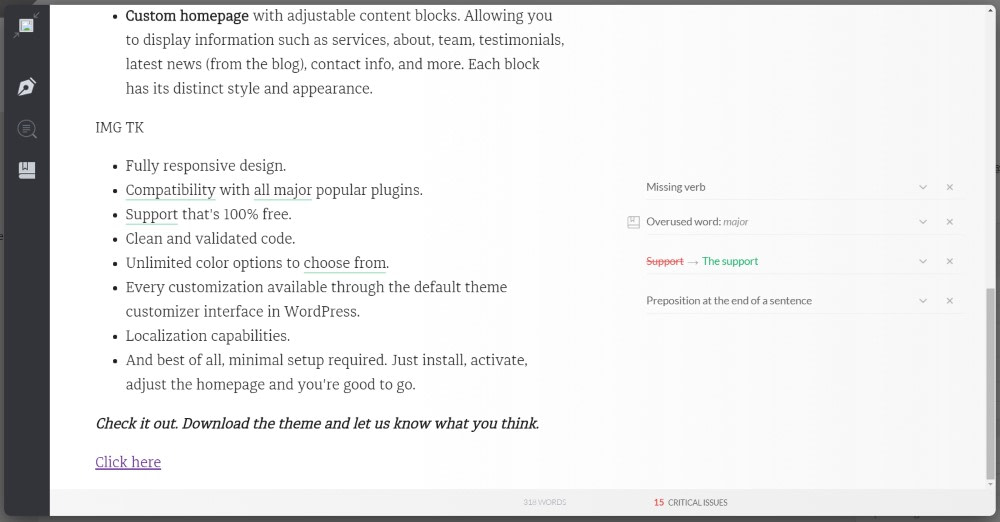 Once there, you can browse through your post line by line, see the feedback and either approve the suggested changes or not, your call.


With each suggestion, you get an explanation on what's wrong and why. Clicking on "more" gives you additional examples and feedback.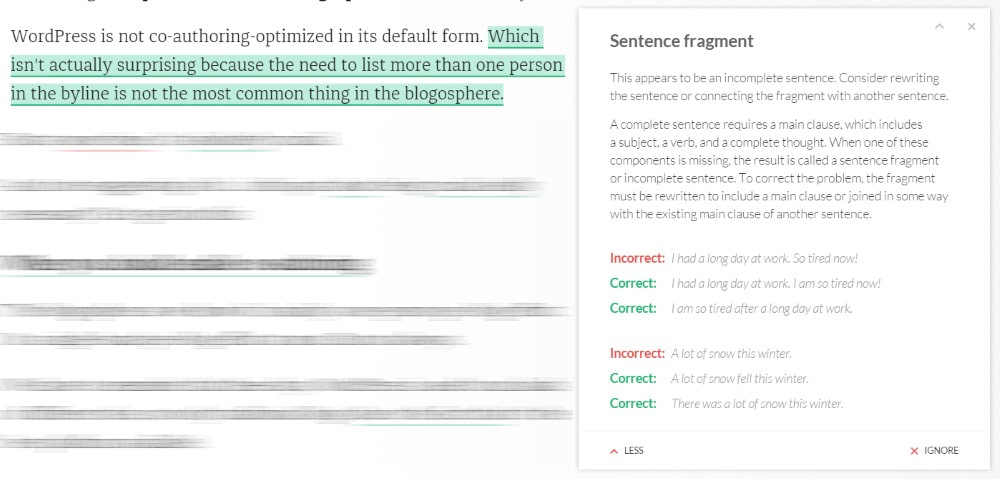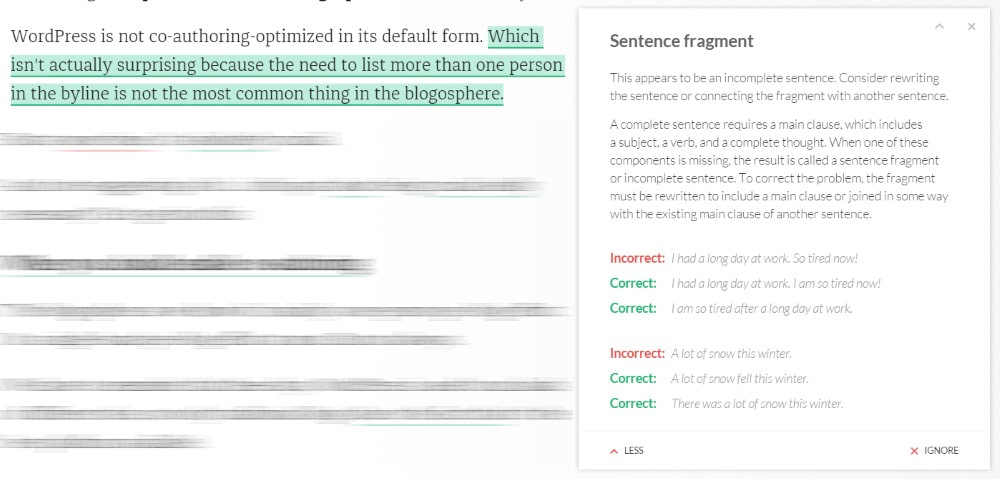 Like with every spellchecker, you can expand the directory and add new words to it. Additionally, it seems that the current word library is constantly being expanded to include modern expressions. You certainly won't end up scratching your head and frustrated when you see a word like "online" getting underlined (MS Word, why you do this?!).
Additionally, when it comes to spell checking, most of it can be done without even firing up the Grammarly editor. Whenever a word doesn't seem right, the Chrome plugin will underline it automatically. When you hover your mouse over the word, you'll get immediate suggestions on the correct form. No need to right click or anything. Ultra fast.
Grammarly's WordPress integration is only one side of the coin. Since it is a Chrome plugin, it works with every type of text input field. This means that you can use Grammarly in Gmail, social media (Facebook, Twitter), forums and even when writing comments on other blogs. Basically, anywhere where you get to write something and click Submit afterward.
Now, about the cons.
There's just one. The whole real-time help can get distracting when writing. Maybe it's just me, but seeing too many underlined words as I write, and a growing number of critical mistakes is a major distraction that's slowing me down. Personally, I usually turn off the extension for the time of writing, and then turn it back on when it's time to do some editing. It works that way perfectly.
Feature summary:
✅ Instantly find and correct over 250 types of grammar mistakes.
✅ Contextual spellchecker.
✅ Improve word choice with context-optimized vocabulary suggestions.
✅ Advanced proofreading. It looks for word repetition and other things.
✅ MS Word and MS Outlook plugins available.
✅ Google Chrome plugin available.
✅ Detect plagiarism by checking your text against over eight billion web pages.
Price:
You can try out Grammarly for free on their homepage (the small editor window). After that, there are three main plans available:
Monthly – $29.95 / month.
Quarterly – $59.95 / quarter ($19.98 / month).
Annual (best value) – $139.95 / year ($11.66 / month).
Try Grammarly
Or, skip to the final verdict on Grammarly vs Jetpack vs Ginger vs Hemingway by clicking here.
You may also be interested in:
2. Jetpack
Jetpack is one of the most popular WordPress plugins out there. Heck, you probably already use it on your site for a number of purposes. But did you know about its "Spelling and Grammar" module?
No?
Okay, the module actually started as a separate plugin called After the Deadline and then got included into the main Jetpack structure.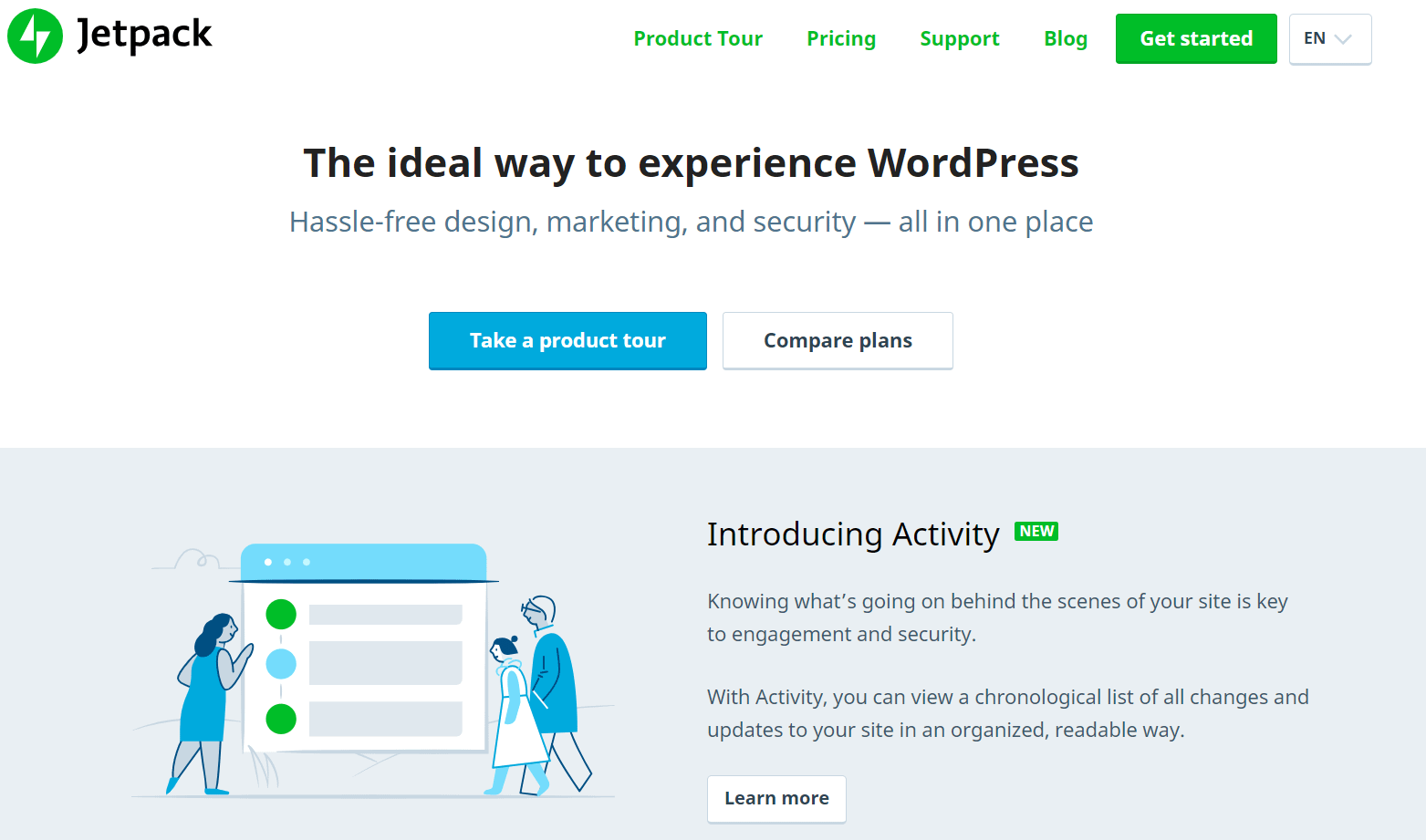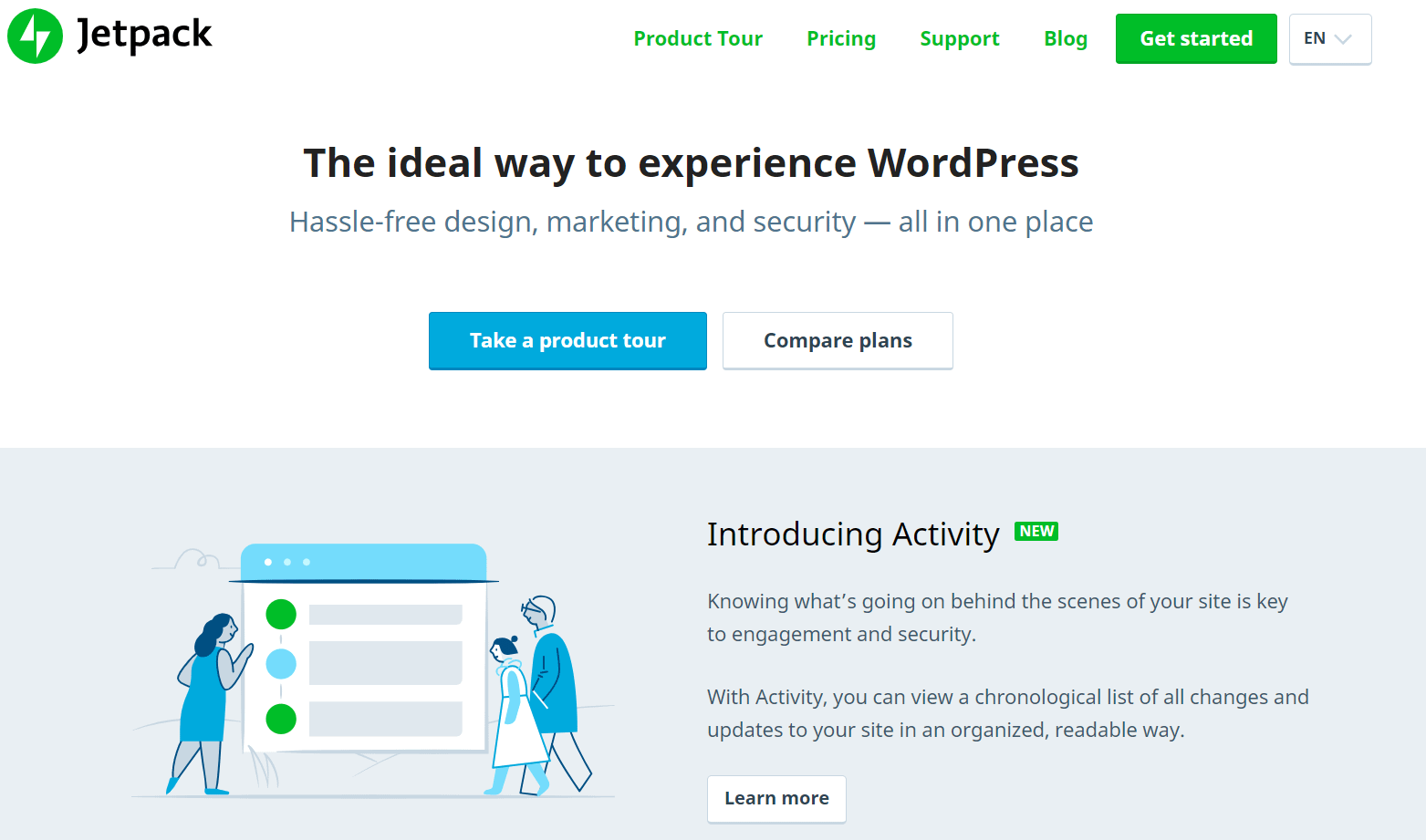 Once you activate that module (wp-admin > Jetpack > Settings), it adds an advanced spellchecking functionality to your WordPress editor.
Now, what's great about this module of Jetpack is that you can configure which rules and issues the plugin should be checking against. And the really great thing is that each user on your blog can set those rules for themselves. This can be done via the standard profile page – YOURSITE.com/wp-admin/profile.php


All of those are meant to help you solve grammar issues and identify other problems related to poor writing styles that might be a bit more difficult to spot.
From my own experience, I strongly advise you to spend a while picking the right combination of filters that you want to keep on. Having all of them on for the long haul will only make you mad. For instance, the first things I turned off were passive voice checking, and complex phrases checking.
Once you're done working on a post, you can just click the checker icon, and after a couple of seconds you will see some recommendations.
Each word or phrase that doesn't fit will be underlined. Clicking on the word/phrase gives you a pop-up where you can see what's wrong, get suggestions on how to fix it, and also see an explanation of why there's an issue.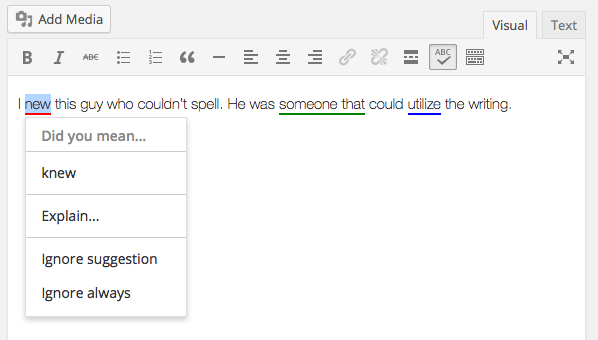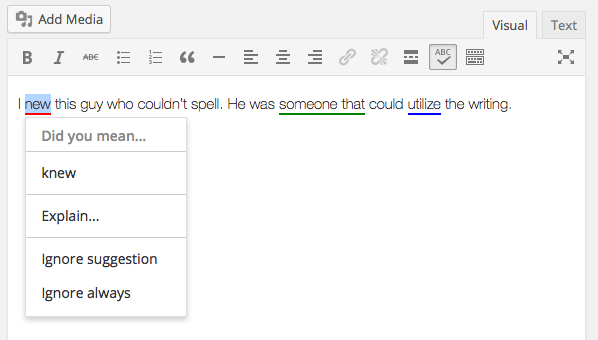 Overall, the functionality is not as advanced as Grammarly's, but it's still a great tool that can help you improve your writing immensely.
And on a personal note…
It's a shame.
It's a shame that Jetpack is the only – the only – sensible plugin for WordPress that's offering any real grammar fixing functionality. Everything else is either more than two years old (we generally don't advise installing plugins like that), or providing just some basic features.
Price:
There are paid plans for Jetpack, but if all you're looking for is grammar-fixing capabilities, you can stick with the free plan.
Try Jetpack
Or, skip to the final verdict on Grammarly vs Jetpack vs Ginger vs Hemingway by clicking here.
3. Ginger
Ginger is a tool developed by a company called Ginger Software. They've made a name for themselves by working on language enhancement technology that uses statistical algorithms and natural language processing. Which, I guess, means that the tool is very effective at what it does.
The good thing about Ginger is that you get a nice number of versions for different systems: Windows app, iOS, Android, Chrome extension, Safari extension.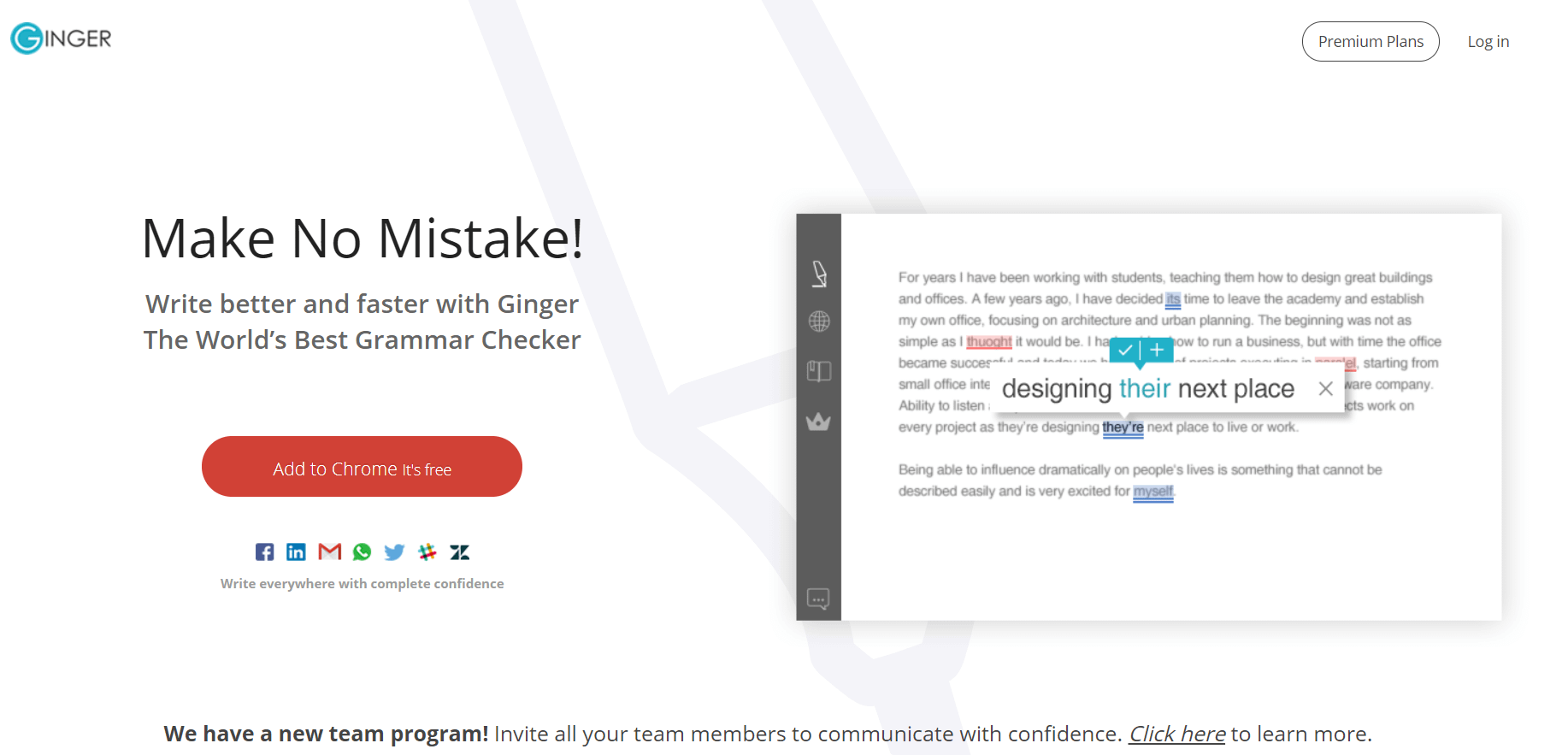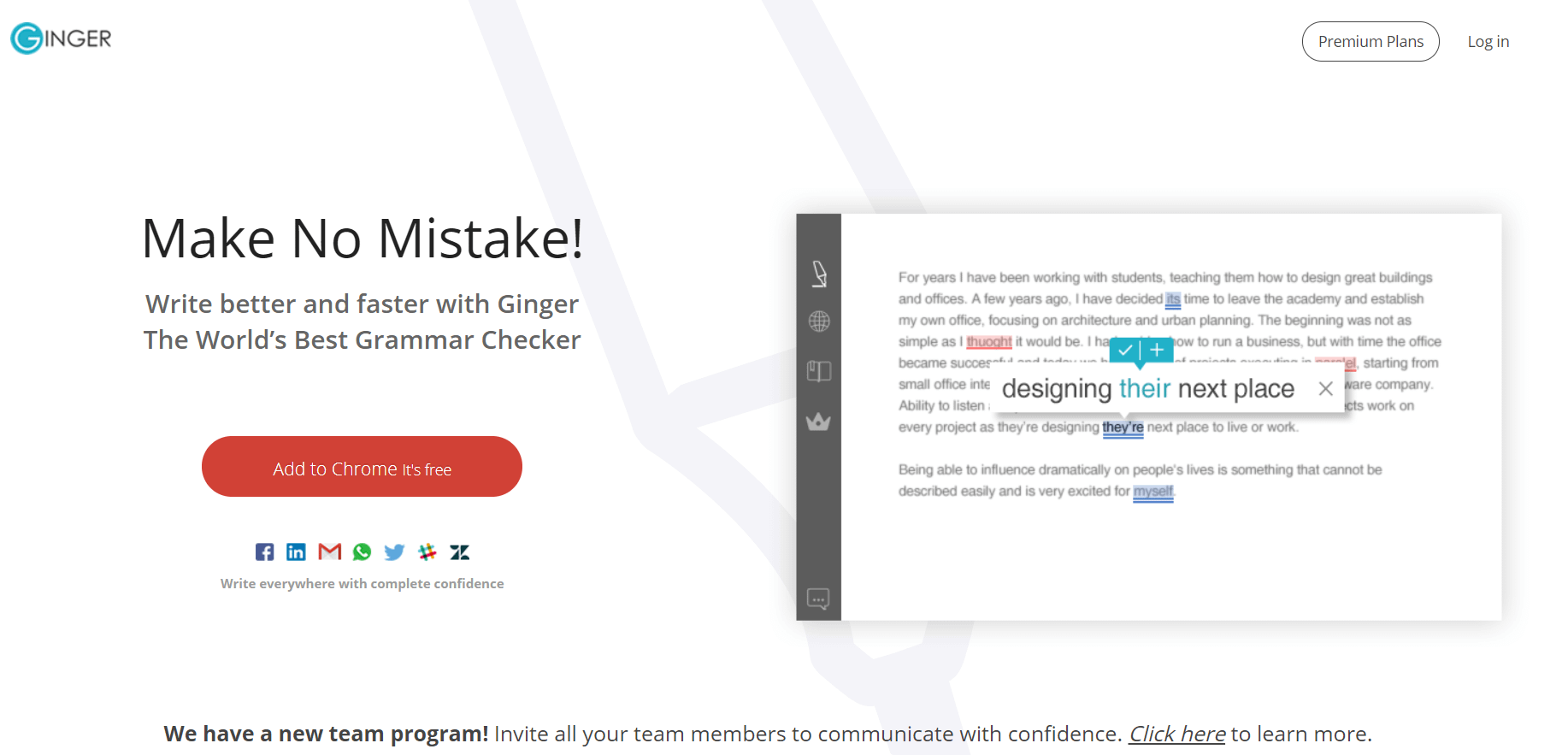 However, it becomes apparent that the iOS app is probably their main focus now. What I mean is that basically every other version of the tool looks very much like the iOS app (there's a small window for the app itself, slide-in left-aligned menu, and an overall flat-like design).
And don't get me wrong, that iOS app is quite cool, but when it comes to the desktop versions, the tool falls a bit short. For instance, even though there is a Chrome extension available, it doesn't actually integrate with the text input fields on websites (it does with some of them, but doesn't seem to work with the main post editing field in WordPress).
The main thing the extension does is it opens an additional editor pop-up where you can copy-and-paste your post.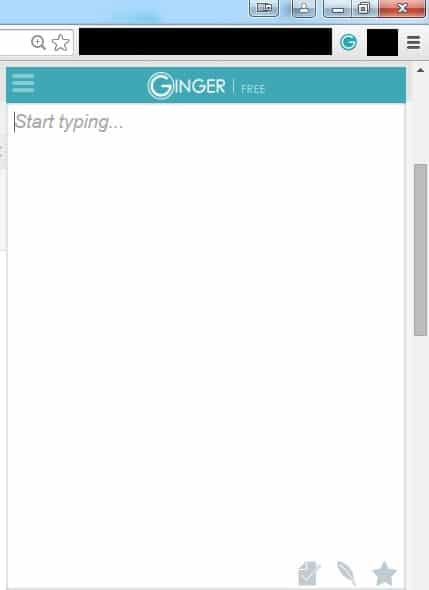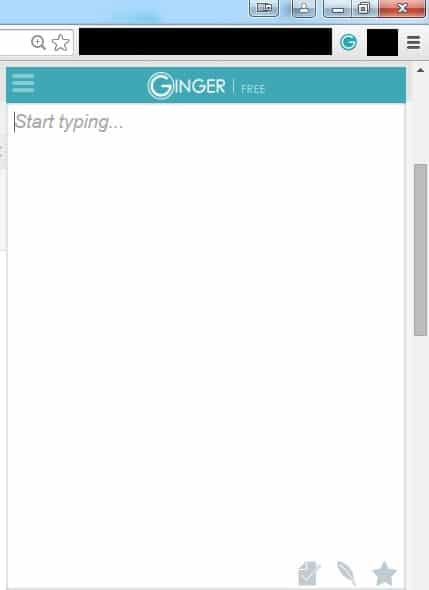 The desktop app works very similar – you have to fire it up and then copy-and-paste your text. This can be quite problematic if you just want to quickly check a WordPress post. For instance, if you have any links in your text, they will vanish once you copy it back from Ginger.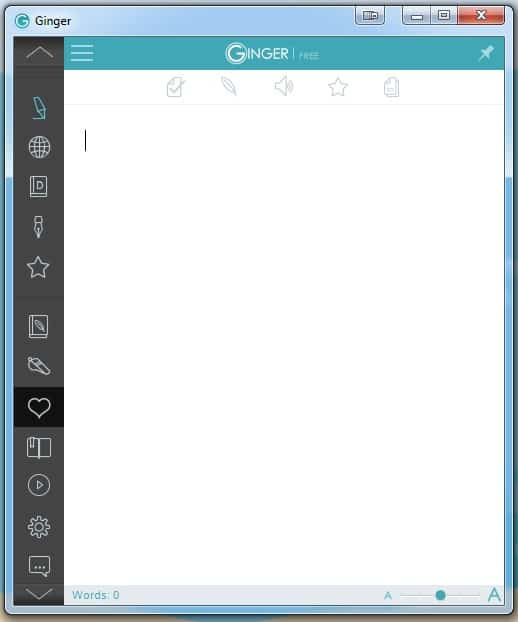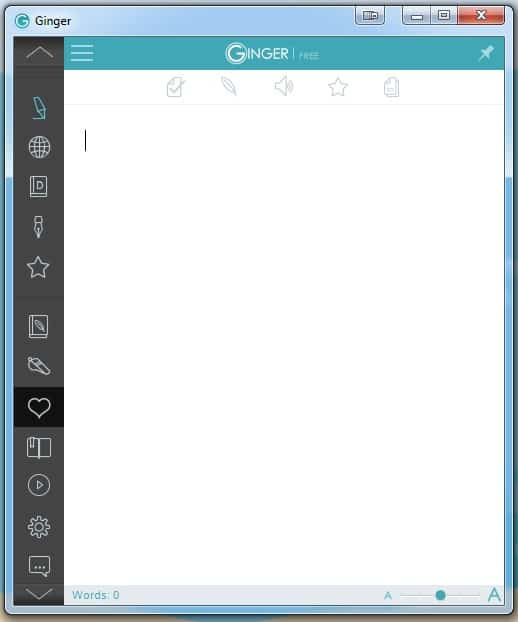 That being said, the grammar-checking capabilities of Ginger are very effective, and the tool does manage to find issues that all the other tools on this list have missed. For example, only Ginger properly identified the phrase "and even checks you text for plagiarism" as problematic (should be "your" not "you").
I guess there's always a trade-off when you want to get a quality tool. Nothing is perfect. And where Ginger falls behind in terms of usability, it makes up for it in the quality of the checks themselves.
Feature summary:
✅ Apps/plugins for: Windows, iOS, Android, Chrome, Safari.
✅ Advanced grammar checker.
✅ Sentence rephraser. Lets you explore different ways to phrase your text.
✅ Translation tools (40 languages).
✅ Dictionary. Helps you understand the meaning of the words you use.
✅ Text reader. It reads back what you wrote.
Price:
You can test Ginger for free. After that, there are three pricing tiers for the Premium plan:
Monthly – $29.96/month, billed monthly.
Annual – $12.48/month, billed as one annual payment of $149.76.
Two Years – $9.99/month, billed as one bi-annual payment of $239.76.
They also offer Ginger for Business, at a rate of $9.99/member per month.
Try Ginger
Or, skip to the final verdict on Grammarly vs Jetpack vs Ginger vs Hemingway by clicking here.
4. Hemingway
Hemingway is a very cool tool, but it's also a bit different from anything else on this list. Mainly, instead of focusing on the micro, so to speak, it encourages you to take a more higher-up view at your writing.
Here's what I mean. Even though Hemingway will let you know about an odd-looking word here and there, its main job is to improve the overall readability of your post. To do that, it highlights whole sentences that are either hard to read or very hard to read. Then, it's up to you to do something about that.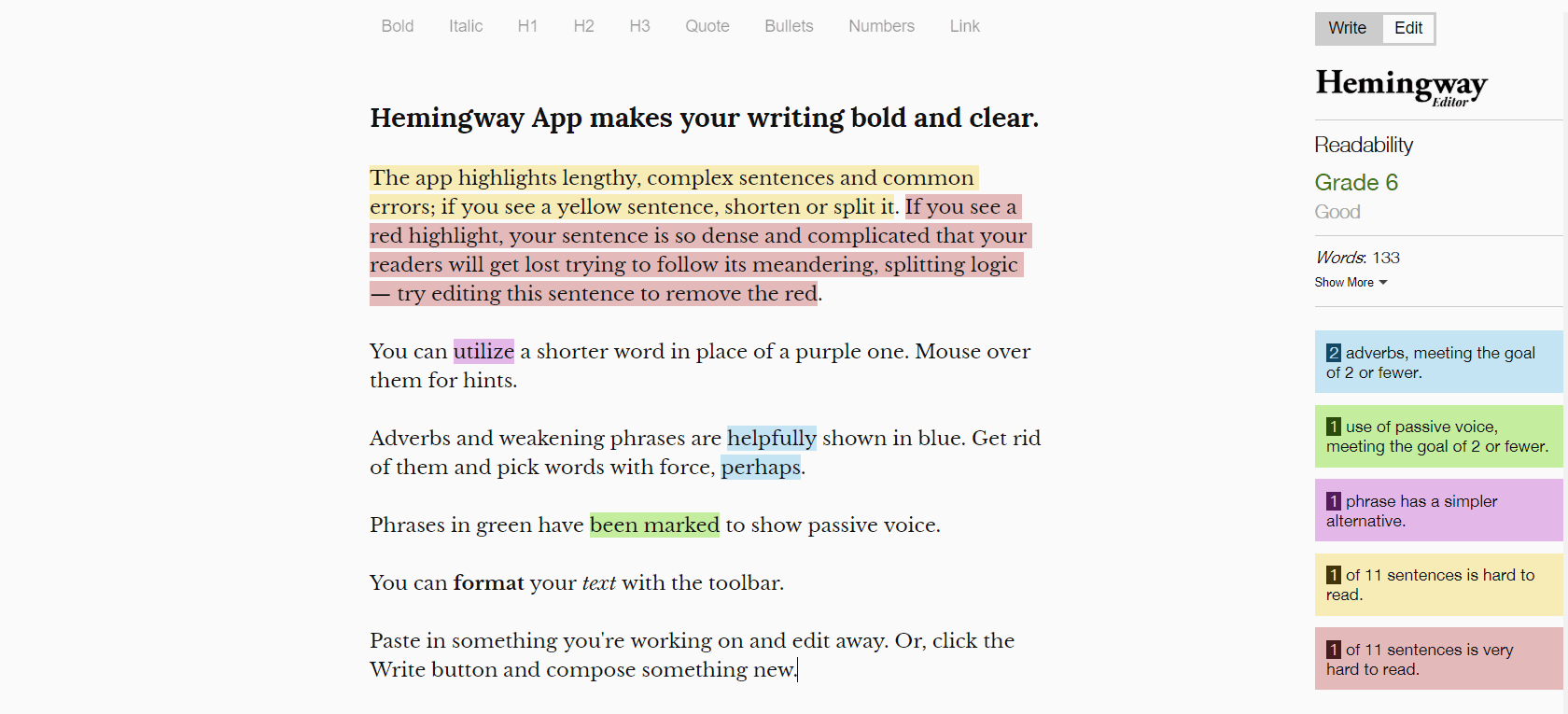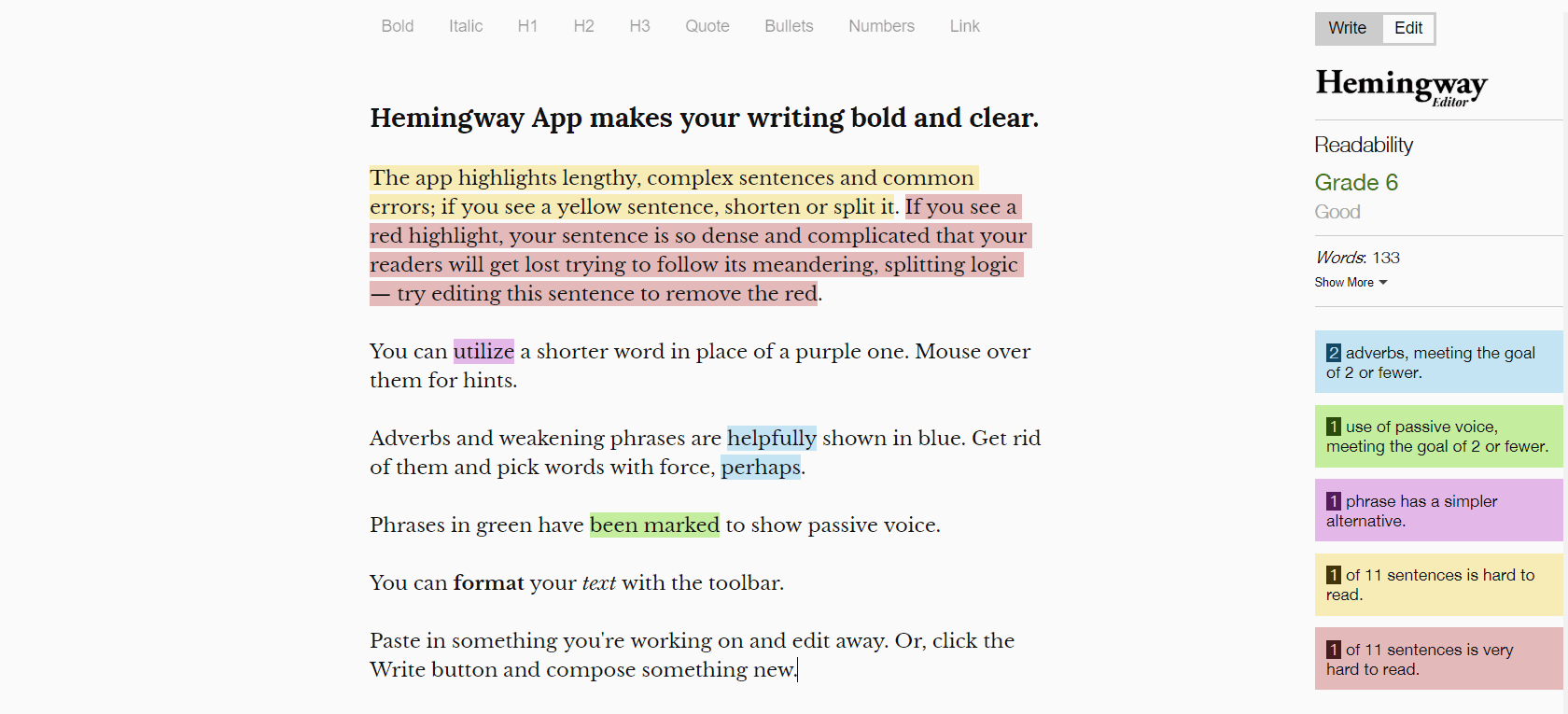 Hemingway is available either as an online tool or a brand new Hemingway Editor app for Mac and Windows.
There are no browser extensions or other types of integrations. What this means for someone working with WordPress is that you have to copy-and-paste your content to Hemingway, do your work there, and then copy it back to WordPress.
Hemingway is a visual tool. It uses different colors according to the seriousness of a given problem found in your post. For instance, sentences very hard to read are red, hard to read are yellow, and so on.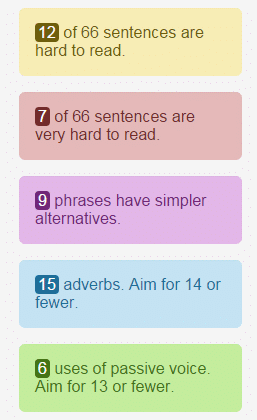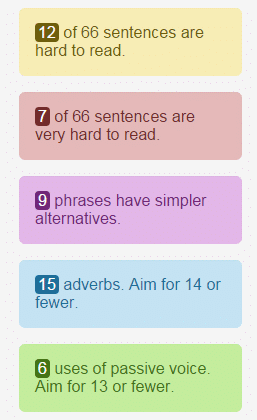 When it comes to using the tool, you just have to hover over a given phrase and Hemingway will give you suggestions.
In my opinion, Hemingway is a great solution to do this one final check before publishing a post, after you've already put it through some other tool (like Grammarly).
Price:
The web tool is completely free. The desktop editor is $19.99 (one-time payment).
Try Hemingway
Or, skip to the final verdict on Grammarly vs Jetpack vs Ginger vs Hemingway by clicking here.
5. Standard spellchecker
We've got the good, not really got the bad, so now let's talk the ugly.
Quite frankly, standard spellcheckers are not very useful as a tool for bloggers, writers, or anyone running a website for that matter. Apart from helping you notice some basic typos, they are not good for anything else.
Ginger Software actually made a nice comparison table of standard spell checking vs. their tool:
My advice is really simple here … just stay away from standard spellcheckers for any serious editing work or grammar checking. You're much better off with any of the four tools described above.
Okay, but which one to choose specifically?
Go to top
The verdict – Grammarly vs Jetpack vs Ginger vs Hemingway vs standard spellchecker
Here are my recommendations – three alternative paths you can take:
(a) The Best Free Option:
Use a combination of Jetpack and Hemingway. They will give you a great overall grasp on the issues with your writing and how to fix them.
(b) The Next Step Up:
Use Grammarly. Just Grammarly on its own will provide you with great value and basically all you need in terms of grammar checking and making your writing better.
(c) The Maximum Value:
Use Grammarly and Ginger. In this setup, I would use Grammarly first (as it's the easier tool to use since it's integrated into your browser), and then Ginger afterwards to see if there are any issues sitting deeper under the surface.
What do you think? Have you tried using grammar checkers like these before? Do they seem like something you could benefit from?
Grammarly vs Jetpack vs Ginger vs Hemingway for #WordPress #bloggers 🤔
Click To Tweet
…
Don't forget to join our crash course on speeding up your WordPress site. With some simple fixes, you can reduce your loading time by even 50-80%: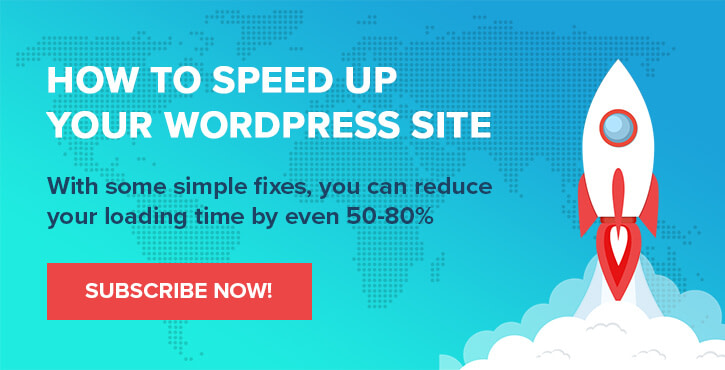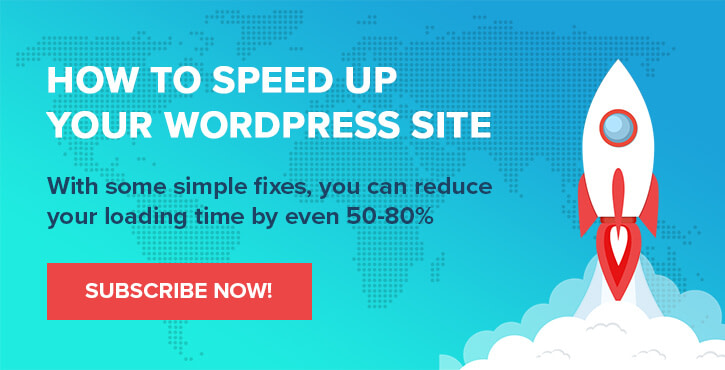 * This post contains affiliate links, which means that if you click on one of the product links and then purchase the product, we'll receive a small fee. No worries though, you'll still pay the standard amount so there's no cost on your part.
Was this topic
helpful?
0% of users found this helpful