Hiring a freelance project manager means seeking out the absolute best candidate with a wide range of skill sets covering web development, planning, and communication. A project manager's job varies, but it's safe to say that you want top-notch resources to outsource your WordPress work and get a high-quality crop of applicants.
Not all online job boards, agencies, and job marketplaces are created equal. Some offer quick, cheap tools to post your job listing, while others distribute the job listing or even screen and contact the ideal candidates for you. That's why it's essential to find the best places to hire a freelance project manager.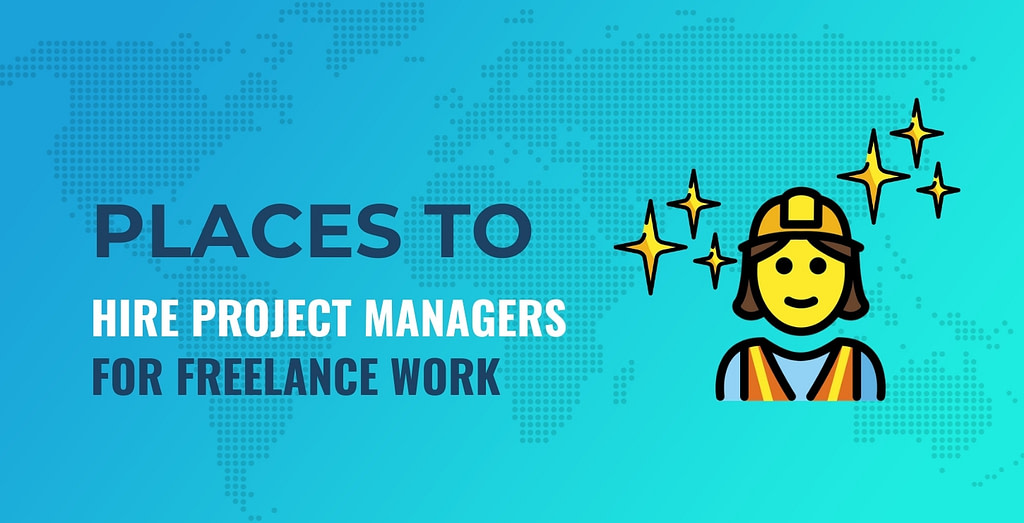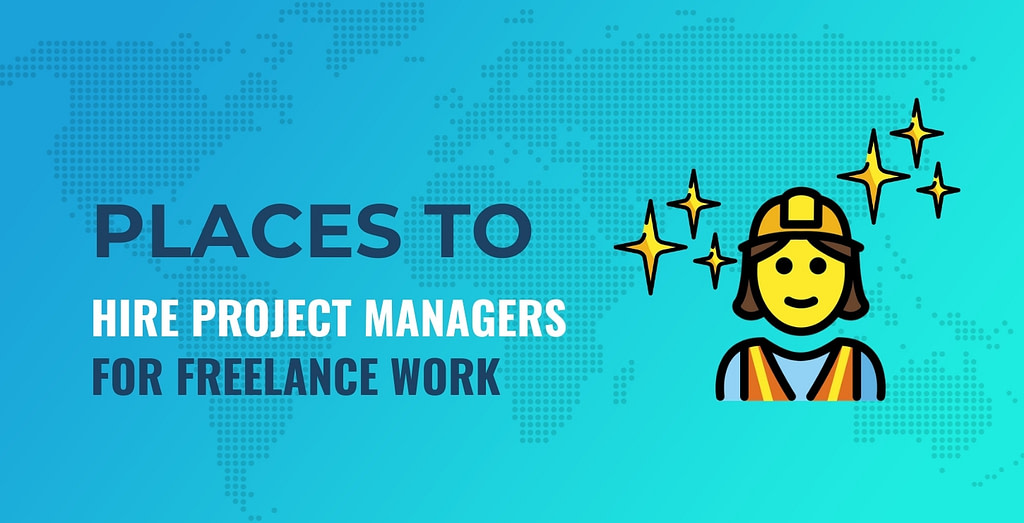 Keep reading to explore job boards, online communities, and hiring services that all offer web and marketing-oriented hiring options, with great potential for finding a freelance project manager.
Best places to hire a freelance project manager
Now that we've discussed the differences in hiring platforms, let's look at 18 excellent alternatives. The one that's the best fit for you will at least partly depend on the level of services you need, but they all offer qualified professionals for your projects.
Looking for a professional #project #manager? These are the best places to find one 👨‍💼
Click To Tweet
Types of listed jobs 📋
Freelance
Full-time
Contract work
Developers
Designers
Project managers
Product managers
Toptal manages a network of freelance talent ranging from project managers to software developers. It's a place to go when you need vetted candidates with proven track records. For project management, you can find technical project managers, scrum masters, and other experts in the field. Freelancers make a simple profile and apply to prove they're a reliable worker, while hiring companies fill out a quick questionnaire to get paired with people.
Fees 💳
Toptal requires a $500 down payment for companies looking to hire. This gets credited to your first invoice. There's a two-week free trial to see if the partnership works well.
Workers pay nothing to list credentials on Toptal.
Go to Toptal
Go to top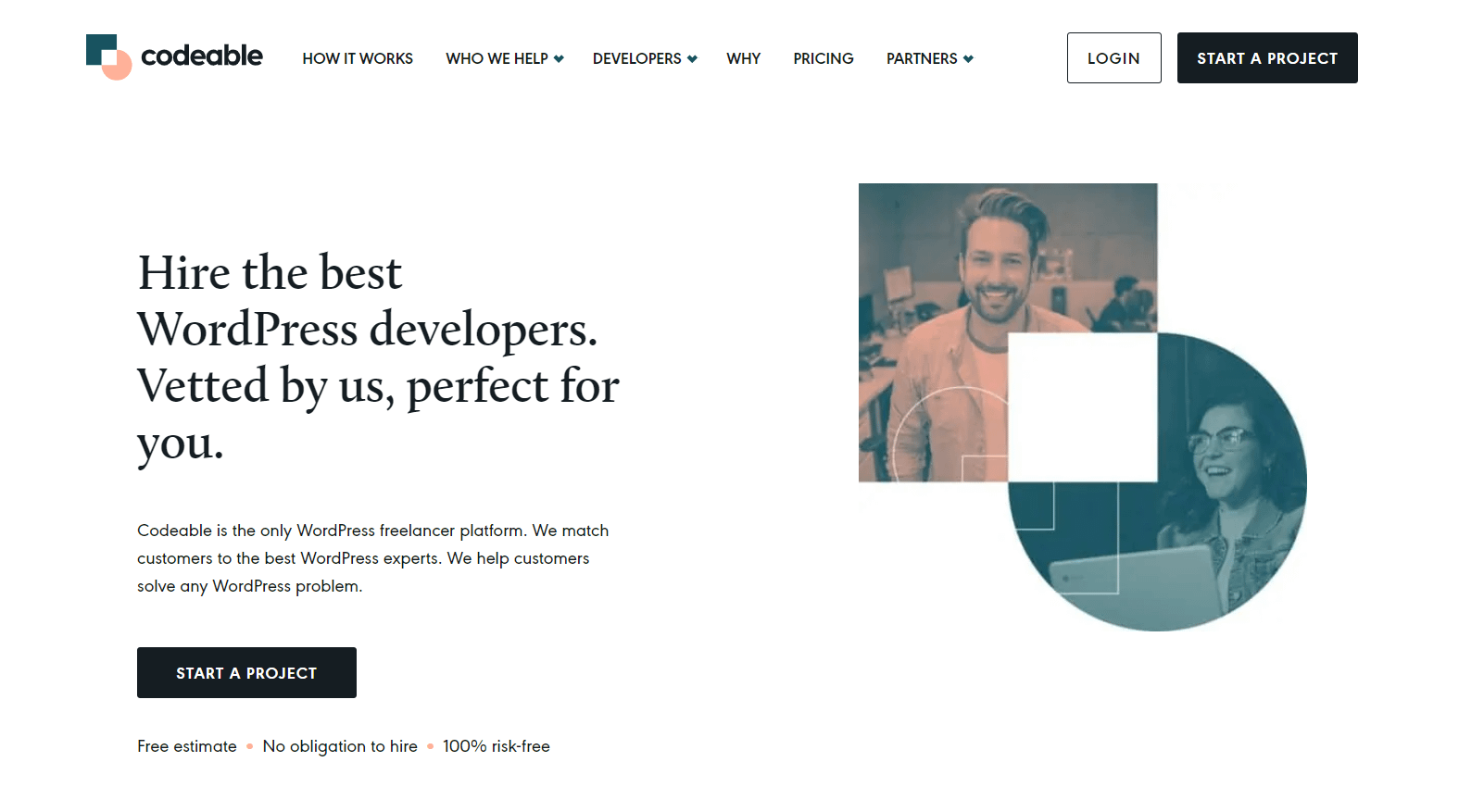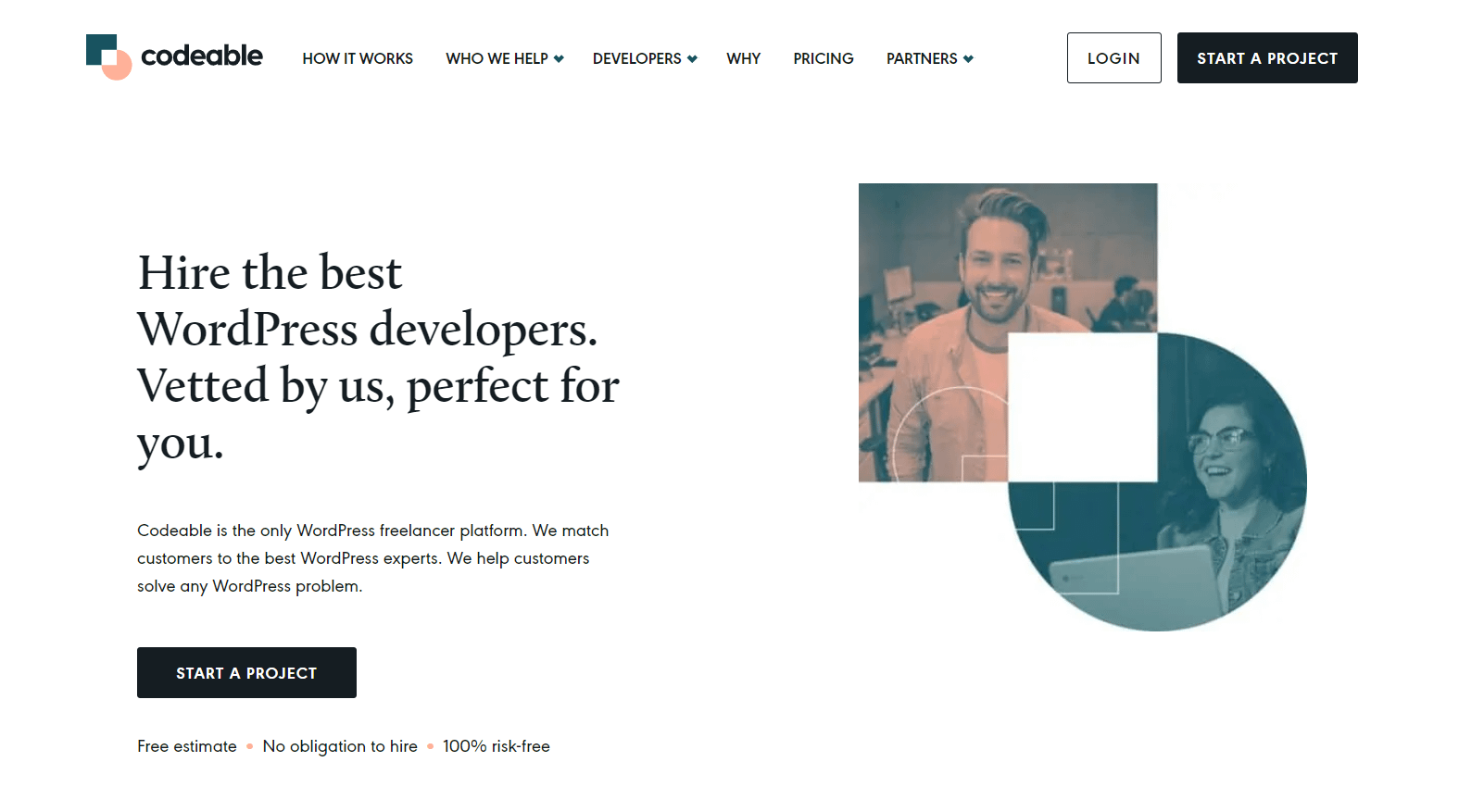 Types of listed jobs 📋
Freelance
Short-term projects
Long-term projects
Project managers
Developers
Codeable caters to brands looking for WordPress developers and other freelancers in the tech world, such as freelance project managers. You can start a project, get a free estimate, and opt to keep looking if you don't get the right person. Codeable accepts job listings for minor tasks and large projects. Listings go directly to workers in the Codeable network for them to review and apply to the post.
Fees 💳
Each project has its own pricing, but Codeable recommends rates from $70 to $120 per hour.
Go to Codeable
Go to top
Types of listed jobs 📋
Full-time
Freelance
Design
Project management
Programming
The Smashing Job Board is part of the popular development and design periodical publication, Smashing Magazine. It's a hub for top tech talent as many of the readers already work in the industry. It functions as a simple job board where you click to post a job and then fill in information like your company name, job title, and skills required.
Fees 💳
It's free to find jobs through the Smashing Job Board. Posting a job costs $225 for a 60-day full-time job listing and $75 for a 60-day freelance job listing.
Go to Smashing Job Board
Go to top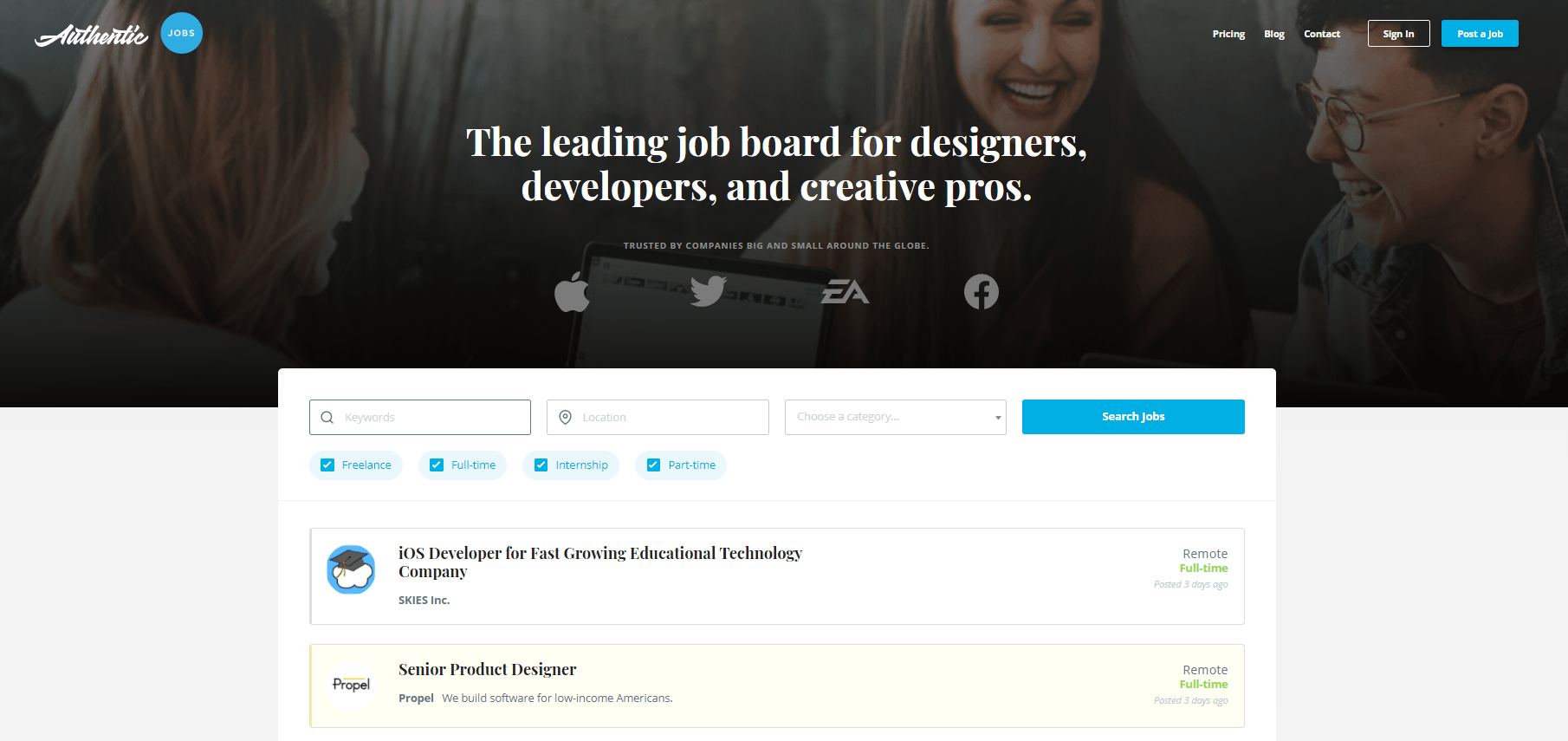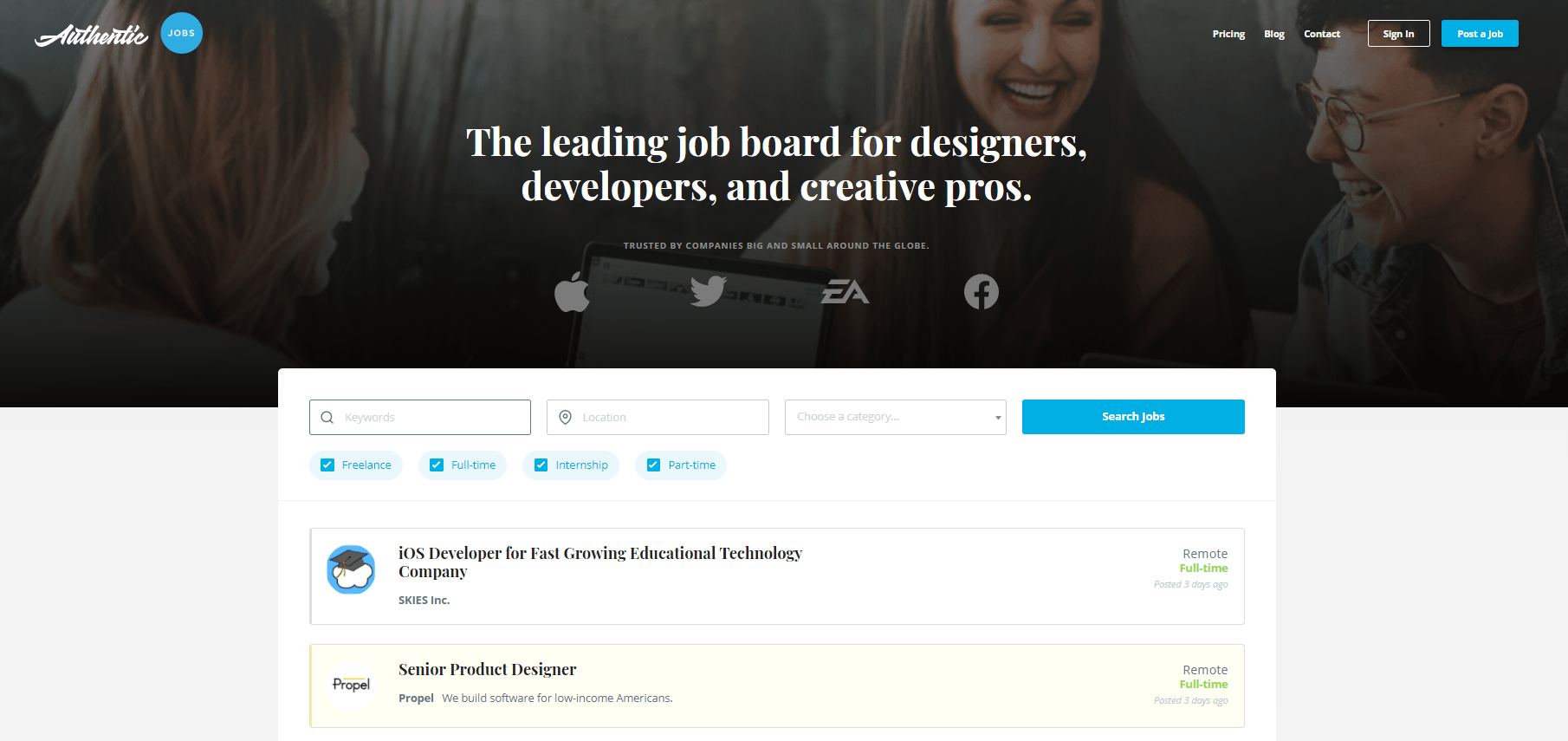 Types of listed jobs 📋
Freelance
Full-time
Internships
Part-time
Designer
Developer
Project manager
Much more
Authentic Jobs is a solid job board if you're interested in creative professionals, like designers and project managers. The website is simple and allows you to search for a job based on keywords and filters.
Employers click to post a job, then they fill out information like job title, location, and description. You can change how people apply and accept the applications through Authentic Jobs or get them to your email.
Fees 💳
It's free to find a job through Authentic Jobs. You also need to pay $149 per month for posting standard job listings and $199 per month for featured listings.
Go to Authentic Jobs
Go to top
5. AngelList – find a freelance project manager for your startup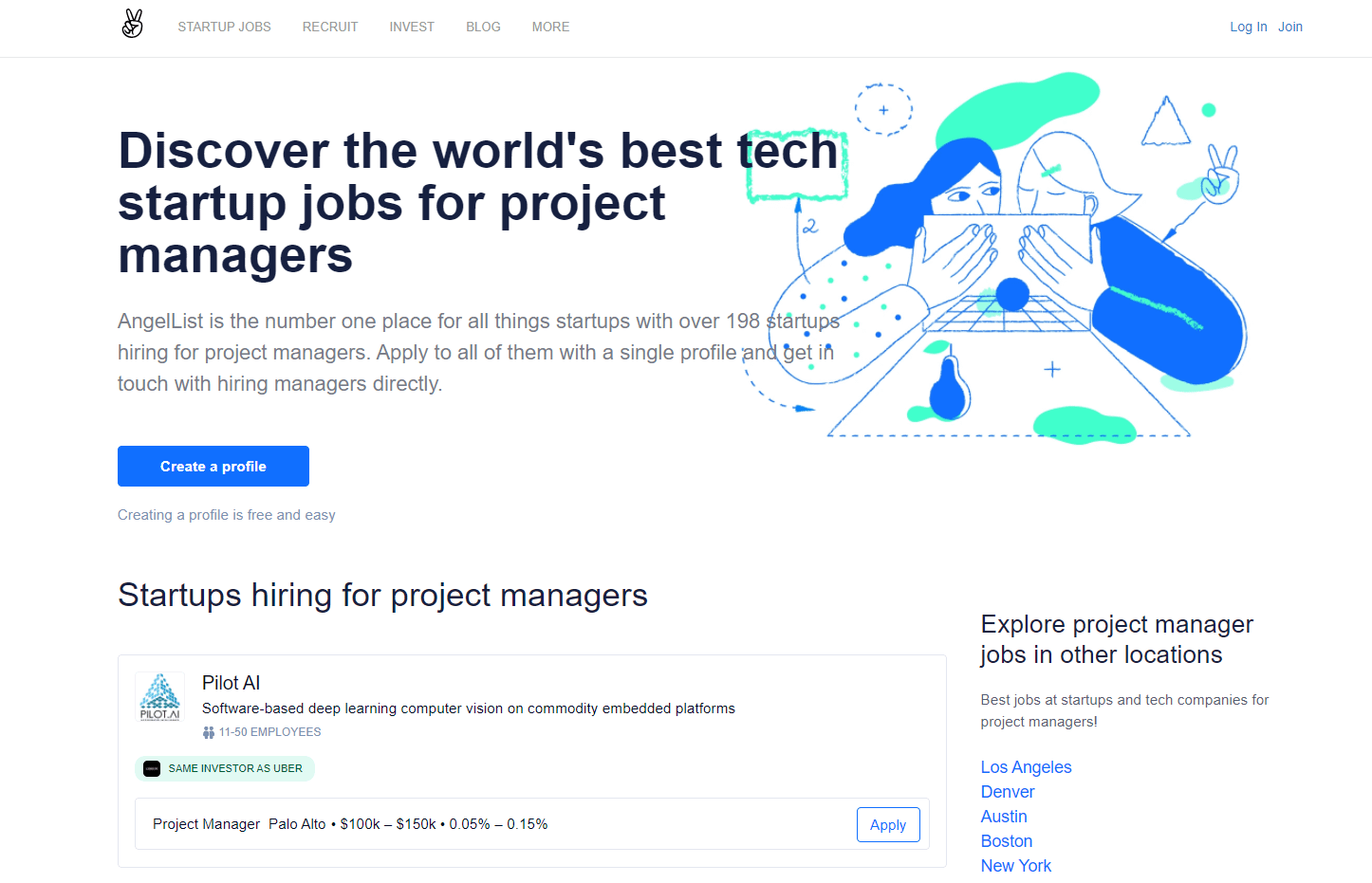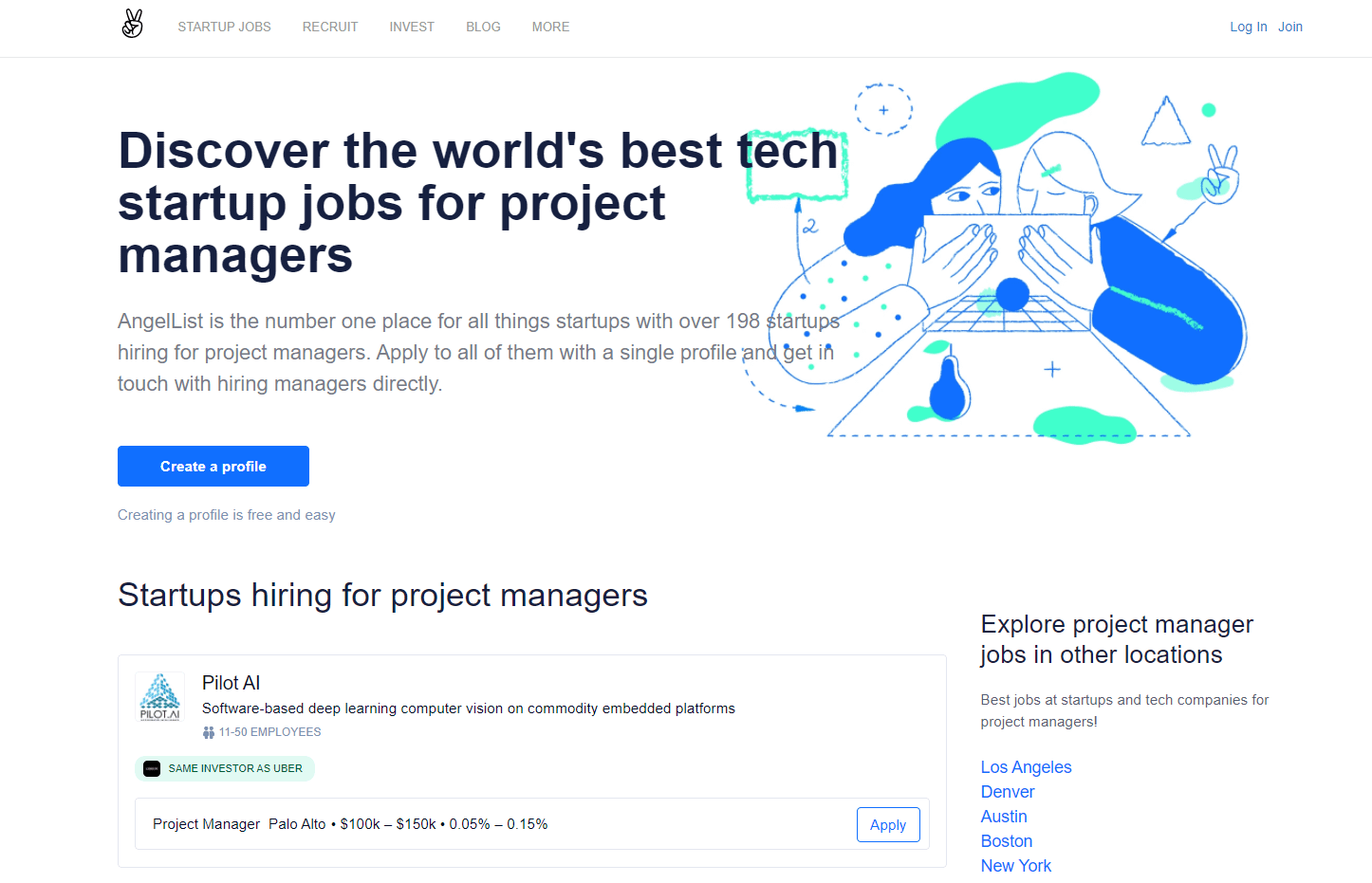 Types of listed jobs 📋
Freelance
Full-time
Contract work
Part-time
Development
Design
Project management
Much more
AngelList offers recruitment services and a startup job board for identifying perfect candidates. The talent gets the advantage of applying to hundreds of thousands of job listings that focus on startups in the tech world.
Job posters hire by connecting to their company website, accessing the unique recruiter tools, and publishing jobs directly to the list. It's more of an ongoing hiring hub you keep active and use for consistent upgrades to your workforce.
Fees 💳
Job applicants get to find a job for free, while employers have the Free plan to choose from, along with a Pro plan for $250 per user per month.
Go to AngelList
Go to top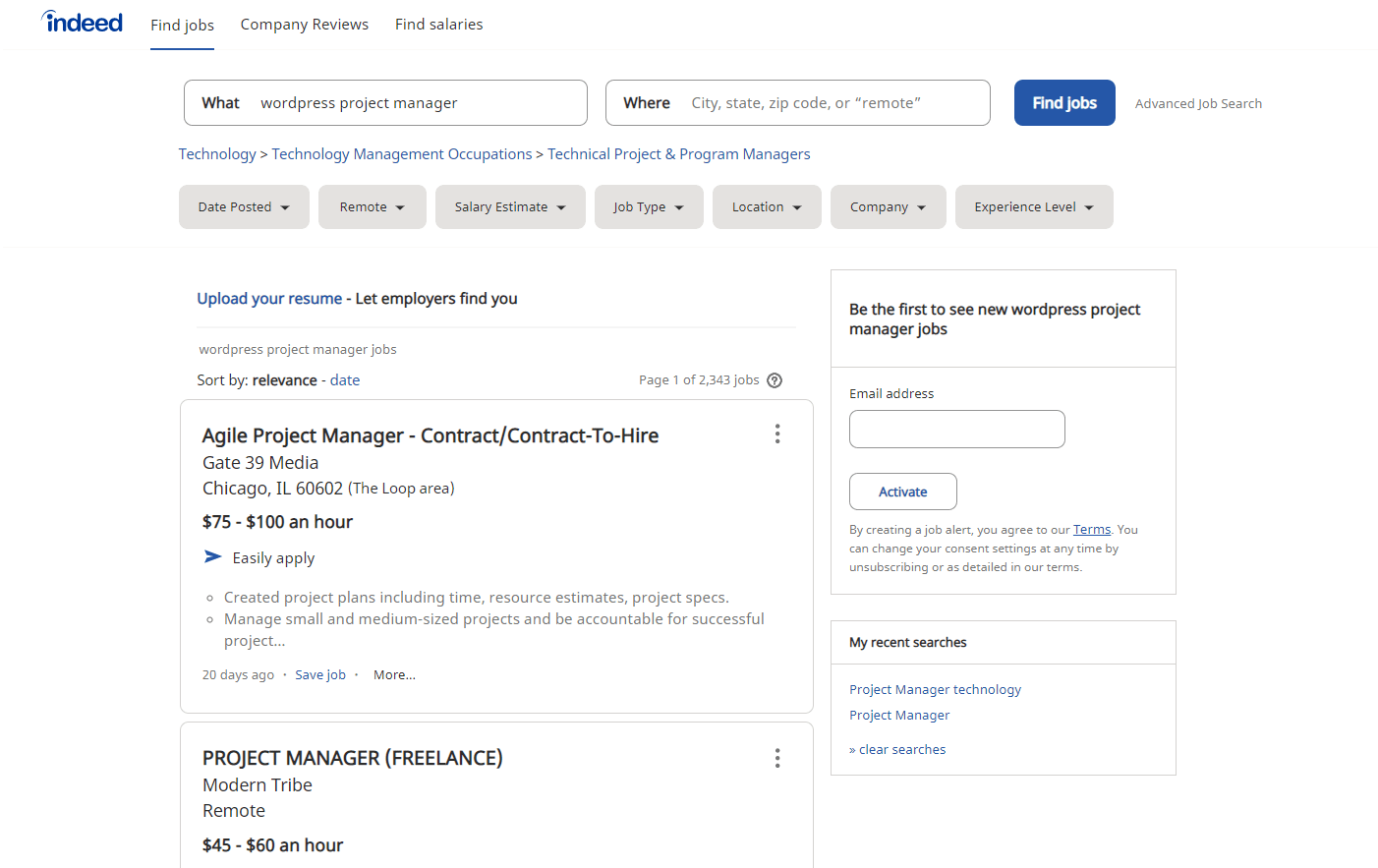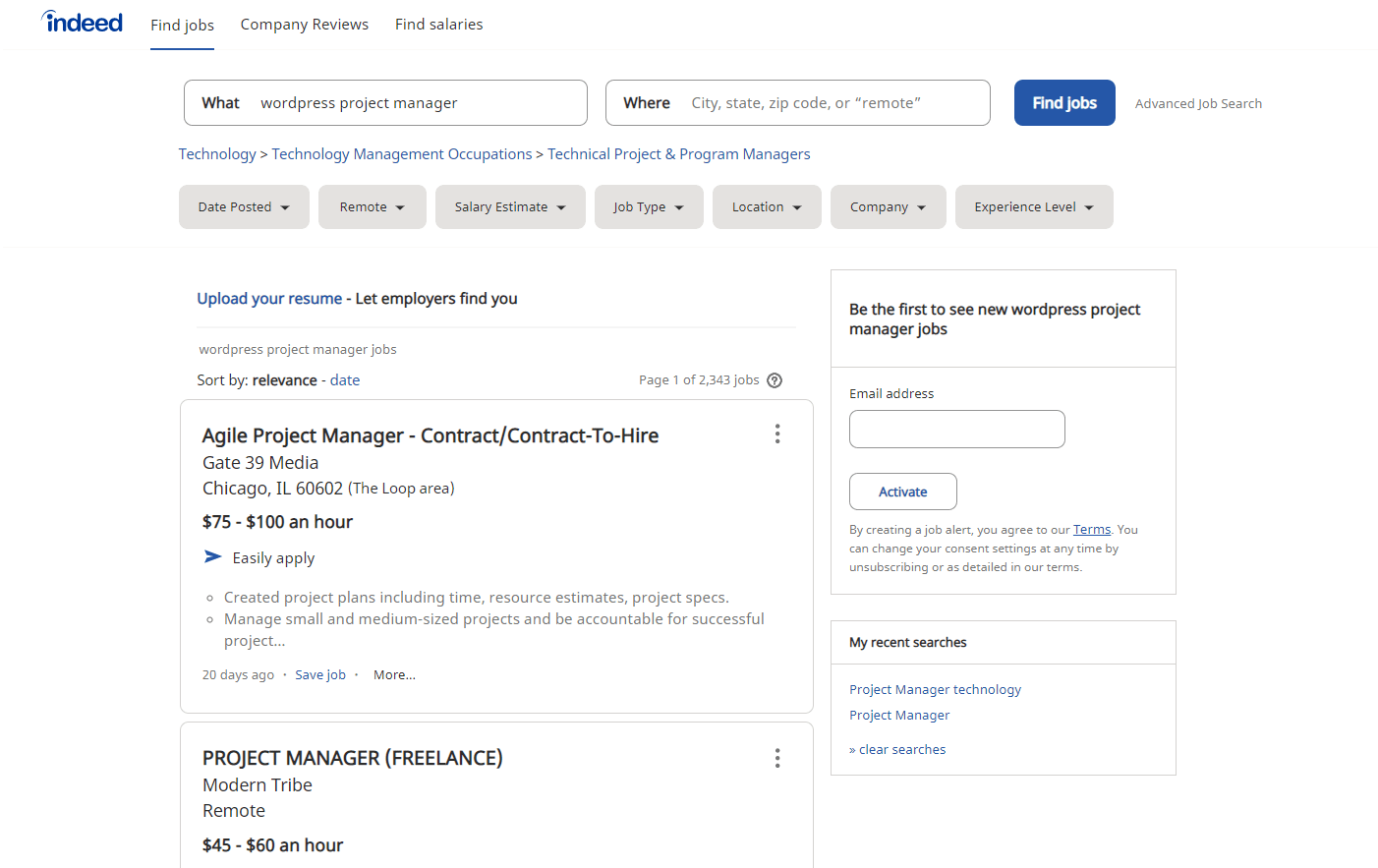 Types of listed jobs 📋
Freelance
Full-time
Part-time
Contract work
Internships
All industries
Indeed, known as an all-around job-listing and finding website, has wonderful capabilities to hone in on the right industries, like web design or marketing, and find people who are qualified to be a freelance project manager.
Jobseekers type in keywords and use filters to locate listings that apply to them, while employers have the option to post a job and fill in details like company name, project scope, and where people should apply.
Fees 💳
It's generally free to have a job-searcher Indeed account, although some upgrades are offered. It's free to post a simple job. Sponsored jobs start at $5 per day, and you can design a hiring campaign for more.
Go to Indeed
Go to top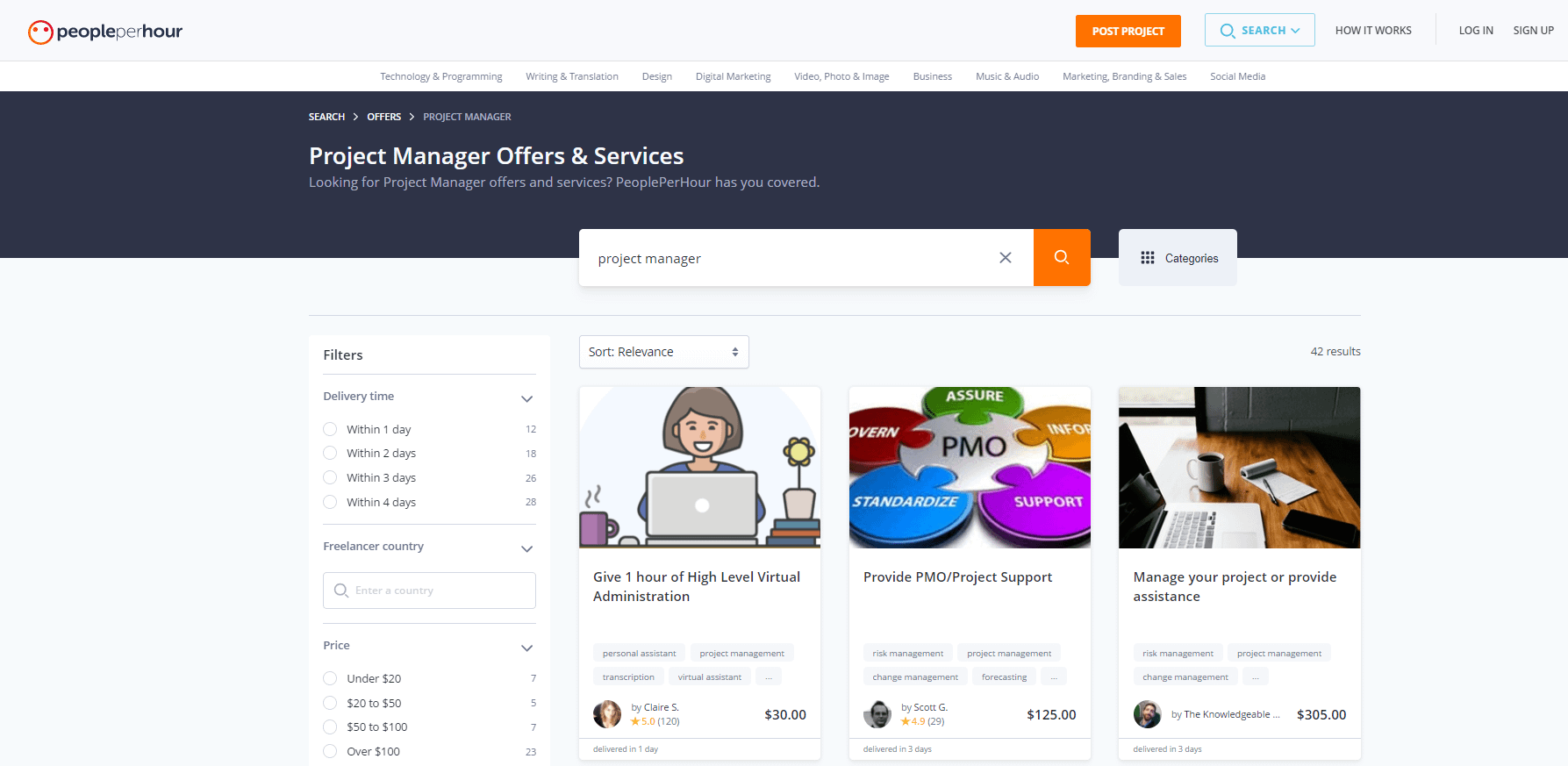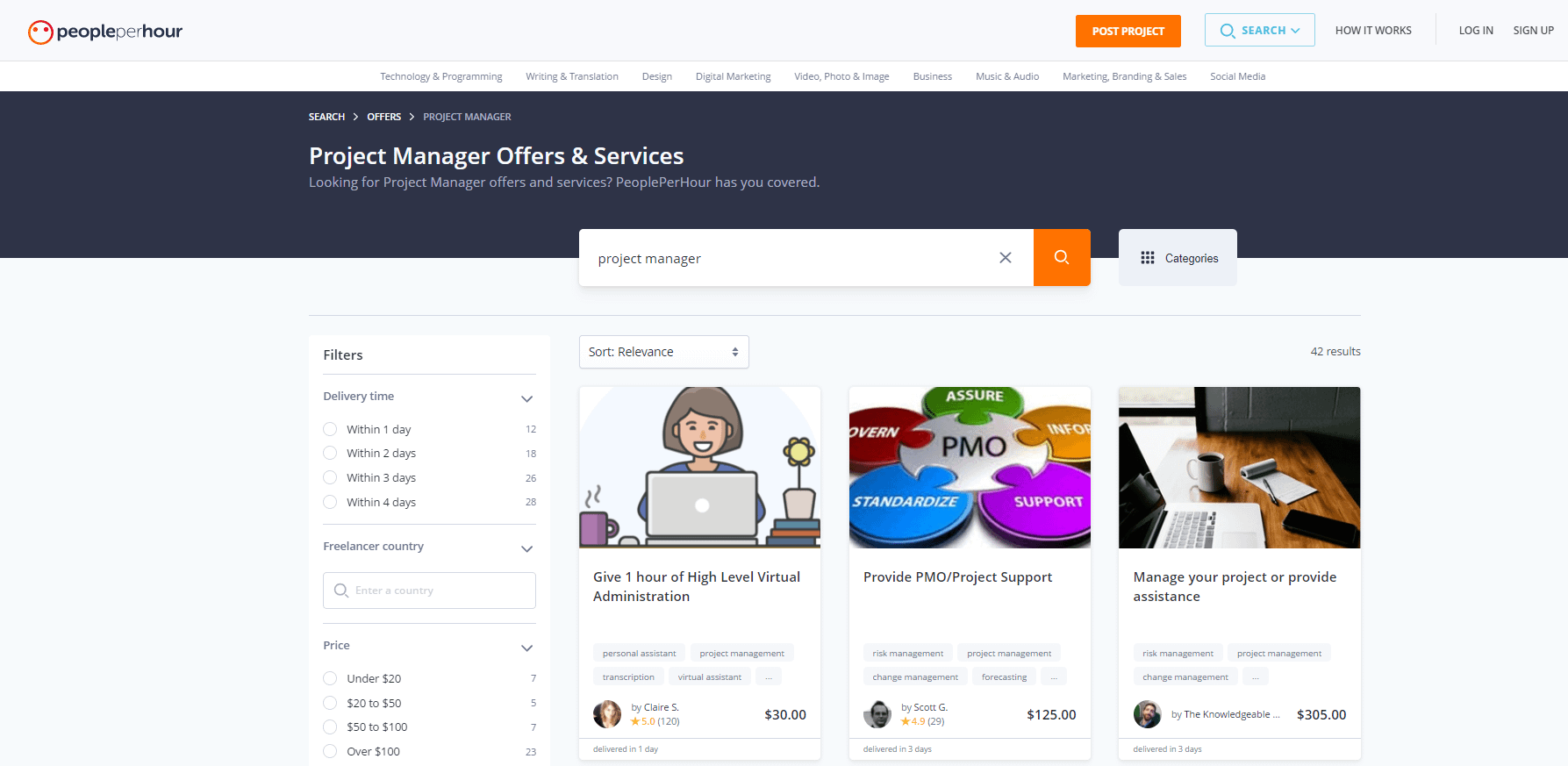 Types of listed jobs 📋
Freelance
Long-term
Technology
Writing
Marketing
Social media
Much more
The People Per Hour website links companies to the top freelancers around the globe, with categories ranging from SEO to logo design and from content writing to project management. You post a project by selecting a category and subcategory. You then complete a myriad of options to show things like your budget type, certification requirements, and project title.
What's great about People Per Hour is that it has a certification system that ranks the freelancers on the site, allowing you to cut down on those who may not fit your standards. As for freelancers, People Per Hour provides a simple, unique profile for you to manage, and you have the option to try to upgrade your certification. People Per Hour even gives you the opportunity to invoice your clients.
Fees 💳
It's free to post a job and search for applicants on People Per Hour. It's also free for freelancers to find and speak with companies. However, it takes a fee through People Per Hour when a freelancer bills for a project.
Go to People Per Hour
Go to top
8. Fiverr – find an inexpensive freelance project manager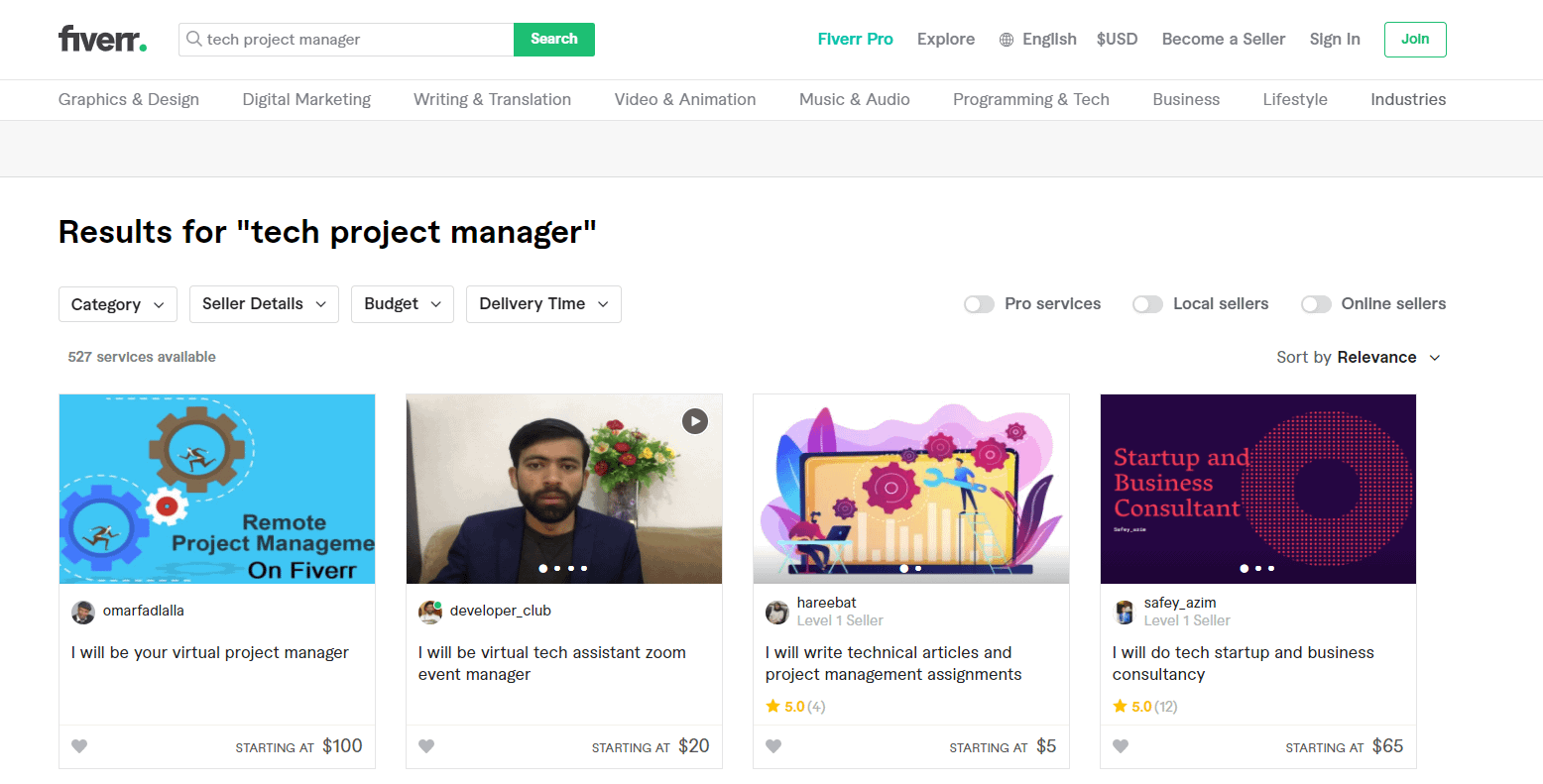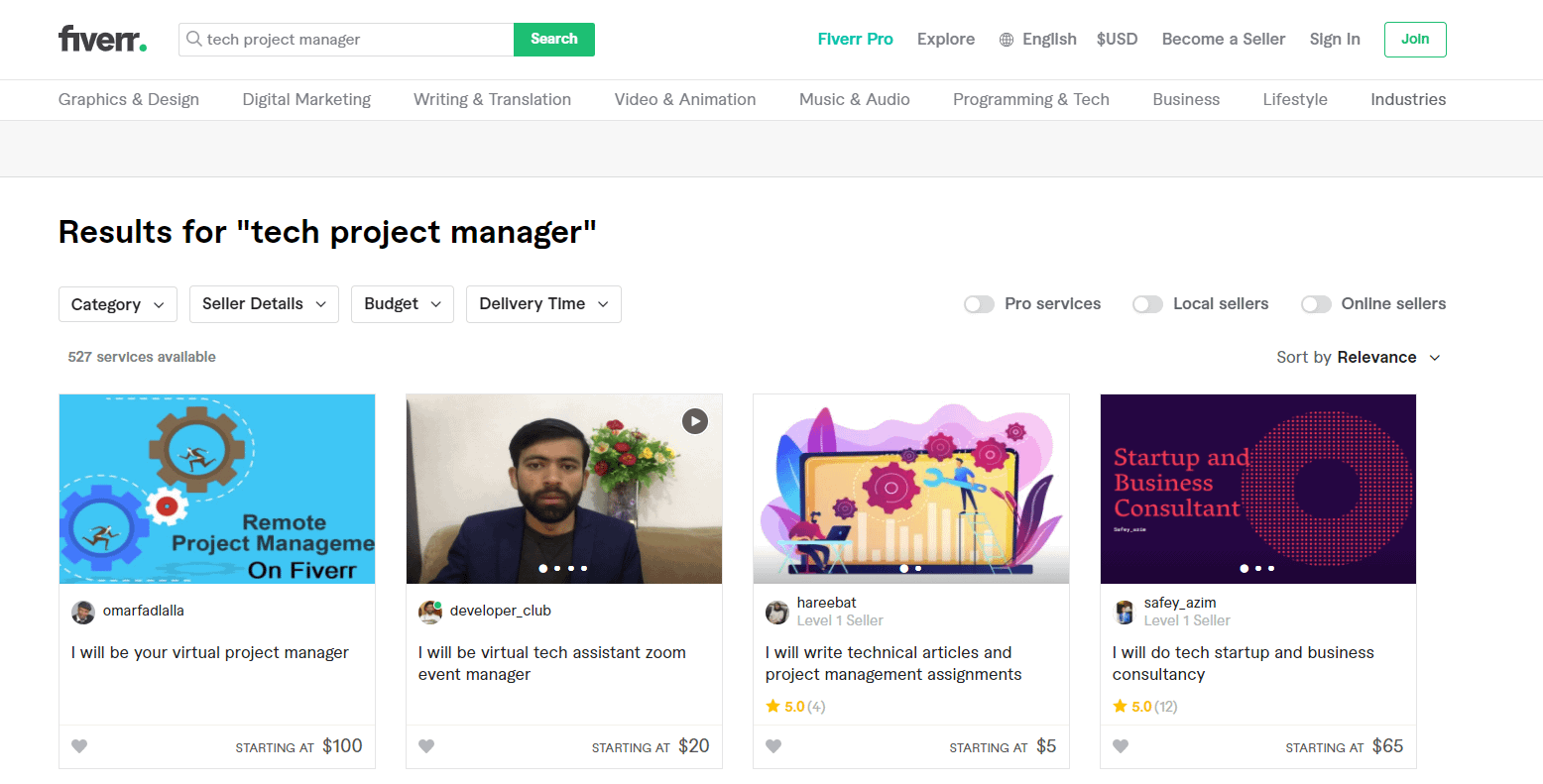 Types of listed jobs 📋
Short-term
Freelance
Project management
Design and development
All industries
Fiverr, known as the place to find workers for only five bucks, has developed into a job listing site where the employer typically looks through viable candidates and hires them based on portfolios. In addition, most workers charge much more than $5. You may get a quick $5 job for something like a basic logo design.
As for project management, expect to pay more. Typically, Fiverr workers handle short-term projects, but it's possible to speak with them individually if you need them for longer. Finally, Fiverr has a far lower quality vetting process, so you must do your homework and complete some test runs with candidates.
Fees 💳
Sellers (freelancers) get charged 20% of each project. Buyers (companies seeking talent) pay $2 for jobs up to $40 and 5% on everything above that.
👉 By the way, if you're interested in how to make money on Fiverr, we have a huge – ultimate! – guide on going from $0 to $2-3k a month.
Go to Fiverr
Go to top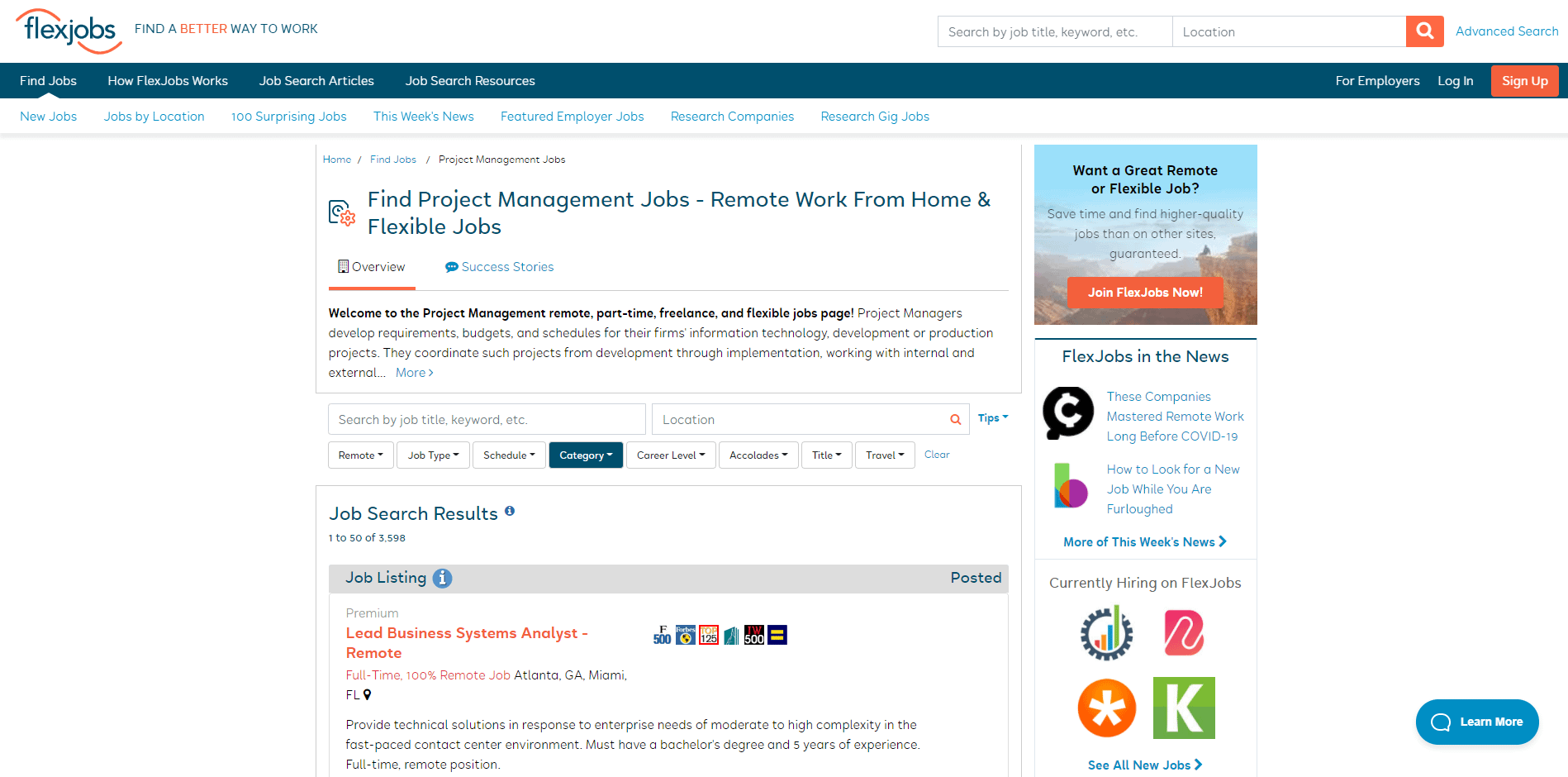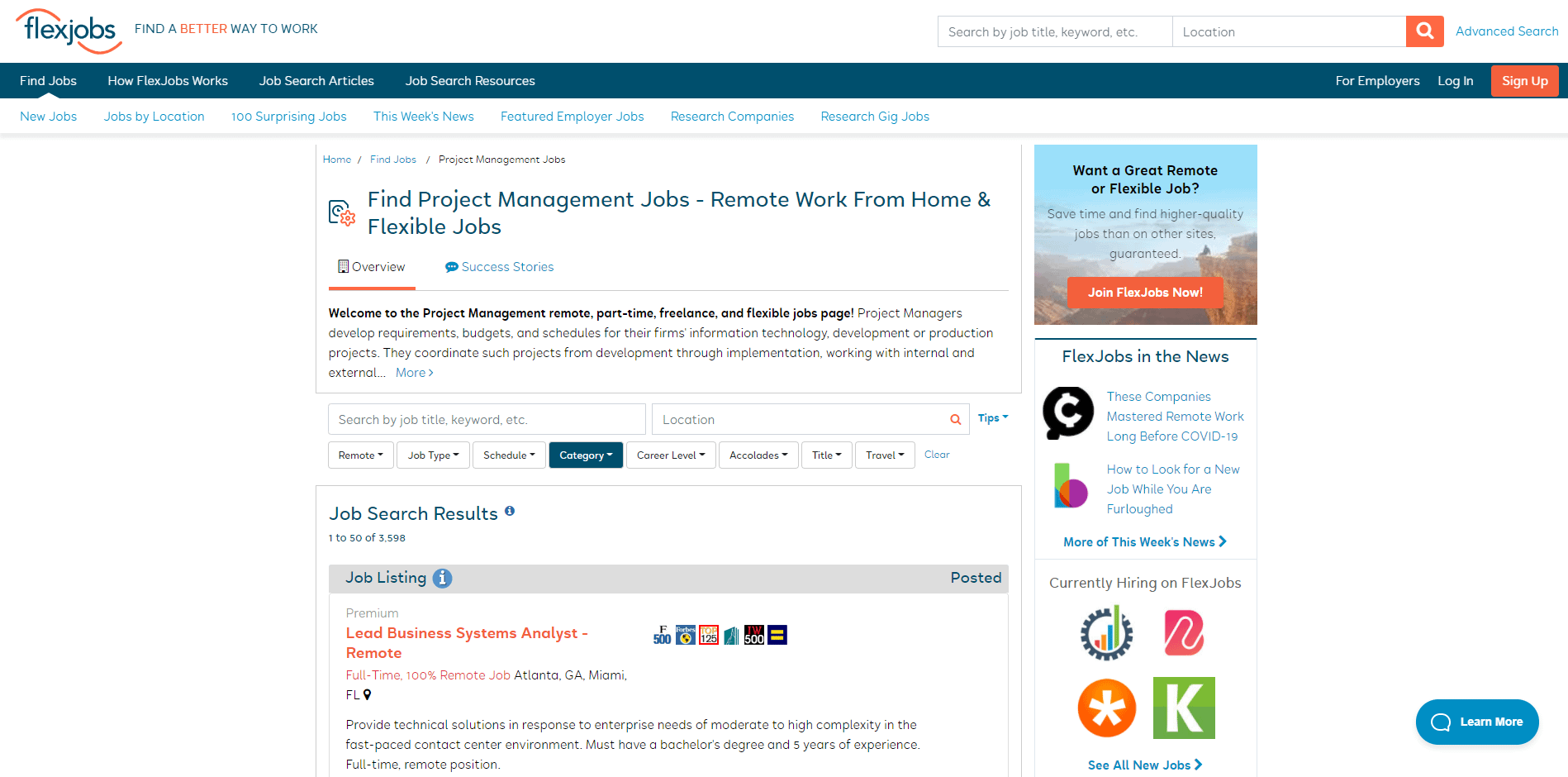 Types of listed jobs 📋
Freelance
Work from home
Full-time
Internships
Contract work
Part-time
All industries
Flexjobs continues its revolutionary focus on finding jobs where people can work from home. It's a goldmine for finding freelancers of all sorts offering a personalized job search to get the exact candidates for each job. In general, Flexjobs is only for companies that want to hire at-home workers and for those who want to work from home.
Fees 💳
Jobseeker plans start at $27.80 per month. Employer plans start at $299 per month.
Go to Flex Jobs
Go to top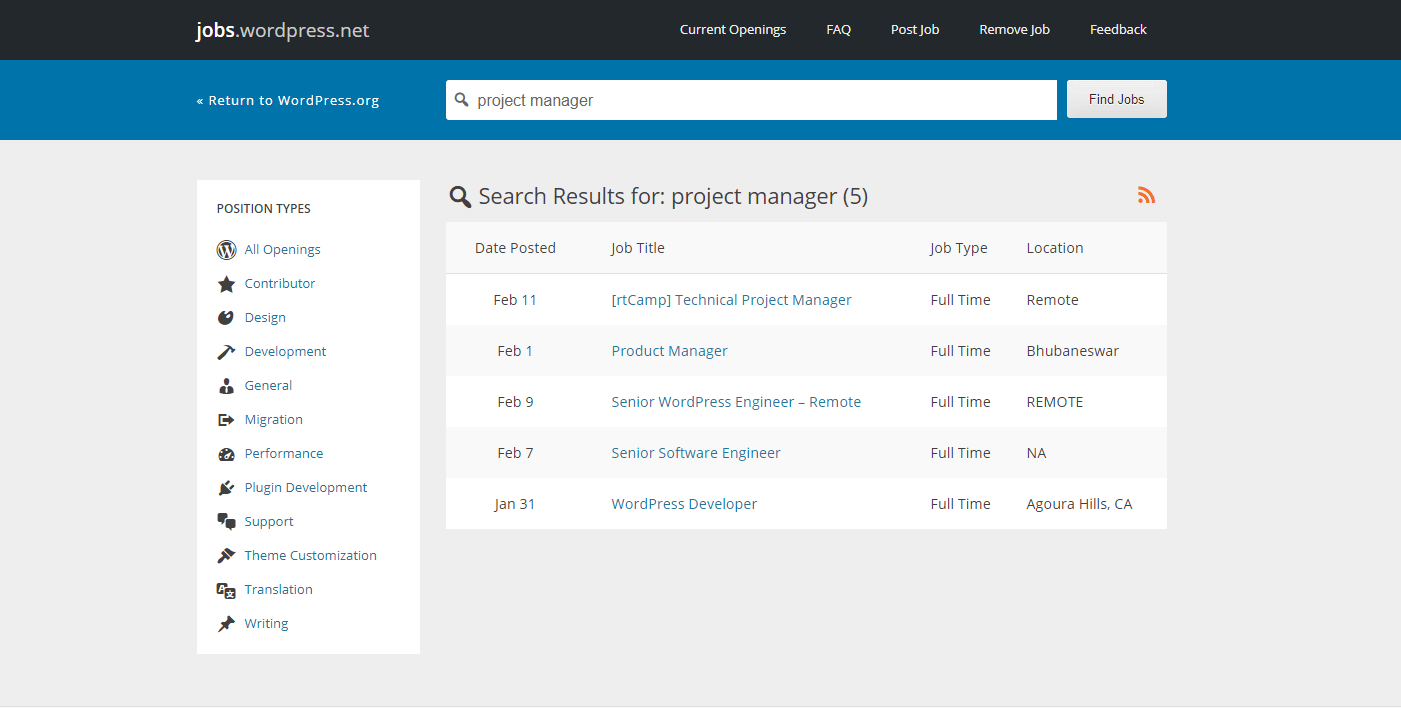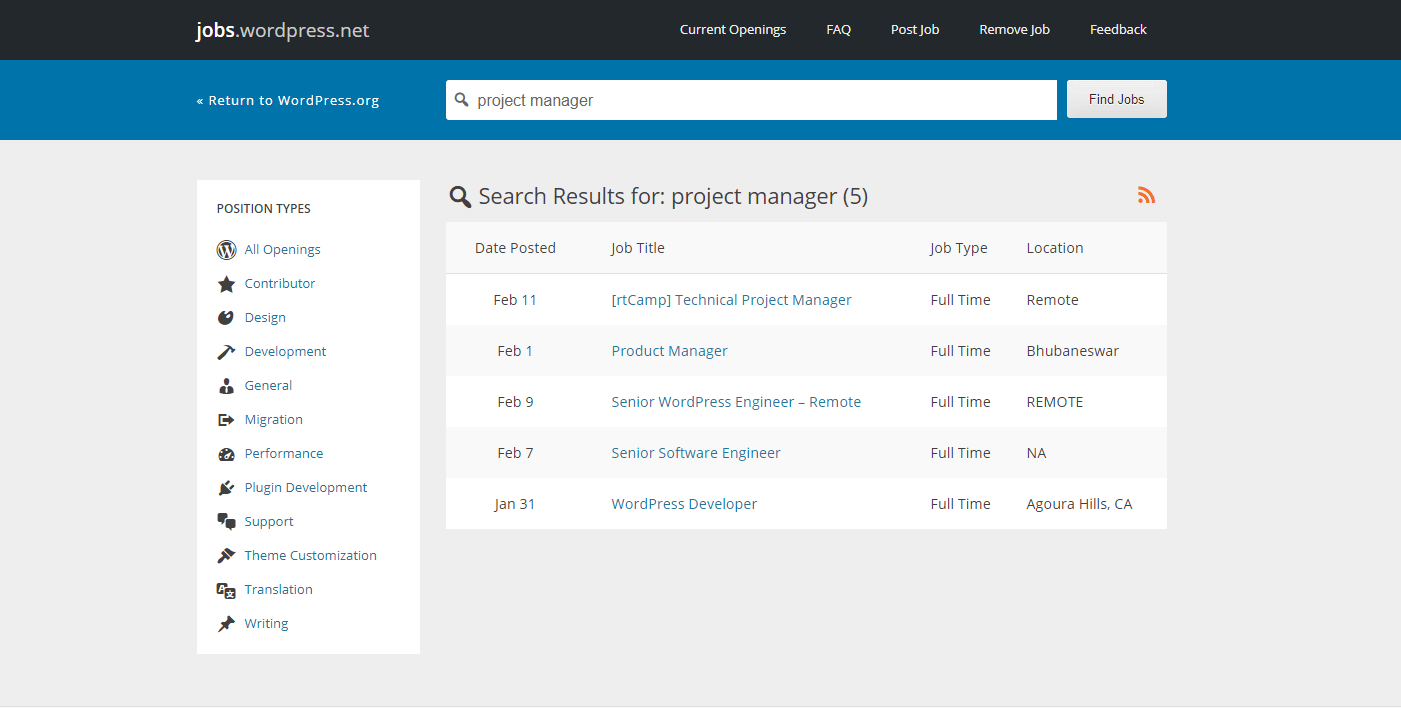 Types of listed jobs 📋
Full-time
Part-time
Freelance
Contract work
Engineering
Development
Design
Project management
The Jobs.WordPress.net board provides one of the simplest job boards you can find, yet it goes right to the source of the WordPress.org website. Seekers can click to find jobs based on categories and keywords, while employers have several tools to list jobs and manage applicants.
Fees 💳
It's free to find a job and list an offer on Jobs.WordPress.net.
Go to Jobs.WordPress.net
Go to top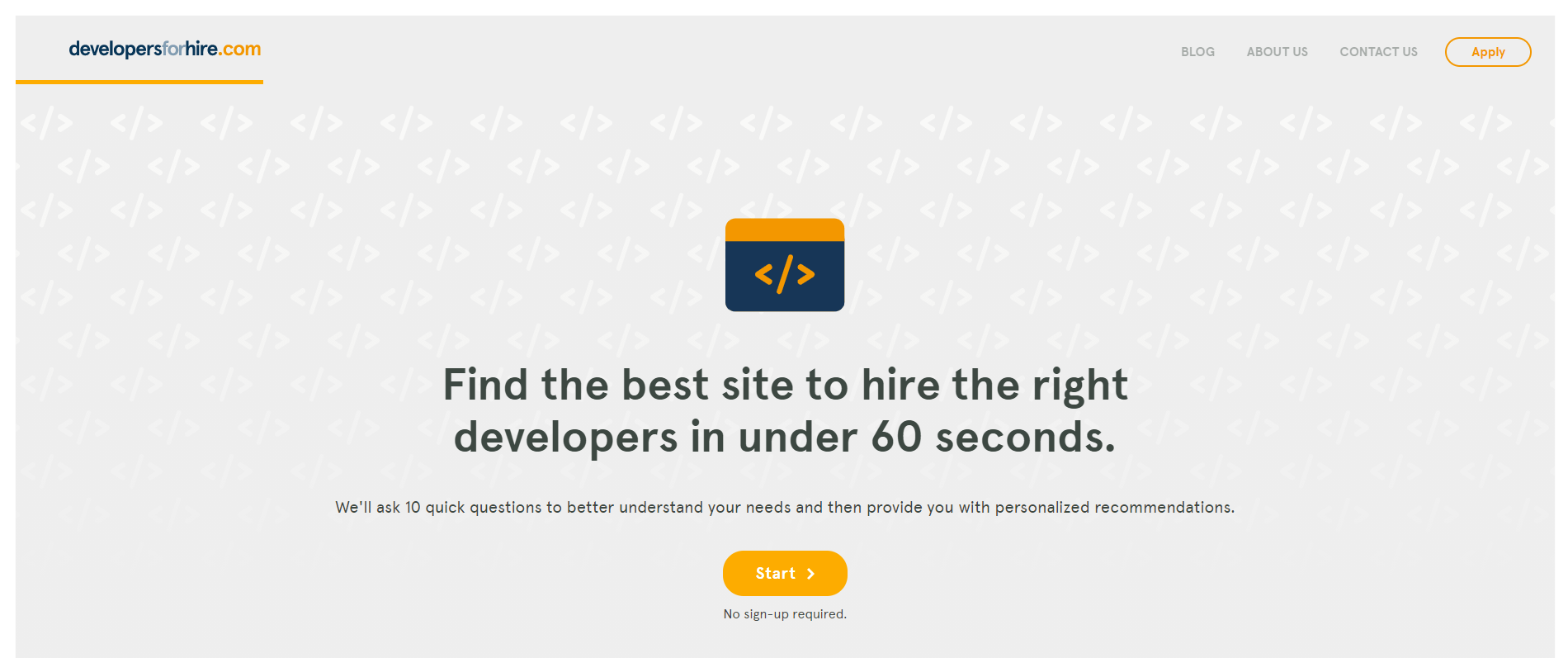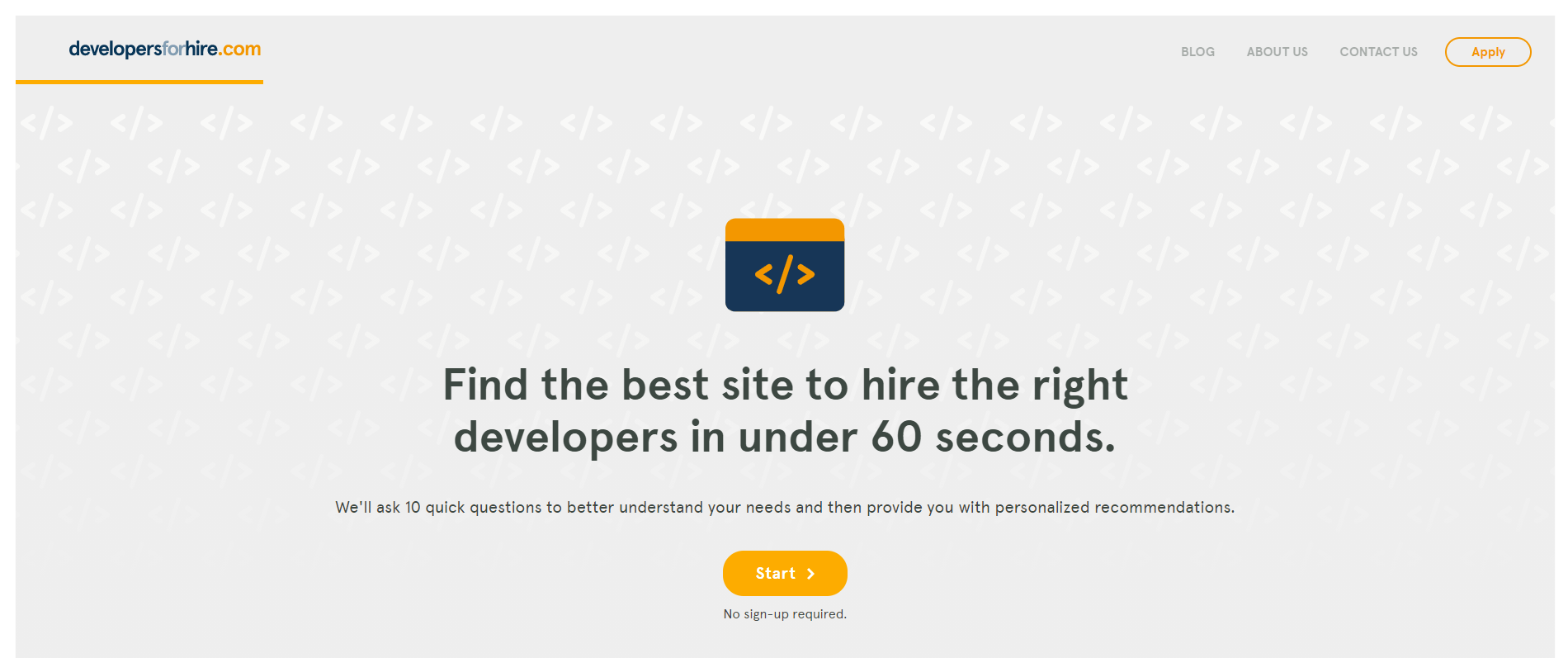 Types of listed jobs 📋
Full-time
Freelance
Contract work
Technology jobs
The Developers For Hire website is a little different because it doesn't have its own job board. Instead, the service asks you a few questions about the applicants you need, and it scrapes the internet to locate the best sites to post your job listings.
Therefore, it's somewhat of a first step before listing your job somewhere else. For instance, it may eventually send you to places like Toptal or Upwork.
Fees 💳
It's free to use the Developers For Hire search tool.
Go to Developers For Hire
Go to top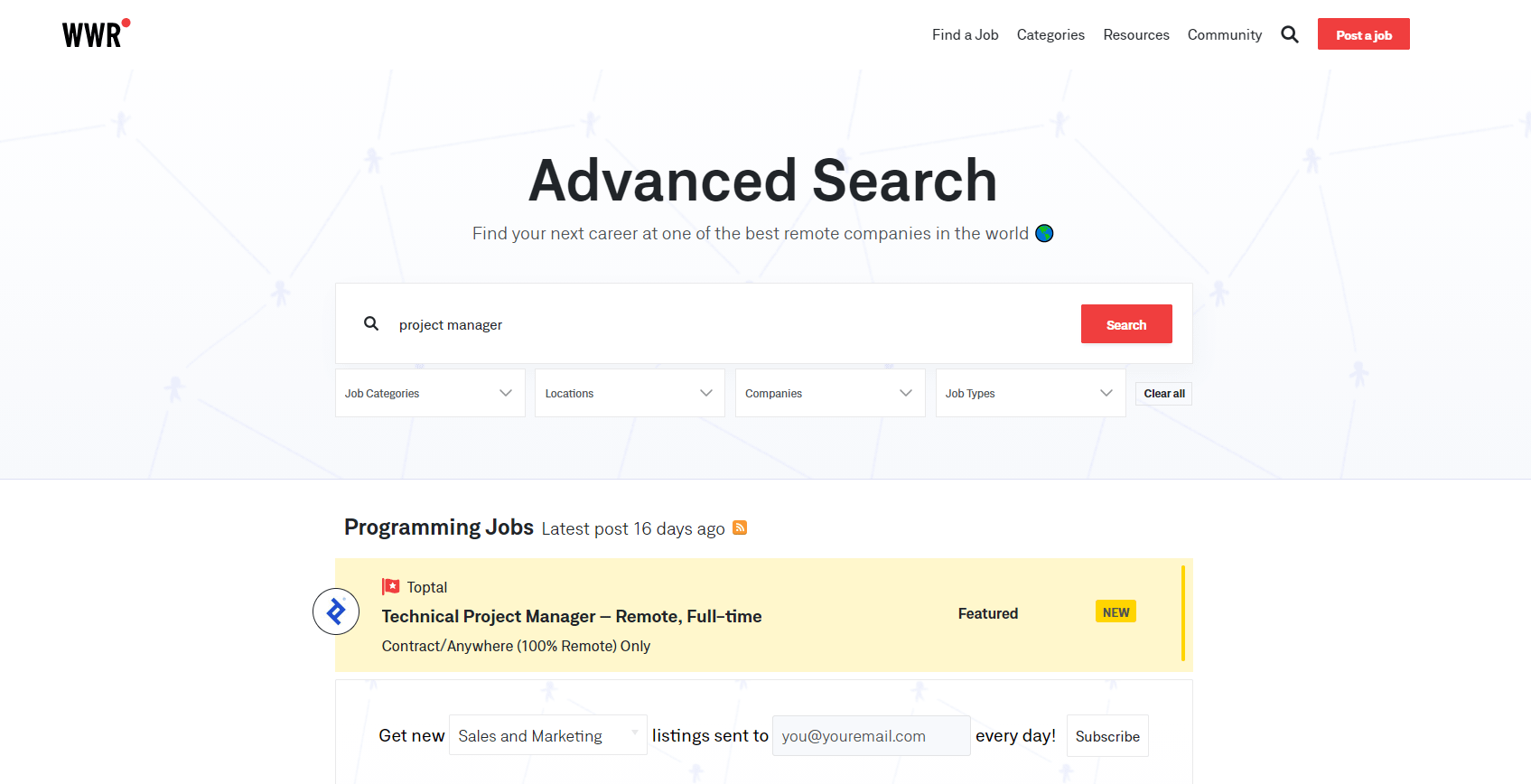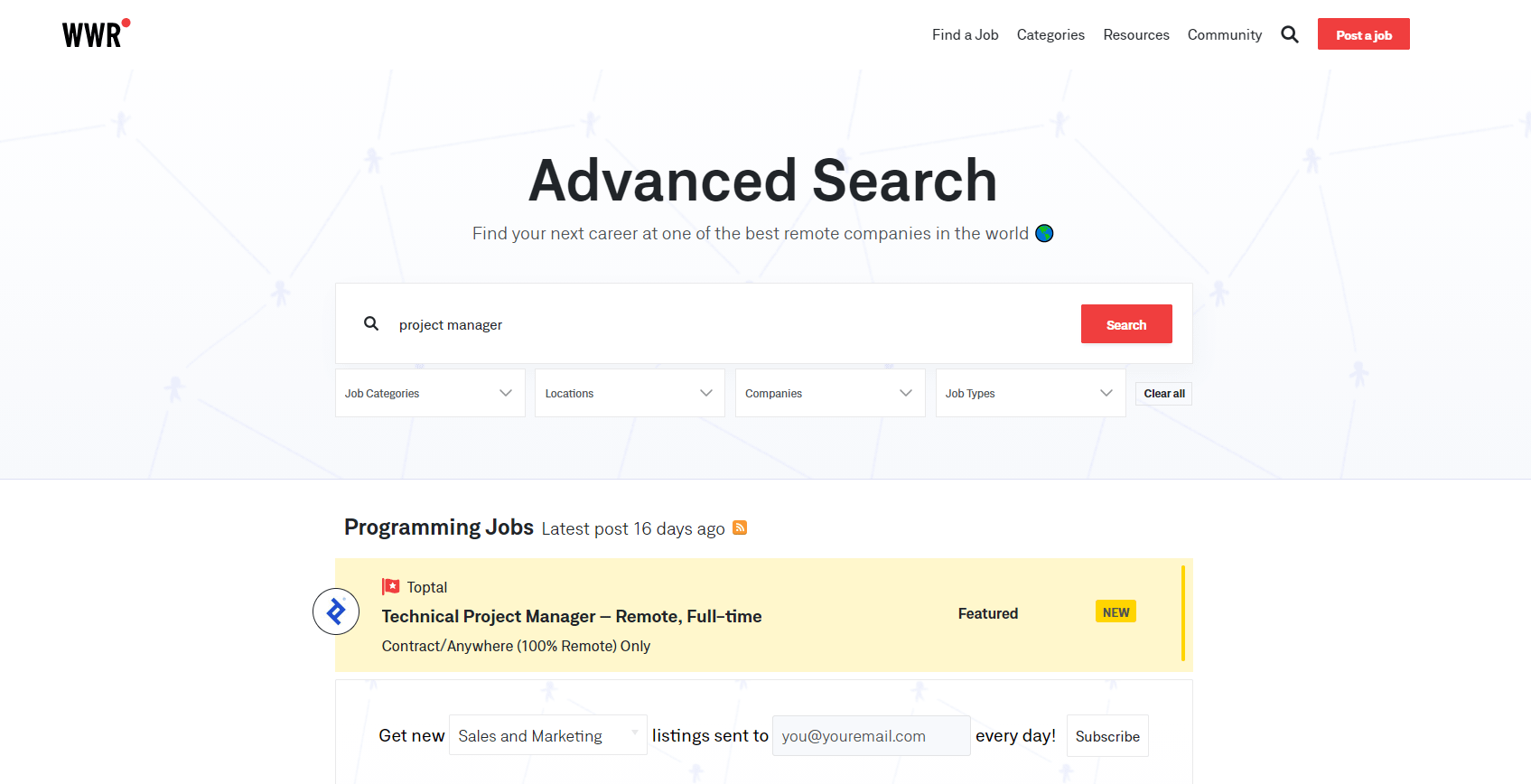 Types of listed jobs 📋
Full-time
Freelance
Part-time
Contract work
Programming
Project management
Development
Much more
We Work Remotely provides beautiful job listings and a place to locate employees who work from home. Most of the job listings fall into the technology sector, but you can also post jobs for general business. Employers list everything from how to apply for the job to regional restrictions, then decide on how much they want to pay.
Fees 💳
It's free to apply for a job through We Work Remotely. A job listing starts at $299.
Go to We Work Remotely
Go to top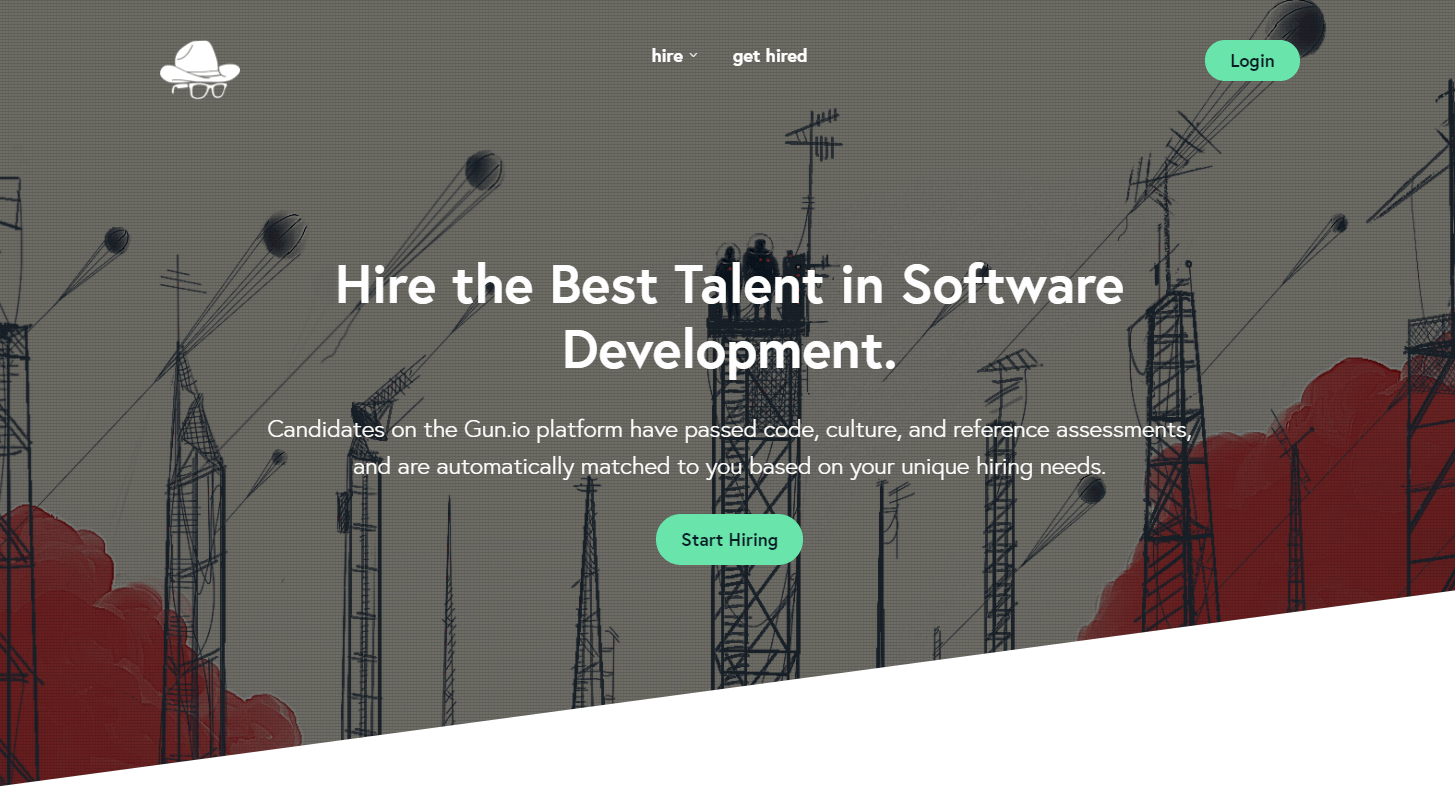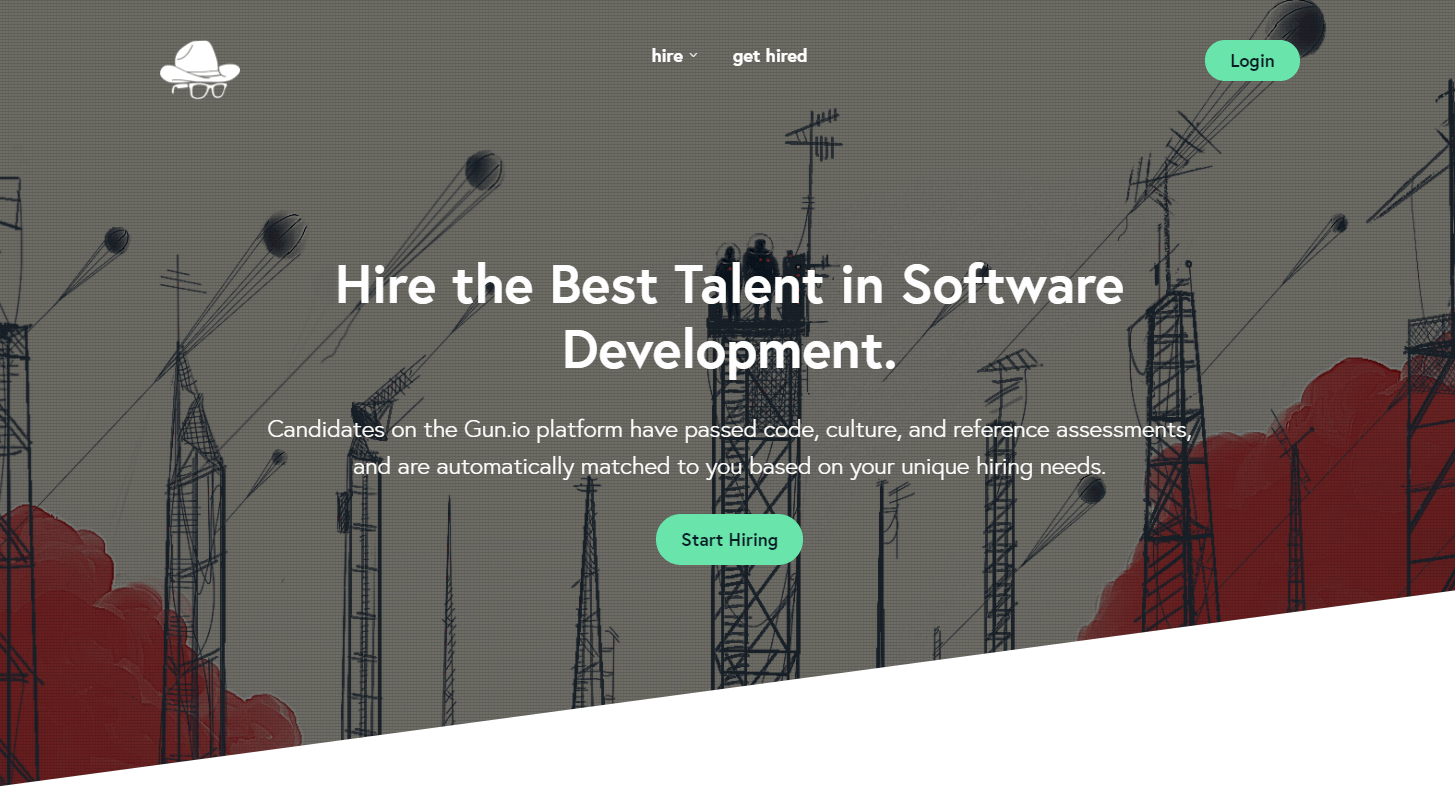 Types of listed jobs 📋
Full-time
Freelance
Part-time
Internships
Contract work
All development jobs
Gun.io has a focus on software development, and it offers screening, a job post area, and a review section to find the right person.
Freelancers then come to your page or listing and contact you through the portal.
Fees 💳
All fees happen after workers give quotes. There's no fee to list a job or find a job.
Go to Gun.io
Go to top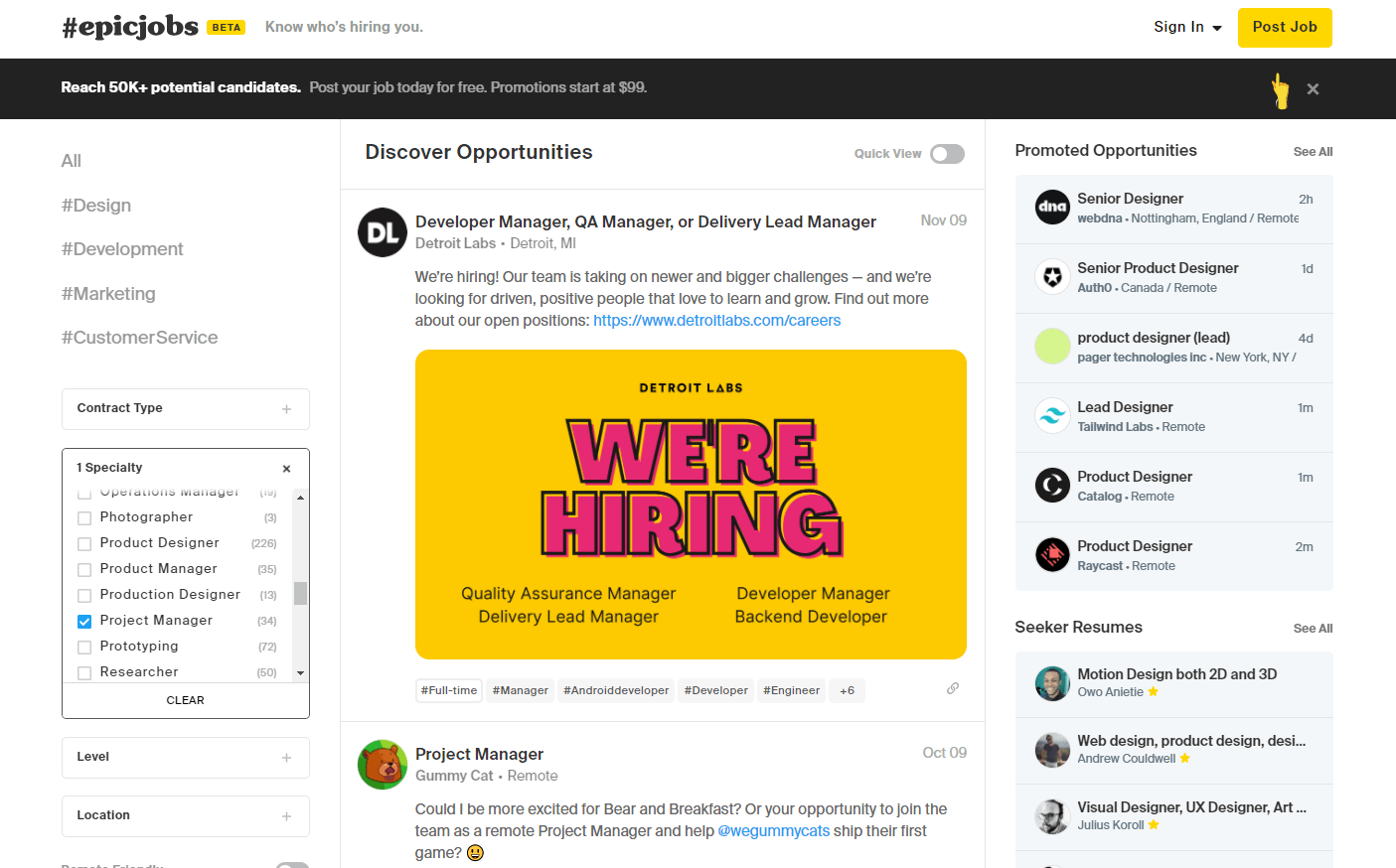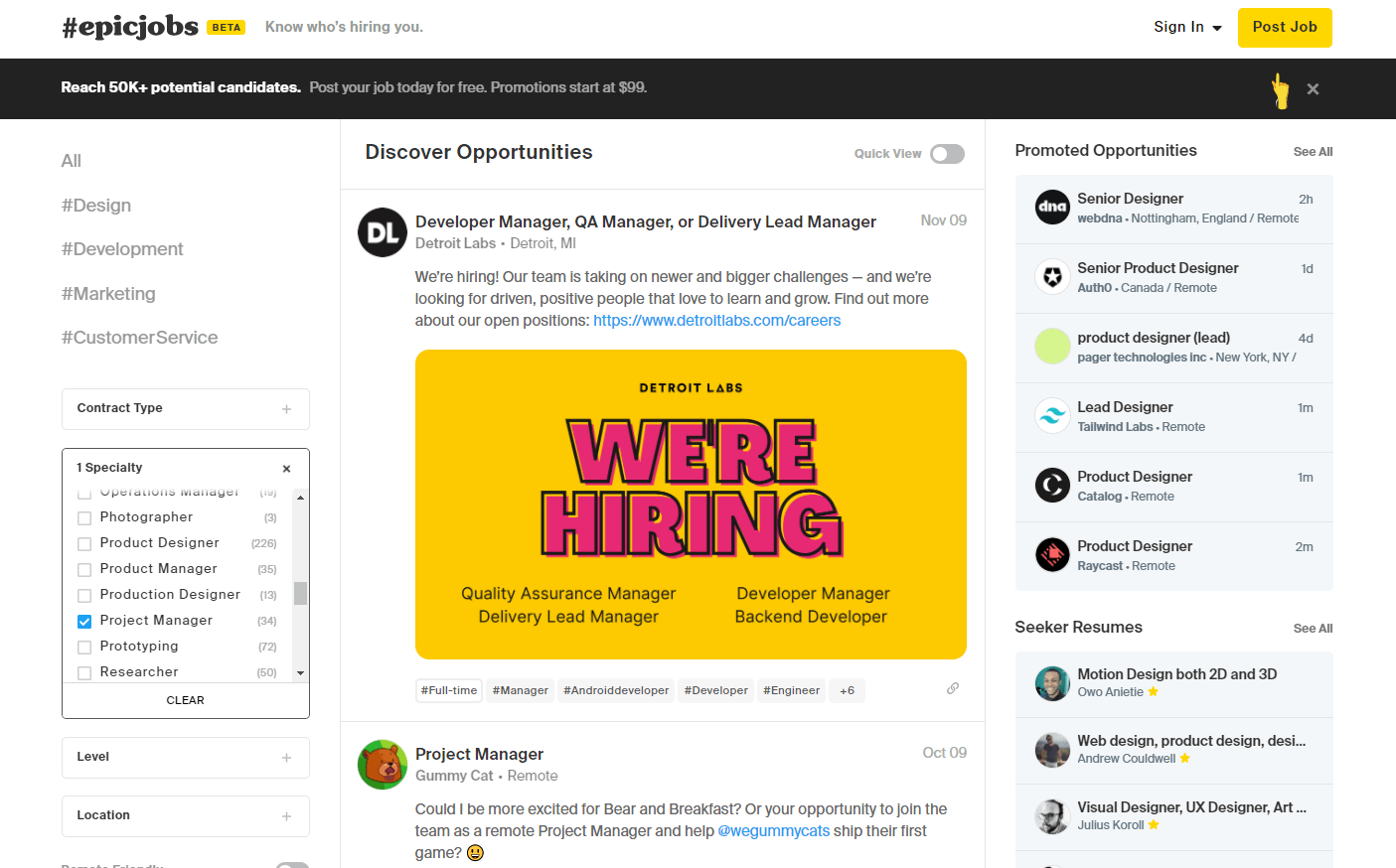 Types of listed jobs 📋
Full-time
Part-time
Freelance
Contract
Internships
All creative and tech-based jobs
The EpicJobs board functions much like a social network (very similar to Twitter) in that the jobs have hashtags and jobseekers look through a timeline of opportunities.
To post a job, you create a tweet, send it out to the network, and wait for people to reply.
Fees 💳
Tweets are free, with additional costs starting at $99.
Go to Epic Jobs
Go to top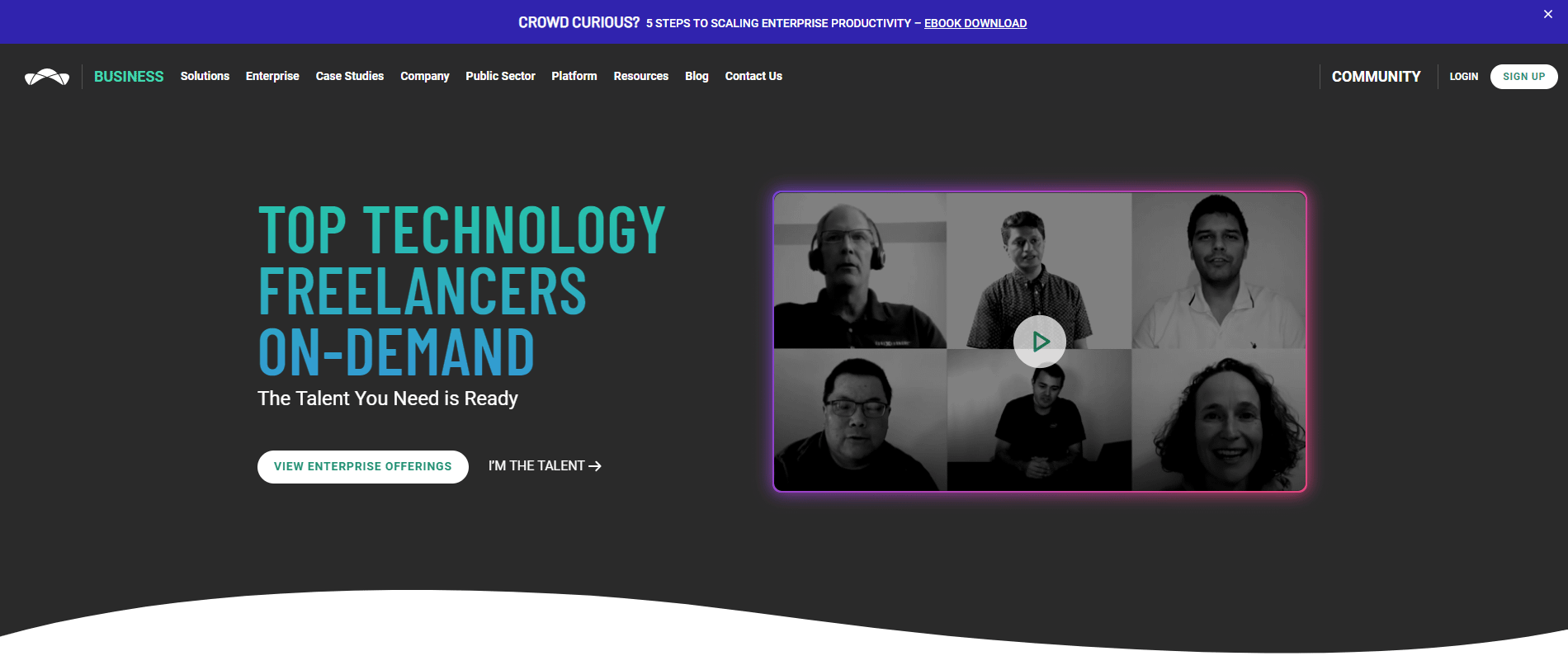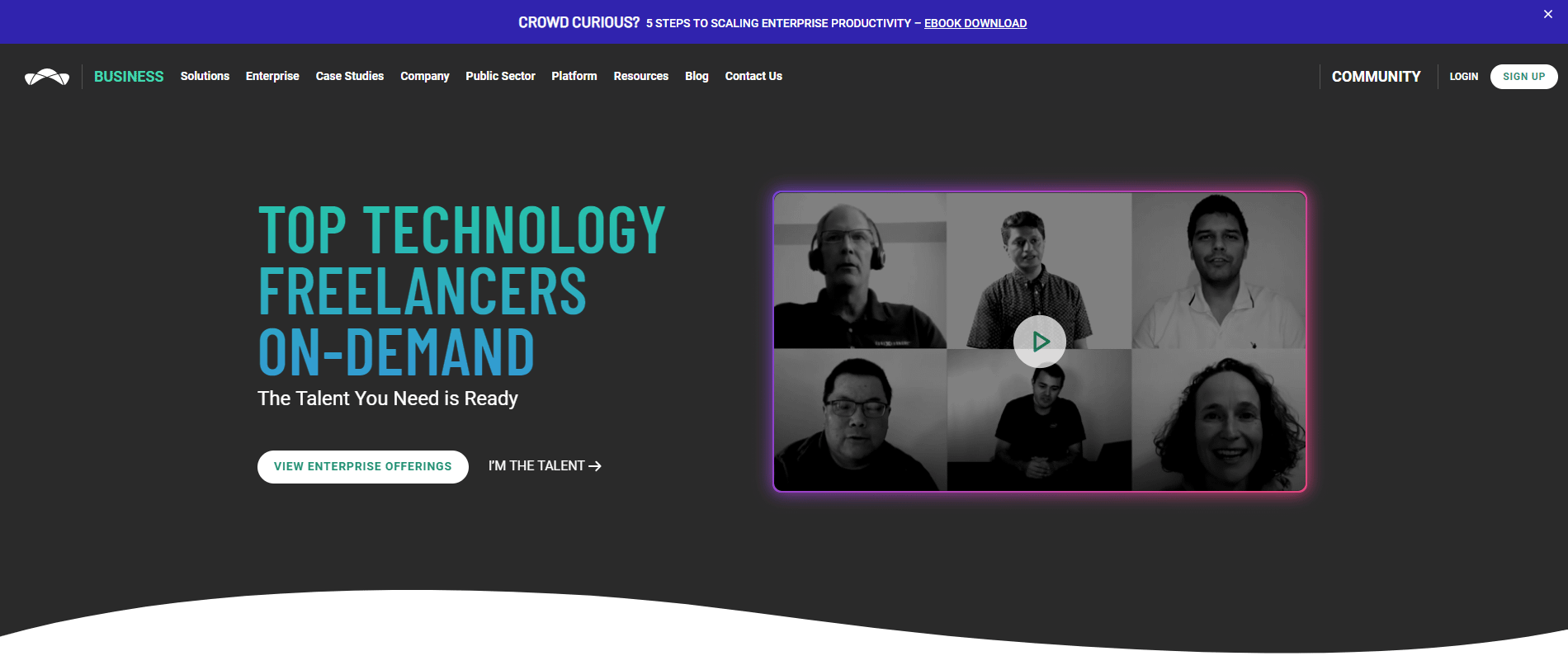 Types of listed jobs 📋
Freelance and contract
Some longer term jobs
Development
Design
Project managers
More tech-oriented jobs
The TopCoder site pairs you with tech-oriented freelancers, yet only when you need them. This way, you can look for a freelance project manager when the time is right. You can also speak with the sales team at TopCoder to set costs and find the best managers, data scientists, and developers.
Fees 💳
You must speak to the sales team to get a quote.
Go to TopCoder
Go to top
Types of listed jobs 📋
Full-time
Freelance
Internships
All web-based creative jobs
The Behance Joblist is best for freelance designers and developers, but it's in the right niche to locate a project manager as well, most likely in the creative space.
Outside of the standard job post, Behance offers a portal to save candidates, collaborate, receive recommendations, and make public posts about a job.
Fees 💳
As of right now, job listings and applications are free.
Go to Behance Joblist
Go to top
17. Problogger Jobs – find a freelance project manager for a content project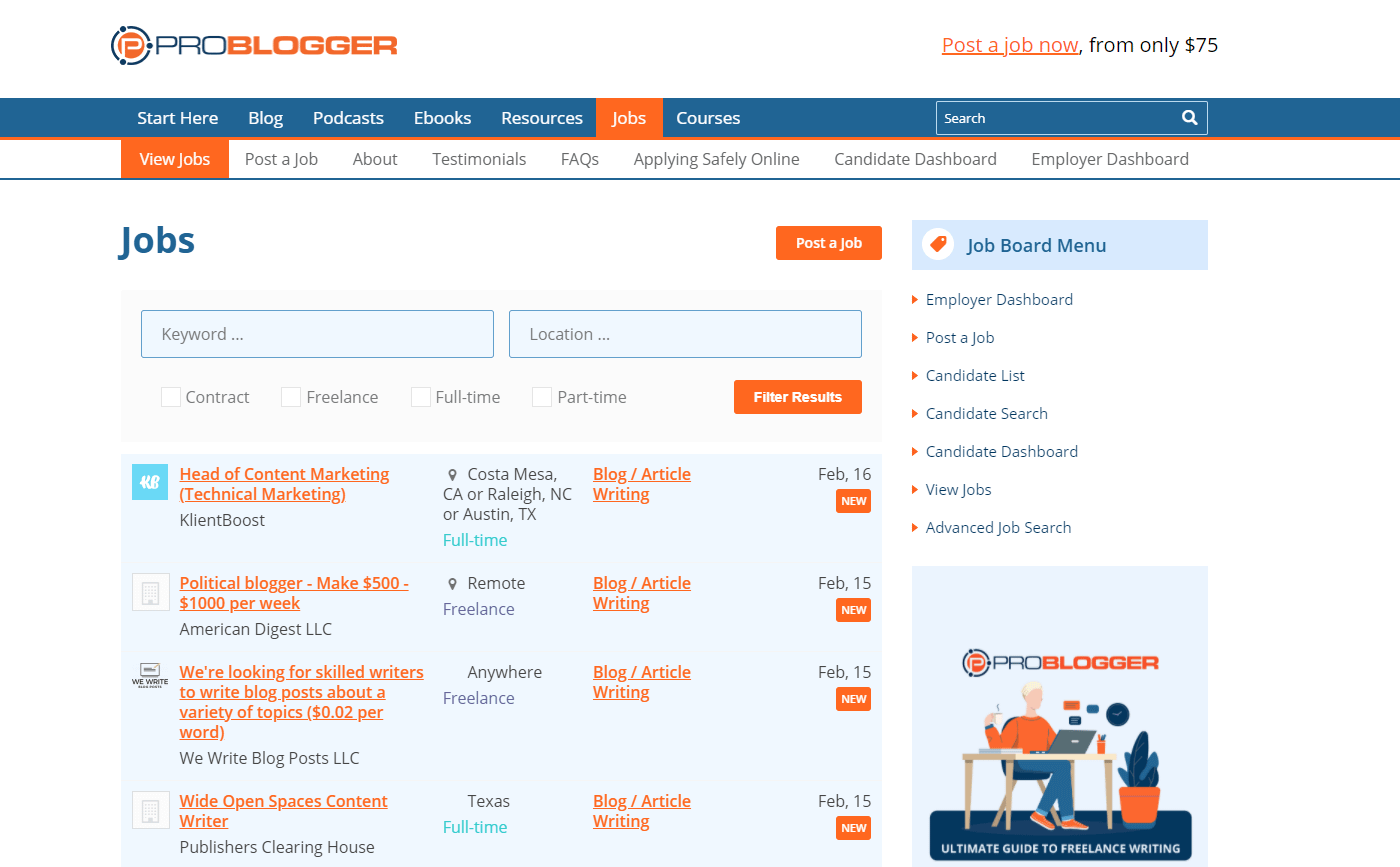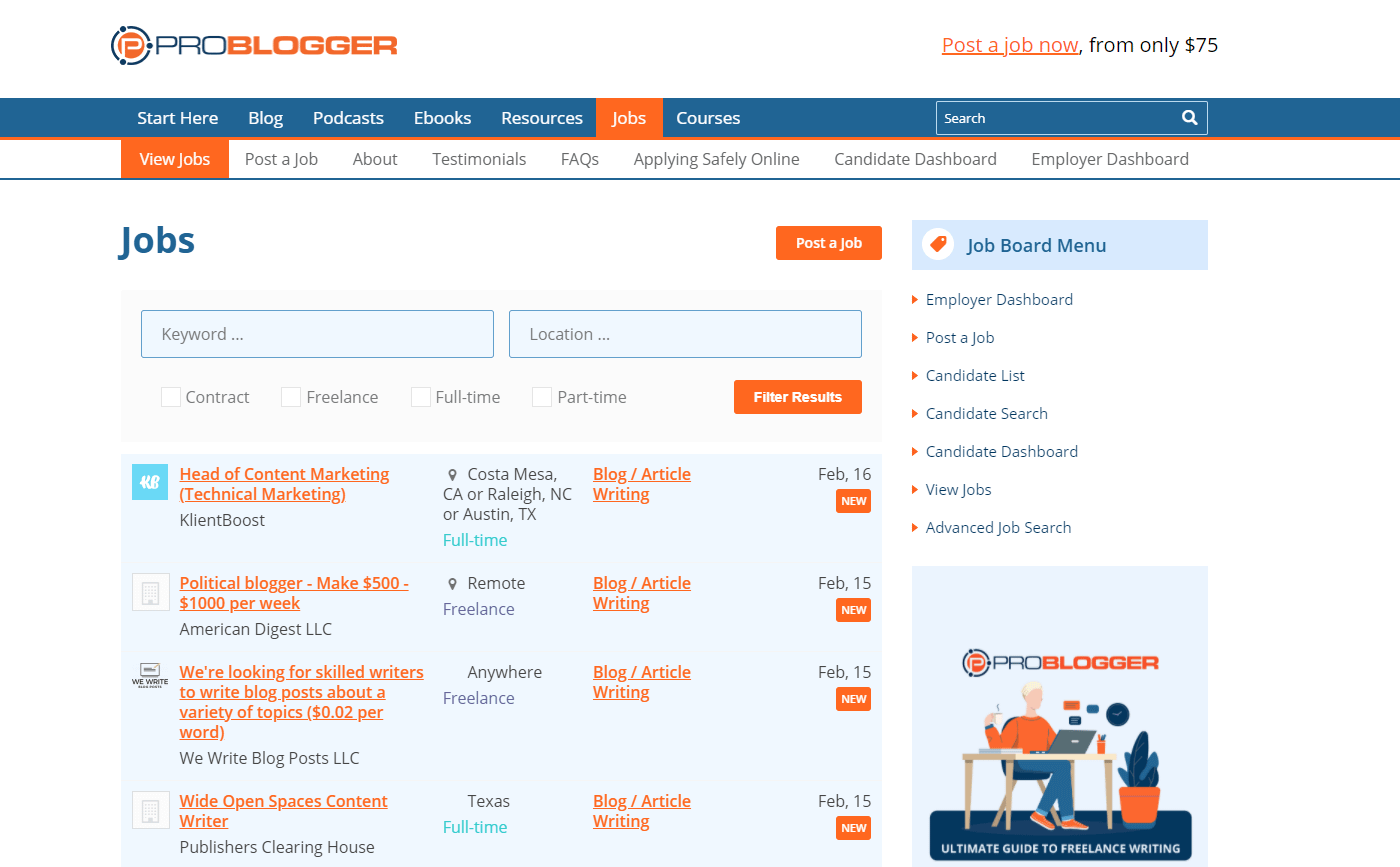 Types of listed jobs 📋
Freelance
Full-time
Part-time
Contract
Content creation and management jobs
Design and development
Problogger is the place to list your needs if you're looking for a content-oriented freelance project manager, like one for running a blog or handling an email marketing campaign.
Companies post their jobs, accept applications through their own site or through Problogger, and then start reaching out to job applicants.
Fees 💳
Job listings start at $75 for 15 days.
Go to ProBlogger Jobs
Go to top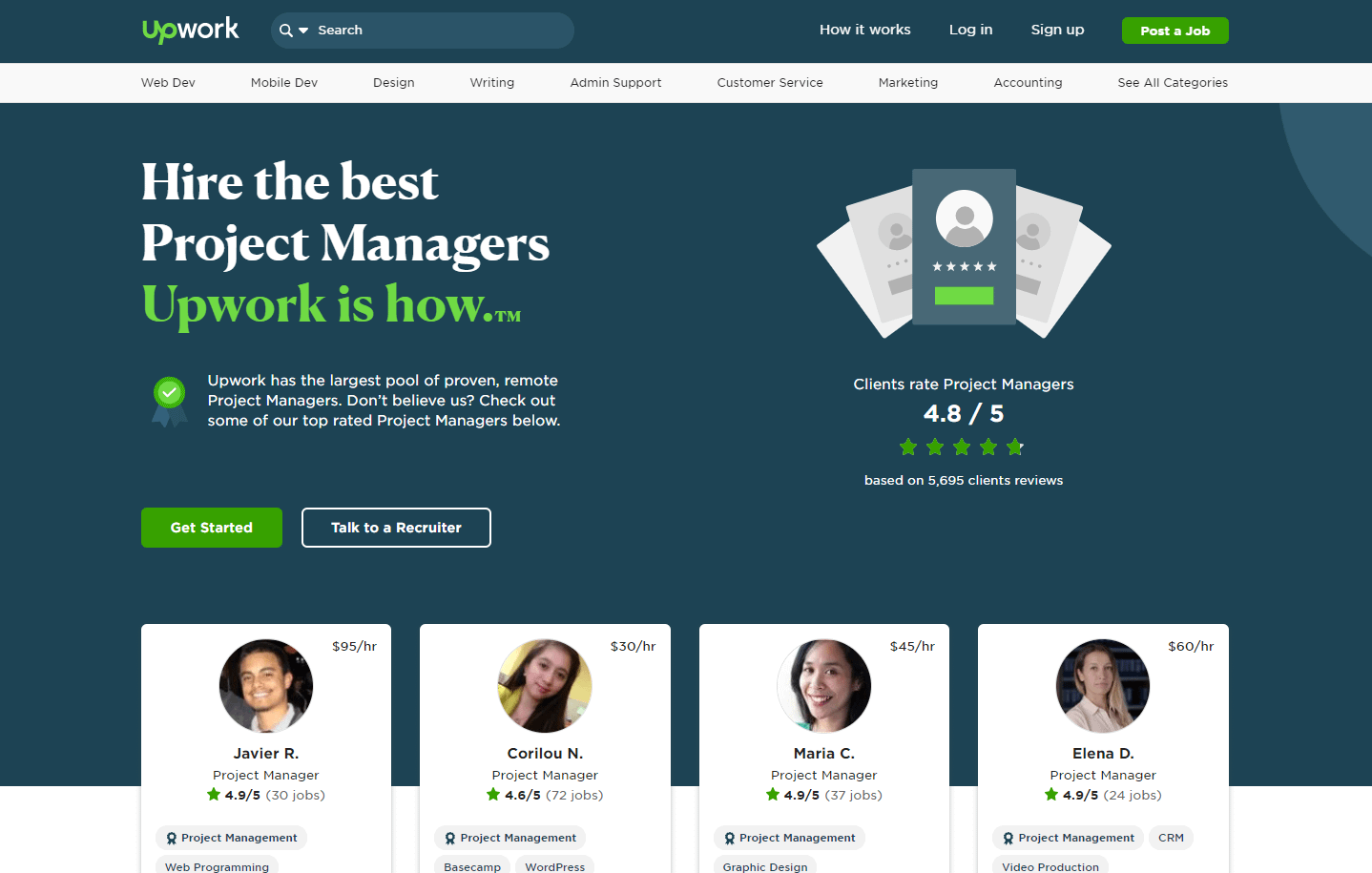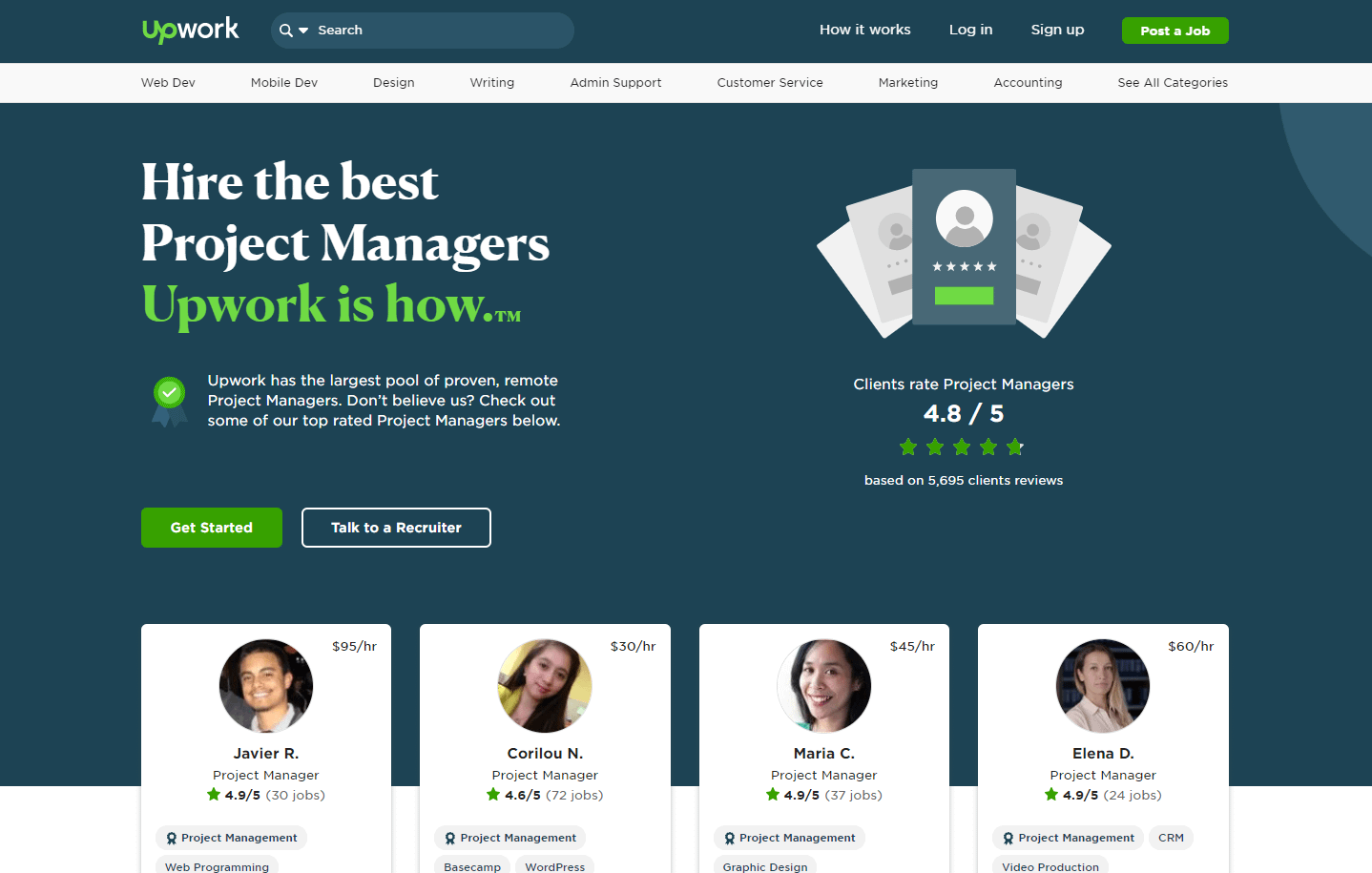 Types of listed jobs 📋
Freelance
Contract
Work-from-home
Part-time
All industries
Upwork serves as a full freelance worker management platform, with options to make job listings, have workers bid on those jobs, and manage everything from billing to project timelines in the Upwork dashboard.
Fees 💳
You pay 3% of whatever rate you agree upon with the freelance project manager. There's also a $49.99 Plus plan for more invites and other features.
Go to Upwork
Go to top
Share your thoughts on how to find a freelance project manager!
Let us know in the comments if you have any thoughts or questions about the best places to find a freelance project manager.
18 best #hiring platforms for finding your next #freelance #project #manager 👨‍💼
Click To Tweet
…
Don't forget to join our crash course on speeding up your WordPress site. With some simple fixes, you can reduce your loading time by even 50-80%: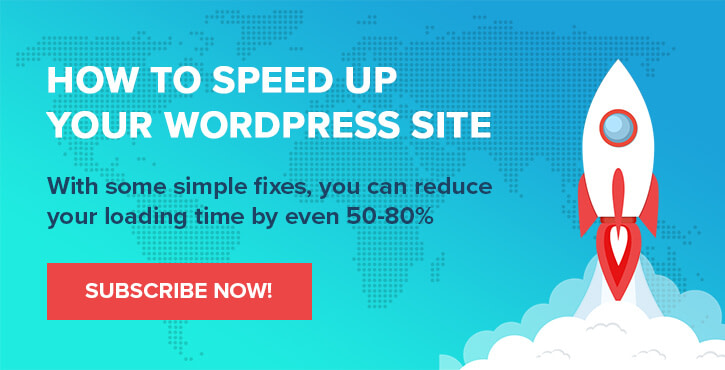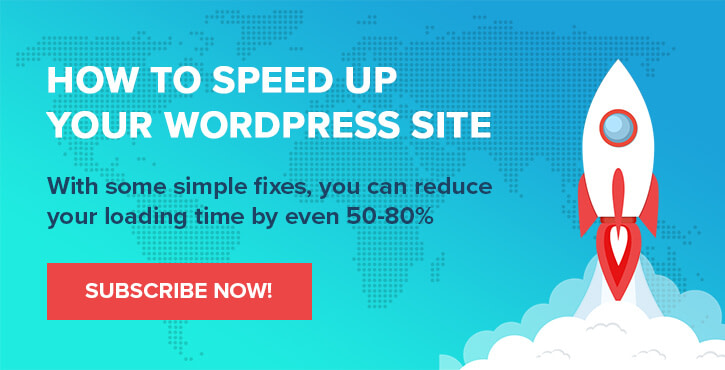 Layout and presentation by Chris Fitzgerald and Karol K.
Was this topic
helpful?
0% of users found this helpful