This is the February 2018 edition of "This Month in WordPress with CodeinWP." Hi everybody, ready for some cool WordPress news? I monitored what happened in the last month and picked the most interesting stories and articles from around the web, which I hope you'll enjoy.
In January, there was a lot of stuff going on and I had to narrow down the list a ton to end up with our usual 5-item format. So what are you going to read today? Birthday wishes for WordPress, a new security release and another one to come out very soon, a new bizarre tech-related newsletter, a toolkit that simplifies developers' hassles with Gutenberg, users' feedback about WordPress, plus many more interesting tutorials, guides, and tips from WordPress specialists in our community.
Welcome to the February 2018 edition of "This Month in WordPress with CodeinWP."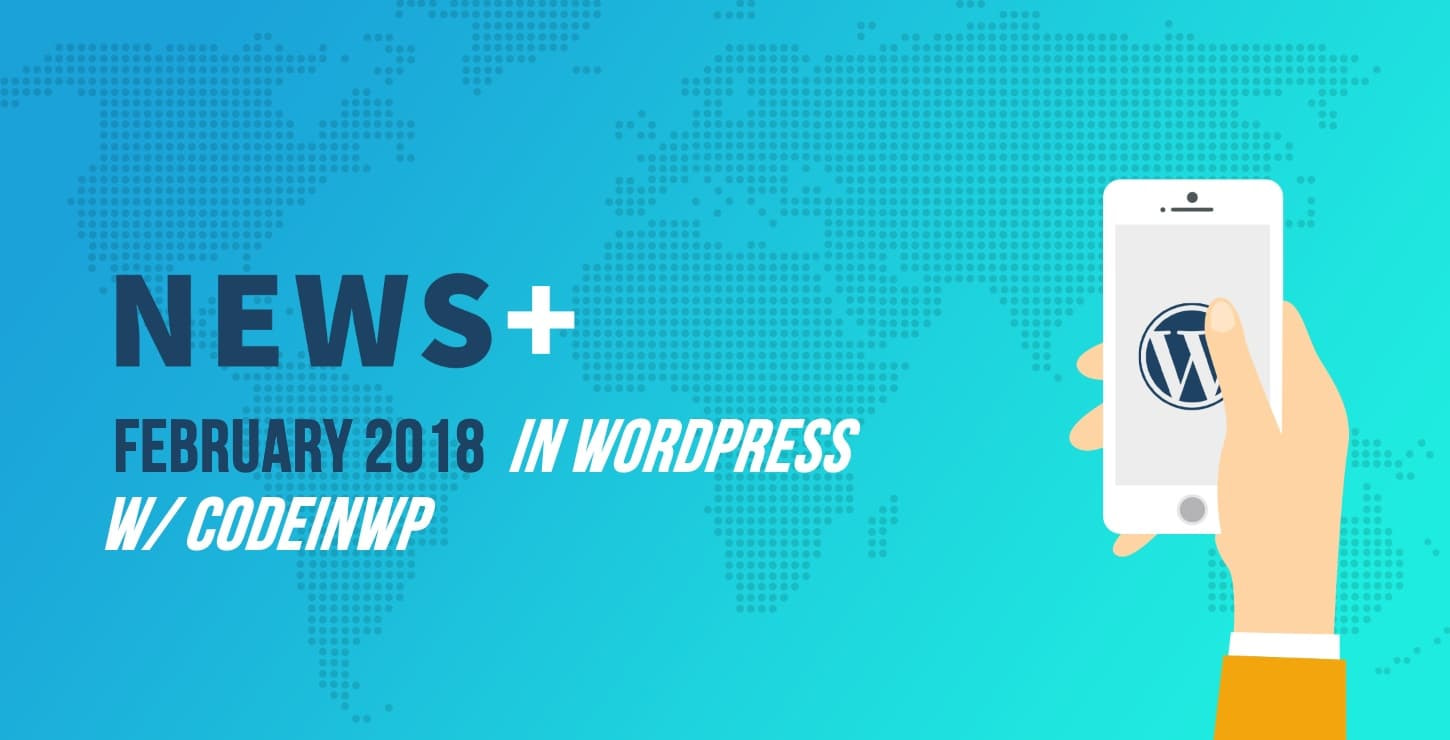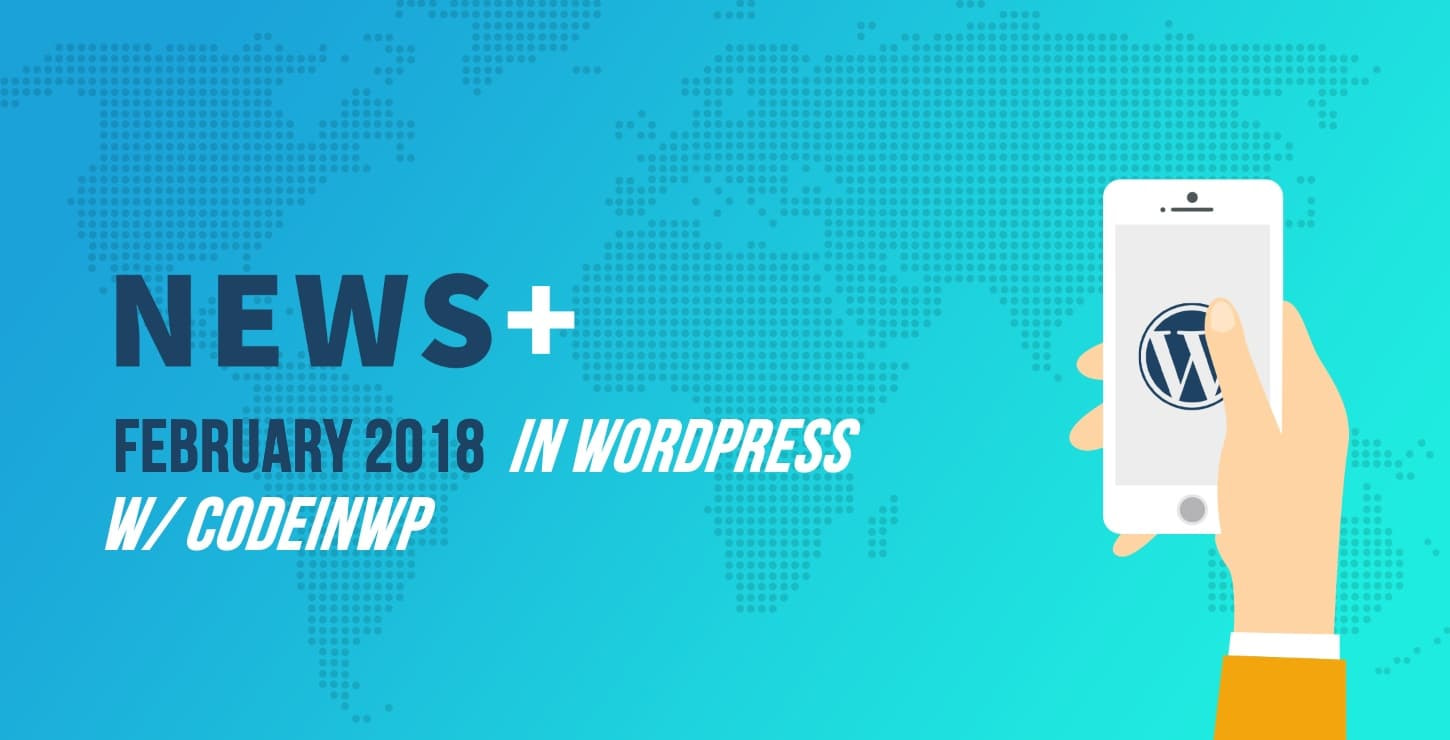 This Month in #WordPress With CodeinWP – February 2018
Click To Tweet
February 2018 WordPress News
WordPress Turns 15 Years Old
On January 25th, WordPress turned 15! Which is a lot if you look back and reflect on this from an outside perspective. It's been 15 years of continuous evolution in terms of technology and community. And things keep moving fast, in a consistent way: the development goes on daily and people work hard to keep the adventure alive.
Let's wish WordPress a happy birthday, but especially let's say thanks to all the people that ever contributed to its growth of any kind. So happy birthday to us all!
By the way, if you're curious to see the WordPress UI evolution from 2003 to 2018, we made a post about it here (it has pictures for each version).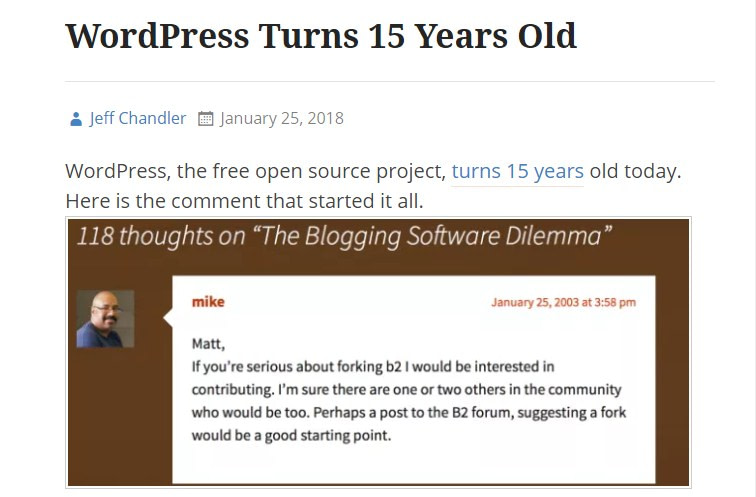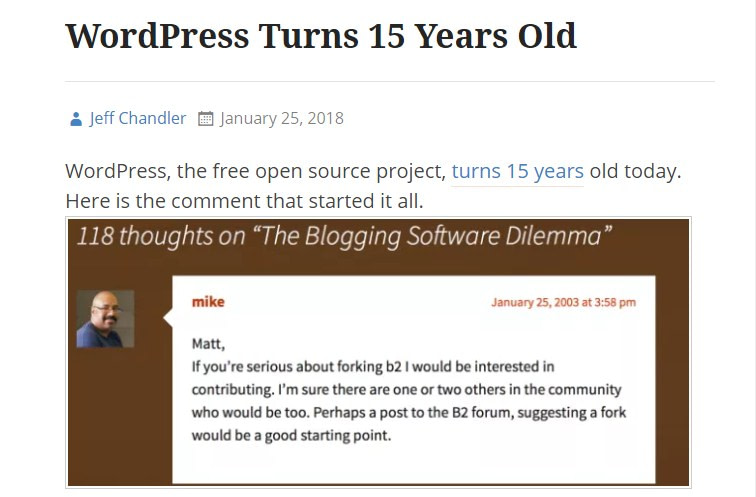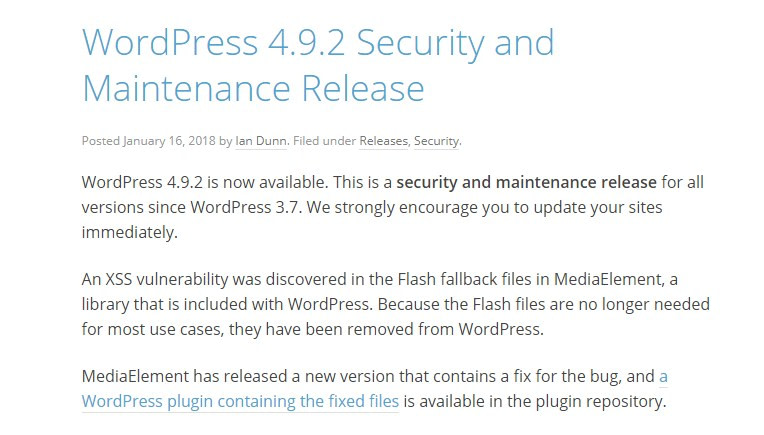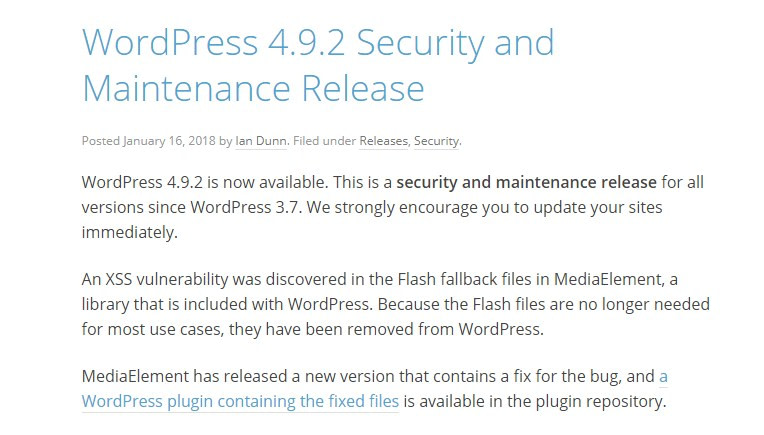 WordPress 4.9.2 Security and Maintenance Release
A new security and maintenance release is available this month, which fixes a cross-site scripting vulnerability in the Flash fallback files. These files were located in the MediaElement library and were deleted for good because they were very rarely needed for use cases.
Yet, if you are one of those people who need access to the Flash fallback files, MediaElement built a plugin called MediaElement Flash Fallbacks, so feel free to use it with confidence.
Additionally, the recent release solved another 21 bugs, most notably JavaScript errors that prevented saving posts in Firefox and a fix on themes – from now on, switching themes will attempt to restore previous widget assignments, even if there is no sidebar on the map.
And by the way, keep an eye on WordPress 4.9.3, which was supposed to go live as I was writing but it got delayed to February 5th.
Bizarro Devs – A weekly newsletter with the bad stuff found on the internet
If you're looking for a collection of great, comprehensive, funny, and weird articles – tech and WordPress-related – we just released Bizarro Devs, a project carefully curated by Chris Fitzgerald.
He does the hard work and you only get to see the result: a list of awesome stories right in your inbox, so you can have fun during job breaks or while waiting for the metro. We promise you won't get the usual, popular links as we're more into obscure yet cool stuff found on the internet.
If "Giant disco ball launched into space. Still not the worst crime of the disco era" sounds like something you would click on, then this newsletter is for you.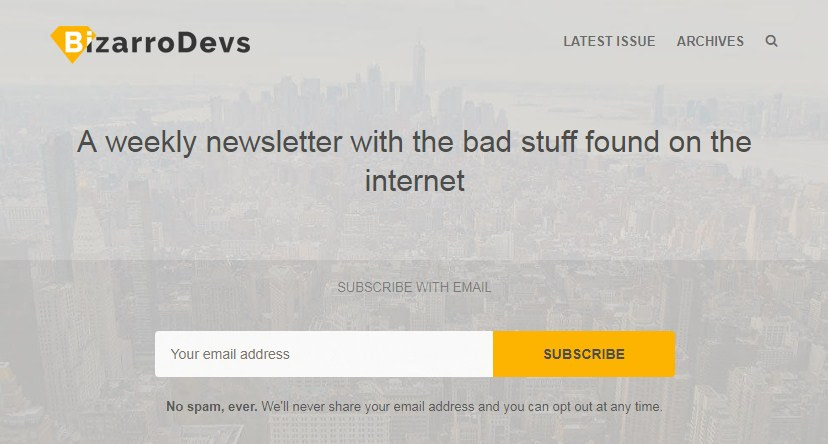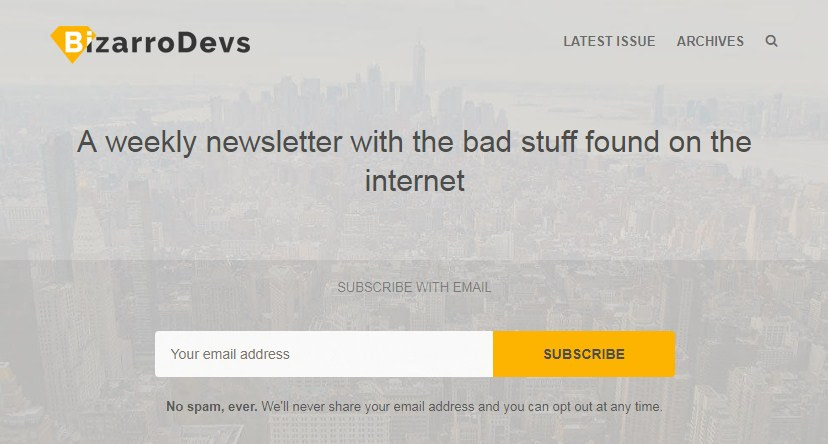 You may also be interested in: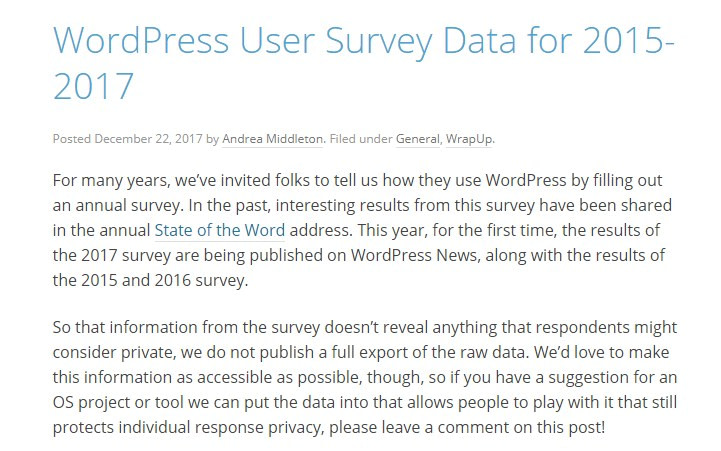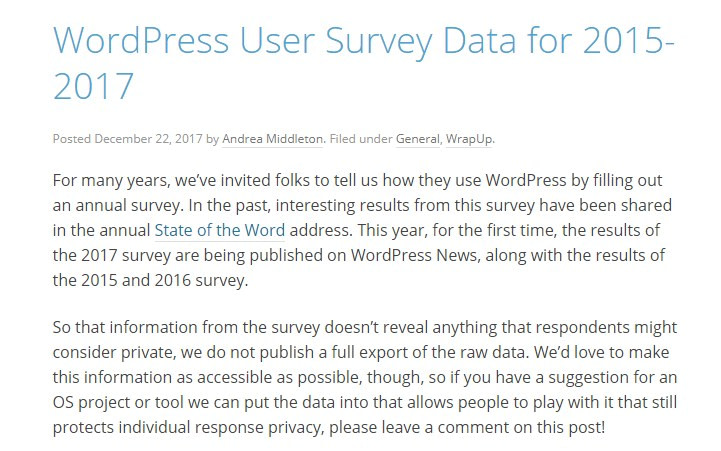 WordPress User Survey Data for 2015-2017
I remember filling out annual WordPress surveys but never seeing the results. Well, they're here finally. To quickly get you up to speed, the WordPress annual survey is released to the community and anyone who has/had at least the shortest interaction with the platform can answer the questions and offer their feedback based on their experiences.
The feedback was being discussed live at WordCamp US during Matt Mullenweg's State of the Word, but now you can view all of the results for yourself online. The page contains all the data collected since 2015 to present. If you dig in, you can actually find some interesting stats. For instance, 47% of the respondents of last year said the best thing about WordPress is its easy, user-friendly interface.
Create Guten Block Toolkit: Launch, Introduction, Philosophy, & More!
Ahmad Awais, one of the WordPress core contributors, recently released a Guten Block Toolkit that allows developers to create Gutenberg blocks easier without configuration and lock-in, and using one single dependency.
"Developers told me that they built Gutenberg blocks with ES5 because the amount of time required to configure, set up, and learn tools like Babel, Webpack, ESLint, Prettier, etc. wasn't worth it", the author said. So he quickly went for a solution that you can use if you're having the same issues.
It takes three steps to create the blocks with the toolkit: install Node (8 or higher) on a local server; run the create-guten-block command and give the plugin a name; run the NPM start command which runs the plugin in development mode.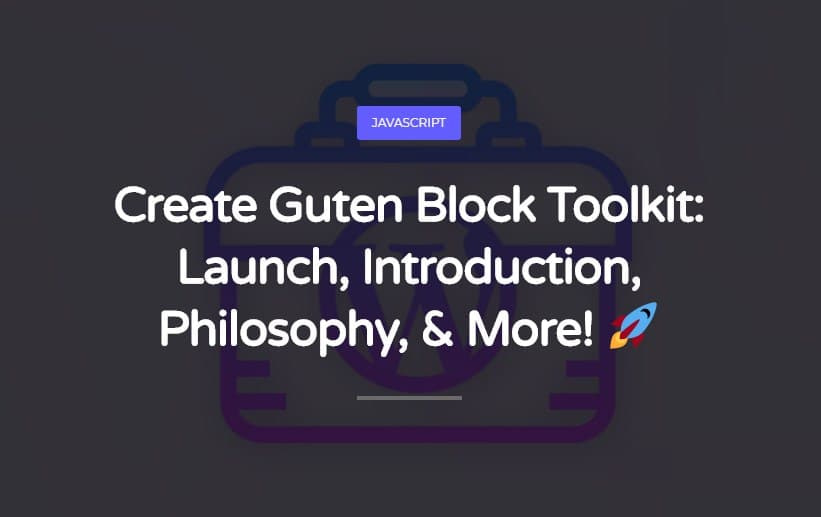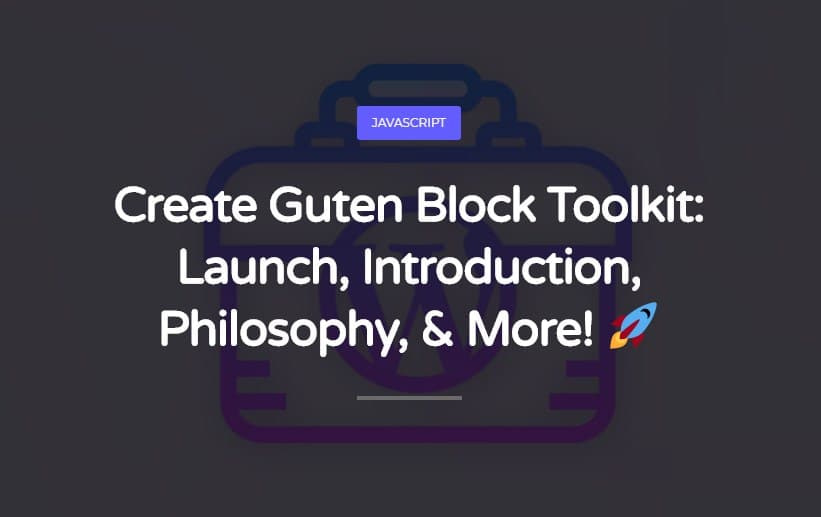 Great Articles From Around The Web
A Collection of Gutenberg Conversations, Resources, and Videos
If you want to keep yourself up to date with what's going on in the Gutenberg world, you should check out this roundup by WP Tavern. With Gutenberg Version 2.1 now released, there's even more things to be excited about.
How to Accept Bitcoin on WordPress – Your Step-by-Step Guide
Bitcoin, cryptocurrency, blockchain… I bet these were the most popular words in 2018 so far. But is there any connection with WordPress? It could be because you can implement this new currency into your WordPress site or shop.
WordPress Web Design Trends You Need to Know for 2018
Ok, so cryptocurrency is THE big thing that's happening right now. But what about design? What should we expect this year? "Adventurous color palettes, rule-breaking typography, hand-drawn graphics, augmented reality/virtual reality…", says WPMU DEV.
Desktop Blogging Software, The Ultimate List
Writers often work from places other than their homes or offices. Sometimes, you start working on a piece but you don't have the proper internet connection or the time to go online and face various other obstacles. You can simply turn on your laptop, open an app on your desktop, and start writing. It's way simpler. Here are a few nice desktop blogging software options to begin with.
Pinterest Marketing Tips and Strategies for WordPress Users
Pinterest is not only a platform where you get engagement for your creative works. You can actually sell on Pinterest. But only if you know where to post your products and how to get exposed to a large audience. Here's how to use the platform on your WordPress blog for marketing purposes.
Doing Keyword Research for Your WordPress Site [2018 Guide]
Here's a comprehensive tutorial on how or where to look for the most relevant and efficient keywords to use on your site. If you don't know much about this topic, this post has everything explained – metrics, tools, graphs, grouping, and strategy. How to Create Email Drip Campaigns for WordPress
People never give up on email marketing, do they? I mean, every company uses newsletters to promote their products because email is used by all the people in the world (or at least it should be) and creates a bond between the brand and the client. Moreover, it's easy to manage and afford. But this is not about why email is still a good solution for marketing but more about how to use it efficiently. So here's WPExplorer advice on how to create email campaigns that work.
Dedicated IP Address vs Shared IP Address (Debunking Myths)
What's the difference between a dedicated IP and a shared IP? Why there are two of them in the first place? Which leads to another question… Why do you need a shared IP when you already have one that's only assigned to you? By reading Kinsta's guide, you'll be able to understand better.
Tutorial: Create a WooCommerce Restaurant Ordering System to Order Food Online
If you have a restaurant or catering service aiming for home delivery food, you can set everything up easily in WordPress using WooCommerce. If you read this tutorial, you will learn how to integrate the system.
5 Biggest Mistakes You Probably Make Managing Ads on WordPress
A lot of things can go wrong when you're creating an ad without knowing much about how to do it: wrong keyword match and grouping, negative keywords omission, low-quality logos and images, wrong target audience… Give this article a look to prevent these things from happening.
Video SEO – What You Can Do Better
If you can do SEO for your blog content, you can do it for videos as well. Through the right tool, you can search for the keywords your competitors are using, the length of their videos, and useful analytics. But read the post above to find out more details.
Buiding Trust Online – 11 Reasons People Don't Trust Your Site
Unless you're a big national or global brand and you don't need to take it from scratch, you should definitely build a website that speaks to your clients somehow. The online presence matters more than you think. If people see un-updated, old, and poor design and content, they will assume your services will be the same. So invest in your website first and then expect the clients to come in.
That's it for February 2018. Anything we missed?
This Month in #WordPress With CodeinWP – February 2018
Click To Tweet
Don't forget to join our crash course on speeding up your WordPress site. With some simple fixes, you can reduce your loading time by even 50-80%: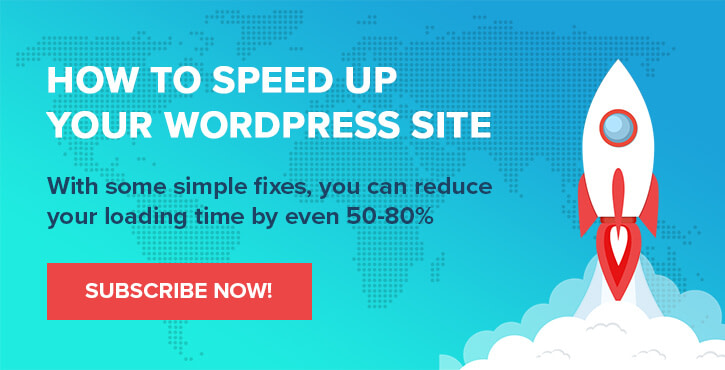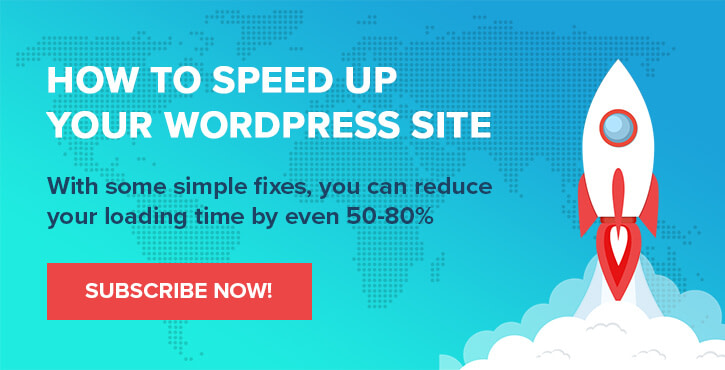 Was this topic
helpful?
0% of users found this helpful