If you want to build your own website, then you know about WordPress. What you might not know is how significantly WordPress UI has evolved since its humble beginnings in 2003. What once started as a simple blogging platform is now the most popular website management system of them all, running more than 40.6% of the entire web.[1]
What's more, it is used not only by small business owners, bloggers and people in the web development ecosystem, but also by some of the biggest celebrities and brands out there.
Though, I'm not entirely sure Beyonce is actually aware that she has WordPress running her site, but I digress! Back on topic:
Anyone who has tried setting up a WordPress site knows very well what the platform is capable of nowadays. But what about those early versions? Do you even know what WordPress 0.7 used to look like? Or, when WordPress actually started looking like the WordPress we know now?
Let's answer these questions today. Here's a rundown through all of the major versions of WordPress to see how the WordPress UI has been evolving over the years.
The evolution of WordPress UI – 2003 to now
I tried getting and installing every version of WordPress from the official archive, but that turned out much more difficult than it might at first seem.
Long story short, modern PHP and web servers aren't exactly compatible with those early versions of WordPress (or, rather, it's the other way around).
Anyhow. After a number of custom modifications to the WordPress installer files, server tweaks, and who knows what else, I managed to get most of the major versions of WordPress up and running! Here's the evolution of WordPress UI:
TL;DR: Would you rather see a quick video? Suit yourself:

Watch this video on YouTube
The Evolution of the #WordPress #UI (2003 to now) 📃📃📃
Click To Tweet
WordPress 0.7 – where it all started – May 27, 2003
Release post. This is where it all started. Not much going on yet, though.
WordPress 1.0 "Miles" – January 3, 2004
Release post. Permalinks, multiple categories, comment moderation, all that and more we got in WordPress 1.0.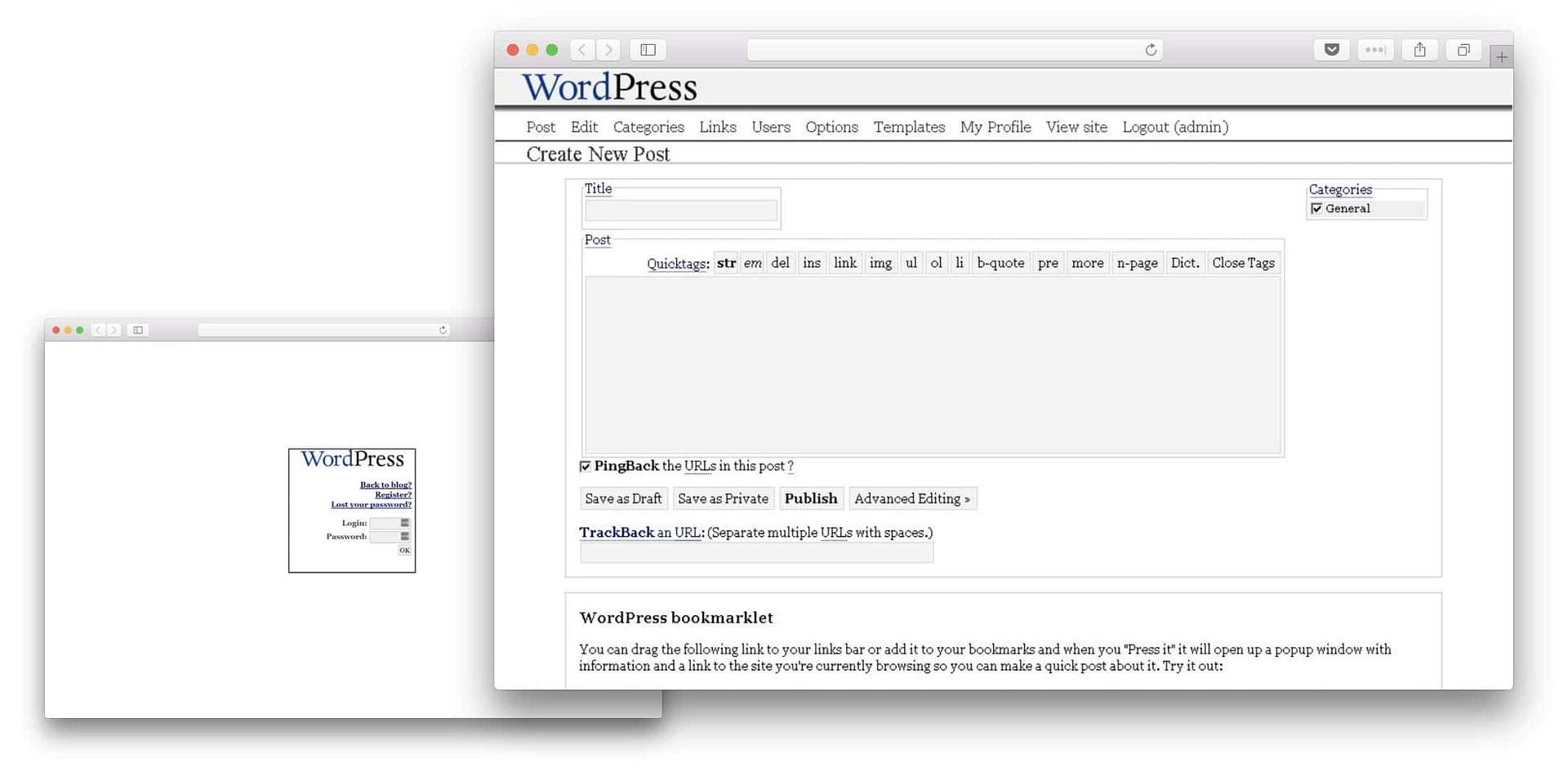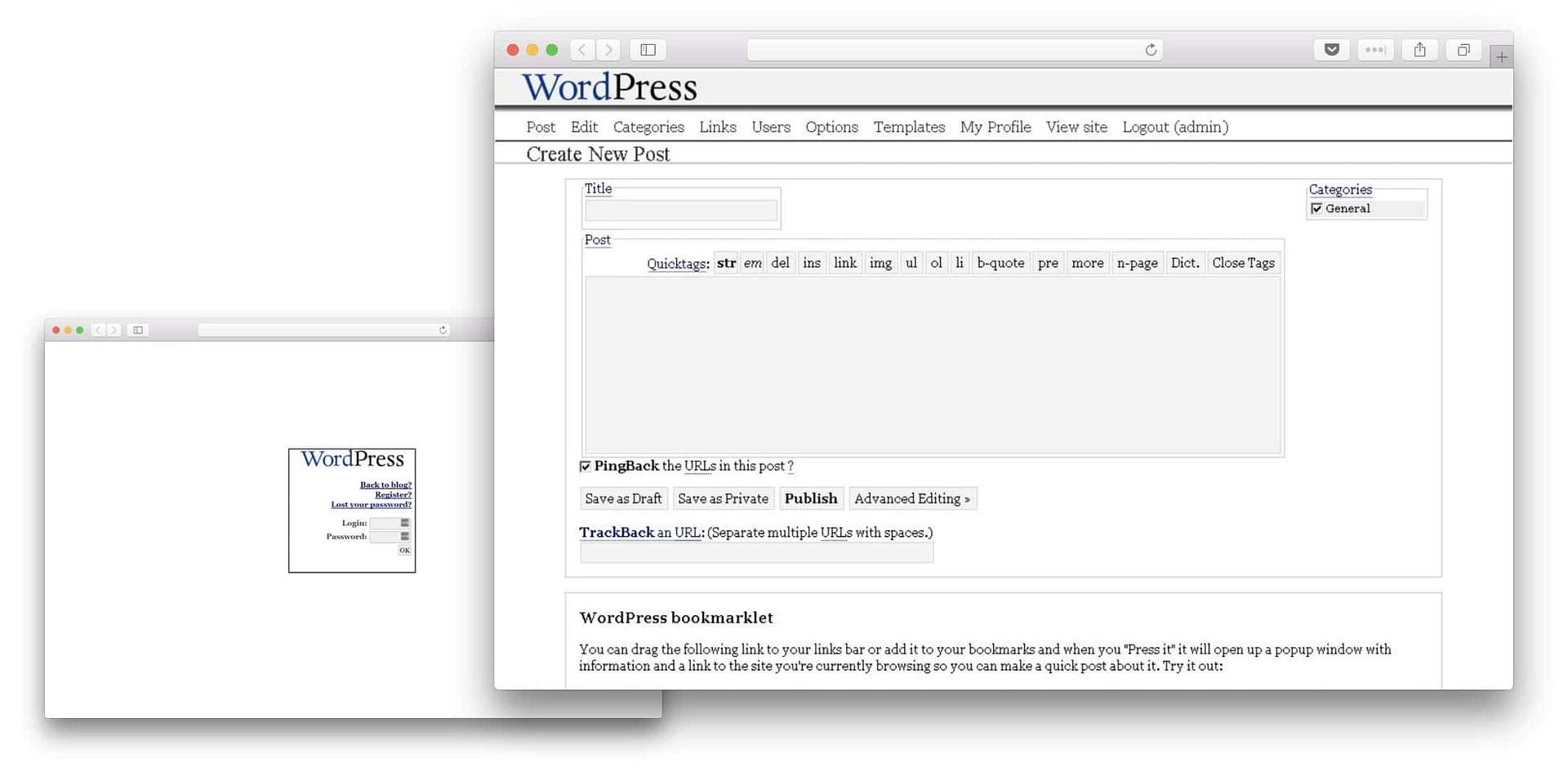 You may also be interested in:
WordPress 1.2 "Mingus" – May 22, 2004
Release post. WordPress 1.2 brought us plugins! Also, sub-categories and post previews.
WordPress 1.2 MANAGEWordPress 1.2 WRITEWordPress 1.2 LOGIN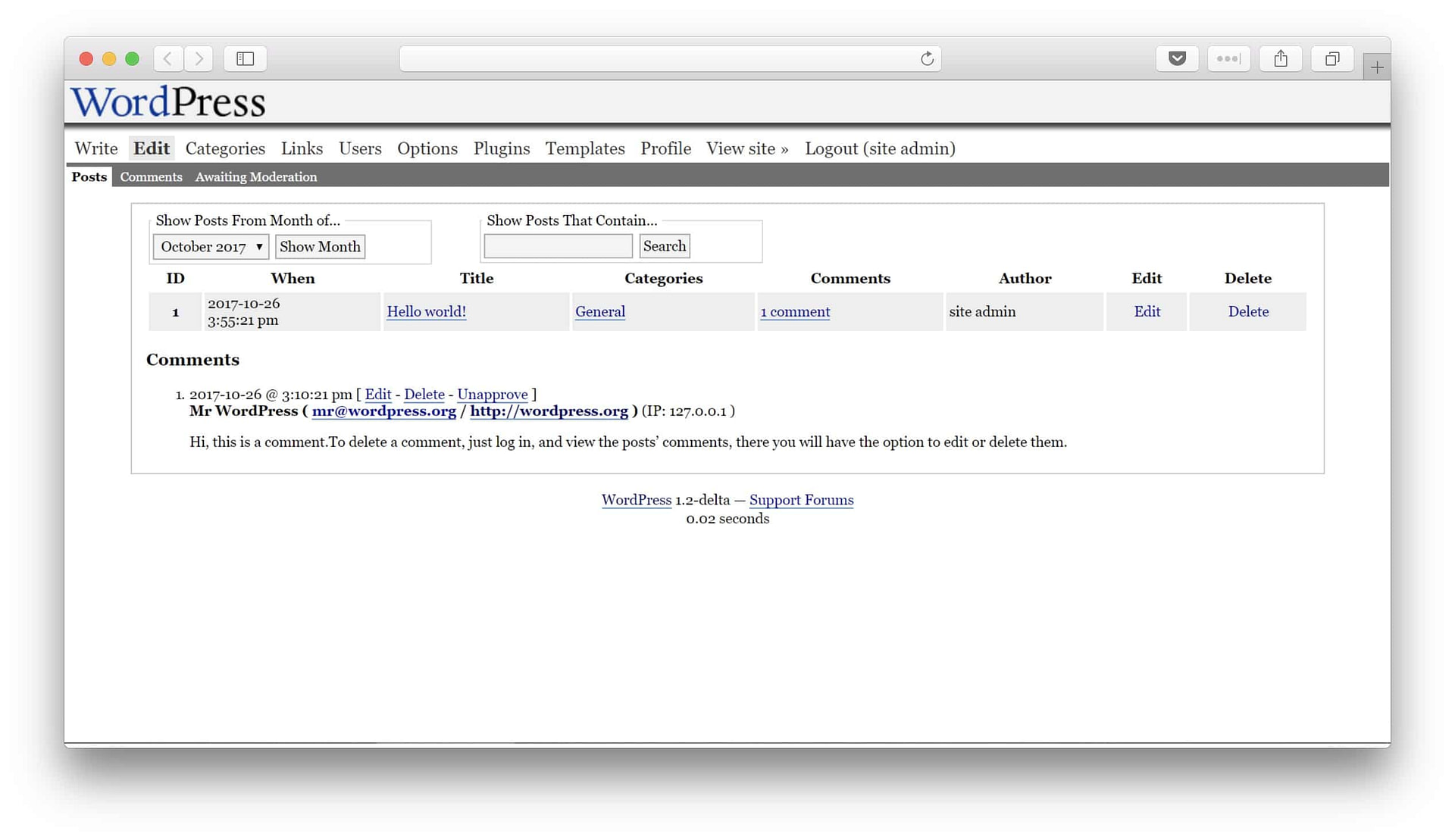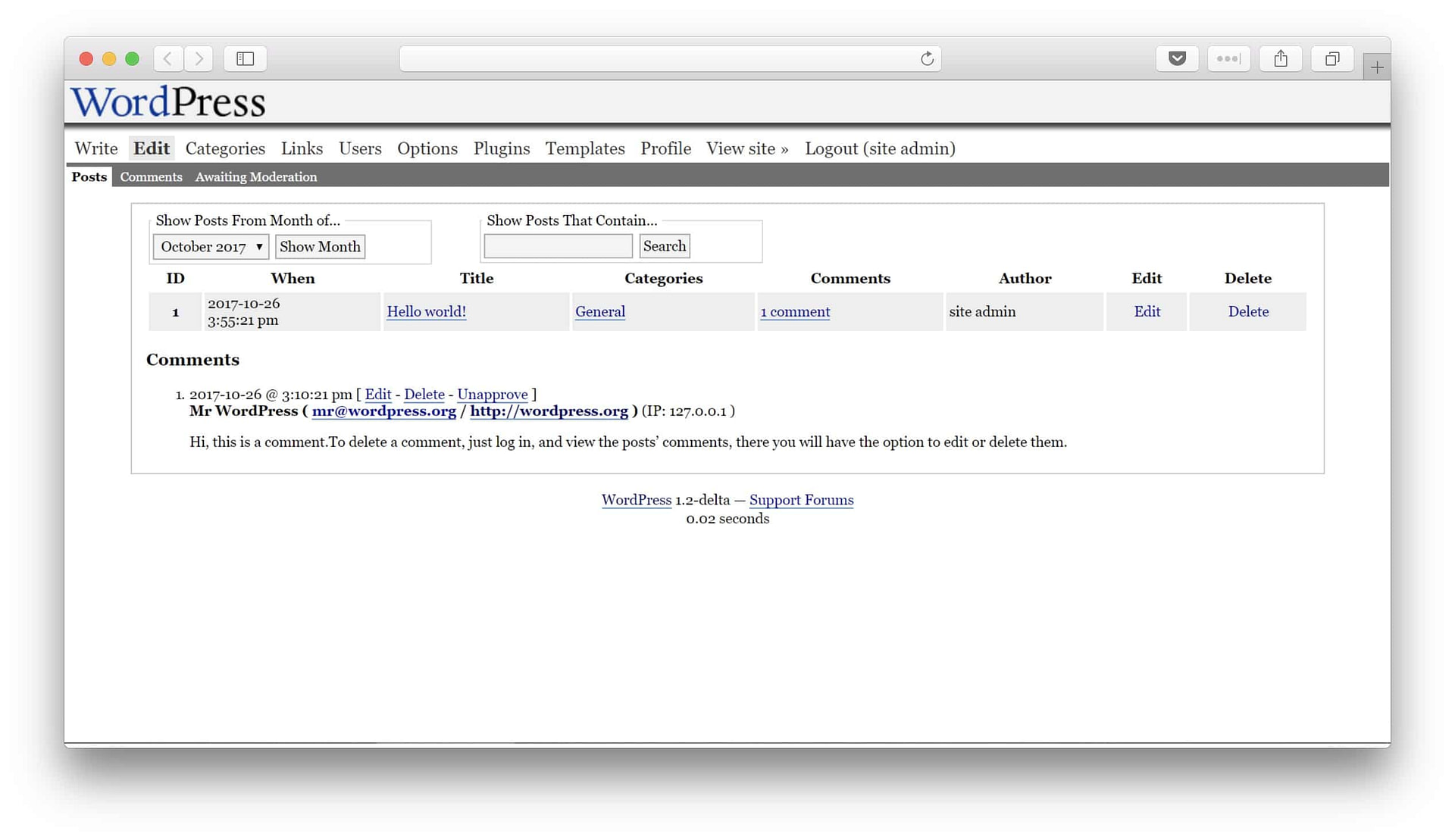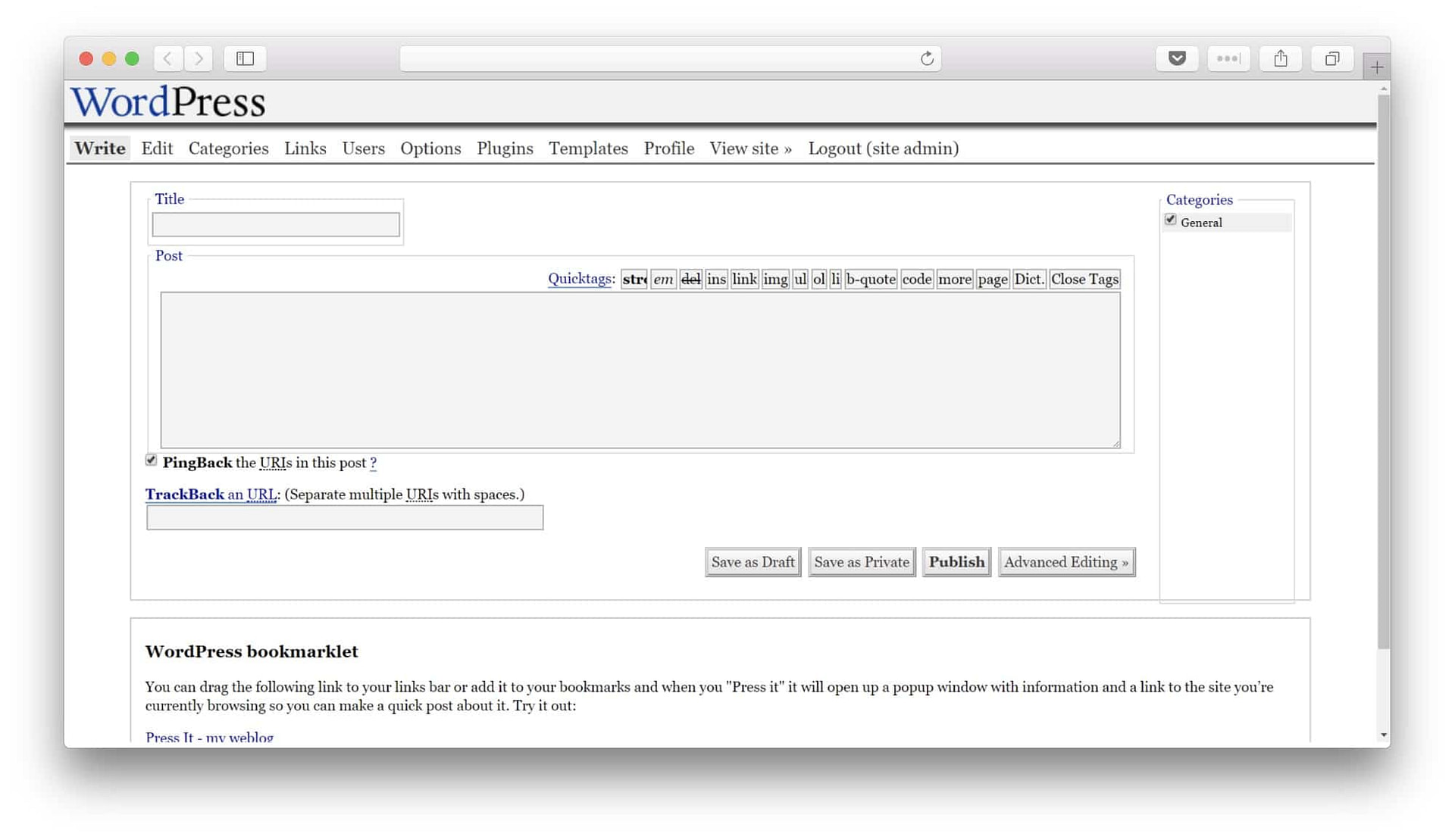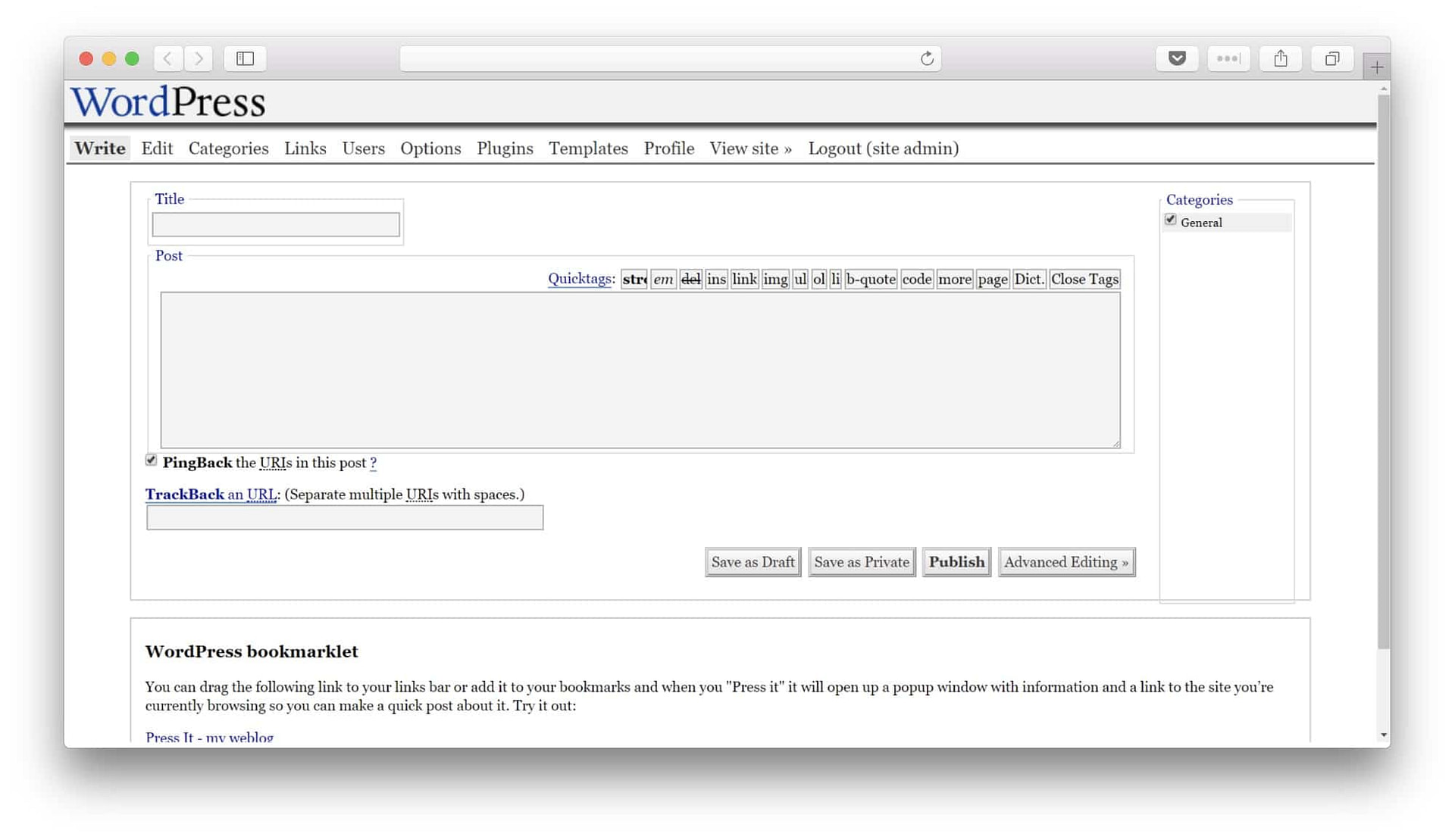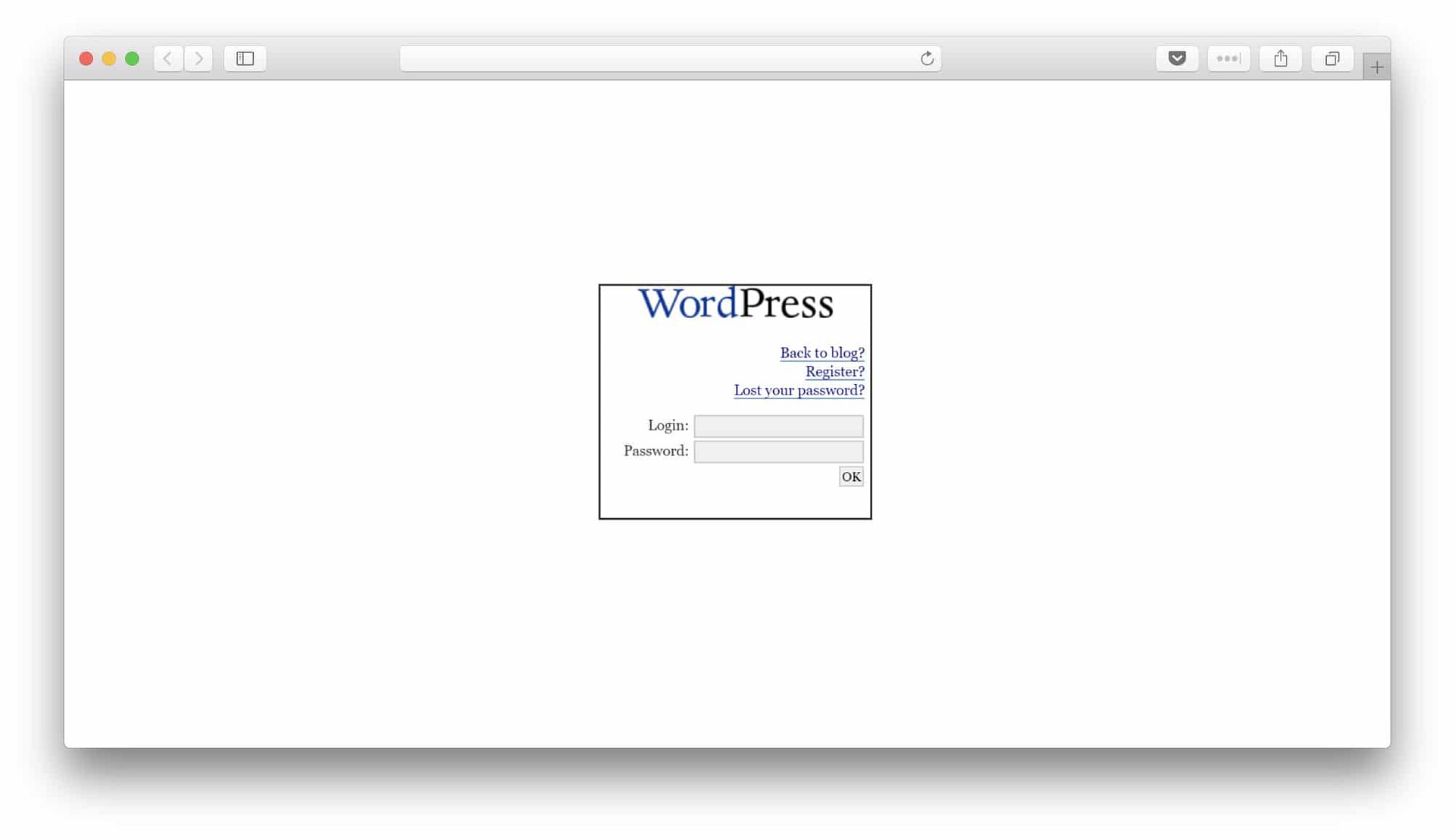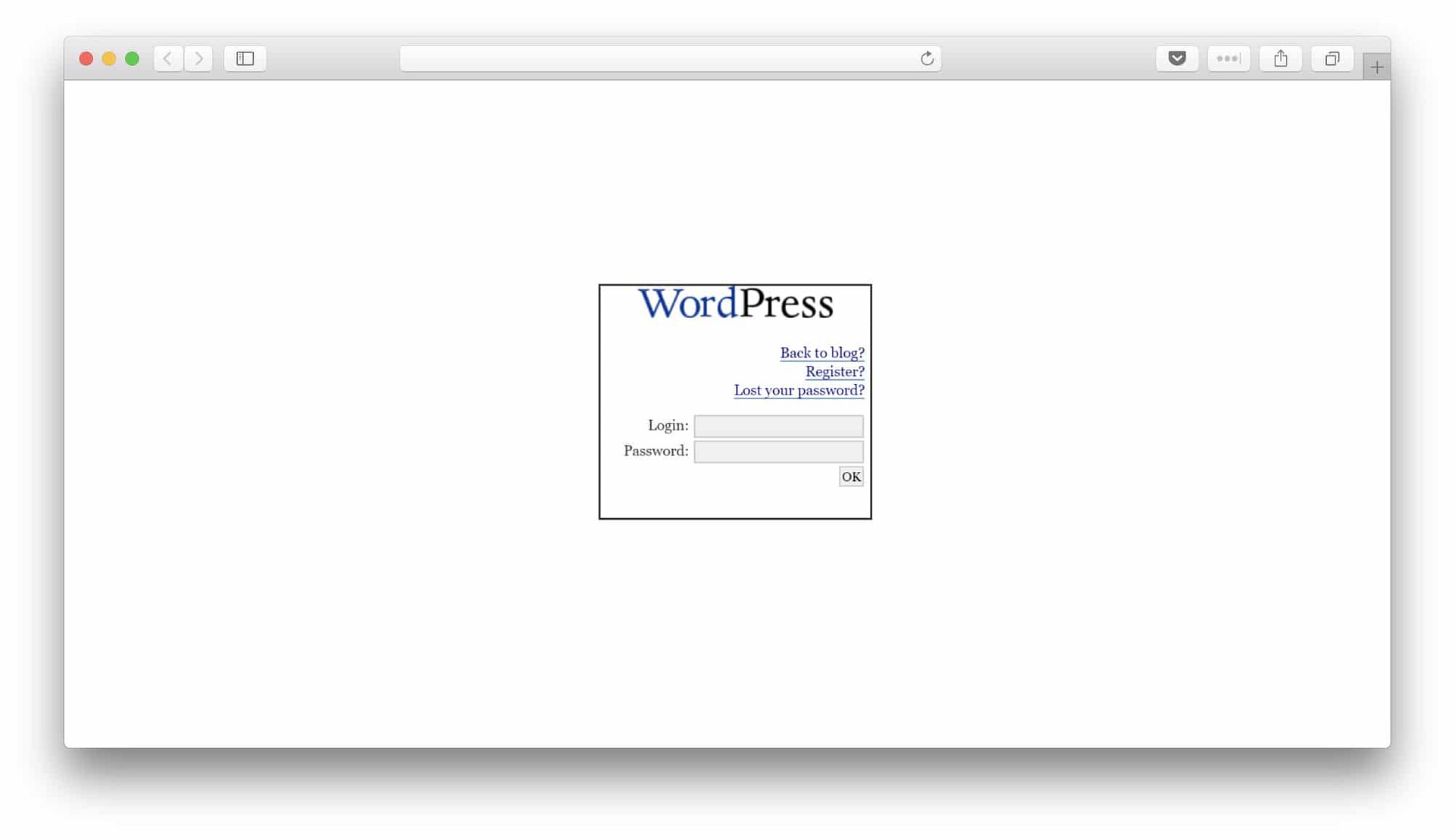 WordPress 1.5 "Strayhorn" – February 17, 2005
Release post. The introduction of themes!
WordPress 1.5 DASHBOARDWordPress 1.5 MANAGEWordPress 1.5 WRITEWordPress 1.5 LOGIN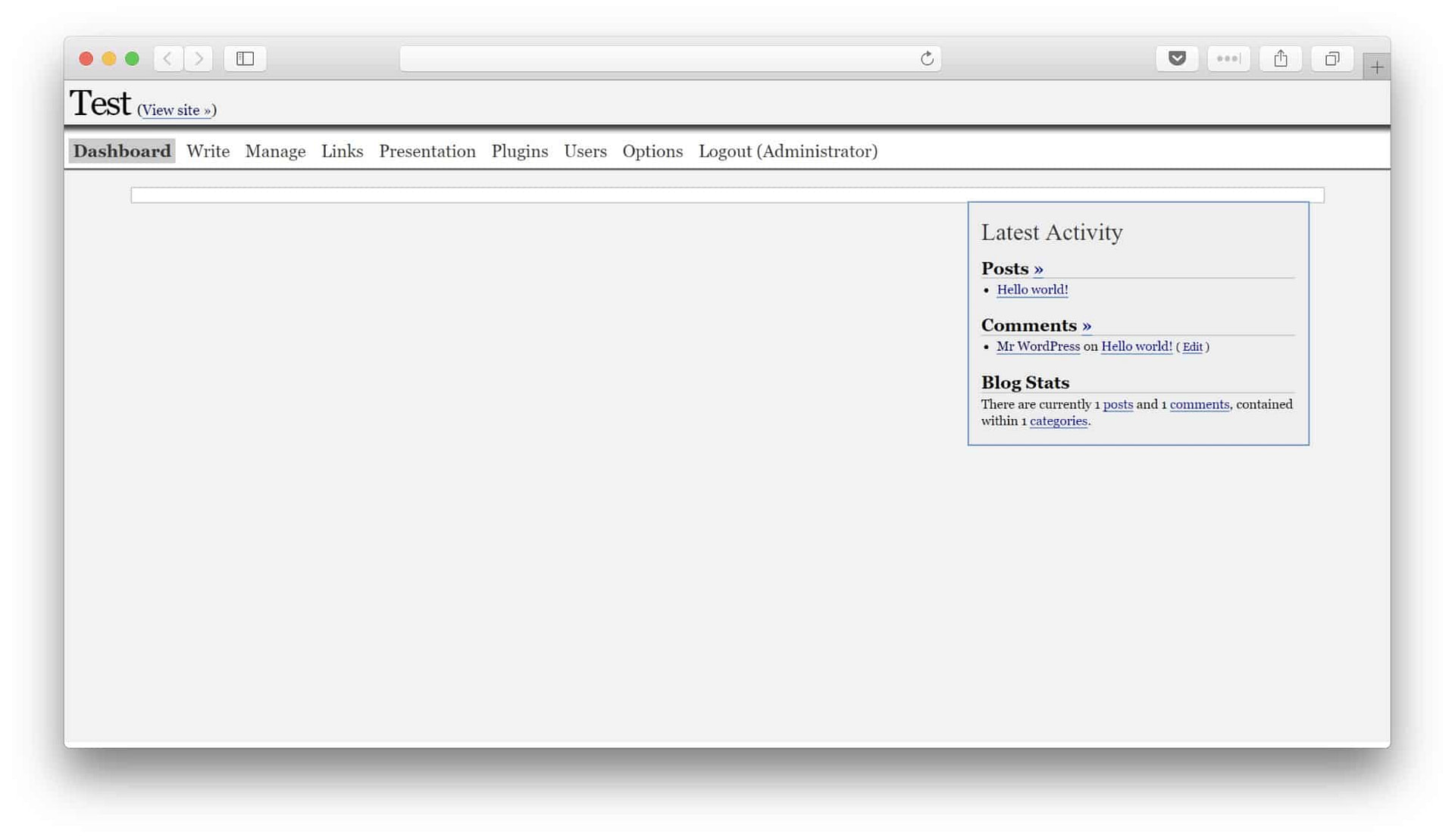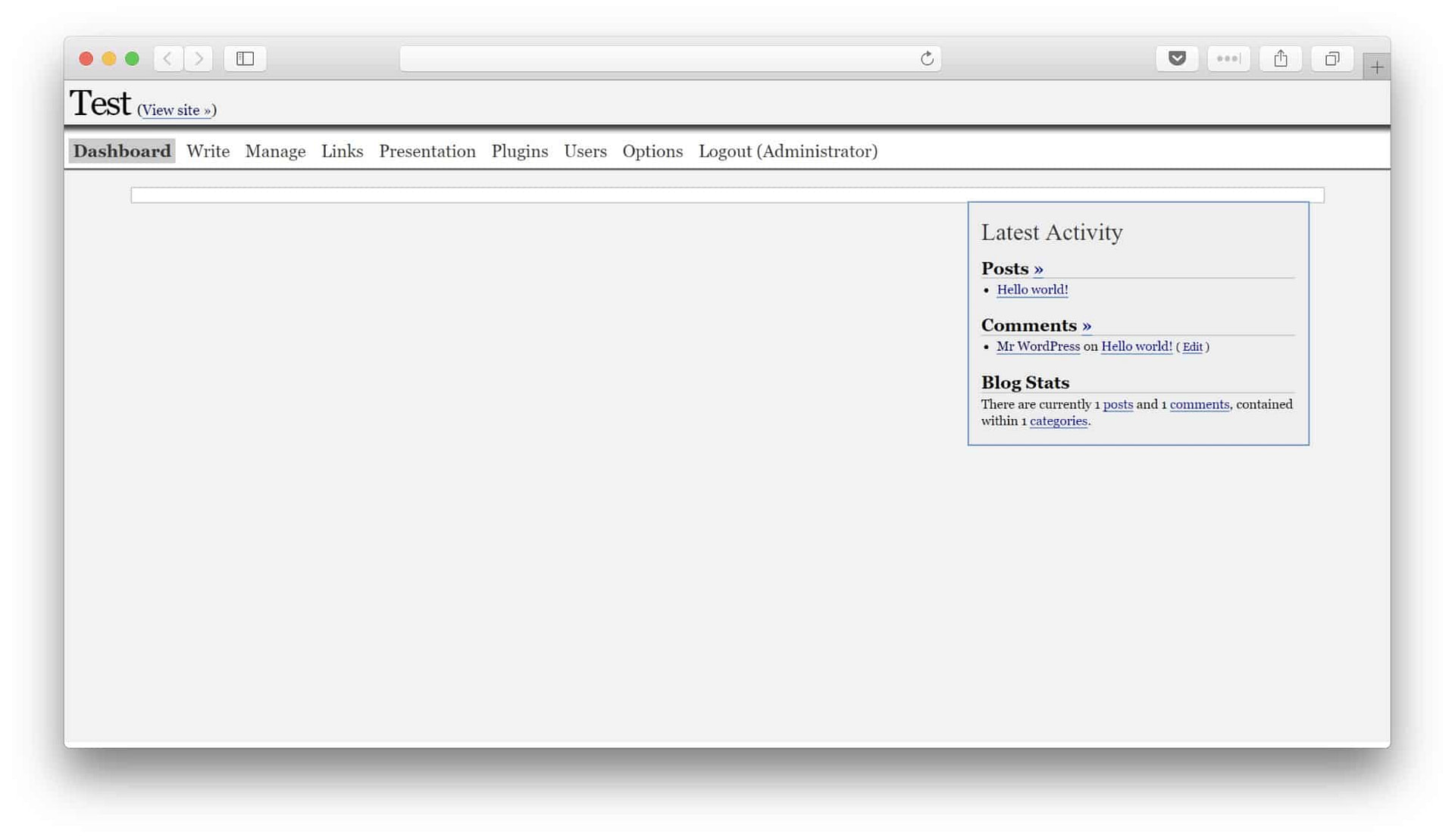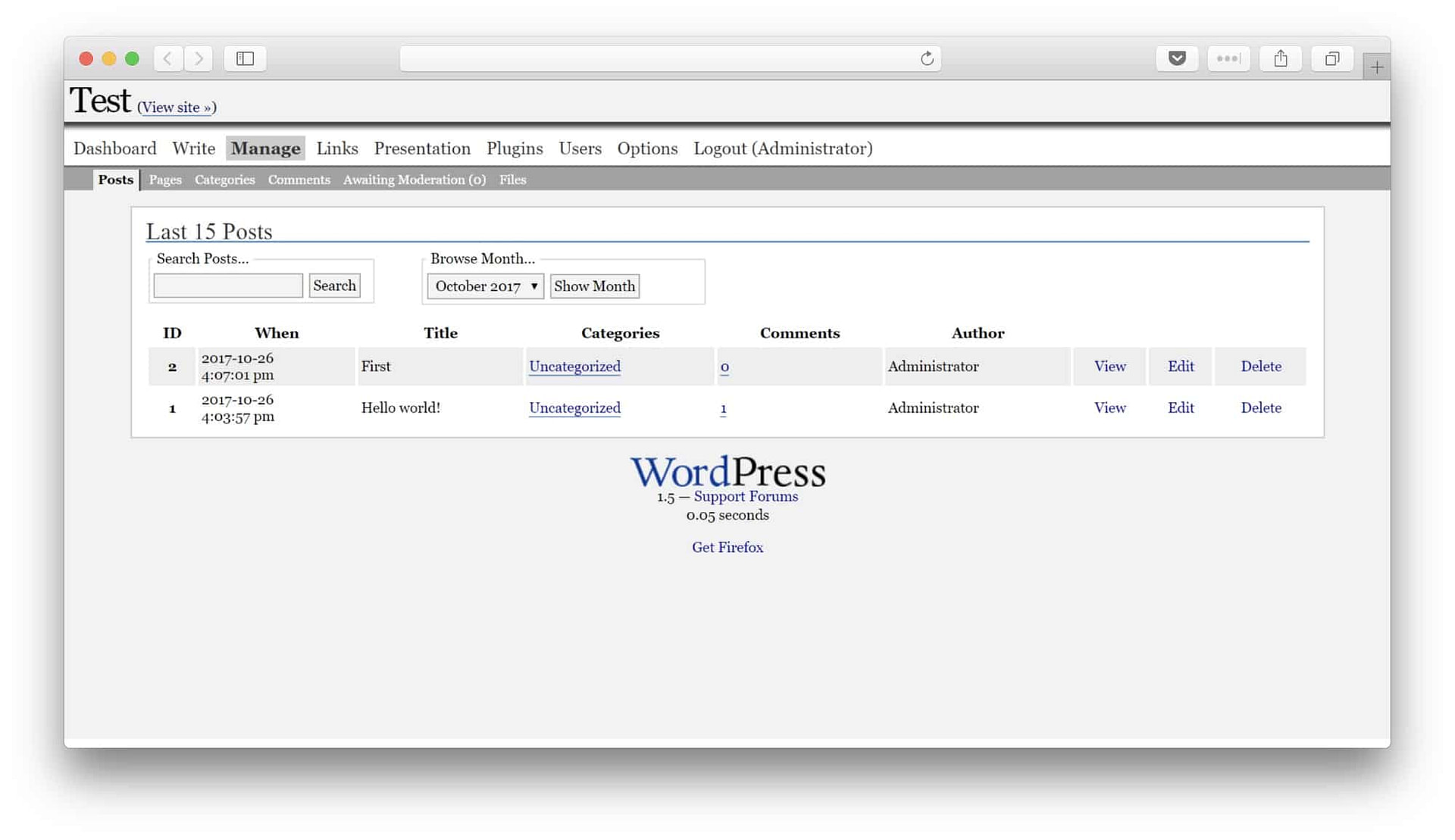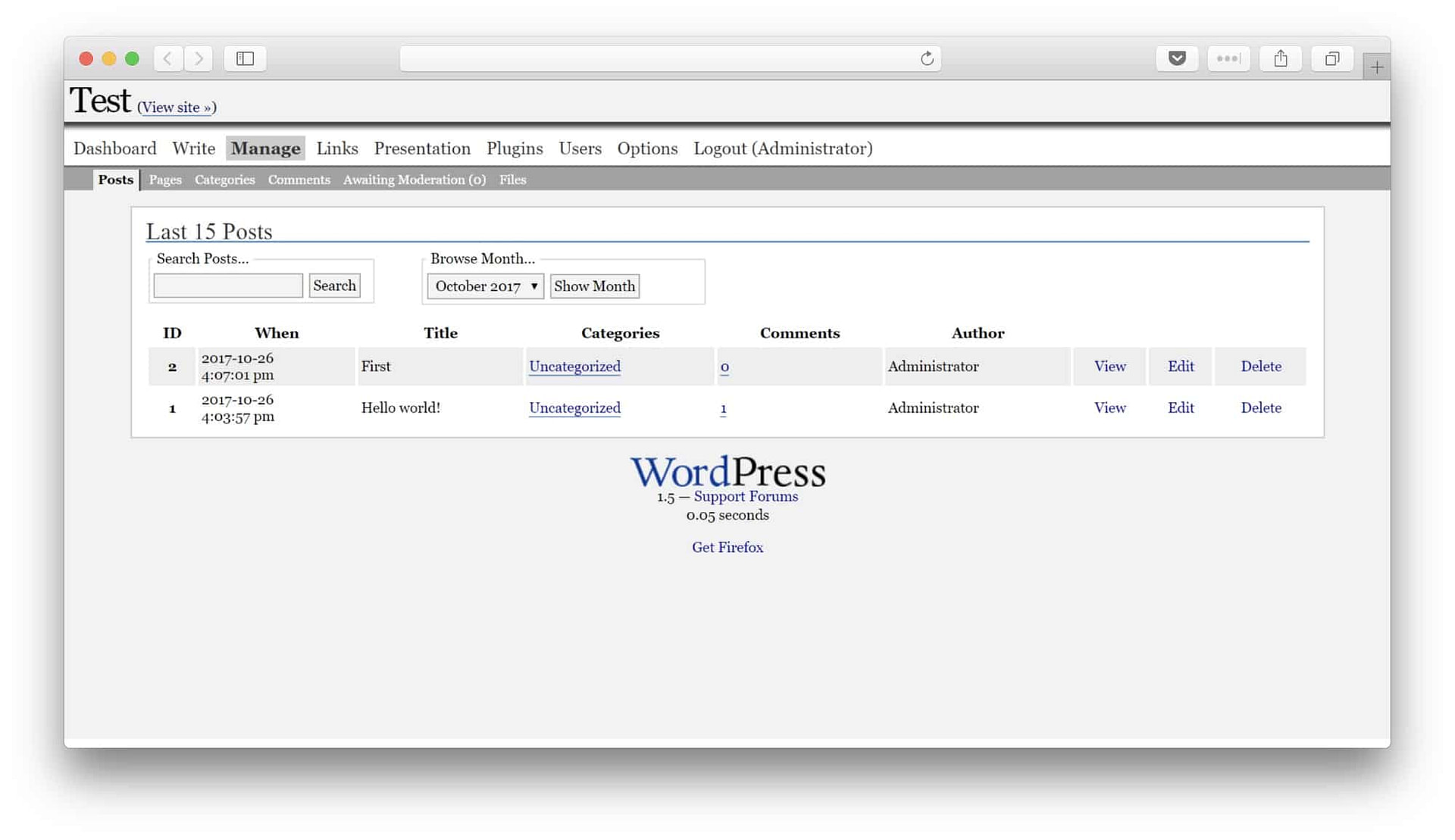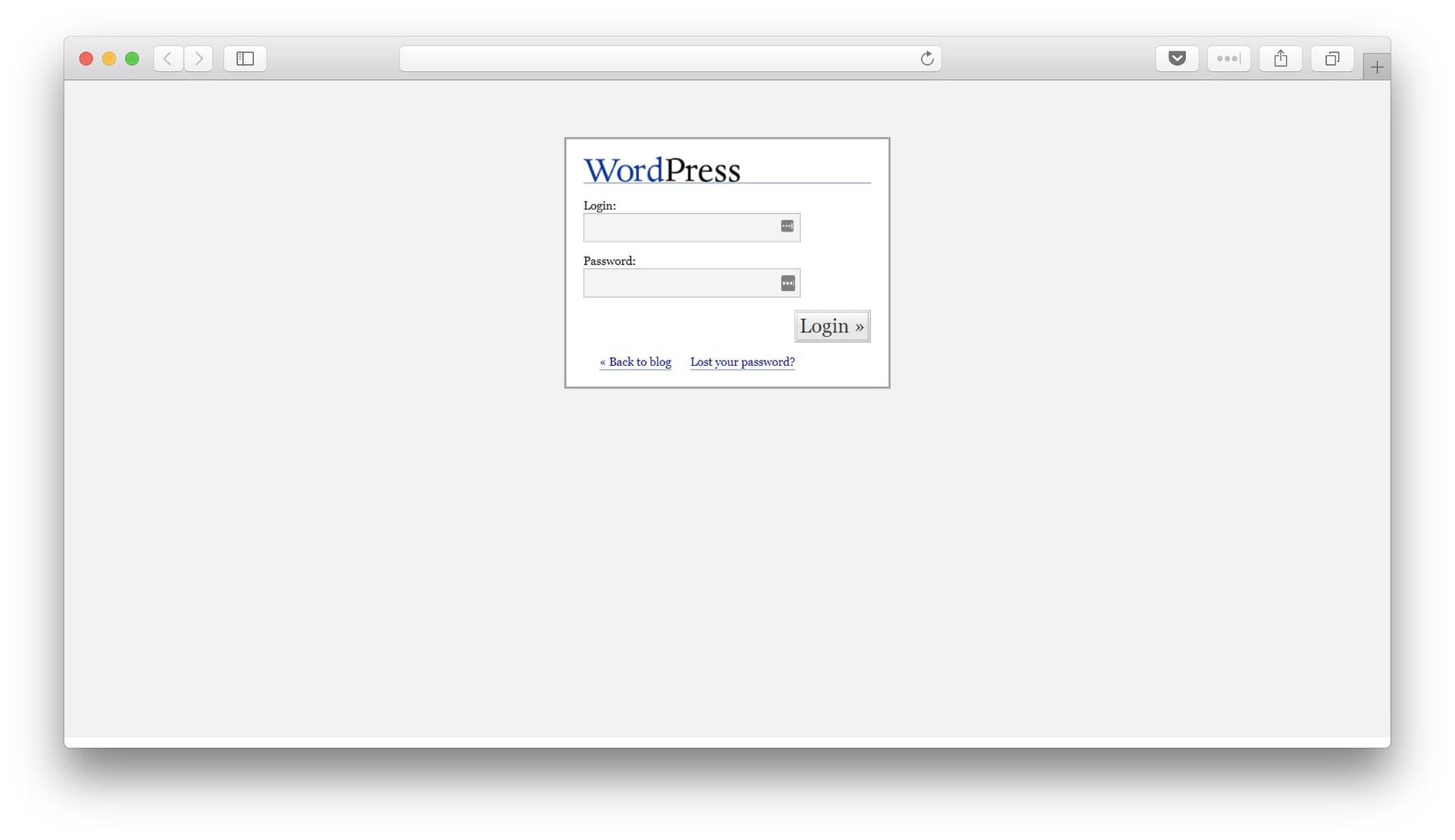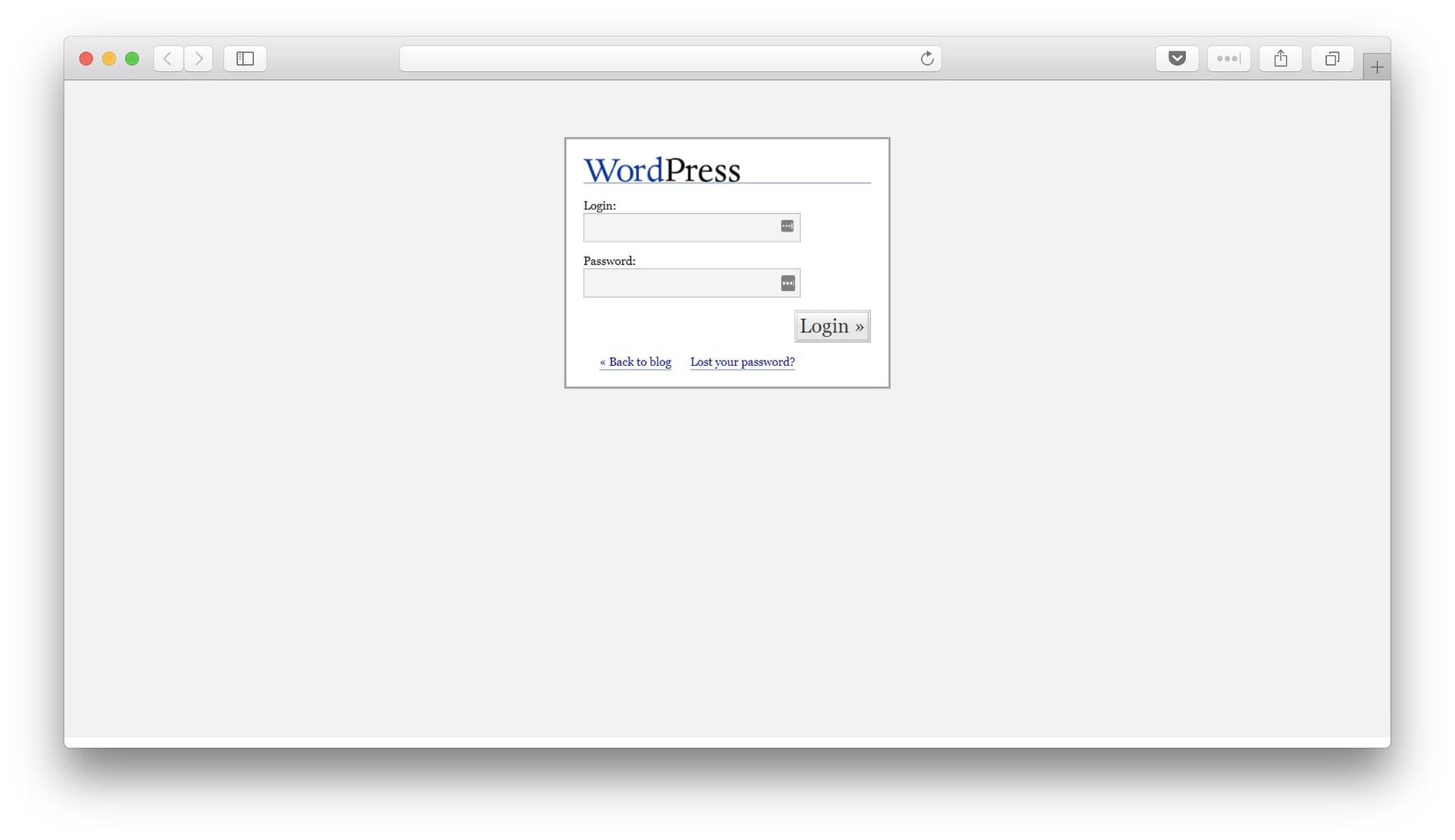 WordPress 2.0 "Duke" – December 31, 2005
Release post. We get a new WordPress dashboard, plus WYSIWYG editing, user roles, and header customizations.
WordPress 2.0 DASHBOARDWordPress 2.0 MANAGEWordPress 2.0 WRITEWordPress 2.0 LOGIN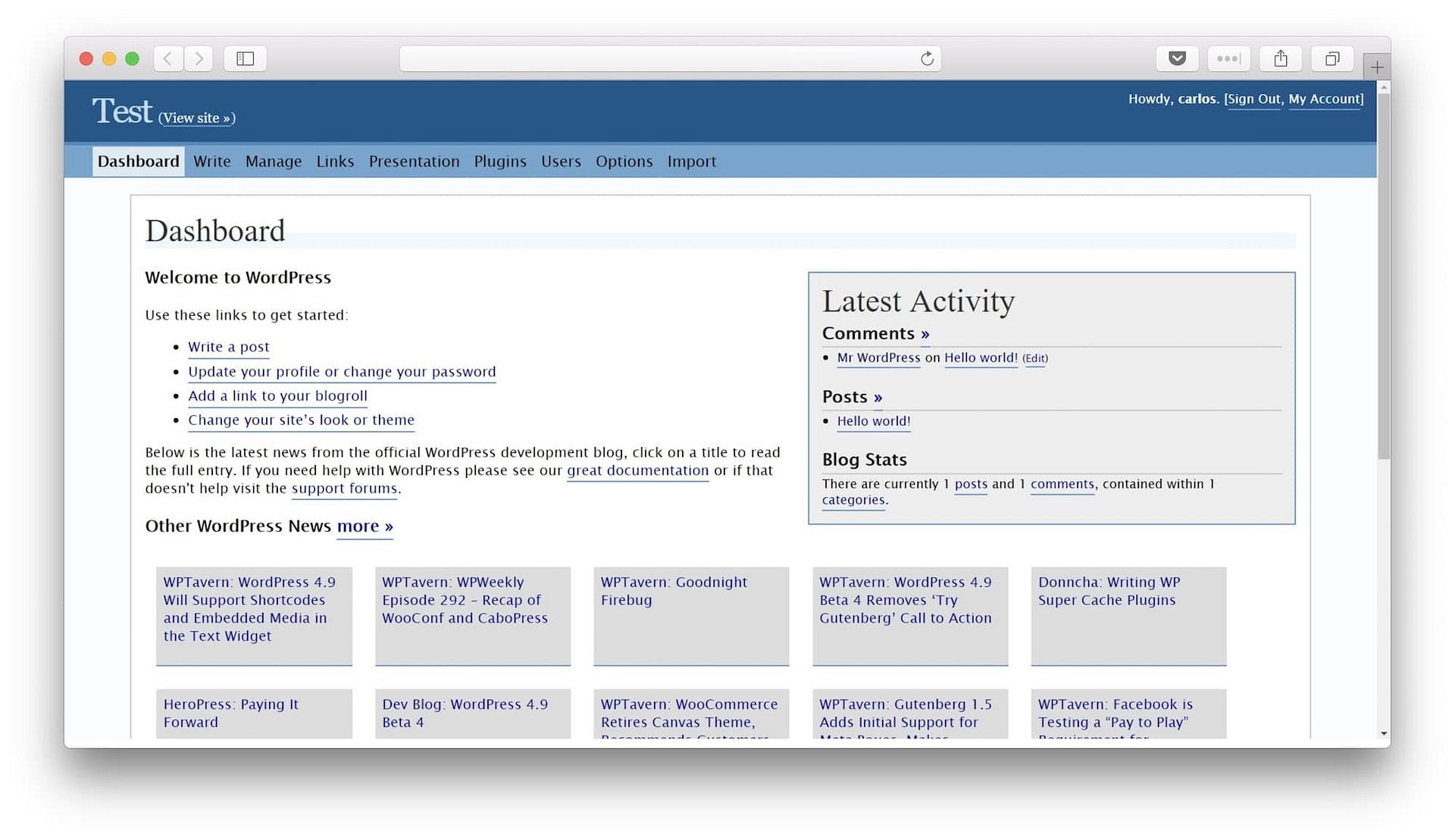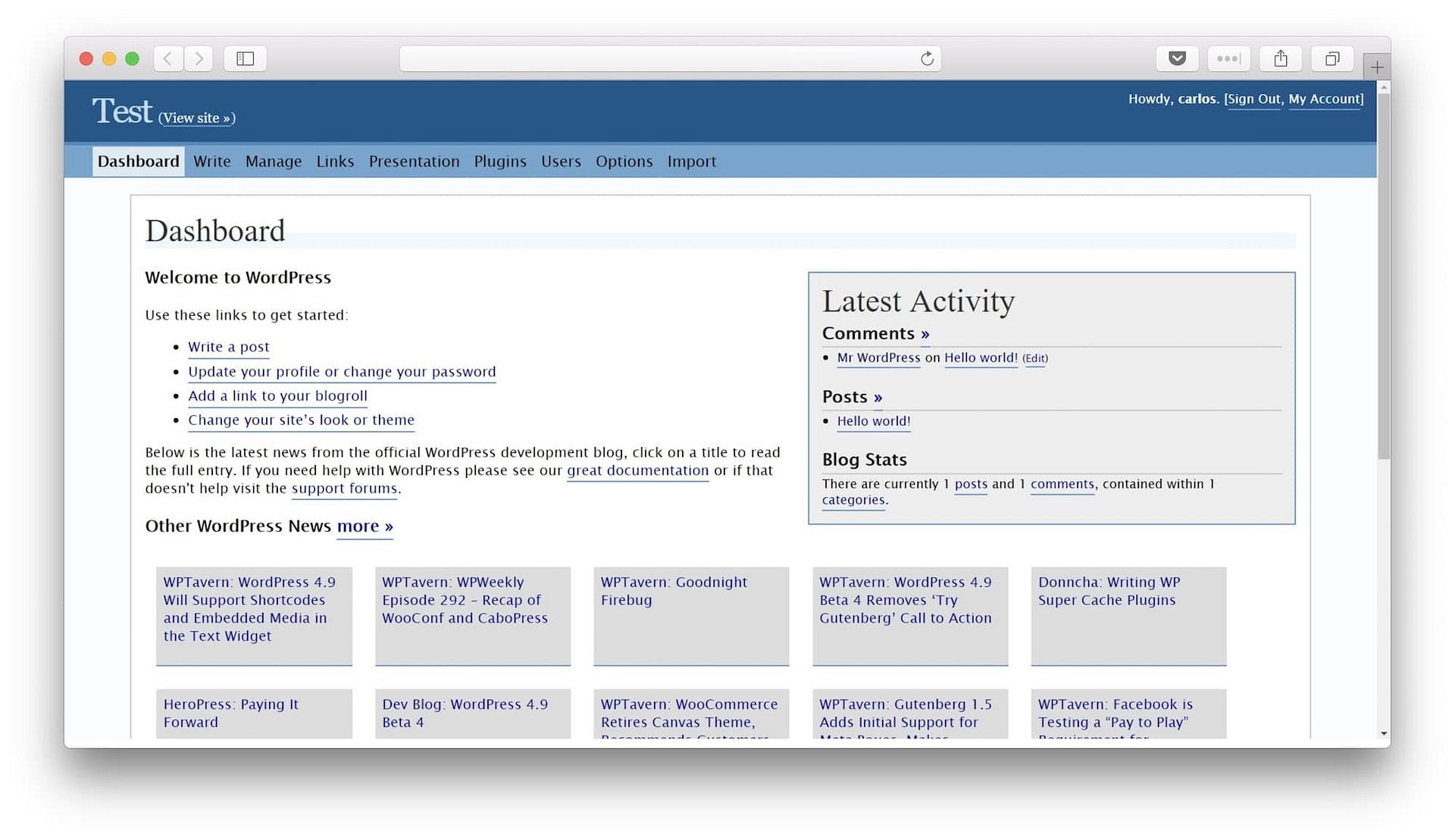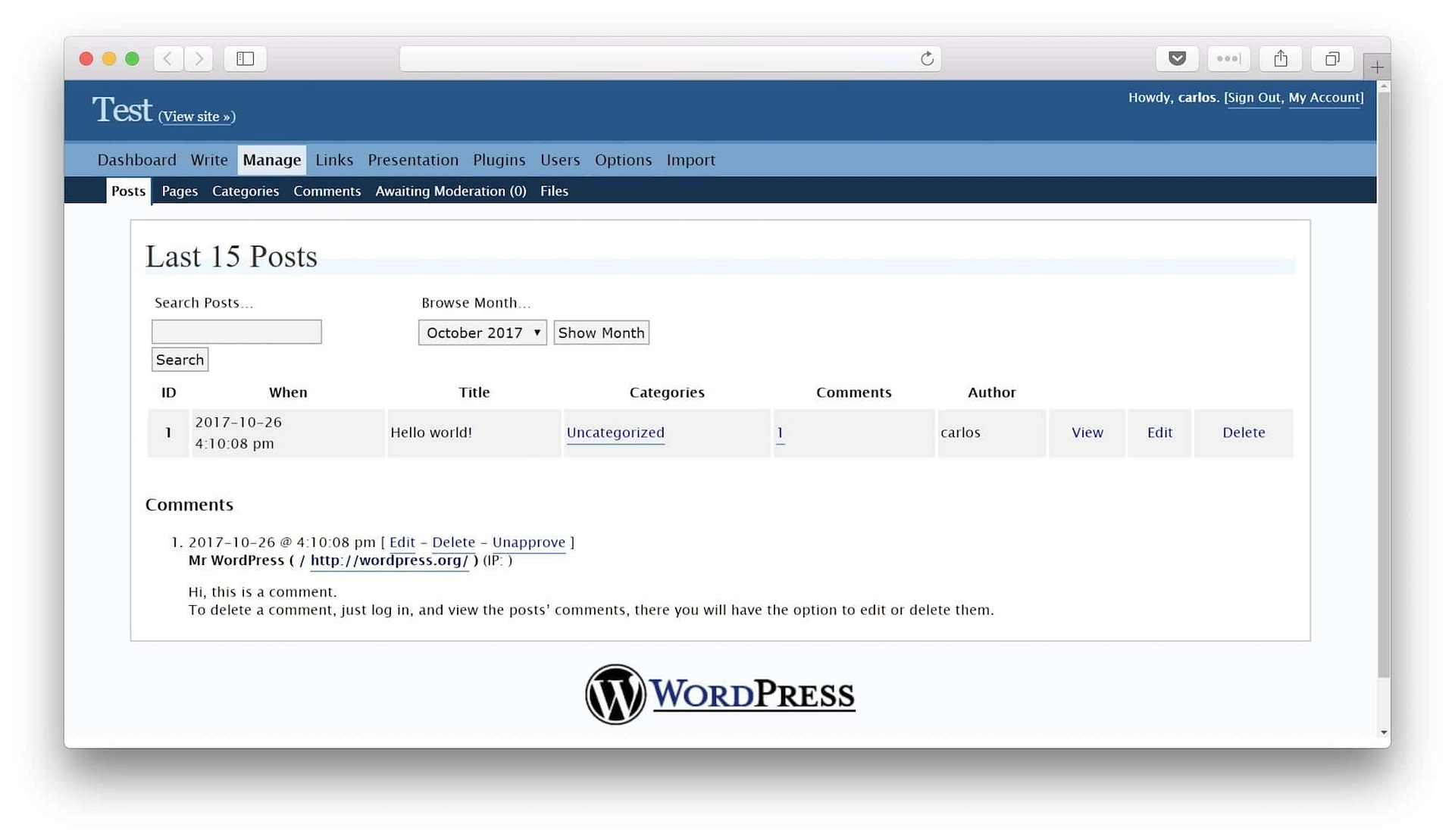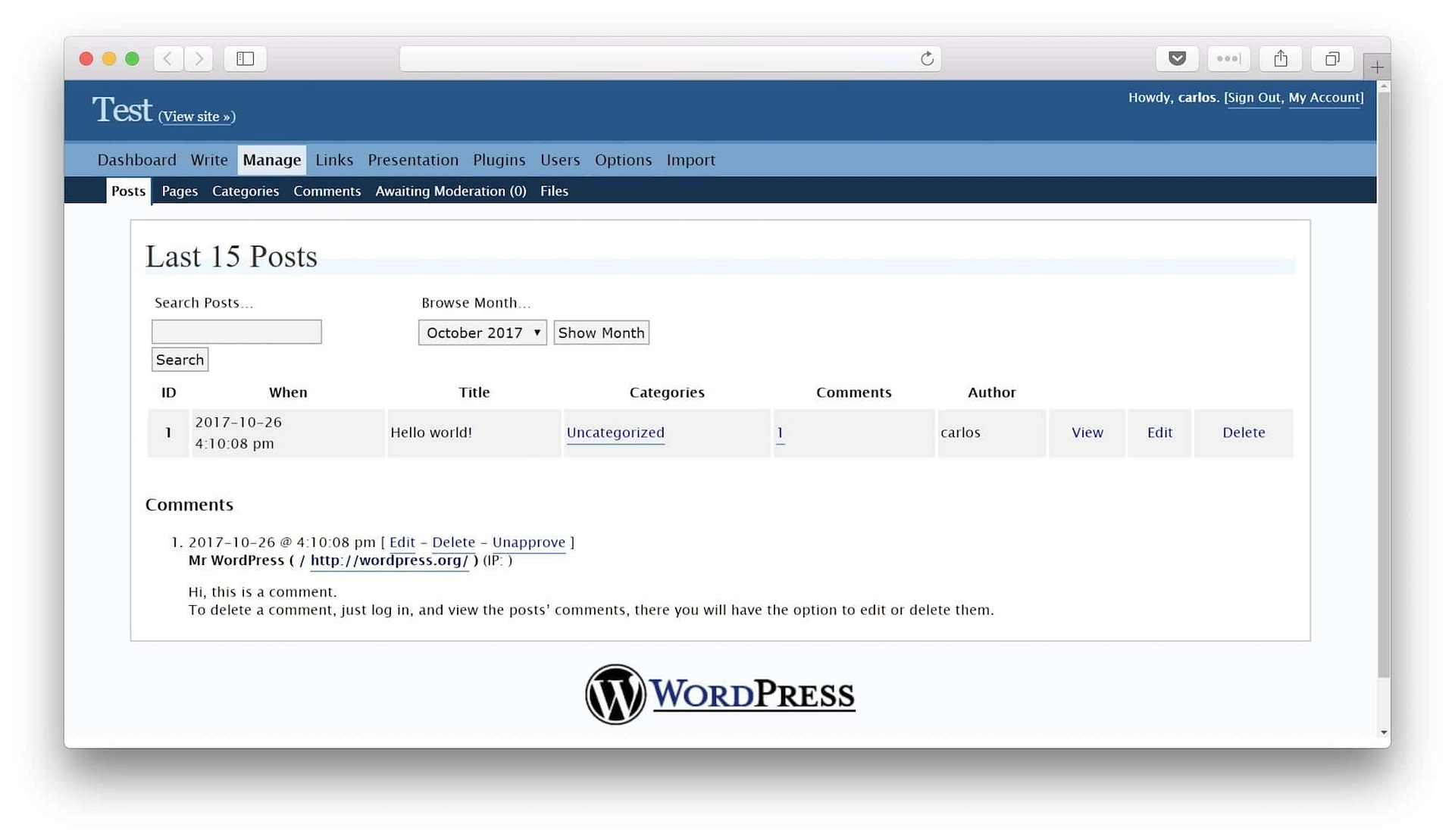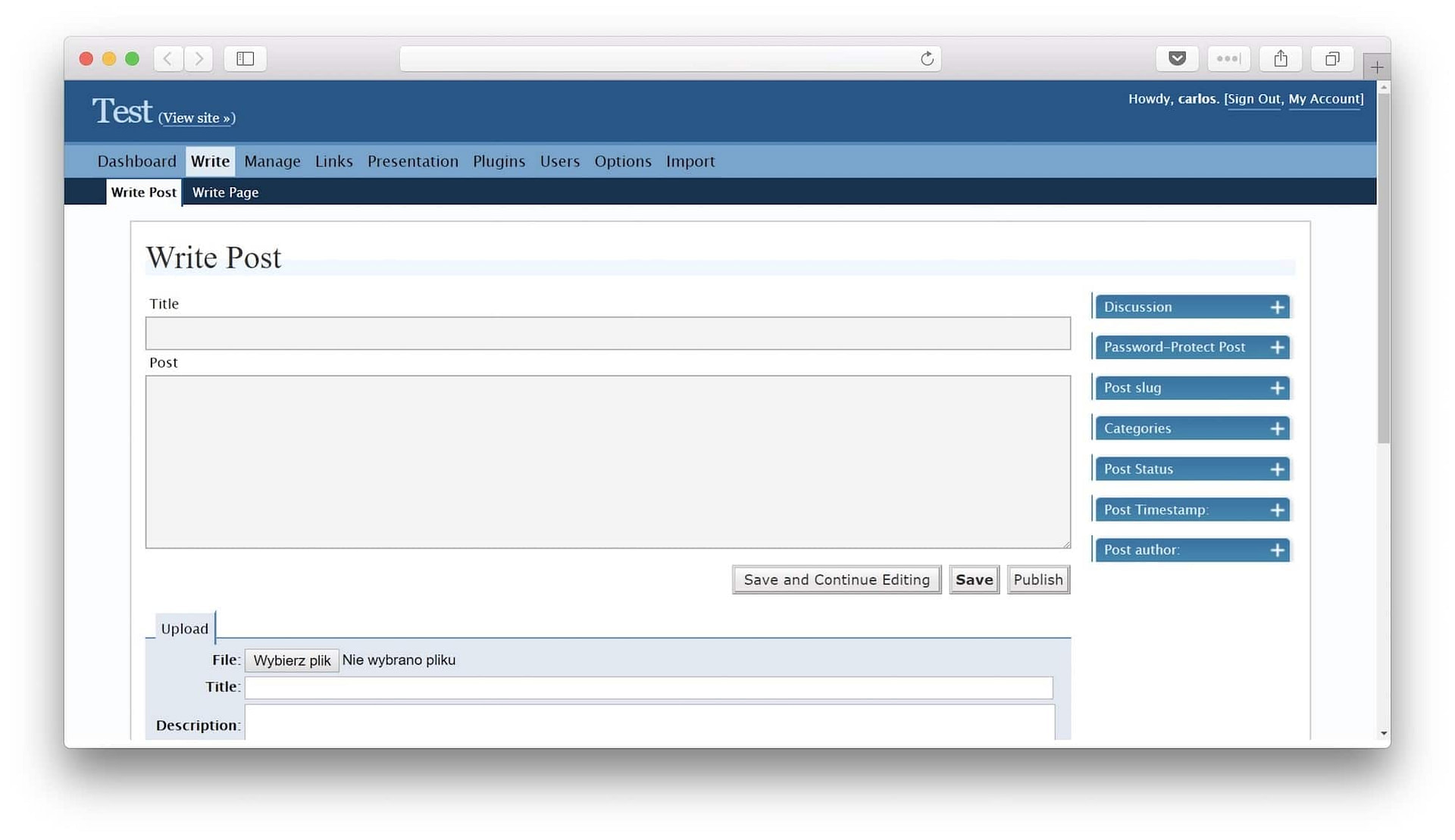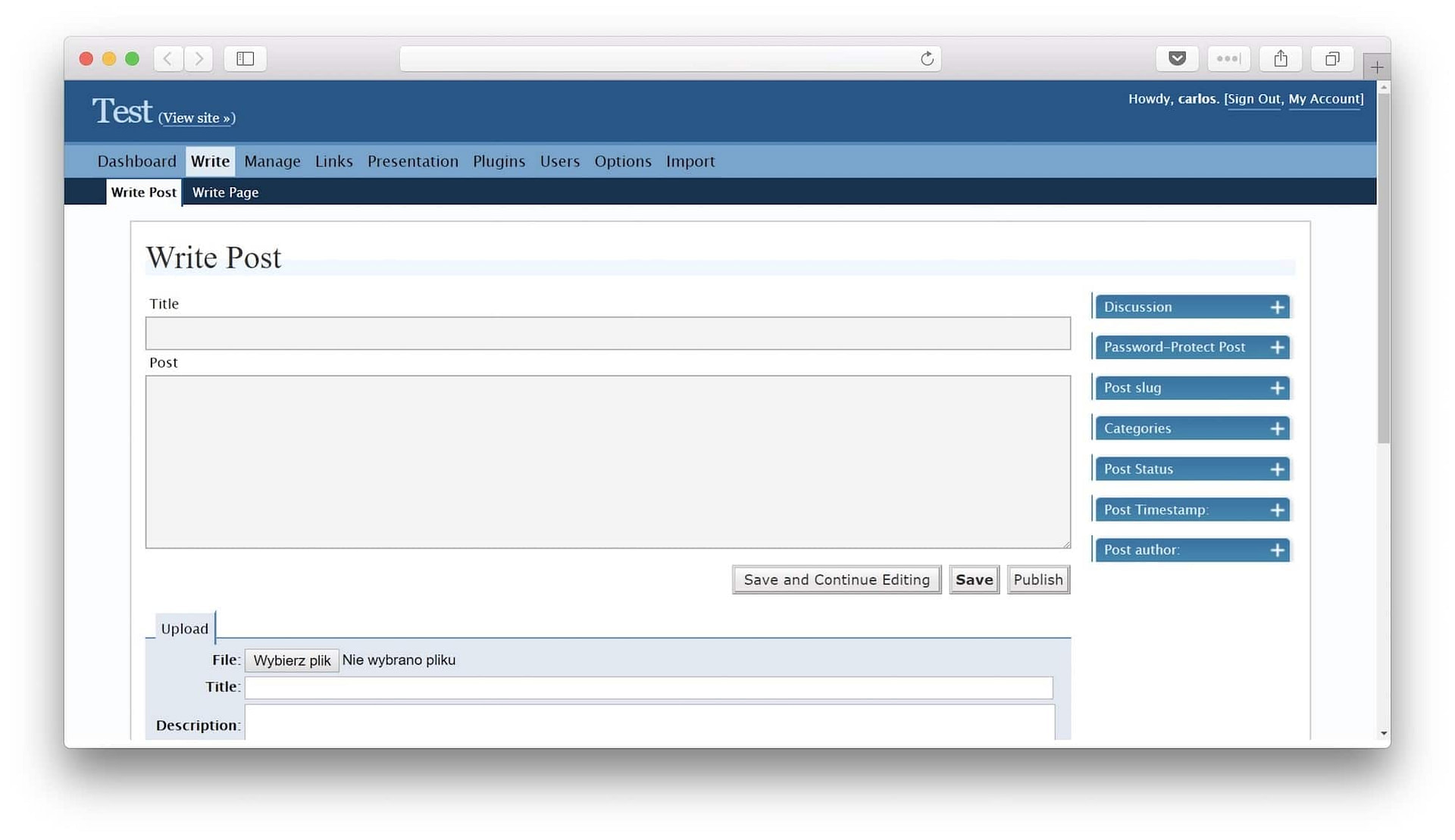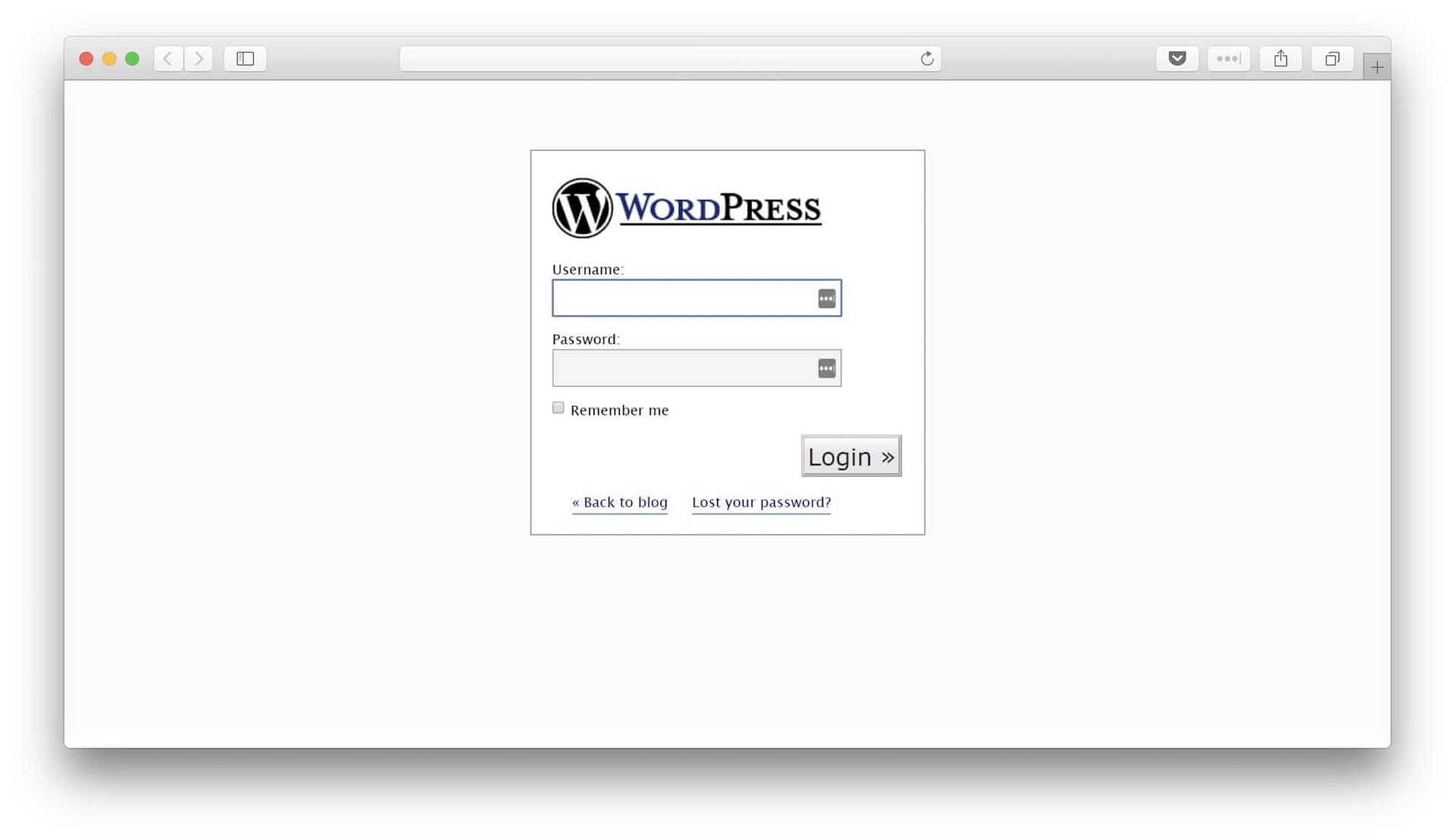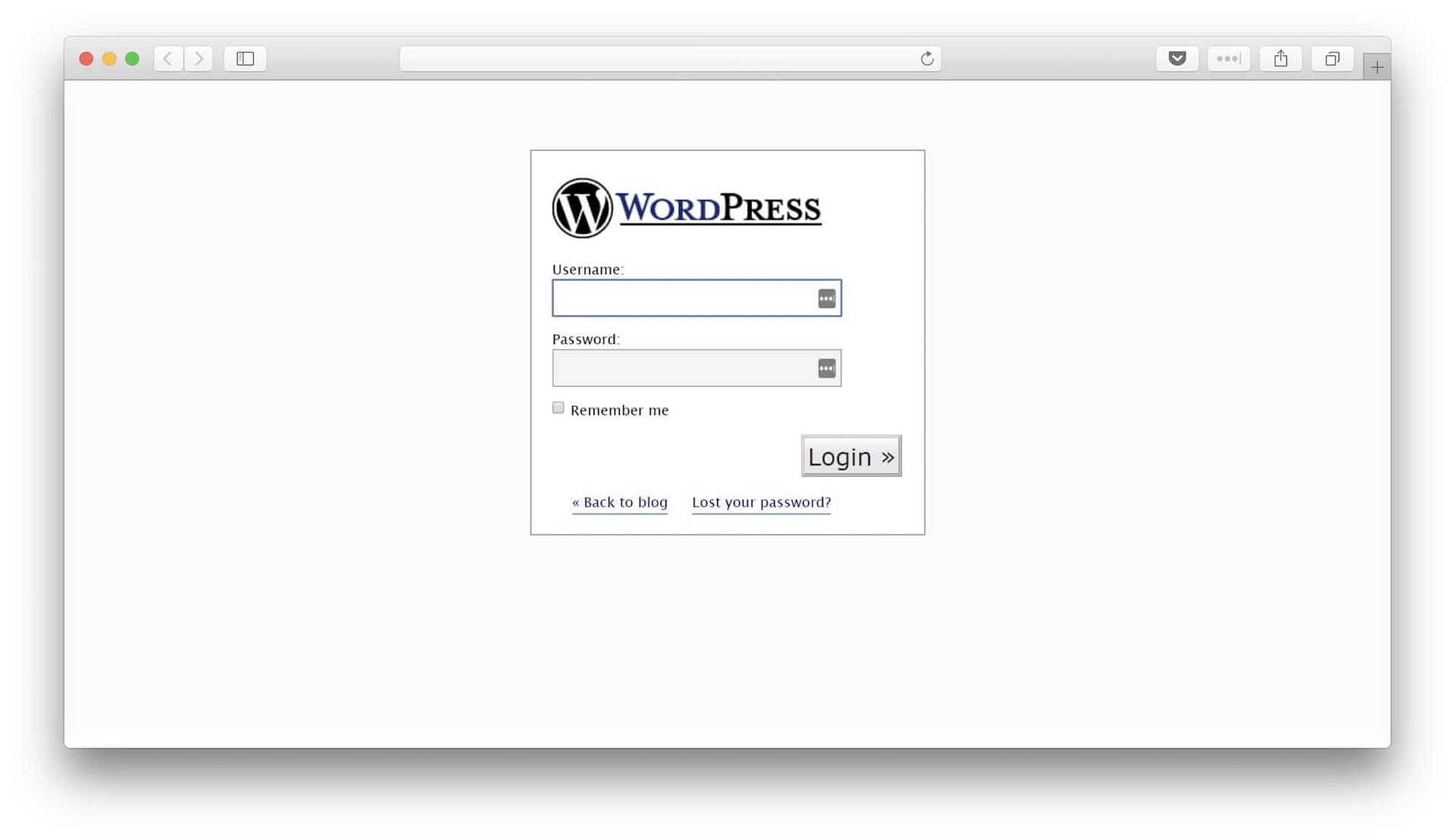 WordPress 2.1 "Ella" – January 22, 2007
Release post. Autosaving added, plus the ability to switch between visual vs text editing.
WordPress 2.1 DASHBOARDWordPress 2.1 MANAGEWordPress 2.1 WRITEWordPress 2.1 LOGIN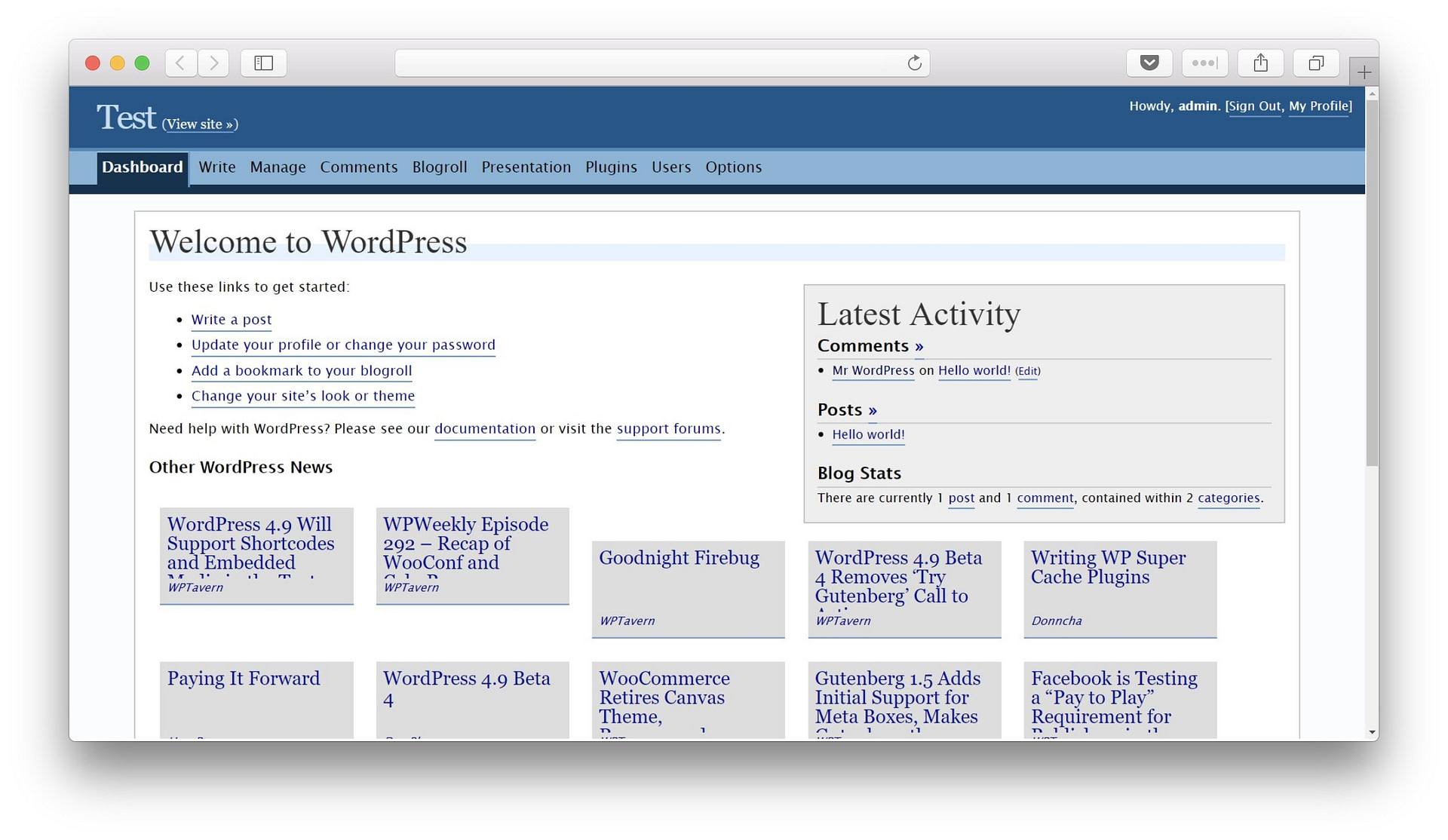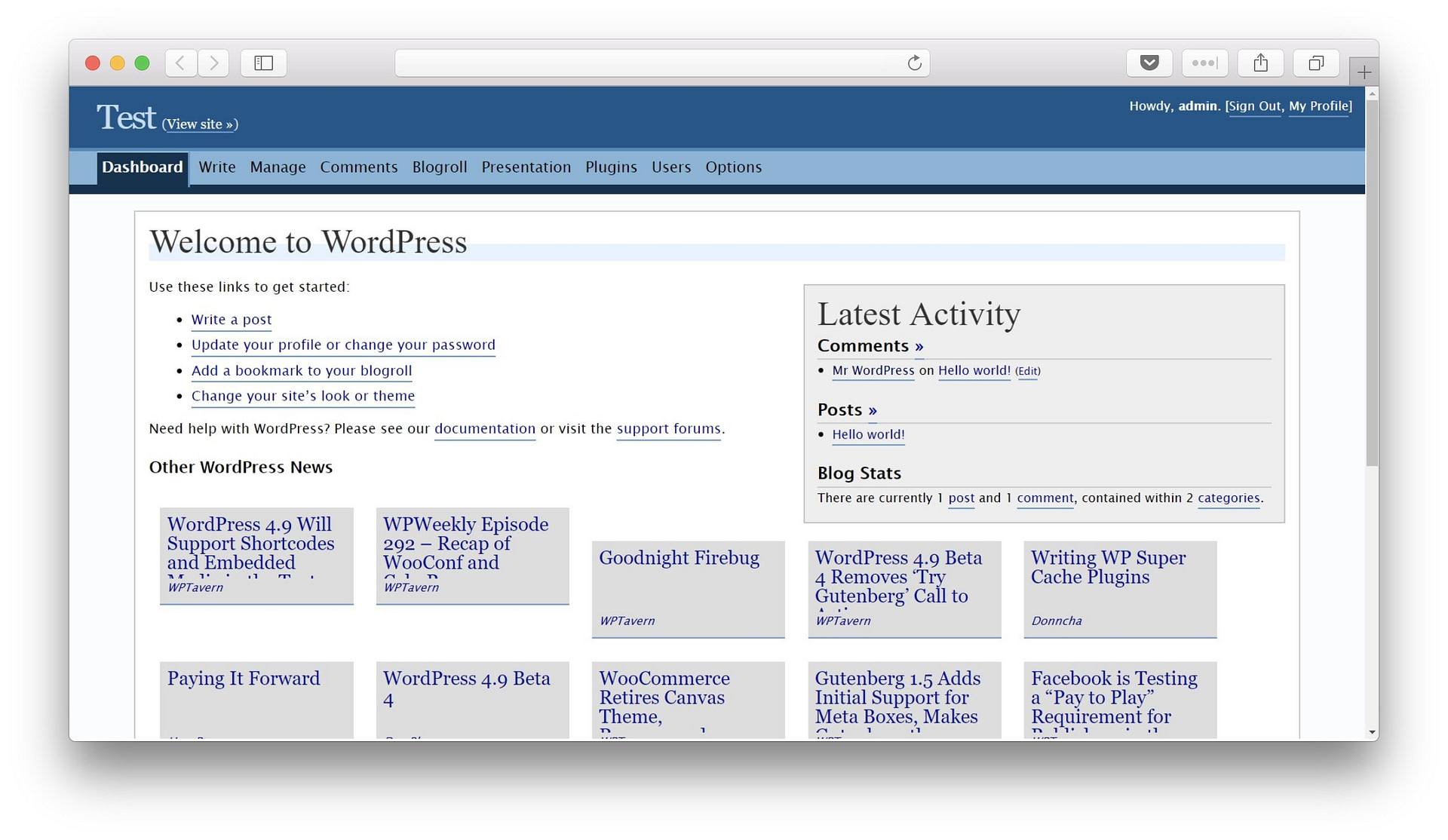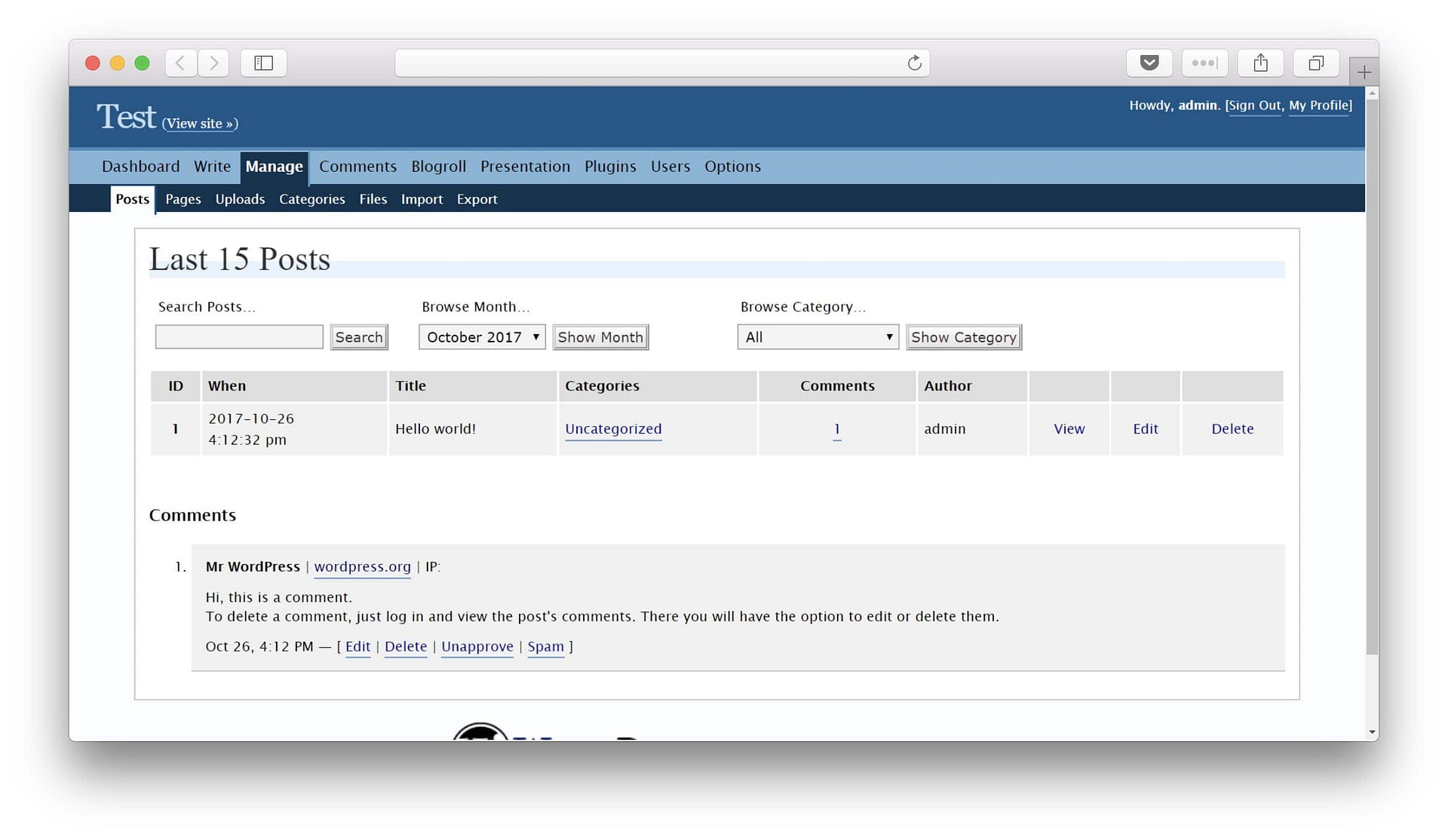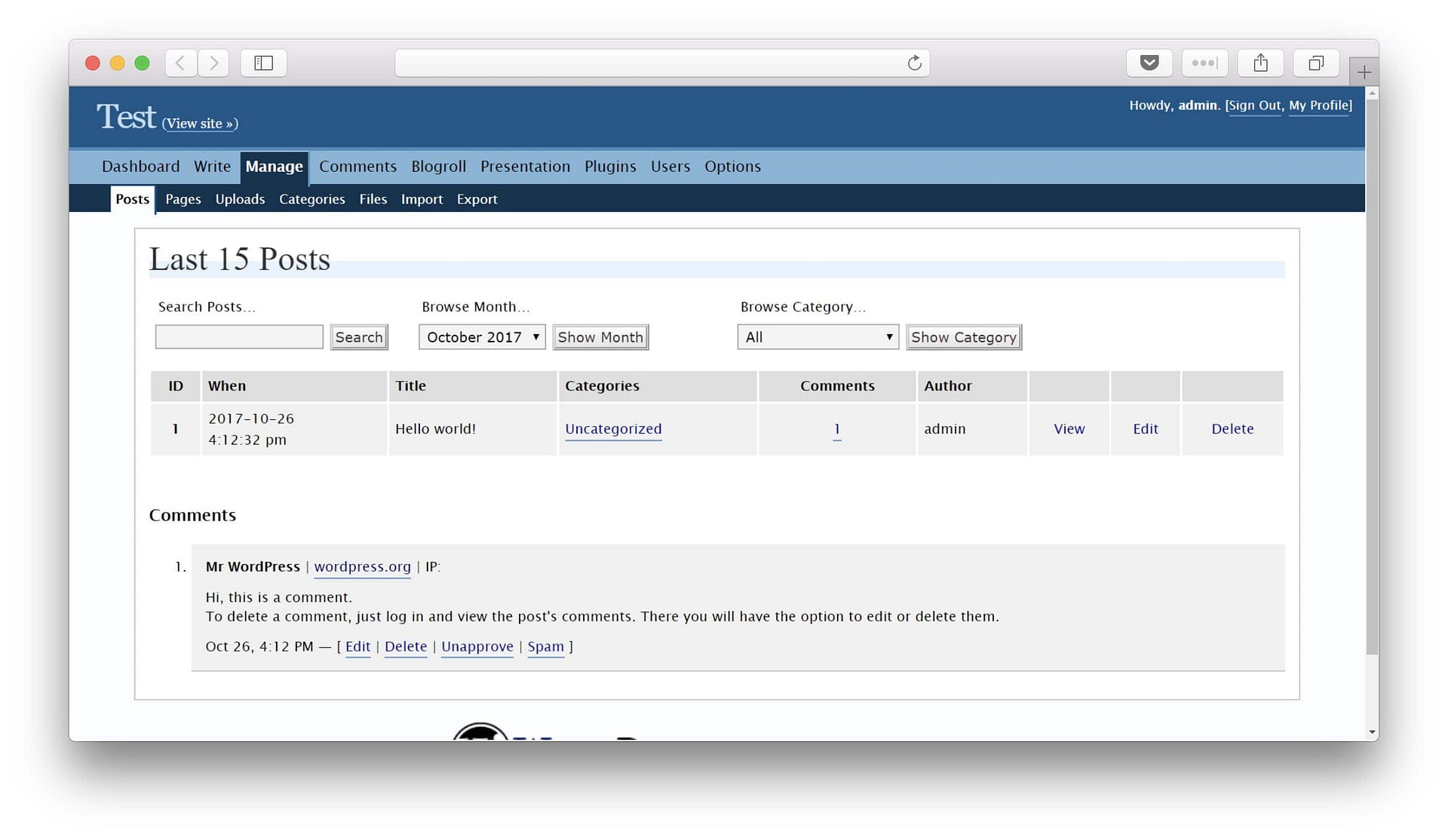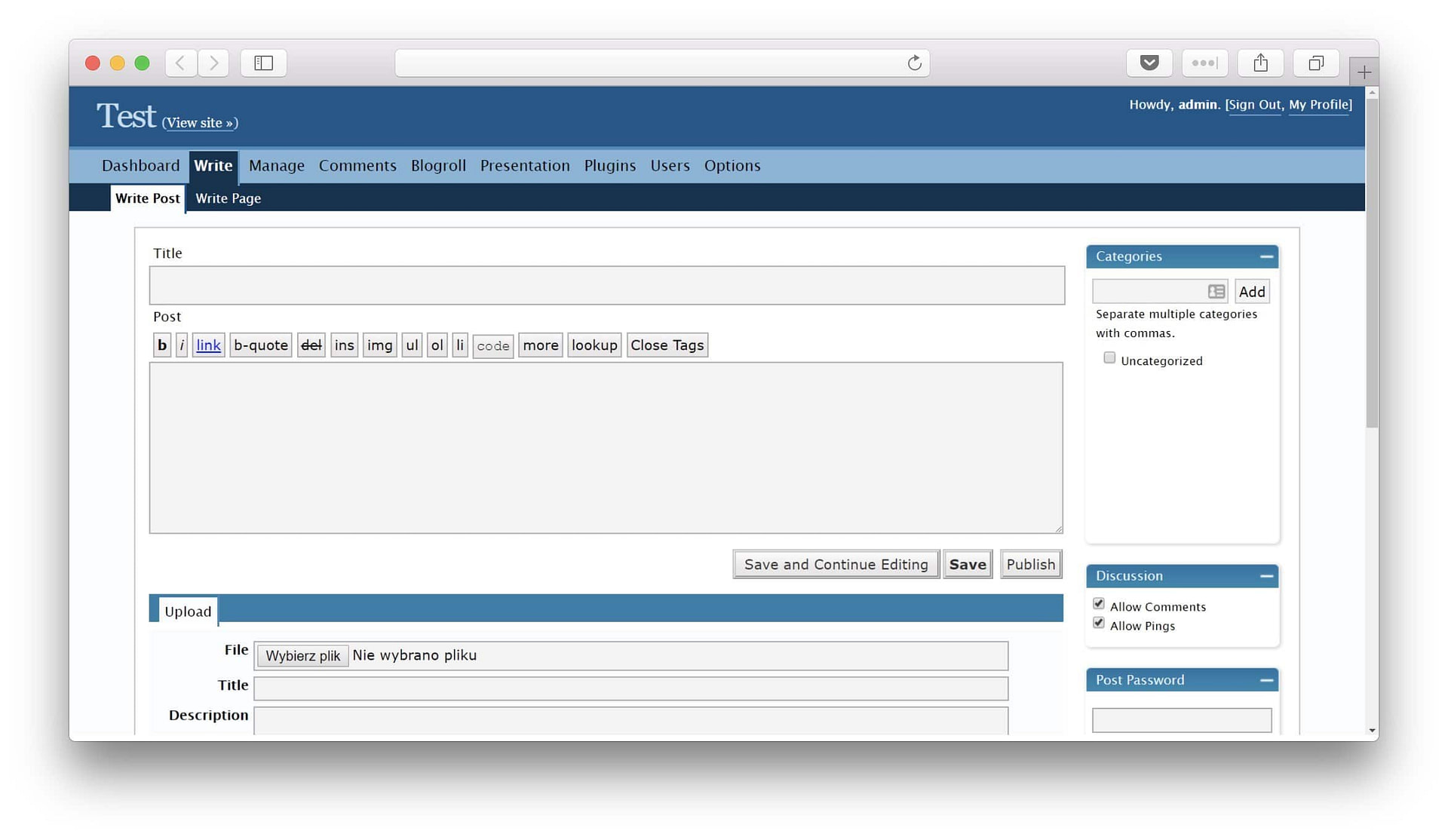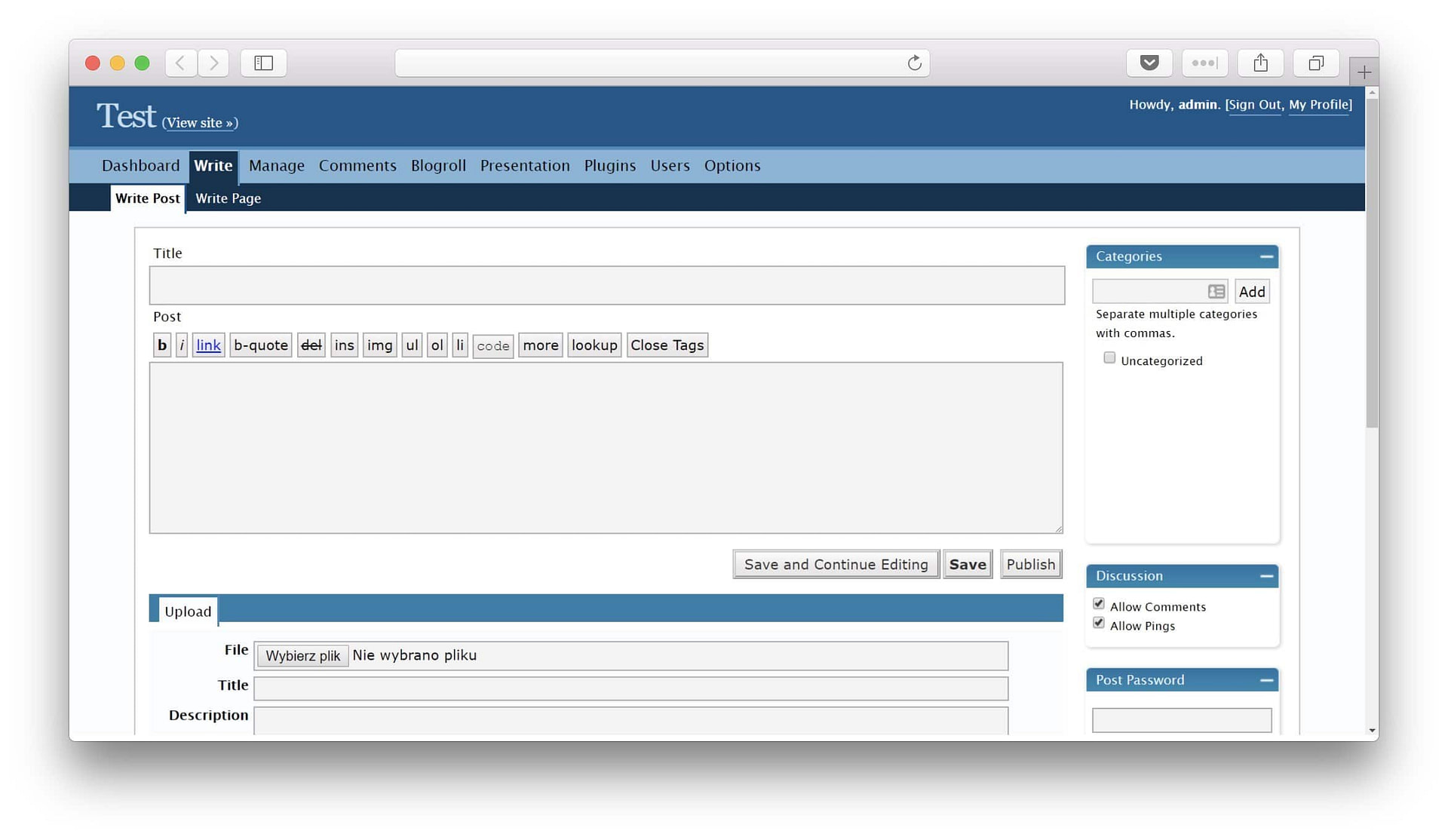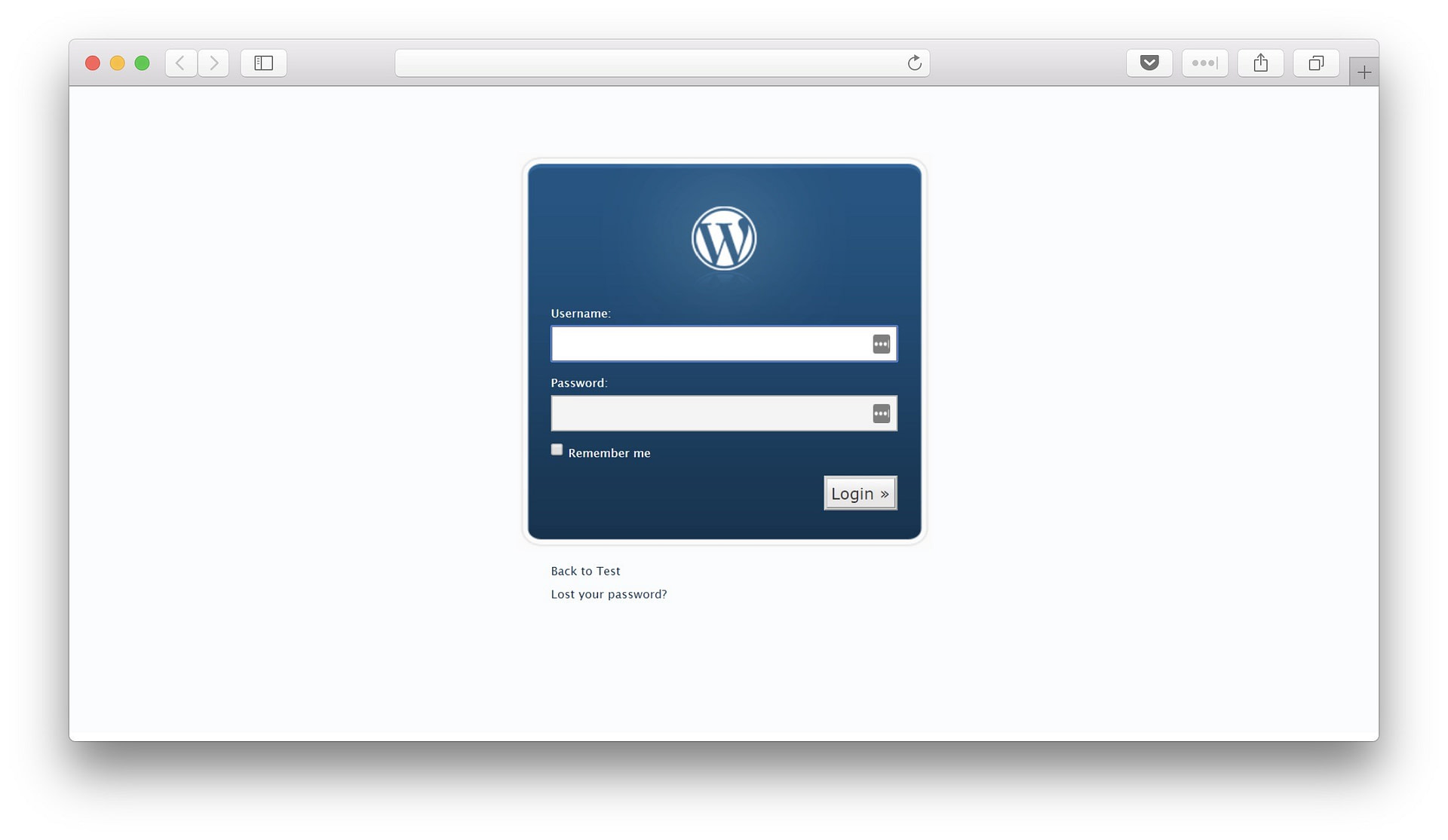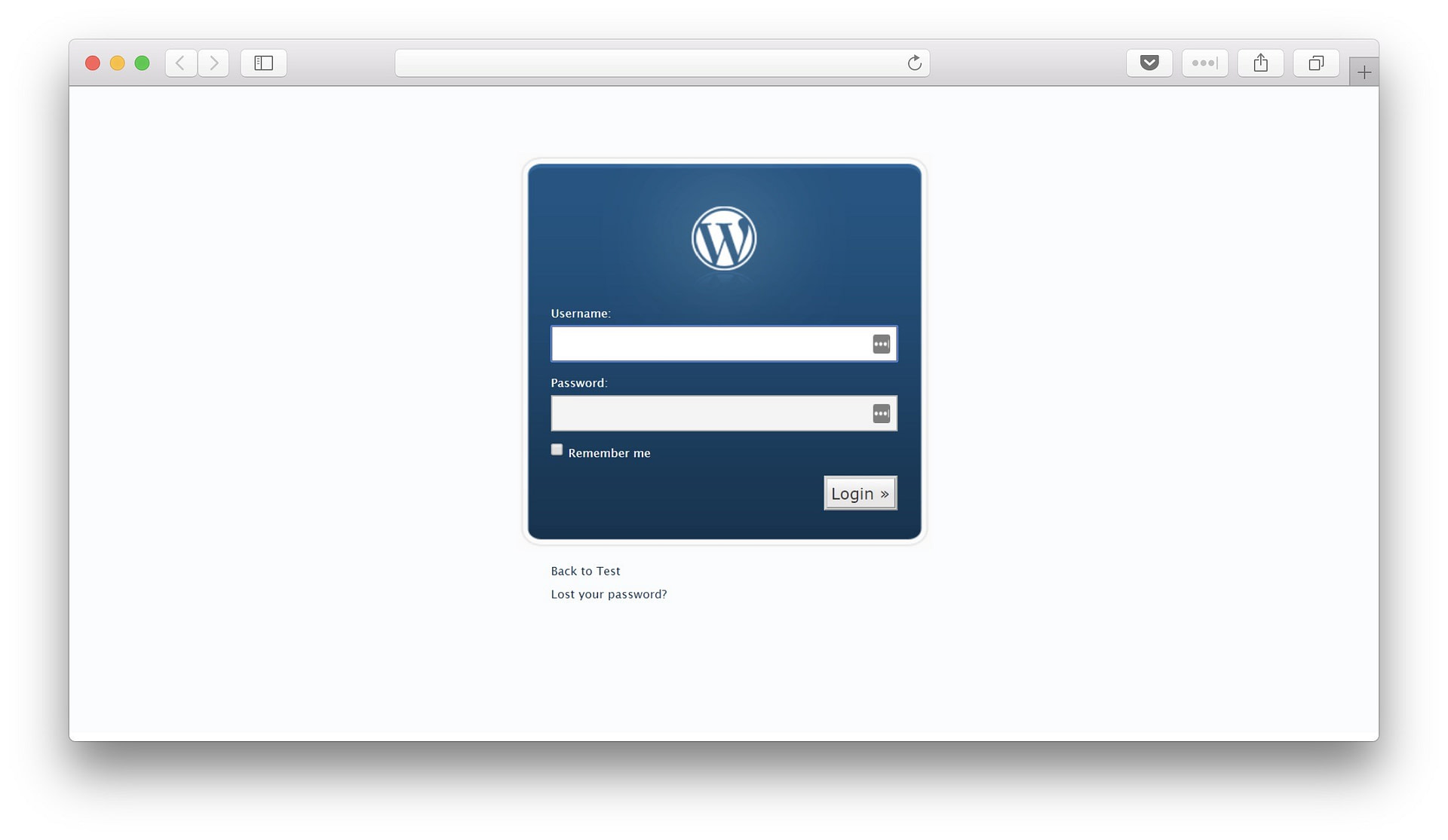 WordPress 2.2 "Getz" – May 16, 2007
Release post. This version brings us widgets, and full Atom support.
WordPress 2.2 DASHBOARDWordPress 2.2 MANAGEWordPress 2.2 WRITEWordPress 2.2 LOGIN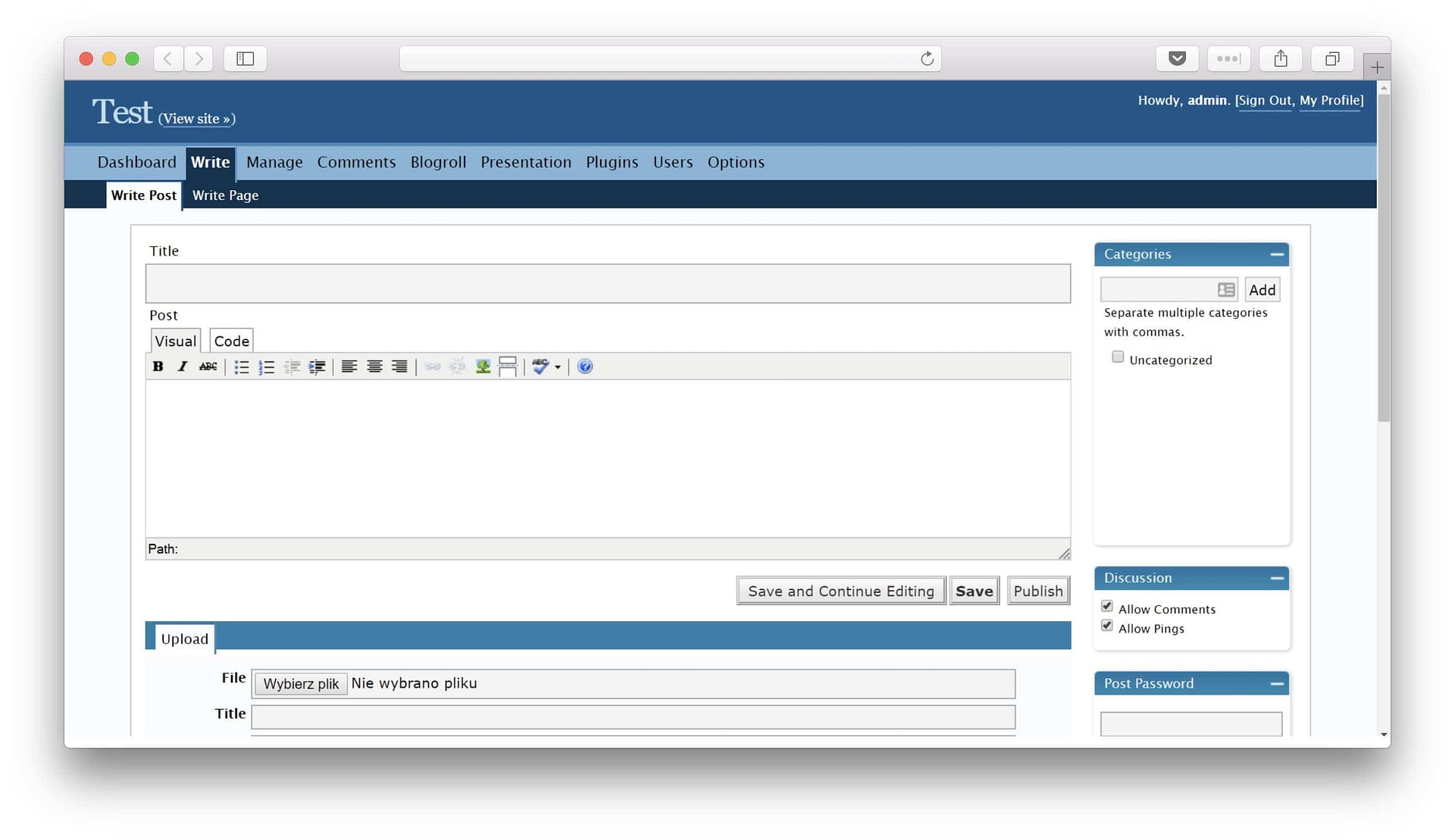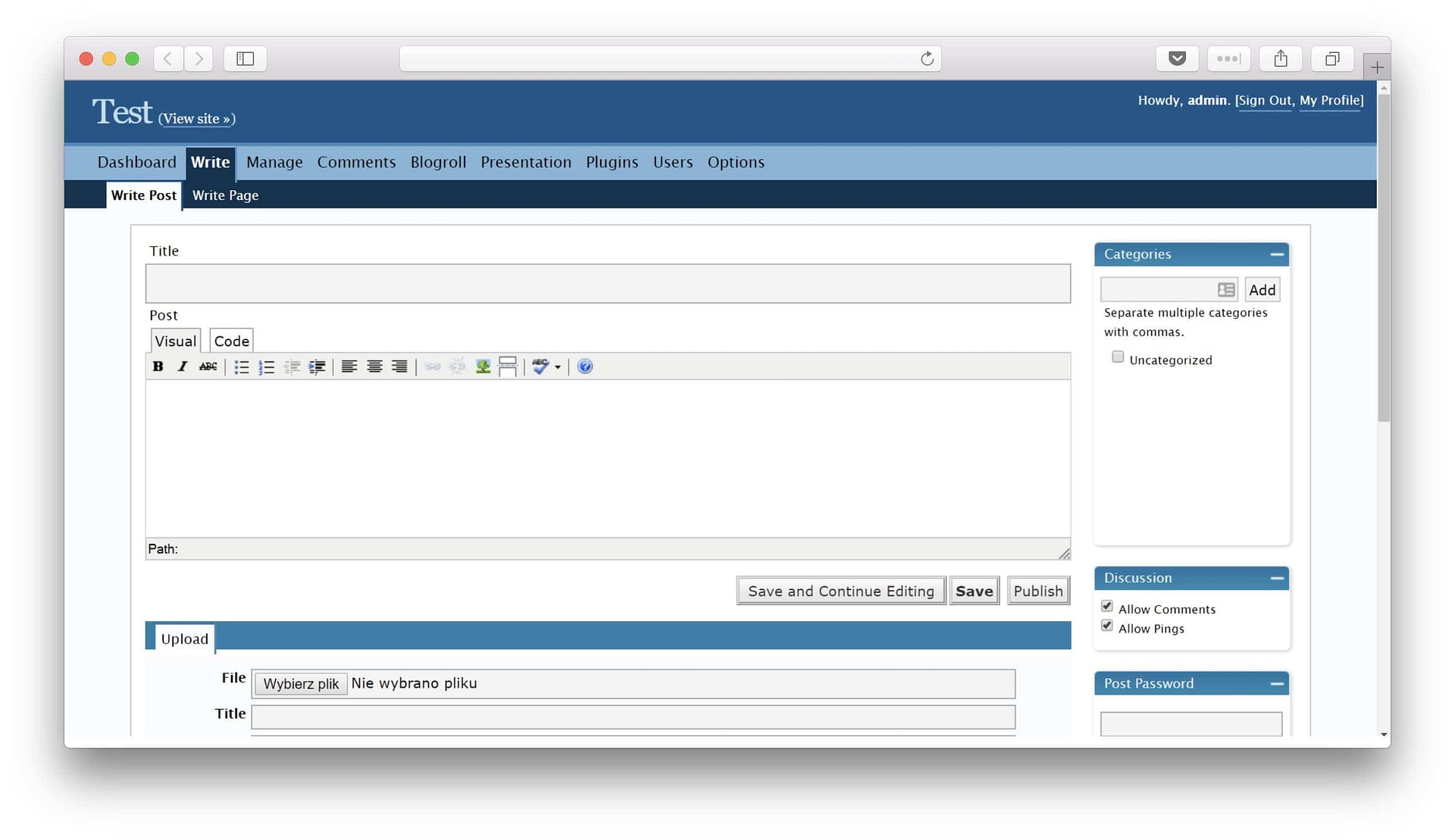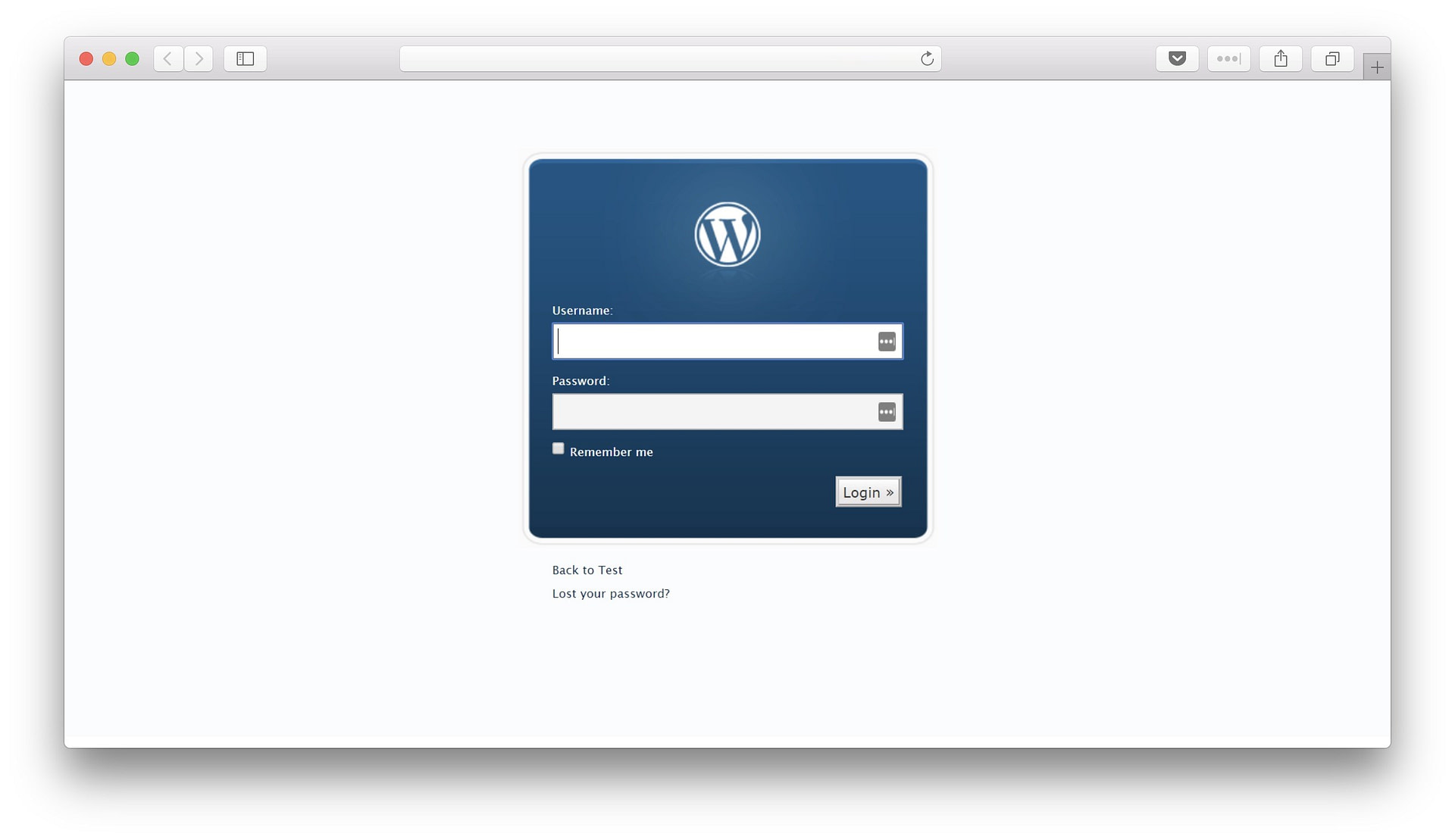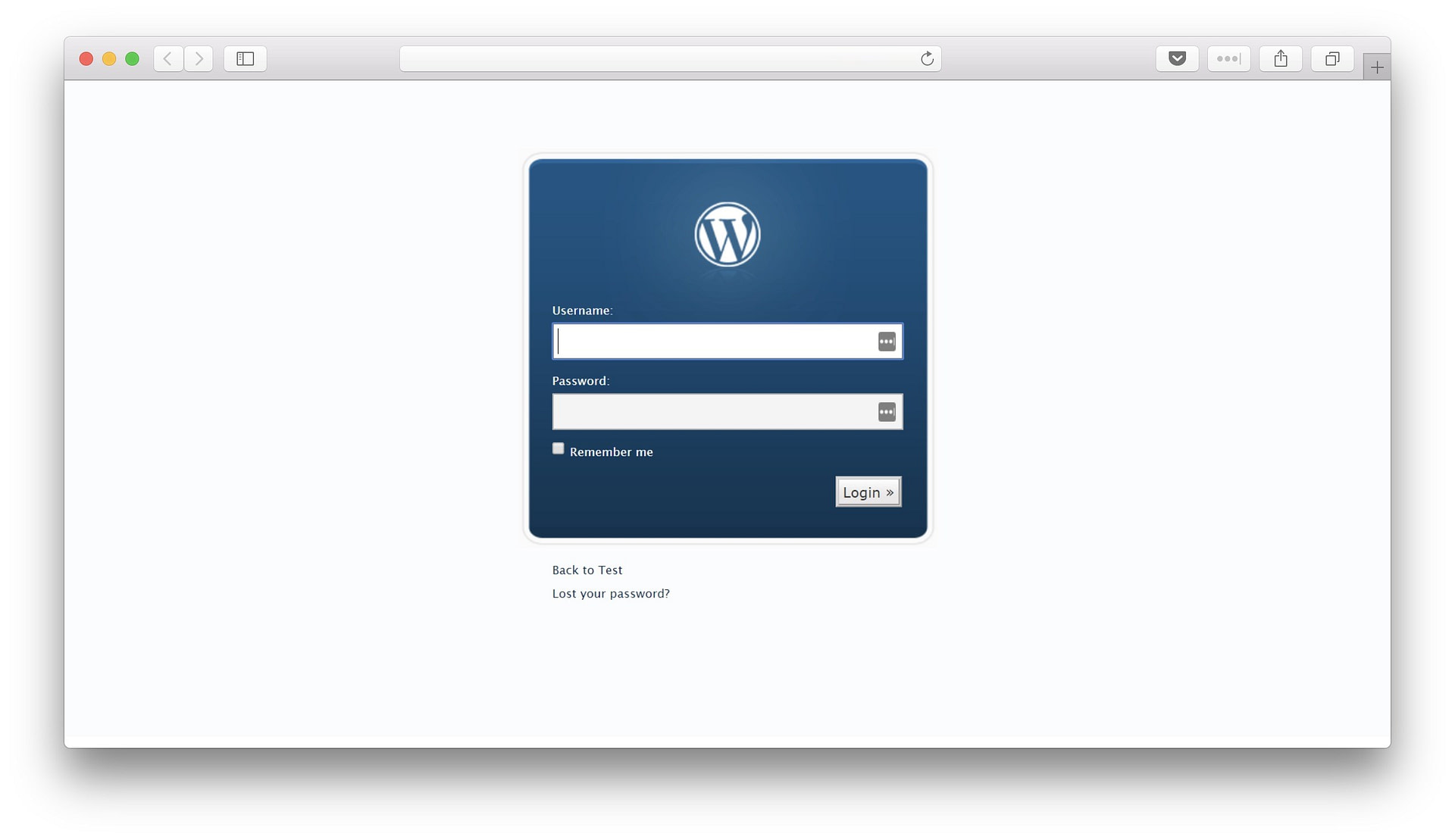 WordPress 2.3 "Dexter" – September 25, 2007
Release post. Tags get introduced, plus a new post status – "pending review."
WordPress 2.3 DASHBOARDWordPress 2.3 MANAGEWordPress 2.3 WRITEWordPress 2.3 LOGIN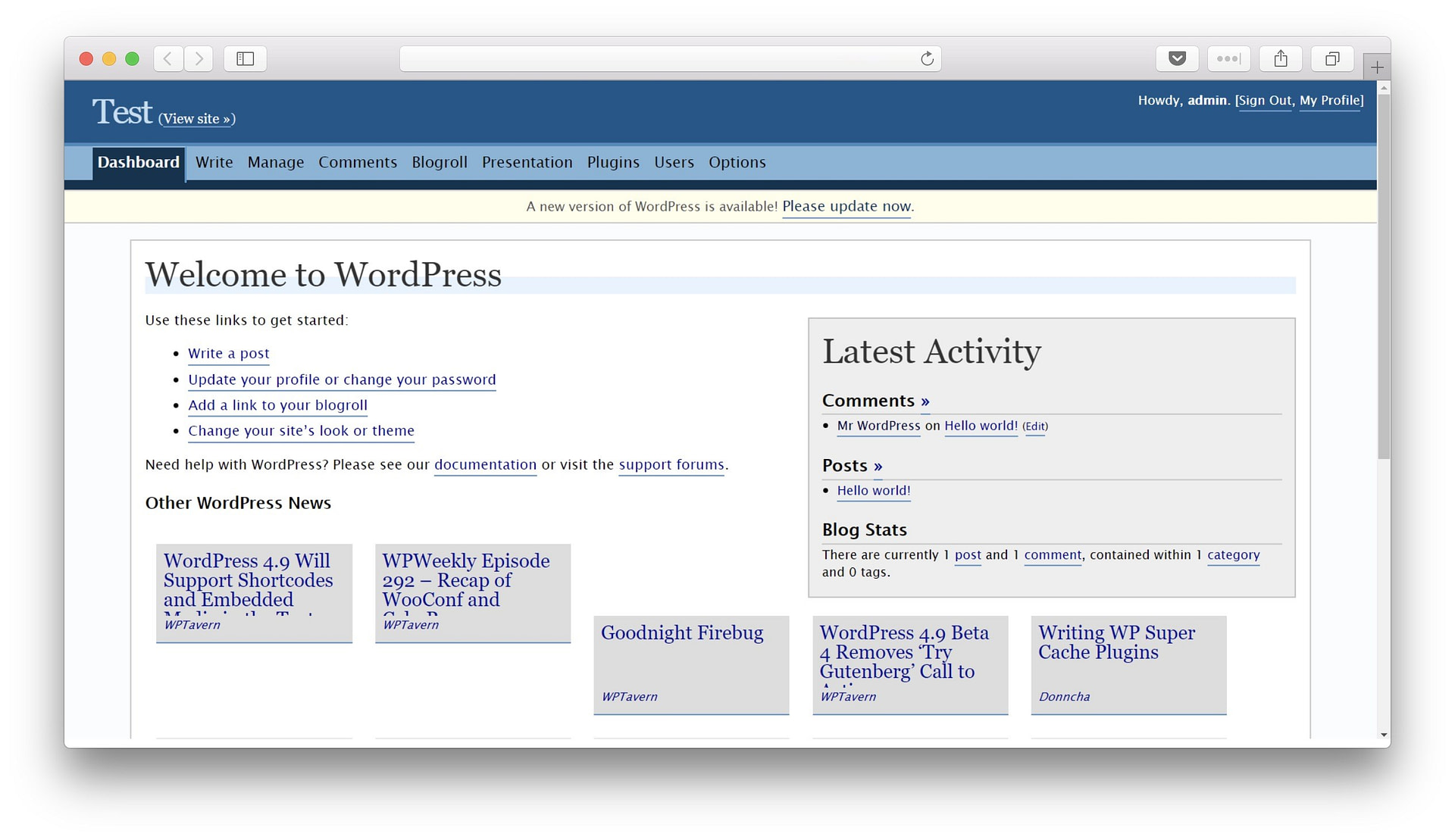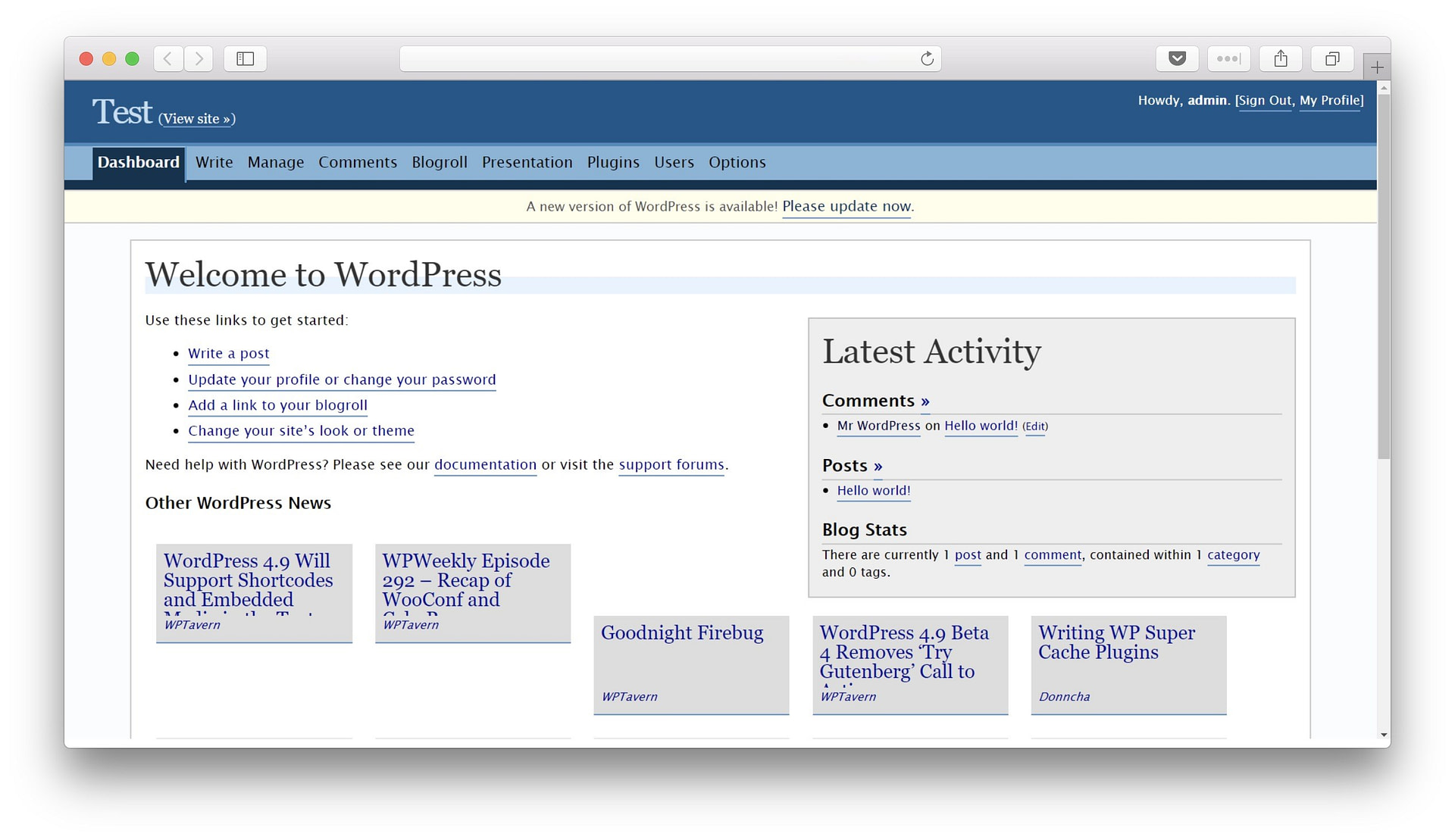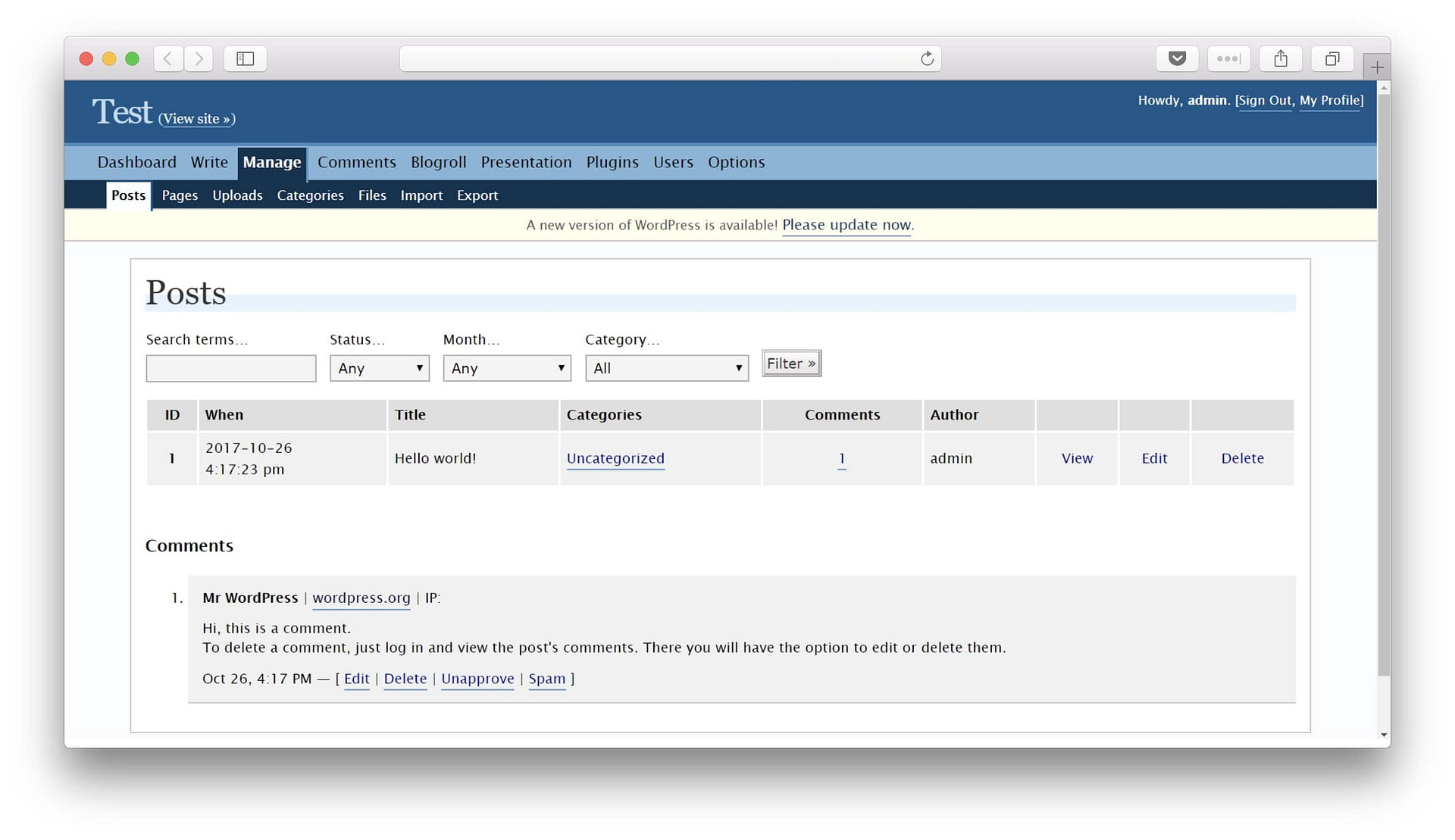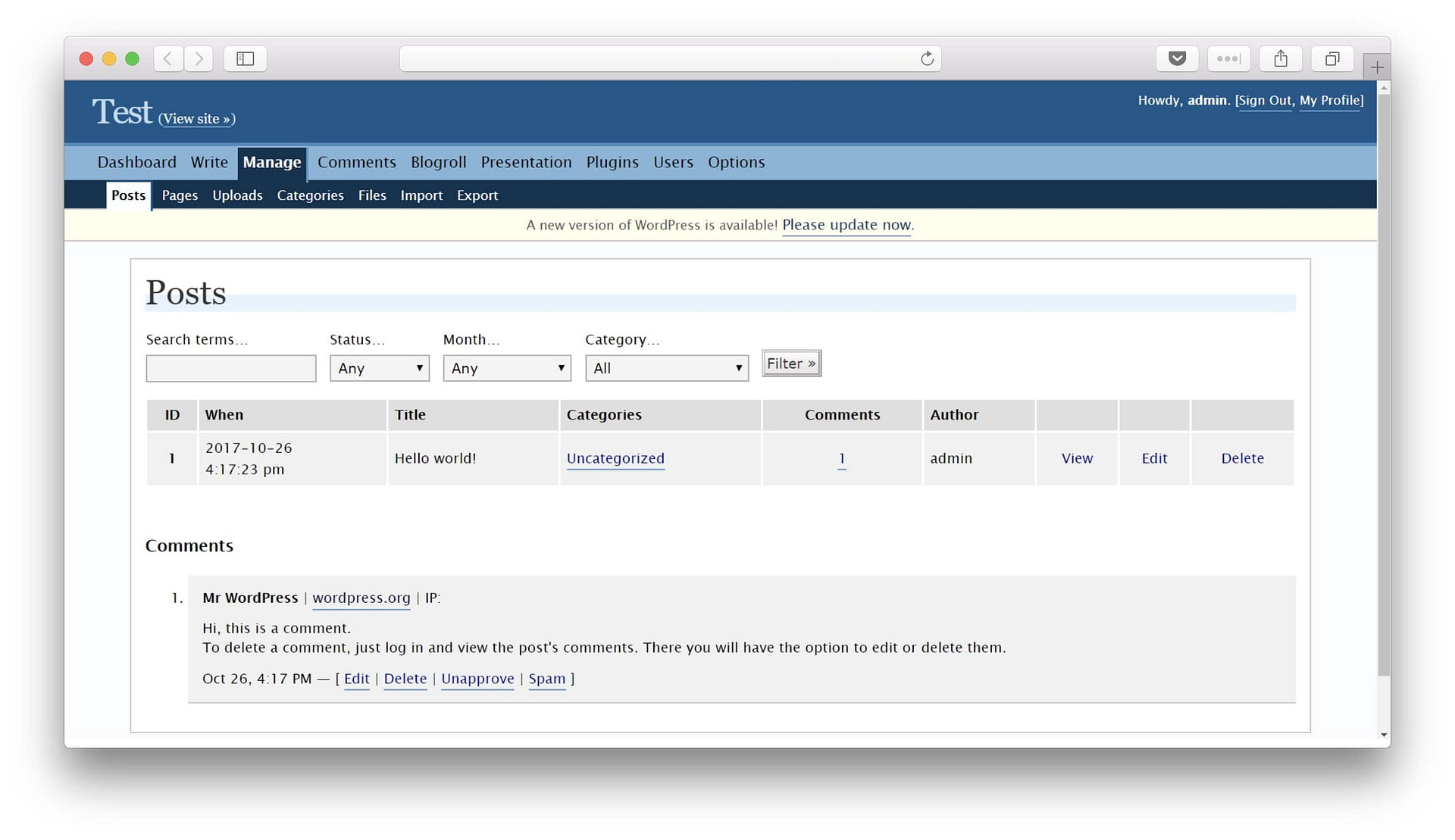 WordPress 2.5 "Brecker" – March 29, 2008
Release post. The main dashboard gets redone. There are new dashboard widgets, multi-file uploads, and a password strength meter.
WordPress 2.5 DASHBOARDWordPress 2.5 MANAGEWordPress 2.5 WRITEWordPress 2.5 LOGIN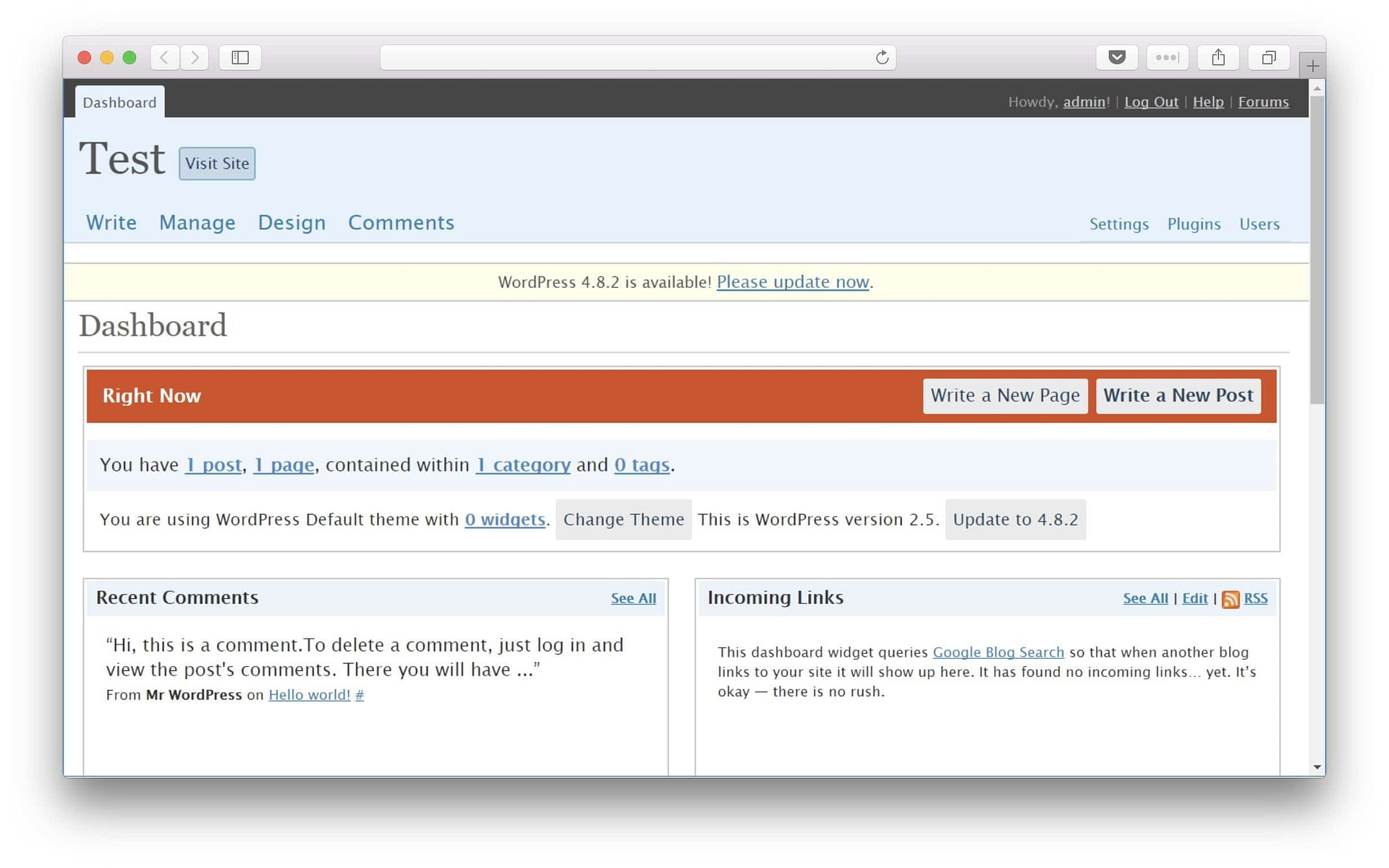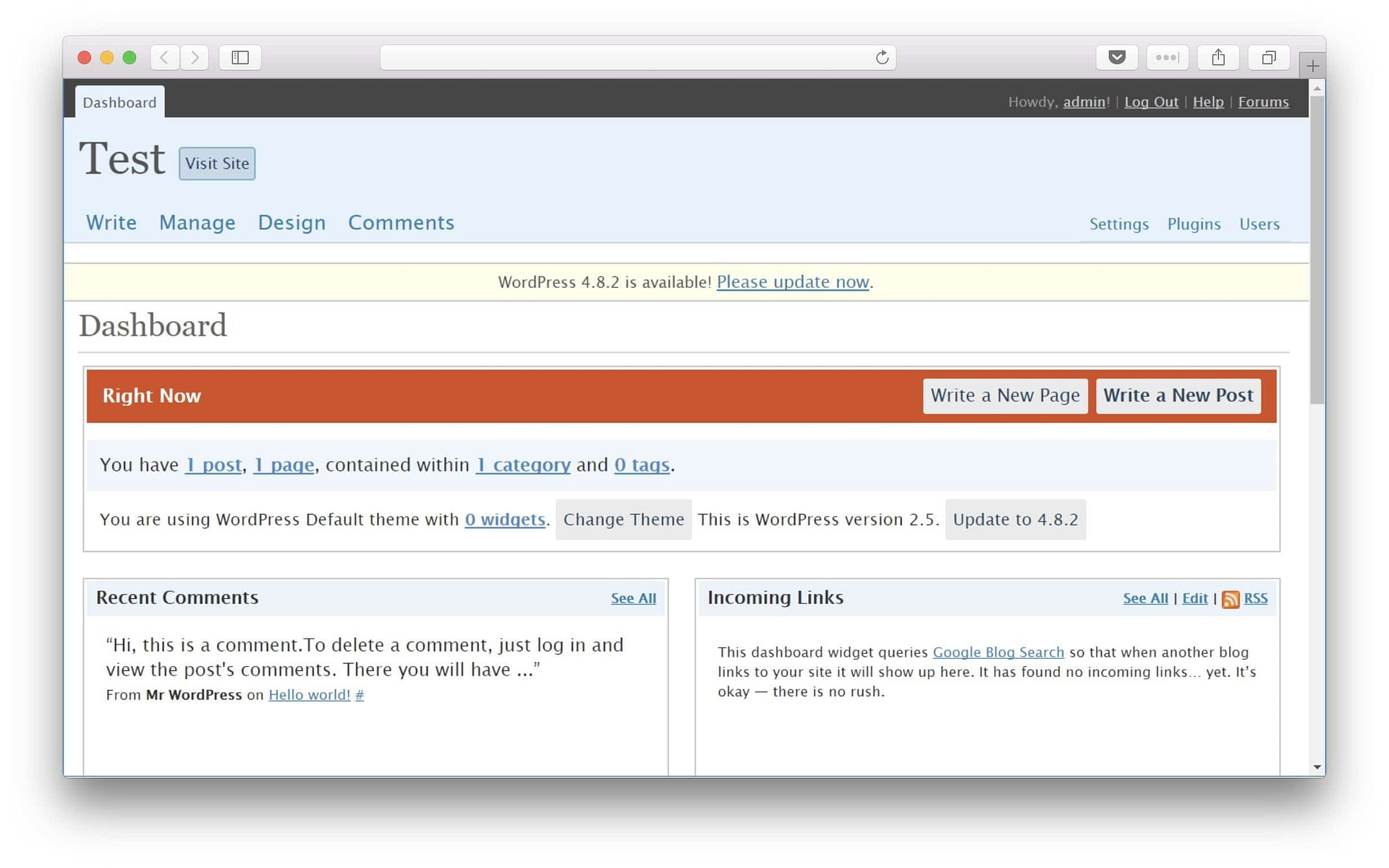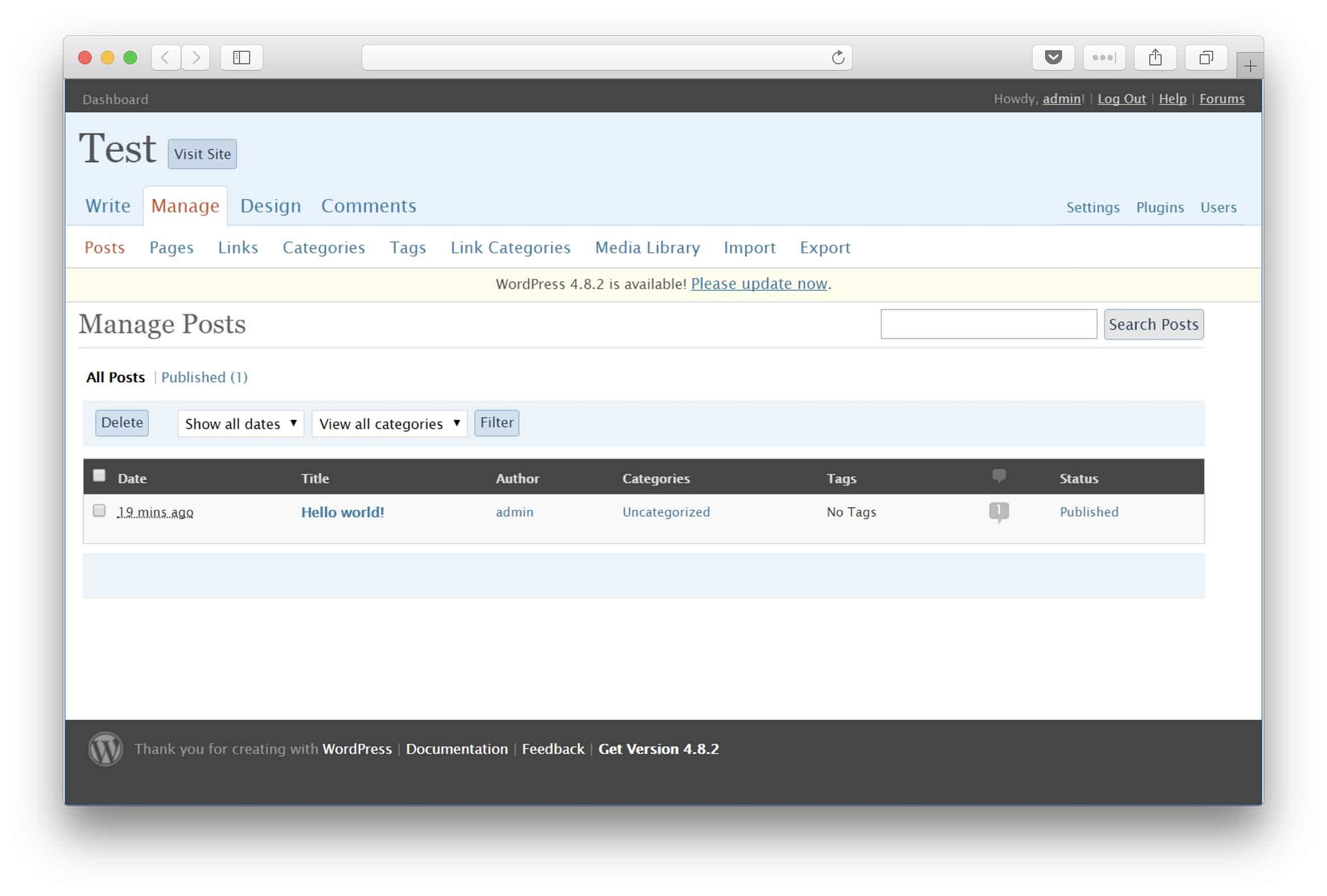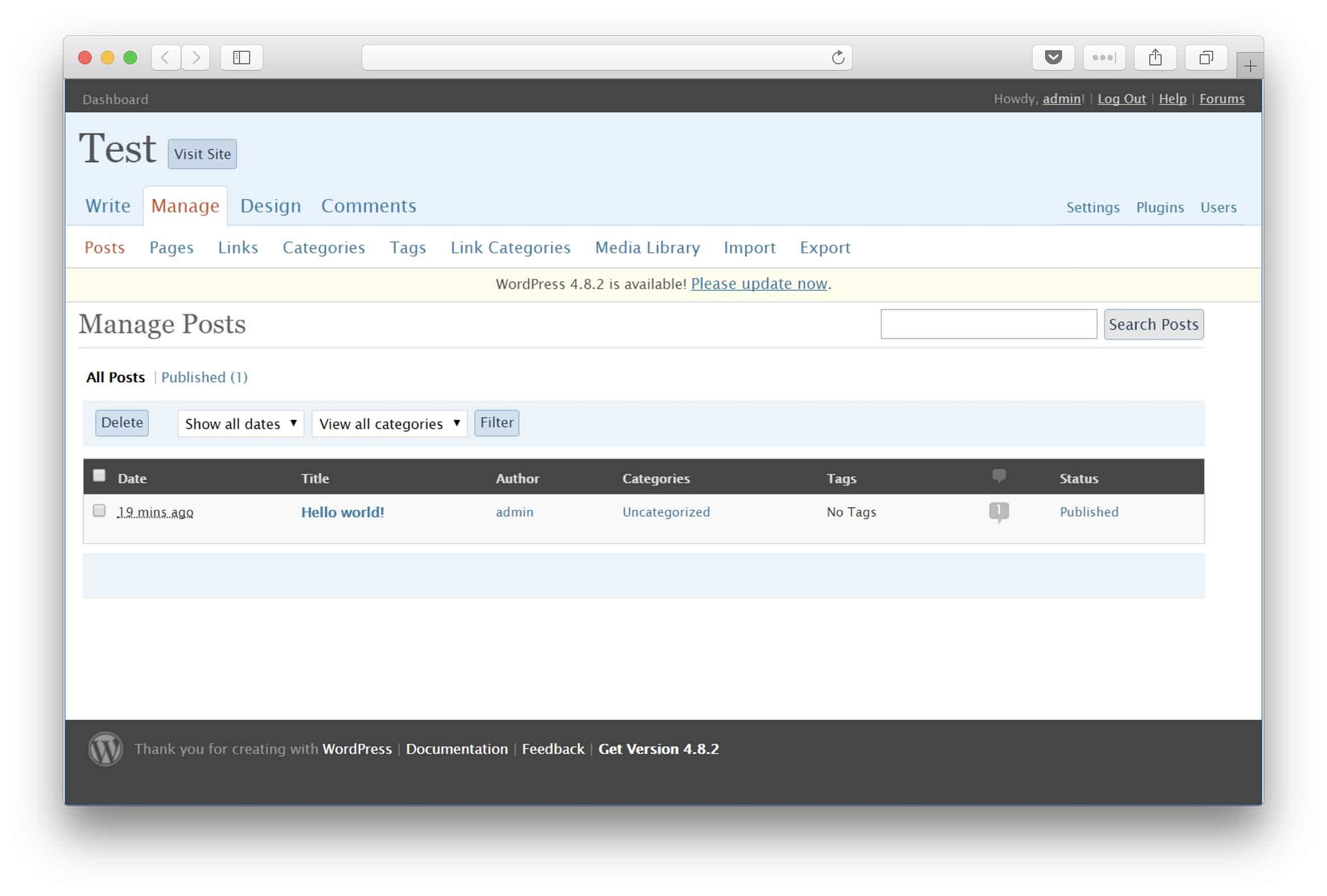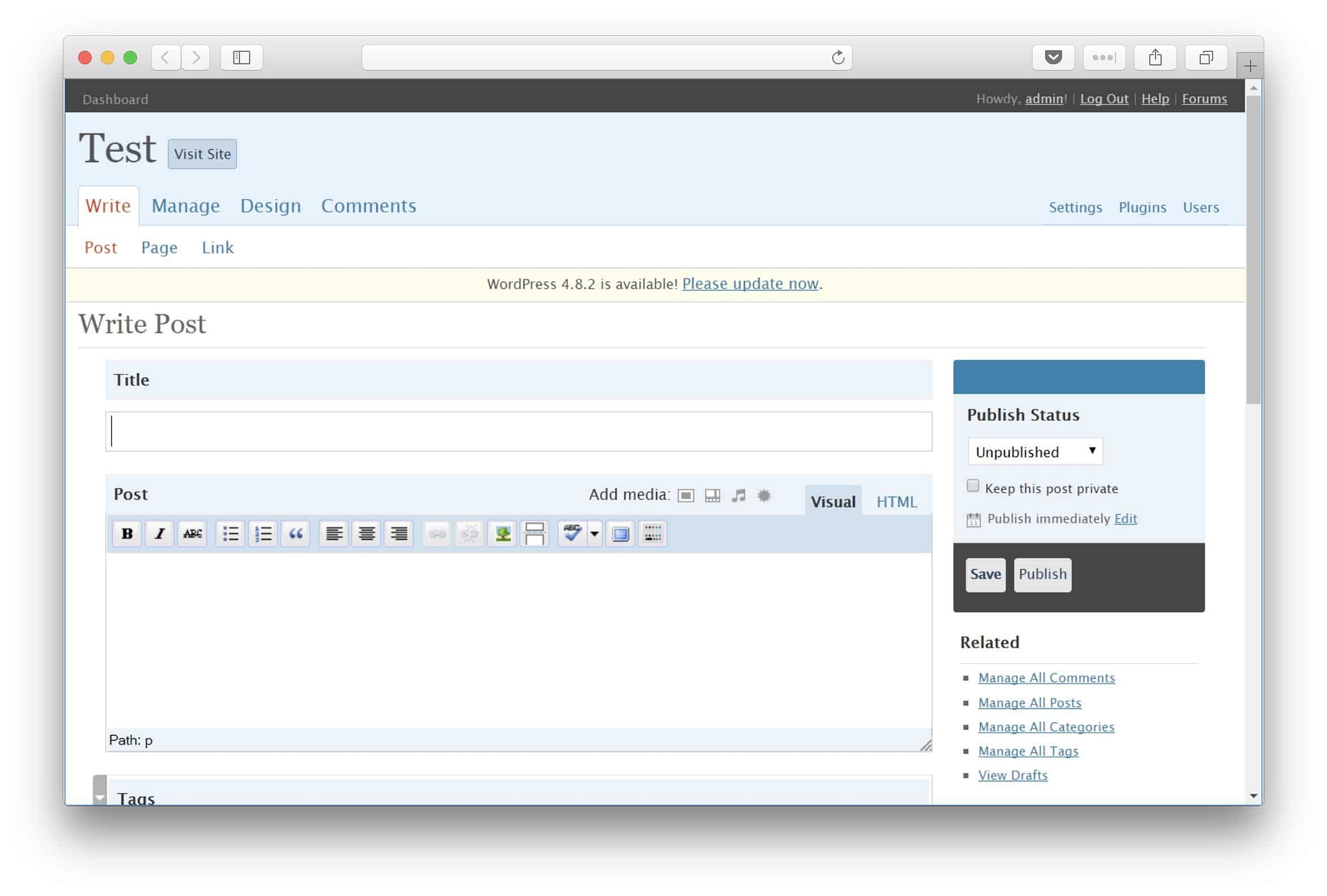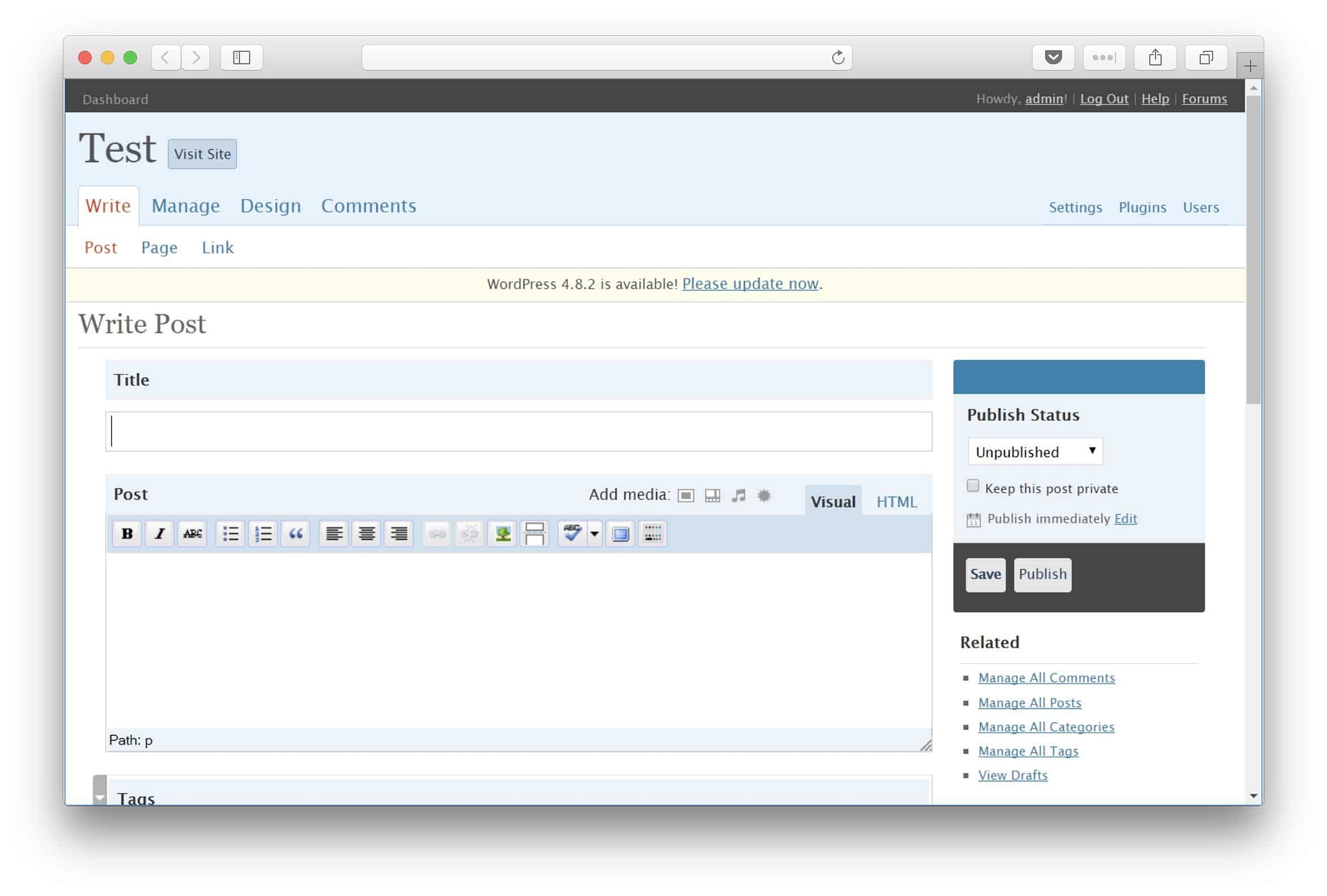 WordPress 2.6 "Tyner" – July 15, 2008
Release post. Post revisions get introduced, along with the classic "Press This!" bookmarklet, plus there are new theme previews.
WordPress 2.6 DASHBOARDWordPress 2.6 MANAGEWordPress 2.6 WRITEWordPress 2.6 LOGIN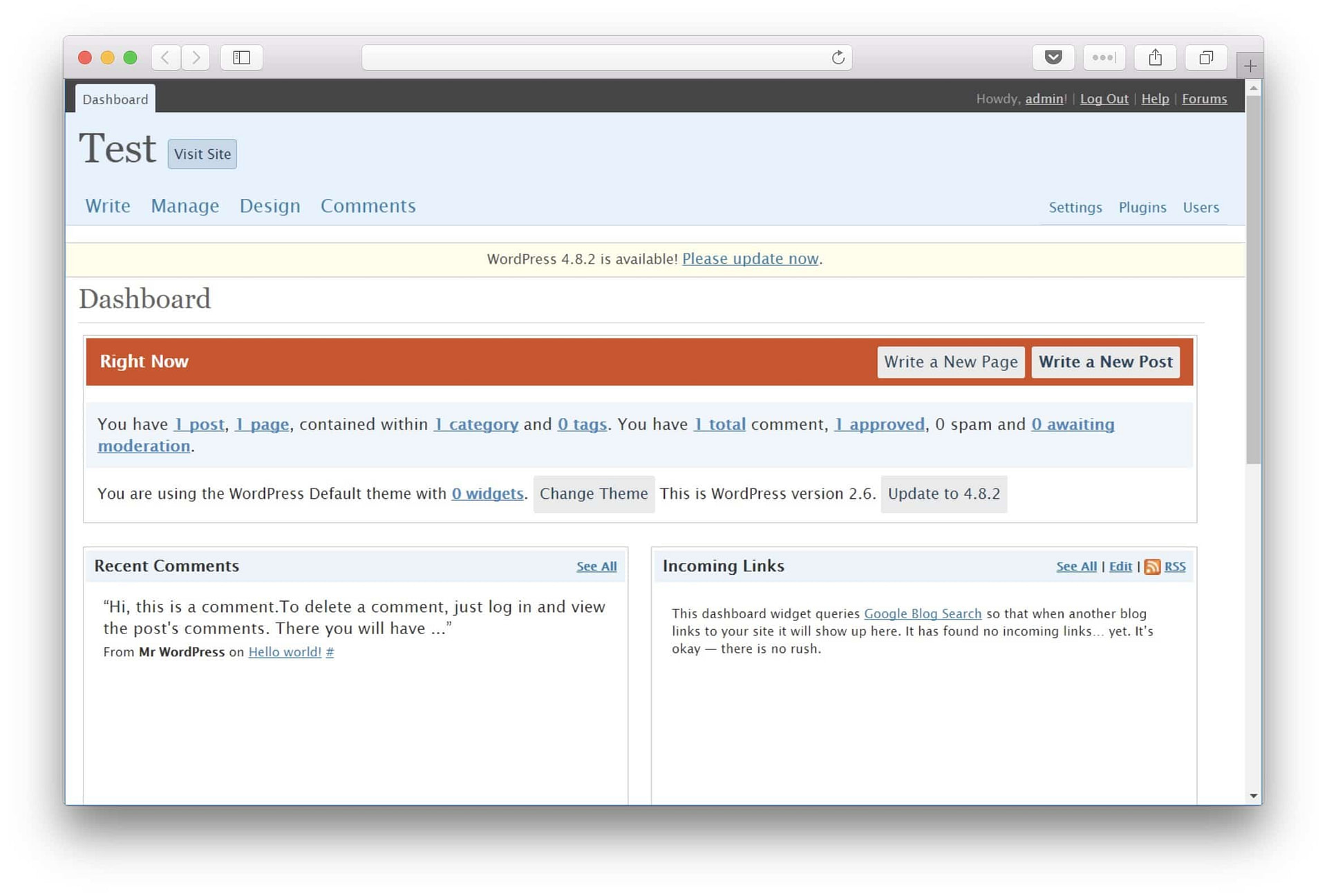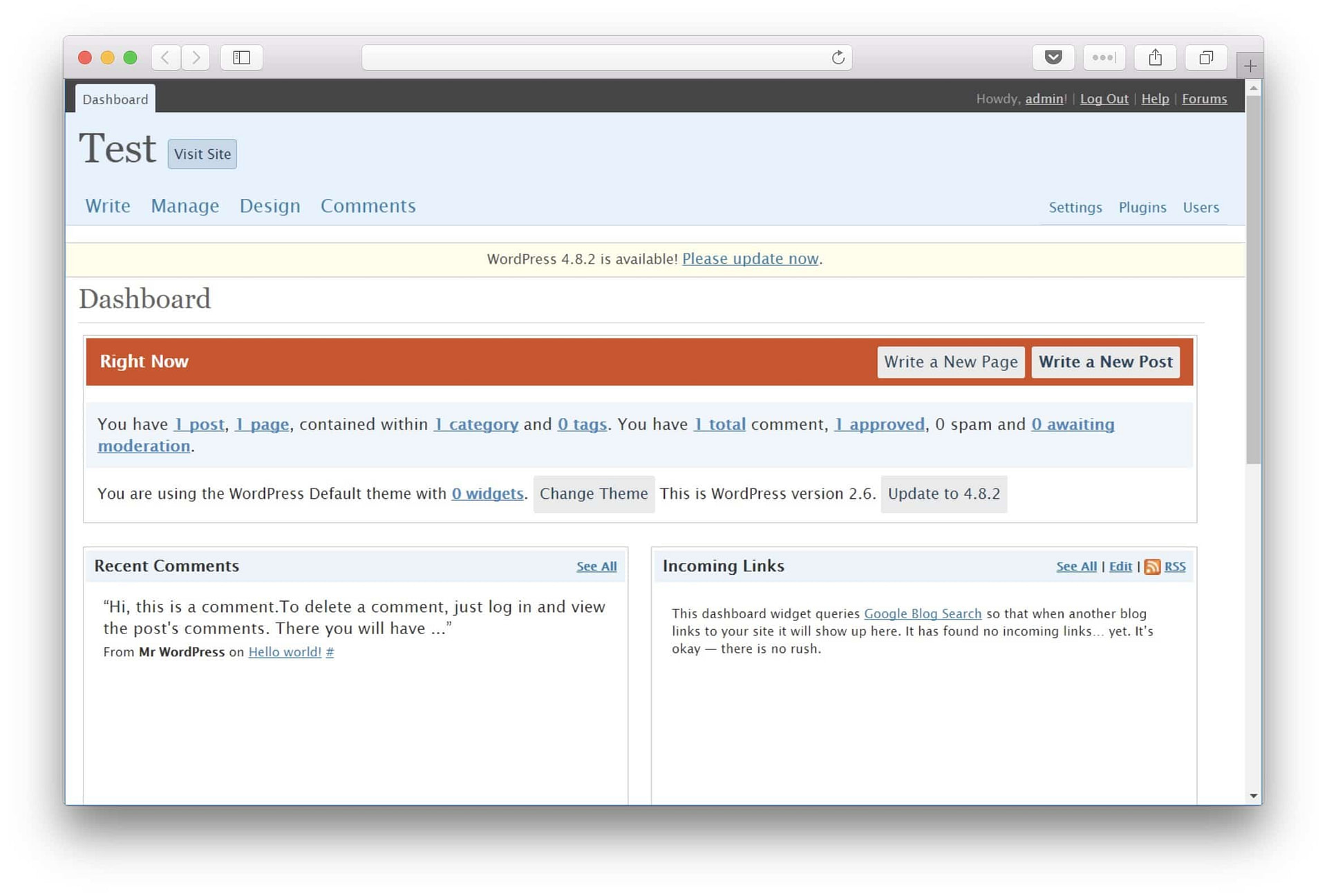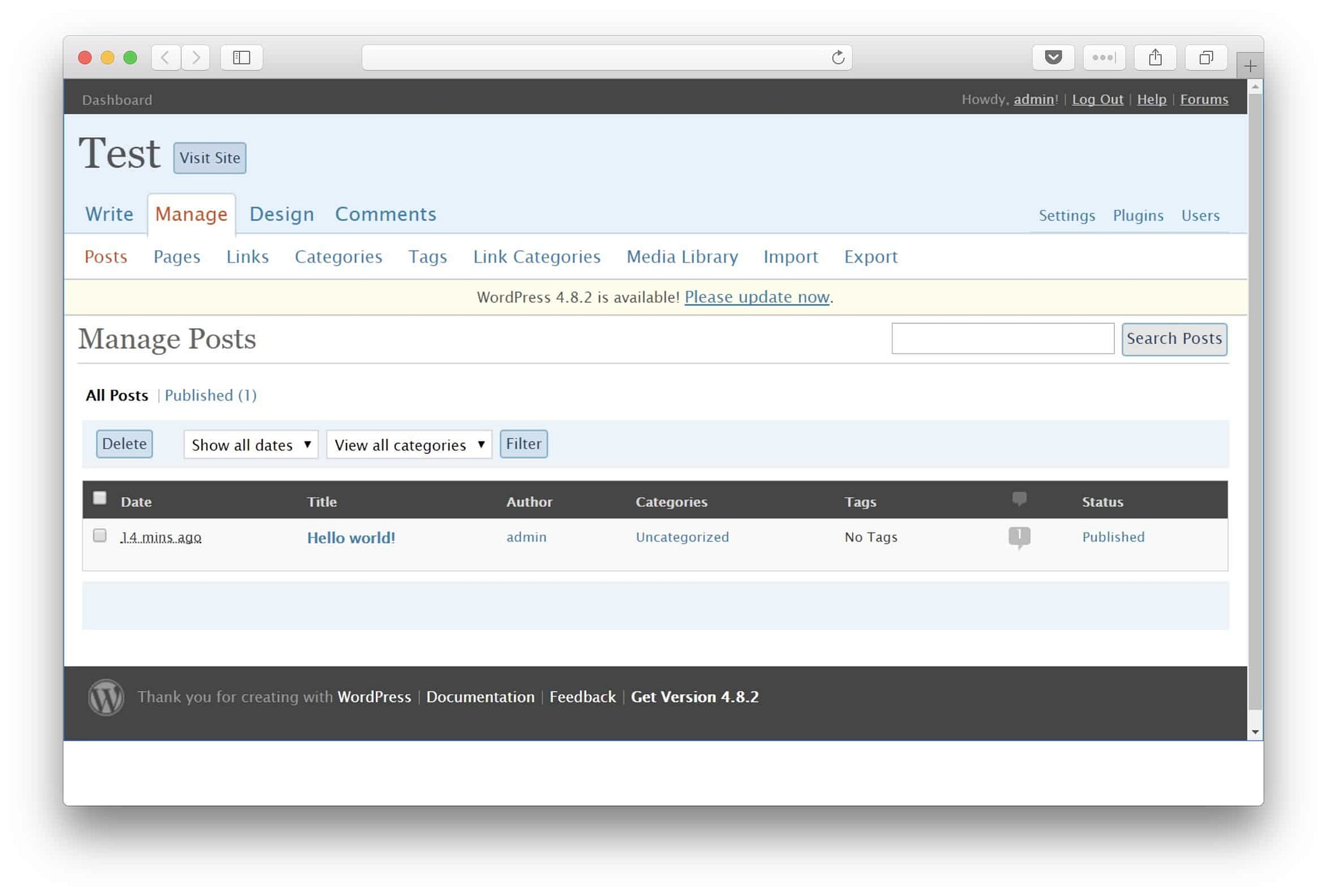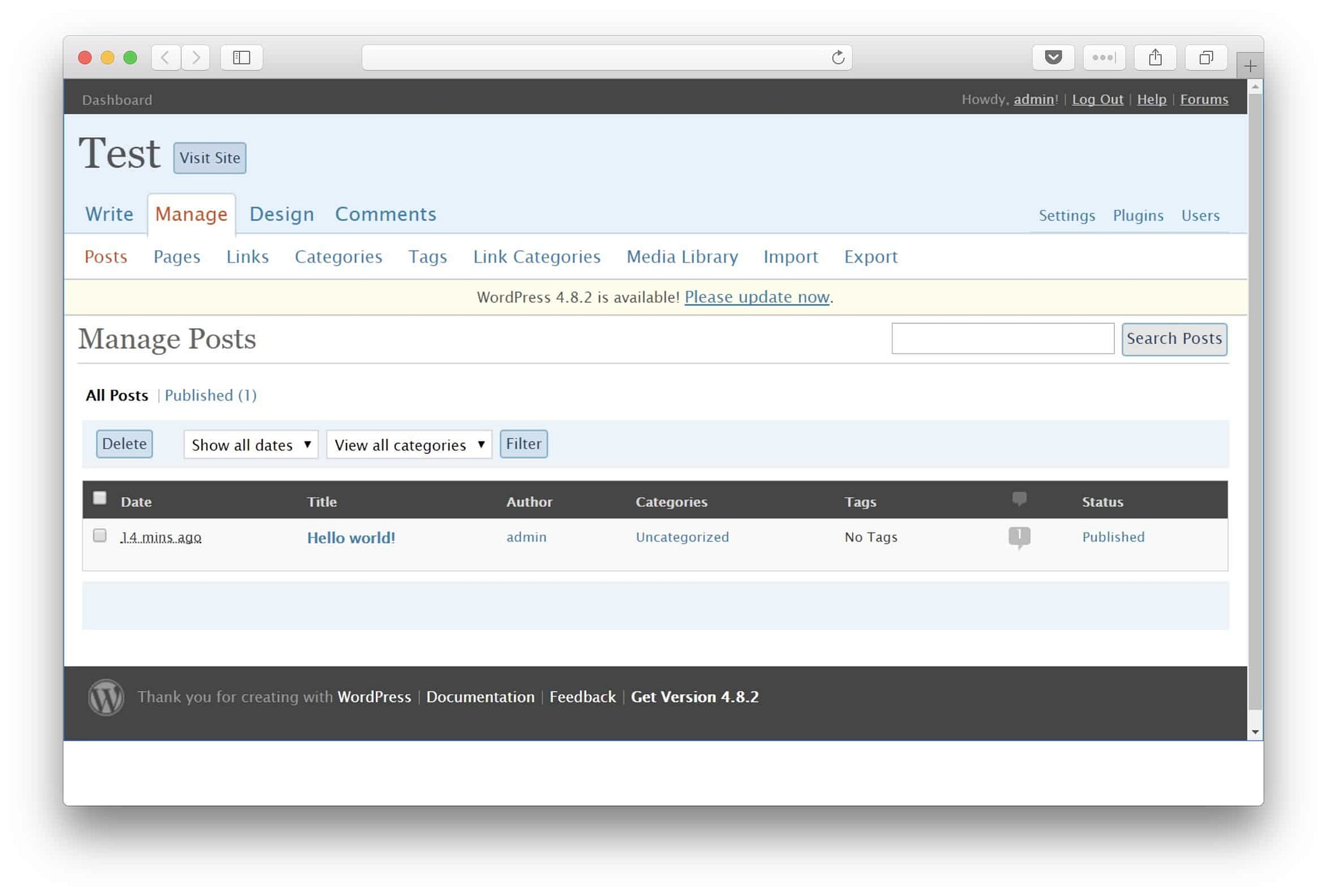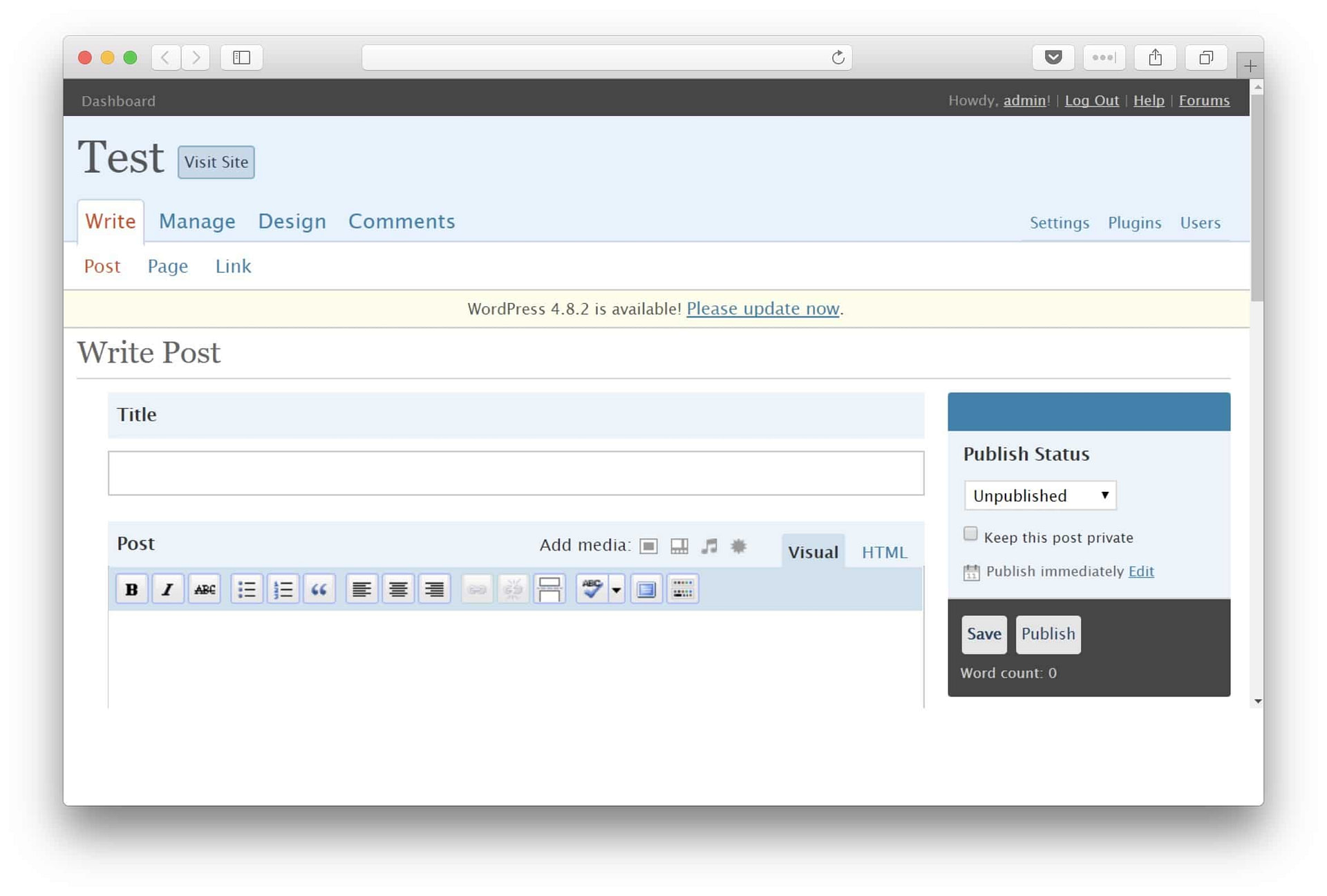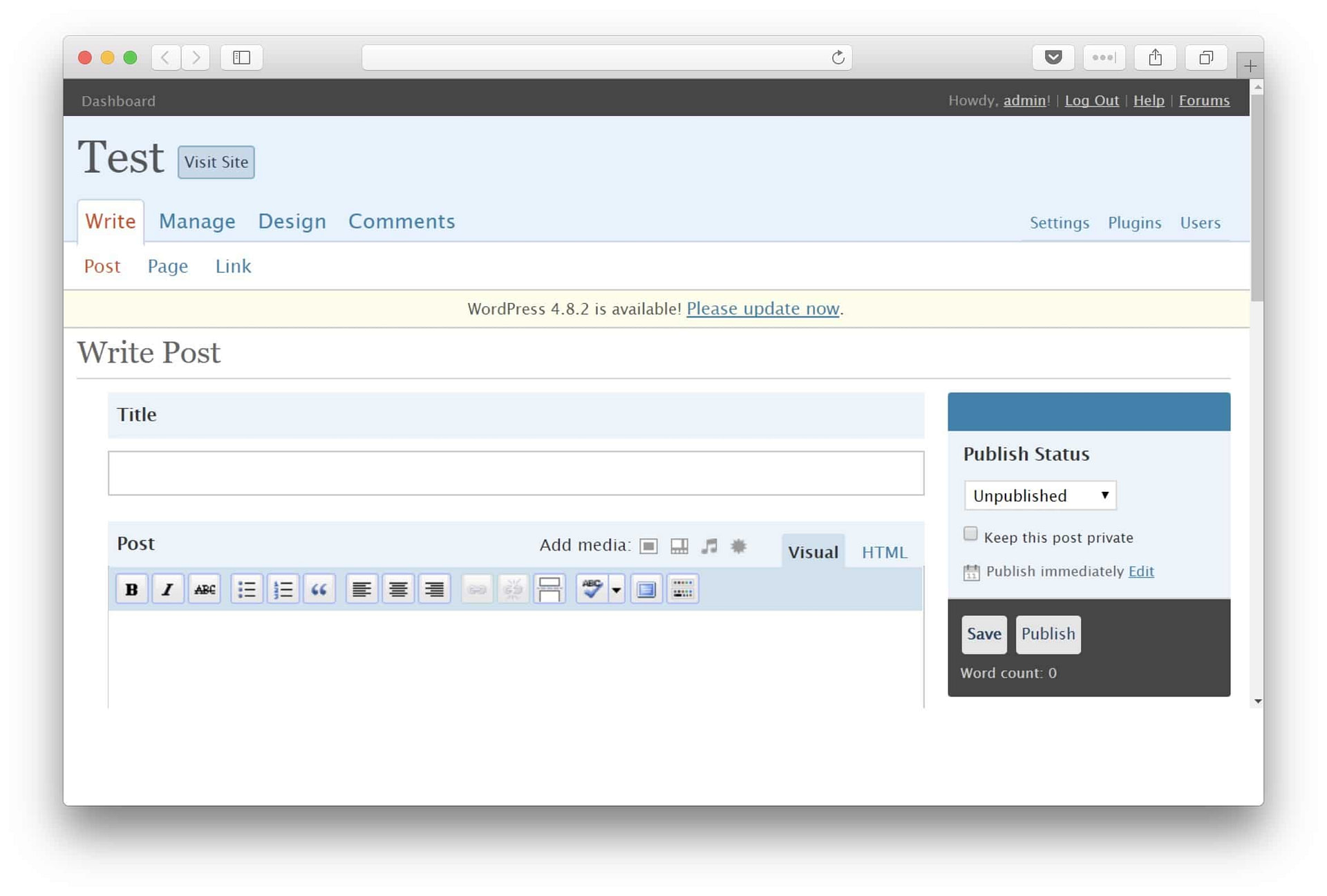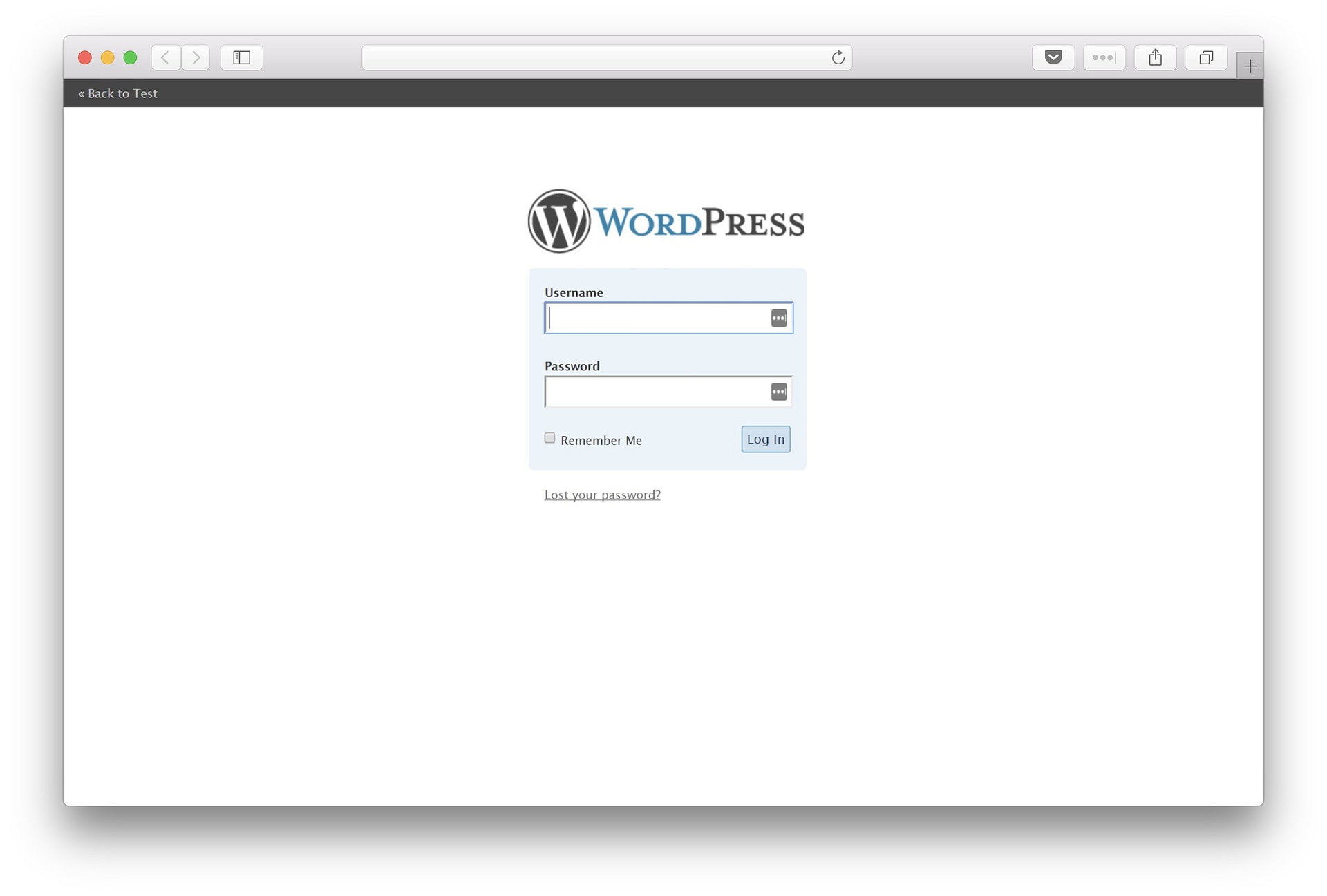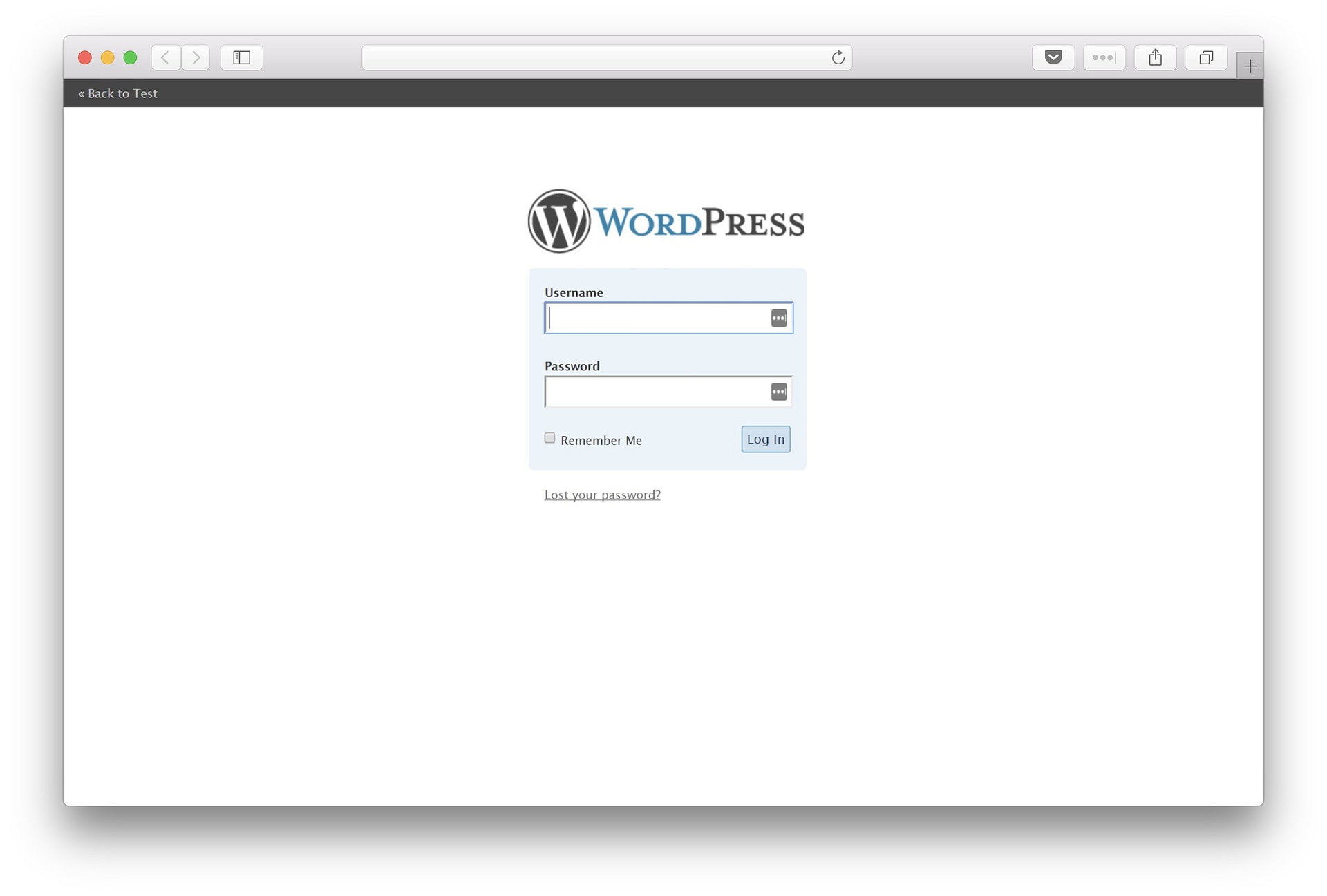 WordPress 2.7 "Coltrane" – December 11, 2008
Release post. We get a completely new interface for the dashboard!
WordPress 2.7 DASHBOARDWordPress 2.7 MANAGEWordPress 2.7 WRITEWordPress 2.7 LOGIN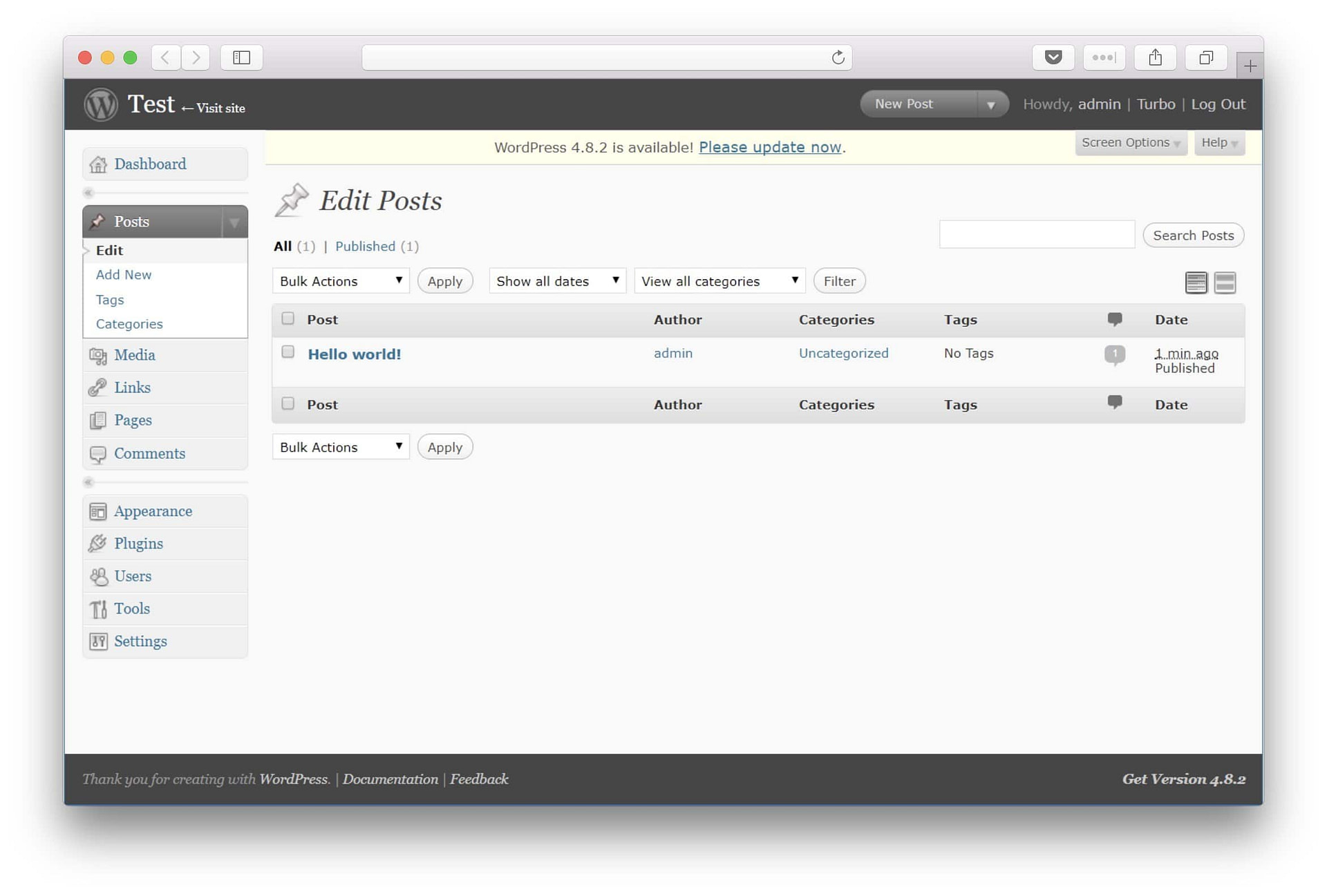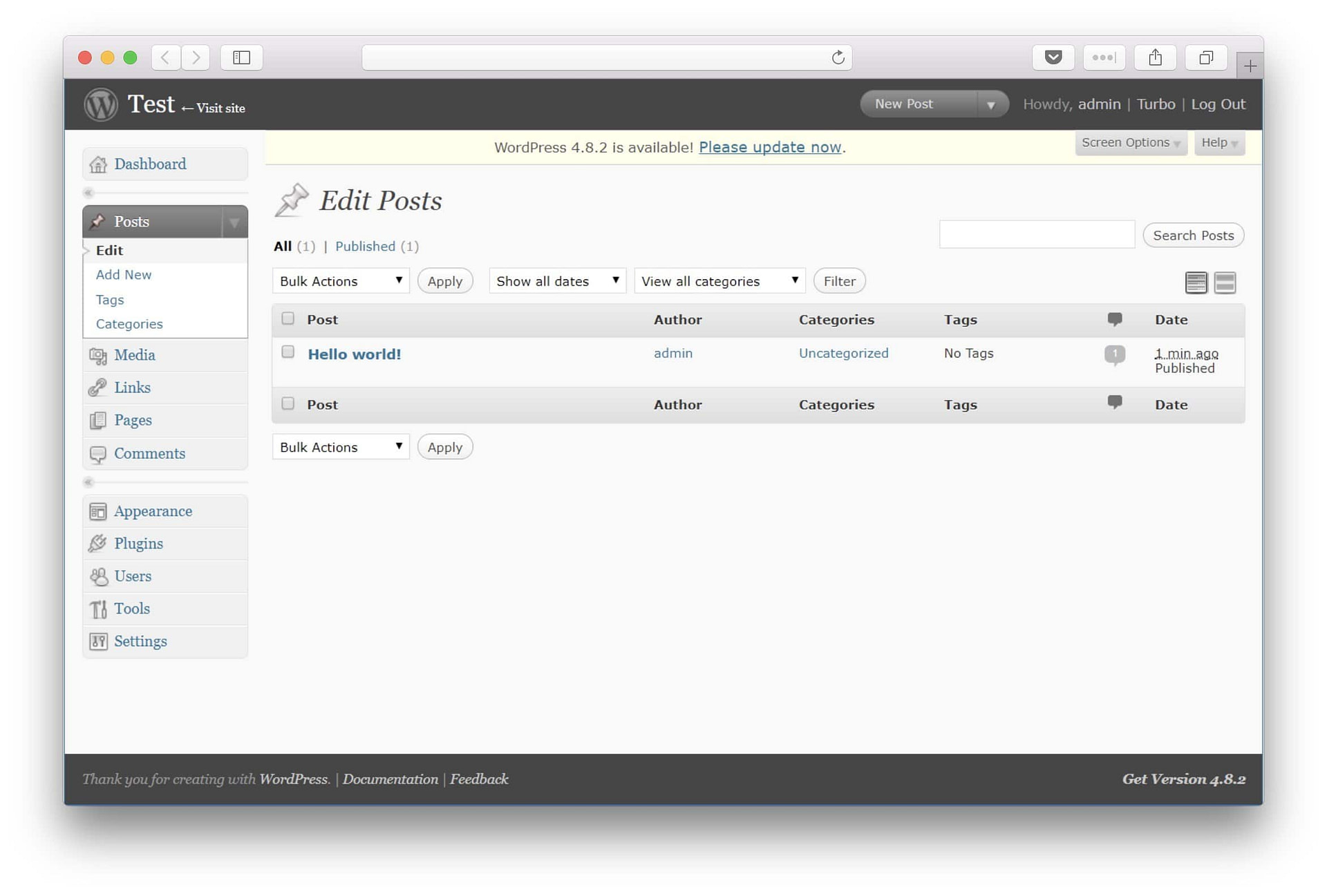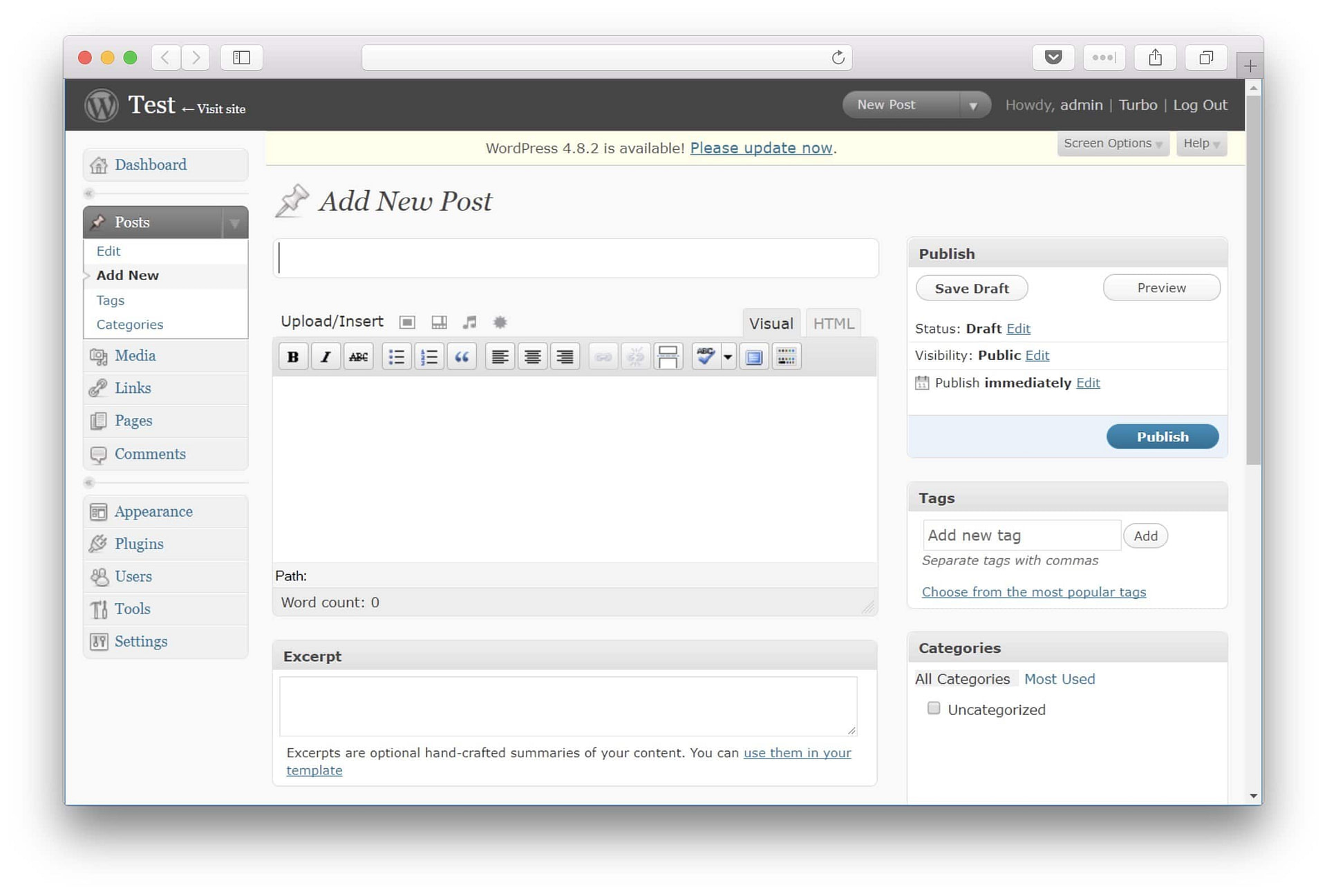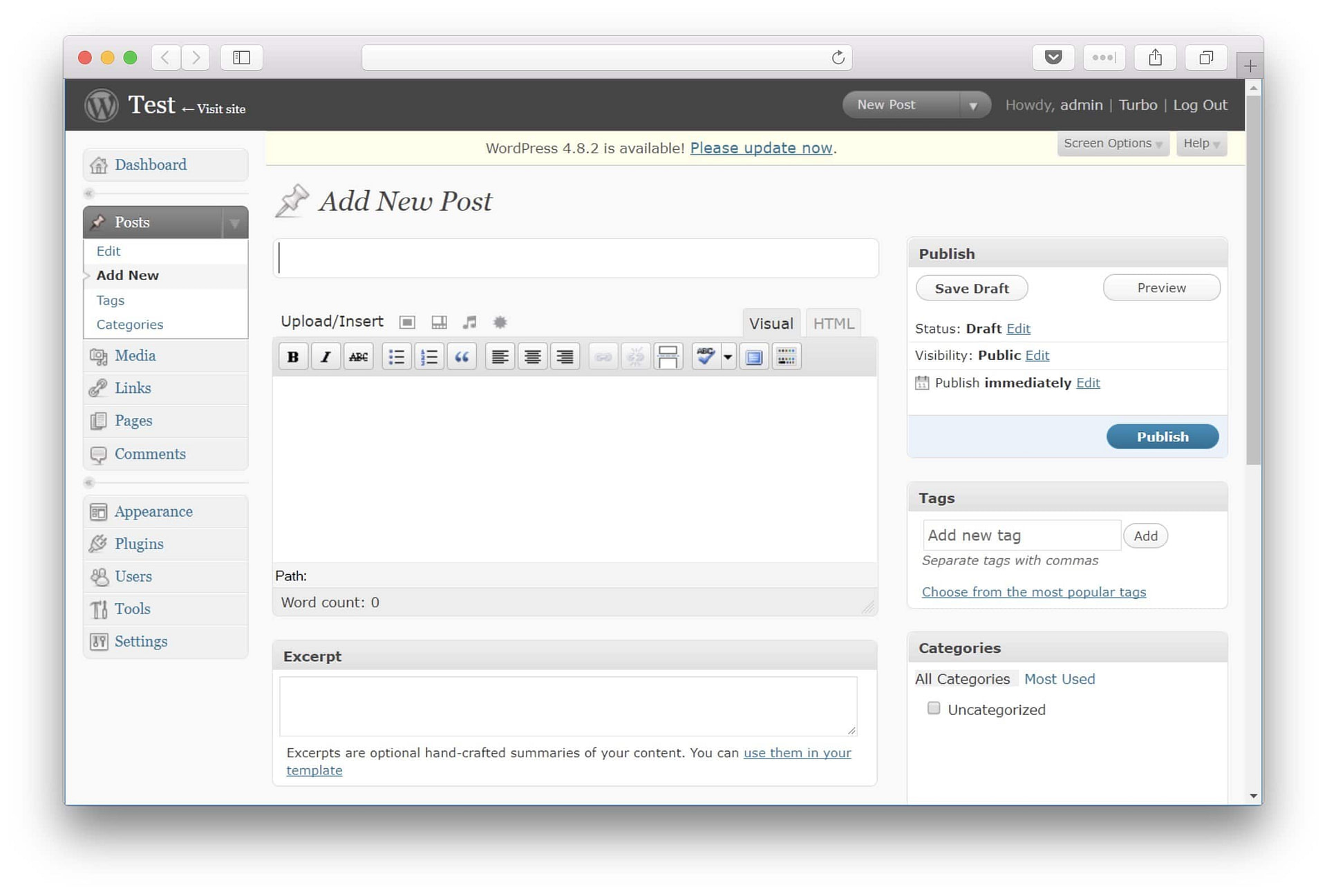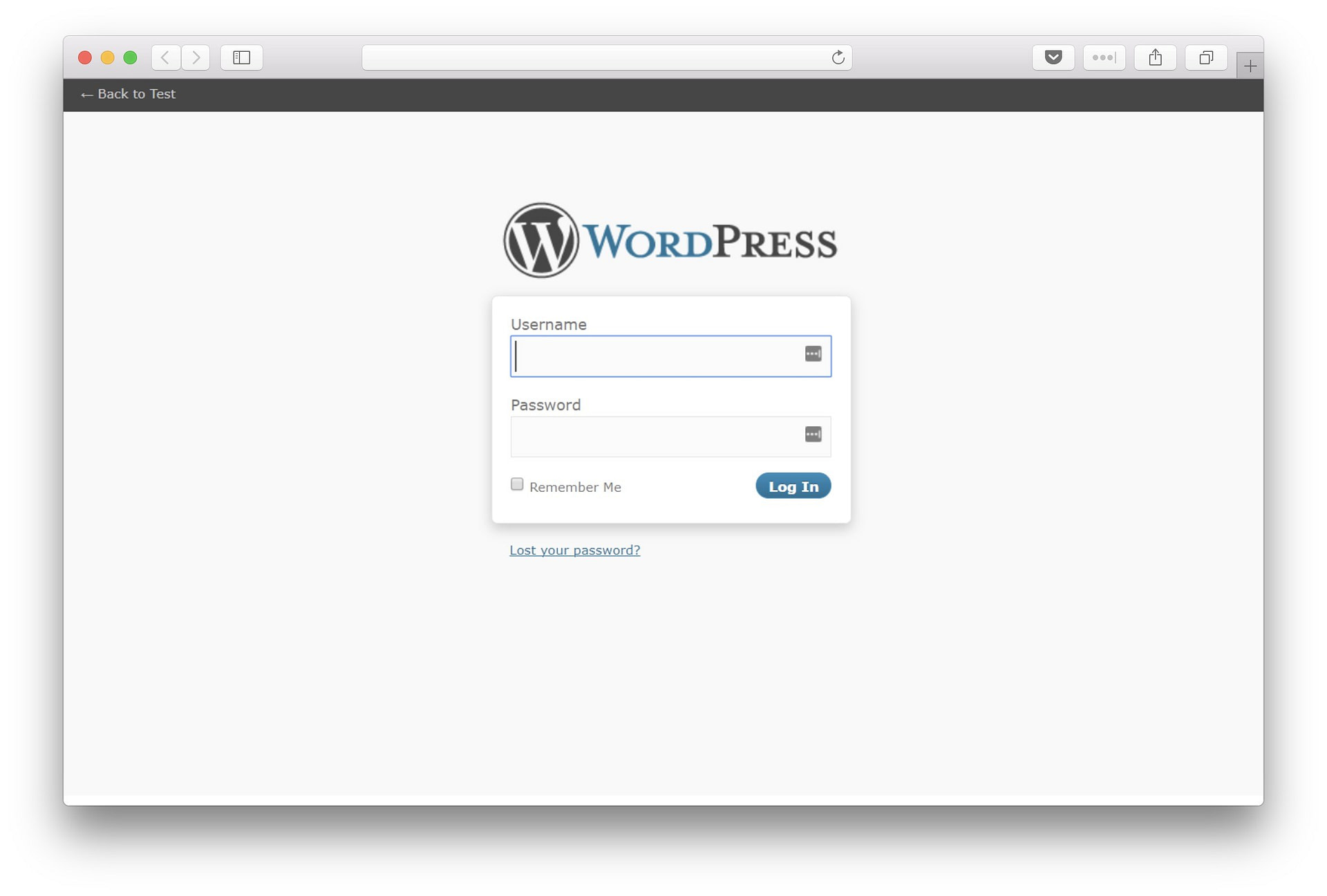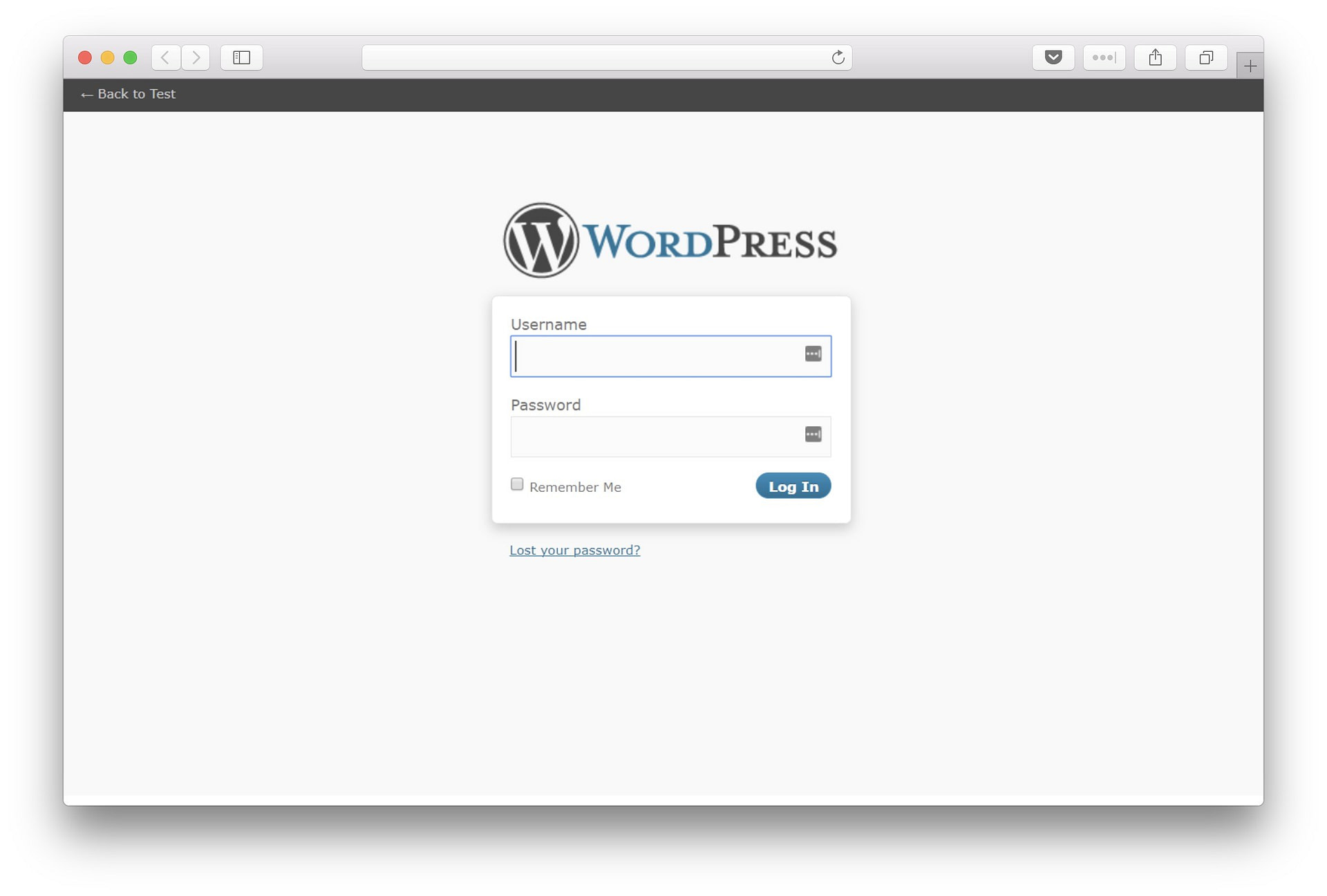 WordPress 2.8 "Baker" – June 11, 2009
Release post. Various improvements to themes, widgets, taxonomies, and site speed.
WordPress 2.8 DASHBOARDWordPress 2.8 MANAGEWordPress 2.8 WRITEWordPress 2.8 LOGIN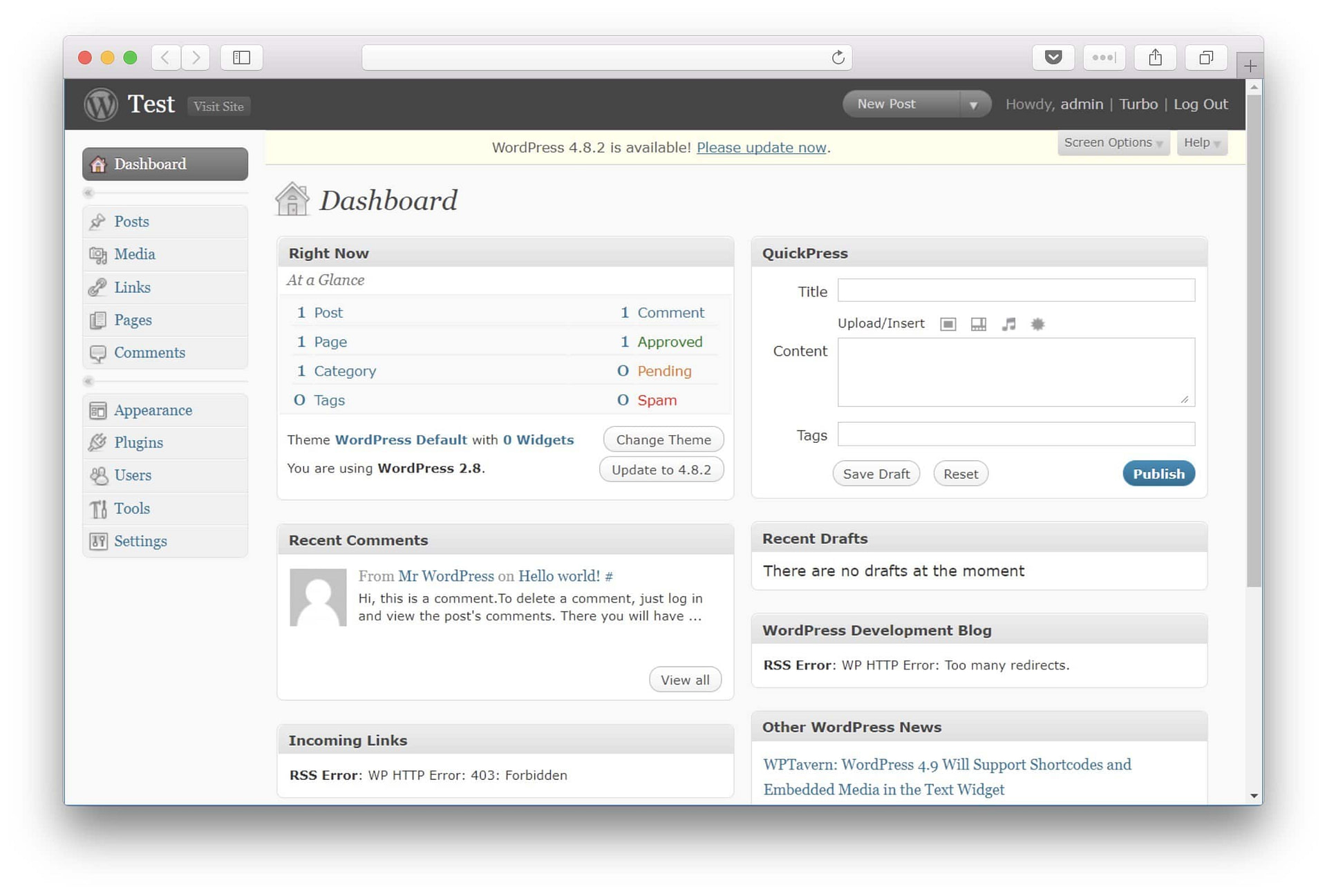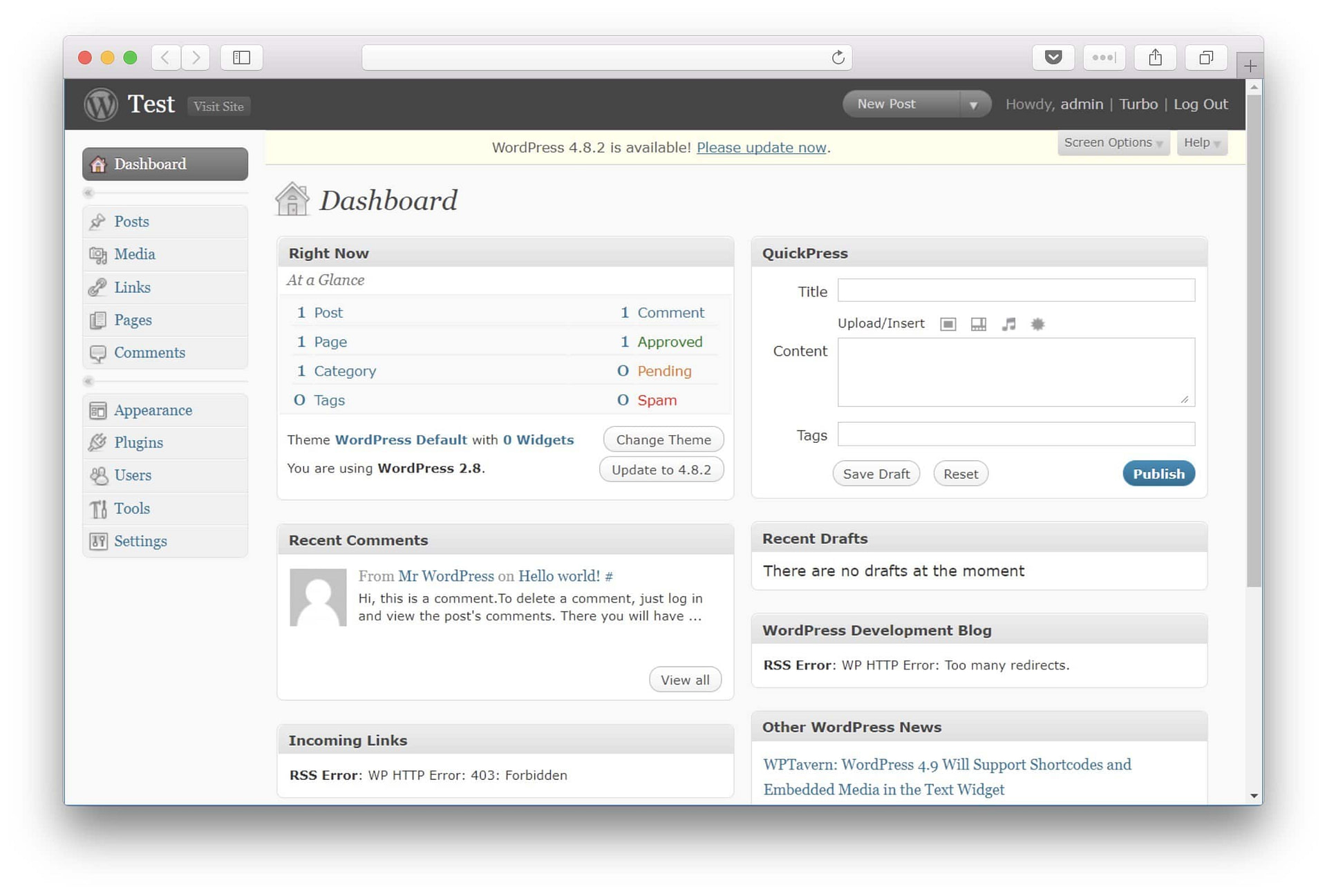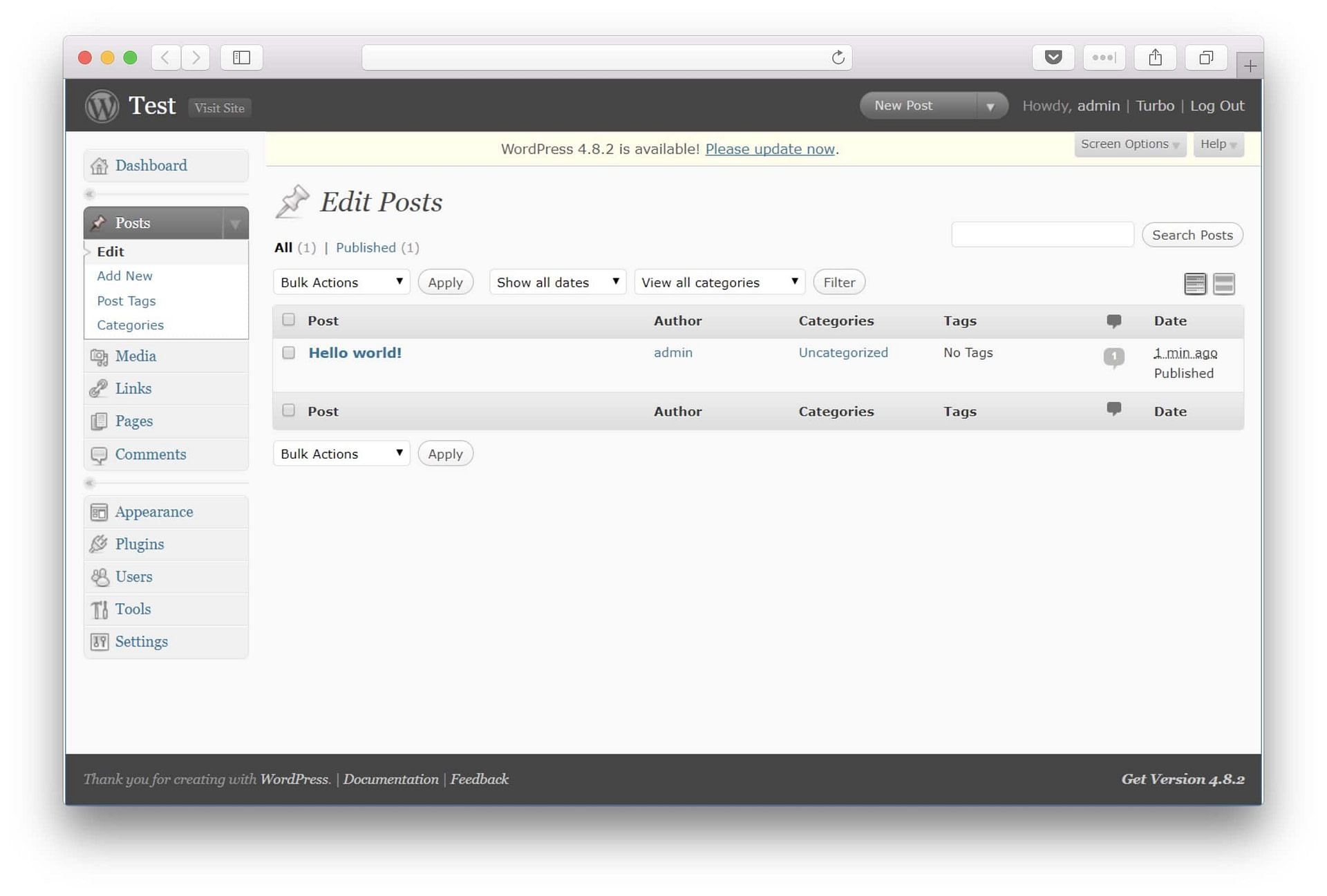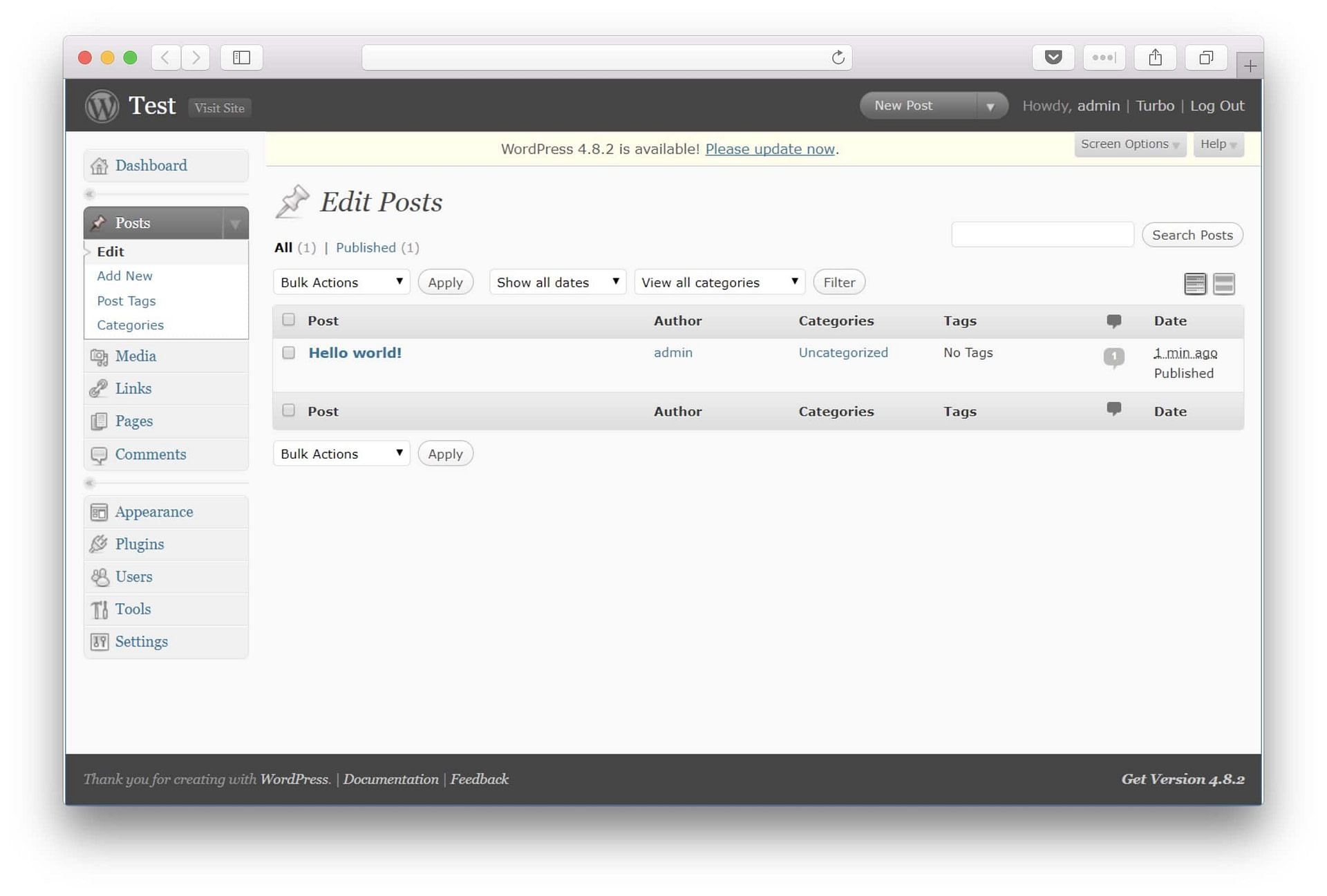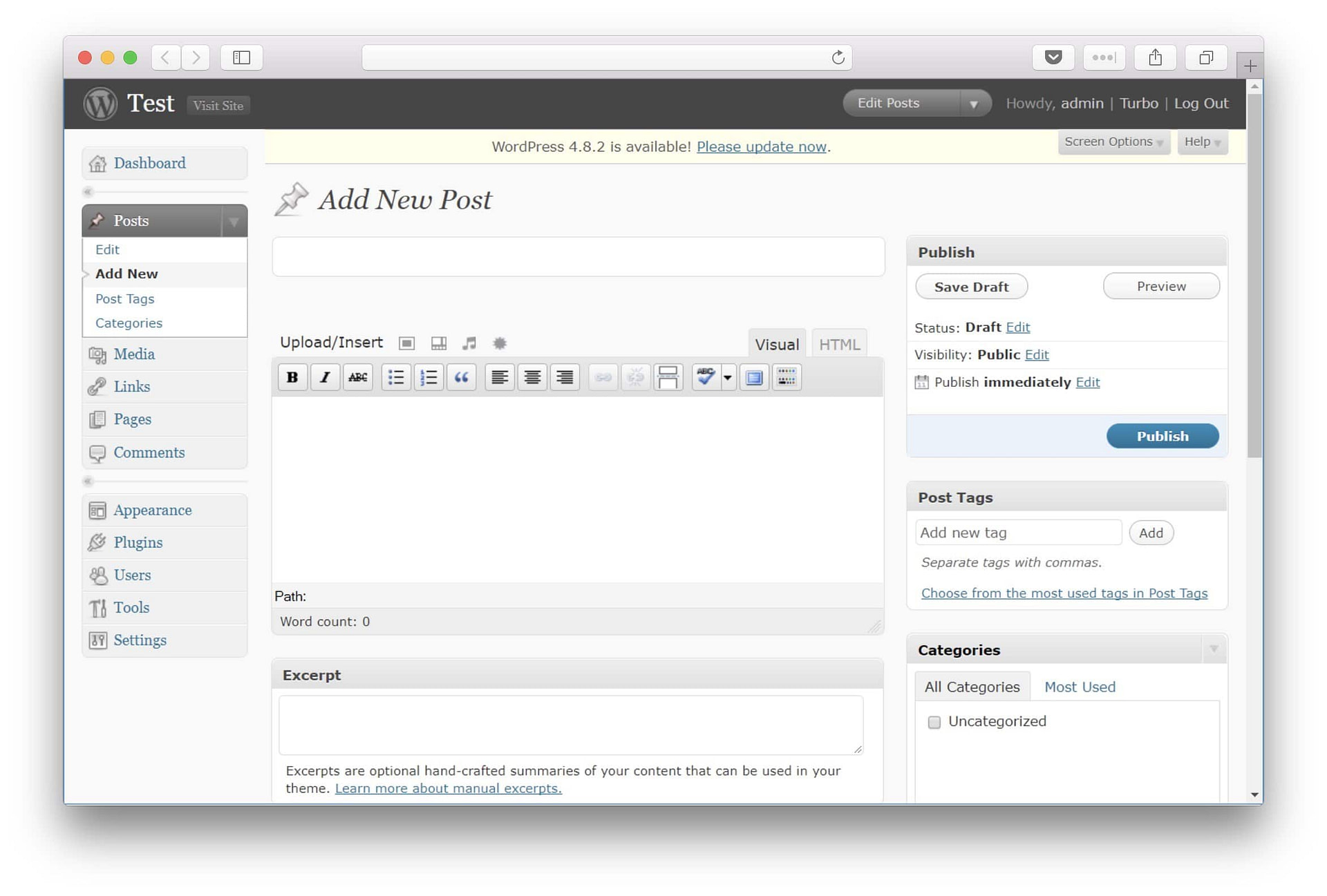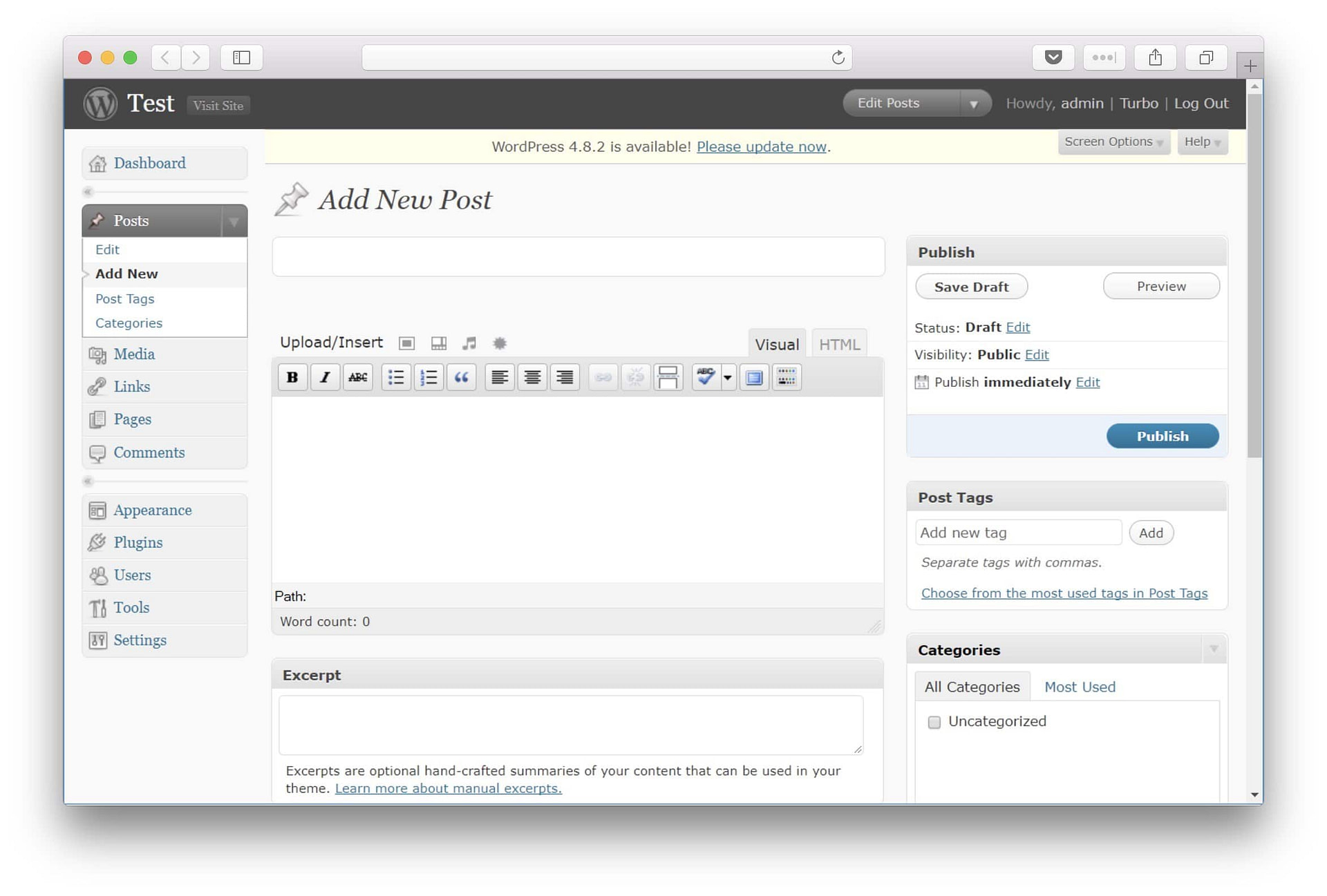 WordPress 2.9 "Carmen" – December 19, 2009
Release post. There's a new global undo/"trash" feature, and built-in image editor.
WordPress 2.9 DASHBOARDWordPress 2.9 MANAGEWordPress 2.9 WRITEWordPress 2.9 LOGIN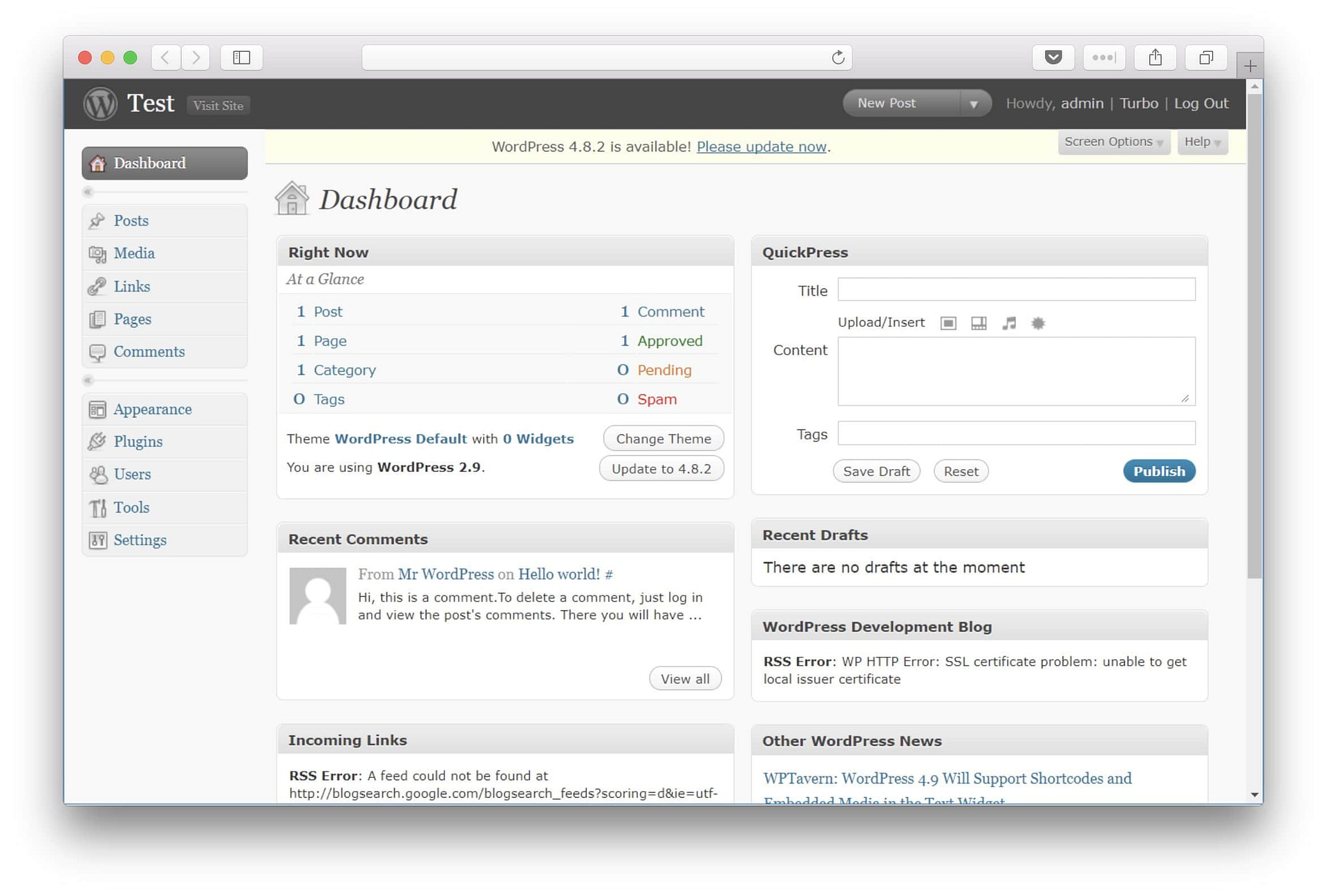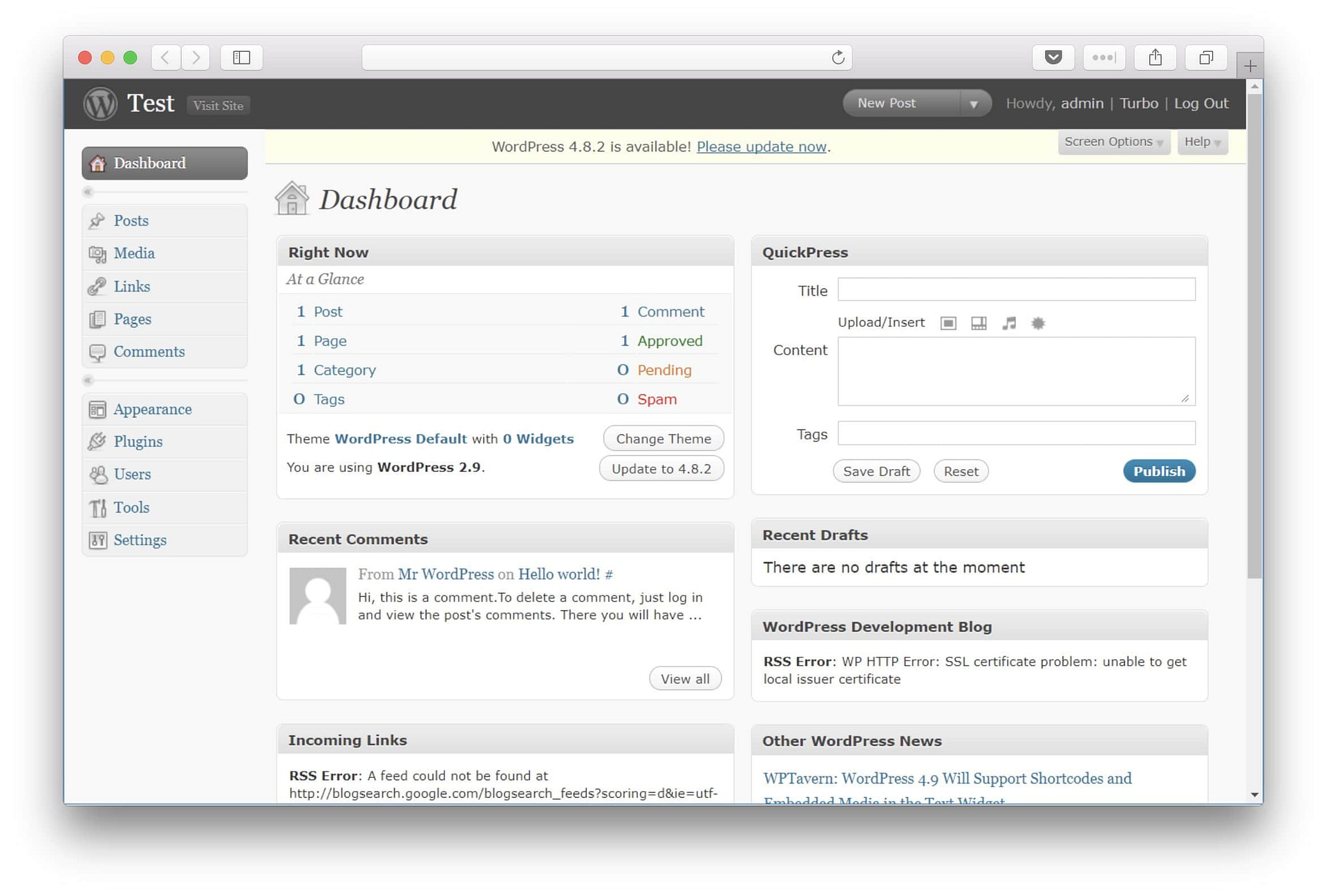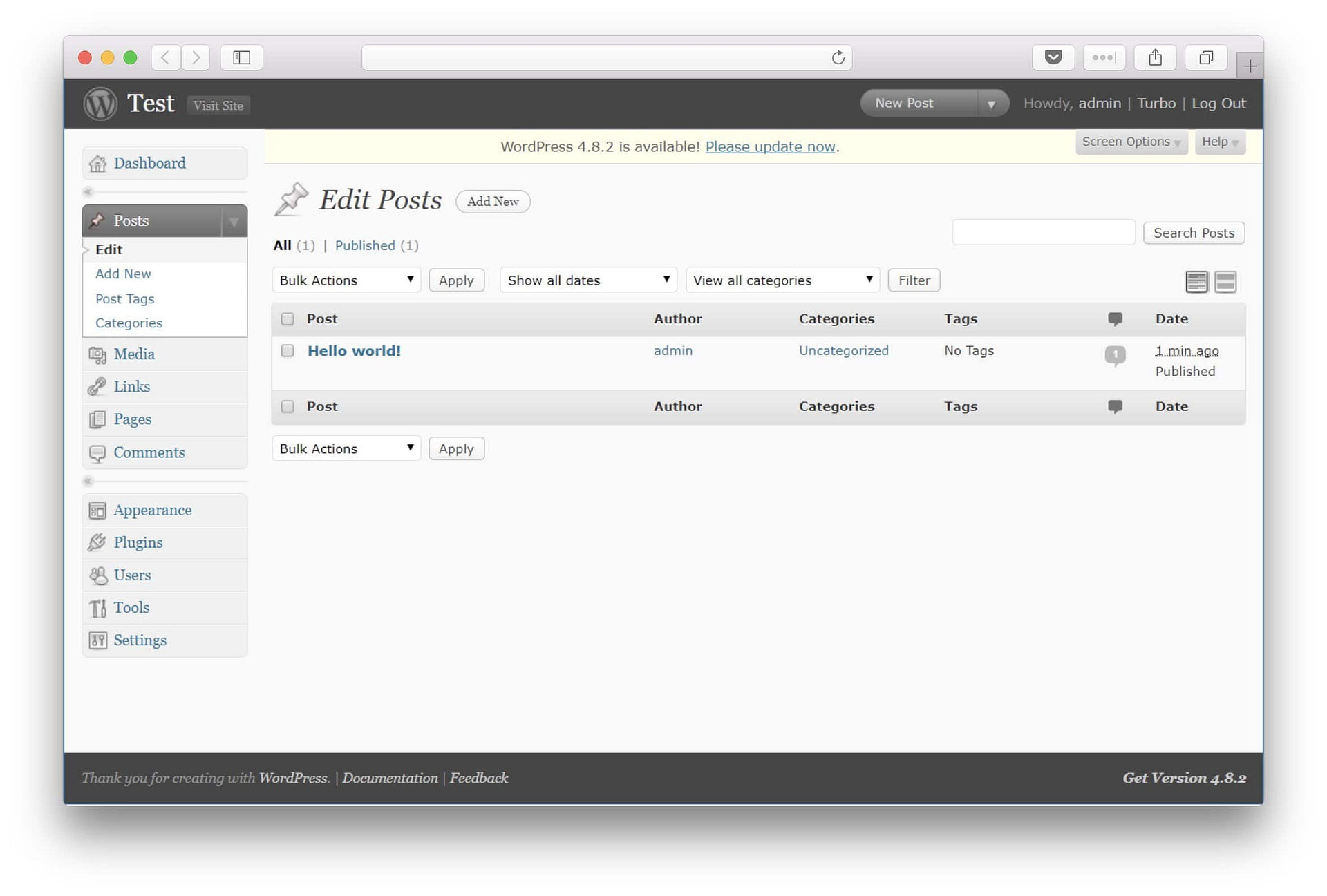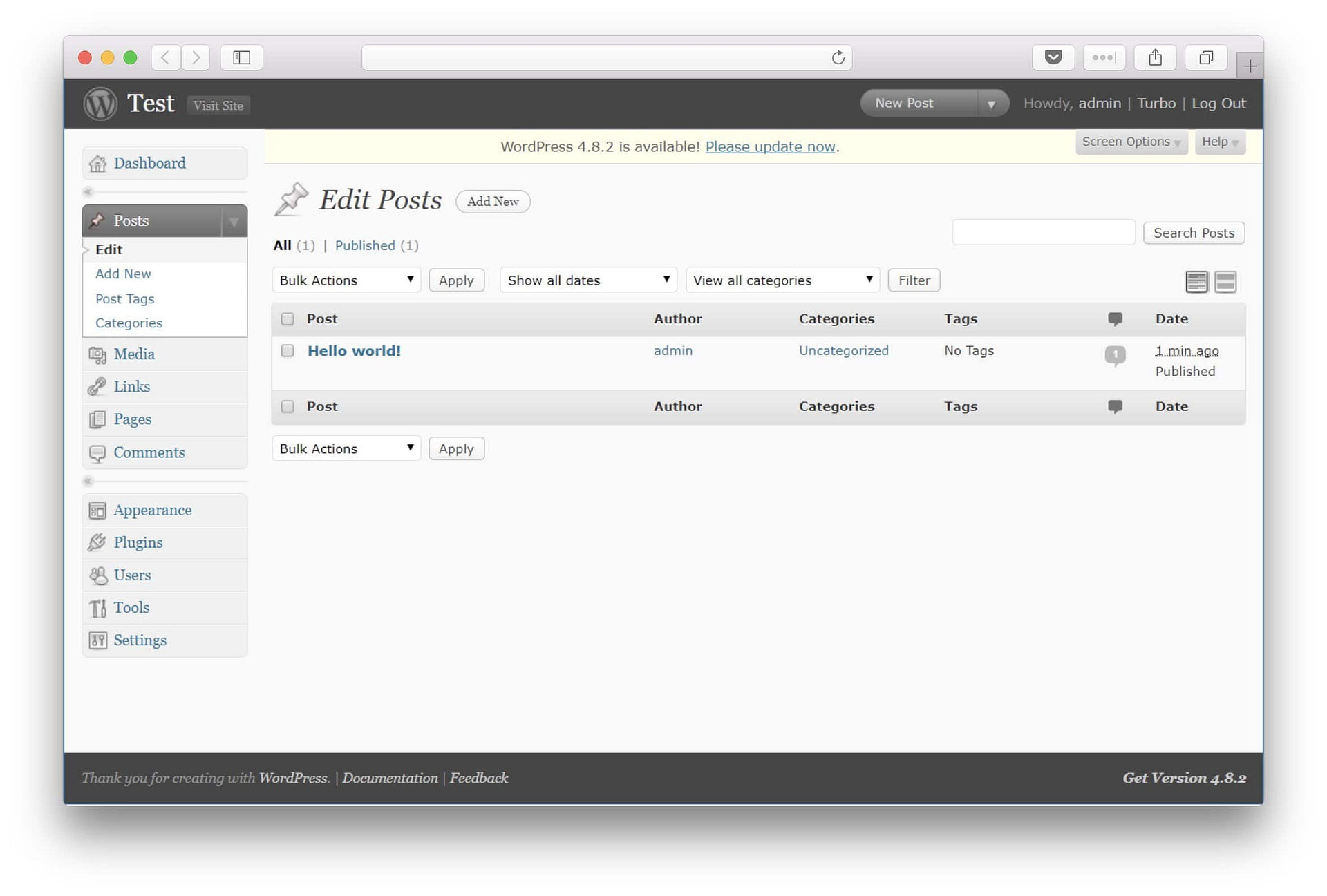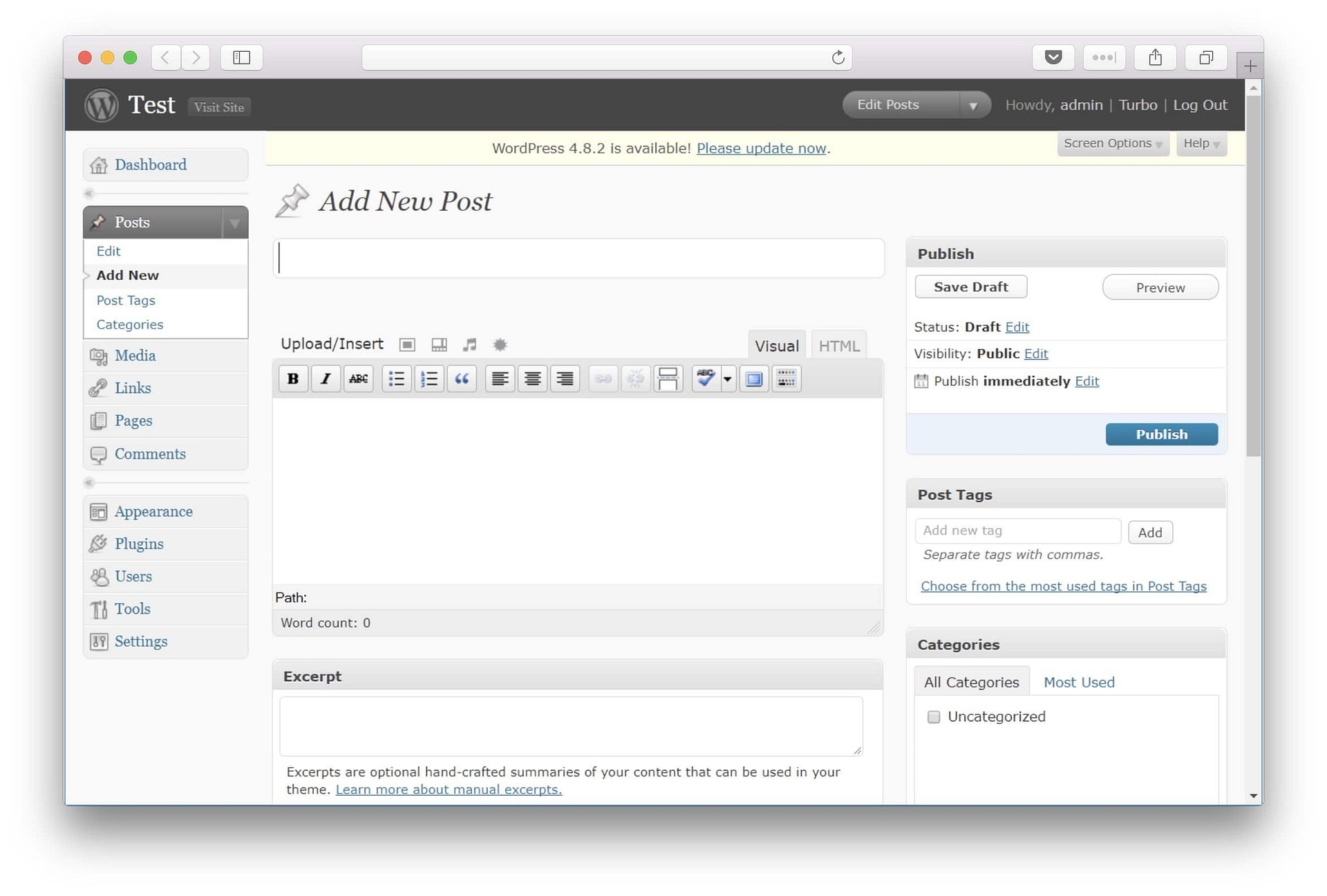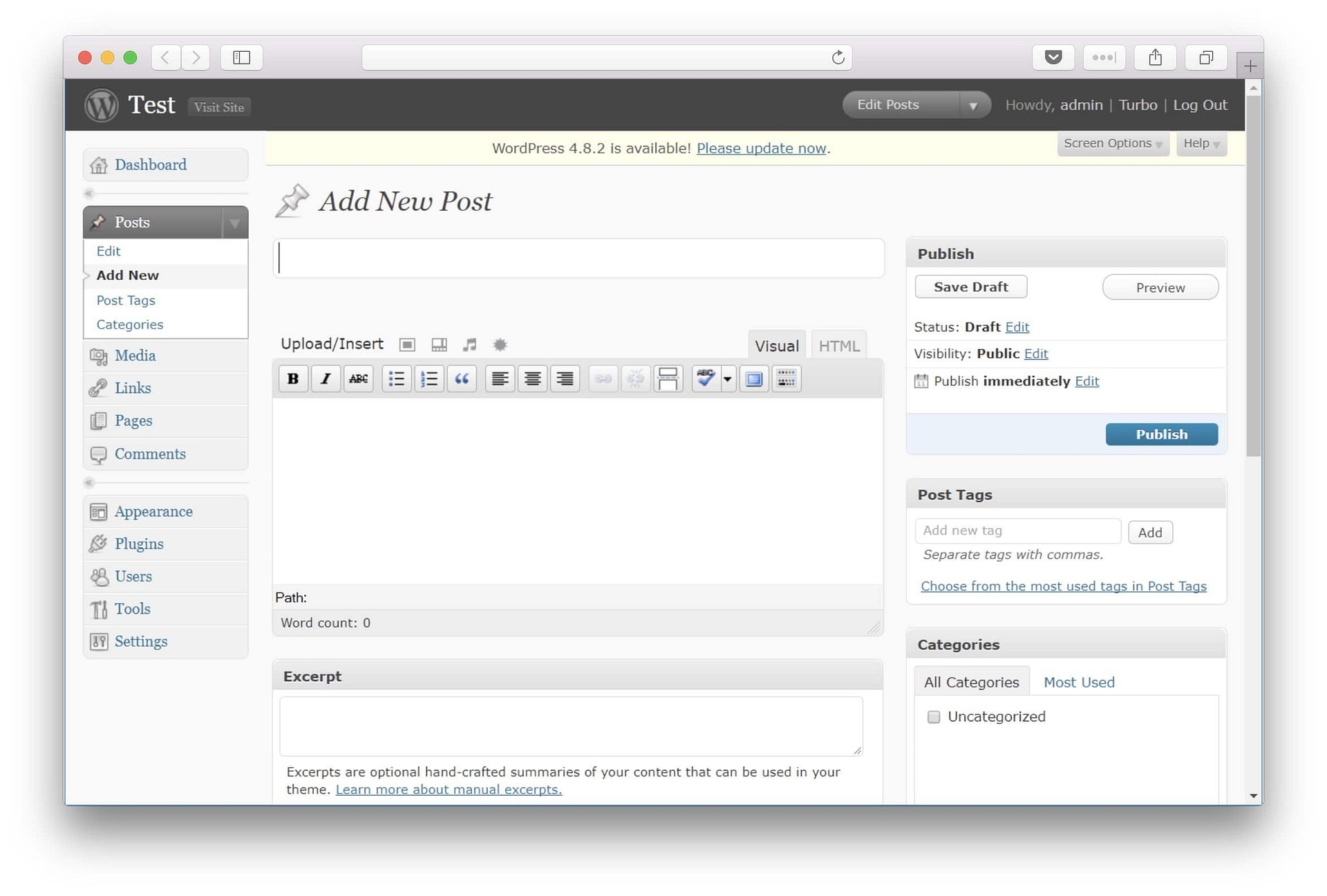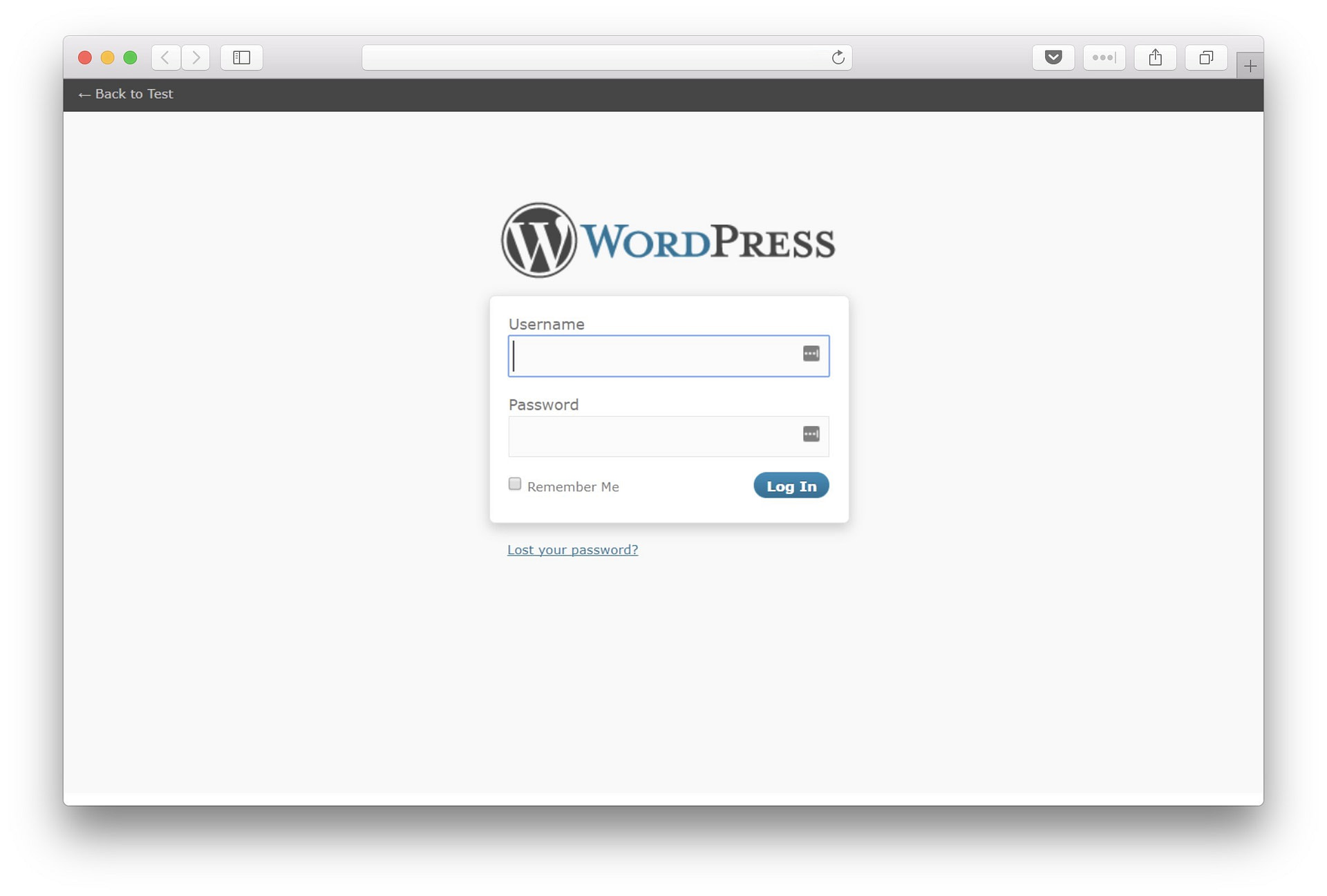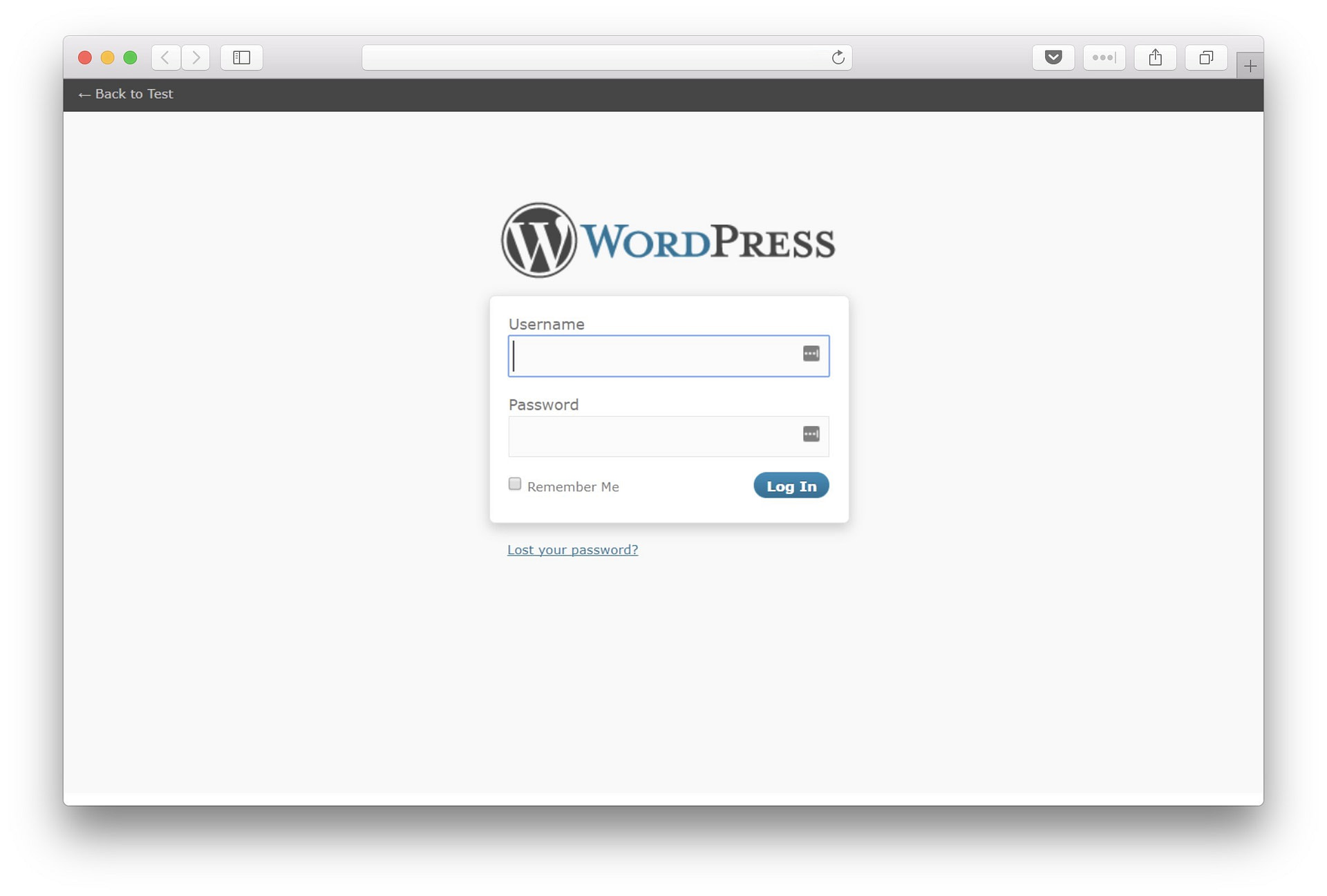 WordPress 3.0 "Thelonious" – June 17, 2010
Release post. Theme developers get new APIs – allowing things like custom backgrounds, headers, shortlinks, menus and more.
WordPress 3.0 DASHBOARDWordPress 3.0 MANAGEWordPress 3.0 WRITEWordPress 3.0 LOGIN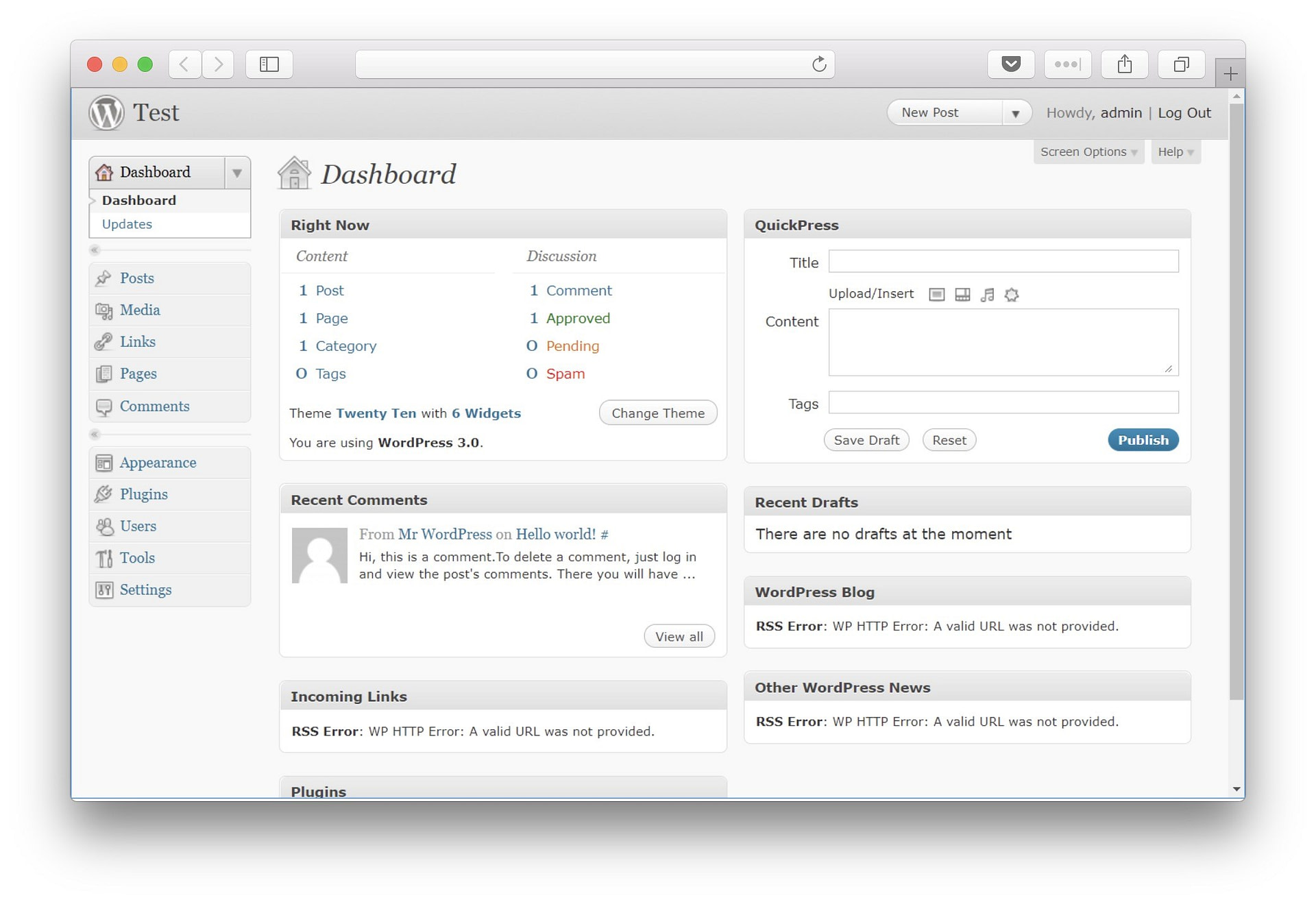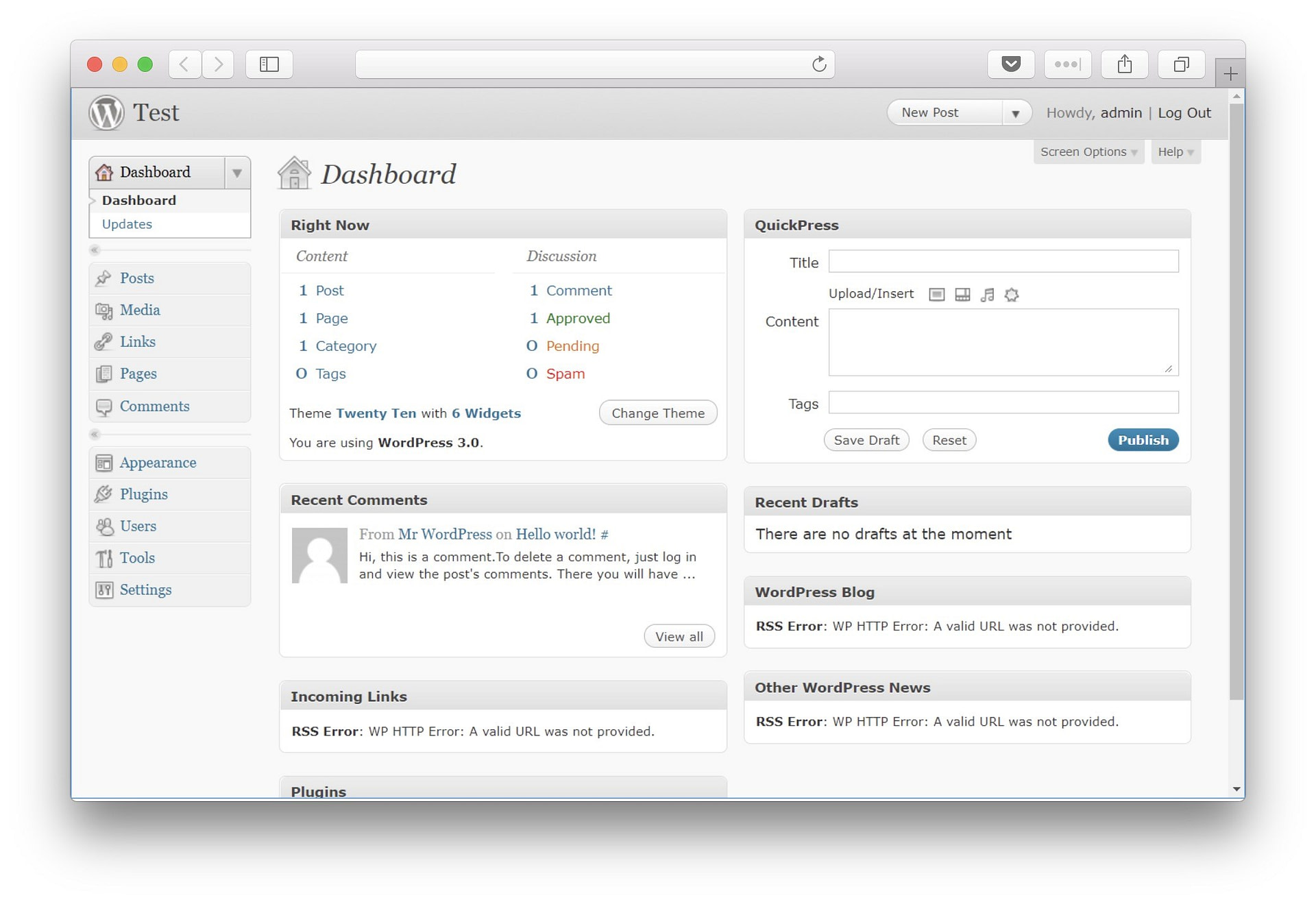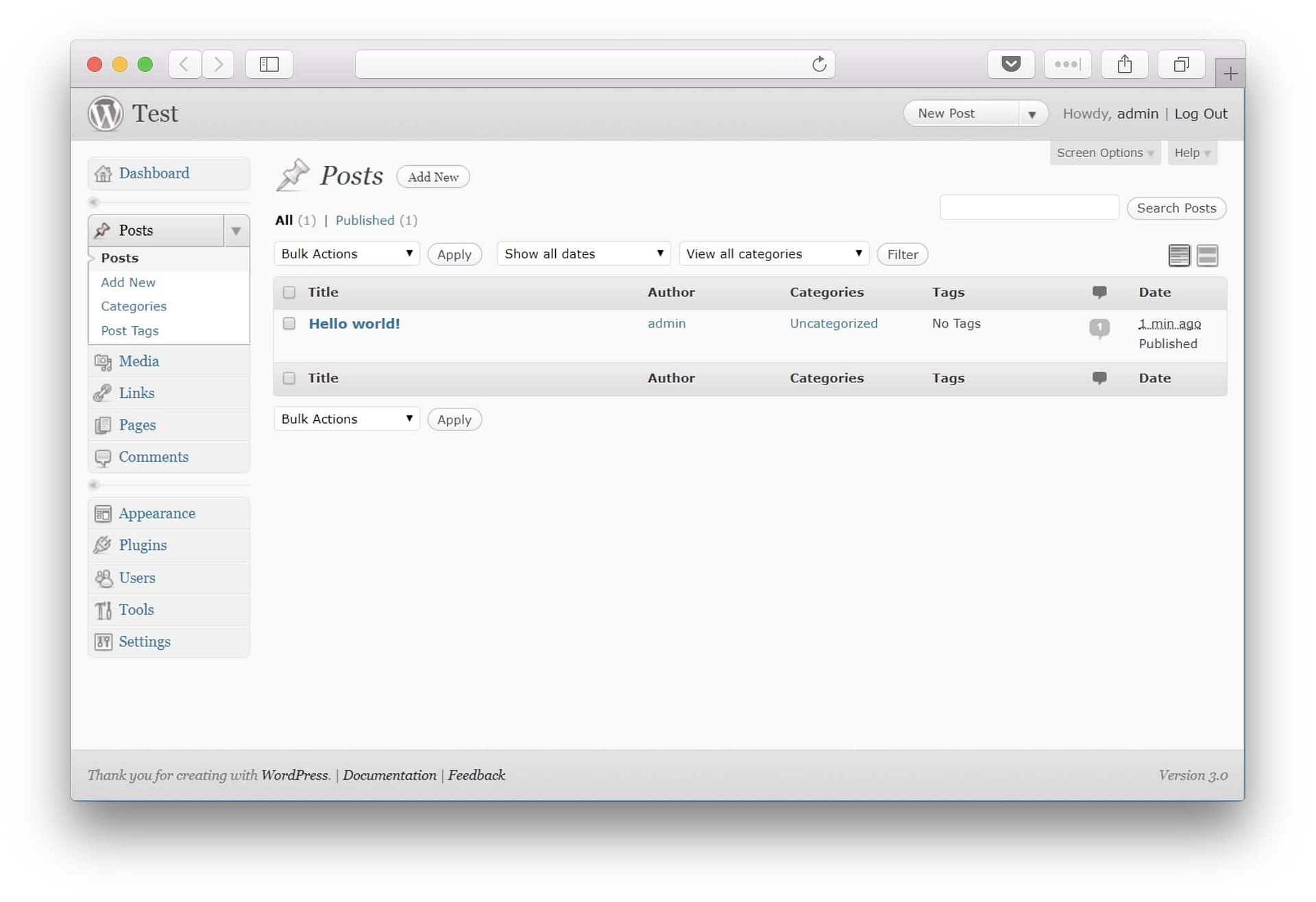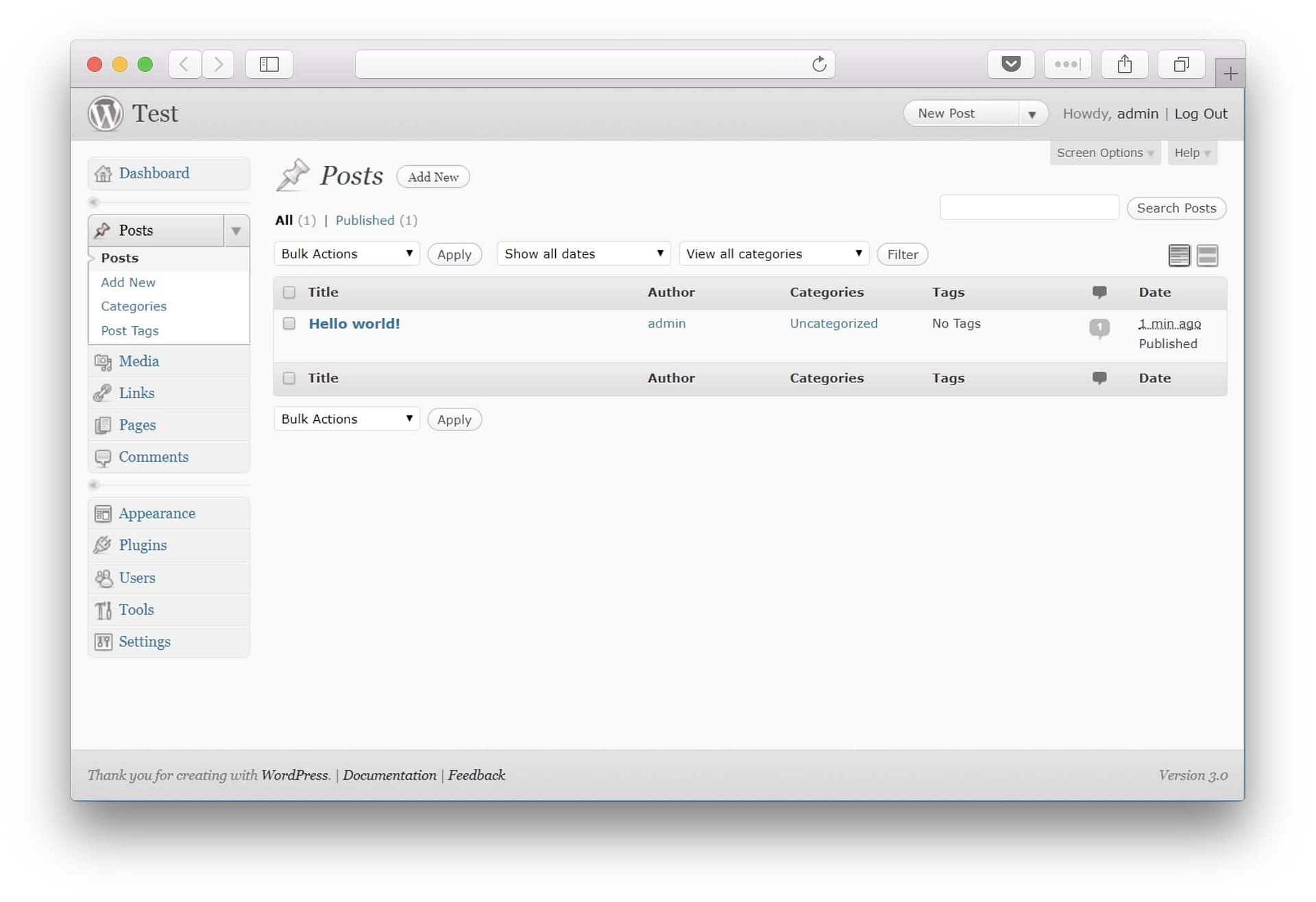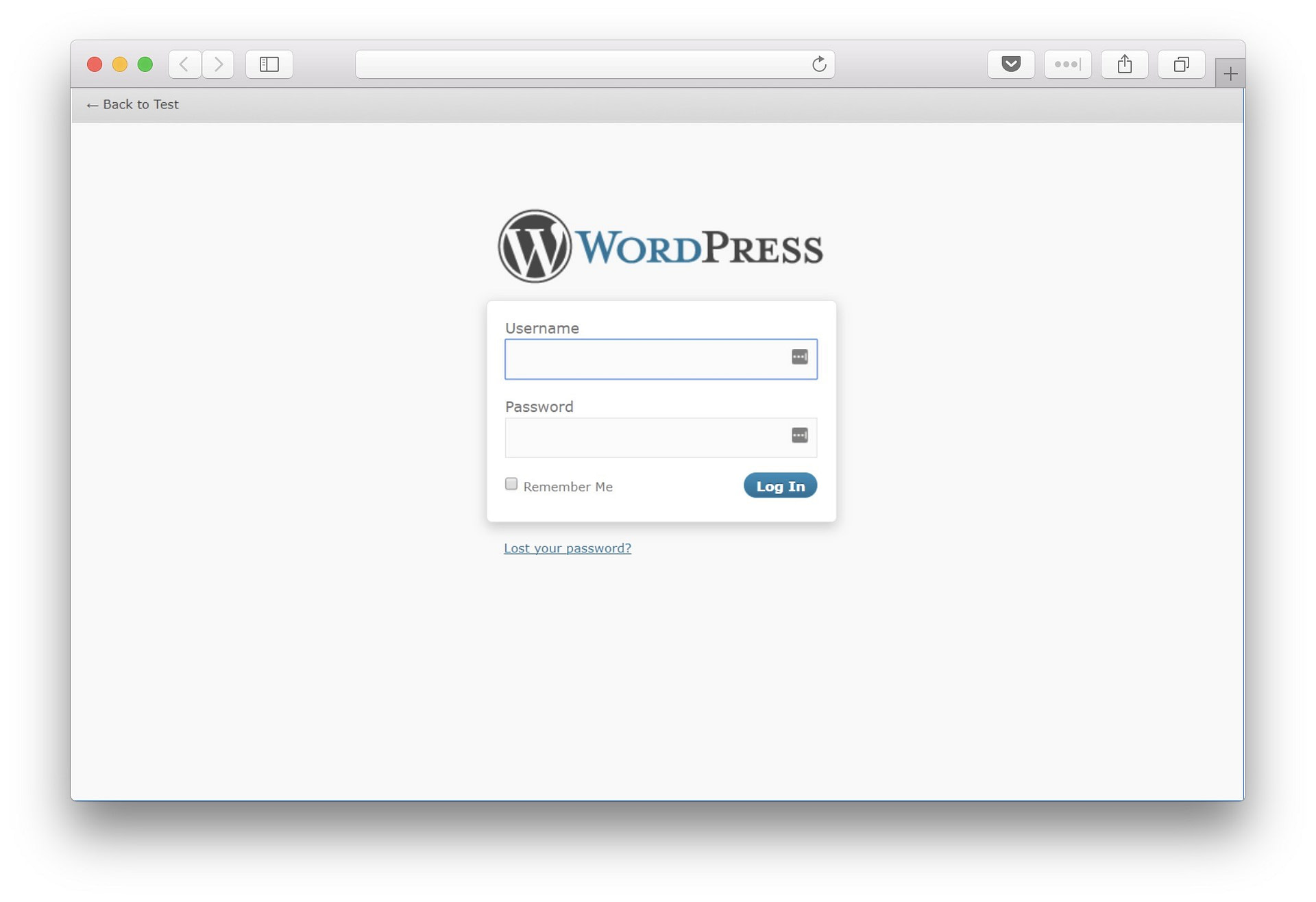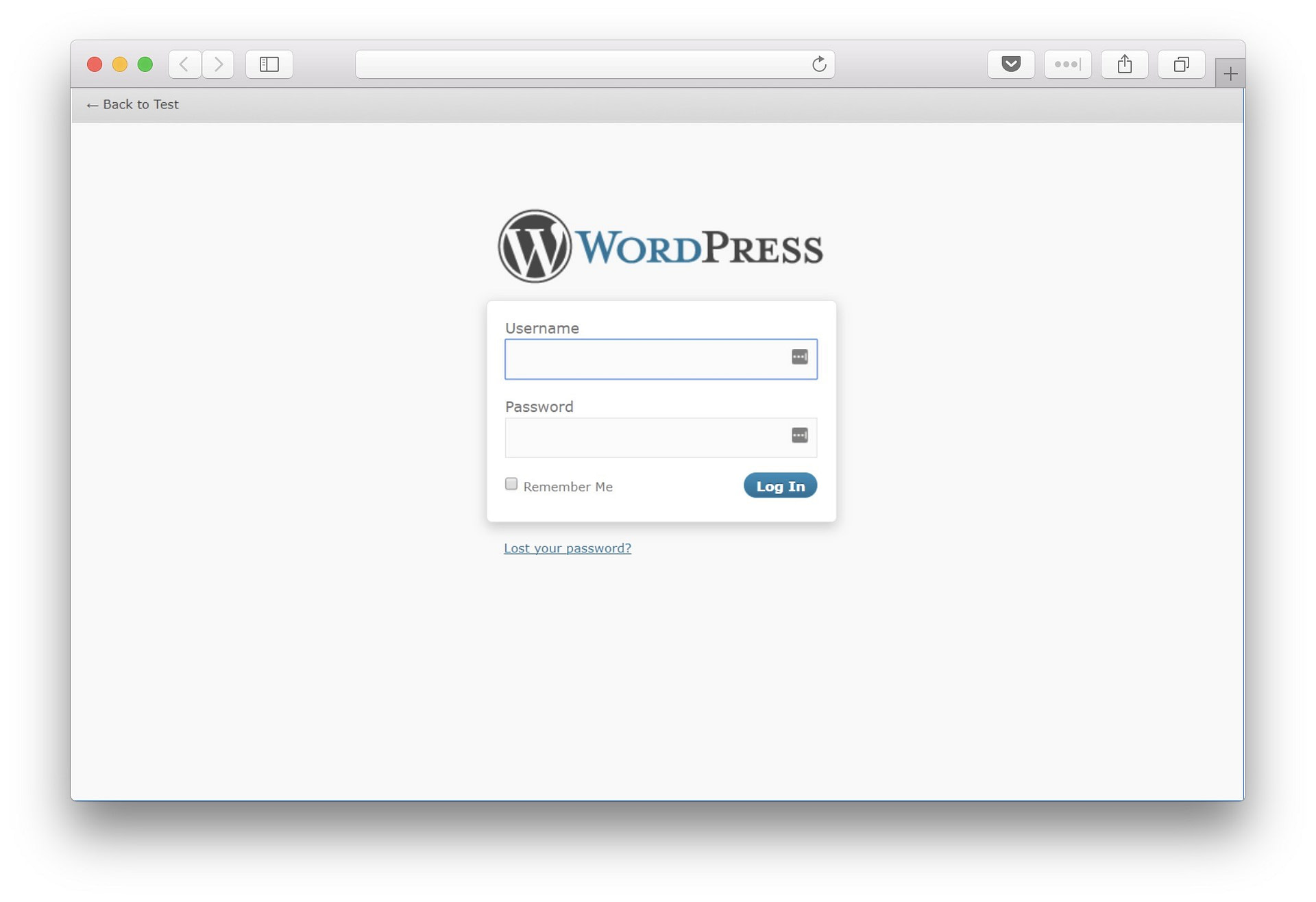 WordPress 3.1 "Reinhardt" – February 23, 2011
Release post. The admin bar gets introduced!
WordPress 3.1 DASHBOARDWordPress 3.1 MANAGEWordPress 3.1 WRITEWordPress 3.1 LOGIN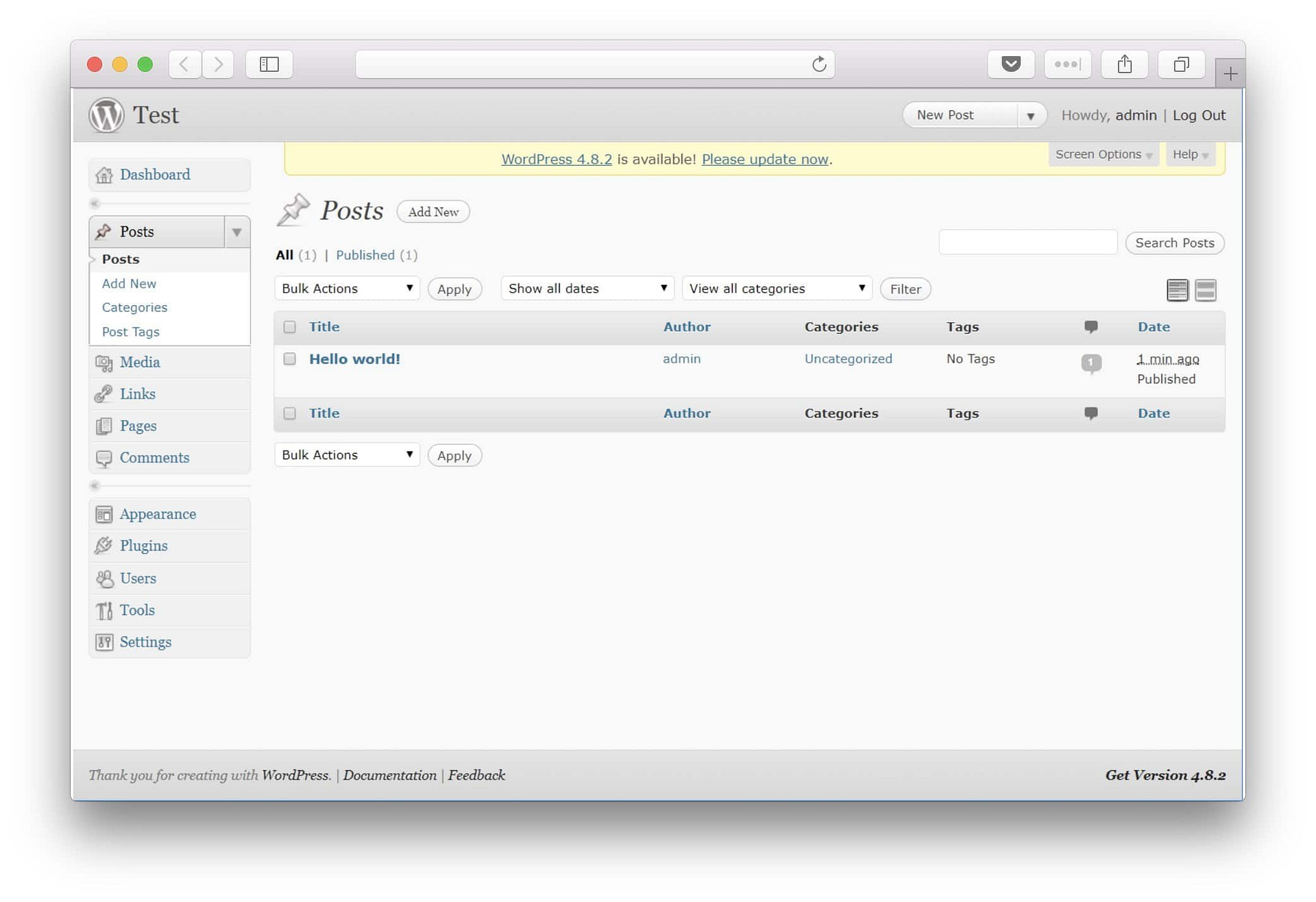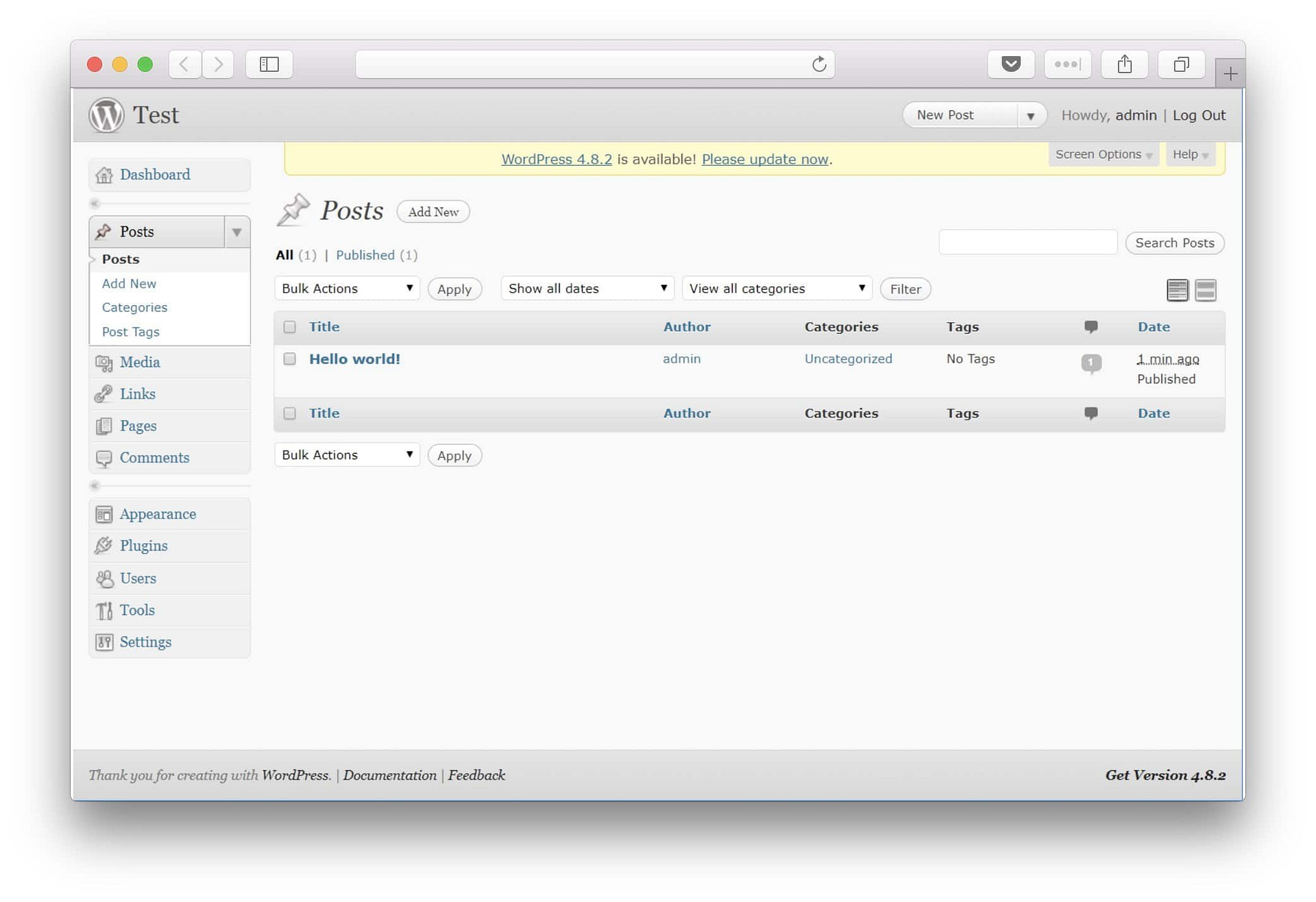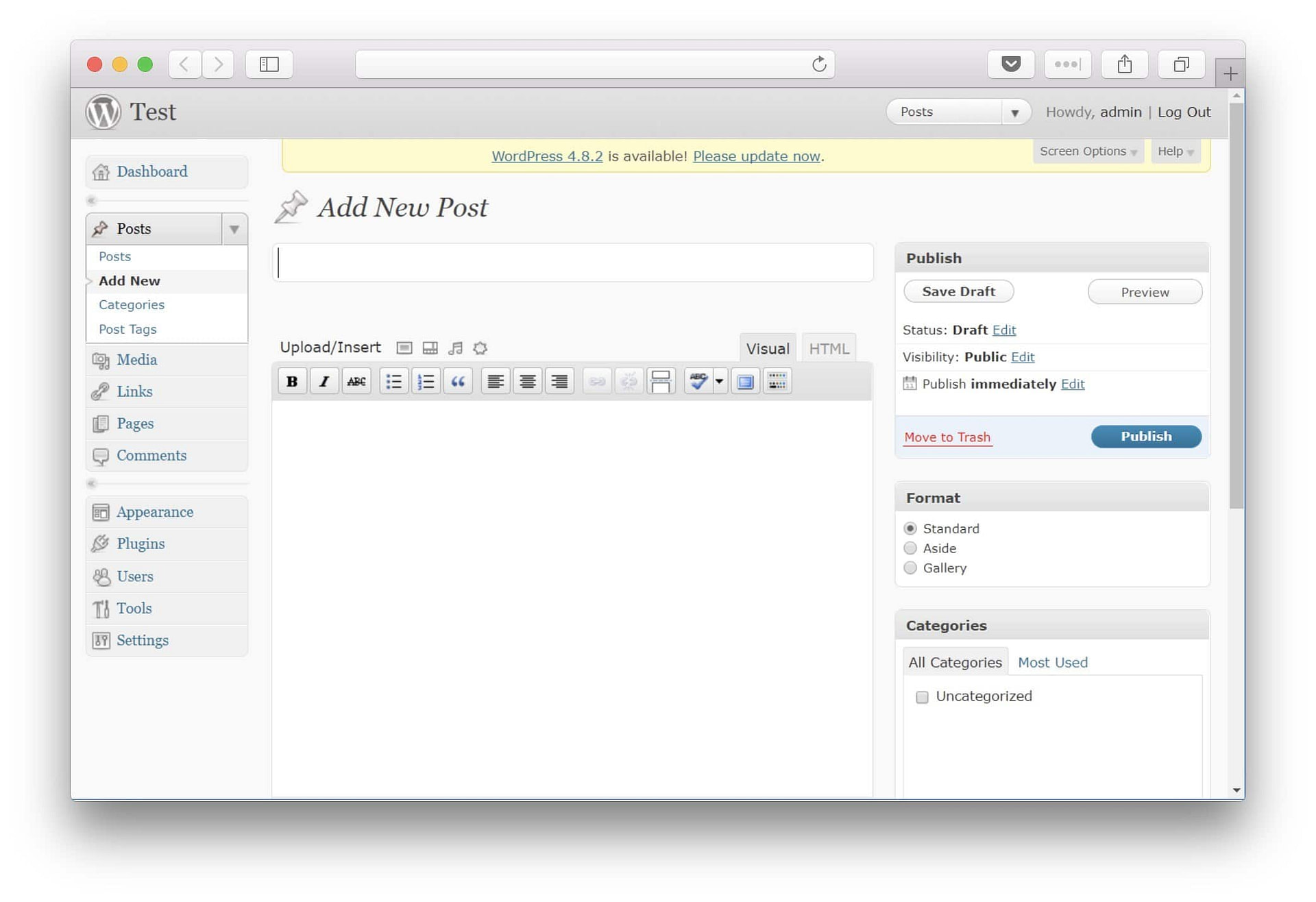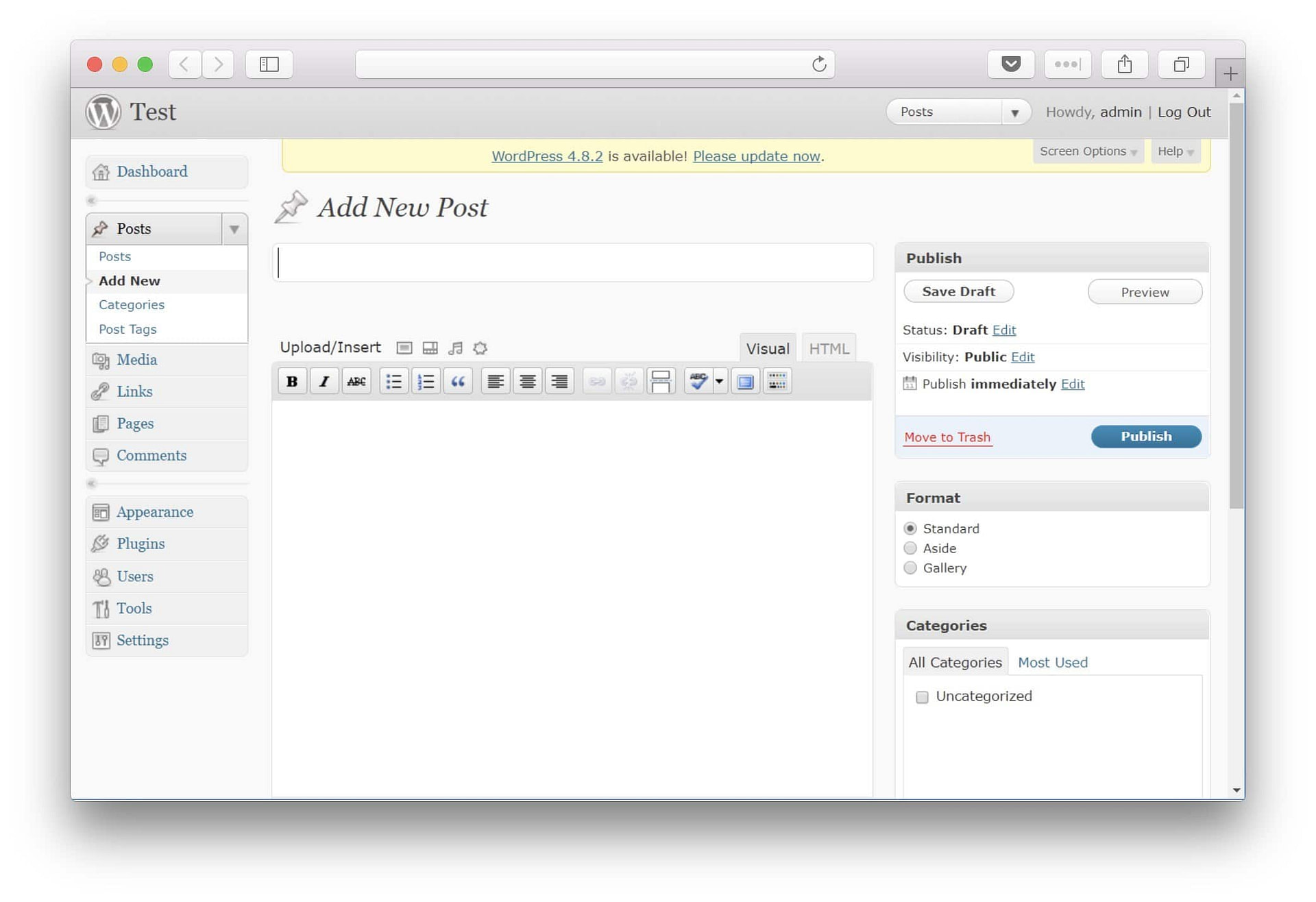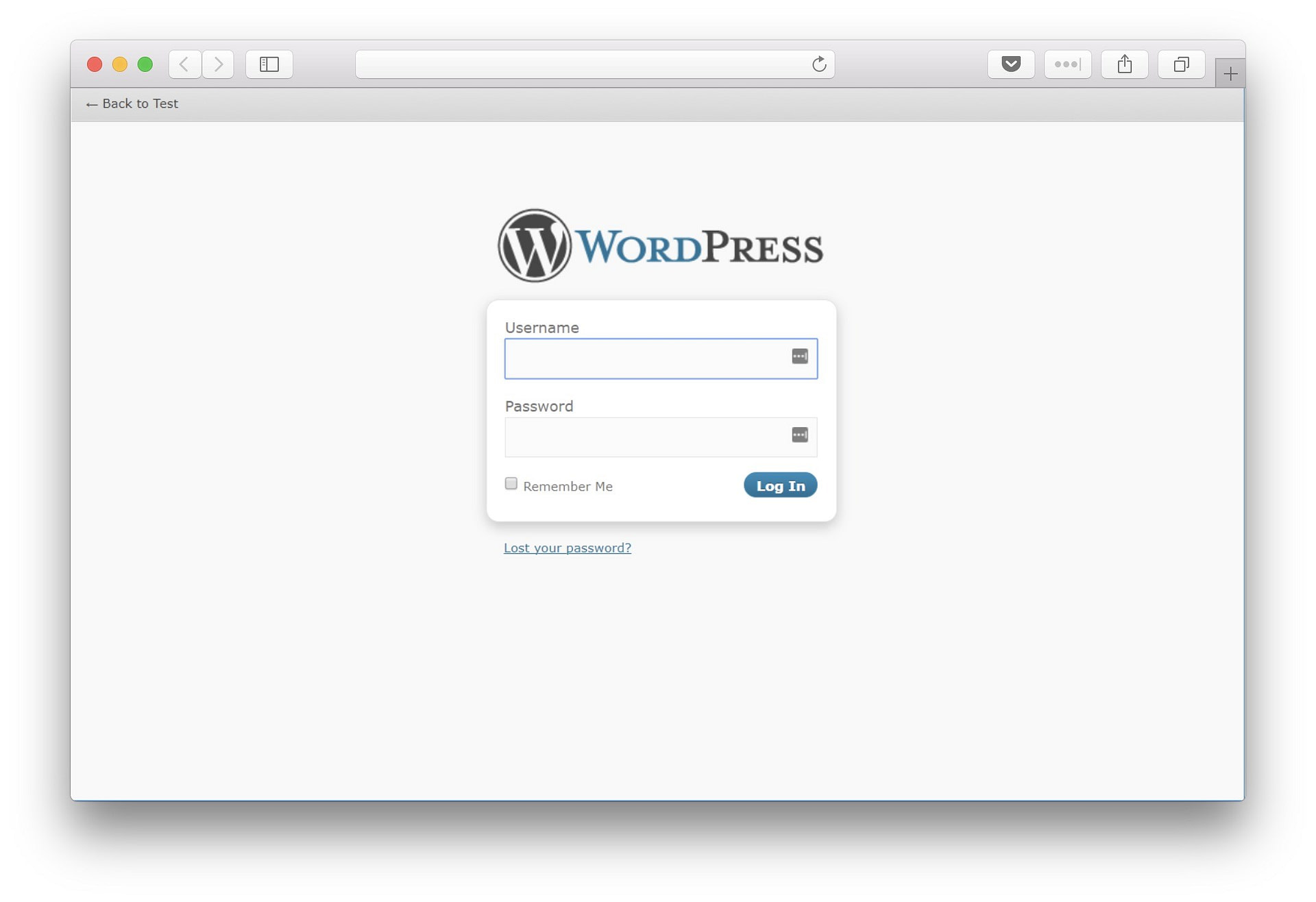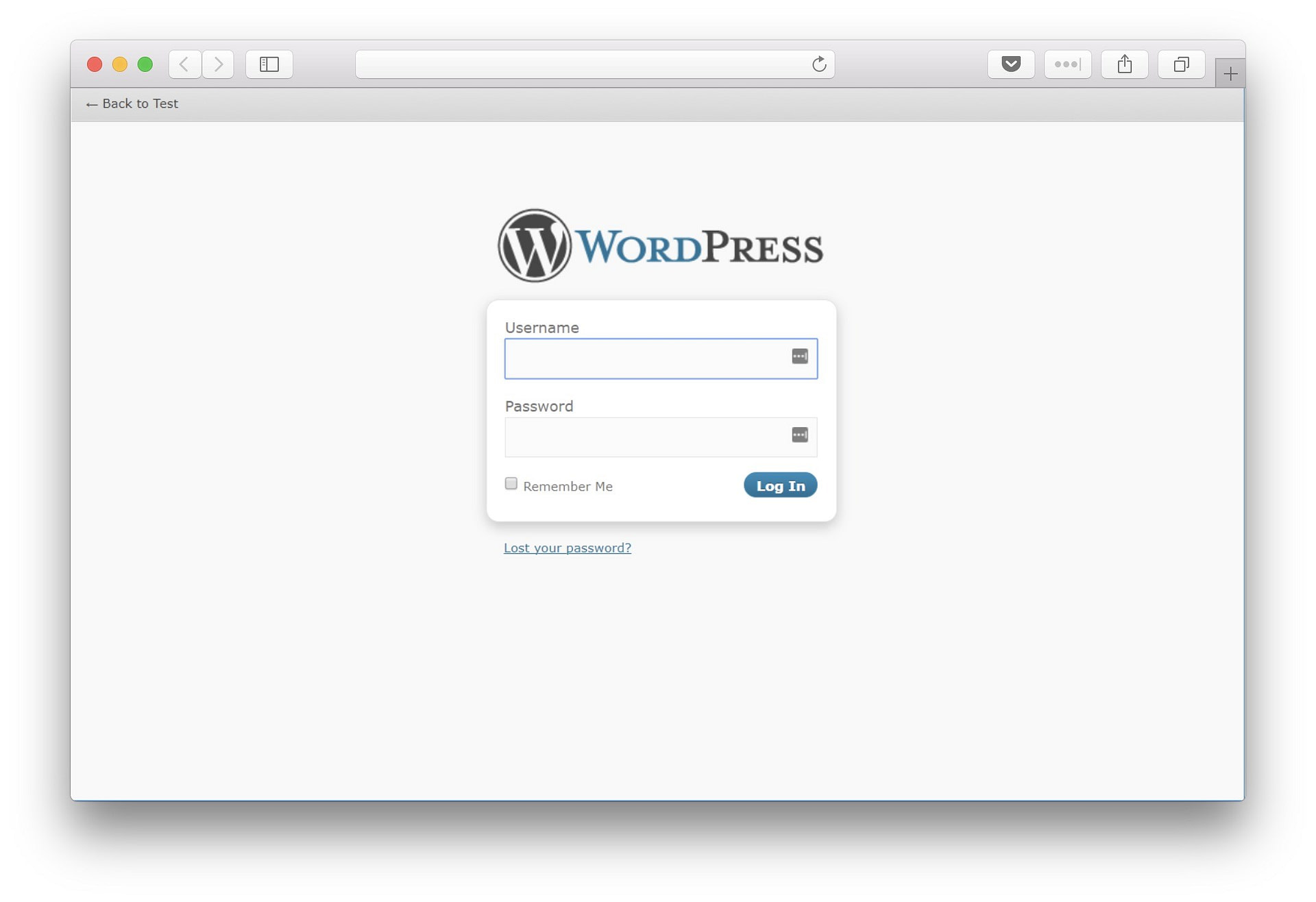 WordPress 3.2 "Gershwin" – July 4, 2011
Release post. The dashboard gets refreshed to tighten the typography and overall design.
WordPress 3.2 DASHBOARDWordPress 3.2 MANAGEWordPress 3.2 WRITEWordPress 3.2 LOGIN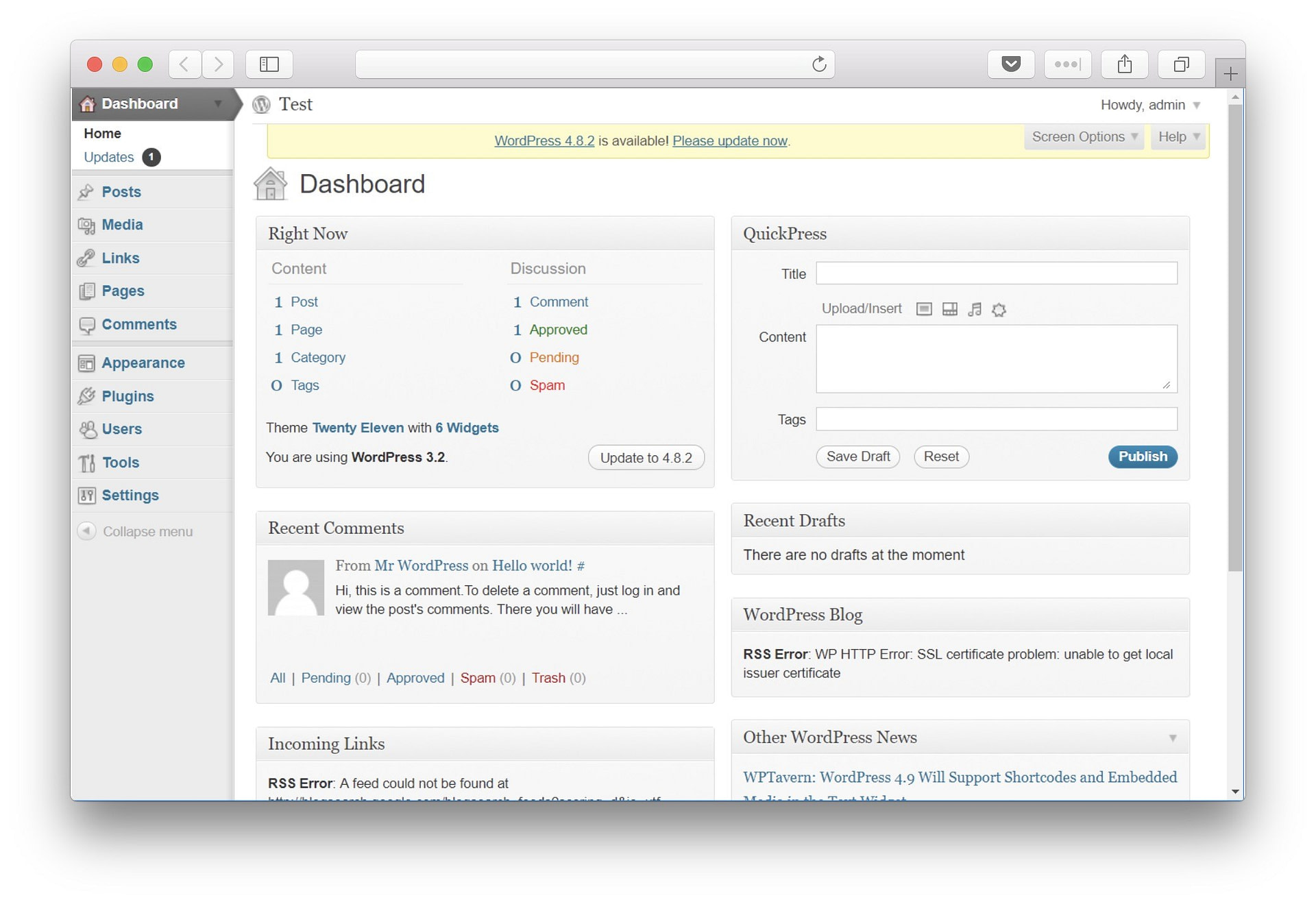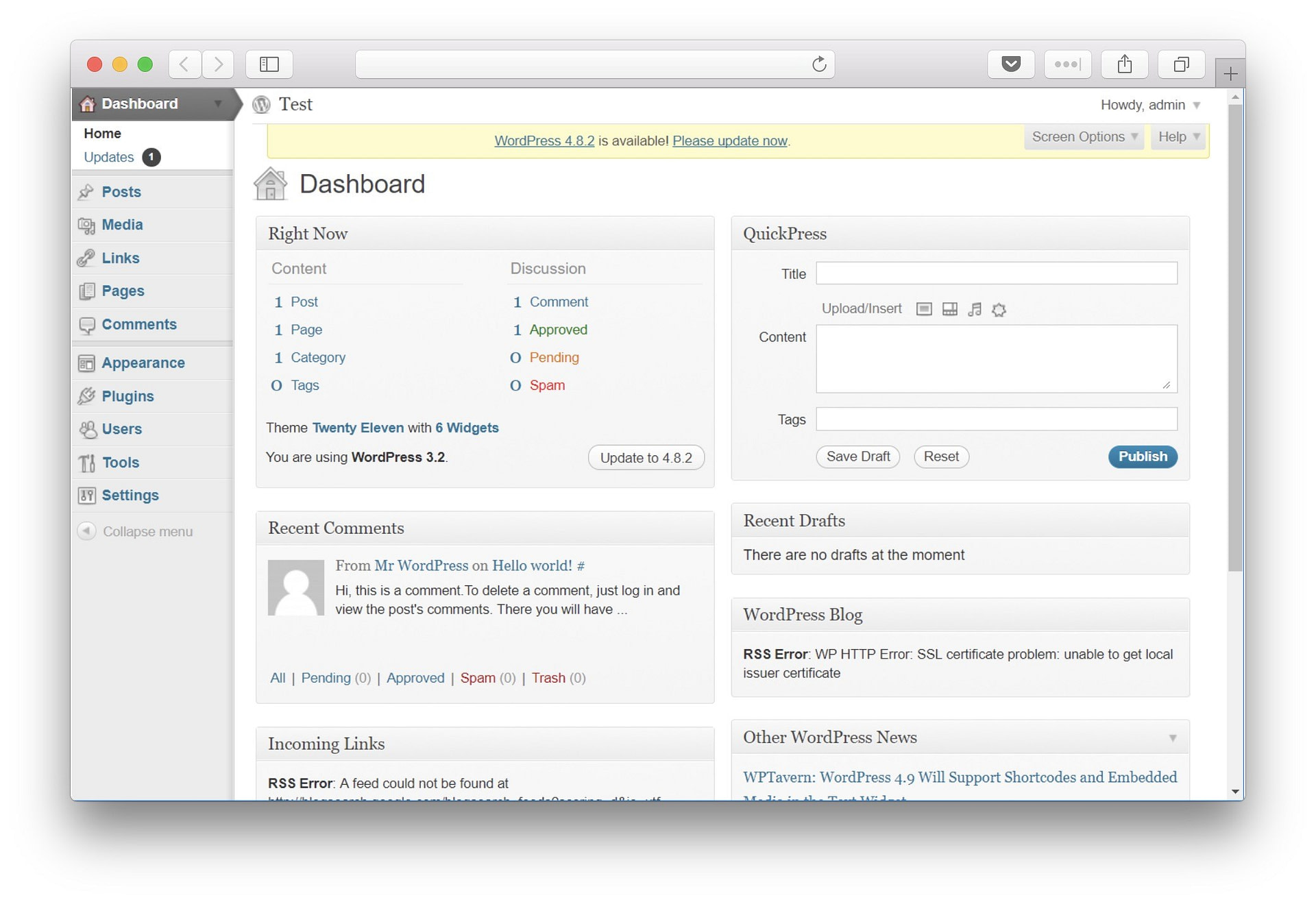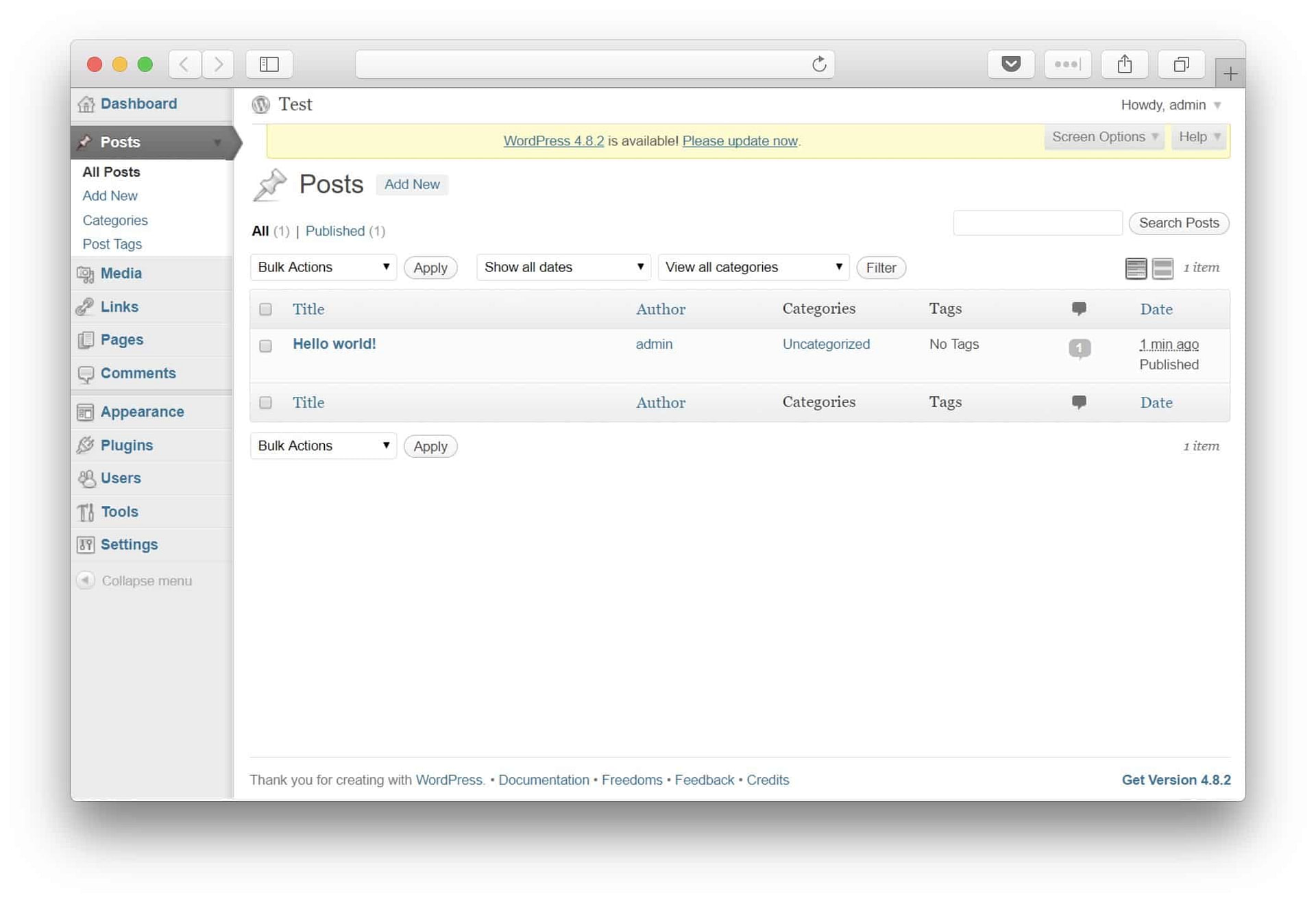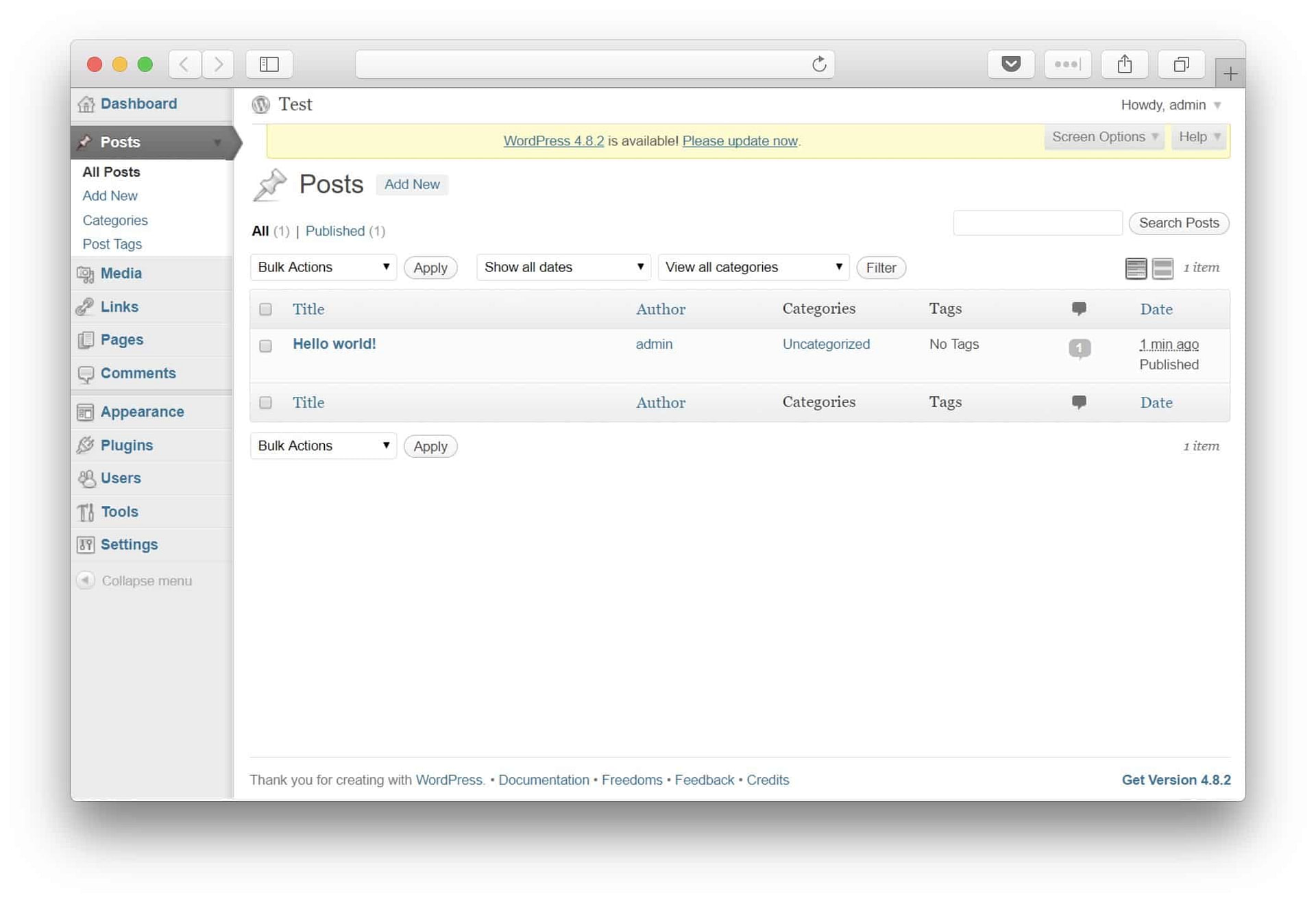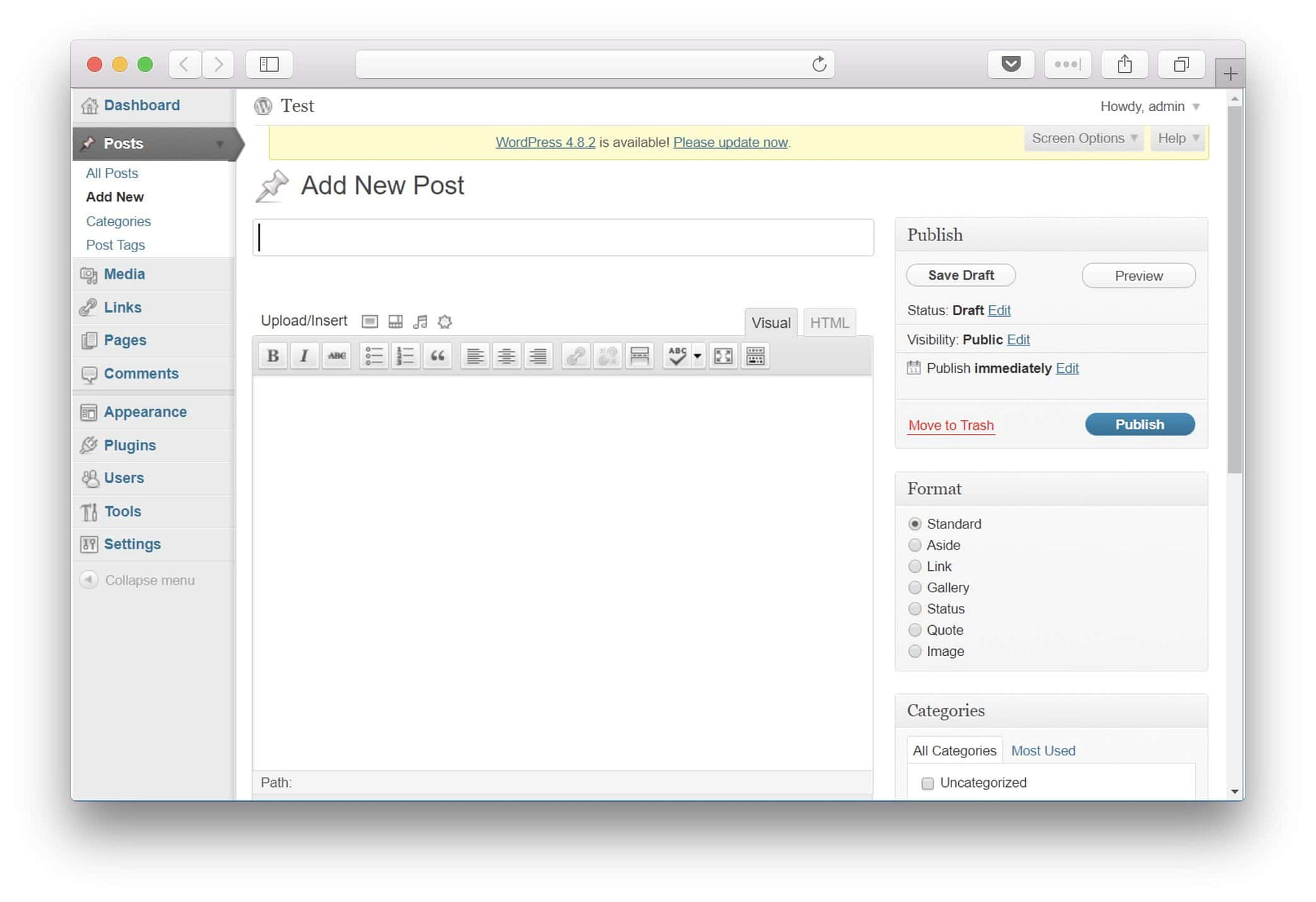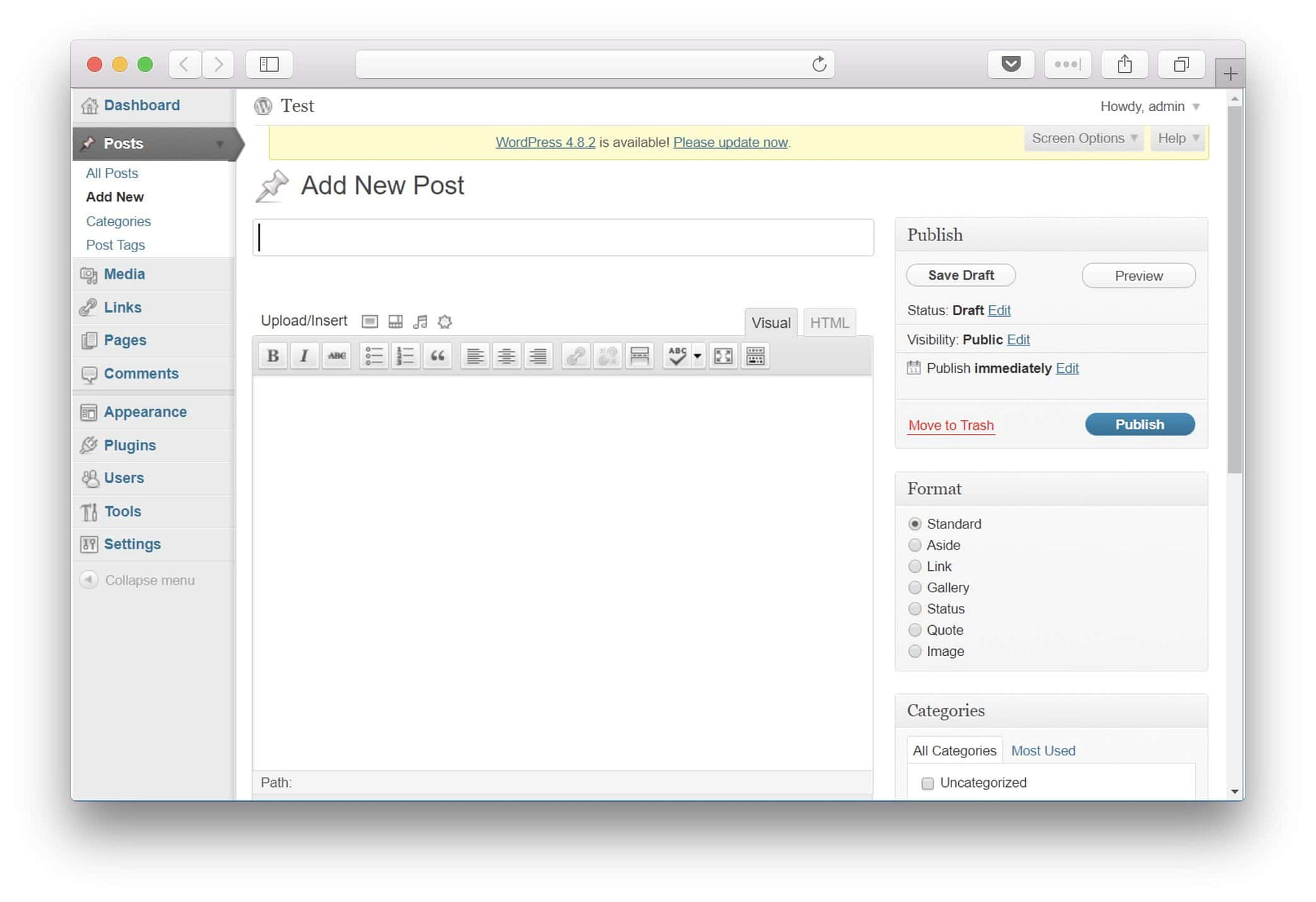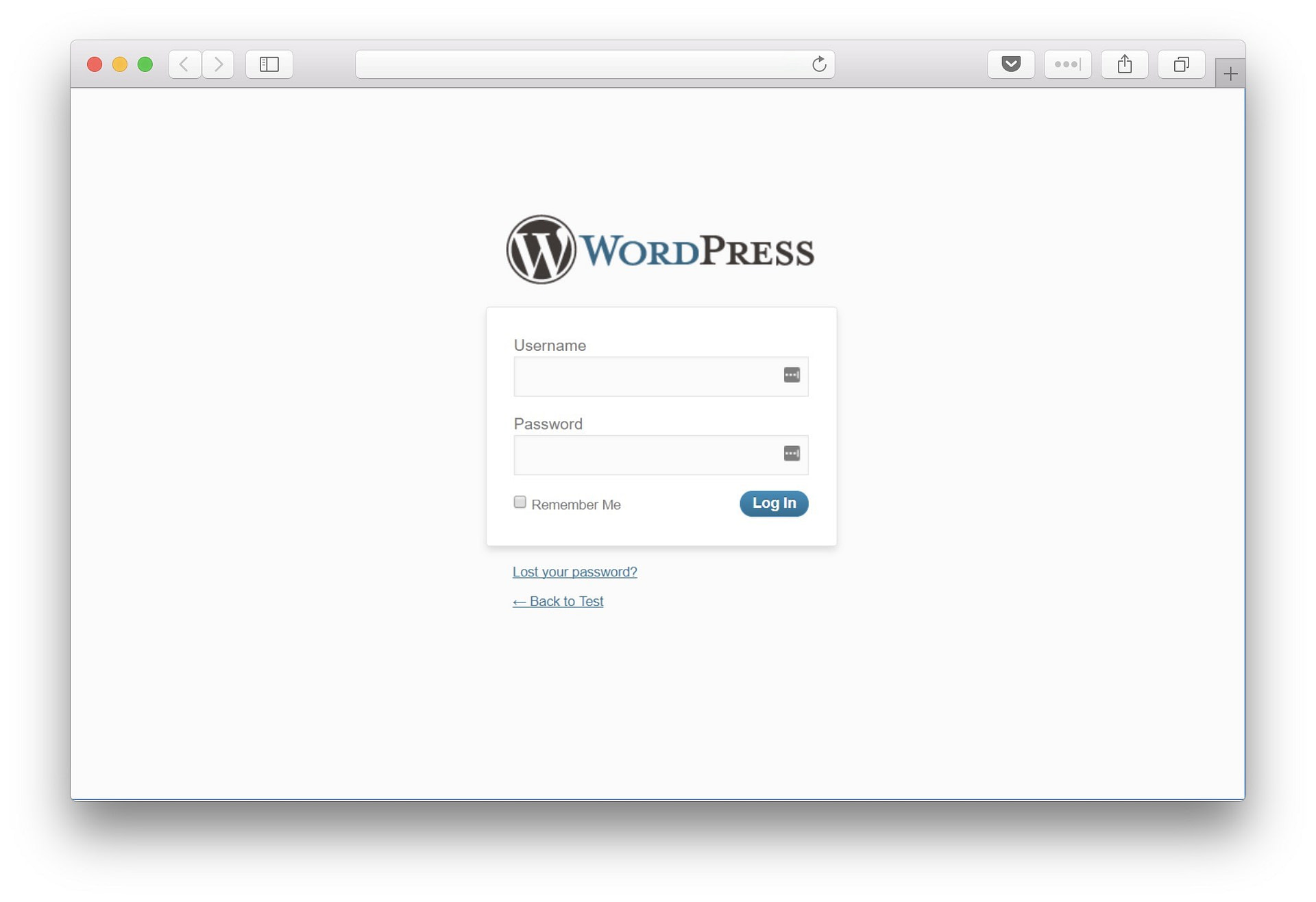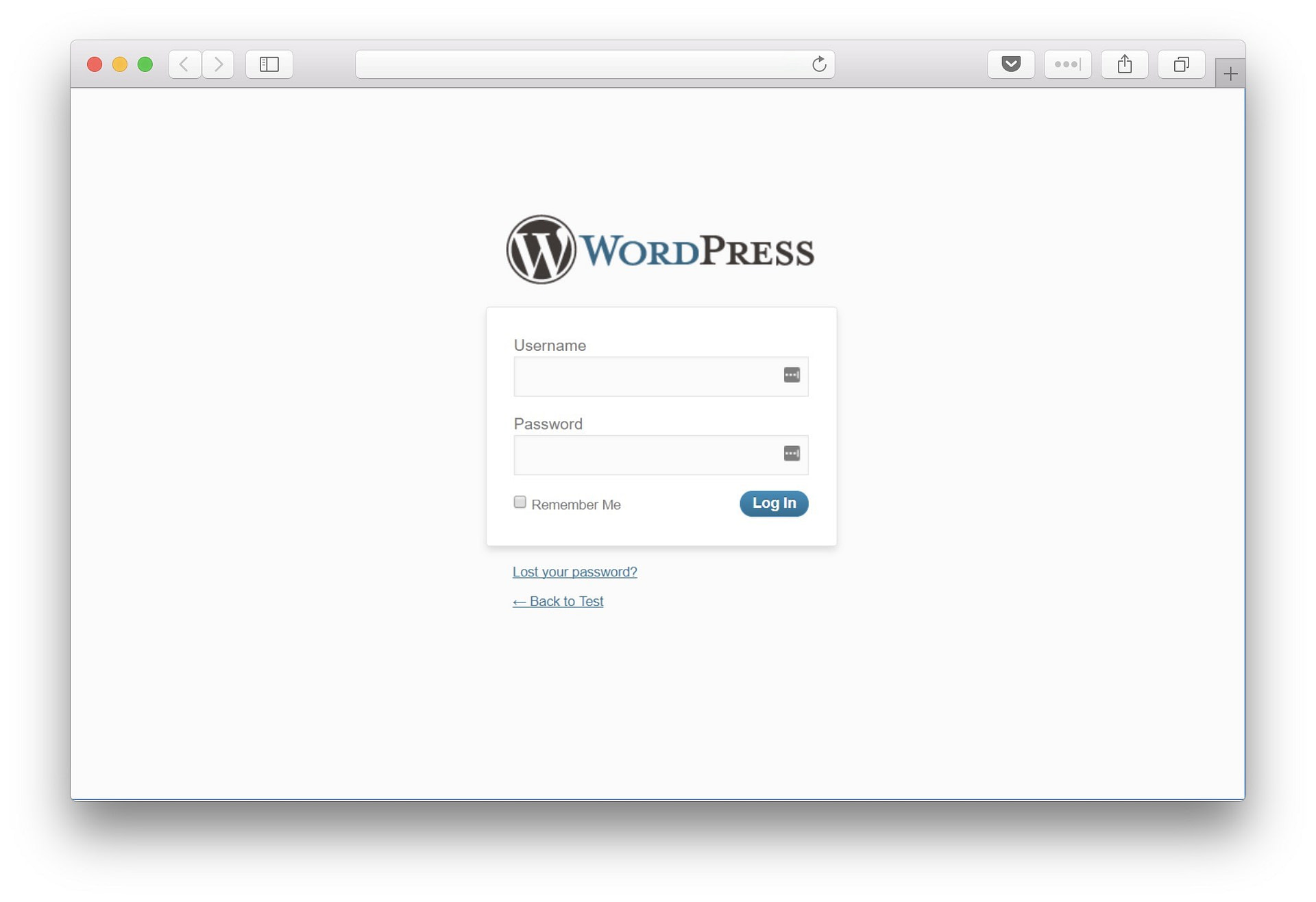 WordPress 3.3 "Sonny" – December 12, 2011
Release post. Users get a drag-and-drop uploader, hover menus, a new toolbar, and improved co-editing support.
WordPress 3.3 DASHBOARDWordPress 3.3 MANAGEWordPress 3.3 WRITEWordPress 3.3 LOGIN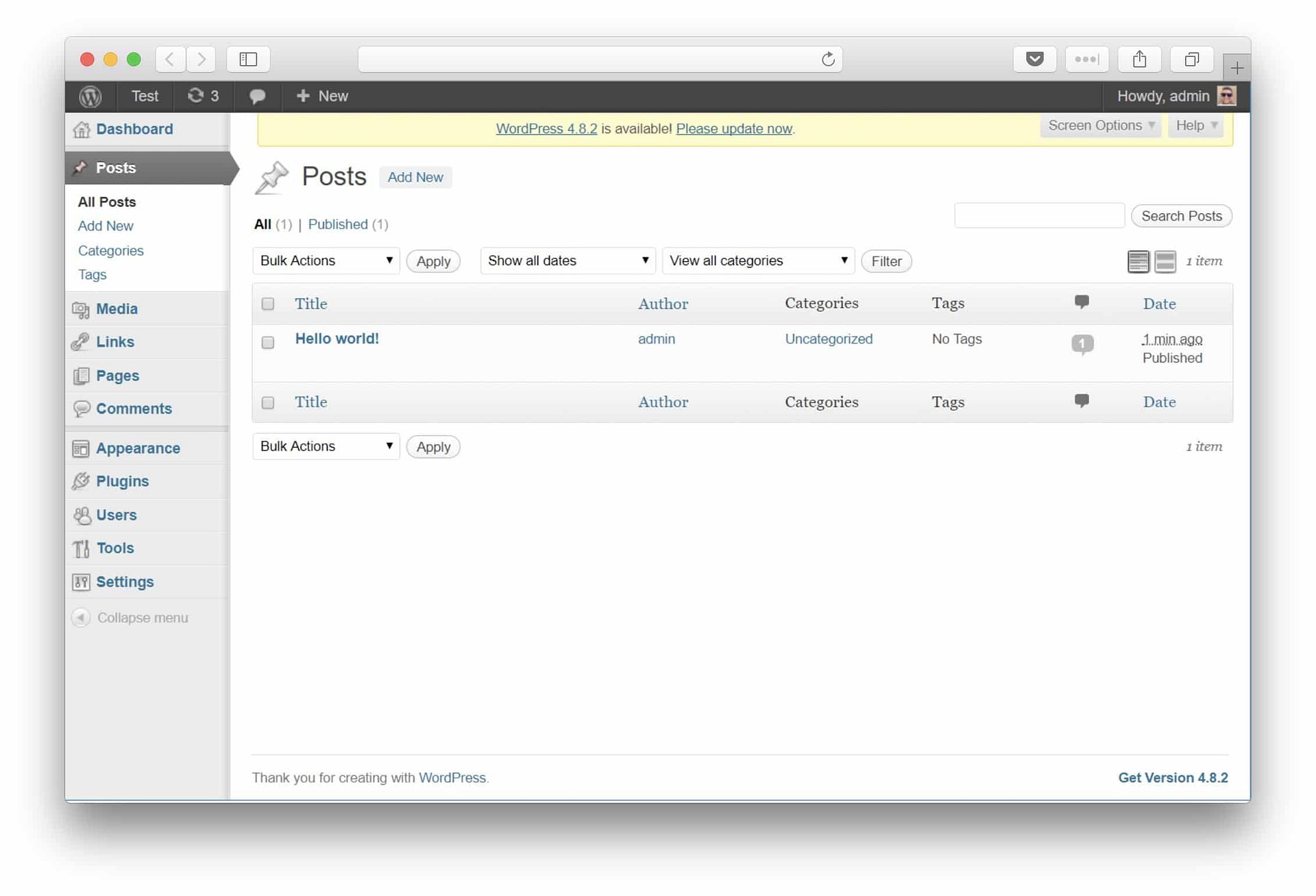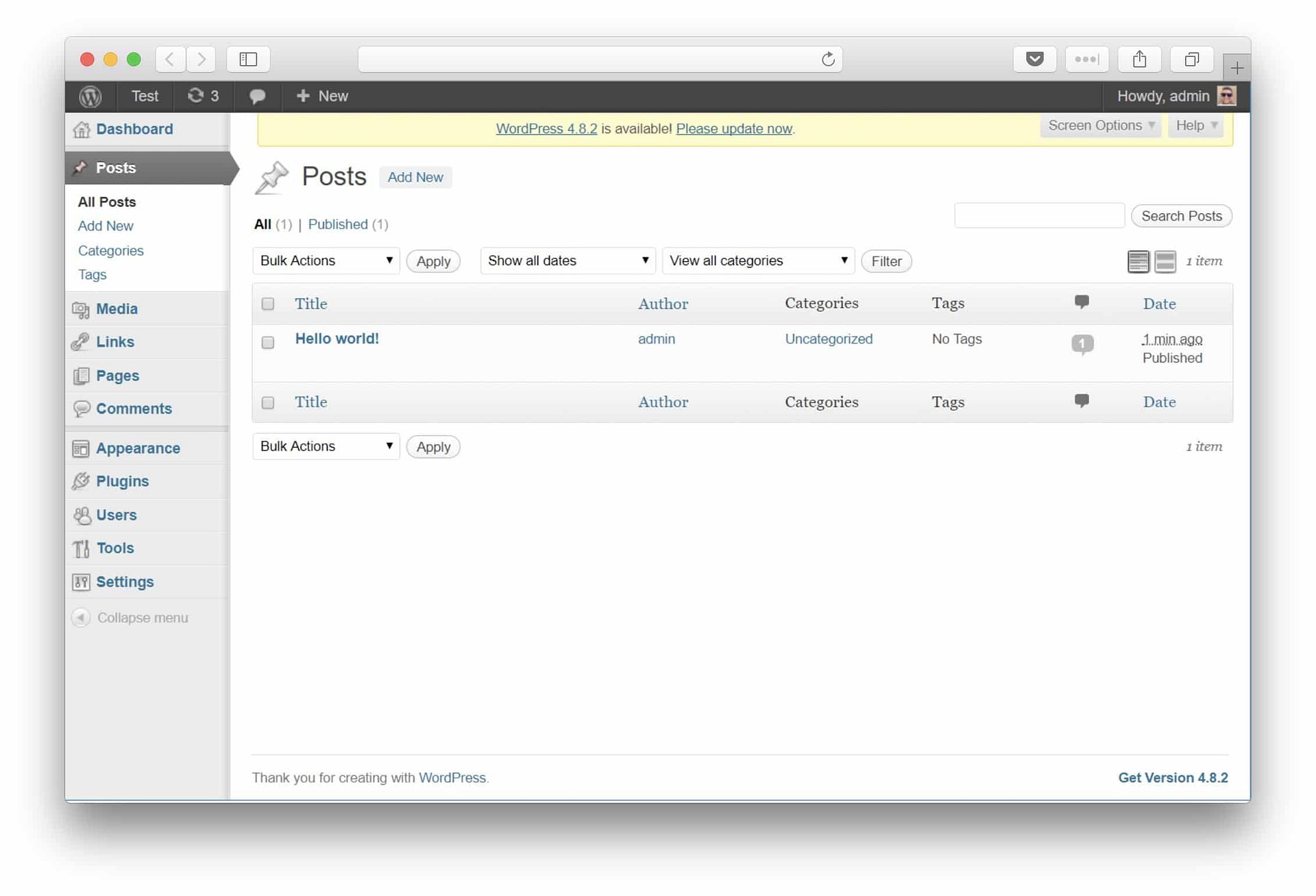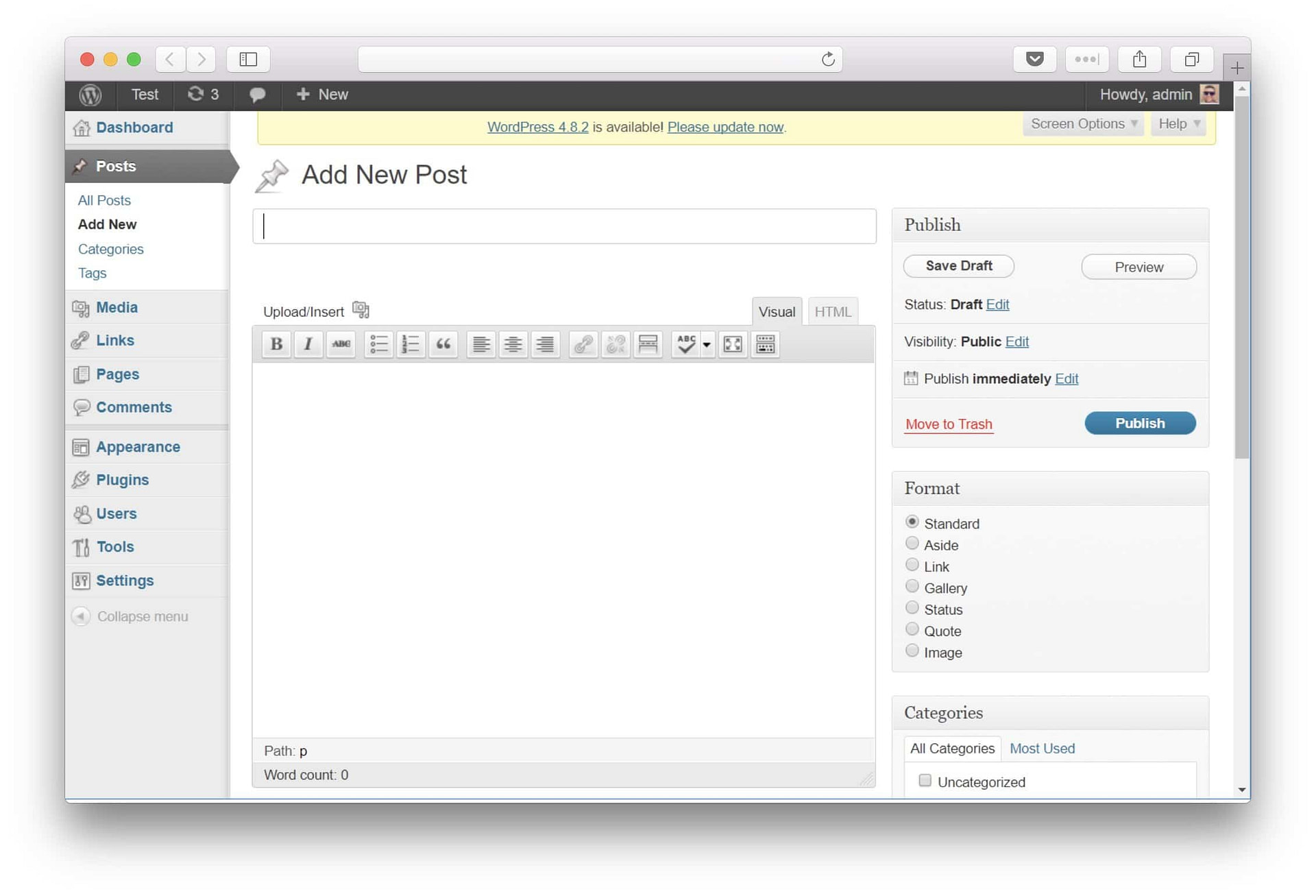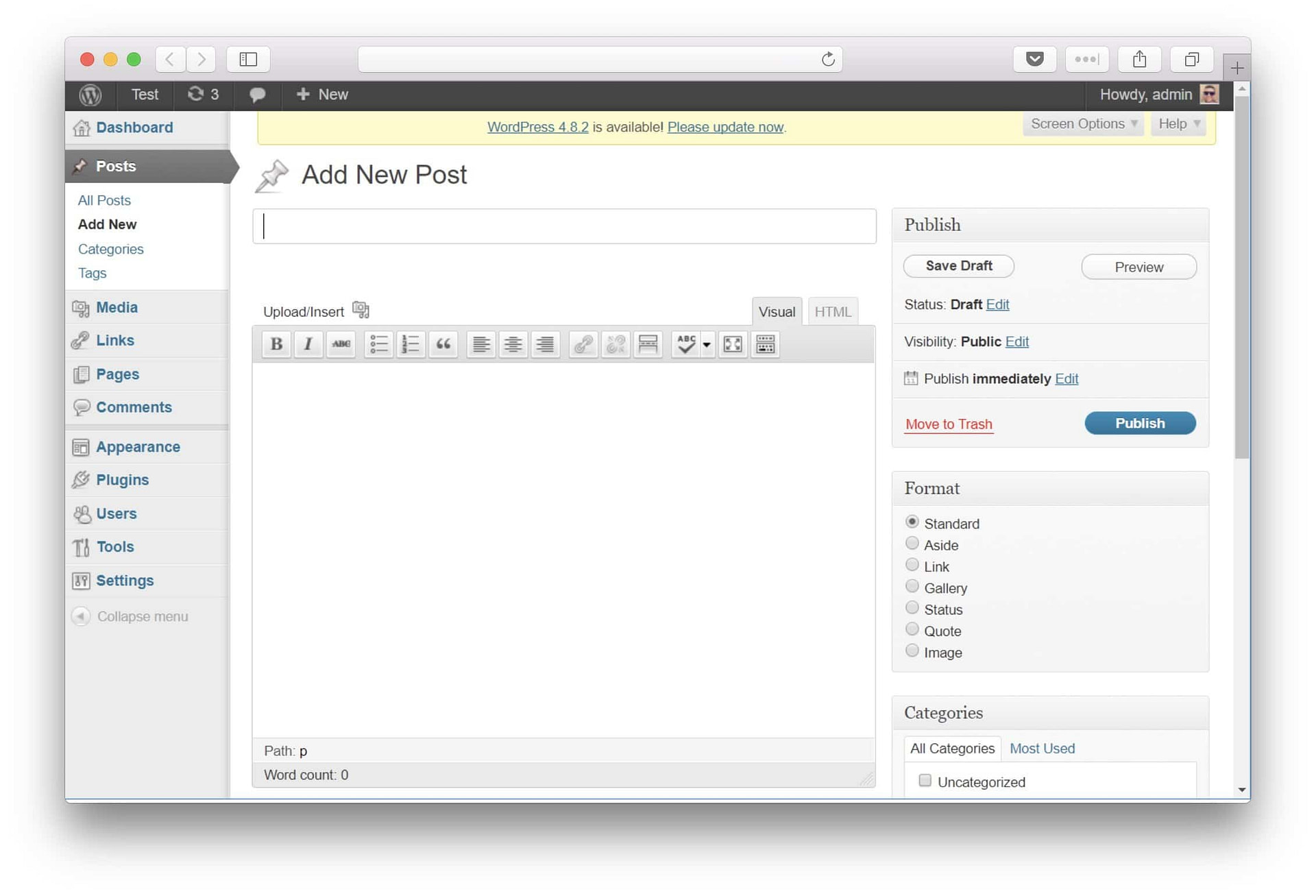 WordPress 3.4 "Green" – June 13, 2012
Release post. WordPress Customizer sees the daylight!
WordPress 3.4 DASHBOARDWordPress 3.4 MANAGEWordPress 3.4 WRITEWordPress 3.4 LOGIN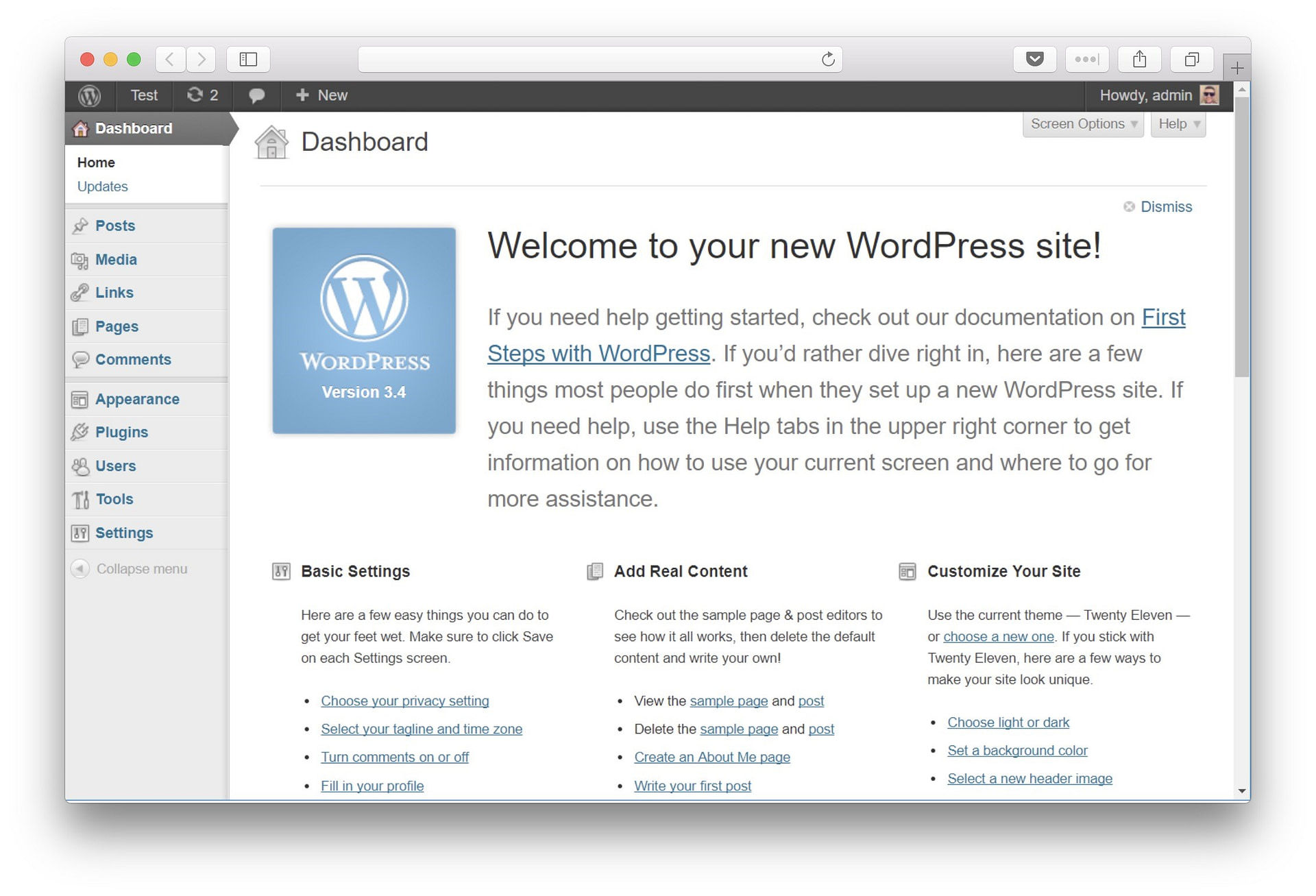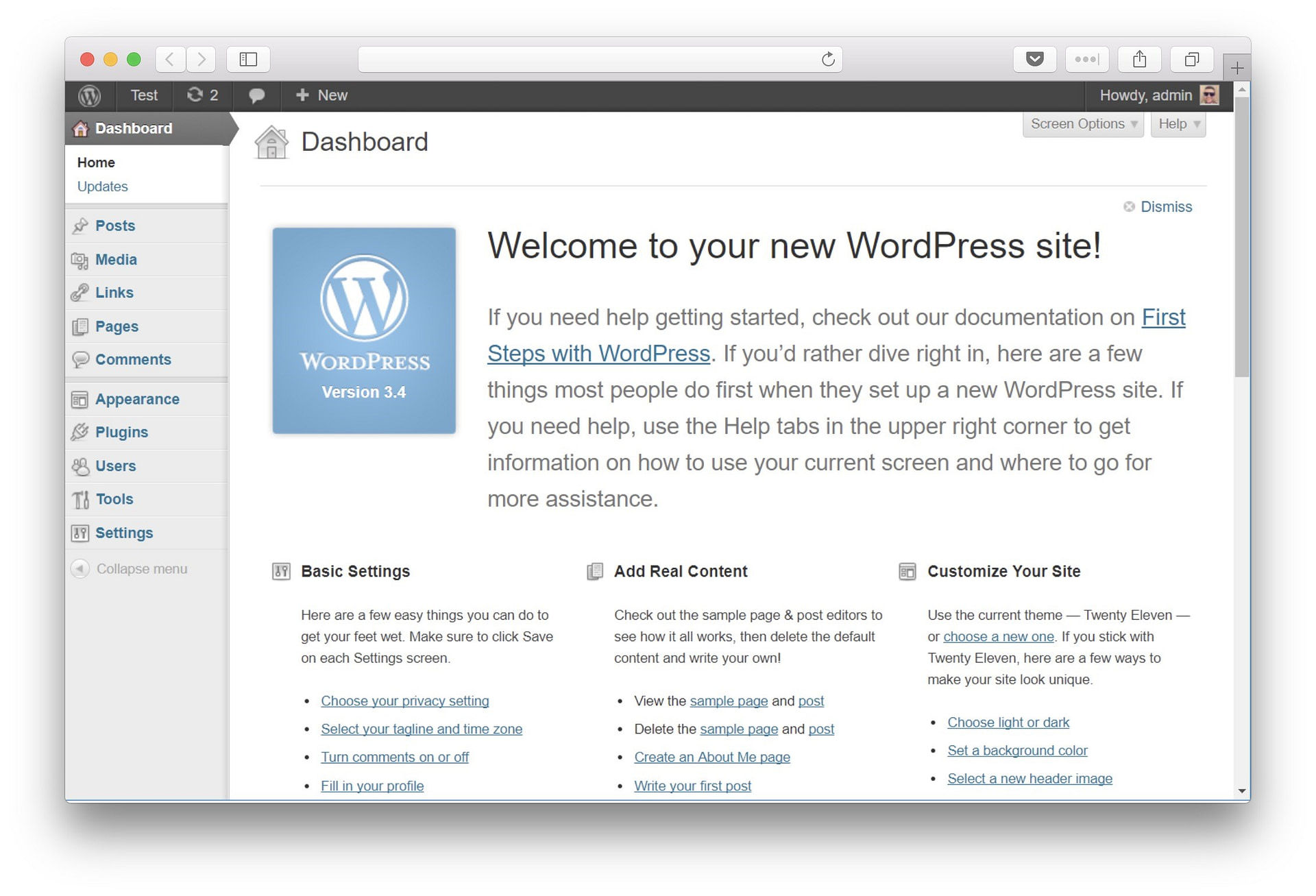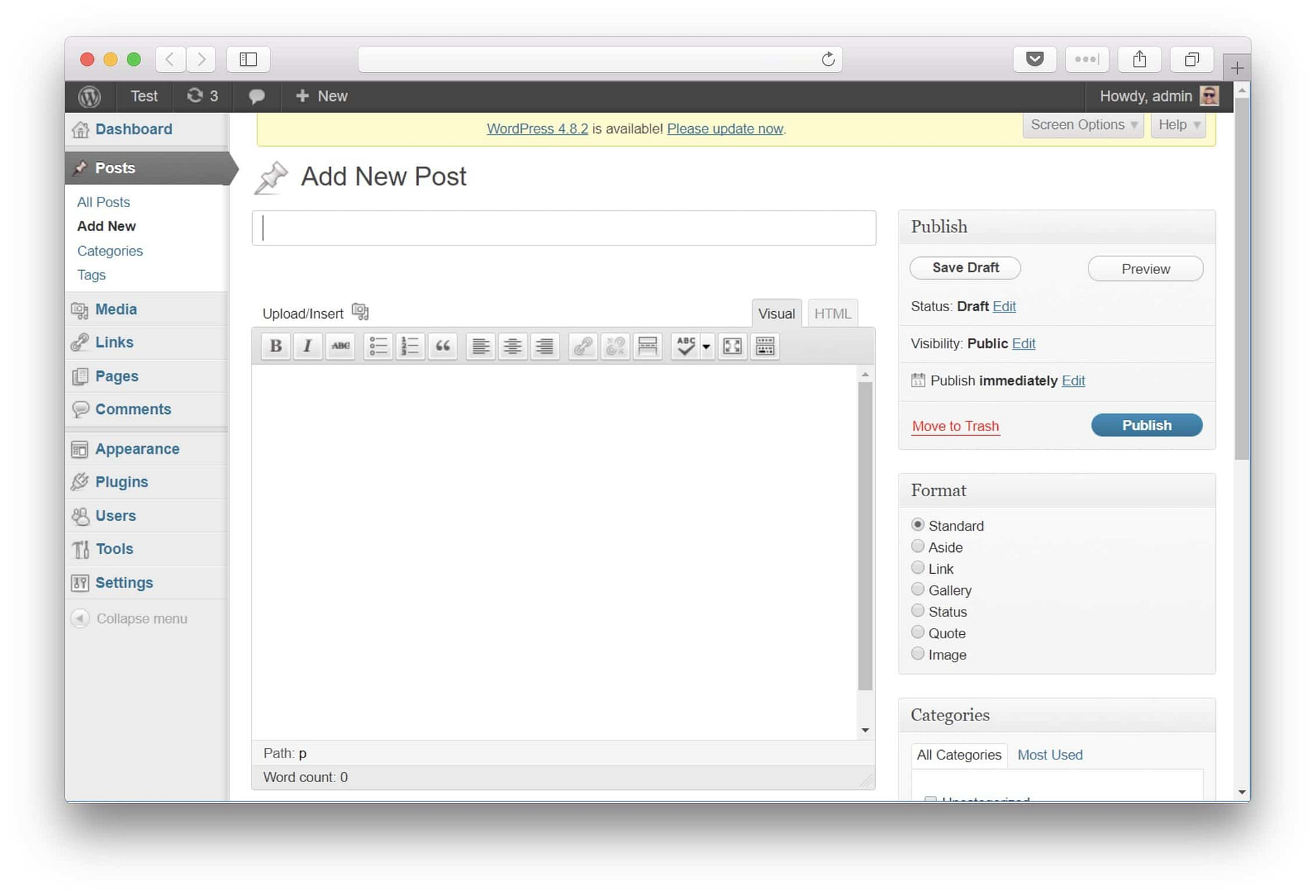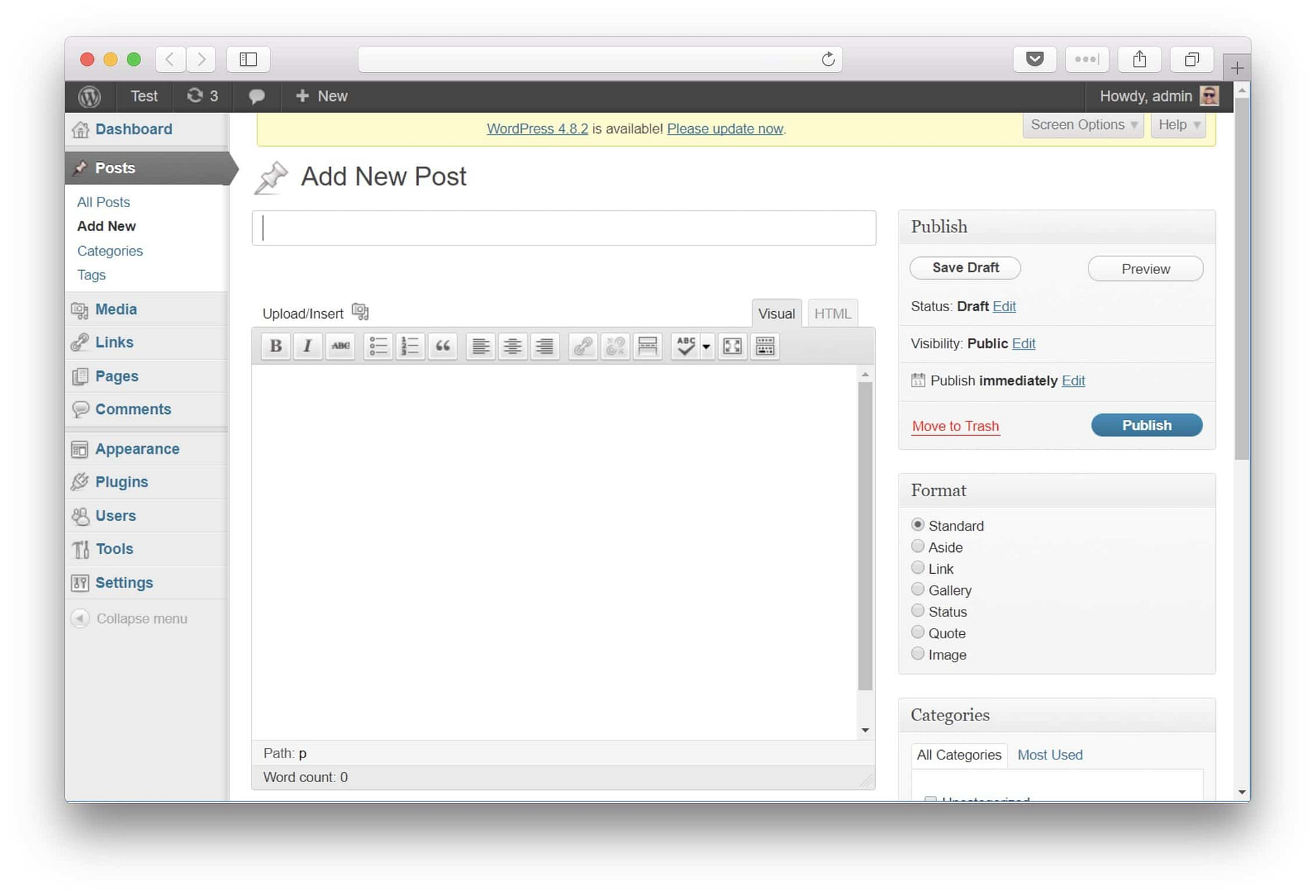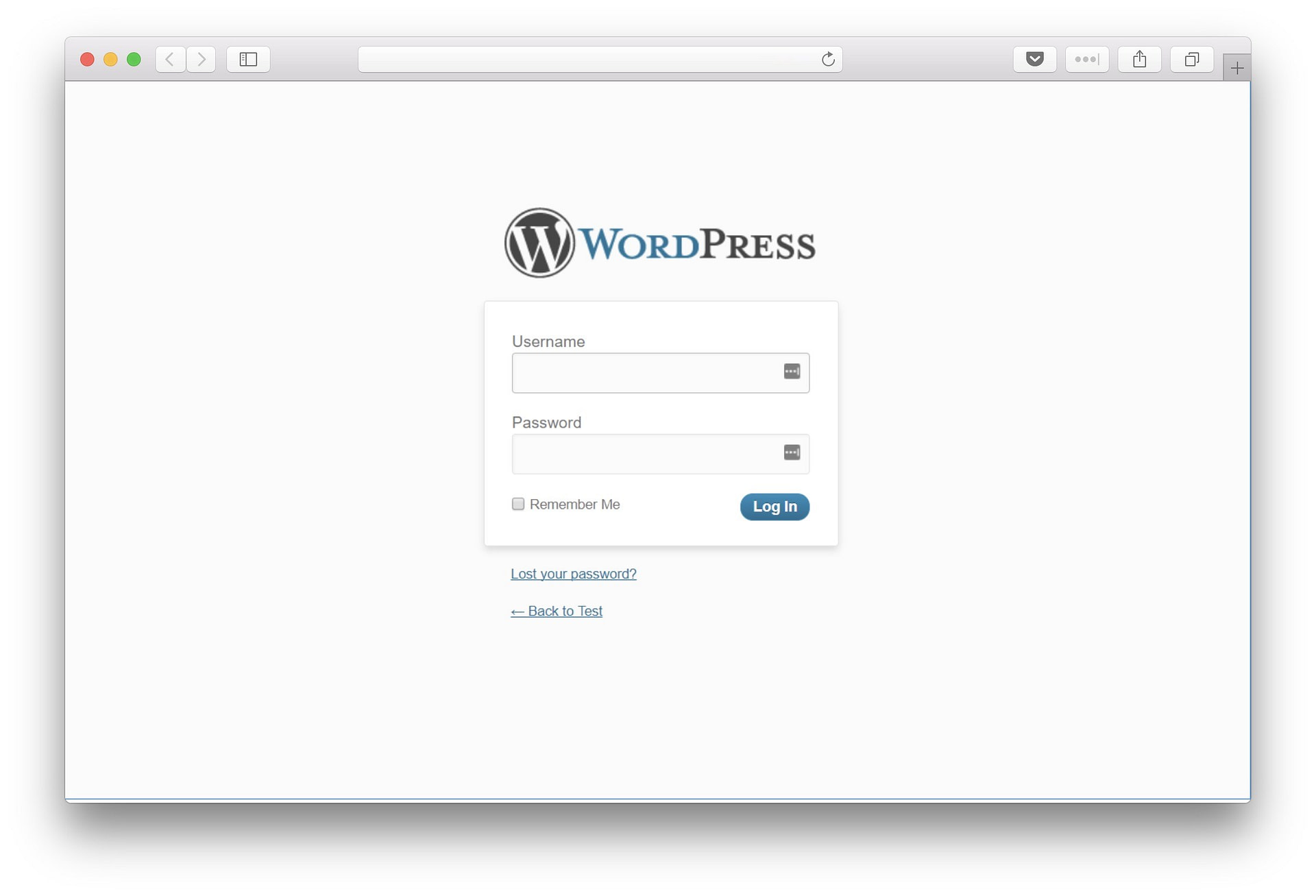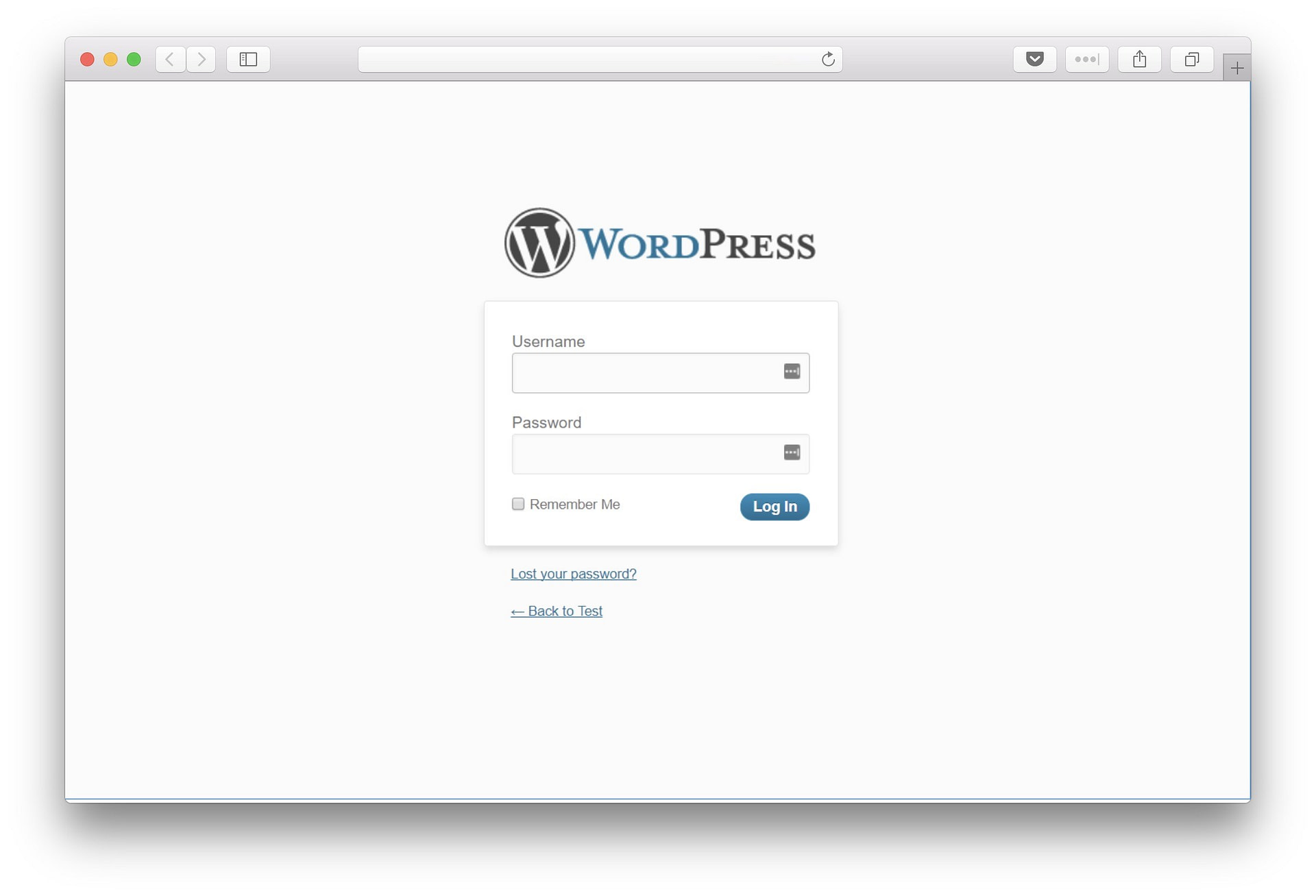 WordPress 3.5 "Elvin" – December 11, 2012
Release post. Uploading photos and creating galleries gets redone, along with modifications to the main dashboard design.
WordPress 3.5 DASHBOARDWordPress 3.5 MANAGEWordPress 3.5 WRITEWordPress 3.5 LOGIN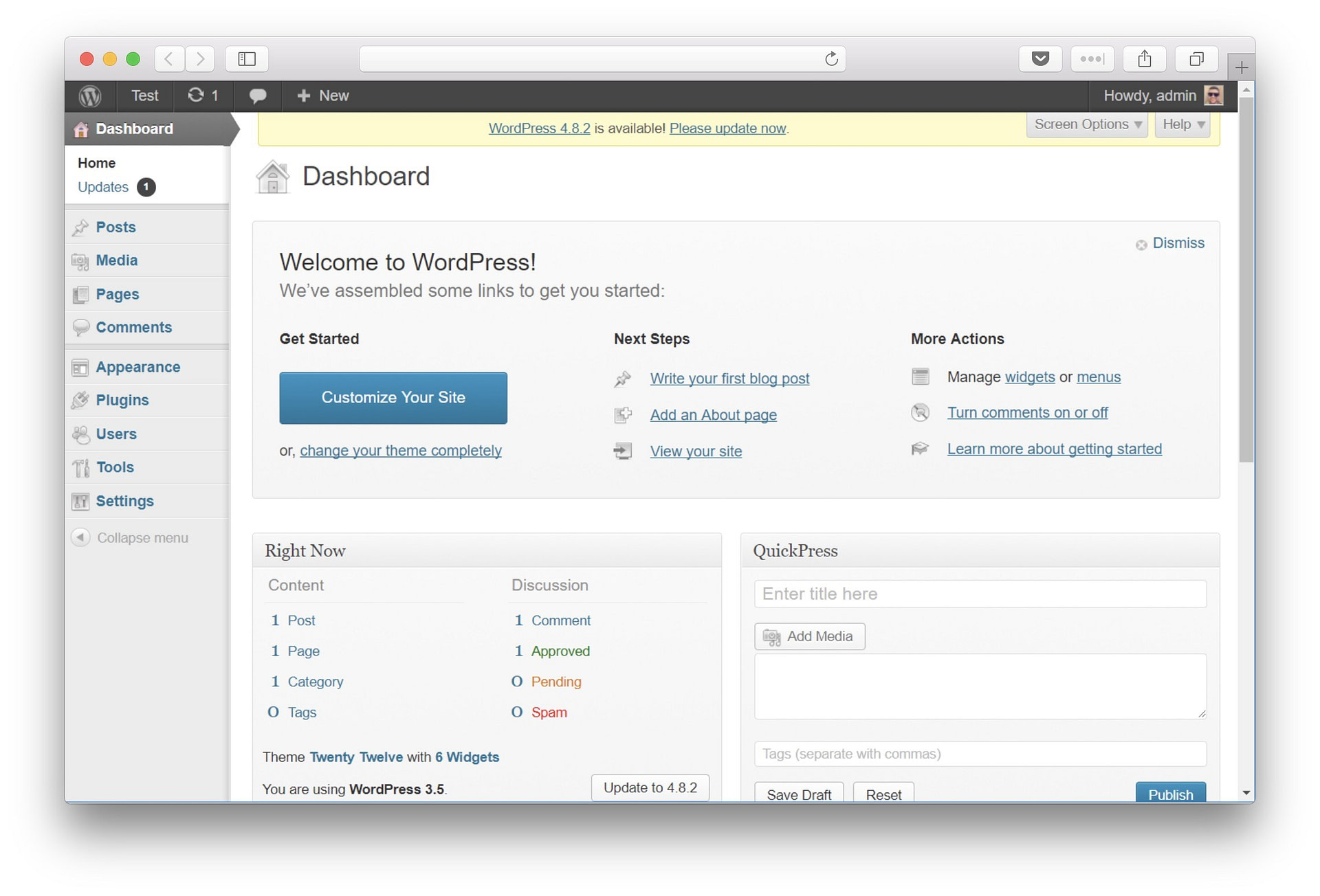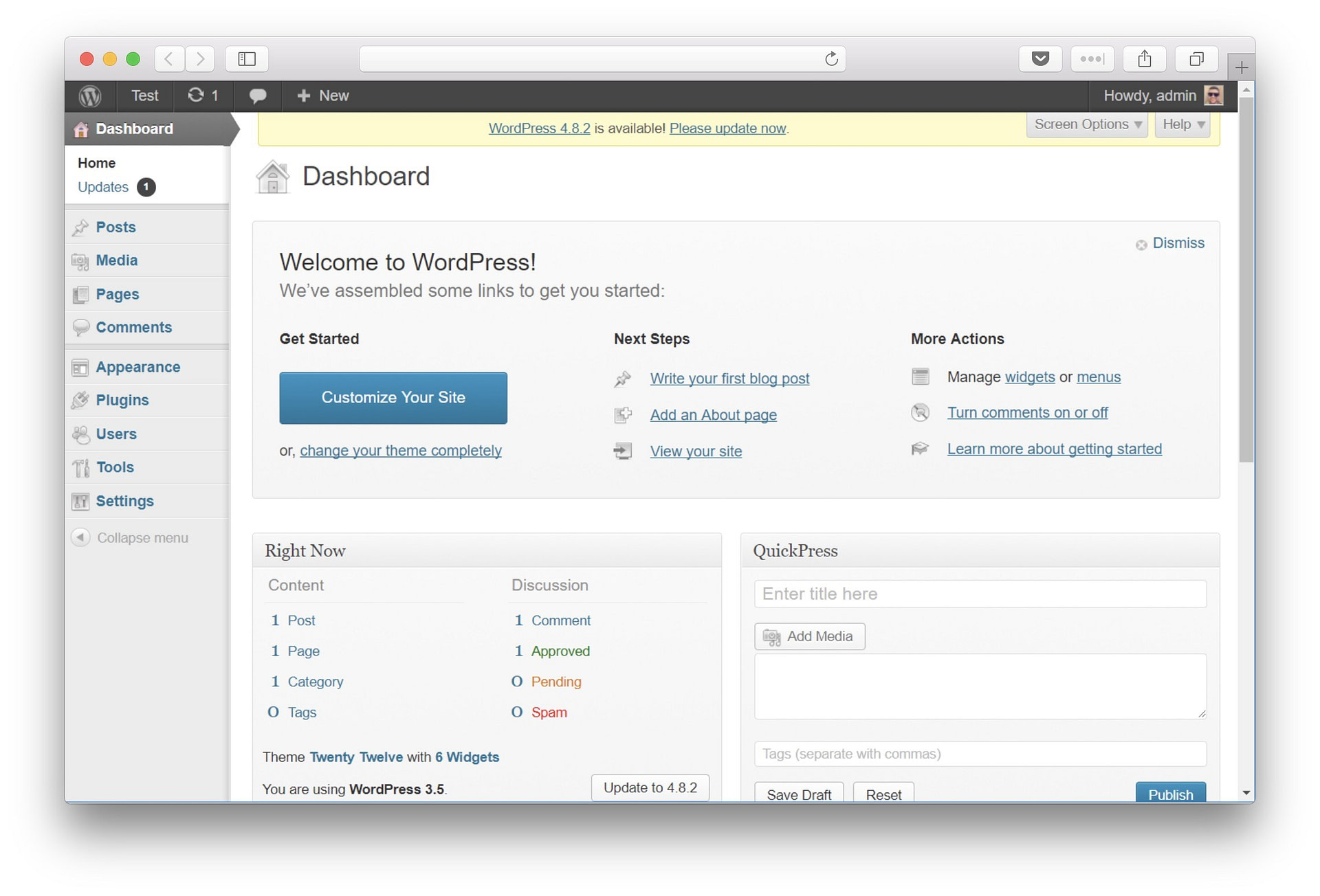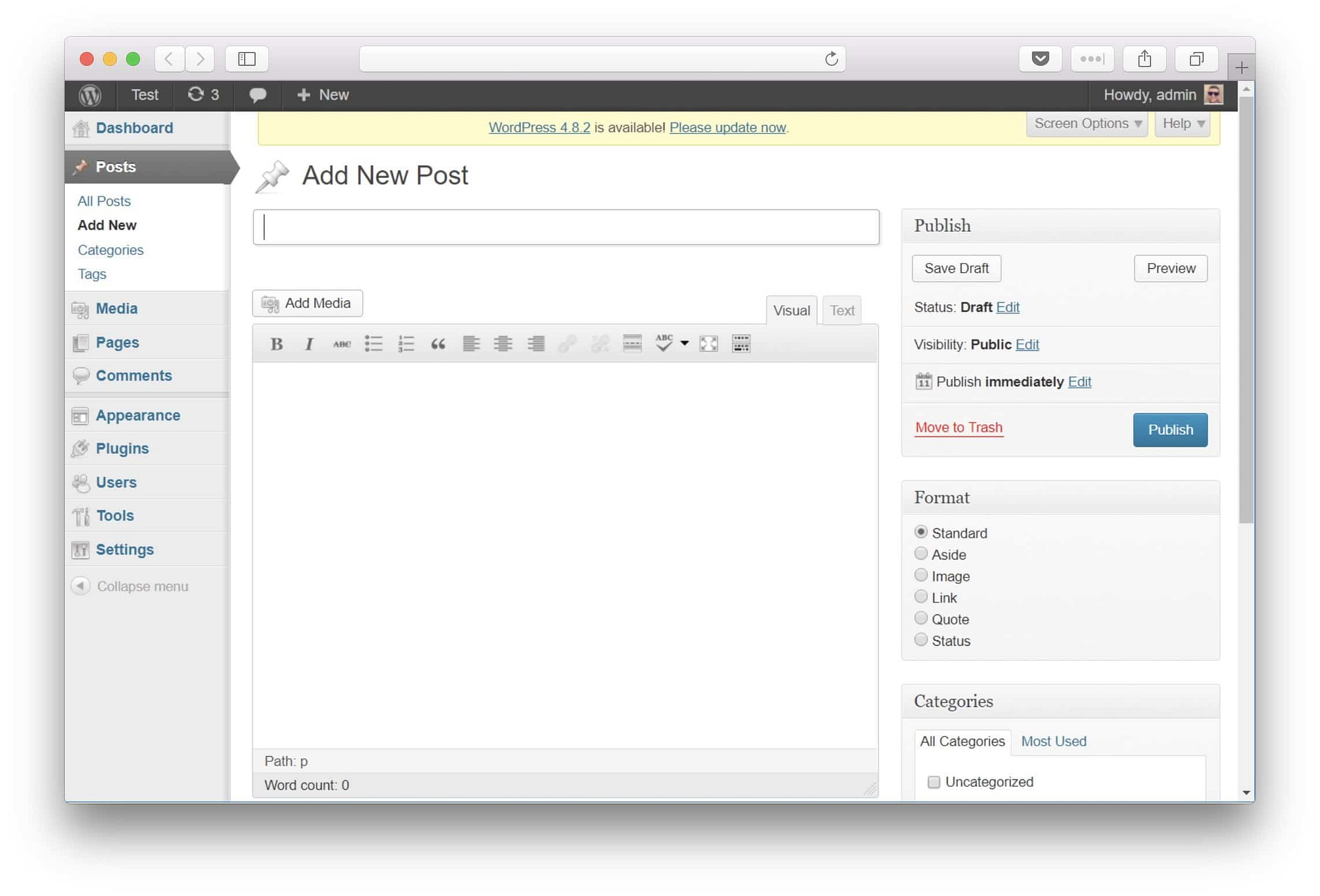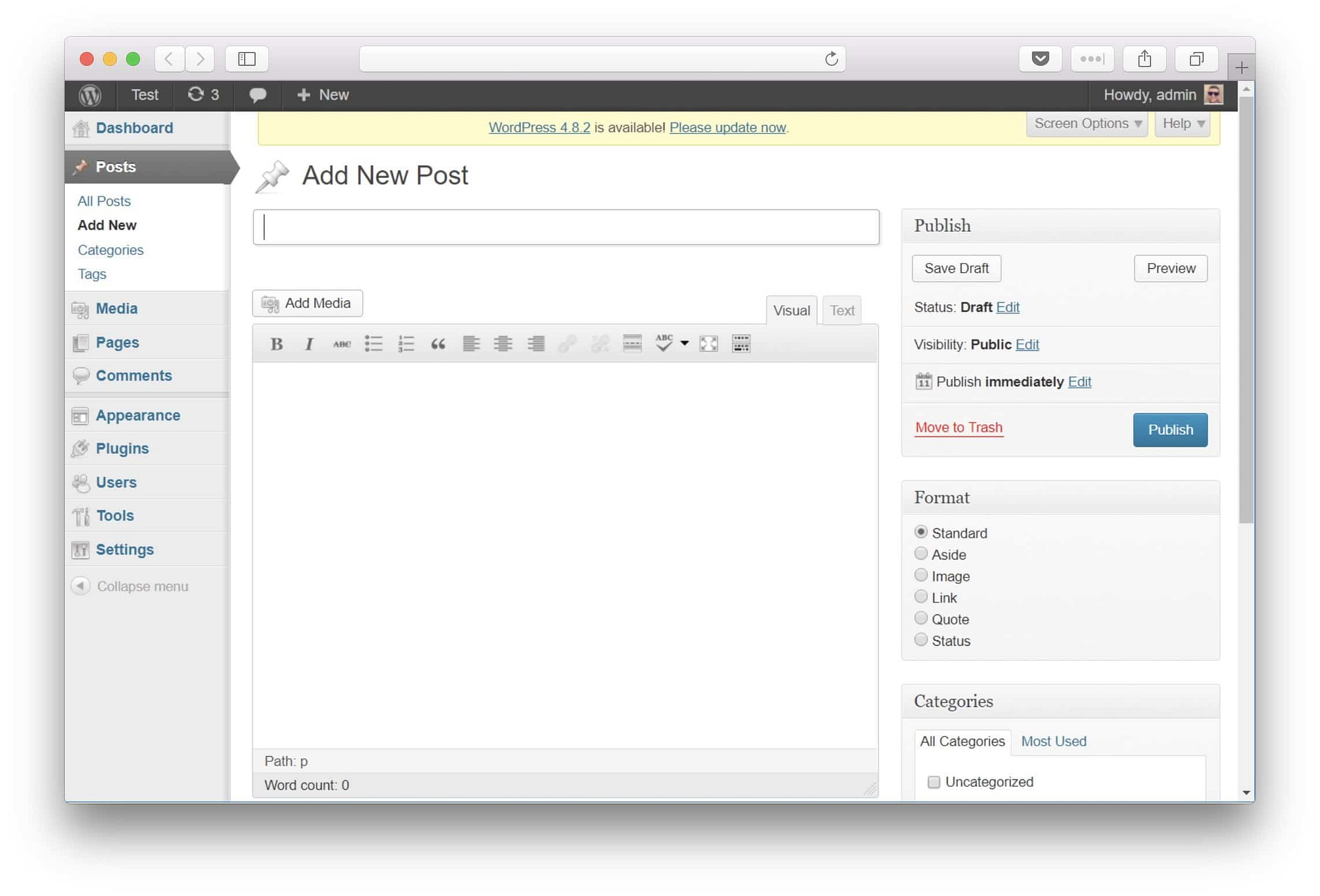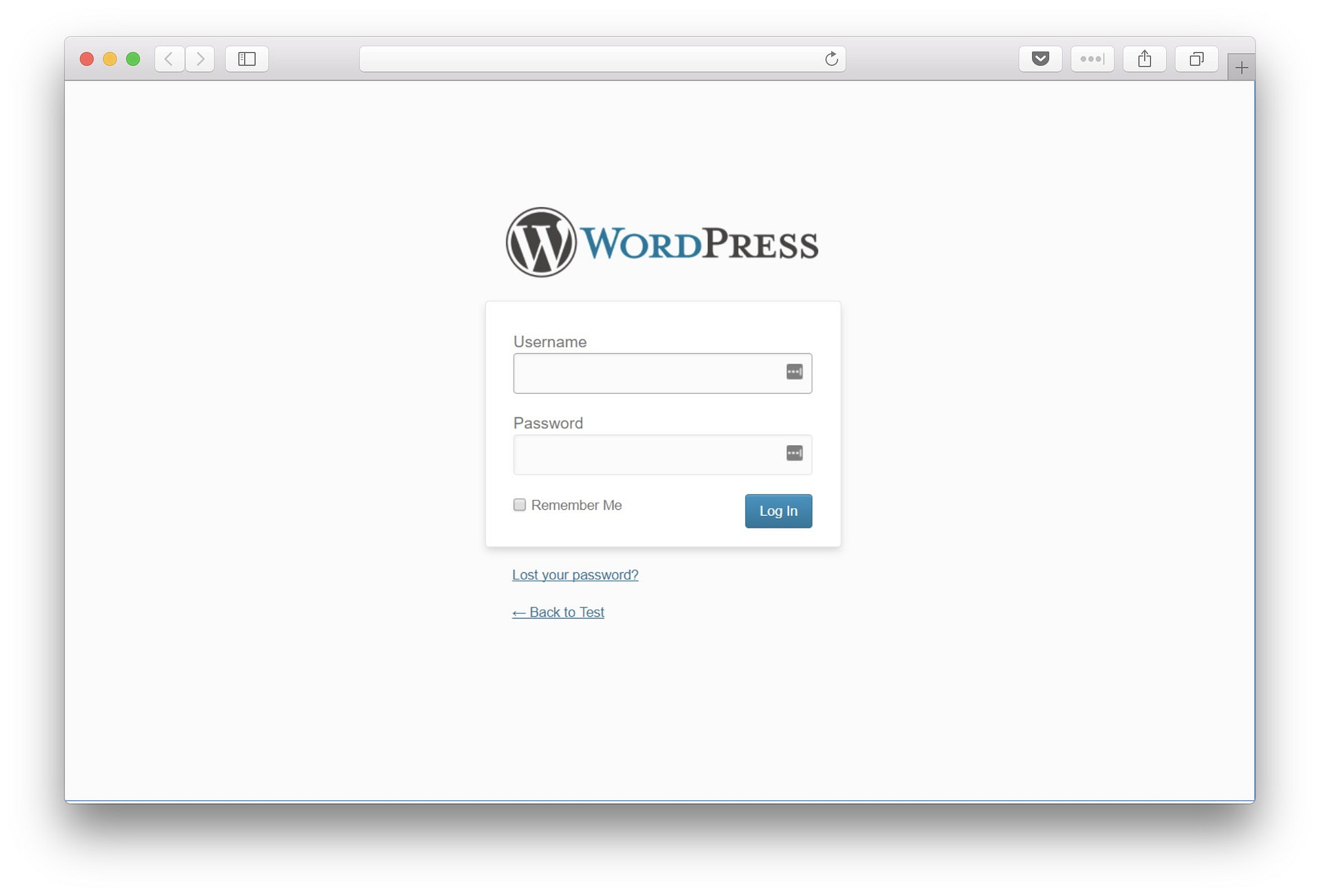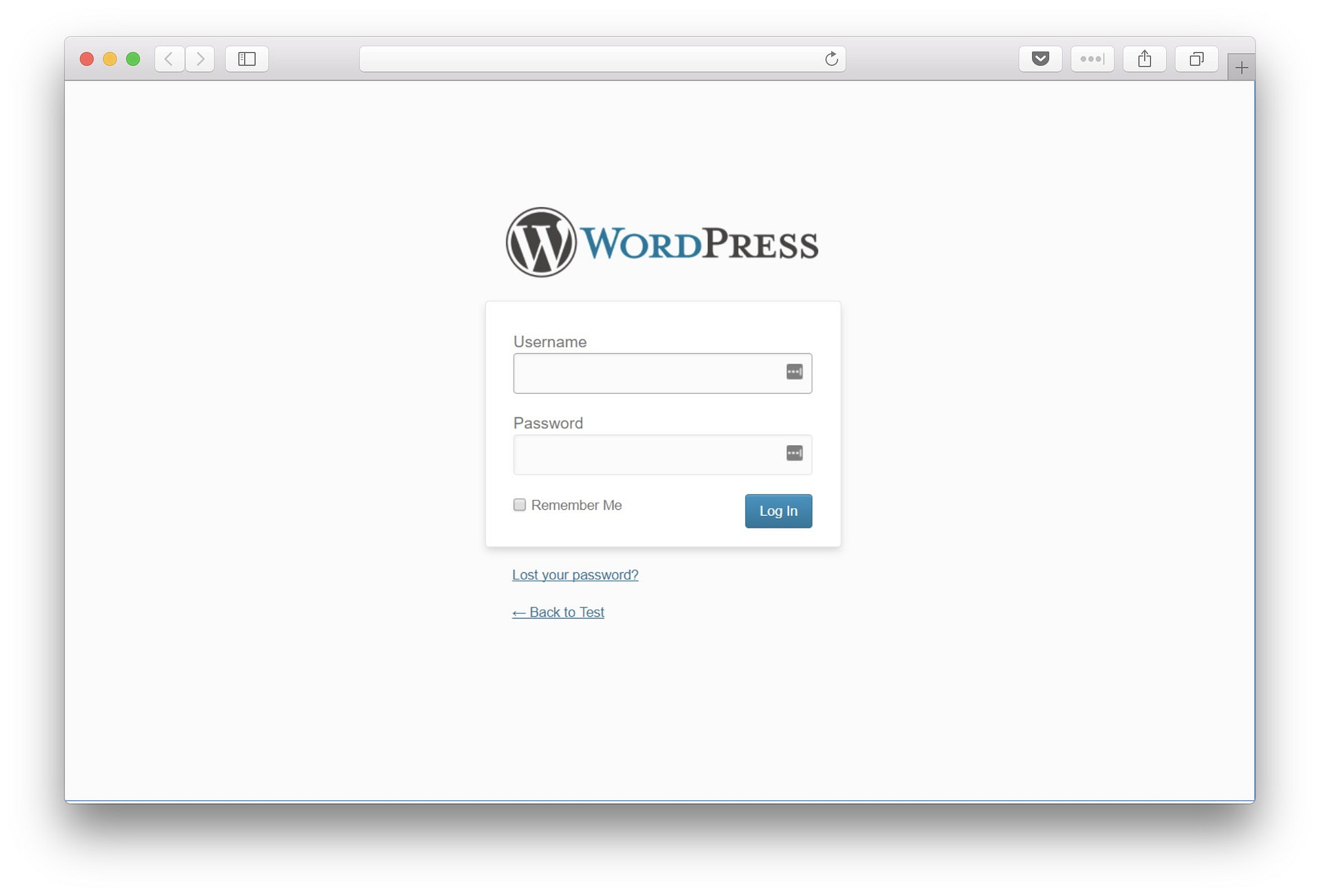 WordPress 3.6 "Oscar" – August 1, 2013
Release post. Improved autosave and post locking features, plus a revamped revisions browser.
WordPress 3.6 DASHBOARDWordPress 3.6 MANAGEWordPress 3.6 WRITEWordPress 3.6 LOGIN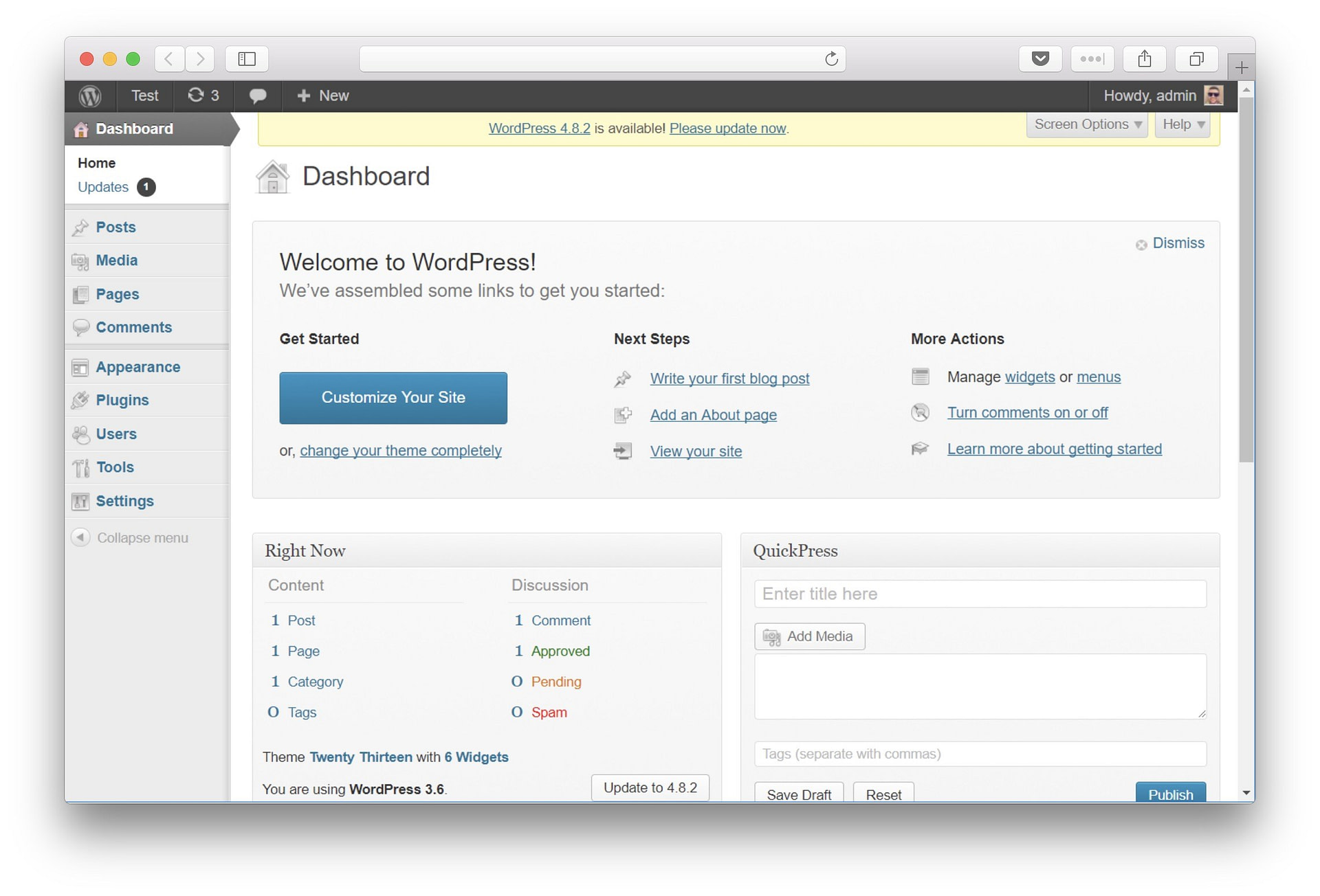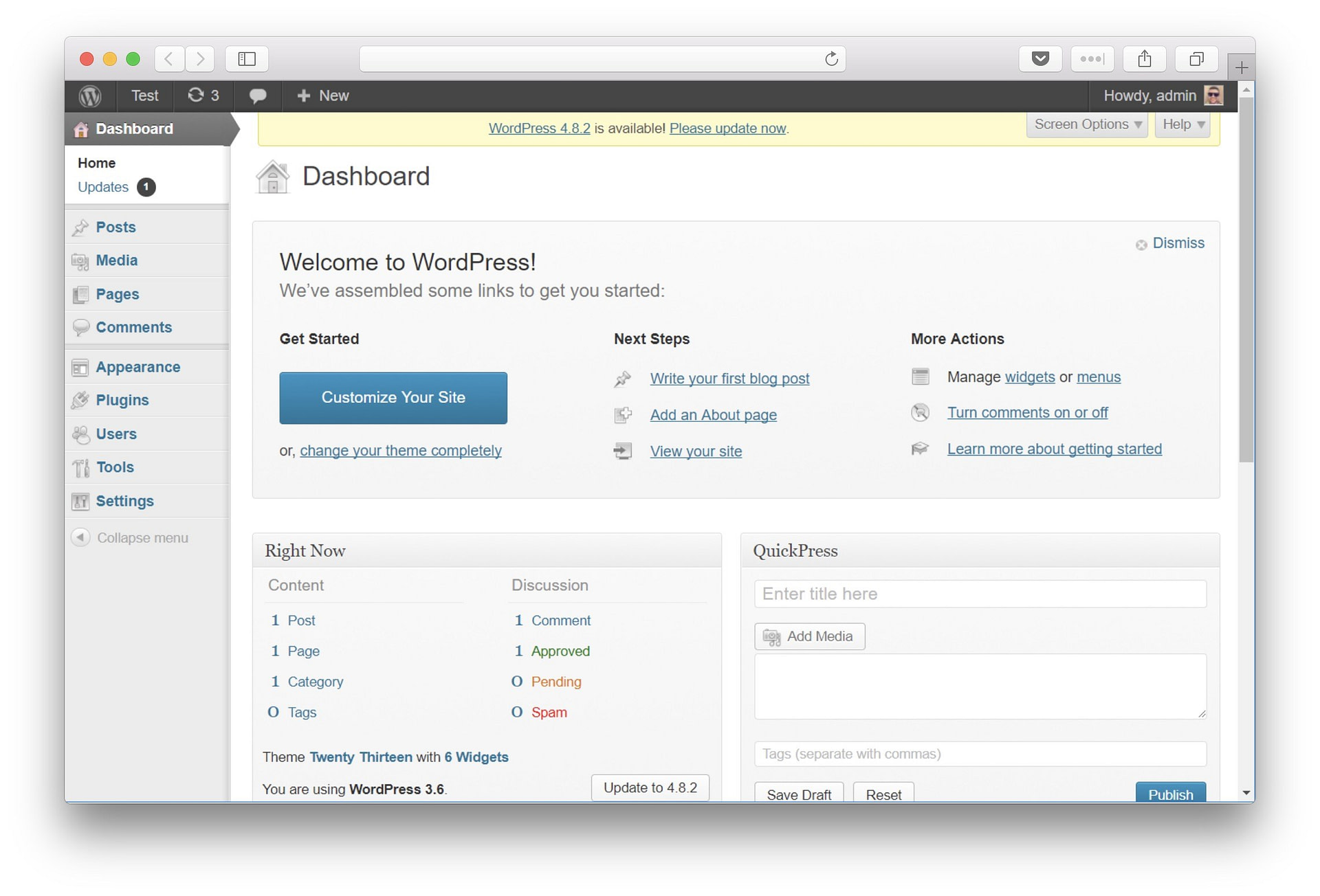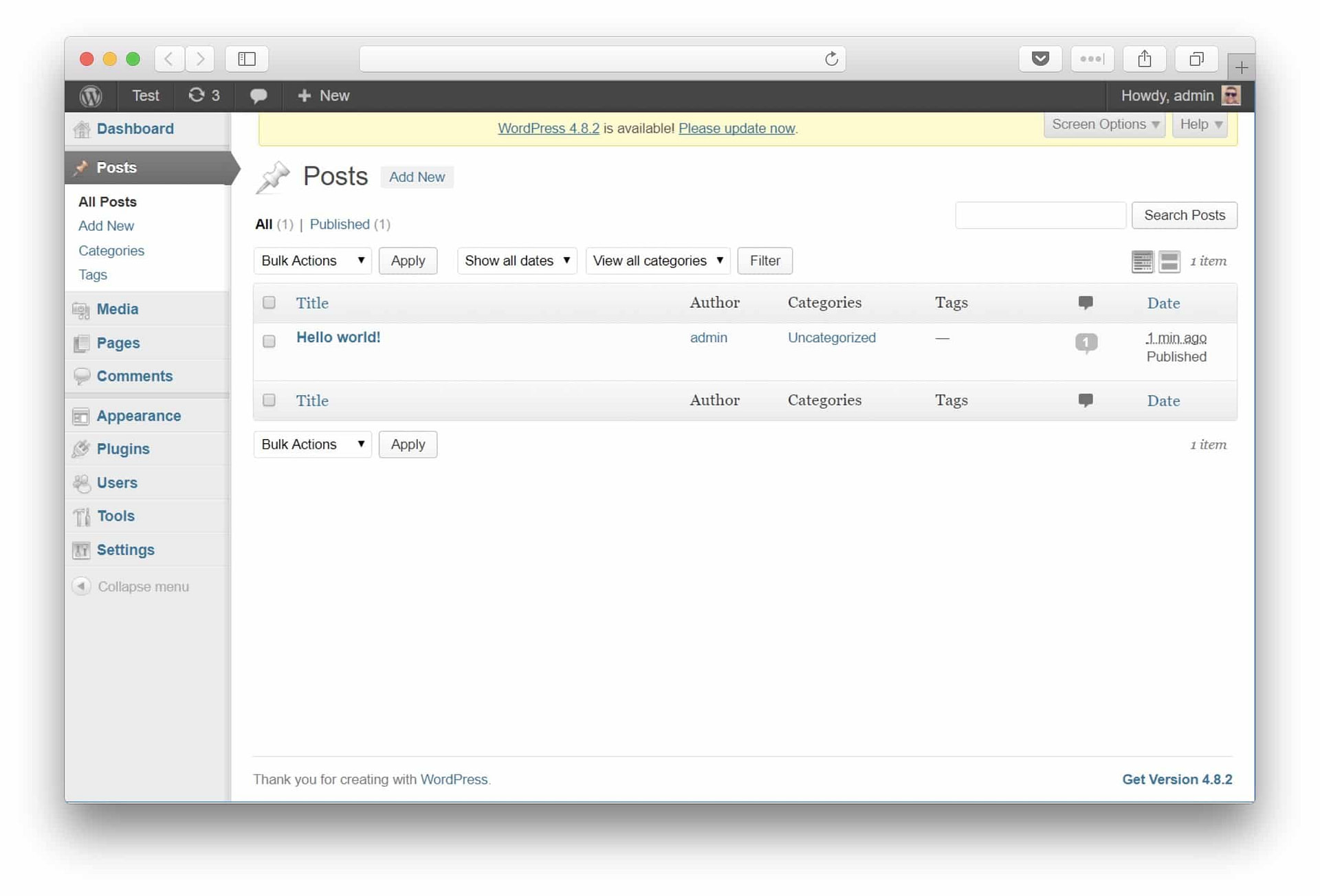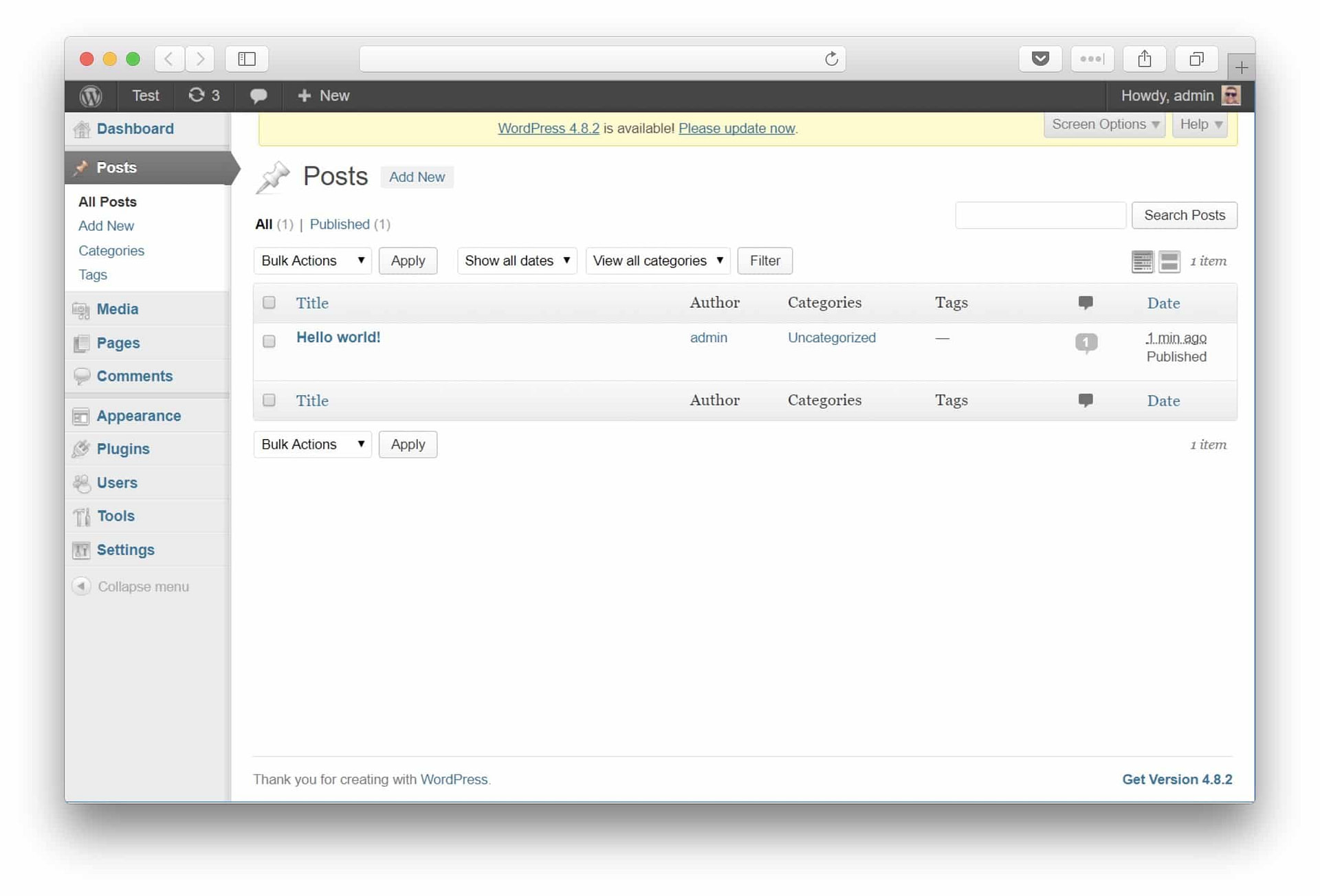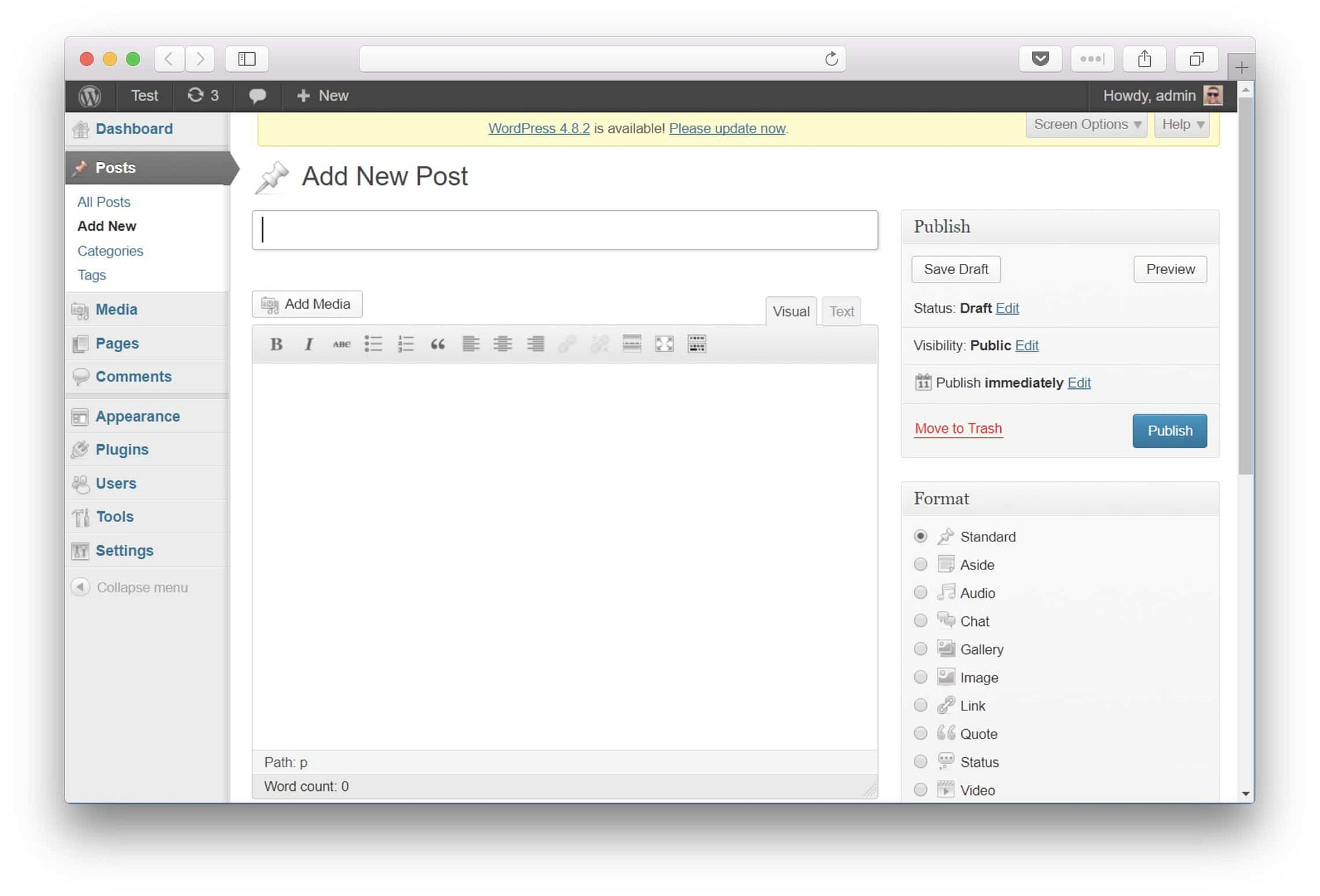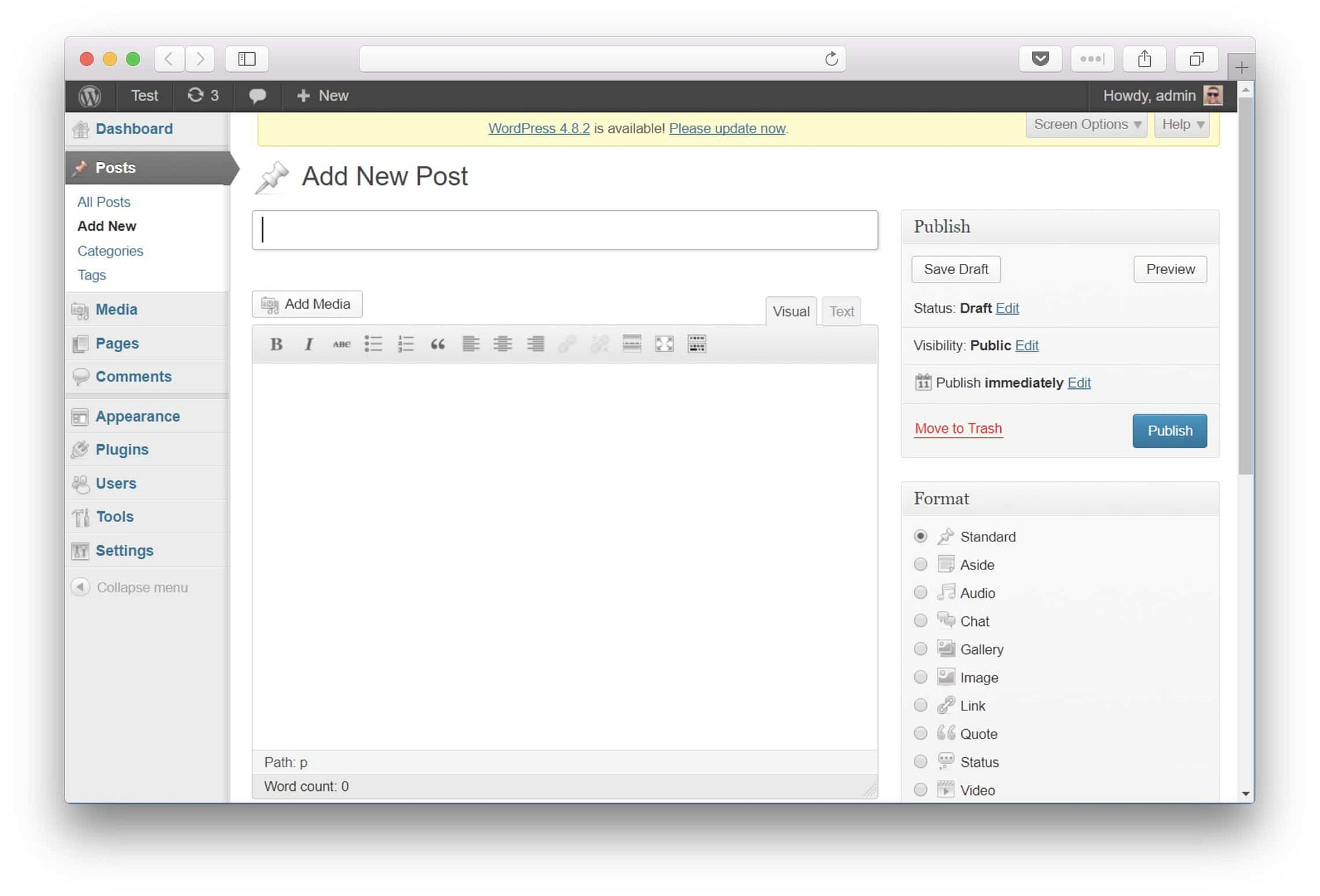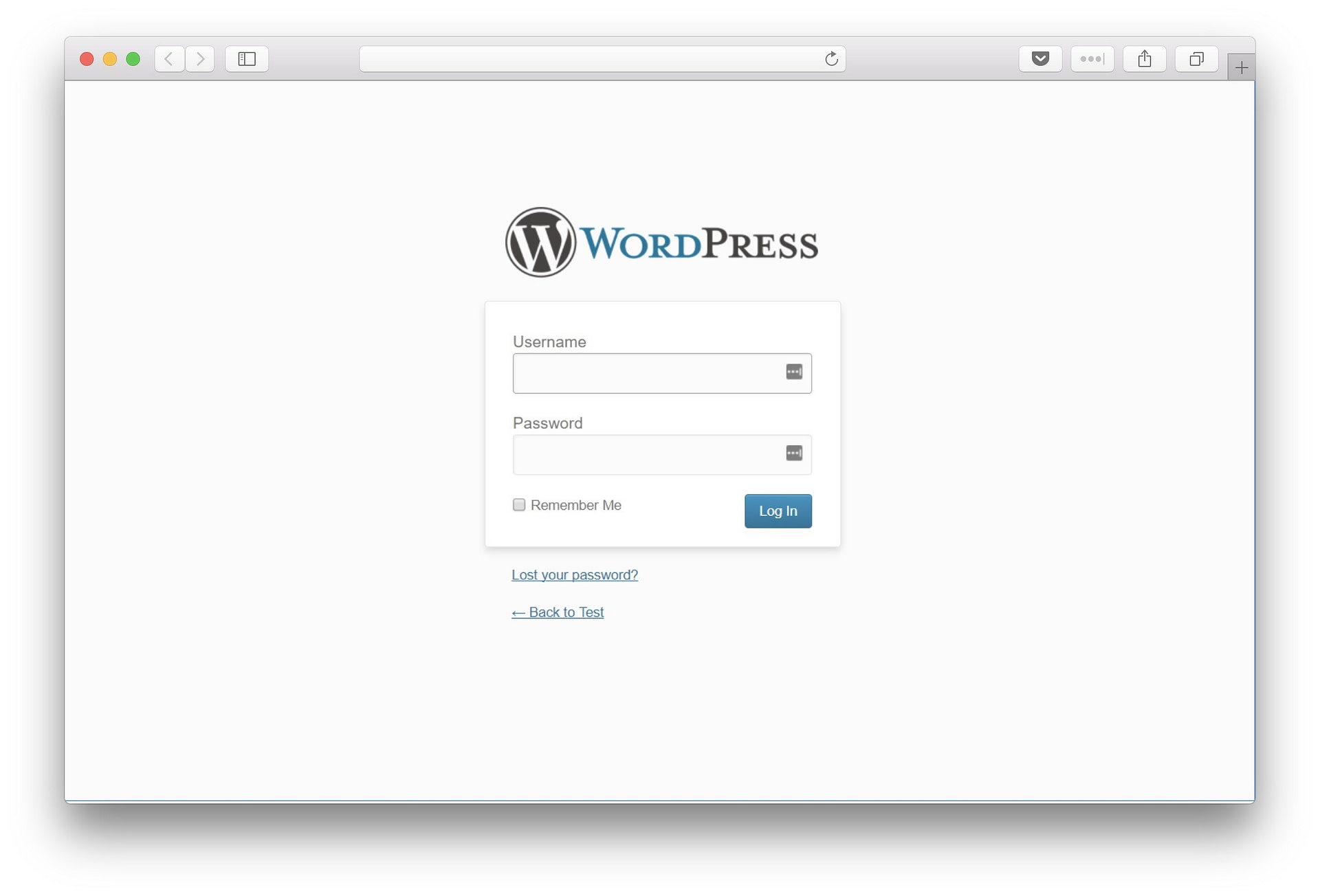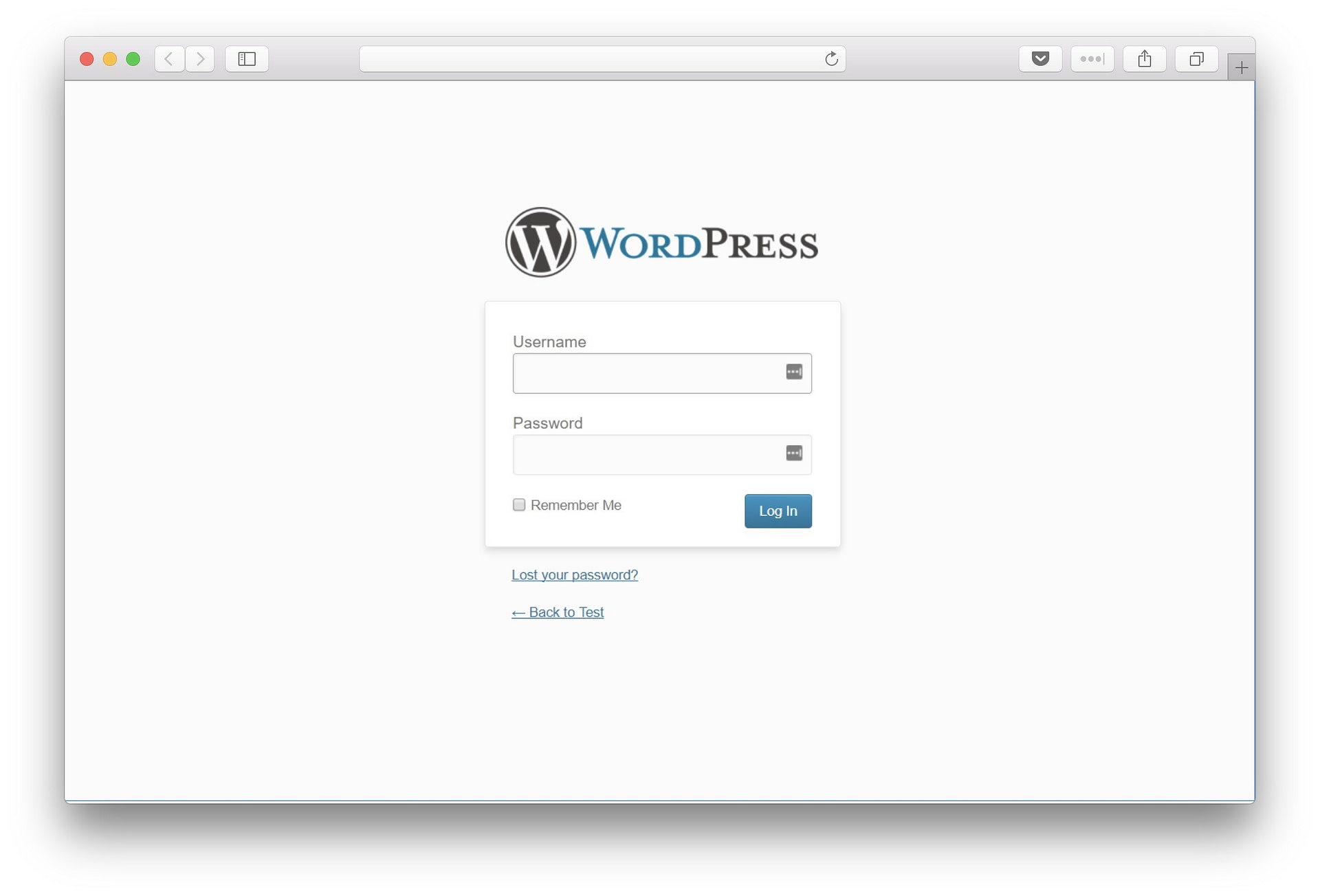 WordPress 3.7 "Basie" – October 24, 2013
Release post. Maintenance and security updates are now installed automatically, plus stronger password recommendations.
WordPress 3.7 DASHBOARDWordPress 3.7 MANAGEWordPress 3.7 WRITEWordPress 3.7 LOGIN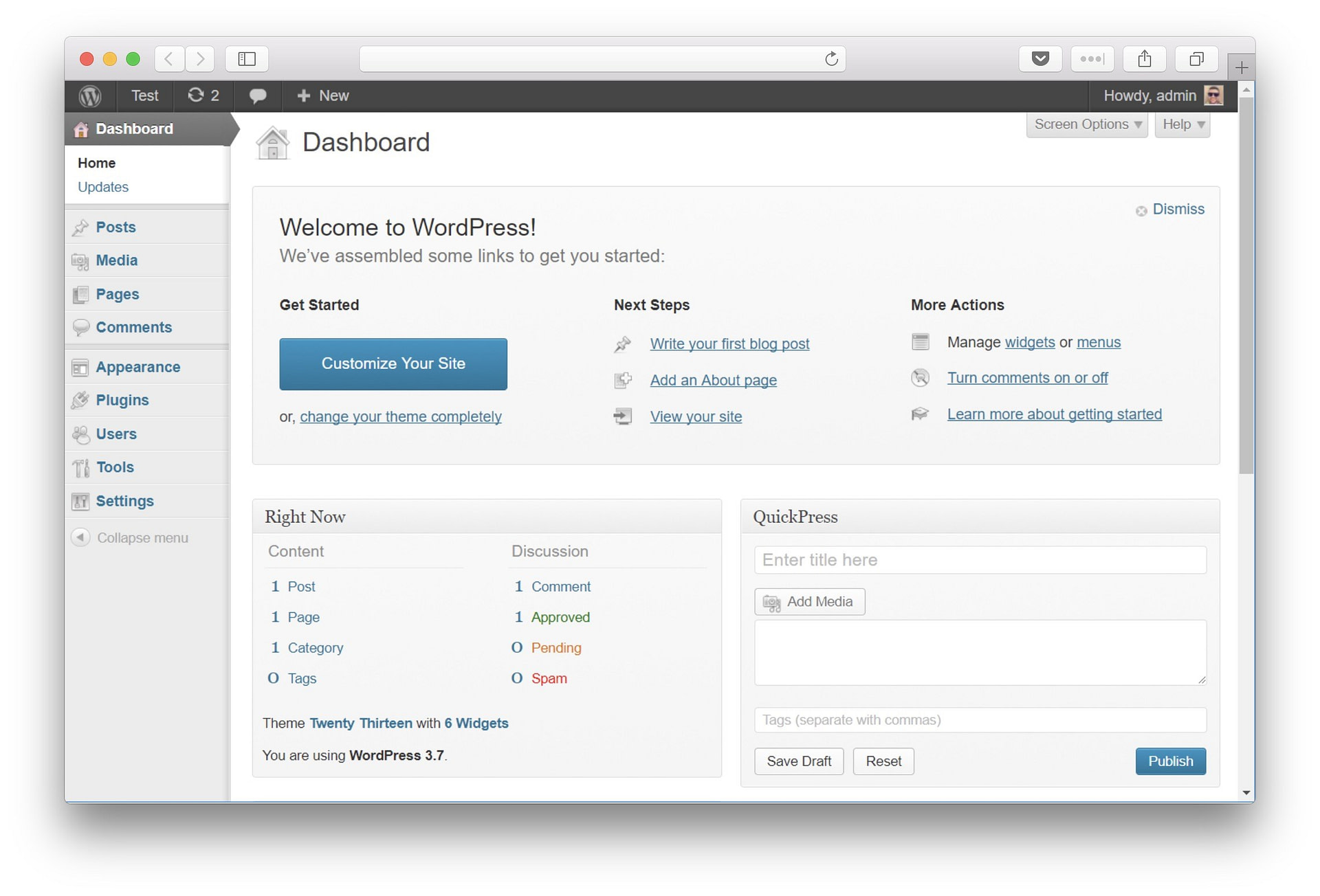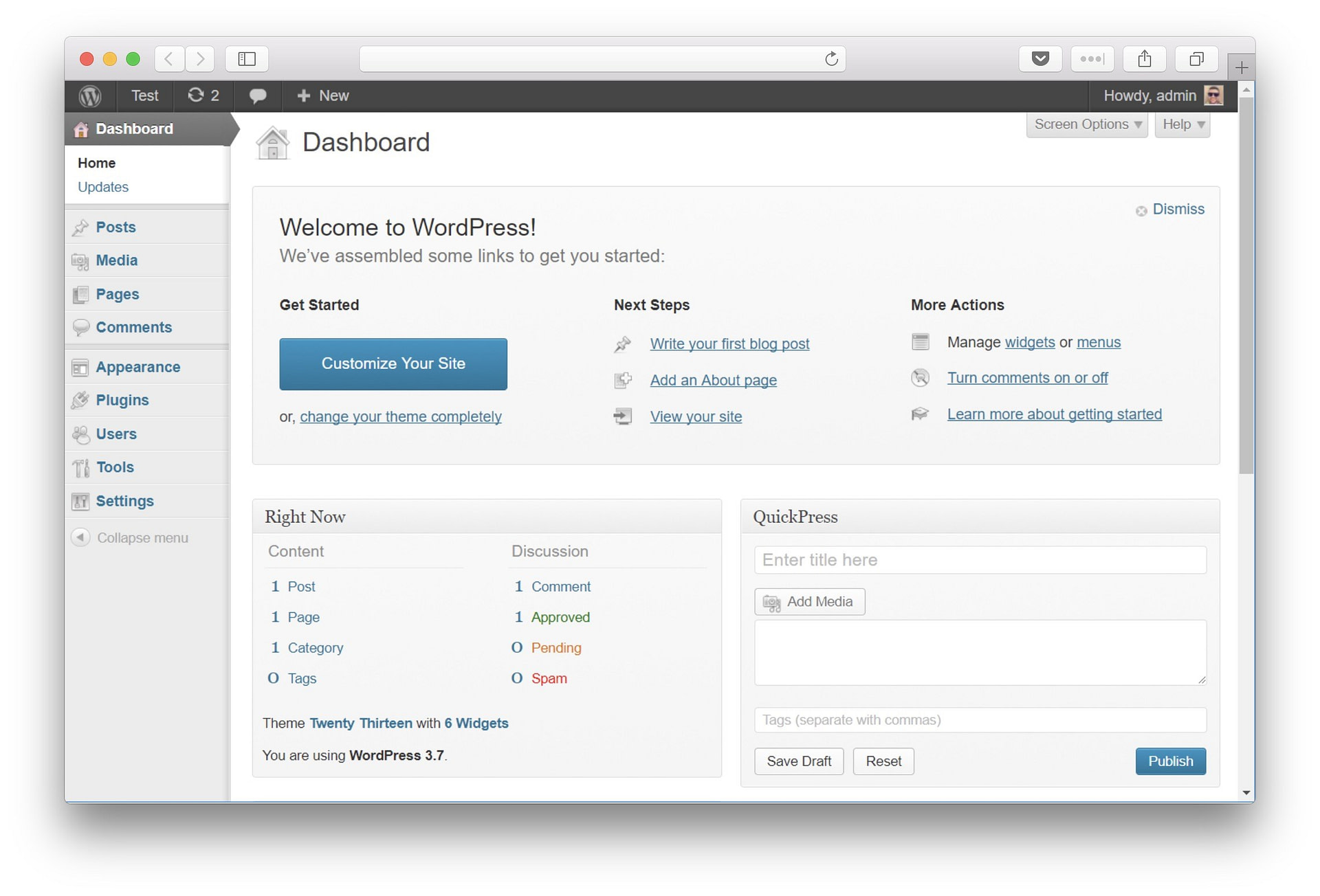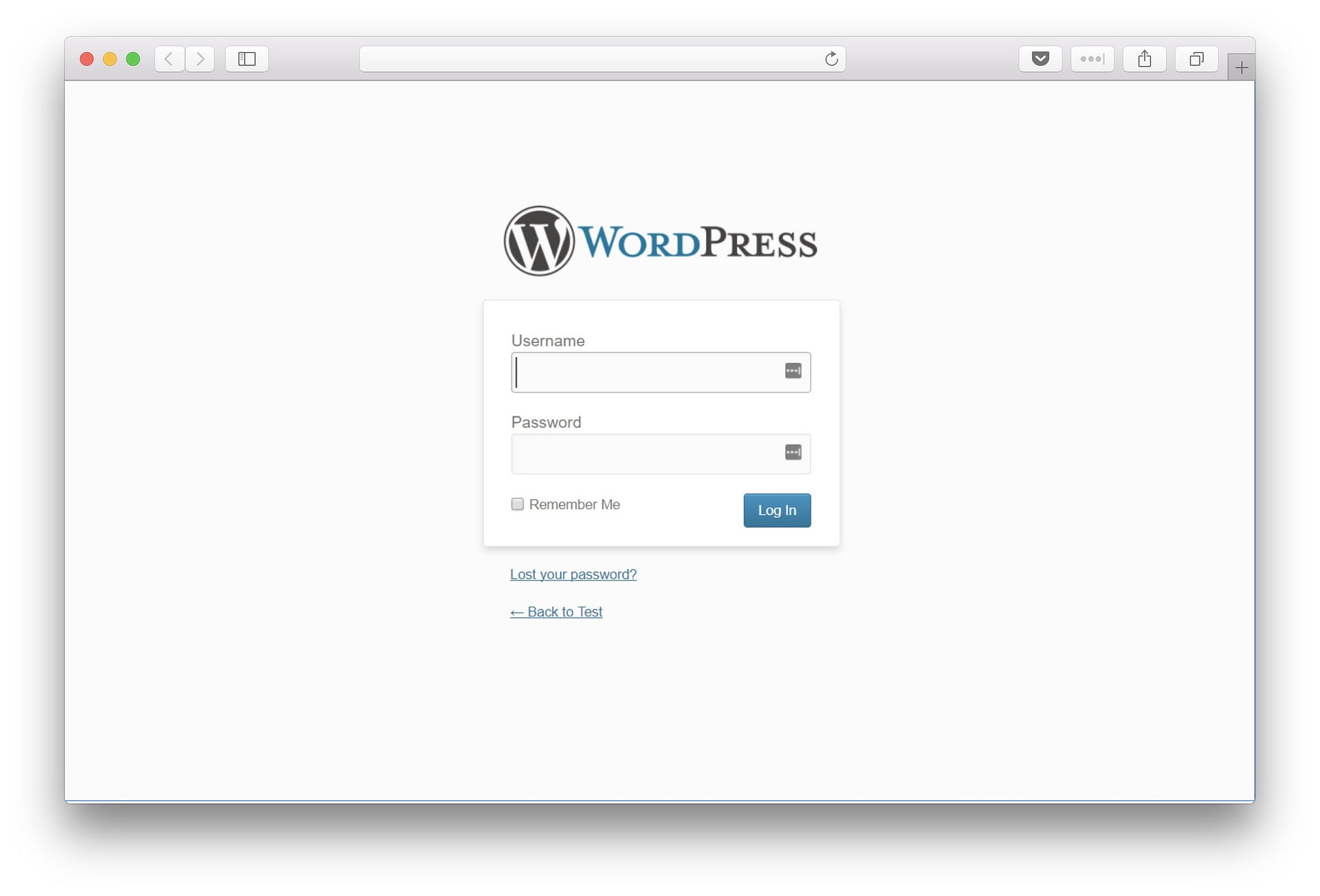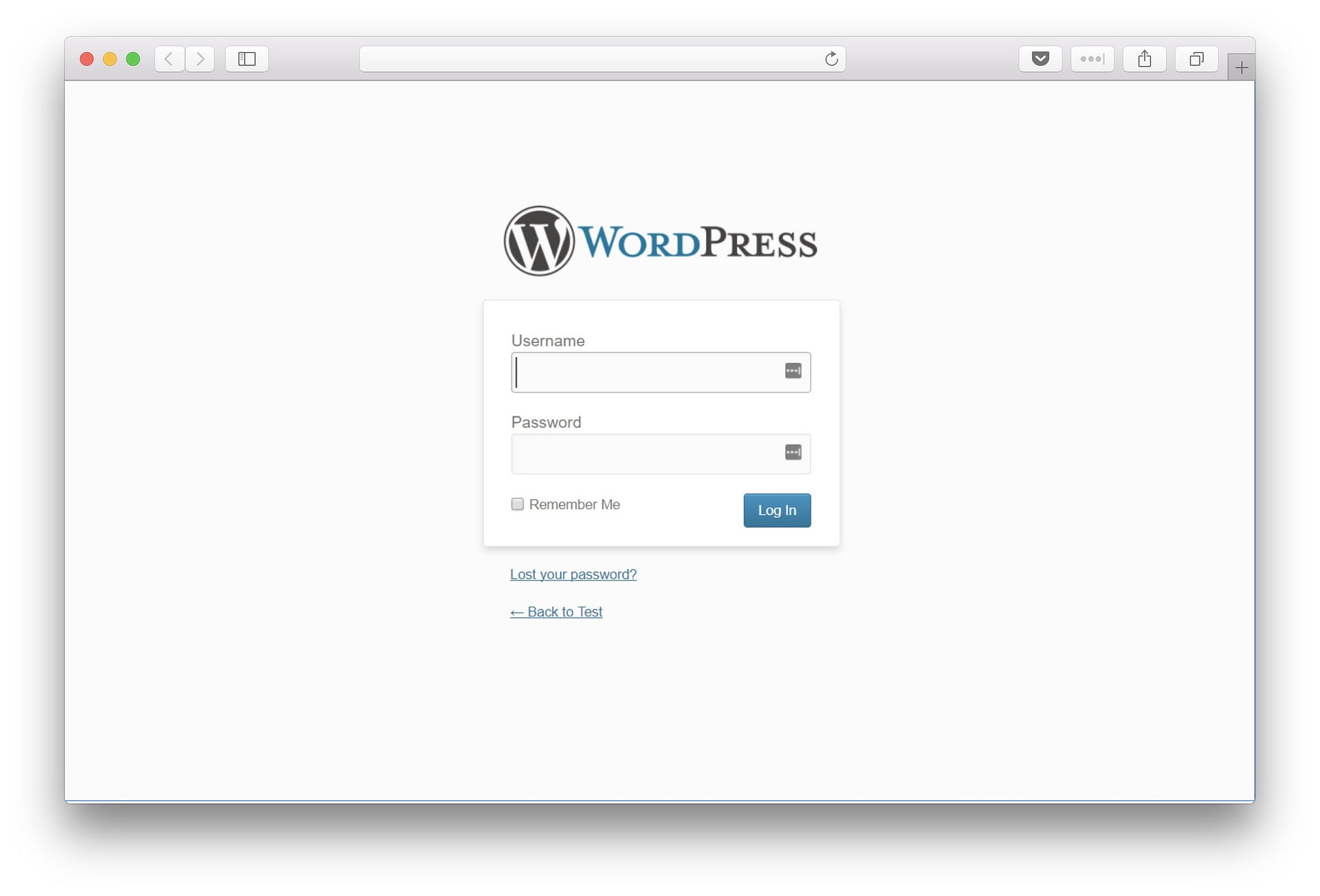 WordPress 3.8 "Parker" – December 12, 2013
Release post. A fresh new look for the entire dashboard – the style that we know today.
WordPress 3.8 DASHBOARDWordPress 3.8 MANAGEWordPress 3.8 WRITEWordPress 3.8 LOGIN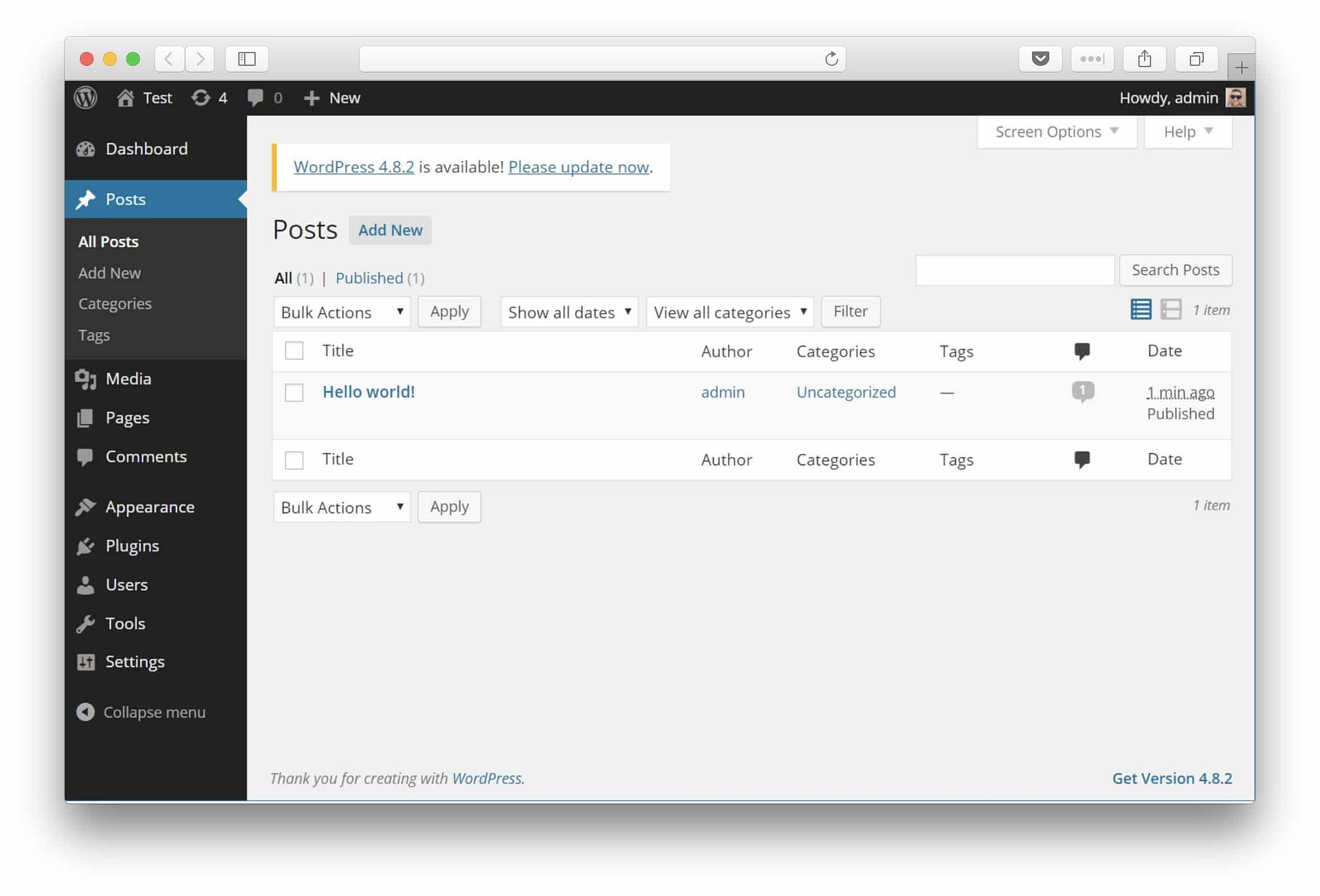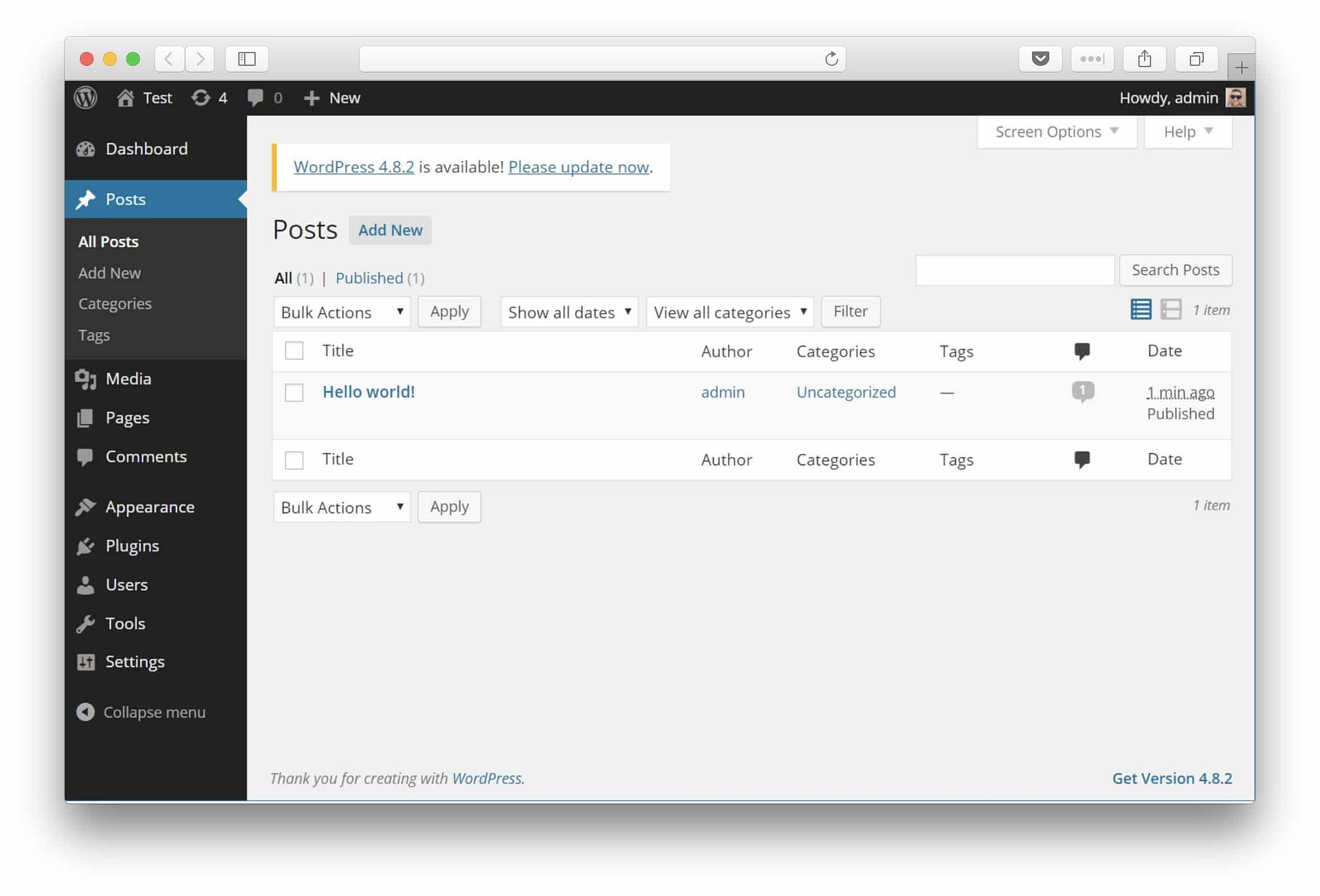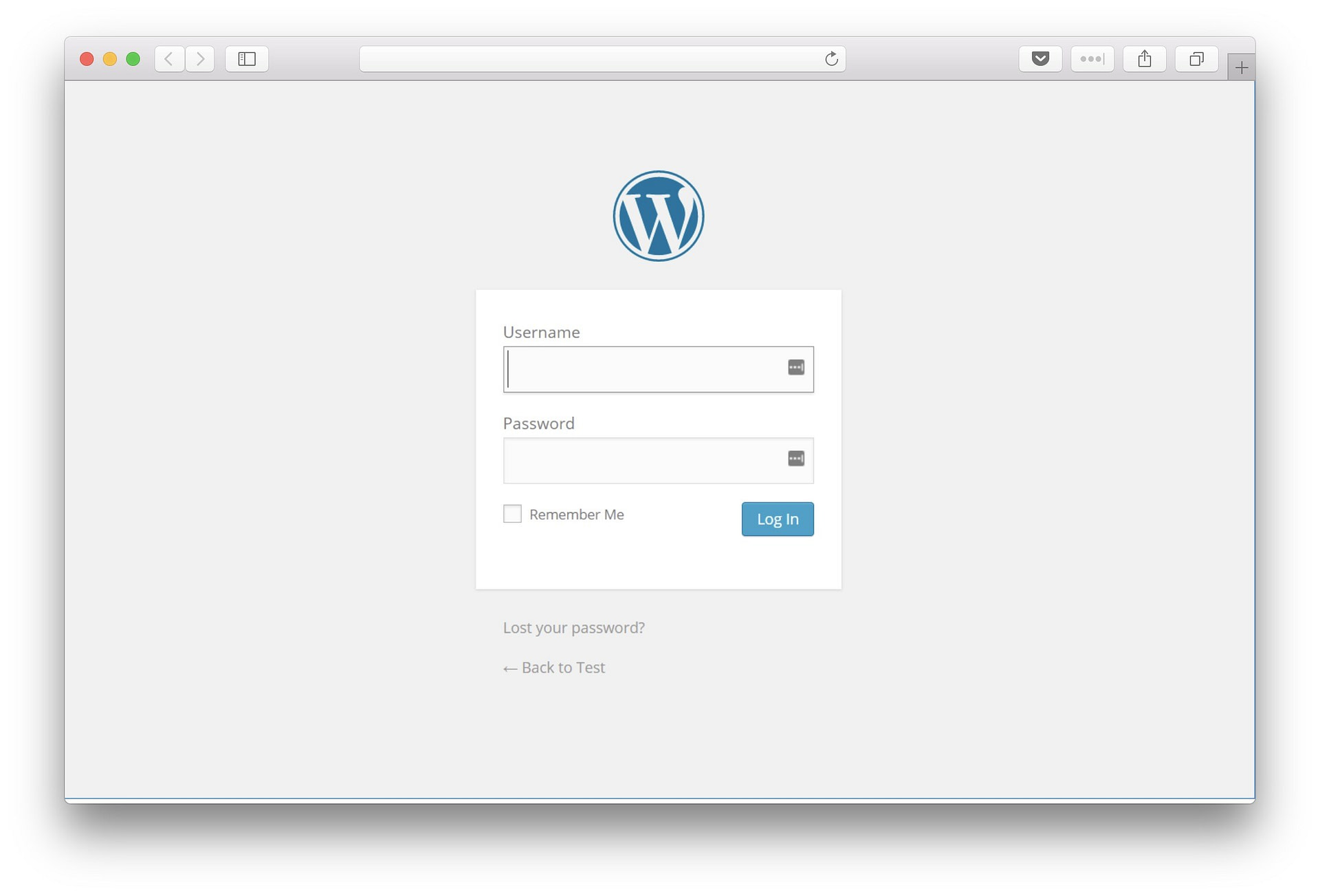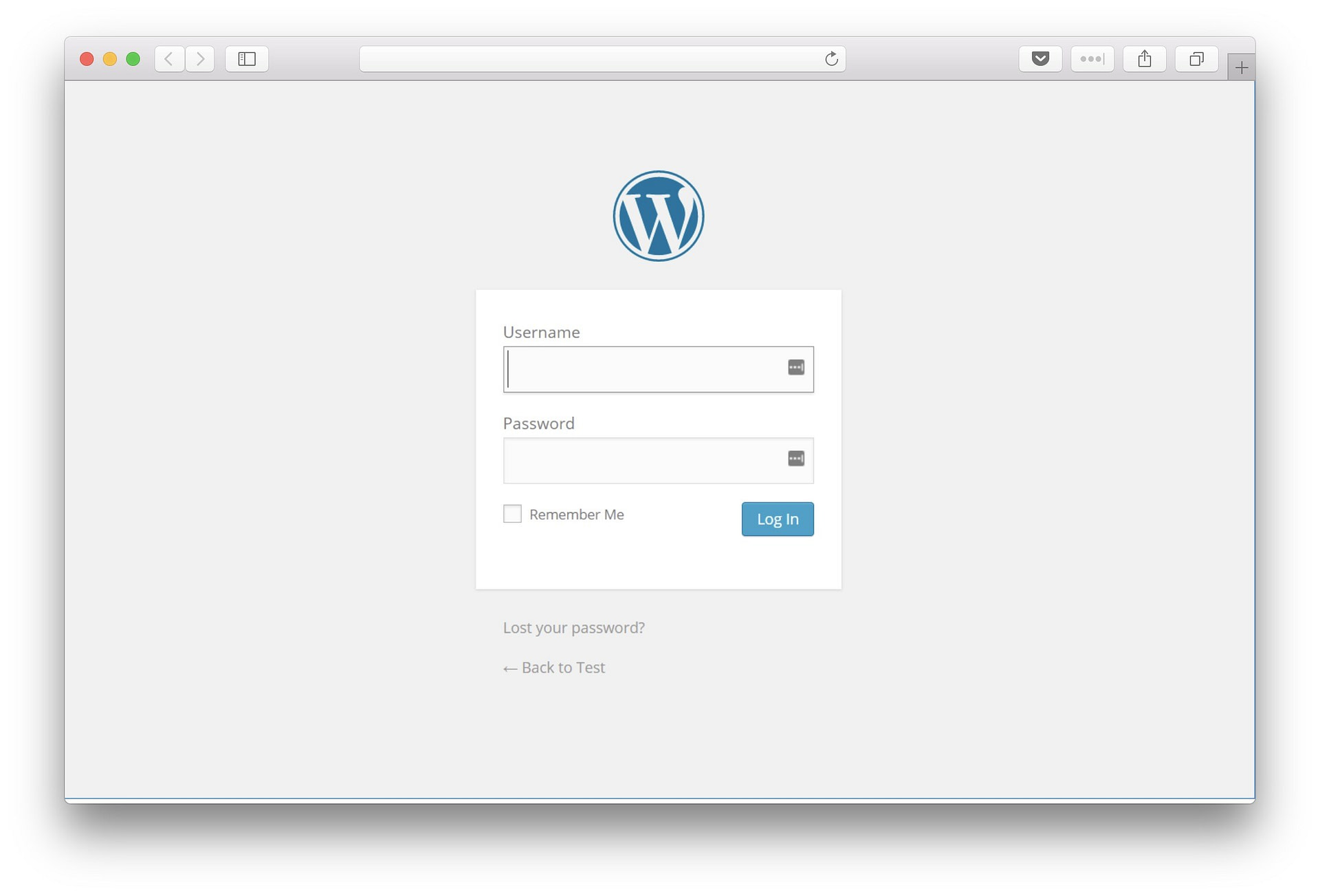 WordPress 3.9 "Smith" – April 16, 2014
Release post. Improved visual content editing, better image editing, drag-and-drop for images.
WordPress 3.9 DASHBOARDWordPress 3.9 MANAGEWordPress 3.9 WRITEWordPress 3.9 LOGIN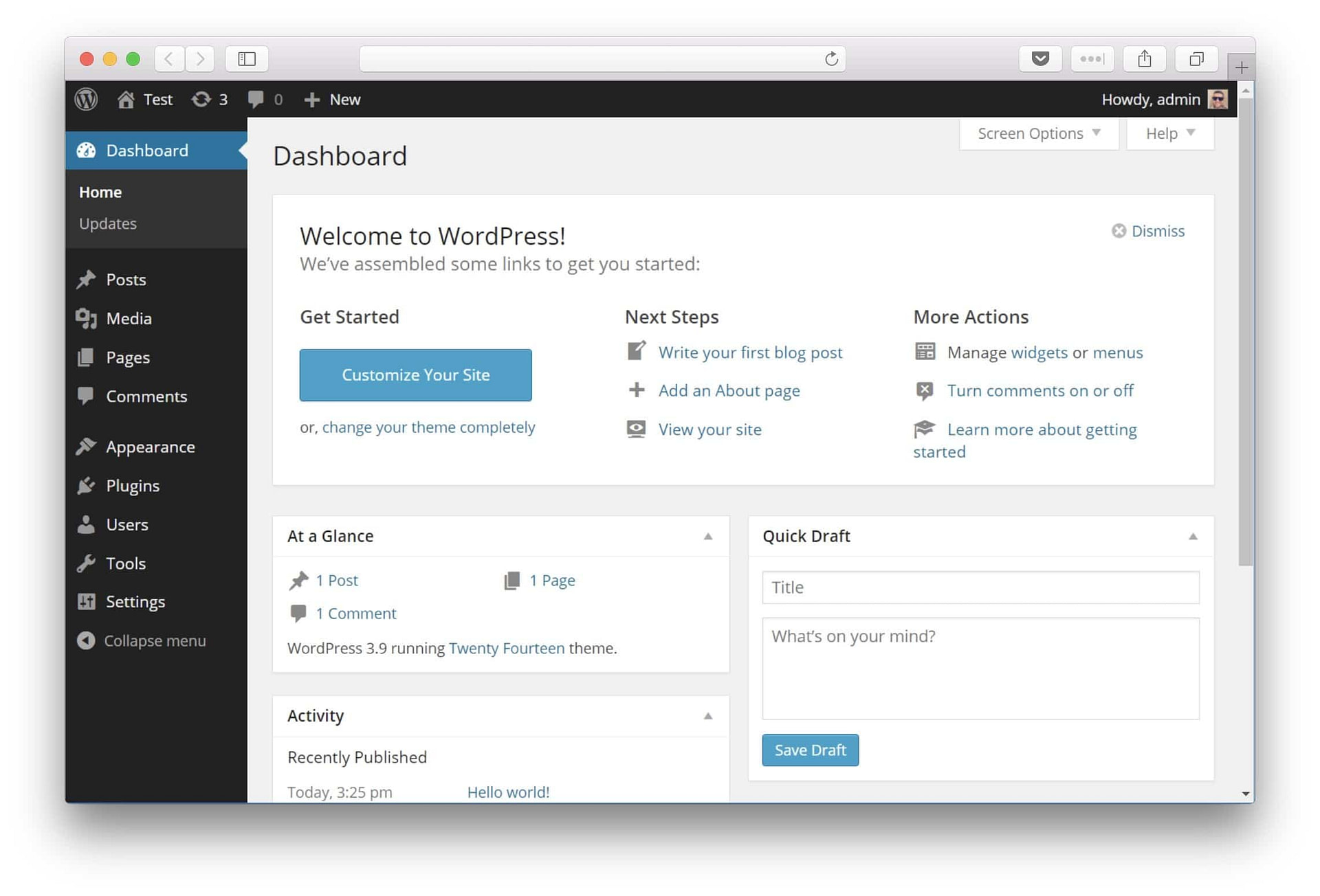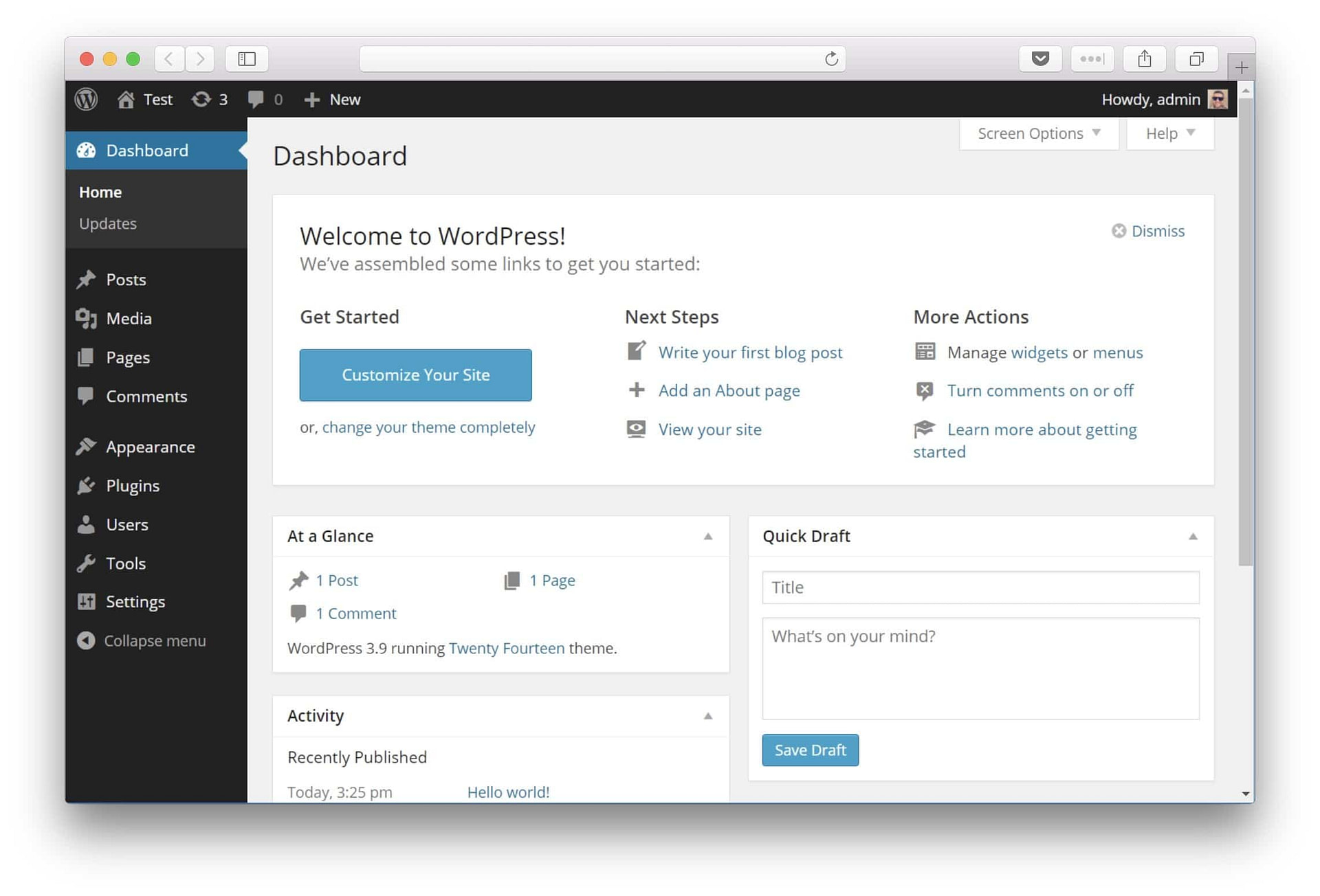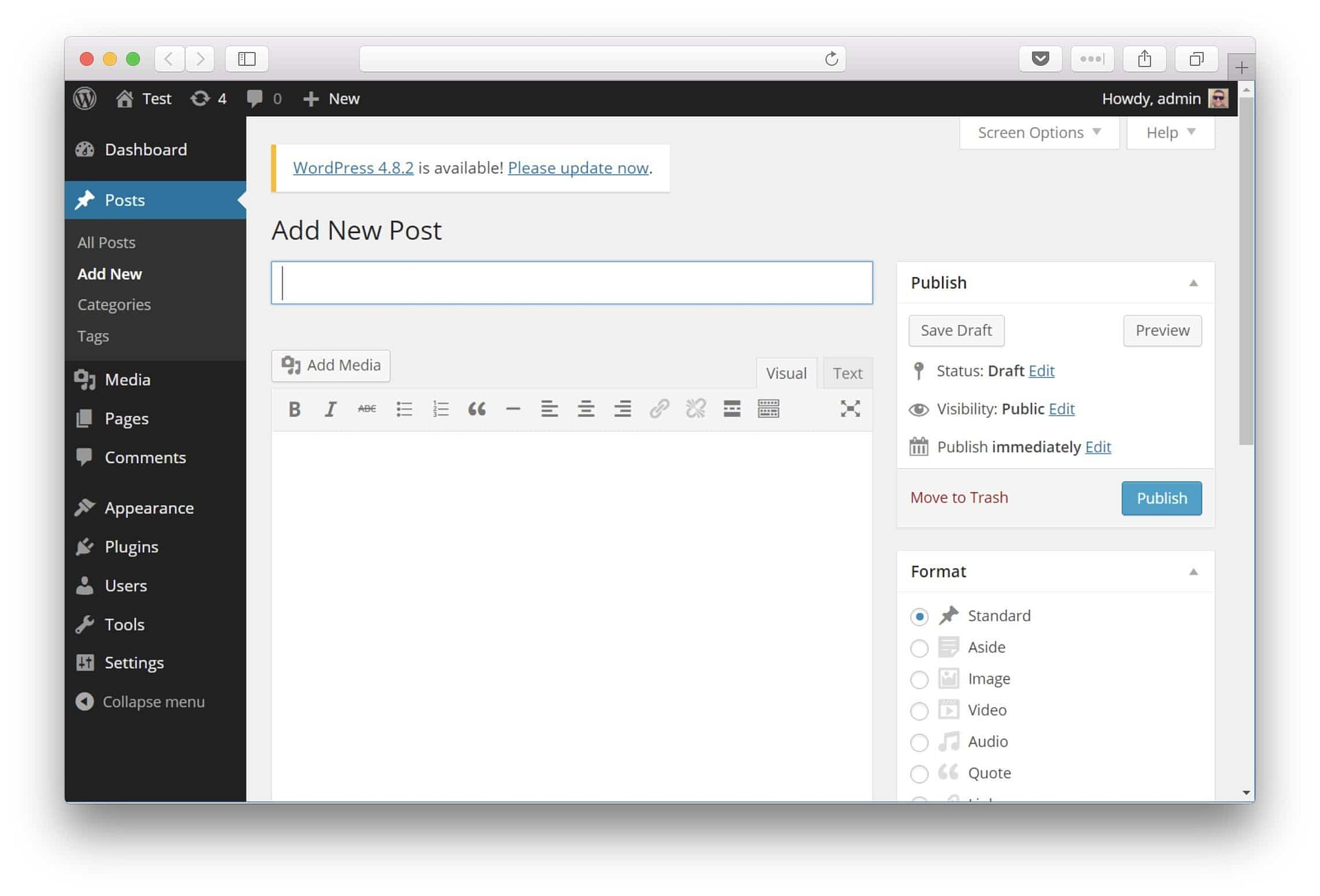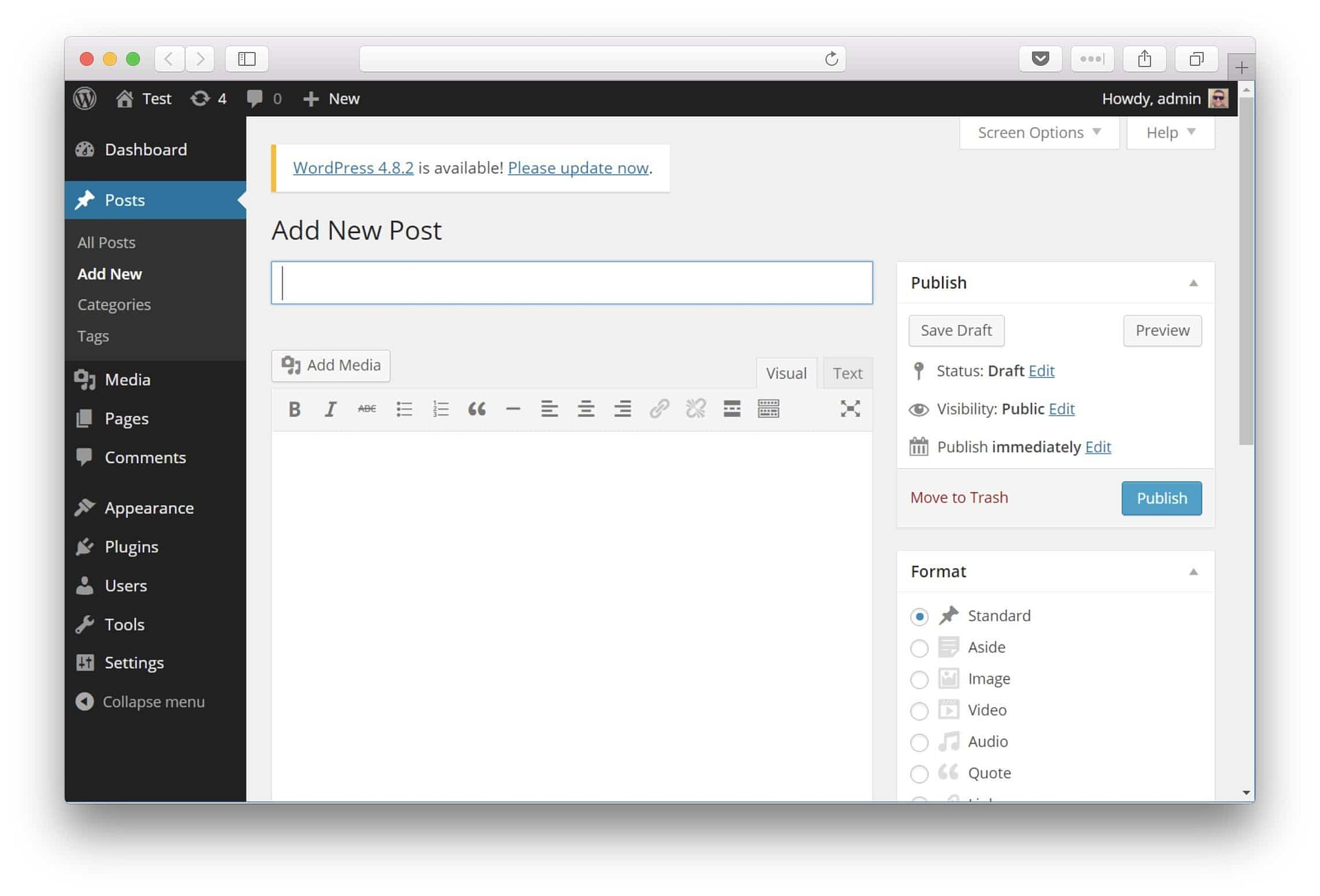 WordPress 4.0 "Benny" – September 4, 2014
Release post. Media Library gets redesigned. There are improved embeds, and improved UI for finding new plugins right from the dashboard.
WordPress 4.0 DASHBOARDWordPress 4.0 MANAGEWordPress 4.0 WRITEWordPress 4.0 LOGIN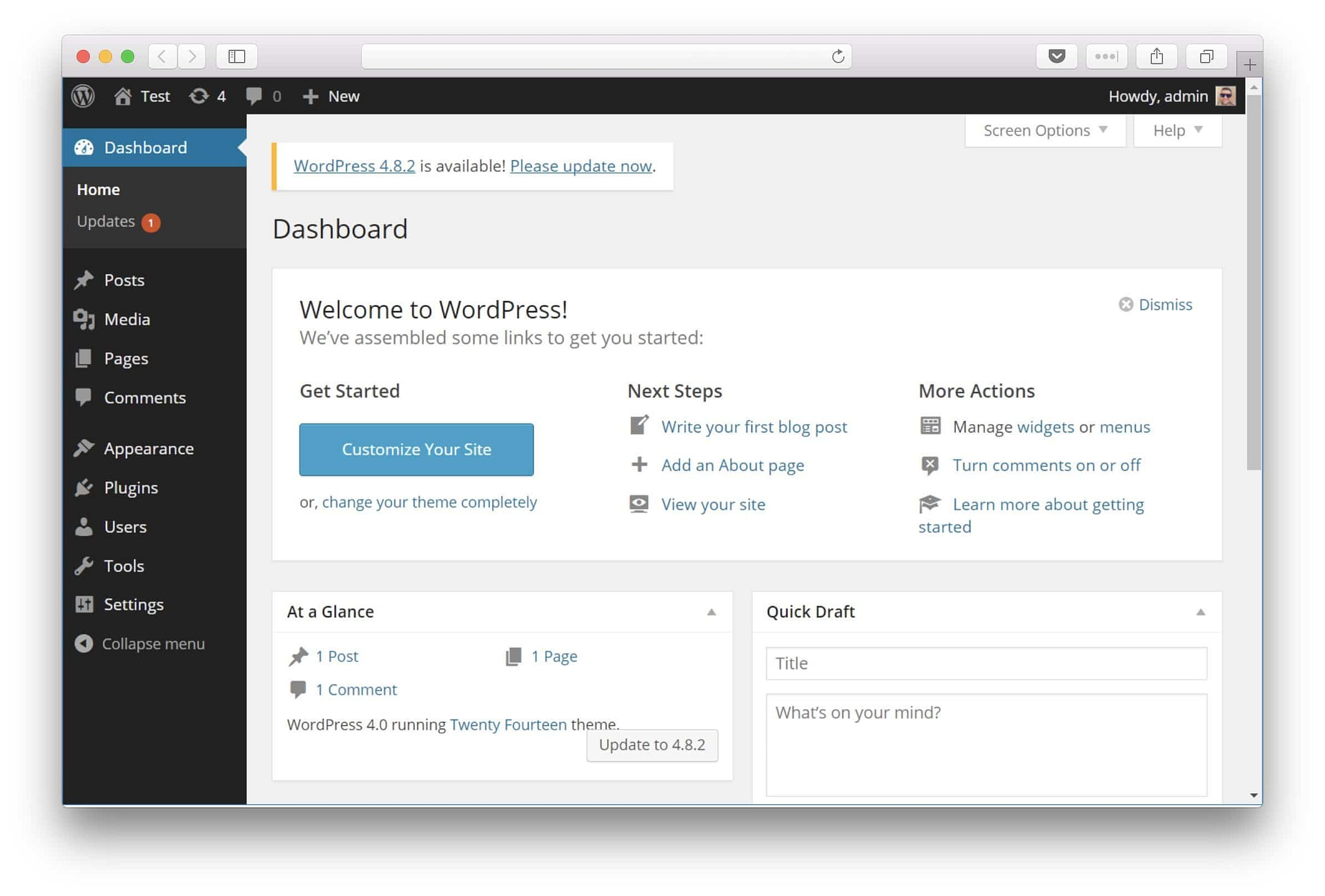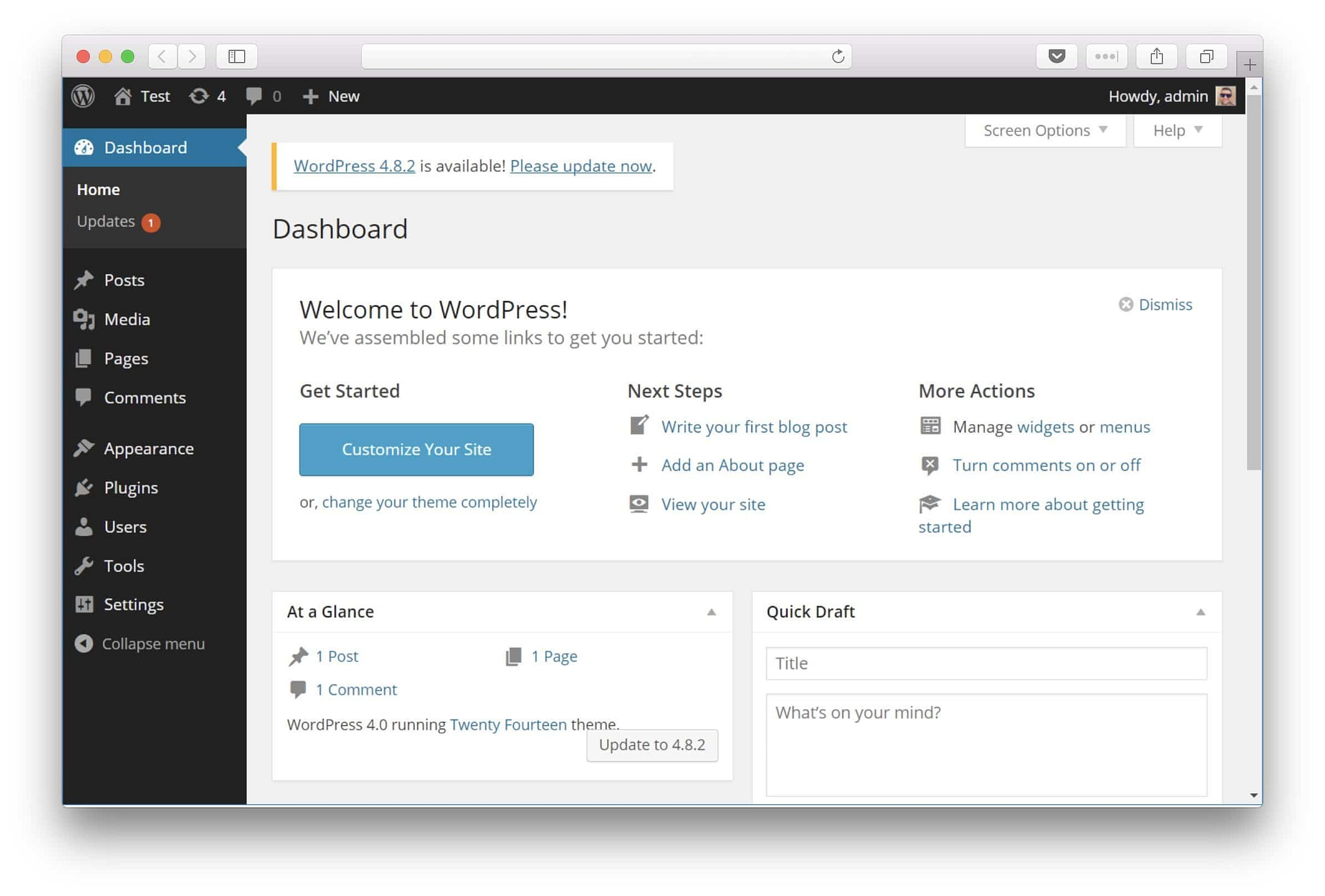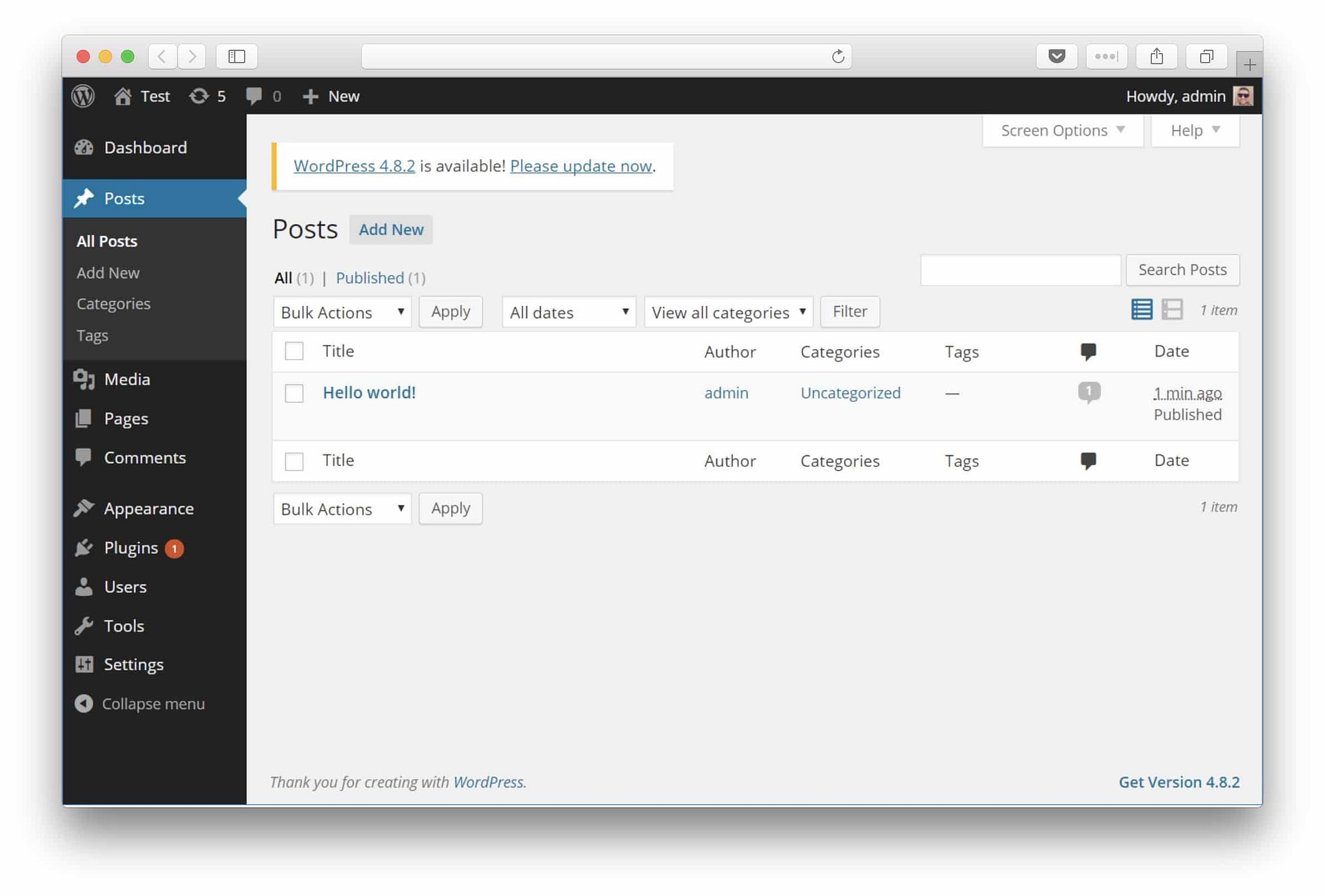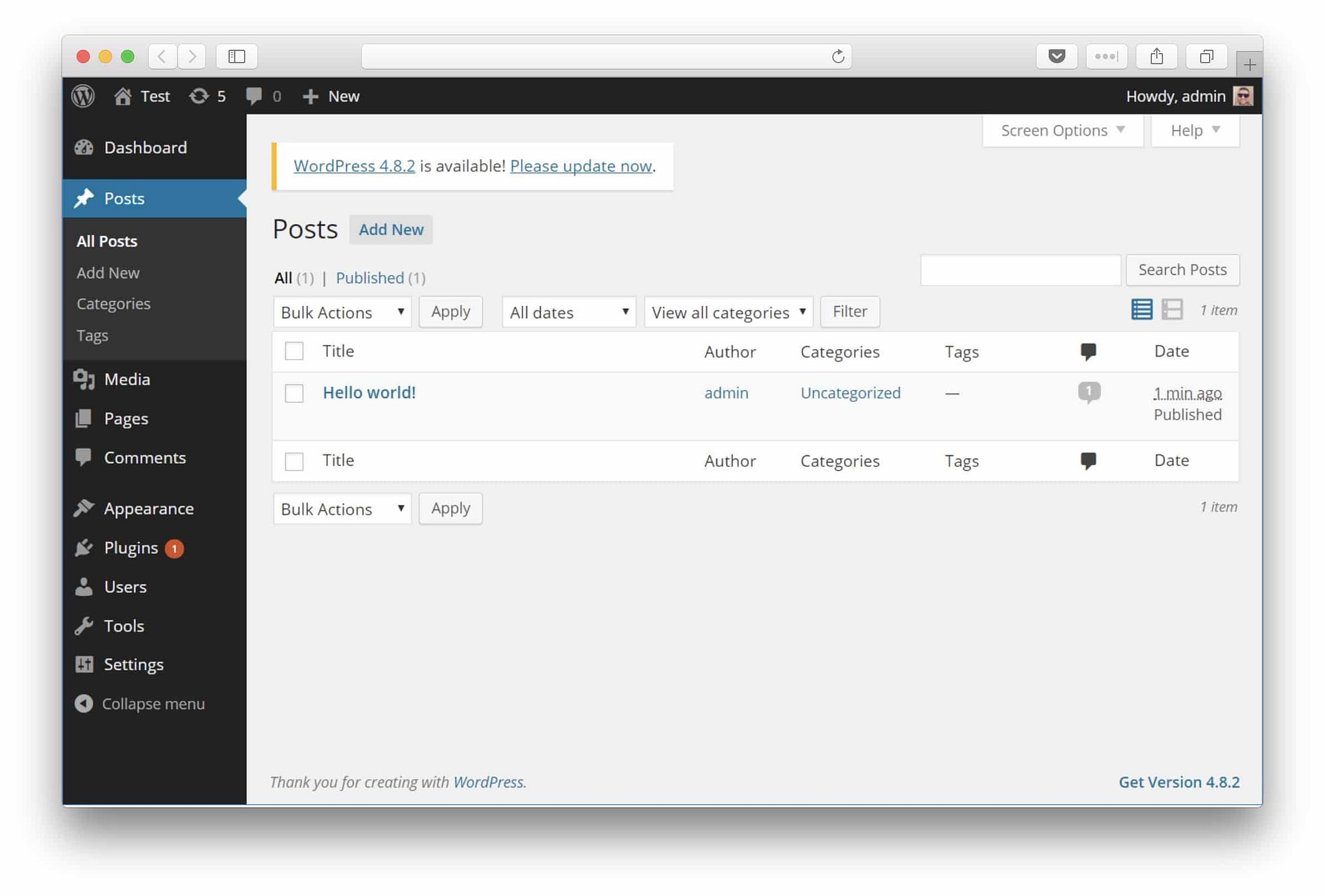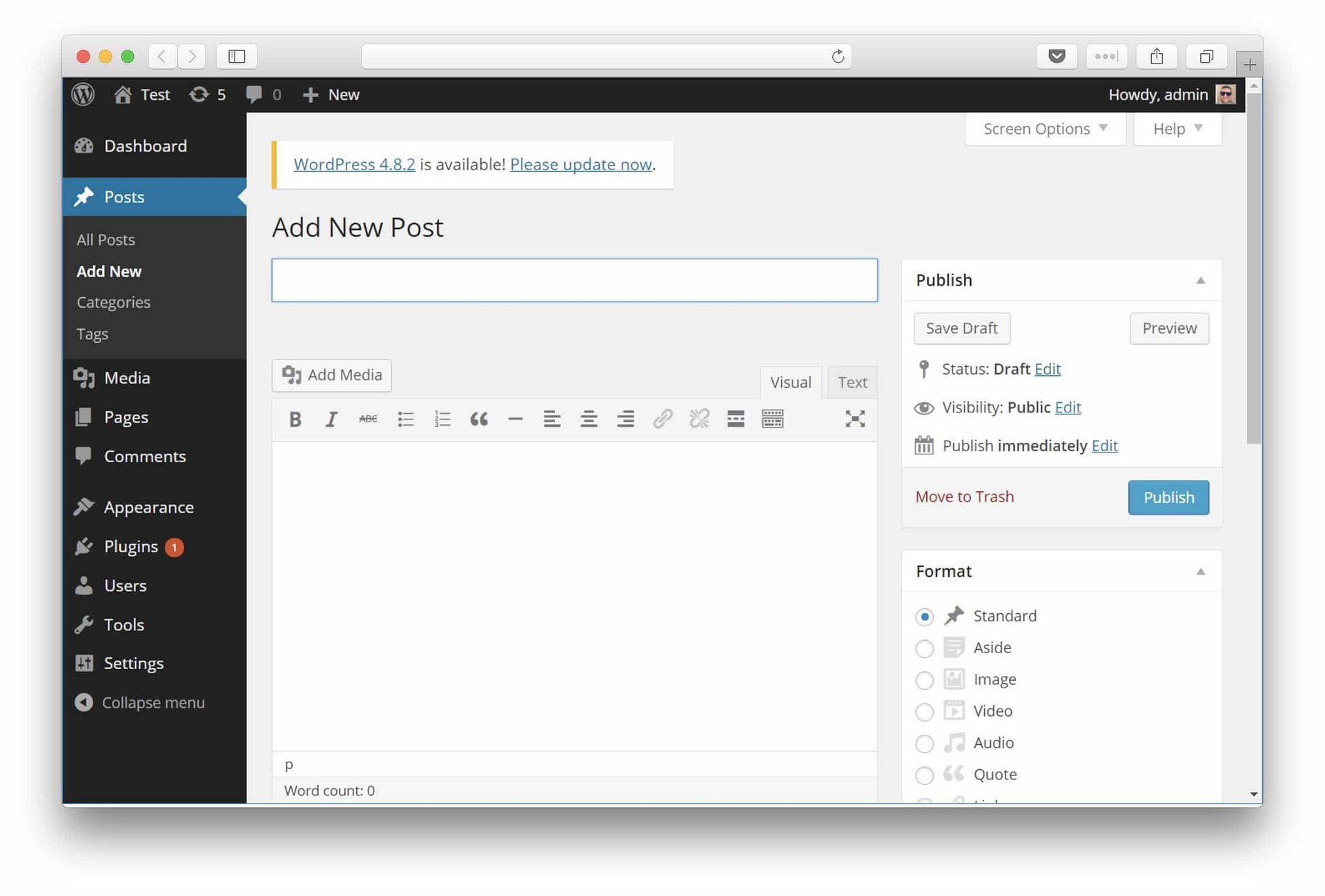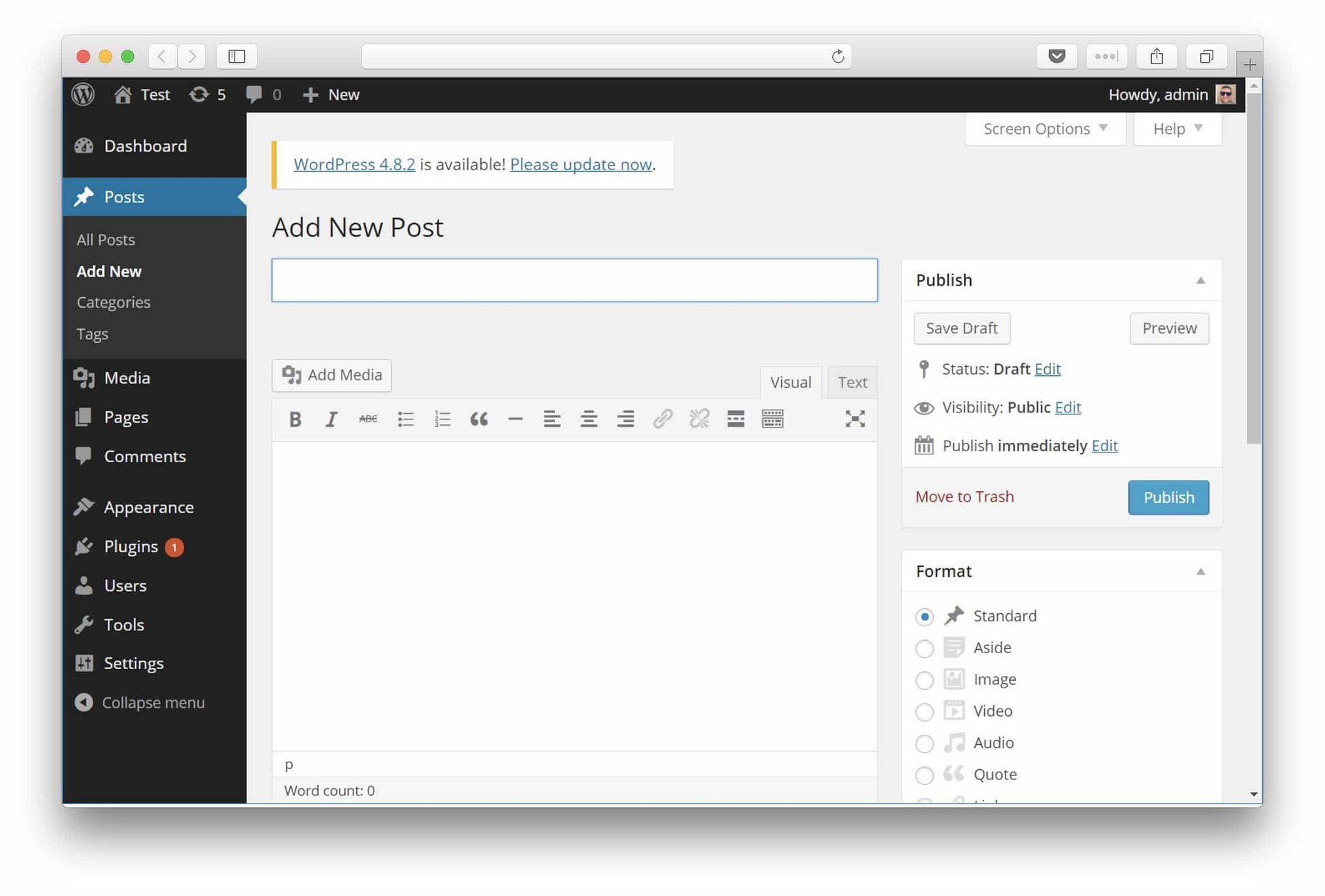 WordPress 4.1 "Dinah" – December 18, 2014
Release post. Distraction-free writing gets introduced!
WordPress 4.1 DASHBOARDWordPress 4.1 MANAGEWordPress 4.1 WRITEWordPress 4.1 LOGIN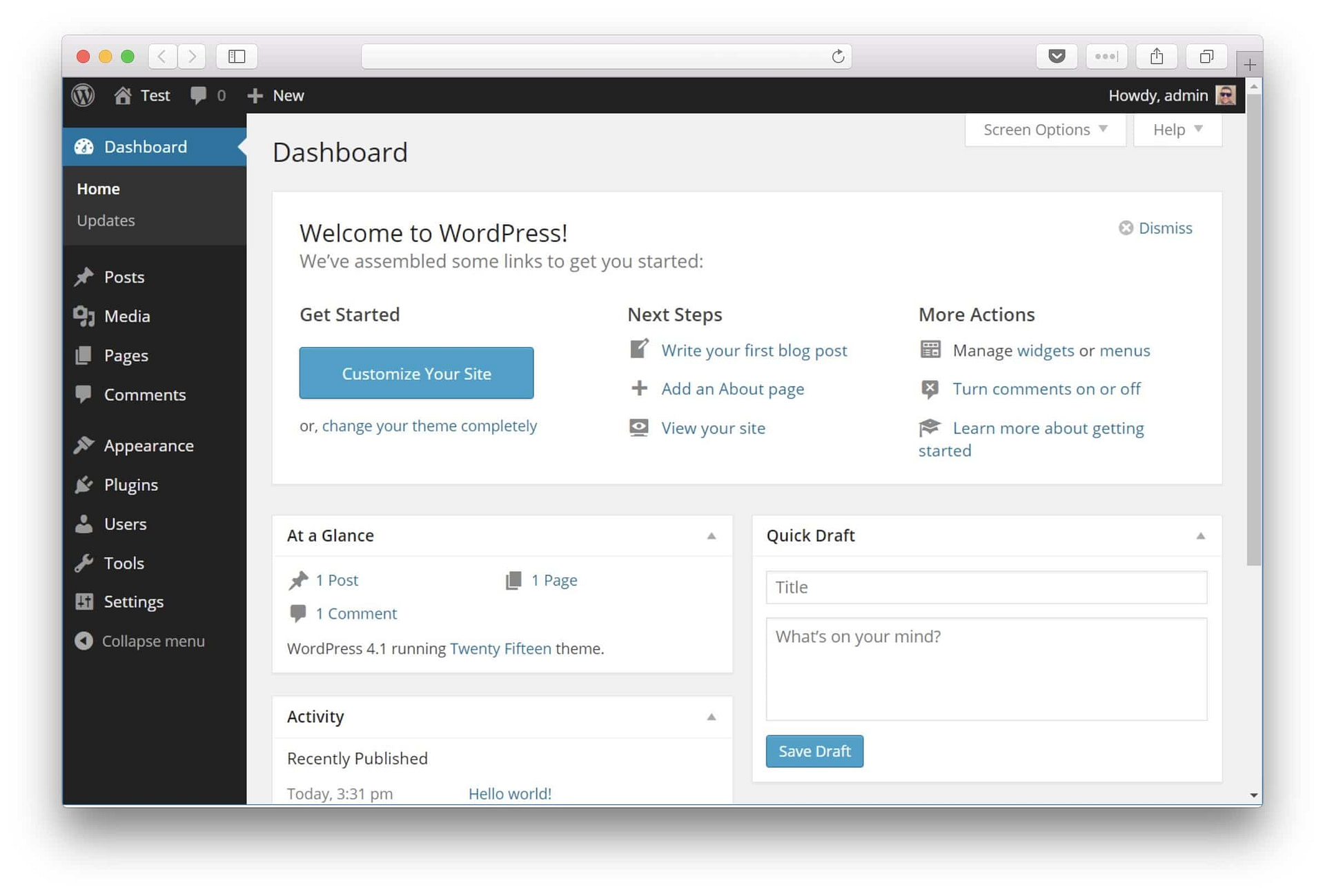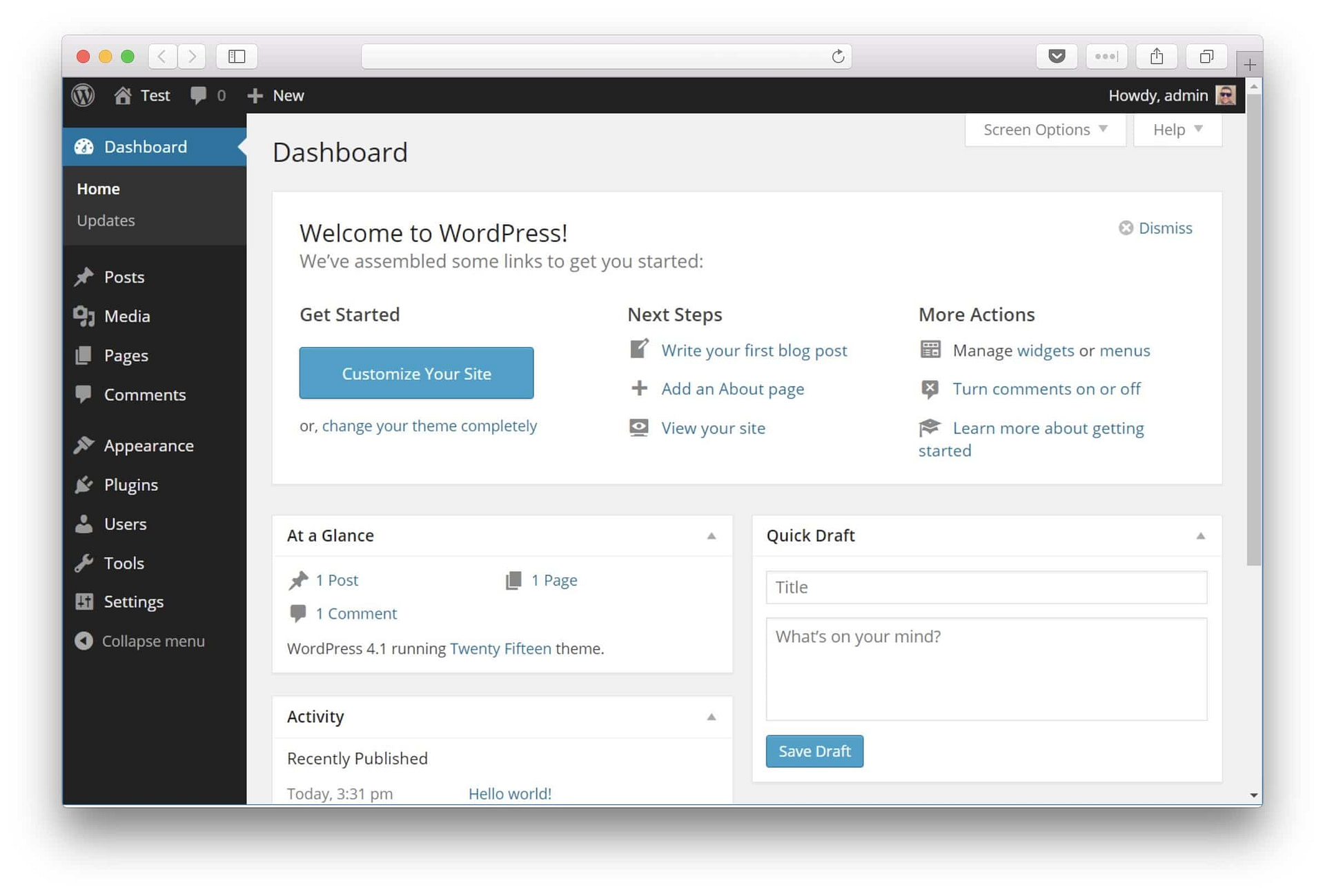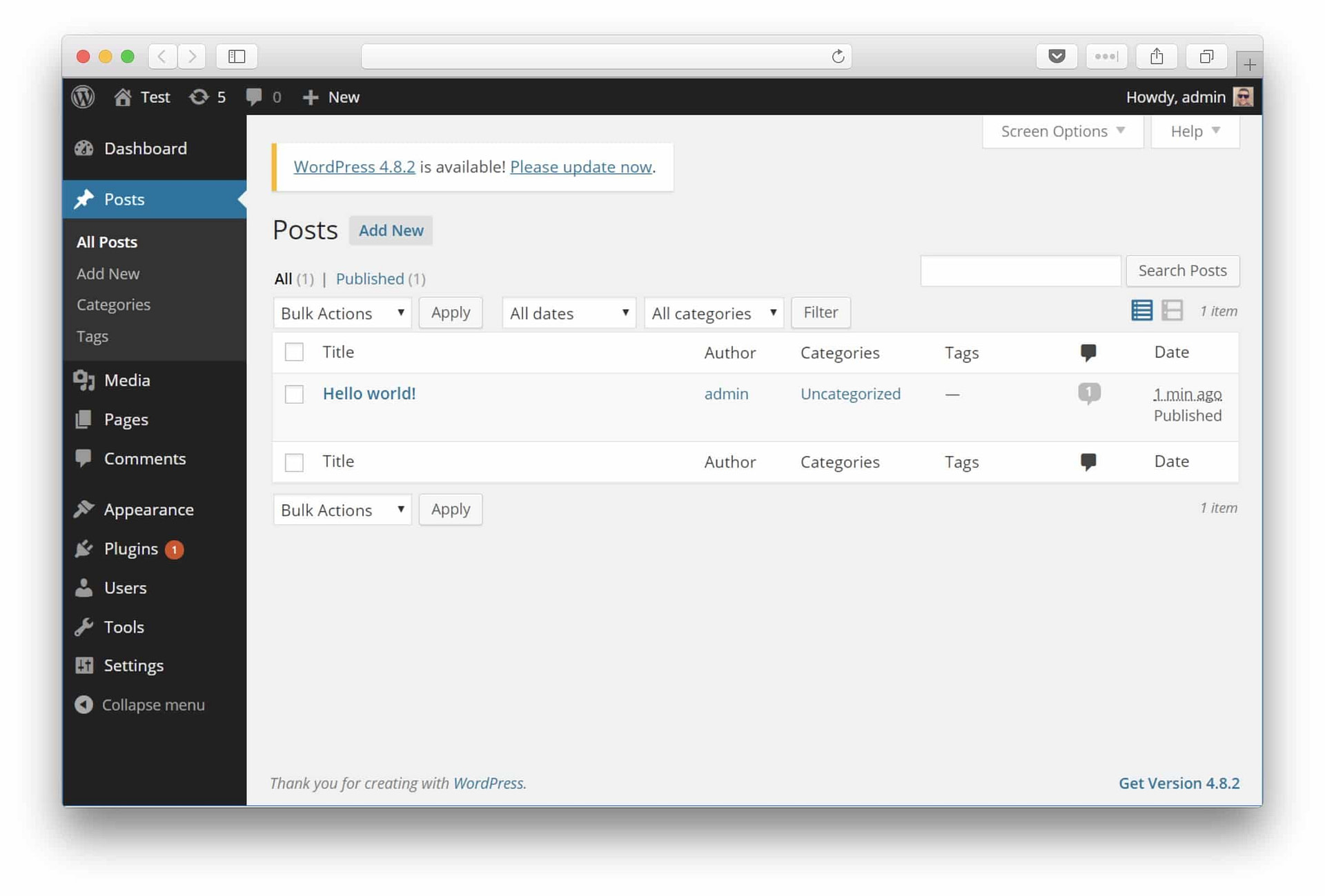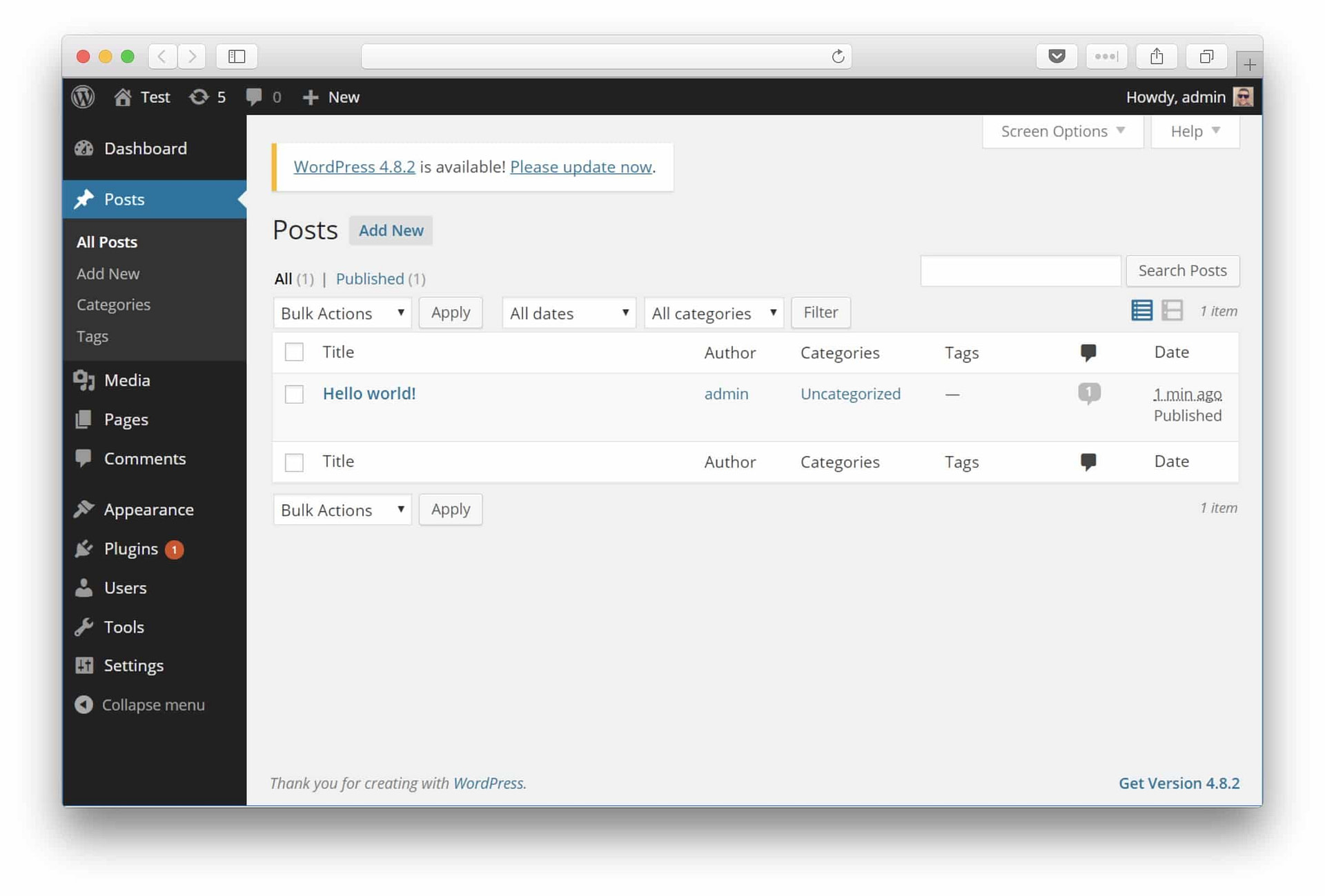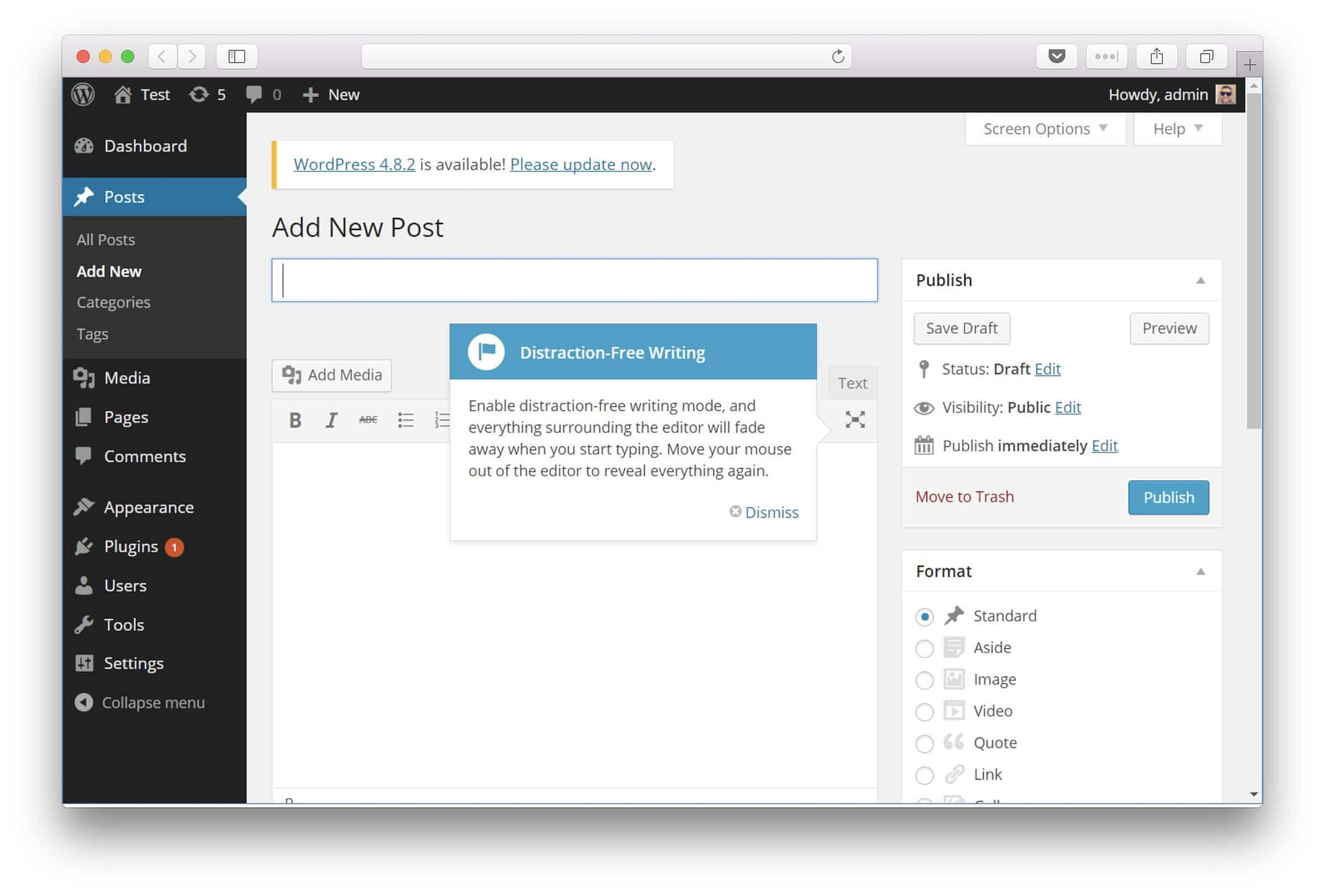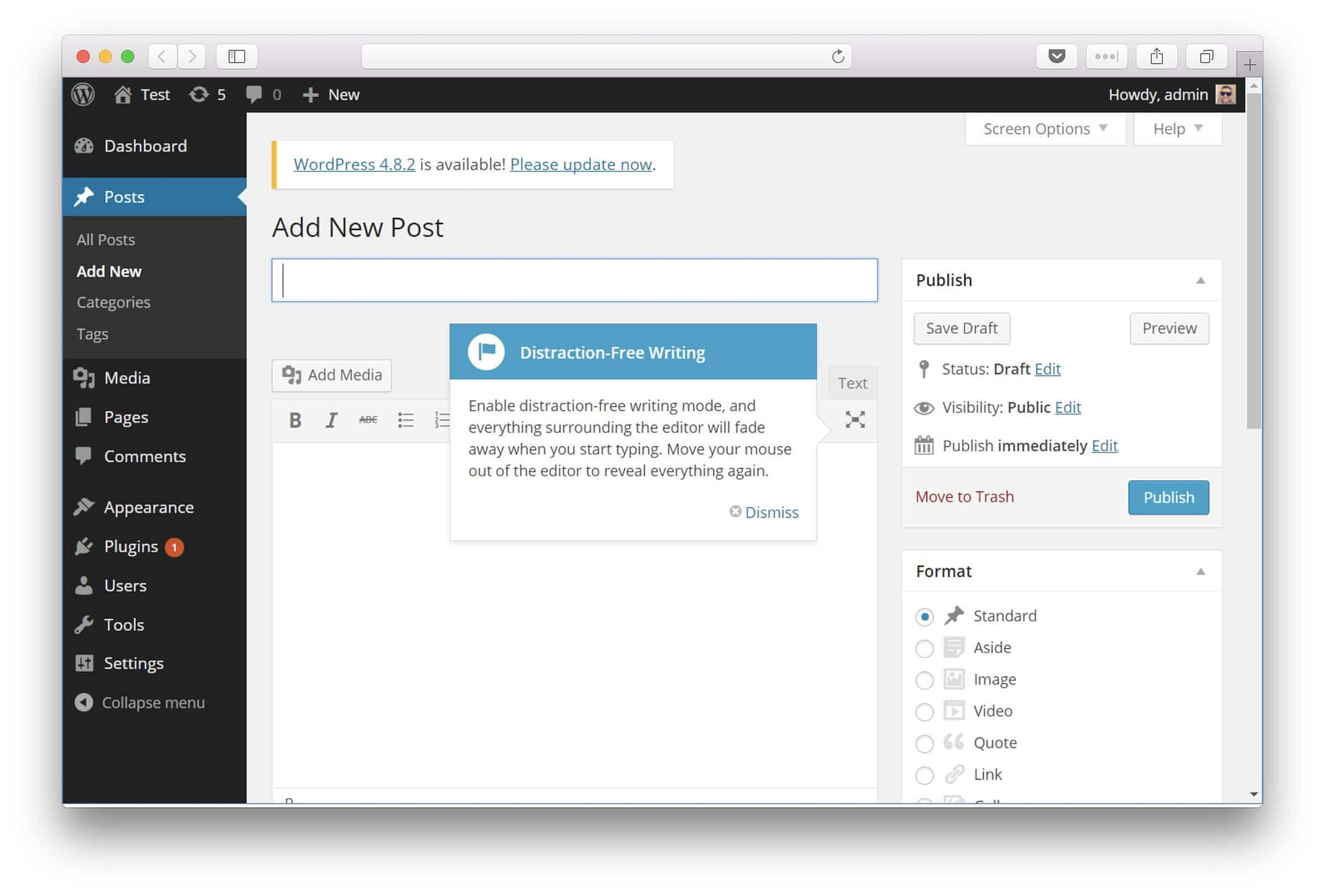 WordPress 4.2 "Powell" – April 23, 2015
Release post. "Press This!" gets improved. There's now the possibility to switch themes in the Customizer, plus more streamlined plugin updates.
WordPress 4.2 DASHBOARDWordPress 4.2 MANAGEWordPress 4.2 WRITEWordPress 4.2 LOGIN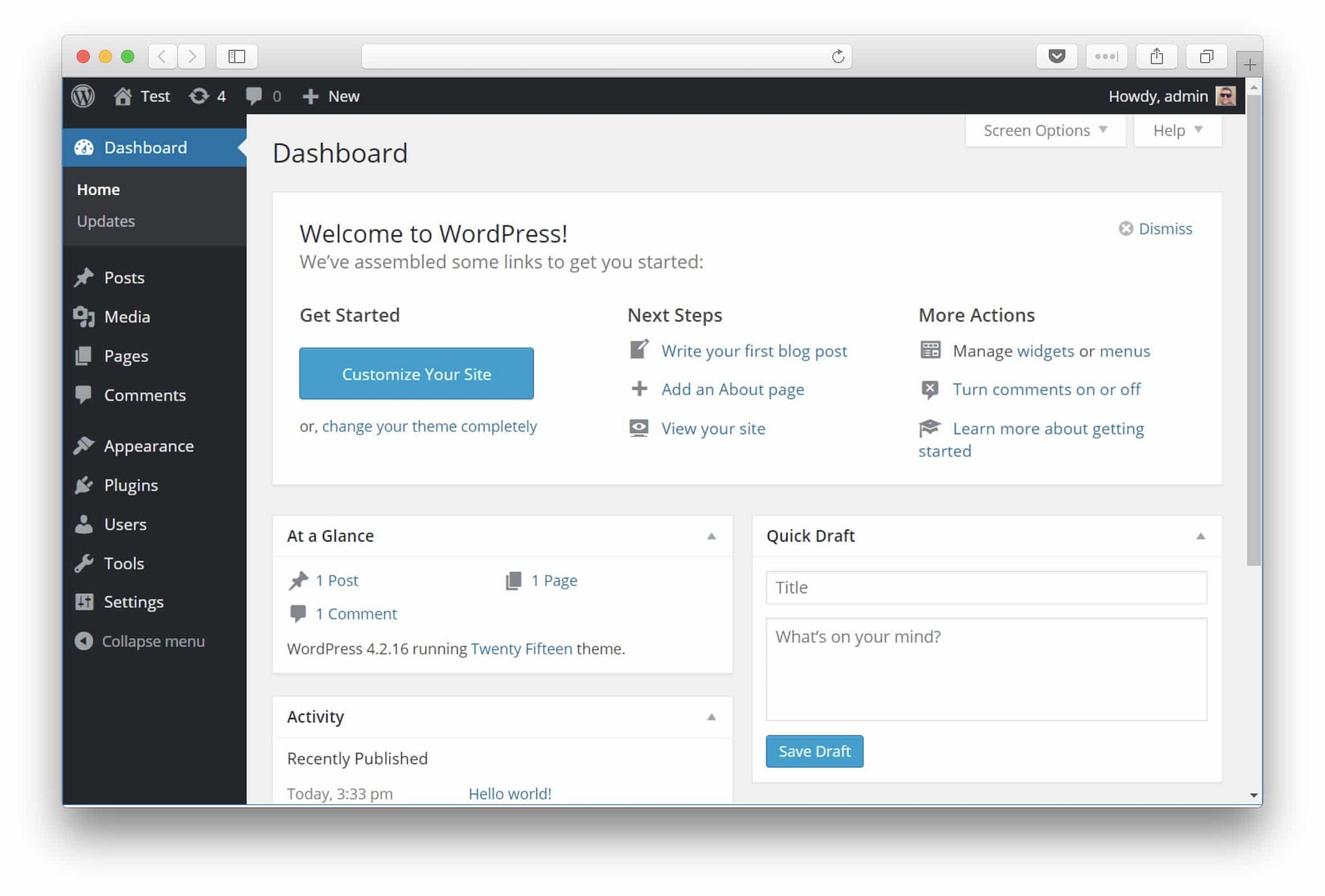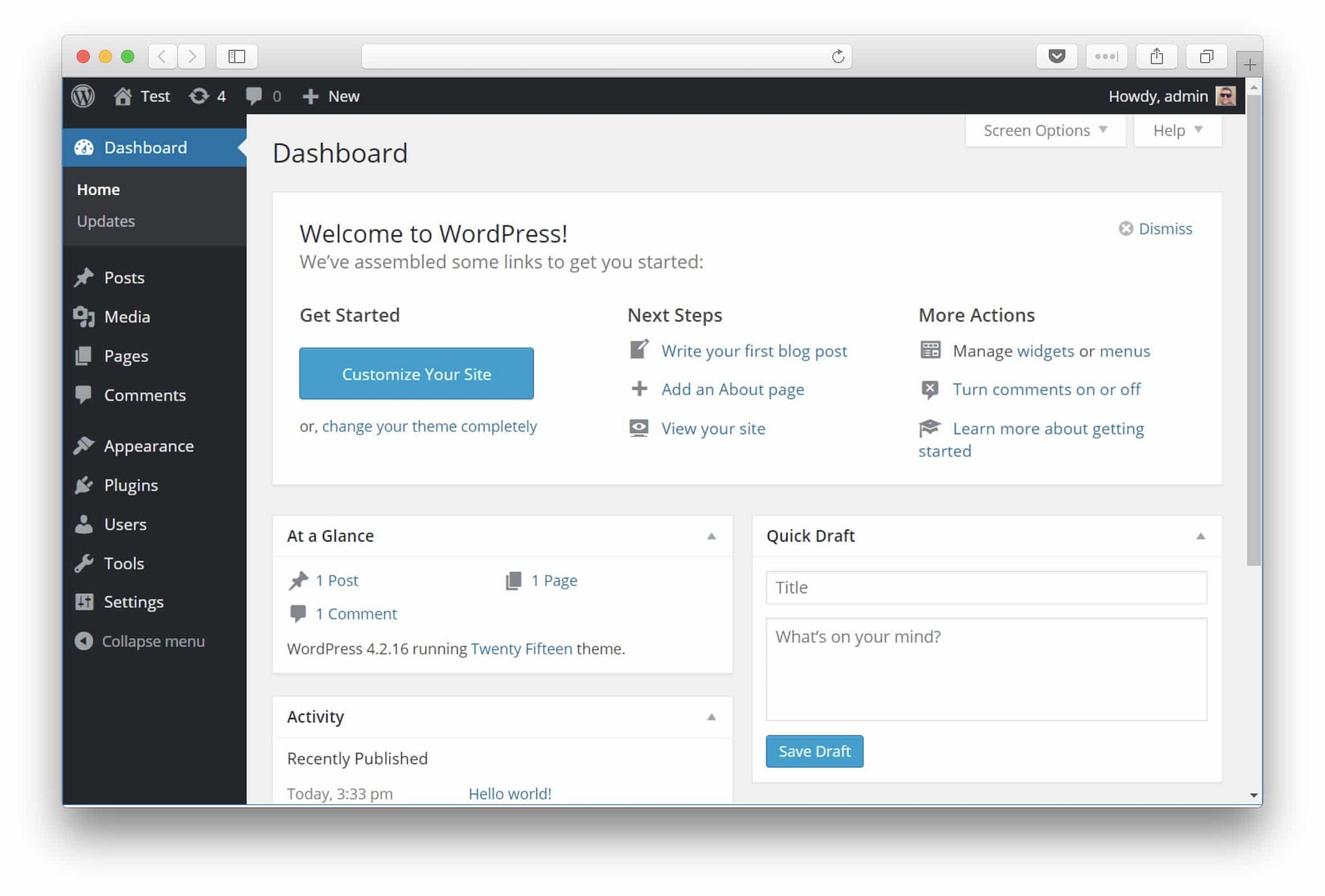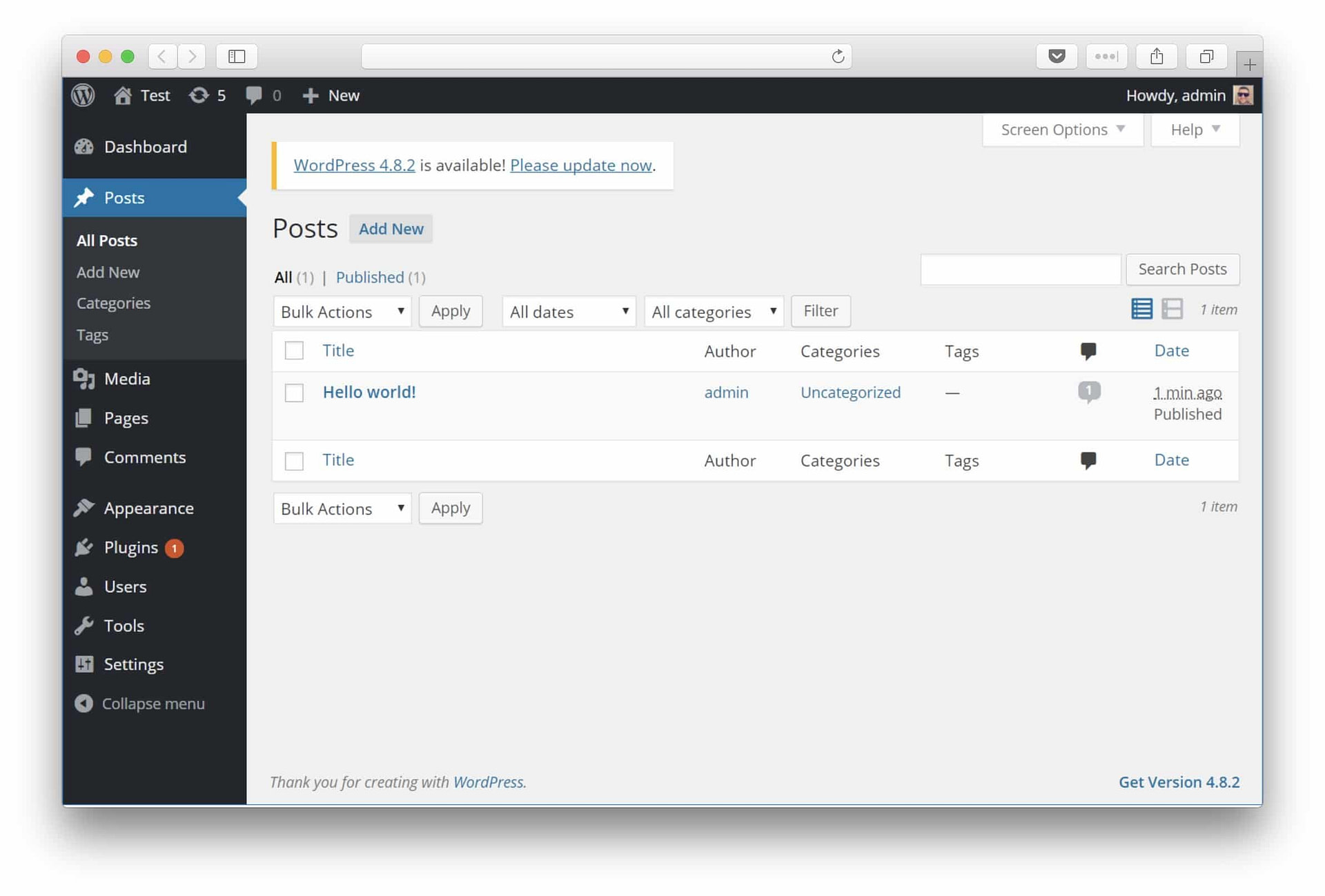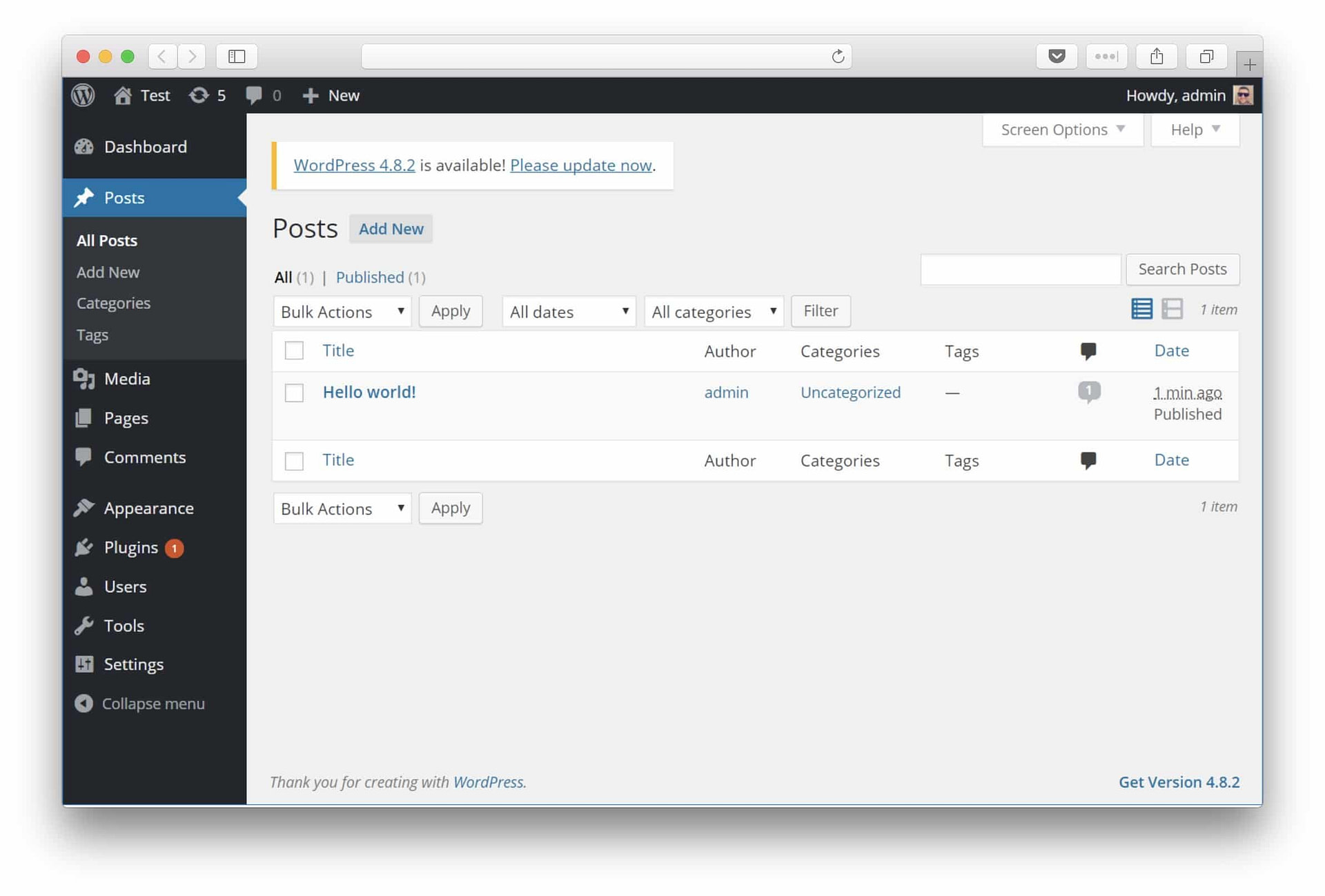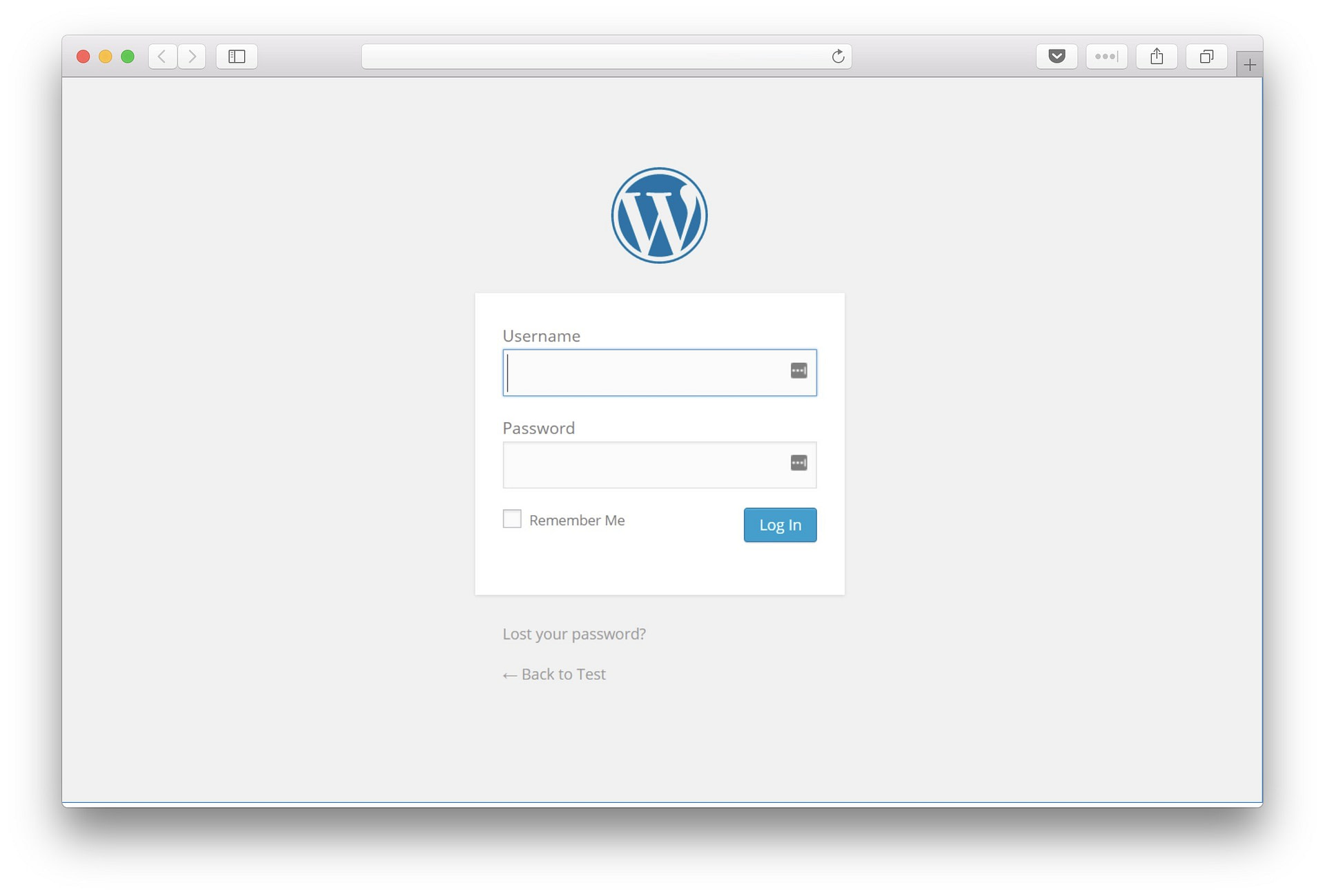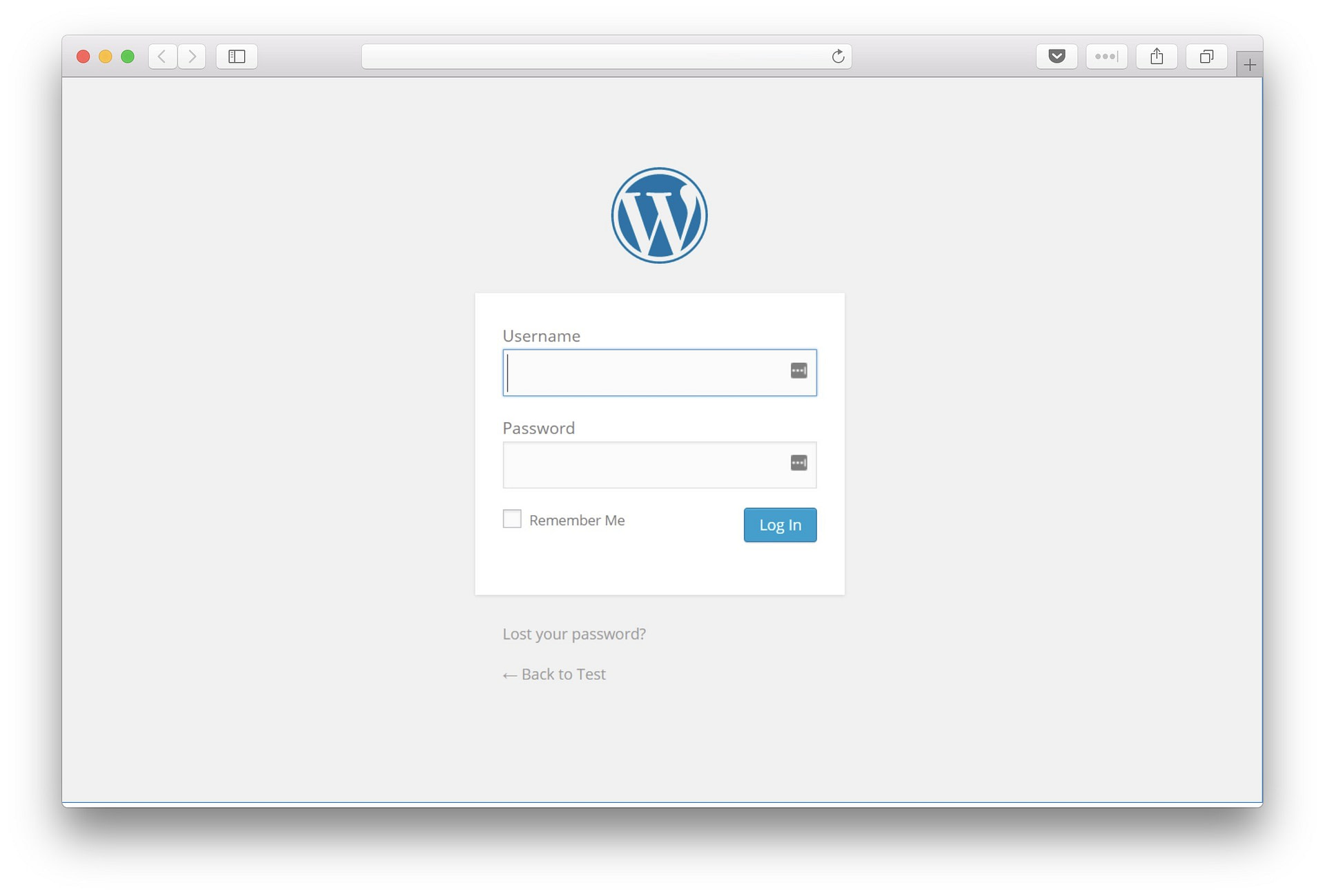 WordPress 4.3 "Billie" – August 18, 2015
Release post. We can now edit menus in the Customizer, and we get Formatting Shortcuts (Markdown-like).
WordPress 4.3 DASHBOARDWordPress 4.3 MANAGEWordPress 4.3 WRITEWordPress 4.3 LOGIN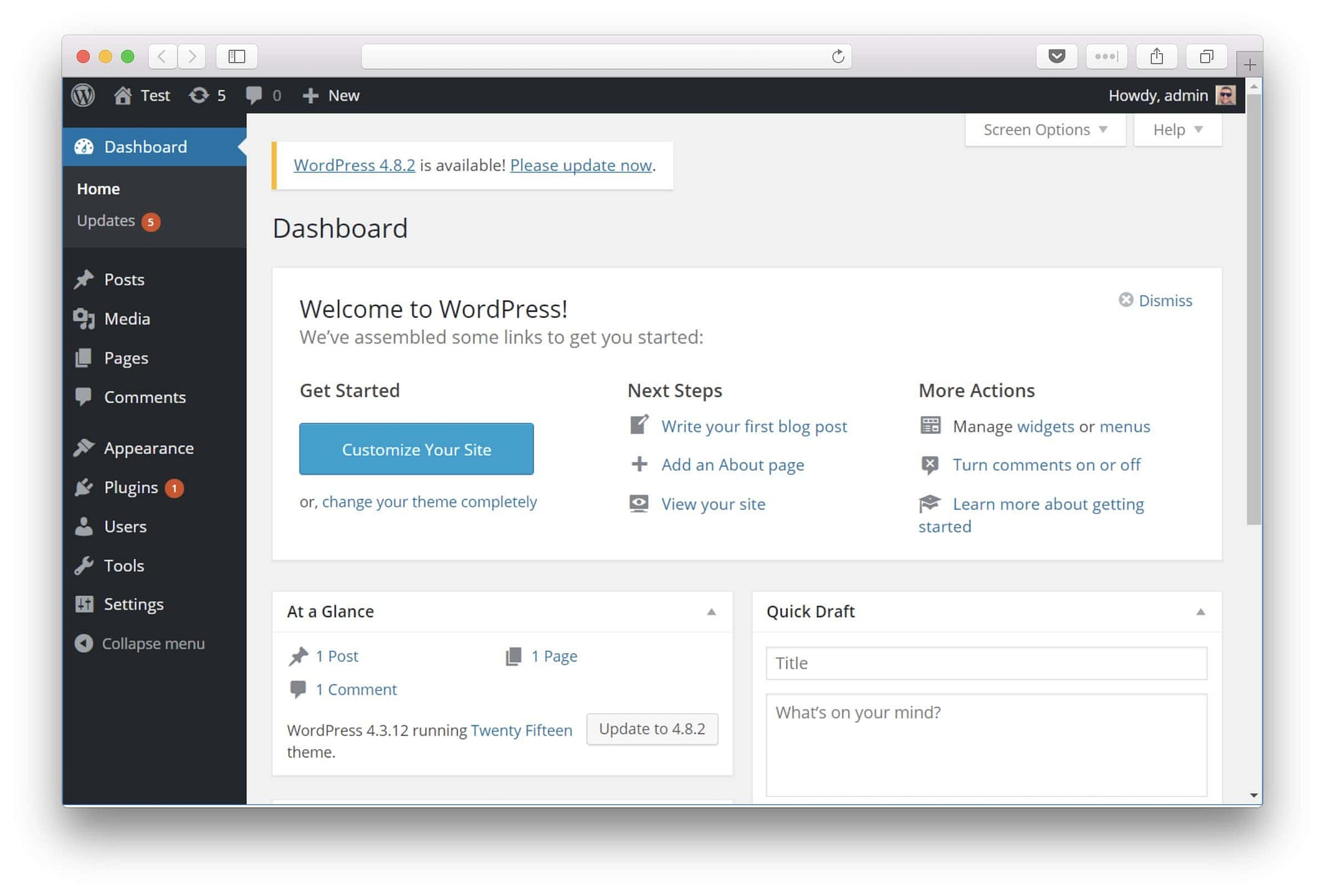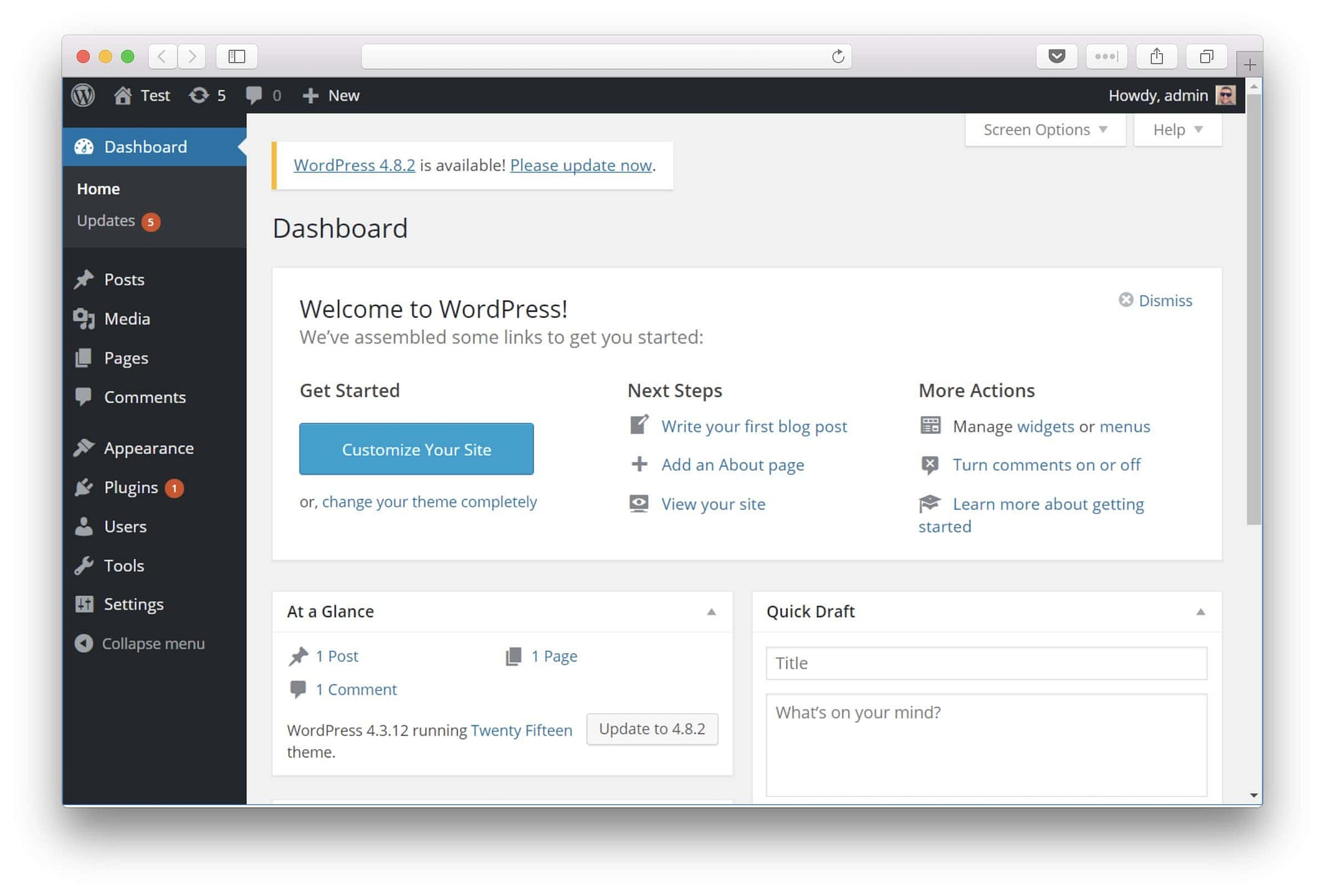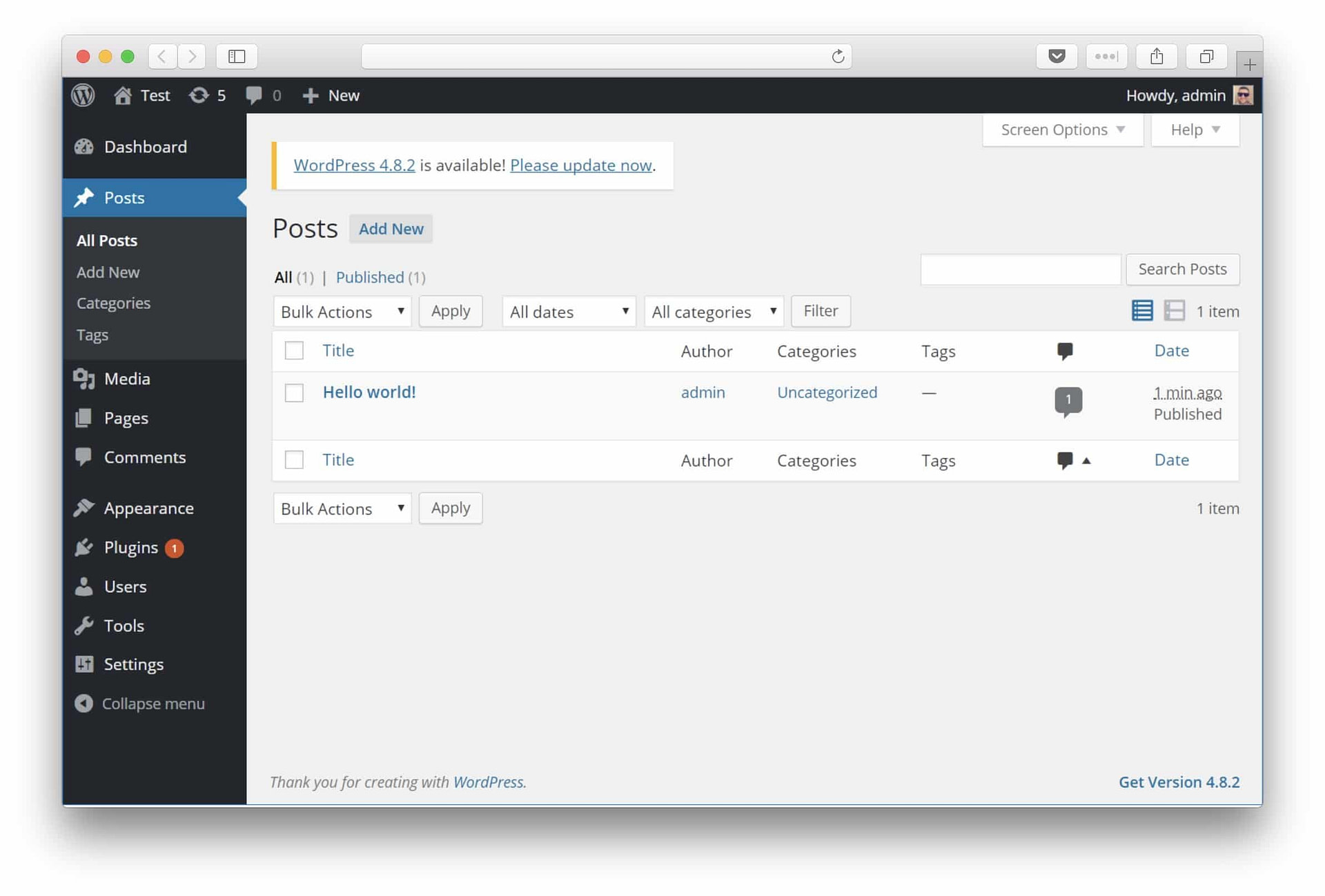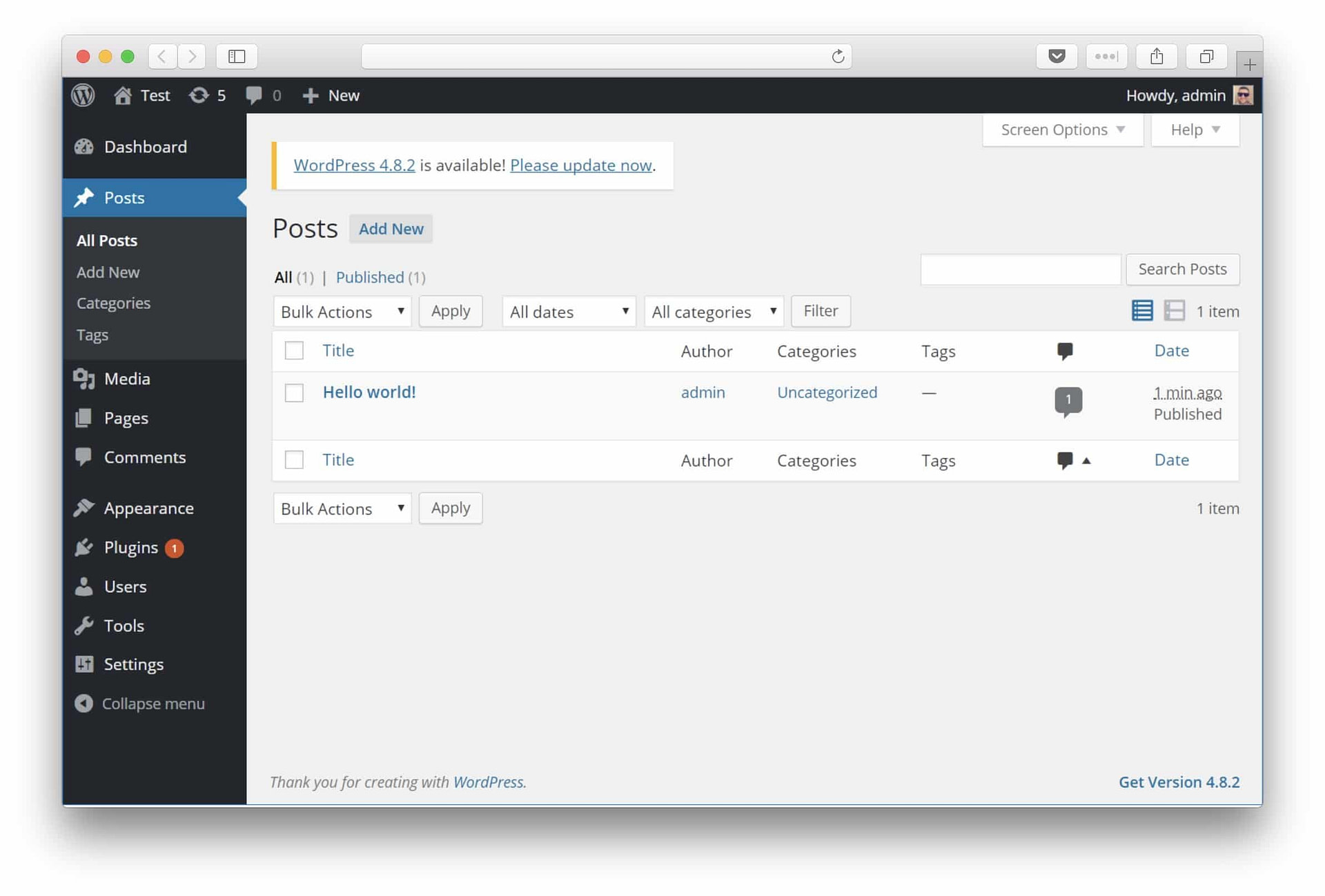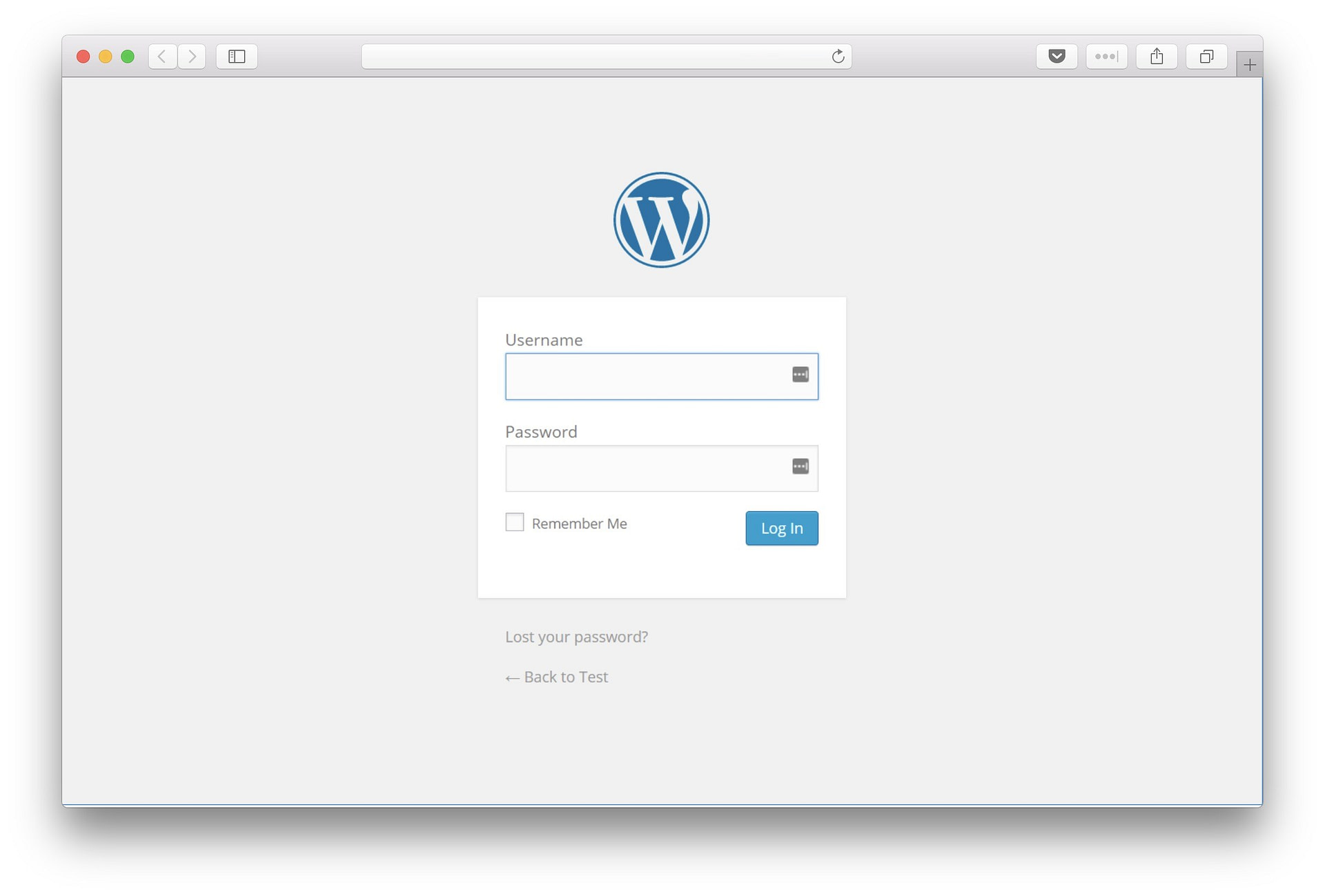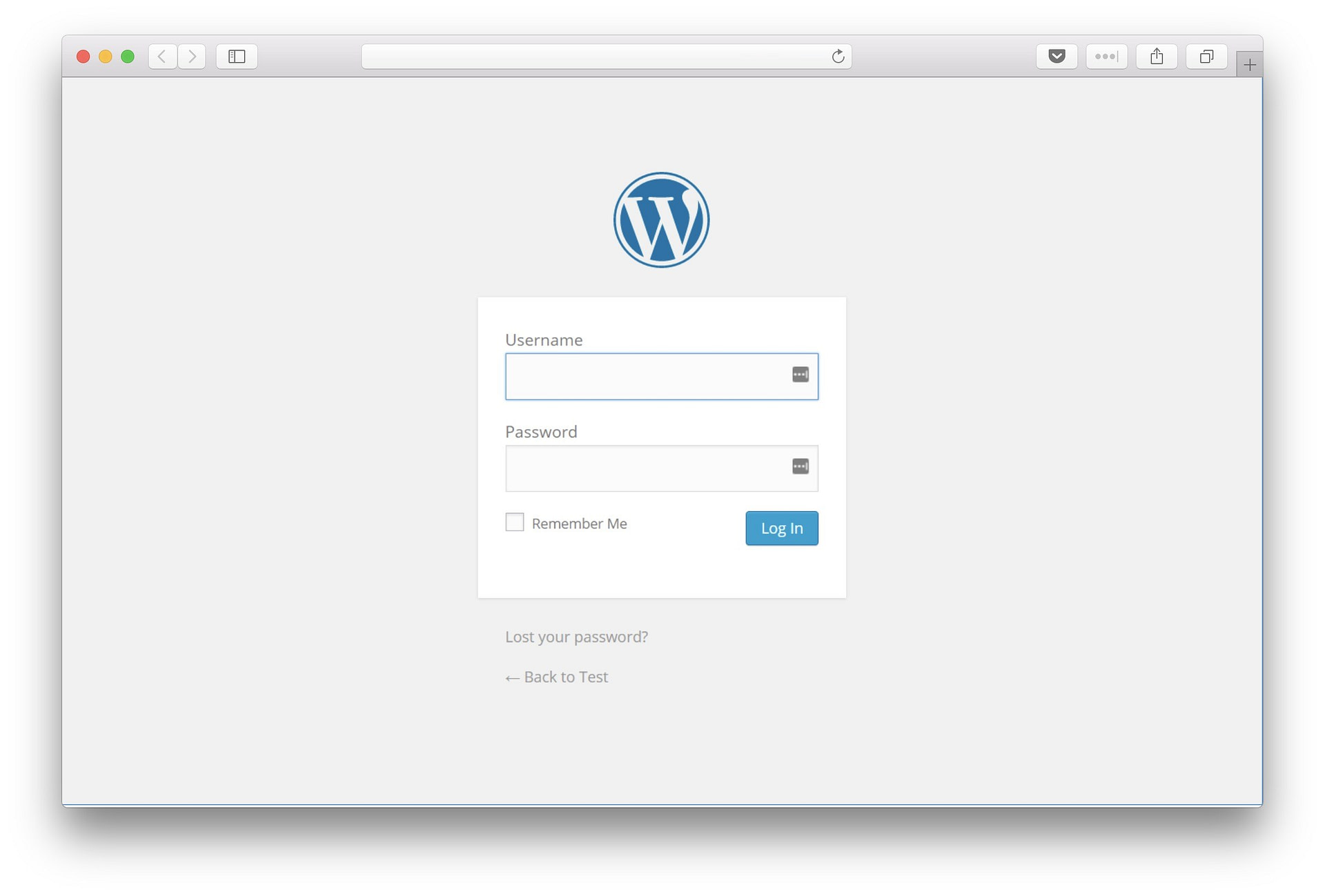 WordPress 4.4 "Clifford" – December 8, 2015
Release post. WordPress can now handle responsive images better. New REST API infrastructure gets put in place.
WordPress 4.4 DASHBOARDWordPress 4.4 MANAGEWordPress 4.4 WRITEWordPress 4.4 LOGIN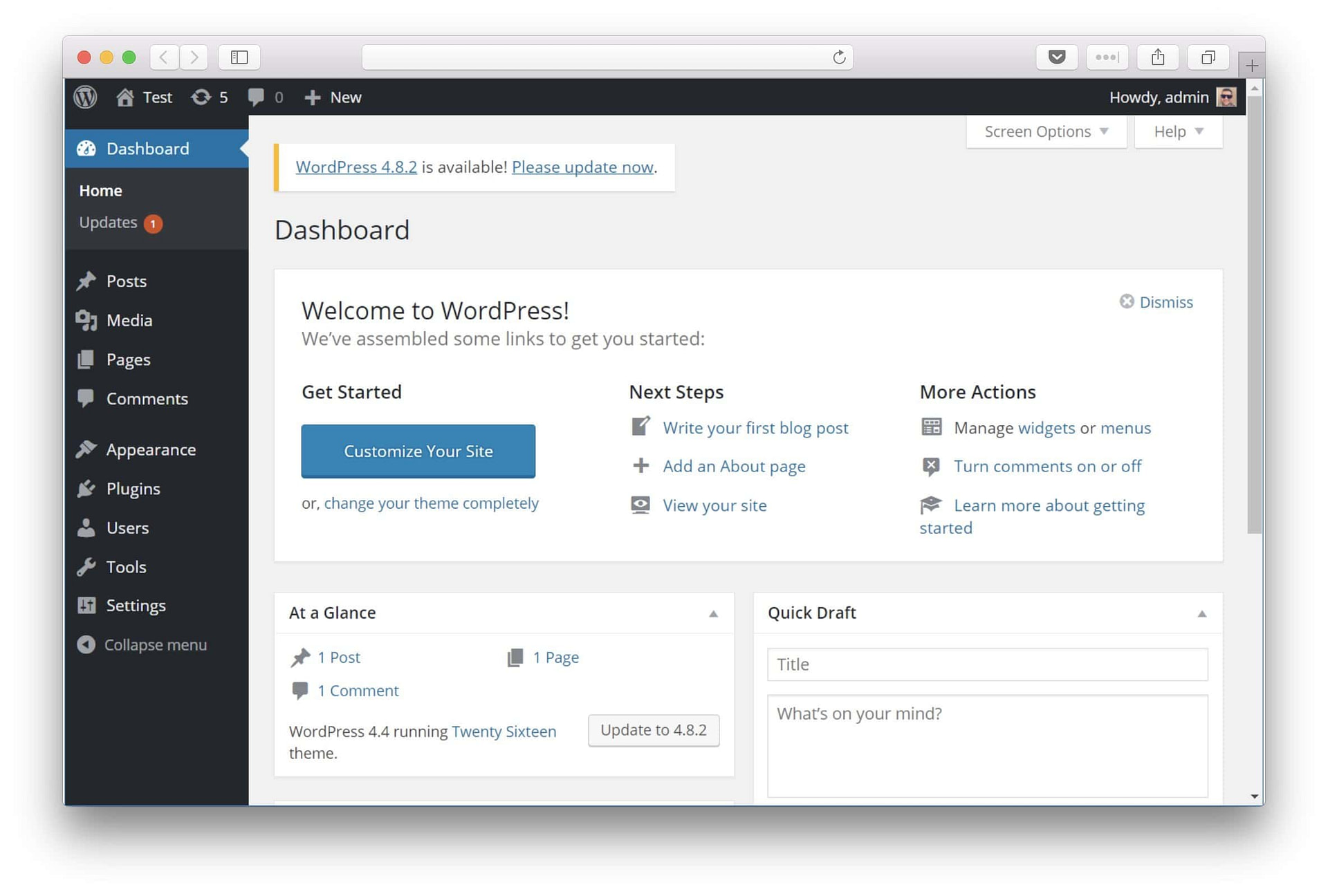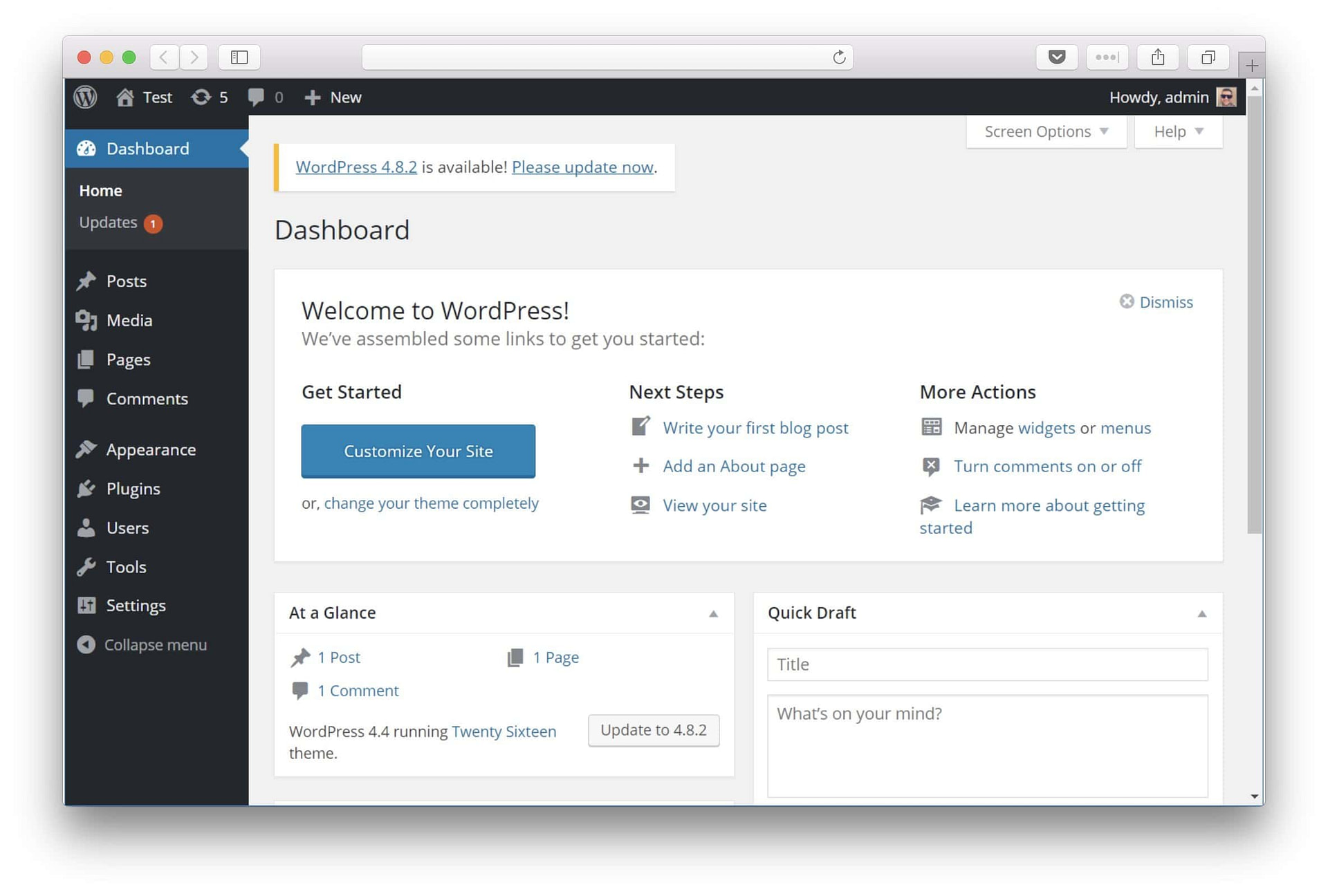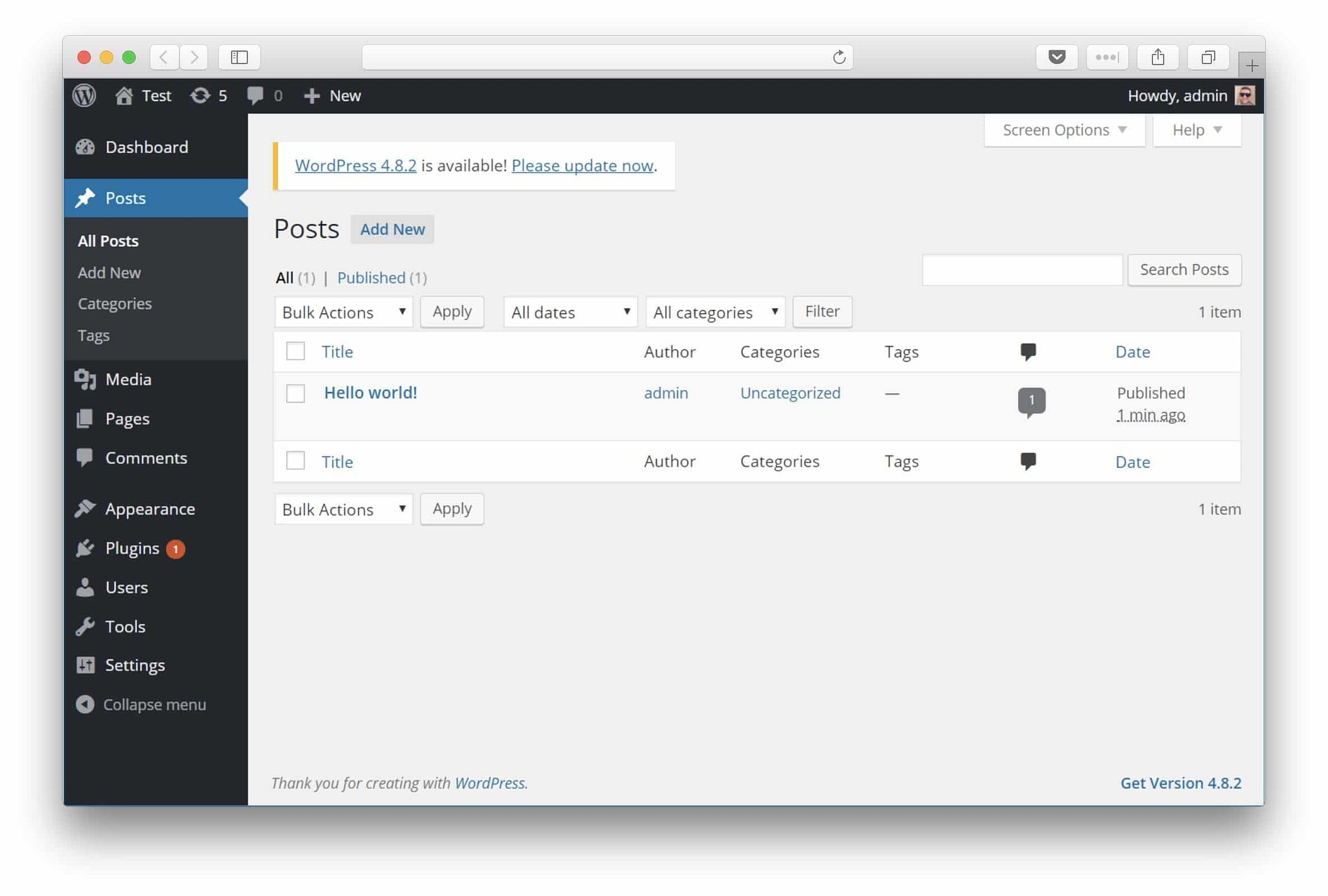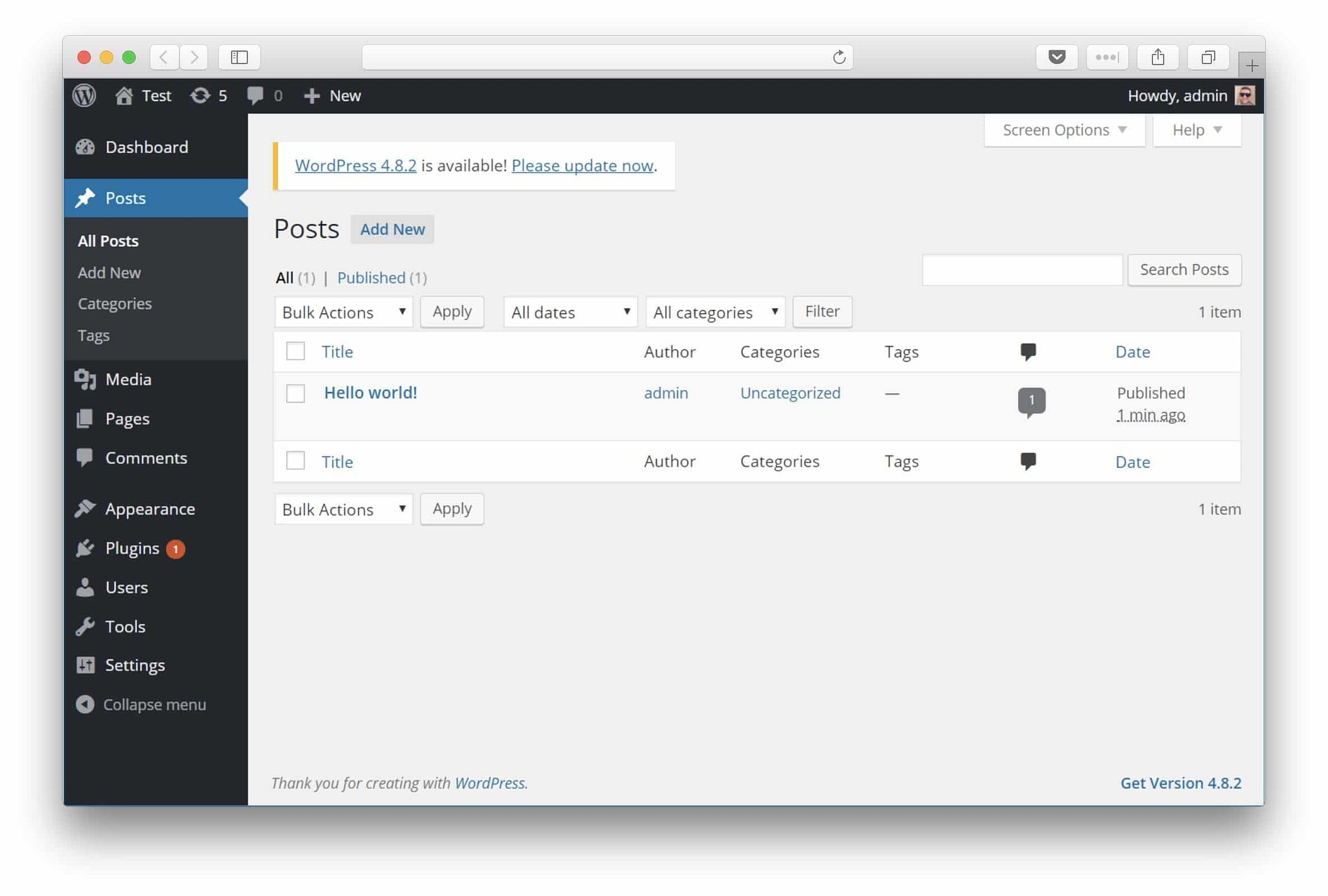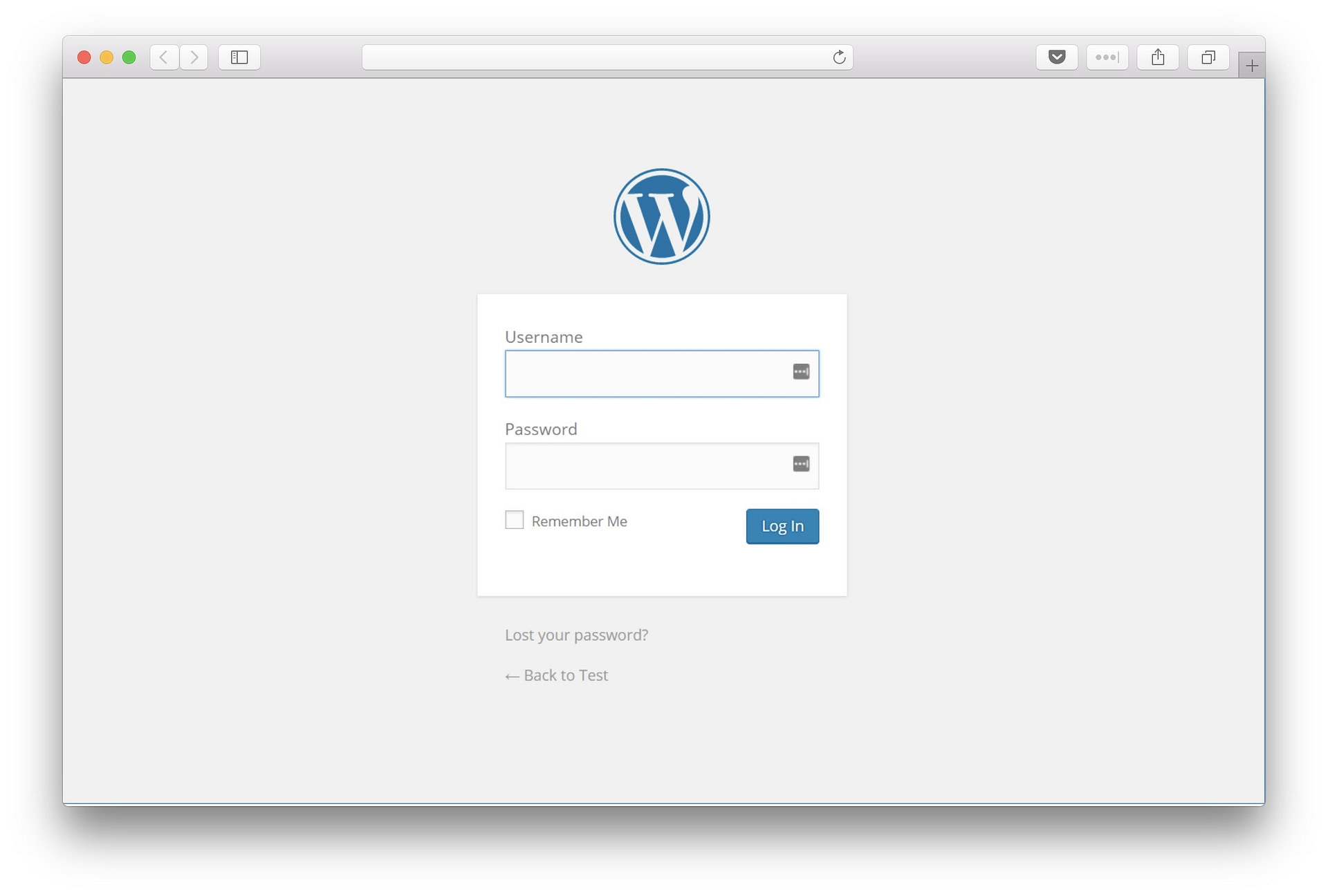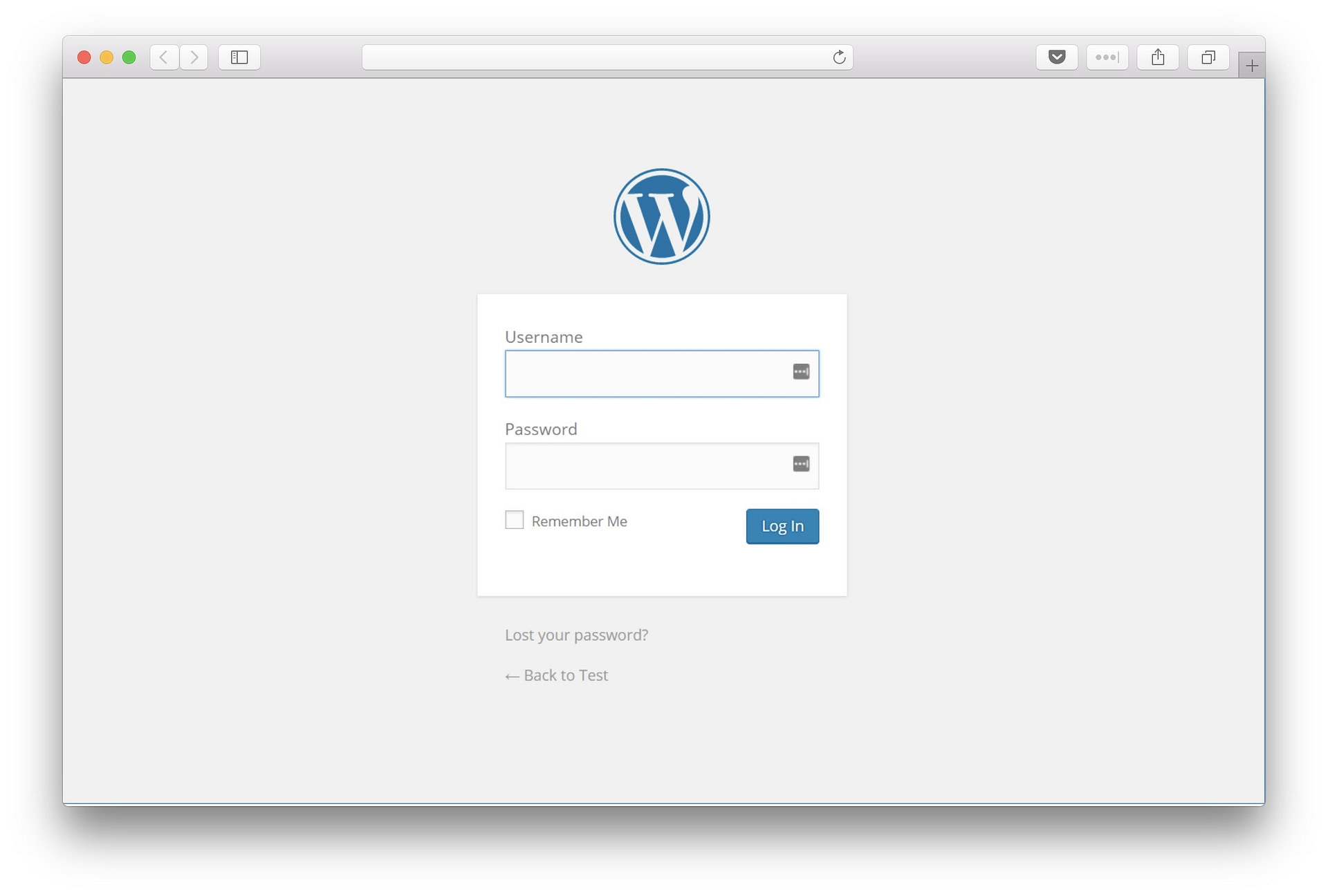 WordPress 4.5 "Coleman" – April 12, 2016
Release post. Inline linking gets introduced. The Customizer now has previews for different screen sizes.
WordPress 4.5 DASHBOARDWordPress 4.5 MANAGEWordPress 4.5 WRITEWordPress 4.5 LOGIN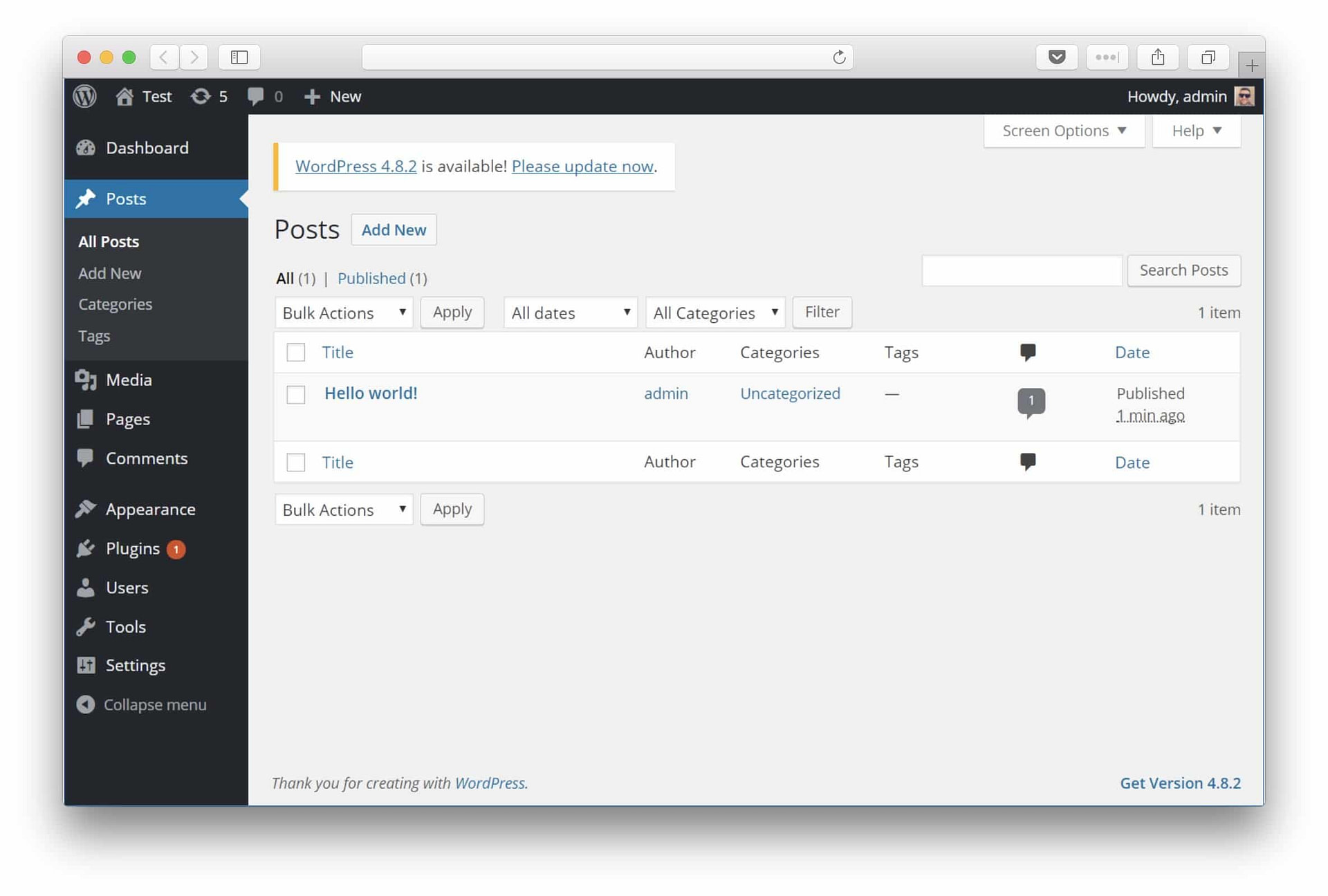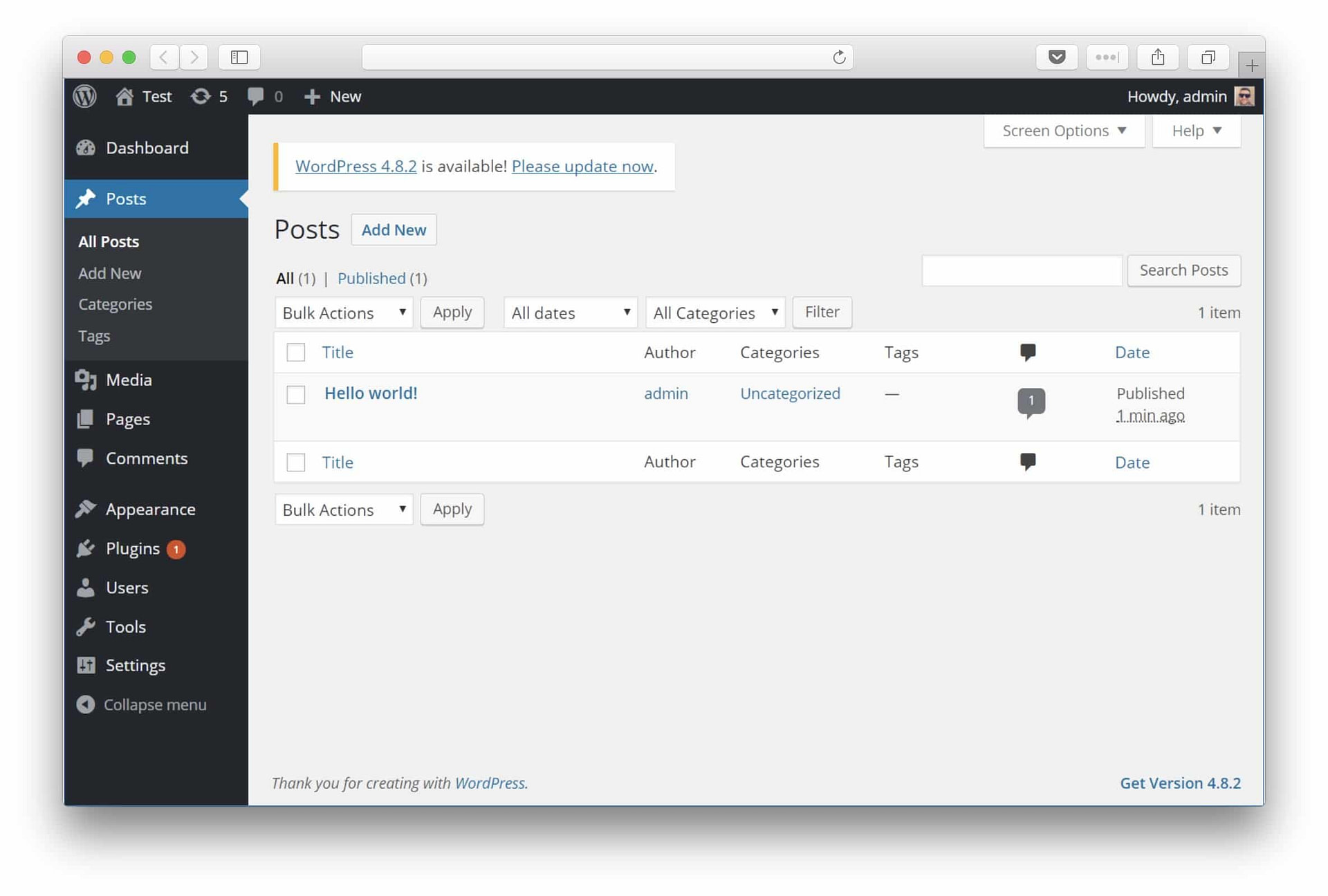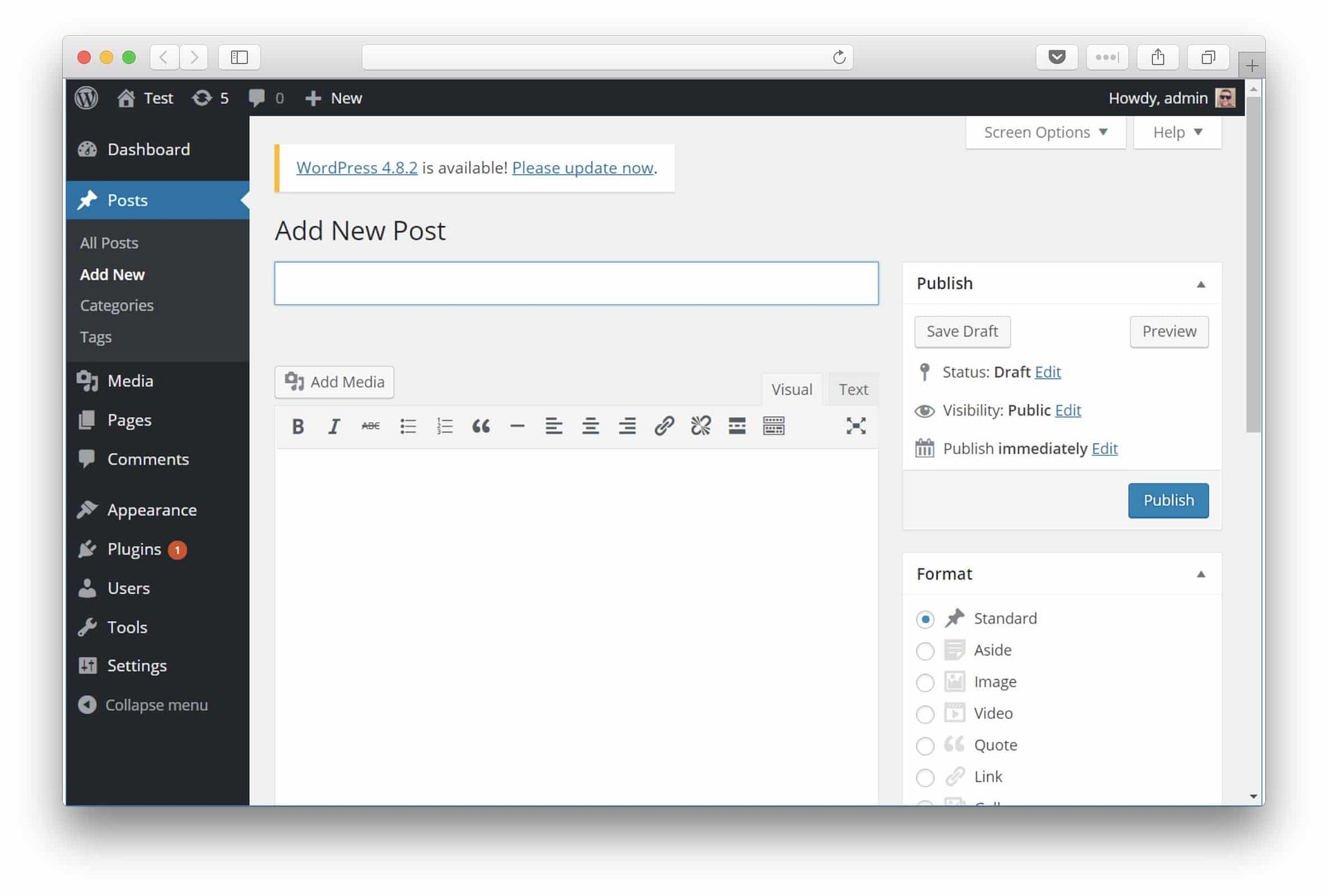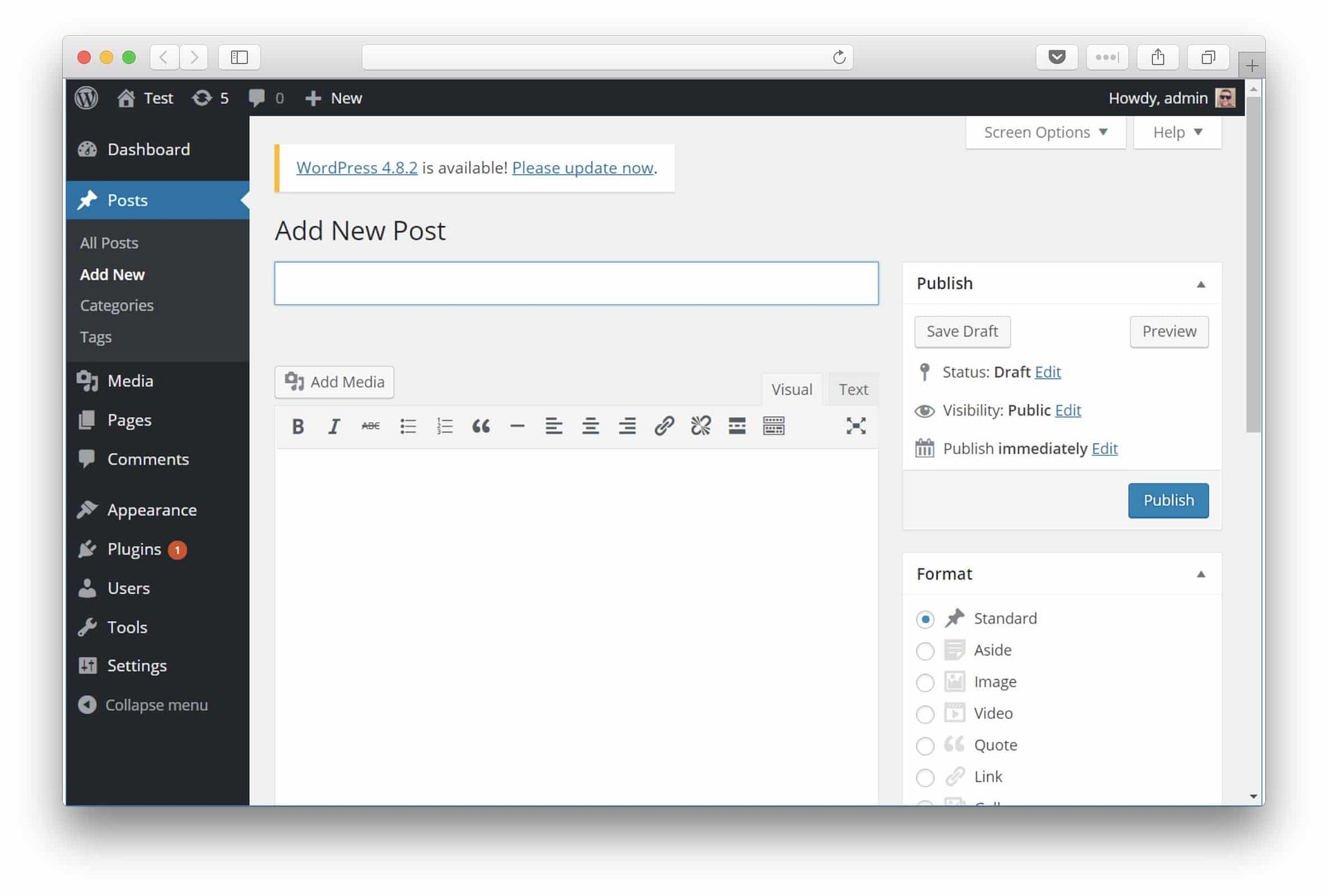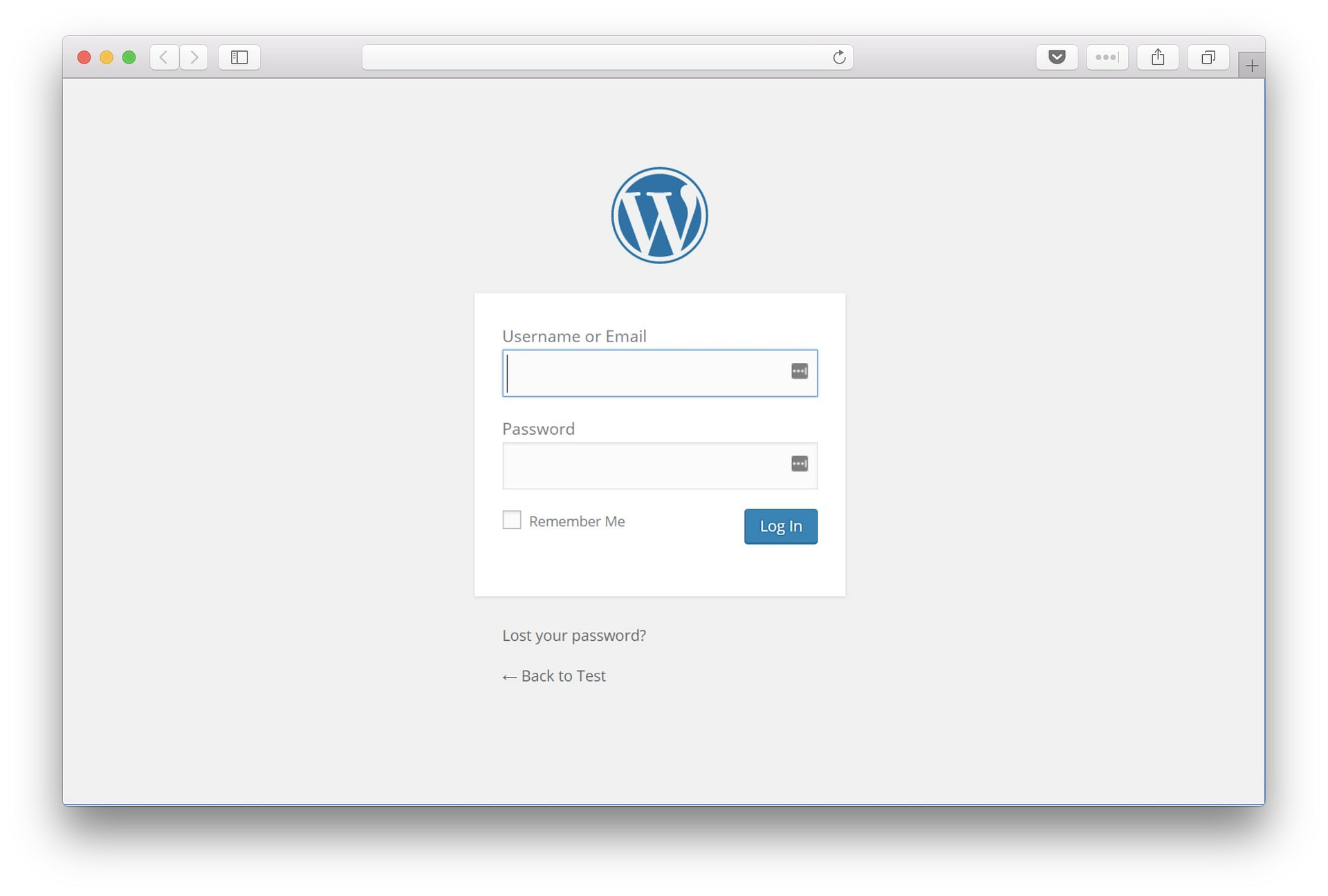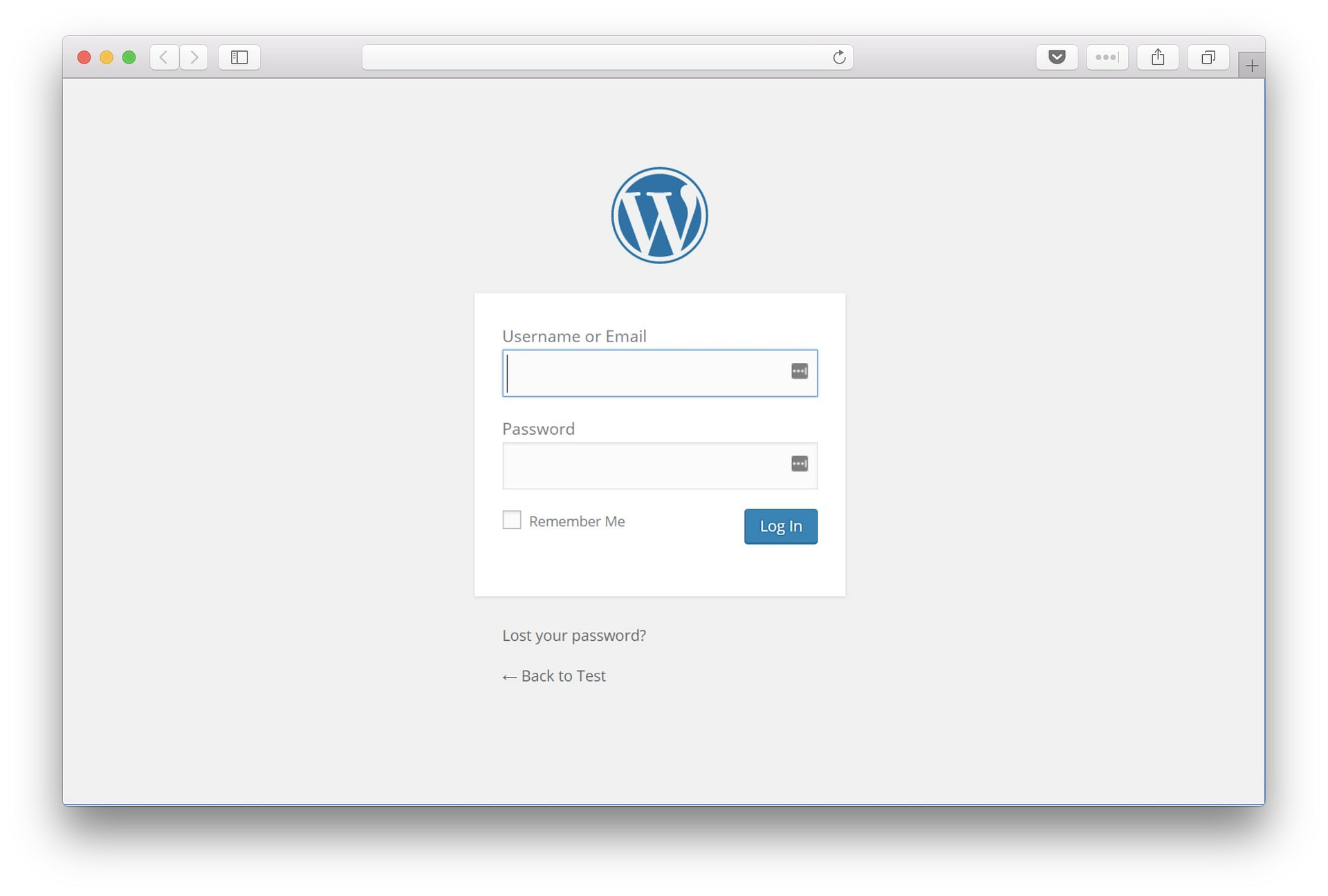 WordPress 4.6 "Pepper" – August 16, 2016
Release post. More streamlined updates. Your system's native fonts are now supported.
WordPress 4.6 DASHBOARDWordPress 4.6 MANAGEWordPress 4.6 WRITEWordPress 4.6 LOGIN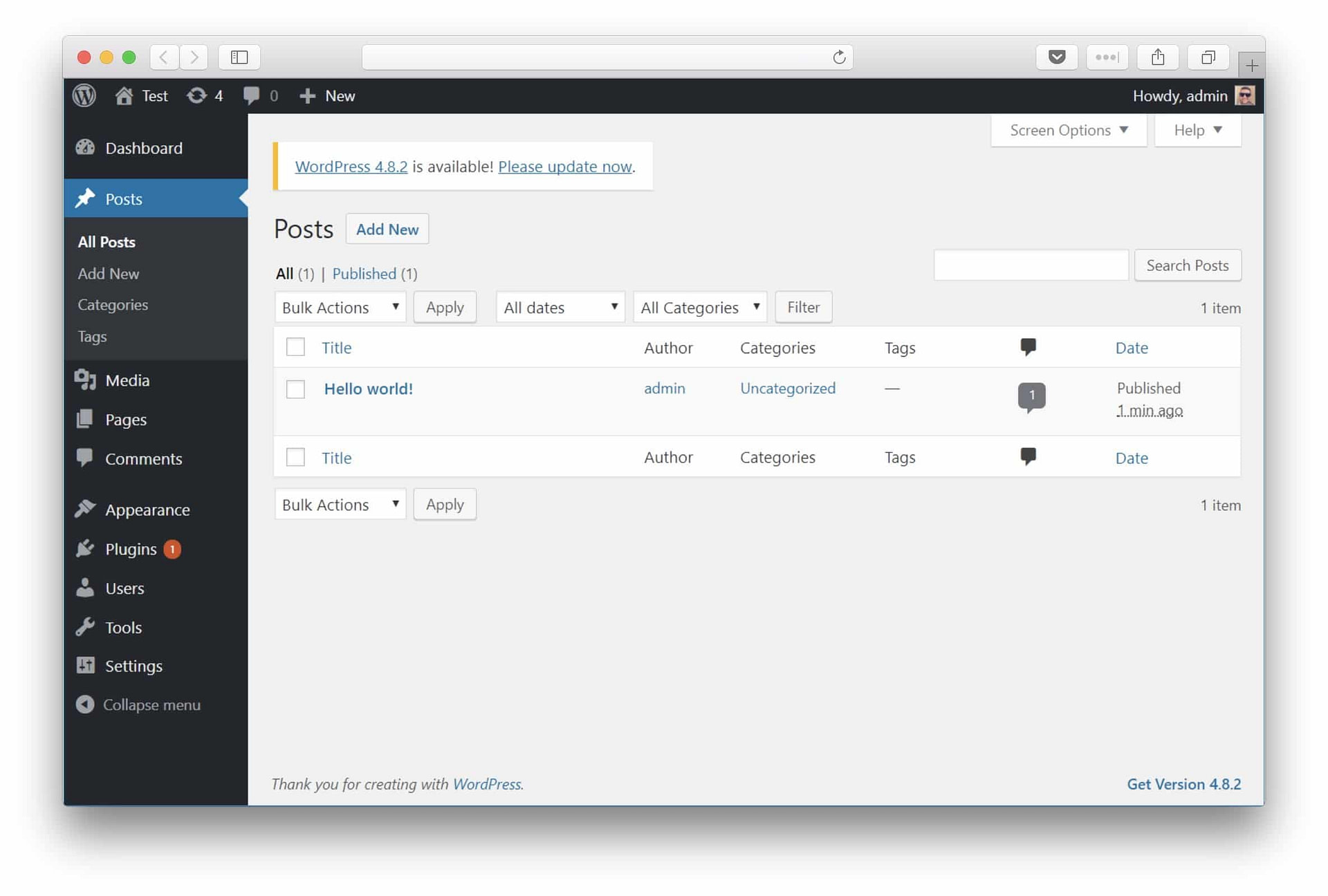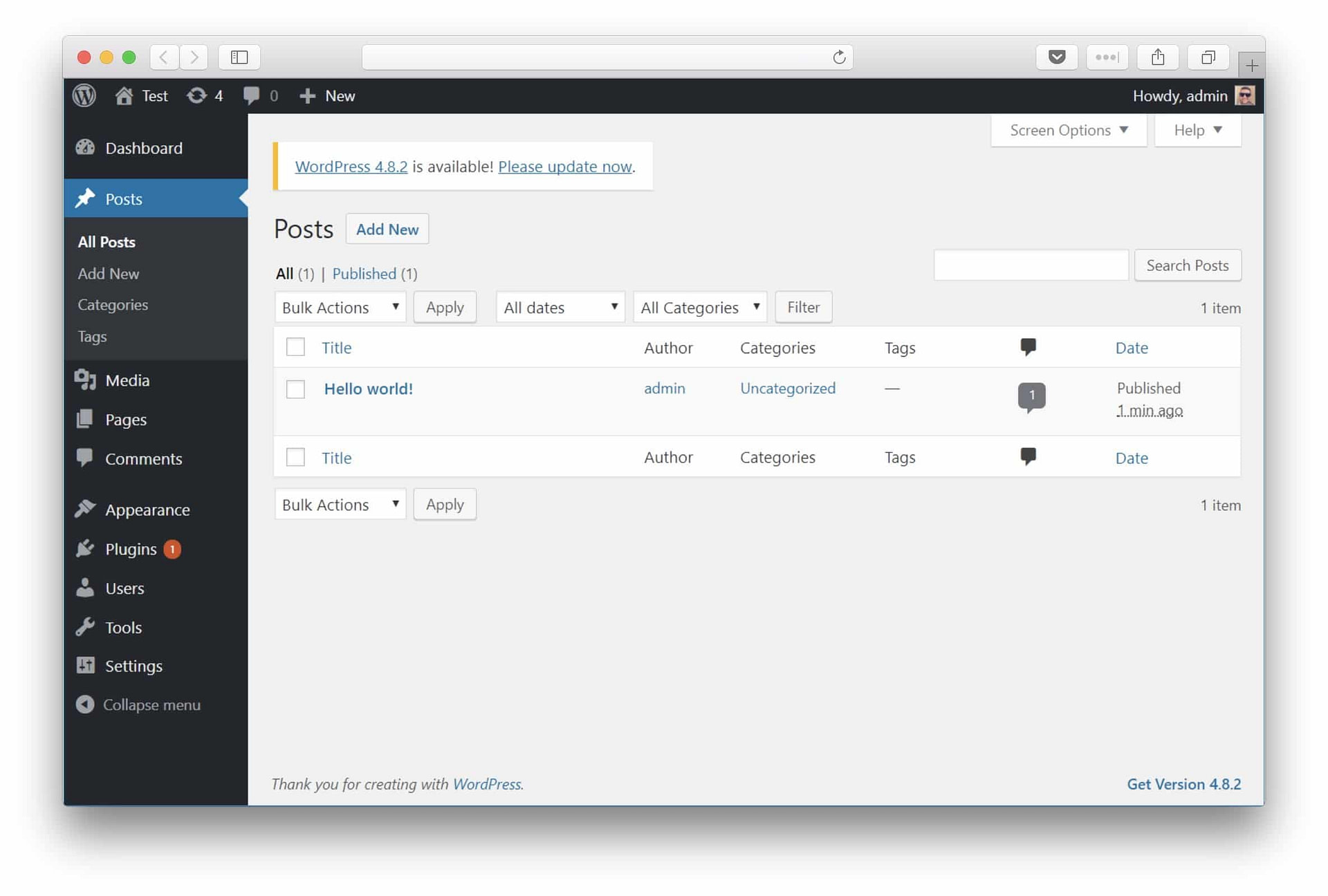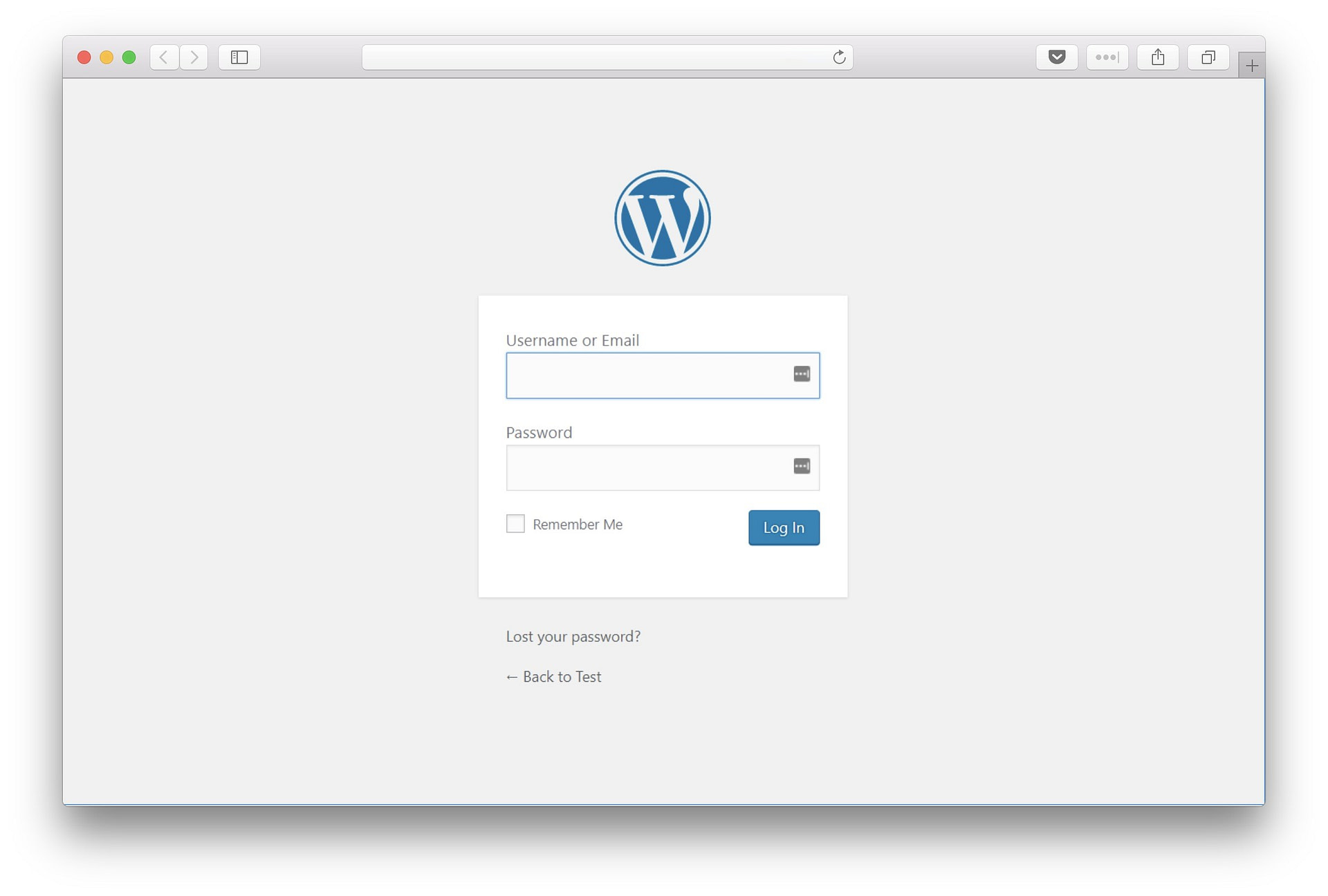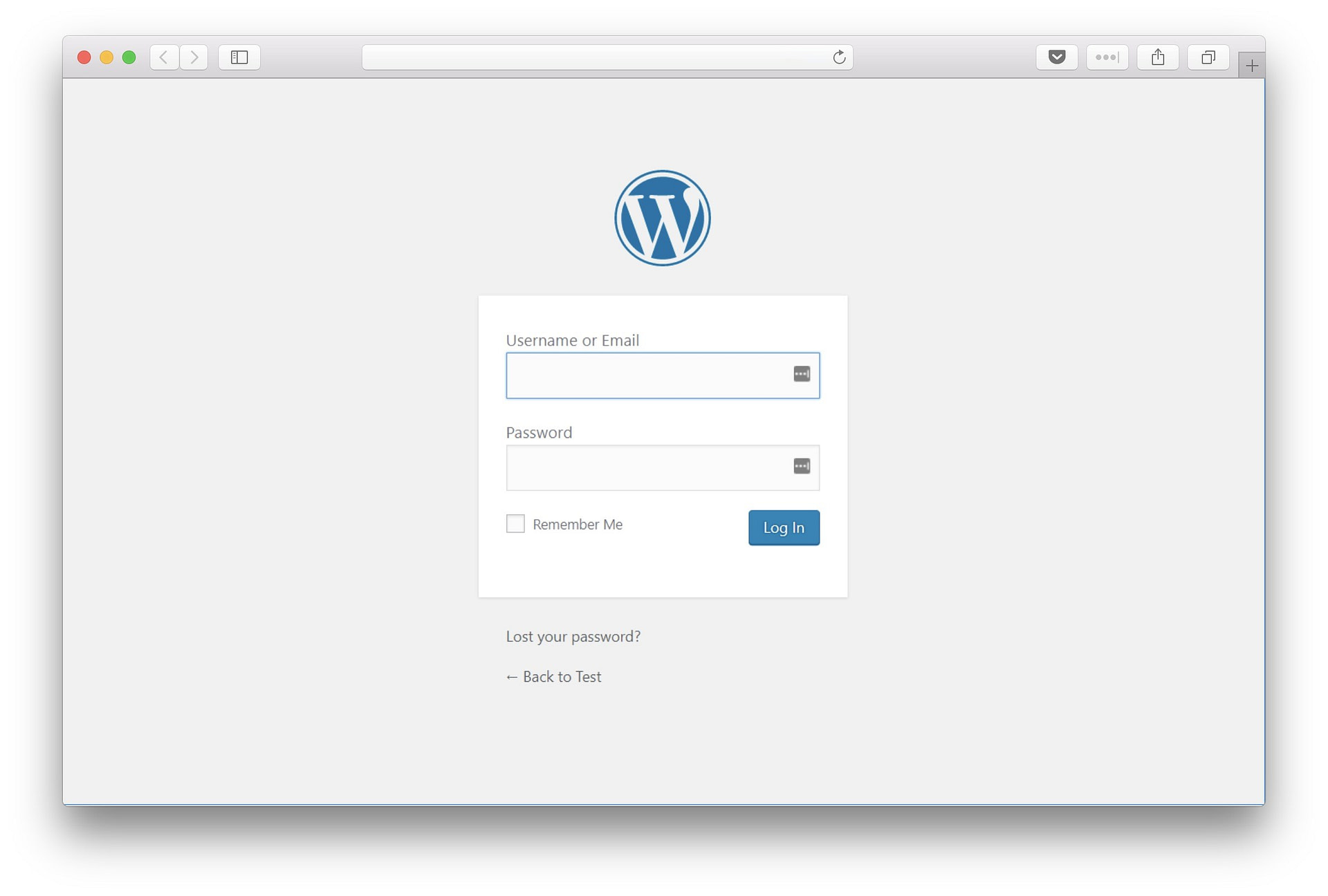 WordPress 4.7 "Vaughan" – December 6, 2016
Release post. Themes can now include starter content packages. Video headers are now possible. Users can change admin language in their profiles. REST API Content Endpoints added.
WordPress 4.7 DASHBOARDWordPress 4.7 MANAGEWordPress 4.7 WRITEWordPress 4.7 LOGIN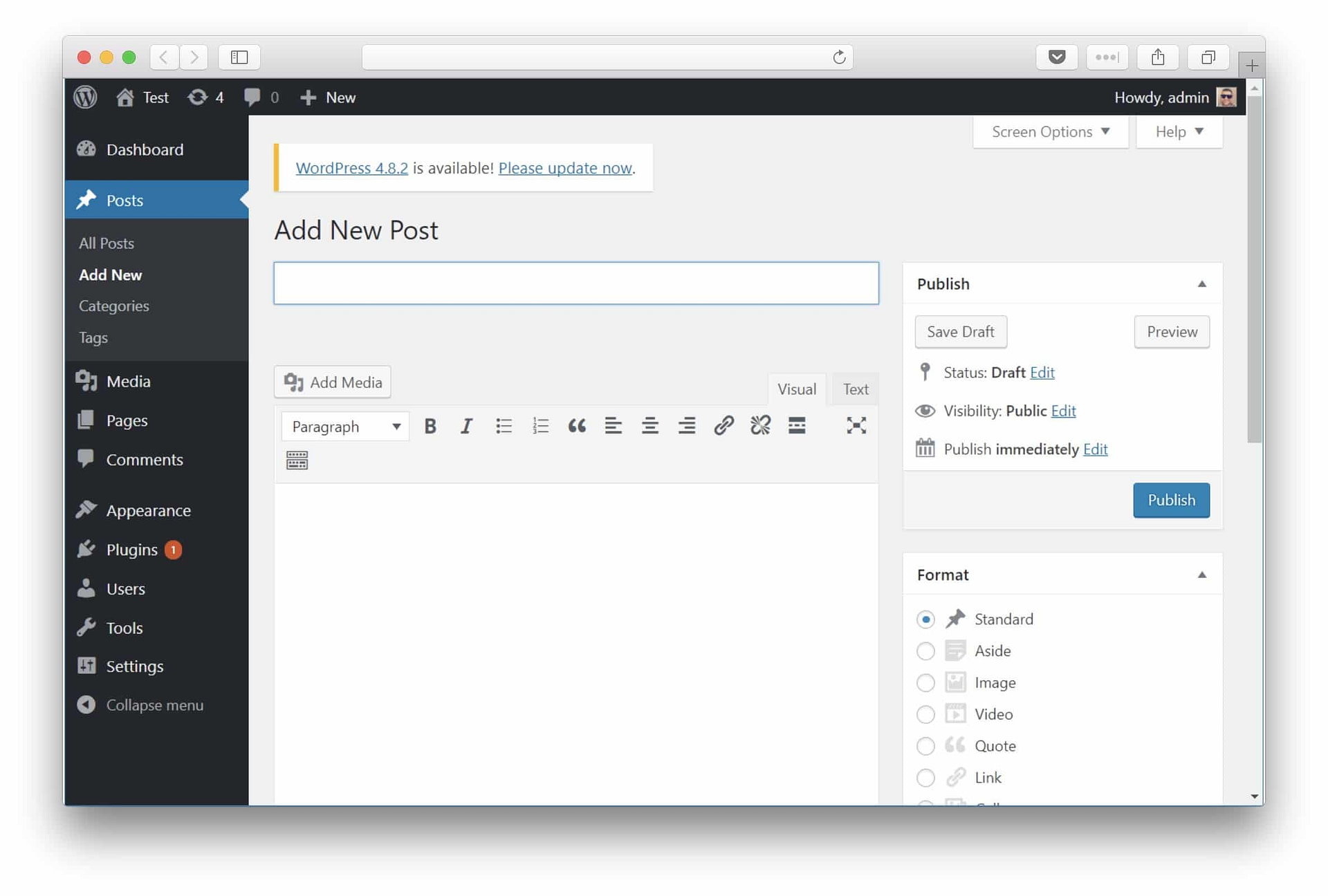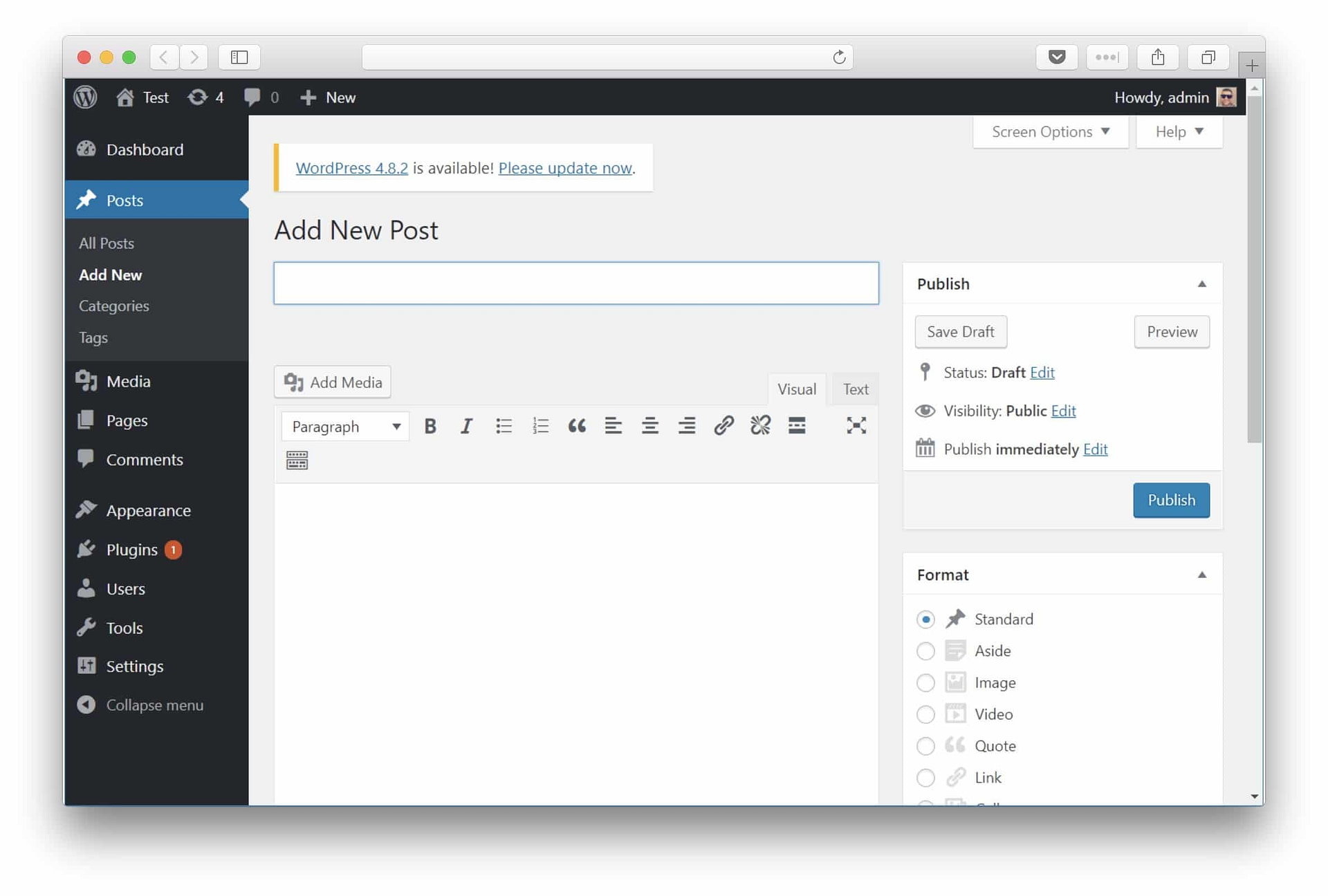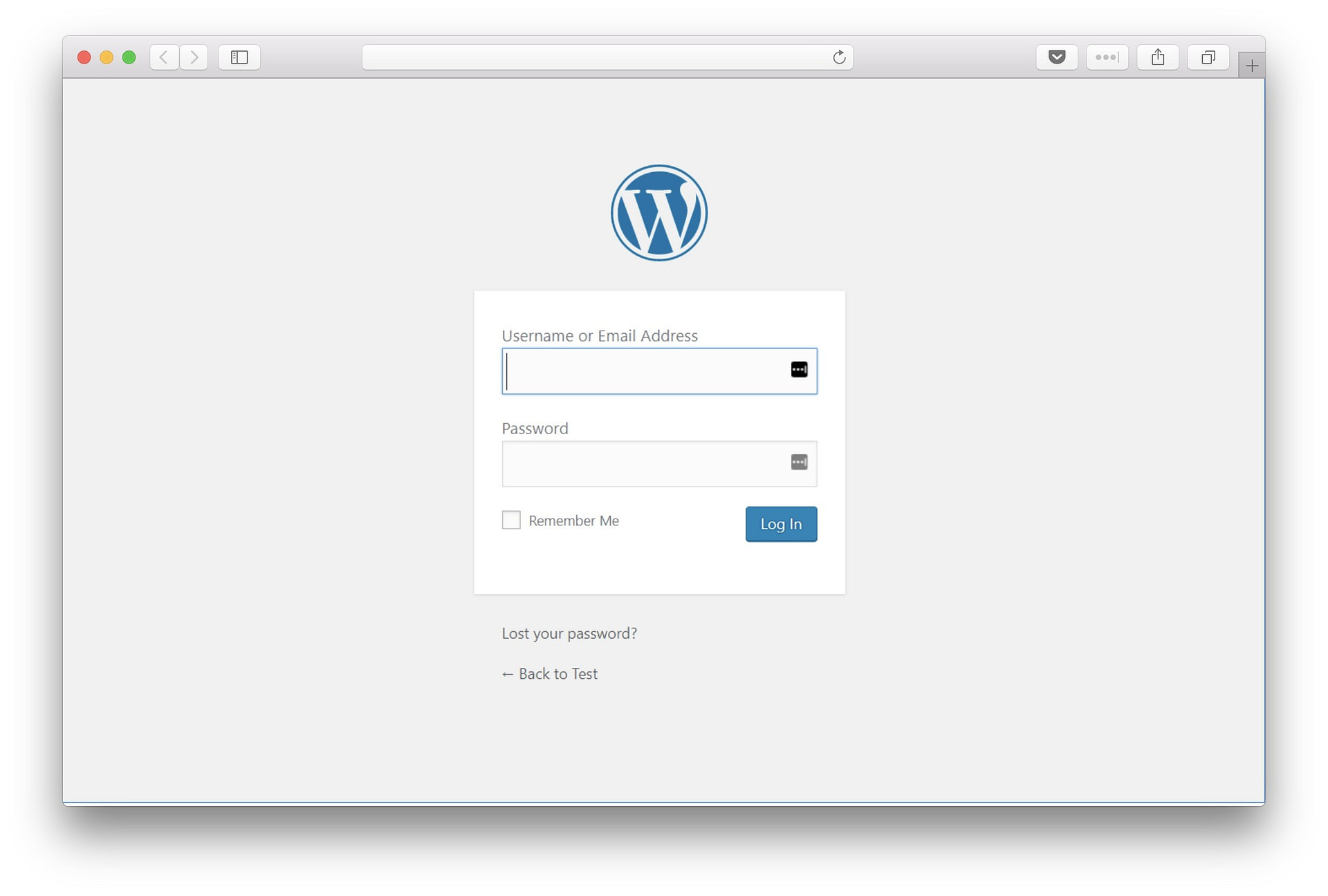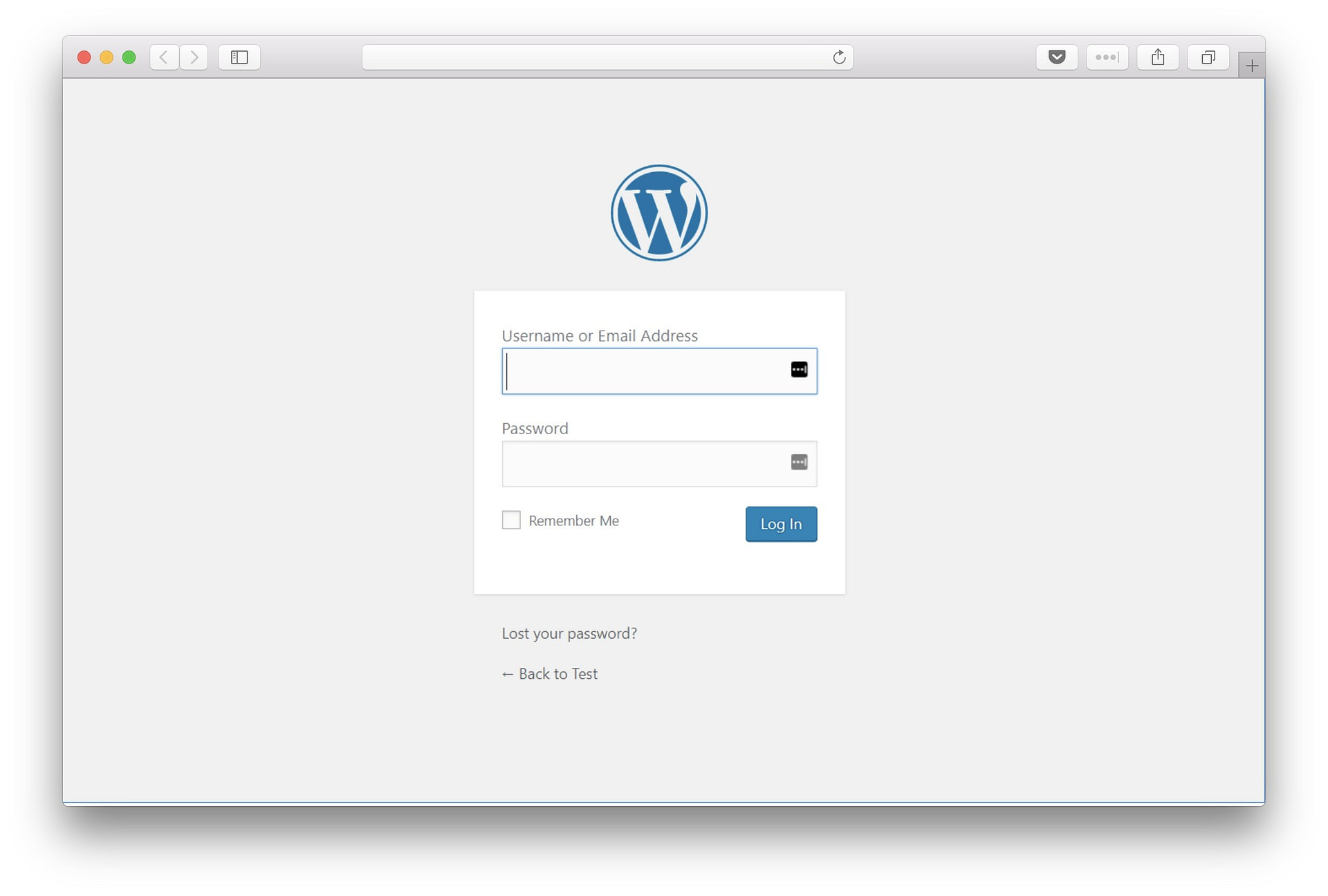 WordPress 4.8 "Evans" – June 8, 2017
Release post. We get new widgets for images, video, audio, and rich text. Nearby WordPress events get displayed on the dashboard.
WordPress 4.8 DASHBOARDWordPress 4.8 MANAGEWordPress 4.8 WRITEWordPress 4.8 LOGIN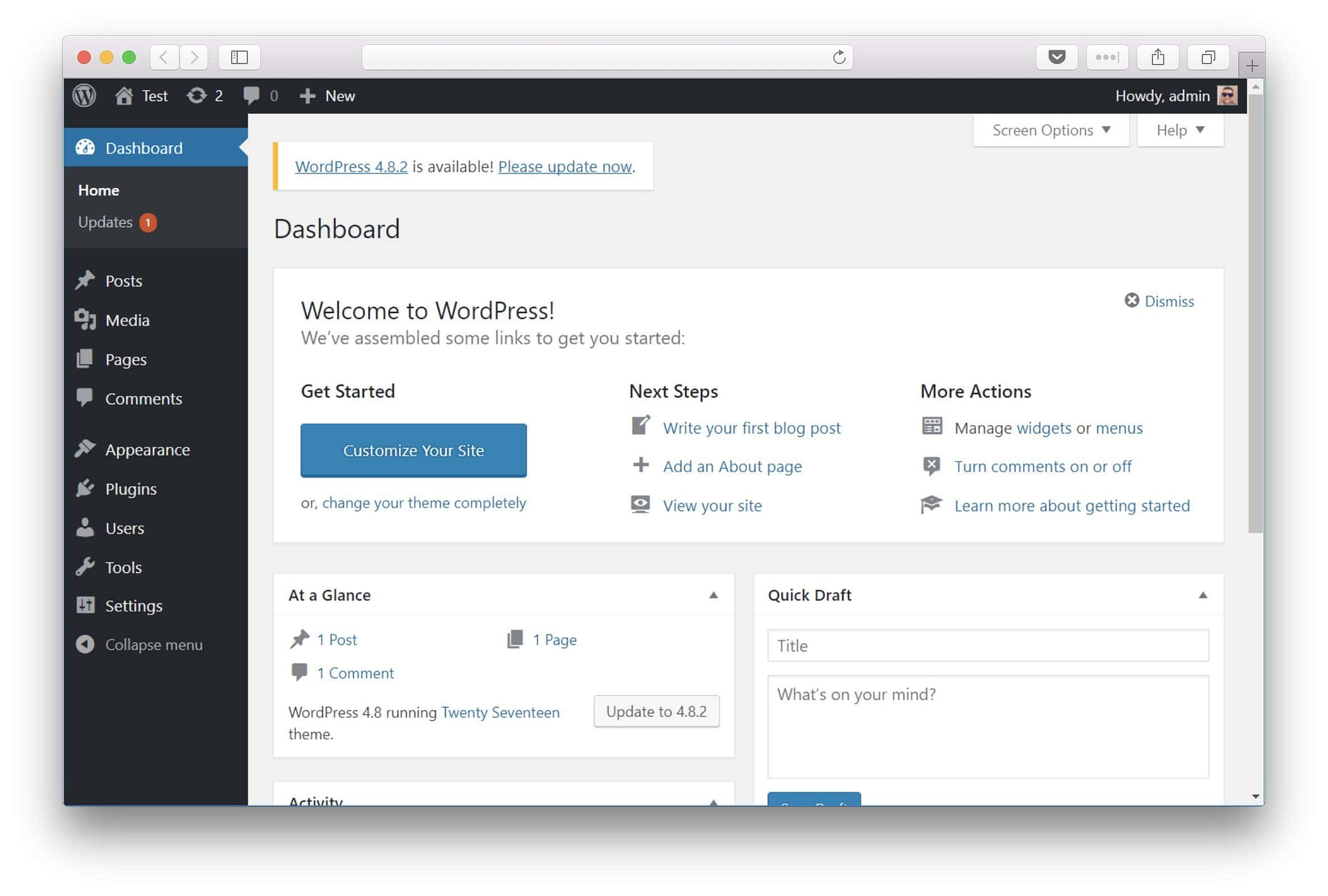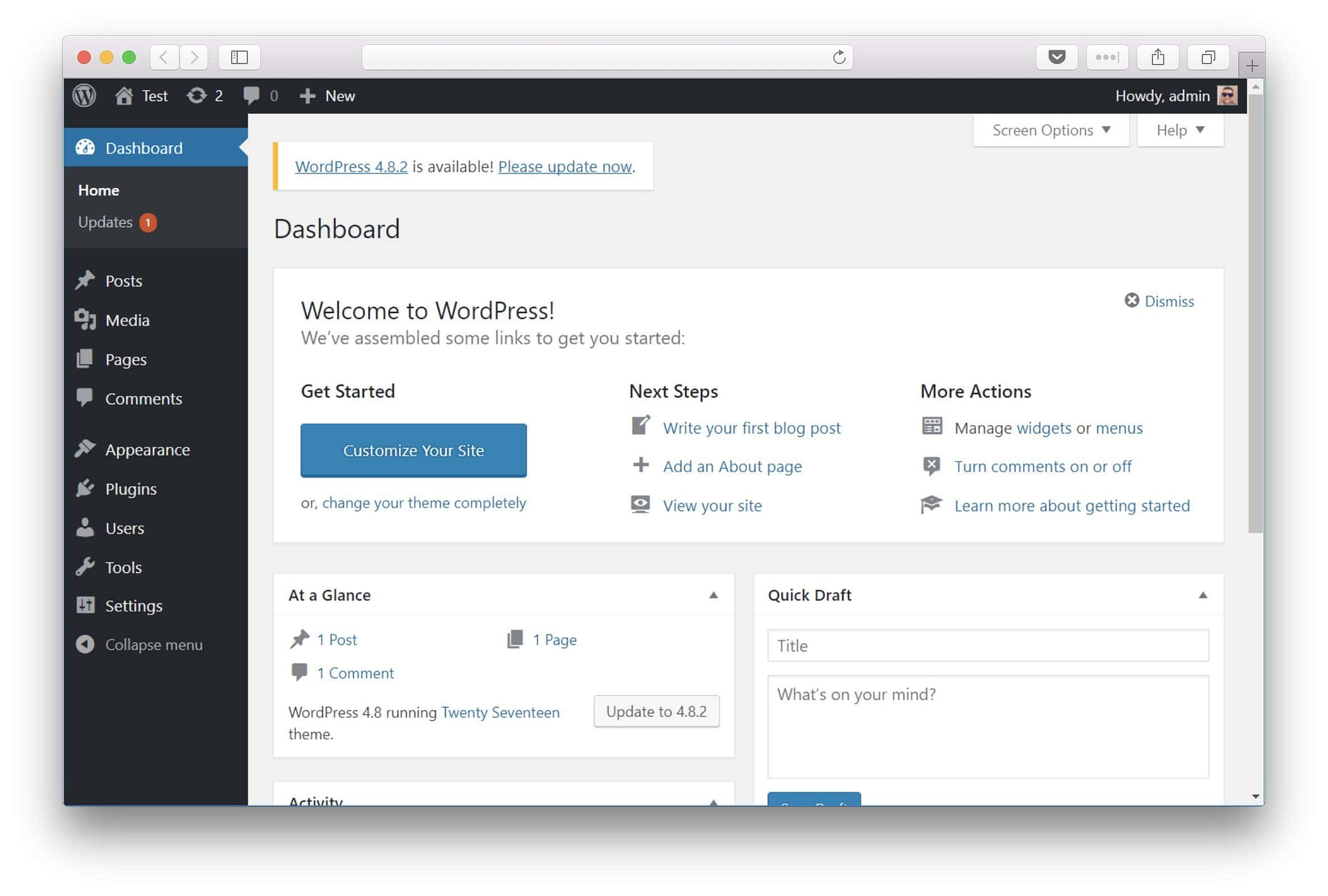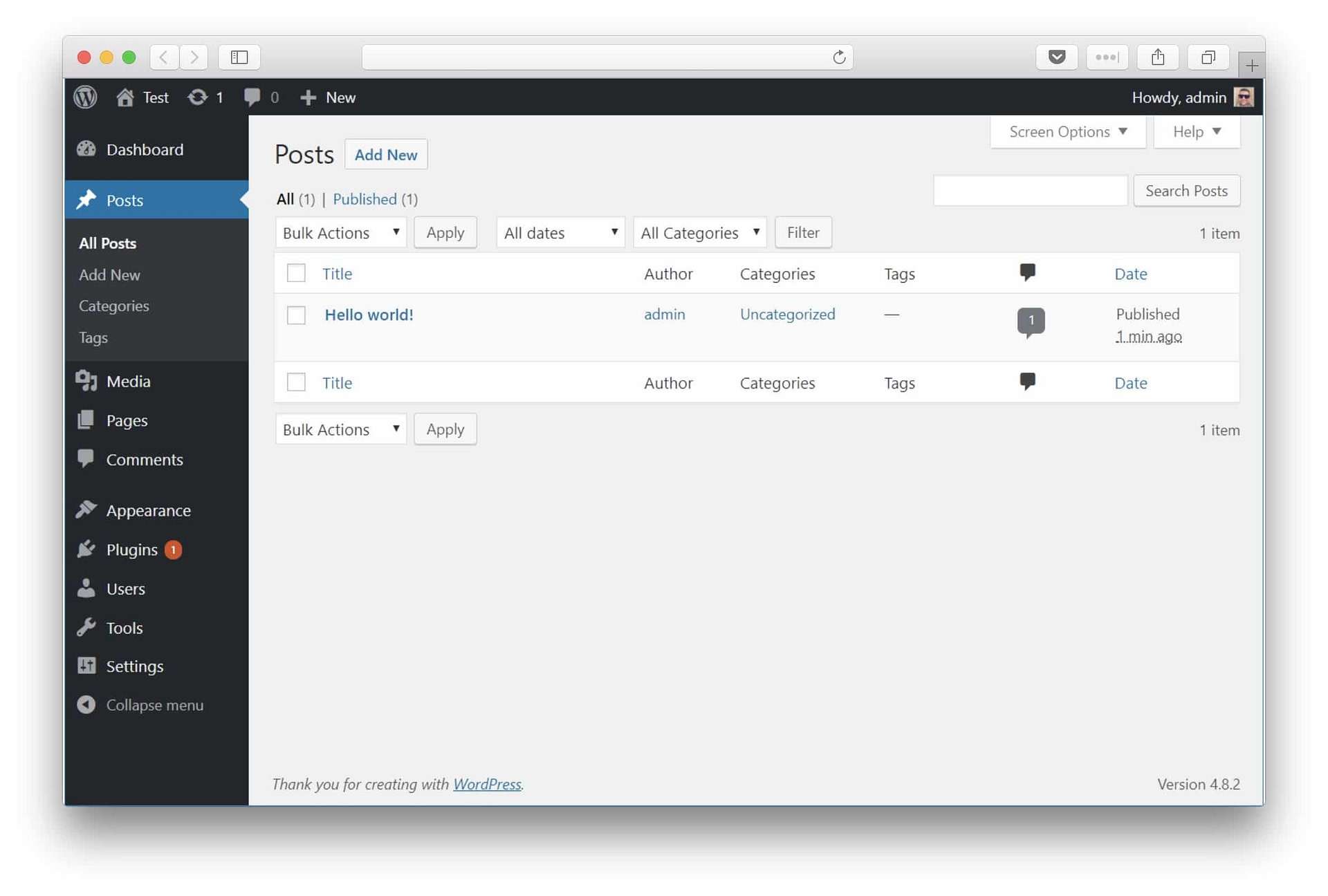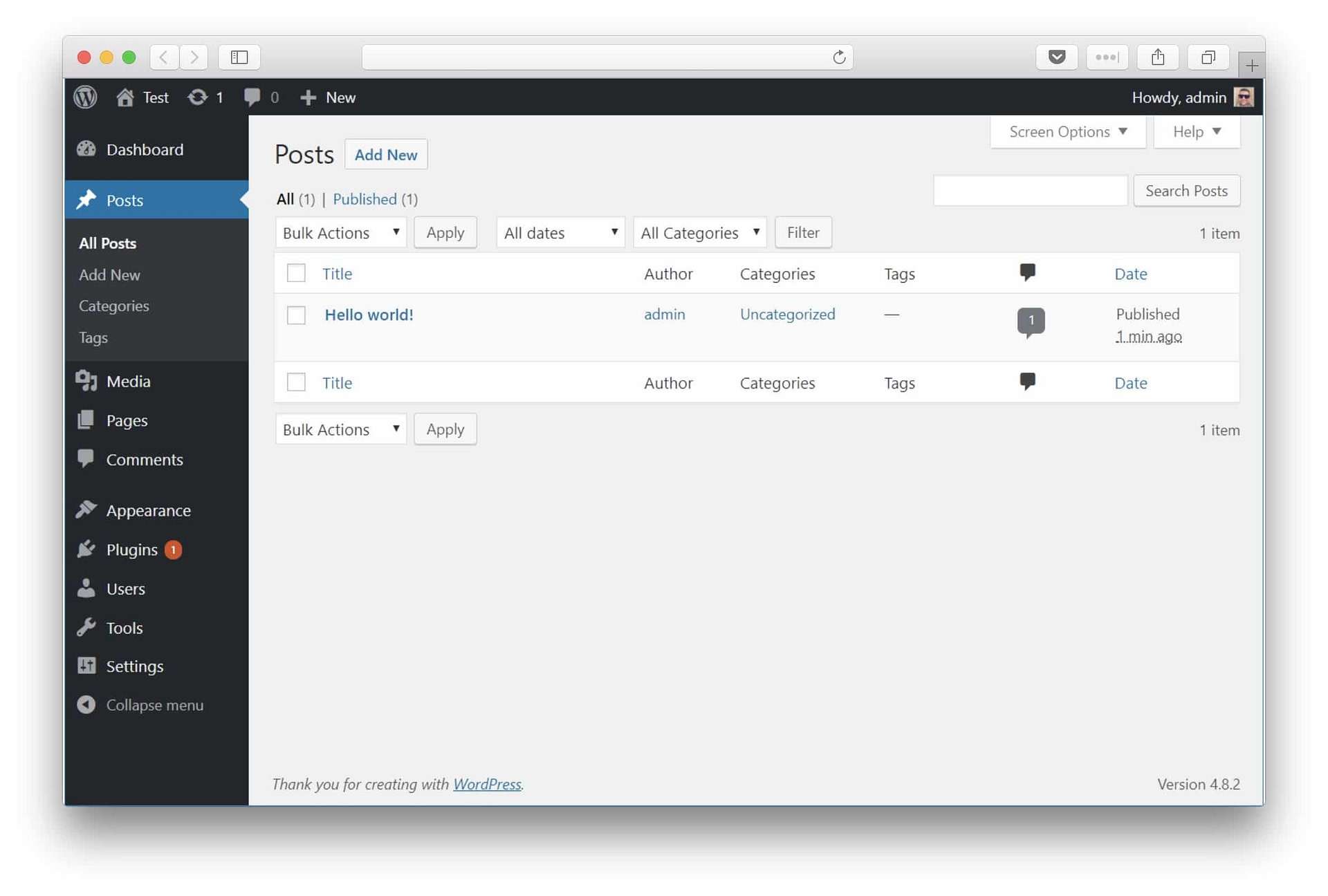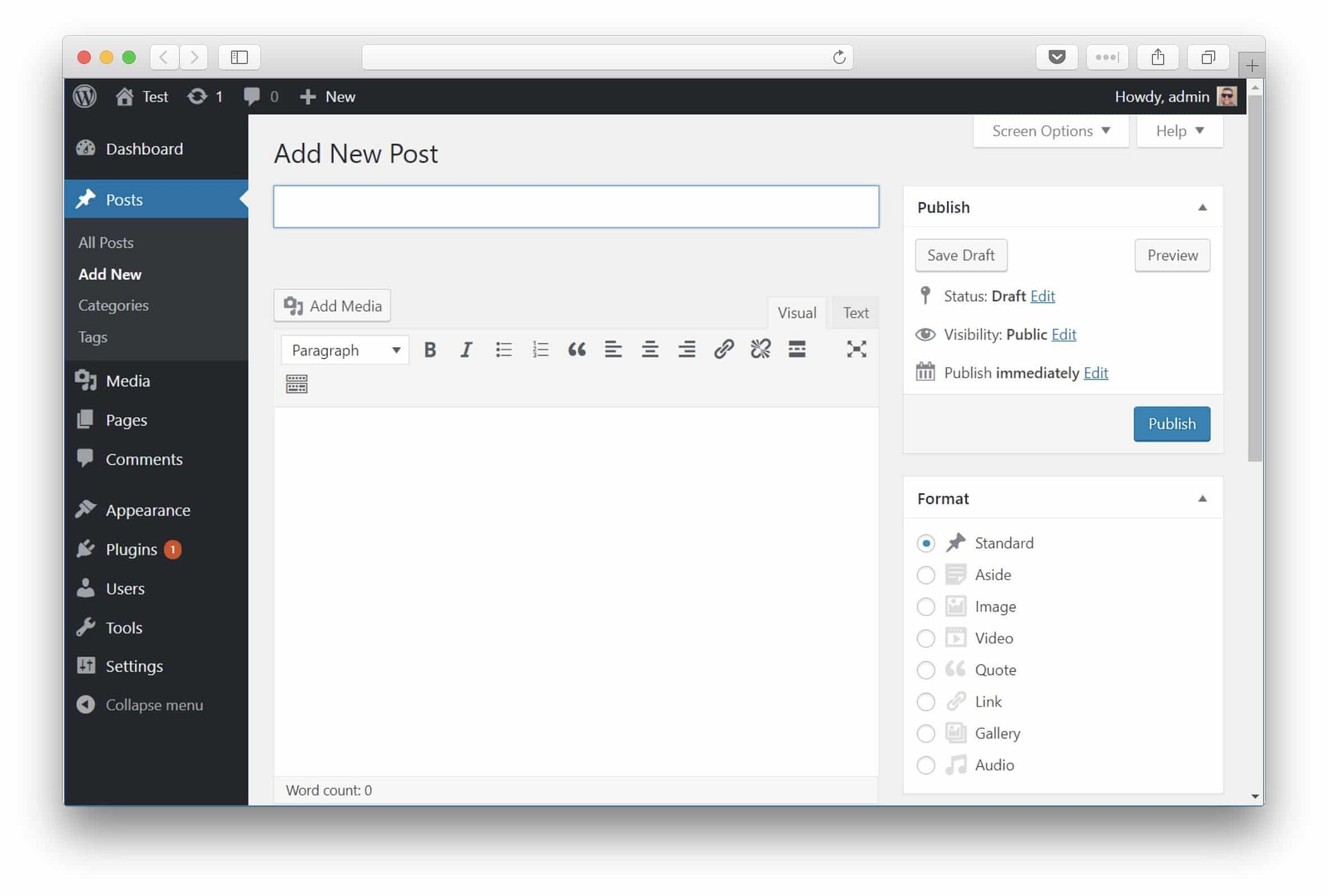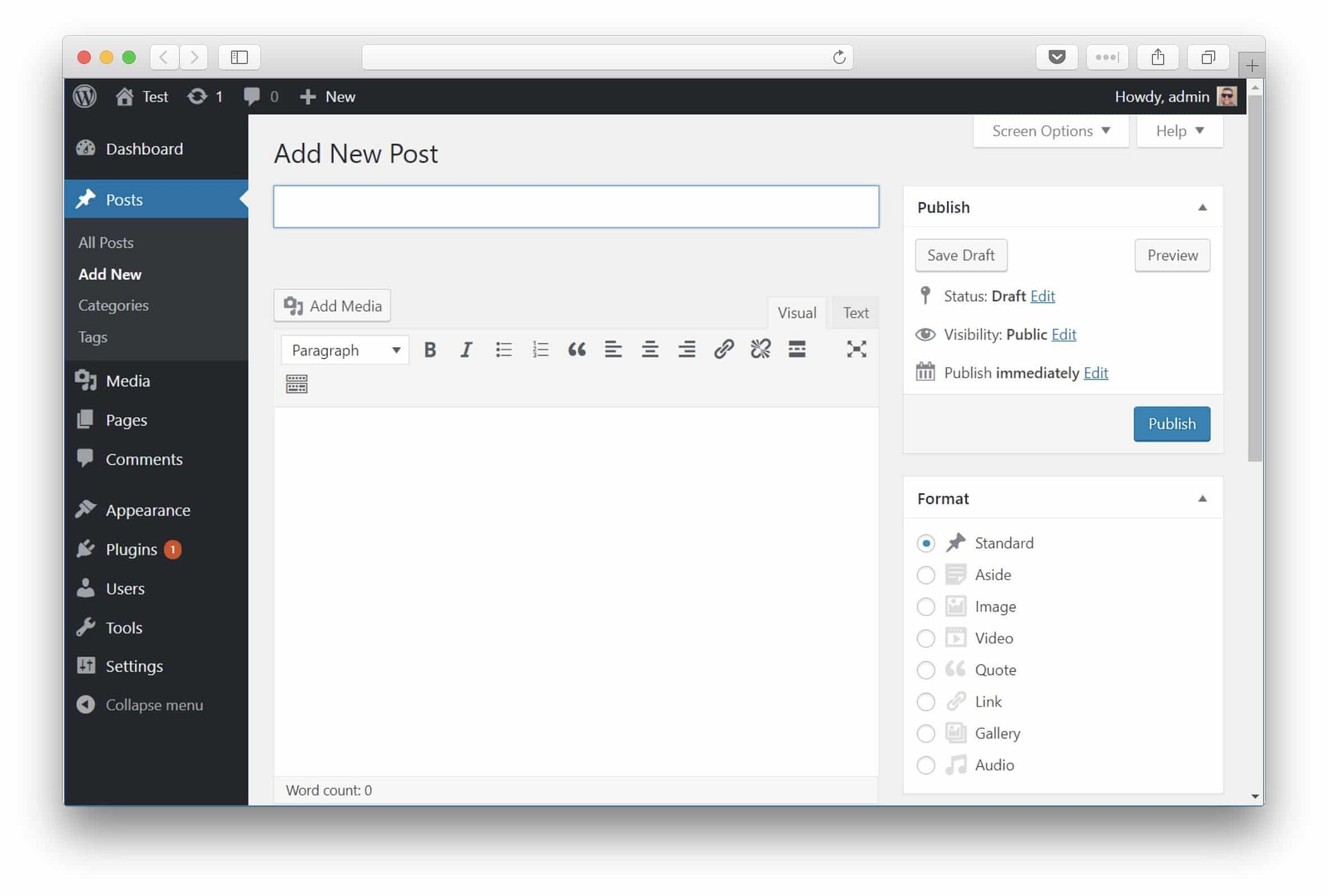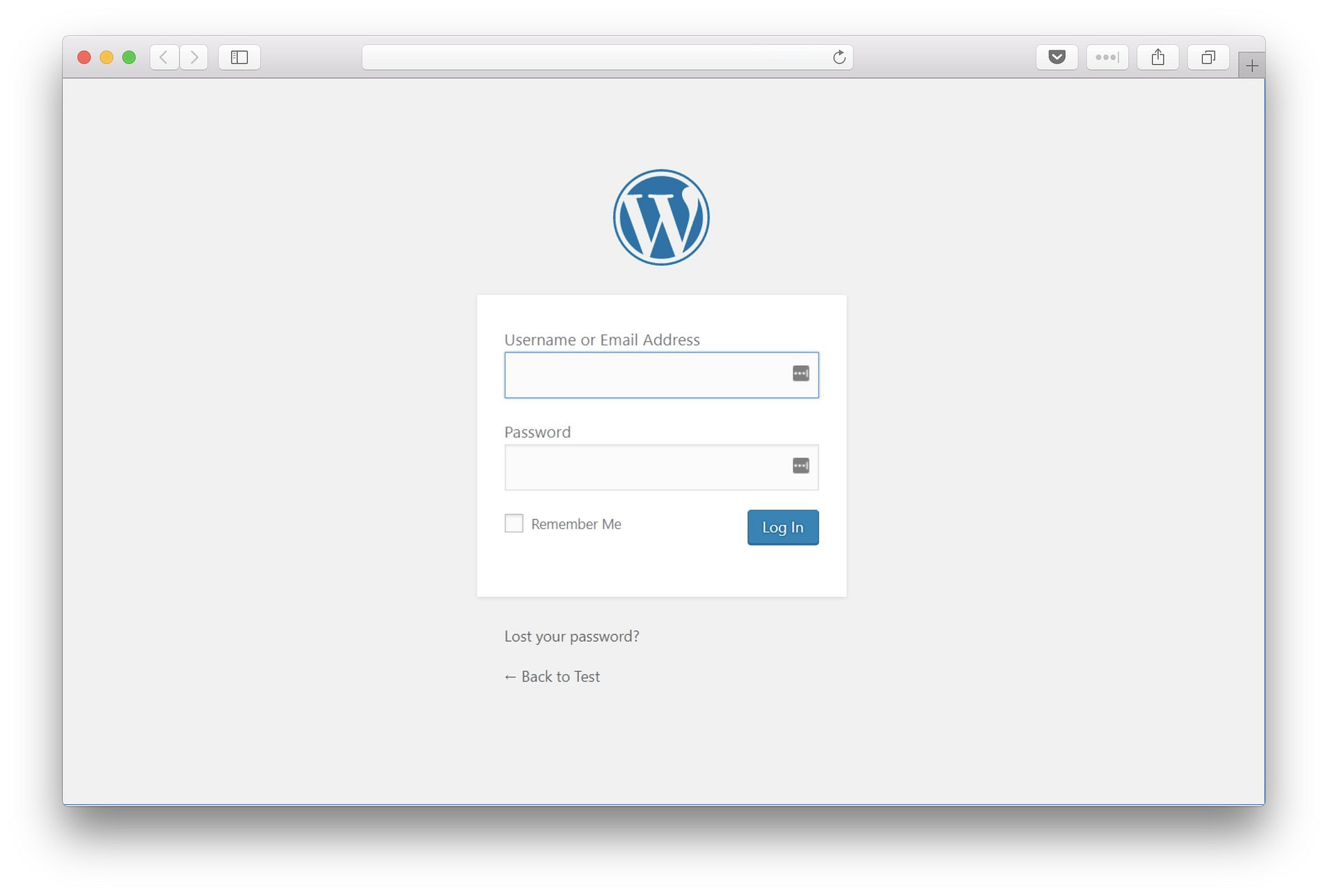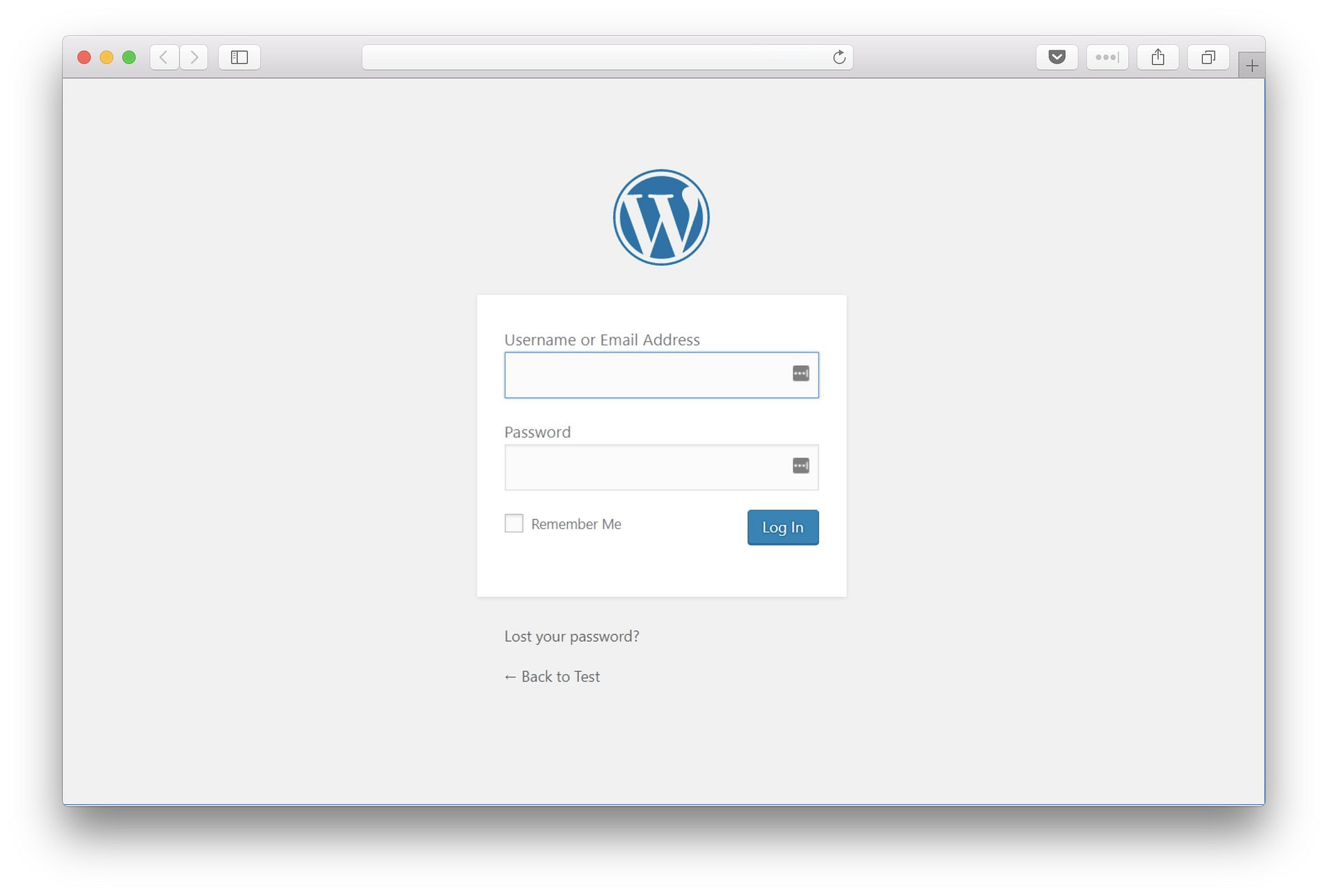 WordPress 4.9 "Tipton" – November 16, 2017
Release post. There's been quite a number of cool new features in this one – things like the new scheduler and draft saver for your Customizer changes, a new code syntax error highlighter, and more.
WordPress 4.9 DASHBOARDWordPress 4.9 MANAGEWordPress 4.9 WRITEWordPress 4.9 LOGIN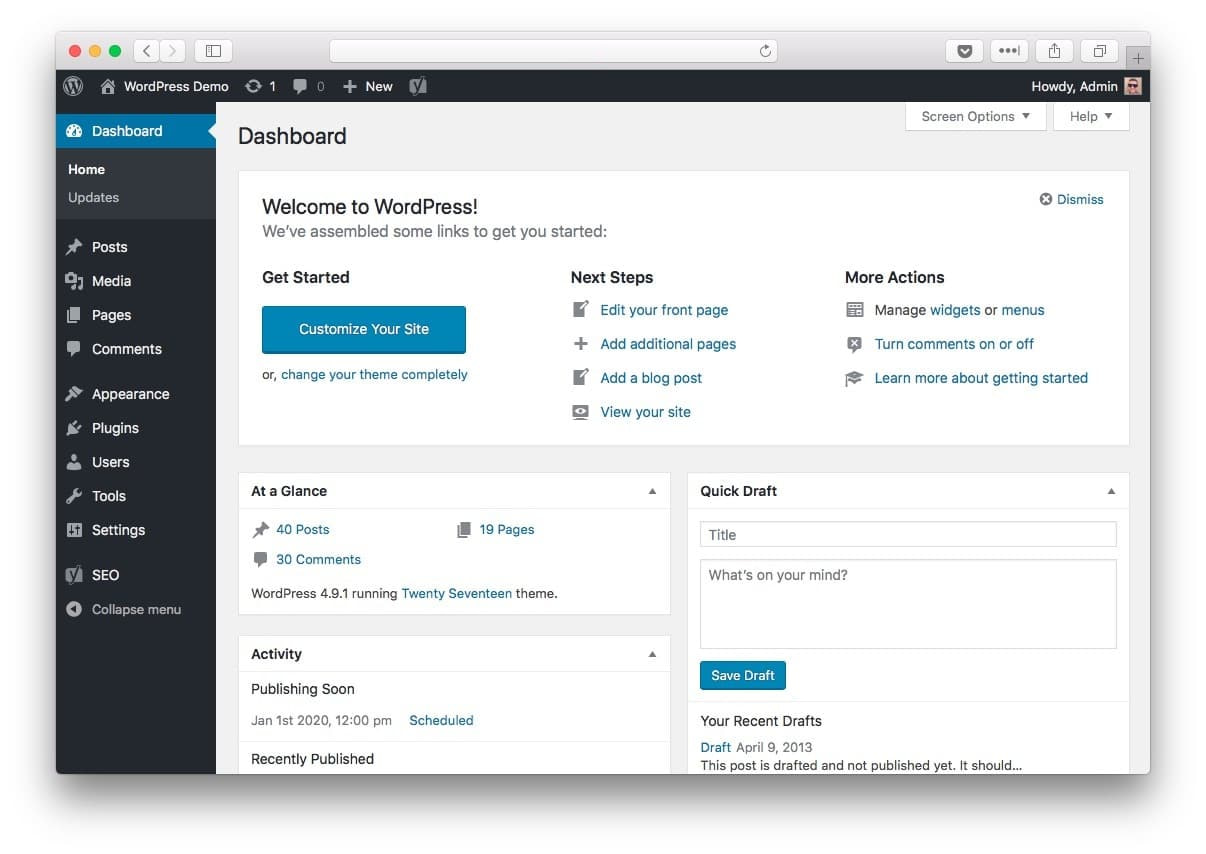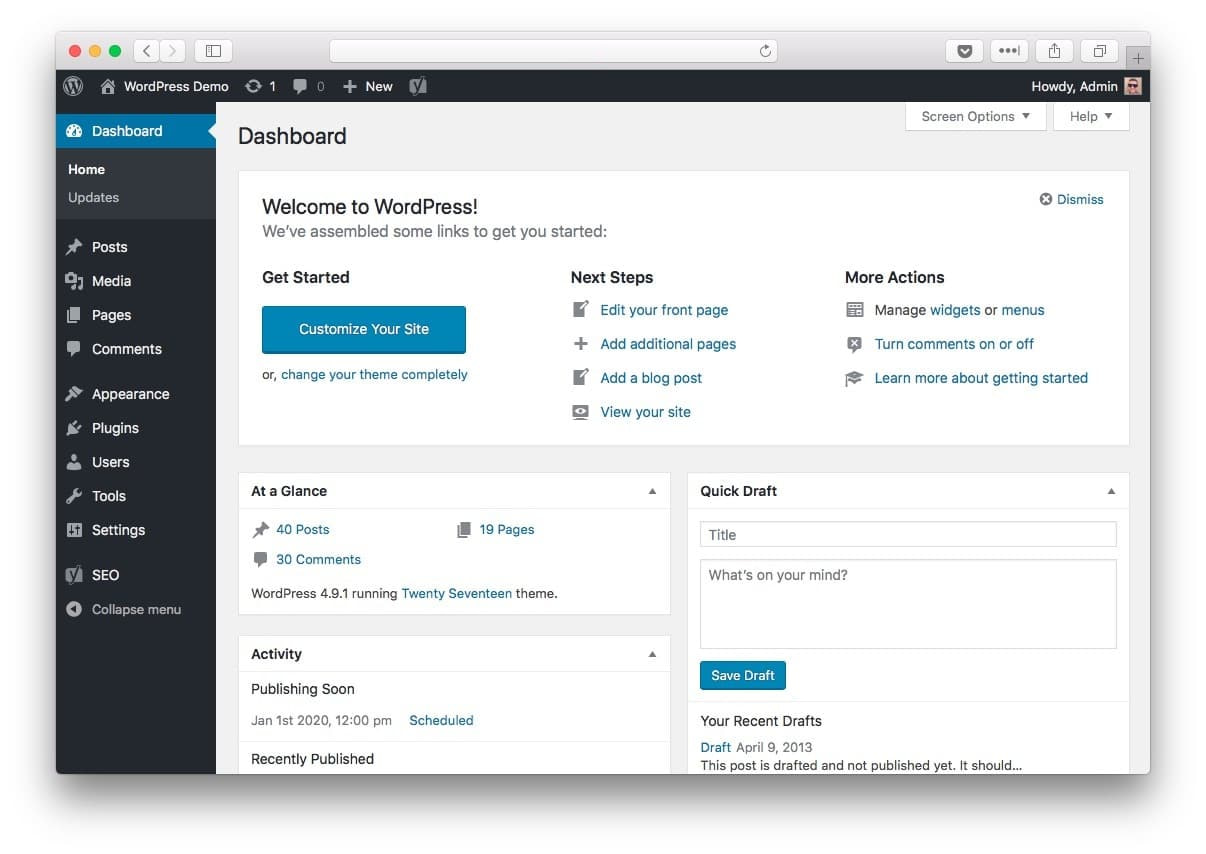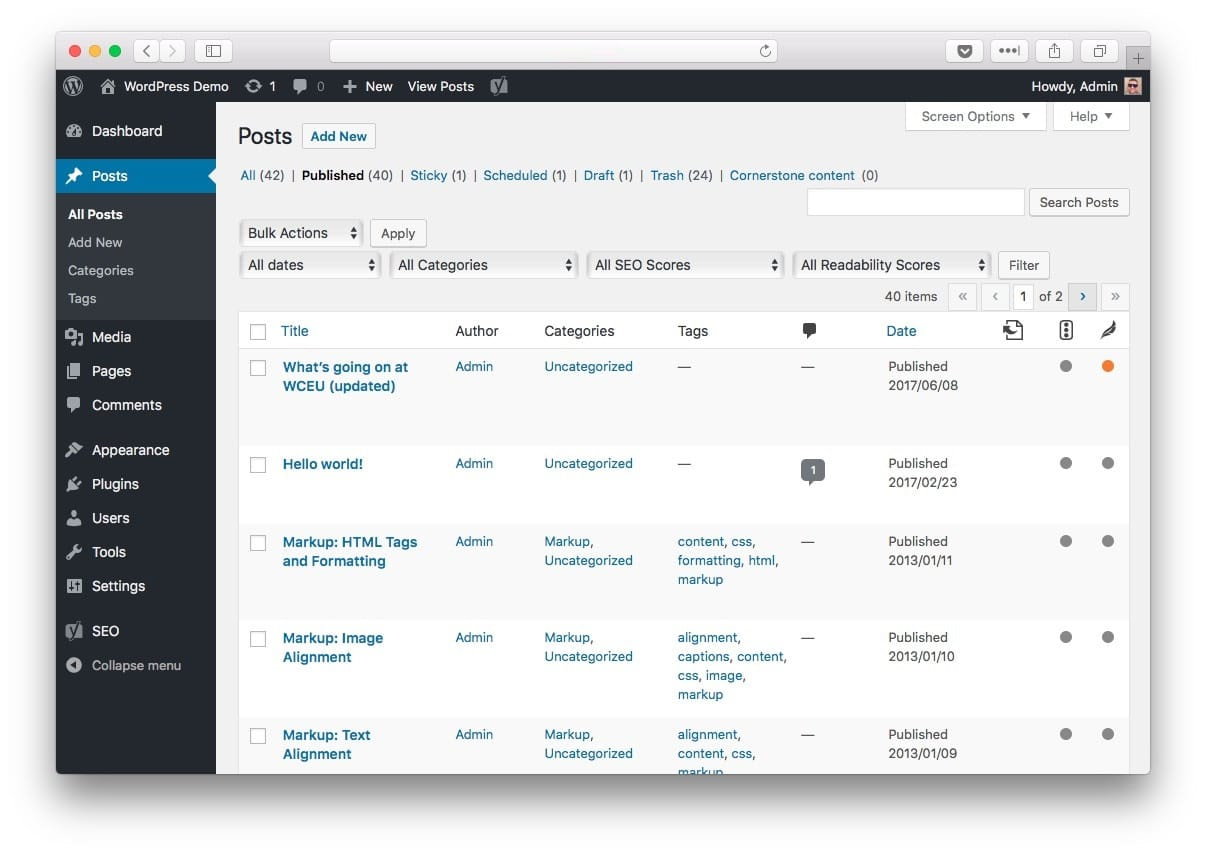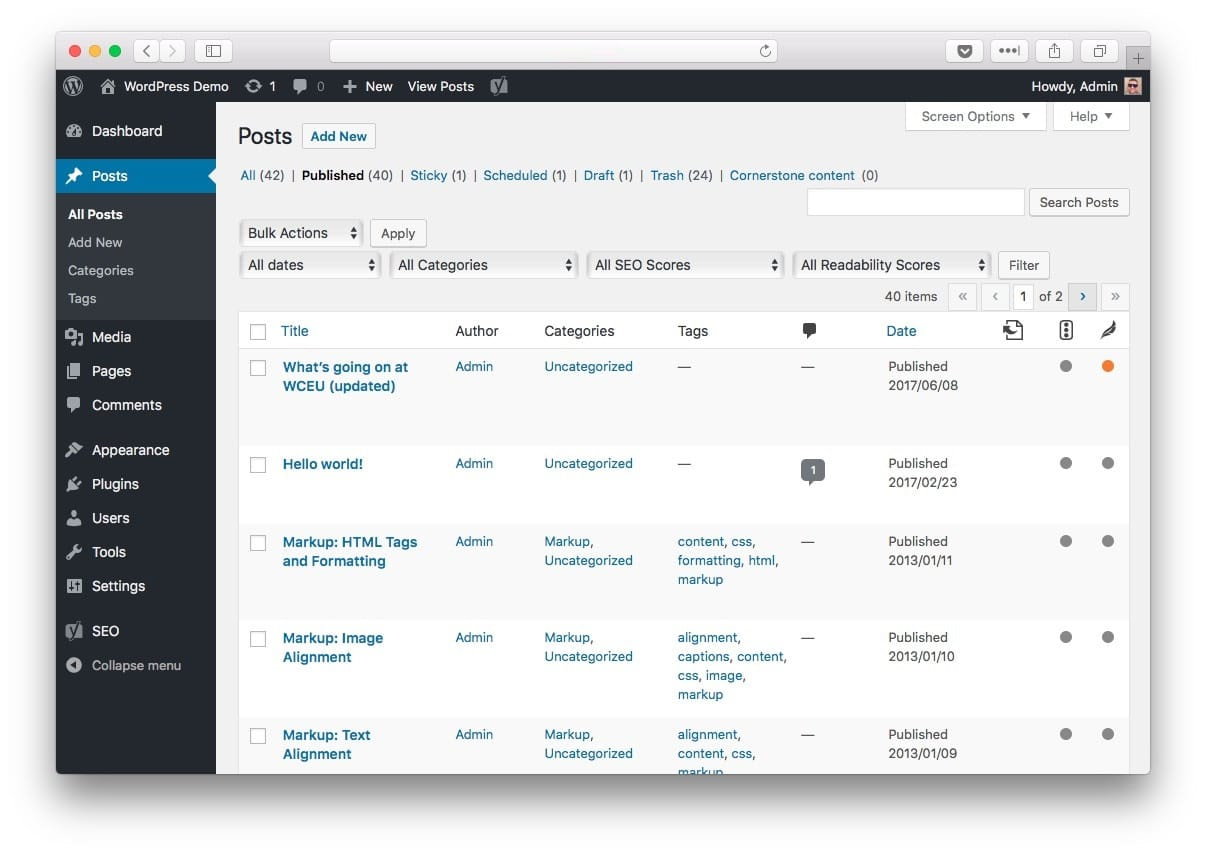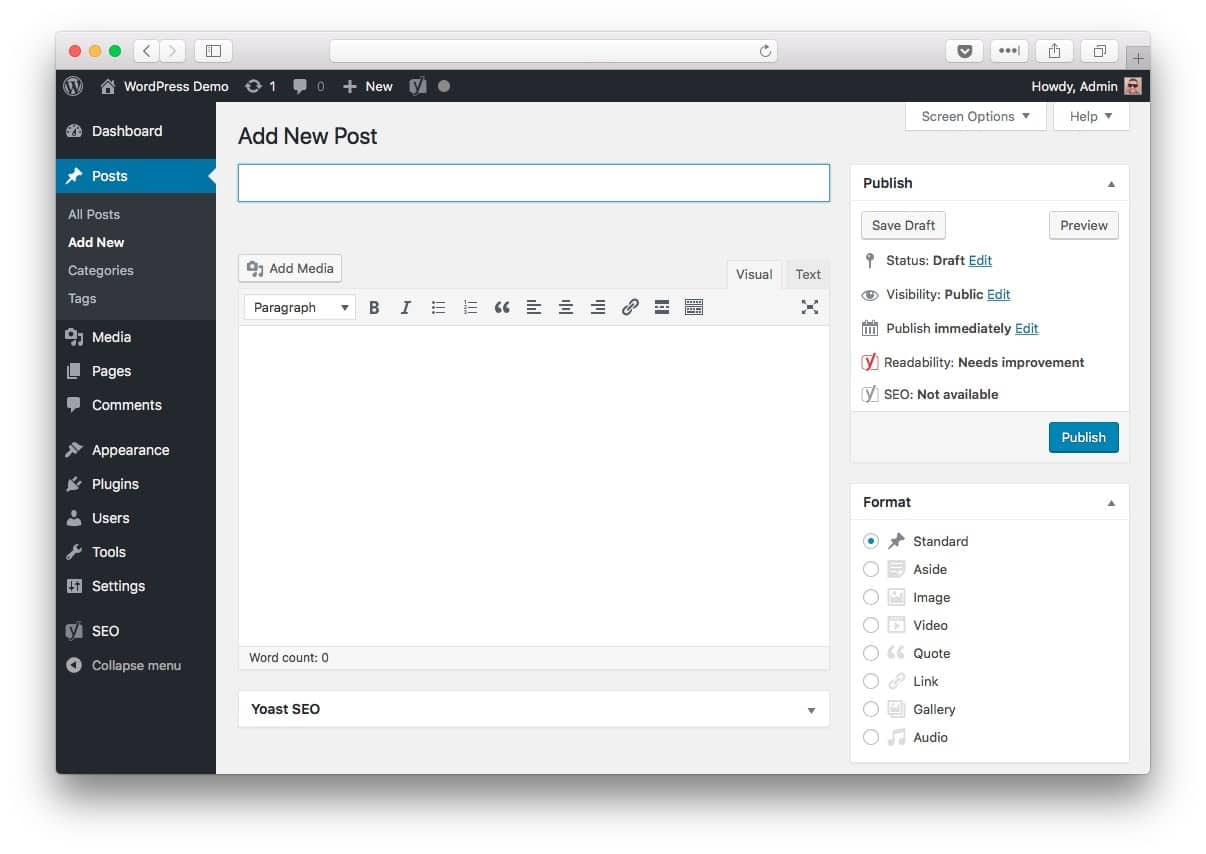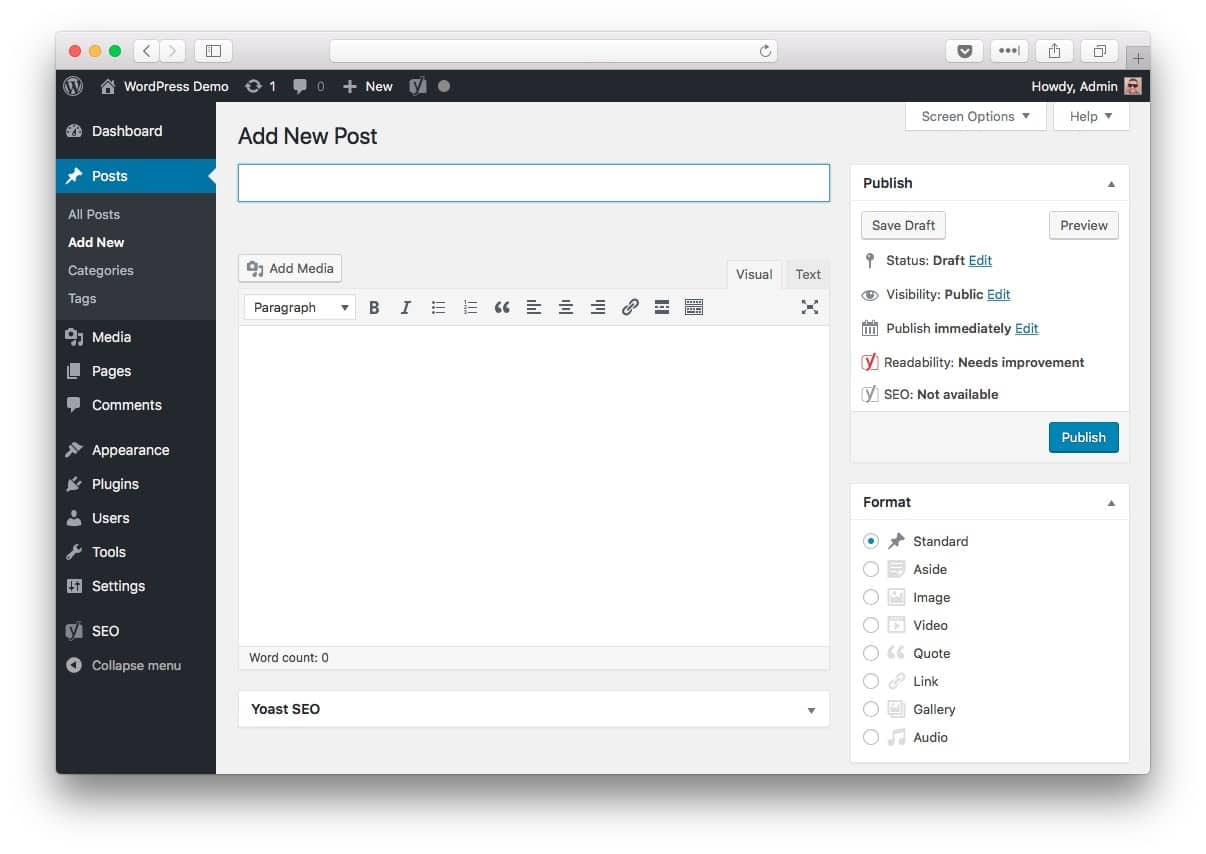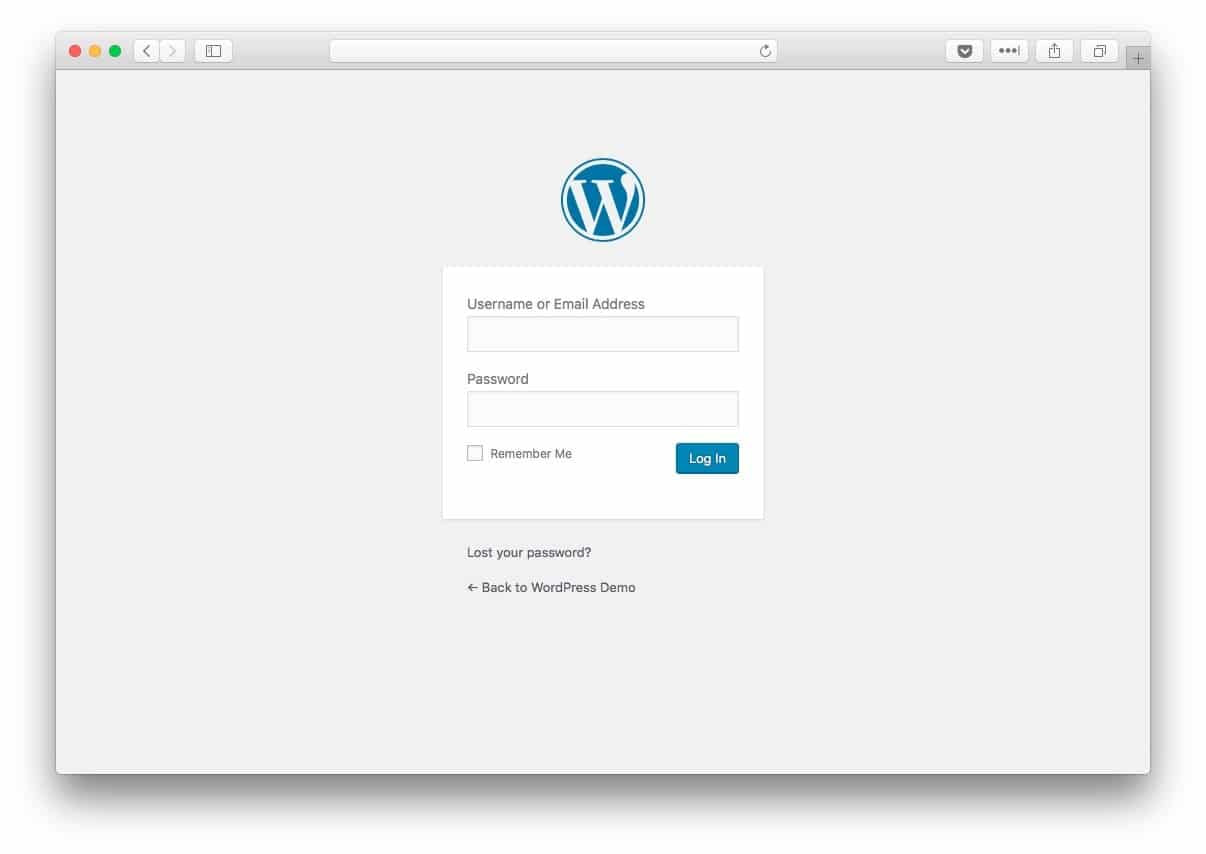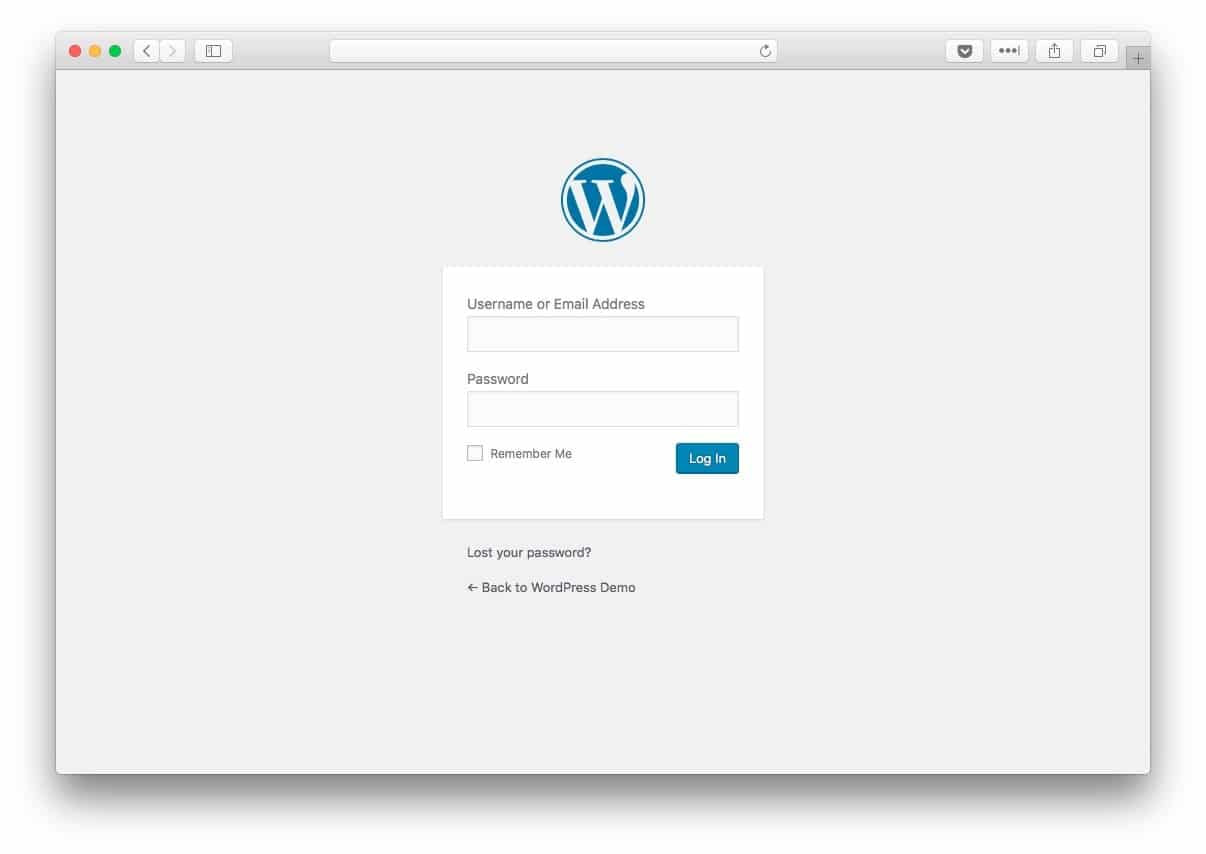 WordPress 5.0 "Bebo" – December 6, 2018
Release post. Finally, the big milestone in WordPress evolution! This new WordPress 5.0 version brought us the highly-hyped block editor called Gutenberg.
WordPress 5.0 DASHBOARDWordPress 5.0 MANAGEWordPress 5.0 WRITEWordPress 5.0 LOGIN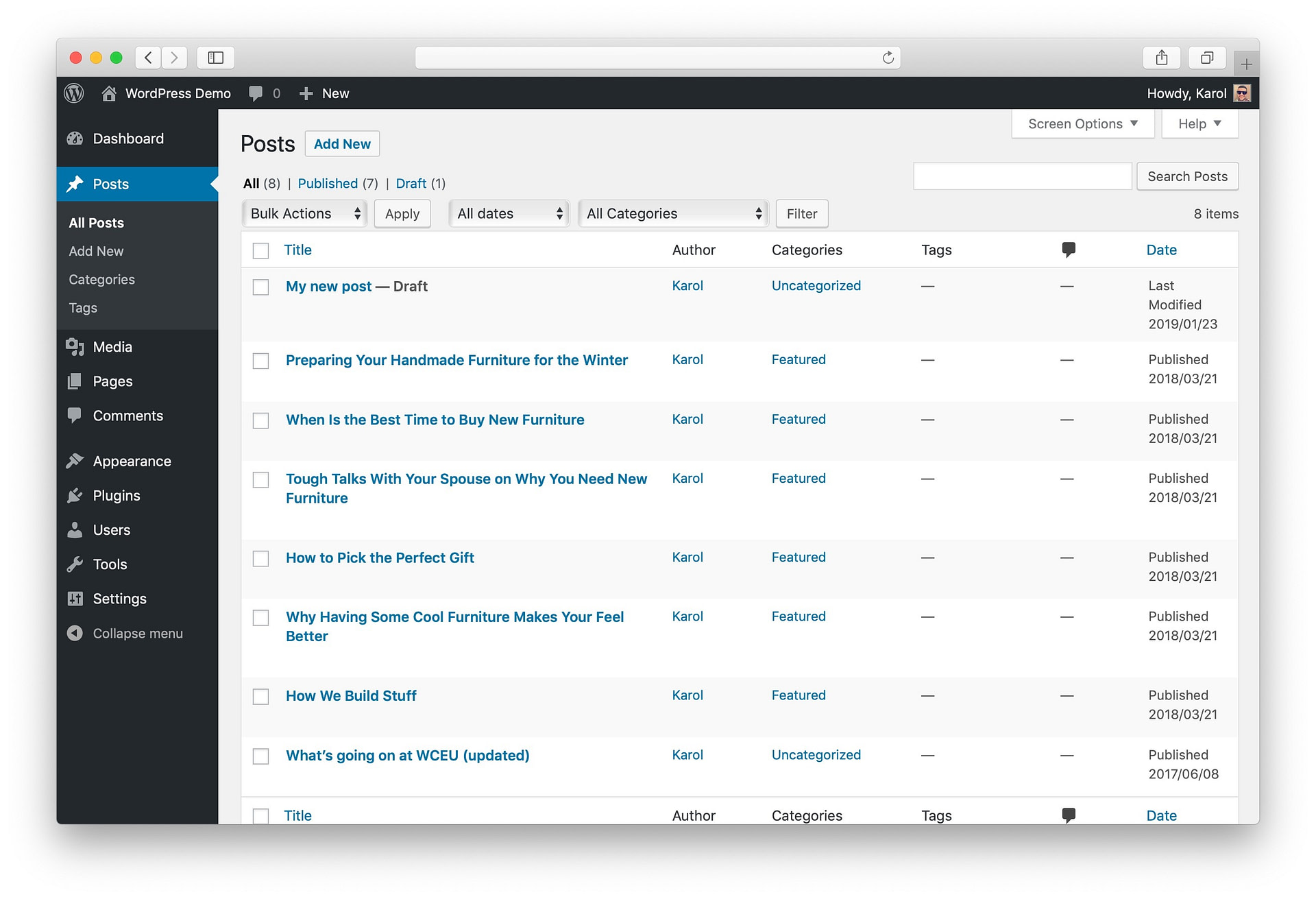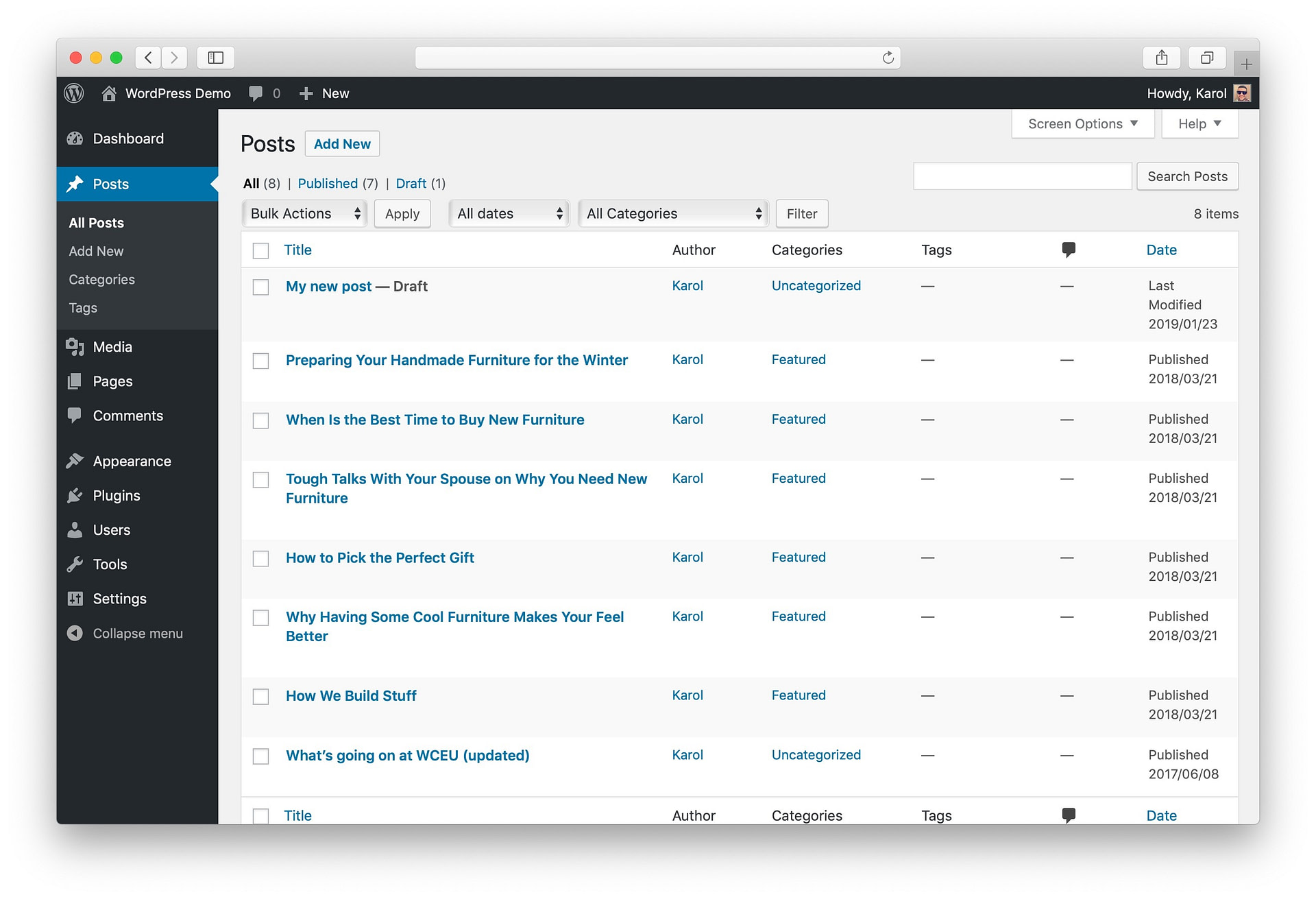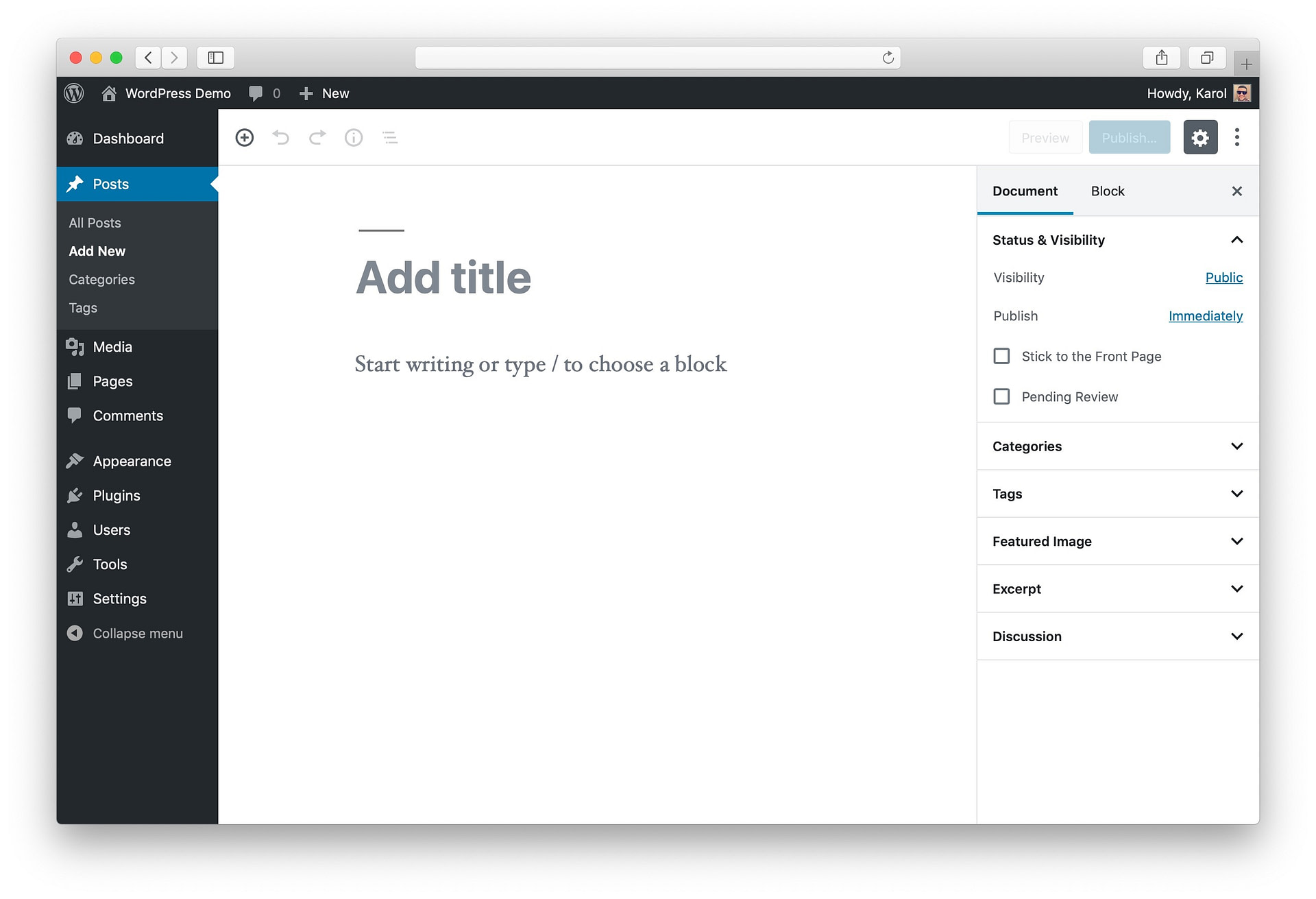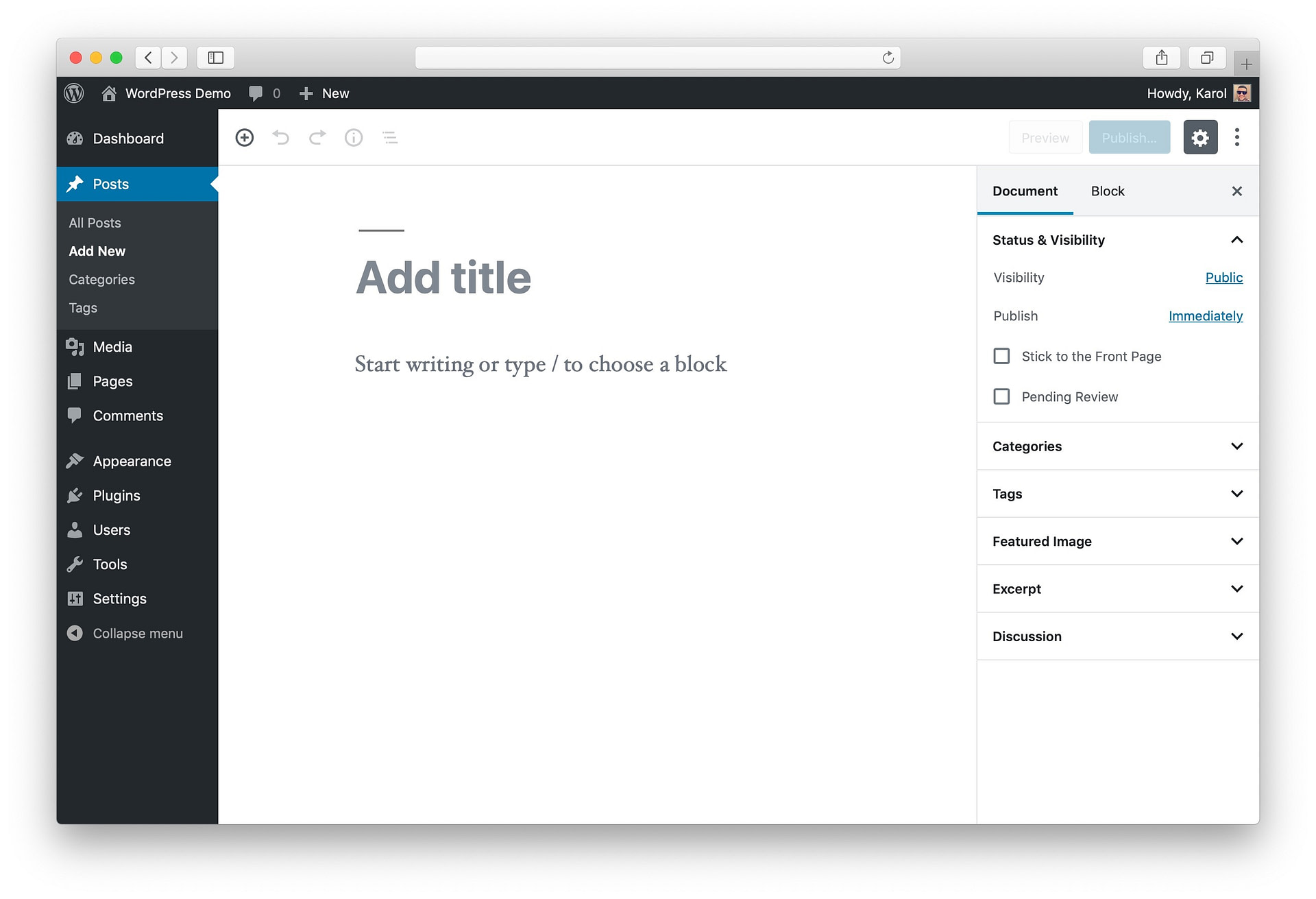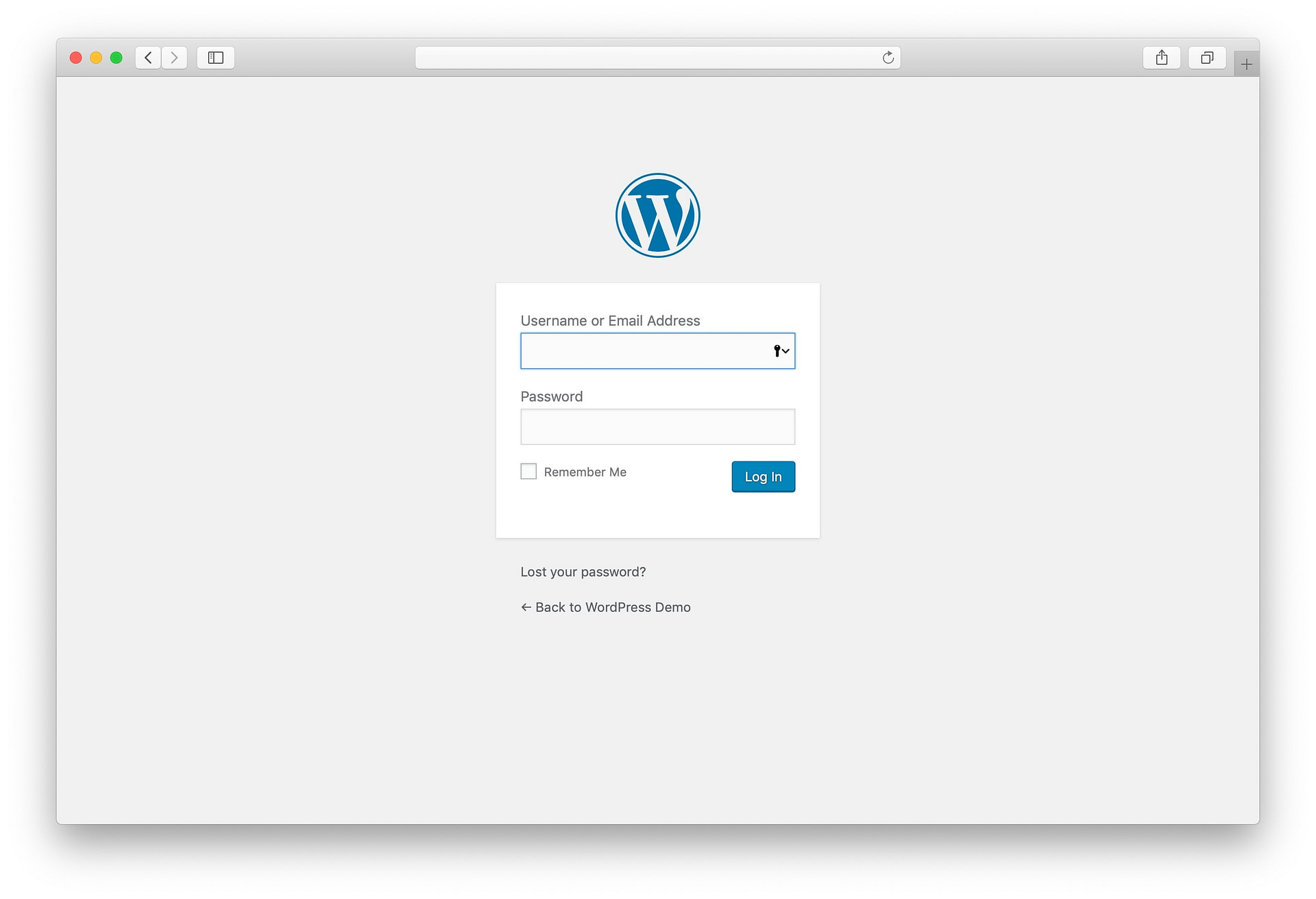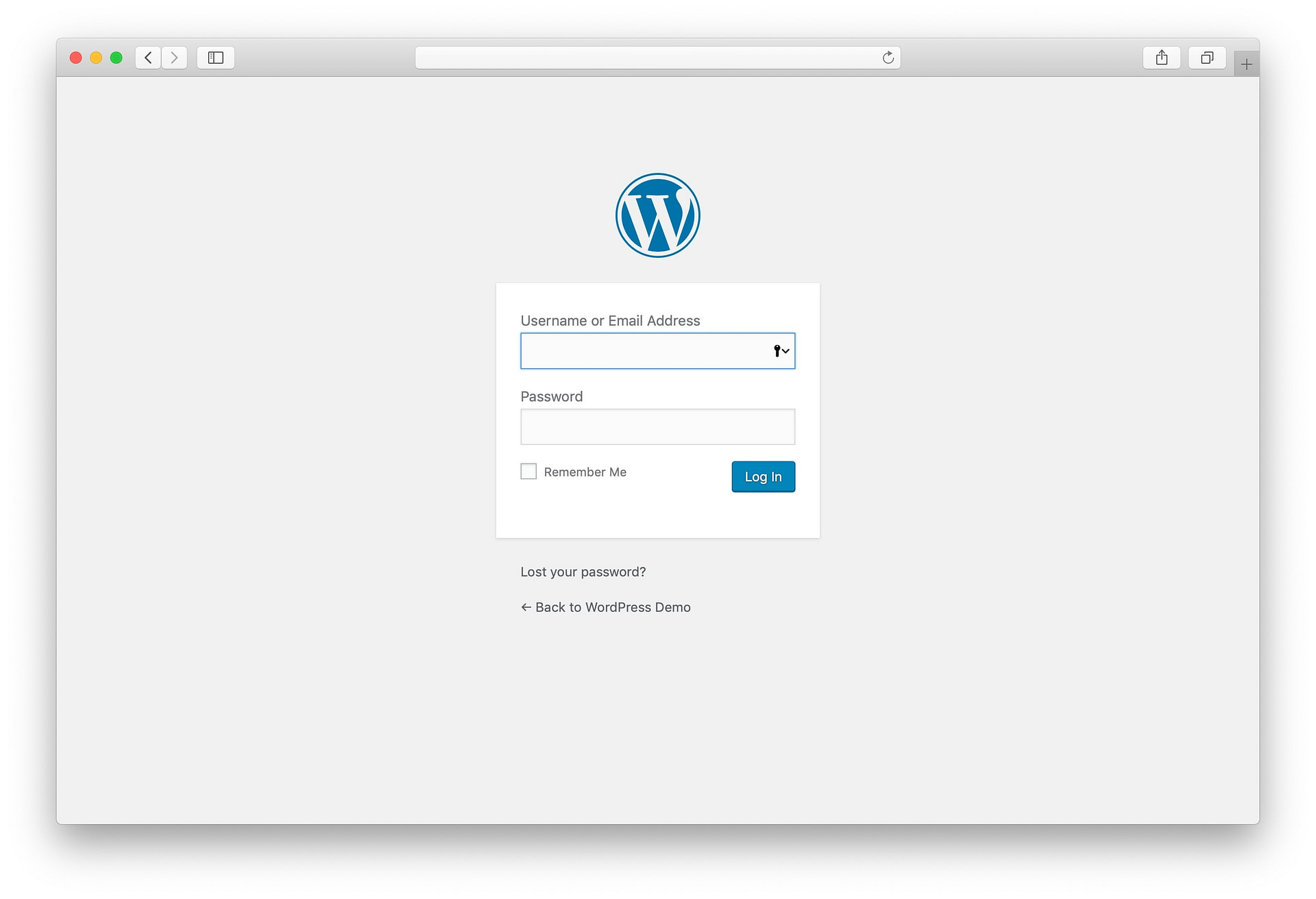 Go to top
What to expect next?
I wonder what WordPress will look like in another 5, 10, 15 years. Where do you think the evolution of WordPress UI will take us next? Feel free to share in the comments.
The Evolution of the #WordPress #UI (2003 to now) 📃📃📃
Click To Tweet
…
Don't forget to join our crash course on speeding up your WordPress site. With some simple fixes, you can reduce your loading time by even 50-80%: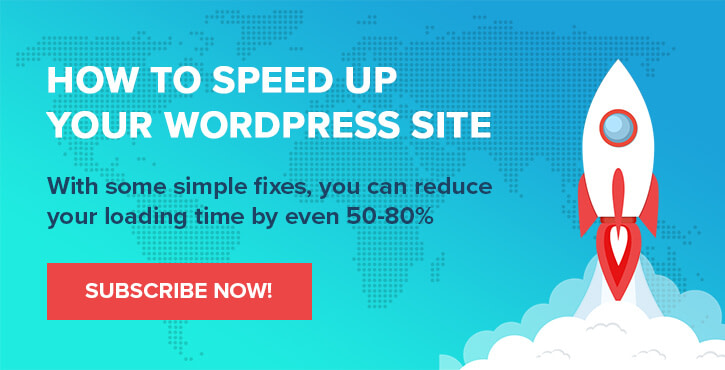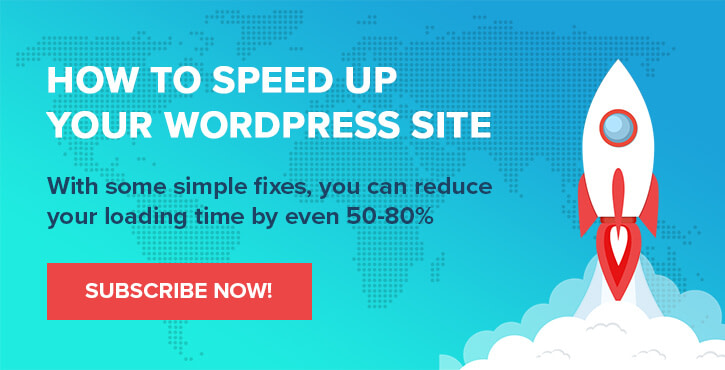 References [1]
https://www.codeinwp.com/blog/wordpress-statistics/
Was this topic
helpful?
0% of users found this helpful