Choosing the right eCommerce platform for selling WordPress plugins and themes can be a difficult decision. There are quite a few platforms available for WordPress businesses to sell their products, and each one has different features that can have a big impact on conversion rates and your bottom line. Making the right decision requires a fair amount of research and comparison of the different platforms available.
Luckily, we've done a lot of that research for you and ranked them based on what we believe are some of the most important factors to consider. Here's what's to come:
Sell #WordPress #plugins / #themes? Here's EDD vs Freemius vs Gumroad vs WooCommerce 🤜 🤛
Click To Tweet
This is a guest contribution by Brandon Ernst.
♟️ The four candidates: EDD vs Freemius vs Gumroad vs WooCommerce
The four platforms we're comparing are some of the most well-known in the WordPress community, but let's start with a quick description of each one so we're all on the same page.
Easy Digital Downloads (aka EDD) is a self-hosted eCommerce platform made up of a free core WordPress plugin and tons of extensions that allow you to sell and license pretty much any digital product. It was built to sell all types of digital products.
Freemius is a managed eCommerce platform built specifically for selling WordPress plugins and themes – I.e., It handles everything from subscription payments and licensing to transactional emails and affiliation options, while ongoing maintenance and updates are handled by Freemius.
Gumroad is an eCommerce platform for artists and creators who want to sell digital and physical products. It is possible to license software using their platform, as well as many other useful features for creators of all kinds.
WooCommerce is the most widely used free eCommerce plugin in the WordPress ecosystem, and it's built for selling both physical and digital products. Like EDD, selling subscription-based licenses for WordPress plugins and themes is possible by purchasing WooCommerce add-ons.
| | EDD | Freemius | Gumroad | WooCommerce |
| --- | --- | --- | --- | --- |
| | | | | |
| Pricing | Base plugin is free, with add-on extension costs of between $99 – $499 per year. | 7%-27% revenue share based on your lifetime sales volume (more details below). | Mixed ($10/month + 3.5% of sales + 30¢ per transaction OR 8.5% of sales + 30¢ per transaction) Discover sales add 10% to revenue share. | Free base plugin extension costs of $129+/year. |
| Self-hosted or Managed | Self-hosted. | Managed. | Managed. | Self-hosted. |
| Development / maintenance | Extensive customization optional (recommended to optimize conversion rates). Maintenance required. | 5-min WordPress SDK integration recommended to begin selling your WP product. All other features ready out-of-the-box with some customization options. | API integration required. All other features ready out-of-the-box with some customization options. | Extensive customization optional (recommended to optimize conversion rates). Maintenance required. |
| Perfect for | WordPress businesses that want to set up their own eCommerce platform and fully customize their solution. | WordPress businesses of all sizes that want a quick and full-featured solution to sell and license WordPress plugins and themes. | Artists, designers, and developers that create digital assets of all kinds. | WordPress businesses that want to set up their own eCommerce platform and fully customize their solution. |
Now, let's go through each of these platforms and compare the main components. Since pricing is one of the biggest components to consider, we'll go with that first.
💰 Pricing
Here's what other people won't tell you – each platform has a different set of priorities that are illustrated by their pricing models, which can be split up into two categories: self-hosted plugin with paid add-ons (updates and support for the platform come with an annually recurring fee) and revenue-sharing SaaS (the platform takes a share of sales).
EDD and WooCommerce, who charge upfront for their plugin extensions and require a recurring annual subscription for updates and support, don't have a real incentive to ensure their customers business success – they make the same revenue from subscription renewals regardless of the business size or success. Although these platforms may seem much cheaper in the long-term compared to revenue sharing platforms, you'll have to take care of hosting, development, and ongoing maintenance to get the platform set up and running properly. This takes a lot of work and responsibility (time = money) and can take away from other priorities you have in starting or managing a WordPress product business.
Revenue sharing platforms have a direct incentive to help your business grow because the revenue sharing model ties the platform's success to yours. This means they often provide some kind of marketing support to help you grow your revenue, since lost sales means lost revenue for both the seller and the platform. Additionally, platform maintenance and upgrades are their responsibility, so you don't have to self-host or install anything on your own server – far less maintenance.
Now, let's break down the pricing of each platform and see which plans work for your business.
EDD
EDD's platform is structured into four bundles of extensions, with the core EDD plugin being free. EDD's Personal Pass starts at $99 per year and includes access to some of their more basic extensions that offer only part of the functionality of a full-fledged software licensing solution. If you want the ability to integrate with more than just "standard payment gateways", you'll need to upgrade to the Extended Pass at $199 per year.
If you want to license a digital product (like a WordPress plugin or theme), you'll need the Professional Pass at $299 per year. Their All Access Pass offers unlimited access to all EDD extensions for $499 per year, which includes a lot of customization options that could be extremely valuable for your plugin or theme shop, so it's most likely you'll eventually want the All Access Pass if you want fully take advantage of everything EDD has to offer. All fees mentioned so far are up-front, without any free trials, and renew annually. Refunds are allowed up to 30 days after purchase on the 3 smaller plans with a justification and refunds are not allowed for the All Access Pass.
For plugin and theme businesses, the minimum cost for a software licensing solution with EDD that supports subscriptions is $299 a year. In theory, renewal is only necessary if you want ongoing updates and support. In practice, if you are running a business you wouldn't want to miss the latest security updates and bug fixes, so renewals are essential.
Freemius
Getting started with Freemius is completely free. Once you've made your first sale, Freemius pricing is a 7% revenue-share after crossing $5,000 in lifetime gross sales. Until you hit $5k, you'll pay 27% commission on the initial $1,000, and between $1,000 to $5,000, you'll pay 17%.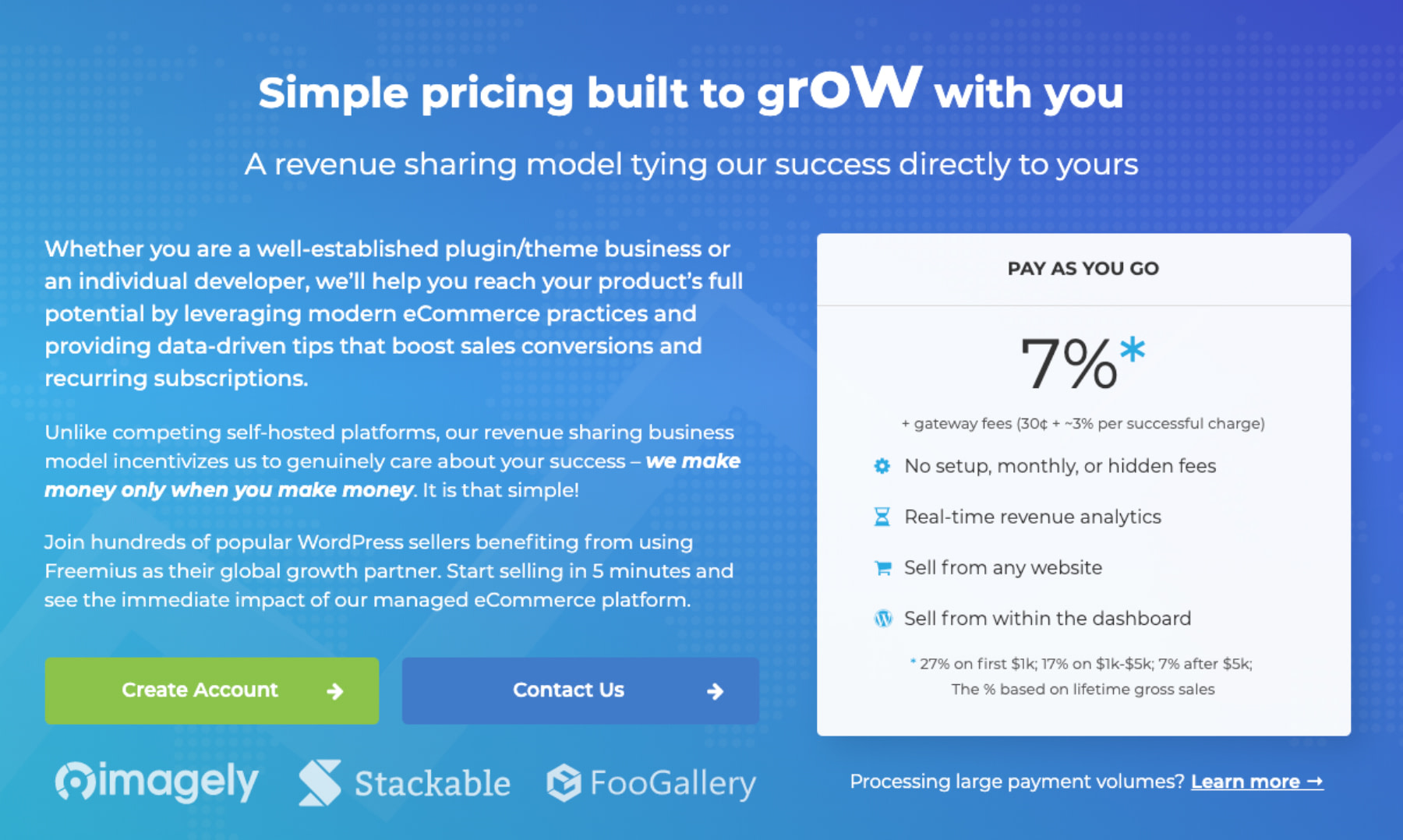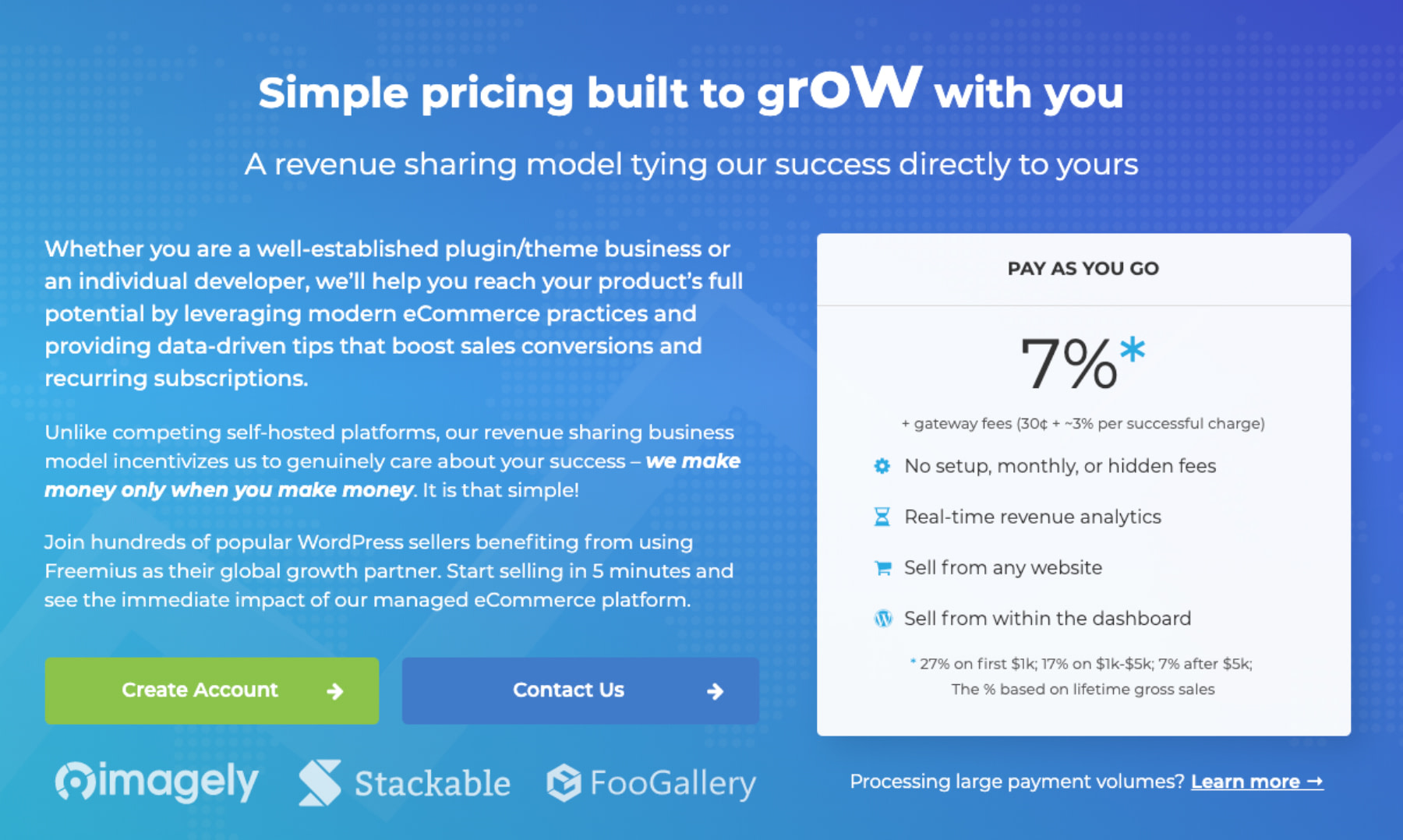 Although the Freemius revenue share may seem high, you gain access to a team of people incentivized to help you succeed. Additionally, some features of the Freemius platform, like automated cart abandonment recovery emails, have alone proven to increase revenues for sellers by 7.5% or more, which more than covers the cost of using the platform. After one year, many sellers report doubling their revenue because of all the useful marketing tools built into Freemius.
Additionally, there are a variety of ways Freemius supports WordPress plugin and theme businesses selling through the platform, including personalized marketing consultation, instructional guidance on best practices for selling WordPress plugins and themes, and other advice that can help you increase conversion rates. Freemius is constantly optimizing their platform with features that increase the likelihood of buyers completing the checkout process. Another little way they help sellers is through the We Got Your Back Club – more details explained in the support section below.
Gumroad
Gumroad's fees are a bit complex and not very transparent. We were able to dig up an overview of their mixed pricing model. Basically, there are 3 options. You can use Gumroad for free or use Gumroad Premium. Then, you can add Gumroad Discover to either of those packages.
Gumroad's free plan has fees of 8.5% + 30¢ per transaction.
Gumroad Premium is $10/month or $108/year and offers additional features you can find on the link above. If you are a Gumroad Premium subscriber, your transaction fees go down to 3.5% + 30¢ per transaction.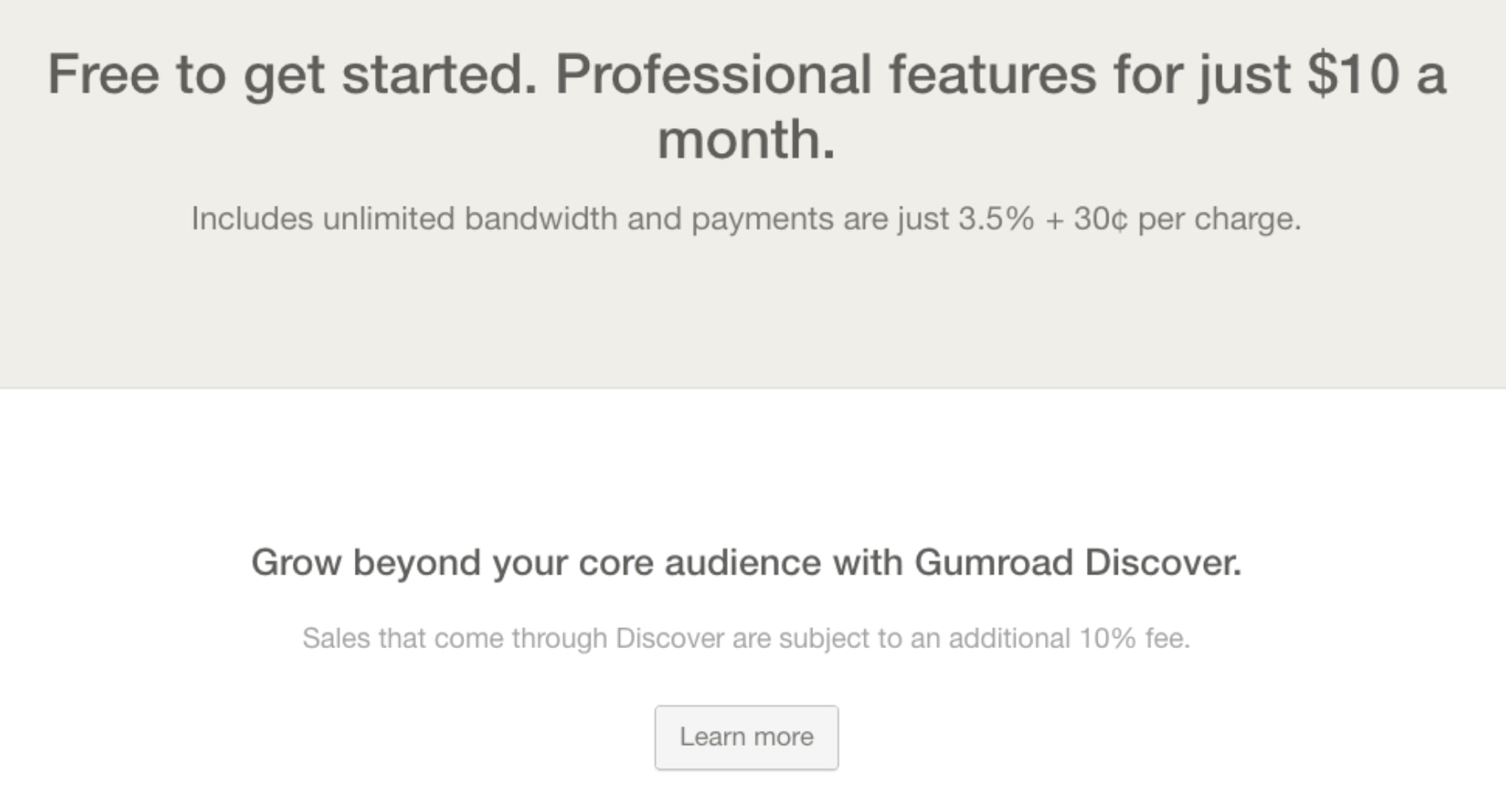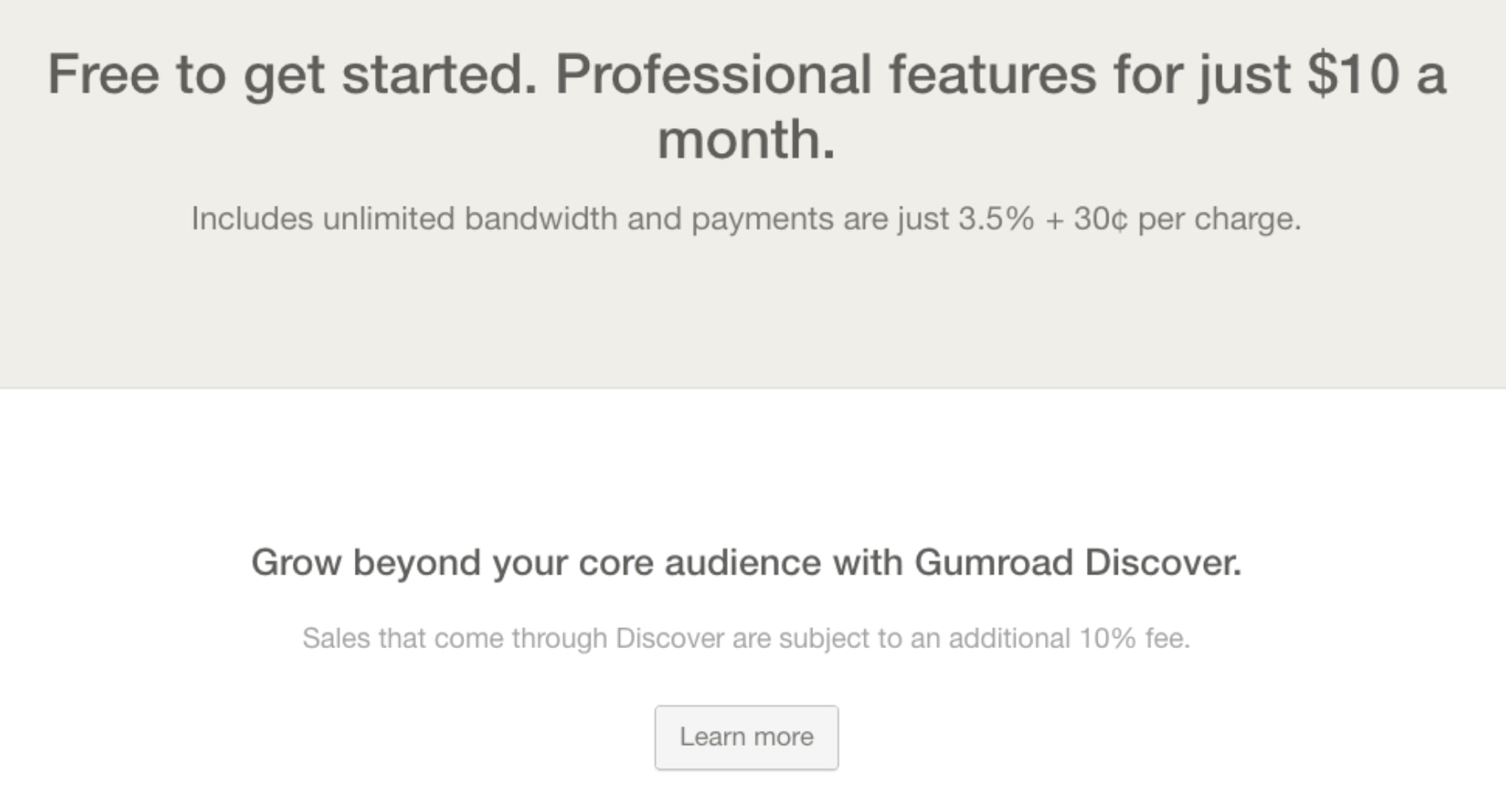 Gumroad Discover adds a 10% transaction fee for sales that come through the Discover program. Gumroad's Discover program offers marketing benefits by upselling your product to Gumroad customers who have purchased similar products, and by providing you with a product listing on the Discover marketplace. Sales through other channels don't have the 10% Gumroad Discover fee.
It seems that WordPress plugin and theme sellers can use any of the plan combinations, and it probably wouldn't hurt to try Discover if you choose to sell with them.
Gumroad has an official plugin on the WordPress.org repo that should make the integration a bit easier, though it seems it is not very actively maintained, hasn't been tested with the latest 3 major releases of WordPress, and is only active on less than 2,000 sites.
WooCommerce
WooCommerce pricing is similar to EDD's in that it's a free core plugin with paid extensions. To sell subscription-based licenses for WordPress plugins and themes, you'll need the WooCommerce Subscriptions and API Manager extensions, at $199/year + $129/year respectively (both are 1-site licenses). For additional features that will help you automate your marketing processes to continuously grow your user base and build an ongoing revenue stream, you'll have to add a significant number of extensions or add-ons from 3rd parties, such as AffiliateWP for an affiliate platform.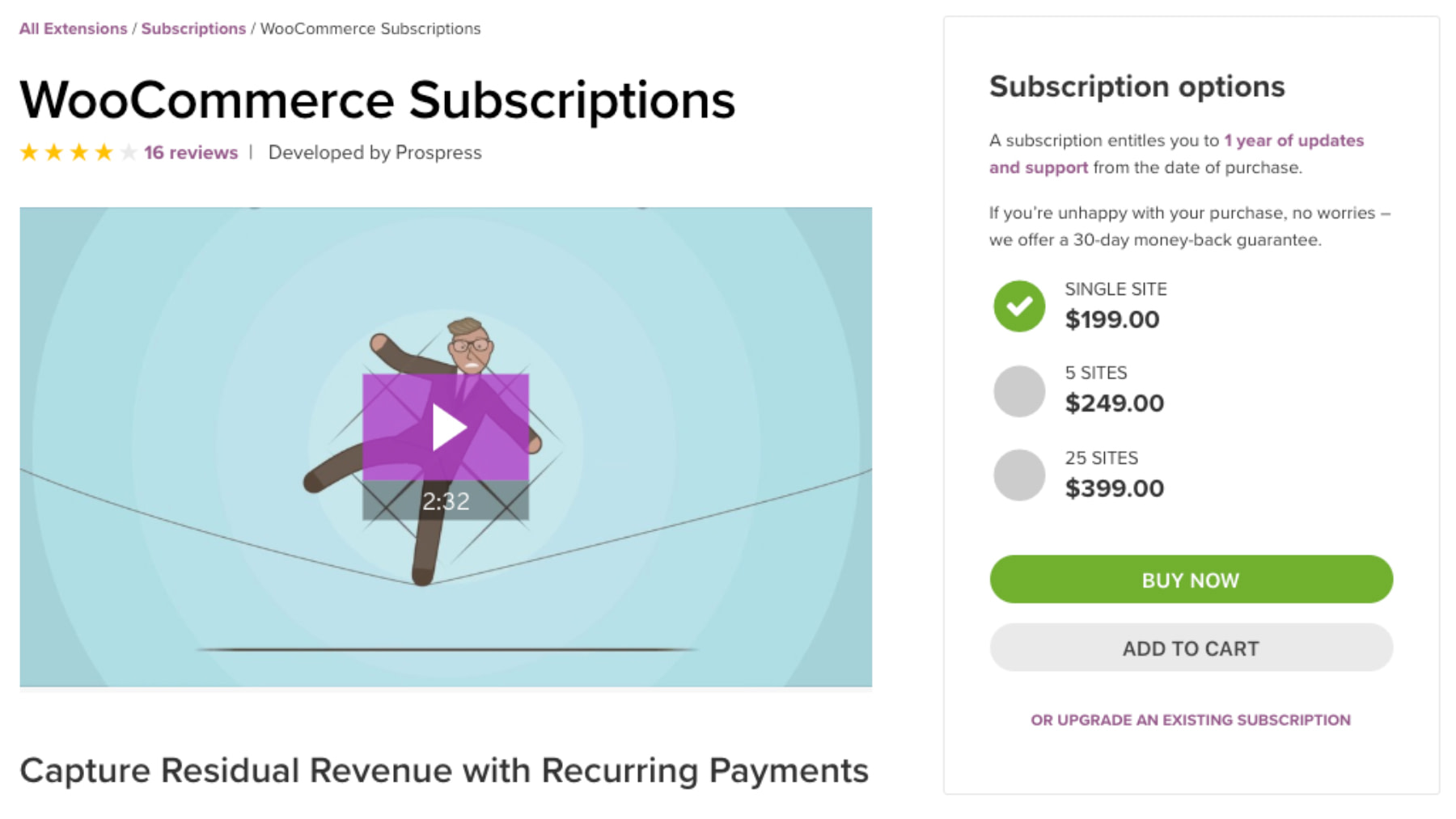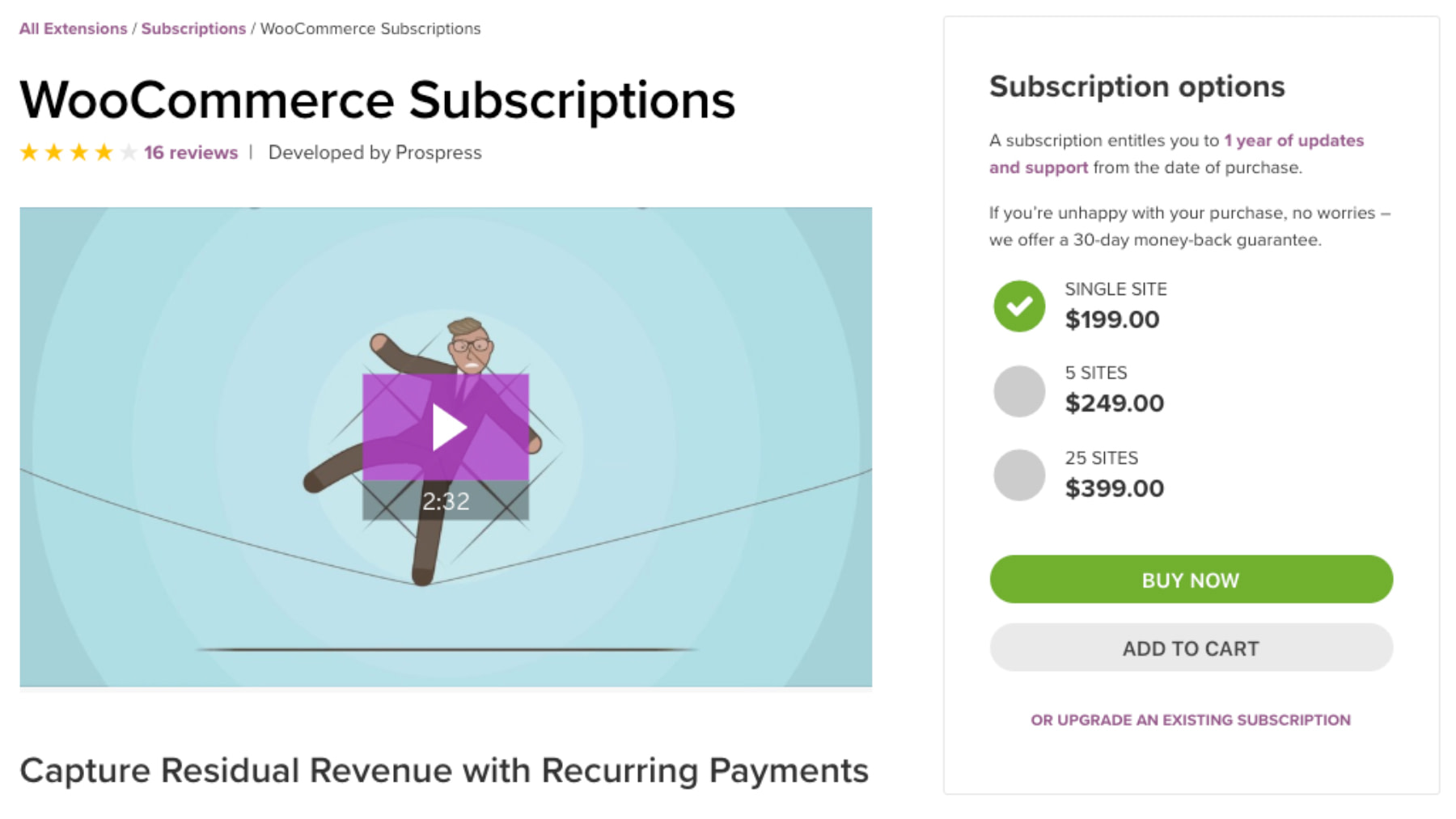 The pricing verdict
Let's keep in mind a few points when it comes to the pricing:
Revenue sharing SaaS platforms (Freemius and Gumroad) have an incentive to help you build your revenue year over year.
Self-hosted platforms collect money up-front and only offer support for using their platform, not helping your business be more successful. At the same time, those platforms also allow you to sell other types of digital products, not just WordPress theme and plugin licenses.
Revenue-sharing platforms collect money when you make a sale (except for Gumroad's Premium package), which is often better for startups or developers with a low budget.
SaaS eCommerce platforms like Freemius and Gumroad save hours of development and maintenance on the backend because they manage everything.
When we're looking at pricing, we're only considering platform-related expenses, not expenses related to other areas of your business, like the cost of marketing, etc. It's important to remember that the platform you choose can minimize your expenses later if the right features come out-of-the-box.
With EDD and WooCommerce, you have to pay up-front, wheres with Freemius and Gumroad, the pricing kicks in only when you make a sale (except for the Gumroad Premium plan)
Let's go through an example to help us figure out which platform has the best pricing for plugin and theme sellers. Let's assume you make $20,000 in revenue in the first 2 years after releasing your plugin or theme. Here's the total cost you'll pay for each platform in this situation:
| | EDD | Freemius | Gumroad | WooCommerce |
| --- | --- | --- | --- | --- |
| | | | | |
| Upfront cost | $499 | $0 | $0 | $328 |
| Renewals | $499/year | $0 | Optional $10/month or $108/year | $328/year |
| Revenue share | None | 27% on first $1k; 17% on $1k-$5k; 7% after $5k; | Between 3.5% to 8.5% + 30¢ per transaction | None |
| Total cost ($20k in revenue 2 years) | $998 | $2,000 | $916 – $1,700 | $656 |
| Plan | 2 years of All Access Pass | Revenue share | Premium Plan and optional Gumroad Discover | Subscriptions and Software Extensions |
| Additional expenses | Payment gateway fees depend on selected gateway. Development of platform. | Payment gateway fees of ~ 3% + 30¢ per transaction. | 10% for all sales through Discover (not included in our calculations, as the program is optional). | Payment gateway fees depend on selected gateway. Development of platform. |
WooCommerce is the clear winner here, at $656 for a plugin business that makes $20,000 in revenue over 2 years.
However, the features WooCommerce provides within this price range won't let plugin and theme sellers achieve their full marketing potential. Quite a lot of add-ons and extensions will be needed to get features like automated cart abandonment recovery, dunning emails, and more. What I'm trying to say is that it will take a lot more work, setup, maintenance, and development of supplementary marketing strategies that are needed to make $20,000 selling plugins and themes with WooCommerce than it would take selling with other platforms.
Just for kicks, let's look at a plugin and theme business that is just starting and made $2,000 in its first 6 months.
| | EDD | Freemius | Gumroad | WooCommerce |
| --- | --- | --- | --- | --- |
| | | | | |
| Upfront cost | $499 | $0 | $0 | $328 |
| Renewals | $499/year | $0 | Optional $10/month or $108/year | $328/year |
| Revenue share | None | 27% on first $1k; 17% on $1k-$5k; 7% after $5k; | Between 3.5% to 8.5% + 30¢ per transaction | None |
| Total cost ($20k in revenue 2 years) | $499 | $440 | $170 – $178 | $328 |
* The prices above do not include gateway fees (except Gumroad – we included the 3.5% fee for all transactions in their pricing, but not the 30¢ per transaction in our calculations, as every seller will have a diff # of transactions regardless of platform).
It appears that in the long-term, WooCommerce remains the cheapest eCommerce platform relative to total revenue. However, Gumroad is the lowest cost option for plugin and theme sellers during the early stages of a business and for the first few thousand dollars in revenue. Gumroad and Freemius are both free to get started for startups that don't have a lot of capital (unless you go with Gumroad's premium plan, then you'll be paying upfront).
⚙️ Setup & implementation
EDD
Once you've purchased the EDD package that suits your needs, you'll need to download and configure the plugin along with all relevant extensions. Their documentation goes through the various shortcodes, features, customization options, theme/plugin compatibility issues, and server configuration options to be aware of.
Keep in mind that because EDD is a self-hosted solution, you're expected to set up your own payment gateway (which will have its own fees), and there will be other expenses involved in implementation, such as website hosting and development time to customize the platform. These expenses are required for any self-hosted eCommerce solution, which includes EDD and WooCommerce in this article. Depending on your long-term goals, EDD can actually be a very low cost solution to selling WordPress plugins and themes if you can do the development and customization of the platform yourself. Another great place to start would be their article on Setting Up Your First EDD Store.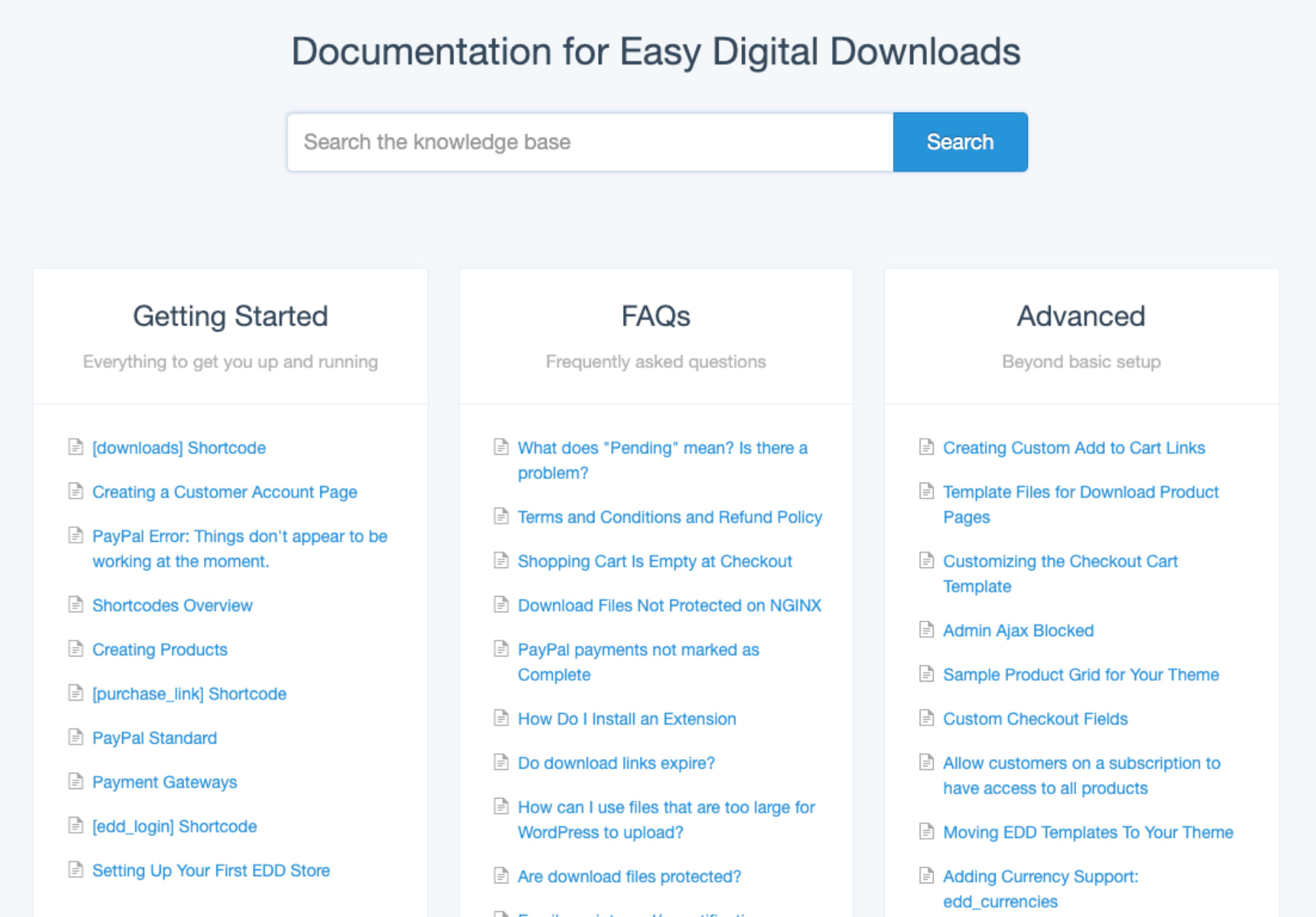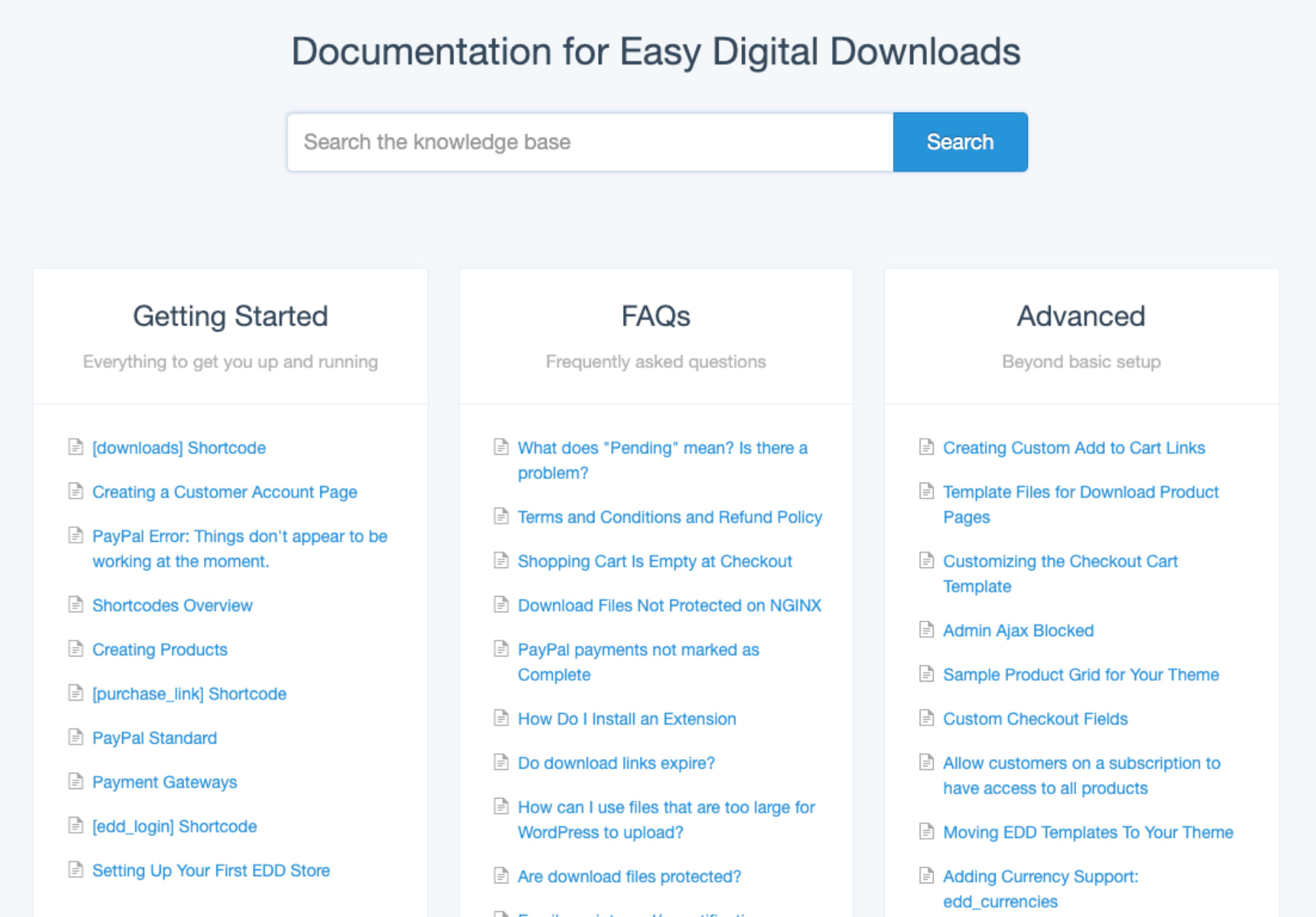 Freemius
The first thing you have to do is register an account on their website. To begin selling, go through their 5-min SDK integration process and create the first paid plan option for your product. After you've completed these first 2 steps, the Sellers Dashboard provides a link to your checkout page, which can be used immediately for selling your products.
Freemius also offers a Buy Button that you can put on your website and provides a modal checkout form. This is a really quick and easy way to get all the payments, licensing, and subscription functionality needed without a lot of customization and time investment. There are a number of other settings and features in the Sellers Dashboard that you can implement as well (details described in the Features section below).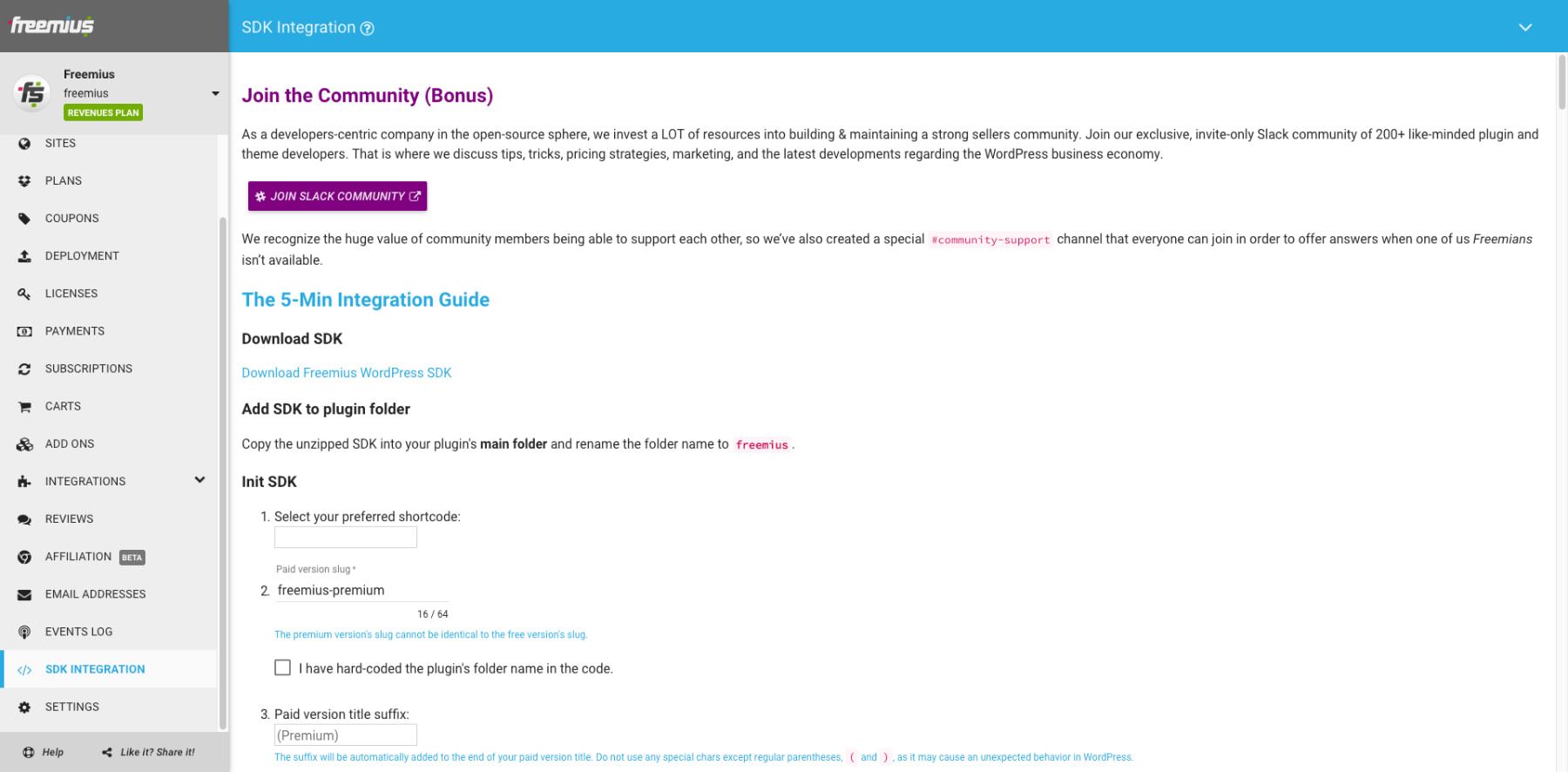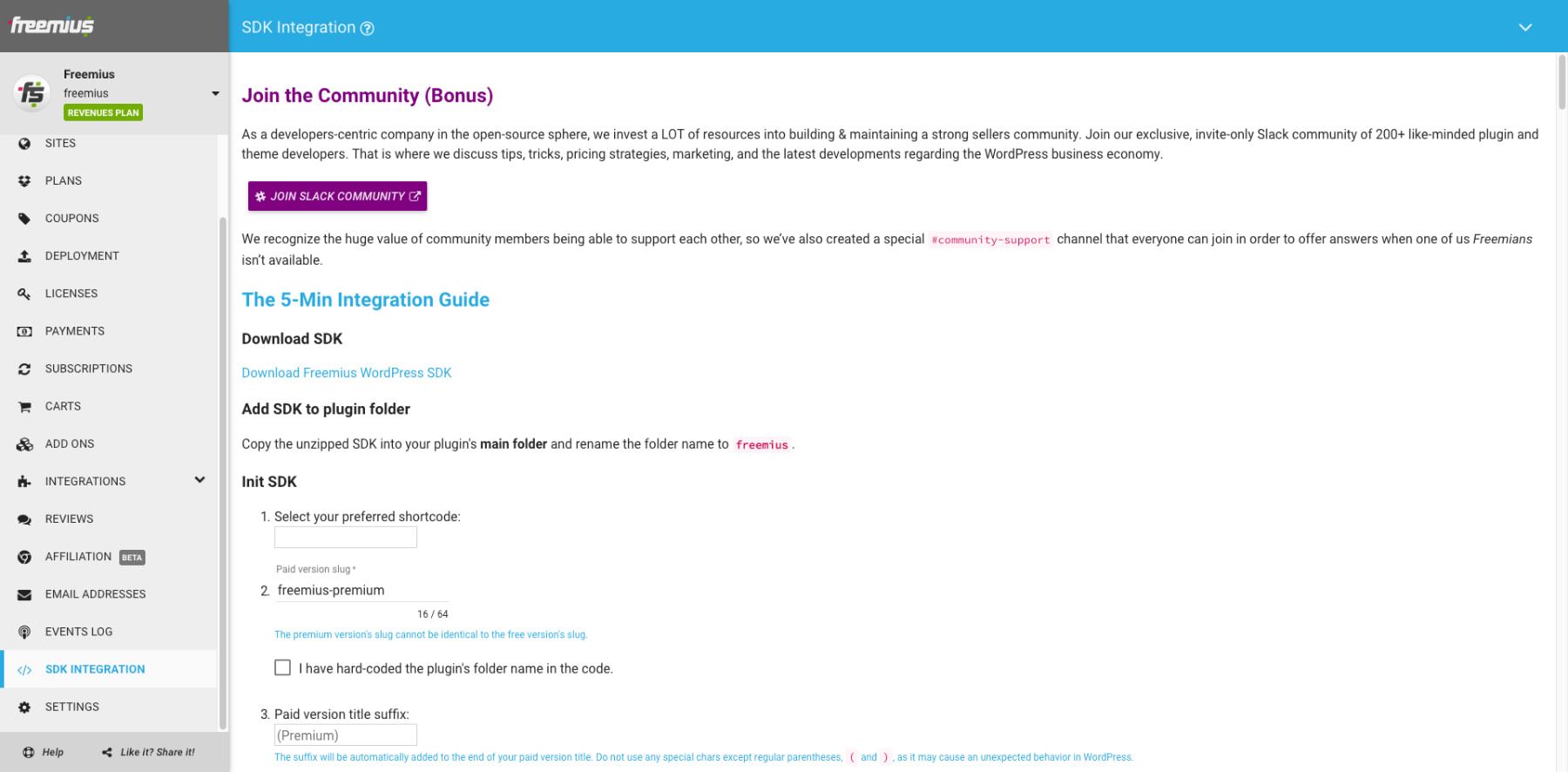 Of course, you'll need some kind of marketing strategy to utilize these tools effectively. You can start with a landing page or website, as well as follow some of these tips for startup plugin and theme businesses.
Strategic marketing and optimization of the sales process is what sets Freemius apart from other platforms in this article. Vova Feldman, CEO of Freemius, built the Freemius platform by implementing well-known and proven techniques for successfully selling plugins and themes. For example, if you have a free version of your plugin or theme on the WordPress.org repository, the Freemius SDK allows you to collect usage data, email addresses and more on these users so you can market your premium product or add-ons to these users in the future. Useful marketing tools like this allow you to make decisions based on actionable data and improve your marketing strategy.
Gumroad
Gumroad says they are "for independent writers, designers, software developers, musicians, artists, teachers, filmmakers, and anyone in-between." This means the onboarding process must be equally diverse and have options available for professionals in all those industries. Although we didn't go through their setup process for this article, we did find their Getting Started guide and an article on how to set up license keys for your software product on Gumroad. These guides will give you everything you need to know about adding your product, getting paid through their platform, and more.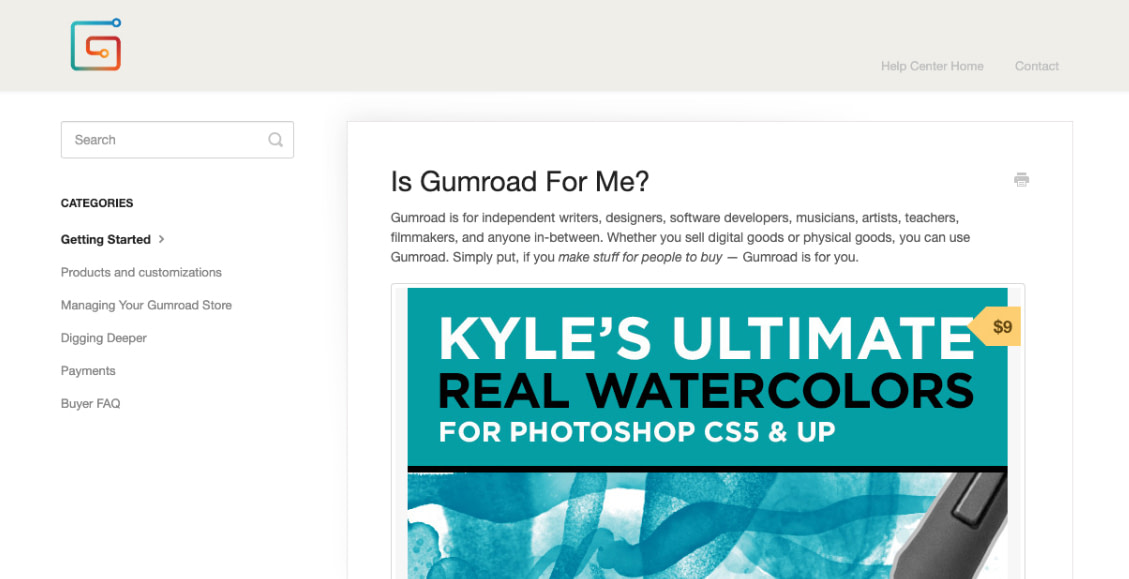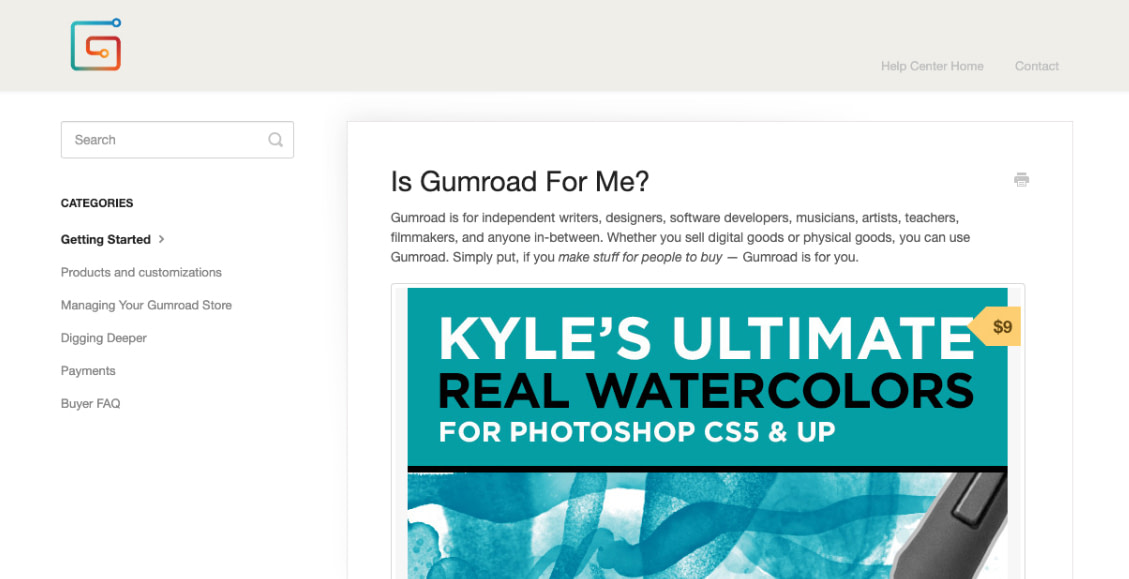 After setup, it's all about customizing the platform settings for your business needs, pricing model, and business strategy.
WooCommerce
WooCommerce has a super-useful 5 step setup process on their website, but I'll give you the high-level points right here 😉
Activate WooCommerce
Extend WooCommerce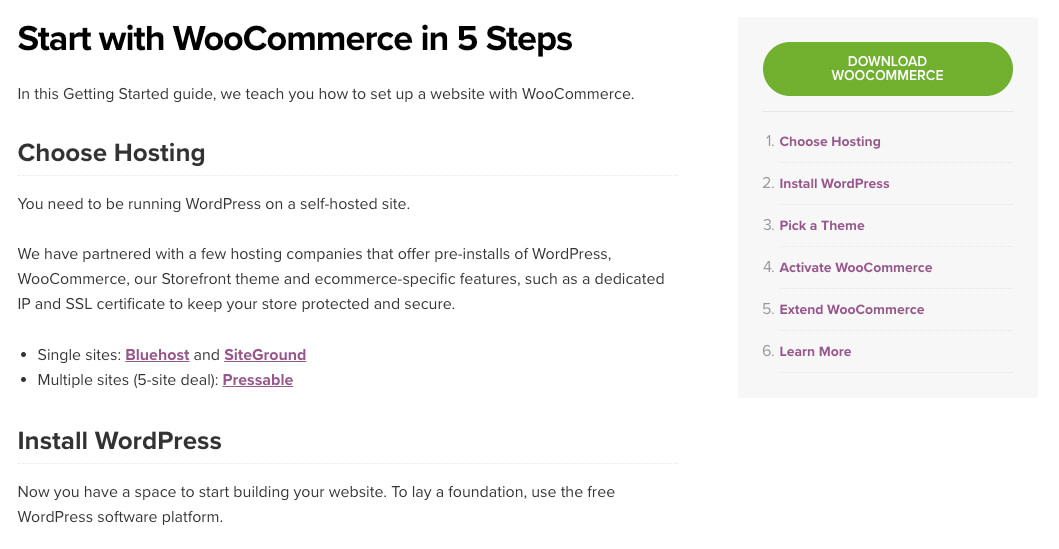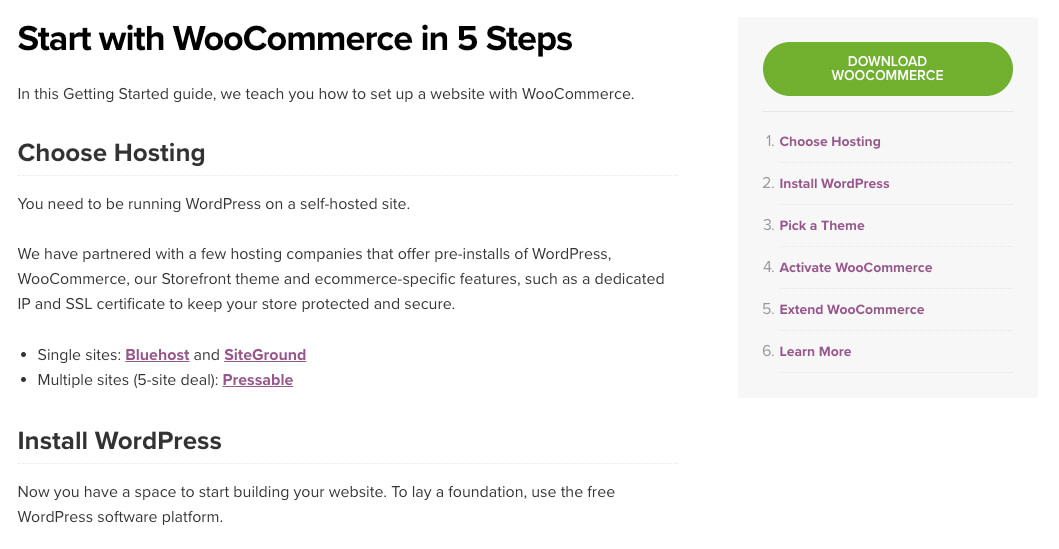 These are pretty standard steps for any self-hosted eCommerce platform and really everything you need to get started. You'll need to follow similar steps for EDD as well.
Who wins the setup & implementation contest?
Given the information above, we think the clear winner is Freemius on this front. The onboarding process has been recognized by many Freemius customers to be genuinely quick and easy. Their platform was built with the best practices for selling plugins and themes, and it's really meant for WordPress developers to go from 0 – 100 in selling their products.
This combination of factors makes Freemius the most useful platform for plugin or theme developers who want to become entrepreneurs in 5 minutes.
On a larger scale, well-established plugin and theme shops can use Freemius to increase their revenues, user base, and more by utilizing the automated marketing tools that are built into the platform (some of which just run in the background without any setup). Many large WordPress businesses have already migrated their entire selling platforms to Freemius and have seen significant increases in their conversion rates and revenues after doing so.
🔧 Customization
EDD
EDD is a highly customizable solution that will require attention to detail along every step of the way. Because it comes as a one-size-fits-all solution, you'll need to customize the look and feel of the front-facing aspects of the platform to help convey the message you want to send. This will take a significant amount of development and design if you want to have a custom eCommerce store that represents your unique brand. EDD recognizes that branding their platform is really important, so they have a Theming section of their docs to help you jump into it.
Aside from development and design, having full control over customization of the platform gives you tons of flexibility in the way you sell your WordPress products.
There are a wide variety of 3rd party extensions available that you can use to add almost any kind of functionality.
Keep in mind that each one might have a separate cost and setup process associated with it.
More 3rd Party Extensions on the EDD Website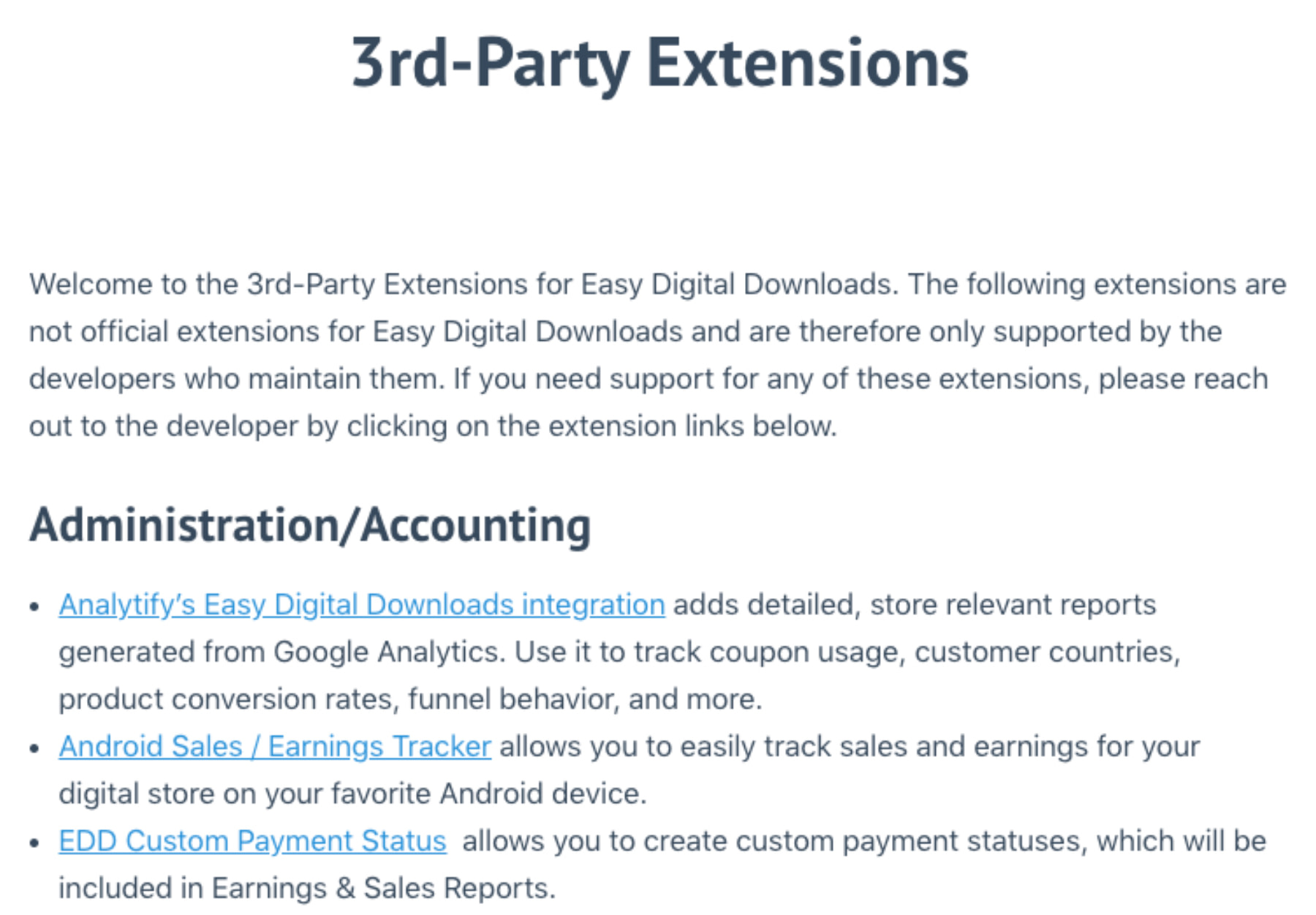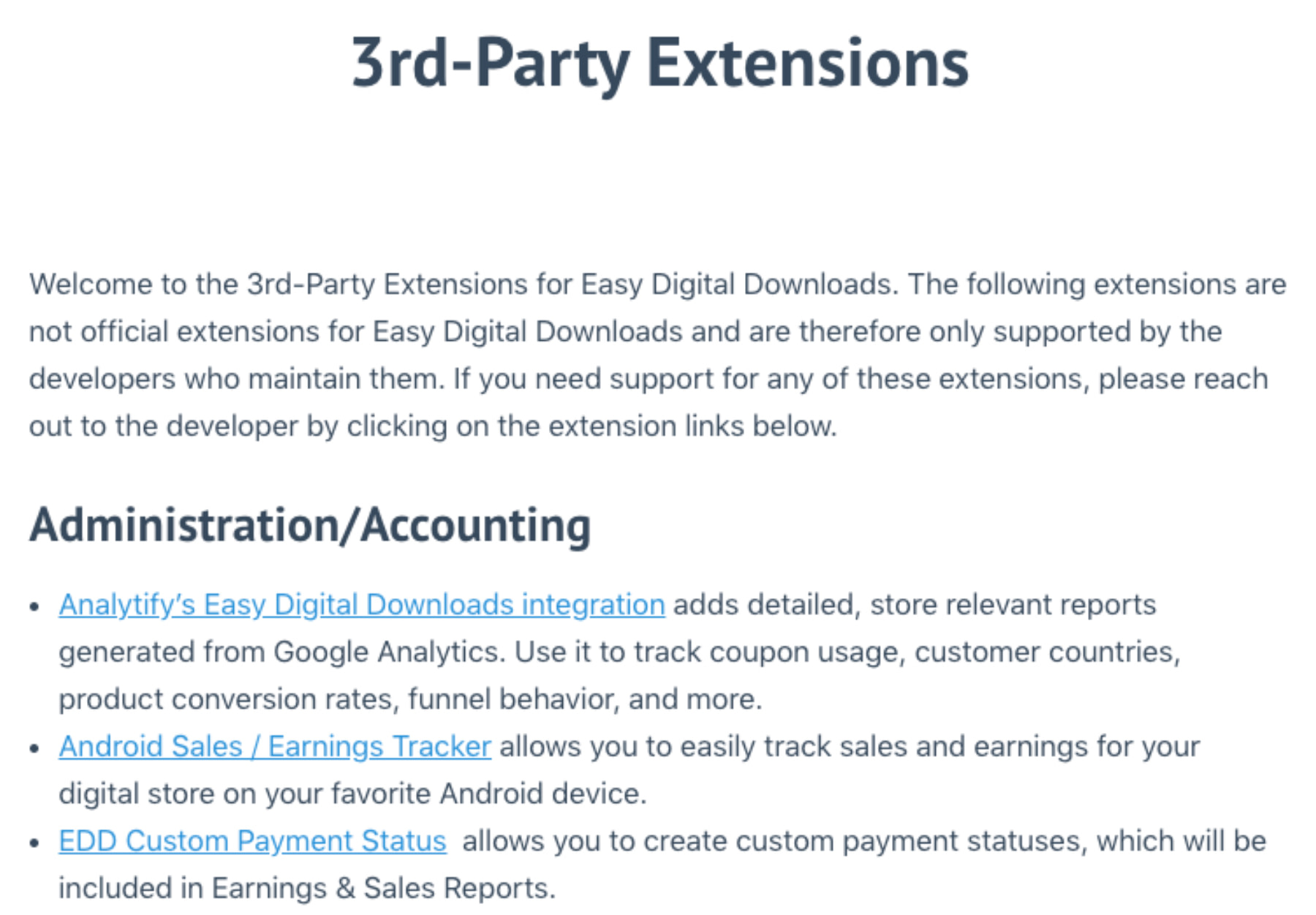 If you need customization support for EDD, you can hire one of their trusted consultants to help you build out your platform.
Freemius
To really start using Freemius for its full value, you'll need customers. You won't need to spend too much time customizing the Freemius platform except for optimizing the settings to the business and pricing model you've chosen for selling.
Since Freemius is managed solution (not self-hosted), they handle all the hard work for you. Freemius manages the platform, regularly and seamlessly release updates, and handle all payments on your behalf. You do have the option of embedding a fully-featured Users Dashboard on your website using a Freemius plugin, so customers can manage their account and purchases through your own branded page instead of the Freemius website. You can also customize the look and feel of the in-dashboard pricing, checkout, and users dashboard with custom CSS.
The main thing you should focus on when customizing Freemius includes testing different marketing strategies related to pricing, free-trials, affiliation, and more. You can start doing that in the Sellers Dashboard pretty much right after registering. Remember that the Freemius SDK also automatically collects feedback when users deactivate your product, so you can use that information to learn more about your customer needs and improve your product.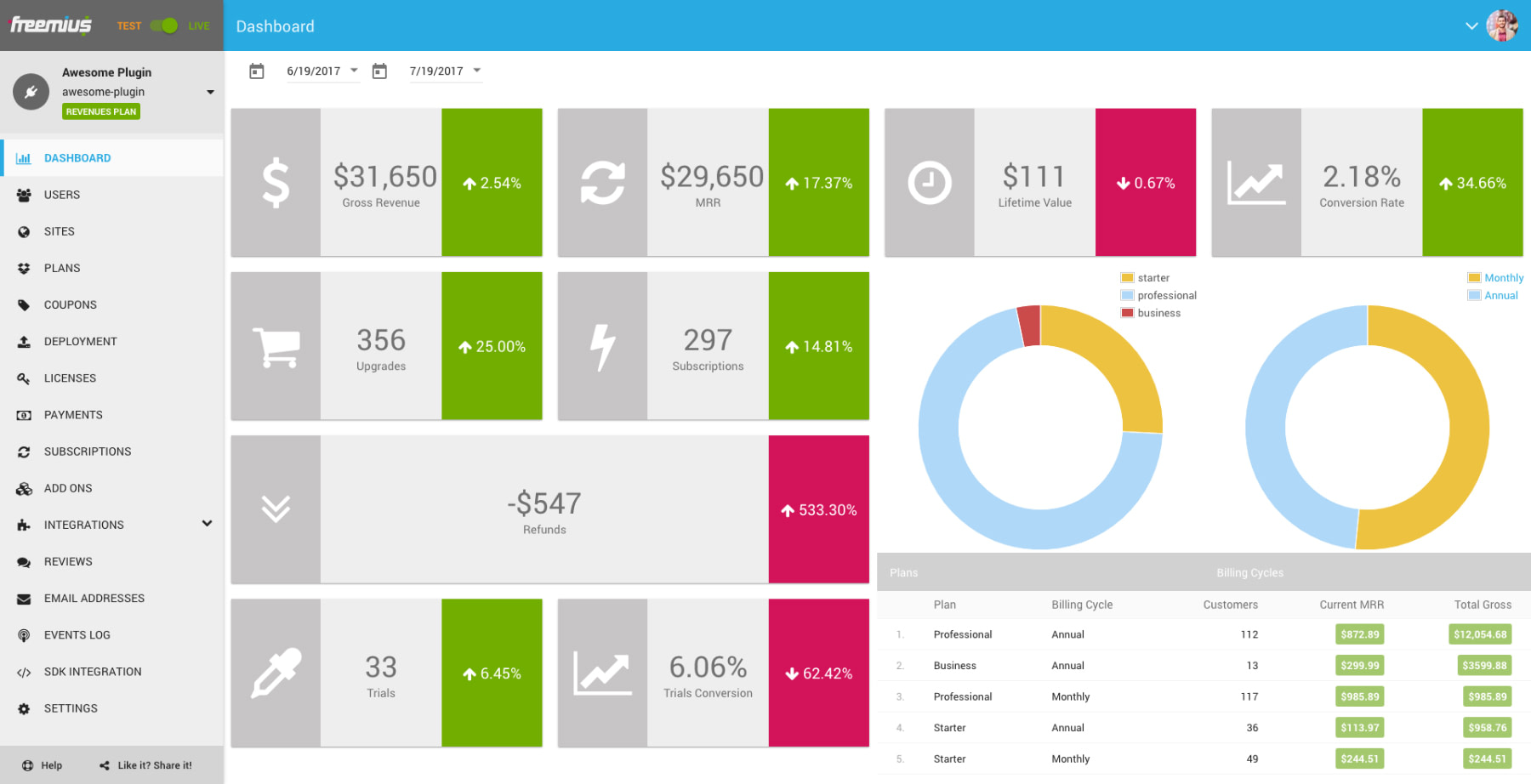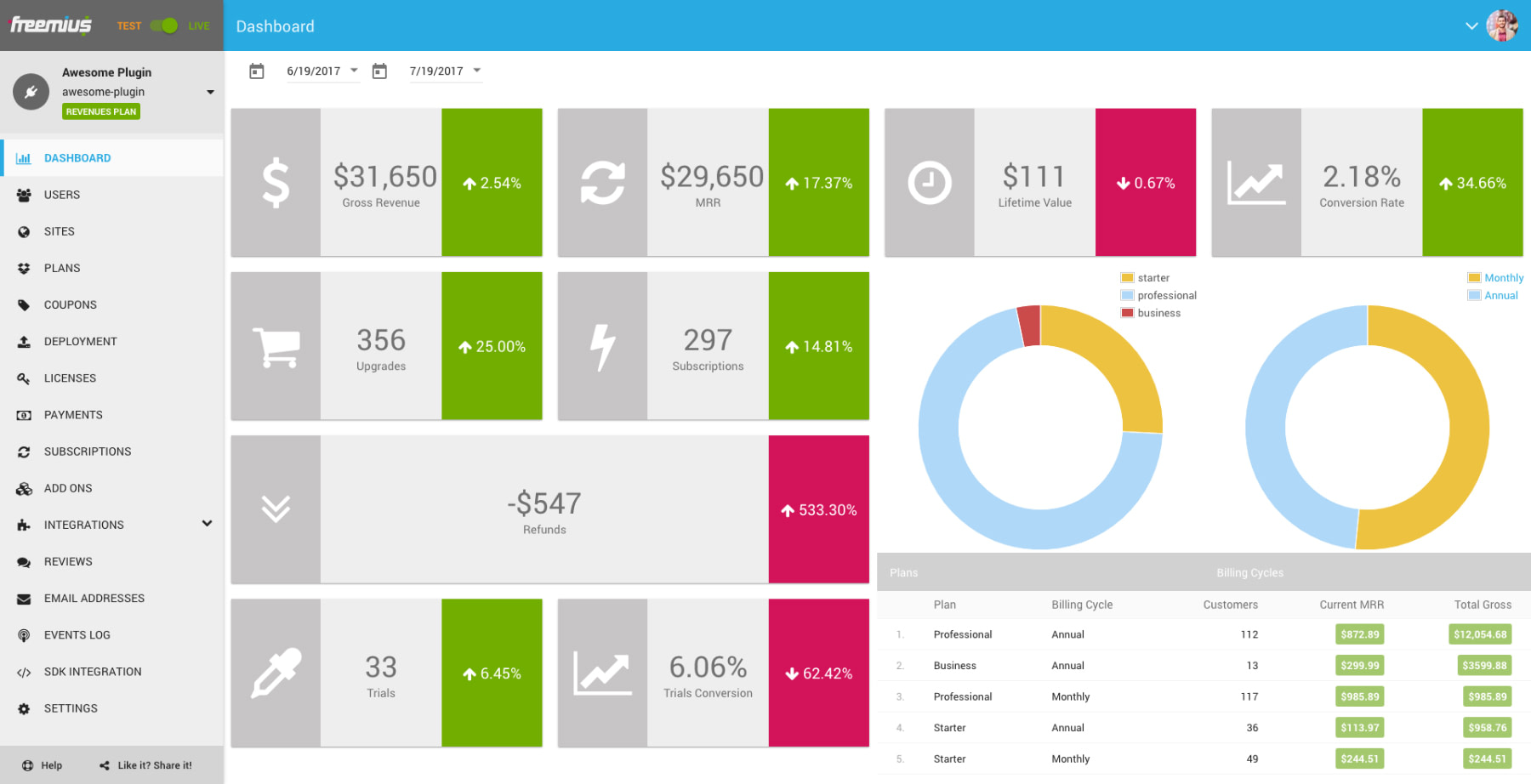 Freemius takes the customization focus away from the platform and gives you the time you need to focus on building your business and the data you need to make more informed decisions.
For those who need greater customization, Freemius has a lot of options available, such as the WordPress SDK and events and custom webhooks that can be used to automate your marketing efforts. Freemius offers MailChimp integration to help you deliver automated emails and integration with WPfomify to offer FoMo popup notifications on your website when buyers interact with your product.
Overall, the main reason companies see success after moving to Freemius is that they fully take advantage of all the customization options Freemius has to offer. Freemius makes it really easy to test different pricing models for your product, like selling premium vs. add-on plugins, offering free trials for your product, and bundles of multiple products sold together. Because of this, you – as a decision maker for your business – can strategically determine the best pricing options for your products and figure out what works best for your customers. Using this information properly can allow you to have a positive impact on conversion rates.
Gumroad
Gumroad's documentation is pretty clear on what they allow you to customize and what they don't. There are a wide variety of features that correspond to the diversity of products that can be sold on their platform. The basics are that you'll have to upload information about your product, branding materials, pricing information, and all those other standard details.
When you sell with Gumroad, they do give you Product, Profile, and Audience landing pages that can be customized with CSS, so you wouldn't have to build your own website when using their platform. However, neglecting your own website might be a big mistake because with your own site you get to have micro-control over marketing your business, and you can therefore make your website a much more effective marketing tool.
As a side note, we should mention that Gumroad's features aren't geared toward plugin and theme developers like the other platforms in this article.
WooCommerce
Similar to EDD, WooCommerce is highly customizable. They offer a useful guide to best practices on customizing WooCommerce, so it wouldn't hurt to start your customization efforts there. One of the easiest ways to expand the default functionality of the WooCommerce plugin is to use WooCommerce extensions. Although a lot of WooCommerce extensions come at a cost, you can build out a great deal of useful functionality with them. There are also a wide variety of 3rd-party extensions available on the WordPress.org repository and by googling around.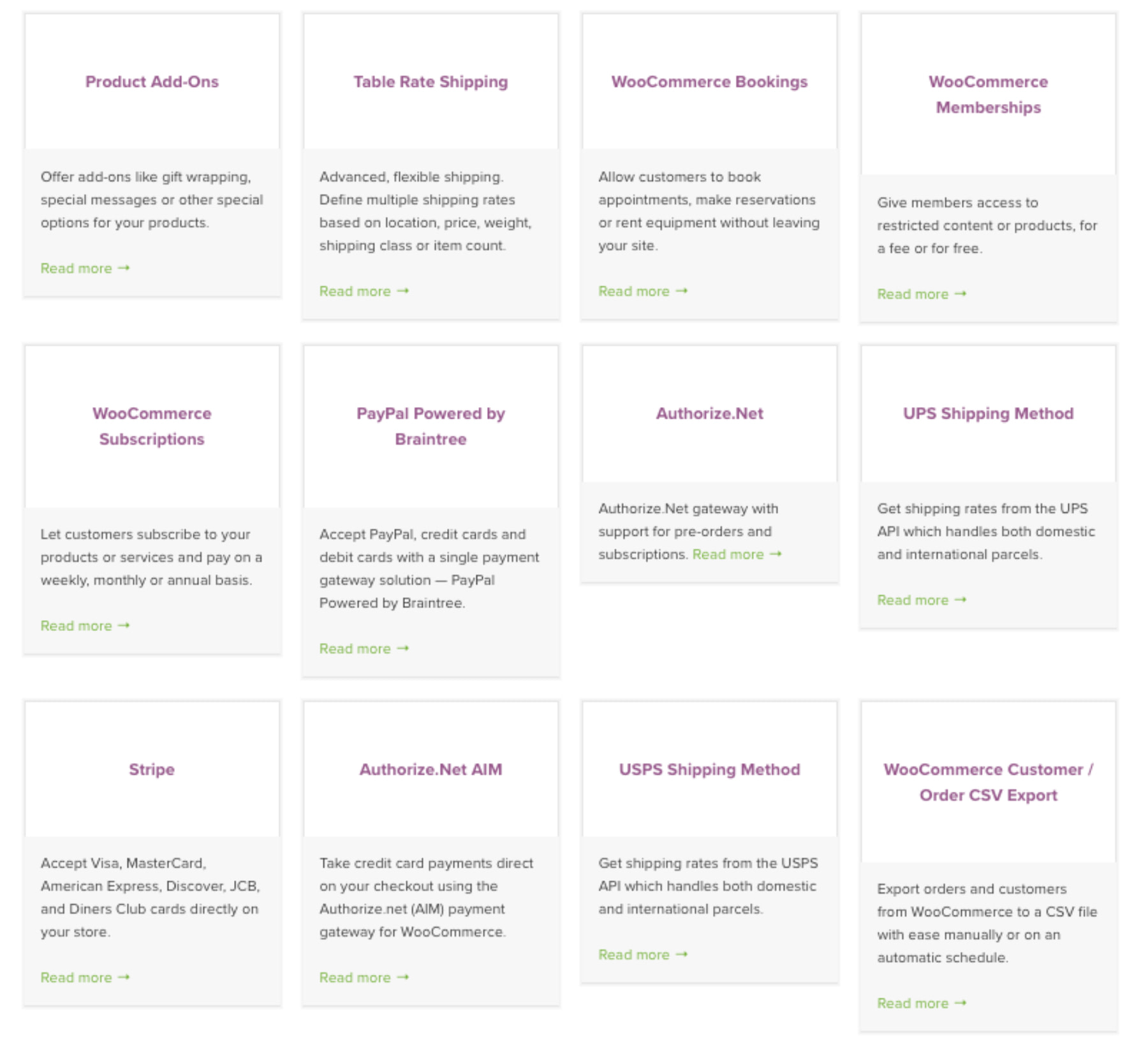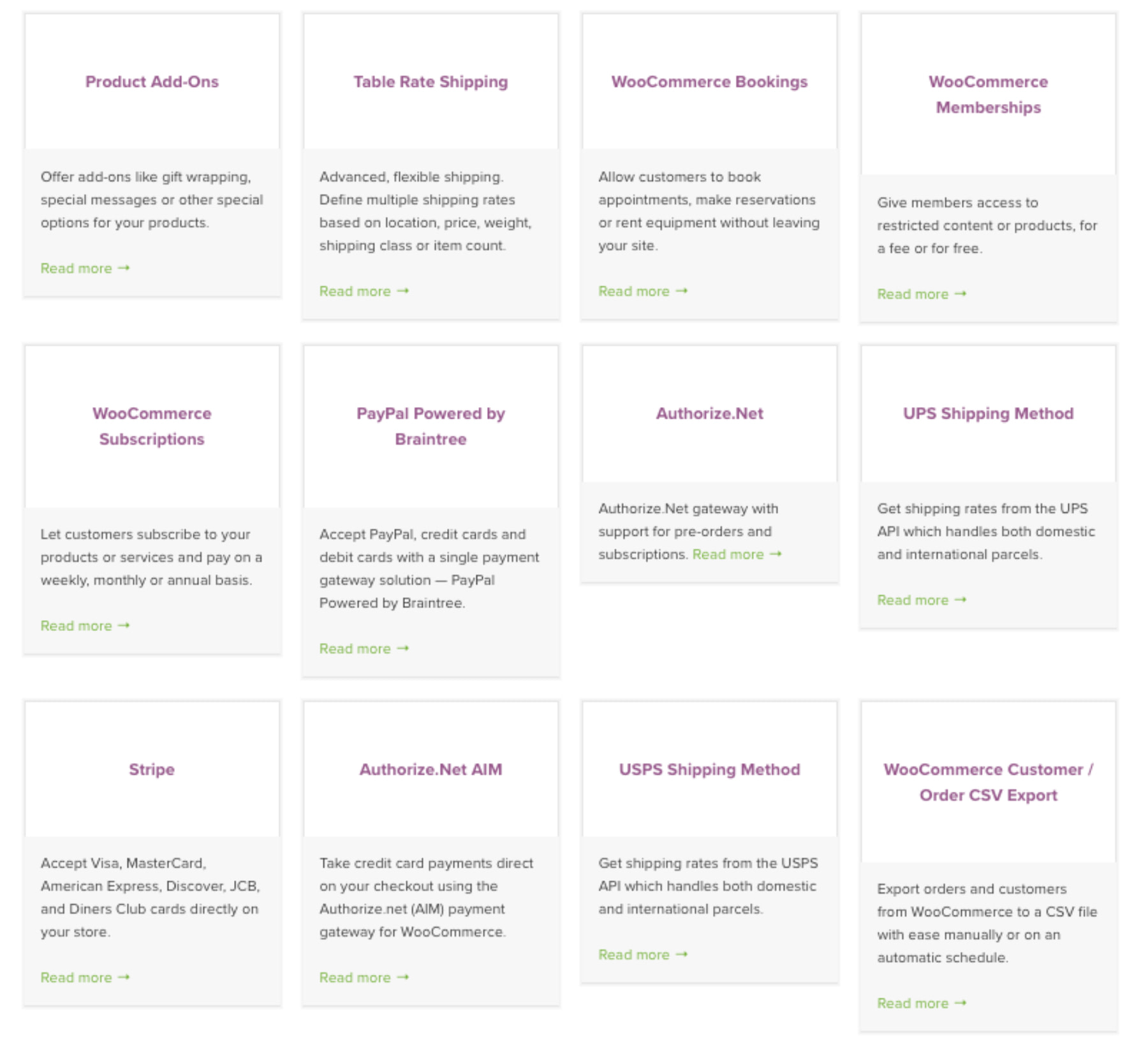 Pretty much anything under the sun is available for WooCommerce if you can afford to put it all in your platform and/or you have the coding skills. Also like EDD, you can custom code WooCommerce all you want. There are consultants you can hire to help you out too.
Who offers the most customizable platform for selling plugins and themes?
We think it's a tie between EDD, WooCommerce, and Freemius because even though EDD and WooCommerce can be completely customized, their features aren't built specifically for selling WordPress plugins and themes. This is unlike Freemius – which is far less customizable – but the main difference is that Freemius' features and customization options are built to help plugin and theme businesses maximize conversion rates.
👐 Customer support
EDD
All EDD packages come with standard email support. You can also buy priority support (which is faster than standard support) for $299/year or $99 for 45 days. Priority support allows EDD reps to login to your website to help troubleshoot problems when necessary.
EDD does not support customization, which you'll need to do yourself or hire a consultant to help, as mentioned above.
Freemius
Freemius provides customer support in a number of ways. Mainly, their docs go through how to set up the Freemius SDK, use different features of the platform, and implement various customizations. The Freemius team provides email support for all sellers who have joined their platform, whether indie-developers who are starting a new plugin or theme business or well-established plugin and theme businesses that want to take their business to the next level.
One of the biggest areas where Freemius provides support is for migration to the Freemius platform. The CEO of Freemius personally oversees the onboarding process for new sellers who already have EDD or WooCommerce stores that meet certain criteria. Freemius will handle the migration process, import all existing customer data and licenses (whether in EDD, WooCommerce, or marketplaces like ThemeForest and CodeCanyon), and help make the migration process as easy as possible. The Freemius migration docs also include some of the most up-to-date processes for migrating to Freemius from self-hosted eCommerce platforms or marketplaces.
For support using Freemius features (besides via email), Freemius has a community Slack available to Sellers on their platform. To join, you just have to start integrating your plugin or theme with their SDK and you can make a request to their support team. The community is full of other plugin and theme sellers who are working on growing their businesses on a daily basis.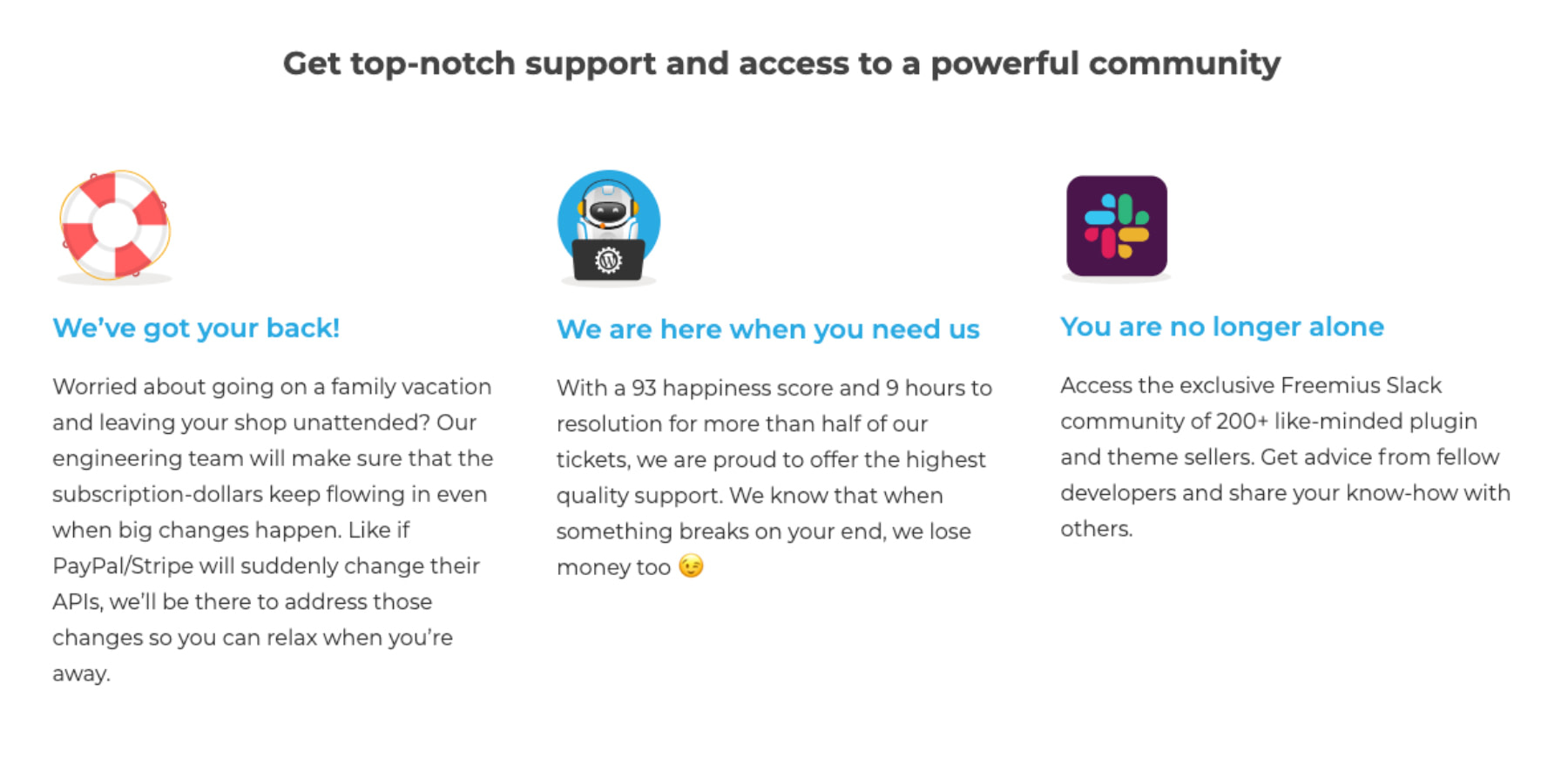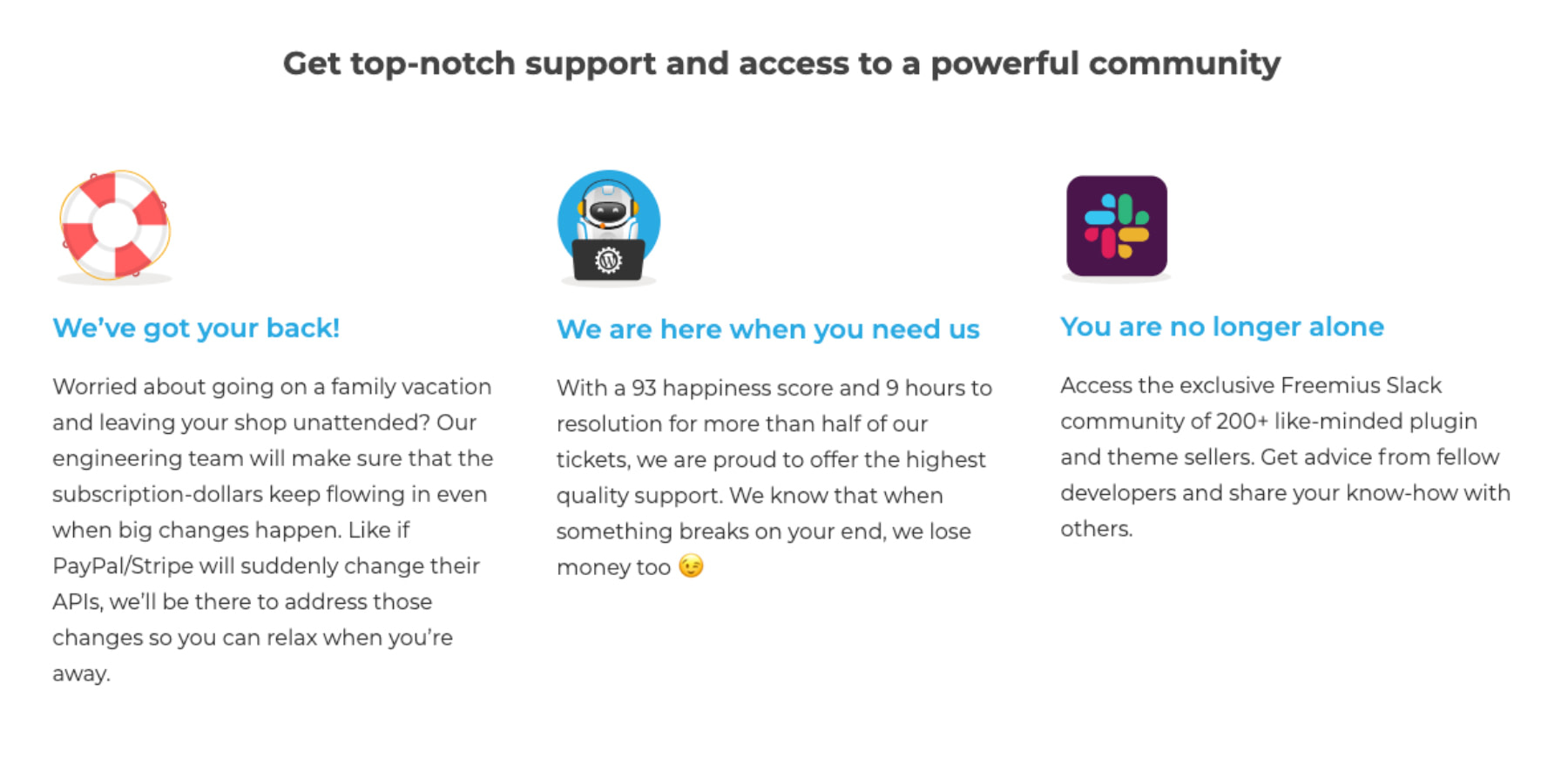 Additionally, Freemius supports their partners through the We Got Your Back Club, which is all about giving sellers a leap forward on marketing and overall business strategy for their product. The We Got Your Back Club is an additional benefit for all sellers who use their platform and shows just how much Freemius really cares about it's partners.
Gumroad
Gumroad's docs are pretty extensive and seem well-written and easily understood. Although their features are less customizable than WooCommerce, EDD, and Freemius, the support structure in place seems more than enough to meet the needs of their sellers (which must be pretty diverse). They also have a nice contact button available on their help page, which is available for anyone to ask questions and they have useful page that shows options for contacting Gumroad.
WooCommerce
WooCommerce provides docs, pre-sales support, and – if you've purchased a plugin or theme – premium email support. Their support policy states that they cover their products "as-is" and do not offer customization support. This is all around a pretty fair policy.
Most readers of this article have probably used WooCommerce before, and you may even be familiar with their support channels. If one of their products doesn't work – they'll definitely take care of you and figure out why it's happening (and fix it if it's a failure or bug in one of their products). Here's a nice little guide they provide on How to Get Help. Since WooCommerce is the most widely used eCommerce platform on WordPress, major bugs are worked out all the time due to the very high number of support tickets they've received.
Who gives customers that "red-carpet" customer service feeling?
Although WooCommerce provides comprehensive support at no extra cost for their products, Freemius seems to offer the best support overall. The approach to working with customers as partners is second-to-none in the WordPress ecosystem, and the customers have given sterling reviews to prove it. The added benefit of becoming part of Freemius' plugin and theme selling community makes the experience that much better because you can build relationships with fellow sellers while learning the best ways to sell your products.
🧰 Features
No matter what type of product you sell online, it's critical that your selling platform meets the unique needs of your product niche. If you're a WordPress developer, you need features that are ready to help your plugin or theme business grow. Many of the platforms in this article have features that are meant for businesses that sell all types of products, so the table below compares the platforms strictly based on features that are found to be some of the most effective for selling plugins and themes and for building a large user base in the WordPress ecosystem.
To help understand the chart below, here are some hints:
Some platforms offer features and benefits that can augment or support your marketing and sales efforts out-of-the-box, so there won't be any configuration or customization needed of these features ✅.
Some features can be implemented with extensions, add-ons, 3rd party integrations, or extensive customization 🔍.
Other features are completely missing from some platforms even though they're proven to be really successful at increasing revenue for plugin and theme sellers and they're really difficult to customize on your own ❌.
| | EDD | Freemius | Gumroad | WooCommerce |
| --- | --- | --- | --- | --- |
| | | | | |
| Licensing | ✅ | ✅ | ✅ | ✅ |
| Subscriptions | ✅ | ✅ | ✅ | ✅ |
| User account management | ✅ | ✅ | ✅ | ✅ |
| Out-of-the-box payment processing | ❌ | ✅ | ✅ | ❌ |
| EU VAT handling | ❌ | ✅ | ✅ | 🔍 |
| 3rd party integrations | Many | Few | Some | Many |
| Dunning mechanism | 🔍 | ✅ | ✅ | 🔍 |
| Automated cart abandonment recovery | 🔍 | ✅ | ✅ | 🔍 |
| Fully customizable | ✅ | ❌ | ❌ | ✅ |
| No maintenance required | ❌ | ✅ | ✅ | ❌ |
| Controlling email templates | ✅ | ❌ | ❌ | ✅ |
| Affiliate platform | 🔍 | ✅ | ✅ | 🔍 |
| Global payouts to sellers | 🔍 | ✅ | ❌ | 🔍 |
| In-dashboard upgrading | ❌ | ✅ | ❌ | ❌ |
| Analytics & usage tracking | 🔍 | ✅ | 🔍 | 🔍 |
| Localized checkout possible | ✅ | ❌ | ✅ | ✅ |
| Single version handling for free & premium products | ❌ | ✅ | ❌ | ❌ |
Some of the features above are a bit more useful for increasing conversion rates than others, and when properly included in your marketing strategy, they can have a strong impact on your bottom line. Let's go through some of them in more detail now:
Global payouts to sellers
Plugin and theme sellers come from all corners of the globe, so why shouldn't they be able to get paid in their home country? As a developer, it's really important to be able to use some kind of payment gateway that can deposit funds to your bank account (no matter the country) or be able to receive payouts in any country from your platform. Be sure to do your research into each of the platforms and check out all the details about fees, exchange rates, supported countries, and all other payment related factors.
EU VAT & sales taxes handling
Businesses selling to EU customers must collect and pay EU VAT on all their sales. This can be a huge headache for businesses that sell globally – like most WordPress plugin and theme shops. If your eCommerce platform or payment gateway doesn't handle EU VAT automatically, then you'll be in for some quarterly tax payments to the relevant countries where you sold products to, not to mention the proper invoicing procedures for EU VAT required throughout the year. Freemius and Gumroad are the only 2 platforms that handle EU VAT in this article and that means they take a lot of the accounting burden away from their sellers.
Analytics & usage tracking
Collecting data on user installs, deactivations, upgrades, downgrades, and other important events allows you to gain insight about how your customers use your plugin or theme and keep a pulse on your business. Few platforms have the ability to collect data like this about WordPress products, and implementing usage tracking would normally require a huge amount of customization. Carefully consider the best way to approach collecting this data and see what each platform has to offer.
Deactivation feedback
It can be extremely useful to know why users deactivate your product. Many software developers use deactivation or uninstallation feedback to improve their products and create a better customer experience. WordPress plugin and theme sellers should do this in order to continually adjust their products and learn their customer's needs. By listening to your customers, you'll discover better solutions and maybe even come up with a few new business ideas.
Single version handling for free & premium products
When you want to take advantage of the freemium business model, it can be time consuming to manage both the free and premium versions of your product. Some solutions exist for multiple version handling for both of your WordPress product versions, but it's even better if that can be handled directly by your selling platform. WordPress businesses should be able to save time on tasks like these where possible.
Automated cart abandonment recovery & dunning mechanism
What actions are taken on your platform when customers abandon their carts, have upcoming renewals, or fail renewal payments? Emails should be sent for all these events in order to minimize your churn rate and continue to grow your monthly recurring revenue. Setting these emails up properly can take a lot of time, but they are definitely worth the investment. You'll keep customers renewing and keep them happy.
In-dashboard pricing & upgrading
It's possible to customize your plugin or theme to display your premium pricing options in the WordPress Dashboard settings area. You'll have to maintain the pricing information for all version of your plugin or theme manually each time you change your pricing model, unless you use one of the platforms that support this automatically or some other automated solution. When it comes to upgrading to premium versions of your product, we've only ever found one platform that will let your customers upgrade directly from within their dashboards, and that's Freemius.
Who has the best features?
EDD and WooCommerce are the winners of this category because of the flexibility in the functionality of their platforms. The caveat is that to access a lot of this functionality you'll have to customize the platform and/or pay for extensions or add-ons that will achieve what you're looking for. For example, to add Cart Abandonment Recovery capabilities you'll need to subscribe for a 3rd party service like Jilt and install its corresponding extension on your WordPress store. In summation, their features require a process of installation, implementation, ongoing maintenance, and the possibility of additional subscriptions. Self-hosted platforms like these are great for anyone who wants to micromanage the customization of their platform, as well as the entire sales, checkout, and licensing process.
When it comes to features that are ready out-of-the-box, Freemius is the winner for plugin and theme businesses. Freemius offers a strong combination of features that help product businesses launch and scale products quickly, automate various marketing processes, and seamlessly facilitate the sales experience for customers, all without any customization required of the platform.
🏆 The verdict on EDD vs Freemius vs Gumroad vs WooCommerce: Which platform is the best for plugin and theme businesses?
The winner is: Freemius. Freemius is a super-powerful licensing and payments engine that takes care of 90% of the heavy lifting when it comes to selling plugins and themes. WordPress product sellers can benefit hugely from the curated features built into the Freemius platform, and the combination of marketing support provided in the Freemius dashboard (and in the community) along with the raw eCommerce power of the platform can propel your WordPress business forward. This success is clearly illustrated by the stories of other WordPress businesses that have already transitioned to Freemius.
Because many selling best practices are implemented throughout the Sellers Dashboard and automated in the back-end of the Freemius platform, sellers can spend more time marketing their businesses, which is one of the most important pieces that many WordPress business owners forget. Developers or business owners who spend more time marketing their products will discover that marketing is just as important as product development for long-term success, and often even more important than product development. To free up the time needed to build your business through marketing, you can offload all the work of customizing and managing your own eCommerce platform to Freemius. Not only will the platform handle all the hard work, but the community of other like-minded sellers is truly something unique in the WordPress ecosystem and you can learn a lot from them as a WordPress business owner.
But don't take our word for it – find the solution that works best for you by checking out each of the options presented in this comparison and analyzing their specific offers vs. your own business needs.
Sell #WordPress plugins / themes? Here's @eddwp vs @freemius vs @gumroad vs @woocommerce 🤜 🤛
Click To Tweet
…
Don't forget to join our crash course on speeding up your WordPress site. With some simple fixes, you can reduce your loading time by even 50-80%: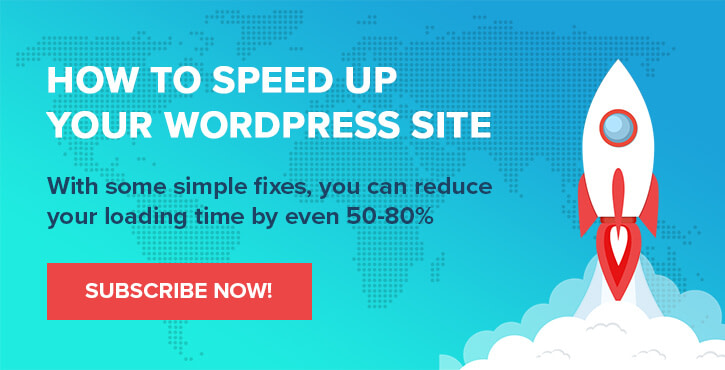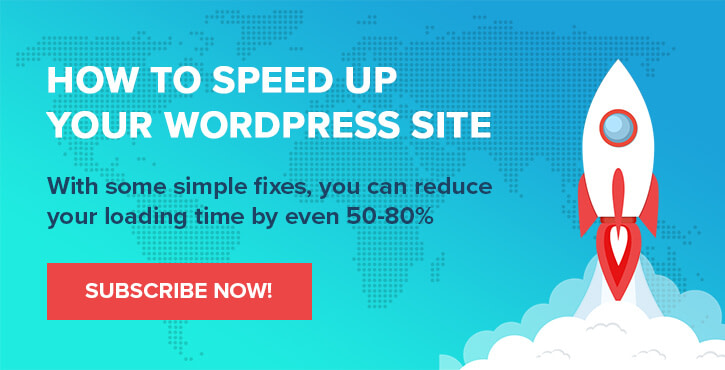 About the author: Brandon is passionate about helping plugin and theme developers succeed in the subscription economy. He became the Head of Marketing at Freemius after trying other selling solutions that didn't work out. Find him @brand_on_fire.
Layout, presentation, and editing by Karol K.
Was this topic
helpful?
0% of users found this helpful