Some WordPress operations prioritize things like search engine optimization and improving conversion rates while neglecting the well-being of their existing customer base, but this can be a costly mistake… If you want to avoid making this mistake, the answer is to deliver exceptional customer support, and we want to help you do this by introducing some of the best WordPress support tools.
Good support is crucial to maintaining a happy user base, as satisfied customers are more likely to refer new users to your business.
In this article, we've reviewed some of the best WordPress support tools. We've compared key features, considered how easy each is to use, and determined which types of sites might benefit the most from them. If you're ready to start making your customers even happier, then let's get started.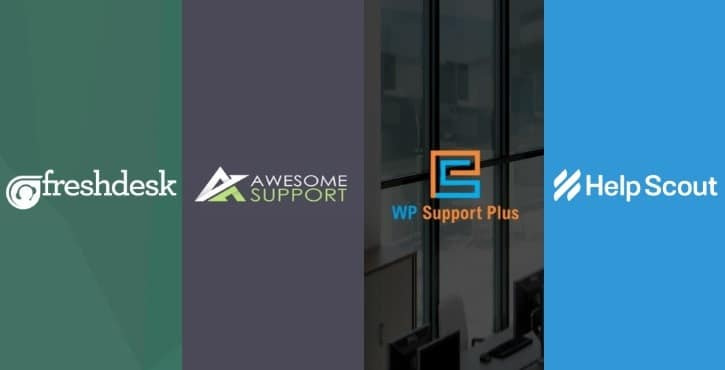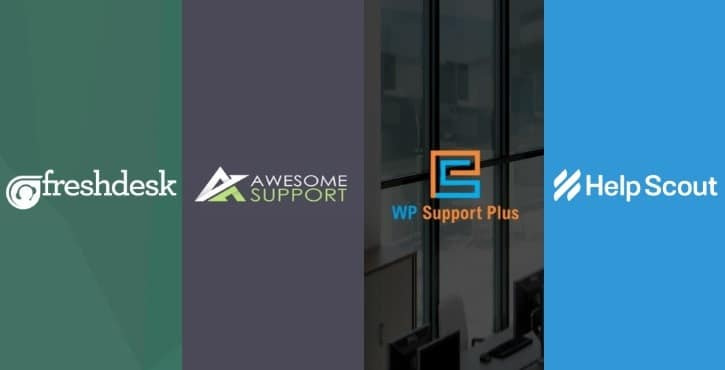 #Freshdesk vs Awesome #Support vs Help Scout vs WP Support Plus
Click To Tweet
The best WordPress support tools compared (in a nutshell)
If you're running short on time, here's the in-the-nutshell version of our WordPress support tools comparison:
| | Freshdesk | Awesome Support | WP Support Plus | Help Scout |
| --- | --- | --- | --- | --- |
| Price | Free tier, premium plans start at $15 | Free with premium extensions | Free with premium extensions | Free tier, premium plans start at $20 |
| Number of support agents | Unlimited | Unlimited | Unlimited | Unlimited |
| WordPress integration | Yes (via plugin) | Works within WordPress | Works within WordPress | Yes (via embeds and plugins) |
| How does it handle tickets? | Email and phone | WordPress dashboard | WordPress dashboard and Skype | Inside an easy-to-grasp dashboard |
| Support statistics | Yes | No | Yes | Yes |
Go to top
The best WordPress support tools compared (in full)
Overview
Freshdesk
is a full-featured support portal with official support for WordPress websites. The platform enables users to manage support tickets, categorize them according to tags, create automatic replies, and even create a custom knowledge base to cover the most common issues. Main features
Email-based ticket management system with options to categorize, merge, split, and export tickets.
Track the time that agents spend dealing with support queries (only available for premium plans).
Receive support calls using a phone number provided by Freshdesk.
Create an indexable knowledge base.
Integrate with Google Analytics and use keyword information to expand your knowledge base.
Customize support forms and pop-ups to match your site's design.
Ease of use Freshdesk is remarkably simple to use even for users who have little experience with support tools. Upon login, you are shown the most recent activity on your site as well as how many tickets are overdue, open, on hold, and unassigned: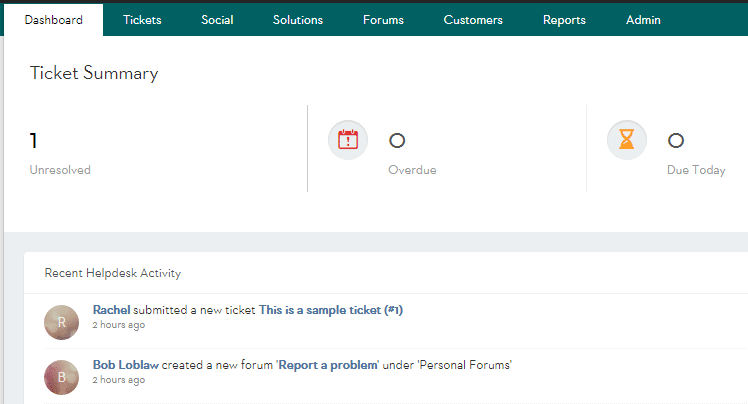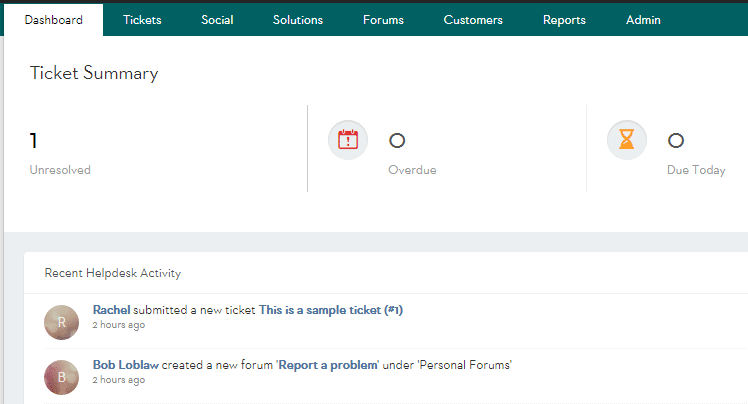 Handling tickets is basically the same as dealing with emails. You can reply to users, forward the ticket, or add case notes. Each ticket gets a priority ranging from low to urgent, and is assigned one of six statuses such as open, closed, and resolved.
WordPress integration is handled through the Freshdesk official plugin, which enables you to integrate support widgets and a knowledge base search tool on your site. You can also treat comments as tickets, which helps you engage with users more effectively. It's worth noting that the official WordPress plugin hasn't been updated for a while, but it still works with the latest version of WordPress. Price Free, $15, $29, $49, or $109 per agent per month. Consider using Freshdesk if
You're looking for an excellent support tool that can handle operations both large and small. Getting acquainted with the platform is simple, which means that bringing in new support agents as your enterprise grows won't be an issue.
The free plan lets in up to three agents and provides you with enough features to stay on top of support tickets and WordPress comments.
We did a quick survey on the Advanced WordPress Facebook group, asking about people's preference when it comes to WordPress support tools. Freshdesk received a handful of votes there:
You may also be interested in:
Awesome Support

Awesome Support – WordPress HelpDesk & Support Plugin
Current Version: 6.0.1
Last Updated: September 30, 2020
80%Ratings
10,000+Installs
WP 4.0+Requires
Overview Awesome Support is a WordPress support plugin. It enables users to submit tickets directly from their website account and monitor the status of their requests without leaving the site. As a support agent, you will receive an email for every new ticket and then handle them from the dashboard using the regular WordPress editor. Main features
Fully WordPress-based. Even the emails you receive for new tickets will lead you back to your dashboard.
Users can submit new tickets through custom forms using the WordPress editor, which support attachments.
Enables you to monitor the status of every support ticket from within your dashboard, tag them, and assign a new status to each.
Assign tickets to different support agents depending on their area of expertise.
Supports e-commerce platforms by enabling you to receive inquiries associated with each product.
Set terms and conditions that users must agree to before submitting support tickets.
Extend the plugin's functions with multiple premium add-ons.
Ease of use If you're familiar with WordPress then you will have no problem adjusting to Awesome Support. Every ticket is handled using the WordPress editor in combination with admin meta boxes for managing ticket statuses and assigning tags.


Price Free, with several premium extensions available and 4 premium packages: $12.42, $19, $24 and $38 / month. Consider using Awesome Support if
You don't want to deal with using a third-party service. Awesome Support lacks some advanced functions such as time tracking and handling phone calls, but it's a reliable solution for handling product detail inquiries on e-commerce sites and basic support tickets for all types of WordPress websites.
Go to Awesome Support
Go to top
WP Support Plus

WP Support Plus Responsive Ticket System
Current Version: 9.1.2
Last Updated: September 3, 2019
wp-support-plus-responsive-ticket-system.zip
86%Ratings
6,000+Installs
WP 4.4+Requires
Overview WP Support Plus is another WordPress support plugin. This unassuming tool hasn't grown much in popularity during the two years that it has been in the WordPress repository, but it has attracted a loyal following. This plugin is a lot like Awesome Support. Rather than rehash the similarities, let's jump right into the key features that set it apart. Main features
Administer support tickets from your dashboard using a color-based system to differentiate between open, pending, and closed tickets.
Keep track of ticket statistics for each agent and assess agent performance at a glance.
Add a Skype calling button to your site as an option for handling urgent inquiries.
Create email templates to send automatic replies to users that submit tickets.
Multiple premium extensions are available.
Ease of use Just like Awesome Support, if you're a WordPress user, WP Support Plus will be right up your alley. Experienced WordPress users will be comfortable using WP Support Plus right away.


Price Free, with multiple premium extensions available Consider using WP Support Plus if
You're looking for a WordPress-based support tool that includes advanced features and enables you to monitor the performance of multiple support agents. It's also perfect if want the added option of supporting users via Skype.
Go to top
EDITOR'S NOTE / UPDATE:
We really felt that we should introduce another player into the game. Simply because it's one of the WordPress support tools that we use ourselves over at ThemeIsle and Revive.Social. I'm talking about Help Scout. It does have some cool features, so I think you might enjoy it. Plus, we did that quick survey on the Advanced WordPress Facebook group, and it seems Help Scout has gotten the most votes there: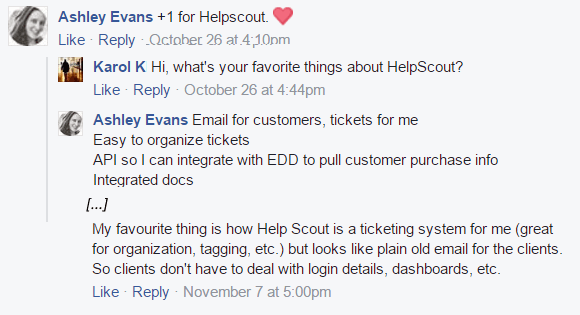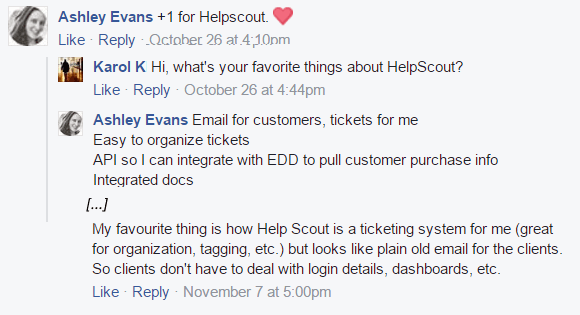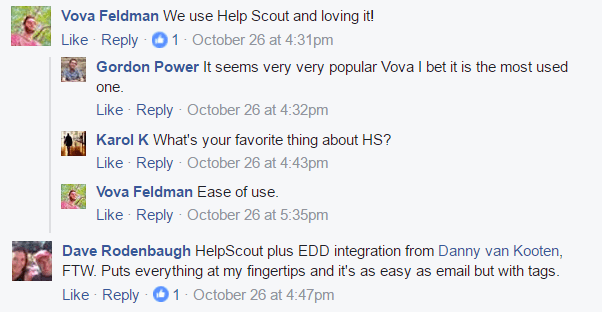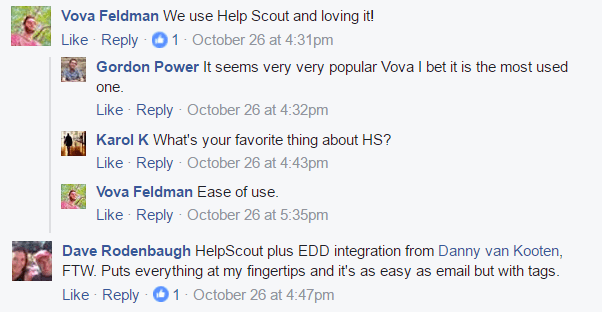 Overview
Help Scout
is a complete suite of customer / WordPress support tools. It's been trusted by more than 7,000 businesses all over the globe.
It consists of three main elements: help desk, docs, and a thing called Beacon (on-page helper, so that your visitors don't need to leave your site to get their questions answered).
Help Scout basically offers you all that you would expect from a customer support platform. The main selling point with Help Scout is that they want to make every support interaction more human, and thus more helpful and enjoyable for both sides. Main features The actual full features list is really vast, so let me just mention a handful of those extra useful ones (as pointed out by Madalin Milea, our Support Engineer @ThemeIsle):
All tickets available through a user-friendly and clear dashboard.
There's a docs module integrated – great for giving your customers a knowledge base.
Gives you access to an API that you can use for various on-site integrations (for instance, we use it for Easy Digital Downloads integration).
Lets you save the replies that you use most often.
Every customer can rate their support experience after each reply, thus giving you hints how you can make your support better.
You can build custom apps. For example:
We created two apps: The first one shows us the latest available version of the product that a given ticket is about + the version that the user has installed (great for getting people on the latest version quickly). The other one lists the products the customer has bought + the license they're on.Madalin Milea, Support Engineer @ThemeIsle
There are more than 40 built-in apps and integrations.
There are automatic workflows.
There are detailed reports (productivity, conversation drill downs, office hours filtering, and more).
You can use multiple inboxes.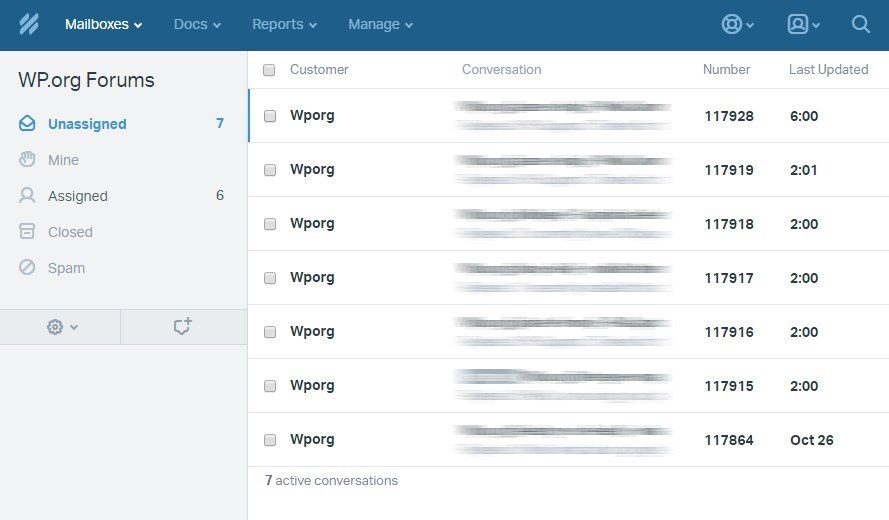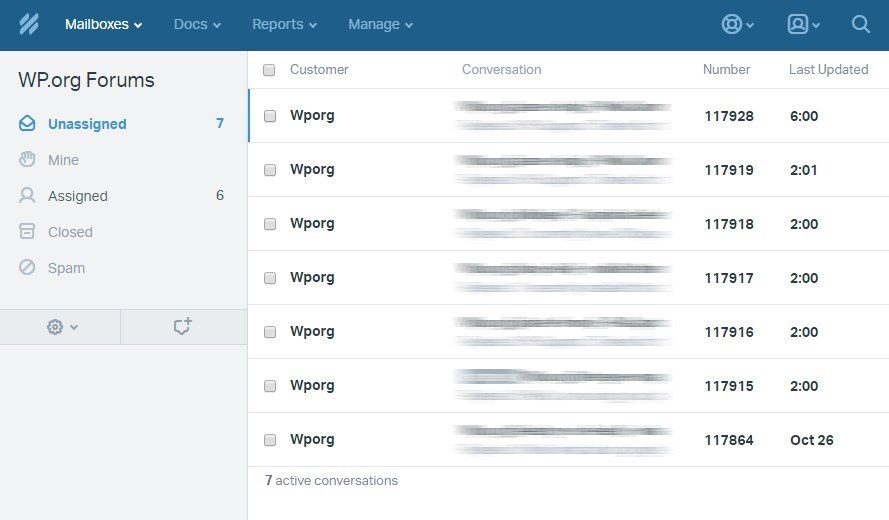 Ease of use Let's have Madalin share his opinion on Help Scout's ease of use:
We've been using Help Scout as our WordPress support tools for a while now. It really is a solid piece of software, and we've never even thought of looking for an alternative. It's been with us since day one.
The great thing about it is that it proves to be just as effective now – with a larger support team – as it was back in the day – when there were just two people in total. It just keeps things simple and on track.
Help Scout's number one achievement, IMO, is getting people together. Whether it's our own team, or our users, it simplifies communication and helps build brand trust.Madalin Milea, Support Engineer @ThemeIsle
In general, using Help Scout with WordPress is quite easy to grasp. You can either enable the Beacon – the small helper sitting in a bottom corner and finding ways to help your visitors, or you can integrate it with other individual elements of your site.
For instance, as I said, we use it for our Easy Digital Downloads integration, but there are also ways to make it work with WooCommerce, Shopify, Magento, Mixpanel, and so on. Price Free, $20, $32 per month. Consider using Help Scout if
You just want to keep all your support-related tasks and activities in one place and off your site. This can be really beneficial, and especially if your site ever goes down – you surely don't want your customers to not even be able to receive support if that happens.
Great if you don't have any money to invest at the moment and just want to test different WordPress support tools out, but at the same time, you want for your solution to be able to grow with you.
Go to Help Scout
Go to top
Conclusion
Anyone who has worked in customer support can tell you it's not a simple job. These WordPress support tools won't work miracles, but they will provide you with the resources you need to deal with support inquiries efficiently.
Each of these tools is good enough to earn our recommendation. So the question you need to ask yourself is: how do you prefer to deal with support issues? Here's a brief recap of how each tool can help you:
Also check our previous article Best Help Desk Software for Business for more tools compared.
Have you had positive experiences with any of these WordPress support tools? Share your stories with us in the comments section below!
#Freshdesk vs Awesome #Support vs Help Scout vs WP Support Plus
Click To Tweet
…
Don't forget to join our crash course on speeding up your WordPress site. With some simple fixes, you can reduce your loading time by even 50-80%: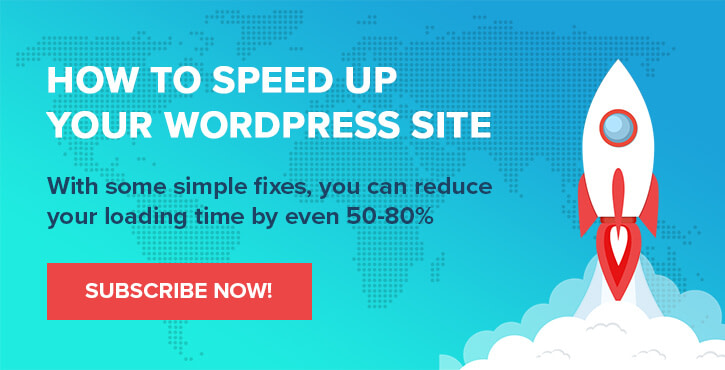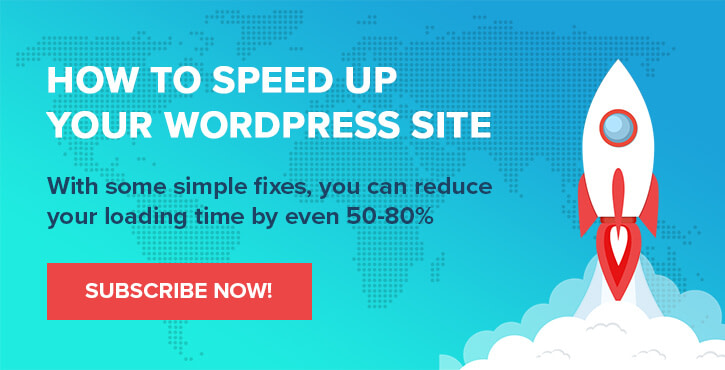 Layout and presentation by Karol K.
Was this topic
helpful?
0% of users found this helpful