If you're like most bloggers, you spend a ton of time on your blog posts. Crafting the perfect headline. Writing that intro that grabs readers just right. And while your posts certainly are important…how much time does that leave to spend on your blog homepage? Or, maybe a better question – do you even have a WordPress blog homepage that's not just a list of your most recent posts?
If you don't have a dedicated blog "start" page, you haven't been paying attention to the approach of some of the most successful bloggers out there. Nowadays, the simple reverse chronological blog post list is old hat – and in this post, I'm going to tell you exactly why that is.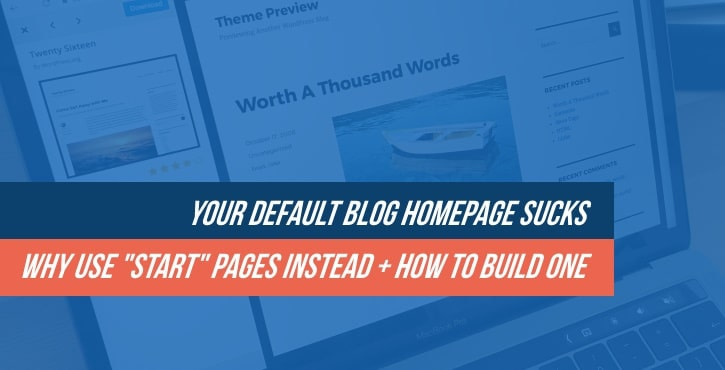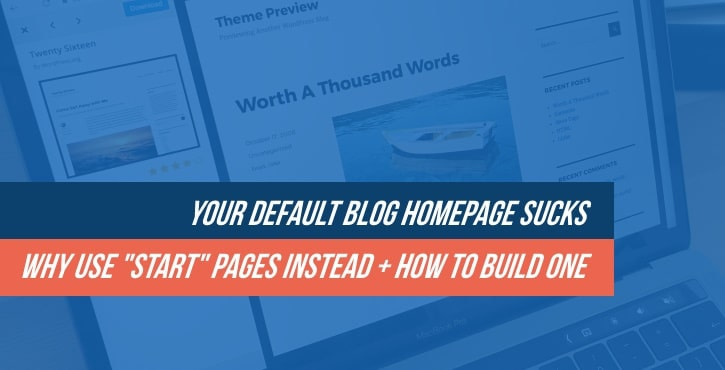 Don't worry, though. This isn't all negative. Once I tear down the traditional blog homepage, I'm going to build you back up by digging into blog homepage design and showing you some examples of successful start pages, as well as how you can get your own awesome blog start page.
Why the default blog homepage sucks
Ok, if you're not sure what I've been talking about, here's a screenshot of what most people consider the "default" homepage: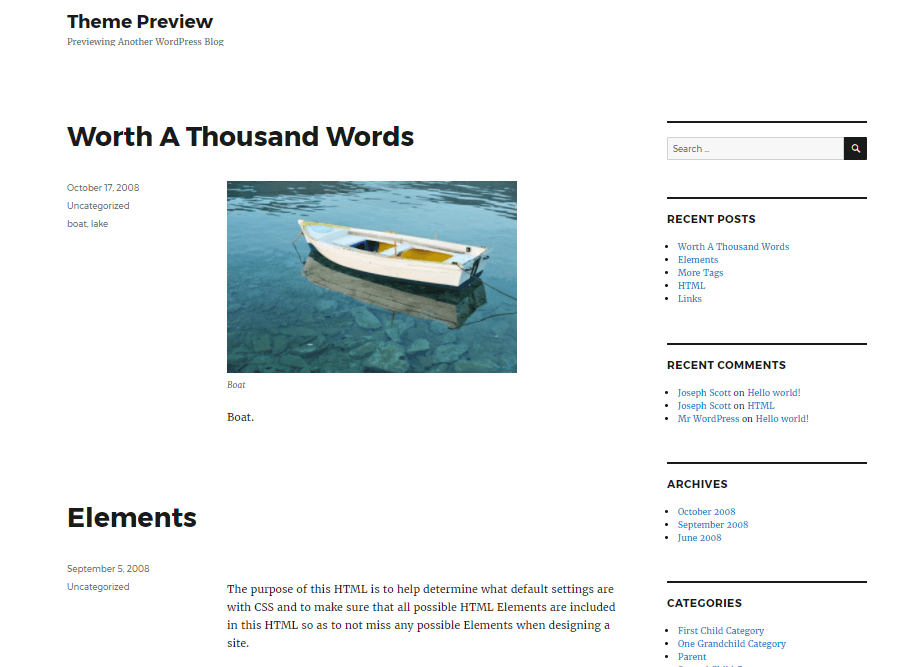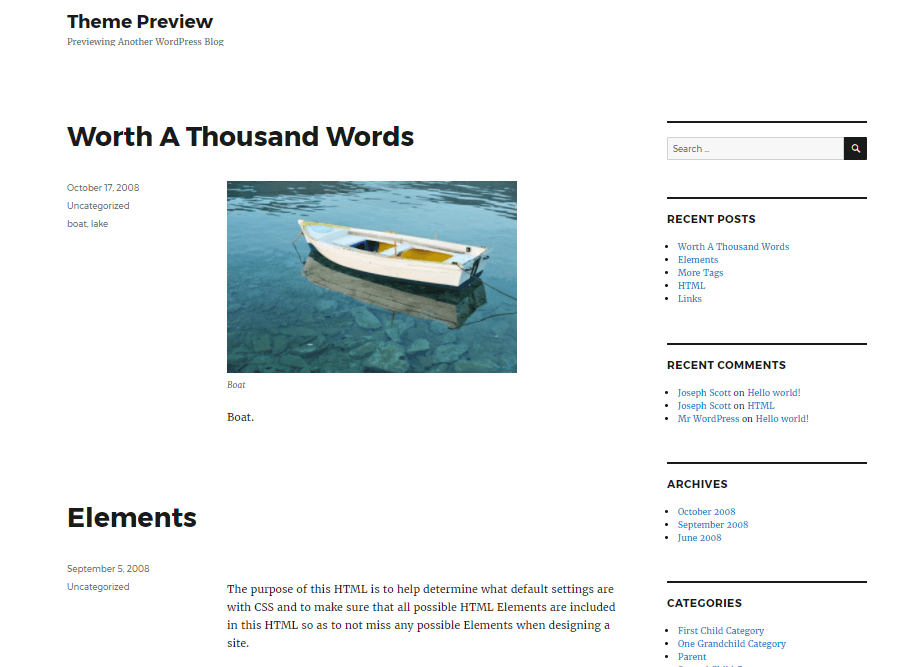 If you're wondering where that came from – it's pulled straight from a theme demo on WordPress.org. That source is important – because I think it shines a light on why so many people use their blog feed as the homepage.
That reason? It's the default. It's the path of least resistance. I mean – if you're setting up your first blog, your default choice is probably going to be…the default.
Sure, some people might choose it for other reasons like:
Keeping content fresh for search engines
Maximizing the eyeballs on new posts
But if you're blogging with a clear strategy (which I hope you are!), that's hogwash. Here's why:
10 – 20 seconds
What is 10 – 20 seconds? That's how long, statistically, the average visitor will look at your site before hitting the back button according to Nielsen Norman Group. That's…not a lot of time to make a first impression.
But guess what? According to that same analysis from Nielsen Norman Group, "pages with a clear value proposition can hold people's attention for much longer".
A simple feed of your latest posts? That's not a clear value proposition. A dedicated start page? That gives you a fighting chance.
You may also be interested in:
Your blog homepage sucks: Why use 'Start' pages instead + how to build one #WordPress
Click To Tweet
Go to top
How is a blog start page different?
Instead of showing a reverse chronological listing of your posts, your blog start page grabs your readers' attention by immediately giving them what they want. In most cases, that means a clear value statement for your blog, as well as some of your all-time best content right away.
It's basically a dedicated landing page for your blog.
So why is such a simple thing so important to your blog's success?
Beyond the 10 – 20 seconds I highlighted above, it's because 76% of visitors think that the "most important factor in the design of a website" is that "the website makes it easy for me to find what I want". That's…
7.6x more people than care about your website having a "beautiful experience"
~8x more people who care about a "cutting edge interactive experience"
(Charts by Visualizer Lite.)
Reverse chronological order posts don't make it easy for your visitors to "find what they want". They're a jumbled mess of unordered content.
On the other hand, blog start pages allow you to put your best foot forward by controlling exactly how each and every visitor experiences your site.
As Pat Flynn of Smart Passive Income says, "I've lost potential readers and life-long fans of the SPI brand simply because I [didn't] have a good starting point on my blog."
Don't make the same mistake on your blog.
But all of the above is what not to do…so how can you actually create your own blog start page? And what should you put on it?
Go to top
How to make your own blog homepage without breaking the bank
The actual mechanics of creating a static homepage in WordPress are fairly trivial. All you need to do is publish a page to act as your homepage.
Then, go to Settings → Reading and choose that page as your static homepage:


Easy, right? The hard parts are:
Deciding what to display on that page
Finagling the technical aspects to be able to display that content in a way that makes it easy for readers to grasp
So let's dig into both…
What to display on your blog start page
While you don't need to hit every single item on this list (the pros certainly don't), these are the general points that you'll want to at least consider when crafting your blog homepage:
A clear value statement. In one or two sentences…what will readers get from your blog? And what makes you different than other blogs who offer something similar?
Eye-catching call to action. What is the one thing you definitely want people to do? Join your email list? Visit your blog? Buy your info product? This is your chance to push it.
Your background and experience. Introduce readers to you as a person, as well as your qualifications and experience. Including a picture of yourself is a nice humanizing touch, as well.
Testimonials. Whenever possible, highlighting testimonials from clients or including a "featured on" list lets readers quickly know that they can trust you.
Your best content. What are your absolute best posts that demonstrate how great your blog is? Include them here.
Your latest posts. This is definitely optional – some bloggers include recent posts, others just push readers towards the blog page.
Some tools to help you build your start page
While you certainly can create a start page using just the WordPress Editor, you'll have a little more flexibility to create your start page with the right tools.
The best option for most WordPress users? Pick a quality WordPress page builder and use it to build your start page.
If you're willing to spring for something like the premium version of Beaver Builder, you'll be able to:
Create a post grid for your recent blog posts
Display an email opt-in
Create testimonials with a simple page builder element
Beyond that, you'll just generally be able to style your page in a way that the WordPress Editor doesn't allow.
And it's not just Beaver Builder that lets you do that. Elementor? Similar. Or even the SiteOrigin Page Builder (tutorial). Pick whatever seems like the best tool for you.
If you don't want to use a page builder, you can use some of these free plugins to add similar functionality within the regular WordPress Editor:
Display Posts Shortcode. Gives you a simple shortcode that you can use to display recent posts in a variety of ways.
Sumo. Lets you integrate a variety of email opt-ins, including both welcome mats and normal opt-in boxes.
📚 Further reading:
Go to top
Four exceptional examples of blog homepage design from the pros
One of the best ways to learn how to create an effective start page is to look at what the pros are doing. Below, I'll go through four different examples of quality blog home pages from successful bloggers.
Remember – you might not necessarily see every single element I discussed above on their homepages. But if you look for broad patterns, you'll see a focus on:
Clearly defined value propositions
Call to actions
A mix of the remaining elements
Let's dig in. Starting with…
Go to top
Pat Flynn of Smart Passive Income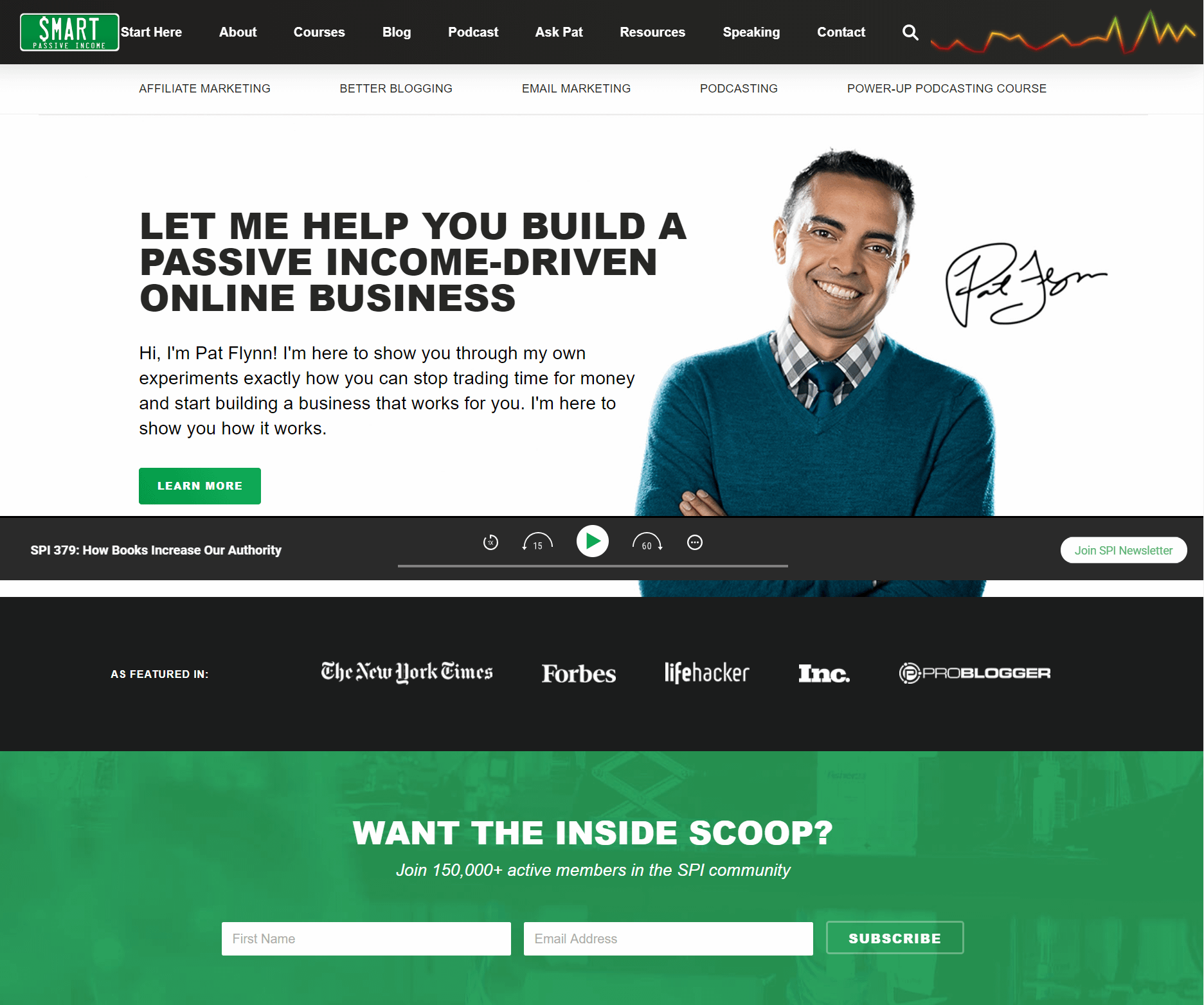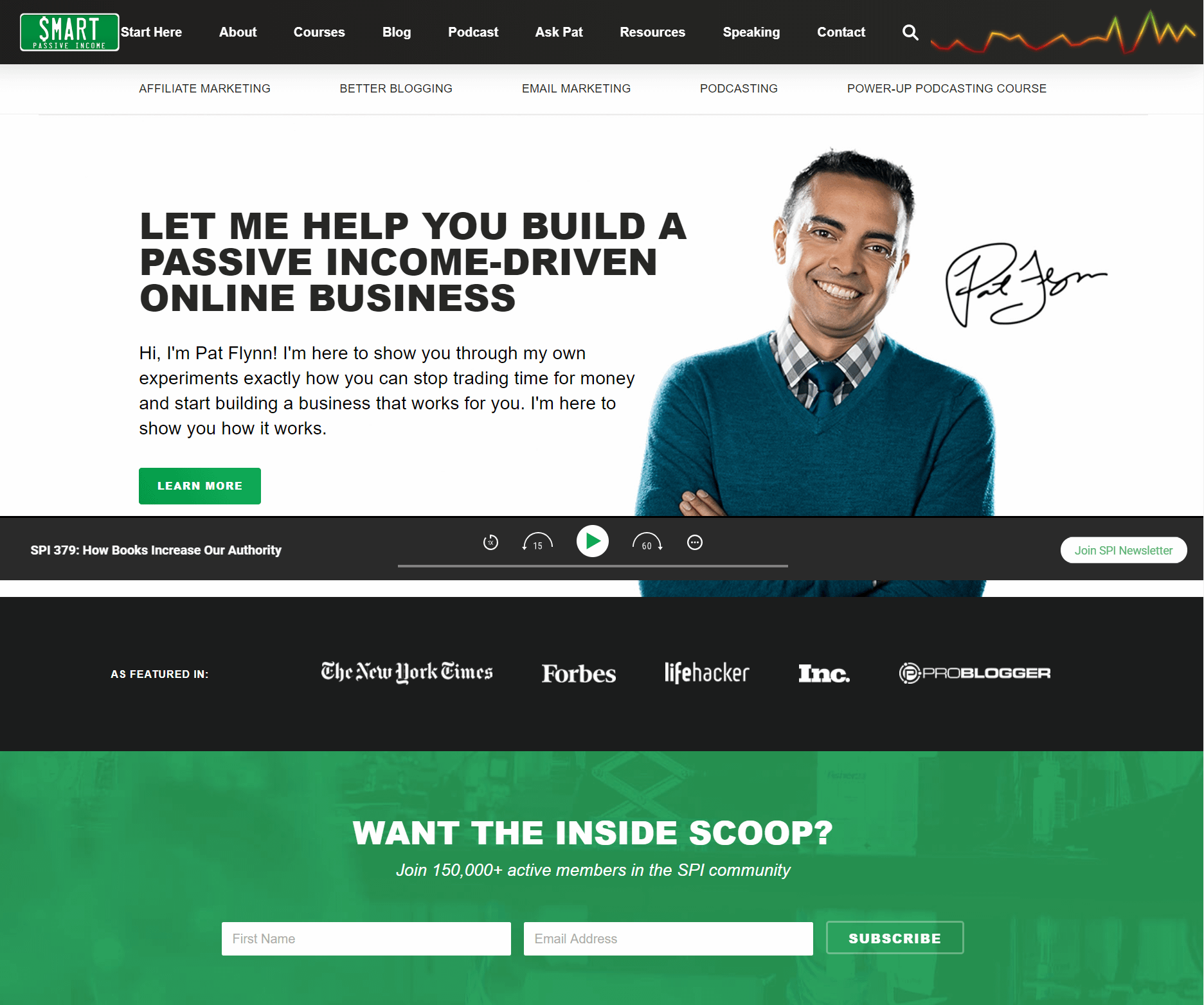 I love Pat Flynn's homepage because there's absolutely zero confusion about what a reader gets from his blog. Look at it.
I challenge you to find any ambiguity or jargon in that value statement. And below it, you have one clear call to action: Learn More.
Finally, Pat ends with a secondary CTA to join his email list – throwing in some social proof by highlighting his impressive membership.
Go to top
Brian Dean of Backlinko
With its bold call to action and value statement, Brian Dean's Backlinko homepage doesn't beat around the bush.
While his blog homepage is essentially one big email opt-in, he still manages to incorporate a value statement that describes exactly what readers will get from his blog:
"Proven SEO and traffic tips"
Further down, he ladles on some testimonials from major influencers and ends with another call to action that, while it may look like a recent blog post, is actually an email opt-in.
With two email opt-ins, it's clear that Brian is primarily focused on growing his email list with his blog homepage.
Go to top
Chris Lema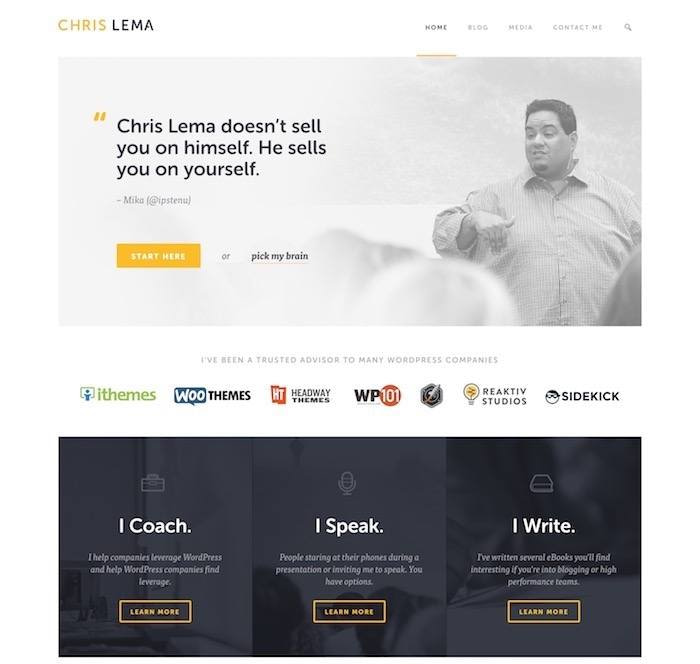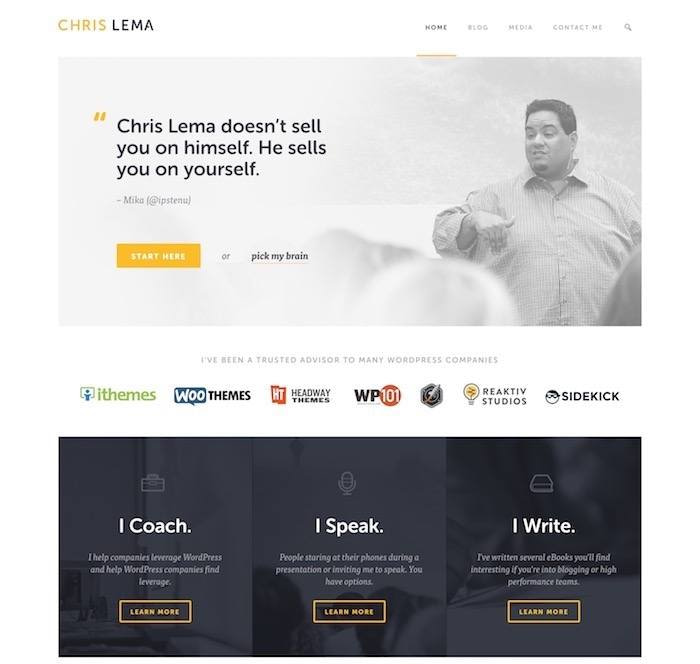 If you're active in the WordPress community, you're probably familiar with Chris Lema. He's all over the place when it comes to WordPress and rightfully earned his place on our list of WordPress people to follow on Twitter.
But beyond that, his personal site also makes great use of a dedicated blog homepage.
He leads with a testimonial from a WordPress influencer as well as a clear CTA to move his readers onward.
Below, he lists his services and an email opt-in. Then, finally, he ends with his most recent posts.
Go to top
Nat Eliason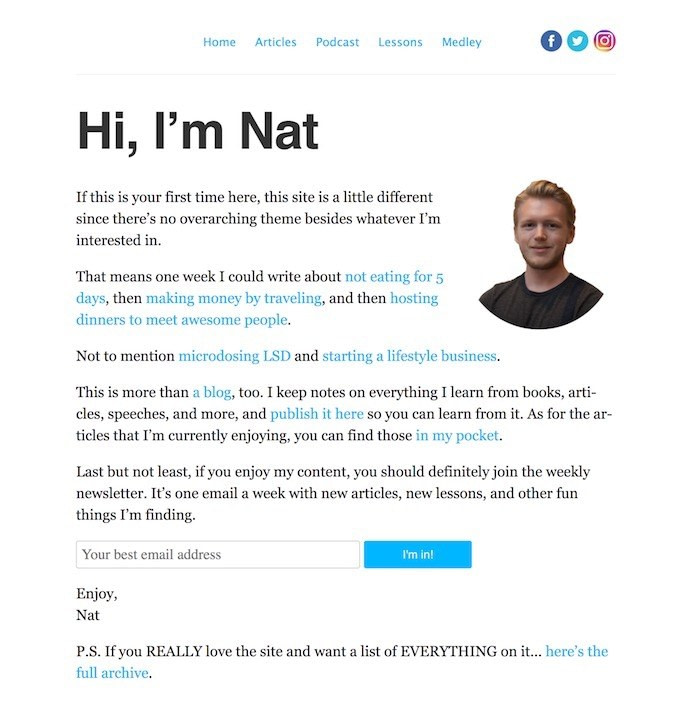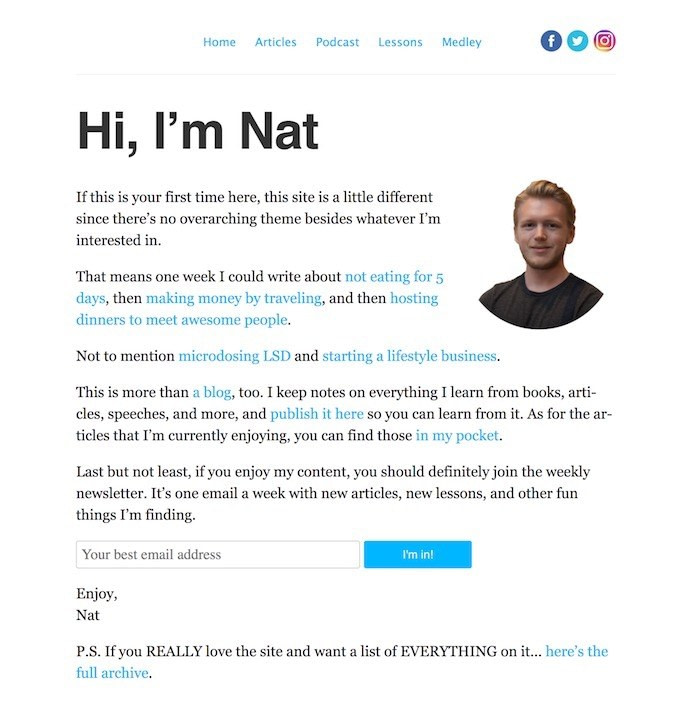 Let's end things with a slightly different approach. Nat Eliason's homepage isn't as laser focused on one call to action like the previous bloggers. But he does a great job of:
Describing his value proposition (eclectic content from an interesting perspective)
Showcasing some of his best posts
Ending with an unobtrusive, but still noticeable, email opt-in form
I like Nat's homepage because it shows that your blog start page doesn't have to be about aggressively pushing people towards an email opt-in.
Nat demonstrates that if you're not hyper-focused on one business goal, it's ok to be a little looser with your approach.
Go to top
Wrapping things up
When new visitors land on your blog, their overarching desire is to actually find the information they're looking for. And beyond that, they want to find it quickly (10 – 20 seconds, remember?).
For those reasons, you shouldn't let your blog homepage be a mess of unorganized, reverse chronological posts.
Instead, you should create a dedicated blog homepage that:
Offers a clear value proposition
Moves readers forward with a call to action
Tells visitors more about yourself and some of your best work
And to do that as a regular WordPress user, you can either take advantage of a page builder or use some free plugins on top of the WordPress Editor.
Now it's over to you. As readers, do you prefer when a blog goes with a dedicated start page? Personally, I'm a huge fan, but I'm always interested in hearing others opinions.
Your blog homepage sucks: Why use 'Start' pages instead + how to build one #WordPress
Click To Tweet
…
Don't forget to join our crash course on speeding up your WordPress site. With some simple fixes, you can reduce your loading time by even 50-80%: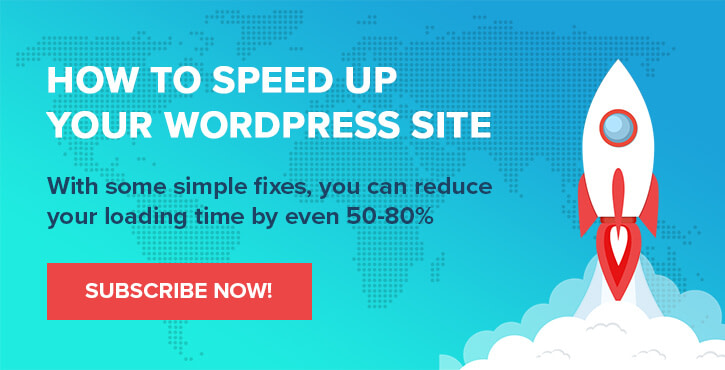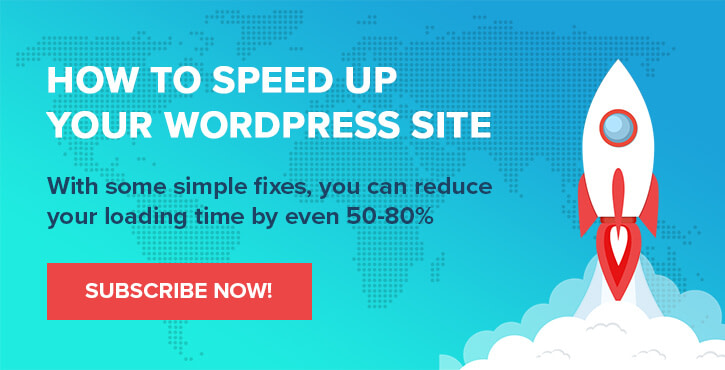 BONUS VIDEO: How To Create A WordPress Blog (Step By Step Guide)

Watch this video on YouTube
Layout and presentation by Karol K.
* This post contains affiliate links, which means that if you click on one of the product links and then purchase the product, we'll receive a commission. No worries though, you'll still pay the standard amount so there's no cost on your part.
Was this topic
helpful?
0% of users found this helpful