Selecting the best WiFi router depends entirely on the type of work (or play) you'll be doing on your home or office network.
Some folks are interested in a WiFi router to ensure that their small business has internet without any downtime or dead zones.
Others are more interested in a solid connection throughout a large house – allowing for the parents to stream Netflix and the kids to work on their homework in different places around the house.
Regardless, we're here to help you find the best WiFi router for your situation!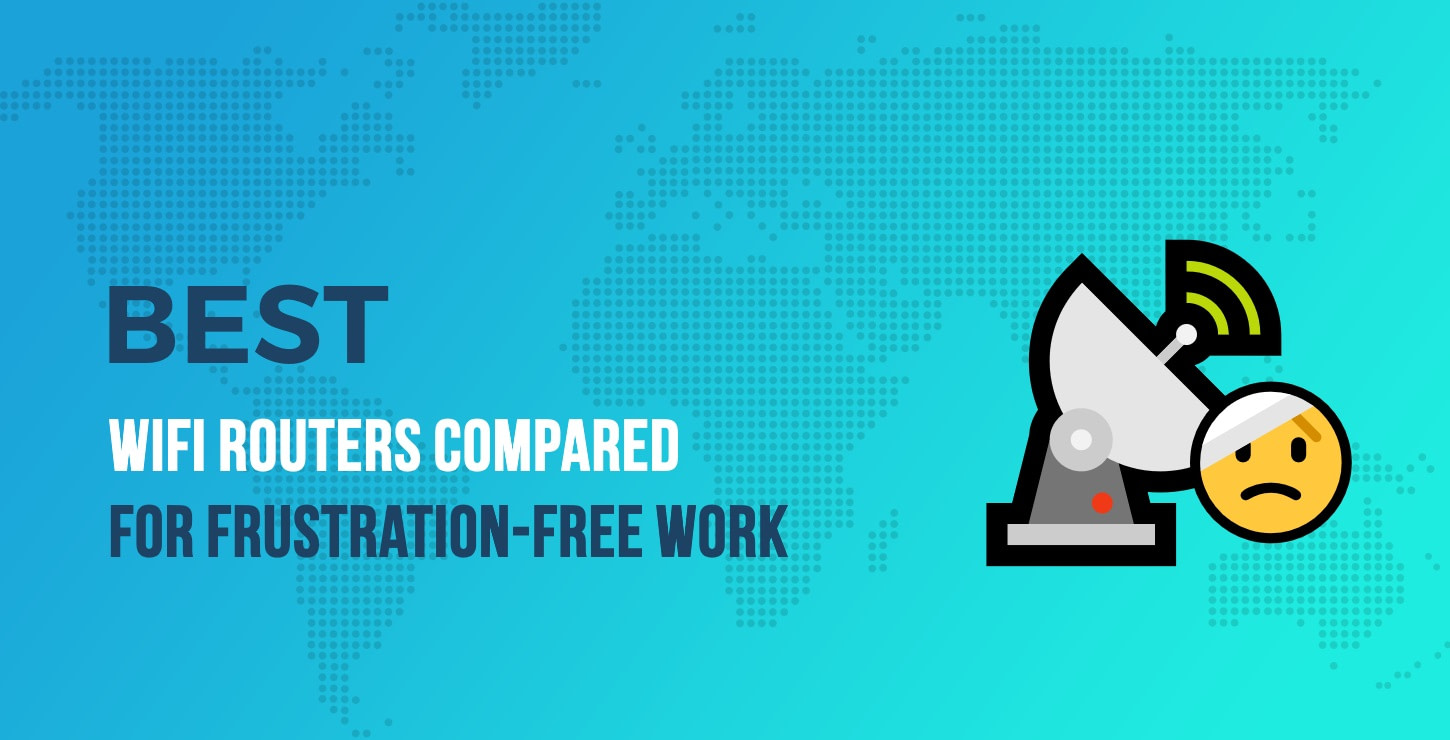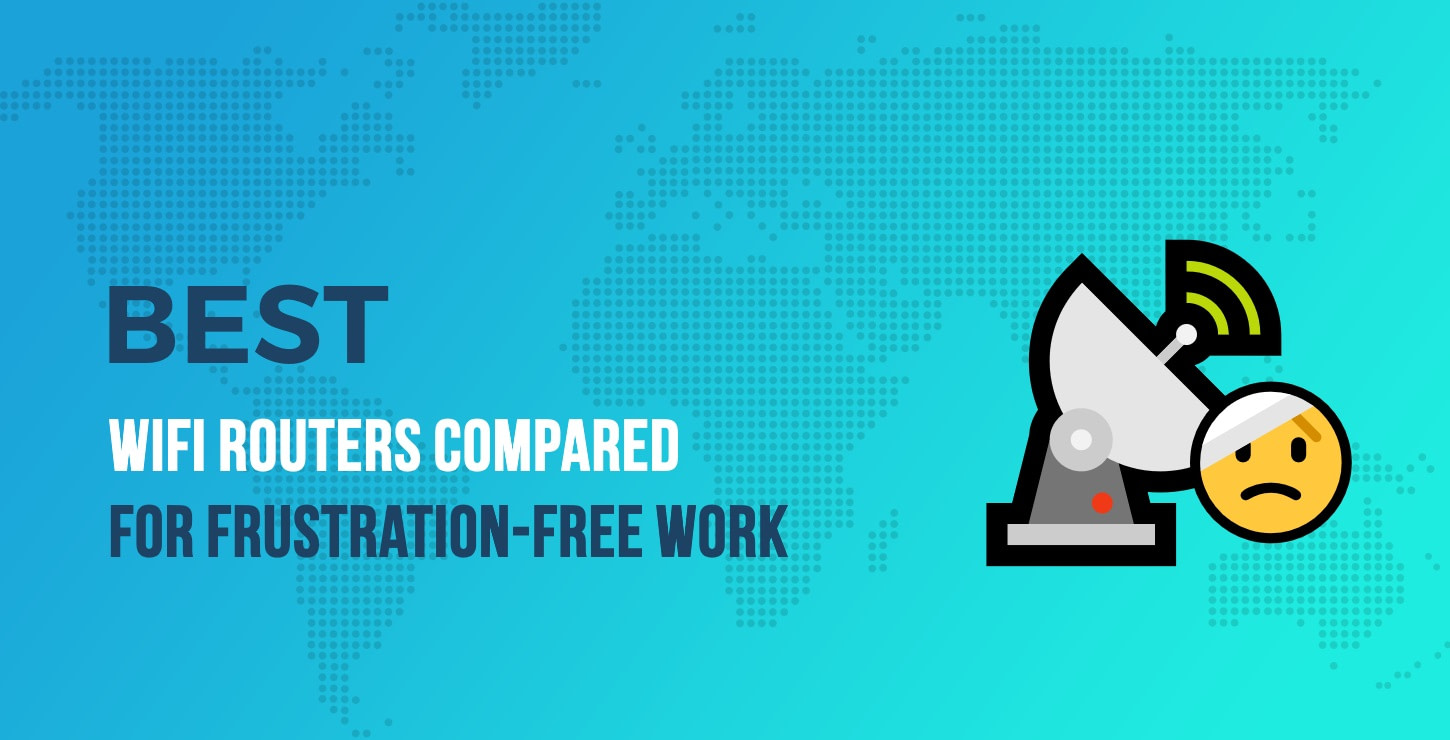 5 of the best #WiFi routers #compared to keep your work frustration-free 🤕
Click To Tweet
What to look for when seeking out the best WiFi router
Some specifications and features are universal for all routers. But sometimes you want something special – depending on what you're doing online. Having said that, let's take a look at some of the common things to consider when seeking out the best WiFi router:
🛣️ Maximum range It's not always common that a router has the range listed in its specifications. You'll often see "extended" or "long-range" without any details. Your range truly depends on your house or office setup, and it might require some testing and returning. If you have a large or uniquely designed house, mesh routers often work best. 💰 Pricing The price of technology is always important to consumers, so I would recommend looking at routers with a smaller budget approach. If there's nothing extreme about your use or housing configuration, opt for the cheaper, quality routers we outline below. 📡 Dual- or tri-band All routers you buy should be at least dual-band. This means the wireless signal is broadcasted over two frequencies, one that's better for wider coverage, while the other is faster. 👵 The router's lifespan For some reason, it seems like the average router doesn't last that long. What stinks is that you're never going to see a manufacturer put a lifespan on the router's box. Your best bet is to look at user reviews to see if there are any people complaining about routers breaking early on. 🛑 Limitations Wireless standards change on occasion, so it's important to have a router that supports your internet package speeds. New devices are set up to take advantage of top-notch speeds (like 100Mbps). An older Wireless N router doesn't have the capabilities to reach these speeds. 🔌 USB support At some point in the future, you might want to connect a printer or an external hard drive to your router. Many modems also use USB ports. Having a USB port in your router can prove useful at some point. You goal should be to find a router with at least one or two USB ports – with USB 3.0 support. 📱 Smartphone apps This isn't an absolute necessity, but
a smartphone app
makes it so much easier to set up your network and manage the devices on it. The user interface on a smartphone app is far superior to the old method of downloading firmware through the browser. Mobile apps often include quick buttons for security, parental controls, and game boosting.
And now…the best WiFi routers around
But before that; more often than not, you'll be offered a router/modem combination device from your ISP. Although these routers are typically fine for the average user, power users and gamers will find them unsuitable. In addition, it's a much better value in the long run to purchase your own router. Which brings us to:
Keep in mind that the pricing presented in this article may not be entirely accurate depending on Amazon promotions and pricing changes. We do list common promo prices to give you an idea of what to expect. Furthermore, we recommend you compare prices from other places like Best Buy and Walmart prior to buying.
The Netgear Nighthawk series has several models to choose from, but we like the R7000P/AC2300 as a router that should work in most work and home environments.
This is a dual-band router with Gigabyte ethernet and options to integrate with voice controls like Amazon Alexa.
The smart parental controls are great for keeping an eye on the kids, and you can also limit internet time and set filters for certain websites.
Netgear R7000P Nighthawk comes with a smartphone app for setting up the router and running speed tests. You should also see improved streaming and surfing with the 1GHz dual processor and up to 1625+600 Mbps speeds.
Pricing 💵
$181.99 – $219.99
Pros 👍
Most home internet activities should run smoothly with the 1625+600 Mbps internet speeds and the 1GHz dual core processor.
Network traffic is prioritized based on which devices and apps need the most data.
There's a router app for managing network security, running speed tests, and more. It also has alerts if a security problem occurs.
The Disney Smart Parental Controls have individual filter levels based on age and content you find acceptable.
The security features are built to fight attacks from malware, botnets, and ransomware.
Moderate gaming should work well.
Cons 👎
The pricing is a little high for a standard home router.
There are several Nighthawk models, making it extremely confusing on which one to choose.
The router is slightly bigger and clunkier than comparable options.
Is this the best WiFi router for you? 🧐
Netgear R7000P Nighthawk is the best all-around router for the average user. This includes small to mid-sized families with moderate sized houses. You could also use this for setting up a network for a small business. You're better off looking for another option if you plan on some heavy gaming or streaming.
The gamers out there will not only like the speeds from TP-LINK Archer C5400X, but it also looks pretty cool.
It's not the cheapest router on the market, but that's what you can expect when you're looking for the best WiFi router available.
Several specifications from TP-LINK Archer C5400X make it a smart investment for gamers and heavy internet users. First of all, is has a range booster. Second of all, the router has features for prioritizing traffic to eliminate latency problems.
Along with wonderful threat protection, VPN options, and a hardened processing configuration, you can't go wrong with TP-LINK Archer C5400X.
Pricing 💵
$331.57 – $399.99
Pros 👍
The router has a somewhat decent price for those who are used to paying for high-performance routers.
You can connect the router to your Alexa device for voice control capabilities.
You're able to connect a wide range of devices to the router while still maintaining leading-edge speed and precision without any problems with latency.
The quad core processing ensures that your network delivers the power needed for things like gaming and high loads from lots of users.
It offers three solid WiFi bands so that you don't see any lag in your connection in the middle of a game or when connecting to several devices in your home.
The router offers built-in algorithms to determine which of the devices on your network should receive the most resources at a given time.
You get some security measures such as comprehensive threat protection and VPN access – to encrypt your connection even when you are away from home and tapping into a public WiFi hotspot.
Cons 👎
The average person doesn't need such a powerful router at their home, so the high price tag is often not justified.
The router is extremely bulky, and the design might stand out too much for the average consumer. After all, many people like hiding their routers.
Although this router has extremely good coverage, the build could use some improvements in terms of durability.
Is this the best WiFi router for you? 🧐
I think TP-LINK Archer C5400X is the best WiFi router for all gamers and power users. A power user would be considered a large family with multiple connections to the router, or even a business that needs a strong network and coverage throughout their office space. You should also get the speed and coverage that you require if you are a gamer.
The whole point of the router is to decrease latency and improve the performance on all gaming systems. Although it might seem a little bit expensive for the average user, some people don't want to sacrifice anything in terms of WiFi performance. If that's you then this router has excellent user reviews and has gone through the tests to show that it's one of the most powerful on the market.
If you're interested in saving a little money on your router, consider going with TP-Link AC1750.
It's a smart WiFi router meant for home and work. It has a dual-band WiFi connection to make for a more versatile network solution.
Since this router is typically meant for home use, you'll be pleased to know that it's excellent for streaming HD and 4K videos, and it offers support for high-speed Internet throughout the house.
It's one of the best WiFi router options for small to midsize houses – that should be great for the average family that may have a tablet, a computer, and maybe some streaming devices going at the same time. You should even see that the WiFi performance is acceptable for some gaming. The router may have trouble with large, or uniquely shaped houses, but a standard 2,500 square-foot house should be just fine with this router.
Pricing 💵
$64.99 – $79.99
Pros 👍
The router is one of the best values on the market. You don't have to break the bank, and you also don't have to sacrifice performance in a normal house.
You should see exceptional coverage for all houses up to 2,500 square feet. This can even include some outdoor areas such as your backyard or front patio.
The router allows you to connect up to 50 devices, including gaming systems, printers, and tablets.
Although it's a lightweight router, it offers the highest performance for 4K streaming and you should be able to see decent results for a moderate gamer.
It also connects with Alexa so you can trigger actions such as checking on your network security or disconnecting certain devices.
The router comes with a great mobile app for management and configuration. The setup only takes a few minutes, and you can always check in on the app for security and connection purposes.
The router has four ethernet ports.
You should expect higher data transfer rates and better radio frequency when compared to similarly priced routers on the market.
Cons 👎
The router isn't built for extremely high performance situations. This typically means that gamers and heavy Internet users should look for something else.
Large homes might see problems with performance in certain areas of the house.
Although the manufacturer claims that you can connect up to, and potentially over, 50 devices, I tend to think this would be extremely difficult with the current specifications.
This isn't a durable, ruggedly built router that is going to outlive most of your electronics. It's important to be careful with the router so it lasts a long time and maintains a quality WiFi connection.
Is this the best WiFi router for you? 🧐
TP-Link AC1750 makes sense for those on a budget. It's not a bad idea to try out the router to see if it works well in your house and for reaching the speeds that you require.
In general, I wouldn't suggest TP-Link AC1750 for heavy gamers or internet power users. If you plan on having dozens of devices connected, you might consider something stronger. This could also be said for people with large or strangely-shaped houses.
You may also be interested in: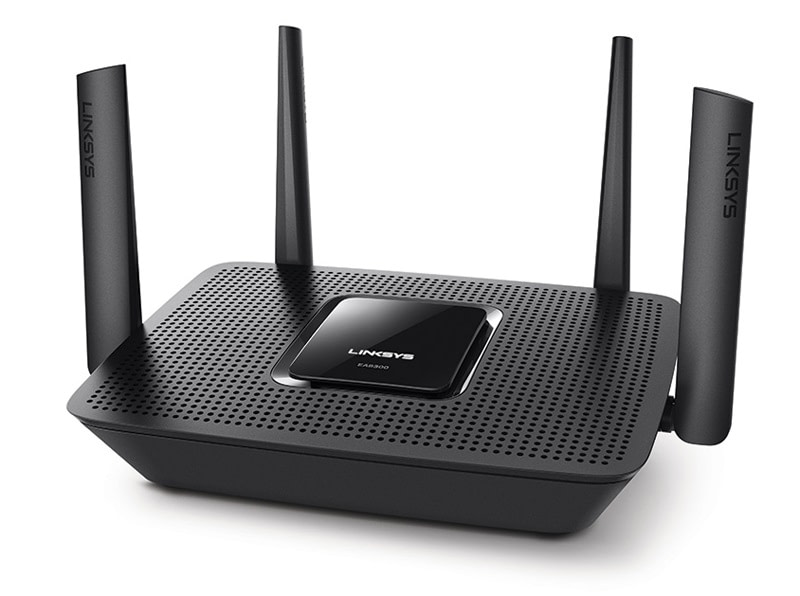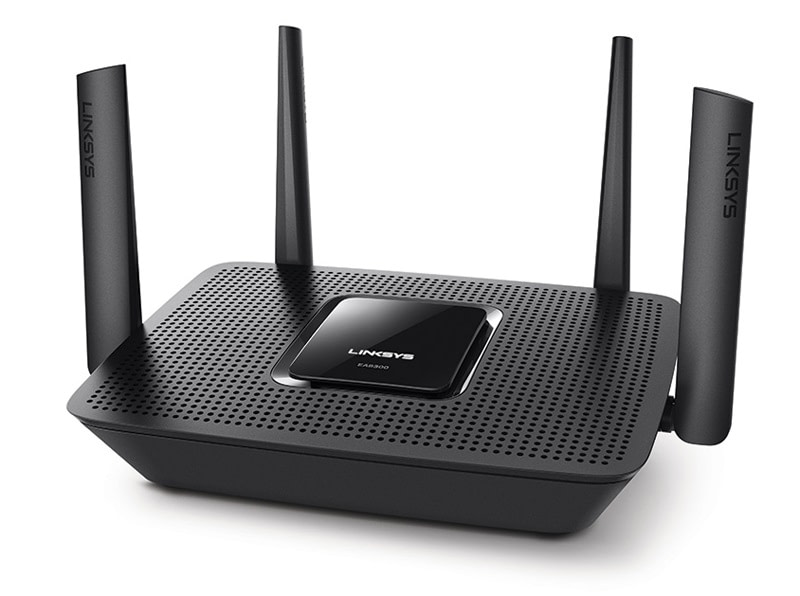 Linksys Max-Stream AC2200 offers a tri-band setup. It's an excellent router for gamers, and seems to keep the cost down a bit for those who don't want to yet commit to something pricier.
As for some of the highlights, Linksys Max-Stream AC2200 is one of the best WiFi router options because of smart connect. This means that all devices are receiving the best band and performance.
We also enjoy the airtime fairness feature, which appears to keep speeds similar and efficient for all devices.
Pricing 💵
$149.00 – $179.99
Pros 👍
The pricing for this router is more reasonable than the average gaming router you might find.
It also offers a tri-band wireless connection with a powerful quad core CPU.
The router features four antennas to extend wireless connections throughout an average sized house. You also get six high-powered amplifiers.
The smart connect and airtime fairness features ensure that you have the best efficiency and performance based on the devices that are being currently used. The best radio bands are selected based on the devices connected to your network.
The WiFi bands offer three different speeds and can go up to 2.2GB per second.
The router has seamless roaming options meaning that you should be able to cover the majority of spaces with WiFi.
The router comes with an app for setting up your network and doing things like permitting guest access and setting your parental controls.
You can also look forward to four ethernet ports and one USB 3.0 port.
Cons 👎
Some comparable routers have better CPUs and more adjustable antennas for extending your signal.
Although having one USB port is nice, we found that many routers in the same price range include additional ports – sometimes up to four or five USB ports.
Many Linksys routers seem to go quicker than some of the other manufacturers' out there. Many users have reported planned obsolescence.
Some gamers and really heavy users might find that this router is not nearly powerful enough for them.
Is this the best WiFi router for you? 🧐
Linksys Max-Stream AC2200 is our affordable pick for gamers and heavy internet users. Keep in mind that the super heavy users might not find this router effective.
💡 By the way, since you're here looking for a quality router, perhaps you need a good keyboard to match? We've compared the very best keyboards for Mac here. The winner costs around $100.
Mesh WiFi routers and networks provide some of the latest, most advanced technology for home and office networks.
Mesh technology has been around for a while, but we've only recently started seeing them at affordable pricing for regular consumers.
In short, a mesh router distributes its signal from multiple access points.
It works as somewhat of a spider web, or digital mesh fabric, where the network is distributed throughout the house – as opposed to one router trying to send a signal everywhere.
Pricing 💵
$339.99
Pros 👍
Mesh technology is often the best way to expand your WiFi connectivity in a large house. It's also great for obscurely located rooms – or your yard.
This system comes with a base router and two mesh points.
The touchscreen display works similar to smart home technology – i.e it's much easier to handle than your average router configuration.
The router system can reach up to 10,000 feet.
The mesh points are small and easy to hide.
You receive a beautiful mobile app for setting up your mesh network and completing things like parental controls and remote access.
Cons 👎
A mesh network like this one is typically one of the most expensive options for getting WiFi in your home or office.
Mesh systems are great for expanding the reach of your signal, but heavy internet users may want more in terms of speed and data transfer.
Is this the best WiFi router for you? 🧐
As with most mesh routers, the point of the AmpliFi HD router is to provide WiFi for large spaces. So, if you own a large house or office with lots of rooms and connected devices scattered throughout, this is the right router system for you.
In general, I would recommend a mesh router if you notice consistent dead zones in certain areas of your building. A house that's bigger than 3,000 feet will most likely need some sort of a mesh router. It's also common to see dead spots in an apartment with a unique layout. For instance, multiple stories, thick brick walls, and basements or housing add-ons can all experience these WiFi dead zones.
Go to top
Which is the best WiFi router for you?
The tough thing about finding the best WiFi router is that there are so many options to choose from. Not only that, but it's difficult to understand the technology. In addition, the tech changes all the time.
Hopefully, this guide cleared up some questions you might have had. So, have you bought your ideal WiFi router yet?
5 of the best #WiFi routers #compared to keep your work frustration-free 🤕
Click To Tweet
…
Don't forget to join our crash course on speeding up your WordPress site. With some simple fixes, you can reduce your loading time by even 50-80%: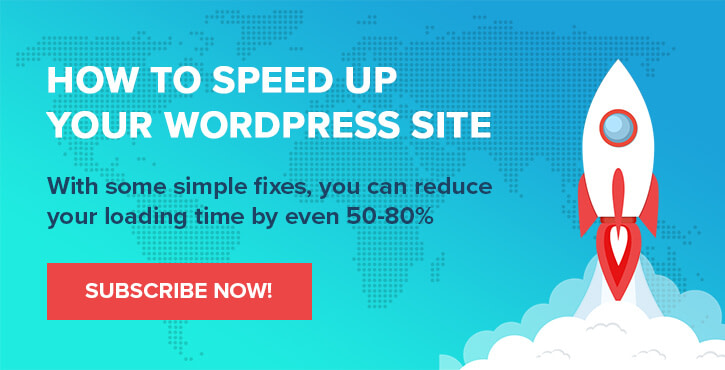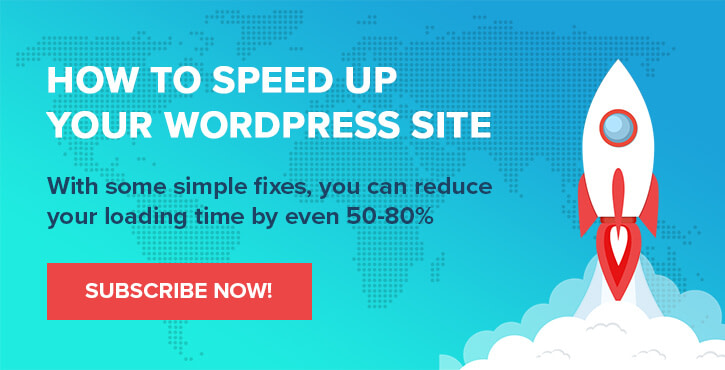 Layout and presentation by Karol K.
Image credits: NETGEAR, TP-Link, Linksys, AmpliFi
* This post contains affiliate links, which means that if you click on one of the product links and then purchase the product, we'll receive a commission. No worries though, you'll still pay the standard amount so there's no cost on your part.
Was this topic
helpful?
0% of users found this helpful