RSS is dead, long live RSS!
Granted, people haven't been excited about RSS for a long time. The technology is surely past its prime in the eyes of the public, but it's still very much in use behind the curtains. What's more, you can still achieve pretty great things with it for your WordPress site.
The catch? You need a good plugin to make that happen. Depending on what it is exactly that you want to do, some plugins are going to be better than others, and once we factor in the price tag into the mix … well, it becomes a whole different story again.
So today, we're looking into the topic of RSS to post WordPress plugins, and run through some creative things that you can do with them.
Note; this is about RSS to post WordPress plugins specifically – meaning that we're looking at plugins that have the capability to import content from RSS feeds and add it as a blog post alongside your other content. If that's what you need, read on!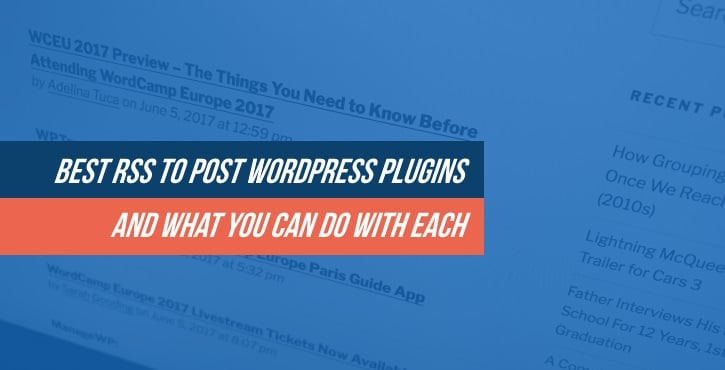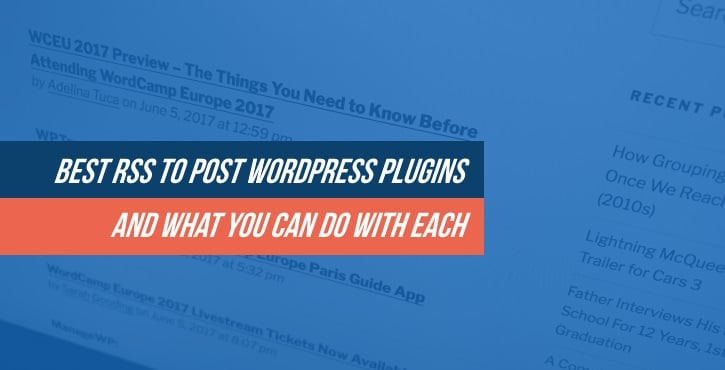 3 absolute best #RSS to post #WordPress #plugins and what you can do with each Click To Tweet
If you're in a hurry and just want someone to point you in the right direction, you can check out the summary of our findings in the table below:
Go to top
Best RSS to Post WordPress Plugins: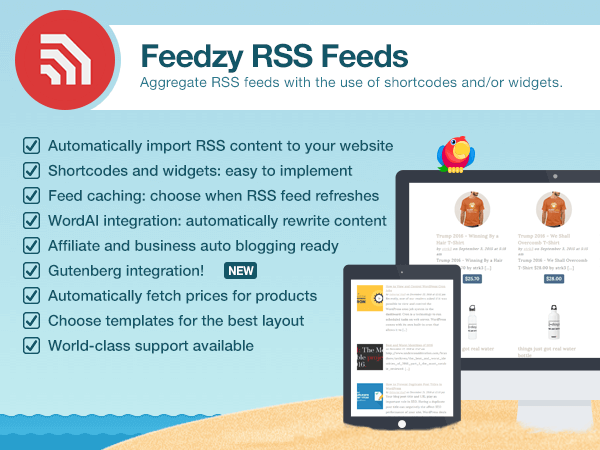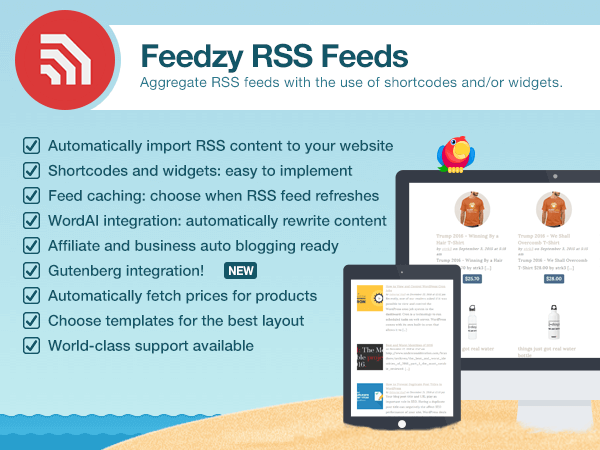 Feedzy is as complete, out-the-box "RSS to post" WordPress plugin. Meaning, you don't need any add-ons to get the complete set of features, like it's sometimes the case with other plugins. Secondly, you get built-in keyword filtering too, and the ability to control how your imported content looks (done via special tags when adding the feed and via three layout templates). In the latest version, you can also now import full text RSS feeds, automatically fetch prices for products, and
extract various elements from custom feed tags
.
Apart from that, the plugin allows you to have unlimited feeds, check for duplicate content via WordAI integration (the tool also rewrites the texts in a non-robotic style), and add tracking tags.
An interesting added feature of Feedzy is that it supports affiliate links. You can set it up to automatically add your referral/affiliate ID to in-feed links. Removing the 'dofollow' tag from the imported links is also an option. Moreover, in order to keep track of the WordPress trends, the plugin is fully compatible with Elementor and the new WordPress block editor (which means that you can add and customize feeds right on the front-end).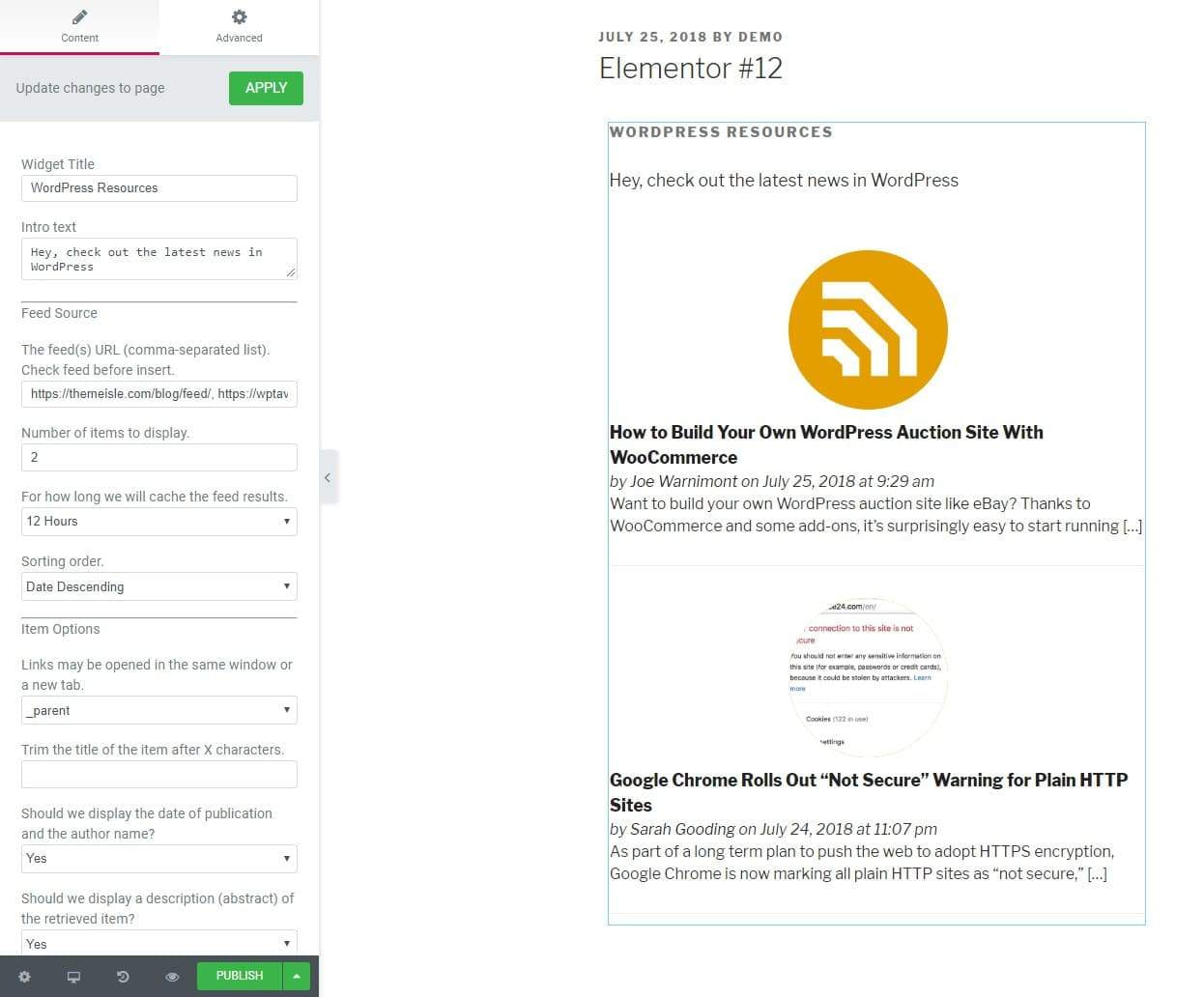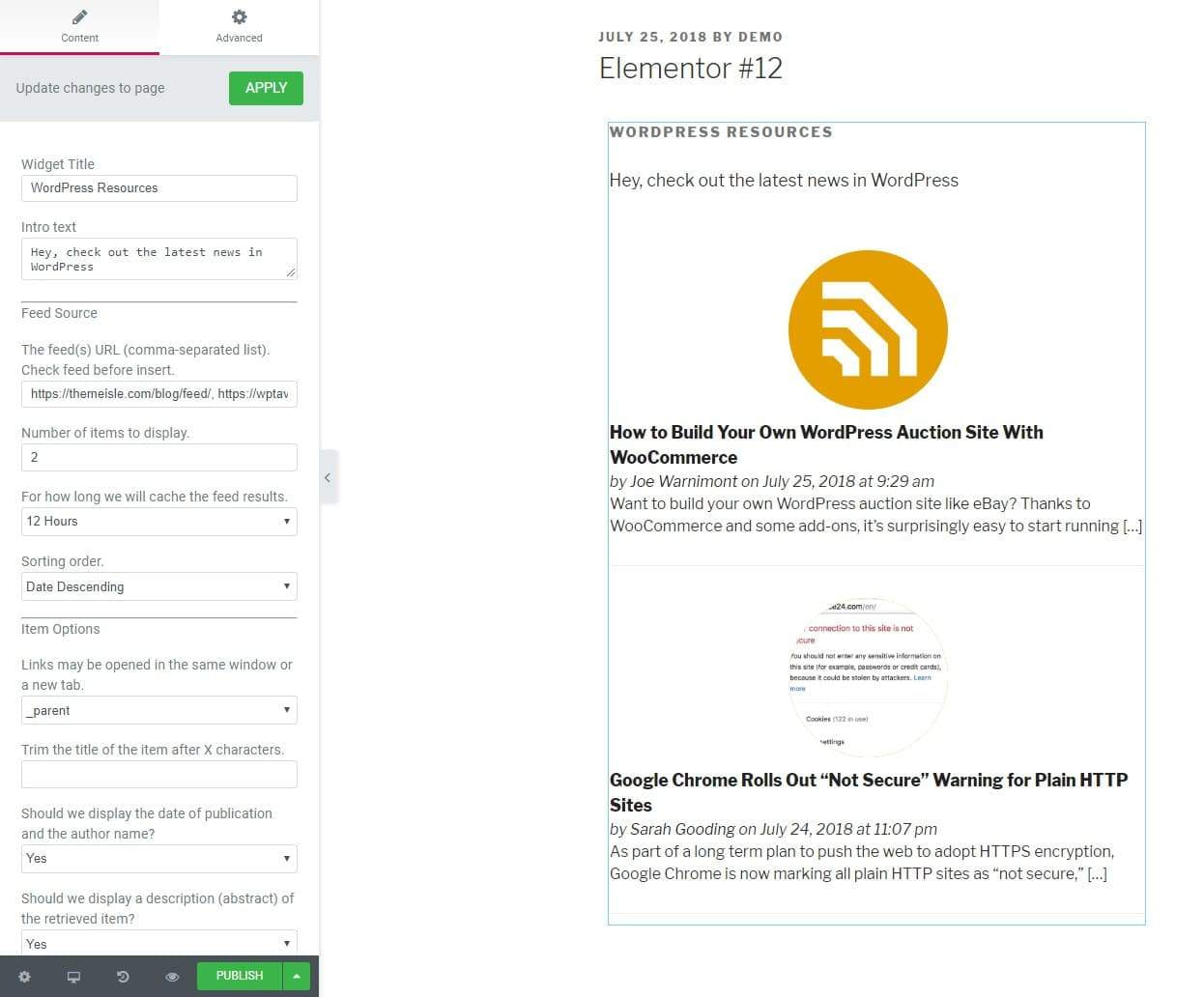 Last but not least, importing too many external posts to your site won't affect your website's loading times because Feedzy offers feed caching. There are just three easy steps when configuring RSS to post via Feedzy:
Add a valid feed.
Set the filtering based on keywords (either include or exclude content that features a given keyword).
Assign the content to a specific post type, category, and modify the content's appearance via tags. Additionally, you can also add custom fields in case you want to do something slightly more advanced with the feed.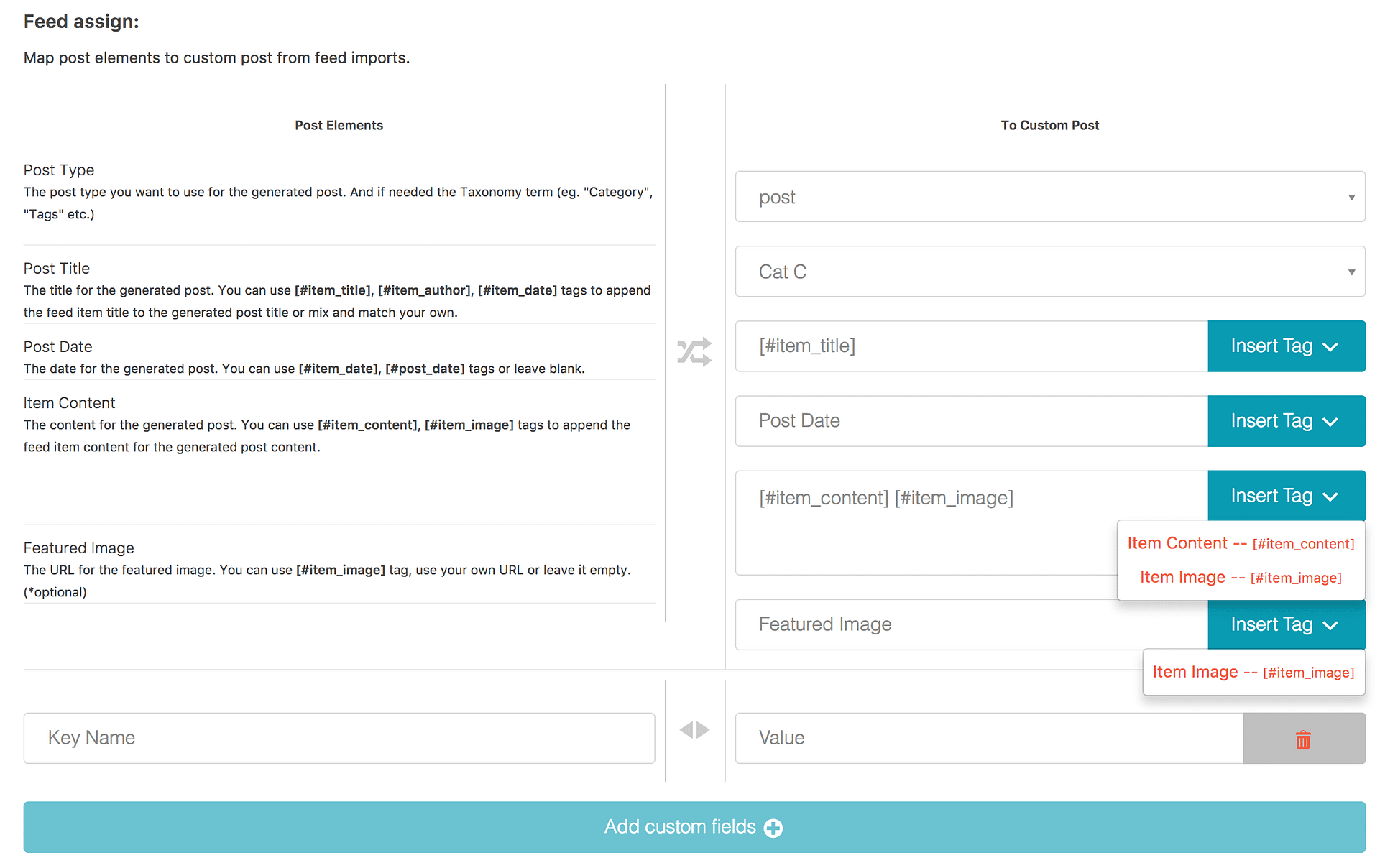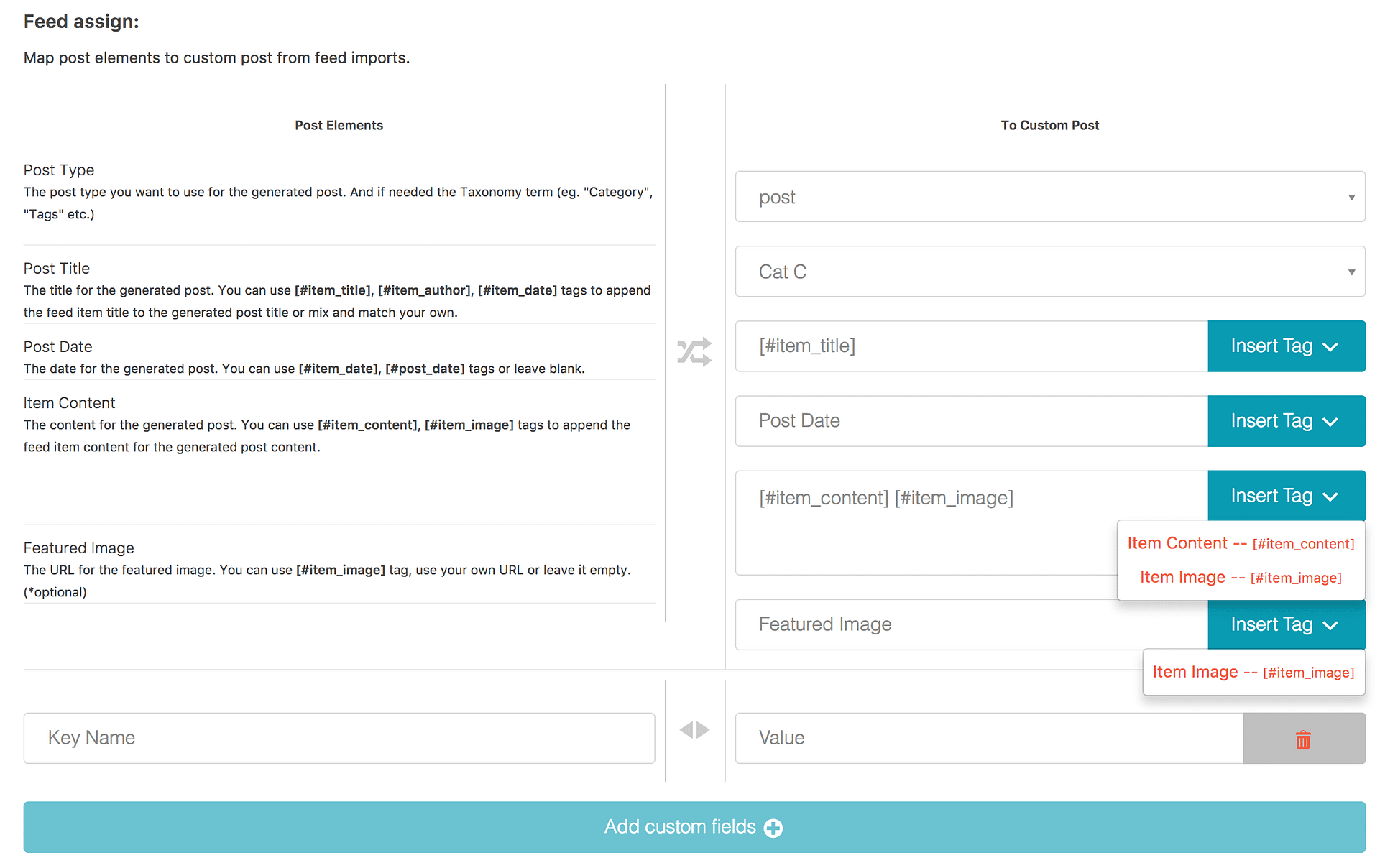 Now, about the pricing. The version of the plugin that gives you the RSS to post abilities is $149 / year. However, you can actually use it on three sites instead of just one. This makes it an affordable alternative for those who need RSS to post WordPress plugins running on multiple projects. If you need the tool for more than three websites, you can switch to Agency license, which costs $299 / year.
Cool usage example
Click to expandLet's say you have an e-commerce store set up outside of your WordPress site. Not an uncommon setup. With solutions like
Shopify, Magento, or whatever else
, which all work quite well, moving your store over to WooCommerce can be jus too much work.
Either way, if you have a store built on something else, you can still import your product feeds into WordPress and have them displayed normally. Here's how:
Create a new post type – "products," for example.
Add your external product feed to Feedzy. Adjust the way you want the images displayed, links, titles, everything.
Create a new page that takes all that newly imported content and display a nice listing for it.
Optionally, use the Feedzy widget to display some of the products in the sidebar.
Who should get Feedzy
If you want to start using the RSS to post functionality quickly, for multiple feeds, and while also having the ability to filter the content that's being imported (plus the widgets you can use, and the main shortcode), then you should enjoy Feedzy very much. Last but not least, with the price tag of $149 for 3 sites, it becomes much more affordable if you have multiple projects going on.
Go to top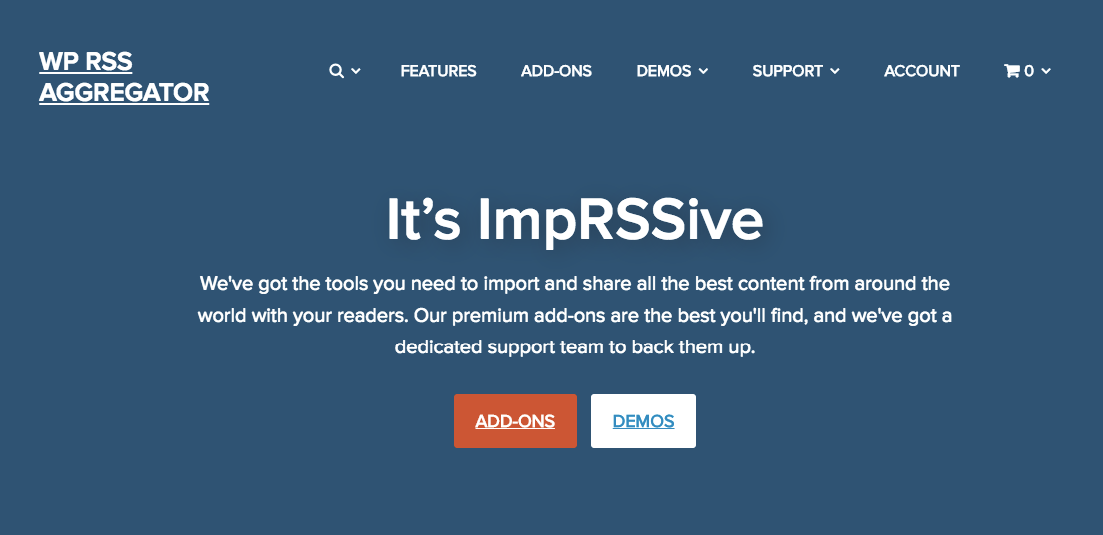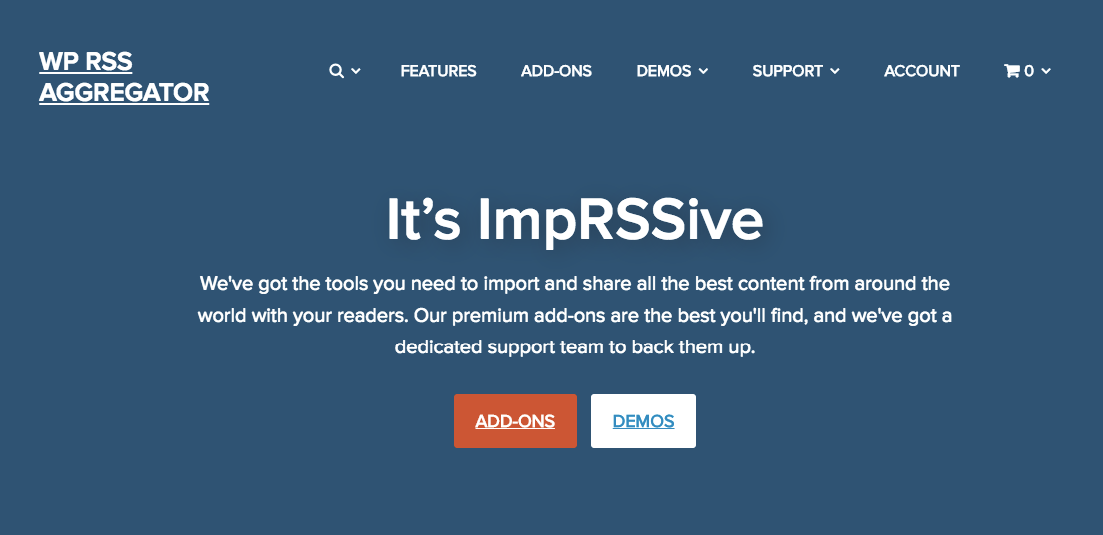 I do like this plugin, I have to admit. It has basically all RSS-related functionality imaginable, and, at the same time, remains easy to grasp and highly customizable.
WP RSS Aggregator is actually a multi-plugin tool. First, you need the core WP RSS Aggregator plugin – this one is free. Then, you can get whatever number of add-ons in order to expand the functionality or extend the abilities of the whole thing in some other way (more settings, etc.).
The only downside with this plugin, though, is that most of its best features indeed come via those paid add-ons. Long story short, if you want basic RSS to post functionality, it's going to cost you $80 / year for a single site. For a slightly more advanced setup – with RSS to post, full text RSS feeds, and keyword filtering (import specific content based on the keywords in it) – the price goes up to $150 / year.
The core plugin by itself basically only gives you the option to track whatever number of RSS feeds and then display the links to individual feed items – articles – via a shortcode.
That being said, I have to give it to WP RSS Aggregator, they've put in great care into delivering very good admin features. For instance, you can import and export your settings and feeds, blacklist feed items, set feed processing intervals, and even enter the debug mode in case there's any problem with your feeds.
Back to the plugin's RSS to post abilities… So, the best way to get this functionality is to buy WP RSS Aggregator's "Advanced Feeds Bundle." As part of it, you get three add-ons: Feed to Post, Full Text RSS Feeds, Keyword Filtering. Together, those three + the core plugin allow you to: add an RSS feed, check how it should be imported and what should happen with the content once imported, process the images, assign an author account to imported content, add custom text before and after the content, and more.
Overall, there's a lot of stuff there, but at the same time, you can very well just use the default settings, and your posts will get imported no problem.
One thing to keep in mind, when you get the add-ons bundle, make sure to go to the plugin's settings → the Feed to Post tab → select "Premium Full Text Service" next to the "Full Text RSS service" label. This will give you upgraded content importing.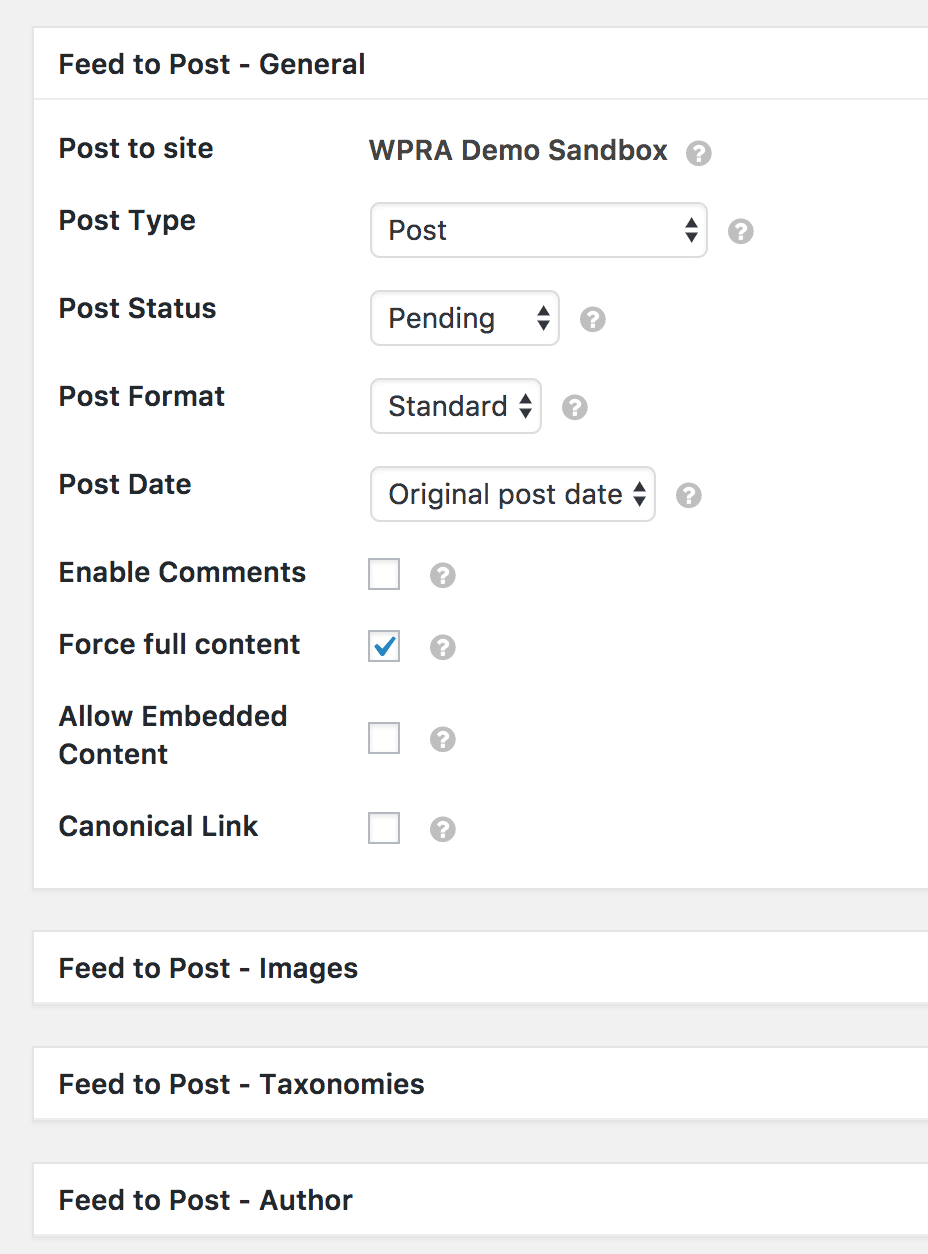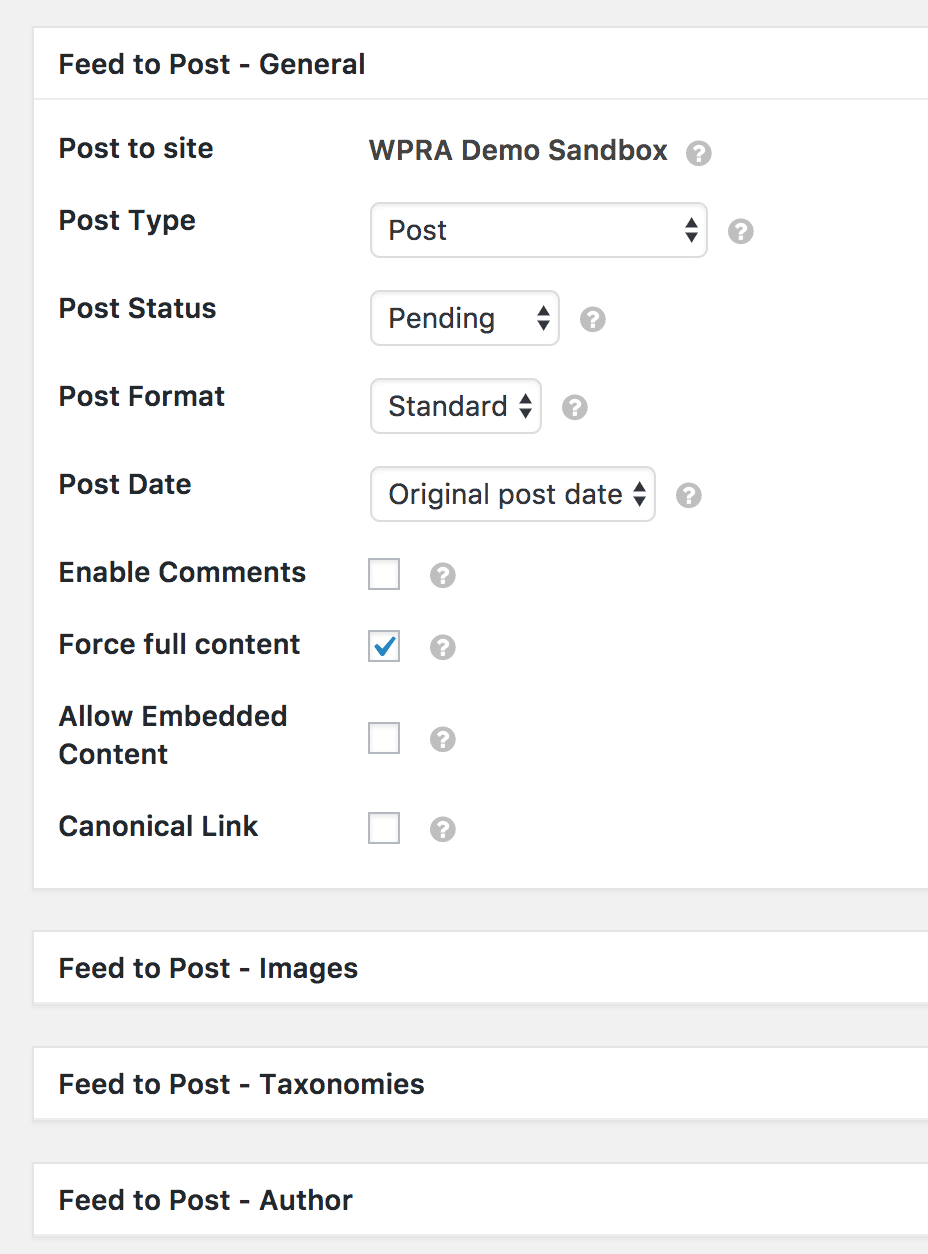 Cool usage example
Click to expandThe RSS to post feature in WP RSS Aggregator can be used for a lot of things. But the one I particularly enjoy is using it to import content from another CMS into your new WordPress site.
If migrating from one WordPress site to another wasn't stressful enough, imagine having to change CMSs on the fly as well – for instance, moving from Joomla to WordPress, or from Drupal. And while I know that there are methods to do this sort of thing properly, direct RSS to post imports are just way quicker.
What you do here is make sure that your RSS feed in the other CMS includes all of the published posts, and then add that feed to WP RSS Aggregator. Mind you, this can take a while.
And I know what you're thinking … in all honesty, this method can indeed fail, and who knows why, probably multiple reasons. But the simplicity of it alone from the user's point of view makes it well worth a try. Even if it fails, which it shouldn't, you still lose hardly any time.
Who should get WP RSS Aggregator
Looking through all of the plugin's features and add-ons, I'd say that it's a great solution for websites that rely heavily on external RSS feeds and the ability to import them with no hassle. Content aggregators come to mind, internal websites (within a business), or curated publications, etc. And, of course, you need to be ready to spend $150 / year.
Go to top
CyberSEO Lite – RSS, News Feeds, Video Feeds, Autoblogging, SEO and More!
Current Version: 6.31
Last Updated: March 19, 2021
88%Ratings
10,000+Installs
WP 5.0+Requires
CyberSyn is one of the few sensible RSS to post WordPress plugins in the market that deliver the core of its functionality for free. That being said, there are some limitations.
First off, CyberSyn seems to be doing everything you'd expect it to. You can add RSS feeds to import, and customize the way those imports are to be handled. You can assign the imported posts to specific categories, set how often the import should be done, what to do with the attachments/media, and even how to process any videos that might have been included in the post, etc.
On the flip side, though, I did experience some problems when trying to import whole feeds along with the media in it (while also creating featured images on the fly). Also, the developer recommends to keep the number of posts to be syndicated from each feed at once to low values in order to decrease the execution time.
Nevertheless, you do get the RSS to post functionality and full text feeds for free, so it's hard to complain.
With that being said, there's also a premium version of the plugin available, called CyberSEO. It extends the range of available types of feeds, and gives you even more configuration options. Plus, you can put whatever content your import through a text spinning service.
The premium version costs $99.95.
Cool usage example
Click to expandCyberSyn itself is a good tool for dipping your toes in RSS importing and seeing how all of that works. For instance, when it comes to some of the more basic uses, you could start curating content with the help of this plugin. You can simply import from a number of sources, save everything as Draft, and then review manually and decide what you want to have published.
However, if get the premium version of the plugin, you can start doing pretty interesting SEO or marketing experiments with the content you import.
For example, the plugin works with a number of text spinning services. What this means is that you can import a piece of content, have it spun, and only then republish it.
Note; of course, this should not be done on other people's content – where you take it without asking – but it's still an interesting possibility to explore with your own content.
Who should get CyberSyn
This plugin is geared towards people importing RSS content for SEO purposes – as in, populating a website with content from other sources. Also, should work well if you just want to test out the whole RSS to post idea without investing in a premium solution.
Go to top
Your choice?
What do you think? Have you tested any of the popular RSS to post WordPress plugins? Or maybe you have a really cool use case involving RSS that you'd like to share? Speak up in the comments below.
Here's that comparison table again:
3 absolute best #RSS to post #WordPress #plugins and what you can do with each
Click To Tweet
Don't forget to join our crash course on speeding up your WordPress site. With some simple fixes, you can reduce your loading time by even 50-80%: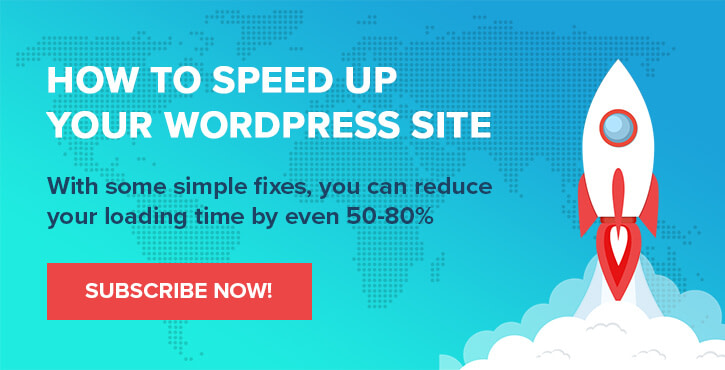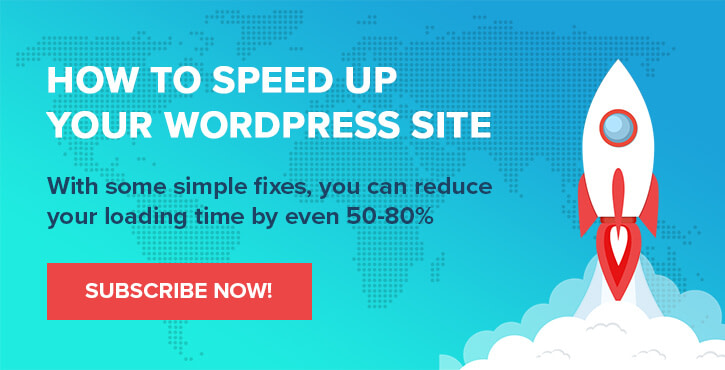 Was this topic
helpful?
0% of users found this helpful