What's the deal with best OTT platforms? OTT is short for "over-the-top." It's an alternative media distribution option to regular satellite or cable television. For video creators, it lends an opportunity to monetize their video content. It also helps businesses target audience segments and generate revenue.
Typically, the best OTT platforms offer infrastructure that keeps costs down while, at the same time, being efficient. There are OTT platforms with a wide range of price points, but you want to look for one with consistent pricing and low bandwidth costs.
As with all software, the key to selecting the right one for you is knowing what features you need from your OTT platform.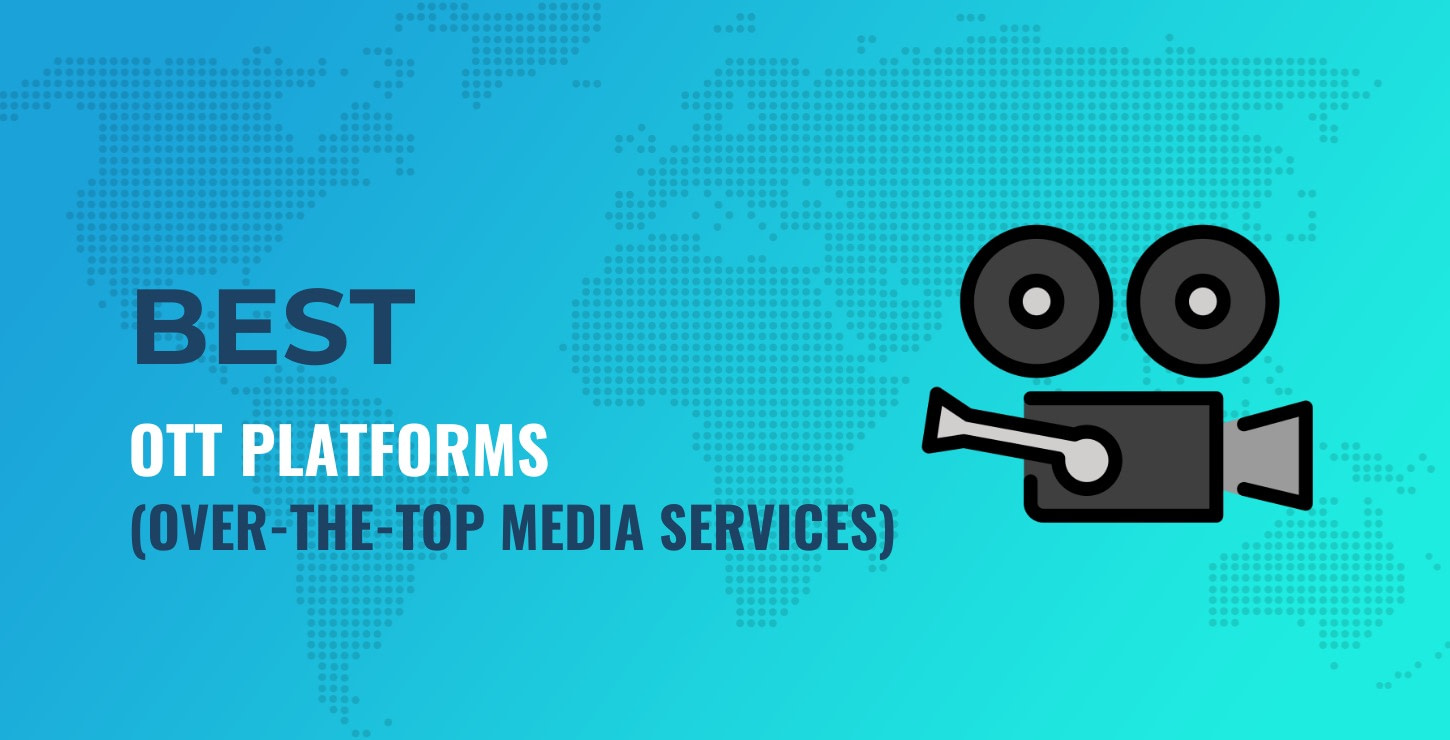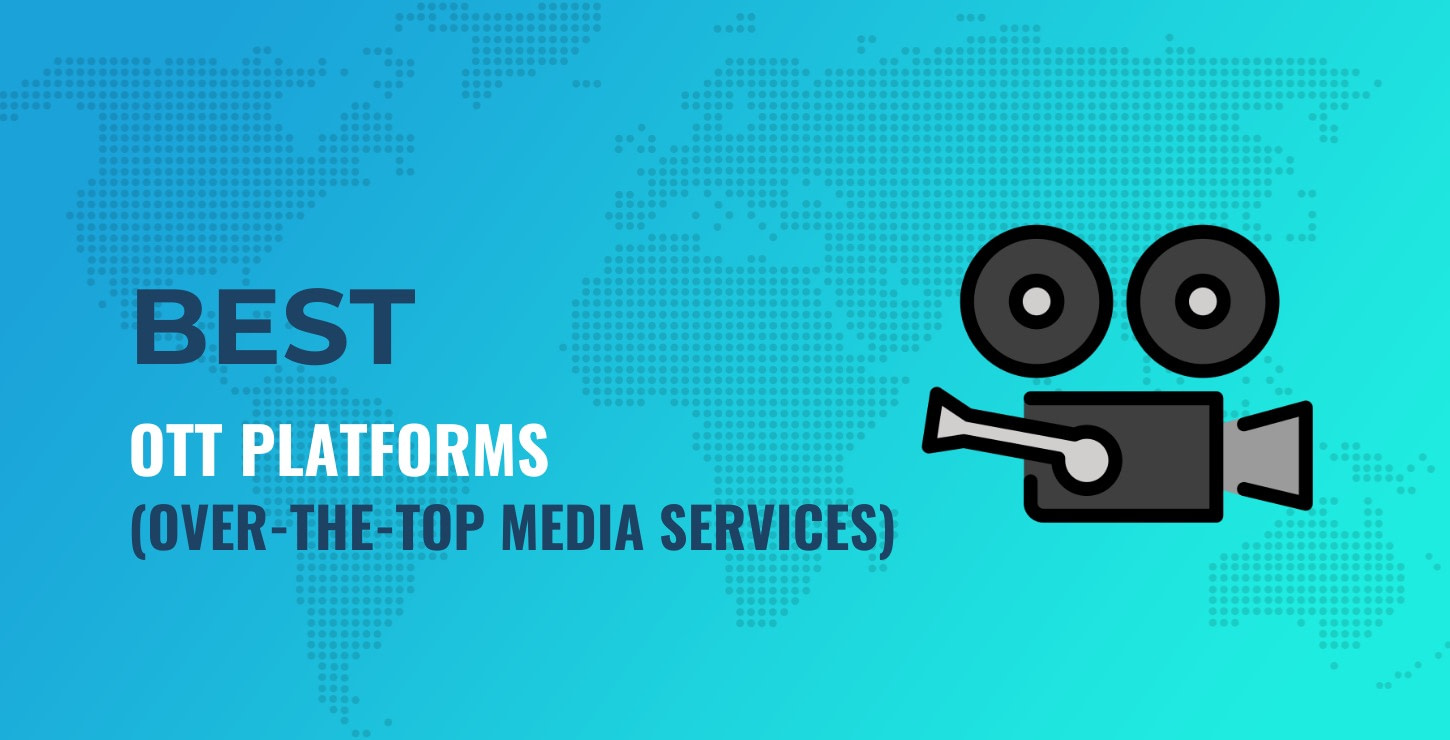 Best #OTT #platforms: 10 over-the-top #media services to use this year 📹📹
Click To Tweet
Here's what you should keep in mind while picking the ideal tool for you:
Content delivery that covers video on demand (VOD), video hosting and/or live streaming
Video API that's compatible with your content management system
A video player that's responsive and works with all devices
High quality playback without buffering
HD encoding for high quality video display
Global content delivery network that's reliable
Monetization model that covers ad inserts, pay-per-view, and subscriptions so you can choose the model that's suitable for you
Marketing tools for free giveaways and other funnel structures
Reliable security tools
White-label streaming
Integrations and add-ons to meet specific needs
Best OTT platforms in 2021
💸 Pricing:
Uscreen has three plans – Basic at $99/mo + $0.50/subscriber/mo and Amplify at $499/mo + $0.50/subscriber/mo. In addition, there are customized Enterprise level plans.
🧰 Key features:
All plans allow you to upload video and audio.
Allows you to set your own language and branding
Bandwidth and storage are included
Live streaming feature included in the higher plans
High quality
feature-rich player
HLS video encryption and simultaneous login sharing protection
Built-in monetization and billing
Sell one-time offers, rentals and multi-tier subscriptions
Built-in CMS
Unlimited video streaming and bandwidth
Visit Here
Go to top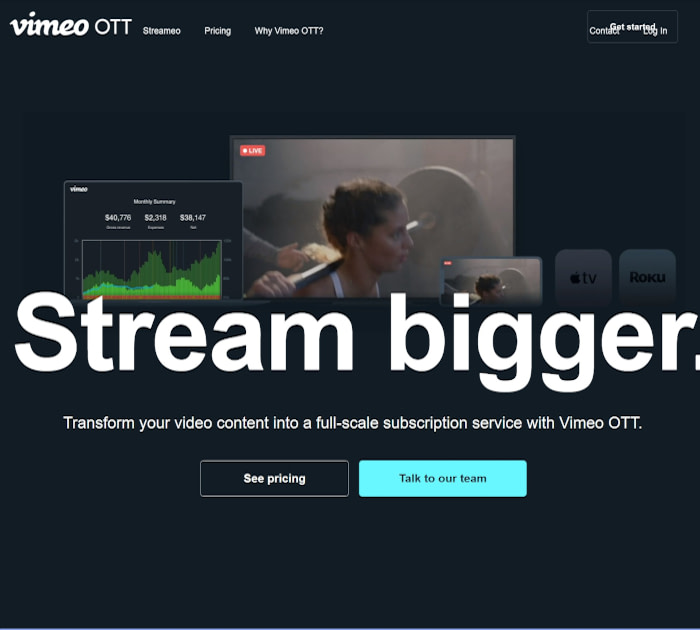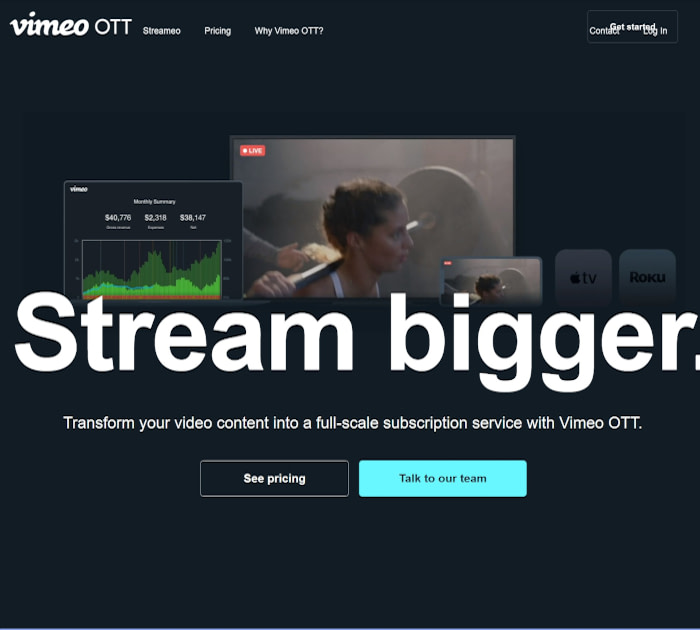 💸 Pricing:
Besides custom plans for which you can request a quote, there are two plans – Starter and Growth. Starter comes at $1/mo/subscriber and Growth at $500/mo, billed annually.
🧰 Key features:
Beam flawless live or on demand video
Time windowing to schedule video availability
Branded apps with in-app purchase
Organize your videos into groups and playlists
Best viewing experience on any app
Scales fast to keep up with your business
Subscriptions, transactions, advertising and registration as monetization options
Seamless migration of content, data and customers
Full control over your subscribers data and brand
Go global in every market, language and currency
Visit Here
Go to top
💸 Pricing:
Plans are pegged at $39, $63 and $188/mo, billed annually. All plans have a free trial and 24×7 support.
🧰 Key features:
Suitable for events, business, organizations and entertainment
All-in-one streaming solutions
High quality live streaming with top tier CDNs
Secure video hosting with 24 x 7 support
All-device HTML5 player for wider audience reach
APIs that allow integration of live video and VOD
Pre, mid and post roll advertising
Full 1080p HD broadcasting
Unlimited channels and advanced library management
Live countdown and unlimited concurrent viewers
Visit Here
Go to top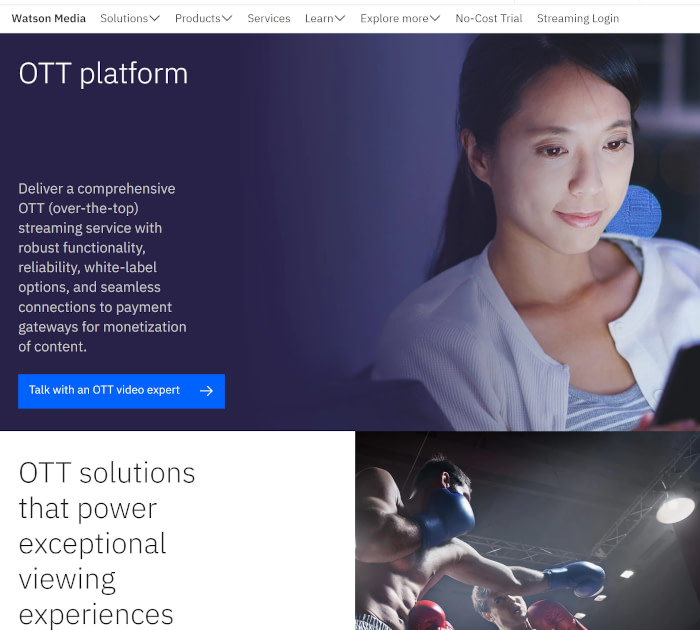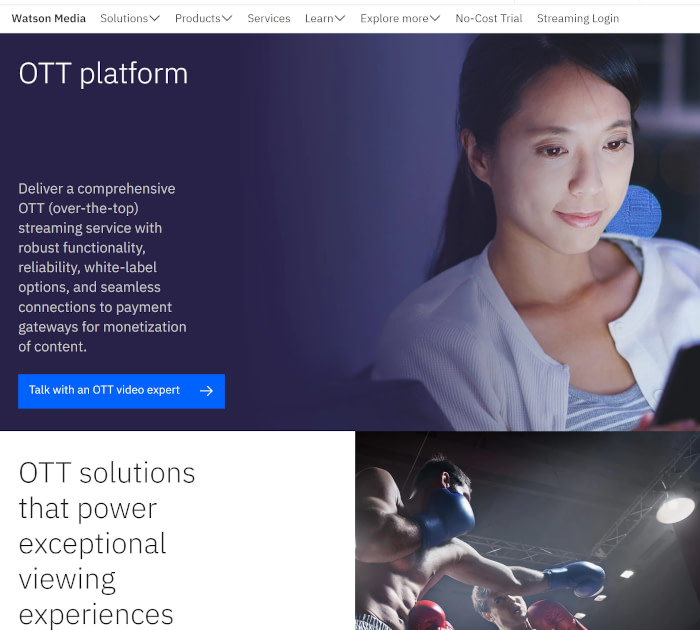 💸 Pricing:
IBM has Silver, Gold and Platinum Plans that start at $99, $499 and $999/mo, suitable for different business sizes.
🧰 Key features:
Handles OTT video delivery and live TV programming
Reliable infrastructure for worldwide OTT content delivery
Live polling and clickable video overlays
Channel customization and password protection
Video embed control
HD transcoding across various bandwidth connection speeds
Develop OTT viewing experience that matches your brand using customization and APIs
Powerful content delivery and video analytics
Auto archiving
On demand captioning and AI driven search
Visit Here
You may also be interested in:
Go to top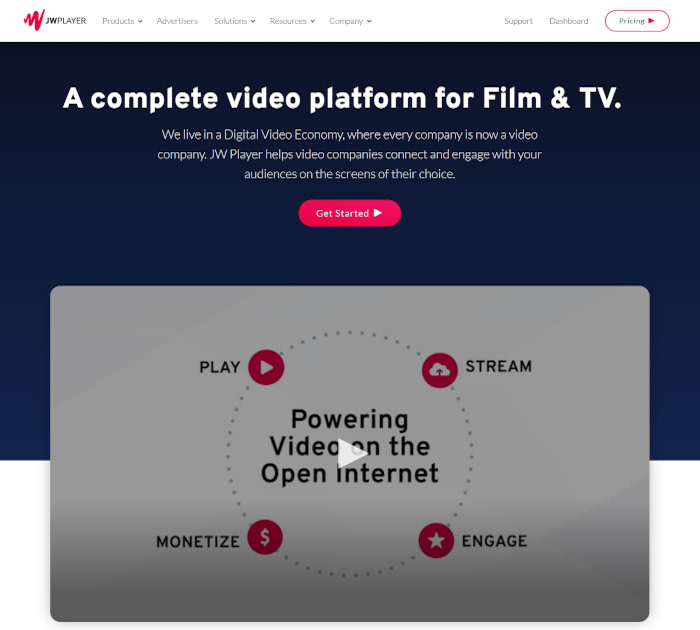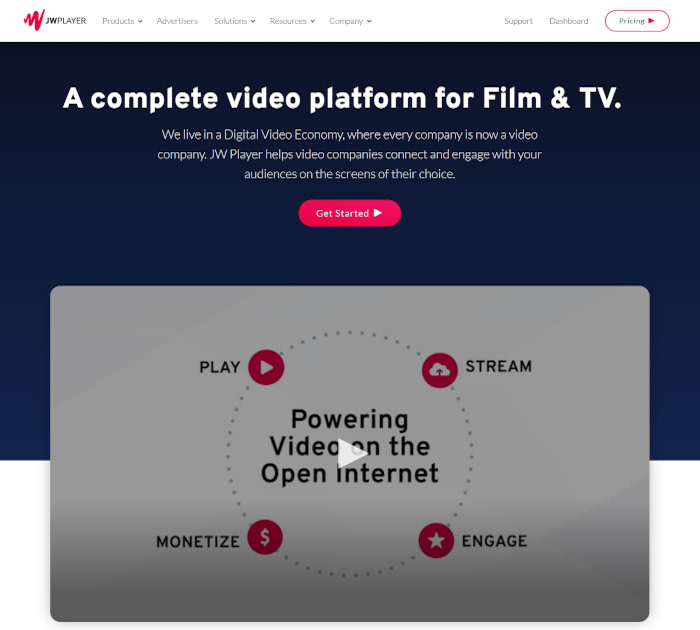 💸 Pricing:
JW Player offers a 30 day free trial that includes almost all features. However, the Starter plan that begins at $10/mo offers limited features. For specific video needs, you'll need to get a custom quote.
🧰 Key features:
Fastest startup and highest quality playback that eliminates buffering
Multi bitrate HD encoding and password protected sharing
Allows self hosting the player library for ultimate control
Video gallery and video recommendation engine
Live event streaming
Supports new industry ad formats
Load a player at any point on the web page
Easily share your videos on YouTube and Facebook
150GB of media hosting, 500GB streaming
Integrates with most other OTT platforms
Visit Here
Go to top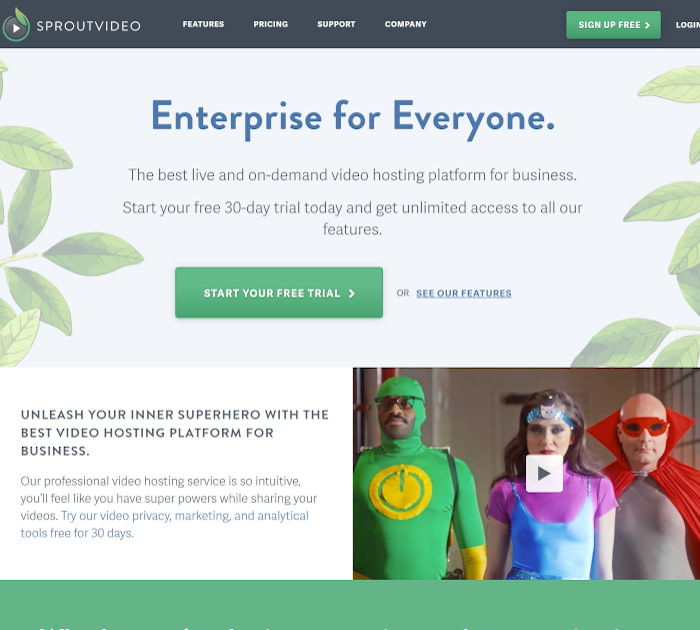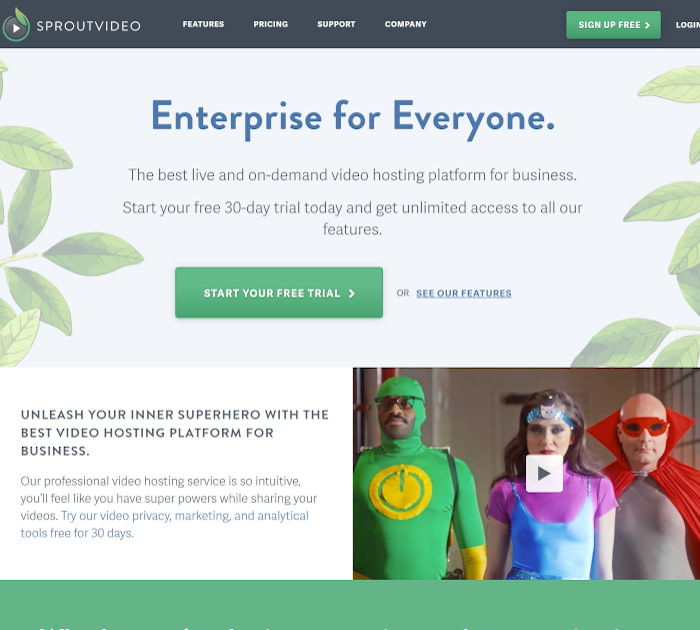 💸 Pricing:
There's a 30-day free trial for any plan. Four plans are available – Seed ($24.99/mo), Sprout ($59.99/mo), Tree ($199.99/mo) and Forest ($499.99/mo). All plans include core platform features, analytics and email/live chat support.
🧰 Key features:
Multiple video players that you can brand
Automatic bandwidth detection and quality adjustment
Optional social sharing and embed code sharing player controls
Embed codes work smoothly with platforms like WordPress, Shopify and Squarespace
Supports HTML5, and every modern device and browser
Supports video in HD and UltraHD for stunning video display
Supports almost every type of video files
Security via password protection, login protection and single sign-on
Restrict video access with non shareable embeds, private videos and URL based, IP or geography based access
Capture leads and boost campaign performance
Visit Here
Go to top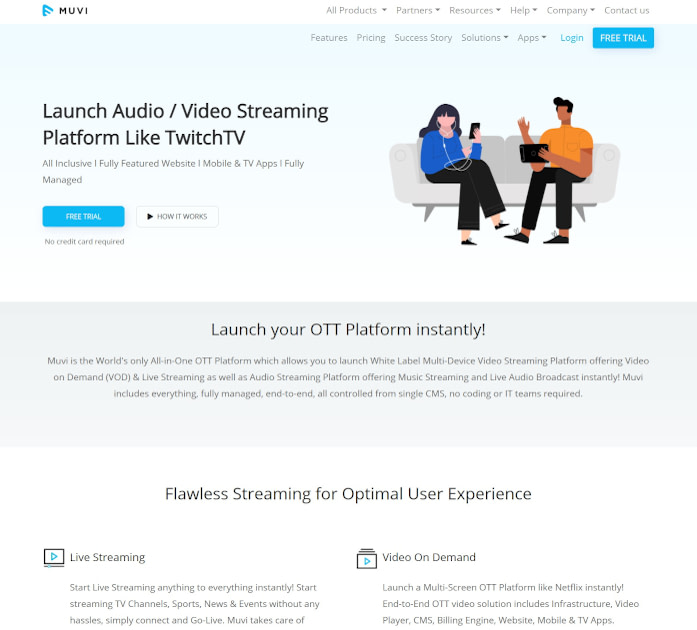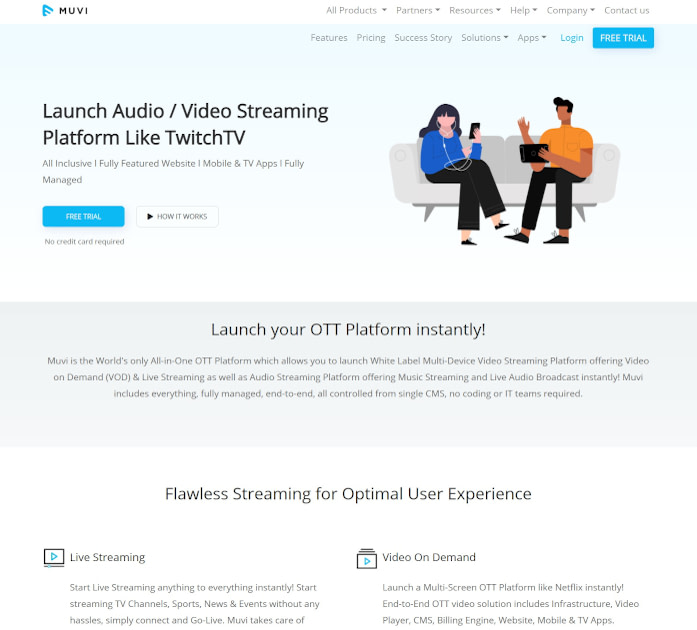 💸 Pricing:
Besides a top level premium plan, there are four entry plans – Standard, Professional, Enterprise and Ultimate pegged at $399 + $299/app, $1499 + $499/app, $3900 + $499/app and $8900 + $499/app respectively. The rates are monthly with a discount of 15% on annual payment and 10% on half yearly payment.
🧰 Key features:
All inclusive, fully managed, end-to-end platform
Allows audio and music streaming
Live stream sports, events and news to any device
Video solution includes player, website, CMS, billing, mobile and TV apps
Launch live broadcast radio channel instantly
Social media integration, ratings and comments
Supports user-generated content
Built-in CDN
Built-in monetization – coupons, subscriptions, pay-per-view and video advertising
Built-in 500+ features
Visit Here
Go to top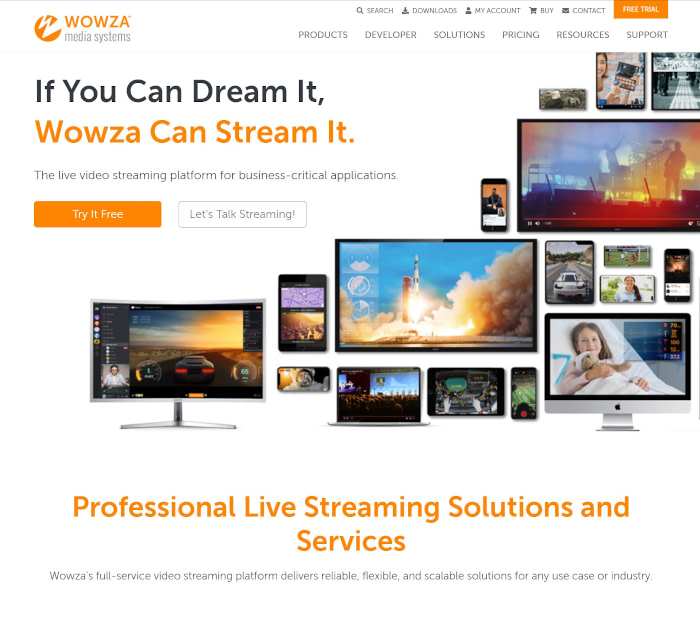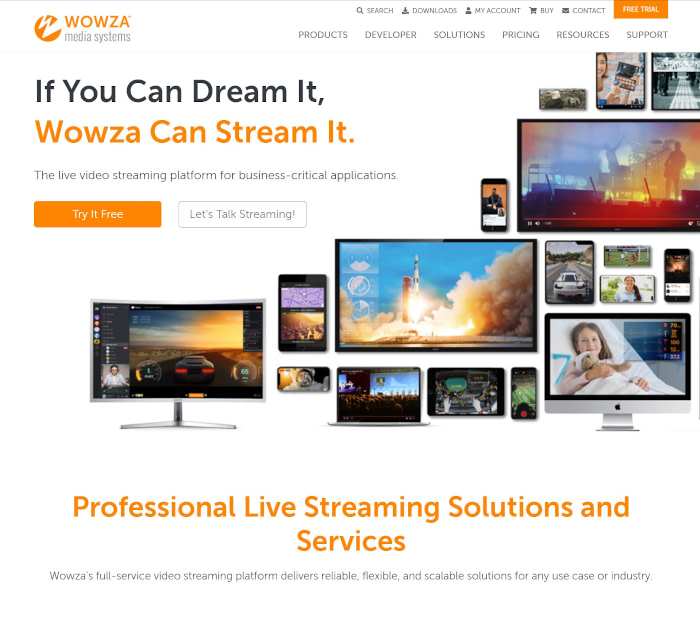 💸 Pricing:
Purchase either the software or services. Software starts at $125/mo billed annually, Services start at $85/mo billed annually.
🧰 Key features:
The software is ideal for self-managed infrastructure, customized streaming solutions
The services are ideal for live event streaming or deploying quickly on a managed infrastructure
Live streaming encoders with cloud control (Wowza ClearCaster)
Customized configuration, real-time monitoring
Simplified streaming, streamlined user interface
Fine grained control over format, video quality and delivery options
Software supports latest industry standards
APIs and native media player options
HD and UHD broadcasting with no caps on bitrate or resolution
Stream multiple events simultaneously or deliver to multiple destinations
Visit Here
Go to top
💸 Pricing:
Flexible pricing packages that offer a 30-day free trial. Pricing is based on the number of users.
🧰 Key features:
and the setup costs are included in the package. Three types of packages are available – Learning & Development, Communication & Collaboration, and Marketing & Sales. Prices are as per your customized package.
Suitable video platform for collaborative projects
Unique branded virtual events for audience of any size
APIs and SDKs for developers creating live, real-time and VOD experiences
Creating, transcoding, managing and publishing of video content
Education covers virtual classrooms, LMS video, lecture capture and campus portal
Video cloud platform designed for unlimited scale
Conduct meetings and webinars
HTML5 player, interactive video tools
Personalized video messaging, social business integrations
Marketing automation video extensions
Visit Here
Go to top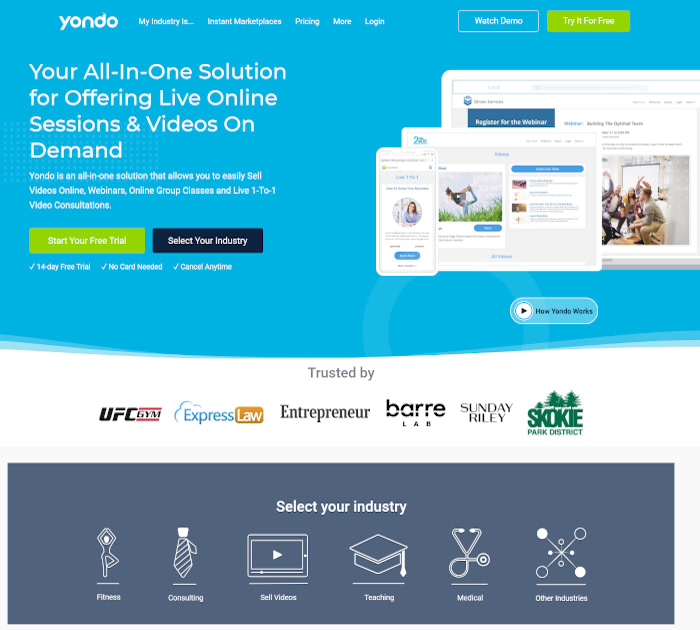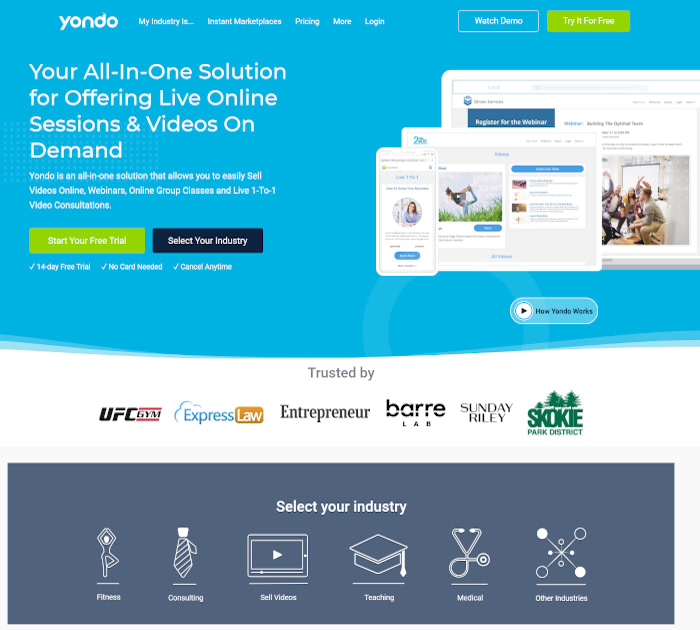 💸 Pricing:
Yondo offers three paid plans – Premium ($349/mo), Professional ($139/mo) and Starter ($69/mo) when paid annually. There's also a 14-day free trial.
🧰 Key features:
All plans offer live 1-to-1 video sessions and live online group sessions
Features include VOD, webinars, playlists and recordings
Unlimited file and video storage
Unlimited listings and booking calendar
Your own branding – including branded emails to clients
Discount code engine
Self packaged listening
Integrations with your website using plugins or custom templates
Pre-built online stores and platforms suitable for your industry
Integrations and add-ons available
Visit Here
Was this topic
helpful?
0% of users found this helpful