Best HR software can help you get the most out of your employees and team. The very best solutions out there help with streamlining onboarding, payroll, internal processes, and more. In this roundup, we compare the features, prices and qualities of the best HR software the market has to offer in 2021!
The HR section of any organization is a busy place, carrying on a whole lot of activities like employee hiring, managing, training, and more. These tasks can suck the joy out of your week if not handled properly. Good HR software automates much of these activities, cutting down on a lot of paperwork, manual record-keeping, and, most importantly, costs. But how to pick the ideal solution for your business? Start with this:
10+ best #HR #software to keep your team organized and effective 👨‍🎨👨‍🔬
Click To Tweet
Features to look for in best HR software 🧰
Initial setup and running costs: Obviously, cost will be a major factor in selecting any software package. Whether you're a boss-and-clerk office, home office or a large scale enterprise, there are a number of quality products to choose from. Also, check if the software you're considering is scalable. After all, growth will become important down the line.
Usability by both employer and employees: Any HR platform must have an intuitive interface that can be used by both employers and employees with ease. Even better if they can access it from mobile devices. Moreover, for administrative purposes, user access control is desirable.
Open APIs and integration with other platforms: Workflow can improve significantly when you integrate the best HR software services with the apps you're already using elsewhere in your business. For instance, Zapier can help automate tasks, DocuSign can help with documents and proposals, and QuickBooks can handle accounting. Open APIs let you customize the software to suit your specific needs.
Reporting and analytics A strong reporting and analytics module is essential for keeping track of talent and constantly improving your processes. Analytics can help you discern top performers, streamline HR functions, and more.
Features relevant to your organization: Not all HR software has the same set of features. Some offer standard features such as recruitment, time and attendance, leave management, eSignatures and document management in base plans. For additional features, you might need to upgrade to a higher pricing tier or purchase specific add-ons.
10+ best HR software 👨‍🎨👨‍🔬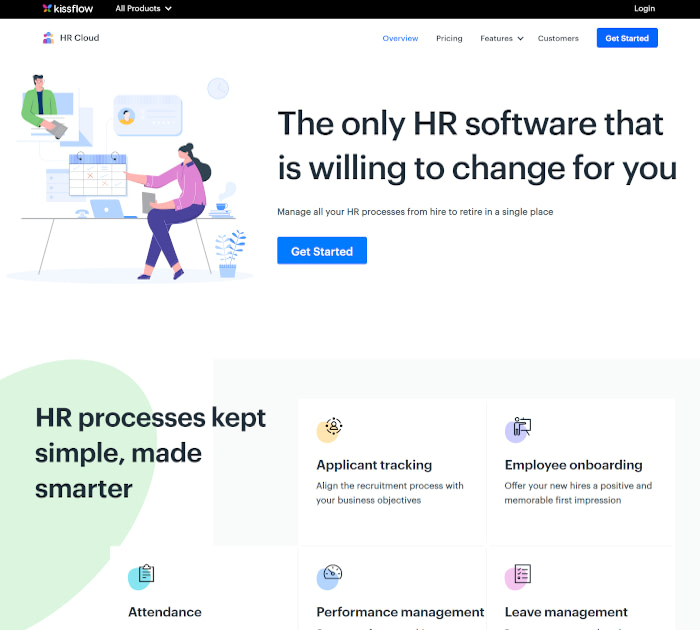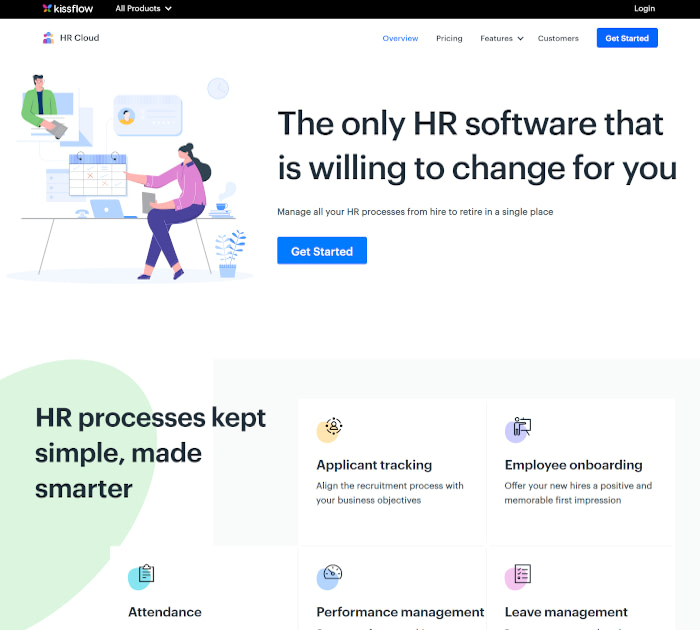 💸 Pricing:
Standard $690/mo (100 users); Enterprise $1290/mo (unlimited users). Both billed annually
🧰 Key features:
Applicant tracking
Employee onboarding and off-boarding
Performance management
Time and attendance
Leave management
Training management
Employee database
Integrations
360° feedback
Collaboration and HR helpdesk
Visit Here
Go to top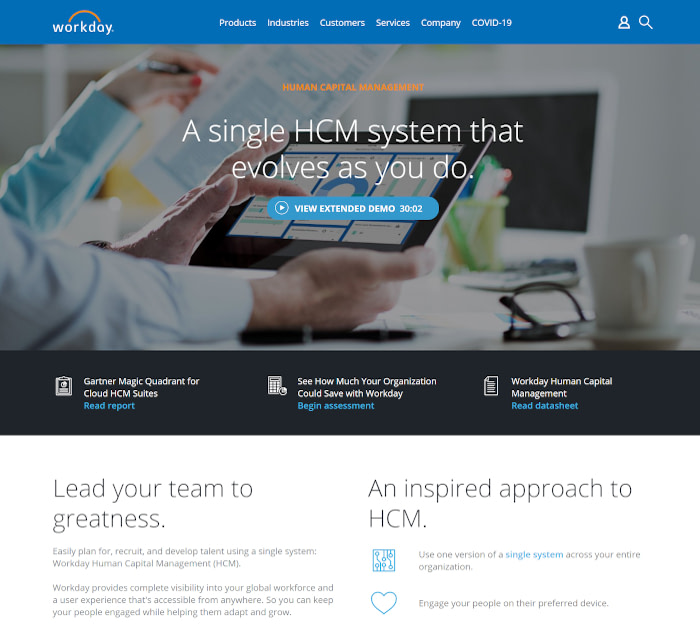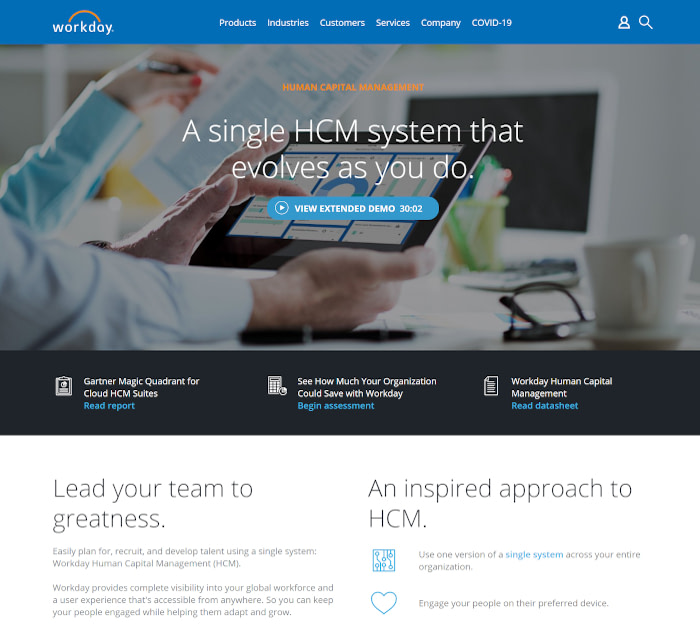 💸 Pricing:
Varies with size of organization and number of employees
🧰 Key features:
Suitable for medium and large enterprises
Plan, recruit and develop talent
Manage full worker lifecycle
Reporting and analytics
Learning and global compliance
Compensation and benefits
Payroll management
Time and absence
Expenses
Audit and internal controls
Visit Here
Go to top
💸 Pricing:
Pay for module, for example, Recruiting at $3/mo per user
🧰 Key features:
End-to-end global recruiting
Goal management and performance monitoring
Accurately identify top talent
Brilliant Hire for efficient and unbiased candidate screening
Workforce analytics capabilities
Can improve career site branding and candidate engagement
Easily post jobs around the world
Succession management to ensure talent continuity
Intelligent career and development planning
Connect people, information and experts
Visit Here
Go to top
💸 Pricing:
Varies with size of organization and number of employees
🧰 Key features:
Human resources connecting employees with information
Track all human capital management information
Handles complex payroll computation and benefits administration
Attracting and hiring best talent
Onboarding and succession management
Employee file management and performance management
Learning and career development
Compensation management
Workforce management
Employee surveys and sentiment analysis
Visit Here
Go to top
💸 Pricing:
Different packages: Contractor $6/mo/person; Core $39/mo base price + $6/mo/person; Complete $39/mo/person base price + $12/mo/person; Concierge $149/mo/person base price + $12/mo/person
🧰 Key features:
Unlimited Contractor payments and contractor self-service
Full service payroll
Employee self service and profiles
Health benefit administration
Worker compensation administration
Paid time-off policies
Employee access to Gusto cashout
Employee offers and onboarding
Simple time tracking
Add extra benefits like 401(k) to any plan
Visit Here
Go to top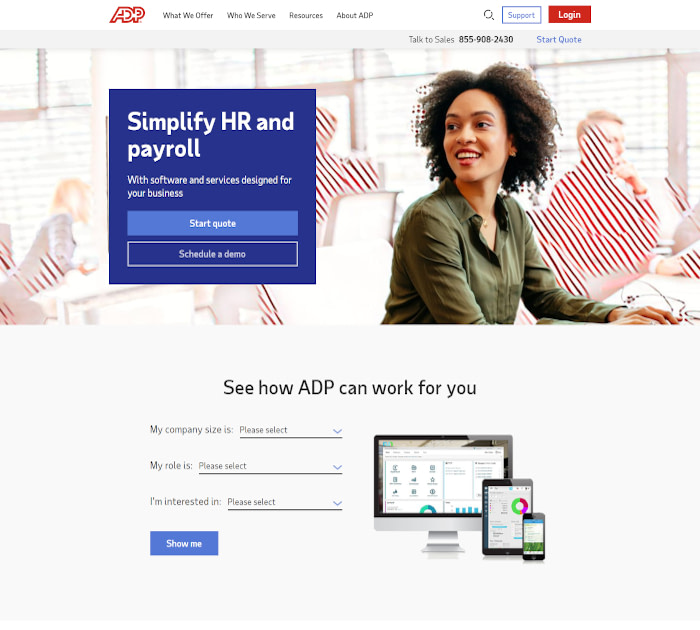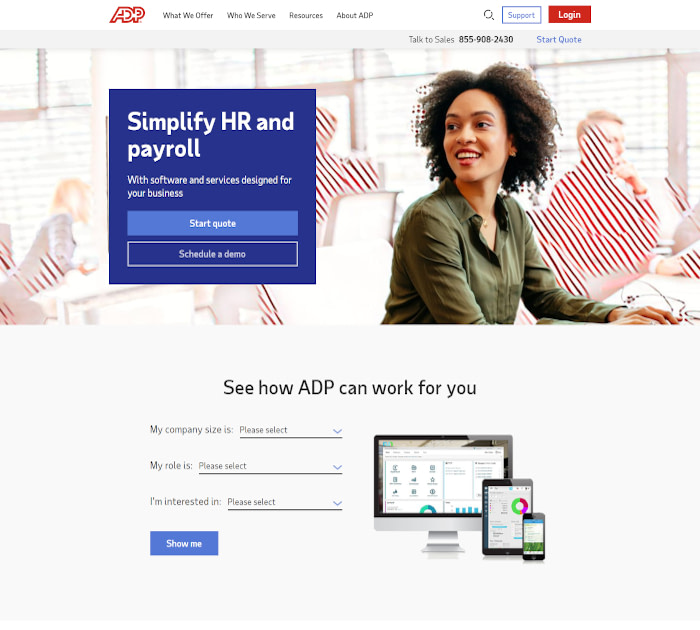 💸 Pricing:
Prices on request. Offers services in four packages: Essential, Enhanced, Complete and HR Pro
🧰 Key features:
Full range of payroll and HR solutions
Fast, easy, accurate payroll and tax
Handling talent from recruitment to retirement
Employee benefits administration
HR best practices and consulting
Time and attendance
Integrates with ERPs and other HR software
Outsourcing option
Unemployment insurance management
Employer and employee training
Visit Here
You may also be interested in:
Go to top
💸 Pricing:
Freshteam offers a free package "Sprout" for up to 50 employees and 3 job postings. There are three packages above that: Blossom ($50/mo), Garden ($100/mo) and Estate ($200/mo)
🧰 Key features:
Applicant tracking system
Employee referral and directory
Custom onboarding and off-boarding
Powerful time-off dashboard
Team availability calendar
Manage unlimited employee documents
Job board integrations
Custom hiring pipelines and social recruitment
Interview scheduling with Google and Outlook calendar
Employee self service
Visit Here
Go to top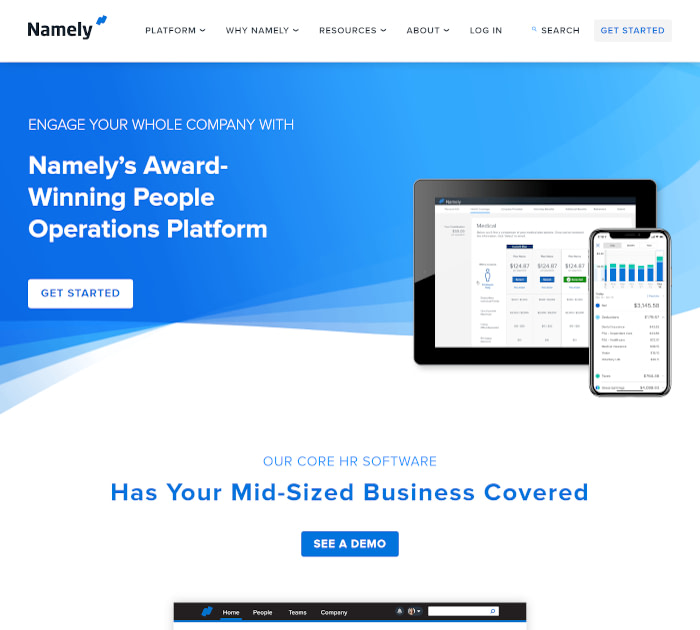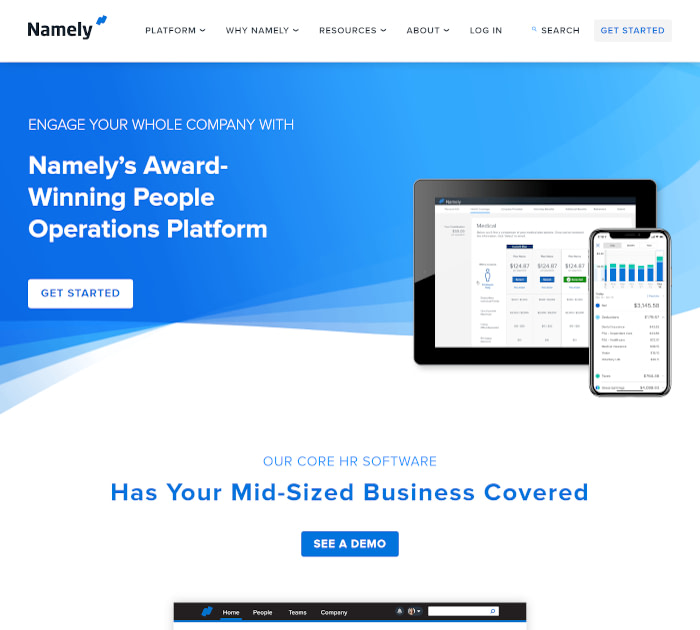 💸 Pricing:
Prices on request
🧰 Key features:
Employee engagement
Onboarding
Talent management
Benefits administration
Payroll
HR compliance
Analytics
Learning management system
Recruiting
Time and attendance
Visit Here
Go to top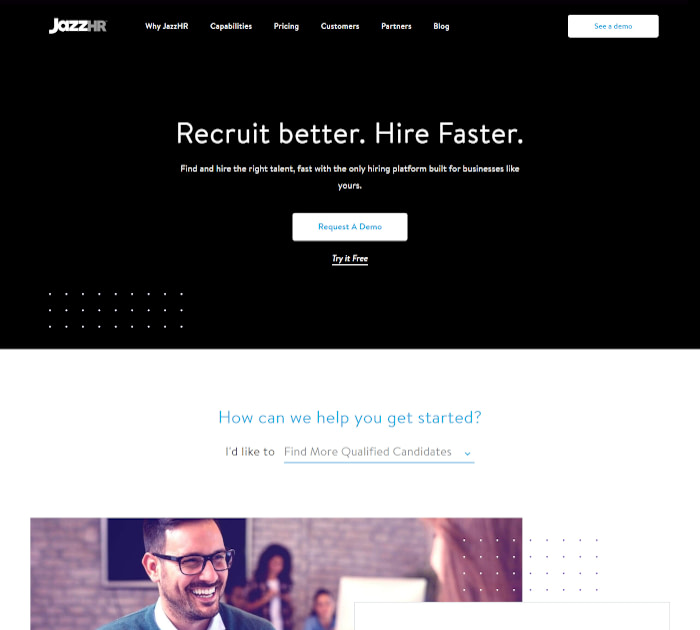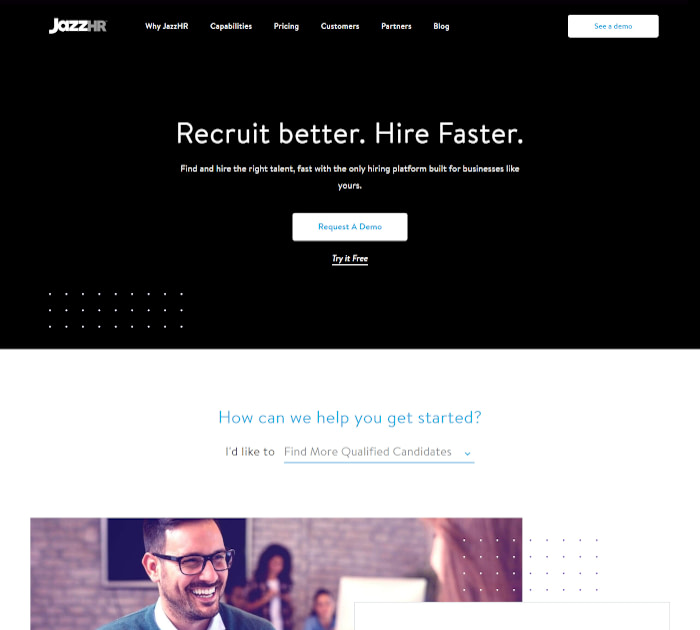 💸 Pricing:
Hero, Plus and Pro plans at $39, $219 and $329/mo. All plans give you unlimited users
🧰 Key features:
but Hero limits the number of open jobs
Job posting and syndication
Applicant tracking system
Interviews, assessments and offers
Employee referral management
Recruiting calendar, candidate self scheduling
Candidate evaluation templates
Background checks
Skills and coding test integrations
Mobile friendly job board
Optimization reports and compliance reports
Visit Here
Go to top
💸 Pricing:
Essential ($0.83), Professional ($1.66), Premium ($2.5), Enterprise ($4.16) and People Plus ($8) – all rates are per user per month
🧰 Key features:
Employee database management and employee self service
Document management, time-off management
Payroll integration
Employee onboarding and corporate LMS
Attendance tracker, time sheets, shift scheduling
Performance management, expense integration
Advanced analytics
HR process automation
User access management
Native apps for iOS and Android
Visit Here
Go to top
💸 Pricing:
Prices on request
🧰 Key features:
but you can try out the software for free
Employee record and benefit tracking
Document management
Time-off management and company calendar
Applicant tracking system
Onboarding and off-boarding
Training tracking
Advanced reporting
Custom level access
Performance tracking
Peer feedback
Visit Here
Go to top
💸 Pricing:
Essentials, Growth and Zen at $10, $18, $27 per employee per month
🧰 Key features:
Hiring and onboarding
Document management
Integrations to improve workflows
Automated time-off and scheduling
Mobile app to access HR on the go
Compensation management
Performance management
Measure and track employee wellbeing
Personalized tips, tools and training suggestions
Payroll add-on
Visit Here
Go to top
Was this topic
helpful?
0% of users found this helpful