TL;DR: This post is a detailed look for the best eCommerce website builder. We'll give you an at-a-glance overview, and an in-depth look at various areas of each page builder.
Your online store plays an important role in defining your future relationship with potential customers. With an eCommerce website builder you get the best tools for building the important relationships that help your business thrive.
While a beautiful design is a great starting point, you need more to ensure every shopping experience is a pleasure.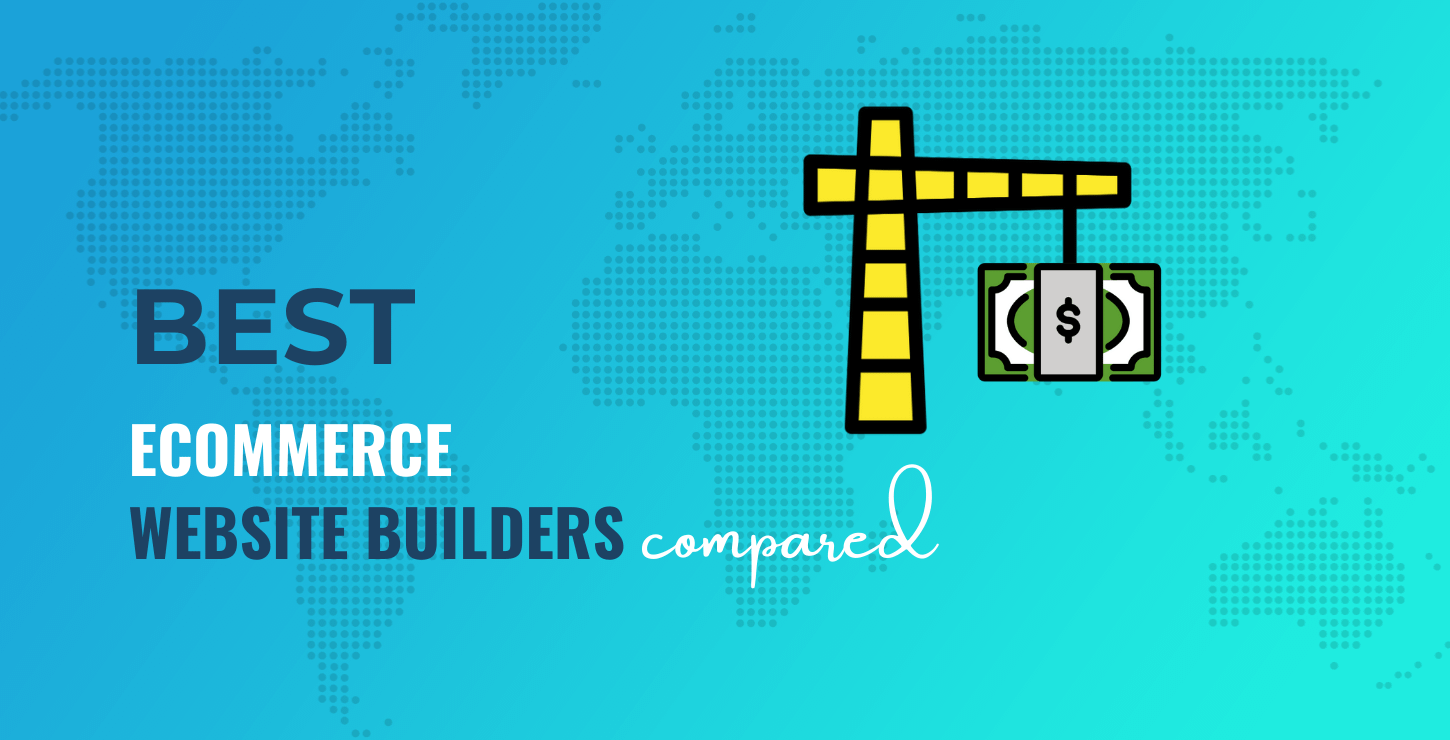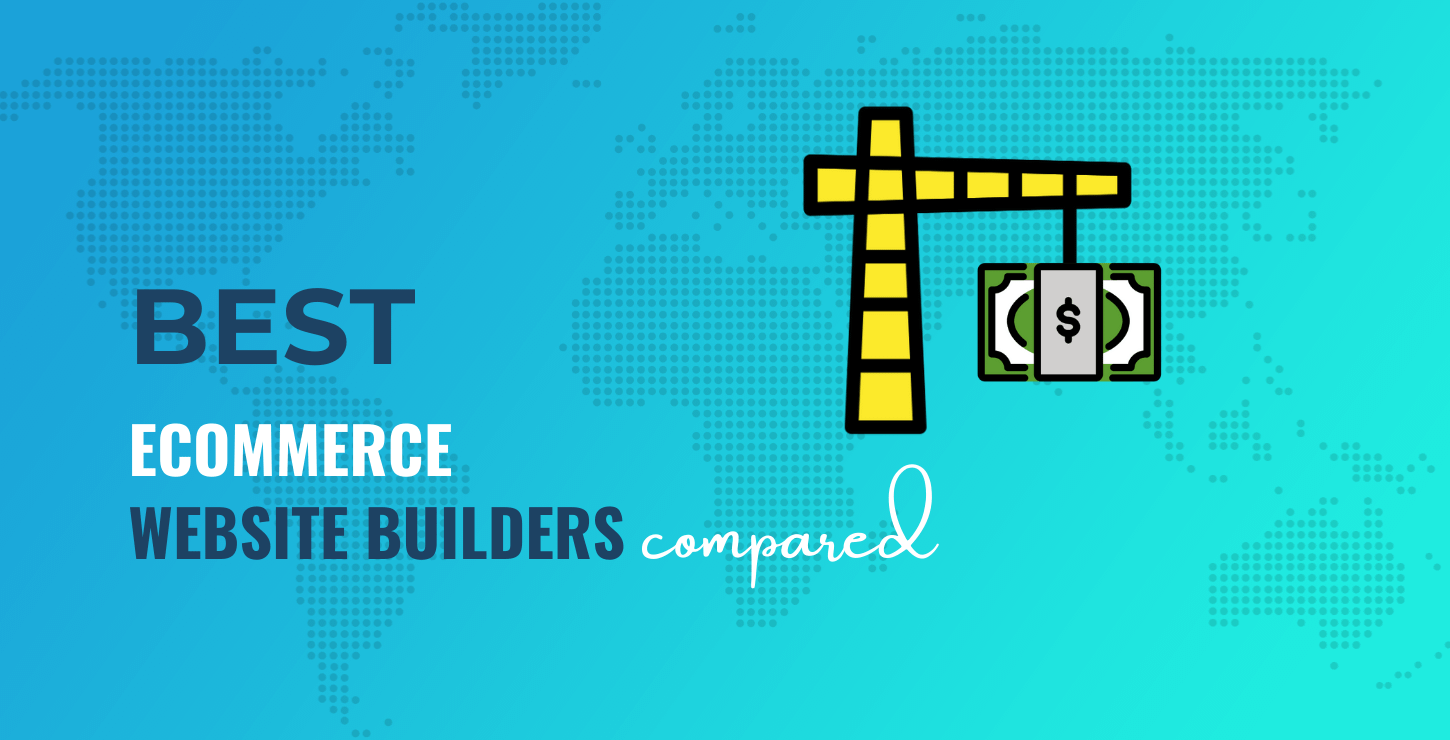 If you want to create returning customers, you need a shop that is fast, secure, and easy to use. This is what your customers expect. And, it is what your competitors can provide.
With an eCommerce website builder, you can exceed your customers' expectations (without breaking your budget). With professional designs and secure hosting, you can provide the memorable experiences that keep your customers returning again and again.
But, how do you know which is the right tool for your business?
In this detailed, hands-on article, we have compared six eCommerce website builders based on their features, design, ease of use, extra tools, and price. It doesn't matter whether you're looking to grow or just starting your small business, this article can help you find the right builder for you.
Here are the six builders we'll be comparing in detail:










📚 Table of contents:
Which is the best #eCommerce #website builder? Comparing design, features, pricing and more 👷
Click To Tweet
Why use an eCommerce website builder?
An eCommerce website builder offers a direct route to quickly launching a store and getting right into growing your online presence. You get the professional templates alongside a managed hosting service that delivers a fast website.
This is not something that can be underestimated.
Running an eCommerce store is a big responsibility. You're responsible for building supply chains and monitoring the inventory they provide. And sure, that keeps your current customers happy, but where are tomorrow's customers coming from?
All this and you still have to chase up payments, calculate taxes, arrange deliveries, and pay wages.
Now think about building and maintaining a website too.
Design the site. Write the code. Fix the bugs.
And, managing the hosting environment also?
An eCommerce website builder provides the infrastructure that delivers security and speed, so you can concentrate on making sales and delivering products.
Go to top
Round 1: Features
Let's start the battle by looking at the important features available from each eCommerce website builder. While features aren't always the most important consideration, having some idea what each tool has to offer is helpful.
| Shopify | BigCommerce | Squarespace | Wix | 3dcart | Big Cartel |
| --- | --- | --- | --- | --- | --- |
| Requires an app to sell digital products. | Support for all product types. | Support for all product types. | Support for all product types. | Requires the eProducts module for digital product sales. | Requires the Pulley app ($6/mo) to sell digital products. |
| Dropshipping integrations with Ordoro, Inventory Sourse, and more. | Dropshipping integrations with Spocket, Inventory Source, AliExpress. | Print on demand integration with Printful. | Dropshipping integration with Modalyst and Spocket. | Dedicated dropshipping plan with 0% transaction fee and multiple integrations. | Print on demand integrations. |
| Automatic abandoned cart emails. | Automatic abandoned cart emails. | Abandoned cart emails only available with the highest plan. | Automatic abandoned cart emails. | Automatic abandoned cart emails available in higher plans or as paid app in lower plans. | No abandoned cart emails. |
| Easy to set up multi-channel selling. | Easy to set up multi-channel selling. | Limited multi-channel selling options. | Easy to set up multi-channel selling. | Easy to set up multi-channel selling. | No multi-channel selling. |
| Unlimited bandwidth. | Unlimited bandwidth. | Unlimited bandwidth. | Unlimited bandwidth. | Unlimited bandwidth. | Unlimited bandwidth. |
| SSL certificate, PCI compliance, 3D secure checkouts. | SSL certificate, PCI compliance, 3D secure checkouts. | SSL certificate, PCI compliance, 3D secure checkouts. | SSL certificate, PCI compliance. | SSL certificate, PCI compliance, 3D secure checkouts. | SSL certificate only. |
| 100+ payment methods including Apple, Google, Amazon, crypto, and regional options. | 30+ regional payment methods plus Apple, Google, Amazon, and Venmo. | Major credit cards, American Express, Diner's, JCB, Apple Pay, Venmo. | Major credit cards plus American Express, JCB, Diner's, Apple Pay. | Major credit cards, PayPal, and checkout by Amazon. | Credit cards through Stripe, PayPal, Square. Also Apple Pay and Venmo. |
| Good reports on sales, store activity, traffic. | Excellent reporting with in-depth reports on sales and store activity. | Good reports on sales, traffic sources, search keywords, button conversion. | Adequate reports on sales, revenue, and conversions. | Good reports on orders, revenue, conversions, sales. | Basic reports on visitors, orders, conversions, and revenue. |
| Unlimited products. | Unlimited products. | Unlimited products. | Up to 50,000 products. | Unlimited products. | Between 5-500 products depending on the plan. |
| Easy to use inventory management and order tracking. | Cross-platform inventory management in one location. | Easy to use iOS and Android apps for inventory management. | Scan barcodes with the Wix mobile app for easier inventory management. | Advanced inventory controls tracking waiting lists, backorders, and more. | Basic inventory management available on the paid plans. |
| Real-time shipping quotes. | Real-time shipping quotes. | Real-time shipping quotes available on highest plan. | Real-time shipping quotes for US and Brazil. | Real-time shipping quotes. | Manual shipping quotes. |
| Support via email, live chat, and telephone. | Support via email, live chat, and telephone. | Support via email and live chat. | Support via email, live chat, and telephone. | Support via email, live chat, and telephone. | Support via email. |
So, when it comes to the basics, i.e. being able to sell things online, each of these eCommerce website builders can help you build an online store. However, when considering which eCommerce website builder to use for your business, you should avoid getting caught up in the number of features and instead opt for quality features that match your business goals.
If you plan to sell software, then the availability of real-time shipping quotes is probably less important than support for digital products. Once you've narrowed down the list of potential website builders, then you can dive into the advanced features they offer for running your store.
BigCommerce has the edge in this one because it offers more features out-of-the-box. Shopify has an outstanding range of features, but standard features like image zooms are only available through third-party apps.
Go to top
Round 2: Templates and design
Next, let's look at how each of the eCommerce website builders approach templates and design.
While considering each of the platforms' collection of paid and free themes, we will also look at their flexibility for code-free customization. It's not just a question of how good will it look, but what can you do with it.
Let's start with Shopify:
Shopify website templates
Shopify's template designs are dazzling with a focus on bold images and geometric patterns. While it could be argued that the themes play it safe, there is still plenty of experimentation with colors and trends in web design. With Shopify's designs, you won't feel pigeonholed into a certain design. Indeed, there is something for every type of business.
However, the directory only has nine free themes (though each theme comes with two different styles). Furthermore, you will find the free themes have basic marketing and navigation options.
If you are willing to pay, then Shopify's theme directory has feature-laden premium themes available for $160-$180. At first glance, this does seem expensive but bear in mind each theme has lifetime support and updates for a single-site license.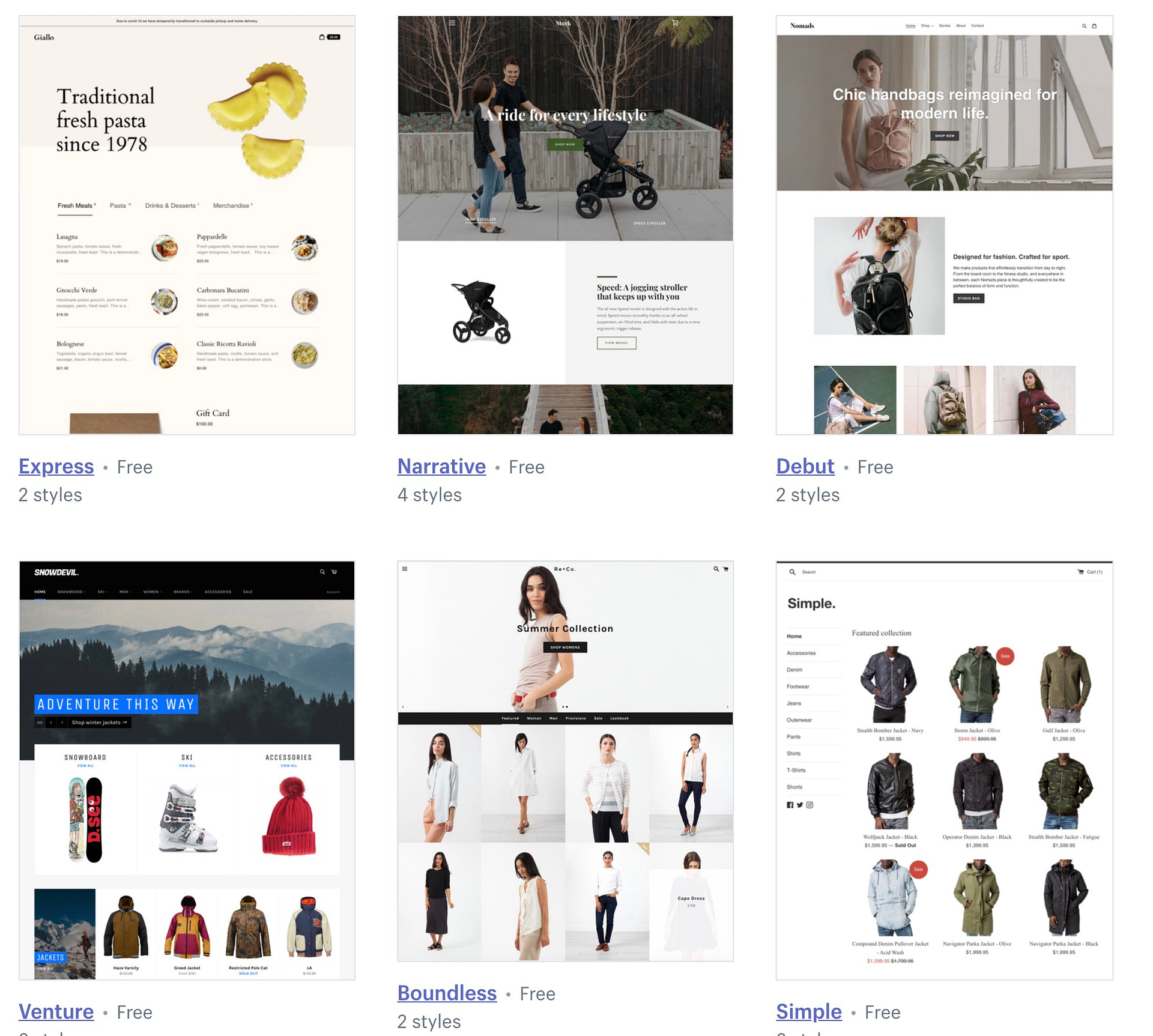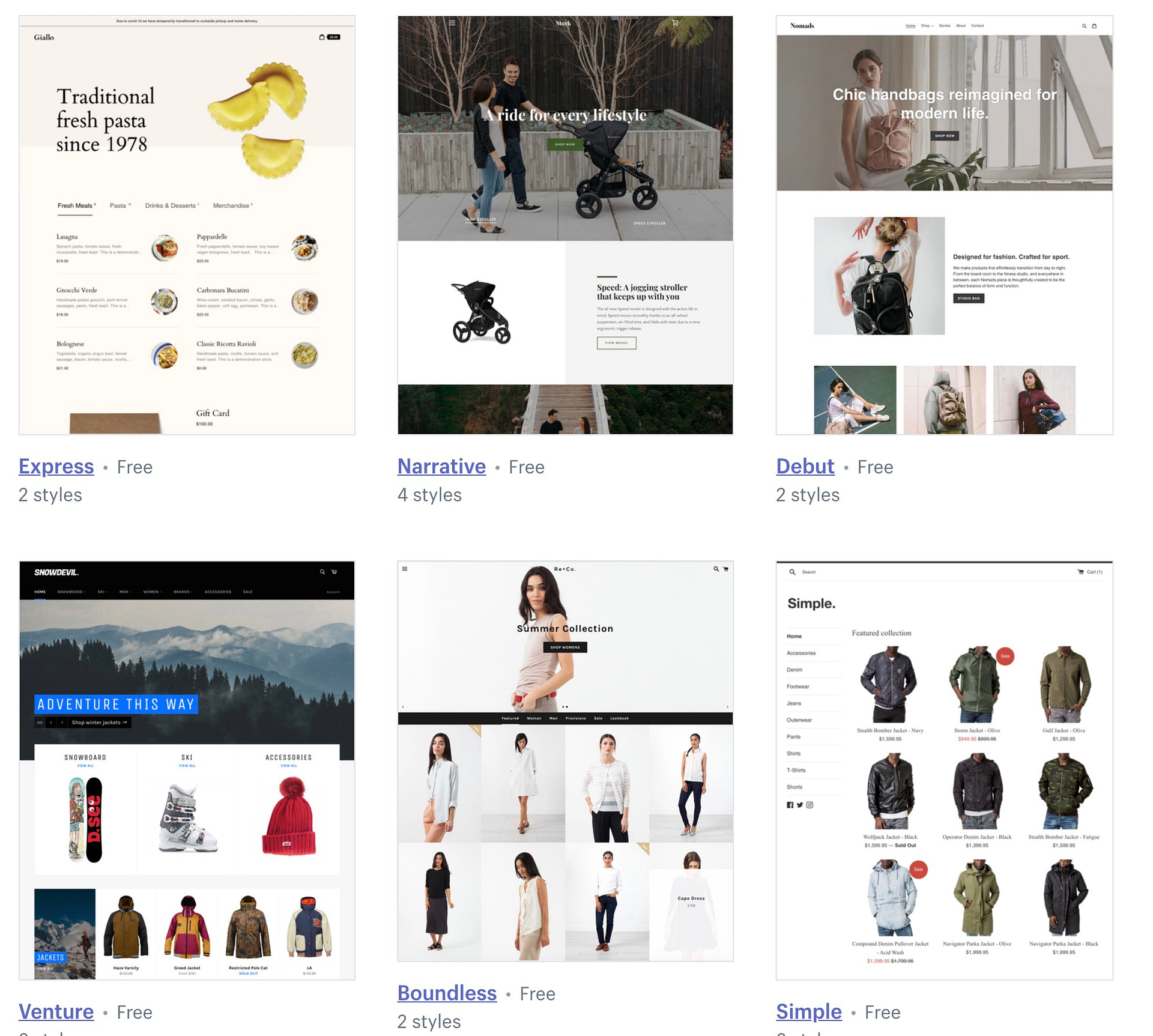 One of the most appealing aspects of the premium Shopify themes is their flexibility, so don't feel you should only pick a theme from a category that matches your store. Pay closer attention to the options available for Products, Home Page, and Navigation when choosing a theme because these are the elements that will help your customers and improve conversions.
Customizing your new theme couldn't be more enjoyable. With a handy, clearly labeled menu you can adjust the content of any section in seconds. You can also add and remove sections like testimonials, featured products, newsletters without any installations. Finally, you will also be able to experiment with the typography and colors from this location.


In addition to the themes that Shopify itself offers, you can also find thousands of themes from third-party developers and marketplaces like ThemeForest, many of which are a lot cheaper than Shopify's official themes.
Shopify is an eCommerce website builder devoted to simplicity. From the second you open your theme, everything is labeled and your available actions made clear. Your adjustments are previewed in real-time, so you can feel confident making changes without upsetting the balance of your store.
BigCommerce templates and design
If you like the Shopify approach, then BigCommerce will also be appealing. While both of these eCommerce website builders offer a similar site building experience, BigCommerce does have some impressive differences.
All of the designs are modern with powerful image options to help you create an attractive impression. Most of the designs in the BigCommerce themes store, provide you with a strong foundation that only needs your content to be successful.
The range of themes is strong with paid and free options available. They currently offer 12 free themes and paid themes run you anywhere from $145 to $300 dollars, so you will need to make a sizable investment for ongoing support and updates. You can also find BigCommerce themes from third-party providers, including marketplaces like ThemeForest.
Searching for themes can also be challenging with industry presenting the only filter. Unfortunately, this means you'll find jewelry themes alongside beauty themes in the food and beverage category. While the themes are certainly flexible, if you're looking for specific features then prepare for a long game of click and chase.


After you have installed your theme, you will find outstanding customization options. You can use drag-and-drop widgets that cover images, products, videos, and banners. For more detailed tweaks you can make changes to colors at a general level but also down to the hover color for mouse overs.
While the customization options are powerful, editing navigation menus and front page text is more difficult. In each case, the editing options are found in the main Storefront menu rather than the page editor. Furthermore, adding extra pages requires working with a small visual editor that lacks clear icons.
Another unique option that BigCommerce gives you is to use WordPress to control the front-end design of your store. You can set this up via the dedicated BigCommerce WordPress plugin. Essentially, you'll still use BigCommerce to power all of your store's functionality, but you can use WordPress to control how it looks. This lets you tap into the thousands of WordPress themes and you can also find some dedicated BigCommerce themes for WordPress, such as the Shoptimizer theme.
When it comes to BigCommerce, you have the widest range of options for building your site. However, it does take more work to build your site.
Squarespace Commerce design and templates
When it comes to attractive designs, Squarespace is the name that pops into your head. While their designs remain a selling point, Squarespace really has one template that uses pre-built content blocks to create different styles. From a coding perspective, the Squarespace designs are all identical. While this might sound boring, each style retains the famous Squarespace wow factor.
In order to build your website, you will add your information to content blocks covering every section of a website. There are multiple styles for all sections like testimonials, about, contact and more.
While this block-based approach is innovative, you don't have an option to easily switch themes. Indeed, if you'd prefer to change your theme, then you need to build it from the blocks or start from scratch (maybe even with a fresh account).
This build process does sound intimidating initially, but Squarespace is the most appealing eCommerce builder for design. And, I like the idea of looking for a theme based purely on layout and design rather than searching for an attractive template that also has the right features. Finally, the templates are all free.
After you select the theme framework, you will be presented with the template and a menu with design and page options among other administrative functions. The design submenu is comprehensive with fonts, colors, animations, buttons, custom CSS, and even unique pages like a 404 page and a checkout page. I also liked the variety of pre-designed pages and layouts available.
Wix templates and design
While Wix offers the most free themes, with over 500 templates available, I am going to focus on their Artificial Design Intelligence (ADI). As the name suggests, the ADI is an AI tool that builds a layout from a billion combinations of layouts and media.
The ADI will ask you a few questions about your business and have you choose a color scheme and typography before giving you some page options to consider. Once you have finished this, the ADI will generate a unique site for you.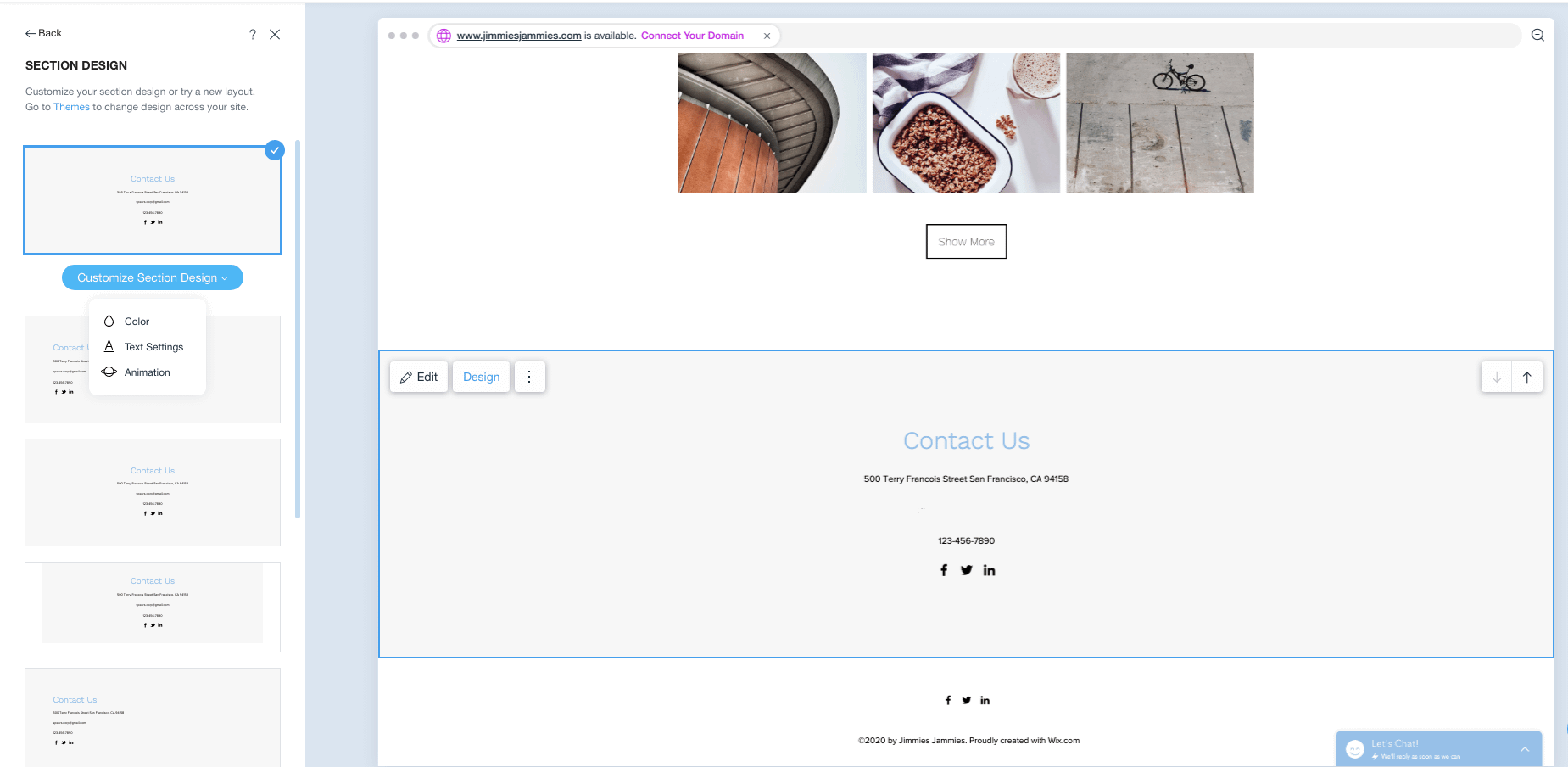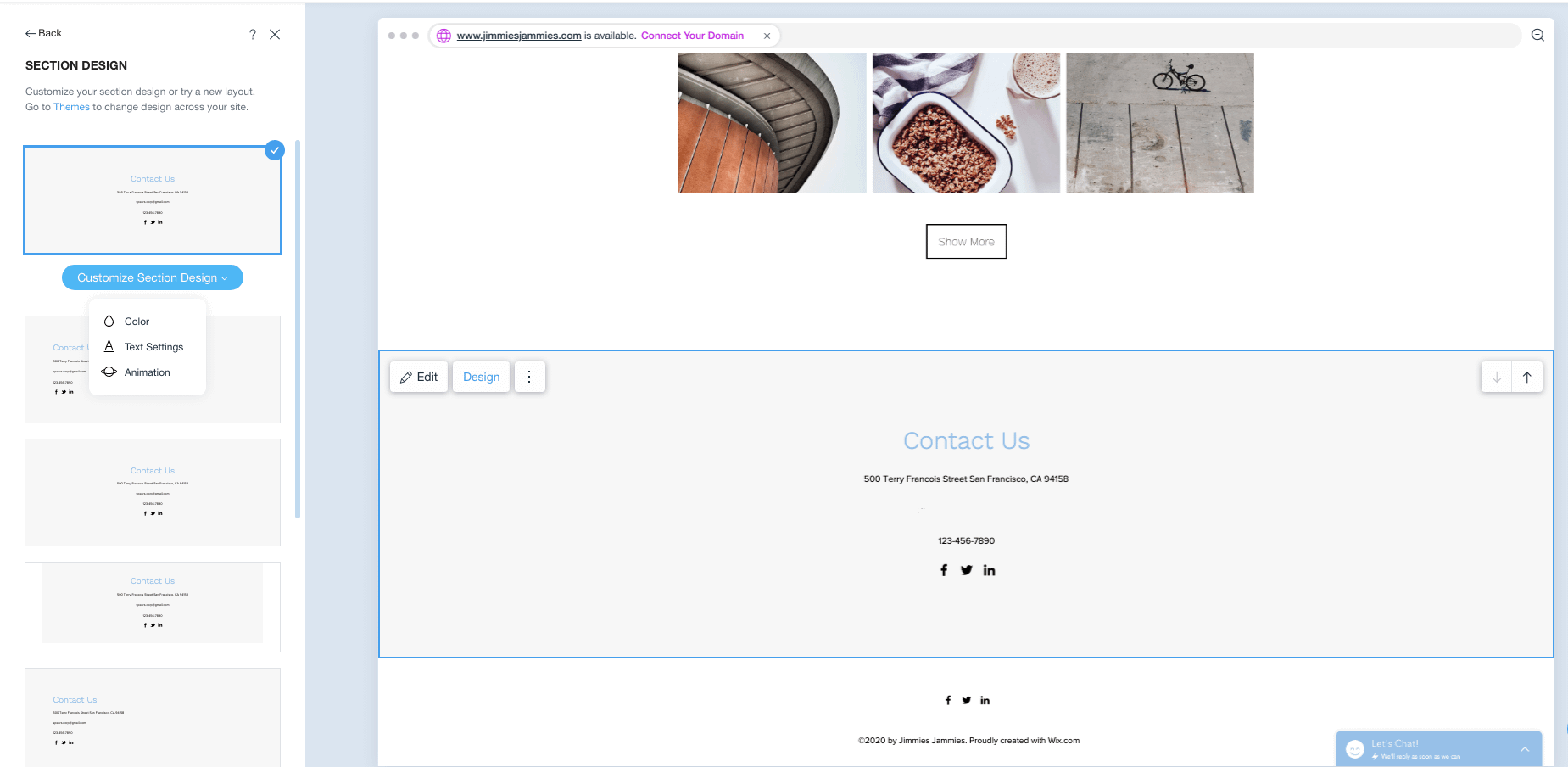 You can change the colors, typography, add animations to most of the sections. There are a lot of options on display, if you add buttons then clicking on the buttons will reveal the different styles on offer. If you would like to build custom layouts and use more advanced options, like code editing, then you can switch to Wix's traditional drag-and-drop editor through the Site menu.
3dcart designs
You'll recognize 3dcart's designs from 10 years ago and the dashboard will look familiar to WordPress users. There are 90 free themes and a healthy amount of premium fees but they are pricey. You will pay anywhere between $150-$200 for them.
Once you have installed a theme you might run into some difficulty setting it up to your liking. The dashboard does not have an intuitive setup and finding the correct settings can take a bit of clicking and digging to get started.
The themes are attractive enough but you have less control with the editor than with other options. Moving sections and adding features requires HTML and CSS skills to make the template more personal.
On the other hand, if you have this coding knowledge then you have the freedom to edit the theme files and make your site shine. The code is optimized to ensure the important page elements load first, and the product pages come with automatic AMP integration.
Big Cartel designs
Wrapping it up with Big Cartel, this eCommerce website builder has basic themes with fewer design elements than its competitors. However, all of the themes are free, but there are only 17 of them.
On the other hand, many of the themes are unique with bold color schemes and typography nested in abstract layouts. Switching themes is easy with no download and install process to slow you down.
Everything you need to make a site is located in the dashboard. The page building process happens on the fly using a WYSIWYG editor. You can also build pages using HTML. Unfortunately, the themes don't come with advanced features like image zooms, but you can easily access CSS editing from the dashboard. You can customize your colors, fonts, images, and price display from the customizer.
Final thoughts
In the final analysis, BigCommerce offers the most design customization options in a mostly intuitive interface that effectively utilizes sliders and dropdowns for quicker page building. However, some of the options are "hidden" which can get confusing.
It might be cliche, but I can't go past Shopify here. The Shopify editor is clearly labeled and the easiest to work with due to the clear text and helpful links. It feels like the fastest way to get to a completed store.
Go to top
Round 3: Ease of use
If you're looking to build an online store, then once you've picked your design, you probably have two questions:
How easy is it to build a store?
How easy is it to run that store?
Let's look at each eCommerce website builder in turn.
Ease of use in Shopify
From the beginning, Shopify's signup process is optimized to help users achieve their goals. They reduce complexity by asking for small details at each step. As you answer questions, the setup guide reveals more specific questions. When it comes to signing up, Shopify's process is both effective and efficient.
Once you have signed up, you can immediately start building your site. There's no clutter and the main dashboard has a clear structure to help you focus. Essentially, all you see are the steps you need to take to open your store.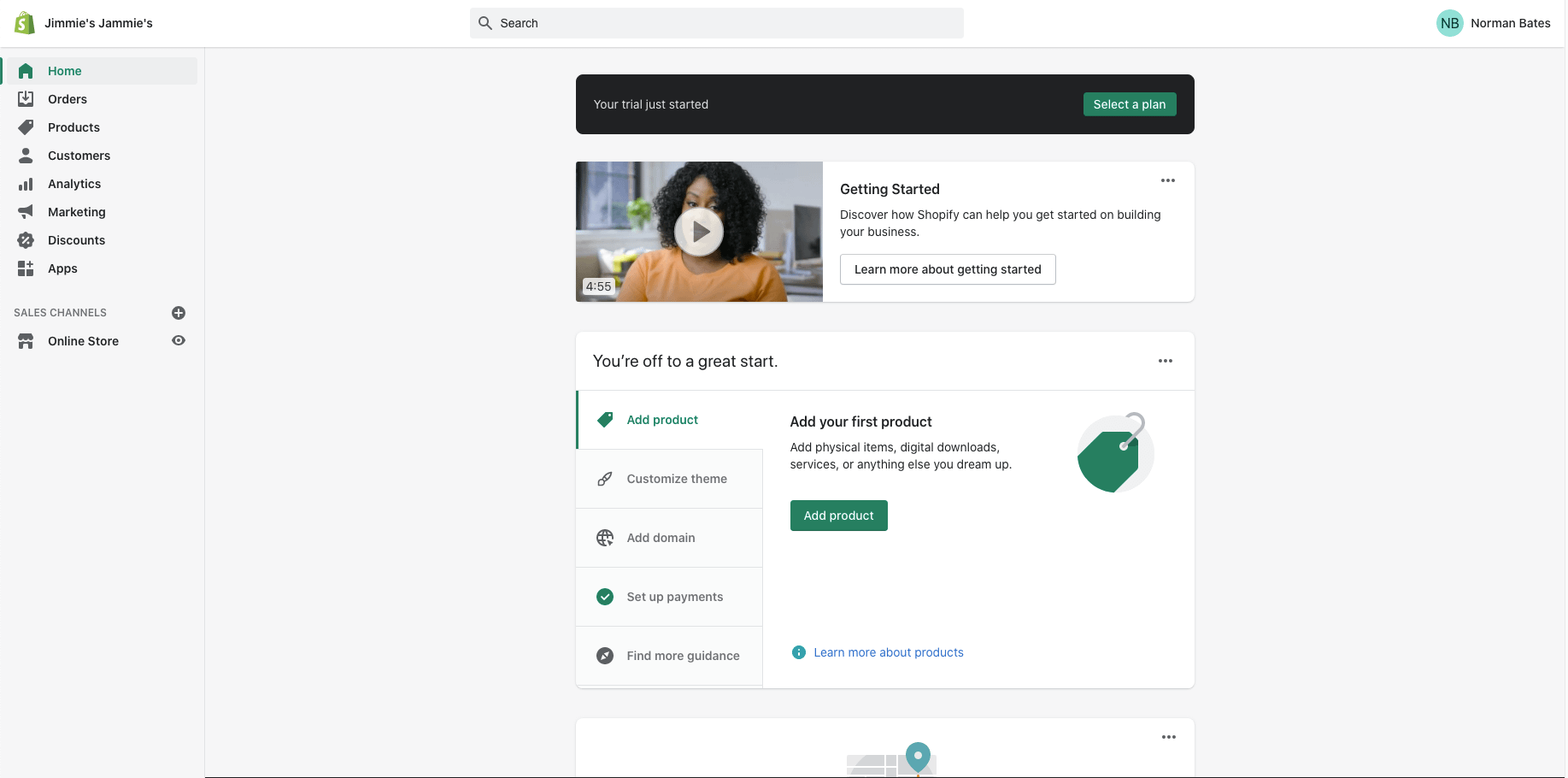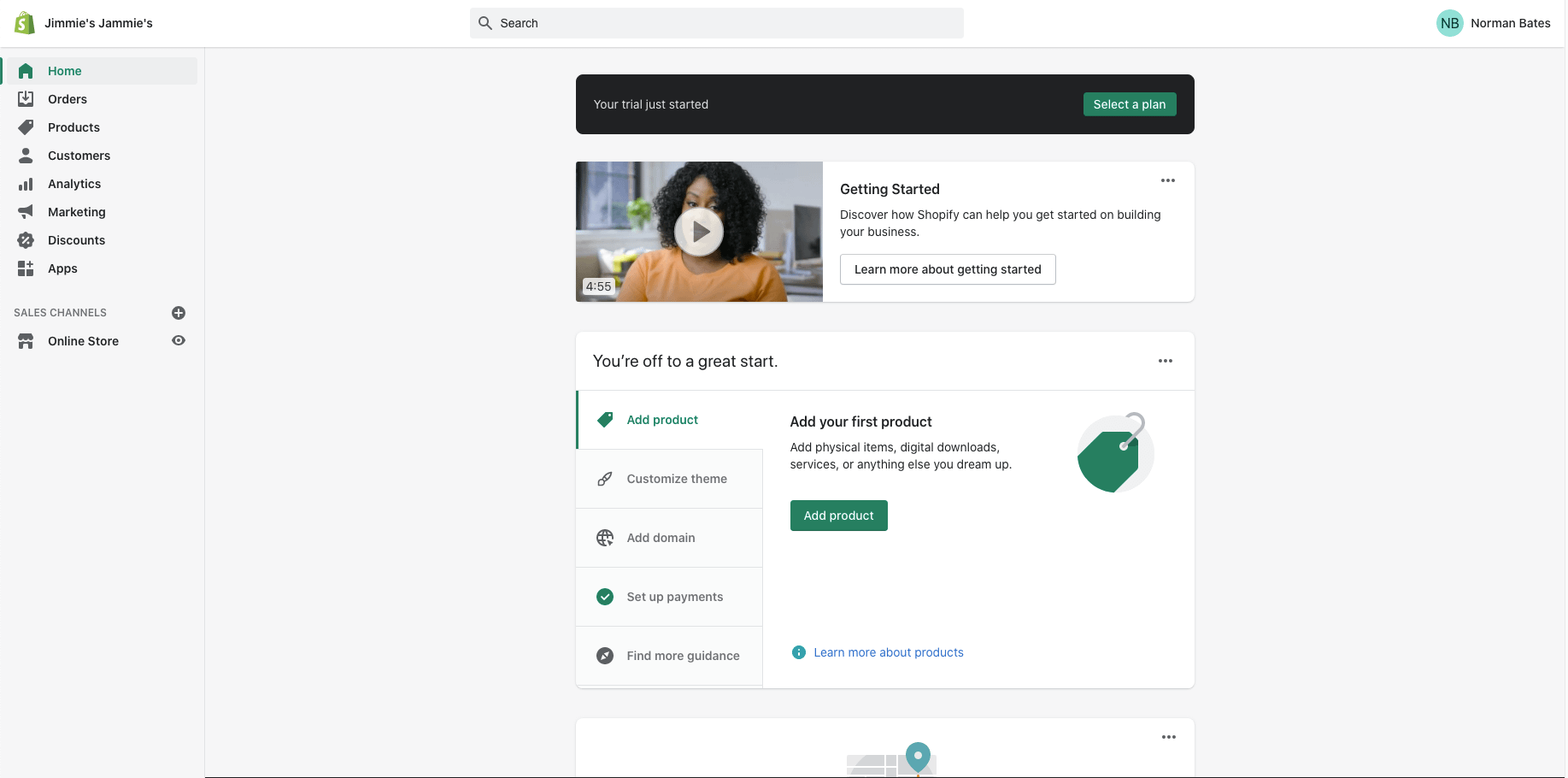 The core steps like adding products, customizing the theme, adding domains, and payment methods are right there.
On the left, you can easily find all of the secondary steps like orders, marketing, discounts, apps. With such an efficient dashboard organization, it becomes easier to complete immediate goals, like adding products, rather than get lost in the advanced steps, like setting up analytics.
Adding products is easy whether you import from a list or add them manually. Indeed, Shopify was the only website builder to provide a preview of imported products before adding them to the catalog.
Even more complicated processes like product variations are automatically added via a wizard with text boxes and buttons.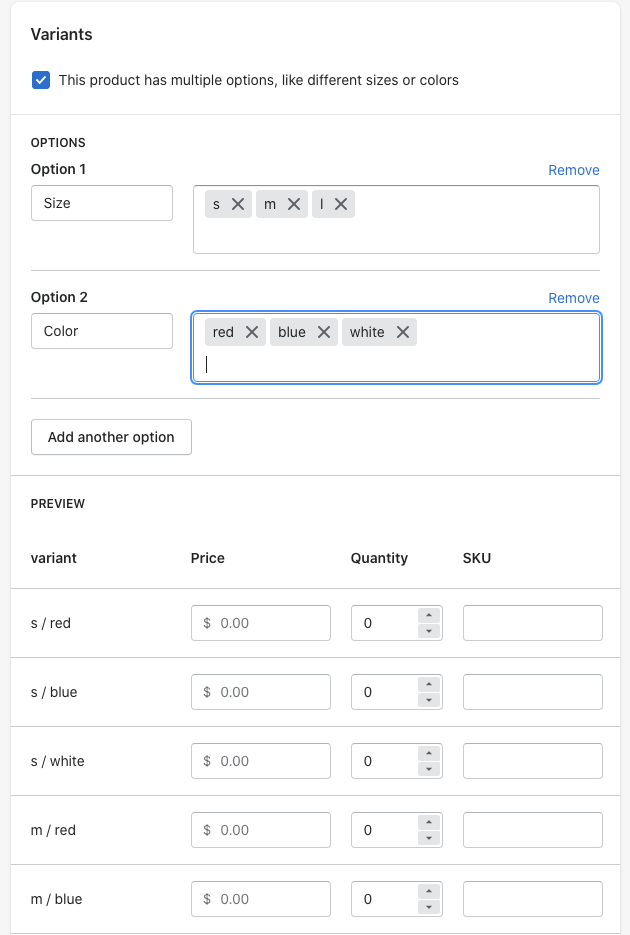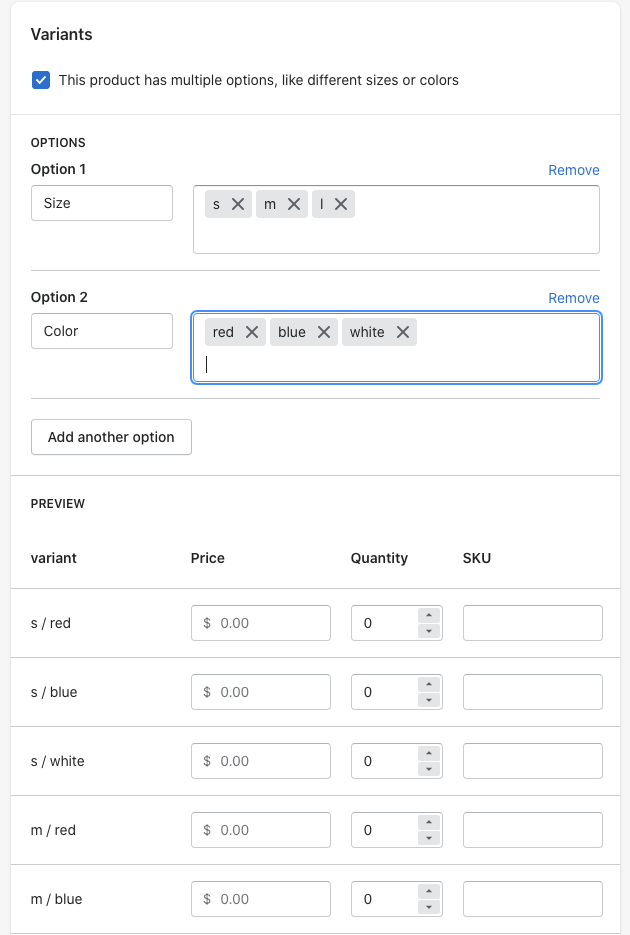 I only had two problems setting up my Shopify store. I was able to set up giveaways for bulk orders but I had no way to promote the item that I was giving away. While there is a solution to this problem, it does take some digging to find it.
Also, the options for title and meta descriptions, social sharing image, and Google Analytics are all buried in the Online Store – Preferences menu. While the explanation of each option was clear and to the point, I stumbled on it by accident.
All in all, these are minor problems with an otherwise great interface. I didn't run into any errors organically and when I created errors, the error text was clear enough to help me fix the problem quickly. I'd have to give Shopify 10/10 for ease of use.
Ease of use in BigCommerce
Starting a store with BigCommerce is similar to Shopify – the BigCommerce setup wizard requests the same information over a multi-step sign-up. However, it felt less personalized than the Shopify experience. For one, I didn't receive any additional options when I shared my information.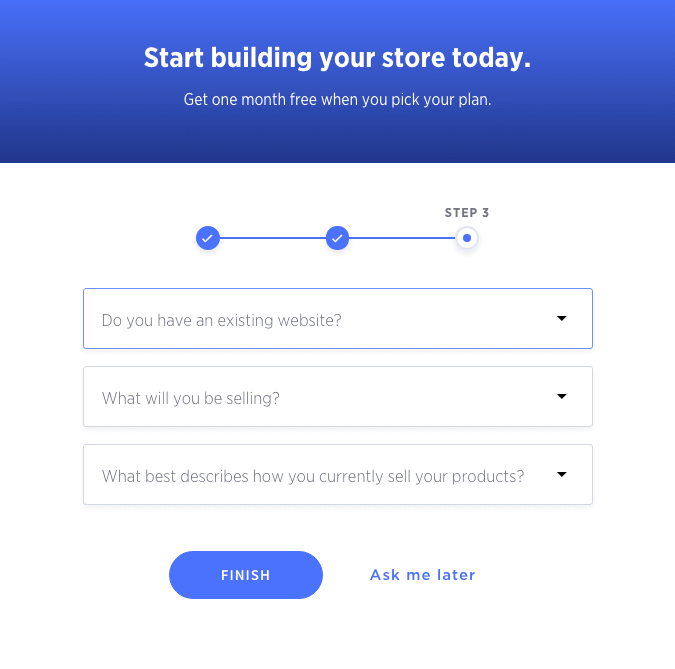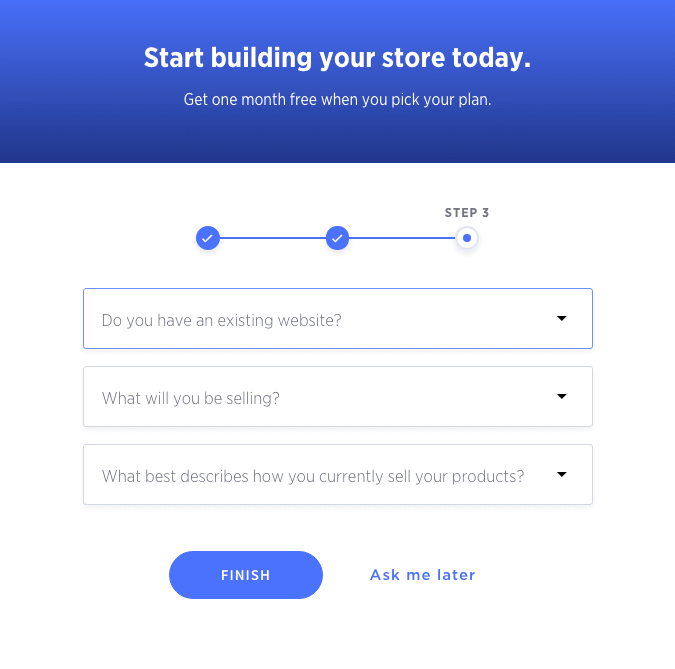 The BigCommerce dashboard isn't as clean as Shopify's but the options are clearly labeled and the checklist is a great addition.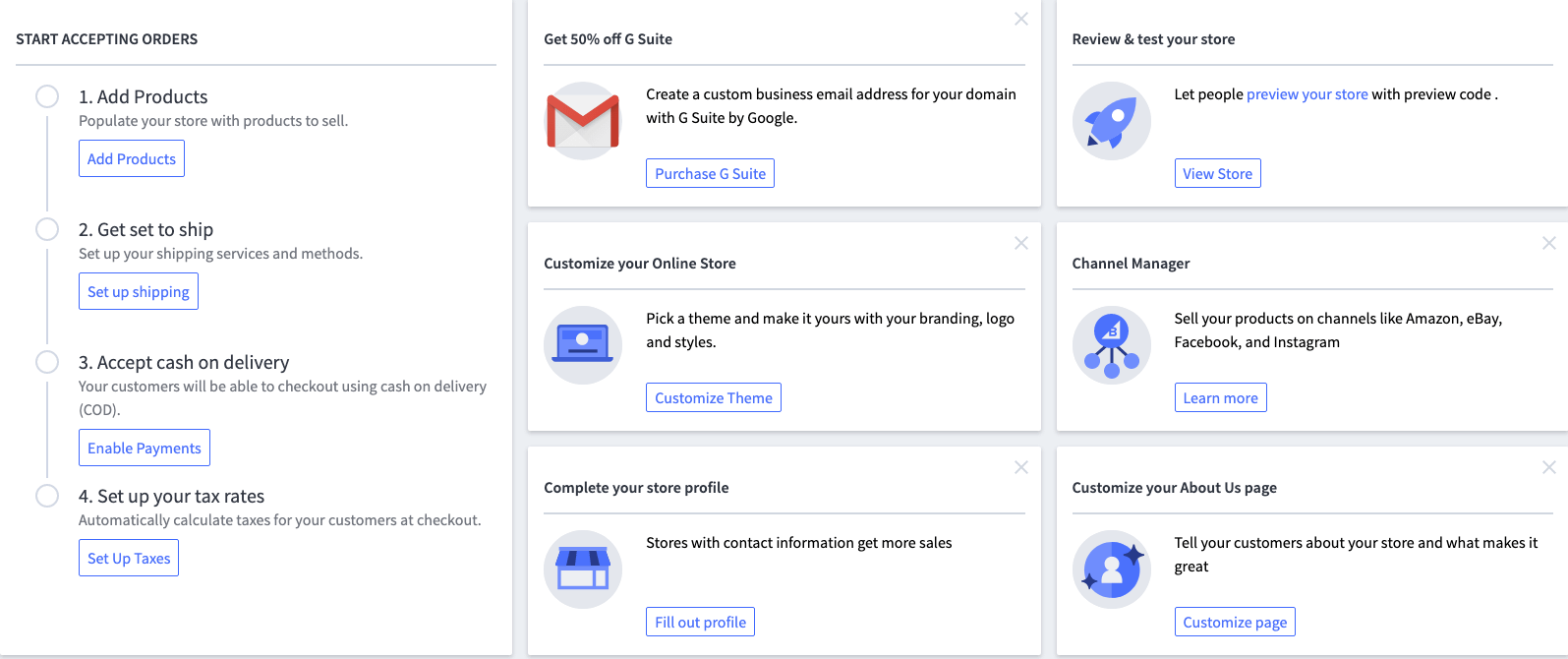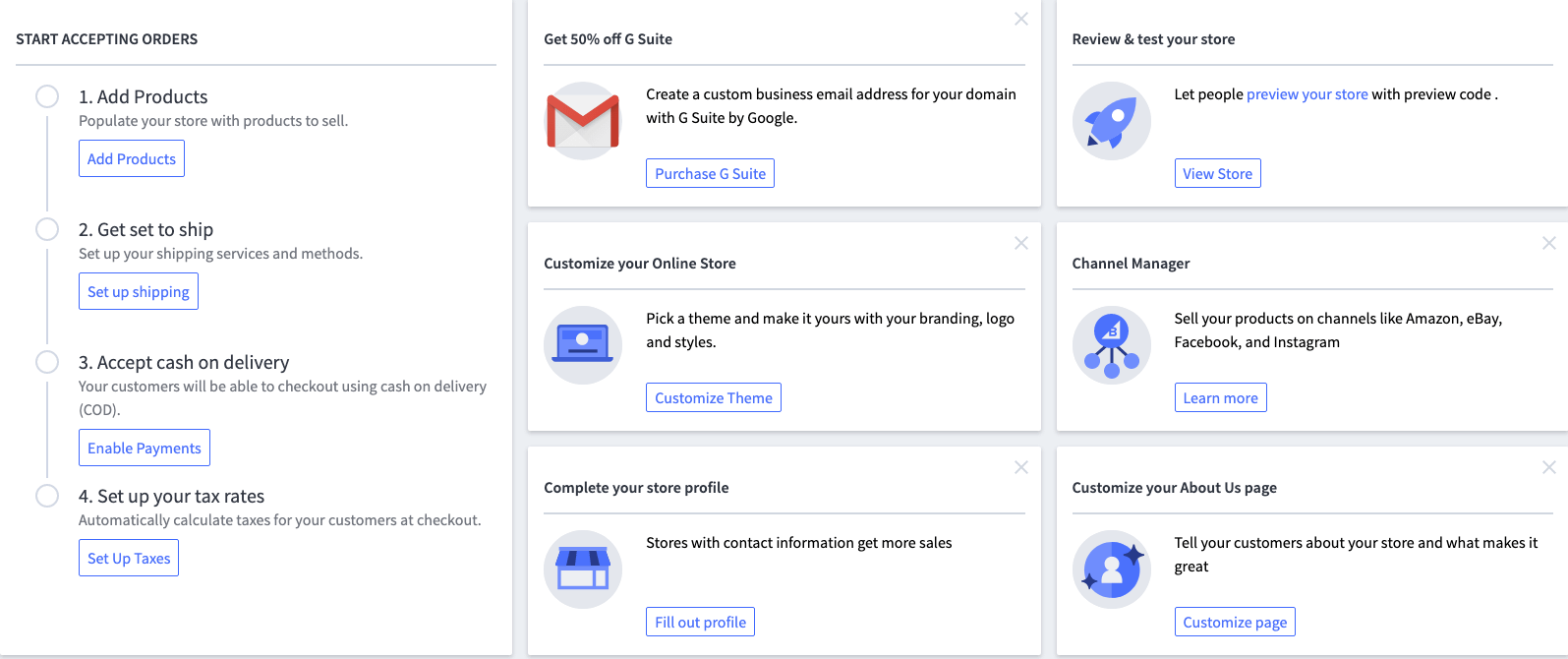 Importing products was slightly more complicated with the wizard requiring more guidance to match fields to the CSV file. However, it did throw an error when it couldn't access images from the URL. Fortunately, the error message was clear with useful information.
Once again, BigCommerce is the customization king. You can add more options for variations and you can even choose the selector from a swatch, radio buttons, rectangle lists, or dropdowns.
You'll find this level of customization in all of the important options like abandoned cart notifications, creating banners, and even gift wrapping. It's even easy to test credit card payments with the test details provided on the payment screen.
For ease of use, BigCommerce gets a 9.5/10.
Ease of use in Squarespace
Squarespace takes a different approach with a minimal dashboard and pages of menu options that takes some getting used to.
From the dashboard, you choose to edit your Website or Commerce which will take you to the editor interface with the respective menu items open. Adding products was initially confusing because there isn't a clearly labeled Add Product option. Instead, you need to add products via the Pages > Store and then click "+".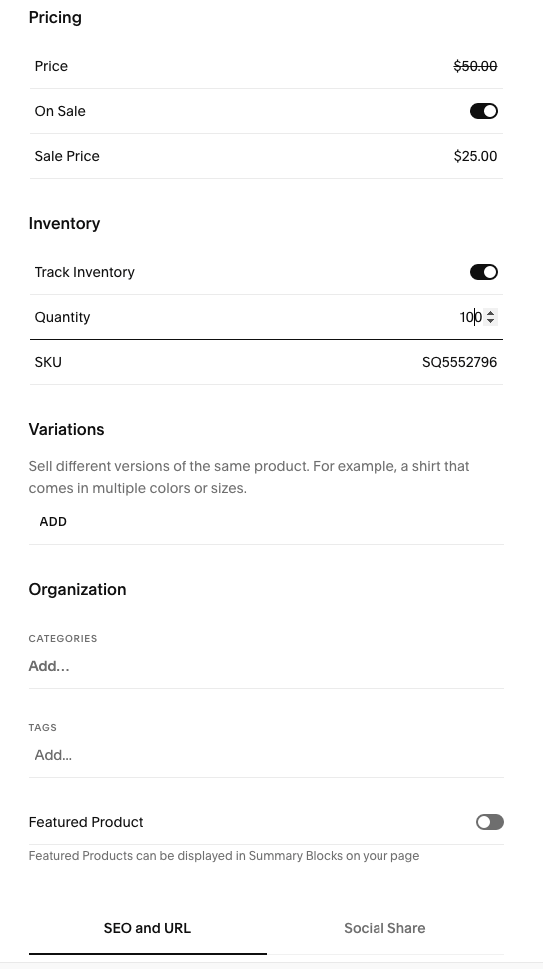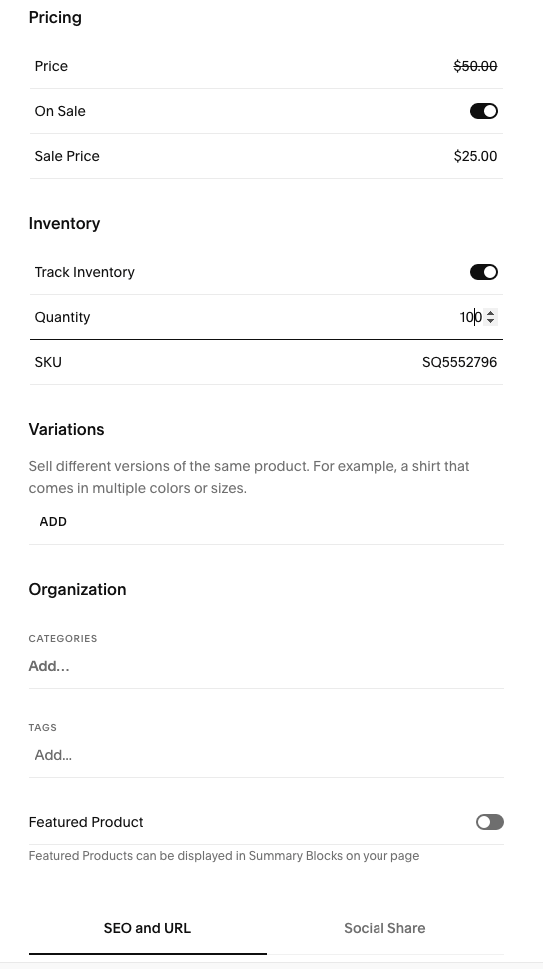 Squarespace has two editors, but I'd opt for the friendlier, new editor.
Adding your products is clear, and you can easily adjust sales prices and track inventory using the sliders. You can add three product variations for every product and get a preview of how everything will look on Google and social media.
The main gripe I have with Squarespace is the labyrinth of menu options and the animations. For example, you can only find abandoned cart emails by going to Customer Notifications > Customer Engagement.
Having said that, it's easy, if not efficient, to achieve your goals with a Squarespace site. There's an email template to match every purpose and you get access to Google Search Keywords to see which keywords are driving the most traffic. You can even create sophisticated pop-ups and notification bars via dropdown menus.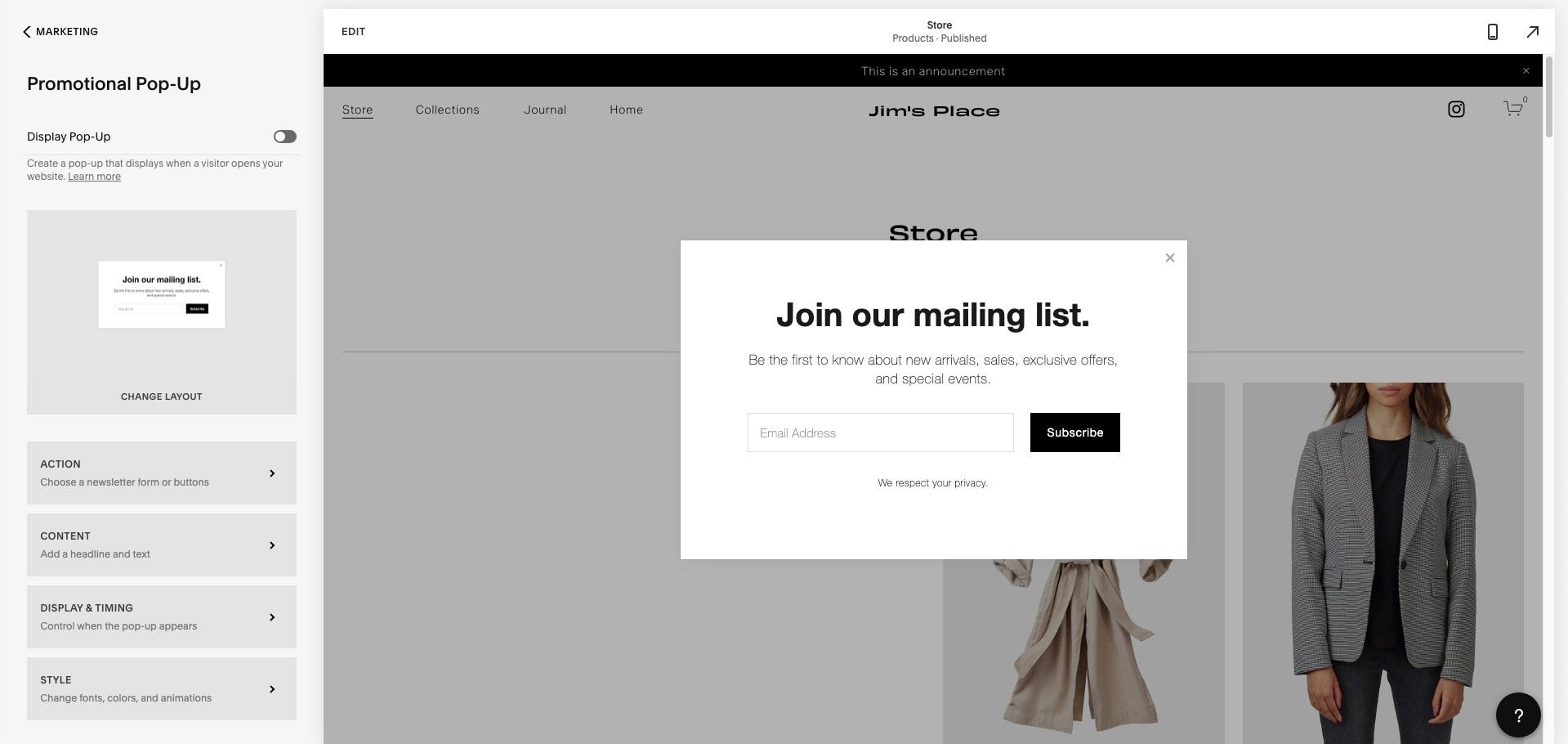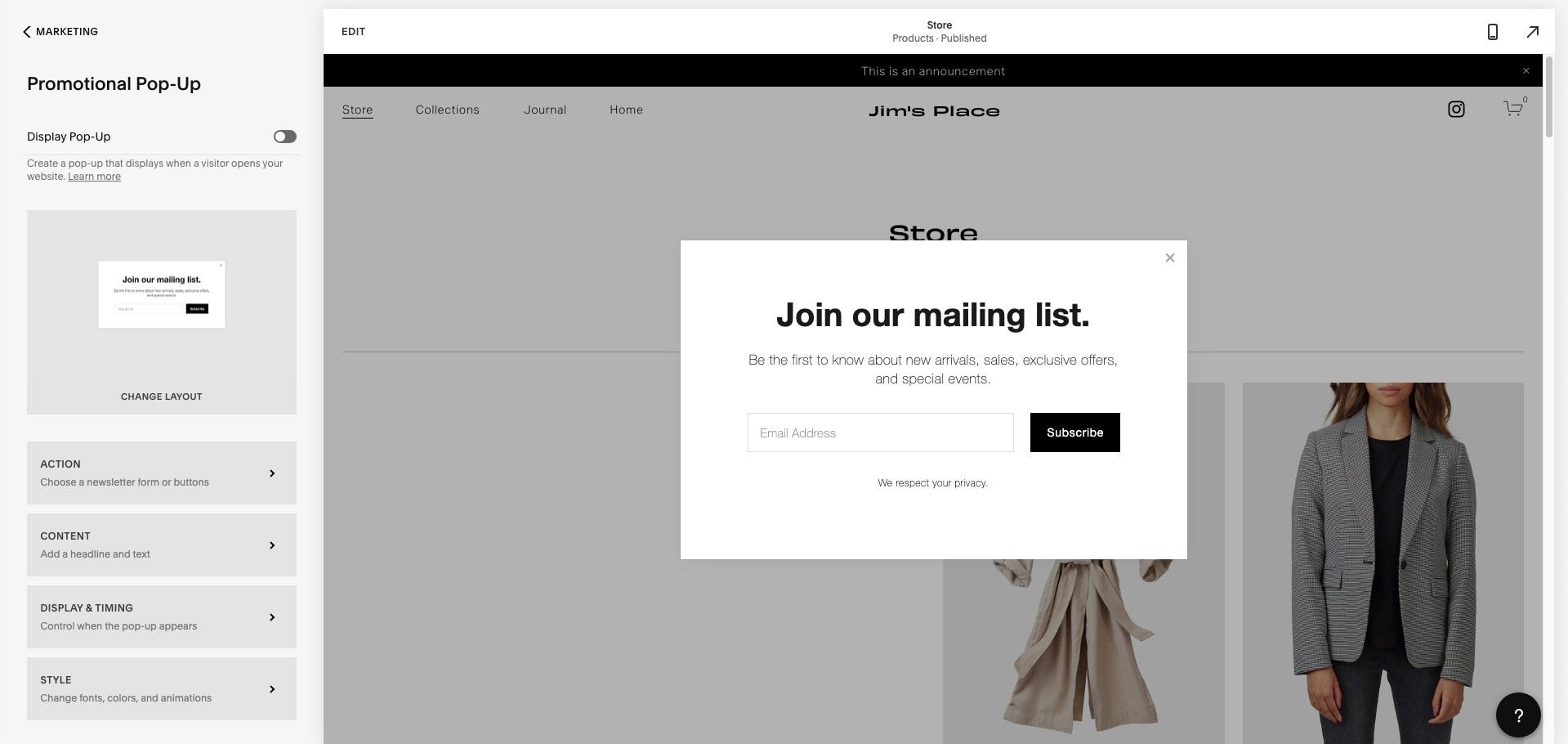 Squarespace has some great options with an effective use of dropdowns and sliders to help you. However, not all items are intuitively placed and having the site preview open at all times felt like a waste of screen space. All in all, it has to get an 8/10.
Ease of use in Wix eCommerce
The Wix eCommerce dashboard is fairly easy to use and to get there you click Manage Site from the editor.
Once you're in the dashboard, Wix gives everything clear labels and the reduced number of menu options provides some relief. You can access the advanced options with a mouse rollover.
Building up and managing your inventory is easy with simple and advanced product options, like additional info sections available from the Add Product page.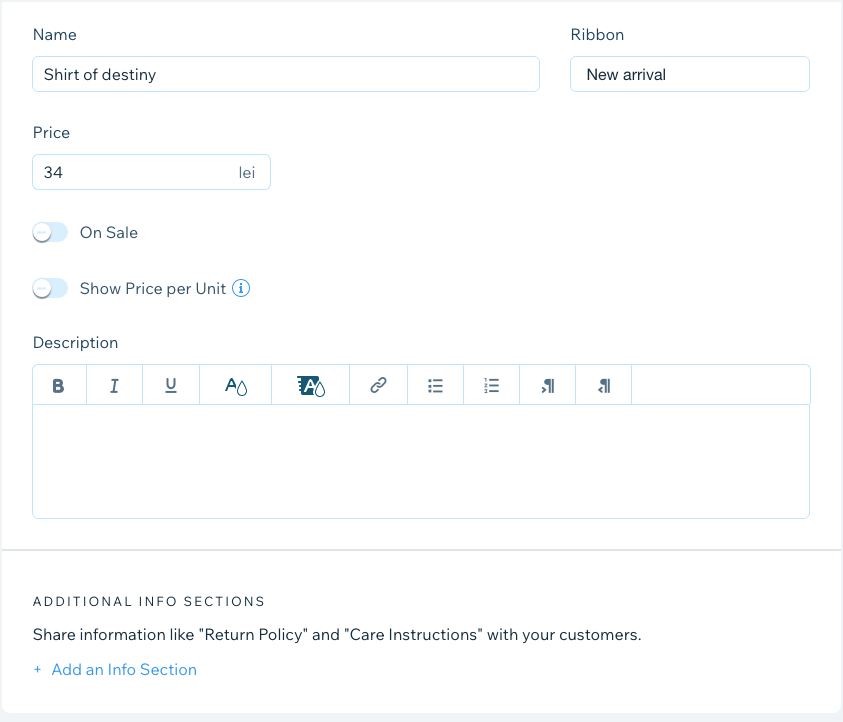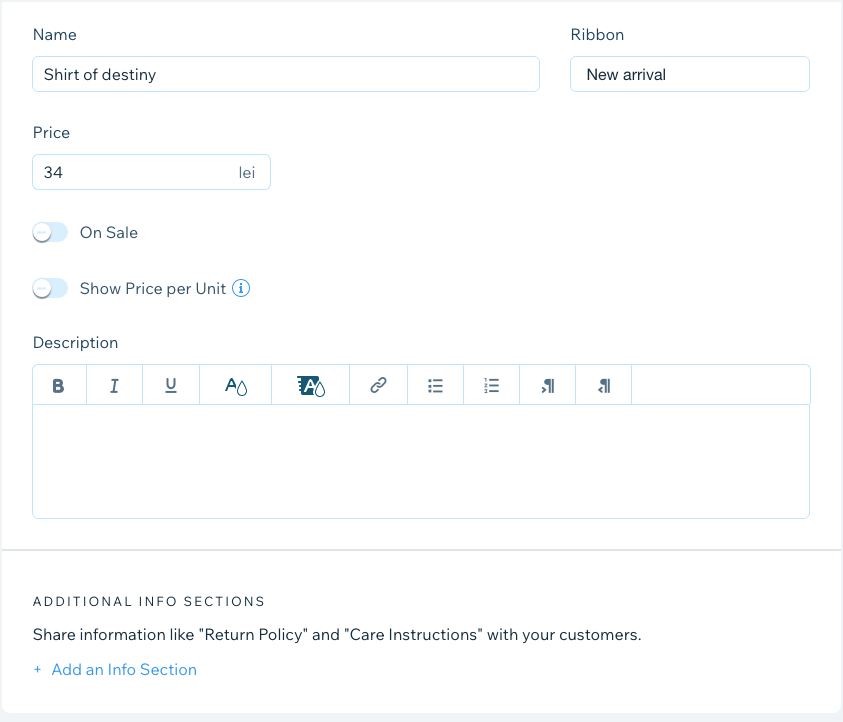 You can access all of your advanced options from the right sidebar. This includes advanced SEO functions like canonical tags and structured data. You can also start email campaigns, create automated promo videos, and build your discount codes.
For payment collection, you have a range of options from Wix's dedicated payment processor to an invoice wizard that helps with both one-off and recurring payments.
Wix has a great suite of options, all of which you can access with no coding ability at all, 9/10.
Ease of use in 3dcart
3dcart is an older eCommerce website builder but you can master the interface with a little practice. Unfortunately, the process is hampered by an absence of prompts. Indeed, the dashboard defaults to the report screen from the very first login. This is a genuine shame because 3dcart has strong supporting documentation to help you get started. It would be great to see more of it.
At some times, in gift registries, it wasn't clear what action was required. Adding products is easy, but product customization tends to take more time and clicking. Furthermore, you can easily add upsells to every product.
Another area where 3dcart shines is in promotions and discounts. With clear buttons and text, it is easy to add or exclude products. It even has an option to apply the discount only when certain items are in shoppers' carts.
While it is the most technical eCommerce website builder on the list, you can easily access and use more "advanced" options. For example, you can configure all of your shipping options from messaging through dropshipping options with a few clicks.
3dcart also has a wide range of modules to help you integrate your store with eBay, gift wrapping, QuickBooks, and more. Unfortunately, the abandoned cart notifications are not enabled by default and they are hidden in the modules section.
3dcart is a solid, if unspectacular, performer in the ease of use department. While you can still set everything up pretty easily, it does take more work to find it. 7/10.
Ease of use in Big Cartel
Big Cartel has a friendly dashboard with gamification principles in play to help you get your shop up and running. Indeed, it is the eCommerce website builder that is the easiest to work with.
Unfortunately, the ease of use does come with some limitations. You can't import products from a file and you need to add multiple variations via groups. On the other hand, you can add shipping and taxes from the add product screen.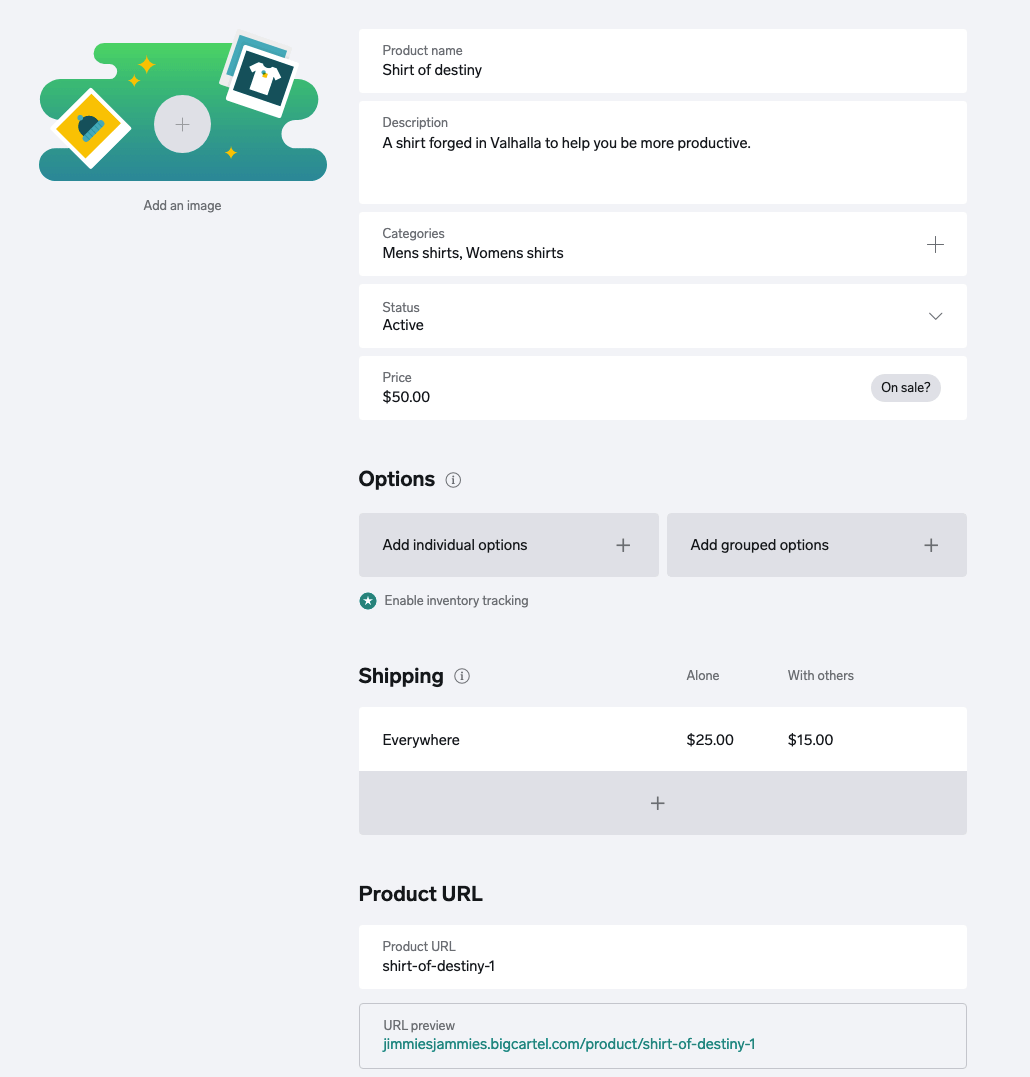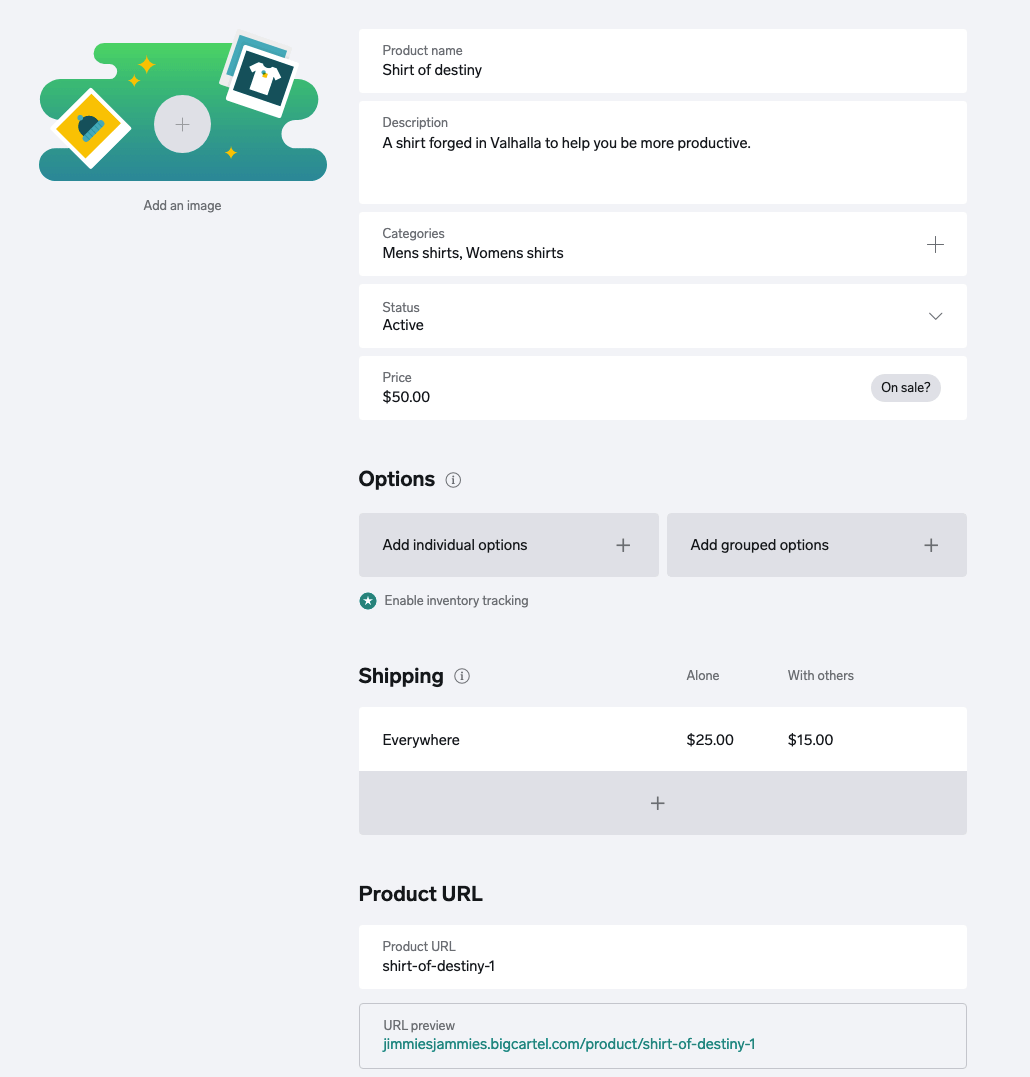 However, Big Cartel has the best option for creating product bundles. When you select discounts, you can use dropdowns and text boxes to create the bundle without installing any additional software.
You can set up payments with Stripe and PayPal or use Big Cartel's iOS app to accept in-person payments. However, if you would like to explore payment providers, sophisticated marketing, or shipping options, then you need to install an app.
While it is easy to use Big Cartel, it is also sometimes frustrating because it's missing so many basic options. Overall, that gets it an 8/10.
…
When it comes to ease of use, Shopify, BigCommerce, Wix, and Squarespace are the best eCommerce website builders. 3dcart is a powerful tool, but a beginner user would find it frustrating to work with. Big Cartel, on the other hand, is incredibly clear for beginner users. However, it lacks a lot of "standard" options which gets frustrating.
Go to top
Round 4: Apps and integrations
Each of the eCommerce website builders provides a great foundation for an eCommerce site. However, depending on your business, you might like to add unique elements to build relationships or improve sales. Fortunately, all of the tools on this list offer apps and integrations if there's a unique feature that you need to help your business grow.
Whether you are looking to increase engagement with quizzes or you'd like to add video testimonials, you will be able to find free and paid apps designed to integrate with your chosen tool. You'll even find apps that integrate nicely with your existing inventory and accounting tools.
Shopify apps and integrations
As the most popular eCommerce website builder, it is no surprise that Shopify has a thriving app marketplace. Indeed, Shopify has over 5,000 extra apps available for your store.
One of the great things about Shopify is that it provides the basics, like a CDN, so you can focus on apps that bring value to your store. The app store is set up to make it easy to find everything you need.
You'll find useful options for not only making sales but also apps that help make managing a store easier. For example, for international sales, or even national sales outside of your region, you can find a number of GDPR and privacy apps to provide protection for your site.
You can install all of the apps with a few clicks. In fact, the hardest thing about the apps is settling on just a few to help your store! The depth and diversity of apps are incredible. From live chats to discounts to loyalty programs, there truly is an app for everything. Shopify gets a 10/10 because of its free tools like a logo maker and a number of different name generators.
BigCommerce apps and integrations
Extending your BigCommerce store is equally easy with around a thousand apps to enhance your site. Like Shopify, you will find apps to help you with major external platforms, like Amazon and eBay, alongside tools that make running a store much easier.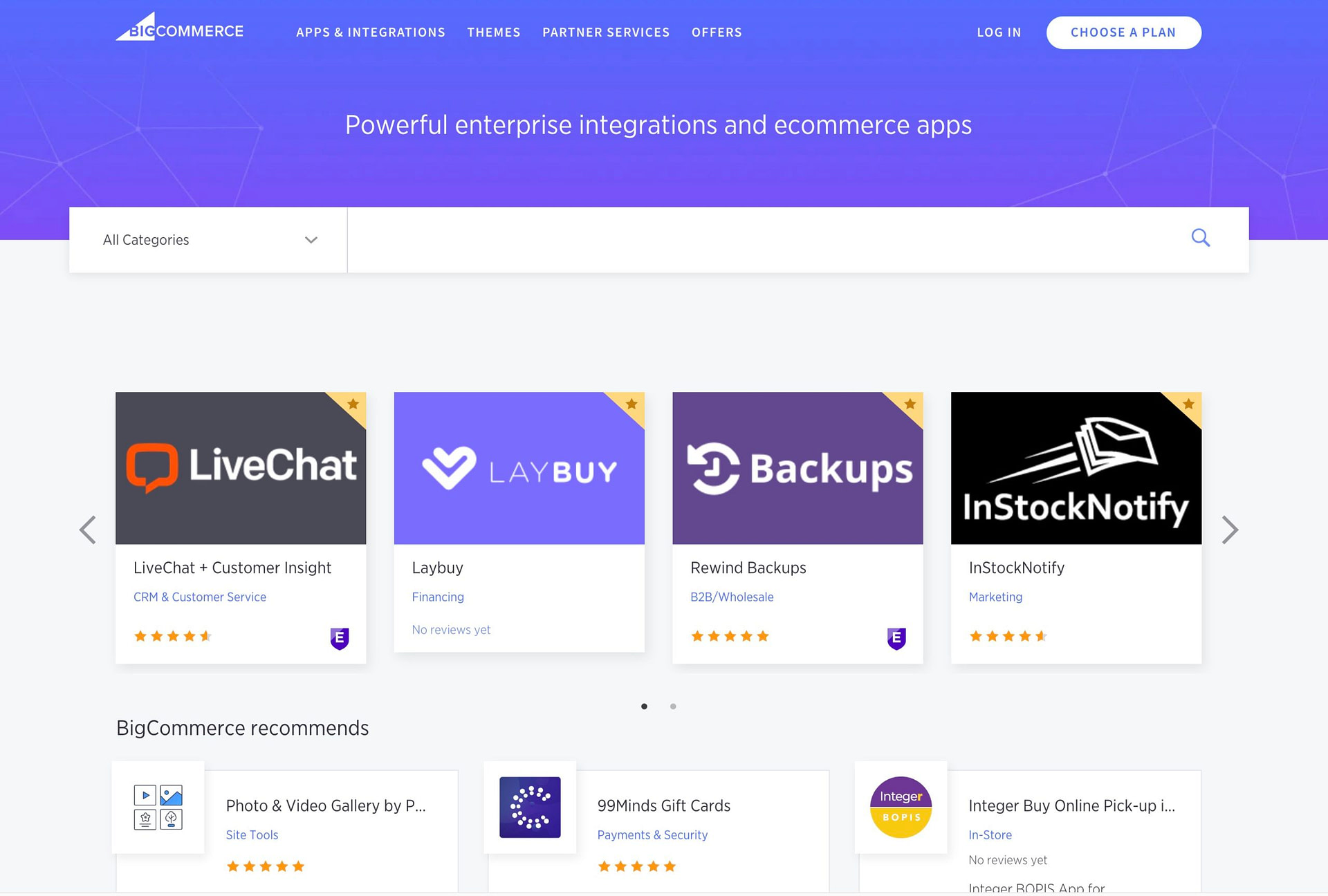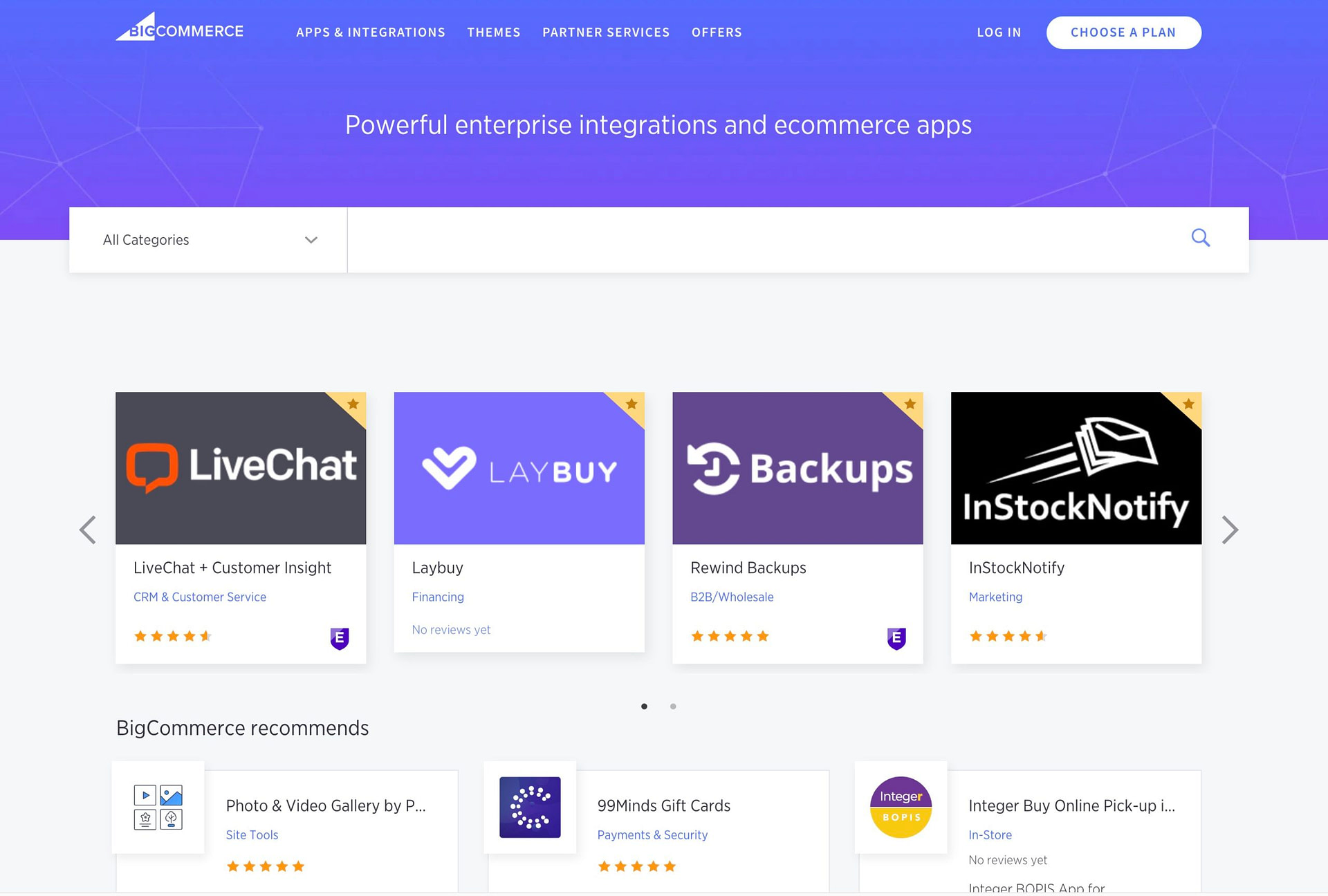 As mentioned, BigCommerce is the strongest eCommerce website builder for customization, so the apps are a good opportunity to enhance your store management. The good news is that some premium apps are included with your BigCommerce account, although they aren't easy to find.
On the other hand, the BigCommerce connectors and integrations are great tools for sharing your store's data with inventory tools, like OneSAAS, or accounting tools, like QuickBooks, or email marketing tools, like Mailchimp.
If you're running BigCommerce stop by their offers page where you can find exclusive offers from marketplaces, like eBay, and developer networks, Codeable, as well as review networks, like TrustPilot.
Finally, if you opt for the WordPress integration, you would also be able to access WordPress' huge plugin library when it comes to things like email opt-ins, popups, and more.
BigCommerce has a lot on offer for app lovers: 10/10.
Squarespace apps and integrations
Squarespace doesn't offer the same app range in their official extensions store, I was surprised to see that they didn't offer site management tools like backups or image optimization. Maybe it is a personal preference, but I'd like to have the option to set image optimization and backups. However, it does show Squarespace has tremendous confidence in their server configuration and theme's codebase.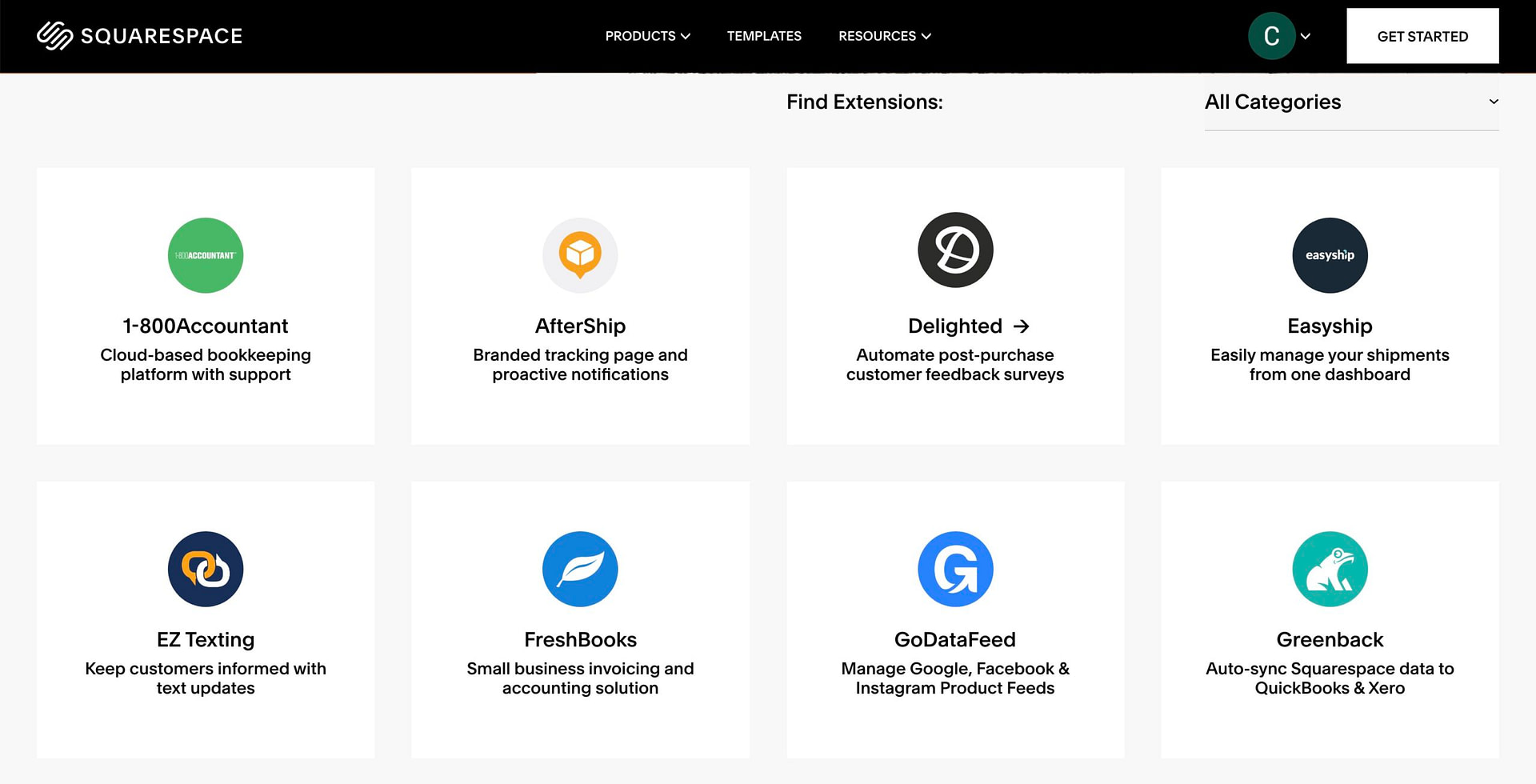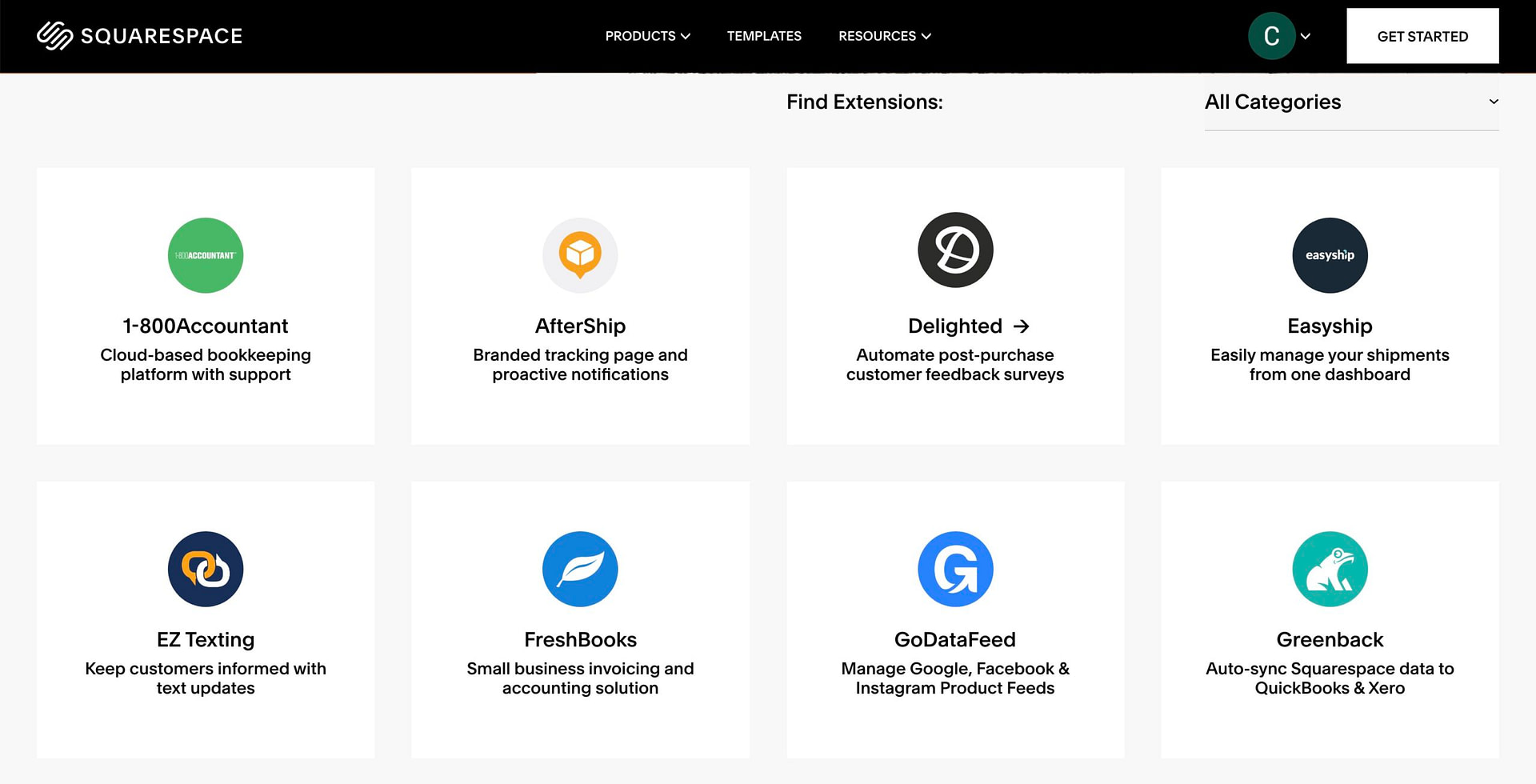 The Squarespace app store doesn't feel like it is built to help eCommerce sites grow. There isn't an app to help you with social media marketing or any tools to improve SEO for your site.
Even run-of-the-mill things like Facebook Pixel require integrations. Unfortunately, the integrations are only available in the Business plans and above.
You can add a lot of extensions to Squarespace, but the official offerings are underwhelming and some of the Premium integrations should be standard: 6/10.
Wix apps and integrations
Wix has more than 300 third-party apps covering marketing, design, content, selling, and more. If you're worried about third-party apps, then Wix has an excellent range of in-house apps covering advanced features like multilingual sites, bookings, music, and videos. Finding an app is a pleasure in the Wix marketplace, with navigation that helps you drill down into categories rather than aimlessly scrolling.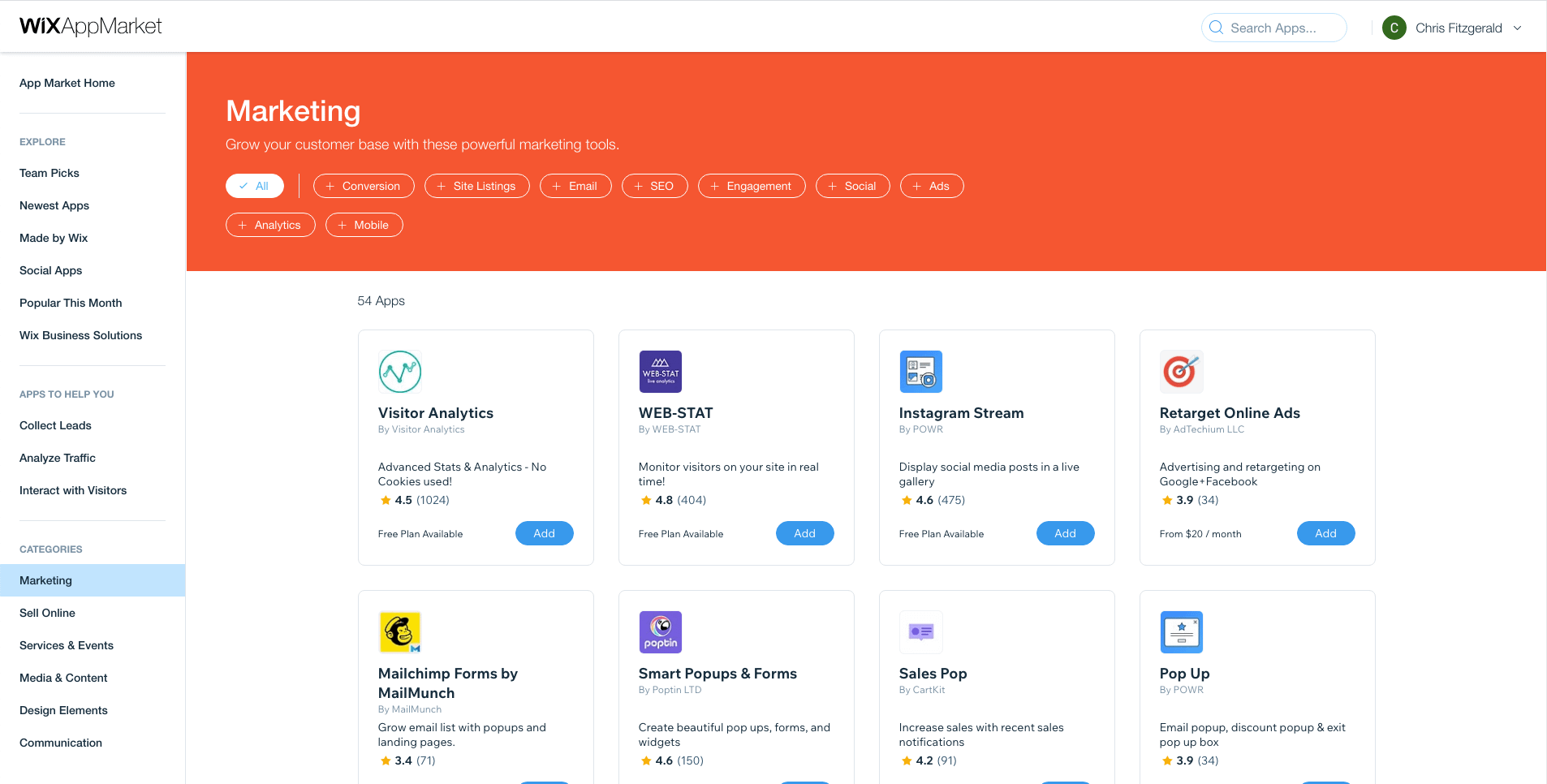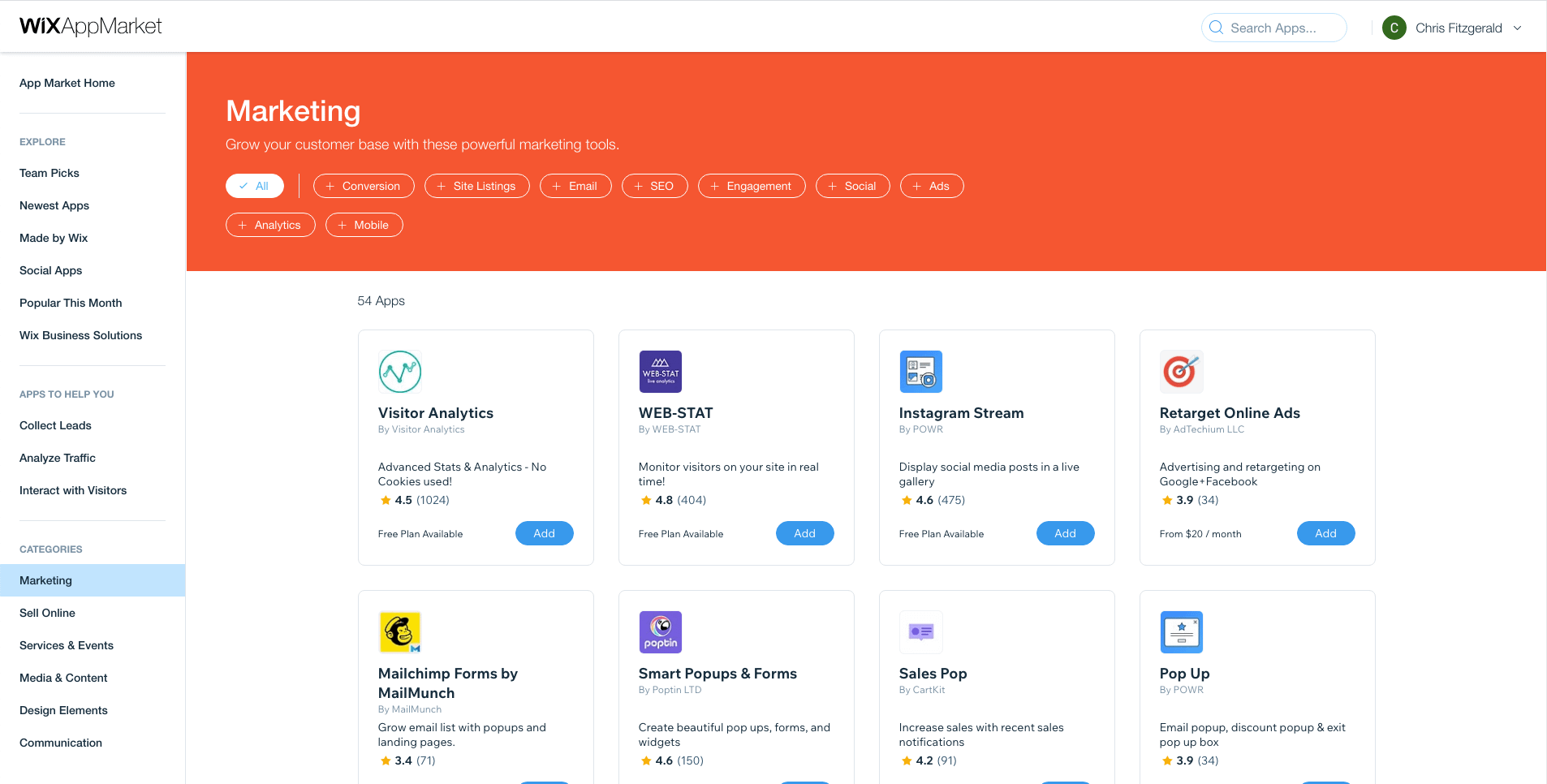 The apps in the marketplace are designed to help you dive deeply into various aspects of running a website. Furthermore, the apps are great for building a community without losing focus on business.
The Wix App Market is a 10/10.
3dcart apps and integrations
3dCart has a solid range of apps and modules to help you expand your store. 3dcart seems to be pushing to corner the dropshipping market, so they offer a good range of dropshipping options for both automation and suppliers.
While you will find a few familiar names, like Mailchimp and LiveChat, most of the brands in the app directory were new to me. The prices also seem quite high with one app listed for between free and $500/mo. A similar, well-known, app on Shopify and BigCommerce has a price tag of $49/mo.
3dcart has a lot of categories to help you manage a business, but it would be nice if they were accompanied with more apps to help you promote it: 7/10.
Big Cartel apps and integrations
Unfortunately, Big Cartel has a small selection of apps and integrations for your eCommerce site. While some of them, Powr.io and Elfsight, provide access to more apps like testimonials and contact forms, they are only available to users of Big Cartel's paid plans.
It is true, the apps provide access to all of the design elements you could need and the Zapier integrations help you access a wide range of services. However, they do add an extra layer of pricing that creates complexity for the beginner user (one of Big Cartel's target markets).
Unfortunately, this has to be a 5/10.
…
I love options when it comes to apps. While Squarespace's confidence in their server configuration is great, I'd still like to have the option to automate backups. In the end, Shopify, BigCommerce, and Wix have the best collection of apps for reasonable prices.
Go to top
Round 5: eCommerce website builders pricing
Now we're getting serious.
You'll notice that the well-known brands all hover around the same price and offer similar features. However, if you're beginner with eCommerce, then you should be able to find an acceptable entry-point.
All of the eCommerce website builders offer 14-day free trials. Big Cartel even has a free forever plan that lets you sell 5 products at a time.
Best eCommerce website builders: PRICING
Shopify
BigCommerce
Squarespace
Wix
3dcart
Big Cartel
$9 / month*
$29.95 / month
$18 / month
$17 / month
Dropshipping $9 / month*
Free*
$29 / month
$79.95 / month
$26 / month
$25 / month
$19 / month
$9.99 / month
$79 / month
$299.95 / month
$40 / month
$35 / month
$29 / month
$19.99 / month
$299 / month
Enterprise: up to $900+ / month
$79 / month
$29.99 / month
$2,000 / month
$129 / month
$229 / month
Generally, you will find that each of the eCommerce website builders offers similar basic packages. This is particularly true with Shopify and BigCommerce who offer multi-channel selling and unlimited bandwidth from the bottom up.
If you are looking for reports, 3dcart offers sales and analytics reporting in every plan. Whereas Shopify, BigCommerce, and Squarespace start offering reports and analytics around the $29 range.
Wix and Big Cartel can't match the depth of reporting you'll find in the other eCommerce website builders.
Unless you need more advanced features, like custom SSL certificates and lower credit card fees, then you should be able to build a profitable business with any package starting around $29.
Another key point to consider, Shopify, 3dcart, and Big Cartel offer great low-cost options, but they have limitations in products or functionality.
It's important to realize that the numbers above represent the base rates. Your monthly bill will be higher depending on different factors like the apps you have installed and any extra costs associated with them.
For example, these two popular apps have associated costs:
Facebook ads – for retargeting ads on Facebook and Instagram is $19/mo. from the Shopify Marketplace. You will also need an ad budget.
Rewind Backups – for backing up BigCommerce store data runs from $3-$299/mo.
Of course, you might not be interested in social media marketing and you might be confident in the platform's backup processes. However, there is a possibility that at some point you will need to invest in enhancing your store and apps are the most common option.
And, there's still more.
Transaction fees and credit card processing fees are a familiar speed bump. Even with a free option, like Big Cartel, there are transaction fees to consider.
Most often, you will pay between 2.5-3% + $0.30 per transaction when processing payments. Unfortunately, it is not always this clear-cut.
Shopify, for one, will charge you 2% per transaction if you want to use an external payment processor like PayPal over their own Shopify Payments gateway. However, PayPal will also charge you their fee, 2.9% + $0.30 per transaction. This is a fairly big bite, especially if you are starting your business.
It is worth noting, BigCommerce doesn't charge a transaction fee. The only fees are those coming from your preferred payment processor.
…
In the end, I see it like this:
I think the price range for eCommerce website builders is a good reflection of what you get at each pricing level. Wix and Squarespace both offer an excellent starting price for an eCommerce site. Ordinarily, that would be enough to win it. But, in the end, Shopify manages to provide an option that suits everyone from hobbyists to thriving businesses and that's why they win.
Go to top
How do you know which eCommerce website builder is best for you?
It's true that every business is different and the best website builder for you will depend on things like the type of business you have, your budget, goals, and the tools you are already using.
Making the right decision will come down to:
Budget: Consider how pricing structure of the platform and how they handle transaction fees.
Designs and apps: Will you be able to build the site you want using the platform's available resources, or will you need custom work?
Ease of use: Are you, or the primary user, comfortable completing tasks on the platform?
Scalability: Some platforms, like Big Cartel, perform best for stores with fewer than 100 products. Other platforms, like Shopify, can support a growing business.
Go to top
Who wins?
When you take everything into consideration, Shopify remains the best eCommerce website builder for most people.
From an easy to use interface that helps you build a site, add products, and manage inventory to the striking designs that keep customers interested. Shopify has everything you need to run a successful eCommerce store.
If you're thinking of running a dropshipping business, then 3dcart's dropshipping plan is unbeatable. Not only is it a powerful platform, but you will be able to sell thousands of products without attracting transaction fees.
For artists and musicians interested in having a portfolio site with some eCommerce functionality, then Squarespace is a good option. Whereas, Big Cartel is the ideal option for hobbyists searching for a simple online portal.
If you have any doubt, then here's how we ranked the eCommerce website builders:
| | Shopify | BigCommerce | Squarespace | Wix | 3dcart | Big Cartel |
| --- | --- | --- | --- | --- | --- | --- |
| Features | 9.5/10 | 10/10 | 8/10 | 9.5/10 | 9.5/10 | 7/10 |
| Design and templates | 9.5/10 | 8.5/10 | 8.5/10 | 8/10 | 6/10 | 6/10 |
| Ease of use | 10/10 | 9.5/10 | 8/10 | 9/10 | 7/10 | 8/10 |
| Apps and integrations | 10/10 | 10/10 | 6/10 | 10/10 | 7/10 | 5/10 |
| Pricing | 10/10 | 9.5/10 | 9.5/10 | 9.5/10 | 9/10 | 8/10 |
| VERDICT | 🏆 OUR PICK | 🥈 RUNNER-UP | | 🥉 THIRD PLACE | | |
Do you still have any questions about choosing the best eCommerce website builder for your situation? Ask away in the comments!
6 best #eCommerce #website builders tested - a truly ultimate comparison 👷
Click To Tweet
…
Don't forget to join our crash course on speeding up your WordPress site. With some simple fixes, you can reduce your loading time by even 50-80%: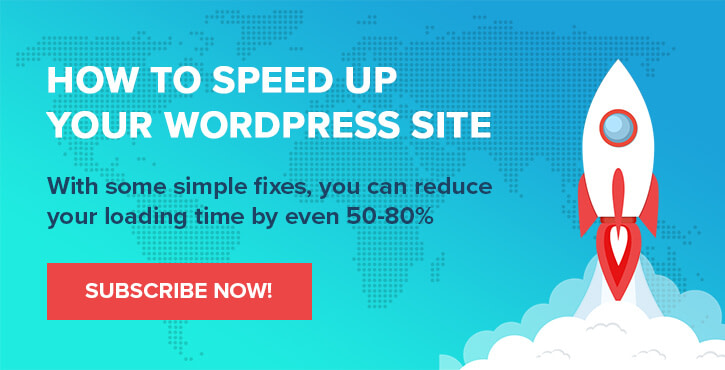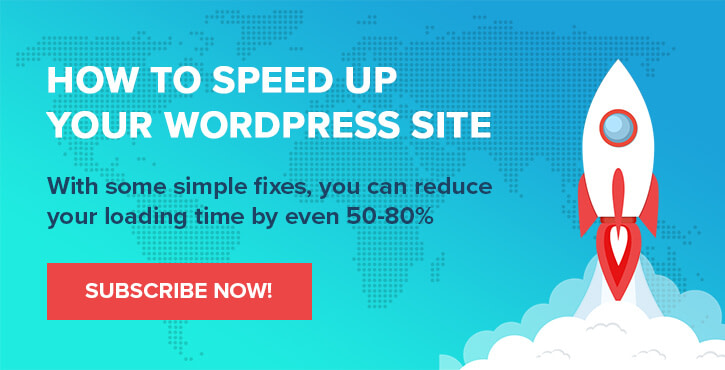 Was this topic
helpful?
0% of users found this helpful