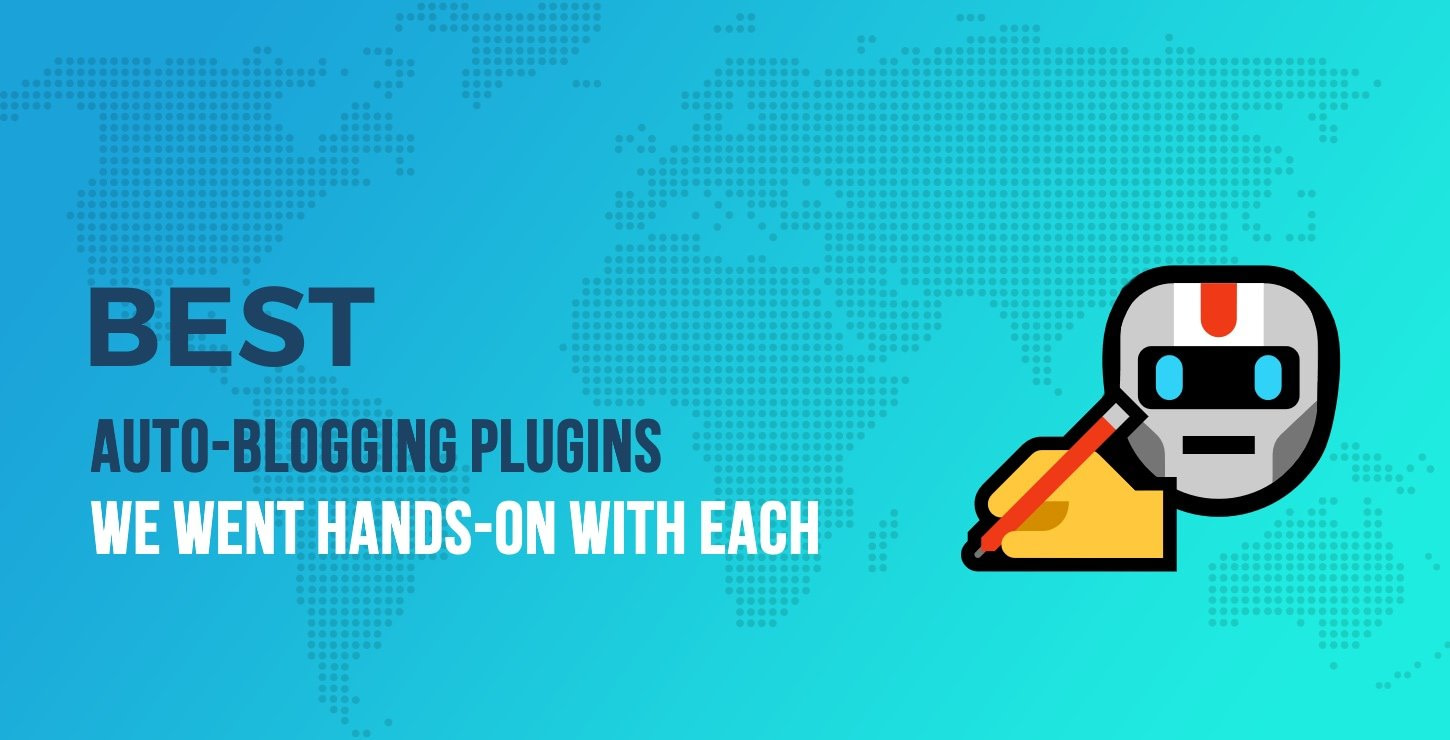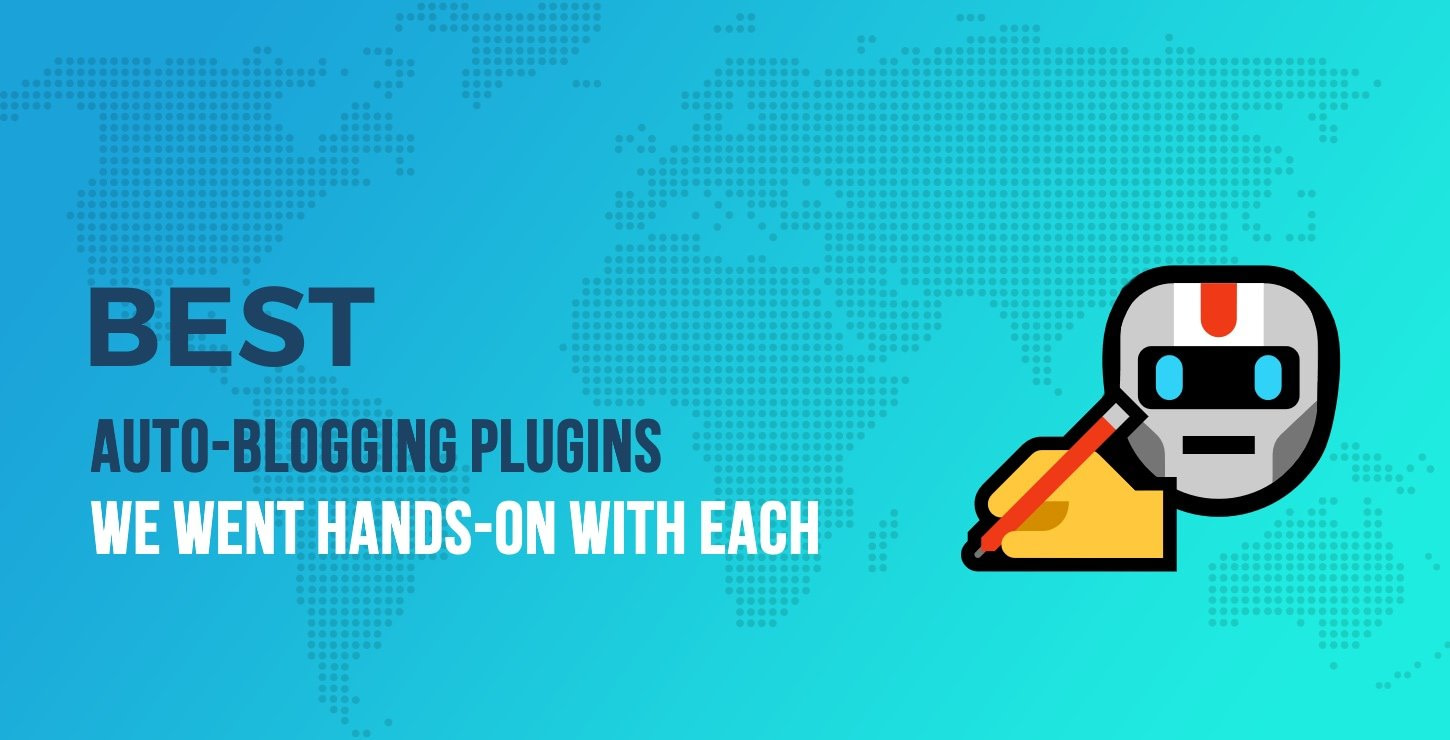 Looking for the best auto-blogging plugins for WordPress? Stop wasting time Googling and just read this post.
We went hands-on with 7 of the best auto-blogging plugins for WordPress to help you find a solution to help you import RSS feed items as actual WordPress posts. Keep reading for a more detailed look at all 7 plugins…
7 best auto-blogging plugins for #WordPress #compared 🤖
Click To Tweet
7 best auto-blogging plugins for WordPress
Here's the lineup plus a quick summary:

RSS Aggregator by Feedzy – Powerful WP Autoblogging and News Aggregator
Current Version: 3.6.4
Last Updated: April 28, 2021
94%Ratings
50,000+Installs
WP 3.7+Requires
Price: $0 or $149(premium)
Feedzy comes in two variants: free and premium. The free version lets you embed RSS feeds as a shortcode, but if you want true auto-blogging where you import feed items as actual posts, you'll need the $149 premium version.
With the premium version, you can add feed items to posts, pages, and custom content types. The plugin even extracts product prices and other elements from custom feed tags.
Details like featured images, post status and type, excerpts, text length, quantity, or layout (Feedzy provides three different templates) are totally up to you. If you want to import only HTTPS images (and not HTTP), Feedzy will detect them for you.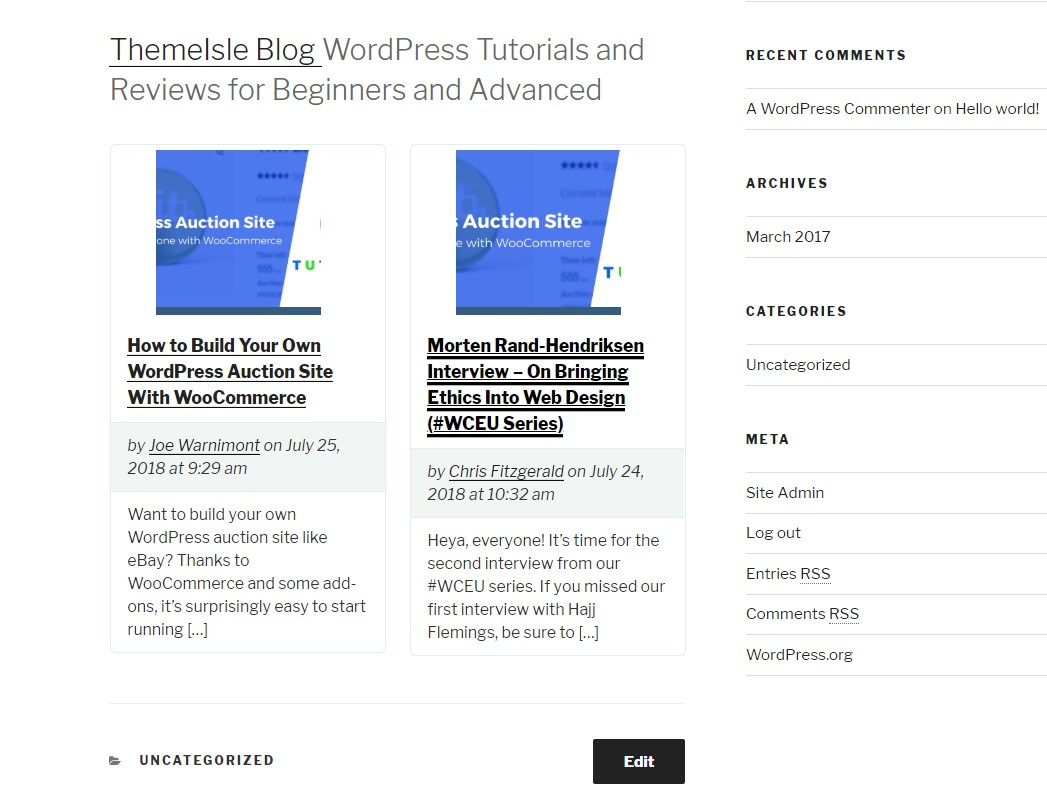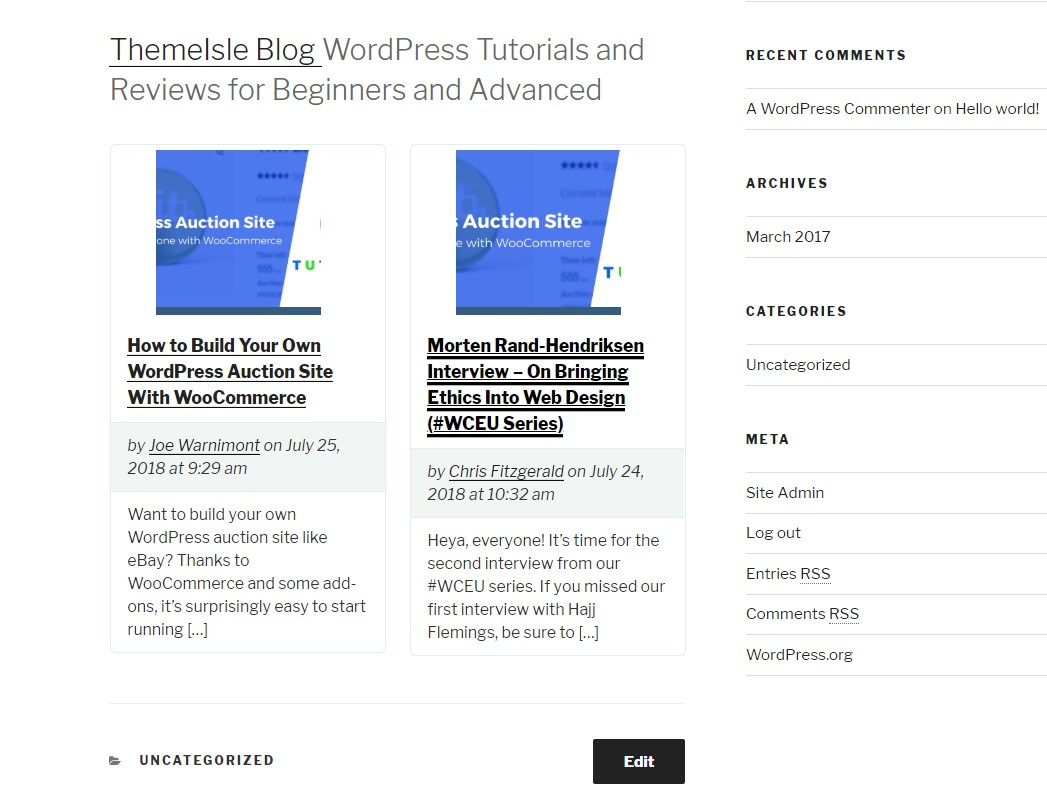 Furthermore, you can choose to filter the articles that appear in your feed by keywords. You can either only include articles with certain keywords, or exclude all articles with certain keywords (or both!). And if you want to monetize your auto-blogging, you can automatically add affiliate/referral links to the posts. Removing the 'dofollow' tag from links in a single feed is also an option.
And an even more awesome part about Feedzy is that it is optimized to match the latest trends in the WordPress market. It comes integrated with Elementor and Gutenberg (for front-end customization), and with WordAI and SpinnerChief – two tools that can edit/rewrite the imported posts in a human-friendly style (in case you don't want to use duplicate content on your site).
And if your chosen RSS feed only offers excerpts, Feedzy includes a feature that lets you still extract the full text.
👉 Get this plugin if you need a powerful set of features embedded in a lightweight interface. Despite being an optimal solution for personal blogs, we recommend it to business owners who want to grow their websites for professional purposes and monetize their work. Bonus: if you love page builders, then this is one of the best auto-blogging plugins that you'll find.
Go to top
WP RSS Aggregator – News Feeds, Autoblogging, Youtube Video Feeds and More
Current Version: 4.18.2
Last Updated: April 26, 2021
90%Ratings
70,000+Installs
WP 4.0+Requires
Price: $0 + paid add-ons
Being one of the best auto-blogging plugins, WP RSS Aggregator is very simple to set up and customize. Apart from importing unlimited feeds from multiple sources, you can narrow your feed posts by publication date, the number of items per feed/import. Moreover, you can add custom feed URL and title, and decide the import order and processing interval.
While the free version lets you embed RSS feeds with a shortcode, you'll need the paid Feed to Post add-on to actually start auto-blogging and import feed items as WordPress posts, pages, or custom post types.
With the Advanced Feeds bundle, you'll also be able to import the full text, even if the RSS feed only includes excerpts. And you also gain the ability to filter feed items by keyword (including both include and exclude options):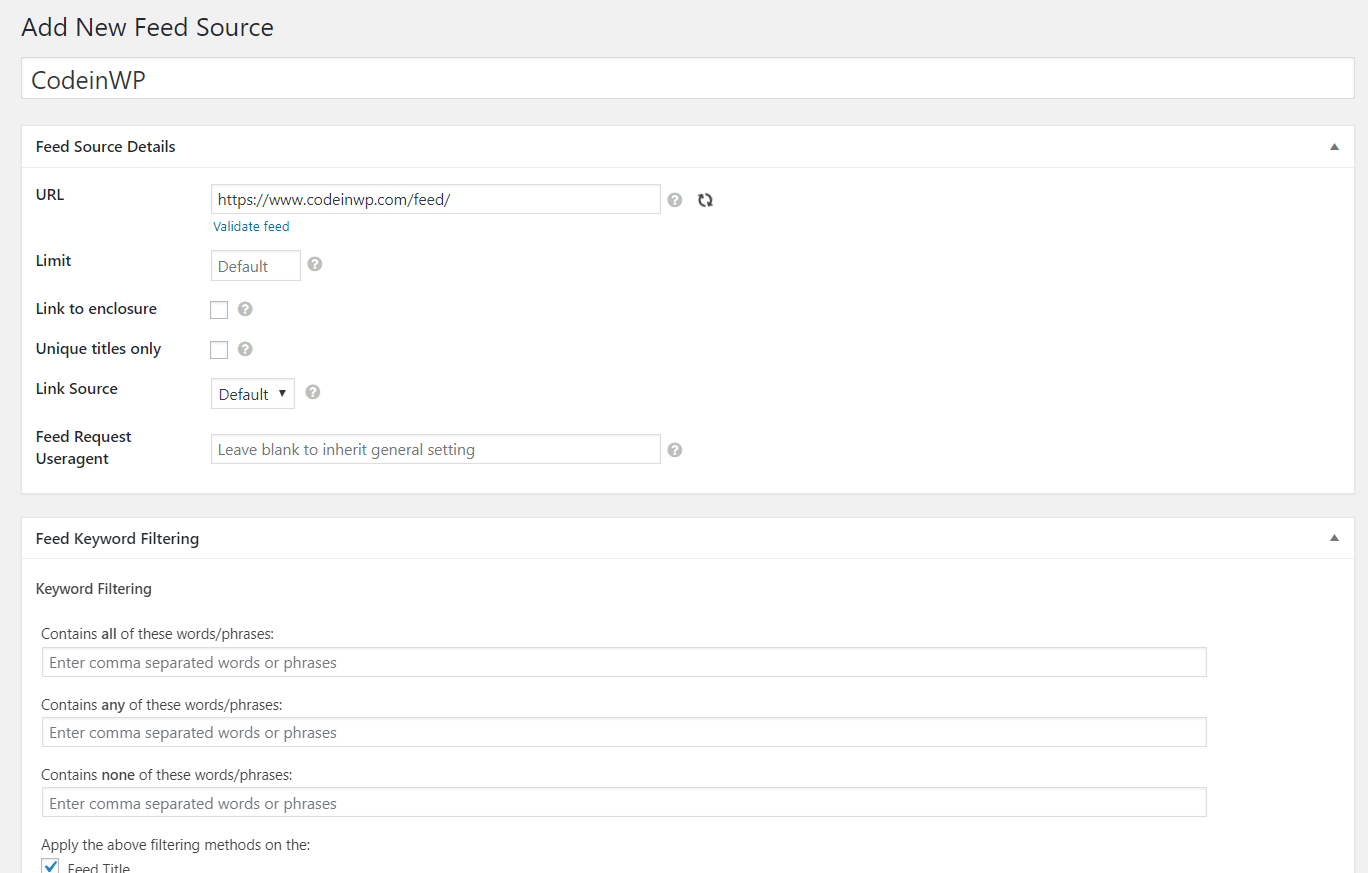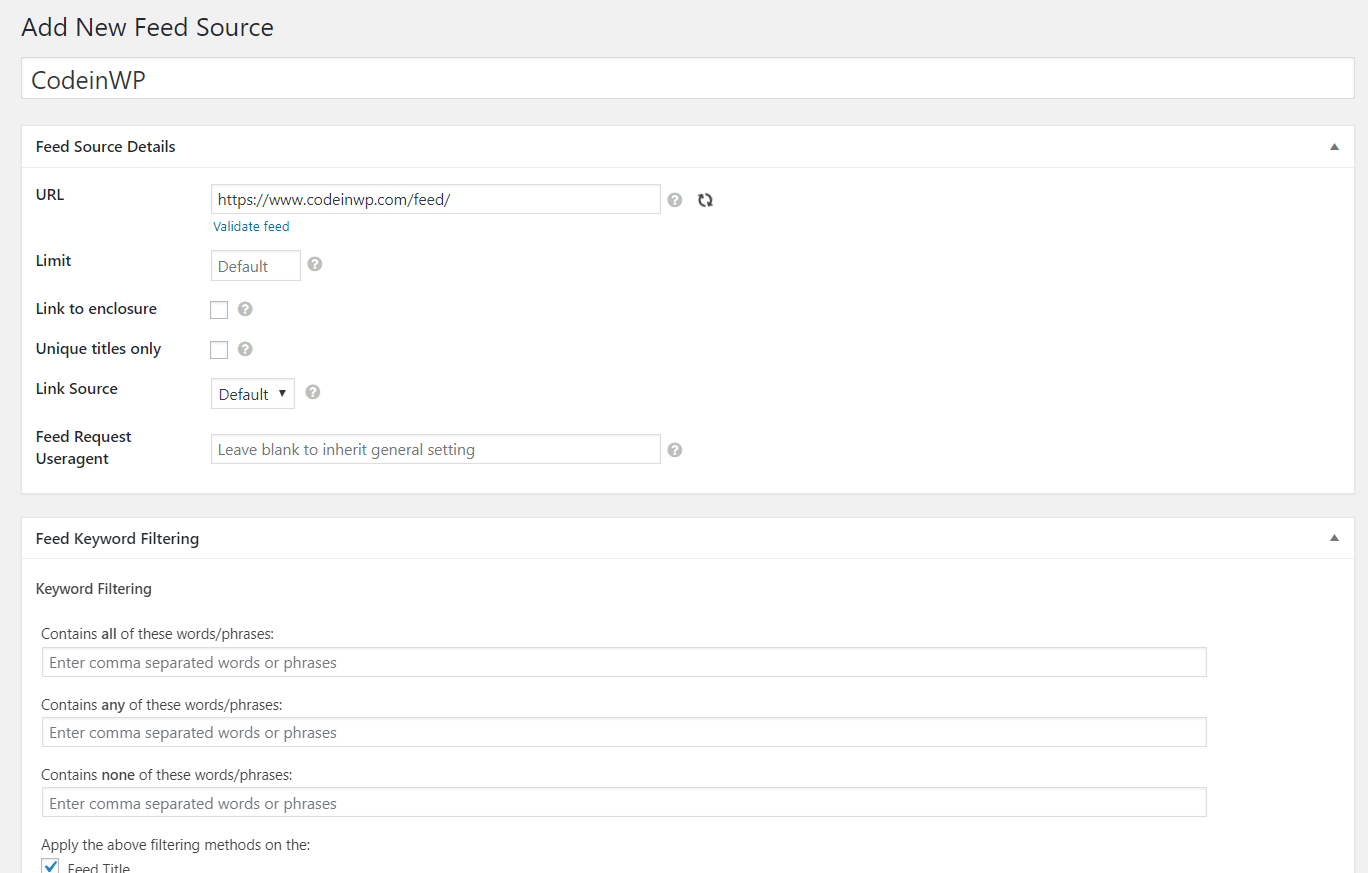 To avoid any negative performance impact, WP RSS Aggregator also lets you set how often to import new content. And you can easily add HTML before/after imported content, as well as choose whether or not to credit the original source.
👉 Get this plugin if you need a friendly interface but don't feel like spending much time in making it work.
Go to top
WPeMatico RSS Feed Fetcher
Current Version: 2.6.8
Last Updated: April 9, 2021
96%Ratings
20,000+Installs
WP 4.1+Requires
Price: $0 + paid add-ons
In this plugin, the feeds are called campaigns. So, in order to create feeds you need to start a campaign. The "Create Campaign" page is really interesting because it provides lots of options, displayed in colorful bars and blocks. The plugin has three post types: posts, pages, and media.
One nice feature of the campaign approach is that you can add multiple feeds to a single campaign (rather than having to add feeds separately like a lot of the other best auto-blogging plugins).
With WPeMatico, you can enable comments, pingbacks and trackbacks, the publication date of the original content, and automatically remove the links and the HTML tags from the imported content (which is very useful if you don't want spammy links on your site).
Another nice feature of this plugin is that you have lots of options for scheduling campaigns (by weekday, month, day, hour, and minute). And you can always pause or reset the post count when you want to.
Each campaign has lots of options for the media that accompanies the imported content: images, audios, and videos. If you want to use a template that's not provided by default, you can modify, arrange, or add extra content to every fetched post.
Aside from articles, the plugin also has a YouTube Fetcher for people who want to import videos instead of written content.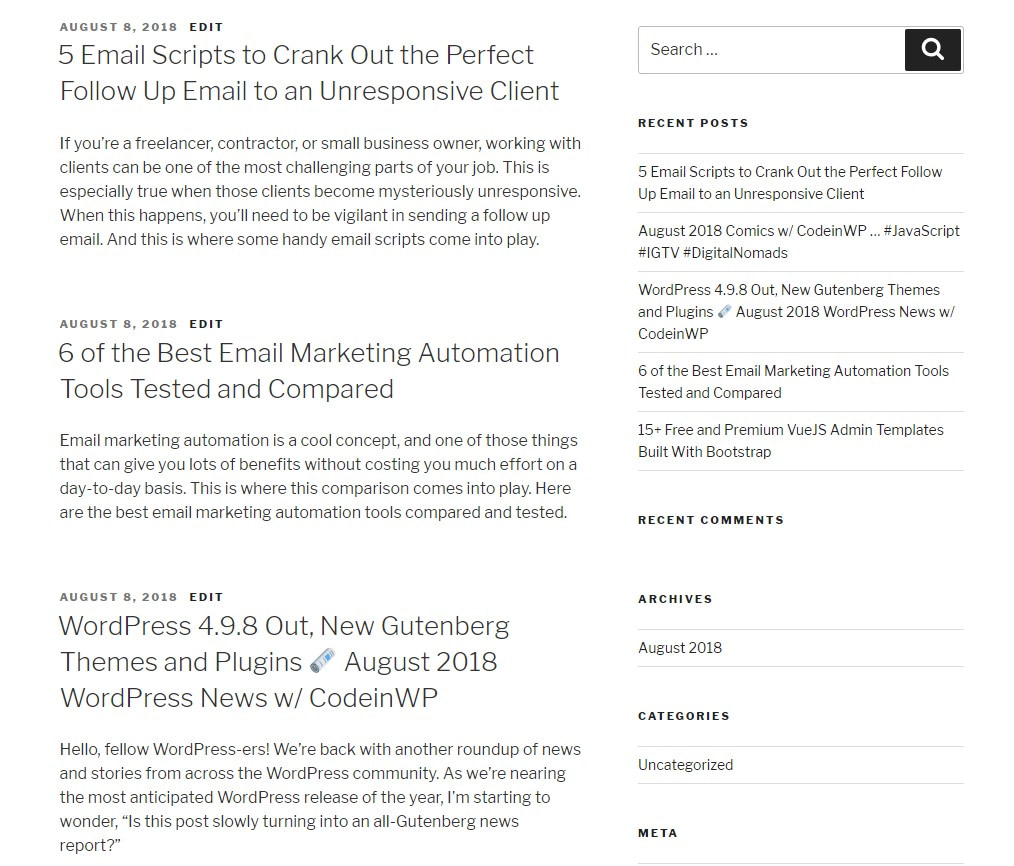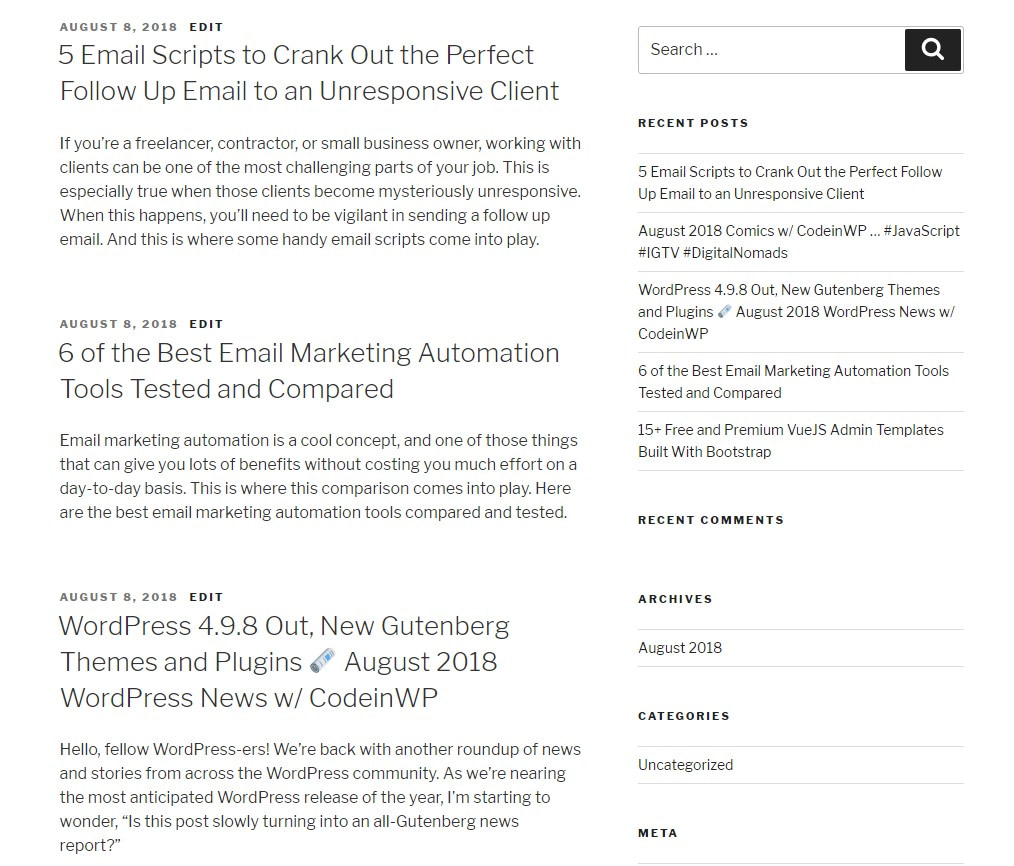 👉 Get this plugin if you need flexibility in terms of content variety, templates, and time schedule (you can set the tool to update/publish at an exact hour and day).
Go to top
CyberSEO Lite – RSS, News Feeds, Video Feeds, Autoblogging, SEO and More!
Current Version: 6.31
Last Updated: March 19, 2021
88%Ratings
10,000+Installs
WP 5.0+Requires
Price: $0
As far as free options go, CyberSyn is one of the best auto-blogging plugins that you'll find.
This plugin is simple and slightly different from the aforementioned ones. Install it, set up your preferences (as in check a few boxes), and it will just work. You can either put it on autopilot (it will extract and publish the feeds by itself) or you can do it manually when you need more control over the articles that get published.
To add your feeds, just go to CyberSyn -> RSS/Atom Syndicator -> copy/paste the feed -> Syndicate. After you click Syndicate, a page with details will open up and you can set your preferences related to the given feed.
What can you do with CyberSyn? You can extract the full version of an article (as seen in the picture below), group feeds by categories, create tags, set the post status and number, accept/reject pings and comments from the users, generate thumbnails and media attachments (the images will be stored locally), set the maximum number of words for each excerpt, and embed the videos that exist in the original article.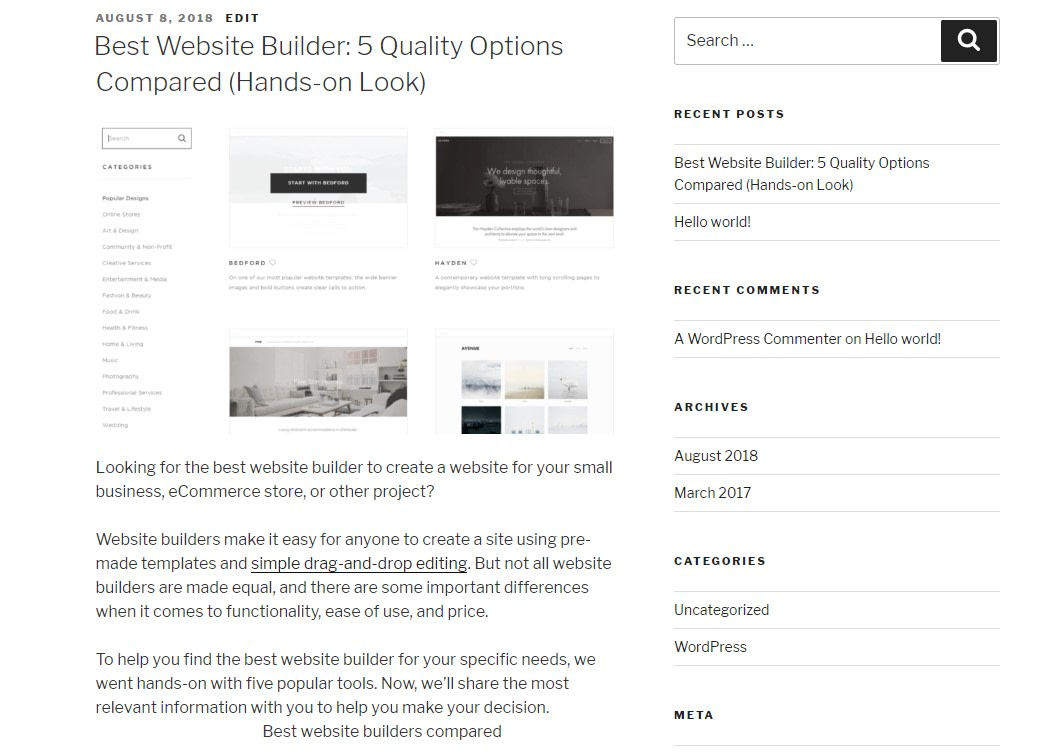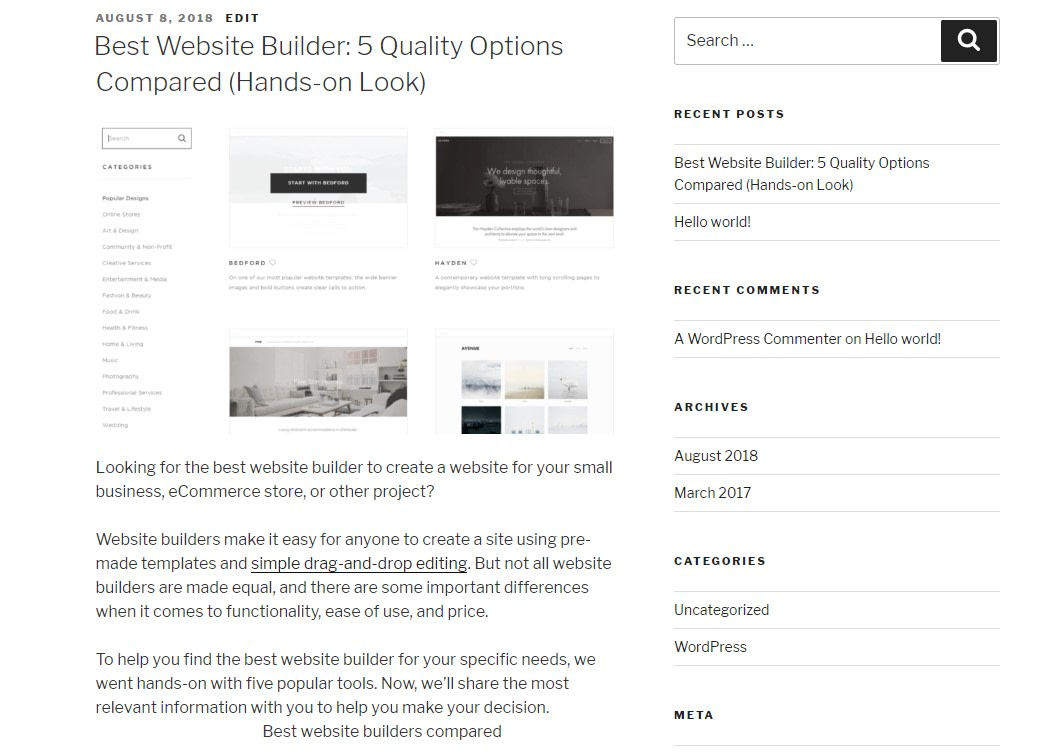 It also includes a unique feature that lets you translate the imported feeds via Google Translate or Yandex Translate, as well as check the articles for duplicates and rewrite them with several spinner tools that it comes integrated with.
A nice thing about CyberSyn is that it can import many types of content including CSV tables, HTML documents, and JSON files. It extracts various types of feeds such as eBay feeds, XML, videos from YouTube, Vimeo, or Dailymotion, content from Yahoo, Flickr, and more.
👉 Get this plugin if you want the ability to extract full text RSS feeds and import feed items as posts for free. Most other auto-blogging plugins charge for both of these features.
Go to top
WP Pipes
Current Version: 1.33
Last Updated: December 28, 2018
88%Ratings
4,000+Installs
WP 3.8+Requires
Price: $0
This plugin refers to feeds as pipes.
With it, you get a simple visual interface where you can choose to get the full text instead of excerpts, cut the intro, filter by keywords, get the images, or show the original source.
In the destination input, you can choose how to display the feeds on your website. You can modify parameters like title, slug, excerpt, content, date, images, category, and meta key.
After you have added all the options, click on Test This Pipe and a progress bar will show what posts are getting imported to your site (from here, you can edit them as your own posts or pages). The feed items will also appear live as blog posts.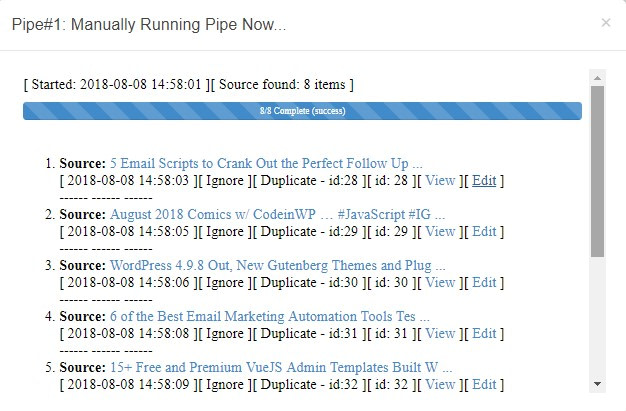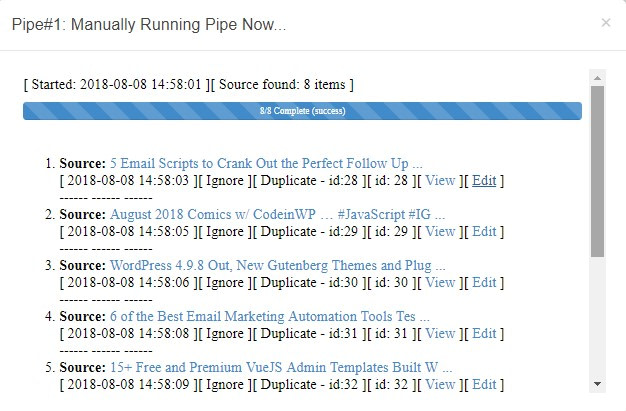 👉 Get this plugin if the aesthetic feature (aka the way you showcase the posts on your site) is not your number one thing. If you're more of a back-end person who prefers to collect the articles for their own interest – before getting them published – then you just found your tool.
Go to top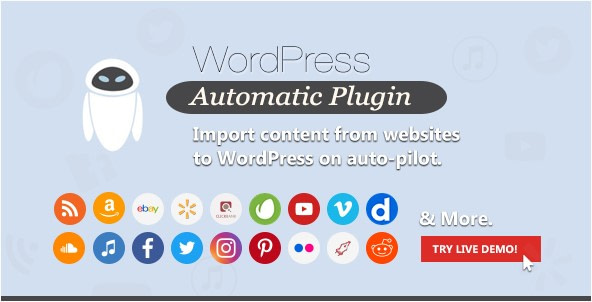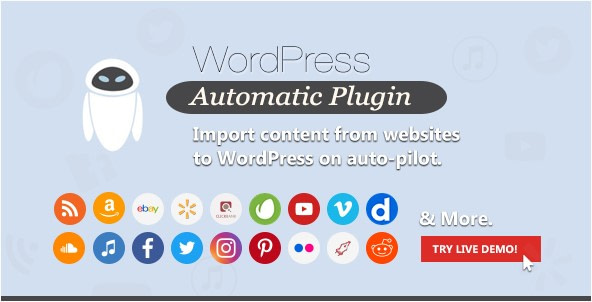 Price: $30
WordPress Automatic Plugin makes its way on to the best auto-blogging plugins list because of the sheer number of import options it has. Beyond regular articles, it supports a whole range of other options: Amazon and Walmart products, YouTube, Vimeo, and DailyMotion videos, Flickr and Instagram images, eBay auctions, social media posts (tweets, pins, Reddit and Facebook posts), classifieds from Craigslist, iTunes content (such as songs, podcasts, apps, eBooks), SoundCloud songs, and even Envato items.
In other words, a lot of golden stuff especially for niche websites.
Beyond the option to choose your content source, you have the possibility to filter the content (by author, category, tag), so you won't have to publish everything that gets posted on your chosen source.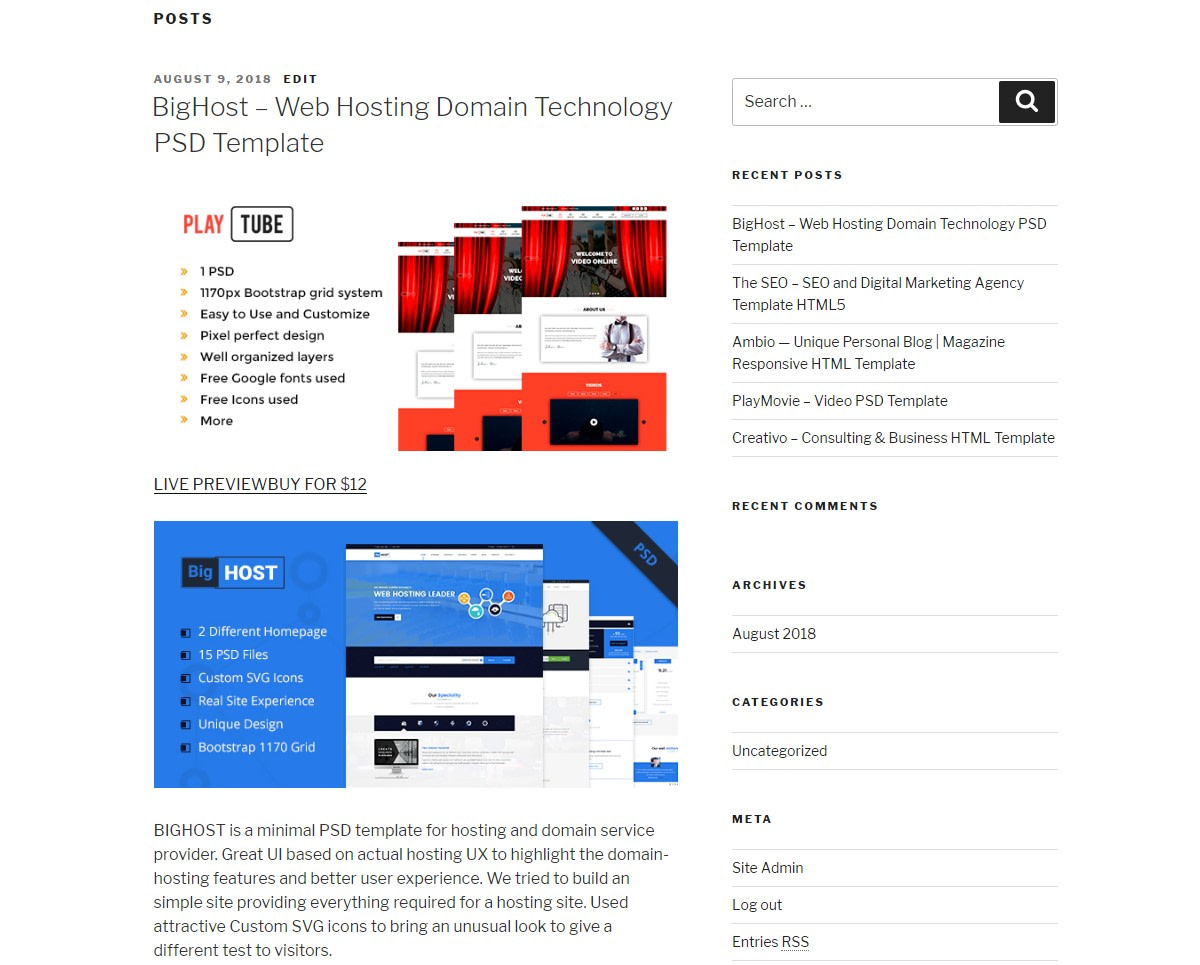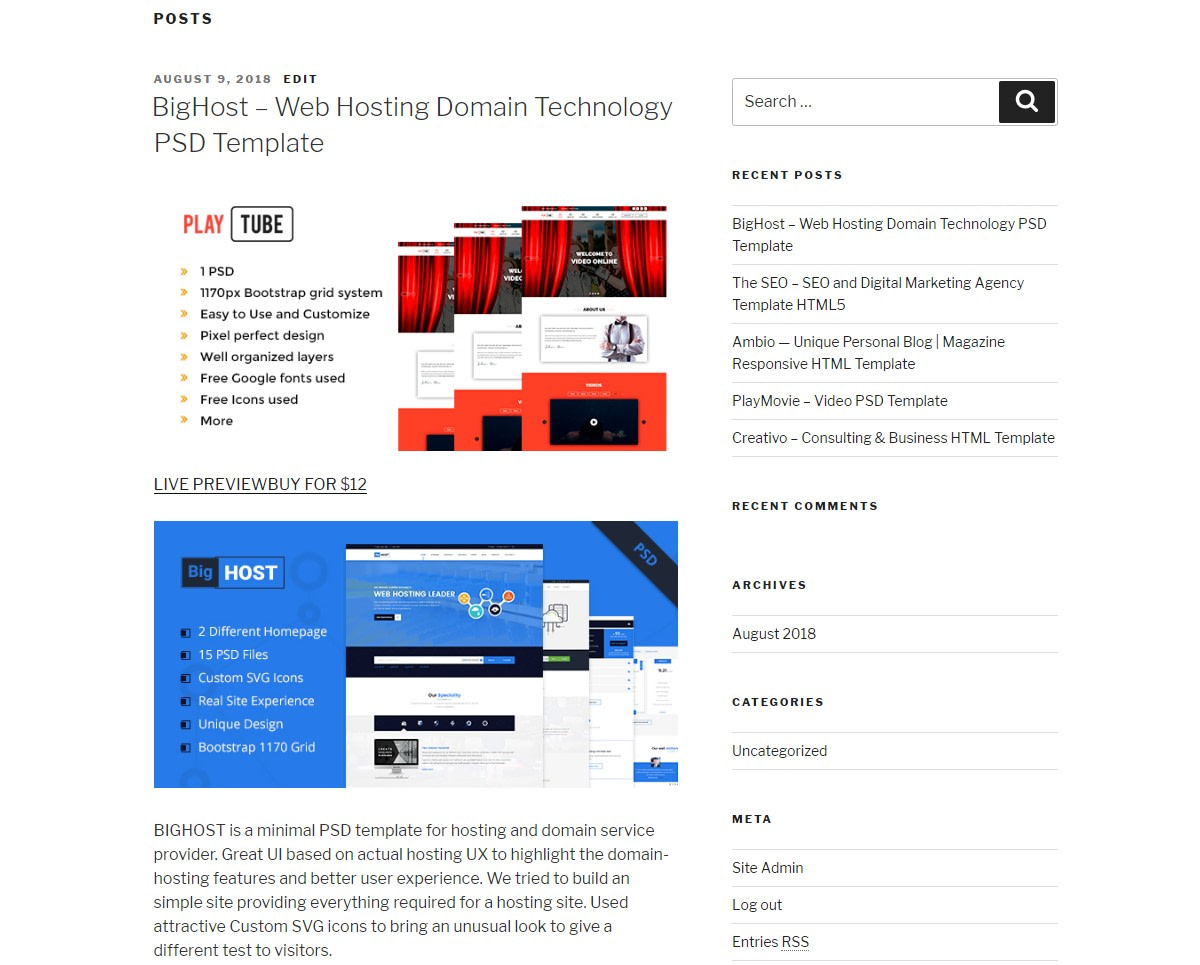 You also have control over the post template, status, type, format, and the images that you want the plugin to fetch with the posts. Moreover, the plugin comes with advanced rewriting and translation options; it even replaces specific words automatically if there's something that you want to avoid mentioning on your site.
👉 Get this plugin if you have a multipurpose business and are interested in sharing content from the biggest brands in the world within a few clicks – the tool has all the aforementioned sources integrated, while it also generates the sections and categories from each website.
Go to top
Price: $23
WP Crawler is another flexible plugin that was built to import a large variety of content on autopilot. You can publish design collections from Dribble or Behance, product lists from Amazon or Alibaba, photo showcase from Flickr or Unsplash, apps, social posts based on hashtags, WordPress themes, and lots of other resources.
It's also easy to use. All you need to do is to add your sources, choose your preferred options, and run the crawler. You can get the data from other websites by using the HTML selectors and attributes; then set the post status, category, and type and also check the text for duplicates. The plugin lets you extract data from unlimited sources.
If you don't want the crawler to post randomly, you can schedule it to run once per hour, twice a day, or daily.
👉 Get this plugin if you're looking for a flexible and intuitive interface. By flexibility, I mean: 1) you can post from a large range of internet sources and content types (including media and social platforms); 2) you can schedule the tool to publish at the exact time you wish; 3) it only requires a few steps to set it up.
…
So this is our selection of the best auto-blogging plugins for WordPress. Have you ever tried any of them? And if you think that we missed any important plugin, let us know that, too! We are curious folks.
7 best auto-blogging plugins for #WordPress #compared 🤖
Click To Tweet
Don't forget to join our crash course on speeding up your WordPress site. With some simple fixes, you can reduce your loading time by even 50-80%: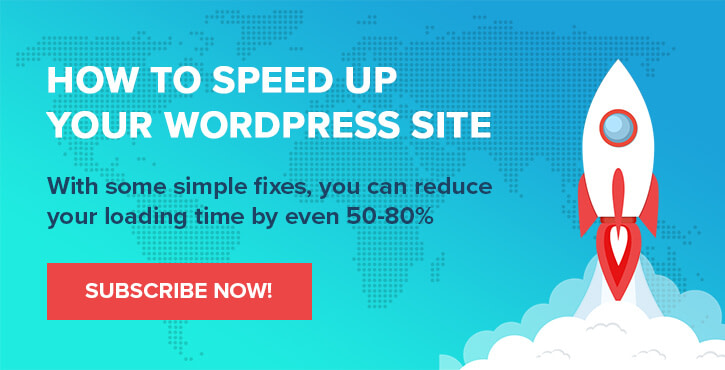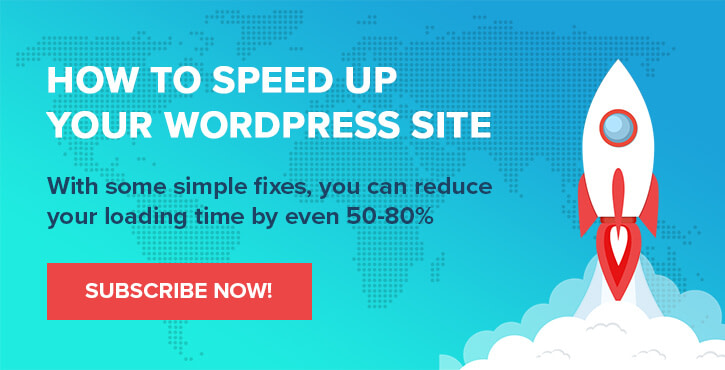 Was this topic
helpful?
0% of users found this helpful