If you're reading this article, you most likely want to start earning money from ads on your site through AdSense. Great. The main problem you're probably having is that you're not sure where to put ads, and even if you do, your WordPress theme may make it troublesome.
It would be a lot easier if there was a theme out there optimized for AdSense, so you didn't have to do all the hard work. You're in luck because there are many themes out there that are optimized for AdSense. I'm going to list 20+ great WordPress AdSense themes here.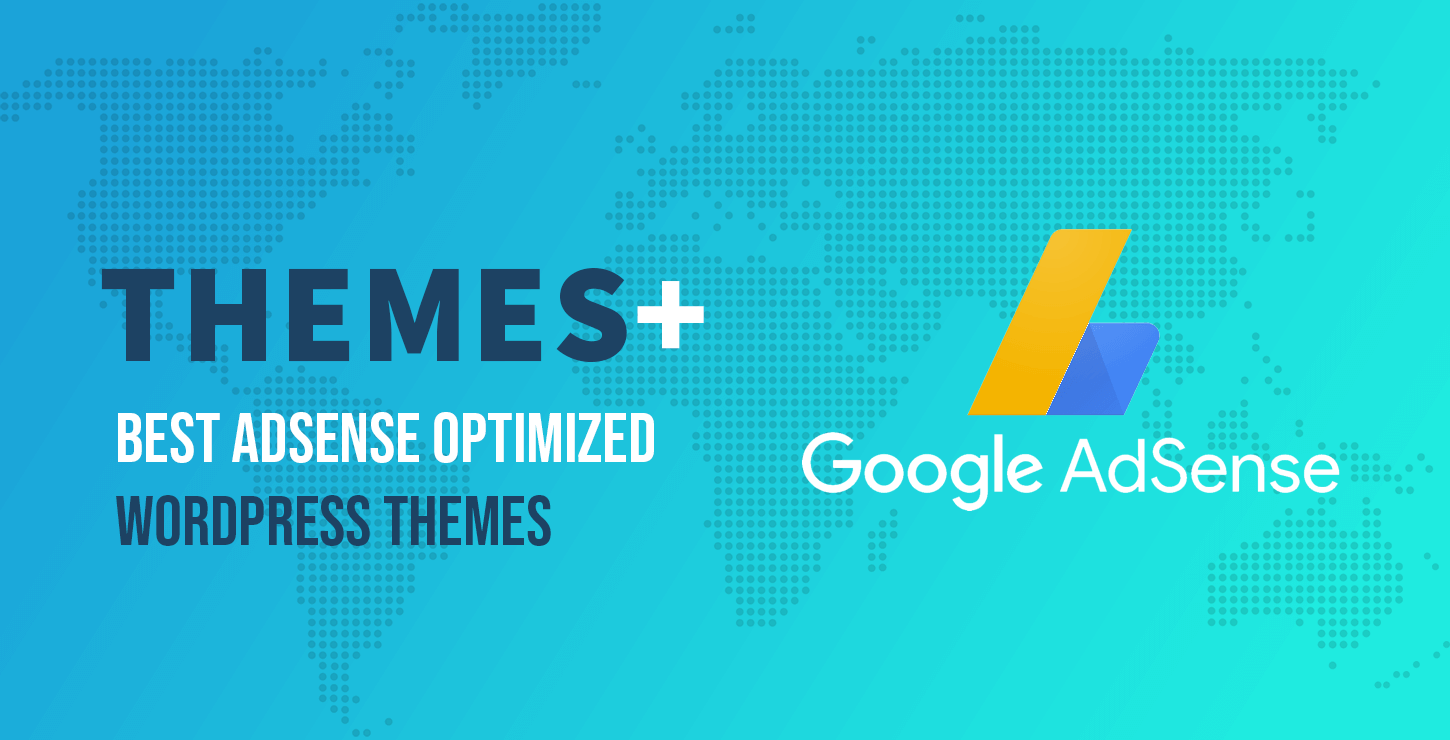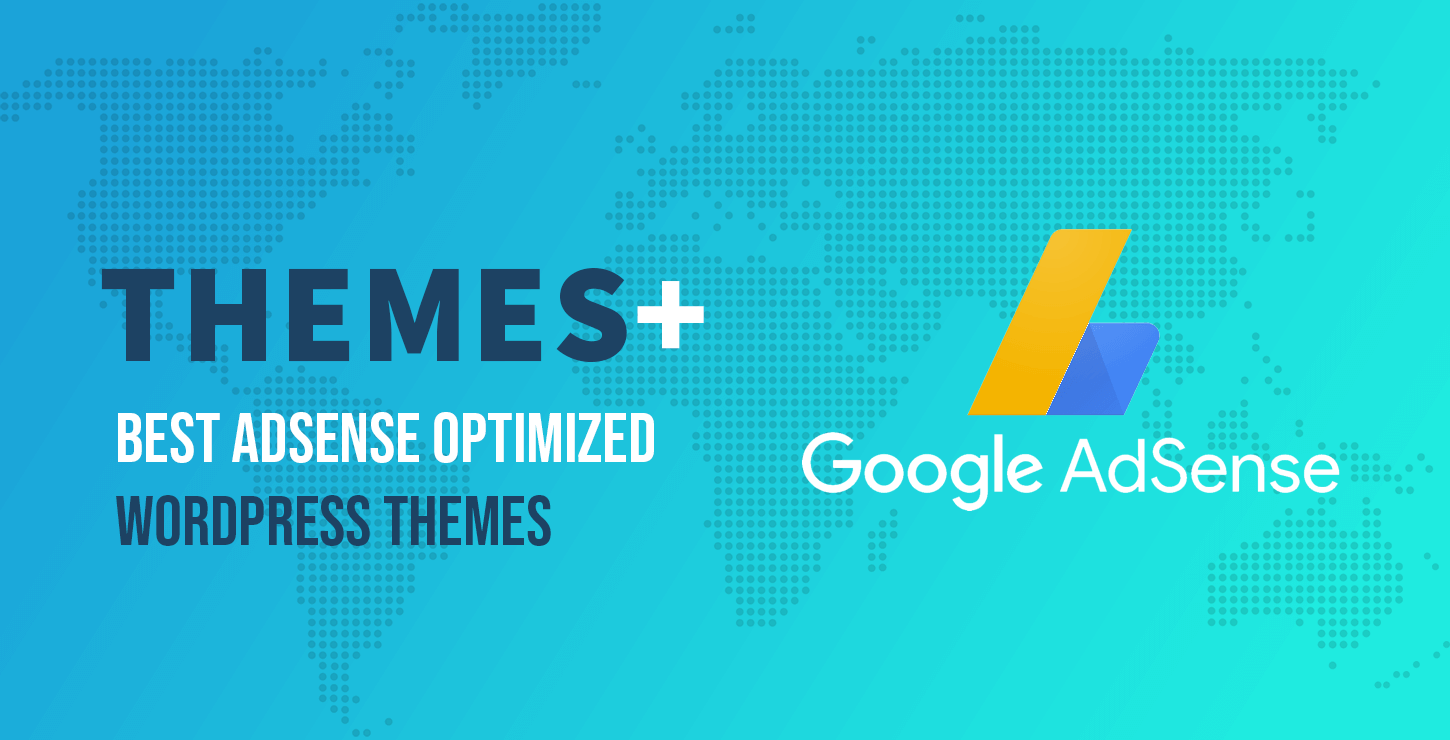 Best AdSense optimized WordPress themes for 2021:
A modern and clean WordPress theme for all kinds of businesses. It has an elegant design and well-organized content. You can customize the theme the way you want with drag-and-drop page builders like Elementor and Gutenberg. It provides custom layouts and lots of settings, including ad banners, which you can add anywhere on the site.
Neve Car Rental comes with a responsive design, header and footer builder, compatibility with AMP and WooCommerce, a huge collection of niche starter sites, and full flexibility in customization.
Get It Here
Price: $59 Having problems with your current web host?
Too expensive? Too much downtime? Poor support? Slow? Overall bad experience? This could help:
* themes developed by our sister company, Themeisle
Go to top
A WordPress AdSense theme created for magazines and news websites that offers a lot of interactivity. It has many widgets: social media buttons, sections with most popular and recent articles, comments and tags areas, photo and video galleries and more. The main topic of this theme is health, including its related categories like sports, travel and nature. The ad banners are present all around the website, on both the homepage and inside the articles. The design has three principal columns, two of them containing the articles from every category, while the third one is 'responsible' with the social sharing area.
The homepage has two ad banners, at the top and at the bottom.
The theme has unlimited colors, customizable images, sidebars and widgets, is fully responsive, has bulit-in login/registration form, is SEO optimized and has many other features that you might want to try out.
Get It Here Price: $49 Go to top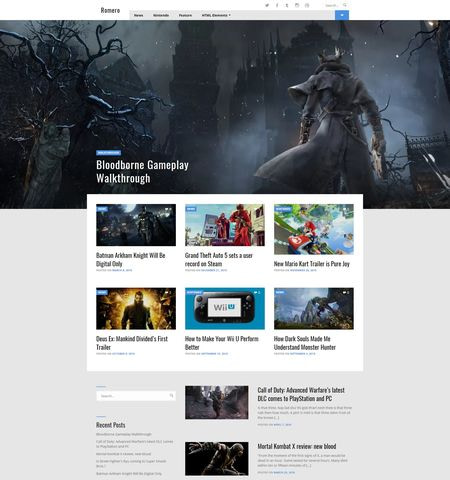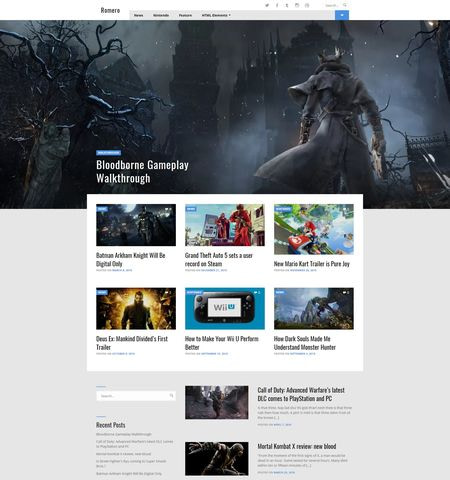 Romero is a nice magazine theme made to emphasize visual content. It is best suitable for video games sites, motoring magazines, movie reviews, or any other niche that involves a large range of imagery.
The theme has a blog-like layout that is compatible with AdSense and WooCommerce. You have plenty of space to display your ads – in the sidebar, in the body of the article, at the end of a post, and on the homepage. The custom colors and fonts, pre-made page templates, and infinite scrolling come all packed up with the responsive design.
Get It Here
Price: $69
Go to top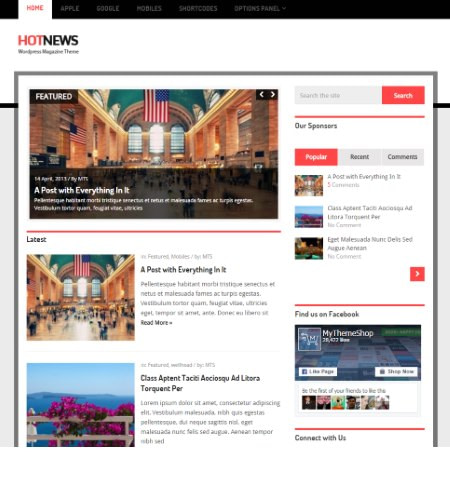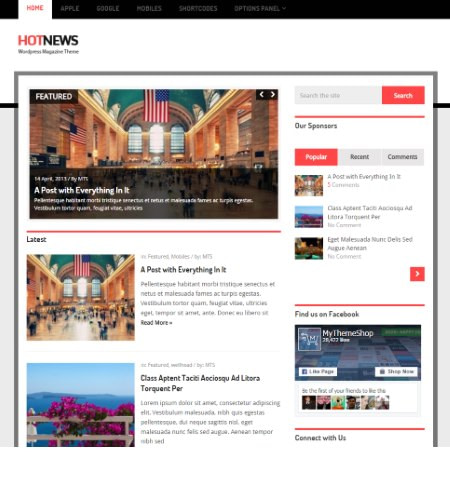 A pretty simply organized theme for online news websites and magazines. It has a black menu in the top of the page, has a blog-like design, and it's fully widgetized. On the right-hand side you can find widgets presenting the most popular, recent and commented on articles. The ad spaces are spread on the entire page. Two squares of 125×125 are showcased to the right too. Another bigger square is displayed below, and a similar one is attached to the bottom of the page.
Other two ad spaces appear when you click on an article (those are in-content ad blocks).
The ads inside the articles are placed at the beginning and at the end of the content.
Some of the theme's features are: SEO and speed optimizations, custom widgets, unlimited color schemes and backgrounds, and integrated social media.
Get It Here
Price: $19
Go to top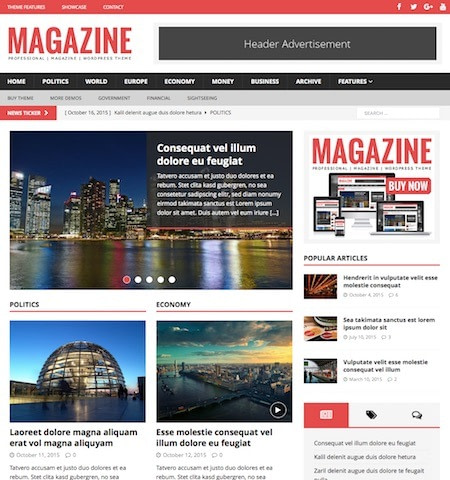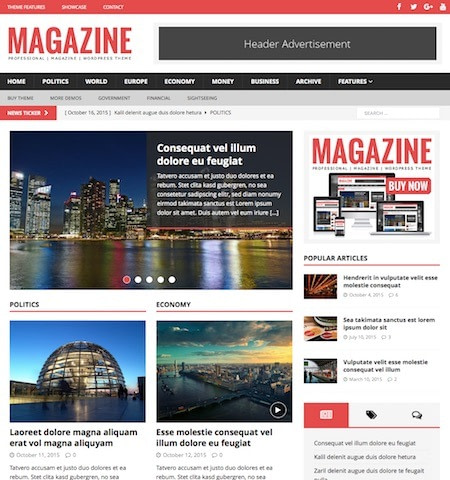 MH Magazine is a professional magazine WordPress theme for editorial related websites. This fully responsive WordPress theme is perfectly suitable for topics like news, technology, politics, lifestyle, sports, nature, economy, travel or any other topic. This popular magazine WordPress theme allows you to monetize your website by taking advantage of the many available widget areas on the widgetized front page and on sidebars to display advertisements in different locations across your site.
MH Magazine, therefore, lets you nicely integrate ads and banners within your website content. This flexible magazine WordPress theme furthermore comes with additional advertising options and several great features to launch professional online magazines and news websites.
Get It Here
Price: $49
Go to top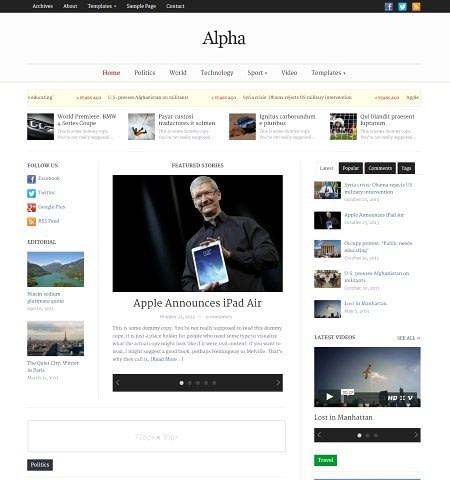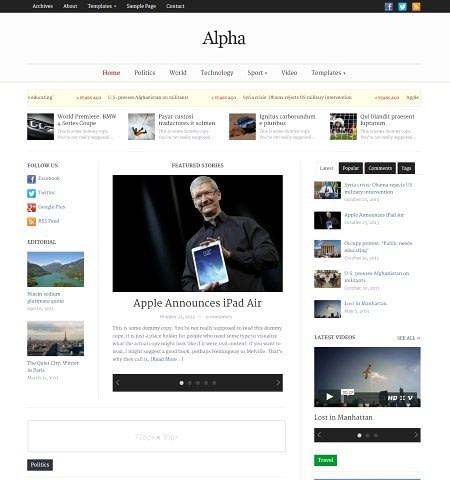 Alpha is a clean WordPress AdSense theme for magazines and news websites. The design was made to put the content first. Everything is well organized by categories. The theme comes with a red menu bar where you can also find the main stories of the day.
Like every magazine theme, Alpha is AdSense-ready. The homepage comes with two ad banners, at the top and in the middle.
The top ad banner keeps its position no matter what section or article you're reading.
Alpha has a responsive design and, apart from the magazine layout, it comes with a newspaper skin as well. It also provides multiple widgets – many of them working as video widgets – a breaking news ticker, a featured slideshow, SEO optimization, a solid ZOOM framework, and an easy customization experience.
Get It Here
Price: $69
You may also be interested in:
Go to top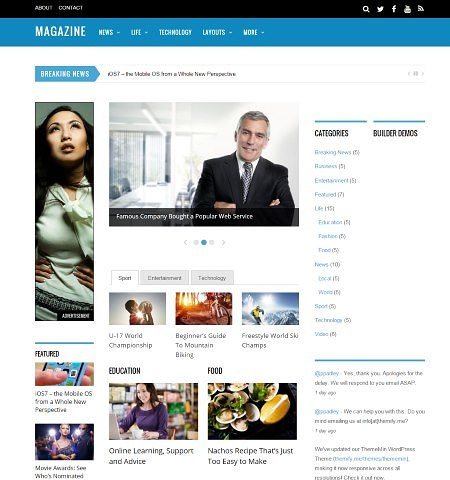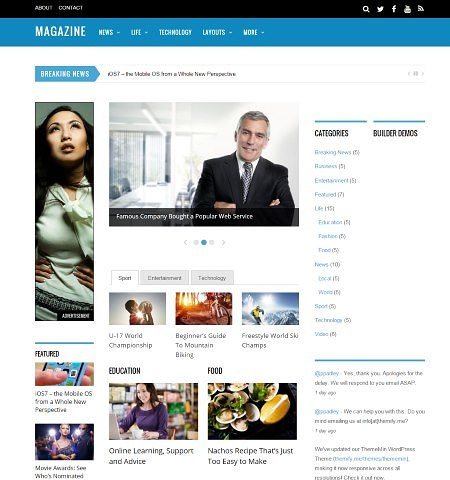 As the name says itself, Magazine is a WordPress AdSense theme created for magazines and news websites. It has a simple, clean and professional design, which helps to easily find the information you need. This theme was made to be used along with Themify Builder, which comes with intuitive drag-and-drop settings. The theme has plenty of ad spaces, three of them are placed right on the homepage (as you can observe in the image above). Other widgets for banner ads are placed within the articles.
Magazine features 42 pre-built layout options, mega menus, breaking news ticker, social share buttons, related posts, six sidebar options, seven post layouts, six color skins, WooCommerce compatibility and more.
Get It Here
Price: $59
Go to top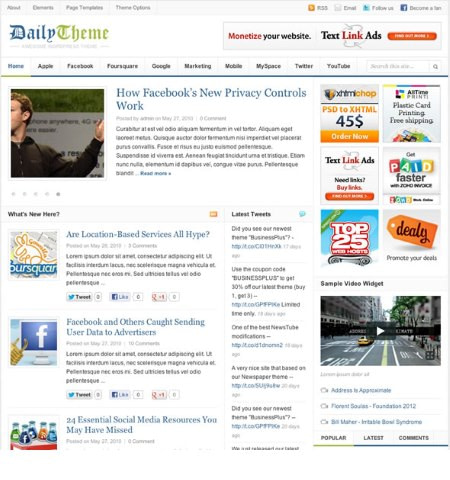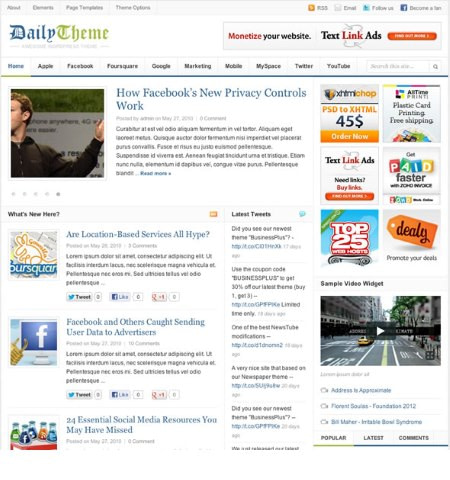 The Daily Theme is optimized for news sites which use AdSense. The theme includes an easy-to-use Ad Management panel, allowing you to put variously sized banners in your sidebar and other ad positions easily.
This WordPress AdSense theme includes multiple page templates, including Archives, Full Width, and more custom templates. All settings you'll ever need to change are all in one easy-to-use options panel. Custom widgets are included, including Twitter and Flickr.
The theme comes SEO-optimized and localized, so your site will be visible and translatable. Lifetime support is included at no extra cost.
Get It Here
Price: $24
Go to top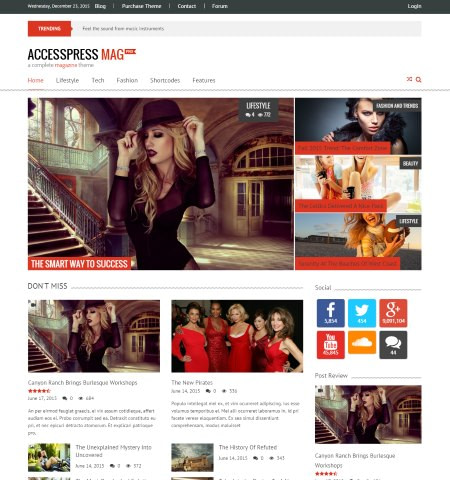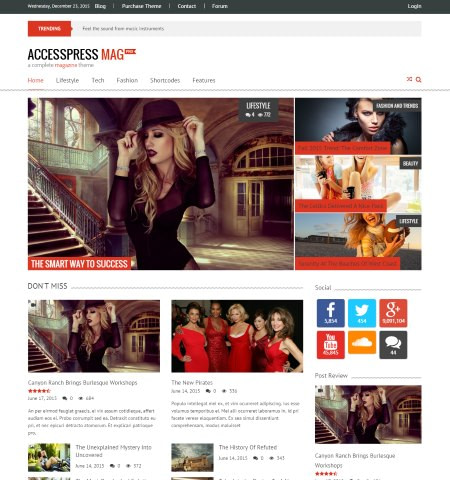 This AdSense friendly theme was made for magazine and media websites, comes with a fresh and modern design, and four different demos. The content is elegantly showing up piece by piece due to the lazy loading effect.
The ad spaces are plenty and are strategically placed on the homepage, within the sections and inside the content.
Also, at the end of each article there's another ad space, just before the author's description.
As for the features, this theme offers multiple layouts, a responsive design, a trending ticker with the breaking news, a page builder, so you can easily customize everything you want, a built-in review system for the users, responsive ads (apart from Google AdSense), WooCommerce compatibility, and other engaging features.
Get It Here
Price: $55
Go to top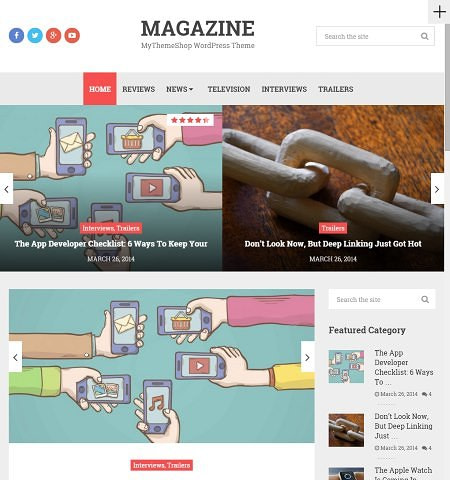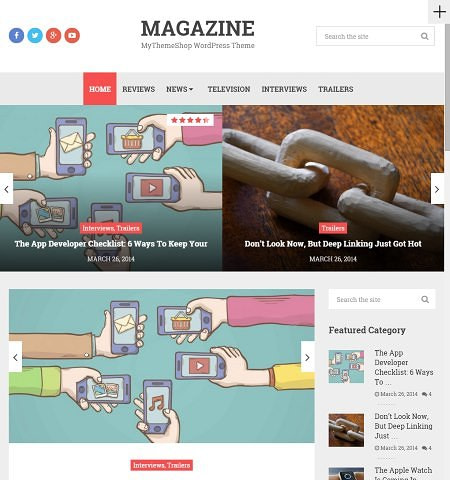 A nice WordPress AdSense theme for magazines and news sites or blogs, with a clean and friendly design. It has all the necessary elements for a good promotion of your site. It's full of social links, widgets, tags, featured categories, it's speed optimized, SEO ready, and compatible with WP Review Pro. And last but not least, it comes with ad spaces allowing you to place your ads wherever you want.
The theme is responsive and dominated by light grey, comes with four unique layouts, two slider options, parallax scrolling, 630+ Google fonts, and with 590 Font Awesome icons. It also provides mega menus, AJAX loading, author boxes, unlimited colors, sidebars, and background options. And these are just a part of the Magazine's features.
Get It Here
Price: $45
Go to top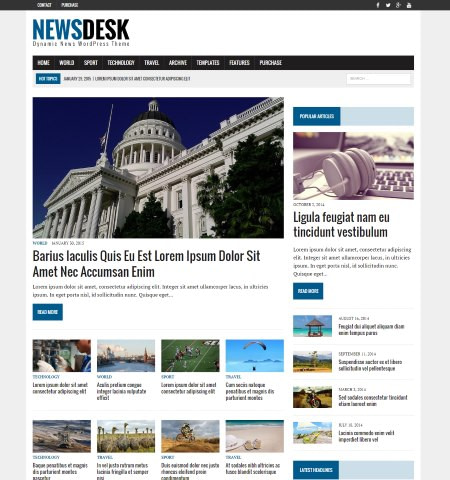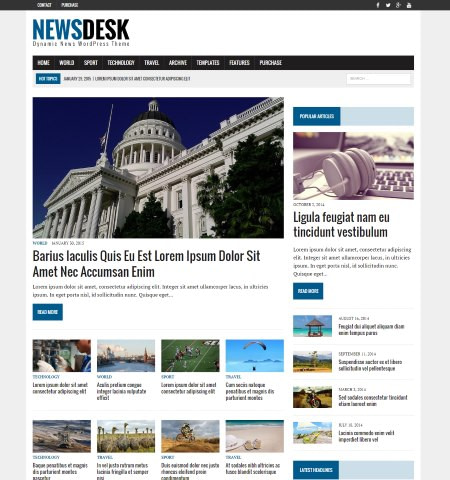 NewsDesk is a WordPress AdSense theme created for online magazines and news websites. It can be a good choice for promotion – it's fully widgetized, social, and has ad spaces.
There are five ad spaces on the homepage and three when you navigate into the sections. This theme is full of widgets and interactive buttons, like every news site should be.
Get It Here
Price: $49
Go to top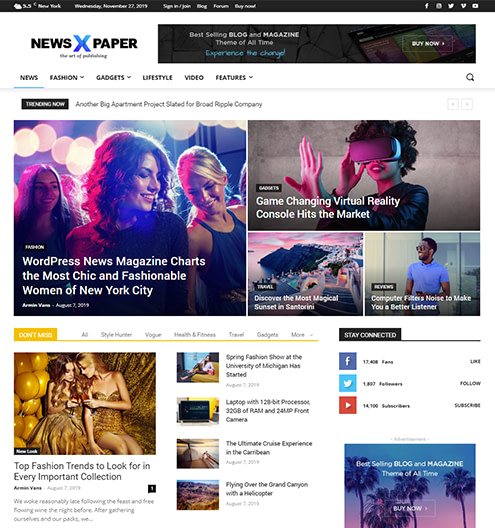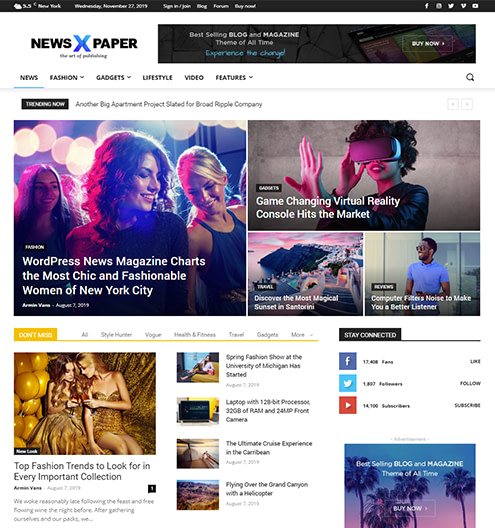 Newspaper is an elegant theme, created for publishing and review sites, that helps you monetize your business with AdSense ads and publish promotional banners. The Newspaper theme comes with an intelligent ad system that automatically adapts the advert size, ensuring a great user experience from any device. You'll find various ad spaces available all over the website.
You can place an ad at the top of the homepage, between the widgets or on the right or left side of the page, without disturbing the visitor's capacity to read your articles.
This template includes a page builder for the front-end, pre-built demo designs, a header builder, ready-made layouts for pages and posts, several custom widgets, flexible elements, reviews, interactive buttons, and animated icons. Newspaper is WPML compatible and SEO friendly.
Get It Here
Price: $59
Go to top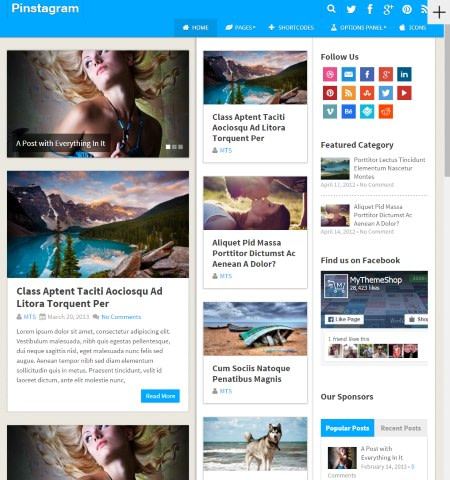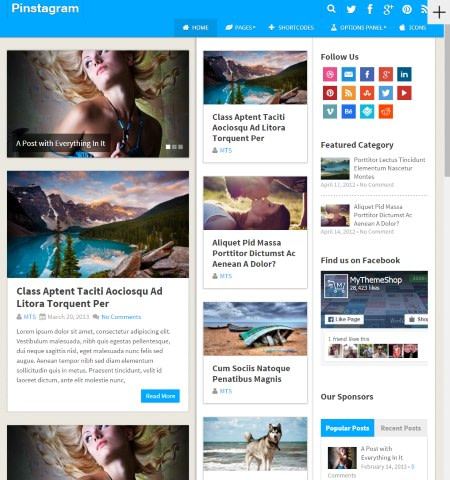 This Pinterest-like WordPress theme has a catchy layout and many spaces where you can put your ads. Its interactive and modern look gives you lots of chances to add and manage your ads.
As you would notice from the screenshots, Pinstagram has all a theme needs to help your website become popular. It offers lots of social buttons, widget connections, translation to many languages, it's SEO and social optimized, and gives you nice places to drop your ads. It provides Smart Adsense positioning, so you can have them on the homepage or right within the posts, before and after the content. You can also move them wherever you need.
Get It Here
Price: $45
Go to top
A colorful and catchy theme primarily created for marketing professionals. It was built to be engaging, fast, and to help you boost traffic towards your products or services. It is SEO-optimized and comes with social buttons, ad spaces, a review system, tags, author boxes, and widgets.
SociallyViral provides mega menus, four different loading effects, subscription boxes, parallax scrolling, 630+ Google fonts, unlimited colors, sidebars, background options, shortcodes, and many other engaging features.
Get It Here
Price: $45
Go to top
A theme optimized to work with magazine and media websites that need AdSense integration. It uses a classic black and white combination and keeps a professional look. It has a simple and well-organized layout. The ads are fixed in the same places, no matter where the scrolling gets you.
Even though it has a minimalist look, Magazine Pro comes with everything a press site needs: widgets, tags, blog, social buttons, well-organized content, custom menus, mobile responsiveness, featured images, six layout options, theme options, and much more.
Get It Here
Price: $99.95
Go to top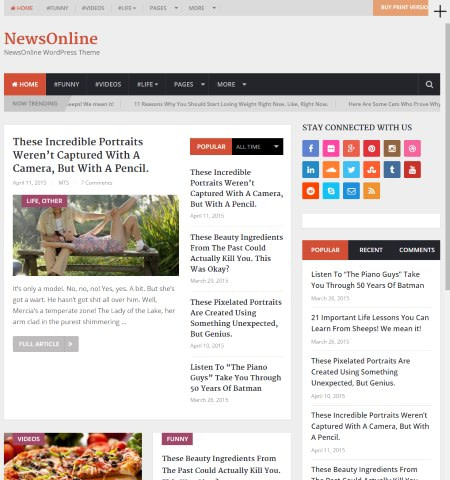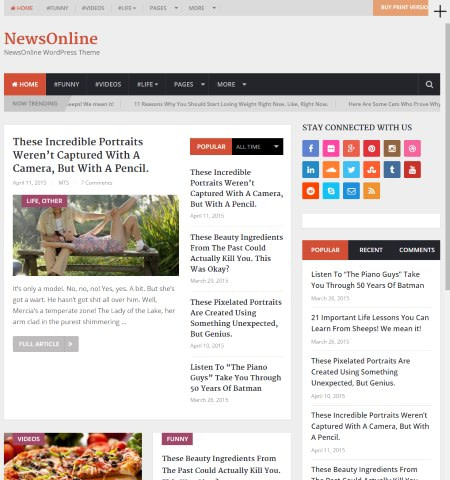 This theme has a simple magazine layout, for general news websites, and offers AdSense optimization. It comes with two ad blocks on the homepage, which are showing up on every page as well. The theme has a clean and minimalist look, and provides a review system. Below the menu, NewsOnline has a news ticker which works somehow like a slider showing the most recent and important news.
NewsOnline can handle big amounts of content, is fully responsive and optimized for speed and SEO, offers parallax scrolling, shortcodes, author boxes, unlimited colors, fonts, icons, backgrounds, and lots of other customization options.
Get It Here
Price: $45
Go to top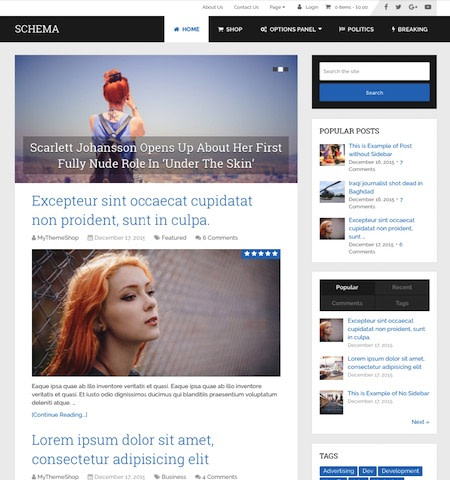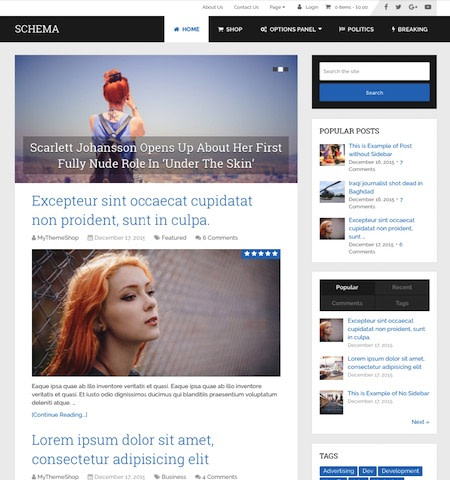 Schema could be the ideal theme for a magazine or for a media website. It's not only that it's one of the fastest WordPress themes out there, but it also comes with all the necessary features that will help your business escalate quickly up the professional ladder. Apart from its great speed and SEO-friendly code, Schema is also a good option for ad management. It doesn't come with default ad spaces, so you can choose where you want them to show up yourself. This way, you can control and track the ads better.
For instance, you can use a header ad, a below-post-title ad, or any other option given by the theme.
Schema provides a responsive design, a built-in review system, lightweight code, custom CSS, unlimited backgrounds, useful shortcodes, Google fonts and icons, custom widgets, and lots of other powerful customization options.
Get It Here
Price: $45
Go to top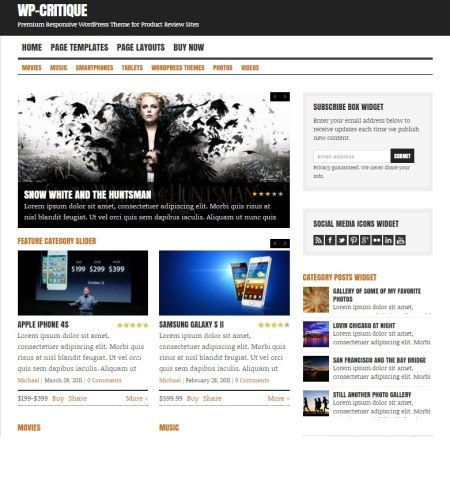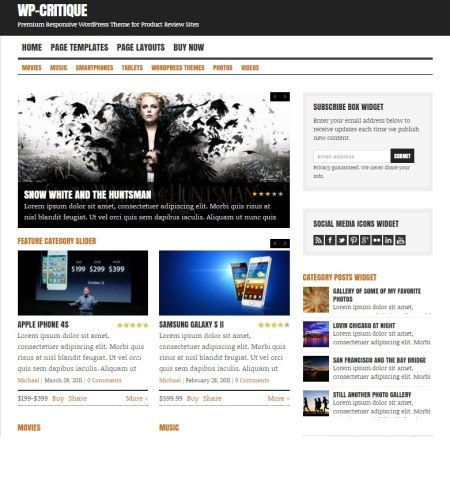 WP-Critique is a product review theme, but it comes with multiple spaces for ad banners. It doesn't specifically indicate the ad locations, so it's up to you where you want them to show up. It is a flexible theme, made to be highly customizable and multipurpose.
WP-Critique is ready for efficient promotion, as it offers lots of widgets for various purposes and lots of ad spaces. Its design best fits a magazine or a press website as it is clean, simple and professional.
The theme provides a responsive design, a built-in product rating function, built-in author pages, a YouTube videos page template, multiple homepage layouts, various post and page layout options, multiple banner ad locations, a portfolio section, and many other customization settings.
Get It Here
Price: $49
Go to top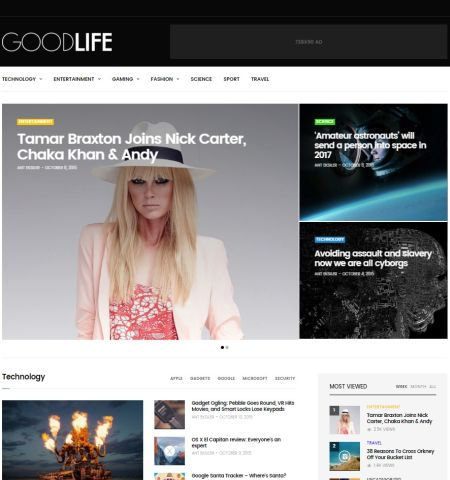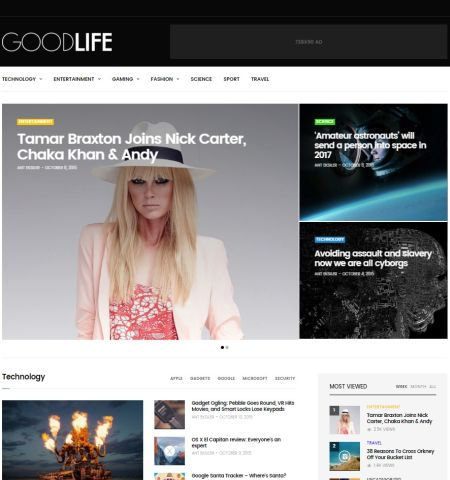 A multipurpose WordPress theme. It provides seven different demos for specific uses. It can be used for magazines, blogs, or review sites. The design is clean, modern, and widget-ready. The theme looks friendly and welcoming, and also offers lots of spaces for ad banners – at the top of the homepage, in the sidebar zone, and between the posts.
GoodLife provides a responsive layout, four gallery and video pages, three different header styles, multiple premium plugins integration, built-in advertisement locations that you can manage the way you want, speed and SEO optimization, video playlists, a complex review system, and lots of other great features.
Get It Here Price: $59 Go to top
* This post contains affiliate links, which means that if you click on one of the product links and then purchase the product, we'll receive a small fee. No worries though, you'll still pay the standard amount so there's no cost on your part.
Was this topic
helpful?
0% of users found this helpful