No matter how small or big your business is, managing its financial side can be frustrating. Thanks to technology, you can bypass that stress and have the best accounting software for small business do all the heavy lifting for you. Once you find your top accounting software among all what's out there, you will be able to do away with Excel spreadsheets and things similar. In fact, there are a bunch of software options that give you the ability to manage payroll and handle other business-y things in just a few clicks.
For instance, you can use accounting software to manage bookkeeping without having to hire a professional. Or, use it to manage stock orders and handle other task management requirements. These software options can also provide deep customer analysis aid to ease customer relationship management.
To make all this easier on you, we've done the work to identify the best accounting software for small businesses available and highlight the key features of each solution. We also talk about the pros and cons of each one.
Essentially, this post will help you decide which accounting system will work for your small business.
6 of the best #accounting #software for small #business this year 💸📒
Click To Tweet
Best accounting software for small business
| Software | Pricing from | Standout Features | Best for |
| --- | --- | --- | --- |
| FreshBooks | $15/mo | Easy financial management and unlimited invoicing | Freelancers, solopreneurs |
| QuickBooks | $15/mo | CRM integration, payroll and multi-currency | Small businesses and freelancers |
| Xero | $9/mo | Real-time cashflow view, awesome pricing add-ons | Small/mid-sized businesses |
| Zoho | $9/mo | Multi users access, key financial reports | Self-employed and solopreneurs |
| Wave | Always free | Free accounting software, easy payroll management | Entrepreneurs, solopreneurs, micro businesses |
| ZipBooks | Freemium | Unlimited invoicing, automated billing | Freelancers, small businesses |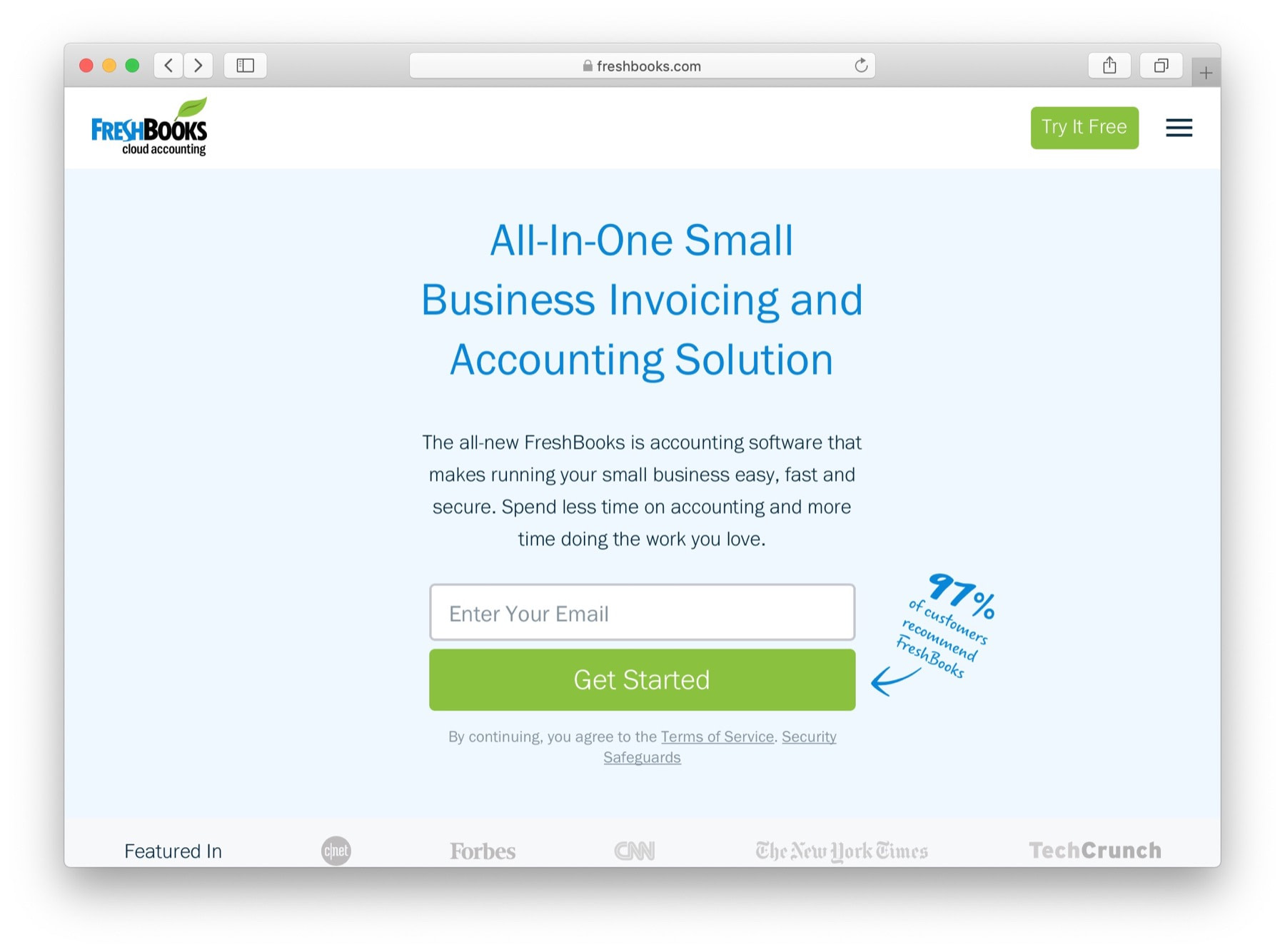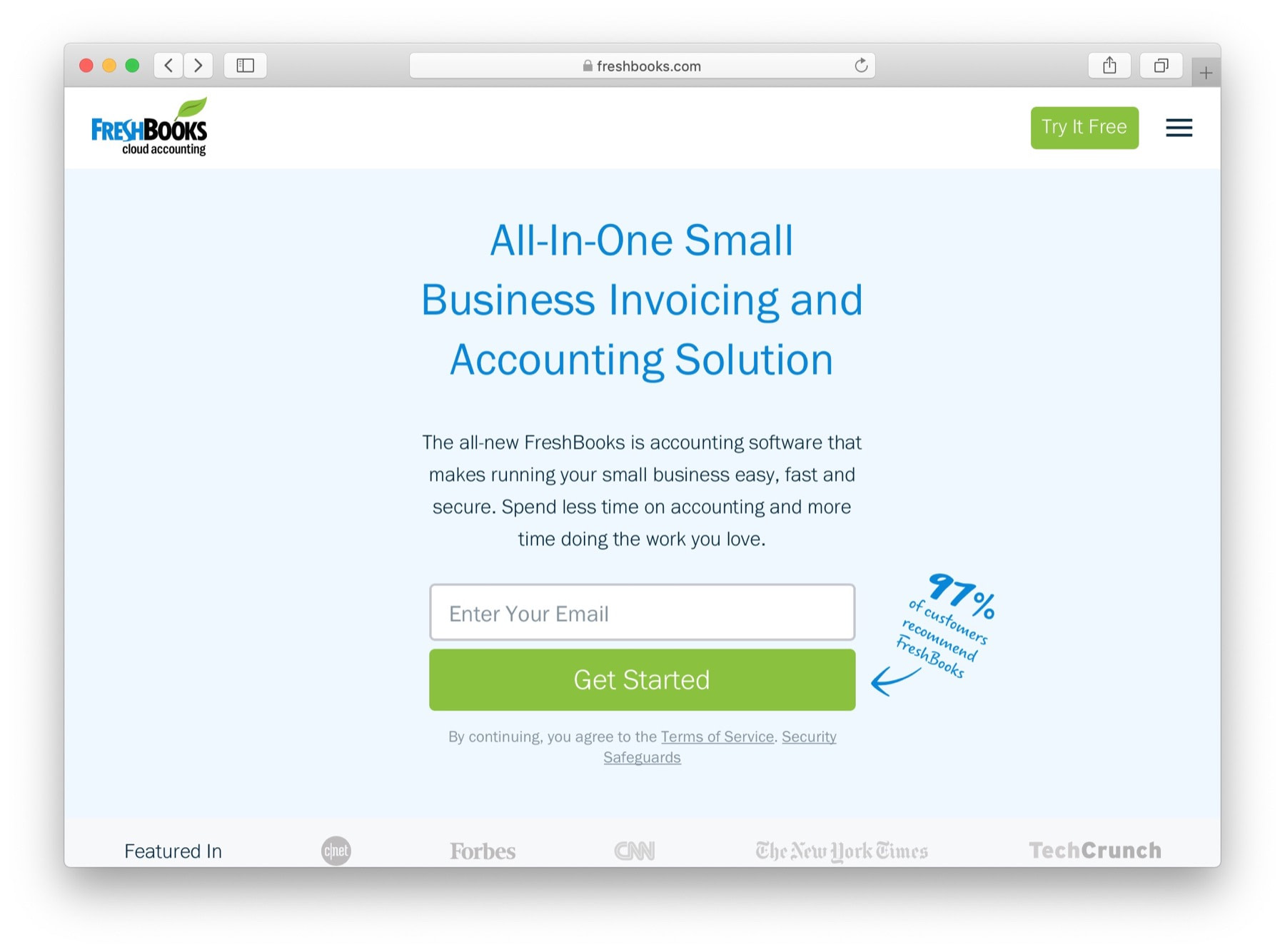 FreshBooks has long been the best accounting software for small business and the freelancing space. With FreshBooks, you can manage all the financial operations from a single dashboard.
You will definitely like the user-friendly interface. To take the functionality to another level, they prioritized integrations.
You can use it with platforms including PayPal, WordPress, Mailchimp, Zendesk and more.
Features ⚙️
Unlimited invoices
Unlimited estimates
Unlimited expense entries
Unlimited time tracking
Auto syncs with bank accounts
Financial reporting
200+ integrations
Streamlined payment collection
Auto-payment reminders
Project tracking
Payroll processing
Add team members ($10/person)
Pricing 💸
Their pricing module is designed so your money will go a long way. They have four main plans.
Lite – $15
Plus – $25
Premium – $50
Select – upon request
Pros 👍
Great UI with everything easy to find and navigate.
Great time tracking module.
Good-looking and functional estimates.
Cons 👎
Expensive if you're just starting out.
The entry-level plan allows you to work with only 5 clients.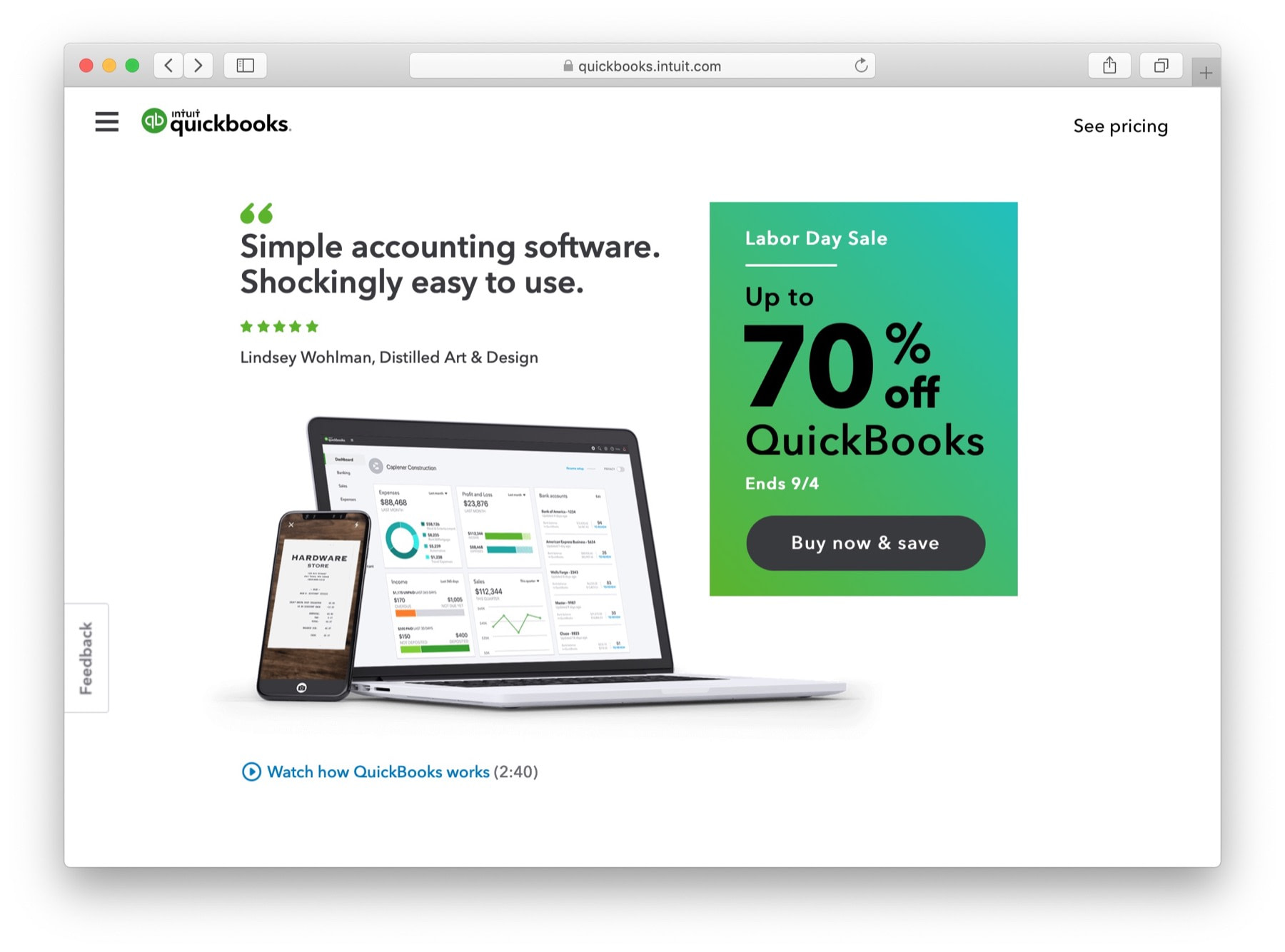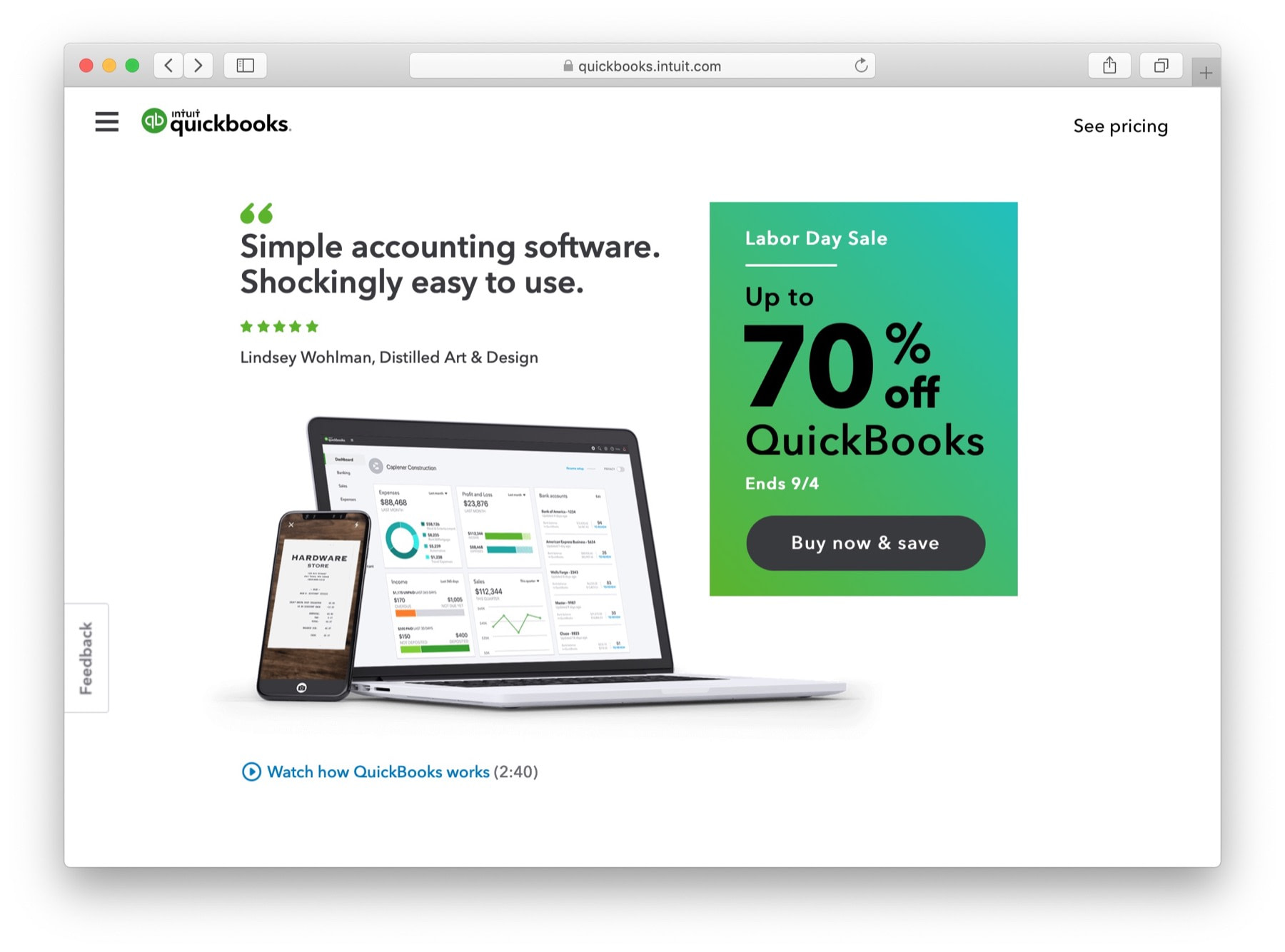 QuickBooks is an accounting software geared specifically towards small businesses and freelancers. But they also have more plans to scale your business as you grow.
You can use it for accounting, invoicing and bookkeeping as well.
Pricing is slightly more than some of the other software out there, but you'd definitely get the best bang for your buck.
Features ⚙️
Mobile access
Track income and expenses
Capture and organize receipts
Payroll processing
Send estimates
Track sales and sales tax
Shopify and PayPal integration
Connect bank/credit card accounts
Manage accounts receivable
Invoice and accept payments
30-day free trial
Multiple users (up to 25)
Receipt capture
Pricing 💸
QuickBooks offers different plans tailored to your business needs – from the point where you just need basic invoicing, to where you require advanced business reporting.
Self-Employed – $15
Simple Start – $25
Essentials – $40
Plus – $70
Advanced – $150
You can save 70% for your first three months off the price above.
Pros 👍
Very feature-rich.
Automatically sync business profiles on a single dashboard.
You can confidently check the ease-of-use box.
You can integrate with a lot of third-party tools via apps.
Cons 👎
Overall not that useful if you run your business from outside the US.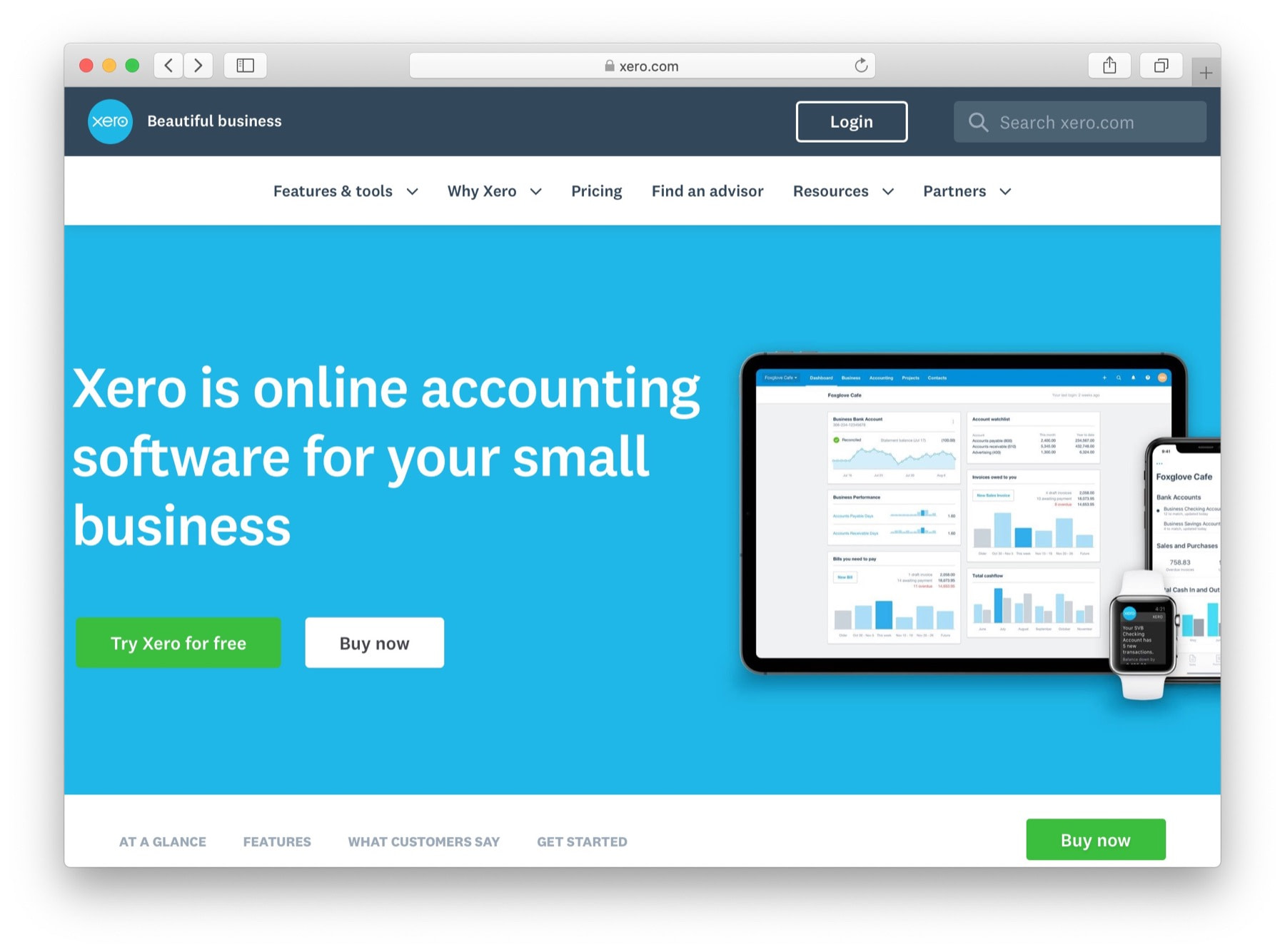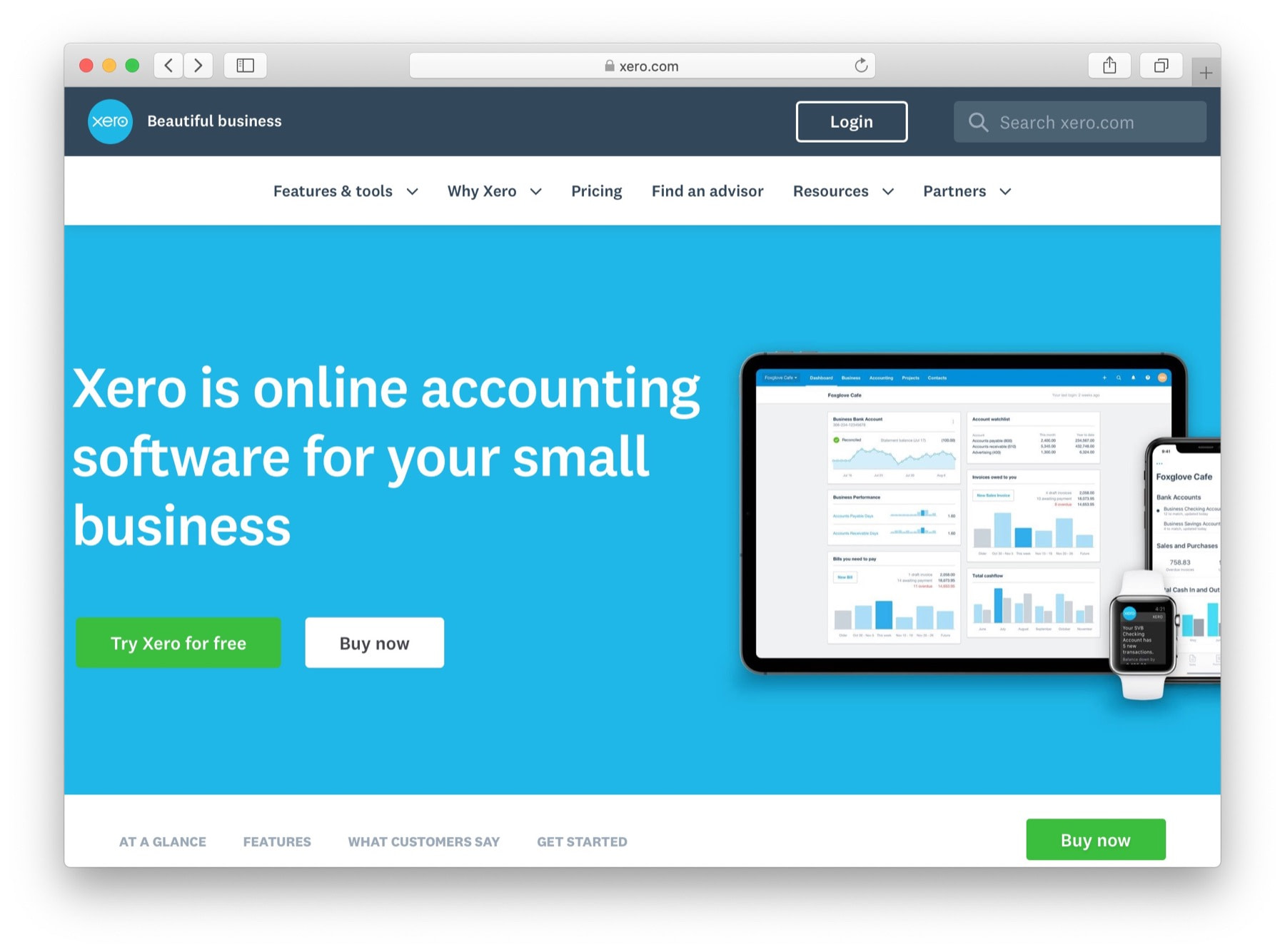 Xero is not only one of the best business accounting software for small business, but also a great alternative to QuickBooks. This accounting system makes the process of reconciling bank transactions a whole lot easier.
It is a revolutionary accounting tool with all the features you'd want to have. User experience is on par with the best solutions in the market. Their support team provides quick assistance to keep your accounting system up and running.
Features ⚙️
Send invoices, track them, see when the client sees them
Inventory tracking
Reconcile bank transactions
800+ business apps
Connect to your bank
Exceptional online support
Track payroll
Pay your bills via Xero
Mobile app
Multi-currency
Calculate sales tax
Pricing 💸
Xero offers three main plans but they change based on where you're from.
For businesses operating from the US:
Early – $9
Growing – $30
Established – $60
For global businesses:
Starter – $20
Standard – $30
Premium – $40
Pros 👍
Has all the features you could need.
Connect and collaborate online with cloud accounting.
A great number of apps.
Cons 👎
Multi-currency handling is only available on the more expensive plans.
The entry-level plan allows you to only send 5 invoices and quotes.
Zoho Books is a simple yet scalable accounting software for those who are self-employed and small businesses. This makes it a unique option on our list of the best accounting software for small business.
Payroll offering is limited in this option, though. Zoho Books offers an excellent cloud accounting for micro-businesses. It is easy to use and budget-friendly. Features are limited, but you can use additional Zoho tools (like Zoho CRM) to boost the functionality as your business grows. Or, you can opt for the complete, all-in-one solution called Zoho One.
Features ⚙️
Create invoices in seconds
Send payment reminders
Give customers online payment options
Upload expense receipts
Track inventory
Bank reconciliation
Invoice templates
14-days free trial
Operates in multiple languages
Stripe compatible
Project billing
Time tracking
Create, edit, and manage your customer and supplier contacts
Pricing 💸
As I mentioned, you can either get Zoho Books on its own, or opt for the full package of Zoho tools by getting Zoho One (which includes Zoho Books).
Here are the prices of Zoho Books:
Basic – $9
Standard – $19
Professional – $29
Here are the prices of Zoho One:
"All employee pricing" – $35 per employee
"Flexible user pricing" – $90 per user
Pros 👍
Zoho offers multiple payment gateways.
You can create automated payment reminders.
It is fully-responsive and mobile-ready.
Up to 50 contacts on the entry-level plan.
Cons 👎
Features such as inventory tracking, sales orders, and purchase orders are only available on the most expensive plan.
This one is something you're not expecting – an entirely free accounting software designed to offer all the basic accounting features you might need.
Wave is an easy-to-use, intuitive software for creating professional invoices without any charge. It can also help you track your expenses with its easy-to-use module for scanning receipts.
So where's the catch? Can it be really free? The answer is yes. The way Wave makes money is by giving you an online payments module – through which your customers can pay your invoices – and adding a small fee of $0.30 + 2.9% per transaction.
Features ⚙️
Unlimited customizable invoices
Unlimited receipt scanning
Connect to PayPal, Shoeboxed, and Etsy
Unlimited income and expense tracking
Unlimited bank and credit card connections
Customizable sales taxes
Automatic exchange rate calculations
Clean UI
Automated payment transaction reconciliation
Fast setup without training
Payroll tracking
Pricing 💸
Pricing is what makes it a fit for best accounting software for small business – it's free!
Pros 👍
Wave is a free cloud accounting software.
Smooth, user-friendly interface.
Easily connect bank & credit card accounts.
Cons 👎
No payable functionality – you need to mark the bill as paid manually.
ZipBooks is a freemium cloud accounting software for small business owners.
You can use it for free if you're okay with the limitations. But the good news is that the paid plans are quite affordable as well.
With the free version, you can send invoices, manage suppliers/customers and accept digital payments. They have sophisticated features in the premium version for small and mid-sized business owners.
Features ⚙️
Send unlimited invoices
Manage unlimited vendors and customers
Connect a bank account
Accept payments via Square and PayPal
Payroll processing
Automated reminders (premium)
Dedicated bookkeeper (premium)
Time tracking (premium)
Account reconciling (premium)
Pricing 💸
You can use their free plan to accept online payments and to process payroll. However, if you require more advanced accounting features, you might want to switch to their premium plan.
Starter – free
Smarter – $15
Sophisticated – $35
Accountant – custom pricing
Pros 👍
Awesome accounting features for free.
Manage unlimited vendors and customers for free.
Let your customers pay online.
Lock completed books with ZipBooks Sophisticated.
Cons 👎
Lacks team features on the free plan.
What makes the best accounting software for small business?
Each accounting program offers an advanced list of features. But there are few features that are really important for your business to function. These would allow a business owner to ease the hassle of bookkeeping and make the whole accounting management process easier.
Here are a few things you need to keep in mind when looking for the best accounting software for a small business:
✨ Smooth user interface to go along
User experience
is something that could really affect your accounting process. No business owner wants to spend their time figuring out the intricacies of the software they're using and the UI. Things should just work and be easy to grasp. It's a good practice to take a free trial of the software that you're interested in and check if you're okay with the UI and how things work. Are you able to create invoices in a few clicks? Do you need any additional tools for customizing your accounts? ☁️ Cloud-based data processing Gone are the days when you needed to manually add your data to spreadsheets to manage your accounting. You can use a cloud-based accounting software to access your financial information from any part of the world. Additionally, in most software solutions, you can even collaborate with team members. 💸 Swift payroll processing and multi-currency support Okay now this part is really important. There are tons of free accounting tools that just don't offer payroll. You shouldn't have to buy individual programs for accounting, payroll, invoicing and bookkeeping. Your accounting software should be able to provide all of these features including payroll processing. Also, if you run a global business, like an eCommerce store, don't forget that you'll want a multi-currency feature in your accounting software. Global currency support, or the ability for your
software to generate invoices
in the client's currency, is necessary, especially for small businesses. 💳 Integrate multiple bank accounts Adding a bank account should be really easy. You should only need a few clicks to get it done. If you require a lot of paperwork (not legal documentation) just to connect with your bank, look for another accounting software. 🏗️ Scalability and functionality Look for a one-stop solution that keeps up the scalability as your company grows. Add-ons and extensions are offered by many popular software companies. These integrations are important to ensure that your software's dynamic functionality can be improved. Your accounting software should at least be compatible with standard apps like Dropbox or email tools. 🚑 Check for support and data security Unresponsive support can make everything more difficult. For some free programs, it ends up taking too much time to contact email support, and others are just MIA. Make sure your program is secure and includes features like live chat, phone support and other quick help options. Also, ensure that the accounting software you are choosing is credible. Read online reviews to find out how genuine the software actually is.
Which is best?
Ultimately, making a decision might not be easy if you're a small business owner and just want to get your accounting "taken care of." We hope this list has been helpful and that you're already testing some of the accounting software highlighted here.
Here's a quick summary to make the final decision easier:
Now that you know how you could improve your backend accounting process, maybe it's time to consider relaunching your business with a high-converting website design.
If you still struggle to find clients, please check out our guide on writing a web design proposal.
6 of the best #accounting #software for small #business this year 💸📒
Click To Tweet
…
Don't forget to join our crash course on speeding up your WordPress site. With some simple fixes, you can reduce your loading time by even 50-80%: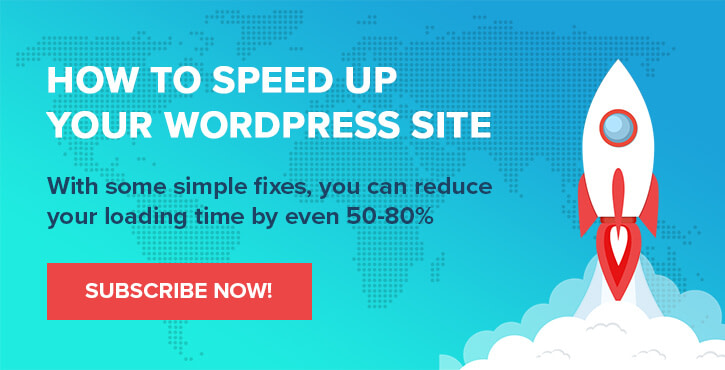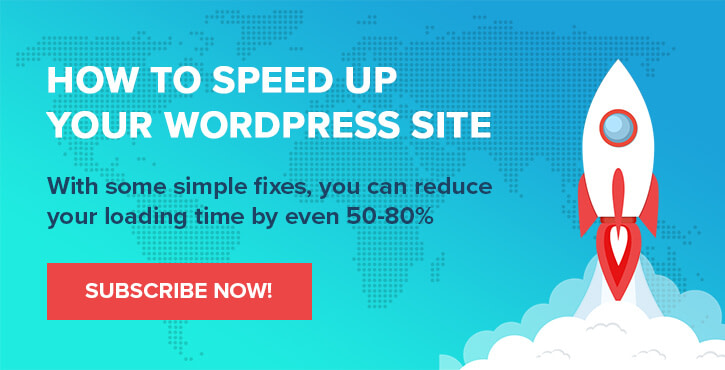 Layout, presentation, and editing by Karol K.
Was this topic
helpful?
0% of users found this helpful