The ultimate coconut rice! This recipe makes tender coconut rice that has a real, heavenly coconut flavor that's slightly creamy but totally coconutty. Perfect with Asian or tropical dishes, it's the missing ingredient to elevating your recipes!
If you loved the coconut rice in my Jerk Chicken Bowls, this recipe is going to absolutely blow your mind. This version of coconut rice seriously takes regular basmati rice to the next level. Instead of using just coconut water instead of regular water, this recipe uses coconut milk and coconut oil as well. The result is rice that is aromatic, creamy, and oh-so-coconut-y.
This recipe is the perfect accompaniment to cuisines like Chinese, Thai, Caribbean, Hawaiian, and even Indian. The sweet, rich flavor pairs perfectly with savory dishes, but also with sweeter foods. Coconut shrimp, orange chicken, spicy curry, Hawaiian chicken with pineapple… Am I making you hungry yet?
What Makes This Recipe So Good
Basmati rice – Deliciously fragrant and with a longer grain than traditional white rice, basmati is our rice of choice for this dish. They are the perfect rice for letting whatever sauce you use coat every grain.
Coconut milk – Besides giving this rice its signature coconut flavor, coconut milk helps make the basmati rice thick and creamy, making it the perfect base for your meal.
Coconut water – You can use plain water, but coconut water does up the coconut-y factor. Plus it's just so good!
Coconut oil – Coconut oil helps make the rice super creamy.
Honey or sugar – Adds a little extra sweetness to the rice that brings out the coconut-y flavor.
Salt – Balances out the sweetness of the other ingredients.
How To Make Coconut Rice
The full recipe is below, but here you'll find all the steps for making this recipe perfectly the first and 100th time, along with useful tips and info!
Combine all the ingredients in a medium-sized saucepan.
Bring everything to a boil over medium-high heat.
Stir, then immediately reduce the heat to medium-low.
Cover and cook for 10 minutes.
Top Tips For Making
To keep this recipe vegan, just use regular granulated sugar instead of honey.
This recipe was created specifically for basmati rice. If you decide to use a different type of rice, keep an eye on your stove to ensure it doesn't overcook! Brown rice takes substantially longer to cook and will take about 45 minutes. White rice will take about the same amount of time as basmati.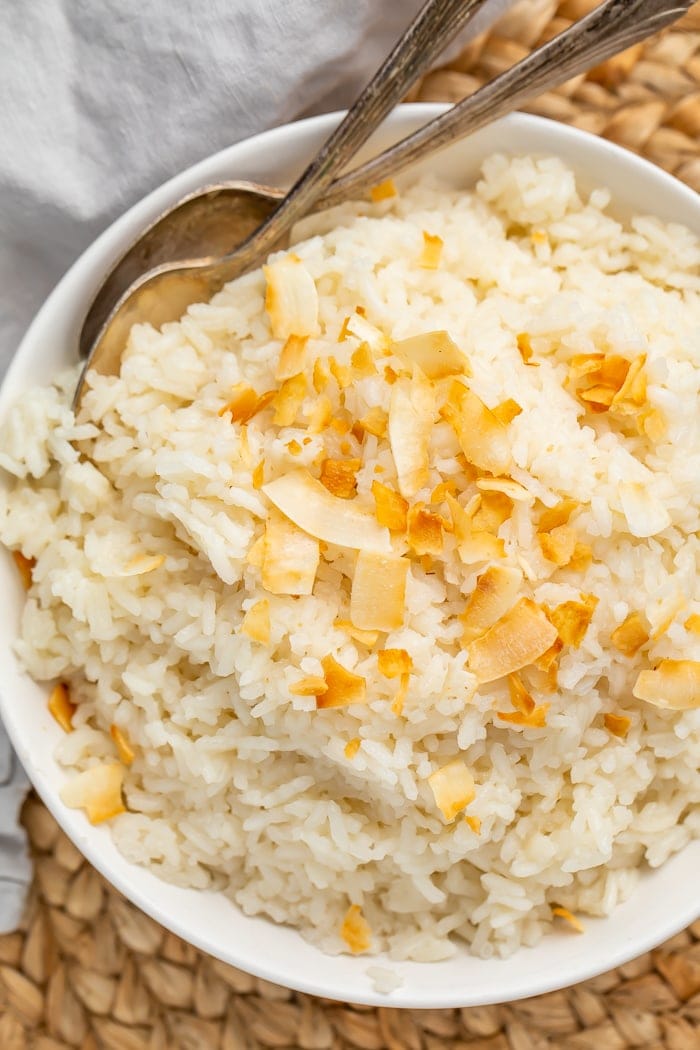 More Easy Recipes & How To's
Hey – you've made it this far, and now we're best friends! If you make this recipe, I'd love for you to give it a star rating ★ below. Make sure you follow me on Instagram, Pinterest, and Facebook, too!
Coconut Rice
Ingredients
1 1/2 cup basmati rice uncooked
1 (13.5-ounce) can coconut milk
1 1/4 cup water or coconut water
1 tablespoon unrefined coconut oil
1/2 teaspoon salt
1 tablespoon honey or sugar
Instructions
Combine all ingredients in a medium-sized saucepan.

Bring to boil over medium-high heat. Stir, then immediately reduce heat to medium-low. Cover and cook for 10 minutes.
Recipe Notes
Vegan: Use sugar instead of honey.
Other types of rice: This recipe was created for basmati, so keep an eye on your rice if using another type. White rice has similar cook time. Brown rice will take approximately 45 minutes.
Nutrition Facts
Coconut Rice
Amount Per Serving
Calories 356 Calories from Fat 162
% Daily Value*
Fat 18g28%
Saturated Fat 16g100%
Sodium 258mg11%
Potassium 346mg10%
Carbohydrates 45g15%
Fiber 3g13%
Sugar 6g7%
Protein 5g10%
Vitamin C 3mg4%
Calcium 35mg4%
Iron 2mg11%
* Percent Daily Values are based on a 2000 calorie diet.
Must See
GRANIT XHAKA has told Eddie Nketiah he has a major role to play in...

BERNARDO SILVA revealed he has been making bets with Portugal team-mates on how many...

WHEN we held our Sun panel night ahead of this World Cup the verdict...