These delicious shrimp are coated with spices and cooked to tender perfection in the air fryer. Served with an easy comeback sauce, these shrimp are jam packed full of flavor but so quick to make. You'll never want shrimp any other way!
I'm going to be real. Just looking at this recipe makes me hungry. This deliciously seasoned shrimp is perfectly cooked in the air fryer and when paired with the creamy, spicy comeback sauce, it makes for the perfect easy lunch or dinner. It's so simple to whip together, but it's delicious enough to serve as an appetizer at a party.
What Makes This Recipe So Good
For the shrimp:
Garlic powder – Not as strong as fresh garlic, but sweeter, garlic powder adds a nice, garlicky flavor to the shrimp without being overpowering.
Paprika – Made from ground peppers, paprika adds a dash of peppery flavor to the shrimp. Depending on what paprika you use, the flavor can be mildly sweet, smoky, or have a little heat.
Olive oil – Olive oil helps keep the shrimp moist in the air fryer, and also adds a bit of peppery, olive flavor.
For the comeback sauce:
Mayo – Mayonnaise is a simple base for the sauce that makes it creamy without overpowering the other ingredients.
Ketchup – Adds a little sweetness and also helps give the sauce its color.
Hot sauce – Here comes the heat! We used Texas Pete in our comeback sauce, but you can use your favorite, depending on how spicy you like your hot sauce.
Horseradish – Spicy and peppery, horseradish doesn't burn your mouth but is a sensation that opens up the sinuses.
Garlic powder & black pepper – Easy seasoning that adds just a little pop of flavor without taking away from the others.
How To Make Air Fryer Shrimp with Comeback Sauce
The full recipe is below, but here you'll find all the steps for making this recipe perfectly the first and 100th time, along with useful tips and info!
Preheat the air fryer for 5 minutes at 400º F.
While the air fryer is heating, combine all the shrimp ingredients in a bowl and toss to get the shrimp fully coated.
Add the shrimp to the air fryer basket and cook 6-7 minutes until they're pink and no longer opaque. Remove them immediately.
Make the sauce by combining all the ingredients. Serve on the side.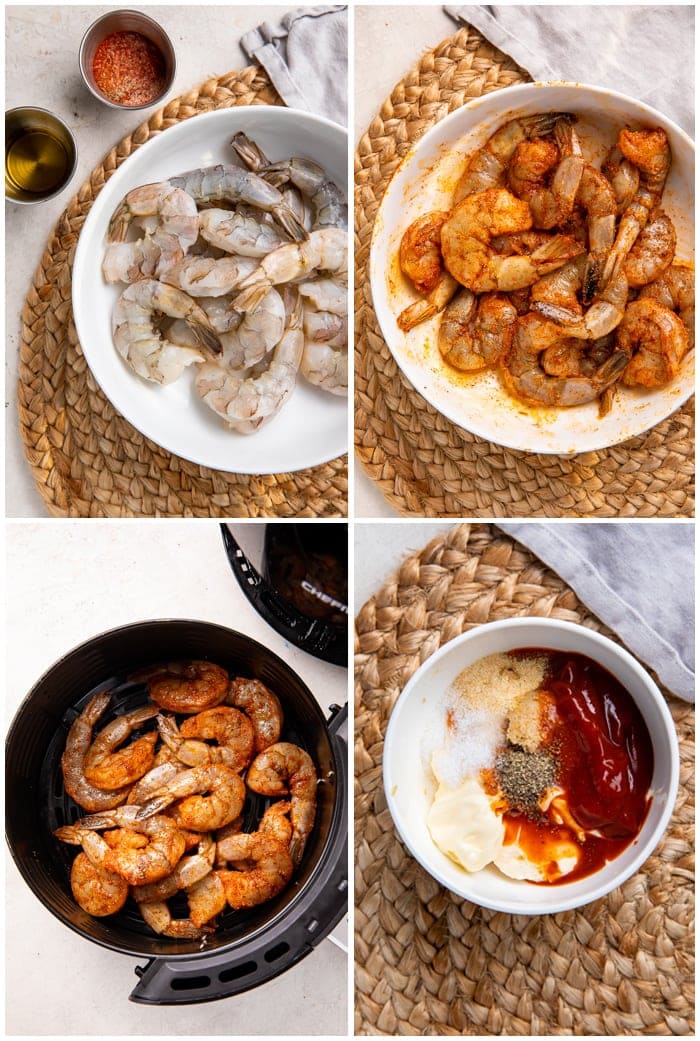 Top Tips For Making
Your shrimp may cook differently based on your air fryer and the size of the shrimp. My shrimp were size 15-17 and took 7 minutes.
I like to preheat the air fryer because the shrimp immediately start cooking at high heat when they hit the basket. If your air fryer heats up quickly, you may not need to preheat.
I use the Chefman 6.3 Quart Air Fryer, but here are some other great options for air fryers in a variety of sizes with a bunch of different options.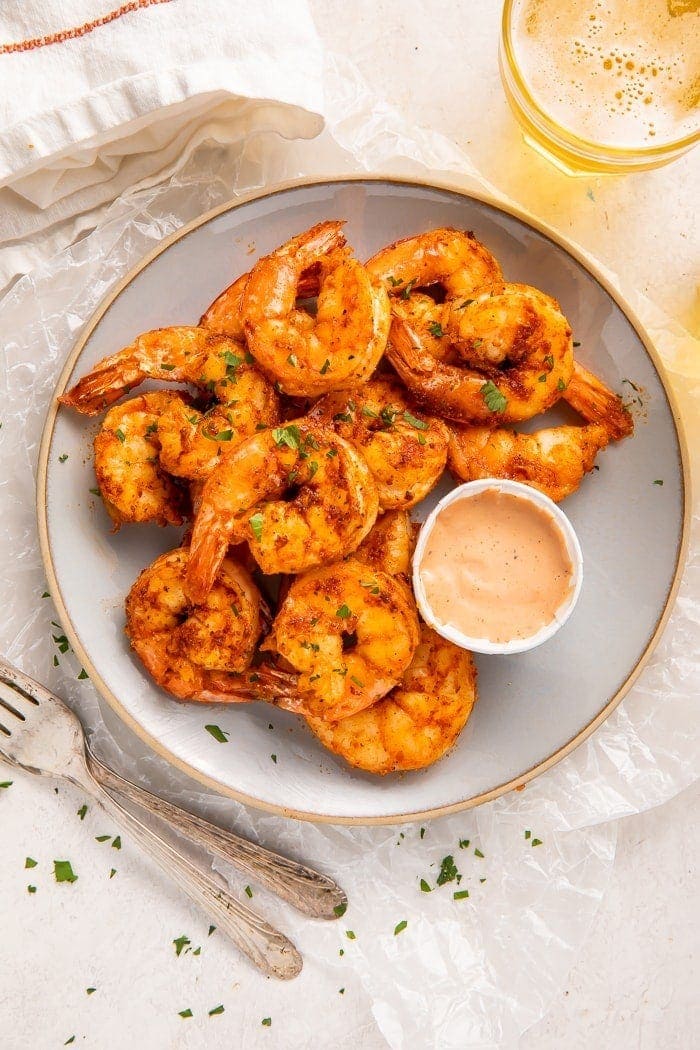 More Delicious Shrimp Recipes
Hey – you've made it this far, and now we're best friends! If you make this recipe, I'd love for you to give it a star rating ★ below. Make sure you follow me on Instagram, Pinterest, and Facebook, too!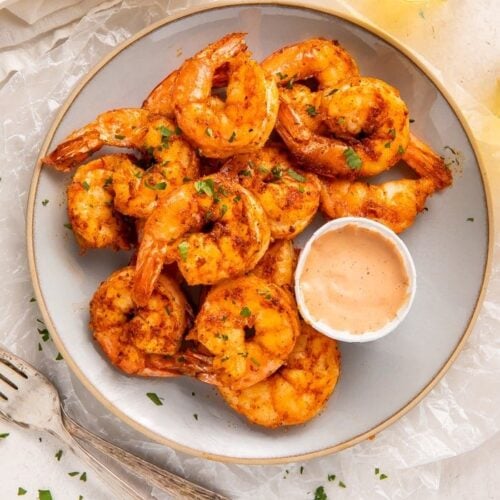 Air Fryer Shrimp with Comeback Sauce
These air fryer shrimp are so easy, and the comeback sauce makes them out of this world good!
Ingredients
Wine Pairings (no wine on Whole30)
Recipe Notes
Cooking notes: Your shrimp may cook differently based on your air fryer and the size of the shrimp. My shrimp were size 15-17 and took 7 minutes.
Preheating: Shrimp will immediately start cooking when hitting high heat in the air fryer. If your air fryer heats up quickly, you may not need to preheat.
Wine pairings:
Remember, no wine if you are on a Whole30! I recommend buying wine from Scout and Cellar, especially for lower carb or sugar and the health-conscious. There's no added sugar to these wines, and they're all much lower in carbs, calories, and sugar. For me, there's no headache or fogginess the next day!
This recipe is spicy and full of seasoning, so I really like a nice, fresh, light wine paired with it. You have a ton of different options, like:
– White blend, like 2019 Fieldhouse White Blend from Mendocino County, California
– Rosé, like 2019 Dove Hunt Dog Rosé from North Coast, California
– Chardonnay, like 2019 Adelante Chardonnay from Chile
Nutrition Facts
Air Fryer Shrimp with Comeback Sauce
Amount Per Serving
Calories 350 Calories from Fat 234
% Daily Value*
Fat 26g40%
Saturated Fat 4g25%
Cholesterol 298mg99%
Sodium 1801mg78%
Potassium 135mg4%
Carbohydrates 4g1%
Fiber 1g4%
Sugar 2g2%
Protein 24g48%
Vitamin A 303IU6%
Vitamin C 8mg10%
Calcium 164mg16%
Iron 3mg17%
* Percent Daily Values are based on a 2000 calorie diet.