Get ready for the best pork chop of your life… made in the air fryer in just about 20 minutes! With a deliciously sweet and savory seasoning, the air fryer cooks pork chops to moist and juicy perfection. You'll never make them any other way.
These flavorful, perfectly seasoned pork chops have all the complex tastes of ones you would order at a restaurant, but they're made in the air fryer! So tender and juicy, yet basically hands off, they are quick and simple enough for a weeknight, but definitely fancy enough to impress.
What Makes This Recipe So Good
Pork chops – Packed with protein and flavor, pork chops are perfect for the simple but delicious seasoning.
Olive oil – With slightly nutty, earthy taste, olive oil adds flavor, but also helps keep the pork moist while cooking.
Paprika – The spicy flavor of paprika adds just a little kick to the other seasonings.
Brown sugar – A little sweet with salty and spicy makes the flavors in this recipe just a little more layered. (Check the top tips if you're on keto or low carb!)
Garlic powder – While not as strong as a fresh garlic clove, garlic powder gives that same delicious, garlicky flavor.
Onion powder – This easy seasoning adds the sweet sharpness of a fresh onion, but without the chopping (and crying!).
How To Make Pork Chops in the Air Fryer
Preheat the air fryer at 380º F for 5 minutes.
Pat the pork chops dry with some paper towels.
Coat both sides of the pork chops with oil.
Combine all the spices in a medium bowl, then completely coat the pork chops with the spice mixture.
Place the pork chops in the air fryer basket and cook for 14-16 minutes at 380º. Flip the pork chops over halfway through cooking.
After 14 minutes, check the pork chops for doneness (see the top tips). If they're still not fully cooked, cook them in 2 minute intervals until done.
Remove them from the air fryer immediately and let rest for about 5 minutes before serving or cutting.
Top Tips For Making
When buying pork chops, you can buy either bone-in or boneless. So long as they are about 1″ thick, either will work. It's just whatever you prefer (or is on sale)!
Your pork chop will be done cooking when it reaches an internal temperature of 155º F before resting. You may see a little pink inside your pork chop, but as long as it's reached that temperature, it's okay to eat.
Don't have a meat thermometer to gauge the temperature? (They're pretty inexpensive, so they're worth the investment!) You can test your pork chop by poking it with your finger and comparing it to the feel of your face. If it feels like your cheek, it's still rare. The fleshy part of your chin and the top of your nose feel like medium-rare to medium.
If you are doing keto or low carb, leave out the brown sugar. This will take down each pork chop to 2g net carbs per serving.
Want an air fryer but not sure which one to get? I use the Chefman 6.3 Quart Air Fryer, but here are some other great options for air fryers in a variety of sizes.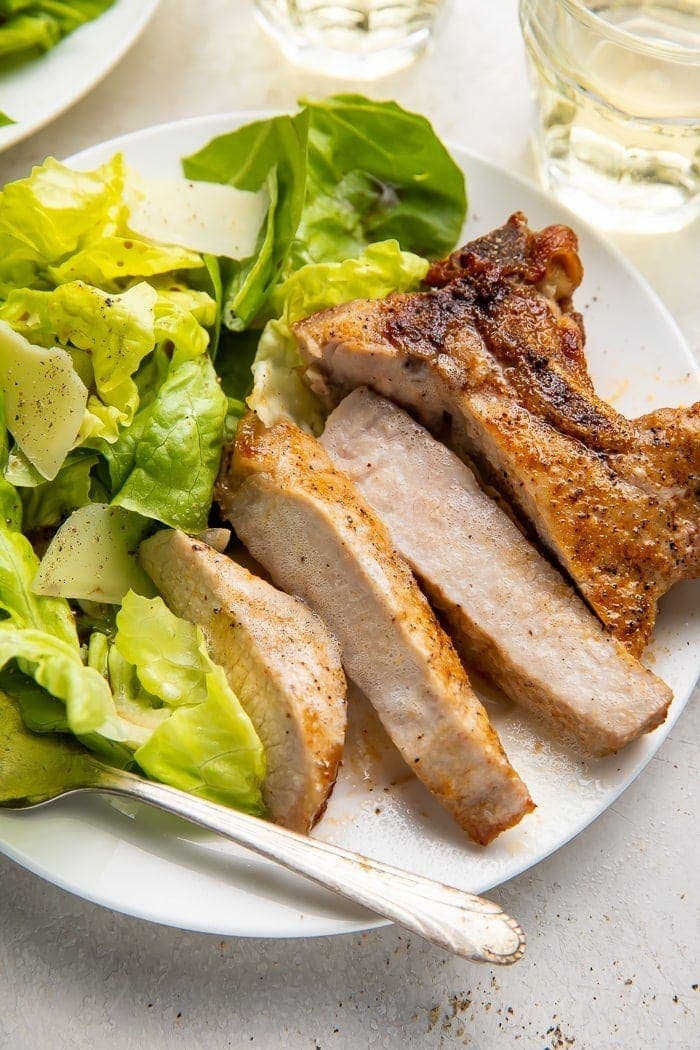 Air Fryer Pork Chops
Recipe Notes
Selecting pork chops for this recipe: Can use bone-in or boneless, but they should be about 1″ thick.
Checking for doneness: Pork chop is fully cooked when it reaches 155º F internal temperature. If you don't have a meat thermometer, test pork chop by poking with your finger. If it feels like your cheek, it's still rare. The fleshy part of your chin and the top of your nose feel like medium-rare to medium.
Keto or low carb: Omit brown sugar to make each pork chop 2g net carbs.
Wine pairings
I recommend buying wine from Scout and Cellar, especially for lower carb or sugar and the health conscious. There's no added sugar to these wines, and they're all much lower in carbs, calories, and sugar. For me, there's no headache or fogginess the next day!
There are so many wines that go great with pork, but some of my favorites are:
– Sparkling rosé (in cans!), like 14K Bubbly Rosé from California
– Zinfandel, like 2018 Gallivant Zinfandel from McDowell Valley, California
– Pinot noir, like 2017 Conte de la Terra Pinot Noir from Willamette Valley, Oregon
Nutrition Facts
Air Fryer Pork Chops
Amount Per Serving
Calories 390 Calories from Fat 207
% Daily Value*
Fat 23g35%
Saturated Fat 5g31%
Cholesterol 90mg30%
Sodium 652mg28%
Potassium 541mg15%
Carbohydrates 15g5%
Fiber 1g4%
Sugar 12g13%
Protein 29g58%
Vitamin A 493IU10%
Calcium 19mg2%
Iron 1mg6%
* Percent Daily Values are based on a 2000 calorie diet.